May 2018
Thursday Afternoon (0 Comments) (link)
Thursday, 31-May-2018 16:03:36 (GMT +10) - by Agg


Amazon have announced they will be blocking Australian shoppers from their main USA site, redirecting us to the smaller AU site. Why? Because of the overseas GST legislation. From July 1, shoppers visiting Amazon.com (and other overseas Amazon sites) will be redirected to Amazon.com.au, which launched late last year. This coincides with changes to the Online Goods Tax that require online retailers to apply the 10 per cent GST to all online purchases shipped to Australia from overseas. (Currently, the rule only applies to purchased items that exceed $1000.) Discussion in this thread in our Current Events forum.

TomsHardware report on USB 3.2 with 20Gbps speed. Synopsys released a video of the world's first USB 3.2 demonstration. Synopsys used a Windows 10 host system running existing USB drivers embedded in the operating system. The target device was a Linux system configured as a mass storage device running a powerful array capable of at least 2,000 MB/s of throughput. The prototype hardware sitting in the middle consists of USB PHYs built on the FinFET process running at 10 Gb/s per lane. According to Eric Huang from Synopsys, lane bonding allows the interface to achieve USB 3.2 speeds.

Tech Report have a system build guide update. We've tried to create builds across a wide range of price points with parts that provide the best performance possible for the money. However, we don't just ferret out the cheapest components possible or compromise configurations to hit arbitrary price points. Indeed, these are the systems we'd build for ourselves, given the money. From our cheapest build to our most expensive (or the second-most expensive, at least), you can rest easy knowing that we've done the hard work of balancing the need for performance against the curve of diminishing returns.

They also get more specific, building a PC around AMD's Ryzen 3 2200G CPU. Ever since AMD released its Raven Ridge APUs for the desktop, I've wanted to put together a system with one of those chips inside just to see what it could do. Eventually, the stars aligned and I got ahold of all the parts to make it happen. Join me as I put together a Ryzen 3 2200G PC.

Neoseeker meanwhile investigated AMD's StoreMI Technology, which seems to be an SSD caching system for HDDs. RAM disk, RAM drive, paging file, swap file and other methods to increase performance have been a boon to Windows operating system over the years. I have tried several of these programs and even modified the Windows page file to attempt to get that performance to its peak with some success and occasional program failures. Now AMD has given 400-series chipset socket AM4 motherboard users a way to get the capacity of large HDDs and speed of SSDs without having to chance limited funds by using StoreMI, a free storage enhancement utility (with some device size limitations).

Today's timewaster is The Lockdown, which is for smartphones and sounds like an AR "Escape Room" type challenge. It takes about two hours to complete the game. You can follow different 'routes' to the final level, which is the only challenge with a time limit. For those who hate puzzles in every shape or form, there's a challenge that partly sets in the real world, too. Less code-cracking, more map-reading.




Thursday Afternoon Reviews (0 Comments) (link)
Thursday, 31-May-2018 14:03:21 (GMT +10) - by Agg


Motherboard & CPU:
Intel Core i3-8300 3.7 GHz on TechPowerUp.
Gigabyte AORUS AX370-Gaming K5 on Modders-Inc.
ASRock X399M Taichi on TechPowerUp.

Memory:
HyperX Predator DDR4 RGB 32GB 2933MHz Memory Kit on LegitReviews.
Ballistix Tactical Tracer 32GB DDR4-2666 RGB LED Memory Kit on FunkyKit.

Cases:
Cooler Master MasterCase H500M on Guru3D.
Cooler Master Mastercase H500M on TechPowerUp.
Lian Li PC-K5 on OCInside.
Cooler Master MasterBox MB510L Revealed on TechARP.

Storage:
Team Group Delta RGB SSD on Vortez.
ADATA XPG SX8200 480GB M.2 NVMe SSD on PC Perspective.
ADATA XPG SX8200 240GB & 480GB M.2 NVMe PCIe SSD on Tweaktown.

Portable & Prebuilt:
Fitbit Versa Smart Fitness Watch on Tweaktown.
ASUS ZenFone Max Pro M1 (ZB602KL) Early Preview on TechARP.
A quick look at MSI's WS63 8SJ mobile workstation on TechReport.
Maingear F131 Review: A High Performance Gaming PC Masterpiece on HotHardware.
LG Gram 13 Review: The lightest 13" laptop you can get on TechSpot.

Power Supply:
Antec EarthWatts Gold Pro 750W on NikKTech.
Corsair TX750M 750W on HardOCP.

Misc:
EWin Champion Series Gaming Chair on FunkyKit.
be quiet! Dark Rock Pro 4 CPU Air Cooler on HardOCP.
Star Trek: Bridge Crew The Next Generation DLC on GamingNexus.
HyperX Cloud Alpha Gold Gaming Headset on BenchmarkReviews.




Hawpinghaxbag's Hardlined PC (0 Comments) (link)
Tuesday, 29-May-2018 18:46:37 (GMT +10) - by Agg


Hawpinghaxbag has an impressive watercooled PC using a custom acrylic case and polished copper tubing: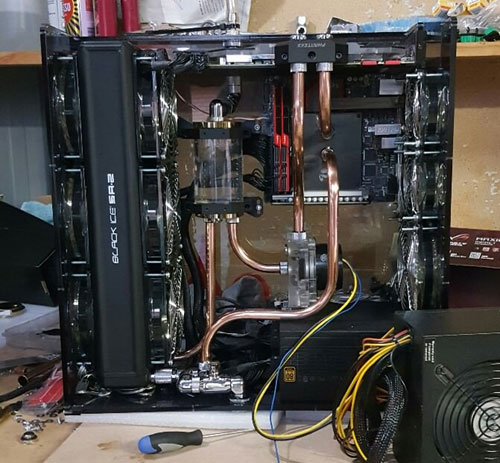 click for the worklog!





TechSpot have a guide to building your own mechanical keyboard, with part one and part two published. Earlier we covered in detail the required components for building your own keyboard and hopefully made the whole project feel a bit less daunting. Today we will go over the assembly process, so you can turn your pile of parts into a functioning board.

A cautionary tale from mpot, about Amazon Echo and similar devices, after one sent a private recording to a contact without permission. "Unplug your Alexa devices right now," the user, Danielle (no last name given), was told by her husband's colleague in Seattle after he received full audio recordings between her and her husband, according to the KIRO-7 report. The disturbed owner, who is shown in the report juggling four unplugged Echo Dot devices, said that the colleague then sent the offending audio to Danielle and her husband to confirm the paranoid-sounding allegation. (Before sending the audio, the colleague confirmed that the couple had been talking about hardwood floors.) We have a Google Home in the kitchen and there's been a couple of times it has spoken up in the middle of a human-only conversation. Of course, it has to listen, so it knows when you say "OK Google" - but it should ignore any audio until that happens.

Folks in our Electronics & Electrics or Hobby Engineering forums might be interested in some new official Arduino boards. The MKR Vidor 4000 is the first-ever Arduino based on an FPGA chip, equipped with a SAM D21 microcontroller, a u-blox Nina W102 WiFi module, and an ECC508 crypto chip for secure connection to local networks and the Internet. MKR Vidor 4000 is the latest addition to the MKR family, designed for a wide range of IoT applications, with its distinctive form factor and substantial computational power for high performance. The board will be coupled with an innovative development environment, which aims to democratize and radically simplify access to the world of FPGAs.

Meanwhile ARM are looking into AI and Machine Learning with a new processor. After taking a measured, wait-and-see approach to machine learning, Arm is ready to jump into the fold full throttle. Today, the company is following up on its Project Trillium announcement from back in February with new details surrounding its machine learning processor, also known as the neural-network processing unit or NPU. Arm's machine learning processor is built upon a brand-new architecture for neural networks. Arm is setting its sights on mobile first, but the architecture is designed to be highly scalable, and will eventually span devices from the Internet of Things to the Datacenter.

Long-time friend of OCAU Hugo aka vindaloo has been busy producing electronic music lately, and has a new album out which I quite liked - maybe you will too. It's written for coding, zen, focus kinda vibes, relaxation too. For fans of Vangelis, Air, Boards of Canada.




Monday Afternoon Reviews (2 Comments) (link)
Monday, 28-May-2018 17:20:19 (GMT +10) - by Agg


Motherboard & CPU:
Asus ROG Strix X470-F Gaming on LanOC.
AMD Ryzen 7 2700 8-Core 65W Processor on LegitReviews.

Cooling:
AMD Stock Coolers Tested: Wraith Prism vs. Wraith Spire vs. Wraith Stealth on TechSpot.
Antec K240 AIO Water Cooling on OCInside.
NZXT Kraken M22 liquid cooler on Guru3D.

Audio Visual:
CORSAIR HS60 Stereo Gaming Headset With 7.1 Surround Sound on NikKTech.
Dodocool DA110 Magnetic Wireless Stereo In-Ear Headphone on FunkyKit.
HAVIT i18 Ultra Comfortable Wireless Headphones on NikKTech.

Power Supply:
SilverStone Essential Gold ET750-HG 750W on APHNetworks.
Cougar GX-F Series 750W on TechPowerUp.

Input Etc:
Tesoro Gram XS keyboard on Vortez.
Unicomp's Ultra Classic buckling-spring keyboard on TechReport.
Corsair Dark Core RGB SE Wireless Gaming Mouse and MM1000 charging pad on PC Perspective.
CORSAIR DARK CORE RGB SE Mouse + MM1000 Qi Wireless Mouse Pad on MadShrimps.
G.SKILL Ripjaws MX780 mouse on TechPowerUp.
IOGear HVER RGB Gaming Keyboard on BenchmarkReviews.

Portable & Prebuilt:
Samsung Galaxy S9 Plus "Dual Aperture" Smartphone on TechARP.
Lenovo ThinkPad X280 Review: Powerful, Business-Class Ultraportable on HotHardware.

Cases:
FSP CMT510 on APHNetworks.
Antec's P110 Luce on Tech Report.
Phanteks Eclipse P350X on OCAholic.

Misc:
MJX Bugs 2 WiFi FPV (B2W) GPS Brushless Camera Drone on ModSynergy.
Kingston A1000 480 GB SSD on TechPowerUp.



Friday again!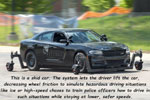 DarkSnipa reviewed the nVidia GTX 1060 5GB, a slightly oddball card usually only available through OEM channels. It's interesting to see how it compares to the 3GB and 6GB retail units: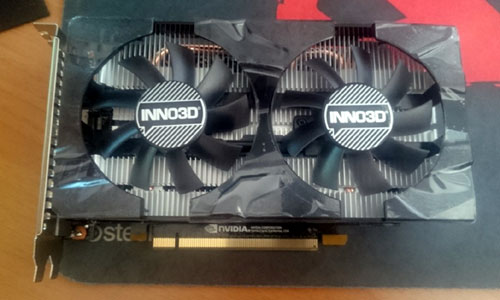 click for the review!






Wednesday Night Reviews (2 Comments) (link)
Wednesday, 23-May-2018 22:19:27 (GMT +10) - by Agg


Before the reviews, it turns out that the classic PC shooter Unreal is 20 years old - and to celebrate, the Gold version is available for free on Steam for a limited time. Discussion in this thread in our PC Games forum.

Motherboard & CPU:
ASRock X399M Taichi AMD TR4 Motherboard on OCInside.
Gigabyte's X470 Aorus Gaming 7 Wifi on TechReport.

Audio Visual:
Logitech G PRO Gaming Headset on Vortez.
Sbode M350 Wireless Bluetooth Speaker on FunkyKit.

Input Etc:
Corsair K63 Wireless Mechanical Gaming Keyboard and Lapboard Combo on PCPerspective.
Corsair K63 Wireless Mechanical Keyboard & Lapboard on ThinkComputers.
Logitech G513 Carbon Mechanical Gaming Keyboard on PCPerspective.

Cases:
Anidees AI-XL AR on Guru3D.
NZXT H500i on TechPowerUp.
Antec DF500 on APHNetworks.

Portable & Prebuilt:
SilentiumPC Grandis 2 XE1436 value PC on TechPowerUp.
ASRock Radeon RX 580 Phantom Gaming X 8 GB on TechPowerUp.

Cooling:
Noctua NF-P12 Redux fan on Vortez.
Watercool Heatkiller IV GTX 1080 Ti Water Block on HardOCP.
AMD Wraith Prism CPU Air Cooler on HardOCP.

Misc:
Tesoro Zone Evolution Gaming Chair on ThinkComputers.
Seasonic FOCUS PLUS Platinum 550W PSU on HardOCP.
SanDisk 1TB Extreme Portable SSD on LegitReviews.
HyperX FURY DDR4-3466 16GB Dual-Channel Memory Kit on Tweaktown.



Here's some reviews and projects from the forums. Another good way to see what's going on at any moment in the forums is to hit the New Posts link. Enjoy!






Tuesday Lunchtime (4 Comments) (link)
Tuesday, 22-May-2018 12:45:13 (GMT +10) - by Agg


Google and Microsoft have found yet another Spectre / Meltdown flaw. Intel is calling the new strain "Variant 4." While this latest variant taps into many of the same security vulnerabilities that were first revealed in January, it uses a different method to extract sensitive information, according to the company. The original disclosure is here and Microsoft have info here.

Bypassing encryption remains a priority for our cybersecurity minister, according to a recent speech at CeBIT. Questioning if the proposed legislation was technically possible, ZDNet asked the prime minister if the laws of mathematics would trump the laws of Australia. "The laws of Australia prevail in Australia, I can assure you of that," Turnbull told ZDNet. "The laws of mathematics are very commendable, but the only law that applies in Australia is the law of Australia." Oh dear.

TechSpot explain FreeSync 2. The name FreeSync is a brand name that refers to AMD's implementation of adaptive synchronization technology. It essentially allows a display to vary its refresh rate to match the render rate of a graphics processor, so that, for example, a game running at 54 FPS is displayed at 54 Hz, and when that games bumps up to 63 FPS the display also shifts to 63 Hz. This reduces stuttering and screen tearing compared to monitor operating at a fixed refresh rate, say 60 Hz, displaying a game running at an unmatched render rate like 54 FPS.

Meanwhile HardOCP checked out AMD's Ryzen Master overclocking software. AMD has been stepping up its game in the CPU and motherboard arena for the last year. Its Ryzen Master software is an overclocking utility that is motherboard agnostic, which allows overclocking and performance tuning from within Windows. With new chipsets comes a new iteration of this software. We take it for a test drive and let you know what we thought of it.

Here's an interesting solution to the "city bike" type schemes leaving bikes everywhere - pay people to find them, charge them up and return them to service. "Charging scooters for Bird is like Pokémon Go, but when you get paid for finding Pokémon," says Nick Abouzeid, a 21-year-old charger in San Francisco. Several nights a week after work, he and his girlfriend go on walks around the city, collecting scooters and bringing them back to his apartment building to charge in the basement.

A 19yo guy from Sydney has won an Intel engineering prize for creating a window-washing robot. The drone device is tethered to the roof of a commercial building. It is equipped with a powerful spray nozzle and rotating brushes. Nicholls' drone can handle 45 kph winds, and costs just over A$3000. It is said to replace human teams that can cost in excess of A$14,600 per building and in the process reduce the high risk of injuries, Intel said in a statement.




Resurrecting a Lian Li (2 Comments) (link)
Monday, 21-May-2018 20:24:41 (GMT +10) - by Agg


Echineon has built an impressive custom wood and perspex watercooled PC around the bones of an old Lian Li mid-tower case: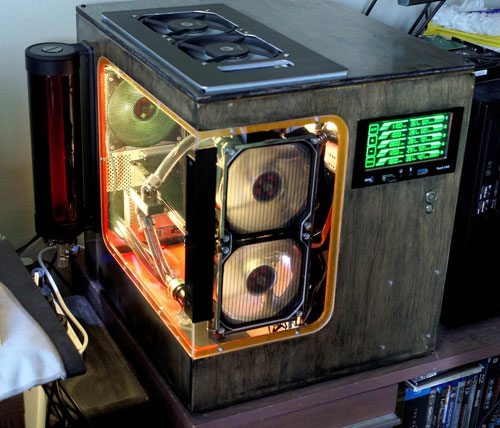 click for the worklog!






Monday Afternoon Reviews (0 Comments) (link)
Monday, 21-May-2018 15:23:09 (GMT +10) - by Agg


Cooling:
Jonsbo CR-201 RGB CPU Cooler on NikKTech.
Noctua NF-A12x25 Fan on Vortez.

Audio Visual:
Creative Outlier Black Bluetooth Headset on MadShrimps.
1MORE Quad Driver Earphones on APHNetworks.
HyperX Cloud Flight headset on TechPowerUp.

Input Etc:
Cooler Master WR530 Wrist Rest and MP510 Mouse Pad on LanOC.
GAMDIAS ZEUS P1 RGB Optical Gaming Mouse on NikKTech.
MSI Vigor GK80 Gaming Keyboard on OCClub.

Portable & Prebuilt:
Nokia 8 Sirocco smartphone on CNet.
ASUS ZenFone Max Pro M1 preview on TechARP.
Xiaomi Redmi Note 5 "Camera Beast" on TechARP.

Misc:
Gigabyte X470 Aorus Ultra Gaming motherboard on Guru3D.
Reolink Argus 2 Wire-Free Security Camera on Tweaktown.
Mini-ITX Case Review Round-Up: Taku, SG13, & Core V1 video by GamersNexus.



Friday again!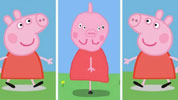 Defyant's Project Fractal Nano White (0 Comments) (link)
Friday, 18-May-2018 10:34:47 (GMT +10) - by Agg


Defyant has posted a worklog for his latest modded PC, "Project Fractal Nano White". As always the end result is very impressive: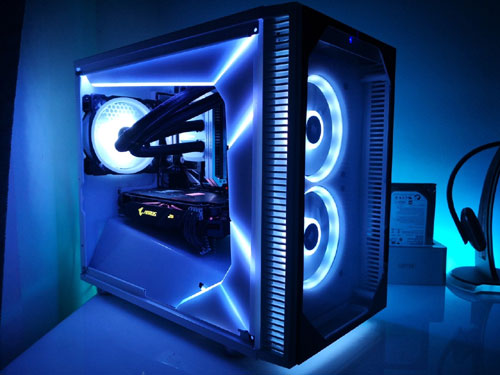 click for the worklog!






Friday Morning Reviews (0 Comments) (link)
Friday, 18-May-2018 10:06:19 (GMT +10) - by Agg


Motherboard & CPU:
GIGABYTE B360 AORUS GAMING 3 WIFI Motherboard on Tweaktown.
SuperMicro C9X299-PG300 Motherboard on FunkyKit.
AMD Ryzen 5 2600 / Ryzen 7 2700 Benchmarks On Linux on Phoronix.
Charts CPU Performance Content Creation: 23 CPUs tested - Ryzen 5 2600X on OCAholic.
Ryzen 5 2600 vs. Core i5-8400: 36 Game Benchmark on TechSpot.

Portable & Prebuilt:
Samsung Galaxy S9 Plus "Dual Aperture" Smartphone on TechARP.
Lenovo's Yoga 920 (14): A Gorgeous 2-in-1 With Great Battery Life on Techgage.

Input Etc:
Ducky One 2 Skyline Keyboard on TechPowerUp.
CHERRY MX BOARD 5.0 Mechanical Keyboard on BenchmarkReviews.
Steelseries Apex M750 TKL Keyboard on FunkyKit.

Storage:
Silicon Power Bolt B80 240GB USB 3.1 Gen 2 Portable SSD on NikKTech.
Patriot EVLVR 1TB Thunderbolt 3 Portable SSD on LegitReviews.
Crucial MX500 M.2 1 TB SSD on TechPowerUp.

Audio Visual:
Samsung C49HG90 49-in Ultrawide FreeSync 2 Monitor on PC Perspective.
Sound Blaster K3+ Audio Interface on Modders-Inc.
Royole Moon 3D Entertainment System on OCInside.

Misc:
Swann Smart Security Camera on Tweaktown.
Ballistix Tactical Tracer DDR4 RGB 32GB 2667 MHz memory on Guru3D.



AMD have unveiled their Ryzen Pro processors, aimed at business users. Exceptional performance for your every task. AMD Ryzen™ PRO processors and AMD Ryzen™ PRO processors with Radeon™ Vega graphics accelerate complex computational demands, multitasking, visual computing, and multimedia applications. Coverage on Tweaktown, ExtremeTech, Anandtech, ArsTechnica, Techgage, HotHardware and TechReport.

ACCC have turned their attention to Google's data harvesting from Android phones. Not only does data transfer raise new privacy concerns for the 10 million Android users in Australia but they are also reportedly paying their telco providers to send the data. If it is in the vicinity of the gigabyte a month Oracle estimates, it is likely costing millions.

The US Senate has voted to uphold Net Neutrality. The Senate Wednesday voted to preserve net neutrality, with three Republicans joining all of the chamber's Democrats and independents to block a Federal Communications Commission plan to undo Obama-era rules governing the internet. The vote is a major victory for net neutrality activists, but the plan still has a long way to go before it could take effect.

There's an interesting video here where a few Aussies go to the electronics markets in Shenzen. Unsurprisingly it's a geek paradise!

Finally, if you live on the south-eastern coast of Australia you should have a good view of the ISS this evening. Issued for Thursday 17th May 2018. Be sure to look up in the sky on Thursday night shortly after sunset and show the kids! The ISS or International Space Station will make a visible pass directly over South East Australia for 6 minutes at each location.

PS: It's Yanny. :)




Wednesday Afternoon Reviews (0 Comments) (link)
Wednesday, 16-May-2018 13:11:56 (GMT +10) - by Agg


Audio Visual:
Viotek GN27D 27-inch Curved 1440p 144Hz Monitor on ThinkComputers.
1MORE Triple Driver In-Ear Headphones on Vortez.

Motherboard & CPU:
MSI B360 Gaming Plus Motherboard on NeoSeeker.
Supermicro C9X299-PG300 (Intel X299) Motherboard on Tweaktown.
AMD Ryzen 5 2600X CPU on Vortez.
ASRock X399M Taichi – AMD Threadripper Motherboard on FunkyKit.

Cooling:
Swiftech Maelstrom D5 X100 Reservoir on TechPowerUp.
Coolerguys 2U Bracket with 4 High Speed Evercool 80mm fans on MissingRemote.
Cooler Master MasterAir MA620P CPU cooler on OCInside.
CORSAIR Hydro H60 High Performance 120mm Liquid CPU Cooler on NikKTech.

Storage:
Adata's XPG SX8200 480 GB SSD on TechReport.
Silicon Power Armor A75 2TB USB 3.1 HDD on MadShrimps.
Synology DiskStation DS418play NAS on ThinkComputers.

Input Etc:
Bloody B975 Light Strike Optical Keyboard on LanOC.
MSI VIGOR GK80 Keyboard and CLUTCH GM70 Mouse on Guru3D.
SteelSeries RIVAL 600 Dual Optical Sensor Gaming Mouse on NikKTech.

Misc:
Arozzi Vernazza Gaming Chair on TechPowerUp.
Dell Inspiron Gaming Desktop 5680 on HotHardware.
NZXT H400i case on OCAholic.



One interesting aspect of the new federal budget is a focus on improved GPS and satellite imagery for Australia. Part of the Australian government's mammoth AU$2.4 billion investment in technology and science, the satellite funding will be broken down into AU$160.9 million to deliver a Satellite-Based Augmentation System (SBAS); and a AU$64 million investment in the National Positioning Infrastructure Capability (NPIC) to complement SBAS to improve GPS accuracy to up to 3cm.

NSW meanwhile are getting ready for digital driver's licenses. The New South Wales Government will introduce new legislation in the next two weeks to pave the way for a phased statewide digital driver's licence rollout, based on technology developed by Secure Logic. The move comes after a series of tentative steps by the NSW Government to develop a statewide digital licence regime, with the rollout of its first wave of digital licences – Recreational Fishing Fee, Responsible Service of Alcohol and Responsible Conduct of Gambling Competency Cards – in November 2016.

NASA are sending a drone to Mars. The Mars Helicopter, a small, autonomous rotorcraft, will travel with the agency's Mars 2020 rover mission, currently scheduled to launch in July 2020, to demonstrate the viability and potential of heavier-than-air vehicles on the Red Planet. There's a video of it test flying and stuff here on YouTube.

PC Perspective have a guide to building a Steam caching server which might be useful in a multi-gamer household. With our Steam caching server in place, we first started by downloading several games to a local machine. Since this is the initial download, and there is no data already cached, it will not be any faster than downloading games without the cache enabled. However, in our experiences, this seeding of data to the cache also isn't any slower than the normal process of downloading the game.

Google's new Android Things platform addresses one major issue with the "Internet of Things" concept: updates. But with Android Things, Google is aiming to provide a framework that allows Google, not hardware developers, to be in charge of sending out new updates, which ensures that whenever a new security patch for Android gets released, it will be sent to Android Things devices immediately to prevent the weeks- or months-long waiting periods many Android devices suffer from today.

Also from Google, an AI which will call people for you - like voice search but in reverse. There's a video about it on YouTube. It's fairly impressive but people naturally freaked out a bit about it, so it will now identify itself as a robot.

I missed this one earlier, but mobile phone manufacturer ZTE are having a rough time lately, with a ban by the US Government pretty much destroying their business model overnight. However it seems they are forgiven now - there's an article here on itnews which gets you up to date. Republican Representative Robert Pittenger, a sponsor of legislation that would strengthen the US national security review process for foreign investment, said after the Commerce ban was announced that the United States "must be vigilant against Chinese threats to both our economic security and national security." Experts said Trump's policy reversal was unprecedented.




Sunday Afternoon Reviews (0 Comments) (link)
Sunday, 13-May-2018 13:49:53 (GMT +10) - by Agg


Motherboard & CPU:
ASUS ROG Strix X470-F Gaming on Guru3D.
MSI B350m Gaming Pro AM4 Motherboard Video Review on Modders-Inc.
Top 5 AMD X470 Motherboards on TechSpot.
The Best CPUs of 2018 on TechSpot.

Memory:
Patriot Viper LED PC4-24000 2x8GB DDR4 RAM on APHNetworks.
Ballistix Tactical Tracer RGB 32GB DDR4 4x 8GB DDR4-2666 on OCInside.

Portable & Prebuilt:
The Best Gaming Laptops 2018 on TechSpot.
Xiaomi Redmi Note 5 "Camera Beast" smartphone on TechARP.
HUAWEI P20 Pro Twilight Edition Preview on TechARP.

Storage:
Intel Optane Memory Tested With Secondary Hard Drive on LegitReviews.
WD Black NVMe SSD Review: Affordable With Great Write Speeds on HotHardware.
Intel Optane SSD 905P 960GB AIC NVMe PCIe SSD on Tweaktown.
Crucial MX500 1TB M.2. SSD on Guru3D.

Input Etc:
GAMDIAS Hermes P2 RGB Keyboard on TechPowerUp.
ROCCAT Kone AIMO mouse on TechPowerUp.
ROCCAT Kone AIMO Gaming Mouse on MadShrimps.

Cases:
FSP CMT520 RGB Mid-Tower on Tweaktown.
FSP CMT330 Mid-Tower Chassis on Tweaktown.

Audio Visual:
ABOX T22 Portable LCD Projector on FunkyKit.
Corsair HS60 headset on LanOC.
ROCCAT Khan AIMO headset on Vortez.

Software:
Radeon Pro Software Enterprise Edition 18Q2 Tech Report on TechARP.
The Swords of Ditto game on OCClub.

Misc:
E-Win Flash XL Gaming Chair on BenchmarkReviews.
Antec Kuhler H2O K120 AIO Liquid CPU Cooler on NikKTech.



Soooo.. winter's arrived, then. Flippin' freezing in the AggCave!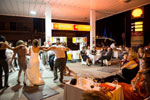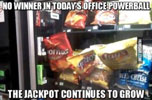 Wednesday Afternoon Reviews (0 Comments) (link)
Wednesday, 9-May-2018 15:41:17 (GMT +10) - by Agg


Cooling:
Scythe Ninja 5 CPU Cooler on FunkyKit.
Thermaltake Floe Riing RGB 360 TT Premium Edition Liquid CPU Cooler on NikKTech.

Audio Visual:
Razer Thresher 7.1 Wireless Gaming Headset on ITWire.
Creative Metallix Plus Portable Water-resistant Bluetooth Speaker on MadShrimps.

Motherboard & CPU:
ASRock X299 Killer SLI/ac Motherboard on FunkyKit.
ASUS ROG Strix X470-I Gaming (Mini-ITX) on Guru3D.
AMD Ryzen 5 2600 3.4 GHz on TechPowerUp.
Intel Core i5-8500 3.0 GHz on TechPowerUp.
ASRock H370M-ITX/ac on TechPowerUp.

Cases:
be quiet! Dark Base 700 Midi Tower on NikKTech.
FSP CMT230 Mid-Tower Chassis on Tweaktown.
Corsair Carbide 275R Mid-Tower Case on LegitReviews.
Lian Li Alpha 330 Mid-Tower Chassis on Tweaktown.
BitFenix Portal Review: A Compact Aluminum Mini ITX Case on PC Perspective.

Input Etc:
ROCCAT Horde AIMO keyboard on Vortez.
Corsair's K63 Wireless keyboard, Dark Core RGB SE mouse, MM1000 mouse pad, and K63 Lapboard on Tech Report.
Gamdias Hermes P2 RGB Mechanical Keyboard on FunkyKit.

Portable & Prebuilt:
ThinkPad X1 Yoga Gen 3 (2018) Review: A Full-Featured Convertible on HotHardware.
Xiaomi Redmi Note 5 : The Camera Beast Revealed on TechARP.

Storage:
Corsair Neutron NX500 400GB NVMe SSD on OCAholic.
M.2 & PCIe SSD Charts: 12 SSDs - Corsair Neutron NX500 400GB on OCAholic.
SanDisk Extreme Portable SSD on ThinkComputers.

Misc:
Crucial Ballistix Tactical Tracer RGB DDR4 2666Mhz Quad Channel Memory on HWAsylum.
SilverStone Strider Titanium ST1100-TI 1100W PSU on HardOCP.




Retro Let's Play: Tetris (0 Comments) (link)
Monday, 7-May-2018 20:45:20 (GMT +10) - by Agg


The current "Retro Let's Play" in the Retro & Arcade Forum is the timeless classic Tetris. Originally from Russia in 1984, it's been made available in a zillion versions since - several of which you can play in your browser.



click for the thread!





NVIDIA have abandoned their controversial "GeForce Partner Program", saying they are pulling the plug due to "rumours, conjecture and mistruths". That may be true, but the program was pretty much universally condemned after an expose by Kyle from HardOCP, who has also posted a response to the program ending. More info on HotHardware and discussion in this thread in our Video Cards forum.

German hardware mag c't are saying there are 8 more security issues with Intel CPUs. c't has exclusive information on Spectre-NG, which we have been able to verify in several ways – we double and triple checked all the facts. Nonetheless, we will not publish technical details as long as there is still a chance that manufacturers will get their security updates ready before the details of the flaws become public. However, we will use our information to report about future releases of patches and provide background information.

LegitReviews explored DDR4 memory scaling performance with a Ryzen 7 2700X CPU. When AMD announced the new Ryzen 2000 Series processors along with the new X470 platform on April 19th, 2018 many might have missed that G.Skill released new Trident Z RGB and Sniper X DDR4 memory kits custom tailored for this platform. We test a kit with the same timings at 2400, 2666, 3000, 3200, 3466, 3600 and 3733MHz to see of the performance scales on a Ryzen 7 2700X CPU.

TechSpot are concerned about future AM4 compatibility. It's impossible for AMD to add support right now for CPUs they're going to release in the future. Intel hasn't developed a time machine to get around this issue either. The only solution is to axe support after a certain period of time and start a fresh and this is the approach Intel has gone with. We don't want AMD to take this same approach though. There will be a point in time when upgrading will be necessary to support new features and memory technologies, but until that time comes, I'd rather not see compatibility removed just so these companies can juice more out of you. I bet there's plenty of H110, H170 and Z170 owners that would love to stick a 'Coffee Lake' CPU on their perfectly good motherboard.

If you're into 3D printing, you should check out our Hobby Engineering forum - and you might also enjoy this article about a filament manufacturer on LanOC. A few weeks back while visiting SeeMeCNC to pick up my new Artemis I had an interesting opportunity pop up. You see last year when SeeMeCNC moved to a much larger building Atomic Filament moved from California into the same building. Well, they invited me (and my wife) over to check out their setup. This in itself is interesting, I've never seen filament being made, but what a lot of people don't know is Atomic Filament is basically the Area 51 of the printing community. They are known for extremely high-quality filament, but to protect that they are very careful on who can come visit.

Telstra and Vodafone are back to offering unlimited data, but in a limited way. Righto then. In both cases it doesn't appear that the telcos are being overtly shady about the practice of shaping your internet speeds, but the lack of information in these forward-facing advertisements could get them into some hot water. For Vodafone specifically, they word the deal in such a way that they offer a data limit as Max Speed and then give you unlimited data (at 1.5Mbps).

Meanwhile, rural internet continues to be pretty bad in Australia. If the drudgery of your job seems bad, imagine having to wake up at 3:00am to get bookkeeping done, because that is the only time when there is enough bandwidth to process online accounts. What about needing to drive for kilometres from your home just to send an email or make a phone call? That is the reality of everyday life for many regional residents still waiting to move into the 21st century. I live a couple of hours south of Sydney and can attest to the ADSL slowdown in the evenings, and being unable to make a mobile phone call from my home office. But the NBN is on the way..




Sunday Morning Reviews (0 Comments) (link)
Sunday, 6-May-2018 11:31:13 (GMT +10) - by booj


Motherboards & CPUs:
AMD Ryzen 7 2700 3.2 GHz on TechPowerUp.
AMD Ryzen 7 2700 on Guru3D.
MSI X370 Gaming Pro Carbon on OCC.
ASRock AB350M Pro4 (AM4) on Funky Kit.

Storage:
Icy Dock MB524SP-B FlexiDock on OCInside.
Intel Optane SSD 905P on Hot Hardware.
Asustor AS7004T-i5 Consumer NAS on TweakTown.

Memory:
ADATA XPG Z1 DDR4-4600 16GB Dual-Channel Memory Kit on TweakTown.
Ballistix Tactical Tracer 2666 MHz DDR4 on TechPowerUp.

Cases:
Thermaltake View 37 RGB Edition on Vortez.
Cooler Master Mastercase H500P Mesh on Modders-Inc.

Cooling:
Fractal Design Celsius S24 LCS on Guru3D.
Raijintek Orcus 240 Liquid CPU Cooler on ThinkComputers.
In Win 101C and Polaris RGB Fans on Modders-Inc.

Input etc:
HyperX ALLOY Elite RGB Mechanical Gaming Keyboard on NikKTech.
Corsair K63 Wireless Mechanical Gaming Keyboard on TweakTown.
SteelSeries Apex M750 TKL Mechanical Keyboard on APH Networks.

Misc:
Netgear Nighthawk XR500 Gaming Router on TweakTown.
SteelSeries Arctis Pro + GameDAC Hi-Res Gaming Audio System on Madshrimps.
ABOX Qi Wireless Charging Stand on Funky Kit.
Couchmaster Cycon Ergonomic tech seating on Missing Remote.
Measy W2H Mini 2 – Wireless HDMI Transmitter + Receiver on Funky Kit.



May the 4th be with you! Thanks to Dan, mpot and Axe this week. :)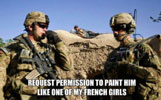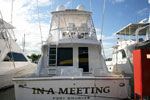 Interesting Forum Threads (4 Comments) (link)
Thursday, 3-May-2018 17:15:24 (GMT +10) - by Agg


You can keep on top of things in the forums via the recent activity feed or the new posts page. To see activity in threads you subscribe to, check out your latest alerts.

Also, the alert system is a little different in our new xenForo platform than earlier on vBulletin. So, it's worth checking your watched threads list from time to time in case you missed an alert.

Meanwhile, here's a snapshot of what people are discussing in the forums:

Gone back to Win 7 in Windows Operating Systems.
The Clone Wars in Retro & Arcade.
Retro Macintoshing in Retro & Arcade.
SNK 40th Anniversary "Neo Geo Classic Edition" in Retro & Arcade.
Billy Mitchell reclaims Donkey Kong and Donkey Kong Jr. world records in Retro & Arcade.
Sonic Mania in Retro & Arcade.
Sega Mega Drive Mini in Retro & Arcade.
Retro Let's Play: "Final Fight" (1989) in Retro & Arcade.
Frostpunk in PC Games.
Need help calculating steel failure point in Hobby Engineering.
nvidia drivers getting real nasty in Video Cards & Monitors.
Not sure if I should buy TN or IPS in Video Cards & Monitors.
Samsung Galaxy S9 & S9+ in Google Android (OS & Devices).
B&W Nautilus 802D Secondhand in Audio Visual.
The post pics of yer 2 channel audio setup thread in Audio Visual.
Which programmable universal remote now? in Audio Visual.
G-Sync vs Freesync in Audio Visual.
TV - Westworld - HBO - Hopkins - 2016 in Entertainment.
FORMULA 1 2018 AZERBAIJAN GRAND PRIX Baku in Motorsport.
Assisted dying laws in Politics & Policies.
Banking Royal Commission in Politics & Policies.
New cannabis laws in Current Events & Serious Discussion.
Who works remotely? in Career, Education & Finance.
Don't do pharmacy in Career, Education & Finance.
Interest Rates in 2018 (with poll) in Career, Education & Finance.




Thursday Afternoon Reviews (0 Comments) (link)
Thursday, 3-May-2018 13:33:18 (GMT +10) - by Agg


Motherboard & CPU:
GIGABYTE AORUS X470 GAMING 7 WIFI on Vortez.
AMD Ryzen 5 2600 on Guru3D.
ASRock X299 Extreme4 on FunkyKit.

Storage:
Buffalo TeraStation TS3410 NAS on Tweaktown.
Intel Optane SSD 905P 960GB NVMe HHHL SSD on PC Perspective.
Intel DC P4510 2TB & 8TB Enterprise PCIe NVMe SSD on Tweaktown.
WD Blue 2TB Hard Drive WD20EZRZ on LegitReviews.
Kingston A1000 480GB M.2 NVMe PCIe SSD on FunkyKit.

Cases:
Fractal Design Meshify C Mini Dark TG on BenchmarkReviews.
Kolink Rocket mini-ITX case on OCAholic.

Portable & Prebuilt:
Hands-On The LG G7 ThinQ smartphone on HotHardware.
The Acer Avengers: Infinity War Laptops Revealed on TechARP.
DinoPC Primal Light AMD Gaming System on Vortez.

Input Etc:
ACGAM AG6X Mechanical Keyboard on TechSpot.
RETRO Classic Typewriter Backlit Mechanical Keyboard on NikKTech.

Audio Visual:
Sennheiser GSP 600 headset on TechPowerUp.
Braven Ready Solo Waterproof Bluetooth Speaker on ThinkComputers.

Networking:
The Best Routers 2018 on TechSpot.
Linksys Velop Dual-Band AC3900 on Tweaktown.

Misc:
Galactic Civilizations III: Intrigue and v3.0 game on OCClub.
Corsair H60 120mm LCS CPU cooler on Guru3D.




Win a Scorptec Gaming PC! (4 Comments) (link)
Wednesday, 2-May-2018 15:44:34 (GMT +10) - by Agg


OCAU Major Sponsors Scorptec are giving away a gaming PC, to celebrate their 20th anniversary. Click below to enter!



click to enter!






Wednesday Lunchtime (1 Comments) (link)
Wednesday, 2-May-2018 12:28:54 (GMT +10) - by Agg


Tech Report have taken a look at gaming and streaming on the new second-gen Ryzen CPUs. Finally. After an eventful week in the world of hardware benchmarking, I've wrapped up our gaming test results for AMD's second-generation Ryzen CPUs. We've taken some extra time to bench each Intel and AMD chip in our test suite with stock RAM as well as overclocked speeds. The wealth of resulting data has taken more time to crunch than I would have liked, but hey, we've got it.

They also cover Intel's struggles with 10nm. Krzanich admitted to analysts that the company "bit off a little too much" with its aggressive 2.7x scaling target for the process compared to its 14-nm products. Consequently, Intel says it's in the process of correcting the yield issues it has identified with its chips. The downside is that those yield issues will apparently require lots of time yet to resolve. Although Krzanich still says Intel is shipping 10-nm products today (although it still isn't clear to whom), the CEO says volume production of 10-nm silicon will not occur before 2019, and he wouldn't confirm to analysts whether that production would occur in the first half or second half of that year.

HardOCP meanwhile look into AMD's Precision Boost 2, a built-in overclocking feature. When AMD presented it new Precision Boost 2 technology, I have to think AMD undersold the feature in terms of what it was actually able to accomplish. The original Precision Boost on the 1st gen Ryzen processors was anemic at best. After seeing what Precision Boost 2 can accomplish, do we even need to try to overclock our new 2700X? Blasphemy!

Brendan Gregg from Netflix says we are all doing CPU utilization wrong. In his Lightning Talk, "CPU Utilization is Wrong," Brendan explains what CPU utilization means—and doesn't mean—about performance and shares the open source tools he uses to identify reasons for bottlenecks and tune Netflix's systems. He also includes a mysterious case study that's relevant to everyone in 2018.

Guru3D noticed that Intel are retiring Kaby Lake-X CPUs only 10 months after launching them. The i7-7740X and i5-7640X were a little weird, as in fact they are lga2066 variants of lga1151 processors such as the i7-7700K.

In the USA at least, it's now illegal to put warranty void if removed stickers on things. The Federal Trade Commission put six companies on notice in early April for illegally telling customers that getting third-party repairs voids the warranty on their electronics. You've seen the stickers before and read the messages buried in end user license agreements. Plastered on the back of my PlayStation 4 is a little sticker that says "warranty void if removed." That's illegal.




Tuesday Morning Reviews (0 Comments) (link)
Tuesday, 1-May-2018 07:01:06 (GMT +10) - by booj


Motherboards & CPUs:
Asus Strix H370-I Gaming (Intel H370) on TweakTown.
ASUS Crosshair VII Hero on TweakTown.
AMD Ryzen 5 2600X Processor on Legit Reviews.
Gigabyte H370N WiFi on TweakTown.
ASRock Fatal1ty H370 Performance on TweakTown.
Gigabyte X470 Aorus Gaming 7 WiFi on LanOC Reviews.

Storage:
Samsung 970 PRO M.2 NVMe SSD (512GB) on Guru3D.
Samsung 970 PRO SSD on Vortez.
XPG SX8200 M.2 SSD on Vortez.
Patriot Scorch 256GB M.2 NVMe SSD on Legit Reviews.

Cases:
Cooler Master MasterCase MC500M on APH Networks.
Fractal Design Meshify C on ThinkComputers.

Cooling:
Corsair ML140 Pro RGB LED 140mm Magnetic Levitation Fans on Funky Kit.
Alphacool Eisbaer LT 240 on TechPowerUp.

Input etc:
Tt eSPORTS NEMESIS Switch Optical RGB Gaming Mouse on NikKTech.
Cherry MW 4500 Ergonomic Wireless Mouse on Madshrimps.

Audio:
OLALA SG1 Bluetooth Earphones Video Review on APH Networks.
Corsair HS60 Gaming Headset on Funky Kit.

Misc:
Hudway Cast Head-Up Display on NikKTech.
Samsung Q9 2018 QLED TV on ITWire.
Apexgaming AG-850M PSU on TechPowerUp.



The Federal Government have committed $70M to fund a next generation supercomputer. Pawsey said in a statement of its own that "the funds will be used to procure a replacement for its flagship supercomputer, Magnus as well as the real-time supercomputer, Galaxy, as both systems are close to the end of their operational lives." "Magnus, a Cray XC40, is considered to be one of the most advanced supercomputers in the southern hemisphere," it said. "Galaxy is dedicated to the operational requirements of the Australian Square Kilometre Array (SKA) pathfinder telescopes, Australian Square Kilometre Array Pathfinder (ASKAP) and the Murchison Widefield Array (MWA)." Pawsey said it would work with Australian researchers to identify their needs "which will inform the configuration of the next systems".

SiliconAngel sent in this story about Eric Lundgren, who is going to prison for copyright infringement despite his intentions seemingly being more about reducing e-waste than ripping off Microsoft. In court, Lundgren pleaded guilty but argued that the value of the discs was zero, as the software was made freely available online to restore broken computers. But the courts sided with the prosecution, which was assisted by Microsoft. The company said in a statement this week that providing software as Lundgren did "exposes people who purchase recycled PCs to malware and other forms of cybercrime, which puts their security at risk and ultimately hurts the market for recycled products." More here.

Samsung, Micron and Hynix are in hot water over alleged DRAM price fixing. According to Hagens Berman, the above trio of companies together command 96 percent of the DRAM market currently. Their actions resulted in the price of 4GB of DRAM jumping 130 percent during the class period (July 1, 2016 through February 1, 2018). Interestingly enough, the trio of chip manufacturers also experienced more than a doubling in revenue between Q1 2016 and Q3 2017.

TechSpot have a battle at 4GHz, comparing AMD 2nd-Gen Ryzen vs. Intel 8th-Gen Core. We can say upfront that this article is in no way buying advice, but we're testing purely for the science of it. For the unaware, IPC (instructions per cycle) provides a good indicator of how fast a processor is, so with that in mind we're putting Intel and AMD's latest CPU architectures to the test running at a flat 4GHz.

Meanwhile Techgage look at workstation GPU performance. There hasn't been a great deal of movement on the ProViz side of the graphics card market in recent months, so now seems like a great time to get up to speed on the current performance outlook. Equipped with 12 GPUs, one multi-GPU config, current drivers, and a gauntlet of tests, let's find out which cards deserve your attention.



---
Advertisement:


All original content copyright James Rolfe.
All rights reserved. No reproduction allowed without written permission.
Interested in advertising on OCAU? Contact us for info.