January 2003

I hope everyone has a good weekend planned. I have! Here is some more news.

The "IceCube" is a massive-storage-array concept from IBM. "In essence, IceCube plans to use compact "storage bricks," each of which contains disk drives (or their future equivalent) and a processor". Thanks pelliot.

HardwareZone have reviewed the VapoChill CPU Cooling System. You can find our own review of the VapoChill here.

Sudhian have posted an article titled "No Such Thing as a Free Lunch: When Price Falls, Quality Suffers". Read the full article here.

You can find some info on the architecture of the Playstation3 over on The Inquirer. Looks like it will be a killer console.

There is a roundup of Intel 845PE boards over at Digit-Life, including the ABIT IT7-MAX2 2.0, Acorp 4845PE, Albatron PX845PEV Pro, Albatron PX845PEV Pro II, ASUS P4PE, Chaintech 9EJL2, Chaintech 9EJS1, EPoX 4PEA+, Gigabyte 8PE667 Ultra, Gigabyte 8PE667 Ultra 2, Intel D845PEBT2, Intel D845PESV, Iwill P4HT-S, MSI 845PE Max2-FIR, Soltek 85DR3.

There are a couple of club threads getting under way in the forums, case owners clubs that is. You will find the Lian Li Owners Club and the Antec/Chieftec Case Owner/Modders Club which I linked to a few days ago. Thanks Shawn.

Gforcex have some preview pictures of the Quadro FX. Weird looking fan setup. It looks a bit DIY even.

eDust sent in this link. Two Gameboy Advance units linked by Bluetooth. Why!

The flash time-waster for today is weird. Its called Roshambo Run

Reviews
Sapphire Radeon 9500 Atlantis Pro at Tweak Town
Plextor External USB 2.0 PlexWriter 48x24x48U at Explosive Labs
OCZ PC3200 "EL" RAM at G3D
Corsair XMS3500 Ram at ExtremeMhz
Corsair XMS3200 Ram at Nexus
Labtec Spin-45 Speakers at MonkeyReview
Leadtek K7NCR18D Pro nForce 2 motherboard at OCNZ
NEC LT260 Wireless 802.11b Projector at Designtechnica
Matrix Orbital MX214 LCD Display Kit at Bit-Tech
Sunbeamtech Sound Activated UV CCFL Fan at SubZeroTech
SunbeamTech 20Watt Rheobus at BurnOutPC




Friday Afternoon (0 Comments) (link)
Friday, 31-January-2003 13:22:23 (GMT +10) - by Agg


A few people sent in the "new design" for Atomic. Hacked or a joke by their Admins? Pretty funny either way.. box00r, hehe.

HardOCP have had a busy few days. Not content with killing a P4 at 4.2GHz and then getting another to 4.4GHz, they've also been playing with a mini nForce2 system.

ATI had a premium event in Moscow, hoping to regain market share in Russia. Digit-Life have the report.

Meanwhile, 3DVelocity compared two Radeon 9700 Pro cards.

There's an article here that argues the old "Linux is more secure than Windows" catchcry might not be true.

From Joshua: Yesterday (Wednesday 29) National Public Radio interviewed Tsering Gyaltsen, a sherpa who is the grandson of the only surviving sherpa who accompanied Sir Edmund Hilary on his Everest climb. He's working to install a cybercafe in the Mount Everest Base Camp on the glacier below the peak. In the audio interview he mentions that it can get down to -20 degrees. No mention of how this might affect the overclockability of the machines, however.

DeviantPC have a modding project posted, called Nightwing.

Interesting comments here from John Carmack, about R300 vs NV30.

Mike sent in this Linux Xbox Cluster.

Gainward have addressed a major complaint about NVIDIA's new GeForceFX, by making a card that only creates 7dBA of noise.. thanks Stmok.

Xbit have a roundup of HDD's with 8mb cache.

Boky spotted this interesting new platform called Pegasos. Based on a PPC CPU, it can apparently run Linux and Amiga software. It also seems to be an Australian system.

Reviews:
FlashDisk 64MB USB Drive on MikhailTech.
Albatron Ti4200P Turbo video card on TweakTown.
Thermagic Watercooling Kit on MaximumPDA.
Taisol CCP445172 Copper P4 cooler on FrostyTech.
FastWin FW-810S aluminium case on DansData.
Hercules SmartTV Capture Card on OCOnline.
Thermaltake Aquarius II watercooling kit on Inside-Hardware.
Swiftech H20-8500 Water Cooling Kit on ModTown.
Seagate Barracuda V SATA HDD on EnvyNews.
Thermaltake Spark 7 P4 cooler on HardCoreWare.
Sunbeam UV Cold Cathode case lighting on DVHardware.
Gigabyte 7VAXP Ultra KT400-based socketA DDR motherboard on Dukgamers.




Train Derailment in Sydney (0 Comments) (link)
Friday, 31-January-2003 12:27:45 (GMT +10) - by Agg


There's been a train derailment near Waterfall in Southern Sydney, with several people killed. More info here and here. If you're concerned about someone who may have been on the 6:24 from Sydney to Port Kembla, ring the hotline on 1800 227 228.




ThermalTake Aquarius 2 Review! (0 Comments) (link)
Thursday, 30-January-2003 21:31:37 (GMT +10) - by Sciby


Overclockers Australia has always been about overclocking and extreme cooling in its core values, and in particular, watercooling. I even still have a very old primitive waterblock around here somewhere that Agg sent me a couple of years ago. (I never used it, one thought about all that water and my aquaphobia kicks in), and Agg himself has run watercooled systems for eons. (Well, couple of years)

Thankfully, SushiMOO has brought us kicking and screaming into the watercooling present with a timely review of the new ThermalTake Aquarius 2 watercooling kit! Hurrah!



Click for the article!





GuRu sent this link in. Here you will find some answers to many of your question about Palladium, the next generation in secure computing. If much of what is written there comes to pass then it is almost certainly the end of personal computing as we have come to know it. Scary stuff indeed.

This was sent in by lots of people. Kazaa is suing the music industry. This should turn out to be a good fight as not many people have successfully sued the music industry. More info here.

drayzen wants to let us know that Opera v7 Final has been released. Get it while its fresh. He also found this image while browsing the Shuttle website. Notice anything strange about this motherboard? I think I do!

Digit-Life continue with their graphics card tests. Part 2 has the ATI RADEON 9500 64MB, 9500 128MB, 9500 PRO, 9700 and 9700 PRO in DirectX 9.0. Read it here. Check out their PC600/800/1066 and PC3200/4200 Rambus DRAM review while you're there.

Glenn has come up with a simple but effective design for a water block. Info and pics here. Very much a do-it-yourself approach that works. I once thought of making something similar to this when I first entered the watercooling arena.

Intel claim they will have a 10.20GHz Nehalem by 2005. That gives us 2 years to come up with some killer apps that need that much CPU power.

The people at Modfather put an Abit AT7 Max2 and the IT7 Max2 head to head to see "the impact that the differing approaches adopted by Intel and AMD have on overall features and performance". Read more here.

If you're feeling brave, PimpRig have an article on How To Build a Power Supply. Some good tips there.

Hector Ruiz, chief executive of AMD, believes that "much of today's technology is irrelevant to today's companies and consumers". Read the full article to get a better idea of what he is getting at.

Reviews
Belkin Wireless Mouse and Keyboard at 3DVelocity
Epox 8RDA+ nForce2 Motherboard at PCstats
MSI K7N2-L nForce2 motherboard at HWZ
Seagate Barracuda SATA V HD at OCaddiction
Trident XP4 Video Card at Sudhian
OCZ Technologies PC2700 Rev 3.2 DDR at Viper Lair
ABIT NF7-S nForce2 Motherboard at Adrian's Rojak Pot
Belkin Firewire&USB2 pci card at R&B
Logitech Z-640 Speaker Set at 3dXtreme
Shuttle S.F.F XPC SK41G at Hexus
Thermal Integration Ti-T707TN P4 Heatsink at FrostyTech
Samsung SyncMaster 191N at Modfactor
Leadtek WinFast TV2000 XP Deluxe at IANAG



Amdboard have posted the new AMD roadmap showing where AMD plan to go in the next few years.

The guys at Overclockers New Zealand have posted a DDR RAM Guide, part 2 with the ram being tested on an Epox 8DRA+.

SubZeroTech have a "How to clean your keyboard" article. Not very exciting but certainly useful!

This from MoJoMaN, "Hewlett-Packard has removed from the market keyboard software provided with some of its Pavilion models, which sent frequent network-checking signals apparently to a central site that indicated when users were connected to the internet and when they pressed certain function keys". The full story here.

You can find a guide on how to add a Pocket PC to a WIFI network over on ExtremeMhz. But how do I add a pocket-watch?

Sudhian have had a long hard look at a GeForce FX card. They have much to say about them. "The GeForce FX cannot outpace the Radeon 9700 Pro. It may be a tie in many cases, and the two GPU's will trade top spots in various situations". Its worth a read.

X-bit labs have a roundup of Five USB Flash-Drives. These things are getting cheaper by the day and are growing in capacity even faster. I'll be in the market for one very soon...just don't tell my wife.

Its that time again. ZZZ #158 is out. Get your fill of the weird'n wacky... or not so wacky.

So...you call yourself an overclocker? How do you rate against this list. My wife closes the door even when we don't have visitors!

Now for a couple of eye catching pieces, Nigel found this nice monitor in his wanderings. I don't have any more info about it but it does look amazingly large... And Wired found this system submerged in mineral oil. Mineral oil used as a coolant is not new but this is one of the better looking efforts I've seen.

Reviews.
EasyHardDisk 20GB USB 2.0 HDD at Envy News
SIIG Serial ATA PCI card at Envy News
Logitech Z-680 THX Speakers at 3dXtreme
Sony MDR-V300 Headphones at Mikhailtech
iRock! BLiNG MP3/CD/FM Player at Viper Lair
Leadtek WinFast XP2000 Deluxe at Modtown
CoolerMaster X-Dream (HAC-V81) CPU Cooler at Overclockers Club
CPUmate DIA-10500 Heatpipe P4 Heatsink at FrostyTech
MSI 845PE Max2 Motherboard at Extreme Overclocking
Terratec 5.1 Fun soundcard at BurnOutPC
Eksitdata Rheobus Fan Controller at BiT-Tech
CaseArts "Red Cherry" Dragon Case at VH




Wednesday Morning (0 Comments) (link)
Wednesday, 29-January-2003 02:56:54 (GMT +10) - by Agg


Quite a few people sent in the link to this review of a waterblock designed and made by Cathar from our own forums. The review is by BillA also from our own forums and credits OCAU's forums as being very much involved in the design process. But, the article is on overclockers.com in the USA. Go figure. :) Interesting read nontheless.

LANAddict have a Bluetooth Overview article, explaining this wireless technology. HardCoreWare have a similar article.

Apparently Moore's Law is under threat (again), thanks Comit.

Very odd sperm thing from Marty. Wonder how many we'll get online at once. :)

Xbit rounded up eight CDROM drives, while Digit-Life checked out flash drives.

SilentPC talk about using foam and rubber to make HDD's quieter.

Nicely packaged cooling system in Norbe's PCDB entry.

Bjorn3D have gone crazy with content over the last couple of days, with a QuadroFX Preview, Belkin USB Flash drive, Antec TruePower 550 PSU, Logitech MX300 & MX500 mice and a Belkin Wireless Combo all on show.

ARIA says that CD-burning and song swapping is probably not to blame for declining CD sales, thanks Jani.

There's an interview with some people from Futuremark, about their upcoming 3DMark2003 benchmark, thanks Nigel.

From Iroquois: RIAA site hacked yet again. MS is apparently not using their own updates - MS
servers hit by Slammer worm. MS drops the name 'Palladium'. Opera 7.0 final is out.

A site called Flickerdown have a translation of an earlier Barton 2800+ review.

HardwareAvenue have a guide to all things digital with WindowsXP. Covering the areas of music, personal management, entertainment, imaging and video, we explore all the digital aspects of this powerful OS.

Win yourself a USB Flash Drive on EnvyNews.

More on ATI's legal dramas from sp4mz0r.

Wild noticed that you can play SimCity Classic online on EA's website.

Reviews:
Vantec Nexus front ports on BurnOutPC.
Eluminex Illuminated Keyboard on ClubOC.
Logitech Z-640 speakers on DesignTechnica.
OCZ PC3500EL SDRAM on NexusHardware.
Vantec Nexus fan controller on Fragware.
Vantec Stealth VAN-470A PSU on MonkeyReview.



Given the recent bushfire crisis around the country, I thought it would be a good idea to provide some information on how we can help.

If you feel you would like to lend a hand, please consider the following options.



Online Donations:
Canberra Bushfire Recovery Appeal. (Canberra only fund)
The Salvation Army Disaster Relief Appeal. (Country-wide fund)

You can also donate to the Salvation Army via these methods:
Credit Card Line - phone 13 32 30
Mail a cheque or postal money order to The Salvation Army, Box 9888, in your capital city.
Cash donations are accepted at any branch of Westpac Bank or Salvation Army Family Stores.

Also, You can make a monetary donation at any branch of Commonwealth Bank or National Australia Bank or you can call the donation hotline on 13 2281.

Cheques should be made payable to "Canberra Bushfire Recovery Appeal" and mailed to Commonwealth Bank of Australia, 48 Martin Place, Sydney NSW 2000 or handed in to any branch of the Commonwealth Bank or at a Canberra Connect shopfront.




Tuesday Night (0 Comments) (link)
Tuesday, 28-January-2003 23:33:21 (GMT +10) - by Agg


Over 450 people browsing the Forums as I type this.. it's crazy in there! :)

Ben sent in a site which gives an Internet Average related to traffic, availability etc. Spot the big dropout on the weekend. Internet Pulse and Internet Traffic Report are a couple more sites with similar info presented differently.

Lots of people are still accessing our Matrix 2 & 3 trailer mirror (see a few newsposts down). If you want to see more ads from the Superbowl, check out this page from Michael. You'll need RealPlayer to view them, unfortunately.

Win some watercooling goodies on OCrCafe.

FutureLooks have their CES 2003 coverage posted.

Today's flash timewaster is Gridlock, from Redback.

Reviews:
NVIDIA GeForceFX 5800 Ultra video card on Hexus.
Abit IT7 Max 2 v2 i845PE-based P4 DDR motherboard on NexusHardware, our review here.
Abit IT7 Max 2 v2 on A1 Electronics, too.
Sunbeam Tech 5.25 Rheobus fan controller on ModTown.
Swiftech MCW-50 video waterblock on BurnOutPC.
KingWin Black Aluminium-Mg Alloy case (video review) on 3DGameMan.
Samsung SM-332 combo drive (CDRW+DVD) on NeoSeeker.
Belkin Omniview 4-port KVM switch on Bit-Tech.
I-Tee Case on DeviantPC.
Plextor PX-S2410TU 24x USB CDRW on ClubOC.
Power Cooler PCH161S CPU cooler on ClubOC.
Logitech Cordless Elite Duo keyboard and mouse on 3DXtreme.
Lian-Li PC65U Case on ViperLair.
Gigabyte Maya II Radeon 9700 video card on TweakTown.
Sunbeam UV CCFL Fan on ExtensionTech.
Kingston HyperX PC3500 DDR SDRAM on NexusHardware.
Meritline USB Notebook Light on MikhailTech.




Email working again.. (0 Comments) (link)
Tuesday, 28-January-2003 13:19:56 (GMT +10) - by Agg


OCAU email is working again, both inbound and outbound. A lot has already gone from the various queues, but over the next few hours we should see the last mails trickle in and out. The outage was less than 48h, so no mail should have been lost - so there's no need to re-send messages. However, if you sent something super-important (like, I dunno, legal threats or something) you might want to re-send it to be sure. Thanks to Jason from AusGamers for fixing the mail server!



The news has been backing up over the last day or two so here is a short news post to help clear the backlog...

Forum member Smack01 has started an "Antec Case Owners/Modders Club" sticky thread in the forums here. If you own one of these cases this would be a good place to look for ideas on your next case mod.

There is some more information about the weekends internet outage on the forums.military.com site. They list the root servers that suffered the most as well as following the outage through its course. Raz0r sent that link in.

nEoLIthIc tells us that Version 5.0.3 of Divx has been released. Time to upgrade again. Divx is a codec and player set, that is required to view many of the video files you might find on the internet. If you are having trouble playing your video files then head on over to the DivX main site and read all about it.

Bench House have posted another storage test. This time they compare how differently CD and DVD drives behave when doing the ordinary everyday tasks. They test drives from Teac, Benq and Pioneer.

Something interesting from SJC. It seems Microsoft may have been hit hard by the weekends network outage as he has been trying to activate his copy of Windows XP over the phone. Microsoft told him they were having technical problems with their systems and were unable to provide activation IDs until the problem was fixed. He was asked to call back later in the week, "so until then I have a completely unusable system. So much for customer support!

Reviews.
MSI KT4 Ultra-FISR at VR-Zone
SubBeam Tech's 4 port rheobus at Xtrememods
Connect3D Radeon 9500 at BlargOC
Thrust Master Firestorm Wireless Gamepad at Nexus Hardware
Lux Design Aerocool X-Factor HSF at VH
FujiFilm xD PictureCard at Envy News



NVIDIA have announced their GeForceFX chip, after much delay. Lately the performance crown has been with ATI and their Radeon 9700 Pro we reviewed here. Will this new chip swing the balance back to the previous champ, NVIDIA?

(P)reviews on HardOCP, AnandTech, ExtremeTech, TomsHardware, 3DGPU, HotHardware and TecChannel (already linked, in German). Some comments on OneThumb and AmazonInternational have benchmarks of the QuadroFX professional variant.

There's a poll running in our Video Cards forum to see how people feel about the performance of this new product. Cast your vote here if you have an opinion.




Monday Afternoon (0 Comments) (link)
Monday, 27-January-2003 16:52:09 (GMT +10) - by Agg


Still no email, but here's some stuff I had lying around..

From the PCDB: HoJo's watercooled machine is quite impressive, while Basilisk has squeezed some expensive cooling into a cheaper case. Some more info about JediKnight0's arcade-machine PC would have been nice. Well-finished suitcase PC from farmer, too.

More patent madness, thanks DJ-Studd.. now web frames are attracting royalty demands. As if any more reason was needed to not make framed websites..

What seems to be the first GeForceFX review has been posted on a German site. Some discussion of this review here in our Video Cards forum.

Darkness sent word of a new game called STALKER, which looks pretty impressive on the graphics front. Some videos here.

Lots of questions for NVIDIA today, EliteBastards interviews a Product Line Manager while TweakTown interviewed someone about the upcoming GeForceFX product.

Nigel noticed that Sony is moving away from CRTs in favour of LCDs for their product line.

Interesting little gadget on AusMusician, an MP3 player that is used like a USB thumb drive. Only 64MB, though..

A few people sent this in last week - a court in the USA has ordered an ISP to disclose information about someone downloading MP3's. Info here and here.

Rodney notes that HP are now #1 in PC sales, having beaten Dell last quarter. No doubt their recent acquisition of (merger with?) Compaq has helped there.




Superbowl Matrix 2 & 3 Trailer (0 Comments) (link)
Monday, 27-January-2003 15:36:46 (GMT +10) - by Agg


A few people mentioned that a new Matrix 2 & 3 trailer was played at the Superbowl which was on in America a few hours ago. The server it was on seems to be a bit busy at the moment (or perhaps the internet problems of the weekend persist) so I've mirrored the file on our server for a while. It's about 24MB but pretty impressive for Matrix fans, check it out here. We have an article about Matrix filming in Sydney here from a while ago.




nForce Soundstorm Technology (0 Comments) (link)
Monday, 27-January-2003 12:46:58 (GMT +10) - by Agg


SpeedRacer has given us an overview of the Soundstorm technology in NVIDIA's nForce and nForce2 chipsets. Also found in the Xbox, Soundstorm offers the unique ability to output an AC3 or Dolby Digital 5.1 digital signal which can then be decoded using an appropriate receiver.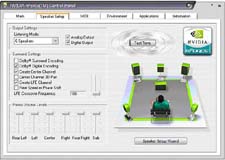 Click for the article!






Email probs.. (0 Comments) (link)
Monday, 27-January-2003 10:14:42 (GMT +10) - by Agg


Unfortunately AusGamers mail seems to be down, which means I can't get my mail or the news mail.. hopefully a big update for you later in the day, stay tuned!




Internet Outages (0 Comments) (link)
Saturday, 25-January-2003 19:10:20 (GMT +10) - by Agg


Andypoo sent word of a massive DDoS attack in progress on the internet's root servers. This is having an affect on many websites and other internet services. A few people are tracking the attack in this thread on WebHostingTalk and some comments here in our Networking & Internet forum. Current theory seems to be that it's a DDoS generated by an MS-SQL exploit.



Weekend News...

HotHardware have put a Abit IT7-Max2 v2.0 and a Iwill P4HT-S head to head. Some predictable results there.

Sudhian investigate what they think as the single most important event in PC history.

Forum member Krypt0n has a site with a lot of good info about Wireless Networking. Links to articles and wireless communities around Oz. If wireless is your thing, head on over and have a read.

If you have US$8000 spare and want to get your hands on an Opteron Server, have a read here. Thanks sniper1400. I wonder if they will take a small deposit plus IOU.

I mentioned yesterday that Project Dolphin was dead. Well, now it seems to have been reborn in the form of a whale. Check out Project Orca. A lot of people sent this one in to me so thanks folks.

The NVIDIA Quadro FX cards are available. NVIDIA have all the info. The spec sheet on these things just about makes me drool.

Instant Linux in your browser! Thats the aim of a site called WorkSpot. The idea sounds good. Read more on The Register. Thanks Kirstar.

PC-max have an article showing you two ways to cut a window in your case.

Also on the Inquirer is word that ram prices are set to come down, but we have heard that one before. We live in hope. Thanks ukei.

3DVelocity have some high res pictures and a preview of the GeForceFX card.

Forum member FreeFrag sent in todays flash game. Stickdeath v2.

Reviews.
Abit's BG7E motherboard at The Tech Report
Shielded Round IDE Cables at Viper Lair
MSI MX440 8x at TweakTown
Asus P4G8X Deluxe at HEXUS.net
Zalman ZM300A-APF CNPS PSU at DataFuse
Zalman ZM80-HP GPU Cooler at Modfathers
ThermalTake Volcano 7+ Heatsink at Planet Savage
Albatron Ti4680P TURBO at HEXUS.net
Thermaltake P4 Spark 7 Cooler at 3dGameMan
Soltek SL-75FRV KT400 Motherboard at TweakersZone




Bushfires Pic (0 Comments) (link)
Friday, 24-January-2003 16:58:54 (GMT +10) - by Agg


Boky sent in a picture of the recent bushfires, which we've hosted on our server. It was sent to him by Richard P, who's comments are below. It's huge, but available in 3 sizes on the following page. I'm not sure who took the original picture - obviously someone who owns an imaging satellite, which narrows it down. Amazing view, though..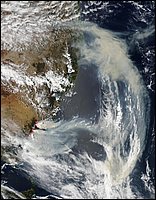 Click for the image page!


I have a hi res (1km/pixel) satellite shot of south east Oz taken last Saturday at 1:30 pm. It covers the coast and mountains from the Qld border down to the North of Tassie and clearly shows the Canberra bush fires in full flight as well as the Vic fires. The smoke plumes from Canberra go out over the Pacific.

Update: The original is here, with quite a few other impressive pics.



Tweakers Asylum have a new version of their Detonator Driver Database available for you to browse. Quick and easy reference to many versions of dets including benchmarks and features.

PC-max will show you how to change the colour of your LED fan lights. Pretty!

X-bit labs have a roundup of no less than six Budget Priced Graphics Cards and they include cards from NVIDIA, ATI, SiS and STMicro.

Anatolyl found this case on the Thermaltake site. It's a beasty looking thing, ideal for those who don't want to mess around modding their own case.

GotApex KT400 2-way Review. They find a few failings with the KT400 chipset and concede that it need some more work.

Comit found this bit of news, "Looks like ATI might be in hot water". More info here.

For those who don't know, Project Dolphin is no more. Its creator, Andy, is "busy with other goals in life and have let this project fall into the background", so he says.

BrAiN DaNcE want to let let everyone know that there is a Lan on this weekend in the NT, the biggest NT Lan so far. More info at Darwingamers.

DeviantPC have posted some confirmed AMD Barton release dates including speeds and prices. I guess I had better start saving up now. Thanks Tim.

Reviews.
15" Kiss Technology Widescreen TFT Monitor at DeviantPC
Thermalright SK6+ and SK-7 at MHW
PocketPC Phone at Designtechnica
Aiptek's Pocket DV II Digi-Cam at Dans Data
X-Trac Pro HS Optical Mouse Pad at Geekshelter
Logitech Cordless Elite Duo at OCAddiction
BFG GF4 Ti-4200 at Overclocker Cafe
Chaintech Zenith 7NJS Motherboard at HWZ
ASUS A7N8X nForce2 Motherboard at ExtremeMhz
AOpen AK77-8XN Motherboard at OCC
AeroCool AB7080 Socket A Cooler at OC NZ



Friday again. Wind down time for many of us. Some news...

Case windows. Everybody's got one. But not everyone has fish in theirs. A fishtank window kit from Lian-Li.

Digit-Life have an article titled VIA C3 Core and Its Prospects. They discuss thing such as specifications, theory, overclocking etc. Also, eDust notes that VIA'a next CPU will include security features to make encryption easier.

Also on Digit-Life, they have their December 2002 3Digest, a monthly drivers report and popular 3D accelerators comparison.

The Tech Zone have had a look at the goodies on show at 2003 CES an end up on the nasty end of a 50,000 Volt Taser gun! Ouch.

Meanwhile, the guys from Ipkonfig take a look through the offices at the "Space Imaging Company", the people who operate the IKONOS Satellite.

Damage69 found this interesting item. Its a waterblock/heatsink with fan attached. It almost defeats one of the benefits of watercooling but might introduce other benefits of its own.

F1DarkFlash found this item. A new console called "The Phantom", due to hit the streets late this year, which has the ability to download games as well as you buying them at retail. Nice idea if it catches on.

HotHardware have had an interview with Ben Bar-Haim, ATi's VP of Software, in which they discuss the software behind their current line of products.

Arkenstone noticed this amusing story. It seems the judge didn't see the funny side.

There is another OCAU BBQ being organised in Brisbane. Go here for all the details. Thanks Ma.

The flash time-waster for today comes from trevor68, its cricket.

Reviews.
Sapphire Radeon 9700 Pro at Digital-Daily
Vantec go2.0 USB 2.0 PCI Card at Club Overclocker
ATI PCI Video Cards at Sudhian
Gigabyte Maya II Radeon 9500 PRO at Neoseeker
SamCheer PC90 Titanium Case at BurnOutPc
ASUS CRW-5224A CD-RW at A1 Electronics




Special Announcement! (0 Comments) (link)
Friday, 24-January-2003 00:17:40 (GMT +10) - by Manaz


It's not often that I post news here these days, but I figured today was a perfect time to break my bad habit.

Today (24th of January) is Agg's birthday. On behalf of those of us who post news here, and help Agg with the site, I'd just like to wish him the best for the day.

Those of you without news posting rights can wish him the best for the day in this thread on the OCAU Forums if you're a member. And if you're not, what better reason to join up?




Thursday Afternoon (0 Comments) (link)
Thursday, 23-January-2003 13:41:47 (GMT +10) - by Agg


Sorry about the lack of news yesterday, bit of a hectic one.

Cooler laptops could be on the way, with work on fine-grained heatpipes to remove heat faster, thanks eDust.

OneArmedMan reports rumours of Microsoft buying Vivendi. Half-Life 2, Warcraft, Counter-Strike, Crash, Spyro, Lord of the Rings... Vivendi has an enormous portfolio boasting some of the biggest titles on all formats, and it would be an ultra-smart move on Microsoft's part to snap them up.

Sabretooth spotted this bizarre crash bonsai site.

TechSpot have updated their OS Updates page.

Firemoth sent in this page with info on the progress of projection keyboards.. defintely one of the most interesting gadget ideas for a while.

From Sm00thY: No mention of the National Linux Conference currently running at UWA in Perth. Linux.conf.au for all the details. Some IT pages have made mention of the fact that Linus is attending (not speaking though) and made his first appearance complete with penguin suit.

Trevor sent in another smashing a PC page.. well, he burns it, too. And it's not his, it's his ex-girlfriend's. :)

How do you transport a large, broken ship? You get an even larger one to carry it around.. interesting photos from Bern.

HP and Intel are cooperating on a Chinese linux center.. thanks again Bern.

Meanwhile, Mandrake has filed for bankruptcy, thanks Robert.

Old but funny article about Australia on SatireWire, thanks Symon.

Reviews:
Altec Lansing XA3051 Surround Console Speakers on Hexus.
Zalman ZM80A-HP heatpipe video cooler on FrostyTech.
Trust Email Hub USB hub with email notification on R&B.
Albatron GeForce4 Ti4280PV video card on TechWareLabs.
Alpha 8942 P4 cooler on NexusHardware.
Koolcase Aluminium Silver Case (video review) on 3DGameMan.
AMD AthlonXP 1800+ Thoroughbred CPU on PlanetModz.




OCAU BF1942 Clan Match Report (0 Comments) (link)
Thursday, 23-January-2003 13:41:13 (GMT +10) - by Agg


From SpeedRacer: In a very ferocious and tense match up, the lads from OCAU emerged victorious against the valiant soldiers from the Australian Expeditionary Force on the pacific island Iwo Jima.

In what was a nailbiting first round, OCAU went in as Allies and immediately moved warships into position to assault the island. Quickly managing to snag some key positions, the battle raged on, eventually seeing AEF forces driven back to seek refuge on Mount Suribayachi on the south of the island. In the dying minutes of the game AEF looked like they had managed to keep OCAU back just long enough. But thanks to the efforts of some brave OCAU soldiers, who fought back hard, managing to take the round by just 1 ticket.

The next two rounds were dominated by OCAU, winning by 122 and 123 points consectuively. The pride of the AEF boys now at stake however, they managed to suck it up and hold on for the last round. This time once getting a foothold at the northern airfield AEF were able to keep at bay the OCAU attempts to re-take the position, eventually winning the map by 61 tickets.

Once again OCAU has proven its worth and defended its honour on the shores of the pacific island beaches.




Thursday Morning (0 Comments) (link)
Thursday, 23-January-2003 04:02:45 (GMT +10) - by Agg


I actually tried to post this earlier in the evening but had some ISP issues. Lucky for you I can't sleep!

Thermaltake Volcano 9 cooler on PlanetSavage.
Abit KD7-G KT400-based socketA DDR motherboard on ClubOC.
eDimensional Wireless E-D Glasses on OCClub.
Belkin OmniView 4-Port Switch for keyboard/video/mouse on ExtremeMHz.
Impossible Creates game on 3DAvenue.
Abit Siluro GF4 Ti4200 video card on OCrCafe.
MSI StarSpeed 16X DVD-ROM drive on ViperLair.
Vantec AeroFlow cooler on ExtensionTech.
LanRig Sunbeam Rheobus Kit #2 on ForumOC.
CoolerMaster Black Widow case on Hexus.
Cooler Master ATC-610-GX1 case on HWZ.
Atlas 520W Gold ATX PSU on Tweakers.
Albatron Ti4680P Turbo video card on 3DVelocity.
Elite ACF-999 Clear Panel PC Case on Tech-PC.
Laser LED's on BurnOutPC.
Chaintech 7NJS nForce2-based socketA DDR motherboard on Xbit.
OCZ Dominator 2 and Dominator 2CU coolers on BoogleTech.
Black Ice Extreme radiator on Nexus.
Creative Labs I-Trigue 3300 speaker set on Guru3D.
VapoChill PE S478 Titanium phase-change cooling system on VR-Zone, our review here.




Tuesday Night (0 Comments) (link)
Tuesday, 21-January-2003 21:11:45 (GMT +10) - by Agg


I've updated the Big Day In Report with some comments from a Shafted person.

Sciby reports on some killer eucalypts apparently threatening the Super Bowl in America.

FutureLooks checked out SimCity 4, which seems to be the latest addiction for a few IRC-goers. I'm scared to even look at it, I lost too much of my life to SimCity 2000, years ago.

Sudhian have some adventures in WiFi posted.

DesignTechnica have a wrap-up of the CES 2003 exhibition.

Tech-Report explore the R9700 Pro's VIVO/PVR features, for video enthusiasts.

fxr91 has noticed more talk about a possible levy on CD media to compensate copyright holders for piracy. Seems like a case of "we can't catch the criminals, so we'll penalise everyone" to me.

Interesting Forum Threads:
OCAU Forum Monitor in Site Discussion.
HDD's with temperature sensor in Storage and Backup.
9500 --> 9700 is it fake? in Video Cards.
Toothpaste to remove scratches on phone screen? in Other Toys.
Bushfires in Canberra in Media & Current Events.
Big Day Out (Gold Coast) 2003 in Media & Current Events.
Govt sites for vehicle mods in Motoring.
Advice on Asian Recipes in Geek Food.
Quality - BattleField 1942 Movie in The Pub.

Reviews:
SiS Xabre 600 video card on A1 Electronics.
Taisol Heatpipe SocketA Cooler on OCNZ.
BeanTech BT-84 acrylic case on IANAG.
OCZ DDR400 SDRAM on TheTechZone.
Samsung Syncmaster 172T LCD screen on GideonTech.
Desert Combat Mod for BF1942 game on AddaBoy.



Here's an impressive case mod from Waggerz. As well as a flame-shaped window and some appropriate lighting, it also has this impressive "flame" effect out of the top blowhole.



Click for the PCDB entry!





News for the day...

The Modfathers have a guide to cheap DIY water cooling including a good soldering guide. The soldering part is well worth a read.

"The Linux and Shuttle XPC Revolution: Part III" is the title of an article over at Sudhian.

AMD's current flagship CPU, the XP 2700+ gets a good workout at Ocaddiction. "The Thoroughbred 2700+ outputs 62 watts of heat, and runs a default voltage of 1.65v".

MrIcee has put up a guide to volt modding the ABIT Siluro Ti4200 OTES over at XtremeSystems. This mod would be applicable to all other Ti4200's as well.

ExtremeMhz show you how to overclock the HP IPAQ H1910 Pocket PC though I don't know just how much of a performance boost it would bring. Still, overclocking is overclocking.

Dr. Claw sends word that FreeBSD 5.0 was released yesterday. There are plenty of FTP links on the site so go get it now. The ISO is about 350Mb.

The people at ExtensionTech have ben playing with Mini-ITX main boards. It seems that there are all sorts of places you can stick a small motherboard these days.

After five years in prison and three years probation, Kevin Mitnick plans to get back on the net. Remember kiddies, computer crime doesn't pay.

mochumbo sent this link in, its a satellite view of the Canberra and Sydney area during the fires.

This site shows you how to distill alcohol using your PC. Is that legal??? Thanks eDust.

There is a new teaser for the Matrix Reloaded movie. Actually its not new, just a high quality version of the revolutions trailer. Looks like May 15th is the likely date for the movie release. Thanks Dave.

Dan has another batch of letters for you to view.

Reviews.
Sapphire Beast All-In-Wonder 9000 PRO 64 MB at Beyond3D
Cooler Master Ram Chip Coolers at Viper Lair
Tyan Thunder K7X Pro at 2CPU.com
Sunbeam Sound Activated Cold Cathode at Furioustech
Akasa 60mm-80mm Fan Adaptor at Modsynergy
OCZ EL DDR PC-3500 Memory at HEXUS
Visiontek GF4 Ti 4200 at G3D
ECS Desknote i-Buddie 4 at Digit-Life
Thermaltake AquariusIIT Liquid Cooling Kit at 3dGameMan



Just a few quick pieces for you this afternoon...

fxr91 notes that there are some unofficial release dates for AMD's Barton CPU.

eDust found some details about S3's new Deltachrome 3D engine for notebooks.

For all you budding city builders, ASE Labs have reviewed Sim City 4, the latest episode in the Sim City line.

There is a review of the Leadtek K7NCR18D-Pro motherboard at Motherboard Review.

In case you have had your PC switched off for the last six months, I have found another LED Fan review for you at R&B.

Nexus Hardware have a look at Innovatek's "Graph-O-Matic" Video Card Waterblock.

PC-Arena review some Hard Drive Noise Reducers, also from Innovatek.

Digit-Life play with some CPU coolers from Molex. The Molex 37165 and 37256. They certainly look the part, but how do they perform?

An article on CNET.com talks about a new copy protection scheme from Microsoft aimed at preventing commercial music CDs from being duplicated.

Envy News put some Crucial 512mb PC2700 DDR RAM to the test.

HWZ give you the low down on a ASUSTeK 52x24x52x CD-RW drive. Burning at 52x... I still get by with my 8x burner.

...And the big news for the day is....Its my Birthday. Yay :)




Key-Switch Mod (0 Comments) (link)
Monday, 20-January-2003 03:25:45 (GMT +10) - by Agg


Baker has written an article on fitting your PC with a key-switch, giving you a little more control over who turns it on and off.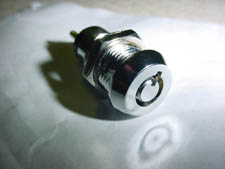 Click for the article!






Monday Morning (0 Comments) (link)
Monday, 20-January-2003 02:22:28 (GMT +10) - by Agg


Firemoth spotted this article about game servers being used as attack tools.

DesignTechnica have a guide to turning your Radeon 9500 into a 9700.

Nigel noticed that there's a 3DMark2003 Teaser video out now. No, it's not worth the download.

Sudhian have an editorial about the internet's 20th birthday. Enough about that, it's my 28th birthday soon. :(

BugEyes sent in this annoying link.. :) Press ALT-F4 to exit it.

From Chris: Looks like widescreen for notebooks will soon become the norm according to this article. Nice of them to NOT credit the fact that Apple PowerBooks have been widescreen for several years already though...

From Tony, a Volcano 7+ cooling a video card.

From David: I just released a program for DVD fans, to help keep track of their collection. It tracks what you have (in lots of detail ;), how much you spent, who you loan discs out to etc. It gets quite detailed, and is customisable. This is an Australian product. :)

Flash timewaster: fly the chopper, thanks fxr91.

Interesting Forum Threads:
Melbourne BBQ Pics in The Pub.
Building a video/image editing PC in Audio Visual.
Amazing Top Fuel Dragster Facts in Motoring.
Your High Overclocks (300MHz+) WCPUID pictures in Overclocking and Hardware.
Cypher's PC (with glowing molexes) in Modding & Electronics.
Official AmigaOS 4.0 Featureset in Other Operating Systems.
Pictures of fried hardware from power surge in Overclocking & Hardware.

Reviews:
Maxtor DiamondMax Plus D740X ATA133 HDD on PlanetSavage.
Asus A7N7X Deluxe nForce2-based socketA DDR motherboard on OCClubCanada.
Zalman ZM80A-HP video cooler on Bit-Tech.
Beantech BT-80 clear case on ComputerSphere.
Crucial 512MB PC2100 SODIMM laptop memory on MikhailTech.
CPUfx UltraViolet Paint Kit on IPKonfig.
Beantech BT-84 clear case on BlargOC.
eVGA GF4 Ti4600 video card with special cooler on Xbit.
Abit IT7 Max2 Version2 i845PE-based P4 DDR motherboard on Digital-Daily, our review here.




GF4 Ti4800 Follow-up (0 Comments) (link)
Sunday, 19-January-2003 15:10:09 (GMT +10) - by Agg


You might remember a week or so ago, I commented about GeForce4 Ti4800 and wondered why I hadn't heard of it before. I got quite a few email responses to my query, but there's a definite division of opinion. Half say it's a new name for the existing Ti4200 chipset with AGP8X, while half say it's a name for the as-yet-unannounced version of Ti4600 with AGP8X. Opinion is divided even among webmasters of other hardware sites who sent me their thoughts.

There's no mention of Ti4800 on NVIDIA's GeForce4 Ti page, but the Ti4200-8X version is clearly shown. Seems unlikely they'd rename that product this late in its life. A couple of vendors hinted that it would be a top-range card, not a value card like a Ti4200 derivative. PlusCorp say they've had stock for a couple of weeks now, but there's no chipset info there.

Last night, I noticed VR-Zone have a review of a Ti4800SE card - the Triplex card that PlusCorp have. In there, they say: NVIDIA has quietly added two more GPUs recently and no official announcement was made about it. The two new GPUs are GeForce 4 Ti4800 and Ti4800SE with AGP 8X interface which are just GeForce4 Ti4600 and Ti4400 with AGP 8X respectively. So there you go, well done to the 50% who got it right. :) William sent more info on the GPU here and info on MSI's card here.




Canberra Fires (0 Comments) (link)
Sunday, 19-January-2003 13:10:18 (GMT +10) - by Agg


The situation continues to worsen in Canberra, with 2 people killed and 388 homes destroyed so far.

This update from Alex was about 11:30pm last night: You're all probable aware of the fires in canberra but here are some details: my boxes at home are getting bounced about every 4 hours by the power spikes, even though they are on protecting power boards, but no UPS :( so the folding is falling behind, so i shut them down before I got called into work earily as the guys on shift had to go to protect their houses. But now there is a fire in the suburb that my ISP is in so there is probably no connection anyway.

I live in the city but both ends of the town are burning, of the 8 people in my team on this 24 hour desk every one else is off protecting there house or a friends house in the suburb infront of theirs. I was working with my team leader and training him to take calls before my shift partner came in about 9:30 as the fire had burnt thru his suburb, he was able to save his house just lost the back fence. he saw 7 house burnt out in the streets around his place driveing in to work.

Our thoughts are with you guys, hoping for a change in the weather soon..




Sunday Morning (0 Comments) (link)
Sunday, 19-January-2003 02:40:00 (GMT +10) - by Agg


Things are a little grim for some popular hardware manufacturers, with AMD reporting low earnings (thanks Cloudwane) and ATI in trouble with Ontario's Securities Commission.

PlanetSavage compared two bluetooth adapters, while BlargOC compared two 80mm fans.

DK spotted these cool 5GB credit cards.. can't wait to see them hit the market.

From Andrew: I know there is a legion of Linux fans in Australia, so I thought you would be interested in posting a link to this review of Mandrake 9.1 Beta1. This new Mandrake Linux distribution will go a long way to make businesses and individuals switch to Linux for their Office/Internet desktop applications.

Digit-Life have their Dec 2002 hardware digest posted.

Dan has more letters answered.

Michael sent in this bizarre report of a laptop exploding and injuring a girl in South Africa. Sounds like there's more to the story there.

Reviews:
Logitech Z-560 speakers on SpodesAbode.
Altech Lansing 251 speakers on ModTown.
MSI K7D Master-L dual socketA motherboard on OCModShop.
SMC 22Mbps Wireless Access Point on EnvyNews.
Titan Aerofoil aluminium fan on ViperLair.
SteelPad 3S mousepad on ModSynergy.
FIC AU11 nForce2-based socketA DDR motherboard on PCStats.
Soyo SY-P4I i845PE-based P4 DDR motherboard on Hexus.
TweakMonster RAMsinks on BurnOutPC.
Logitech Wingman Cordless Rumblepad controller on LANAddict.
MSI K7N2 nForce2-based socketA DDR motherboard on NeoSeeker.
Seagate Cheetah 15K.3 HDD on XbitLabs.
Vantec Stealth 470W PSU on OCIA.
Lian Li Aluminium Floppy-Drive Bezel on VoidedWarranty.
Leadtek A280 LE TD MyVIVO GF4 Ti4200-8X video card on HWZ.
Gigabyte Maya II Radeon 9700 Pro video card on AddaBoy.
Samsung SM348 48x24x16x CDRW-DVD drive on PCStats.
Steelpad S3 mousepad on ExtensionTech.
Beantech BT-80 Acrylic Case on WorldOC.
AMD AthlonXP 2600+ / 333MHz FSB on VR-Zone.



We now have a Storage and Backup Forum, so direct your queries about RAID, HDDs and other topics there. OCAU's Forums are one of the busiest PC forums in the world - on most weeknights we have over 400 people browsing. If you're not a member yet, why not? All you need is a working, non-free email address. Join the community!




Perth BBQ Tomorrow! (0 Comments) (link)
Saturday, 18-January-2003 23:01:40 (GMT +10) - by Agg


Somewhat short notice, but looktall wants to remind Perth-based OCAU'ers that there's a BBQ on tomorrow. Details in this thread. It's to be held at the western power parklands located in kings park, tomorrow sunday the 19th at or about 12pm, until whenever. For those that don't know where the western power parklands are, they're circled in red on this image.



News for today.

The GeForce Zone is having a giveaway! A new Albatron Ti4680P-Turbo (GeForce4 Ti4200-8X) is up for grabs. They are an Aussie site so head on over and get in the running. You have until the end of January.

Gaming In 3D have an article called DDR400 Really A 'Transitional' Stage? I think that most of the advances in computer technology of late are all transitional stages, but read it and see what you think.

The Desert Combat mod for BF1942 has been released. Version 0.2. Thanks to Dr. Kildare.

This just in from Rild. "the guys over at Hardocp got one o them preorderboxes for an ASYLUM nvidia geforcefx ( but not the actual card ) from BFGtech. It comes with a free sticky brain.

If you are in the market for some more memory, then have a look over at XBit Labs. A price roundup from last year with some predictions for this year.

Digit-Life have posted their IDE HDD Roundup part 3.

For those who play America's Army, there is a tweak guide over on TechSpot.

Microsoft is making the source code for it's Windows product available to a select group. If you are in the right group, then read all about it here. Thanks DJ-Studd.

A lot of people sent this link in. Finding old data on old hard drives. The confidential information people give away when they sell or otherwise rid themselves of an old disk. More here.

This one made me laugh. Its the Microsoft Unnatural Keyboard Pro. Thanks Michael.

I had someone take some video at my recent wedding but this is taking things a bit to far. From Cal.

And to finish off for this morning, there is a Monster LAN in Geelong happening soon. Thanks Rave.

Reviews.
Prism ATX Case at PC-Arena
Gigabyte GA7-VAXP Ultra KT400 Motherboard at EXHardware
Chaintech Zenith 7NJS at Sudhian
ABIT IT7-MAX2 V2.0 at OCAddiction
AMD Athlon XP 2600+ / 333 FSB at VR-Zone
12volt Cigarette Lighter Mod at FrozenCPU (What The!!!)
Altec Lansing ATP3 2.1 Speaker System at RadiativeNZ
Sunbeam Rheobus at GideonTech
Samsung Yepp YP-90S MP3 player at Tech Report
Swiftech MCW50-T Thermoelectric Waterblock at Club Overclocker
iRock! 530 Portable MP3 Player at Viper Lair
Seagate Barracuda V Serial ATA and SATA Controller at HotHardware
Innovatek Dual Fan Radiator at Nexus Hardware
Vantec Stealth Power Supply (470 watt) Video Review at 3dGameMan
ABIT Siluro GF4 Ti4200-8X OTES at Extreme Overclocking
Abit KD7-Raid at VR-Zone
Dynatron Skived Fin CPU Cooler at Modsynergy



Thursday morning. Time for a news post before the sun comes up.

VR-Zone have a modding guide on the EPoX 8RDA+ nForce2 board which centers on how to get this board stable above 200Mhz FSB. They get it up to 240Mhz.

The folks over at Anandtech were given a tour of AMD's Dresden Fabrication plant. Lots of juicy info and some dates for upcoming releases. Thanks Nigel for the link.

From fraz. "Here is some Kiwi ingenuity. A TAK68 with a copper bar inserted to give it volcano 9 whipping performance." Forum thread at Overclockers New Zealand.

"Modding the AthlonXP for a 400 MHz FSB" on an nForce2 board. This will answer the stability problems that some people have seen when running high FSB speeds with nForce2 boards. Read more at Sudhian.

IBM have an article entitled Hyper-Threading speeds Linux. Hyper-Threading has been available to Linux users since the release of the 2.4 kernel. This article show some benchmark results for single and dual processor, both with and without Hyper-Threading enabled. A good read. Thanks elvis!

Athlonxp.com have a roundup and comparison of the top end AthlonXP CPUs.

This from eDust. "Nokia has released an SDK for their Java capable mobile phones. This version runs on Linux, and is free. The Windows version is free too". More information here.

Collin from PCStats has posted his Weekly Tech Tips 2002 Roundup. Lots of handy bits there.

BasS-InJecTeD is very excited because "IBM has released their new 100GHz chip...". Well...not quite, but they have made some transistors that run at speeds much higher than that so the future is getting closer by the day. More info here.

Matt tells us that a 9700pro has been announced. Made by Tyan, the Tachyon is said (by ATI) to be able to reach 400Mhz. (thanks Nobes)

A reminder that there are a couple of OCAU BBQs happening this Sunday the 19th. The Melbourne bbq is on. Details here. Also the Perth BBQ is happening on Sunday. Info for this one here.

I don't know quite what to think of this link...Fake boobs for men!!! Blame redslert.

This from Draffa. I have heard of people losing their licence for a few months, a few years, or even for life, but losing it for 1000 years! Also from Draffa, an XP1700+ (1466Mhz) T'bred overclocked to 2301Mhz.

A few time wasters for you today, of the non-flash variety. Game Button Arcade. As gatecrasher said, "Someone has too much time on their hands".

Reviews.
VIA "Eden" EPIA-M 933 MHz at Overclockers Australia :)
Vantec NXP 201 Fancontroller on Rip-Net
Lian Li T-3 LCD Thermometer at Furioustech
Badong CPU Cooling Wizard at DansData
Western Digital Caviar WD2000BB HDD at X-bit labs
Samsung SM-332 DVD/CD-R Combo Drive at Tweaknews
Abit's BE7-RAID motherboard at Tech Report
Belkin 8-1 Media Writer/Reader at BurnOutPC
Mitsubishi Diamond Data 48x48x16 CD/RW at TweakersZone
Leadtek WinFast A280LE GeForce 4 Ti4200 at OC New Zealand
Albatron 17" LCD Monitor at LAN Addict
MC-001 - Rheobus at Madshrimps
Antec True Power 550W at SubZeroTech
Nikon Coolpix 4500 Digital Camera at Digit-Life
Canon PowerShot G3 Digital Camera at Digit-Life
Jupiter Mid-Tower Aluminum Case at Club Overclocker



Long time no post eh?

First up, we have heard of all the crazy things being sold on eBay before, but this takes the cake. A man trying to sell his family! Thanks BoofyC.

Here is some info on the allowance of a United States company to sue the owners of the Australian owned Kazaa program, Sharman networks.

We are seeing more and more watercooling kits being sold 'out of the box' from retailers nowadays. ThermalTake has produced their entry into the watercooling market with the Aquarius2 watercooling kit. A1 Electronics have reviewed the kit here.

More watercooling stuff for the extreme coolers. BitTech have a guide on setting up your own Flow Protection device here. I myself am not an extreme cooler, but I found the article very interesting.

An interesting read about how the RIAA is 'Hacking us Back'. Due to the recent hacking attemps on the RIAA site, this to me is quite amusing :) Link.

Gamespy have an article up titled 'The 10 worst game covers of all time.' An amusing read. Click me! Thanks Vapour.

From Davecho2, a PC in a drawer in our very own PCDB.

Our flash timewaster movie comes from Masta_poobaa. A Frightened Boy. All I can say is rrrriiiiggghhhttt....

Argh, its early, im tired, nite.



Ok, so perspex cases and neons are nothing new anymore. But, you have to admit that this looks pretty impressive. :)



Click for the PCDB entry!






Big Day In 2003 Report (0 Comments) (link)
Wednesday, 15-January-2003 00:31:13 (GMT +10) - by Agg


FoderMe has a report of the biggest LAN-party ever held in Australia, which occurred in Melbourne last weekend - Shafted LAN's Big Day In.



Click for the report!






Tuesday Evening (0 Comments) (link)
Tuesday, 14-January-2003 19:14:02 (GMT +10) - by Agg


We've seen this before, but it's worth another look: Mal noticed Nico building 2 VapoChills into a Lian-Li case. Nice work! Also, some interesting homemade watercooling in Stoodoo's PCDB entry.

fxr91 noticed another wireless broadband trial in Sydney and Melbourne.

Another internet "give me money" thing, but this time it's on ebay, thanks Andrew.

Dan has more letters. Hooray.

Bit of a strange one from quokked: go to this list of US presidential candidates and scroll down to the Vermont Voice heading. The picture of candidate "Howard Dean" looks.. well.. oddly familiar to Australians.

Even stranger one from Nicholas: What do you do with all those extra Age of Empires CD's lying around? Well, you give them to Kellogs to stick on the front of Nutri-Grain, that's what! I was at Woolies today and on the front of the Kellogs Nutri-Grain Box was a Free Full version CD of Age Of Empires. Jeez, I used to be chuffed if I got a sticker in my corn flakes..

Stew spotted that this Digidoc FAQ hints (in the last question) at a new version on the way, code-named Erewon. That's "nowere" backwards though, so is it a joke? We reviewed the Digidoc 5 here a while ago.

ATI sent along an interesting press-release.. they're partnering with DivXNetworks, which bodes well for future video playback quality on ATI chips. In the first collaboration between the two companies, ATI's new Visual Processing Units (VPU) will integrate DivX video compression technology and offer optimized playback of high-quality DivX video files. Thanks to hardware and software optimizations performed by ATI and DivXNetworks, RADEON 9500 & 9700-based products significantly increases video performance (up to 50% using post-processing) and reduce CPU usage when decoding DivX video.

Interesting Forum Threads:
What would you add? in Site Discussion.
Boobjob money appeal website in Media and Current Events.
Monster trikes in Motoring.
Programming career == bad choice? in Graphics and Programming.
JPG, JP2, JPC - when & why? in General Software.
Project Trackbike in Motoring.
New Catalyst 3.0a Fully WHQL Certified in Video Cards.
Internet Browser that Quadruples Surf Speed in Networking and Internet.
Vodaphone stolen phone barring in Other Toys.
Fuel Economy Improvement in Motoring.

Reviews:
Koolance PC2-601 watercooled case on Buddhacon.
Koolance Exos external watercooling system on OCAddiction.
Asus A7N8X Deluxe nForce2-based socketA DDR motherboard on HWZ.
DiskOnKey Pro 16MB USB storage on EnvyNews.
TweakMonster Ramsinks on NexusHW.
Samsung SM-348 combo drive (DVD+CDRW) on MonkeyReview.




Folding Team Passes 2 Million Mark! (0 Comments) (link)
Tuesday, 14-January-2003 18:45:14 (GMT +10) - by Agg


Bollocks sent word that our Folding@Home Team have passed the 2 million point milestone. Well done, guys!

Info in this thread, stats here, info on joining the team here. As always, more Folding info than you can point a protein at on our Folding Team page. We're still #2 in the world, but the third-place team is gaining fast..



Over on Whirlpool is an article telling how Warner Brothers are ordering Australian ISPs to disconnect users who are sharing copyright material. Thanks Kappie and Darth Whisper.

I've recently seen a few people asking for one of these. A beginners guide to overclocking. Read it at ExtensionTech.

Nikos tells us that Oclabs have taken an XP1800+ up to 2163Mhz at 2.01volts. I wish mine would do that.

A new version of Rivatuner is out. Version 12.1 now has full support for the Radeon range of graphics cards. Get it while its hot. There is also a new version of Motherboard Monitor available. It has some nice WinXP only features as well. Thanks Bort.

fxr91 sent this one in. "Microsoft has agreed to pay up to $US1.1 billion ($1.89 billion) in computer hardware and software vouchers to millions of Californian consumers".

It seems the RIAA website has been hacked, again! Read the article here. Thanks seanaus.

SoundCardCentral have a shootout between Plextor and Lite-On CD burners. The results speak for themselves.

The 2003 International Consumer Electronics Show has been covered by GotApex. Lots of goodies there.

BurnOutPC show you how to change the LED on your mouse.

Are you looking for a new home? Like the idea of living in an underground missile base? Then Sean has just the link you are looking for.

Todays flash game is Baloon Shoot.

Reviews.
Aerocool Glacier CPU Cooler on Rip-Net
Antec Performance Plusview 1000AMG Case at Tweaknews
Tyan Tiger i7500 S2722GNN Dual Xeon Motherboard at PCstats
Seagate Barracuda SATA V HDD at Explosive Labs
MobileMaxx Aluminum Hard Drive Racks Video review at 3dGameMan
Foldable keyboard at R&B
SiS Xabre600 Graphics Chip at X-Bit Labs
Thermaltake GF4 Copper Heatsink at Virtual-Hideout
FastTrak TX2000 Ultra ATA/133 RAID Controller at LAN Addict
Antec Plus-1080 AMG Case at Hardware-Test
CoolerMaster HAV-V81 X-Dream Heatsink at OIA
Matrox Parhelia 512 at GotApex
Gigabyte GV-R9700 PRO Graphics Card at NeoSeeker
Maxtor MaXLine II 250Gb IDE HDD at PC Dreams
Abit AT7-MAX2 Motherboard at Overclockers Club




VIA "Eden" EPIA-M (933 MHz C3) (0 Comments) (link)
Tuesday, 14-January-2003 02:46:49 (GMT +10) - by Agg


Baker has checked out this mini-motherboard and CPU for us. It's an improved version of the EPIA he reviewed last year, with more CPU speed and the focus on better video performance.



Click for the review!





News for Monday...

Pssst, Wanna buy a cheap Pentium 4? Quite a few people sent this link in. $10,000,000 Worth of P4's have been stolen in London. What would you do with a truck load of Pentiums?

Planet Savage have posted a short guide on how they do their video card and motherboard tests.

This link from Rod M. "Computer addict found dead at screen". Diablo II really is a nasty game! Article here.

A device to let you play your Gameboy games on the TV. Thanks xaolin.

The situation in Iraq is heating up with the US now sending spam like emails to Iraq people. Read more about it here. Thanks thetron.

Here is a Google search page with an OCAU twist. Oh my! What will thetron come up with next. :)

This is a few days old now but "A Los Angeles federal judge has ruled that record companies and movie studios can proceed with a lawsuit against the parent company of Kazaa". Details here.

An interesting article entitled Microsoft Security: What's Next? talks about what lies ahead for the Microsoft's Trustworthy Computing initiative.

Todays flash game is Darts.

Reviews.
Red Pepper FP-4S Breakout Box on Envynews
Iwill P4HT-S Motherboard at Digital-Daily
Creative MegaWorks 5.1 Acoustic System at Digit-Life
Radio Shack Digital MultiMeter at SubZeroTech
Trust 400 Graphics Tablet at Blagged-hardware
GT Racing 2002 Mod for F1 2002 at 8BallsHardware




Archive Updated (0 Comments) (link)
Monday, 13-January-2003 00:19:13 (GMT +10) - by Agg


I've updated the Review and Article Archive. Quite a lot has happened since the last update in early December:

Asetek VapoChill Mk2 Premium Edition vapour phase-change cooling system review.
USB Safety Desktop Fan review.
ABIT IT7 MAX2 Version 2 i845PE P4 DDR motherboard review.
Tomy Char-G mini RC car review.
Sisoft Sandra 2003 benchmarking suite for download.
AMD AthlonXP Thoroughbred-core Unlocking article.
Cornea MP704 17" LCD screen review.
IBM Model 10K3849 Keyboard and 3 Button Optical Mouse review.
Long-distance Wireless with Waveguide Antennae article.
Palomino and Thoroughbred Copper Cap review.
Asus 880 TV Tuner and Capture Card review (missed it last time).



NexusHardware have a guide to installing windows.. not the software kind, the hole-in-your-case kind.

Digit-Life check out some 32-bit Gigabit Ethernet network adapters.

Hexus have compared twelve GF4 Ti4200 video cards from various manufacturers.

AMDMB have some info on faulty Ti4200 cards from Gainward.

Just in case your own PC doesn't generate enough error messages and other problems, Iroquois sent in this site where you can look at those that other people have experienced.

More funny stuff from BBSpot, this time with a Lord of the Rings focus, thanks Calindor.

We don't yet have our flying cars, but Owen noticed these personal aircraft that are pretty close. That page also boasts the biggest popup ad in the history of "being annoying".

VR-Zone reckon that HyperThreading on non-HT boards is a possibility with a new PowerLeap gadget.

Digital-Daily have compared some P4 coolers.

Dan's got even more letters.. no, wait, he's actually reviewed some things this time and written quite a lot about wireless comms.

Bjorn3D talk about Bill Gates and other smart objects.

SPG says gadgets are go at CES 2003.

Cool toy of the day has to be this bar monkey, a homemade drinks-mixing machine which runs Linux. Thanks Curtis, and it also got some slashdot coverage.

Digit-Life have an IDE HDD roundup posted.

Doc says that TCPA (aka Palladium or Trusted Computing) is bad and that if you agree, you should sign this.

Reviews:
Silver WinView case on Digital-Explosion.
Chaintech Zenith ZNJS nForce2-based socketA DDR motherboard on AMDMB.
Asus P4S8X SiS648-based P4 DDR motherboard on Active-Hardware.
VIA EPIA M-Series mini-mobo and CPU on TechSeekers.
Solid Multimedia case on OCAddiction.
Logitech MX700 wireless optical mouse on DVHardware.
Zalman ZM80A-HP heatpipe cooler on RojakPot.
Creative Audigy 2 Platinum sound card on XbitLabs.
Northwood Case Graphics on ClubOC.
PCToys Black Light Kit on ClubOC.
Swiftech MCW50-T GPU cooler on TweakTown.
OCZ PC3200 DDR memory on OCrCafe.
Xtreme DDR PC3200 memory on OCHardware.
Vantec Stealth 420W PSU on WinHQ.
Swiftech MCX462+TT thermoelectric heatsink on 3DGameMan.
X-Micro Impact 4200 8X 128MB video card on PCHardware.
Antec PlusView 1000MG case on Bjorn3D.
DFI AD77 Infinity KT400-based socketA DDR motherboard on PCStats.




Email Problem.. fixed. (0 Comments) (link)
Sunday, 12-January-2003 16:01:57 (GMT +10) - by Agg


There was a problem with the server sending emails for the last day or so, but it's fixed now. If you requested a password reset email, changed your email address or signed up for a new forum account recently, go to UserCP and request the system to re-send the email.



News for today, Saturday...all day...

OCAddiction take a Intel P4 2.4B/533 into the labs for a workout.

There is some info on the upcoming SFF miniDragon PC from SOYO at Accelenation.

AGP 4X vs. AGP 8X Pt III. Read the article over at HWZ for all the gory details.

Digit-Life have a round-up of ATI Radeon cards. Included are the 9500 64MB, 9500 128MB, 9500 PRO, 9700 and 9700 PRO. All tested using DirectX 9.0.

Sudhian have posted an article entitled: Bill Gates: Fiend or Friend. For some reason, I found this funny!

X-bit labs want to tell you all about the Shuttle XPC. "Small Form-Factor PCs with Big Capabilities".

Grant informs us that Thermaltake have released their new range of Xaser PC Cases. They look good, if you are not the do-it-yourself type of modder.

The latest in the world of weird and wonderful is out. ZZZ number 156 is out.

eDust sends word that AMI has released their first Palladium enabled bios. More details here and from AMI here. Looks like troubled times ahead for many PC users although some people have taken up the fight against Palladium at Stoppalladium.org.

We spend a lot of money on games! A really large amount on games. fxr91 found this article which says Australians spend an average of $2.3 million a day on video games. WoW.

As just about every other piece of computing hardware can be found in a wireless form these days, Wireless Monitors were going to pop up at some stage. I think I have found my next upgrade purchase. Thanks Lou.

The Perth OCAU BBQ is on soon. Gazman wants to tell you all about it so I will let him. "Details are as follows :Jan 19th, Western Power Parkland's (in kings park), BYO everything excluding cooking gear (basically BYO food and utensils if you feel you need them). 12 noon till whenever ppl decide to leave. Computing shirts if possible or something different so we stand out and can find each other easily". There is a forum thread about it here. I will try to be there as well so I hope to see a few of the WA OCAU'ers.

Some great news from our Folding@Home team. Team member, DGROMS.com, has become the highest points scoring individual in the world with over 100,000 points. WoW! The race is now on between DGROMS.com and plext to reach the massive milestone of 150,000 points. And I thought my sub-teams 5166.18 points was good going. If you are not folding then you should visit the Overclockers Australia Folding@Home page, and find out all you need to know to get in the race. Go team!

Todays time waster is one for the Star Wars fans. Jawa Shoot.

Reviews.
CoolerMaster ARC-U01 & CRC-U01 Ramsinks on Mikhailtech
Tygon Tubing at Nexus Hardware
X-Trac Pro HS Mouse Pad at ExtensionTech
Corsair XMS3500 DDR at OCC
Asus A7N8X nForce2 Motherboard at HotHardware
Rounded IDE Cable at Overclockers Club Canada
ABIT NF7-S Motherboard at Noticias3D
Custom Cases, UV Paints at NSW MODDING




Friday Middayish (0 Comments) (link)
Friday, 10-January-2003 13:01:46 (GMT +10) - by Agg


Everyone seems to be talking about the Gameboy Advance SP today. Info here from Flecktone, here from Xaolin, a pic here from eDust. It has a lit screen, 18 hour lithium batteries, and is backward compatible with virtually every GB accessory ever made.

Another picture-frame PC from BenStein1 in the PCDB.

S3 have a new DX9-capable graphics chip, the DeltaChrome announced on Jan 7.

Apparently we should be drinking alcohol 4 times a week if we want to lower our risk of heart disease, thanks eDust. Hooray for science! However, medics warn that the findings should not seen as a reason for people to hit the bottle, due to other risks associated with alcohol, such as liver and brain damage. Awwww.

From eDust: Cracking XBox's encryption, the Neo Project, is back on. Microsoft have developed a new watch, manufactured by Fossil and using a technology they call SPOT - it doesn't actually do much, but Bill's excited :-). Some news about Sony's Playstation 3. There's a computer designed for Laos villagers that's pedal-powered and uses a wireless connection to the internet. It's ruggedised for harsh environments, built using parts from ATMs, and runs Linux.

BurnOutPC have first pics of a new watercooling system.

Looking for a new job? Could get a bit hard.. thanks MattyMoo.

"Oh Smeg" sends info about yet another nasty virus doing the rounds. W32.Lirva.A is a mass-mailing worm that also spreads by the IRC, ICQ, KaZaA, and open network shares. This worm attempts to terminate antivirus and firewall products. It also emails the cached Windows 95/98/Me dial-up networking passwords to the virus writer. It apparently takes advantage of a security hole in Outlook - info and patch here.

MacWorld SF 2003 coverage here on EnvyNews and here on ArsTechnica.

Jono says Optus have ditched their interactive TV plans, instead focussing on broadband internet services.

An author who published a book saying greenies are wrong has been found guilty of "scientific dishonesty".

LANStock 5 is on in Melbourne soon.

From Nigel, a 3D desktop program. Also, buy yourself a note from someone else's mum on eBay. Okey dokey.

Jimbow found australian prices for the sexy new Apple laptops. As predicted, they're scary. :)

Reviews:
Freecom FX-1 USB-2 CD-RW drive on BlaggedHW.
Gigabyte Maya II Radeon 9700 video card on RadiativeNZ.
Tyan Tachyon G9700 Pro video card on DeviantPC.
Agg eats your brain (again) on Kevan. Yummy.
MSI K7N2-L nForce2-based socketA DDR motherboard on PCStats.
VIA EPIA-M9000 mini-mobo and CPU on OCProjects.
IceBerg Watercooling System on AMDMB.
Wacom Intuos2 A3 graphics tablet on ModTown.
Ahanix Romeo DX case on TechWareLabs.
Delkin efilm Reader-18 card reader on FuriousTech.
Epox 8RDA+ nForce2-based socketA DDR motherboard on VR-Zone.
VIA P4PB400-FL P4 DDR motherboard on Accelenation.
IceMat After Dark mousing surface on OCWareHouse.
Trios 2 multi-drive selector on GamingIn3D.
Fashion PC's Romeo Max case (riiight) on ModTown.
Abit Siluto GF4 Ti4200 OTES video card, our review here.




Thursday Night #2 (0 Comments) (link)
Thursday, 9-January-2003 22:25:24 (GMT +10) - by Agg


Prolink have sprung this one on us, a Ti4800-8X video card? I don't remember hearing anything about that chipset from nvidia. Typo? NDA breach? Confused marketing people? Agg out of the loop? Who can say.. thanks sp4mzor.

TheInq have 3 items about an AMD initiative to seed system builders and OEM's with early Opteron rackmount systems. Info here, here and here.

Chaker noticed an SMH story about the DeCSS aquittal a couple of days ago.

Beyond3D have put up part 2 of their hardware geometry article, for an insight into 3D acceleration.

TheRegister has an article titled college girl's breasts in your hands which I almost deleted as being porn spam.. but it's a real article, and I voted "No". :)

SilentPCReview take a look at the possibility of silencing a dual AMD, dual HDD workstation.

Xbit say you can turn a 9500 into a 9500 Pro with a software hack. Update: It's fallen off their news page to here, scroll down a bit.

A few things from Iroquois: AMD and IBM team up on chip development. Windows XP SP2 current fix-list. KDE 3.1 RC6 released. Some cities are banning the use of Segways. School to use retina-scans on kids. SGI introduces new Linux server. Security researchers have discovered a serious vulnerability that may be present in many Ethernet device drivers that is causing the devices to broadcast sensitive information over networks.

More on the AMD and IBM deal from Hawk.

Ownt.com have info on some Sony goodies that were announced at CES 2003.

ForumOC have a LED case lighting guide.

We have seen this before, but it's pretty amazing.. a 747 cockpit for a serious flightsim fan, from Hoopstar.

XtremeMods are painting keyboards.. woah, xtreme. :) Actually, they show how to use decals to re-mark your keys after you've painted over them. Of course, real men touch-type and don'f neew ro looj at teh leyboard anywya.




Thursday Night (0 Comments) (link)
Thursday, 9-January-2003 21:08:12 (GMT +10) - by Agg


Those of you who experienced the bizarre Sydney weather last night (I was on a motorcycle for most of it :) ) might be interested to hear there was very strange weather all over NSW, thanks Boky.

From Mr_Roadkill: Some fans with waaaaaay too much time on their hands are putting together a series set in the same universe as the original Star Trek, surrounding the adventures of the USS Exeter, NCC-1706. The main site is here but the episode is mirrored here on planetmirror.

Icebreaking pointed out this adjustable power-supply from Antec. The review is a month old, I'm surprised we missed it. Anyway, what a great idea.

Boky spotted more pics of the Dodge Tomahawk, moster pseudo-motorcycle thing. I notice there's still no pics of anyone riding it at any kind of speed. :) Looks so comfortable, too.

Meanwhile, Yamaha have been testing their 2WD motorcycle technology with some success.

Xbit report on 3 overclocking gems.. CPUs that they say are worth keeping an eye out for.

The day that everyone is talking about, Big Day In, has sold out! Well, maybe there's one ticket left.

Sudhian have an article about translation software. I said, Sudhian tiene un artículo acerca del software de la traducción.

Soltek have a new American-based website now. They're running a competition but unfortunately, Australians can't enter it. We reviewed socketA and Pentium 4 motherboards from Soltek last year.

NeoSeeker compared GF4 MX440-8X video cards from MSI and Innovision.

Meanwhile, Tech-Report compared seven PC audio solutions.

Bling and Bling! It's an MP3 player, apparently.

Interesting Forum Threads:
Red Flag LAN Fest Report in The Pub.
Warning: Pack date vs production date in Intel Hardware.
Pictorial guide to modding a pump to run in-line in Extreme Cooling.
nForce2 vs Granite Bay: Benchmarks in Overclocking and Hardware Discussion.

Reviews:
Swiftech H20-8500 liquid-cooling kit on SystemCooling.
HP IPAQ H1910 PocketPC on ExtremeMHz.
Abit NF7-S nForce2 socketA DDR motherboard on HotHardware.
PC Toys Ramspreaders on ViperLair.
Epox 8RDA+ nForce2-based socketA DDR motherboard on OCNZ.
Gigabyte GA-8PE667 i845PE-based P4 DDR motherboard on Active-Hardware.
Nexus NX-3000 quiet 300W PSU (video review) on 3DGameMan.
Aluminium Rheobus on ExtensionTech.
Nexland Wireless ISB Router on LANAddict.
ViewSonic P95F+B 19inch Monitor on PCStats.
Prolink Ti4200-8X video card on TweakTown.
Samsung SF-531 multifunction device on IANAG.
Lost In Space LCD kit on TheModFathers.
Micro Stealth watercooling kit on OCAddiction.




Wednesday Morning #2 (0 Comments) (link)
Wednesday, 8-January-2003 11:29:25 (GMT +10) - by Agg


Scott and Scott both sent word of laptops with 17-inch LCD's in them, new from Apple. Looks like a widescreen though, not the normal square shape. 1440x900 is a bit of an odd resolution, but perhaps not in the Mac world. The rest of the specs look pretty tasty too, but the pricetag is scary.

Interesting heatpipe cooler reviewed on TecCentral. It's machine-translated from German, but you can work out what they mean and pics are good.

SpodesAbode has an article about life from the perspective of a female computer science student.

Xbit compared two laptops with different mobile graphics solutions onboard.

From aXis: www.e3.com.au - weblog for Perth's WaFreeNet - is holding another wireless first: treasure hunt for some stolen access points.

From LoneWolf, Sciby and the "the shareholders hope you're kidding" department comes this new motorcycle.. ish.. thing from Dodge. The 1,500-pound Tomahawk can reach 60 miles an hour in about 2.5 seconds, and has a theoretical top speed of 300 mph. On second thoughts, with some fibreglass and a coat of paint, I could live out my Judge Dredd dreams on it..

MaximumPC have some basic GeForceFX Benchmark teasers posted, thanks Chris.

MuDD noticed some people taking CounterStrike way too seriously in Los Angeles.

Microsoft have released Media Player 9, thanks Casper.

The author of the DeCSS DVD decryption utility has been aquitted of all charges. Johansen's victory represents a big win for the tech enthusiasts against the bully-boy tactics of the US entertainment industry.

Very nice remote cooling setup from CatSailor.

Transmeta have expanded into the embedded devices market.

OCClubCanada have reviewed some software that supposedly speeds your PC up..

GideonTech think that putting a PlayStation into a PC case is cool. Can't really see the point myself. :) Ends up looking good, though.

Sudhian have an editorial about speed vs noise, the perpetual problem of heat-dissipation with high-powered CPUs.

HardwareAvenue have a Backup Guide and tell us what their Ultimate PC is for the moment.

AMI have released a motherboard bios incorporating the Palladium Trusted Computing system. TheInq don't like it at all and I admit I have strong reservations of my own about the motives and workability of such a system.

eDust noticed ZDNet.AU reviews of the Opera 7 beta 2 web browser and the Sony MDP-AP20U portable CD player, DVD player and CDR/W burner.

Bit-Tech checked out the VapoChill PE Titanium vapour phase-change cooling system. I wrote a gargantuan review of that system last month, check it out here.

Reviews:
Toshiba SD-R5002 6-in-1 DVD-R/RW drive on Digit-Life.
Logitech MX700 Cordless Optical mouse on 3DXtreme.
Sennheiser HD497 headphones on RipNet.
Chaintech 7NJS Zenith nForce2-based socketA DDR motherboard on Bjorn3D.
EPoX 8K5A2+ KT333-based socketA DDR motherboard on FuriousTech.
Everglide Giganta Optical mousepad on DeviantPC, our review here - note page 5.
Neng Tyi Nexus notebook cooler on OCdCafe.
CoolerMaster ATC-201A SX2 case on ViperLair.




Wednesday Morning (0 Comments) (link)
Wednesday, 8-January-2003 10:02:08 (GMT +10) - by Agg


Big news today seems to be Shuttle's release of their SN41G2 mini barebones PC, based on NVIDIA's nForce2 motherboard chipset. Reviews on AnandTech, Hexus, Tech-Report and Sudhian.

Wired are reporting on a way of keeping things cool, using sound waves.

Lost-Circuits have an article all about the DDR-II memory architecture.

For those who missed it on slashdot, elvis pointed out this computer exhaust system.

SubZeroTech made a shoebox PC.

Digit-Life updated their Opteron and Athlon64 "facts and assumptions" article.

Ziggy sends word of this Xbox Public Key Challenge, a distributed-computing project that aims to find the 2048-bit private key to Microsoft's encryption used in Xbox games. However, it now seems they've decided it's not such a good idea after all.

PlanetSavage rounded up seven Lian-Li cases and compared them. I find their numbering scheme pretty confusing, maybe seeing them all together will help.

Nice pics of building a watercooled perspex box from scratch on BurnOutPC.

VIA's tech-support site, VIAArena, have an article up about using their Eden mini-PC platform with Linux.

Reviews:
Sapphire Radeon 9700 Atlantis Pro video card on TheTechZone.
CoolerMaster X-Dream HAX-V81 heatsink on RadiativeNZ.
Seagate 10K.6 146GB SCSI320 HDD on LANAddict.
AOpen 52x24x52x CDRW drive on HWZ.



News for Tuesday...

"Watercooling a PSU! You must be mad they told us...". Digital-Explosion have done it again, mixing water and electricity that is.

Mr. Rutter from DansData has another batch of letters posted.

Forum member Bombster is organising an OCAU Zone3 event. There is a thread in the forums with all the details. If you are not sure what Zone3 is, go here and find out. This sounds like a fun day out and as it is an all ages event, there should be no excuse for not turning up.

The Tech Report have had their hands on a Shuttle XPC SN41G2 mini-barebones system. If you would like an nForce2 system that is "the size of a toaster", have a look.

INpact-Hardware have posted an interview with Richard Brown from VIA. The talk about the future of thing like VIA Eden, VIA chipsets, nVidia, his war with Intel and other things.

Heres something for you. Scott from Bjorn 3D informs us that software producer 3D Nature, has stopped supporting all ATI Video cards citing unreliable drivers. "3D Nature recommends against all ATI Graphics cards. They currently (December 2002) have unreliable drivers for advanced 3D Graphics use and have shown no intention of solving the issues even though it has been brought to their attention by many organisations".

MSN has been down since the early hours of this morning with no word as to when it will resurface, so if you are sitting there thinking your PC has network problems....don't.

ZDNet have listed a Top 6 wireless networking tips for you. From antenna placement to security. Some good points here.

Next time you get a speeding fine or a parking ticket that you don't want to pay, maybe a fight to the death would be a better way to settle it.

Todays time waster is Simon. I remember these in the toy shops when I was a kid. I guess that implies that I'm not a kid anymore. :(

Reviews.
Thermaltake 360w Dual Fan Power Supply on Extreme Overclocking
Abit Siluro GF4 Ti4200 OTES Video Card at OcPrices
Shuttle SN41G Small Form Factor PC at Sudhian
PC Toys Dual Blue Cathode at ASE Labs




Shinwa Sangyo Palomino and Thoroughbred Copper Cap (0 Comments) (link)
Tuesday, 7-January-2003 01:46:35 (GMT +10) - by Agg


Chainbolt has a quick review of this simple device. So simple we wonder why we haven't heard of it before! A super-thin copper cap that protects the fragile AMD CPU core..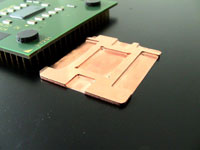 Click for the review!





It seems breast implants could be considered safety devices in a way, thanks Sabretooth.

Adrian's Rojak Pot has an article about Maxtor's SilentStore technology.. and how to turn it off, for more noise and hopefully more performance from your HDD.

ExplosiveLabs compared a few GF4 Ti4200-8X video cards.

Some Melbournians can now get wireless net access through Alphalink, thanks Leo. The wireless link provides a permanent connection to the internet at speeds up to 11Mb/s half duplex (5500Kbit/s in each direction). However, the company warns that this is a theoretical limit only - connection speed may be less than this and is dependant on customers' physical locations and environments.

We first posted this a long time ago, but it's an interesting read and has become almost part of Internet lore.. a guy who banked a fake cheque and became $95,093,35 (USD) richer.

Digit-Life have posted their 2002 Awards, as voted by their readers. HardOCP have given out their awards also.

Digital-Domination have a 3DMark2001 Tweak Guide posted.

Illusionary spotted these illuminated keyboards.. bizarre.

If you scroll down a bit on AthlonXP.com, they are reporting that AMD has shipped AthlonXP 2600+ 333MHz-FSB retail packs with 266MHz-FSB chips inside. No reports of any in Australia, so hopefully it won't affect most of us.

VooDoo noticed a vendor offering dual Hammer systems in 1RU format.

Interesting Forum Threads:
Which O/S is best for a 486? in Other Operating Systems.
Graphics Programming Black Book - Free Download in Graphics and Programming.
News Links in Media & Current Events.
Zalman Heatpipe Video Cooler mini-review in Video Cards.
What speed do new TbredB cores run at? in AMD Hardware.
Homebrew (over 460 replies) in Geek Food.
HiPro5's IT7-Max2 V2 Volt Mods in Intel Hardware.
AMD gets stricter with its returns policy in AMD Hardware.
9500 to 9700 mod, is it fake? in Video Cards.
Remember: make sure you have permission to use PC's! in Team OCAU - Distributed Computing.

Reviews:
Thermaltake Copper Memory Cooling Kit on Tweakers.
Hercules Gamesurround Fortissimo III 7.1 sound card on Bjorn3D.
Creative SLIX barebones PC on DeviantPC.
Bulgin LED Switches on BurnOutPC.
Mitsumi Special Agent PC Mascot plastic bird thing.. no idea.. on Blagged-Hardware.
XFX Mach4 KT400-ALH socketA DDR motherboard on 3DVelocity.
Sony DRU120A DVD Writer on Geekshelter.
PCH-161+TSAC cooler on AMDPower.
Vantec Nexus Fan Controller on OCAddiction.
Asus iPanel Deluxe on EnvyNews.
OCZ Eliminator passive P4 heatsink on OCrCafe.
Act-Labs PC USB Light Gun game controller on EnvyNews.
Bluetake USB Bluetooth Adapter on OCIA.
Zalman ZM80A-HP VGA heatpipe cooler on OCrsClub.
Leadtek K7NCR18D nForce2-based socketA DDR motherboard on Beyond3D.
SiS Xabre 600 video card on HardOCP.




Can't Post or Reply? (0 Comments) (link)
Monday, 6-January-2003 15:27:09 (GMT +10) - by Agg


I just went through the logs and noticed about 40 forum accounts with invalid email addresses set - this results in lots of returned emails bouncing back to the server. If you've changed ISP or something, make sure you update your email address in UserCP. If you find you can't post or reply to threads in the forums, go to UserCP, enter the correct email address, respond to the confirmation email the system will send you and you'll be able to post again. Thanks!




Monday Afternoon (0 Comments) (link)
Monday, 6-January-2003 13:51:22 (GMT +10) - by Agg


From the PCDB: there's a lot of brightly-coloured things going on in XiCe's tricked-out machine. BBQ_69 has what looks like a P3 cooler on his video card, while bbjayo is testing some watercooling gear. There's a nice watercooled system from C.D, too.

HotHardware compared two Radeon 9700 Pro video cards from Tyan and Gigabyte.

Sniper noticed that an Australian anti-terror site has some security problems of its own.

Sciby spotted these Star Wars origami models.. if you're bored and have some paper handy. He also sent in these helicopter videos from some bored MIT students. :) The first one is cool, the second one probably not worth downloading, just some laps of a small part of the campus.

ExtensionTech have a Moussager project posted.. inserting a vibrating massager into your mouse. Sounds like something the RSPCA would be interested in.

Fans of the Steve McQueen film "Bullitt", regarded by many as the first car-chase film, will be interested in this site which keeps track of things going on about the film and the car(s) in it. If you want a car like Bullitt's, you can get one here, thanks VooDoo.

Dead-Fish have an article on System Spring-Cleaning.. while WinHQ have some suggestions to cure instability in your PC.

Flying-around timewaster here from Matt. I keep crashing.

Reviews:
Promise FastTrak SX4000 IDE RAID5 Controller on ClubOC.
Swiftech MCW5000-A waterblock on ExtremeMHz.
Gigabyte GA-8INXP E7205-based P4 DDR motherboard on LegionHardware.
Swiftech MSC50-T 80W TEC video cooler on 3DExtreme.
Vantec Nexus multi-function panel on TweakTown.
SLK-700 Limited Edition heatsink on SystemCooling.
VIA P4B Ultra P4 DDR motherboard on Hexus.
IOmega 48x24x48 CDRW drive on PlanetSavage.



News for Sunday...

Maximum OC have posted a guide on how to build a Prometeia/Lian-Li conversion! Read the full article here.

Digit-Life have a Maxtor IDE Hard Drive roundup featuring the DiamondMax Plus8, DiamondMax Plus9 and DiamondMax16. Some interesting reading here.

Explosive Labs have a roundup of 3 VIA KT400 based motherboards.

OcPrices have a look back at the best products of 2002.

An interesting article entitled "So Many Holes, So Few Hacks". It sounds like the bug finders are busier than those who exploit the bugs. Thanks Osiris11.

This will make a few people I know happy. Would you like to turn your RADEON 9500 into RADEON 9700 in no time? It can be done. Thanks to the clever people at X-Bit, you can do the same. Have a look here. A lot of people sent this one in so thanks to you all.

People who steal cars should learn to drive first. Hehe.

DeCSS, the DVD de-scrambling utility, it in the news again. This time it's author has had a win. "The effect is that Pavlovich is no longer barred from distributing the DeCSS de-scrambling utility by a court order, but he could be sued again if he decides to do so". Full article here.

Flash game for today: Snowball Fight.

Reviews.
Lian Li PC-7323A Aluminium Case on Mikhailtech
BeanTech BT82 acrylic case on RipNet-UK
Everglide Special Ops Mouse Pads at PC-Arena
40x2 SlimLine LCD at PC-max
Thermaltake Hardcano 8 VR Fan Controller at Extreme Overclocking
AOpen's i845G Motherboard at Viper Lair
Zalman ZM80 VGA Heatpipe Cooler on SPCR



News for today...

Window mods for hard drives! The people at Digital-Explosion want to show you how its done, although this might just void your warranty I think. :)

Counter Strike! You either love it or hate it. I think some people get a bit carried away with this game. Reuters have an article which might back me up. "One unidentified teenager was shot in the leg on Monday outside an Internet cafe in Northridge...".

Nikos at OCLabs want to tell us about how he overclocked an Athlon XP1700+ to 2074Mhz with a simple WB and 2.29volts. Its not in English but the pictures tell the story.

Whirlpool have interviewed Michael Malone, the head man at iiNet. They talk about iiNet's plans for the future.

Designtechnica have a play with Banryu, the robot guard dog. Other than having four legs, it looks very little like a dog to me. Now if they can just come up with a robot house cleaner, pool cleaner, vacuum cleaner, and barmaid, all in one, they might get my dollars.

Have a look at some of Thermaltake's latest memory coolers over at OCC. They include the Active Fan range as well.

There is an article on PC-Max that talks about the differences between black lights and UV lights used in case modding.

OCWorkbench talk about how to get more memory for your SonyEricsson T300 phone.

If you happen to live near the Arctic region, don't eat seagull poo! That seems to be the word from New Scientist.

There is some info on Australian IT about the work that went into making Smeagol, the Gollum from Lord Of The Rings. I will get around to seeing the movie one of these days.

Flash game for today: GMX Skateboarding.

Reviews.
AutoDeletePro Laser Cut Fan Grill on IANAG
Compad Speed-Pad on Furioustech
Gigabyte 7vaxp Ultra Motherboard at R&B Mods
Thrustmaster Tacticalboard at Bjorn3D
Iwill P4HT Motherboard at Accelenation
FireFly USBee 32MB Drive at Envy News
Albatron PX845PEV Pro Motherboard on BiT-Tech
Altec Lansing 621 2.1 Speaker System on HWZ
Asus P4PE I845PE Motherboard on OcNZ
ThermalTake G4-VGA Copper Cooler at OCAddiction
Avocent Switchview KVM Switch at JSI



Almost the weekend. Just a few more hours...

Bonzi Buddy, that funny looking, advertising monkey thing, has managed to land himself in court. It seems he has been tricking people into visiting his site. Read more here. Thanks Morgan and Grimwolge.

While we are on the topic of dubious legal practises, TweakTown have posted an article on how to extract the music and sound tracks from your favourite game.

Cheez, from Lan Addict, has an article about the history of computers. "one of the most influential technologies of the twentieth century, ranging from the familiar beige boxes that sit upon our desks to the highly integrated microprocessors in our microwaves, have come a long way from their most basic physical foundations in fourth century Babylonian times".

jimx found this in his web wanderings. We have all heard of Einstein's Theory of Relativity. Some of us can understand some of it, most of us can understand little of it, and the rest of us just pretend we know all about it. So for the latter group, here is Einstein's Theory of Relativity In Words of Four Letters or Less.

For the budding programmers out there, RipNet-UK have a Visual Basic programming guide for you.

Viperlair take a look at the best and worst products of 2002. Find it here.

A reminder that the next QGL is happening on the 25th - 26th of January. There is a thread about it in the forums. Thanks Ma.

Shaft came across this article which explains the differences between DX8 and DX9.

Reviews.
Beantech BT-82 Clear Case on Modtown
Sapphire Radeon 9000 Atlantis PRO 64Mb on Alltechbox
Arkua 648N-6B Copper Core 1U Heatsink at Frostytech
ATI Radeon 9700 Pro at Techware
Chieftec Wireless Keyboard & Mouse at Modtown
Zalman ZM50-HP GPU Cooler with Heat Pipe at Adrian's Rojak Pot
Triplex GeForce 4 Ti4800SE Deluxe on VR-Zone
Albatron KX400-8X KT400 Motherboard on EXHardware
OCZ PC2700 Value on Nexus Hardware
Mushkin PC3200 at Nexus Hardware
Corsair XMS PC3200 at Nexus Hardware
X-Pider Thermal Monitor on OCC
SiS Xabre 600 Graphics Card on HWZ
Dynatron UV Reactive Fans at DV Hardware
Vantec Nexus NXP-101 on Envy News
AX-478 HSF at Nexus Hardware



An interesting article over on Sudhian entitled, Microsoft's Worst Enemy. "Microsoft's biggest threat isn't Linux, OpenOffice, or any piece of software at all--its themselves". Its worth a read.

The YaHa virus, or Love.scr has spread to more than 17000 machines since just before Christmas, according to CNet. I think I have received almost that many myself!

Its ZZZ time again. Issue number 155 is up for your weird reading pleasure.

Everyone seems to be doing the mousepad roundup/shootout thing of late. This time its Red&Blackness Mods turn.

Another roundup for you. Digit-Life have a look at some Intel E7205 (Granite Bay) motherboards from Asus, Gigabyte, Msi and Iwill.

TCP/IP, the protocol on which the Internet runs, has its 20th birthday this year. "Back in 1983, ARPANET officially switched from the Network Control Program protocol to TCP/IP, setting the stage for a revolution". I wonder what it gets for its birthday. Less spam would be nice!

HotHardware have a tutorial all about how to get the most from your PCs sound system. "Tonight we've got a proverbial "put your ass in the know" segment, as Jay gives you tips on proper Speaker and Sound setup".

A couple of time wasters for you today. Log Runner and Under Sea. Thanks Jamie and fxr91.

Reviews.
Lamps Electronics Cold Cathodes on PC-Arena
Beantech BT-80 Crystal Clear Acrylic Case on Modfathers
Vantec Nexus NXP-201 Fan Controller at SubZeroTech
3.5" Drive Bay Fan Controllers at SystemCooling
AOpen AX4 PE Max Motherboard at OCC
Chaintech 7NJS Zenith Motherboard at ExtremeMhz
Kingston 1GB CompactFlash Card on Envy News



I'm still getting lots of the "love.scr" virus in my inbox. I hope everyone has updated their virus scanners. If not, do it now. Or at least be kind enough to remove me from your contacts list:). Now that new years is out of the way, we can all get back to real life again. On with the news...

There is a LAN happening shortly, Andrew has all the details. "For anyone who lives out in western NSW, there is a LAN on the 18th and 19th of January called Narcoleps-E. The same people are also holding one in Newcastle during February called Insomnia". Full details can be found here. Another one called NoManZLan is on the 4th of January for the Victorian lanners. Thanks Josh.

Planetmodz have a great review up for you. Its full of detail and covers just about everything you might ever want to know about .... Blue Anodized Thumbscrews.

Microsoft recently released their latest version of Direct X, DirectX 9. Over at Viper Lair, they take a look at its performance with both a DX8 and DX9 video card.

Also on the Microsoft topic. A lot of schools in Norway had threatened to boycott Microsoft products unless a version was released in some obscure Scandinavian language. It worked. Thanks eUGENE.

Dan has another bunch of letters for you. This time, things such as confusing RAM acronyms, confusing disk space multiplier prefixes, where to get a really cool R/C car, how to wire up LEDs and how touch lamps work.

CNN have a round-up called 2002: The year's dubious achievements. Humorous!

Since the use of unmanned flying drones has been a hit (sorry) in the middle east, American airspace regulators are considering the use of pilot-less planes for commercial use. I don't think I'll be rushing out to buy a ticket on that flight just yet.

From The Inquirer. "IBM waves goodbye to Winchester hard files". IBM are now out of the hard drive business. It might be a good thing too!

Reviews.
Philips RWDV3210 combo CD-RW/DVD on Accelenation
MSI GNB MAX-FISR Intel E7205 GraniteBay Mobo on HardwareMania
Edimax BR6004+ Broadband Router with 4-Port Switch at Planet Savage
VIA P4PB Ultra Motherboard at Legion Hardware
Antec Performance 1000 PlusView Case at Club Overclocker
Antec True Power 430 Watt PSU at Furioustech
Epox 8RDA+ nForce2 Motherboard on Digital-Daily



The latest craze in our Team OCAU Forum is RC5-72. The previous RC5 project (64) has long finished and its replacement is now running. Full info in this thread. Basically, it's using your idle CPU cycles to break an encryption scheme - it just runs on your PC without you needing to do anything in particular. There's some money up for grabs if you're lucky enough to be the one who gets the magic combination, but mostly it's about out-producing other teams in terms of the work completed.

It's similar to Folding but apparently better for slower PC's or those only intermittently connected to the net. So anyway, full details and how to get started are here and if your output is sufficient you can get into clubs or win awards.




AthlonXP 4000+ .. *cough* (0 Comments) (link)
Wednesday, 1-January-2003 18:42:34 (GMT +10) - by Agg


From someone called Palomino87: This is very secret - AMD realeased these pictures to branches in Australia, Germany and USA only, for unknown reasons. It shows a new Barton-Core AthlonXP™ @ 4000+ and a FSB of 366Mhz.

This all that is known so far, these pictures were aquired from a friend at AMD Australia in Sydney. Only Picture availible is provided.



Click to enlarge!


Pfft, pull the other one. I think you have January 1st confused with April 1st. :)




Wednesday Afternoon (0 Comments) (link)
Wednesday, 1-January-2003 18:10:33 (GMT +10) - by Agg


Not surprisingly, a few sites have "2002 in review" articles posted. First in is Tech-Report, with OCAddiction and Bjorn3D offering their opinions also.

LiquidNinjas have squeezed a PC into a toaster in their latest project. They also took a moment to compare waterblocks from Swiftech and Danger Den.

Meanwhile, Bit-Tech have been fabricating stuff from acrylic/plexiglass.

From Matex: Someone has made a HTTPd that is only 4KB big. It's written in Perl so it can be used on any OS that has Perl loaded. Very funky indeed. I've used it, and it works a treat, it would be good for smoothwalls and stuff too.

TweakersAsylum have updated their DetonatorXP Database, comparing various versions of nVidia's video chipset drivers.

Adrian's Rojak Pot has a guide to making a battery extender for your laptop or PDA.

Interesting one from VR-Zone: how to run a mobile Pentium 4 on a normal desktop board and increase the FSB above 200Mhz on air cooled to achieve 100% overclocked.

A few from Iroquois: Microsoft has been ordered to include Sun's Java in Windows. 802.11g hits the U.K. NewScientist's 2002: The year in technology reviewed.

Their site seems to be back to normal now, but Elvis reckons the RIAA were hacked again.

Reviews:
Xoxide 6-port Fanbus on OCIA.
ACE 64MB CF Card on RojakPot.
CoolerMaster MouseMat on Hexus.
CoolerMaster Drive Bezel on Hexus.
Mustek gSm@rt mini2 digicam on Blagged-Hardware.
Starfish Ray Lights case lighting on IPKonfig.
MSI K7N2-L nForce2-based socketA DDR motherboard on ClubOC.
Sudhian AT7MAX2 KT400-based socketA DDR motherboard on Sudhian.
Thermaltake Xaser II 6000A case on NeoSeeker.
Gainward GF4 PowerPack Ultra/700-8X XP Ti4200 video card on GotApex.
PowerColor 128MB Xabre 400 video card on Beyond3D.
Xoxide Koolance PC2-601 case on DesignTechnica.
Western Digital Caviar Special Edition HDD on XtremeMods.
Imperial Case on ExtensionTech.
Dr Thermal Ti-T707TN P4 cooler on ClubOC.
TherMagic CPU cooling system on ClubOC.
EPoX 8RDA+ nForce2-based socketA DDR motherboard on A1-Electronics.
Shuttle SK41G socketA mini-PC on Tech-Report.
Laser 64MB USB FlashDisk on TweakersZone.
Koolpcmods Laser-Etched Dragon Window on DVHardware.



Not a lot of news for you this morning, but I do have some reviews you can check out. I hope there are not to many sore heads out there. I know I saw plenty of them on the way home from work early this morning.

Reviews.
Leatherman's P4 and S4 Squirt multi-tools on Björn's 3D
NVidia Ti4200-8XAGP Videocard Roundup on PCstats
Seagate SerialATA Hard Drive at Hexus
C3 Clear Case at Geekshelter (Geekshelter!)
DangerDen Maze3-1 vs. SwifTech MCW462-UHT Waterblock Shootout at Liquid Ninjas
Beantech BT-80 Acrylic Medium Tower Case at World Overclockers




Happy New Year! (0 Comments) (link)
Wednesday, 1-January-2003 01:23:26 (GMT +10) - by Agg


..and all that. :)

I hope 2002 was as good for you as it was for OCAU.. and may we all have another good one this year. Thanks guys!



---
Advertisement:


All original content copyright James Rolfe.
All rights reserved. No reproduction allowed without written permission.
Interested in advertising on OCAU? Contact us for info.