April 2003
Wednesday Evening #2 (9 Comments) (link)
Wednesday, 30-April-2003 19:11:09 (GMT +10) - by Agg


Gary_J found this amazing article about people being able to virtually participate in a future World Rally Championship. The plan revolves around a virtual car and team that will start, hypothetically, in position 10 on each and every world championship event.

If rally isn't your thing, perhaps the new Escape from Woomera detention-centre simulator will be. It's so good, the Govt is paying for it. Amazing.. thanks to everyone who sent that in.

ABIT sent word that they have withdrawn completely from this year's Computex show in Taiwan. ABIT had planned to display our new ABIT Engineered product line, including the Fastest PC in the World, featuring an BH7 motherboard, Vapochill cooling system and Kingston DDR RAM, as well as our GigaSystem™ featuring an IC7-G with a Vapochill and Kingston RAM. Instead, we will host visitors at our Neihu headquarters. Hmm, if too many more vendors feel the same way I think Computex might be a fizzer this year. Will keep an eye out for other announcements.

Chainbolt found a cardboard PC on sale in Japan.

AthlonXP.com modded a DigiDoc to fit into two 3.5 inch bays instead of the single 5.25 inch bay it normally inhabits.

Ambush says the nForce2 SATA corruption problem has been fixed, info here and here.

Lots of people sent word that there's new iPods from Apple.. more info here.

One of the very first articles I wrote for OCAU, way back in 1999 sometime, is this slug sanding one. OCClub have an article about doing a similar thing to the GPU chip on your video card.

The Wi-FI Alliance says we can be more confident about wireless security, thanks thetron.

Bern spotted another naughty bunny.. this one isn't a hacker, it's a chomper.

More of the usual whacky stuff on ZZZ online.




Wednesday Evening (6 Comments) (link)
Wednesday, 30-April-2003 17:32:49 (GMT +10) - by Agg


Unless you've been living under a rock for the last couple of days, you would know that there's a vitamin scare on at the moment with lots of products being recalled. More recent info here.

HP and IBM both have Itanium 2 servers in the works.

I've been planning to go to Computex in Taiwan for the first time this year, but all this SARS concern in Asia has left me with second thoughts.. seems I'm not the only one thinking a postponement might be in order. Ah, and now Mr Tweak says it's confirmed as postponed.

I dunno about you, but having this case accessory on my desk all day would freak me out a bit.

Illusionary points out this personal translator.. cool! I wonder if it changes how your lips move, like the Star Trek one does. :)

An article titled Scotland Yard nabs Fluffi Bunni has to be worth a look.. turns out he's a hacker. Catching him at Easter would have been much funnier.

Dan has more letters with answers.

Boky notes there's a new version of Nikon's NikonView software, for getting pictures out of their digital cameras. Only a 32MB download! The manual's an extra 18MB, too.

YYK found some info on Longhorn, the successor to Windows XP.

Check out the latest gallery entries in the PCDB - quite a few cool ones lately, as we rush towards entry #5000.




3DMark03 (Build 320) (2 Comments) (link)
Wednesday, 30-April-2003 13:24:11 (GMT +10) - by Agg


Futuremark have updated their popular 3D graphics benchmarking tool. More info about the update here.

3DMark03 Patch (build 320) Improvements
Key technical points:

Now supports Microsoft DirectX 9.0a.
Professional version includes customization tools for different skins.
Anti-Aliasing (FSAA) and full frame pixel shader post-processing can now be used simultaneously. (NOTE: DirectX 9.0a runtime must be installed for this functionality).

New Features:

Added appropriate tools for creating custom skins for the 3DMark03 user interface.
Added a new benchmarking option which forces PixelShader 1.1 code path in game tests 2 and 3.
"Submit Saved Result" feature enabled in 3DMark03 Free Version.
2 new command lines added: "fixedfps" and "disableopt".

Fixes & Updates:

CPU & VPU/GPU MHz detection functionality updated.
Installation issue solved.
Fixed all reported issues with results in Excel.
Fixed ImageQuality Test issues.
Updated System Info.
Improved driver detection.
XML issues solved.

All other reported & identified problems and bugs in 3DMark03 have been solved.
Important Notes:
Benchmark results from the original release of 3DMark03 (build 313) and the updated version 3DMark03 (build 320) are fully comparable.
3DMark03 (build 320) is available as a full version and a patch version.
The registration codes for 3DMark03 (build 313) also work for 3DMark03 (build 320).
If you already have 3DMark03 you can update it with a 5MB patch file we've mirrored here. Otherwise, grab the full patched version (177MB) from our mirror here.




Wednesday Review-o-Rama (0 Comments) (link)
Wednesday, 30-April-2003 11:30:31 (GMT +10) - by Agg


The reviews just keep on coming..

Motherboards:
ABIT SI7-G SiS R658 based P4 RAMBUS motherboard on TweakTown.
VIA EPIA M9000 Mini-ITX mobo and CPU on EnvyNews.
ASUS P4C800 Deluxe i875P based P4 DDR mobo on HWZ.
EPoX 4PEA800 i845PE based P4 DDR mobo on TweakTown.
ABIT BH7 i845PE based P4 DDR mobo on Digital-Daily.
Albatron PX845PEV-800 i845PE based P4 DDR on TweakTown.
AOpen AX4R Plus E7205 based P4 DDR on SharkyExtreme.
ABIT NF7-M nForce2 socketA DDR on ViperLair.
Albatron KX400-8XV Pro KT400 socketA DDR on GotApex.
Shuttle AB48PN i845PE P4 DDR on Hexus.

Video cards:
XFX GeForce4 Ti4200 Turbo 8X on OCModShop.
Inno3D Tornado GeForceFX 5200 on HardCoreWare.
Inno3D GeForce FX 5200 on BoogleTech.
PowerColor Radeon 9800 Pro on VR-Zone.
PowerColor Evil Commando 2 Radeon 9700 Pro on OCNZ.
Inno3D Tornado GeForce FX 5200 on 3DVelocity.
Albatron GeForce FX 5200 on Tech-Report.
ASUS V9280TD GeForce4 Ti4200 on OCrCafe.
Gigabyte Maya II Radeon 9200 on Digit-Life.

Cooling:
Raptorcool CPU cooler on RBMods.
Enermax UC-A3FATR2 thermal controller on OCIA.
Sunbeam 80mm UV Fan on FuriousTech.
CoolerMaster XDream HSCV83 copper CPU cooler on FrostyTech.
OCZ Gladiator II CPU cooler on GruntVille.

Cases:
Antec LANBoy on Bit-Tech.
Antec Sonata case on A1 Electronics, our review here.
Chenbro SR-104 entry-level server case on 3DXtreme.

Misc:
Hush Mini-ITX mini-PC on Hexus.
PCToys Dual Cold Cathode case lighting kit on ThinkTechie.
Zalman ZM400-APF PSU on TrainWrecker.
Corsair TwinX-512 3200LL dual-channel memory on EnvyNews.



New Zealand motorsport icon Peter Raymond George "Possum" Bourne, whose motor rallying exploits and engaging personality made him a household name died at 12.58am today". Here is the link to the Possum Bourne web site and a Forum Thread here also. He will be sadly missed.



Some sad news for today. After being critically injured in a relatively low speed collision last week while checking a track pre-race, New Zealand rally driver Possum Bourne has been taken off life support and is not expected to survive. During the course of his 20 year rally driving career, he has three times claimed the Asia-Pacific title and is the reigning Australian Rally champion, with a record seven title wins. Our best wishes go out to Possum and his family at this time. Lets hope he pulls through this.

The updated RivaTuner 2.0 RC12.4 has been released. Get it before it runs out!

Lost Circuits has put four 2.5¨ SATA hard disks in a Shuttle XPC and connected them to a Promise RAID card. Well, why not?

This case mod is original if nothing else. I'm not sure if I like it or not. From tabula rasa.

Tom has put up a mega case review with 24 cases for you to check out.

Some good news on the Anti-Spam front. AOL, Microsoft and Yahoo are getting together to put the brakes on spam, much of which comes from their collective mail servers. Read more here. Maybe sometime soon I won't have to block all mail from Yahoo, Hotmail and AOL, as I do now.

Iroquois title to this article made me laugh for some reason, "Intel release lip-reading speech recognition software as open-source". Although its no laughing matter. Here is the article.

Also from Iroquois, some guides to securing Windows and Cisco routers written by the American NSA.

This article has got to win the title of Silliness of the Day. Although any German Vegetarians reading this might not think so.

Reviews
Albatron PX845PEV-800 Anniversary Special Edition Motherboard at Nexus
Biostar M7NCG Motherboard at Bjorn3D
Sapphire A4-A985 Motherboard at Digital Daily
Yuan DVD Encoder/TV Tuner MPG 160 at Digit-Life
Sapphire Atlantis Radeon 9200 Video Card at Beyond3D
Albatron GeForceFX 5200P Videocard at PCStats
Gainward FX 5800 Ultra at Mad Shrimps
Coolermaster Aero HSF at Datafuse
Dtek TC-4 Rev. 2 Water Block at IPKonfig
Vantec 470W Stealth PSU at GeekShelter
Unreal 2 - The Awakening at Ausmodders
V8 Supercar Race Driver at 3DA



Monday again, the start of a new working week. Oh joy!

Zed noticed this article on New Scientist, about growing proteins to produce hard drive surfaces with a density of 5000 gigabits per square centimeter.

Over on TechIMO you will find an article telling how to improve on the stock cooling for your GeForce 4 ti4200.

SubZeroTech have a Watercooling How-To article. If you're new to, or thinking about watercooling, have a look. You could also check out our own Extreme Cooling forum where you can also find all the info you will need.

HWZ have an overview of the Opteron technology. Interesting read.

There is a LAN coming up soon for the Queenslanders, its the CQGL event happening on the 4th and 5th of may which is a Sunday and a Monday.

If you're a Bigpond user and you are having trouble getting Email through to an AOL user, this might be why. It seems US-based AOL initiated a ban on receiving Email from some Telstra servers.

On a possibly related note, some good news in the fight against spam. Spam looks set to be outlawed in Australia with spammers facing prison time. Good. You could also become a bounty hunter. Dob in a spammer and receive some cash. Now that sounds like a good incentive program to me.

For the Star Wars fans, and any budding actors out there, the call for extras in the next Star Wars movie has gone out. The Sydney area looks like being the setting for some of the production so go here and get your name in the credits. Thanks to those who sent that in, all of you.

Thats all for now. Here are the reviews for the day.

Reviews
Inno3D Tornado GeForce FX at Overclocker Café
Turbocase X-Sonic Black Aluminum Case at Tweaknews
pcToys MobileMaxx Removable Hard Drive Rack at WinHQ
Trek USB Thumb Drive at R&B
Beantech DIY BT-8 Case at PC Tech Zone
ANTEC Blue LED Fan at KepTech
Epox 8RDA3+ Motherboard at TBreak (Thanks goofydave)
AVC 3x P4 Heatsink Roundup at Mikhailtech




Folding Giveaway3: Thunder Down Under (2 Comments) (link)
Monday, 28-April-2003 13:26:38 (GMT +10) - by Mred32


The OCAU Folding team is at it again with Giveaway3: Thunder Down Under. The Giveaway starts on Monday 5th of May at 07:00 WST and runs for 7 weeks with some great prizes to be won. We have 2 XP processors , 4 Spire Falcon Rock II HSF and a 128Mb ATI Radeon 9700 Video Card among the many prizes up for grabs and all you have to do is join the OCAU Folding team and produce at least 30 points for the week and nominate in this forum thread. Here is the main giveaway page for all the details of the prizes and the Giveaway rules. Thanks to the many forum members that have donated prizes to Giveaway3. Radiical Computing ( Javascripterror), Adelaide Computer Repairs (acr), leonard, Low Noise PC (Rod M), Falls, ToranaGuy and Onyx. So get in on the goodies and start folding!



This looks schweet. A full spec PC small enough to fit in your hand. I could even hide it from my wife. Thanks eDust and xmats.

Chris from WinHQ takes us on an overclocking ride with an Athlon XP 1700+ JIUHB. These little CPUs are proving to be about the most overclockable XPs yet.

Still using tape for your backups? How about using 70Tb of off-the-shelf IDE HDDs. Thanks mpot.

"There has been a rumor floating around the internet that using Arctic Silver on an AMD processor voids the warranty on that chip. Well, one of our writers, DCFlux, set out to find out if that was, in fact, the truth. To do this, he went straight to the source and asked AMD." Wow. Its true! Read the article Here.

If you're into wardriving, give the little cantenna away and get one of these! Do you think anyone will notice it? From thetron.

The OCAU Motorcycle Club site has a new look and lotsa cool functions to keep users updated with the latest ride info and upcoming events. The forums keep on growing with more and more users signing up, so go have a peek. Now!

R&B Mods are having a giveaway. Send them you're funniest joke to win. Details here.

Easily turn your PDA into a Mobile Phone. From eDust.

For a bit of light humor, check out this short (1.5Mb) video of the Iraqi (dis)information minister. I laughed.

Flash timewaster for you today, sent in by Halibut. I'm not sure what its called but its here. See if you can work it out.

Reviews
Xitel HI-FI Link at Modsynergy
Steelpad's Cord Holder at ExtensionTech
Raidmax ATX-268WU Case and RaidMax 400W PSU at Viper Lair
XFX GeForce 4 4200 8X Turbo at GamersHell
TTGI 350ss Dual Fan PSU at Extreme Overclocking




Saturday Arvo Reviews (5 Comments) (link)
Saturday, 26-April-2003 15:45:10 (GMT +10) - by Agg


Cases:
CoolerMaster Black Alloy Bezel on NinjaLane.
Chenming X-Pider aluminium case on MonkeyReview.

Motherboards:
MSI 875P Neo-FIS2R i875P DDR P4 mobo on HardWareZone.
ABit BH7 i845PE P4 DDR mobo on OCAddiction.
Soltek SLMRN-L nForce2 IGP DDR SocketA on OCNZ.
VIA P4PB P4X400 DDR P4 on TweakNews.
EPoX 4PCA3+ i875P P4 DDR on VR-Zone.
Intel D875PBZ

Video Cards:
Inno3D Tornado GeForce FX 5200 on TechSeekers.
Leadtek A300 Ultra TD MyVIVO GeForce FX Ultra on HotHardware.
Asus V9900 GeForceFX 5800 Ultra on UKGamer.

Cooling:
Zalman ZM-MFC1 fan speed controller on AthlonXP.
Evercool WC-101 watercooling kit on Ginun (French but good pics).
CoolerMaster Cool Drive HDD cooler on ATrueReview.

Displays:
Hitachi CML175B 17 inch LCD screen on Accelenation.
Samsung SyncMaster 172W LCD screen on EnvyNews.
Samsung 172T LCD screen on ExplosiveLabs.

Misc:
Keyspan Digital Media Remote control on GeekShelter.
Bytec Zippy EL-610 glowy keyboard on Tech-Report.
A4Tech Wireless Office Desktop Full Comfort keyboard and mouse on PC-Arena.
Zalman ZM400A-APF PSU on OCPrices.
Sunbeam Laser LED case lighting on TweakersZone.
BuffaloTech PC3500 DDR memory on GideonTech.
Sunbeam Lighted Components on Moddin.




Saturday Afternoon (0 Comments) (link)
Saturday, 26-April-2003 14:41:04 (GMT +10) - by Agg


GBLS dug up a load more Opteron stuff: Motherboard info from MSI here and here, Opteron 240 and 242 reviewed on AMDZone, Opteron and nForce3 info on ExtremeTech, server products announced by Einux and Arima and some coverage of the launch on TomsHardware.

There wasn't a lot of info in previous stories about the 3 people recently arrested in Sydney for something to do with MP3's. Turns out they allegedly ran one of the biggest MP3-serving websites in the world, so it's not like they were just quietly listening to their iPods when the Feds swooped. Slashdot ran a story on it a couple of days ago, more info there (among the noise).

Meanwhile, an American judge has ruled that Grokster and Streamcast/Morpheus are different to Napster and therefore not liable for people trading copyright-infringing material via their systems. More info here and here, thanks Iroquois.

SharkyExtreme have a high-end gaming PC buyer's guide.

TheInq are making more friends in high places, by reporting that vendors were strong-armed by Intel to not have too much of a presence at the AMD Opteron launch.

TomsHardware have an article about using hard drives for large-scale backups, instead of tapes.. thanks Salim.

I spent a little time reading this month-old slashdot story this morning, about a PCI card that does gzip compression in hardware. We've been experimenting with mod_gzip which does compression of webpages on the fly from our server, with a huge bandwidth saving. The problem is that with more than about 450 users in the forums we start running out of CPU time and have to turn compression off. A PCI card would be a much cheaper solution (but not quite as cool) as upgrading to quad Opterons. :)

Interesting article over on FutureLooks, offering some perspective on being addicted to benchmarking and gaming.

RojakPot have a Car PC project based around a Shuttle mini-PC.

From seth: LamStock is a combined LAN ran by LANstock & Frag the Lam admins at La Trobe Uni (Vic) with a player limit of 110 on May 17 & 18.



If you read the April issue of APC Magazine, you would have seen a feature on building your own PC that I contributed to. APC are now giving away the three PC's that we specced out - over $8000 worth! Pretty easy to enter too, except I'm not allowed to. :) Check out the details here.



ANZAC Day. A day for rememberance... Lest We Forget.

A couple more Opteron articles for you first up. AMDMB.COM have a short article on the recent launch of the AMD Opteron CPU with information on the current sale pricing, partners and a few motherboards available for 1P and 2P Opteron systems. Also, Hardware Extreme have updated their (P)review of the Opteron. Anandtech also have a four part article with the first three parts available.

First there was the mouse, then the cordless mouse, now comes the desk-less mouse. What next!

Forum member funnelbc, editor over at www.ausmusician.com, has posted an article about the Sony netMD range of minidisk players. It goes some way to explaining what netMD is and lists some alternatives to Sony's openMG software.

For those who own a Soltek 75FRN series motherboard, MaximumOC have a short guide to doing a CPU voltage mod. And yes...it will void your warranty.

The next G3 LAN in Gladstone is on this Saturday 26th April. Thats tomorrow! Also on tomorrow is the CLGA/Zgeek LAN. It's at North Sydney. Check out the links for signups and info.

TechSpot have updated their OS Updates page with patches and updates for IE and OE as well as many other bits to help keep your OS running smooth.

Madshrimps have tested 7 popular high speed memory sticks for you. Different Corsair, Twinmoss, Apacer and Samsung sticks were put to the test.

Reviews
Albatron's KM18G Pro motherboard at The Tech Report
Iwill K7S2 (SiS 746FX) Motherboard at HWZ
Maxtor DiamondMax Plus 9 200GB HDD at HWZ
XtremeDDR 400true RAM at 3DVelocity
OCZ Dominator 2-Cu HSF at OCModshop
CoolerMaster CoolDrive3 HDD Cooler at A1Electronics
ATi All-In-Wonder 9700 Pro at Viper Lair
MSI Ti4800SE-VTD8X at Bjorn3D
Antec TrueControl 550w PSU at The Tech Zone
Creative Soundblaster Audigy 2 Platinum at OCPrices
FragBox Aluminium Lan Case at AusPCWorld



First up today I have a few links to some news and info about Half Life 2. The worlds most popular online game is soon to have a new following, slated for release on September 30th, 2003. Anyway, here are a few links to follow. BBC News, BluesNews, Gamer.nl, Contaminated, ShackNews and Dragon Bound. Thanks to Nigel and all the others who sent in the links.

Speaking of games, there is a LAN this weekend in Chatswood, being run by forum member Decker. Checkout the LANMQ Main Page for all the details.

The folks at Bit-Tech recently went to i15, the biggest UK LAN ever, with over a 1000 participants from all over the country. Lots of pictures of modded machines for you.

Futurelooks try to work out the difference between generic and name brand flash memory cards.

Magnus found this interesting article about nForce2 boards suffering from RAID problems using the SATA onboard chip. There are some links to other forum discussions about this also.

XBitLabs have an article about the past, present and future of wireless computing.

Darkness has had a look at the trailer for the new movie "The Hulk". He has this to say about it. "Looks to have some cool action in it. Some of the CG is a bit iffy, Mr Bana seems to do a good job. Worth the download". You can grab the 20Mb file from GameArena or from AusGamers.

Dan has more of his letters for you. Some funny stuff this time.

Three more people arrested for MP3 music piracy, this time in Sydney. Read more here. Thanks Bern.

Reviews
FIC AU13 Chameleon nForce2 Motherboard Video Review at 3dGameMan
MSI E7205 Master-L Workstation Motherboard at PCStats
Chaintech 9CJS Zenith 875P Canterwood Motherboard at VR-Zone
Creative Soundblaster Audigy 2 Platinum EX at OCPrices
Gainward Ultra/750-8X Ti4800SE Video Card at EnvyNews
KTI Networks Pen Drive 2.0 at Furioustech
Xoxide Z-40 Insight Aluminium Case at Overclockers Online
Dynatron DC1207BMX Copper Pentium4 Heatsink at Frostytech
Bytecc "Zippy" Glowing Mini Keyboard at HardCoreWare
X-trac Pro HS Mousing Surface at Bjorn3D
Microtracker mousepad at R&B




Wednesday Night Reviews (3 Comments) (link)
Wednesday, 23-April-2003 23:48:23 (GMT +10) - by Agg


Let's get some of these reviews out of the way..

Video Cards:
Leadtek WinFast A340 Ultra TD MyVIVO GeForceFX 5200 card on ExplosiveLabs.
Gainward GeForce3 Ti500 on PCHardware.
Albatron GeForce4 Ti4800SE on HardWareZone.
XFX GeForce4 Ti4200 Turbo on Beyond3D.
Gainward GF4 Ti4800SE on Bit-Tech.
ATI Radeon 9600 Pro on A1 Electronics.
Visiontek 9800 Pro Radeon on GameBiz.
Compro Poladyne GeForceFX 5800 on OCNZ.
VisionTek Xstasy 9800 Pro Radeon on HardOCP.
Hercules 3D Prophet 9800 Pro Radeon on Guru3D.

Storage:
Vosonic XS-Drive II card reader and HDD caddy on DansData.
Excelstor Europa 60GB 7200rpm HDD on HardWareZone.
Plextor PlexWriter Premium 52x32x52x CDRW drive on HWZ.
Plextor PX-504A DVD+RW drive on Sudhian.

Cooling:
Dynatron DC1U-B01 1U copper heatsink on FrostyTech.
Cutting-Edge Bay Reservoir on SubZeroTech.
Zalman ZNPS 7000-Cu CPU cooler on OCPrices.
Dynatron DC1206BMY Copper P4 cooler on FrostyTech.
Zalman CNPS 7000-Cu CPU Cooler on MaxOC.
CoolerMaster Aero 7 CPU cooler on OCrCafe.

Cases:
BeanTech BT-84 Acrylic Case on 8Balls.
Lian Li PC-402a mini-case on ModTown.
Mentor Crystal Plexi Case and giveaway on MadShrimps.
Chieftec Case & Thermaltake Watercooling Kit on TechWareLabs.

Motherboards:
Soltek SL-75MRN-L nForce2-based socketA DDR motherboard on HotHardware.
AOpen AX4X Max i875P-based P4 motherboard on VR-Zone.
Soltek SL-75FRN L nForce2 board on 3DXtreme.

Misc:
AMD AthlonXP 2500+ Barton-cored CPU on OCAddiction.
Antec True550 PSU on GruntVille.
MS Wireless Optical Blue mouse on RadiativeNZ.
Samsung 191N LCD screen on ExtensionTech.




Exhilaration - Motorcycling for Women (0 Comments) (link)
Wednesday, 23-April-2003 17:18:35 (GMT +10) - by Agg


Just a reminder that Exhilaration is on this Sunday the 27th of April in Sydney. Details on the website, but it should be a great day for anyone (male or female) who's interested in motorcycling or who wants to be. I'm not involved in the running of it, but OCAU has sponsored them by providing a domain and webspace.

Plenty to see and do on the day, including a raffle with plenty of prizes. Best of all, all proceeds go to the Royal Hospital for Women and Mission Australia. So, check it out!




Opteron Overload! (19 Comments) (link)
Wednesday, 23-April-2003 15:28:44 (GMT +10) - by Agg


Lots of interesting stuff going on today with Opteron, AMD's first 64-bit x86 CPU. Offical word from AMD is here. LinuxMag checked out a dual server, with other (p)reviews from AcesHardware, AMDZone and NewsForge.

VIA, ATI, Corsair, SuSE Linux, Sun and IBM have announced Opteron support in their various products. NVIDIA have announced their nForce3 Pro motherboard chipset to complement the nvew CPU, thanks stmok. Bjorn3D have an article about nForce3.

HardOCP report on the Opteron launch conference (more pics here on AMDZone), while Tech-Report have some musings about what the new platform needs to succeed. Tim Sweeney from Epic gives his thoughts on what 64-bit means for gaming. Overclockers.com have their thoughts online too. Funny quote from AMD here.



From mort: According to this article on The Register, there are plans to create a Serial SCSI interface that is compatible with Serial ATA. How cool is that? Pick and choose which drives you want, all on the same bus.

TomsHardware have an interesting article about dead pixels on LCD screens.

DivX 5.0.4 is out now, thanks Raptor_Eye.

Some competitions going on out there, that will ship internationally (one makes you pay shipping) and don't require you to spam their forums: Win a bunch-o-stuff on ExtremeOC. Win some cold cathodes on OCHardware.

AthlonXP.com have compared 15 video cards of various kinds. Meanwhile, Tech-Report updated their graphics comparison, which lets you compare specifications for various chipsets.

Reviews:
Thermalright SLK-700 CPU cooler on OCrCafe.
Antec Illuminate Mini USB light on AseLabs.
Zalman ZM-MFC1 fan speed controller on FrostyTech.
Vantec CCK-7015 1U Copper P4/Xeon cooler on FrostyTech.
Coolermaster LED Fans on RBMods.
GrinderGear Expedition PDA case on Bjorn3D.
EluminXT glowy keyboard (video review) on 3DGameMan.
HighSpeedPC AthlonXP Unlocking Kit on ExtensionTech.
Thermaltake Volcano 11 socketA cooler on LanVictims.
Corsair TwinX 3200 LL DDR SDRAM on ExtremeOC.




Dual Opteron vs Dual Xeon (9 Comments) (link)
Tuesday, 22-April-2003 15:51:22 (GMT +10) - by Agg


Fairly big news, probably worthy of a post by itself: Freak sent word that TomsHardware have a comparison of dual Opteron vs dual Xeon. OCAU's next server? :)




Early Tuesday Morning (0 Comments) (link)
Tuesday, 22-April-2003 02:52:20 (GMT +10) - by Agg


Right! Enough holidaying, back to work.

Nexus rounded up PC3500 DDR memory from 4 manufacturers and compared them.

Tech-Report are giving away a GeForceFX video card.

Ghost2002 sent word that the BF1942 v1.4 patch is on the way and will attempt to eradicate cheaters by removing support for mods! Don't panic, server-side mods like Desert Combat will apparently still work. So, sounds good to me. Beginning to wonder about a few of those "lucky" shots lately, actually..

VR-Zone updated their Tbred and Barton databases.. some impressive overclocks.

Iroquois sent in the top 250 films of all time according to IMDB visitors and a review of the state of linux gaming in 2003. Also, Madonna got her website defaced, somewhat amusingly. Strong language, if that bothers you.

Interesting Forum Threads:
Motoring Guides: Changing a fuel filter in Motoring.
Hot-Rod Nationals, Geelong (719k of pics) in Motoring.
Informative Guides Collection in Overclocking and Hardware.
Leaving a program running after telnet closes in Other Operating Systems.
Mounting a HDD upside down? in Storage and Backup.

Reviews:
Western Digital WD2500JB 250GB HDD on StorageReview, thanks kasi.
Swiftech MCX462+T peltier-based socketA CPU cooler on BurnOutPC.
Sunbeam EL-Strip and Laser LED case lighting on Monster-Hardware.
AOpen AK97G Max nForce2-based socketA motherboard on HardWareZone.
EasyDisk 128MB USB Drive on ModSynergy.
Cooler Master XDream SE and Aero 7 socketA coolers on AMDMB.
VL Multi Power Port fan controller on Bit-Tech.
ABIT BH7 i845PE-based P4 motherboard on Sudhian.
Plextor PX-504A DVD writer on DesignTechnica.
Soyo P4X400 Dragon Ultra Platinum Edition VIA P4X400-based P4 motherboard on TweakNews.
MSI Ti4800SE-VTD video card on ViperLair.
BT300 BlueTooth Access Point on JSI.
Zalman ZM400A-APF 400W PSU on MaxOC.
Matrix Orbital MX212 LCD screen on Virtual-Hideout.
Geil PC3200, PC3500 and PC3700 DDR memory on OCTools.



There's not a lot happening on the news front, so have another review..

Antec's PSUs and cases have been impressive for a while now - I reviewed their 660AMG back in September and quite liked it. They've released some new models recently and Rod M has checked out their Sonata, which aims to combine cooling performance with low noise.



Click for the review!






A4-Tech RP-648 Wireless Optical Mouse (49 Comments) (link)
Monday, 21-April-2003 19:41:27 (GMT +10) - by Agg


A4Tech seem to be distinguishing themselves from the cheaper end of the mouse market lately, with some quite feature-packed mice - while staying less pricey than the big names. StratosFeaR checked out one of their recent wireless optical offerings.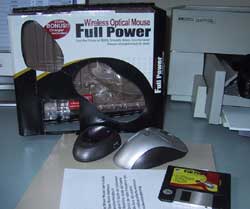 Click for the review!





Found a new whizz-bang mobile phone going cheap? Maybe it's one of these stolen ones, thanks Boky.

MaxOC have a picture showing how to do a voltage mod to your brand spanking new Radeon 9800 Pro. Braver (and fatter wallet) than me!

Win y'self a USB flash drive on EnvyNews.

PlanetSavage checked out the nForce2 onboard graphics in single and dual-channel modes.

I'm sure we've linked this before, but if you're bored on Easter Monday you can always make the Starship Enterprise from a floppy disk, thanks Pugsley_21.

Digit-Life have info on new storage products from Samsung.

From Matt: Dick Smith Electronics have the perfect kit for manually controlling the speed of fans, even most monster 120mm ones. you can find more info here (if the link just takes you to the homepage, search for product number K3070). I built one and linked the pot to the PCB with an old CD-ROM audio cable so that I could easily mount the control on the front panel and house the board inside the case. It costs about A$17 so it's dirt cheap and is fairly easy to build, although I wouldn't recommend it for CPU fans that are powered from the motherboard. I managed to power a CPU fan from the HDD power connecters and still link the sensor lead to the motherboard socket so it still worked but I don't know whether that will work on all boards (I guess what i am saying is if you blow your motherboard in any way I don't wanna know!!).

Techimo want to tell you about encoding WAV files to MP3.. for all the legal reasons you'd want to. :)

Digit-Life dusted off a bunch of old video cards, to give us a little perspective.

NordicHardware compared a couple of fairly high-end PC speaker systems from Creative.

Dan has written about solid-state storage.

Wired have an article about John Carmark, focussing on the upcoming Doom III release.

Interesting Forum Threads:
Post your Cinebench results here in Overclocking and Hardware.
Final Fantasy fans, please inform me in Games.
The Case Clubs Hub in Modding & Electronics.
Most influential albums of all time? in Media & Current Events.
Radeon 8500 flashed to 9100 in Modding & Electronics.

Reviews:
Enermax UA-A07FATR2 multi-function panel on ClubOC.
Belkin 1200VA Universal UPS on EnvyNews.
Creative Inspire 5200 5.1 speakers on GeekShelter.
Koolcases Minion midtower on RBMods.
MouseMAXX mouse pad on BurnOutPC.
Cremax IcyDock Bodyguard525 HDD cooler on ClubOC.
SPire NeonBar II case lighting on ModSynergy.




Saturday Afternoon #2 (13 Comments) (link)
Saturday, 19-April-2003 16:06:46 (GMT +10) - by Agg


Xbit got their hands on an Athlon64 2800+ engineering sample and give us some benchmarks and preview info about it.

Virtual-Hideout have a pretty cool custom case project posted.. while Spodes squeeze a router into a suitcase.

Wolfy found an article suggesting you might be best off not installing the latest security patch from Microsoft, on Win2K at any rate.

Dell have taken the #1 spot in PC sales away from HP. Considering HP consolidated Compaq's product line into its own, that's an impressive achievement.

SharkyExtreme have an interview with Richard Brown, head of International Marketing for VIA.

Speaking of which, TheInq have info about VIA's upcoming P4 and Athlo64 motherboard chipsets, some interesting tidbits here and here.

Reviews:
Intel i875P Canterwood motherboard on TweakTown.
Cremax Bodyguard IcyDock HDD cooler and thermal monitor on IPKonfig.
Logitech Cordless Elite Duo keyboard and mouse on OCWareHouse.
JMTek USBDrive Professional USB storage on ModSynergy.
CoolerMaster CoolDrive 3 HDD cooler on ViperLair.
Altec Lansing 221 speakers on OCAddiction.
Sunbeam Rheobus on GamingIn3D.
Eumax CPU Cooler on GeekShelter.
ATTO FireWire PCI card on ModSynergy.
Matrix Orbital MX2 LCD on RBMods.
pcToys Breeze Max personal cooling fan on WinHQ.
Albatron PX845PE Pro II P4 mother board on Bit-Tech.
Swiftech MCX4000 CPU cooler on FastSilicon.
Albatron PX845PEV-800 P4 motherboard on MonkeyReview.
Xoxide Z40 Insight case on ExtensionTech.
MSI GeForce4 Ti4600-VT2D8X video card on PimpRig.
AMD AthlonXP 3000+ Barton-cored socketA CPU on PureOC.
Tweakmonster BGA RAMsinks on BurnOutPC.
Cornea Systems CT1904 19 inch LCD screen on PCStats.
Eluminx Black Slim-Series Illuminated Keyboard on TweakNews.
Spire FridgeRock 5U213C1H3G CPU cooler on FrostyTech.
Xoxide Z40 case on SubZeroTech.
Vantec Aeroflow VP4-C7040 CPU cooler on 8balls.
Eumax B605-01 CPU cooler on SubZeroTech.




Saturday Afternoon (0 Comments) (link)
Saturday, 19-April-2003 14:17:42 (GMT +10) - by Agg


HardOCP weren't content with simply reviewing ATI's Radeon 9600 Pro.. they spent some time overclocking it, too. HotHardware had a crack at overclocking theirs as well.

Xbit offer their insight into what the recent cessation of legal hostilities between Intel and VIA might mean for the industry.

nForce2 gets a fair bit of coverage today with reviews of Abit's NF7-S v2.0 on Techseekers and ExtremeOC, while FIC's AU13 is covered on PCStats. 3DVelocity checked out EPoX's EP-8RGA+.

Kerridwyn spotted another spammer being taken to court.. can't say I'm too upset about that.

DesignTechnica have an editorial about peer-to-peer networking.

On the video card front we have GeForce FX 5200 Ultra reviews on HardAvenue and PCTechZone, with a comparison of the 5200 and 5600 here on xbit. The high-end Radeon 9800 Pro gets a going over on AthlonXP.com, while Bjorn3D share their opinion of Gainward's GeForce4 Ti4400 with 8X AGP.

Symon has a nice custom perspex case for a router PC in the PCDB.




Friday Afternoon (7 Comments) (link)
Friday, 18-April-2003 17:28:07 (GMT +10) - by Agg


Hope your Easter break is going well..

MS have warned of another security hole in various versions of Windows.

Hooray, Senator Alson is going to save us from spam! Can't wait, thanks Kerridwyn.

VR-Zone have info on the new Prometeia II phase-change cooler and a review of Maxtor's DM9+ SATA hard drive.

Digitimes have some info on motherboard chipsets supporting Intel's 800MHz-FSB P4, from SiS and VIA. Seems that SiS will be first out the gate, despite VIA having licensed the technology from Intel first.

Interesting gadget on ArsTechnica: The basic idea behind QCast is simple: the software allows you to use a networked PS2 to reach out from the living room entertainment center to a PC on the LAN and browse and play that PC's collection of media files (MP3, DivX, AVI, MP2, Ogg Vorbis, etc.). So, using a PS2 controller and QCast's interface, you can stream media files from a PC to the PS2 and play them on your home entertainment system.

Digital-Daily have an IT industry roundup for March, focussing mostly on CeBIT 2003.

GameVictims and Lollan have combined into LanVictims and are holding a LAN in Corinda, Brisbane, on the 26th of April.

Fun timewaster: Blob Lander from Tekka.

Interesting Forum Threads:
Admirals pic's of his trip to NZ in The Pub.
My mate's new iMac :) in Overclocking & Hardware.
Say hello to my new Canon 10D in Other Toys.
Whacky "hot case" design or sound theory? in Extreme Cooling.

Reviews:
Nexus NX-4000 400W PSU on ExtremeOC.
M-Audio Sonica Theatre USB 7.1 Surround Audio Card USB Audio on FutureLooks.
ABIT BH7 i845PE-based P4 DDR motherboard on Tech-Report.
MSI 655 Max-FISR SiS655-based P4 DDR motherboard on A1-Electronics.
FlexiGlow Cable and CCFL case lighting on ExtensionTech.
GideonTech 52x24x52x CDRW drive on GideonTech.
SVC Laser-cut Fan Grills on RBMods.
ALbatron GeForce4 MX485 video card on OCrCafe.
MSI K7n2G-ILSR nForce2-based socketA DDR motherboard on ViperLair.
Iomega Predator 40x24x40x CDRW drive on HardWareZone.




Thursday Evening (0 Comments) (link)
Thursday, 17-April-2003 18:22:59 (GMT +10) - by Agg


News of the day seems to be ATI's Radeon 9600, which supercedes their 9500 in the middle of the range. Reviews on Tech-Report, Beyond3D, HotHardware, Bjorn3D, UKGamer and no doubt many more on the way.

Warp2Search collecting links to various Canterwood motherboard specs, while DWPG have some info from Corsair about which of their memory products to use with those motherboards.

MadShrimps checked out three low-cost watercooling kits.

nEoLIthIc spotted this worrying article about GeForceFX cards cooking by turning off their cooling fans when displaying screensavers.

Interesting Forum Threads:
1.4TB server pics/speeds in Storage and Backup.
Heto Pump Mod (pics) in Extreme Cooling.
Your experiences putting a PC into a VCR? in Modding & Electronics.
Triple-screen Setup Question in Video Cards.

Reviews:
ATI All-In-Wonder Radeon 9700 Pro video card with the lot on TweakNews.
Hercules 3DProphet Radeon 9800 Pro video card on VR-Zone.
XFX GeForce4 Ti4200 8X video card on VR-Zone.
Griffin iCurve Laptop Stand on EnvyNews.
AngelMod CCFL case lighting on FuriousTech.
OCZ EL DDR PC-3700 memory (video review) on 3DGameMan.
OCZ PC3500 Dual Channel DDR memory on OCPrices.




Folding Giveaway2 Major Prizes (0 Comments) (link)
Thursday, 17-April-2003 15:20:41 (GMT +10) - by Agg


From Bollocks:

The winner of the water cooling package donated by CoolPC is Duallayerformat. The winner of the clear acrylic case also donated by CoolPC is griffo.

This brings to a close Giveaway2 and I would like to thank David from DGROMS.com and Rob from CoolPC for donating the great prizes for this Giveaway. They have been very generous and we appreciate it very much. Also welcome to the team to the many new folders that have started folding over the past 5 weeks and welcome back to the many folders that have started folding again, we hope you can stay around and help a worthy cause help find cures for many dreadful diseases and hopefully one day cancer.

Note: Plans are in progress to have another Giveaway in the next few weeks so don't stop folding because you will miss out on the all important bonus number that could just win you a great prize.

Winners announced here, The Folding Page is here and you can find out how to join the team here.

Congrats to the winners!



This from SectretSquirrel yesterday, so might be addressed already: Just wanted to give you the heads-up on a new/modified trojan (search for TimerModule.exe/RedLabel.scr on Google/Teoma etc returns nothing and Kaspersky doesn't detect it). It seems to be a variant of the Delf.g backdoor.

My firewall Kerio Personal Firewall 3.0 beta 6 picked it up this morning when a certain "TimerModule.exe" tried to connect to a localhost (127.0.0.1) port on both TCP and UDP. I'm still figuring out how it got there, but perhaps it wasn't a coincidence that Kaspersky picked up a script in an Opera cached file, saying it was a "Exploit.Applet.ActiveXComponent"

TimerModule.exe will be placed in X:\windows\system32\ and RedLabel.scr in X:\windows\system32\. TimerModule.exe will NOT be reported by Kasperksy as being a virus. However RedLabel.scr is reported as being infected with "Trojan.Win32.Delf.g. I'm about to check it with Norton Antivirus... Ad-aware does not report anything to do with these files.

The exploit makes a registry entry so that it runs at startup:
HKEY_Local_Machine\Software\Microsoft\Windows\CurrentVersion\Run:
TimerModule D:\WINDOWS\System32\TimerModule.exe

Spybot 1.2 picked up the DSO vulnerability on my machine as documented here. Maybe it found its way in that way.

Yet another reminder to update your anti-virus program regularly.. one day they might not have a virus detected and the next day they might. Don't run any screensavers or other email attachments from people you don't know, or if you do know them, that you wouldn't expect them to send. Personally, I think the virus writers should all go and collectively get a life..



Just a quick catchup of the latest reviews and other bits 'n pieces...

A couple more Canterwood motherboard reviews, the Intel Canterwood "Bonanza" Reference Board at Spode's Abode.

This was sent in by about a dozen people. Live video calling is now available in Australia, with Hutchison Telecoms releasing their "3" service. "Dubbed Australia's first live, person-to-person mobile, video calling and information, communication and entertainment service, Hutchison Telecoms CEO Kevin Russell said Australian users will benefit from a whole new range of mobile communication services". Full article Here.

Fad found this interview with Andrew "Bunnie" Huang, the guy who started the Xbox hacking craze. I suppose he wouldn't make the "Microsoft's Favorite People" list then.

Owners of VisionTek video cards might want to keep their eye on this article over at [H]ard|OCP. I seems that VisionTek may have used some defective parts in the production of some of their cards, even though they knew all about it. Maybe!

Several pieces from Iroquois. A Plextor CD-RW drive which claims to be able to cram 980MB onto a 700MB CD. Some more screenshots of the upcoming Longhorn, and the full technical specs of the nVidia NV35.

ZZZ's 166th issue is out, find it here.

Forum member TerminalError got a shock when he stepped outside and discovered something weird growing in his back yard. An alien slug? A mutated octopus? Never fear, the mysterious creature has been identified.

No flash game for today, but I'm sure you can fill in some time checking out these rocket propelled machines. 242Kph on a push bike!!!

Reviews
Chaintech 7NJS Zenith nForce2 Motherboard at Extreme Overclocking
Sunbeam AC-B Clear and Blue Acrylic Case at GruntvillE
Leadtek MyVIVO GeForce4 Ti-4800SE 128MB at OCNZ
Belkin 32MB USB Flash Drive at VH
Nokia 7250 Mobile Phone at HWZ
Sony PCV-W20 System at Designtechnica
Skyhawk Galaxy Silver Case + Window at 3DVelocity
3x Lite-On CD-RW/DVD Drives at SLCentral
Plextor PX-504A DVD+R/RW CD-R/RW at HH
Zippy EL-610 Super Slim Luminescent Keyboard at 3DExtreme
Albatron Medusa Ti4800SE Video Card at OC Portugal
Gainward Xabre 400 Video Card at PC-Arena




ABIT's NF7-S meets Granite Bay (22 Comments) (link)
Thursday, 17-April-2003 00:21:59 (GMT +10) - by Agg


Chainbolt has taken a look at one of ABIT's nForce2 offerings, their NF7-S. In this article he examines the differences between the 1.0 revision and the 1.2 revision, gives us a general review of the board and compares it to a Granite Bay P4 equivalent.



Click for the full article!





Theres an 11 page review of the Canterwood chipset over on Hexus. Thanks phi.

AnandTech have got their hands on the new KT400A motherboard from Gigabyte, the 7VAXP-A Ultra. There doesn't seem to be many of the KT400A motherboards on the shelves yet but they're on their way. Thanks Sin22.

Over on Digit-Life, is a review of the Technosonic MP-101 DVD/MP3 Player with MPEG4/DivX support. DVD players that play Mpeg4 and DivX files are starting to hit the market. I wonder how the movie studios a feeling about this!

Bit-tech take a look at some of the budget offerings from nVidia, namely the FX5200 (NV34), FX5200 Ultra (NV34) and the FX5600 Ultra(NV31).

Meanwhile, on Hardware Accelerated, you can read an interview with Michael Ching, product marketing manager for the RDRAM memory line at Rambus. They ask him a few questions concerning Rambus, RDRAM, Yellowstone, and competing products.

The latest Massive Multiplayer Online First Person Shooter (MMOFPS) from Sony is called PlanetSide. Theres heaps of screenshots there for your viewing pleasure. Although a firm release date for the PC platform is yet to be announced, Planetside is being touted to rival various first person shooters like: Counter Strike, Tribes 2, and Battle Field 1942.

A 5-Way DDR Memory Shootout can be found over on Liquid Ninjas. Ram from OCZ, Corsair and Twinmos.

ExtensionTech have a play with Dave Brown's Heatsink Lapping Kit.

Some new, well almost new Omega Drivers for ATI and nVidia cards are out. If you feel like trying an alternative, these are based on the 3.2 Catalyst (ATI) and the 42.30 Dets (nVidia). Thanks F1DarkFlash.

Iroquois stumbled across this interesting article about attempts to replace the light-bulb with LED's. Now thats a bright idea!

Todays timewaster was sent in by THX1138. Its a Juggling Simulator.

Reviews
Minolta DiMAGE F200 Digital Camera at Digit-Life
FIC Radeon 9700 Pro at TechSpot
Swiftech MCX462+ AMD Heatsink at Fragware
Gainward gForceFX 5800 Ultra at Nordic Hardware
Lian Li PC75 Case at OCIA
Antec Sonata case at EnvyNews
AMS gBOX Blue P4 Aluminum Barebone System at OCAddiction
Gigabyte GA-8KNXP Ultra (Intel 875P) at HWZ
MSI K7N2G-ILSR nForce2 Motherboard at Bjorn3D




i875P (Canterwood) Motherboards from ABIT and Gigabyte (17 Comments) (link)
Tuesday, 15-April-2003 17:18:04 (GMT +10) - by Agg


Now the Canterwood NDA has well and truly lifted we're seeing some press releases about products. ABIT and Gigabyte sent info over about their motherboards:

ABIT IC7-G: the ABIT Gigasystem™. Impressive stuff: Only ABIT gives users a chance to experience a 1 Gig FSB and 1 Gig DDR memory overclock thanks to advanced ABIT Engineering. Designed with the enthusiast in mind, the IC7-G has the ABIT Engineered features that tweaking-obsessed users demand for GigaOverclocking. More info in their 4MB Word doc here.

Gigabyte GA-8KNXP Ultra: The 1st element is represented by the Dual logical processor provided by the Intel® Hyper Threading Technology while the 2nd element was contributed by the Dual Channel DDR memory architecture. The 3rd element is the newly developed and innovative patented technology known as the Dual Power System (DPS) design, the 4th element comes from the Dual RAID interface which enhances data protection and performance. The 5th element is provided by the Dual Cooling System which greatly reduced the thermal issue, and the final element is Gigabyte's patented DualBIOS™ technology which protects BIOS from virus attacks. Some (large) pics of this board here and here and a Word doc here.



alx-e notes that after years of work, the Human Genome has been Completely Mapped. "NIH scientists joined researchers around the world to map what has now come to be known as the 2.85 billion bases, or DNA letters, responsible for heredity in humans. Each of the 23 pairs of chromosomes found inside human cells carry 50 million to 300 million base pairs, and hundreds, to thousands, of genes".

G3D have posted part 3 of their Thermal Paste Showdown. "Besides talking about raw performance numbers, G3D also grades the pastes on flow control, wet/dry spread, wet/dry conduct, oil bonding, as well as other factors".

Adrian's Rojak Pot have updated their BIOS OPTIMIZATION GUIDE again. Another 10 new or updated BIOS options for you to play with.

TechIMO have a guide to processing digital anime. Cartoons have come a long was since I was little, or have they!

Over at Spode's Abode, Peter Barnard gives us his Ultimate Ducting Guide. Getting enough air to where you want it is not a simple as it seems. A good read.

Regarding the Radeon 9800Pro, Hardware Analysis take a close look at how it compares to the original Radeon 9700 Pro and nVidia's GeForce FX 5800 Ultra. Is it the worlds fastest 3D accelerator?. For the consumer market anyway!

I've had a lot of people send this one in. Its the new Honda Accord advert. It's appeared a few places on the net, but we've mirrored it locally here (5MB) to avoid upsetting other servers. Apparently almost all of it was done in real time and it took over 600 takes. Here is some info about how it was done. Oh, you'll need Quicktime to view it.

There's an article on Wired all about the effects used in the new Matrix movie. I'm waiting with baited breath. Thanks Adam.

Darkness sends word that the OCAU Motorcycle Club has some great ride days coming up. "OCAUMC has nearly 100 members now and is pumping out some great info for riders ranging from learners to racers! Topics include licensing information, cleaning your bike and even tips to pass license tests".

If you feel a mild stroke coming on, sit down, relax, have a cup of coffee and a shot of rum. It might help. From Professor Nutbutter.

Flash timewaster for today is Adrians battle bots. Well made fun game. The bots are cute.

Reviews
Xoxide 6 Port Baybus at 8Balls Hardware
Enermax CS-10181 Server Case at IANAG
Asanté FriendlyNET GigaNIX Ethernet Adapter at Networks Today
Bytecc EL-610 EL Mini Keyboard at BoPC
CoolerMaster Aero 7 heatsink at A1 Electronics
CoolerMaster Aero 7 heatsink at Tweakers Australia
Beantech BT-84 Clear Case at Nexus
AMD Athlon CPUs (2100+ 2400+ 2700+) at Shnack
AK-Systems Diskless Thin Client at Digit-Life
Thermalright SLK-800U & SLK-900U CPU Coolers at LegionHardware
Chaintech Zenith 7NJS nForce2 Motherboard at 3DVelocity
Matrix Orbital MX212 20x2 USB LCD Display at MonkeyReview
Articmods Fan Controller at R&B
Adaptec Ultra Wireless Network at ClubOC
Thermaltake Aquarius II Water Cooling Kit at TecCentral (BabelFish'ed)
Shuttle SN41G2 SFF PC at Techseekers
OCZ PC3500 Dual Channel EL-DDR at OCPrices
Antec iLuminate Tubes at DVHardware
FrontX Front Port Solution at ModFathers




Canterwood Catchup.. (4 Comments) (link)
Tuesday, 15-April-2003 12:28:09 (GMT +10) - by Agg


Anandtech covered the chipset and the CPU separately, also HardOCP, TheTechZone, HardwareUnlimited, PCMag, Sharky-Extreme, GamersDepot, SimHQ, UKGamer, VR-Zone, LostCircuits, Accelenation and HardWareZone. Still not enough? Look down a few news posts on this page for the first ones out of the gate.

However, we might not be seeing the 800MHz-FSB P4 on shelves for a little while, as Intel announce they have halted shipping them due to an unspecified problem with the CPUs. More info here, thanks Craig.




LG 48x - 52x Flash! (7 Comments) (link)
Monday, 14-April-2003 20:43:43 (GMT +10) - by Agg


Cozzmo tried flashing his 48x LG CDRW with the equivalent 52x BIOS - and it seemed to work. He hasn't confirmed it works at the higher speed, though.. but he sent along the steps to flash it with the higher-spec BIOS:



Click here for details!





Different approaches but nice setups from blkwdo15 and enforcer in the PCDB. Meanwhile, MaxW2's watercooled machine is very impressive!

Cods spotted an article about DDR II on LostCircuits.

Torana spotted more about the latest silly internet law proposed in the USA. This one outlaws encryption, firewalls and network sharing.

VoidedWarranty have an article about FireWire networking.

Telstra may be reducing the time it takes to switch ADSL providers, thanks Crusterminator.

DesignTechnica have an article about how the two pursuits of home theatre and PC's are merging.

Interesting Forum Threads:
Full games gone free in Games.
Random number generation in Overclocking & Hardware.
Funny way to get some (car) speed in The Pub.
Will you keep folding after the comp? in Team OCAU.
350 Chev XA Coupe Project (not modem friendly) in Motoring.
The P4 overclock thread in Intel Hardware.
Linux Desktop Pics in Other Operating Systems.

Reviews:
Maxtor DiamondMax Plus 9 160GB S-ATA HDD on VR-Zone.
Sunbeamtech Crystal LED Fan on TweakersZone.
AMK Colour-Changing LED on ModSynergy.
Chaintech 7NIF2 nForce2-based socketA DDR motherboard on ViperLair.
Asus P4SDX Deluxe SiS655-based P4 DDR motherboard on HardWareZone.
Maxtor DiamondMax Plus 9 160GB S-ATA HDD on ClubOC.
Gigabyte SNIXP1394 SiS655-based P4 DDR motherboard with FireWire on OCNZ.




Nokia 6610 Mobile Phone (35 Comments) (link)
Monday, 14-April-2003 20:21:56 (GMT +10) - by Agg


Something a little different tonight. I freely admit to not knowing the faintest thing about what's cool in mobile phones lately. In fact, on the weekend my old Ericsson finally died and I got a cheapy Nokia to replace it. Seems to work really well, but it's so hard to find a phone that is just a phone nowadays. :) On the other end of the spectrum is this other new one from Nokia, which even has a full-colour screen and plays Java games! Geremy AKA Herro checked it out for us and sent along a review..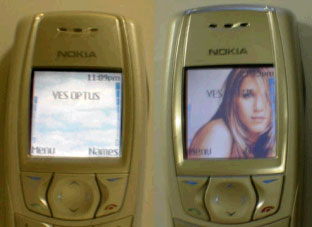 Click for the review!






Intel's 800MHz-FSB Canterwood (6 Comments) (link)
Monday, 14-April-2003 18:31:30 (GMT +10) - by Agg


Intel have announced their Canterwood chipset, also known as i875P today. The most interesting thing about this chipset is it brings official support for an 800MHz FSB to the P4. That's 200MHz x4 of course. Intel, Abit, ASUS and Gigabyte have all announced motherboards based on this chipset - there maybe others I haven't seen yet. To complement this, Intel also released a version of the 3GHz P4 with 800MHz FSB.

Reviews, previews and general news on Tech-Report, HotHardware, Legion Hardware, Hardware Avenue, Sudhian, MBReview, Bit-Tech, Hexus, Xbit, TomsHardware, PCWorld and TheInq.



NordicHardware have reviewed 6 PSUs from Antec, Zalman, Enermax, Levicom and AOpen, so if you're in the market for a new PSU, have a look.

Theres a fairly good guide to lapping your heatsink over on GideonTech. If you're about to give it a go for the first time, or even if you consider yourself a pro, give it a read.

This idea caught my eye. Its a USB 2.0 External Drive Rack. Full review over on OCC.

On AusModders, an article which looks at the differences, performance wise, between the 8xAGP and the 4xAGP Xmicro Ti4200's. Read more here.

If you're having computer problems, The Tech Zone have a fairly general troubleshooting guide which you might find helpful. You could also have a read through our own Troubleshooting Help forum and get help from others who might have had the same problem.

Over on Ars Technica, EA Games and nVidia team up. "EA development teams will use PCs powered by NVIDIA GPUs to create eye-popping 3D effects while allowing full compatibility across all PC gaming systems featuring NVIDIA hardware." This sounds like good news. Thanks Bern.

Club Overclocker get hold of a couple of Seagate Cheetah 15K drives and try them out in RAID. Fast!

OCWarehouse try to "Help protect your dignity with a CPU shim". Shims have a huge following, of those either for or against their use. Have a read here and see which team you're on.

This from kasi. "This guy custom manufactures Home Theater PC Cases. He has also designed a passive heatsink for a Radeon 9700 Pro. It relies on negative airpressure in your case to work. This isn't a real review but he does test it himself in one of his cases."

If you are a Trekkie and are in the market for some real estate, check out this apartment on Ebay. Thanks Simon.

There is a couple of Lans happening over the easter weekend. on the Gold Coast, Gameserve: Siege. 300 seater lan, full details on the site. Also, in Newcastle, a marathon Lan over 5 days is happening called Se7en. Stock up on sleep before that one.

If someone points their mobile phone at you...Take Cover! Thanks Tori Lee.

For those lucky enough to own a Geforce FX card, this page shows how to make the Elf like girl in the Nvidia Elfian demo do a striptease. From Anthony. This link is probably not work safe!

Reviews
Sunbeam Dual-Colour Cold Cathode at PlanetModz
OCZ Gladiator II & Dominator2 Heatsinks at PimpRig
iCute Dual LED Thermometer at ModSynergy
VIA EPIA M9000 System at Hardware-Test
Bytec Zippy EL-610 Mini Keyboard at MHW
TerraTec Aureon 7.1 Space 8 Channel Soundcard at XbitLabs
UV Dual CCFL Fan Grill at Ausmodders
Crystal Neon Optical Mouse at GeekShelter
SwifTech MCW50 Gpu Waterblock at R&B
Cooler Master Areo 7 Heatsink at DVHardware
Thermaltake Xaser III Super Tower Case at TweakTown
Zonet Wireless USB Network Adapter at OCPrices
X-Trac Zoom Mouse Surface at FuriousTech
Abit's BH7 Mainboard at HotHardware
ASUS P4C800 (Canterwood) Motherboard at OCWorkbench
Soltek SL-75FRN-RL nFORCE2 Motherboard at MaxOC
Soyo SY-P4I i845PE Motherboard at Sharkys
Pyramat Sound Furniture video review at 3dGameMan




Saturday Evening (3 Comments) (link)
Saturday, 12-April-2003 18:13:57 (GMT +10) - by Agg


Wolfy says: Congratulations to OCAU Forum member "Skit", AKA Robert B., for winning Quost's "Name the Critter" Competition. The winning name is "Quozzie"! Quozzie the Ozzie Quokka.. fair enuff. :) Congrats to Skit, who won some free webhosting.

Phi sent in this review of Asus's A7N8X Rev 2.00, an nForce2-based DDR motherboard for socketA. The review is machine-translated from German, and contains such insights as: However: anyhow we could not publish "supersuper" A7N8X-Review, so long on the other side many user thereby in difficulties put and I do not mean own customers at the beginning also from the bar hoar frost to say could "let us pull the nipple by the latch and then funzt" . Such Doppelzuengigkeit is simply not our strength. This kinda thing is why I don't generally link machine-translated reviews. :)

Digital-Daily have a roundup of thirteen i845PE/GE motherboards.. DDR motherboards for Intel CPUs.

LinuxHardware, meanwhile, checked out three dual-CPU granite bay motherboards, from Iwill, Supermicro and MSI.

Sudhian have some tips for summer computing, which will come in really handy in about 6 months time. :)

Many moons ago, I reviewed the MacPower DigiDoc 5 fan controller and temperature monitor.. MacPower have an updated model in the works, called the DigiDoc 5+ Extra Sensory Protection.. and TheModFathers checked out a pre-release sample.

Dan's been playing with little baby tanks.. remote controlled ones.

Reviews:
X-Dreamer Silver Case on OCAddiction.
CoolerMaster Xdream SE CPU cooler on RBMods.
MSI 52A2 CDRW drive on ClubOC.
Plextor PX-504A DVD+R/RW CD-R/RW combo drive on MonkeyReview.
Leadtek WinFast A300 Ultra TD MyVIVO GeForceFX 5800 Ultra-based video card on Bjorn3D.
Transcend Radeon 9700 video card on SharkyExtreme.
JMC 400124 Phoenix 60 radial-fin P4 heatsink on FrostyTech.
Antec TrueControl 550W PSU on TweakTown.
Creative Optical Wireless Mouse on Digit-Life.
Maxtop Case Lighting accessories on EnvyNews.
GeIL PC3500 DDR433 Dual Channel Memory Kit on PCStats.
Enermax CS-10181-B case on MikhailTech.




Saturday Afternoon (1 Comments) (link)
Saturday, 12-April-2003 17:20:44 (GMT +10) - by Agg


Need an external hard drive? Will 250GB do ya? How about if it has glowy flashy lights on it, too? KyocEr@~* spotted exactly this on TheReg.

The ArsMasters have updated their system guides.. their recommendations for a range of price:performance ratios.

ViperLair have a project to build a PC into a big amp case.. turned out ok, but not really my taste.

FastSilicon have an article about Intel's Anti-Overclocking Technology and the innards of a CPU.

CDFreaks have an article titled the DVD format war, about the lack of a single standard for DVD burning.

RojakPot managed to find 12 pages worth of stuff to say about Cooler Master's ASC-V73 Aero 7 CPU cooler. Or rather, they divided up the stuff they had to say into 12 pages. Unfortunately, there is a difference.

Eluial sent in this brilliant anti-spam technology from IBM.

NickSTAR spotted this Sydney Mystery Game demo. The Sydney Mystery is a mystery adventure game fully photographed on location in Sydney, Australia. The full game features over 240 scenes, 17 real Sydney locations, and 11 characters. Your uncle, a retired private investigator, has been kidnapped, and as his niece you must explore this rich world, talk to an intriguing cast of suspicious people and ultimate solve the mystery. The demo is 41MB.

Reviews:
CoolerMaster Black Alloy Bezel for CD/DVD drives on VoidedWarranty.
Logitech Clicksmart webcam on DesignTechnica.
Albatron GF4 Ti4800V video card on OCNZ.
Super Flower SF-461T1-S case on ExtremeOC.
120mm UV sensitive fans on OCIA.
Sunbeamtech Acrylic Case on GideonTech.
Sunbeamtech Acrylic Case also on Virtual-Hideout.
Yeong Yang YY-5412 midi-tower case on HardWareZone.
Thermalright SLK-900U CPU cooler on A1-Electronics.




New Matrix Trailer! (14 Comments) (link)
Saturday, 12-April-2003 12:16:28 (GMT +10) - by Agg


A few people sent word that there are some new Matrix trailers out, for the upcoming film(s). There's one large trailer and a couple of shorter "TV spots" here. The big one is the final theatrical trailer before the 2nd film comes out and, as Darkness says: It weighs in at 100mb and is the sexiest damn thing I've seen in a while. AusGamers have it here and GameArena have it here. It's a QuickTime .MOV file. Impressive stuff!




Dyslexic Fish CD Launch (15 Comments) (link)
Saturday, 12-April-2003 01:56:54 (GMT +10) - by Agg


From our resident rockstars, Vindaloo and Froodogs: This is to let all OCAUers know that Vindaloo (that's me!), and Froodogs are playing at the launch of the debut CD of our funk/rock band, Dyslexic Fish, this Saturday the 12th of April, at the Rosemount Hotel in North Perth. The Rosemount is on the corner of Angove and Fitzgerald Sts. Entry is $8, or $25 gets you entry and also a copy of our CD, "Mission Inappropriate".

You can hear some music by following the links on our website. If you're not in Perth, but still want to buy the CD, you can pre-order it from here. Alternatively, as the album is nationally distributed with MGM Distribution, you can order it from (hopefully) most good CD stores around the nation. Cheers!

Congrats guys! Remember your roots when you're sipping champagne in Monaco.. :)




Early Saturday Morning (2 Comments) (link)
Saturday, 12-April-2003 01:31:38 (GMT +10) - by Agg


Sudhian rounded up some i845PE motherboards for your DDR P4 luvvin.

WinHQ have an article on DIY air-duct cooling.

Sniper noticed Xbit saying that AMD price cuts may be coming around the 22nd of this month, with their XP3200+ on the way also. What happened to Intel's 3.2GHz P4? That's been rumoured for a fair while now.

The era of supersonic passenger aircraft seems to be at an end, for now at least, with British Airways and Air France both saying they will retire their Concordes soon.

From KyocEr@~*: I thought this was quite fascinating. I checked by http://www.mozilla.org/ as I do every once in awhile and noticed that Mozilla 1.4a (a = alpha) is out. More importantly, imho, the roadmap has been put out as to the direction that Mozilla is heading - and it's not heading towards Mozilla. It's heading towards its offspring, Phoenix (the browser) because of speed and stability. What could this mean? I'm not sure, but they did mention that version 1.4 was designed to be like 1.0 - a stable base for much more use in the future. It appears 1.5 may well be the last Mozilla to come out too. A very long article, but very worth the read if you're a Mozilla fan (and heaven knows, I'm one of those).

Reviews:
Corsair TwinX 512MB PC3200LL memory on ExplosiveLabs.
Xide-Pad glowing mousepad on Bitbender, thanks run_to_the_max.
OCS El string and inverter case-lighting kit on Bit-Tech.
Antec Blue UV Fans on DVHardware.
Soyo Clear Case on OCPrices.
Mushkin EMS PC3500 DDR SDRAM on Hexus.
ME-770 USB2 HDD enclosure on RipNet.
HIS Excalibur Radeon 9500 128MB video card on Digit-Life.
Antec TrueControl 550W PSU on Bjorn3D.
Matrix Orbital LK202-24-USB (MX2) mini LCD screen on OCIA.
Samsung Spinpoint SP1203N HDD on Tech-Report.
MSI GeForce4 Ti4800SE-VTD video card on VR-Zone.
Seagate Barracuda ATA V Plus 7200rpm IDE HDD on HardWareZone.
Onkyo Envision LS-V500C home theatre amp on DesignTechnica.
ATI Radeon 9800 Pro video card on VR-Zone.




Fake Online Banking Site Scams (13 Comments) (link)
Friday, 11-April-2003 09:11:56 (GMT +10) - by Agg


Remember the CommBank scam from about 3 weeks ago? The one that got some guy arrested? MelbourneIT had one too, about the same time. A week or so later, but this time not quite as well executed, Westpac customers were the target. Well, today I (and a zillion other people, based on the news mailbox) got a similar email to the CommBank one, but aimed at ANZ customers. It's titled "Security Server Update", and here's a snip:

Dear Valued Customer,

- Our new security system will help you to avoid
frequently fraud transactions and to keep your
investments in safety.

- Due to technical update we recommend you to
reactivate your account.

Click on the link below to login and begin using
your updated ANZ account.

To log into your account, please visit the ANZ
website at https://www.anz.com/

..etc. It goes on to list a non-Australian phone number, like the CommBank one. This page is pretty obviously set up to fool unsuspecting ANZ customers into entering their online banking details so that someone can use them to steal their money. I'm not even an ANZ customer and I got this email. This are blatant attacks on the customers of large corporations.. why aren't these people in jail yet?

I got another one a couple of days ago that they recommend I run some security patch yada yada. Not sure if it was spam to use someone's product, or another page to do nasty things to your PC or wallet.. I just deleted the email.

If you get anything like this in future, check the email carefully. Is the website they want you to enter details into, the same URL as your bank normally is? IE, does it have .com.au on the end? Or is it just a similar .com domain? Is the email professionally written or does it have dodgy grammar? Is the phone number a working Australian one? Consider checking with your bank first, by ringing the online banking support number FROM THE PHONEBOOK, not from the email, to see if they sent it out or not.

If you have already entered your details into a page like this, best to ring the bank and let them know, confirm if it was a genuine email or not, and perhaps change your online banking password! Also, check your statements and make sure there's no transactions you don't remember making.



Some news from the ATI camp. ATI plan to lengthen their product cycle from 18 months to 24 months. Probably a good thing in my opinion. The pile of old stuff in my room might not grow quite so rapidly.

Makelele found this piece. Optusnet hacker found guilty but not punished. Still on the legal front, selling Xbox mod chips can be legally dangerous! Nasty. That one from Dink.

Microsoft has found some new security flaws, this time its the Microsoft Virtual Machine. Read on for the details with links to the security bulletins. From alx-e.

Madshrimps have reviewed Tom Clancy's latest PC Game effort, Rainbow Six 3: Ravenshield. Sounds like this one might be worth a try out.

Meanwhile, Rage found this neat looking acrylic case in the shape of the AMD Logo. Very nice indeed.

"Microsoft confirms 64-bit support for Athlon64, Opteron". Not really new news, but a bit more info than we already had. Read more here.

Dan has some more letters for us. This time he gives someone an "annoying a piece of my mind"!

The Australian Government has won an award from Privacy International. Its the Most Egregiously Stupid Award for silly security measures. Thanks Roy.

Every home needs at least one of these. "The George Foreman USB iGrill conveniently connects to your home or office PC using USB 2.0 technology, and provides a sophisticated web-based cooking interface". Do I get a free set of steak knives? PiCULar sent that one in.

Reviews
Maxtor DiamondMax Plus 9 160GB: Non-Native Serial ATA at ExplosiveLabs
Chieftech Matrix Case at DeviantPC
Sunbeam Rheobus Easy Fan Controller at OCPrices
ABIT BH7 Motherboard at Nexus
Soltek SL-75FRN-R nForce2 Motherboard at VR-Zone
GeForce FX 5800 Ultra at PCHardware
LG 52x24x52x CD-RW Drive at TweakersZone
Muffled Computing Fan Mufflers Video Review at 3dGameMan
X-Arcade Solo: Classic Arcade Gaming Controller at FutureLooks
Fairway Radeon 9000 PRO 64MB at Beyond3D
TRADEX KG8850 Case at FuriousTech
NVIDIA GeForce FX at Bit-Tech
Poladyne GeForce4 Ti 4200 OC at Guru of 3D
Crucial PC3200 DDR400 256MB Memory at PCStats
AOpen AK79G MAX nForce2-GT Motherboard at PCStats
Antec Trilight 80mm LED Fan at DVHardware
PcToys System Maxx Fan Controller at Bjorn3d
Seagate Barracuda Serial ATA V Hard Disk Drive at XbitLabs
MSI CR52-A2 CD Writer at Active-Hardware




Wednesday Night (6 Comments) (link)
Wednesday, 9-April-2003 19:11:43 (GMT +10) - by Agg


Rage spotted some solid-state hard drives for fibre-channel.. no doubt excitingly expensive.

From eDust: VIA have added a random number generator to their C3 range of CPUs. Also, Intel are talking about their 802.16a wireless standard, up to 50km range and up to 70 Mbps throughput.

Xbit reckon that nForce2 Ultra isn't far off, thanks Craig. Meanwhile, Jo spotted some ATI R350 and R400 info over on VR-Zone.

There's a LAN on in Dubbo soon, while neXus says there's a new RA3 League (Rocket Arena, I assume) starting up.

Kenny says that this chinese website has A 1700+ @ 3.1 GHz using LN2 cooling it's a 1700 downgraded from 2700. running prime 100% stable. LN2 is kinda cheating, but those 1700's are looking pretty good lately, even aircooled.

Jason says that ATI announced their Radeon 9800 All-In-Wonder video card.. and HotHardware have some pics and info on it if you scroll down a little.

Interesting Forum Threads:
RedHat Newbie: Where do RPMs install to? in Other Operating Systems.
Beyerdynamic DT880 Headphones Review (very long) in Audio Visual.
I'm on my P's.. can I drive in London? in Motoring.
How fat is your burger? in Sport, Fitness and Health.
Interview with a former Iraqi foreign minister in Media & Current Events.
Dick Smith IrDA Kit in Modding & Electronics.
White stuff on tongue? in Sport, Fitness and Health.
Just killed my Ti4600 (and revived it) in Video Cards.
Antec PSU running hot? in Overclocking & Hardware.

Reviews:
Super Flower SF-201BK black tower case on TheTechZone.
TDK MP-100 DJ Style headphones on FutureLooks.
Hitachi Deskstar 180GXP 180GB 7200rpm HDD on HardWareZone.
Gainward Ultra/1000 Pro (5800 Ultra) video card on PCHardware.
Thermaltake SubZero4G peltier-based AMD CPU cooler on OCrCafe.
FlexiGlowHK Bubble Lamps case decoration on ExtensionTech.
Zippy EL-610 Mini-Keyboard that glows on PCStats.
Byteccusa EL-610 Mini-Keyboard that glows, also on R&B.
PCToys CCFL case lighting on OCWarehouse.
D-Link DVC-1000 i2eye Videophone on LittleWhiteDog.
Compro Poladyne GeForce FX5800 video card on OCTools.
Verax 300W PSU with "unique fan" on SilentPCReview.
AOpen AX45-4D Max SiS655-based P4 DDR motherboard on A1-Electronics.
VIA ITX Mini-ITX M-E6000 silent motherboard on TechSeekers.
Vantec Nexus fan controller on Hexus.
Cremax Icy Dock Multi-function Transfer Rack on OCrsClub.
OCZ Technology PC3500 EL DDR memory on TweakNews.




SETI@Home client security issue (0 Comments) (link)
Wednesday, 9-April-2003 18:13:23 (GMT +10) - by Agg


Manaz and Greg both let me know that there's a security concern regarding all previous SETI@Home client programs. SETI @ home is releasing a new version to fix a security hole in its home client software here. More info about this problem here.

Team OCAU members looking for little green men, take note!




Salvos need old PC's! (3 Comments) (link)
Wednesday, 9-April-2003 18:07:47 (GMT +10) - by Agg


Rob sent word that the Salvation Army had a note in Monday's Sydney Daily Telegraph, explaining that they're after old PC's and PC bits for a project to bring PC's to the needy, unemployed etc. If you've got stuff to offer, contact Mark Townsend of the Oasis Youth Group on 02 9331 2266 or by email.




OCAU Weekend 2 Brisbane Options (0 Comments) (link)
Wednesday, 9-April-2003 12:13:19 (GMT +10) - by Agg


If you're thinking of attending the OCAU Weekend 2 in Brisbane on the 20th to 22nd of June, please visit this thread and vote/comment on what activities you'd like to do. Thanks!




Wednesday Morning (9 Comments) (link)
Wednesday, 9-April-2003 00:40:39 (GMT +10) - by Agg


Digit-Life wrapped up their CeBIT 2003 coverage with 3 parts: Intel Centrino, Minolta Cameras and some upcoming goodies from VIA Technologies.

Some researchers reckon that WinCE devices will outsell PC's in a few years time.. can't see myself buying one any time soon.

Tech-Report interviewed VIA and talked about their Envy24 audio products.

Snark Burger says that this is the first Mini-ITX P4 motherboard. The product page says it's mini-FlexAT. Are they the same thing, or at least compatible? Tiny, anyway.

SilentPC have an article about building a PC that is, well, silent. The result is a speedy system whose noise level is so low that Katana's "fish tank and florescent lights are starting to bug" him.

Bit-Tech have a watercooled GeForce FX.. looks pretty sexy.

Reviews:
Swiftech MCX462+T socket cooler on SubZeroTech.
Billion BIPAC-741 GE ADSL modem/router on FragWare.
Bose QuietComfort Acoustic Noise Cancelling Headset on RojakPot.
Hercules 3D Prophet 9700 Pro Radeon video card on OCPrices.
MSI GeForce4 Ti4800SE VTD video card on 3DVelocity.
Asus P4PE Black Pearl i845PE-based P4 DDR motherboard on HardWareZone.
Cooler Master Aero 7 socketA cooler on ViperLair.
Zalman ZM-MFC1 multi fan controller on TrainWrecker.
PowerColor ATI Radeon 9500 64MB video card on OCNZ.
Maxtor DiamondMax Plus 9 160GB SATA HDD on OCAddiction.
DangerDen Maze3 and other watercooling equipment on IPKonfig.
Thermaltake SubZero4G peltier-based P4 cooler on OCrCafe, thanks Sin22.
Maxtor Atlas 15k SCSI HDD on StorageReview, thanks Bob.



Cypher sent word that Valve and Activision are partnering to bring us more games.. that's good. A few people sent in a rumour that Half Life 2 may work on nVidia cards only.. that's bad. I'd treat it as just a rumour for now - it may even be an April 1st joke that got out of hand.

Unsurprisingly, a registration key for Windows Server 2003 is doing the rounds already, even before the software's official launch.

If you're going to sue someone, you may as well really sue them. $97.8 trillion dollars for running an MP3-sharing network.. thanks DJ-Studd.

xmats sent in this bizarre court transcript which is pretty funny.

DesignTechnica have an article about warchalking.. leaving signs indicating wireless network security.

FreeFrag says this is a great flash timewaster. Seems to involve being shot a lot.

Interesting Forum Threads:
Common forum account problems in Site Discussion.
Car that runs on petrol and water in Motoring.
Pringle Can Coil Cooling in Modding & Electronics.
New 380hp toy arrived in Motoring.
Herpes used to stop mice in Media & Current Events.
Should the Double Jeopardy law be abolished? in Media & Current Events.

Reviews:
OCZ DDR PC2700 & PC3200 memory on Bit-Tech.
Xoxide Cable Sleeving on ModAsylum.
Lian-Li PC-6070 silent case on ExplosiveLabs.
Leadtek A300TD Ultra GeForce FX 5800 video card on TBreak.
Black Chieftech X-Sonic midtower aluminium case on Bjorn3D.
DTEk TC-4 waterblock on MonsterHW.
ATI Radeon 9700 Pro AIW video card with the lot on VR-Zone.
Bytecc Zipply EL Keyboard that glows on AseLabs.
Lian-Li PC-05 aluminium case (video review) on 3DGameMan.
Sunbeam Rheobus fan controller on DVHardware.
X3D Viewing System on XtremePCTech.




VIA and Intel make peace (kinda) (0 Comments) (link)
Tuesday, 8-April-2003 09:39:58 (GMT +10) - by Agg


Just got a press-release from VIA - the meat of it is below:

Taipei, Taiwan, 8 April 2003 - VIA Technologies, Inc, a leading innovator and developer of silicon chip technologies and PC platform solutions, today announced that VIA and Intel Corporation have reached a settlement agreement in a series of pending patent lawsuits related to chipsets and microprocessors. The agreement encompasses 11 pending cases in five countries involving 27 patents.

Under terms of the settlement, both companies will dismiss all pending legal claims in all jurisdictions. The companies also entered into a ten-year patent cross license agreement covering each company's products. As part of the agreement Intel granted VIA a license to sell microprocessors that are compatible with the x86 instruction set but not pin compatible or bus compatible with Intel microprocessors.

Intel further agreed for a period of three years, not to assert its patents on VIA bus or pin compatible microprocessors. Intel also granted VIA a four year license to design and sell chipsets that are compatible with the Intel microprocessor bus and agreed not to assert its patents on VIA or its customers or distributors on such chipsets for a fifth year. The agreement will be royalty bearing to Intel for some products. The license agreements do not apply to S3 Graphics, a company partially owned by VIA.

Interesting. The full document is here. This seems to raise a lot more questions than it answers. Does it mean in 3 years time we'll see VIA branching out with their own socket, similar to how AMD is competing with Intel? Or will VIA partner with AMD and start producing socketA CPUs? Perhaps this simply marks the first step in a gradual reconciliation between VIA and Intel that will ultimately let VIA continue to use Intel socket and bus standards (as their C3 does, using socket370). Similar questions apply to their motherboard chipsets supporting Intel's CPUs. On that note, is SiS licensed to use these technologies? Or will they be the next legal target? Time will tell..

Update: More info here, here and here.



This from Windows-HQ. "...today we saw a very disturbing paper sent to ATI Add in Board partners and it seems to want to frighten its partners witless. Here is a terrifying part of it. "Future violations to the press embargo dates may result in supply and pricing preferences to those who follow game rules" I guess they mean it!

For those who have been following the Animatrix series, Part #3 has been released. Thanks CrYpTo.

"Taking the RADEON 9500 PRO to the next level", thats the title of an article over on AMDWorld. They try to get the most out of this ATI powerhouse.

There are a couple of competitions under way. PC Hardware Australia have a Gainward GF3 Ti500 and other goodies up for grabs, open to Australian residents only. Mean while, at OCPrices you can win a P4 equiped Shuttle Mini PC. Both competitions are spam our forums type things but if you're interested, there they are.

PimpRig take us through the making of this Mini-Itx Smoked Acrylic case unit. Thats one sweet looking case.

Draffa found a heap of new pictures of Mars. Some fantastic looking shots for those who like looking at the red planet.

Some more belated CeBIT 2003 coverage at Digit-Life.

phi found this Akiba page showing a 2.6G P4 CPU with 800mhz FSB. Text courtesy of BabelFish.

The flash thing for today is for the tetris fans. Tetris with a twist.

Reviews
Xoxide Cold Cathode Case Lighting at SLCentral
Game Park GP32 Gamepad at Hexus
Sunbeam CCFL Fan at BlargOC
Soyo KT400 Dragon Ultra Platinum Edition Motherboard at BlargOC
Gainward Geforcefx 5800ultra at PC Hardware Australia
Palm Tungsten T and Palm Ultra Thin Keyboard at PDA Xtreme
JBL Creature Active 2.1 Acoustic System at Digit-Life




Late Monday Night (0 Comments) (link)
Tuesday, 8-April-2003 00:05:56 (GMT +10) - by Agg


Some reviews to get you by..

Reviews:
ABIT NF7-S Rev 2 nForce2-based socketA DDR motherboard on VR-Zone.
IWILL XP4 P4 mini-PC on SharkyExtreme.
X-Dreamer case on OCrCafe.
Aguatec Blue Ice liquid cooling system on AthlonXP.
X-Trac Zoom mousepad on ExtensionTech.
ExaByteSystems Cold Cathode case lighting on OCHardware.
XFX GF4 Ti4200 8X video card on EnvyNews.
Lapvantage Deluxe Dome laptop support on EnvyNews.
Ippy EL-610 Keyboard that glows on ThinkTechie.
NVIDIA GeForceFX 5800 Ultra video card on Tech-Report.
USB Pocket KVM Switch for multiple PC's on EnvyNews.
Enermax CS-10181 case on TheTechZone.
AMD AthlonXP 3000+ Barton-cored socketA CPU on NexusHardware.
Vantec Nexus Rheobus on TechWareLabs.
GeForceFX 5600 Ultra reference video card on Beyond3D.
AOpen AX4GE Max i845GE-based P4 DDR motherboard on Accelenation.
M-Audio Revolution 7.1 sound card on LegionHardware.
Zalman 7000cu CPU cooler on Digital-Daily.
CoolerMaster Cooldrive 3 HDD cooler on DVHardware.




Team OCAU Racing (5 Comments) (link)
Monday, 7-April-2003 21:25:35 (GMT +10) - by Agg


I was supposed to compete in the 5 hour endurance motorcycle race again this year, held at Wakefield Park near Goulburn in NSW. Unfortunately a suicidal deer and a broken collarbone two weeks before the event put those plans to rest. However, the team continued on and achieved a very respectable third in Class A and 18th overall out of 32 teams. Congrats to Paul ("traction" in OCAU's forums), Jason and Glenn for making it to the end with no crashes and an impressive result!

No pics this time! Last year was a lot of fun and I was disappointed to miss out this year. Next year will hopefully be another story..




Folding Giveaway (0 Comments) (link)
Monday, 7-April-2003 21:17:17 (GMT +10) - by Agg


From Bollocks: This week the winner of the major prize of a Western Digital 80G IDE Hard Drive donated by DGROMS.comDavid Glasson is duhwood and the winner of the consolation prize of a jar of Hypermints donated by CoolPC is Beaver_Roadkill.

Week 4 is the last week of this Giveaway and the prizes are Innovatek Complete AMD Water Cooling Bundle and a Clear Acrylic Midi Tower Case, both donated by CoolPC.

Nominate yourself here, Giveaway info here, Folding info here.



HardOCP have compared some Barton-cored AthlonXP's that look the same but don't act the same.

Grrr says that Asus Smart Doctor 2 v2.70 is now out. On the hardware monitor side of things, I personally prefer Motherboard Monitor - but the Asus utility may be better if you have Asus products, not sure.

TechIMO have a comparison of mpeg4 codecs, with lots of screen captures and examples.

Bern noticed that the infamous $4M website doesn't even pass validation..

TheCrucible have a comparison of nForce2 motherboards.. dual-channel DDR goodness for your socketA CPU.

PimpRig have an article about working with plastics for moulding etc.

ZZZ Online have their latest issue finally out, filled with the usual oddities and a much-belated April 1st joke.

LANs: 24h LAN in Sydney on April 19-20, DGC LAN in Sydney on April 12th.

Reviews:
Cremax ICYDOCK Bodyguard525 multi-function transfer rack on OCdCafe.
Gigabyte SINXP-1394 SiS655-based P4 DDR motherboard on Digital-Daily.
AOpen AK79G Max nForce2-based socketA DDR motherboard on Bjorn3D.
Freecom FHD-1 USB2 HDD on JSI.
pcToys Cold Cathode case-lighting kit on WinHQ.
CoolerMaster Aero 7 CPU cooler on 8Balls.
KISS DP-450 DVD Player on TechSeekers.
iAudio CW2000 digital audio player on SubZeroTech.
CPUMate DIA-21500 Achilles heatpipe-based P4 cooler on HardCoreWare.
Vantec Nexus fan controller on BurnOutPC.
Mouse Wax mouse+pad lubricant on Gaming3D.
Case Wrap case decoration on OCrCafe.
MSI K7N2G-ILSR nForce2-based socketA DDR motherboard on Bit-Tech.
CoolerMaster XDream SE CPU cooler on FuriousTech.
Eksitdata Mini-Digicam on RBMods.




Saturday Night (4 Comments) (link)
Saturday, 5-April-2003 23:39:07 (GMT +10) - by Agg


Lindsey says there's a new firmware upgrade for Apple's iPod.

Mouse Wax got reviewed on BurnOutPC and DVHardware.

NordicHardware have some belated CeBit 2003 coverage, while ExplosiveLabs went to an MSI Expo.

Is your PC beeping while you have no idea what it's saying? Schrambo spotted this PC beeps guide that might help.

NeoSeeker compared a couple of 52X CDRW drives froom MSI and Samsung.

From P-air: I have just recently purchased a Shuttle XPC SN41G2. Had a serious failure after adjusting the fsb to accidently 166 instead of 133, for amd 2400+. After bios reset the shuttle failed to boot bios. Nothing I did restored the problem. After a few anxious moments, I hunted down the website for help and found something very interesting. Geez, one would think that this would be clearly stated in the manual. Well it rescued the problem at the first step to my much relief. But if others have had this problem, and decided to send the lil box back for warranty, maybe they should have a look at this link.

Interesting Forum Threads:
My Stolen Gear in For Sale.
Speed (a sobering tale) in Motoring.
What's on your Geeky Wishlist? in Other Toys.
Create your own nation! in Games.
Gym Do's and Don'ts in Sport, Fitness and Health.
Iraq Threads in Media & Current Events.

Reviews:
Samsung Syncmaster 172w 17" TFT screen on ExplosiveLabs.
Thermaltake Volcano 11 Xaser Edition CPU cooler on TweakTown.
Logitech Cordless Navigator Duo wireless keyboard and mouse on GeekShelter.
Apple 17inch Powermac on DesignTechnica.
Corsair TWINX 3200 paired DDR on IPKonfig.
Flexible Bubble Light and Sonic Driver case lighting on TheModFathers.
AOpen AX4PE Max i845PE-based P4 DDR motherboard on OCModShop.
Kingwin 450W PSU on TechWareLabs.
Mouse Maxx 100si mouse mat on Bit-Tech.
AMD AthlonXP 3000+ socketA CPU on HardwareAnalysis.
GeForce FX 5800 Ultra video card on VR-Zone.
Enermax System Monitor Control Panel on PimpRig.
OCZ PC3500 Dual Channel DDR memory on ViperLair.
Altec Lansing 5100 5.1 speakers on ModSynergy.




Desert Combat 0.3n Released! (1 Comments) (link)
Saturday, 5-April-2003 22:54:43 (GMT +10) - by Agg


The long-awaited update to Desert Combat has been released! Desert Combat is a very cool mod for the ever-popular Battlefield 1942, with modern weapons, vehicles and aircraft. Get it here from Ausgamers. Telstra users might want to try this GameArena Mirror. If you have trouble with either of those, try this temporary mirror for OCAU users here. 154MB!




Saturday Afternoon (12 Comments) (link)
Saturday, 5-April-2003 15:06:18 (GMT +10) - by Agg


You'll no doubt be very surprised to hear that the recent time-travelling inside trader story has turned out to be a hoax. Awww.. thanks Nik. Actually, that Snopes.com article doesn't really tell us anything we didn't already know. Snopes is a great site, but it always amazes me how people who, while arguing that we shouldn't believe stuff we read on the net, will use a single article on Snopes as irrefutable proof that such-and-such other Web story is a hoax. Not that I think the time-travelling story is true, though. :)

Interesting gadget on GideonTech, a laptop desk to stop your laptop burning a hole in your legs.

F1DarkFlash spotted this ATI press release saying they have shipped Radeon 9800 Pro GPU's and OEM cards, so it's not vapourware. Still be a little while before we see either them or GeForceFX cards on the shelves, I suspect.

Cellular mobile phones celebrated their 30th birthday recently.. there's an article here about their inventor and what he hopes will come of the technology in the future.

Sabot68 has a nice VCR PC in the PCDB.

OneArmedMan spotted TheReg ripping into Senator Alston again, regarding his $4M website. $661k of it was for hardware, apparently. For comparison, OCAU serves 7 million dynamic pages a month from hardware worth less than $5k.

Apparently the proposed CD burning kiosks are to be scrapped, thanks Crusterminator. Copyright issues, unsurprisingly.

From surfichris: Microsoft has just started shipping there beta software to its testers. I just received a 15 CD set including Office 2003, Publisher 2003, FrontPage 2003, InfoPath 2003, Windows Server 2003, Windows SharePoint (and Portal cd), Outlook 2003, Exchange Server 2003 and OneNote 2003 (as well as three other office resource cd's).

Version 2.9 of classic Winamp is now available, thanks gLaCiuS.

Oliver sent in today's Flash Timewaster, which delayed this newspost by a fair while.. it's a space invaders clone on a Star Wars theme.. you face different imperial ships over time and you can buy powerups between levels. A little light on graphics and maybe too easy, but fun for a while.




Battle @ Matchrix III (13 Comments) (link)
Saturday, 5-April-2003 12:08:31 (GMT +10) - by Agg


From Demented Freak: The third Battle@Matchrix (OCAU vs Atomic) LAN competition was held last Friday. Atomic defeated OCAU in BF1942 and Quake 3 Arena, with OCAU winning Counter-Strike giving Atomic the overall win for the night. Results can be found here and photos can be found here.

From Kildare: Thanks to our sponsors AMD Australia & Take2 Interactive Australia for their ongoing support.

OCAU won the last one, so that takes it to one all with IV being a tiebreaker. Thanks also to Matchrix for hosting and organising the event.



From Adam, the Antec Lanboy case on PlanetModz. I like the carry strap idea.

On Whirlpool, "Australians will have fiber-optic broadband in their living room within two years if Ericsson Australia has its way". Thanks McDaddy.

Hexus check out the AMD XP1700+ JIUHB with the claim that these are the new AXIA's. A default voltage overclock of 50%. Yum.

A good RAID array is good. But a floppy disk RAID array! Must be a Mac thing. From editondo.

Would you like a Mac with that pizza, or a pizza with your Mac? Pre-Modded Macs seem to be all the rage. Thanks to the person who sent this in. (I deleted the Email before I took note of who it was from. Silly me.)

Adrian's Rojak Pot have an article about NVIDIA's de-certification of the ASUS A7N8X Deluxe motherboard! Read here for full details.

The name "Mouse Wax" conjures up all sorts of images (like very small bikini lines), but this stuff is supposed to work quite well.

How did I miss out on this contract. Senator Alston has spent $4,000,000 on the redevelopment of his department website including $956,000 spent on hosting and support services. With those sorts of dollar$, I would have offered to gold plate the server, and still made a healthy profit. Thanks talking goat.

Would you like to be a Beta Tester for ATI? ATI are calling for testers so have a read.

eDust found this tasty little device. Display, burn and print your images all from one little palm-sized unit.

Reviews
StarTech 450W Power supply at ModSynergy
EverCool WC-101 Athlon/Pentium Heatsink at A1-Electronics
Chaintech 7NIF2 Summit MicroATX Motherboard at Nexus
Zalman ZM-80A Passive Video Cooler at G3D
AMS GTS Case with XBlade Cooling at SFF
SunBeamTech Lazer LED at SubZeroTech
Albatron Ti4680 Turbo Graphics Card at VR-Zone
Samsung DVD-V2500 DVD/VCR Combo Unit at Tweaknews
ASUS V9900 GeForce FX 5800 Ultra Video Card at Digit-Life
Spire 9T236B1M3G Pentium4 Heatsink at FrostyTech
Abit NF7-M nForce2 IGP Motherboard at PCStats
Battlefield 1942: The Road to Rome at OCPrices
Bean Tech's Igloo 9 Aluminum Case at Furioustech
Maxtor 5000DV External HDD at 3DVelocity




OCAU Weekend 2 - Brisbane - Proposed Details (1 Comments) (link)
Thursday, 3-April-2003 15:13:20 (GMT +10) - by Agg


Wolfy has put on his organising hat again and wants to have another OCAU Weekend like the one we had in Sydney a few months ago. This time, we'll have it in Brisbane as we know there are a lot of OCAU people up there. He's started a thread with some basic ideas and a proposed date of June 20-22. If you have comments or suggestions (or feedback about the last OCAU Weekend) add it in this thread!



Mandrake 9.1 is finally ready for release and Distro Watch seem to have one of the first reviews available. Check it out, Windows is looking less and less like a must have.

Although many have claimed otherwise, we have confirmation that there is an X86-64 version of Windows for the Hammer platform. Its called Anvil.

Bjorn3D says "Your PC Doesn't Really Suck". Here are some interesting graphs about what sort of hardware and OS software people are using.

Designtechnica have posted an article titled "Why your next printer won't be a Dell". Thats right, Dell have entered the printer market.

Dan from DansData continues to bring us the latest and greatest stuff around. This time, Dan has reviewed the felis catus. How far can it be overclocked I wonder? I'm waiting for the benchmarks to start rolling in. Thanks Bluntelk.

Over on Storage Review, the Western Digital Raptor 10,000rpm SATA series hard drives get a workout. Thanks phi.

This is interesting, or scary... "Microsoft Corp, the world's No. 1 software maker, on Wednesday said it is taking aim at privately held Google Inc., the Web-search company that's so popular its name is used as a verb." More info here.

Christopher sent a link to some pictures of the new OCZ ram sticks. Have a look here, here and here.

Take a walk down memory lane with some of these vintage computer systems at HotHardware. What was your PC like 20 years ago?

AusFX have posted their quarterly Buyers Guide. Prices in Australian dollars.

And for todays flash thing, try The Pearl Game. Its not as easy as it seems, some of the time anyway.

Reviews
Aguatec Blue Ice CP-102 HSF/Water CPU cooler at Madshrimps
Abit NF7-M nForce2 Motherboard at Active-Hardware
ATI Radeon 9800 Pro reference model at Guru of 3D
Corsair TWINX PC3200 Dual Channel Memory Kit at Viper Lair
Enermax CS-317(1L) Budget Case at BoPC
Antec Performance Plus 1080AMG SOHO File Server at OCPrices
Vantec Multi Function Panel at R&B
Samsung Spinpoint SP1203N HDD at Monkey Review



Adrian's Rojak Pot have posted an article about the SEVEN new Microsoft updates for Windows XP.

OCNZ have a nine way AMD motherboard shootout for those in the market for a new motherboard.

Spode's Abode delve into the topic of AI and Life-Life and they ponder the end of games!

This just in, "LANbash.net "battle of the Clans" is on. its being held at the Alstonville Leisure and Entertainment center from 10am saturday 12th April - 10am sunday 13th April. We are expecting over 100 people to attend so book now, Everyone is welcome, clan member or not, there will be people form all over (Lismore, Alstonville, Ballina, Byron). All info is available at Lanbash". Thanks James.

badg3er seems to have found a virus that is new around the traps. This link explains it all.

Meanwhile, Iroquois has started a thread in the forums about an Email he received purporting to be an April Cumulative MS Security Pack. If you received this, don't try to run it, its a virus/trojan.

If you commute in Sydney, these Sydney traffic cams might help you plan your route. Thanks Darkness.

If you're a Microsoft Flight Sim fan then you will recognize Meigs Field airstrip. Well, it is no more. A few people sent that one in, thanks guys.

Over on MadShrimps, "With dirty cheap memory capable of running +200Mhz showing up everywhere, it might be a good idea to give your 533FSB P4 the memory bandwidth it needs. Most of the popular 845PE Intel boards use the 4:5 FSB/MEM ratio with an 533FSB P4 inserted, here's a trick to make it use the 3:4 divider so you can make full use of your memory."

Reviews
Seagate Barracuda 7200.7 at Digit-Life
Abit NF7-S Motherboard at DeviantPC
LianLi PC60 Aluminium Case at DeviantPC
Maxtor 5000DV External Hard Drive at SLCentral
Albatron KX400-8XV Pro KT400 Motherboard at PCStats
ATI All-In-Wonder VE at Explosivelabs
JMC 400074 Skyjet 70 Radial Fin Heatsink at FrostyTech
M-Audio's Revolution 7.1 sound card at The Tech Report
Rounded UV Sensitive IDE Cables at Geekshelter
Abit NF7-M (nForce2 IGP) Motherboard at MBReview




Wednesday Midday (9 Comments) (link)
Wednesday, 2-April-2003 12:22:15 (GMT +10) - by Agg


Apparently NVIDIA are giving away GeForce FX cards! Thousands of them! In other news, NVIDIA is buying ATI thanks Scott, the Dalai Lama announces Yellow Hat Linux thanks Iroquois.. and Sony is partnering with Microsoft to produce a PSXBox.

Interesting little mod from Owen, a in-case CD drawer from an old CD drive.

In a total shock finding, this survey reckons we don't trust Microsoft, but we use them anyway.

On the mini-PC front: the Shuttle SN41G XPC is reviewed on TweakTown, while IWill's XP4 is checked out on HardwareAnalysis.

This site will help you get your bling on.. which is apparently cool-person speak for case-modding.

Iroquois sent in this securing windows guide.

VR-Zone have info about an nForce2 C1 stepping, which they think might be a prelude to official 400MHz FSB support.

Reviews:
Maxtor DiamondMax Plus 9 160GB SATA drive on DesignTechnica.
Soltek SL-75FRN-L nForce2-based socketA DDR motherboard on Digital-Daily.
IWill CR611 6-in-1 card reader on PCReview.
Apple 12in Powerbook G4 on TheReg, thanks Iroquois.
ViewSonic VA720 17inch TFT screen on BigBruin.
Soltek SL-75MRN-L nForce2-based socketA DDR motherboard on NinjaLane.
CoolJag JVC652A CPU cooler on AllTechBox.
BFG GF4 Ti4200 128MB video card on ClubOC.




Tuesday Afternoon #2 (15 Comments) (link)
Tuesday, 1-April-2003 17:24:24 (GMT +10) - by Agg


OCPrices have a guide to spotting crazy AthlonXP's.. some 1800+'s that deep inside just wanna be 2600+'s.

RojakPot have a quick article about NVIDIA's SoundStorm certification.. what it is and what it isn't.

We saw this a little while ago, but Kenny sent in more info about the invisibility coat on CNN. Not as exciting as it sounds, it only works when you look through a special viewer. :(

Eluial spotted this LCD monitor with a screen that acts as a speaker, interesting.

Simple little mod on DigitalFerret, showing how to add a clear CMOS switch.. handy for those overly-optimistic overclocking days.

Bit-News are modding speakers from Altec Lansing, while ModTown are modding a shuttle.. mini-PC, that is.

ImpactGamer have an ultimate PC guide posted.

Wondering how hot your 8RDA+ gets? These thermal pics will show you, thanks Pete.

Win yourself some webhosting by naming Quost's little hawaiian-shirt scarey rodent thing.

Interesting Forum Threads:
Hidden images in Graphics and Programming.
Finished my Shiva sub and AV800 amp! (pics) in Audio Visual.
IE 6.1 and Squid in Windows Operating Systems.
Weight Training Methods in Sport, Fitness and Health.
Acne in Sport, Fitness and Health.
Another addition to my pool/bar room in Other Toys.
Scariest game you've ever played? in Games.
The extreme overclock club in Overclocking and Hardware.

Reviews:
Abit BH7 i845PE-based P4 DDR motherboard on LostCircuits.
Samsung Syncmaster 172W widescreen LCD monitor on PCStats.
Cenatek Rocket Drive solid-state disk on OCAddiction.
KoolCases Panther fulltower case on BurnOutPC.
Geil PC3200 400MHz DDR Dual-Channel ULD Series memory (video review) on 3DGameMan.
1CoolPC Colour Rounded ATA133 Cables on ComputerSphere.
Trust 710 LCD screen on BoogleTech.
Western Digital Raptor 10,000rpm IDE HDD on MaximumPC, thanks Dynamix.
Thermaltake SubZero4G P4 peltier cooler on OCrCafe.
Shuttle MN31N micro-ATX nForce2 socketA DDR motherboard on Hexus.
Telex SonicXS Hardcore Multimedia 2.1 speakers on HardCoreWare.
Eumax B650-02 socketA cooler on NinjaLane.
Sunbeam Tech Rheobus fan controller on M6.
Belkin Wireless Products on TheTechZone.
umax B605-02 cpu cooler on ThinkTechie.
EPoX 4PEA800 i845PE-based P4 DDR motherboard on VR-Zone.
Performance 3D Card Tapezoid magic tape on DVHardware.
Flexiglow Cold Cathode Kit on AseLabs.
Teac CD-W552E 52x24x52x CDRW drive on CDFreaks.
Vantec Stealth 470W PSU on ViperLair.
Corsair TwinX 3200 LL memory kit on LegionHardware.




OCAU Motorcycle Club! (3 Comments) (link)
Tuesday, 1-April-2003 15:14:48 (GMT +10) - by Agg


Darkness has been beavering away at the OCAU Motorcycle Club page.. they even have their own forums now! There's info about rides and other stuff there too, so if you're a rider or want to be one, check it out..

Also, don't forget that OCAU is sponsoring Exhilaration - Motorcycling for Women in Sydney later this month. It's a motorcycling expo (open to men and women!) aimed at getting more girlies interested in riding bikes.

And yes, I know I'm not exactly a walking advertisement for motorcycle safety myself at the moment.. :)




Tuesday Afternoon (7 Comments) (link)
Tuesday, 1-April-2003 15:02:23 (GMT +10) - by Agg


To get you into the April 1st swing of things, jimx has this Top 100 April Fools Hoaxes of All Time article. #14 cracked me up. :)

There's a cool portable PC project from jaffo in the PCDB. I can't imagine what airport security would think of that one. Meanwhile, OzDean has pretty much the classic neon and perspex case going, very nicely put together.

Gaz sent some worrying news, that Microsoft may be able to control the open-source movement via their purchase of an obscure patent. The last sentence of this article is particularly worrying.

EPoX's 8RDA+ seems to be the nForce2 motherboard that everyone is going for at the moment, and WinHQ want to tell you how to overclock yours.

From Comit: Logitech mouseware drivers v.9.76 released. Get em' here.

Some more info about the linux on unmodified xbox story, thanks Lord Funky Biscuit.

Bjorn3D have info about NVIDIA's drivers for linux and how they are apparently a lot easier to install now.

From Andreas: apparently this is the card that will ship with the MSI "MEGA" line of SFF pc's (GF4 Ti4200). Should be nice and quiet!

Dan has been very busy.. what with letters, reviews of mouse wax and kittens..

Today's timewaster is Doom Funnel Chasers, which seems to be similar to the Penguins things-in-space game that had us all very badly addicted about a year ago.. actually, it seems to be a sequel. Uh-oh! Thanks whitetoedog.

Reviews:
CoolerMaster X-Dream SE CPU cooler on OCrCafe.
Nikao KG8850 case on MonkeyReview.
Albatron Medusa Ti4800SE video card on TweakTown.
Antec LANboy case on MadShrimps.
Zalman CNPS7000-Cu quiet CPU cooler on FrostyTech.



Yes, the previous news post was an April Fools prank, sorry. You don't get rid of me that easily! I'm as passionate about running OCAU as I ever have been and frankly I'm having a ball. So, sorry to anyone who got upset. :)

I mean, really.. romance novel. Selling OCAU to Tweaktown. Give me SOME credit. :)

Over the next few hours, April 1st rolls around the rest of the world. This is where I get sucked in by various April Fools scams in the newsbox.. so hold on tight to your grain of salt for the rest of the day and tomorrow morning. Newspost coming soon.



Well, it's with sadness tinged with relief that I write this message. As you know, I was recently injured in a motorcycle crash. This has meant I've had to spend a lot of time away from the PC - which has changed my perspective on life a little. Bearing this in mind, and with my increasing lack of motivation towards OCAU and PC's in general, I've decided to move my personal focus away from the PC hardware scene indefinitely.

OCAU must go on, though, so I have discussed a few options with the Admins. None were willing to take the site on entirely themselves, so after some debate I have decided to sell the site in its entirety to Cameron Wilmot of TweakTown fame. I've always admired TweakTown's commitment to excellence, accuracy and journalistic integrity and I feel they are the right people to take OCAU to the next level.

OCAU's savings and the acquisition payment from TweakTown will allow me to take a short break to recuperate, then pursue my two dreams of writing a romance novel and progressing in my motorcycle racing career. I may still occasionally write for magazines such as APC or Atomic.

It's been a great 4 years since I started OCAU and in that time we have produced a thriving community with many thousand regular members and a website serving many millions of pages per month. Many thanks to the community that made us what we were, the many organisations that have advertised with or sponsored OCAU and to the Admin team that have kept the site running smoothly to date. I believe Cameron's goal is to integrate OCAU into TweakTown, but I'm sure he'll advise his plans on this page in the coming days.

All the best..

[Update: April fool! Sorry. :) ]



---
Advertisement:


All original content copyright James Rolfe.
All rights reserved. No reproduction allowed without written permission.
Interested in advertising on OCAU? Contact us for info.