May 2003

Corsair have put together a presentation about Memory Basics. It's a full multimedia thing (turn your speakers on) and explains a lot of the buzzwords associated with PC memory. Of course, there's some Corsair marketing at the end - but there is a lot of genuinely useful info. The voiceover could be a bit more exciting though, found myself having trouble staying focussed on it.

Techspot have a guide to Windows Security.

From Dan: I did catch the channel 2 feature on these Australian hackers, however I did find it a little tame. I can tell you this show that was on channel 2 was basically a very cut down version of a book written several years ago, the book is much better than the TV special as in most cases of a book conversion. A bonus is that the author of the book Suelette Dreyfus (who I think was heard on several occasions during the TV spot) also released an electronic version I would suggest anyone that even remotely enjoyed the TV show should read the E-Book - available here. I also uploaded a version of underground in .zip format to my web host where it will probably stay for at least the mean time.

Sudhian have an editorial titled Going Nowhere Fast: Single-Player Gaming Since Half-Life.

Facet spotted this over on waxy.org: Some unfortunate news, everybody. Ghyslain, aka the "Star Wars Kid," and his family may be pursuing legal action against the individual(s) who originally posted his video on the Internet. Their legal counsel, Mr. François Vigeant, conducted an interview with Radio Canada which was just posted to their website. It's in French. But anyway, meh. Fair enough, I'm sure it was embarrassing and some cruel comments were made by that element of society which exists to make cruel comments at other people's expense.. but still. Calling the lawyers? The website they're suing has already, unprompted and before the legal threats, raised $4000 USD in sympathy/thanks money for the entertainment. Maybe we should be calling him the Star Bucks Kid.

Concorde has taken off on its last commercial flight.

From Gandalf: Microsoft Pulls XP Update Over Glitch. WASHINGTON - Microsoft Corp. withdrew a security improvement for its flagship Windows XP software after it crippled Internet connections for some of the 600,000 users who installed it. More info here.



From Whitey Ford: Bluesmurf is undertaking the biggest case mod ever from scratch and we are giving the public a chance to interview him about the project for The Imperator's website. Find all the information in this thread.

Fancy a life on the ocean waves? $4.5M USD will buy you this Aircraft Carrier, which would be pretty cool. It's apparently the ship upon which the Japanese signed the surrender of Hong Kong. With (non-luxury) accomodation for 1300 people aboard, Jack suggests maybe if all the readers of OCAU, DansData, Atomic and TweakTown chip in a few bucks we could have the thing sailing around australia with one big LAN party going on inside.

We better keep it away from the Arctic circle though, or a bear might try to eat it.. Thanks gatecrasher.

Pimprig have a direct-die cooling project posted.

Good news on the SCO-vs-Linux front, with Novell sending SCO a letter that is described by some as a torpedo at SCO's claim to own Unix System V. An SCO person was answering questions in Sydney recently. More comments on Slashdot, thanks Gandalf.

Gatecrasher spotted that the Star Wars Kid is back.. in fact, he's Reloaded.

Jotham spotted this new extreme sport.. Extreme Ironing! Alrighty then.

The Uni of Technology in Sydney has been raided this week in relation to music piracy claims, thanks yyk.

Interesting Forum Threads:
I'm addicted to Overclockers in Site Discussion. :)
Monaco F1 Grand Prix in Motoring.
World CyberGames, are you competing? in Games.
Power Management on WD Raptor in Storage & Backup.
Benefits of expensive RAM at stock speeds? in Overclocking and Hardware.
Plasma or Rear Projection? in Audio Visual.
Is there such a thing as a 256bit Radeon 9500np? in Video Cards.
Can nForce2 unlock all lower multipliers? in AMD Hardware.



All those GTA3 players have reason to be happy. The beta release of the GTA3 multi-player mod is called "Multi Theft Auto" (MTA) and you can get it from here. Thanks Doso.

Also Wolfenstein: Enemy Territory is another multi-player game mod, actually, its a full game in itself. Find out more at 3D Gamers.

Price cuts for both the XBox and PS2 have been announced. It seems sales of the XBox have picked up so Sony decided to lower the price, Microsoft then followed. Article here.

Speaking of games, it looks like playing computer games might be good for you, according to New Scientist. Similar article also on Nature. Thanks Bonkers and Jotham.

OZeight tells me that there is a new Spyware nasty out 'n about. Its called Whazit Hijack and it sounds like a real pain in the neck. Ad-Aware doesn't find it as yet and there seems to be no removal software about that can deal with it. You can find more info about it as well as some help to remove it at Spyware Info.

Techware Labs has posted a comparison review of Samsung's SW-240 & SM-332 CDRW units. Full article here.

Dan has made things a bit easier for those in the market for a new video card with an overview of all of the decently fast 3D cards on the market today. Find it here.

Sharky Extreme have posted a May 03 High-end Gaming PC Buyer's Guide.

There have been several new security patches released for WindowsXP in the last few days. Go here to get all the latest info.

An article called Electronics 101 at ModAsylum. Basically its an introduction to a few different types of electronic components and what not.

Another webmaster interview from OHLS, this time its Dennis from NinjaLane.

"When cockroaches fry..., sounds like the title of a mystery novel, actually its the title of a forum thread with tales about the nasty things that find their way in to your PCs PSU and other bits. Funny.

Any good support people out there? I got a laugh out of this job ad that Josh sent in.

Did you know that "Agg" means A god among men? Neither did I, but it must be true! Thanks to Squigy for the link. I did notice that it didn't say "A god among women" :) I wonder what Mred means?

Reviews
Motherboards:
MSI 875P Neo Motherboard at Digital Daily
VIA EPIA M9000 Mini-ITX Mainboard at IANAG

Graphics:
nVidia GeForce FX 5200 (NV34) at Digital Daily
ATI Radeon 9700 AIW (Part II) at Sudhian

Cooling:
Zalman ZM80A-HP Video Card Cooler at OCIA
Sinrartech LC-101 Water-Cooled HSF at PCHardware Aust.
Thermaltake SubZero4G at A1 Electronics

Memory:
Kingston HyperX PC3500 Memory at HardCoreWare
Crucial 64 & 128MB MMC Flash Cards at Envy News

Case/Mods
Flexiglow Lazer Beam Kit at DVHardware
Boogie Bug Case Accessories at 3DVelocity
PC Range 3.5" Rheobus at PCHardware Aust.

Misc:
Digiana AudiaX FM Transmitter at Envy News
Black Icemat Mouse Surface at The Tech lounge
BlueTake Poke2 Bluetooth USB Adapter at ModTown
PC Power & Cooling Turbo-Cool 510 ATC PSU at Envy News
Sinrartech EL Keyboard at PCHardware Aust.
Altec Lansing 621 Speaker System at OWNT




Australian Hackers on TV (39 Comments) (link)
Thursday, 29-May-2003 20:23:27 (GMT +10) - by Agg


Just a reminder that at 10:00pm tonight on the ABC there's a program called In The Realm Of The Hackers, which focuses on the Melbourne hacking scene in the late 1980's.

Using a combination of interviews and dramatic reconstructions, In the Realm of the Hackers charts Electron's journey from his initial innocent explorations to his ultimate obsession. It vividly recreates the climate of the 1980s, before there was public access to the Internet.

In the Realm of the Hackers takes us headlong into the clandestine, risky but intoxicating world of the computer underground to uncover not only how the hackers did it but why.

Could be interesting. Thanks to everyone who pointed it out.




Thursday Reviews (8 Comments) (link)
Thursday, 29-May-2003 16:01:59 (GMT +10) - by Agg


Motherboards:
EPoX 4PCA3+ i875P P4 DDR board on Digital-Daily.
Albatron KM18G Pro v2 MicroATX nForce2 on OCPrices.
Soltek SL-865PEL P4 DDR on ExtremeOC.
Abit NF7-S v2.0 nForce2 DDR socketA board on OCAddiction.
Gigabyte 7VAXP-A Ultra KT400A socketA DDR on HotHardware.

Video Cards:
MSI FX5600-VTR128 GeForce FX on Bjorn3D.
eVGA NVIDIA Personal Cinema on ExplosiveLabs.
Triplex Eye Bomb R9500 Pro silly-named Radeon on OCNZ.
ATI Radeon 9700 AIW card with the lot on Sudhian.

Cooling:
CritiCool Powerplant power relay for pumps on OCrCafe.
Corsair Hydrocool 200 watercooling kit on DWPG.
Hexus ZM80A-HP silent VGA cooler on Hexus.
Noise Isolator (SWFC-6-BK) fan controller on OCClub.
Aerocool Deep Impact DP-101 cooler on ViperLair.
Thermalright SLK-900U Copper CPU cooler on FrostyTech.

Memory:
TwinMOS PC3200 Dual Channel DDR on 8Balls.
Corsair TwinX 1024-3200LL DDR on PCStats.
Mushkin Ehanced Black 512MB PC3200 DDR on TechSeekers.

Cases:
Coolermaster ATC-210b aluminium case on Metku, thanks Stefan.
Athenatech A747CC on Ohls-Place.

Storage:
PCToys MobileMaxx removable HDD rack on PimpRig.
TDK VeloCD 48x16x48 external USB2 burner on FutureLooks.

Power Supplies:
PC Power & Cooling Turbo-Cool 510 ATC-PFC on EnvyNews.
Thermaltake Xaser Silent Purepower 480W (video review) on 3DGameMan.
Startech Silent 300W on RBMods.

Keyboard, Mouse, Pad:
Mouse Maxx 100si pad on DVHardware.
Logitech Cordless MX Duo mouse and keyboard on AthlonXP.
Eluminex Illuminated Keyboard on SubZeroTech.

Misc:
Nikon Coolpix 5400 digicam on DPReview, thanks Gary_J.
FlexiGlow Lazer Beam LED on SubZeroTech.
CaseWraps case decoration on Bjorn3D.
Monster Game Gamelink X-Link CAT5 network cable :) on ModTown.
Zonet KVM on Ohls-Place.
Creative Audigy2 Platinum eX sound card on Xbit.
iRock! 730i digital audio player on EnvyNews.
Bitspower Cold Cathode Lighting Kit on TechJuice.




Thursday Morning (6 Comments) (link)
Thursday, 29-May-2003 02:45:44 (GMT +10) - by Agg


Sony have announced an intermediate console between their PS2 and the much-anticipated PS3. The PSX will attempt to go "far beyond its gaming roots".

You know how phone numbers in (American) movies always have the area code 555? Wondered why? Because this and this happens when they don't.

Skymaster says Geeksalad, a cartoon by a Canberran, will appeal to OCAU readers and Linux fans. I wasn't rolling on the floor, but I did keep on clicking next.. :)

IPKonfig went to the Chaintech Reloaded promotional event.

Guru3D want to tell us all about Powerline Networking.. it's been a rumour for a long time, is it ready for prime-time yet?

Comit says that Acrobat Reader 6 is now out, for your portable documenting pleasure.

This Toaster PC is pretty cool, thanks ledz.

Fancy yourself a mini-Schumacher? Live in South Australia? Hoopstar is organising a Go-Kart Championship in the forums.

Win yourself a Soltek KT400A motherboard over on VIA-Arena, by taking a photo of your work area. I keep getting requests to put some photos of the AggCave up on OCAU, but I can't find an angle that fully captures the mind-scrambling chaos in here. :)

Things gone disastrously wrong for your motherboard? Sometimes a hot flash is the only way to recover it.

Want to start your own website? Why not start a hardware website, the scene could do with a few more of those. :) Addaboy have a guide to making your own site. Advice from a jaded old webmaster: there's nothing so expensive as what you get for free.

Digit-Life have rounded up some barebone mini-PC's from Asus, Iwill, Shuttle and Soltek.

Someone calling himself epia from Austria has managed to get a fanless heatpipe cooler on his EPIA motherboard, making a small PC even quieter.

Darkness spotted mobile phones that can control cars.. little cars, not like in James Bond, but it's still pretty cool. You can have your Snake, I'm doing some hot laps. :)

NordicHardware rounded up some Intel i845PE motherboards, for P4s and DDR memory. Not the latest and greatest chipset, but still going strong.

eDust noticed this multi-format DVD burner from Pioneer, giving the Sony unit a competitor at last. He also says that Phoenix have a BIOS that can completely disable your PC if it's stolen.



From Bollocks: Week 3 of the Folding Giveaway sees DrGeforce3 the winner_of this weeks prize donated by LowNoise PC . He has won a Low Noise Cooling kit, which consists of Spire Falcon Rock II Heatsink or Zalman CNPS5500 (P4), Zalman ZM-NB32J chipset heatsink and a Panaflo 80mm FBA08A12L. Well done to the Dr and thanks to Rod from LowNoise PC for donating the prize for this week and the next 2 weeks as well. Once again we came very close to our target of 600 nominees for the Giveaway, this week the total reached 593 entrants with 487 qualifying for the prize draw. The [H]ardOCP team have staged a fight back and just about equaled our points production for the week. So we need a bit of help from everyone to make sure we stay ahead of them in the weekly production stakes and eventually reclaim back that first place.

On a related note, from B5lurker, regarding the "Call to Arms" we had over the last week or so: Thank you for the Call to Arms the 168 hours are now up, I would like to thank you and everyone else who donated some cpu time to Team Tori in the last 168 hours or started folding for OCAU. Their donation of CPU time has boosted Team Tori into the 2000 PPW area, and all those that folded for us are allowed to display that fact in their forum signatures etc. I ask that those that started folding for me to please continue whether it be under the Team Tori banner, some other banner within Team #24 or even for themselves to continue folding.

Cure CPU boredom and maybe cancer too, get folding!



It's all happening in the OCAU Forums lately, with around 500 people surfing at once most evenings. If you're not a member yet, why not? Membership is free. :)

Some current interesting threads:
John Carmack and Tim Sweeney on cheating vs optimisation in Video Cards.
RAPTOR benched: Single, Raid 0x2, Raid 0x4 in Storage and Backup.
Modding as a Hobby in Modding and Electronics.
Features of Programming Languages you like? in Graphics and Programming.
How much energy? in Extreme Cooling.
P4C800 with P4 3GHz 800MHz Insight in Intel Hardware.
NF7-S 2.0 Onboard Sound vs SB Live in AMD Hardware.
ICH5-R Stripe Size impact on Transfer Rates / Performance in Intel Hardware.
Hyper-Threading: Impact on Temps, Overclocking, Performance in Intel Hardware.
Is enthusiast SMP dying? in SMP and Clustering.
What to do with steak? in Geek Food.
Network Bootdisk in Networking and Internet.
The Gliding Page (pics) in Other Toys.
Radiator Finished (pics) in Extreme Cooling.




3DMark03 Patch 330 (4 Comments) (link)
Wednesday, 28-May-2003 15:51:47 (GMT +10) - by Agg


FutureMark have released Patch 330 for their popular 3D graphics benchmark, 3DMark03. We've mirrored the patch file here. If you don't have 3DMark03 installed, you'll need the original installer - we have it here.

So, why the patch? Well, we need to catch up on some stuff from the last few days. According to FutureMark, they found that NVIDIA's drivers were optimising themselves specifically for 3DMark, giving an artificially high score. NVIDIA say that they aren't part of FutureMark's (expensive) developer program and that FutureMark are deliberately trying to make their product look bad, to which FutureMark have responded. Since then, ATI have come forward and admitted doing a similar thing, but to a lesser degree. FutureMark have hinted that there may be further optimisations in the ATI drivers. There's a comment from one of the 3DMark programmers here on Beyond3D.

The big debate is whether these optimisations represent something that drivers are supposed to do, or if the companies involved are actually cheating to make their products seem quicker compared to their competitors than they really are. Of course, there's also usual question of how valid any benchmark really is. There's a lot of discussion (and even more heated debate and wild speculation) going on about this at the moment, naturally. TheReg have their thoughts posted, and Tech-Report ran some benchmarks themselves to see what the fuss is about. Threads here and here in our forums and here on Slashdot.



The modding world is soon to get another wonder. The creator of the now famous (but sadly stolen) GTRPC is onto his latest, and possibly greatest, creation. "The Imperator" is under construction. I can't wait to see the final result. I might have to make the short drive south to see it when it's complete. Thanks to QAZ and Stackboy for pointing it out.

Something from eDust, 40Gb and 80Gb hard drives from Seagate, Maxtor, and Hitachi that were sold in Taiwan are being recalled. Still unsure if drives sold elsewhere in the world are effected. Read more here.

The latest build of Rocket Arena 3 has been released and is now available on the PacNet Mirror. Lots of fixes in this release. Get it here. Thanks neXus.

8Dimensional have put together a nVidia GeForce FX Review List. Over 120 reviews linked.

More interviews with webmasters at OHLS. This time the victims are Niko from R&BMods and Nathan from TweakNews.

More from the strange world of ZZZ, issue #169.

Nietzsche found this site which lists most of the popular operating systems through the years and provides the specs they need to run on. Interesting.

Now this is an idea. Using balloons to provide wide range rural broadband access. Thanks xmats.

There are plenty of rheobus solutions on the market these days but if you're feeling clever, try making your own. DVHardware show you how to make a simple but effective 7v/12v switch.

Shaft found some images from the upcoming 3rd instalment in the LOTR saga. Lord Of The Rings: Return Of The King.

More Letters from Dan, or should that be, To Dan. I give up!

On Thursday, May 29th at 10pm, the ABC will air a very interesting show called In the Realm of the Hackers. The 1989 OILZ incident gets a good mention in the show (am I getting old or do other people remember that as well). Read more about that here. Thanks Fiscus.

This from Jimmy: "The popular youth digital television service FLY TV and ABC Kids has been announced that due to funding cuts from the federal budget it won't be on air anymore. This is a tragedy for digital television and people under 25 in australia. Anyway so we decided to make a petition to send to senator Alston once there's a good number of names there. Here's the link to the petition": www.petitiononline.com/kidsfly/

What do you do if you have 100 PlayStation 2 consoles and PS2 Linux Kits? Of course. You cluster them together to perform supercomputer-like calculations. From ShadowPeo.

Time waster for today is Ragdoll. I lost over an hour playing with this last night.




Tuesday Night Reviews (1 Comments) (link)
Tuesday, 27-May-2003 18:23:17 (GMT +10) - by Agg


Motherboards & CPUs:
EPoX 8RDA3+ nForce2-based socketA DDR motherboard on PureOC.
i865 Springdale P4 DDR motherboard chipset on TweakTown.
Chaintech Apogee 9PJL springdale motherboard on OCTools.
Gigabyte 7NNXP nForce2 Ultra motherboard (translated) on OC.com.tw, thanks Shaft.
AMD AthlonXP 3200+ socketA CPU on Digit-Life, our review here.
MSI K7N2 nForce2-based socketA DDR motherboard on PC-Arena.
DFI LAN Party PRO875 Canterwood P4 board on 3DXtreme.
AOpen AX4C Max i875P Canterwood P4 board on PCStats.
VIA EPIA-M10000 mini-mobo and CPU on Tech-Report.
Abit IS7 i865PE (Springdale) P4 DDR motherboard on Ninjalane.

Cases:
KoolCases Platinum XP on 3DXtreme.
i-Tee case (translated from German) on Teccentral.
Enlight EN-7200AX desktop case on Ohls-Place.
Chenming ATX-301KE Silver Aluminium case on ModSynergy.
SamCheer Crystal Dream transparent case (in French) on Ginun.
Athenatech A747 mid-tower (video review) on 3DGameMan.
CoolerMaster Black Alloy Front panel on RBMods.

Cooling:
CorsairMicro HydroCool200 watercooling kit on IPKonfig.
Arctic Silver Ceramique thermal paste on XtremeTek.
Xoxide UV Cold Cathode 80mm Fans on Bjorn3D.
Coolermaster Aero1 ASB-V73-U1 copper heatsink on FrostyTech.
Hydor Seltz L30 water pump on Gruntville.
Swiftech H20-8500 watercooling kit on OCAddiction.

Storage:
Maxtor DiamondMax Plus9 160GB SATA HDD on Gamershell.
Seagate Barracuda V 120GB ATA drive on Gamershell.

Video Cards:
Prolink GeForceFX 5200 on TweakTown.
Albatron GeForce FX 5800 Ultra on OCNZ.
NVIDIA GeForce FX 5900 Ultra video card on HWZ.
ATI All-In-Wonder Radeon 9000 Pro card with the lot on HotHardware.
XFX Geforce4 Ti4200 Platinum on 3DVelocity.

Memory:
OCZ PC3200 Rev 2 DDR on Ohls-Place.
Corsair PC3500 XMS DDR on TheTechLounge.

Printers:
Minolta-QMS Magicolor 2350 EN colour laser printer on EnvyNews.
Samsung ML-1710 Laser printer on FutureLooks.

Misc:
SMC 802.11g WiFi Router on EnvyNews.
Samsung "Matrix Reloaded" Mobile Phone on HWZ.
NEC Versa S900 Centrino notebook on HWZ.
Shuttle XPC SB61G2 mini-PC on Tech-Report.
Performance-PC's Custom Sleeved Ultima PSU on Virtual-Hideout.
M-Audio Revolution 7.1 sound card on GamingIn3D.
Game Park 32 FLU handheld game console thing on RetroGames, thanks Dan.
Asante FriendlyNET GX5-208 gigabit network switch on NetworksToday.
Comta CAD Workstation PC desk on GeekShelter.
Thermaltake HardCano 10 front panel controller on A1-Electronics.
iRiver iMP-400 SlimX CD player on DesignTechnica.




OCAU Weekend 2 - Brisbane, 20th-22nd June (0 Comments) (link)
Monday, 26-May-2003 13:24:32 (GMT +10) - by Agg


Details for the upcoming OCAU Weekend 2 in Brisbane have been finalised. Over the weekend of the 20th-22nd of June we'll be having a dinner at Hogs Breath, tenpin bowling, paintball and a BBQ/social gathering. Some things need pre-payment, others just need you to turn up.

You have to register/pay by the 6th of June - that's less than 2 weeks away - so get in quick! Everyone's welcome, whether you're a forum regular or you just check the news page occasionally.

More info in this thread. Register / payment info on this page. See you there!



Doso has an interesting little piece for Matrix Fans. Goto Games.AlphaLink.com.au and read all about how to get into a secret Matrix website. There's a thread in our forums all about it. But don't tell anyone about it...its a secret...

If anyone in Hervey Bay has an interest in wireless networking, thetron has his setup running and is looking for people to connect to.

PCStats have a question: The Art of Overclocking; Is It For You? Go have a read and see if you really need those extra Mhz.

pete_pumpkin found this article on Overclockers.com showing how to remove the heatspreader from a P4 CPU.

Light usually moves pretty quick, very quick in fact. Unless it happens to find itself among the researchers at Harvard. They have managed to slow it down and even stop it! Thanks P-air.

koopz found a handy little utility that tracks your bandwidth usage through any network interface. It keeps records for daily, weekly and monthly usage and has a handy graphical display. I've tried it and it does the job well. Its also free.

Madshrimps have an article where they talk about the excellent overclockability of some of the recent AMD XP "B" core CPUs. Read it here.

Followers of the Red Dwarf series will be pleased to know that the movie is in the works, and being filmed in Australia, somewhere near forum member Freefrag. I hope he gets some good photos. Read more here.

Flash game for today is Athlete: Balls & Walls. From Pugsley_21.



Just spotted this very impressive car PC system in the PCDB, in an entry called HondaTheater:



Click for the PCDB entry!






Sunday Afternoon Reviews (4 Comments) (link)
Sunday, 25-May-2003 16:18:33 (GMT +10) - by Agg


Motherboards:
Gigabyte GA-7VAXP-A Ultra KT400A-based socketA DDR motherboard on RBMods.
ECS K7S7AG SiS746/963-based socketA DDR with onboard Xabre 200 on SpodesAbode.
Intel i865 "Springdale" motherboard chipset on SharkyExtreme.
MSI 875P Neo-FIS2R P4 DDR motherboard on A1-Electronics.
Intel D865PERL i865PE-based P4 DDR on HardWareZone.

Video Cards:
BFGTech Asylum GeForce4 Ti4200 on Ohls-Place.
GeForce FX 5900 Ultra on HardAvenue.
Asus V9900 GeForce FX 5800 Ultra on HardWareFusion.

Power Supplies:
Nexus NX-4000 Real Silent PSU on HWExtreme.
Raidmax 400W and 500W units on TheTechLounge.
Antec TruPower 550W on LegitReviews.

Cases:
XPCases XPDreamer on PimpRig.
Antec Sonata on ClubOC, our review here.
Lian Li PC-6010 on ExtensionTech.

Storage:
Maxtor MaXLine Plus II 250GB IDE HDD on StorageReview, thanks kasi.
Western Digital WD2500JB 250GB IDE HDD on Xbit.
ATN-999 Black Mobile Rack on OCClubCanada.
PenDriveUSA 32MB USB Storage on TheTechLounge.

Cooling:
Thermalright SLK-900 CPU cooler on MonsterHardware.
OCZ Dominator II CPU cooler on Ohls-Place.
ExtraMod 80mm-120mm Fan Adapter on SubZeroTech.
Thermal Integration TI-R8693L and TI-V8693 CPU coolers on TeamHardware.
3a Cooling Z-Bra CPU cooler on OCrCafe.
Thermaltake Ducting Mod on Ohls-Place.
CoolerMaster XDream SE CPU Cooler on OCModShop.

Modding:
Madlights Lighting Kit on TheTechLounge.
FlexiGlow EL Cable on SubZeroTech.
Lamps Electronic CCFL Fan Kit on ModSynergy.
TweakMonster EL Window Applique on TheTechLounge.
PCToys Marvel Comics Fan Grills on DVHardware.
Vantec Spectrum UV Fans (video review) on 3DGameMan.

Misc:
AuraVision Eluminx glowy keyboard on MadShrimps.




nForce driver probs? (6 Comments) (link)
Sunday, 25-May-2003 13:29:05 (GMT +10) - by Agg


If you've had problems with version 2.41 or 2.42 nForce drivers, you're not alone. Instructions for rolling back to a previous version are here on NVIDIA's site.



...but now it's back up. Hooray! I think the server and I both had similar Sunday-morning hangovers.



Digit-Life get retro, with 63 Video Accelerators tested on a Pentium II 350 MHz in three tests. "April 1998. The effective advent of the powerful accelerator! Cd's with games marked with the 3Dfx's logo. The price of $350 for a 12MB card making users sigh deeply... And envy... at Comtek'98" Mine only cost me $295- Read all about it here! Also on Digit-Times, the monthly DVDigest.

John sent this in. There is a New World Record in the world of 3D Graphics, achieved in 3D Mark 2001 SE by no other than OPPAINTER. 25,214 Points!

Adrian's Rojak Pot have an article titled NVIDIA GeForce FX 5900 Ultra - The Real 5800 Ultra? "Now, the thing on everyone's mind is how much better is the 5900 from the disastrous 5800 (NV30) GPU that was released not so long ago?. They try to answer this.

OHLS have interviewed Jim from Monster-Hardware.com, another in their series about people who run hardware review sites. I wonder when its Agg's turn? Read it here.

Here is another unusual case mod. We've seen fish tank windows, now an ant farm window! I don't like ants. Thanks ledz.

The Tech Zone also like cases with a difference, how about using a BMW as a case, well, putting an Athlon system in a BMW anyway.

8BallsHardware check out LI Utilities SpeedUpMyPC, a software tweaking tool.

Dan has some more Letters, on the topic of LCD, CRT and stuff. While you're there, check out his new 3.6GHz Tiny God.

Sniper found a good article called "The inner secrets of the AMD Opteron" Truths, half-truths and all that jazz. Read it here.

Todays flash time waster is Blobs.



Techseekers checked out Intel's ICH5R, the Raid-0 version of their Canterwood/Springdale southbridge.

TheInq say that NEC say that they just did something new, amazing and cool... watercooling their PC's. Well, golly. :)

Some news from Gandalf: Microsoft to set up global product support centre in India. Playing the Linux Game, By email. OSI Position Paper on the SCO-vs.-IBM Complaint - in depth analysis - includes lots of historical detail - one being that SCO does not own Unix (Unix is a trademark of the Open Group), just the rights to the historical AT&T codebase.

Monster-Hardware modded an LED fan by putting some other LEDs in it.

HardFind spent some time overclocking their Radeon 9500 Pro video card.

eDust says that Intel are dropping RDRAM support and not making chipsets that support it any more. I'm sure we've heard this at least twice before.

From abz0ract: A lot of people are having problems with the new nForce drivers, just thought it could be worth a mention. Info here and here. But it looks like nVidia have updated the driver further, by removing the IDE driver that was causing the majority of the problems reported. They are now 2.42 drivers.

Forum member kjparker had a bunch of stereo stuff stolen from his garage last night in the Sutherland area near Sydney. If you see it, let him know!

Win yourself a KT400A motherboard by designing a VIA Arena desktop image.

Apparently the Star Wars kid, subjected to public ridicule for the last few weeks, has scored 4000 bucks in donations from a sympathetic site. Nice once, thanks Maurice.

HotHardware have a video card shootout between the current flagship products from ATI and NVIDIA.



Just a few quick bits...

CRT, LCD, OLED. The evolution of the screen. OLED is the next step in screen technology, as explained at XBit Labs.

Aron from AseLabs is building a Home Theatre PC. Part 1 of the article is up.

DevliN wants to let us know that upgrading the ASUS P4PE series motherboards to 800MHz FSB is only possible under certain circumstances.

MonoJoker found some great case mods for you. This one is excellent. These ones I have linked before but they're still cool.

ModAsylum have a guide to understanding IR. "Within the pages of this guide you will learn everything you need to know about selecting an IR reception device, building an IR device from scratch, introduce you to a plethora of IR software and how to automate PC actions, and also help you configure a computer automation application".

Find out what Chaintech have in the pipeline. Geoff from The Tech Report has checked out Chaintech's Reloaded event.

Digit-Life go in search of the truth about nForce2. Single-channel mode vs. dual-channel mode.

Systems:
Shuttle SB61G2 PC at SFFTech

Video/Graphics:
GeForce FX 5900 Ultra at Guru of 3D
Gigabyte Radeon 9200 Graphics Card at TweakTown
MSI GeForce FX 5200 TDR64 at Noticais3D

Storage:
Samsung SM-352B Combo Drive at EnvyNews

Cooling:
OCZ Dominator 2 CPU Cooler at PCTechZone
Coolermaster Cooldrive3 at DataFuse
Corsair Hydrocool 200Water Cooling Kit at AthlonXP
Corsair Hydrocool 200 Water Cooling kit at 3DVelocity

Memory:
Crucial PC3200 DDR Memory at IANAG

Case/Mods
Boogie DiscoNeons review at A1-Electronics
VoyeurMod Blue Aluminium Chenming Case at VH

Misc:
Logitech MX700 Mouse at OCIA




Springdale Reviews (1 Comments) (link)
Friday, 23-May-2003 11:13:29 (GMT +10) - by Agg


The secret word for today is "Springdale". That's the codename for Intel's new i865PE and i865G motherboard chipsets. They support dual-channel DDR400 and an 800MHz (QDR) front-side bus. Anyway, it's not very secret at all any more, with reviews from AnandTech, HardOCP, HotHardware, Digital-Daily, Tech-Report, OCAddiction (and another), MBReview (and another), Bit-Tech, UKGamer ... deep breath ... LostCircuits, TechWareLabs, Sudhian, LegitReviews, PCStats (and another), 3DVelocity, Hexus (and a mini-PC) and ExtremeOC. Jeez.

Hand-in-hand with these new chipsets are some new CPUs. Intel has released Pentium 4 "C" versions, which are at speeds we've already seen (2.4, 2.6 and 2.8GHz) but which have HyperThreading and 800MHz FSB support. More info on Tech-Report and TomsHardware has a look at the whole shebang of chips and chipsets for today. Interestingly, they spotted that the MSI motherboard is automatically overclocking itself by up to 8% when running CPU-intensive applications or benchmarks. MSI replied saying yup, it's true and will be a feature in future BIOS versions for several of their boards. Neato, but perhaps they should have mentioned it before sending out their board to be compared with others.



Been a while... :)

Apparently there is a follow up article to the SCO vs Linux drama. "A Victorian Open Source group says it is bemused by the suggestion that any of the Linux source code contains proprietary UNIX code or trade secrets." Another article here.

Daniel sent in this spiffy looking USB watch. In-fact, Firemoth found something very similar on think geek the other day. It may actually be the same thing.

X-box live are looking for beta testers! You must "Own an Xbox, Have a valid credit card, A PC with email and Web access at home, Have broadband Internet access at home, Be able to connect your Xbox to your Broadband internet connection with an Ethernet cable, Be 18 years old or older, Be comfortable reading and writing in English" Thanks Mr Grimm.

It's a bird, it's a plane, no, it's SONY's new Monstrous Combo-Drive!

Apparently Sun has signed a global deal with Red hat. "Sun Microsystems has entered into a global alliance agreement with Red Hat Linux to distribute the latter's Enterprise Linux operating system, and broaden the use of each other's technologies."

Please, Walk this way! "The Pentagon is developing a radar-based device that can identify people by the way they walk, for use in a new anti-terrorist surveillance system." Thanks Fatso.

There is an updated DDR guide right here.

Put down that cop! " The state of Washington has become the first in the nation to regulate the sale of video games. Gov. Gary Locke on Monday signed into law a bill banning the sale of certain 'violent' games to anyone under 17."

More E3 goodies here in a 15 page review.

We now have robots reading books for us... sorta. "... Inside the room, a Swiss-designed robot about the size of a sport utility vehicle was rapidly turning the pages of an old book and scanning the text. The machine can turn the pages of both small and large books as well as bound newspaper volumes, and it can scan at speeds of more than 1,000 pages an hour. "

On a lighter note, a Linux Developer Got Laid! Well, I never!

Reviews :
Motherboards/CPU :
The EPIA M9000 at overclockercafe
ABIT IS7 Springdale Motherboard Review from Ocaddiction

Cooling
Criticool PowerPlant at monkeyreview
OCZ Ultra 2 Thermal paste by bjorn3d
Asetek Waterchill @ ocprices
Thermalright SLK900U HSF at GruntvillE

Cases/lighting :
MADlights Programmable Lighting Solution from subzerotech
Koolance PC2-601BLW Tower Liquid Case (Blue) Video Review #305 from 3dgameman
Lazer Beam Kit @ gideontech
Maxtop CSX-001 Mini PC Chassis by bigbruin
Vaja I-VOLUTION iPod Case by envynews

Misc :
Belkin Universal AC Travel Adapter from rbmods
The Gateway 450 XL Centrino Laptop at designtechnia
TDK VeloCD 5200B 52x2448x Internal CD Re-Writer @ futurelooks
Criticool PowerPlant PCI Relay Card from the mod fathers



Wow, there's a lot of news to catch up on...

Matthew says there are new nForce2 drivers, v2.41, so head on over to NVIDIA's driver download page. There's also some new VIA Hyperion 4-in-1 drivers, version 4.47.

OCAU got a mention in an article in Tuesday's The Australian newspaper this week. Unfortunately they got the URL wrong! I think that happened last time we were in the newspaper too. Anyhoo, it sprung from this thread and it's about case modders. Update: Ah, they fixed the URL, mostly.

Andrew sent in this (apparently) funny video by NVIDIA, taking the mickey out of their own FX 5800 Ultra product. Go here, click Goodies section, then find the funny FX 5800 Ultra link, then wade through the zillion other links you have to do before you finally get to download the file. Update: This site has an easier download of what sounds like the same thing.

Nexus compared some power supplies from Antec and Vantec.

Ohls has an interview with Spode from SpodesAbode.. not just the usual silly questions these things normally have.

Nigel noticed some info on the lack of multiplayer gaming in the much-anticipated Doom III. I dunno, their explanation of why it's been removed doesn't make much sense to me and you have to wonder about how much of the market they're cutting themselves out of. Playing with (only) yourself gets old pretty quickly.

Chaintech had an exhibition in New Orleans recently... HardCoreWare checked it out.

Boky spotted this C64 emulator for certain Nokia phones. How cool is that?

E3, a large entertainment exhibition, was on in the USA a week or so ago. Apparently there was some technology stuff there or something. Seems everyone just took pics of the booth babes, though. :) Lots of links to pics here. TheTechZone were kind enough to tell us how they got their pics. All I can say is, whoever is organising next year's Sydney PC Show, take note!

OCClubCanada have a guide to making your very own rheobus.

Xbit have an article about production technologies involved in the modern semiconductor industry.

Interesting Forum Threads:
Gaming (Net) Cafe Directory in Games.
Installation, FAQ and Guides in Extreme Cooling.
Asus P4C800 - A few impressions in Intel Hardware.
Anyone restored a car before? in Motoring.
Future Engine Technologies in Motoring.
Build your own Mercedes in Motoring.
4C (Cingle CPU Crunching Contest) F@H Gauntlet: Round 2 in Team OCAU.




AMD AthlonXP 3200+ CPU (Barton core, 400MHz FSB) (10 Comments) (link)
Thursday, 22-May-2003 01:14:10 (GMT +10) - by Agg


AMD have a new baby! It brings a higher core speed as you'd expect, the larger L2 cache of the newish Barton core and, most interestingly, a much higher front-side bus (FSB) speed (400MHz DDR). Does this all add up to a mind-bendingly fast CPU? Well... read the review. :)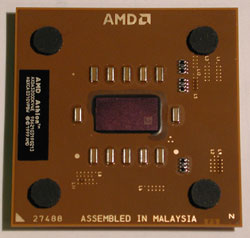 Click for the review!






OCAU Weekend 2 - Brisbane, 20th-22nd June (3 Comments) (link)
Wednesday, 21-May-2003 16:29:09 (GMT +10) - by Agg


Details for the upcoming OCAU Weekend 2 in Brisbane have been finalised. Over the weekend of the 20th-22nd of June we'll be having a dinner at Hogs Breath, tenpin bowling, paintball and a BBQ/social gathering. Some things need pre-payment, others just need you to turn up.

You have to register/pay by the 6th of June, so get in quick!

More info in this thread.
Register / payment info on this page.

See you there!



System/Laptop/PDA:
Sony Clie PEG TG50 at Design Technica

CPU:
AMD Athlon XP 3200+ at A1 Electronics
VIA Nehemiah M10,000 at Envy News

Motherboards:
Albatron PX865PE Pro at Xbit-Labs
EPoX EP-8RDA3+ nForce2 Ultra 400 at Hexus
Gigabyte P4 Titan GA-8PE800 Ultra at PCStats
Soltek SL-75FRN2-L (nForce2 Ultra 400) at HWZ
Gigabyte GA-8PE800 Ultra (Intel 845PE) at Hardware Zone

Graphics:
Sapphire Atlantis Radeon 9800 Pro at Legion Hardware
NVIDIA GeForce FX 5900 Ultra 256MB at VR-Zone

Storage:
Sony External DVD±RW Drive DRX500AX at OHLS
Samsung SP1604N ATA133 160GB HD at ExplosiveLabs
Seagate Cheetah 10k.6 SCSI 320 HDD at TechWareLabs
Seagate Barracuda 7200.7 160GB (7200RPM-2MB) at HWZ

Cooling:
Thermaltake Volcano 11 Xaser Edition at Envy News
AquaComputer High End 240 Watercooling Kit at TecCentral (Babelfished)
Thermaltake SubZero4G AMD Cooling System (Peltier) at TweakTown
Corsair Micro HydroCool200 External Water Cooling Kit at IPKonfig
Criticool "Waterplant" Watercooling Reservoir at OCPrices

Audio:
Altec Lansing 251 5.1 Speaker System at GeekShelter
Altec Lansing Ultimate XA 3051 5.1 Speaker System at Future Looks
M-Audio Revolution 7.1 soundcard at TechSpot

Case/Modding
Neo classic case from GMC at R&B
Flexiglow Lazer Beam Kit at Mod Fathers
Crazy PC EL Applique at Modasylum
Antec Sonata PC Case at Bjorn3D
Maxtop CSX-7788KEB-Win Case at OC Addiction
Chenming X-Sonic Aluminum Mid-Tower at Gruntville
Vantec Spectrum UV Fans at ClubOC

Misc:
Trust 610 Card USB Reader at ModTown
Argus 3550 Digital Camera at OHLS
Antec Cobra Cables at Club OC
Antec True Control 550W PSU at Viper Lair
RaidMax LP-6100E 500w Aluminum Black PSU at Tech IMO




Sydney Motorcycle Show 2003 Pics (5 Comments) (link)
Tuesday, 20-May-2003 18:37:39 (GMT +10) - by Agg


This show was on last weekend and roving reporter Boky took a fair few pics. Mmm, shiny...




Click for pics!






Folding Giveaway Week 2 Winners (0 Comments) (link)
Tuesday, 20-May-2003 12:59:46 (GMT +10) - by Mred32


Here are the winners for week 2 of the Folding Giveaway, the main prize of an AMD XP2400+ CPU donated by leonard was won by Yeti Skinner and the winner of the consolation prize of a 4m CAT5 Network cable donated by ToranaGuy is dracoMJB. This week the prize is a Low Noise Cooling kit donated by Rod from LowNoise PC. The kit consists of a Spire Falcon Rock II Heatsink or Zalman CNPS5500 (P4), Zalman ZM-NB32J chipset heatsink and a Panaflo 80mm FBA08A12L. To enter the Giveaway all you need to do is start Folding and nominate yourself in this thread in the DC forum. We almost reached our target of 550 nominations last week, falling 3 short. This week we are going for 600, we need the extra members so that we can continue to out produce the [H]ardOCP team who have started a fight back in reaction to OCAU out scoring them for the past 2 weeks. So if you have a computer that is on most of the time and sitting around doing nothing, give Folding@Home a try, it not only helps a worthy cause, you may just win something along the way. Cheers, Bollocks.



AmigaOne owners can rejoice, for the Amiga OS 4.0 will soon be with us. Click the link for tour dates.

Overclockers New Zealand put an 800Mhz 845PE Albatron PX845PEV-800 up against a Soyo P4I875P Dragon2 Canterwood motherboard. Results here.

The Tech Zone have posted the hardware portion of their E3 2003 Report, well, they say they have but its not real!

Some more info on the new game Enter The Matrix, based on the movie, over at 3DAvenue. They have a preview/review.

Computerbase take a poke around ATi's Catalyst 3.4 drivers and put them up against the Catalyst 3.2's for a comparison. Oh, its Babelfished by the way but the graphs tell most of the story. Original German article here.

Building your own quality home speaker system is a task not everyone can do well, but this guy seems to have pulled it off. An excellent effort.

Here we have it. The complete history of the Internet on one easy to view page. Heres a quote: "1994: First piece of spam appears in USENET newsgroups and is quickly removed. 'Well, that should be the last of that', say users". Thanks to Darkness.

Chris sent this link in "Microsoft to license Unix code". Full article on News.com. It makes you wonder just what is going on...more than meets the eye I bet.

A quick bit from Nigel, DVDs to store up to 400 hours of movies. The movie company's are going to love this!

Dan has a question: "I wondered why LCD purchasers so often say their new screens cause them so very much less eyestrain" He also has a theory.

Draffa found this item: An aircraft that can repair itself in flight. Something that the CSIRO are working on.



Motherboards:
Commell LV-670 Mini-ITX with P4 on Hexus.
EPoX 8RDA+ nForce2 socketA DDR on OCIA.

Cases:
A+GPB BB4368 Galaxy on ModSynergy.
CoolerMaster ATCS 110B-SX1 on Hexus.

Cooling:
Fortis C104l CPU cooler on Ohls.
Thermaltake Volcano 11+ Xaser Edition CPU cooler on OCdCafe.
Dynatron DC1206MB-Y P4 cooler on Ohls.
CoolerMaster Aero 7 CPU cooler on ClubOC.
Vantec Aeroflow VA4-C7040 socketA cooler on 8balls.

Mousing:
Teflon Tape for mouse-feet on GeekShelter.
X-Trac Zoom and Eels pad and feet on OCClubCanada.

Modding and Lighting:
Spire SoundCTRL lighting controller on ModSynergy.
Cold Cathode and Flexiglow Cable kits on TheModFathers.
FlexiGlow Bubble Light on PC-Arena.

Misc:
IBM ThinkPad X31 (Centrino) Notebook on HardWareZone.
SanDisk WiFi CF Card on EnvyNews.
MSI MegaPC mini-PC on HWZ.
TwinMos PC3200 DDR memory on ClubOC.
Tyan Tachyon G9500 Pro Radeon video card on Xbit.



I'll start with something light today...

A sheep who thinks its a police dog! Or as thetron put it, "Put them behind Baaars Guido".

Some news pieces from Iroquois. More proof that drugs are bad, stoned spiders can't weave a web!:) Some more info about Microsoft's NGSCB (Palladium). It look as though it will be a case of all in or no one in. Also, an 11,000-word look inside IBM's upcoming PowerPC 970 over on Ars Technica. Pull up a chair!

The claims against Linux by SCO are still on the boards. SCO have given some hint as to how they will approach the situation. Article on Internet News. Thanks Gandalf.

Also from Gandalf, A new distro in town: Gentoo emerges victorious. Not a bad read.

For the Matrix fans, this from Weq. "the picture from from the maxtrix2 where (insert Neo's gf's name) hacks into the backup power grid. It shows her actually using NMAP to fingerprint the host and its services, then use a SSH CRC-32 exploit to gain root! Have a look at the screenshot. Sort the list by date...it should be the top item.

Warning: This DVD will self destruct in 48 hours! If you hate having to drive to the video shop to return your movies, in future, you might not need to. The disks will become unusable after 48 hours or so and wont need to be returned. Read more here.

Over on Icrontic, an article titled A day in the world of MSI. An in depth look at what they have in the pipeline.

From Darkness: "I have made up a few wallpapers from the pictures i took while at the Sydney Bike Show. They are located over at OCAUMC. We are coming up to 200 members and growing every day. We have plenty of guides and content from learning to ride to how to inspect a bike before buying it, even a war stories forum to post some of your more exciting riding stories!".

deepspring notes that Mozilla Firebird 0.6 has been released. Might be time for me to give it a whirl!

Time waster for today is Insaniquarium. Grow little fishy grow!




WD Raptor, 10k-RPM SATA HDD (13 Comments) (link)
Monday, 19-May-2003 02:07:13 (GMT +10) - by Agg


Western Digital have jumped ahead of the pack by releasing their Raptor, a 10,000rpm SATA drive. This promises to bring some of the performance of SCSI gear to the desktop at lower cost. Does it stack up? Chainbolt finds out in this review: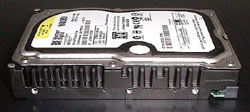 Click for the review!






Folding Call To Arms for Leith/B5lurker (30 Comments) (link)
Sunday, 18-May-2003 01:41:12 (GMT +10) - by Agg


Some sobering news: Leith AKA B5lurker, long time friend of OCAU, is booked in for some cancer-related tests on Friday. Our thoughts are with him for a good result. Puts a bit of a different perspective on the whole Folding thing. Leith is actually a keen folder under team Tori_Lee, a subteam of OCAU. He's obviously not feeling too great about these tests and thought a call to arms might be a good idea. If you're not currently folding, he wants you to consider devoting the next 168 hours - 7 days - to this cause, one of the goals of which is finding a cure for diseases like cancer. I'm going to go one better, as I'm already folding, by changing my machines to fold under team Tori_Lee for the duration. If you don't want to contribute or can't, that's fine. Chin up and good luck, Lurks!



Apparently the Microsoft toilet idea has been flushed. Awwww. Their mobile phone plans have been hung up for a while too, thanks Josh.

Techware talk about memory timings and what they really mean. Meanwhile, xbitlabs have a memory market overview for May 2003.

Rojakpot wonder if there's anything really new about NVIDIA's new nForce versions. Official 400MHz FSB support is a new feature, but plenty of older nForce2 boards had no problem with that speed and others are achieving it with a recent BIOS update. Computerbase show that the Asus A7N8X can do it now (article translated from German).

Offtopic, but a depressing article about the state of the oceans on GlobeAndMail.

There's some concern about Soltek, with their pulling out of the US market. A shame, I was quite impressed by their KT333 motherboard when I reviewed it some months ago. Still using it in my games box!

Chad thinks that this is proof that drugs make you dumb. Makes sense to me. :)

From Lovechild: For those of you who don't already know, Gentoo Linux and Supercomputerinc have teamed up to bring the world a next generation gaming platform and the first project is just out. The America' army LiveCD. To run this just download, burn on CD and reboot off the CD, no install required, showing the true power of Linux. Only runs on nVidia and newer ATI cards (8500 or higher). Funny, this reminds me of the Amiga days, rebooting into games...

eDust noted 7200rpm laptop HDD's on the way from Hitachi.

OverclockedCafe built a machine with the goal of hiding the wires that normally clutter the innards. Let's hope they did better than my disembowelled by a samurai effort.

Dycloo sent in a much more detailed report of the construction of the "Army Girl PC". Pretty amazing project when you see the good photos of it.

Thetron sent word of a massive multiplayer game based on The Matrix, called (imaginitively enough) The Matrix Online. I hope they do a good job of it, could be very cool.

ViperLair have an article about connecting a DataVision graphic LCD to your printer port. One of our most popular articles for a long time was Wolfy's DIY LCD project, which is a similar idea but uses not quite as fancy an LCD.

Flash timewaster of the day is Pasteroids from Pugsley_21. Asteroids, but with pasta. Arrow keys, Z to shoot, A to hyperjump. Pretty cool. :)

Reviews:
Flexiglow Lazer Beam case lighting kit on RBMods.
Thermaltake Volcano 11+ on PCTechZone.
A+GBP 450W Triple Ceramic Fan PSU on ModSynergy.
VIA Aqua 1300 Pump on Monster-Hardware.
CoolerMaster 111c case on HardCoreWare.



Got some bandwidth to burn and a hunger for eye candy? A couple of teaser trailers have been released at E3 in the states and AusGamers have mirrored them. Check out the trailers for Doom III (64MB) and Half Life 2 (17MB) for a taste of what's to come.

Update: Having trouble with the HL2 clip? Trog says you need the latest DivX, which you can get here.



Some nice work from plasticsurgeon, his folding cube is 4 systems in one, crunching for the cause.



Click for the PCDB entry!






Saturday Evening (1 Comments) (link)
Saturday, 17-May-2003 17:58:19 (GMT +10) - by Agg


Think a career in internet scamming is for you? Might be time to think again, with authorities in the USA at least cracking down on this kind of crime.

We've mentioned this earlier, but some more info on the SCO threat to Linux, thanks Michael. Basically, SCO claim that Linux is a derivative work of UNIX (that they own) and therefore commercial Linux users may be violating SCO's intellectual property. More info here, thanks efex.

Meanwhile, Microsoft seem to be desperate to win customers away from moving to Linux, even giving away software if they have to. I thought they said free software was bad? :) Thanks Michael.

There's a suggestion on ExtremeTech that NVIDIA's recent drivers may inappropriately favour 3DMark, giving artificially high scores for their new cards. A lot of people sent that in and there's a lot of discussion going on about it, like this thread in our Video Cards forum. I don't think it's as simple as "nvidia cheating" which many have assumed.

Still on the graphics side of things, VR-Zone have compared some recent Detonator (NVIDIA) driver versions.

Don't forget there are new Catalyst 3.4 drivers from ATI out now also... a list of fixes and improvements here, thanks Keith.

There's some movies from Half Life 2 on gamespot, thanks Nigel.

Thetron spotted this funny Extreme Darren site... shame the videos are so small.

MadShrimps compared KT400A vs nForce2 vs SiS746... three chipsets for socketA DDR motherboards.

Five questions. Four answers. One man. A zillion words. It can only be... letters to Dan.




Saturday Morning Reviews (0 Comments) (link)
Saturday, 17-May-2003 11:48:30 (GMT +10) - by Agg


They just keep on coming...

Motherboards:
EPoX 8RDA+ nForce2 socketA DDR on HardCoreWare.
AOpen AK79D Max nForce2 board on Bjorn3D.

Video Cards:
GeForce FX 5900 Ultra video card on A1-Electronics.
Gigabyte Maya R9000 and R9000 Pro Radeon cards on OCNZ.

Cases:
Beantech Igloo 9 aluminium case on WorldOC.
Lian-Li PC6010 fancy-lights case on DansData.
Koolance PC2-601BLW watercooling-friendly case (video review) on 3DGameMan.

Storage:
Maxtor 5000DV external storage on DesignTechnica.
Samsung SM-352B CDRW/DVD combo drive on MonkeyReview.

Modding:
Flexiglow Lazer Beam Kit case lighting on AseLabs.
Sunbeam Rheobus fan controller on OCAddiction.
Sunbeam CCFL and Accessories case lighting on OCAddiction.
ExtraMod Acrylic Fan Grills on SubZeroTech.

Misc:
Maxtop CSX-001 mini-PC on Ohls-Place.
Logitech Cordless Elite Duo & Navigator Duo keyboards and mice on Virtual-Hideout.
Samsung SyncMaster 172W 17" Widescreen LCD screen on TweakNews.
Rose Electronics Vista-Mini PS/2 KVM PC switch on TechSeekers.
AMD XP1800+ JIUHB stepping socketA CPU on DataFuse.
FrontX Port Replicator on RBMods.
Innovatek Innovaset 2 Watercooling Kit on WinHQ.




PCDB entry #5000 (0 Comments) (link)
Saturday, 17-May-2003 02:13:51 (GMT +10) - by Agg


I've been away for a few days, but I'm back now - I bet you didn't even notice, with Mred32 keeping the news flowing. Anyway, while I was gone, the PC Database received its 5000th entry! In the past we've had some, well, disappointing entries at important numbers, but this time it's a worthy effort from Craigo.



Click for the PCDB entry!






New ATI / NVIDIA video drivers (3 Comments) (link)
Friday, 16-May-2003 15:16:06 (GMT +10) - by Agg


If you're having trouble getting the new video drivers released in the last few days by ATI (Catalyst 3.4) or NVIDIA (Detonator FX V44.03), AusGamers have mirrored them here.



Motherboards:
GigaByte 7VAXP-A Ultra KT400A at Legion Hardware
ECS L7S7A2 SiS746 at Planet Savage
ABIT IC7-G (875P) at Extreme OC
Chaintech 9CJS Zenith Canterwood at OCTools

Graphics:
NVIDIA GeForce FX 5200/5200 Ultra at Digit-Life
NVIDIA GeForce FX 5900 Ultra 256MB at

Storage:
Plextor 504A DVD+R Recorder at Club OC

Memory:
Buffalo 256MB PC3700 DDR at PCStats

Cooling:
Nexus KCZ-2700 CPU Cooler at ExtremeTech
Innovatek Innovaset 2 Liquid Cooling kit at Monkey Review
Koolance EXOS External Watercooler at OCPrices
Z-bra AlCu1 Heatsink Video Review at 3DGameMan
Volcano 9 with CoolMod at ExtensionTech

Case/Modding
Chieftec Matrix at Clob OC
Antec Cases - Sonata and Lanboy at TweakTown
BeanTech Igloo-9 Aluminium Case at Modfathers
Xoxide Dual 6" Bubble Light at Bjorn3D

Mics:
Antec True Control 550W PSU at OCAddition
Thermaltake ATX 420W PSU at FuriousTech
IOSS Bios Saviour at TechSpot



First up, some news from Bollocks regarding this weeks winner in the Folding Giveaway...

The winner of the main prize for the first week of the Folding Giveaway is mike_wp from the Whirlpool subteam who wins a Spire FalconRock II Cooler and 256 MB Samsung PC2700 memory courtesy of Radiical Computing. The consolation prize winner is EviseratoR who wins a 4m CAT5 network cable donated by ToranaGuy, congratulations goes out to them both. The main prize for week two is a AMD XP2400+ processor kindly donated by forum member leonard and the consolation prize of a 4M CAT5 network cable is once again supplied by ToranaGuy. To enter the Giveaway check out the Giveaway Page and then nominate yourself in This Thread in the DC Forum. We had a great response to the Giveaway last week and reached our target of 500 nominees for the first week, this week I think a target of 550 is obtainable. The other target ([H]ardOCP) is just that bit closer given the response to the Folding Giveaway by the OCAU community.

In other news...
A number of people sent this in. "Legal threat to commercial Linux users: The owner of the UNIX operating system today warned that Linux is an unauthorized derivative of its software and that commercial users of Linux may be legally liable for violation of intellectual copyright". I'm not sure of the full implications of this yet but for those who use Linux at work, it might be worth keeping an eye on the developments. More info here and here.

Voided Warranty have an article all about Static Electricity - Electrostatic Discharge (ESD). An interesting read.

If you saw that Star Wars Kid video, you might want to read this interview with him. Thats right, they found him! Thanks gatecrasher.

Digit-Life attempt to explain the behind the scenes goings on regarding nVidia's Intellisample Technology. "Exactly to eliminate that weak point and prevent that awful performance drop because of the anisotropic filtering they launched the Intellisample technology announced together with the NV30 family".

Those crazy French guys have been at it again, submerging their PCs in oil! Shame you couldn't put any fish in there.

Hexus have a 3-way Canterwood comparison featuring boards from Asus, MSI and Epox.

A write-up comparing the latest and greatest in the Video card markets called New Video Cards From nVidia and ATI.

The Tech Report give us the low-down on nVidia's new Detonator FX 44.03 drivers. Find it here. You can get the drivers themselves from here.

Wild sends word that our PC Database now has over 5000 entries. Well done folks. In the PCDB you can find pics and specs on just about any size, shape and colour of PC you can imagine. Theres even a fridge!



A few more pieces from the news backlog...

Every modder owns a Dremel right! But do you look after your Dremel? Read Dremel Maintenance 101 at Mod-Asylum.

Here is a mod thats been around a while, Changing your keyboard LEDs. A how-to guide.

If you're lucky enough to own an acrylic case, here is a guide to Modding the Sunbeam Acrylic Case.

Still on the modding theme, here is a guide to Modding the Barton XP to a Barton MP.

This from charliebrown_au, use software to change your Radeon 9500 non-Pro into a 9700.

Adrians Rojak Pot are up to Revision 7.7 BIOS OPTIMIZATION GUIDE.

VR-Zone has updated the Barton, T'Bred & Northwood Overclocking Databases this week. Check out all the fastest CPU overclocks.

MadShrimps have an article on the performance differences between the Intel 865PE/875P and nForce2. Read it Here.



With the official launch of AMD's Athlon XP3200+ CPU, the processor war takes another twist. Intel's Pentium 4 with Hyper Threading has grabbed the headlines of late so lets see what the 3200+ reviews have to say...

System/Laptops/PDAs:
Dell Axim X5 PDA at DesigTechnica

Motherboards:
Gigabyte 8PE800 Ultra at Extreme OC
ASUS A7N8X Deluxe Rev 2.0 at Sudhian
Asus A7N8X nForce2 Rev 2.0 at AMDMB
Epox 8RDA3+ (nForce2 Ultra 400) at Digital-Daily
nForce2 Motherboard Roundup at Bench House

CPU:
AMD Athlon XP 3200+ at Sharky Extreme
AMD Athlon XP 3200+ at Hexus
AMD Athlon XP 3200+ at XBit Labs
AMD Athlon XP 3200+ at Bit-Tech
AMD Athlon XP 3200+ at Sudhian
AMD Athlon XP 3200+ at The Tech Report
AMD Athlon XP 3200+ at ComputerBAse (BabelFished)
AMD Athlon XP 3200+ at Hot Hardware
AMD Athlon XP 3200+ at AMDMB
AMD Athlon XP 3200+ at AMDWorld
AMD Athlon XP 3200+ at 3DVelocity

Memory:
TwinMOS Dual Channel PC3200 at Viper Lair
TwinMOS PC3200 & PC3700 Memories at VRZone

Graphics Cards:
Leadtek A300TD 128MB GeForce FX5800 at OCNZ
Albatron Geforce FX 5200P at SubZeroTech
NVIDIA FX5900 GPU (NV35) at Bjorn3D

Cooling:
D-Tek Spiral Water Block at IPKonfig
Vantec Spectrum 80mm UV Fans at ExtensionTech
Danger Den H20 Maze3 Watercooling Kit at R&B
Danger Den H20 Maze3 Watercooling Kit Video Review at 3DGameMan
pcToys VGA Maxx Heatpipe Video Cooler at PimpRig
Eheim 1046-12V Waterpump Special Version at TecCentral (BabelFished)

Storage:
Western Digital WD2500JB 250GB (7200RPM) at Hardware Zone

Case:
Chieftec Dragon Black Midi ATX Tower at HeatSeekerz
Cooler Master ATC-620 at Dans Data

Misc:
RatPadz GS Mouse Surface at TechFreaks
Altec Lansing XA 3051 Speaker at ModSynergy
Auravision EluminX EL Lighted Keyboard at AseLabs
iPod MP3 Player at SLCentral
MadLights LED Case Lights at OCC



After a few problems getting the news posted yesterday, here is a bit of a hodge-podge of news beginning with...

For all those who are anxiously waiting for the release of The Matrix Reloaded, how about you wet your appetite with some trailers from the upcoming game Enter The Matrix. Screenshots, trailers and general game info is available now. Thanks Josh.

The Fizzer Worm/Virus/Trojan is spreading like a wild fire with one network intercepting over 18000 copies on Monday alone. Read more here and here to find out all the details. This one is tricky. Thanks to all those who sent that in.

After reading this article it makes you wonder where things like the Fizzer Worm came from. Thanks Bern.

Here's some computer virus that Humans can catch!

Some pieces from eDust. Being double-jointed is not always a bad thing. Check out Intels Double Jointed Laptop. Scientific American have an article about Self Repairing Computers, and some talk of price fixing in the DRAM market.

For those who have been following the Ultimate Gamer Contest, Visiontek have decided to let the gaming community decide the winners. Check out their site for the details.

Intel warns of a bug in McKinley Itanium II Processor. You could always just run it at 800Mhz to fix the problem!

This from DDsD. "Apparently the guys over at Spode's Abode have strong reasons to believe that Trident are fudging their 3dmark 2001 scores so they beat they ATI cards in side by side comparisons" It does look that way!

Any Star Trek fans looking for a job might be interested in this. Position Available: Interpreter, must be fluent in Klingon. Wonder how much it pays? Thanks Spanky.

Still on the Star (Stuff) theme, Callan came across this interesting case mod. A Millennium Falcon PC. I like it.

After a quick chat to the people at AMD, Nicholas found some sweet looking Opteron Boxes that are on the way.

Freaek wants to let us know about a photography challenge that is on this week. The topic is Monuments, Statues, Memorials, Oh My! Read the forum thread for all the info.

From John, Blue Couch have an article on using Vinyl Dye to dye your PC Components Black.

Thats all for now. Reviews later.



Please Ignore
Please Ignore
Mred!




GeForce FX 5900 (NV35) and 256MB Radeon 9800 Pro (4 Comments) (link)
Tuesday, 13-May-2003 02:41:35 (GMT +10) - by Agg


NVIDIA announced their NV35 today, in the form of the GeForce FX 5900 and 5900 Ultra. Will it give them back the performance crown, or will ATI's R9800 Pro remain the king? Is it louder than your vacuum cleaner? :) Reviews, previews and other info (Doom III benchmarks!) on (deep breath): Anandtech, HardOCP, ExtremeTech, TheReg, Hexus, HotHardware, Bit-Tech, Sudhian, Tech-Report, Xbit, NVNews, Adrenaline Vault, CNN, NeoSeeker, 3DGPU and TomsHardware.

Just to keep things interesting, ATI also had an announcement: they're shipping a 256MB version of their Radeon 9800 Pro. Reviews of that one on: HardOCP, HotHardware and GamersDepot.




Senfu Watercooling Bundle Review / Adventure (13 Comments) (link)
Tuesday, 13-May-2003 02:08:18 (GMT +10) - by Agg


Skymaster and Digital_Guardian are a couple of blokes wanting to get into watercooling. Join them in this fairly lighthearted review as they install a couple of Senfu kits into their machines...



Click for the article!





Systems/Laptops/Notebooks:
Dell Inspiron 8500 Laptop at TTZ
Sony VAIO PCG-Z1AP1 Notebook at DesignTechnica

Graphics/Video Cards:
FIC's Radeon 9500 Pro at Techware Labs
MSI Ti4800SE-VTD8X Video Card at AMDmb
MSI FX5200-TDR128 at ExtremeOC
MSI FX5200-TDR128 at Viper Lair
MSI GeForce FX 5600 at VR-Zone
Prolink PlayTV USB 2.0 TV Tuner/Capture Card at TweakTown
XFX GeForce4 Ti 4800-SE at Hexus

Monitors:
Samsung Syncmaster 191N 19" LCD Monitor at GideonTech

Storage:
Iomega External USB 2.0 52x24x52x CD-RW at HWZ

Cooling:
Thermalright SLK-800-U CPU COoler at 3DVelocity
Thermaltake Volcano9 Coolmod at GruntvillE
Zalman ZM80A-HP Heat Pipe GPU Cooler at Nordic Hardware
Koolance Exos Watercooling Kit at Mad Shrimps
Swiftech H20-8500 Series Liquid Cooling Kit at Monster Hardware

Memory:
TwinMOS and Buffalo Ram at Tomshardware

Case:
Cooler Master ATC 220B Aluminum Case at OCAddiction
Maxtop CSF-1630B Server Case at ClubOC
Chenbro PC6112222 Case at 3DExtreme
clearcase from ClearPc at R&B

Misc:
MouseCaster FM Radio Mouse at ExtensionTech
GoGoEgg Flash Card Reader at Digit-Life
Zippy EL-610 Mini Keyboard at Mikhailtech
Thermaltake 480w PSU at A1 Electronics
Samsung ML-1750 Laser Printer at Envy News



Just a reminder that we have OCAU merchandise at PlusCorp still. Tshirts, case badges and stickers, just the thing for the geek in your life - especially if the geek in your life is you. :)




Early Monday Morning (7 Comments) (link)
Monday, 12-May-2003 01:39:44 (GMT +10) - by Agg


The old "million monkeys on a million typewriters will produce Shakespeare" line has been given a very small-scale test in the UK, with 6 monkeys taking a week to produce a lot of S's - thanks nik.

From Paul: I was nosing around on shuttles website and noticed this. It looks to be a newer version of the SN41G2 barebones SFF system, but with support for the upcoming 200mhz Barton cores. I googled a bit but couldn't find any reference to it anywhere else. If it has S.A.T.A as well it'll be a good thing, I can imagine trying to jam an IDE cable into one of them must be like some chinese orture for big clumsy chumps like me. It professes to use the Nvidia Nforce2 Ultra chipset, but none of the detail specs on their page are working yet.

Dan spent some time playing with Thermaltake's Volcano 11+ Xaser Edition and some Arctic Silver Ceramique thermal compound... get his opinion here.

HardOCP have been busy over the last few days, with reviews of the ASUS P4C800 Deluxe P4 motherboard and Tyan's Radeon 9500 Pro video card. They also whacked a P4 2.4C into an IC7 for some overclocking shenanigans.

Richie has collected a load of Half-Life 2 info together on his webpage. IGN have a first looks article, thanks Neo.

MadShrimps overclocked a 3GHz P4 in a Prometeia system.

This article from ViperLair will hit pretty close to home with a lot of Australians... it's about bandwidth capping by ISP's, which has started to appear in the USA recently.

OCModShop checked out a Zalman 400A-APF PSU, while BoPC looked at a 300W Startech unit.

I think we've seen this before, but the government has a map of toilets around the country. Handy if you can't find a toilet, only net cafes. :)

HardwareAccelerated have an article explaining all the buzzwords associated with modern graphics.

DVHardware think you should fix your old fans instead of chucking them out.

More of the usual whacky stuff in the latest issue of ZZZ Online.



Baker sent along a quick look at a handy little gadget. It's an IR remote, just the thing for DVD PC's or similar...



Click for the review!





NVIDIA's next graphics chip, NV35, looms closer - but remains elusive. There was a review of a GeForce FX 5900 Ultra card here thanks Stmok, but it was removed apparently at NVIDIA's request. I wouldn't jump to any conclusions about that just yet, I imagine they are waiting for their big launch for the best marketing effect. Jaani spotted a picture which claims to be of an NV35 card, and news that the technology will be demoed at E3 for a launch next week. E3 seems a likely launch opportunity for them.

Xbit have a couple of articles, one comparing USB1.1 and USB2 flash drives and another about Moore's Law and how it relates to the computer industry.

Microsoft may be up for a $2 Trillion fine for a recent lapse in security. Seems unlikely, but who knows. Meanwhile, they're being sued, along with BestBuy, for an alleged Net Scam, thanks Migishu.

OCPrices have compared thermal pastes.

A bit off-topic, but there's some handy tips in an article Soc spotted... learned a few things myself from that one.

Anthrox spotted this interesting DirectX 9.0 demo... some impressive screenshots.

DVHardware have a guide to applying and applique to your case window.

Dan has more letters, with answers in his inimitable style.

HardwareAnalysis have part 3 of their semiconductor physics article posted. I think I missed the first 2 parts.

Ownt has a quick look at a serious subwoofer setup.

Need to really impress your special lady on your special day? Consider this inflatable church... very classy, thanks jimbow.




Saturday Night Reviews (0 Comments) (link)
Saturday, 10-May-2003 23:50:24 (GMT +10) - by Agg


Video Cards:
Tyan Tacheon G9500 Pro Radeon card on HotHardware.
Gigabyte Maya II Radeon 9200 VIVO on HWZ.
Leadtek A340THD GeForce FX 5200 on OCNZ.
ATI All-In-Wonder 9000 Pro (video review) on 3DGameMan.
Radeon 9800 Pro on PCHardware.

Cases:
Maxtop CSX-7788KEB-WIN on EnvyNews.
Antec Plusview 1000AMG on AusModders.

Mice & Pads:
Mouse Bungee on GeekShelter, our review here.
Ratpad GS on SubZeroTech.

Cooling:
Spire Easy Stream CPU cooler on SubZeroTech.
pcToys AeroMaxx TMD socketA cooler on PimpRig.

PSU:
Enermax 460W Shielded PSU on IPKonfig.
Enlight 420W Dual Fan PSU on BigBruin.

Misc:
Game Boy Advance SP on Bjorn3D.
Intel P4 2.4C 800MHz FSB CPU on OCTools.
Chaintech 9CJS Canterwood P4 DDR on TweakTown.
Samsung Msys-835P Digital Multifunction Printer on TweakNews.
LapWorks 4-port USB hub and USB light on ModSynergy.
FrontX X-Tension port relocator on TheTechLounge.
EasyHardDisk Portable 30GB drive on ModSynergy.




Genome @ Home and Muon Stuff (2 Comments) (link)
Saturday, 10-May-2003 18:02:28 (GMT +10) - by Agg


From Grimwolge: Congratulations to everyone who ran G@H Classic. Even with the handful of "classic genomers" it looks as though the project will end with the OCAU Team on almost 750,000 points. Quite an achievement and lots of excellent competition in its day. Stats here. Thanks must go to all the team members who ran the console and did their part for the G@H Project, most of whom will have moved onto other distributed processing projects.

Faced with the problem of having to decide on a new distributed project, stuck on dialup for quite some time and having given literally 2 years of my time to Genoming and a few additional months to SETI, my choice was to change to the Muon project. Without going to deeply into Muon here, it should be worth your time having a look here or alternatively a rundown on the purpose and goals of muon, check here on ZeonX's site. Muon will cache results, workunit uploads are very minimal - and there is a background mode (invisible to the average user), command line mode (for those who like the classic feel) and GUI mode (great for seeing exactly what its all about). This is what has attracted my attention mainly.

ZeonX has created a page dedicated entirely to Muon which can be found here. It is frequently updated. Detailed [OCAU] statistics can be found here and here. It would be great to see a few more boxes behind this particular project. There already seems to be some competition hotting up there.

If you are looking for something to do with your spare CPU cycles, consider also OCAU's SETI@Home (looking for alien life), RC5-72 (breaking a code) or Folding@Home (researching cures for diseases) teams. It's winter, perfect conditions for making your PC do some work for a change!



Sydney's annual PC show was on again this week. I wandered along and took a few pics and notes, as usual...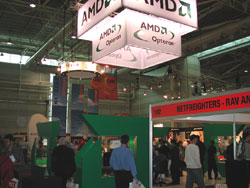 Click for the article!





Fancy yourself as a top hacker? Want to use your powers for good? The NSW Police are now hiring, thanks MoJoMaN.

PapaSurf reports on a net-connected toilet: This is too funny; I thought it was a joke. It will be called the iLoo. Does this mean they will keep a "log" of our activities? Will we be penalized if we forget to flush the cache?

Digit-Life have some info on Centrino-based notebooks from Asus, as well as some Wi-LAN Broadband Wireless stuff.

NecronoMz has a huge fan in his case, but it turned out looking pretty good.

A little more NV35 info over on VR-Zone, thanks Pier.

R&B have a guide to sleeving your cables.

From Darkness: There has been a new Animatrix episode released. Animatrix: The Second Renaissance Part 2. It's quite good. Very gory in some parts, so a thumbs up from me. :) But a hefty 164mb for those of you on dialup. Download from GameArena here or AusGamers here.

PapaSurf also spotted this dual Opteron motherboard on Akiba.

Ever wanted to form a band? Well, now you can! In a sad, online, kinda way... thanks Moose.

Reviews:
Noise Isolator 3.5" Fan Controller on PimpRig.
Samsung 757MB 17" CRT screen on ExtensionTech.
Thermalright SLK-800u socket cooler on OCrCafe.
Maxtop CSX-7788KEB-Win case on 3DVelocity.
Tyan Tachyon 9500 Pro video card on TweakTown.
Intel 3.0C 800MHz FSB P4 CPU on OCAddiction.
Zalman ZM400A-APF 400W PSU on EnvyNews.
120mm Quad LED Fans on GruntVille.
Eluminx Illuminated Keyboard on FuriousTech.
Sapphire Atlantis Radeon 9800 Pro video card on Beyond3D.
Philips LC6231 Projector on DesignTechnica.
GameBoy Advance SP on TomsHardware, thanks tifkat.
MSI FX5200-TDR128 GeForce FX video card on PCStats.
CoolerMaster ATC-201B SXT aluminium case on PCStats.



To start the day, here is the best piece of news I have read for a while. "Spammer gets hammered with $25m damages judgment". Its about time. Now they just have to get some money out of him, which may prove to be as difficult as a spammer getting money out of me!

Jason from DataFast sent this in. "I received an email this morning from "Microsoft Internet Public Assistance" with subject "Newest Network Security Patch". It contains an attachment which is almost certainly a virus/trojan. I would like to warn everyone that if they receive this email to delete it straight away". Thanks for the warning.

OldMX noticed that Microsoft has made the DirectX 9.0A redistribution kit available for download(32Mb). It was there a few weeks ago then Microsoft took it down. Now its back!

eva2000 has been busy. "My USB2 6in1 card reader arrived today so decided to do some benchies of my compact flash cards". A lot of interesting results in this forum thread.

Dan checks out VIA's Ezra-T 1GHz C3 CPU and puts it through its paces.

An article all about a new TFT screen technology, a "flexible electronic ink display just three times the width of a human hair". Bendy screens. Read more on Scientific American.

Tom's Hardware have an article covering AMD's official release of the Opteron CPU. They discuss HyperTransport and the integration of the memory bus into the CPU itself. Full article Here. Thanks Migishu.

Digit-Life have all the Techs and Specs of Sony's new BDZ-S77 Blu-ray Recorder. I can't wait to read some proper reviews when this finally hits the local shelves.

Alex notes that there are a couple of new powertoys for XP. These add video screensaver capabilities and auto-desktop changers. Yay!

The big decision...get a new girlfriend or get a new computer! Why not have both. Well, almost. Thanks Peter.

Chris tells us that Foxtel is planning a major upgrade which will make a total of 100 channels. All digital.

I like Go-Carts. I like fast Go-Carts. How about a Go-Cart with a wankel, intercoiller, 500 horsepowers all "without making slipping the tires with the start". A 290KPH Go-Cart! From SnRuB.




Thursday Reviews (1 Comments) (link)
Thursday, 8-May-2003 12:11:17 (GMT +10) - by Agg


Motherboards:
AOpen AX4C Max i875P P4 DDR on HardWareZone.
Soltek SL-75FRN2-L nForce2 socketA DDR on LegionHardware.
MSI 875P Neo-FISR2 P4 DDR on TechSeekers.

Video Cards:
ATI All-In-Wonder 9000 Pro on ExplosiveLabs.
NVIDIA GeForce FX 5600 on Tech-Report.
ATI All-In-Wonder 9700 Pro on 3DXtreme.

Cases:
Xoxide Z40 Insight on OCrCafe.
Xoxide Z40 Insight (new model) on XtremePCTech.
Enermax CS-5866 on OCModShop.
SunBeam Clear Acrylic Case on VoidedWarranty.
Antec LANBoy on ViperLair.

Cooling:
Chip-Con Prometeia vapour phase-change cooling system on OCTools.
Chip-Con Prometeia cooling system (part 2) on DWPG.
Sunbeam Rheobus fan controller on 8Balls.
Noise Isolator Fan Controller on OverclockersClub.
Dynatron DC1206BM-O CPU cooler on XtremeTek.

PSU:
SilenX 14dBA 400W on SilentPCReview.
Zalman Ultra-Quiet 400W on DeviantPC.
Antec TrueControl 550W on DataFuse.

Misc:
Phones Broadband Neverwire 14 phoneline networking on GeekShelter.
Auravision eluminX sapphire keyboard on MonkeyReview.
Plextor PX-504A DVD+R/RW drive on MikhailTech.
CrazyPC Green Cold Cathode case lighting on Bjorn3D.
Pyramat 300 Interactive Gaming Mat on TweakTown.



Quick news roundup...

A couple of things from eDust. Bill Gates has had a few things to say about Palladium. More here from Mark. Nasty stuff! Also, Fingerprint scanners to be used on notebooks and PDAs, and a short article on AMD's Athlon XP 3200+ featuring a 400MHz FSB.

CyberCPU have rebuilt their Case mod gallery and included some broken hardware. It makes you wonder just what people try and do with their components.

Kildare wants to remind us that the fourth Battle@Matchrix has been announced. OCAU Vs Atomic! Both teams are locked at one match each so this could be the big one. I kind of feel sorry for the Atomic team, but you have to give them some points for turning up. :)

If you really want to benchmark your box, Benchem'All will help you do the job. Save your benchies from many popular test programs and games then compare results.

GamersHell have the announcement from Electronic Arts that The Sims 2 is in the works. Thanks Nigel.

Spode's Abode have a Wireless Networking Guide aimed at first timers...networking that is.

Stuck in the Dog Box? These boxes look the part. Love the green one.

This game kept me busy for over an hour. Its simple yet not. Disinfect The Memory Core. (I hate this game! It drove me insane for ages, yet I can't stop! Play at your peril!! - Sciby)



Here's a PC I can relate to. No great focus on cooling the CPU, video card etc.. but it will keep a couple of cans of beer nice and cool for you, using a peltier, heatsink and fan. :)



Click for the PCDB entry!


There's more info on jimmythekidd's website.



Tuesday Reviews.

Systems/Laptops/PDAs:
Dell Latitude D600 (Pentium-M) Notebook at HWZ
Sager NP5670 3.06GHz Laptop at GotApex
Handspring Treo 270 PDA at SLCentral
IWILL XP4-G SFF PC at Sudhian

Motherboards:
Chaintech 9CJS Zenith 875P at Extreme Overclocking
Abit BH7 i845 at OCPrices

Graphics Cards:
ATi Radeon 9500 Pro at Viper Lair
MSI GeForce FX 5200 at VR-Zone
Inno3D Tornado GeForce FX 5800 at VR-Zone
Hercules 3D Prophet All-In-Wonder 9000 PRO at OCOnline
Gainward Ultra/750-8X XP Golden Sample at PC Hardware Aust

Case/Modding:
Maxtop CSX-147KBF-WIN Case at 3DVelocity
Raidmax's 12" CCFL at Mikhailtech
Crazy PC EL Applique at Pimp Rig
Xoxide 6 LED Fan at ASE Labs

Misc:
Arctic Silver - Ceramique Thermal Paste at Voided Warranty
Cremax Mobile Hard Drive Rack Video Review at 3DGameMan
Fuji S602 Zoom Digital Camera at SLCentral
Senfu Tech Station at Explosive Labs
EluminiX Illuminated Keyboard at 3DXtreme



I'm not really into glowy PC's as a general rule, but this PC from "moron" turned out looking pretty good. Hendot's custom watercooled setup is interesting, too.

Today's internet phenomenon seems to be the starwars kid. I didn't originally want to link to it, but jimx forced me to. :) It is pretty funny and, although there's some cruel stuff being said at his expense, he comes off looking kinda cool in the remixed version. Besides, not everyone gets the chance to become an internet celebrity. :)

Sniper spotted some info on Nvidia's NV35 graphics chip on TheInq.

Win yourself some RAM over on OCAddiction.

G3D compared two cpu coolers from Zalman and Thermalright.

ledz just found out about liquid nitrogen cooling :) and sent along some very chilly links on muropaketti and Bunny's page. We haven't heard from Bunny for a while, but he's being doing crazy stuff with PC's over in Japan for years now.

Interesting Forum Threads:
RAPTOR benched with the new Intel ICH5-R in Storage and Backup.
Barton 2500+ Review in AMD Hardware.
240MHz FSB with my 8RDA+ Rev 1.1 & XP2100+ T-bred! in AMD Hardware.
Commodore Keyfobs in Motoring.
My VR Commodore Boot Install in Motoring.

Reviews:
Albatron Ti4800SE video card on SweModders.
ABIT IC7-G i875P P4 DDR motherboard on HardOCP.
Sapphire Radeon 9800 Pro video card on VR-Zone.
Maze 3 Power Kit watercooling on XtremeTek.
Clevo D470W 17 notebook on TheTechZone.
ABIT IC7-G i875P P4 DDR motherboard on OCAddiction.
Zalman CNPS 7000-Cu heatsink on EnvyNews.
ByteCC Zippy EL-610 glowing keyboard on EnvyNews.
Vented Side Panel with Fan for Antec cases on VyW.
iRock 530 MP3 player on DesignTechnica.
Muffled Computing PC Silencer on SubZeroTech.
Koolance Exos watercooling system on NexusHardware.




Folding Giveaway3- Thunder Down Under (3 Comments) (link)
Monday, 5-May-2003 12:54:06 (GMT +10) - by Mred32


The Folding Giveaway started today with the first weeks prizes donated by Radiical Computing and Toranaguy. We have as the main prize, a Spire FalconRock II Cooler and 256 MB Samsung PC2700 with a consolation prize of a 4m CAT5 network cable. To enter the Giveaway all you need to do is start folding for the Overclockers Australia Folding Team and nominate yourself in This Thread in the DC Forum. We have had 391 members nominate for the Giveaway already, we need as many people as possible to join the team and start folding and help with finding cures to diseases and cancer. The OCAU Team is currently in 2nd place in the rankings and we need a boost from new members to help us push for first place again and knock the [H]ardOCP team off top spot. More details about the Giveaway can be found Here.



Some reviews to start the new week...

Motherboards:
Gigabyte's 8IPE1000 i865PE Springdale Motherboard Preview at Finclockers
Gigabyte GA-6OXE (815EP chipset) Motherboard at Hardware Central
Soltek SL-FRN2-L Motherboard at ModSynergy

Storage:
Maxtor DiamondMax Plus 9 Hard Drive at SLCentral
ASUS DRW-0402P DVD-RW Drive at Legion Hardware

Video Cards:
MSI FX5800 Ultra-TD8X Video Card at Digit-Life

Air Cooling:
Coolermaster's Aero 7 HSF at OCWarehouse
Fortistech C104L HSF at R&B
TOCOOL Novasonic HSF at XPC TECH

Modding:
Lian-Li PC-6010 Aluminium Case with Aquarium at Techware Labs
Coolermaster Neon LED Fan at MHW
AMK Computers Colour Changing LED at VH

Misc:
Logitech Cordless Comfort Duo Mouse & Keyboard at SLCentral
Azio MP306 Digital Media Player at GeekShelter
PCXmods X-Trac Zoom Mouse Surface at ModSynergy




Sunday Midnightish (8 Comments) (link)
Monday, 5-May-2003 00:14:00 (GMT +10) - by Agg


CeBIT 2003, a PC and technology exhibition, is on in Sydney this week. I'll be heading down there at some point to take some pics, as I did in 2001 and 2002, of whatever catches my eye. Not sure what day I'll be there, but I'll be in an OCAU tshirt - say hi if you spot me. :)

VoidedWarranty have a couple of quick articles for your reading pleasure: a guide to cleaning your heatsink to prevent dust causing heat problems, and changing your PSU fan to a more fancy one.

Once you've cut your teeth on those, you could try GideonTech's guide to making an illuminated hard drive window. Cool mod, but don't do it to a drive full of important data!

From SpeedRacer: With the release of the new iPod, I thought it best that we dont overlook its cometitor from Creative, who have just released a 60Gb!! version of their new Zen portable mp3 player. Only $400US (about what I paid for my original jukebox 2 years ago), it looks like the hard drive based market is certainly hotting up!

Also attracting some attention is Apple's new "download a song for 99c" music service.. some info here and here. 250,000 songs downloaded in the first day!

Bern spotted GinGin64, a technology preview of RedHat's offering on the AMD64 platform.

WinHQ have part one of an article on building a webserver, focusing on the hardware side of things. If you're interested, you can see the hardware that OCAU uses: our current server's pics and specs and the pics and specs of our previous server. People often ask me if our next server will use AMD or Intel CPU's and I can honestly say I don't know. With no particular bias I'll pick whoever gives me the best combination of bang for buck and stability on the day. Fortunately our current server is, for the most part, coping fine - so that's one decision I don't have to make yet.

James spotted more info on TheReg about Palladium possibly shipping with Longhorn. What are those buzzwords? Microsoft's digital right's management system possibly shipping with their next generation operating system. The problem is that pretty much everyone other than Microsoft seems to think that Palladium isn't such a good idea.

Digital-Daily have a roundup of KT400 motherboards, a slightly older chipset for socketA DDR nowadays, with nForce2 and more recently KT400A around, but still popular.

Rogue sent in today's flash timewaster - it's Traffic Jam, quite an addictive little sliding-blocks puzzle game.




Sunday Morning Reviews (2 Comments) (link)
Sunday, 4-May-2003 02:39:54 (GMT +10) - by Agg


Looks like the categorised review posts are pretty popular, so here's the latest:

Storage:
Western Digital Raptor WD360GD 10k-rpm HDD on HWZ.
Icy Dock USB2 internal drive rack on OCrCafe.

Motherboards:
Soltek SL-75FRN2-L nForce2-based socketA DDR motherboard on HardOCP.
Gigabyte 7VAXP-A Ultra KT400A socketA DDR motherboard on TweakTown.
ABIT NF7 2.0 nForce2 socketA DDR (at 400MHz FSB) on XbitLabs.

Video Cards:
Gainward Ultra/800 Plus GeForce FX 5800 Ultra on OCNZ.
Inno3D GF FX 5800 (updated review) on OCrCafe.
Leadtek WinFast A300 Ultra MyVIVO GeForce FX 5800 Ultra on Digit-Life.

Speakers:
Creative I-rigue 2.1 3300 on AthlonXP.
Harman/Kardon Elegant 2.1 speakers on Digit-Life.

Cooling:
OCZ Gladiator II CPU cooler on OCPrices.
SubZero4G TEC-based CPU cooler (video review) on 3DGameMan.
Floppy-Drive Rheobus fan controller on PC-Arena.

Misc:
FriendlyNET USB Hub FB114 on Gamershell.
Sony MZ-E10 MiniDisc player on HardWareZone.
Ultra Products PC3200 & PC3500 DDR memory on ClubOC.
Bitspower Crystal Lightning and UV Sensitive Fans on ARP.



Andrew spotted different AthlonXP packaging which may interfere with changing multipliers.. more info here on TheInq, thanks.. err, string-of-numbers person. Hopefully some smart bunny works out a simple way to bypass it again.

Another nicely-finished watercooled system in what looks like a server case from C.D, while another pet suffers the indignity of being owned by a case modder. I don't think we should be encouraging this kind of thing. :)

Eluial says: Behold Micrsoft's latest bug! With just 4 lines of plain HTML you too can crash IE 4 and up!

Xbit have some info on remarked athlons, thanks Sniper.

Dan has more letters about stuff.

NordicHardware have an nForce2 motherboard roundup.

Interesting Forum Threads:
P4 3000/3060 Overclocking Results in Intel Hardware.
The Benelli Tornado has arrived (PICS) in Motoring.
Interesting Google Feature: site in Networking and Internet.
Finally cracked 3GHz! in AMD Hardware.
Vietcong: review and thoughts in Games.
Land Speed Record Broken! in Media & Current Events.
Deathstar Autopsy in Overclocking & Hardware.
My review of the Motorola A830 3g fone in Other Toys.



If you're after inspiration for your own watercooled system, look no further than the PCDB. Lots of info and pics in these recently-updated entries from zteve, Stoodoo and RSM. I wonder if this is becoming a trend, too..

Billme noticed Soltek bragging about their P4 motherboards doing 1200MHz FSB.. which is pretty impressive.

Bench-House compared two nForce2 IGP (onboard graphics version) motherboards for socketA, from MSI and EPoX. They also compared three CDRW drives from LiteOn, MSI and Teac. While we're rounding up roundups, Digit-life have two DVD-ROM/CD-R/RW drives compared and two Canterwood motherboards are the go on HotHardware.

On to the Buyers Guides, with SharkyExtreme and Aselabs offering their opinions.

TweakTown have a guide to gizmos, gadgets and goodies.. groovy.

From Iroquois: Thought I would let readers know that the new version of Slackwere-live CD has been released. It's much like Knoppix, in that in runs Linux straight from the CD. Great for those wanting to try Linux but not disrupt their system, as no actual installation is required. It's a 200MB download. Also, an Australian brothel hits the stock exchange, and does well.

HardCoreWare want to tell us all about Serial ATA, by comparing SATA and PATA versions of the same drive.

MadShimps prove they're mad, by turning a watercooled case into an aircooled one.

Today's, Shockwave timewaster is actually a small collection of games from Gavin.



Haven't had any feedback on whether you guys like this kind of "categorised reviews" post or if you prefer them just clumped on the end of a normal post. Let me know, click the Comments link.

Air Cooling:
Evercool ND19715CA copper-core heatsink on FrostyTech.
Spire Fridge Rock CPU cooler on SubZeroTech.
CoolerMaster Cooldrive HDD cooler on BurnOutPC.
Zalman CNPS7000-CU and CNPS7000-ALCU CPU coolers (video review) on 3DGameMan.
Thermo MAXX 80mm fan on OCIA.
Eumax B605-01 copper heatsink on FrostyTech.
IcyDock Bodyguard HDD cooler on OCrCafe.
Badong S-60 CPU Cooling Wizard CPU cooler on ARSTechnica.
Glacial Tech Igloo 2500 Pro AthlonXP heastink on A1-Electronics.

Water Cooling:
Asetek WaterChill kit on Hexus.
Swiftech H20-8500 kit on ViperLair.
Ahanix Iceberg 1 kit on LittleWhiteDog.

Motherboards:
ASRock K78SX SiS746FX based socketA DDR on TechSeekers.
Abit BH7 i845PE-based P4 DDR motherboard on ClubOC.
Gigabyte GA-8PE800 Ultra i845PE P4 DDR motherboard on MBReview.

Video Cards:
FIC A95P Radeon 9500 Pro video card on EnvyNews.
ATI Radeon 9800 Pro on OCAddiction.
Sapphire Radeon 9700 Pro All-In-Wonder on AMDWorld.
Powercolor Xabre 600 Pro on TechWareLabs.

Storage:
Western Digital WD2000BB 200GB hard drive on 3DVelocity.
DiskOnKey Pro USB drive on RBMods.
Maxtor DiamondMax Plus 9 200GB drive on HardAvenue.

Modding:
Lamps Cold Cathode Fan Grill on DVHardware.
Thermaltake Xview case accessory from OCClub.
FlexiGlow Bubble Light Cold Cathode case lighting on SubZeroTech.

Misc:
ASUS Pundit barebones system on SFFTech.
Xitel Pro-Hifi-Link USB audio on FutureLooks.
VPR Matrix 200A5 laptop on DesignTechnica.
Samsung SyncMaster 241MP LCD screen on MonkeyReview.
Corsair XMS3500C2 DDR memory on GruntVille.
PCMods X-Trak mousepad on ViperLair.
Maxtop CSX-7788KEB-Win case on OCPrices.




PCRange 3.5" USB 2.0 External Case (25 Comments) (link)
Friday, 2-May-2003 00:16:27 (GMT +10) - by Agg


I've checked out this new gadget from PCRange. It's an external enclosure that lets you connect an IDE hard drive to a USB port - and it supports USB2. Just the thing for lugging around gigs of data, especially when you don't have room for another hard drive in your PC or laptop.. but is it quick enough, even with USB2?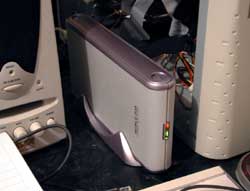 Click for the review!






Thursday Afternoon Quickie (4 Comments) (link)
Thursday, 1-May-2003 16:05:20 (GMT +10) - by Agg


Nice watercooled systems from Skymaster and Sabot68. t00l's glowy PC turned out pretty cool, while Josh@IPTech gives us a look at the workings of an older Mac tower.

Bit of an odd competition being run by ABIT.. if you already have one of their BH7, IC7 or IC7-G motherboards, you could win some other cool stuff. Not sure if it's open to international entries or not, it doesn't say. Closer to home, Sabre Computers have a slogan contest running.

Authorities (in the US at least) are starting to take online auction fraud pretty seriously.. they're annoyed about fraudulent spams too.

AMD's AthlonXP 3200+ is coming soon with 400MHz FSB, say C|Net.

There's a new version of Motherboard Monitor, for checkin' your temps and fan speeds and wotnot.

There's also a new version of Nero Burning ROM (AusGamers mirror), a popular CD-burning program.

The RIAA is now sending IM spam to file sharers, thanks thetron.. hmm, I guess two wrongs DO make a right, if you're a big tuff corporation.



I've updated the Article and Review Archive with some things from the past few weeks.. check them out if you missed them first time around:

MS Wireless Optical Desktop for Bluetooth keyboard+mouse review by James Rogers.
AOpen H340A Case review by Wild.
Nokia 6610 mobile phone review by Geremy AKA Herro.
LG Burner 48X-52X Flash info from Cozzmo.
Abit NF7 meets Granite Bay review/comparo by Chainbolt.
A4-Tech RP-648 Wireless Optical Mouse review by StratosFeaR.
Antec Sonata case review by Rod M.



There is a new Distributed Computing project getting underway. Those of you who have been donating your idle computer time to projects such as Folding@Home or SETI@Home will be familiar with the idea. This time, the target is SARS, with the ultimate goal of finding a cure or vaccine. The client called D2OL was initially set up to examine childhood diseases but have since been converted to the SARS project. It is available for the Windows, Linux, Mac and Solaris platforms. The client can be downloaded from the D2OL site and you will also find a link to the D2OL forums. Sounds like a worthy project to me. Thanks to J.Cooper for the heads-up.

PapaSmurf found this article, "Manufacturers use Intel compilers to make AMD Opterons fly". Full article here.

Theres word that forum member Vipster has been making jukeboxes, you might have seen one of them on Rove Live the other night. He has a forum thread all about them. Nice work.

Tom's been playing with watercooling again. This time, a watercooled gForce FX is the victim. Nice job all round. While you're there, have a read about the Western Digital Raptor SATA 10,000rpm Hard Drive. Thanks Daniel.

TechSpot have a Radeon 9x00 tweak guide for the ATI users.

The people who brought you Arctic Silver thermal goop have a new product, called Arctic Silver Ceramique. Non-conductive this time.

This is supposed to be an awesome short movie called Dunkirk based on WW2 Online, or so kirstar tells me, but as a 100Mb download I am yet to see it. I'll get around to later in the day.

This item, still on the topic of movies, AusGamers have a mirror of the recently released movies showcasing the visuals from the upcoming PC version of Grand Theft Auto: Vice City. Find them here(49Mb). GameArena mirror here, thanks grill.

They say you never know what will turn up on Ebay next. How about a Date with 4 geeks. A bit hard to knock that offer back! From Qaz.

More news later in the day!



One day we're going to run out of new and interesting things to squeeze PC's into. The latest is a car audio amp, which Pixel9 has dubbed The Heatsink PC. The PCDB entry has pics of assembly.. it's a tight fit!



Click for the PCDB entry!
---
Advertisement:


All original content copyright James Rolfe.
All rights reserved. No reproduction allowed without written permission.
Interested in advertising on OCAU? Contact us for info.