June 2003

We reviewed Western Digital's Raptor here a little while ago and were impressed by the speed of this new 10,000rpm SATA hard drive. Chainbolt has gone one further by hooking up two and four of these drives in a RAID configuration. Storage fetishists rejoice!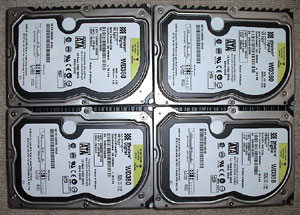 Click for Part 2!





Voodoo sent in this very funny site called "Things My Girlfriend And I Have Argued About". It's a huge read, but funny stuff.. and it's Monday, so you weren't planning on doing any work anyway.

Another bizarre site is Wheelbarrow Freestyle, which is pretty much what it sounds like: a pseudo-extreme sport involving wheelbarrows.

BlueSmurf's The Imperator project site has been updated with some more construction photos.

Darkness spotted a new Google toolbar with built-in popup blocker. I use the old one all the time, will have to check this one out.

CyberCPU have an article about AGP aperture size and what it can do for you.

Digital-Daily have an interview with epox about their motherboard business and other plans.

From StormCyko: Americans now have a registry to prevent telemarketers from pestering them over the phone. If only we had one in Australia *sigh*.

Kerridwyn spotted someone going crazy for desktop space. Kryz found another person with the same idea, but for flight sims.

In case you missed it, there's a new version of Sandra out.. we've updated our mirror.

Interesting Forum Threads:
Overclockers saves lives in The Pub, thanks ma.
Pictures taken with mobile phones in Mobile Phones.
Indeed Northbridge Heatsink is hot! in Intel Hardware.
To all people thinking of playing with 240V in Modding & Electronics.
Wanna see how cold a Prometeia can get? in Extreme Cooling.
g0t cooling? in Modding & Electronics.
The "Soc"'s guide to painting motorcycles in Motoring.
I finally finished my folding farm in Team OCAU.



Before we hit the reviews, congratulations go out to forums member Lujan, who became a daddy on Friday evening! I wonder if he's slept yet?

OK, on with the reviews!

Motherboards:
ECS Photon PF1 i865-based P4 DDR on planet savage.
Canterwood i875P roundup on Explosive Labs.
Chaintech Zenith 9CJS i875P-based P4 DDR on The Tech Report.
Abit NF7-S v2.0 nForce2 Ultra 400 on OCPrices.
Shuttle AN35N nForce2 Ultra 400 board on HEXUS.net.
Albatron KM18G PRO nForce2 IGP MicroATX on X-bit labs.
Asus SK8N nForce3 Pro150 with an Opteron 240 on hARDWAREMANIA.
DFI Lan Party 875 PRO on SubZeroTech.
EPoX EP-4PCA3+ i875P-based P4 DDR on HardwareZone.

Video Cards:
MSI GeForce FX5900 on HEXUS.net.
ATI All-In-Wonder 9000 Pro on Viper Lair.
Albatron GeForce FX5200 Ultra on Overclocker Cafe.
Albatron GeForce FX5600 EQ on ClubOC.
Gigacube ATI R9600 Pro on Overclockers New Zealand.

Cooling:
Vantec Iceberg 4 Premium VGA Cooling Kit on Computer Critics.
Thermalright SLK-700 HSF on OcPrices.
Aerocool Golden Crown and Deep Impact HSFs on Amdmb.com.
Corsair HydroCool 200 Water Cooling Kit on TweakTown.
CoolerMaster Aero 7 HSF on Overclock Intelligence Agency.
CoolerMaster Aero 7 HSF video review on 3dGameMan.
Spire FalconRock II Copper Core Heatsink on FrostyTech.

Misc:
Shuttle SN45G nForce2 Ultra 400-based XPC on legionhardware.
Steelpad 4S Aluminium mousepad and Cord Holder on GruntvillE.
PC Toys System Maxx Multi-function Panel on I am Not A Geek (really).
Lamps Electronics Blue CCFL Spiral Fan Grill on Extensiontech.
ECS Excel G550 Mobile P4 Notebook on TweakTown.



To kick off our Saturday afternoon, Hexus.net preview a spanking new EPoX KT600 board, the 8KRA2+. KT600 is the evolution of KT400A, and the article compares it to NForce2 Ultra 400. Will KT600 give VIA the edge? It looks like early days, but some interesting results.

The Modfathers have written a guide for those budding Picassos in an article they've called "Painting 101" ... hmmm, they seem to like red.

Envy News have had a look at the Thermaltake Xaser Silent Purepower 480 PSU (phew!)

Dan has reviewed a handy bit of plastic with a spring in it, the bookgem, and answers lots of letters in letters column #50.

Some PC silencing happening over at 3dvelocity. The end result has more fins than a Jaws convention, but quiet = good. I wouldn't mind removing a bit more noise from this room ......

OCAddiction have compared the GeForceFX 5900 Ultra to a Radeon 9800 Pro in a shootout of the hideously priced graphics cards.

X-bit labs reveal an AMD Athlon 64 performance rating formula. Thanks ledz.

Foxtel are considering bringing TechTV to their network, according to this article. Yay, another reason not to go outside .... thanks thetron

Bjorn3d have checked out a pretty cool little LED flashlight (torch for us Aussies). Am I the only one who starts humming ABBA songs whenever I go to that site? Hmmm, maybe I'm showing my age.

Finally for this afternoon, Mitch01 is organising a dyno day in Sydney, for all OCAU revheads. Open to all 2WD vehicles, both RWD and FWD. Head along for a meet & greet, with a BBQ and prizes on offer! Check out this forum thread for more information.




Win2k SP4 released, while NT4 approaches EOL (1 Comments) (link)
Saturday, 28-June-2003 13:54:47 (GMT +10) - by Agg


We're a little behind the 8 ball with this one, but Microsoft have released Service Pack 4 for Windows 2000. Let's hope the Curse Of The Even-Numbered Service Pack from the days of NT4 isn't still around. :) AusGamers have a mirror here, PlanetMirror's is here, or you can grab it from Microsoft here. Thanks to everyone who let us know.

Speaking of NT4, apparently Microsoft will stop extended support for it at the end of June. That's 3 days away! Customers' only option will be to go online to work out problems themselves. Until now, the Redmond, Wash., software maker has kept up its paid telephone, or "extended," support and has developed any needed security patches for the operating system. Some info about other versions of various operating systems in that article too.



Just a few quick bits for you...

"m" lets us know that Optus are dropping the price of their 5GB and 10GB plans on the 1st of August. Details on Whirlpool.

Two new celerons, 2.5Ghz and 2.6Ghz were unveiled by Intel the other day. More info at Intel. Thanks Goofy[HSK].

Ambush noticed that Hexus have a picture of the AMD "Thorton" (256k cache) CPU on their front page. I think thats a first look at this chip. Basically a Barton with half the cache.

ZZZ time again, and since its late, its an extra big issue this time.

AMDZone have a go at overclocking an Opteron. More work needs to be done with these me thinks. Thanks GBLS.

ridewitme tells us that the new catalyst drivers are out! Version 3.5 available here.

PC Hardware tested four SATA products from HighPoint Technologies and Promise Technology. They follow on with a discussion of the whole SATA situation. Find it here.

VR-Zone have selected several 865PE boards in the market that come equipped with PAT features and put them together for a roundup.

More news later in the day...



Motherboards:
Chaintech 9EJS1 i845PE-based P4 DDR on EnvyNews.
XFX Mach4 KT400-based socketA DDR on Gamershell.
VIA EPIA M-10000 1GHz Nehemiah mini-mobo and CPU on TechSeekers.
DFI "Lan Party" KT400A socketA DDR on PureOC.
Gigabyte GA-8PENXP i865PE-based P4 DDR on HardWareZone.
Gigabyte GA-6PENXP i865-based P4 DDR on SubZeroTech.

Video Cards:
Gainward GeForce FX 5900 on HardOCP.
Albatron GeForce FX 5600 on 3DNewsnet.
FIC Radeon 9200 on OCAddiction.
Albatron GeForceFX 5600P Turbo on Beyond3D.
NVIDIA GeForceFX 5600 Ultra reference card on 3DVelocity.
ATI Radeon 9600 Pro on Hexus.
Prolink GeForceFX 5600 256MB on Guru3D.
Inno3D Tornado GeForceFX 5600 Ultra on HardCoreWare.
Leadtek WinFast A310 Ultra TD MyVivo GeForce FX 5600 card on Bjorn3D.
Prolink GeForce FX 5600 Ultimate Golden Limited on PCStats.
Gigacube Radeon 9600 Pro Lite 128MB on OCNZ.

Storage:
Lite-On 52X CDROM drive on TweakersZone.
Mitsumi DVD+RW ReWriter 4x drive on Gamershell.
Maxtor DiamondMax Plus 9 with 80GB platters HDD on Xbit.
Maxtor DiamondMax Plus 9 160GB on ExtensionTech.

Power Supplies:
Achieve 500W on TheModFathers.
Zalman 400A-APF Ultra Quiet (video review) on 3DGameMan.
proSilence PCS350W Fanless on SilentPCReview.
Nexus NX-4000 400W on SilentPCReview.

Misc:
Gateway Media Center XL desktop PC on DesignTechnica.
Flexiglow Lazer Beam LEDs on Gruntville.
@xia Slimshot digicam on PCReviewUK.
Macally Retractable Cables on RBMods.
Iwill XP4-G Mini-PC on HotHardware.
Laptop Desk lap protector on TheTechZone.
Xoxide Blue UV Reactive Acrylic Case on ExtremeOC.
M-Audio Revolution 7.1 VIA Envy 24HT sound card on HotHardware.
OCZ EL 3200 Dual Channel Platinum DDR memory on ViperLair.
Kiss Technology DP-500 networkable DVD player on TechSeekers.
Samsung YEPP YP35H 128MB MP3 player on MonkeyReview.
OCZ Dominator 2cu socketA cooler on GruntVille.
Black Ice mousepad on Xtremods.




Thursday Afternoon (6 Comments) (link)
Thursday, 26-June-2003 16:54:50 (GMT +10) - by Agg


IBM have unveiled a dual Opteron server. On the Intel side of things, Dell announced details of their dual Itanium 2 or Madison server. If either company wants to send me one to replace our current server, email for my postal details. :)

The RIAA is apparently taking aim at file-sharers with a swathe of new lawsuits. More info here, thanks Adam. Movie trading can get you busted too.

Modding your PC and then tucking it under a desk seems a bit silly sometimes.. so OKITOKI modded his desk so he could see his PC better.

Iraqi spokesperson "Comical Ali" is not dead after all, apparently. I wonder if he'll release a statement denying his arrest and imprisonment. :)

TweakTown compared five power supplies, while Hexus compared KT400A motherboards.

Josh noticed a new Bill in SA maybe making open source mandatory for Government use.

The Blue Ice G4 is a pretty seriously nice mod, thanks Fodder.

The Senate enquiring into broadband competition that was initially knocked back has been approved in a slightly different form, thanks boky. Good news!

Dan checked out some knobby widgety things that go in your drive bays.

I've been meaning to write one of these articles for a while.. Aselabs have a building a PC guide.

MadShrimps have a wordy editorial about microprocessor burn-in and overclocking, I think. There's another one on ipKonfig on about bit economics and the net. My head hurts.

Sudhian have a guide to building a linux-based PVR using a shuttle box. That's a Personal Video Recorder, o'course.

Interesting Forum Threads:
Daytona USA Advanced Mode Tips: Fast Take Off in Games.
Sushi Rolls Tips + Tricks in Geek Food.
Hmm, I was wondering why my brakes never worked very well in Motoring.
Finally, absolutely no need for windows! in Other Operating Systems.
Windows 2000 SP4 is out in Windows Operating Systems.




SiSoft Sandra MAX3! (4 Comments) (link)
Thursday, 26-June-2003 12:08:31 (GMT +10) - by Agg


There's a whole new version of SiSoft's Sandra benchmarking and system information tool available. Sandra MAX3 brings more support and more benchmarks. Grab your free copy and get more info from our Sandra Mirror Page:



Click for more info and installer!





News coming thick and fast tonight!

We'll start this installment off with PimpRig (with their catchcry of "Smack Ya Rig Up!"). They're showing off some cooling fluid that they're going to submerge a PC into, PSU and all. Just a teaser at the moment, but it looks the goods. Not an entirely new concept, but one to watch.

HardwareLab have a brief (maybe concise is a better word) guide to setting up a basic network with linux and windows PCs.

Spode, of Spode's Abode ponders some alleged irregularities with benchmark scores and the Trident XP4 chipset as a followup to an earlier article. Interesting, there seem to be a lot of these kind of allegations floating around lately.

There seems to be some confusion over USB standards at the moment. Ernest sent this link, and I remember seeing some discussion of the same issue on ArsTechnica last week sometime (I think). You wouldn't think it would be too hard to settle on standards for something as seemingly simple as USB, but it seems marketing has ruled over sense.

New VIA Hyperion drivers are available, version 4.48. You can get them here. Thanks ledz.

Sudhian have an article up that they've called "The VIA Roller Coaster Part II: 2001-2003" (I presume there was a Part 1). Not a bad read. I think back to not-so-distant days when Intel completely dominated the PC scene, and realise how many benefits competition has delivered.

Want some serious (and I'm talking US$400 type serious) speakers for your PC? Futurelooks looked at the M-Audio Studiophile BX5 Reference Monitor Speakers - I'm guessing they also listened to them. Very nice little speakers, but perhaps a little out of my budget.

Still on a HiFi theme, Envy News have reviewed the Xitel Pro HiFi-Link, an external break-out box, which takes your PC's USB output and converts it to a digital audio output via coaxial or optical connectors and/or analog audio. It comes with some pretty serious cabling as well, something often neglected when looking at audio components. I'd probably have to string them from the ceiling though, to prevent something like this from happening again.

Last but not least, NordicHardware have published an Intel Canterwood (i875P) roundup, comparing 6 motherboards.




Wednesday Evening (8 Comments) (link)
Wednesday, 25-June-2003 19:45:07 (GMT +10) - by Agg


Ambush and a few others pointed out this article which questions Apple's claims about the performance of their new G5 PowerMacs. Slashdot have some coverage and opinions, of course, and there's some more info here. Apple's VP of Hardware has responded to the claims.

TheDDRZone have taken a quick look at a dual Opteron motherboard.

Microsoft are taking aim at spammers, on both a legal and technological front. "Like almost everyone, I receive a lot of spam every day, much of it offering to help me get out of debt or get rich quick," wrote Mr Gates. "It's ridiculous."

Eazyduzit sent in these 300GB HDD's from Maxtor. 5400rpm only, tho.

The proposed Australian Senate inquiry into broadband competition has been crushed.

Some more P4 3.2GHz review stragglers: AnandTech, TheTechZone, SimHQ and UKGamer.

VooDoo spotted this Geek Test.. I'm only 31.36095% geek, apparently. There must be some really geeky people out there, then. :)

Linus Torvalds has some things to say about the SCO vs IBM legal battle.

HardOCP have another article about their thoughts on the future of benchmarking.

Tigger says this search shows some Victorian laws about doing naughty things on computers. I had a dig around and the NSW laws are very similar, it seems. Might give wannabe hax0rs and system admins something to think about.

Win y'self a KT400A motherboard on VIAArena.

eDust sends word that NEC have announced some foldy LCD monitors.. no pictures, though. Also, a review of the iPAQ h1940, h2200, and h5500 featuring Windows Mobile 2003 (previously called PocketPC 2003).

New research suggests that if you don't use your mind you're more likely to lose it.

Fans of HomestarRunner, StrongBad and the gang will enjoy this Wired interview with their creators.

Interesting Forum Threads:
Fairlane | 1,234HP | Naturally Aspirated in Motoring.
Another spaceship case! in Modding & Electronics.
What's the longest thread on OCAU? in Site Discussion.
Suggest a free webpage editor? in Programming and Graphics.




The Imperator (1 Comments) (link)
Wednesday, 25-June-2003 12:16:25 (GMT +10) - by Agg


OCAU is very proud to host the official website for BlueSmurf's latest case project. You no doubt remember his GTR PC which pretty much started the model car PC craze off and captivated us until it was eventually stolen from his home. There's been a few interesting things since then, but this latest project, The Imperator, will blow them all away.

It's a giant Imperial Star Destroyer from the Star Wars universe, over a metre long, built from scratch by BlueSmurf to house a PC. It's nowhere near complete yet, but you can view the progress by checking out his site on OCAU:



Click for more info!





Systems/Laptops/PDA:
Shuttle ST61G XPC at VR-Zone
MSI Mega PC at Hexus

CPU:
Intel Pentium 4 2.4C Processor at OCPrices
Intel Pentium 4 3.2 Processor at Sharky Extreme

Mainboard:
Soltek SL-86SPE-L i865PE at Xbit Labs
Dual Opteron K8D Master at The DDR Zone

Storage:
Artec 52X CD-RW at Hot Hardware
Plextor PX-504A DVD+R/RW CD-R/RW at Bjorn3D

Video:
PowerColor ATi R9800 Pro 128MB at OCNZ
Sapphire Radeon 9600 Pro at VR-Zone
Albatron Gigi Geforce FX5200 Ultra at Explosive Labs

Case/Mods:
Acrylic case at HighTekPC
Chenbro Xpider Case at 3DExtreme
Boogie Bug Tuluz light rope & ATA light cables at A1 Electronics

Cooling:
Evercool NW9F715CA Pentium 4 Heatsink at FrostyTech
CPUMate DAA-11500 copper CPU cooler at FrostyTech

Misc:
Samsung Syncmaster 957MB Monitor at PCStats
EluminX Glowing Keyboard at AthlonXP
PrimeFilm PF3600 PRO Film Scanner at HWZ
Enermax 550W PSU at 8Balls




OCAU Weekend 2 Brisbane - Success! (13 Comments) (link)
Tuesday, 24-June-2003 21:36:16 (GMT +10) - by Agg


Last weekend we had the OCAU Weekend 2 in Brisbane. Many thanks to Wolfy for organising everything from scratch - it went off without a hitch. Thanks also to mred32 for keeping the newspage alive while I was away.

The Brisbane guys (and gals!) were a great crowd and I think everyone had a ball at all the events. We had a big turnout for the BBQ/gathering on Sunday and even managed to get out in the sun and chuck some frisbees and a football around. Thanks to everyone who got involved in the various events, I hope you had a great time too!

There's some pics in a forum thread, click this group picture from the BBQ for more:



Click for the picture thread!





Hi from the new NewsGibbon! errmm, I mean NewsMonkey .... first post, so please be gentle.

There's an interesting article comparing hyperthreading performance in Win2k and WinXP over at ComputerBase. Always amusing to see how well babelfish translates ... The original German version is here for those able.

Apparently the Irish TV network RTE thought it would be a good idea to stage a Big Brother style show on a boat - until it sank in the Irish Sea. That's a real shame, but what's more of shame is that houses at Dreamworld don't generally sink, if you ask me. Thanks nEoLIthIc.

A couple of cool links from ShonkyMan. A cable clock, and a vacbot, which certainly wouldn't go astray around here. Hmmmm, I wonder how my cat would feel about that.

Daniel sent in this rather amusing Matrix bastardisation. I knew Tom was the root of all evil!

Do you feel like sometimes you play games just a little too often and should be outside in the real world from time to time? If so, don't watch this video, a documentary on modern day gamers. The video is ~ 70MB, but it's worth the download. Thanks to Chris Bailey.

ATI have the official Catalyst 3.5 drivers on their site. You can get them here (thanks Shintaro)

A couple of people sent in links to news of (up to) 100Mbit Fibre-optic broadband currently up and running to some South Perth homes. Gimme gimme gimme! More information here.

A fairly comprehensive review/stress test of a nice and shiny P4 2.4C CPU at digital-daily. The 2.4C looks to be pretty good value for money at the moment.

Have you found yourself wondering what the graphics card market is like in Slovenia? I can't say it's something that's kept me awake at night, but there's a very good interview over at Slo-tech with Richard Huddy, ATI's man-in-europe about ATI, NVidia and where things are headed. Oh, and not just in Slovenia.

Finally, svirax sends word of LANbash, happening on the 5th - 6th of July at the Alstonville (now there's an ironic name for anything related to technology) Leisure and Entertainment Centre, which I think is somewhere near Lismore in NSW.




Tuesday Reviews (0 Comments) (link)
Tuesday, 24-June-2003 11:51:35 (GMT +10) - by Agg


Motherboards:
MagicPro MP-K7V-400A KT400A-based socketA DDR on PCStats.
FIC AU31 nForce2-based socketA DDR on VR-Zone.

Video Cards:
Gainward GeForce4 Ti4800SE GS on Gamershell.
MSI FX5600-VTDR128 GeForce FX card on ViperLair.
BFG GF FX 5900 Ultra on OCAddiction.

Mice Etc:
Steelpad 4S mousepad on JSIHW.
Black Icemat mousepad on 3DVelocity.
Steelpad 4S mousepad on Monster-Hardware.

Cooling:
Thermaltake G4-VGA video cooler on ExtensionTech.
JacolTech UV Fans on RBMods.
Arctic Silver Ceramique thermal paste on OCClub.
Vantec Spectrum UV LED Case Fans on FrostyTech.

Cases:
Antec LANBoy on OCModShop.
GMC Neo Classic on OCPortugal.
Compucase LX-6A19 & CI-6919 on TechWareLabs.
Exotic Wood Craft Wooden Case on VoidedWarranty.

Storage:
Kingwin Serial ATA Mobile HDD Rack on ClubOC.
Macally USB Drive on RBMods.
IOGEAR 6-in-1 USB2 Card Reader on FutureLooks.
Crucial Gizmo USB storage on GruntVille.
Lite-On 52x32x52x Internal CDRW drive on HardWareZone.

Monitors:
Samsung SyncMaster 171N LCD screen on DesignTechnica.
Samsung SyncMaster 172W LCD screen on TheTechZone.

Misc:
System Maxx Multifunction Panel on SubZeroTech.
Galaxy UV Reactive Purple and Red Cables on ExtensionTech.
Cooler Master Q Aluminium Keyboard (video review) on 3DGameMan.
Trust 4-Port Compact USB2 Hub on ModTown.
OCZ PC-3700 Gold dual-channel DDR memory kit on VR-Zone.
Toshiba e740 PocketPC on TweakNews.
Shuttle XPC SB61G2 mini-PC on HardWareZone.
Zalman ZM-MFC1 fan controller on DataFuse.
Vantec iON 400W PSU on ClubOC.




Tuesday Morning (3 Comments) (link)
Tuesday, 24-June-2003 10:43:00 (GMT +10) - by Agg


Apple have announced their G5 PowerMacs, based on a new 64-bit CPU from IBM at speeds of up to dual 2GHz. In fact, they are billing them as both "the world's first 64-bit personal computer" and "the world's fastest personal computer". More info here and here and some discussion here in the forums.

Yesterday was something of a day for big announcements, with Intel's P4 3.2GHz (see previous news post), Apple's G5 and even ATI are getting in on the game, announcing new northbridge chips supporting P4 CPUs. Interesting - will they enjoy the success that NVIDIA are having with their nForce series of socketA motherboard chipsets?

Some stragglers with their P4 3.2GHz reviews: SpodesAbode, VR-Zone and TomsHardware, thanks lordbeef.

F1DarkFlash spotted this new multimedia search index on Altavista.

Bizarre news story of the day has to be girl marries dog, from Ryan.

Whining about Telstra is pretty common, but now there's a wine about Telstra too, thanks Kerridwyn.

From eDust: Sony has developed a touch sensitive / bendable rubber called Gummi that will be used to control small devices like PDAs and stuff.

Dan's been playing with some fancy flashlights again.

This watercooled PC from Judicat0r is very nice, with an unusually shaped case and some amazing dremel-etching work on the window. n0v1c3's big black blower-blasted bong is pretty impressive too.




Intel's 3.2GHz P4 (1 Comments) (link)
Monday, 23-June-2003 23:56:02 (GMT +10) - by Agg


Intel have announced their 3.2GHz Pentium 4 CPU. It's been quite some time since the last speed revision from Intel. Is this new chip worth the wait? Is it just a speed increase or does it contain any new technology? How does it compare to AMD's AthlonXP 3200+? Reviews on Tech-Report, HotHardware, HardAvenue, HardCoreWare, ExtremeOC, MBReview, TweakTown, Hexus, HardwareExtreme, xbitlabs, Sudhian and GamersDepot.



From Bollocks...
The latest Folding Giveaway has come to a conclusion with the drawing of the major prize. The winner of the 128Mb ATI Radeon 9700 video card is Draebor from the UGOCAU subteam, thanks to Falls for donating the video card. The 1st consolation prize of a 4m network cable donated by ToranaGuy is lulow and the 2nd consolation prize of an Antec Blue LED 80mm fan donated by Onyx is James Waldron from the Whirlpool subteam. Congratulations to all the prize winners and many thanks to the sponsors for this Giveaway, Stealthunit (Radiical Computing), leonard, Rod M (LowNoisePC), Falls, ToranaGuy and Onyx. Your contributions to the Folding team are greatly appreciated by all and your donations for this Giveaway enticed another 208 OCAU members into the Fold.
The Folding team will be having a short break before our next incentive scheme gets underway. Though the extreme generosity of the members of the folding team we have 5 Folding boxes (computers designed primarily to fold) to giveaway over the coming months, we have 5 FBOXs so far with another 2 planned. To win one of these FBOXs all you have to do is Beat the Box ie, out produce it and you are in the running to win it. Check out photos of FBOX1 its a beauty, with an XP1600+ CPU and a Shuttle AK31 motherboard and 256MB of PC2700 ram. Details of the BtB giveaway will be released soon, so get practising now and join the Folding team and help a great cause.
Cheers,
Bollocks



Just a quick news catch up for you...

WinHQ have posted part 2 of their Web Sever Setup Guide.

Central Queensland Gamers League (CQGL) are having another LAN next weekend (28th/29th of June). Visit their website for more details.

OCPrices check out GTA: Vice City for the PC. A great game, for those yet to see it.

I think we've seen this before but anyway, an Atari 800 "Server". Thanks Mpk74.

Over on AMDmb, is an article titled "AMD's Official Response to Intel's HT Technology. It seems AMD's position is that HT Technology is nothing more than hot wind. Read it here.

After good temps? How much difference do the various thermal paste's really make. I have my own views on that topic but you can check out ASE Labs Thermal Paste shootout.

If you have a spare US$78 Million you might be interested in this luxury submarine on offer. I want two of them. Link from Squigy_Poodle.

More letters and answers from Dan.

Is this the end of .GIF files, or just the beginning of a new life for them. Read more here.

A flash time waster for today, Tardis Tennis. From mickeylieu.



Systems/Laptops/PDA:
MSI Hermes 845GV Barebones at Hexus
Asus MyPal a620, PocketPC 2003 at Hardware Analysis
Shuttle Nforce 2 SN41G2 Barebone computer at BurnOutPC

Mainboard:
SiS - the 648 FX Chipset at OCPrices
DFI's LANParty KT400A and NFII Ultra motherboards at The Tech Report
Soyo SY-Pi875P Dragon 2 Pentium 4 Motherboard at A1-Electronics
Abit IC7 MAX3 at digital-Daily
DFI KT400A LAN Party Mobo at OC Addiction
Abit IS7-G Motherboard (Socket 478 - Intel 865PE) video review at 3DGameman

Memory:
Corsair TWINX XMS PC3200 Low Latency at TechSeekers
Geil 512MB PC3200 Dual Channel DDR Kit at BigBruin

Storage:
Samsung SW-252B 52/24/52 CD-R/W Drive at Explosive Labs
Maxtor Atlas 10K IV 147GB Ultra 320 SCSI HDD at HW Extreme
Maxtor Personal Storage 5000DV External HDD at Modtown

Video:
Sapphire Atlantis Radeon 9800 Pro at Extreme Overclocking

Case/Mods:
Sunbeam Lazerleds at R&B Mods
GMC Noblesse SE Case at Mikhailtech
Vapochill PE "Titanium" at OCTools. Our own review here
Accent HTPC HT-200 Gold Home Theatre PC Case at OCPrices.

PSU:
Vantec ION 400W PSU at PimpRig

Audio:
Three Creative Speaker Sets at X-Bit Labs

Cooling:
JMC Phoenix 70 Heat Sink at OHLS
Metal Air Studios Copper Heatsink Radiator at GruntvillE

Misc:
Gigabyte GN-BTD01 Bluetooth Dongle at The Tech Zone
Eluminx Keyboard Review at Virtual Underground
Vantec Nexus NXP-205 3.5" Fan Controller at Hightek PC
Antec Cobra rounded-cables at Envy-News
Jab-Tech Pyramid Smart Fan Controller at 3DExtreme



Lots of news today...

A couple of pieces from ShonkyMan. First, exploding Cd's with a Dremel including video, and next, another one of those cooling your beer with a peltier things.

Baba tells us that Memtest V2 is out. Memtest is a great utility for giving your RAM a workout or checking if the cause of those unexplained lockups might be from dodgy memory.

For the Intel fans, lots of coloured photos of the internals on a Prescott and a Northwood CPU. A comparison of the physical architecture used in these CPUs.

Ownt interview an unknown NEC representative about their water-cooled PCs and what they will include. Also, a little bit on how they will be marketed. Full interview here.

Still on the cooling topic, Asetek have released a new version of the VapoChill. The VapoChill Extreme Edition (XE). 180W of cooling power... at a price! Thanks to all those who sent the link.

Stmok found a DVD drive that does it all. DVD+R/+RW, DVD-R/-RW, and DVD-RAM all in the one unit. About time too.

HotHardware have a 3-way i875P "Canterwood" shootout with boards from MSI, DFI and Chaintech.

Voided News have posted a Mousepad Roundup. Perhaps they used small nets?

From sniper, an article on XbitLabs states that the Athlon-64 is to be Adopted by HP. Thats got to be good news for AMD. Read more on XbitLabs.

Scarlethippo found this link to some HALO-2 in-game video. It was seen at the E3 2003.

Screwball sent in this link to a preview of MSN Messenger 6.0. If you're unfortunate enough to have to use MSN Messenger, I guess you better check it out. :)

Our own master of LCD trickery, MWP, has released a new version of CrystalControl, namely CrystalControl V1.01. A few fixes and lots of add-ons in this version including support for BF1942 server info. You can get it from CrystalFontz or from our local mirror.

Several LANS on the horizon. This weekend, the BFGLan is having their first wave of WCG qualifiers from Saturday 9am until midnight, then continuing on Sunday from 9am until late afternoon. LANBash have a 150 person event on the 5th and 6th July 2003. Booking info here. HyperGlobalOmniMegaGames (ok!) in Bairnsdale have a MegaLAN coming up. Wednesday 2nd July 10am to Thursday 3rd July 10pm is the time, go here for the place. Also, 5/6th of July will see the next Valhalla LAN. Numbers are limited to 450 people so get in and register.

Dan takes a look into the world of Fuel Cells. How about powering your mobile or laptop with a fuel cell. Full article here.

Which version of the USB standard do you use? USB 1, USB 1.1, USB 2.0, USB Full Speed, USB 2 (Really USB 1.1), USB Hi-Speed (Really USB 2). Ohh...I think I'm confused. According to this article on Slashdot, so are a lot of people. More info here. A couple of people sent this one in but I'm so confused I've forgotten who they are!

A somewhat amusing read titled Why nerds are unpopular. I lol'ed several times. From charrusch.

From snier, "Here is another ID10T idea to stop online piracy". Trash illegal downloaders' PCs. I tend to agree with the idiot bit.

Fancy a trip to the International Space Station? Go here to book your seats. Thanks Darkness.

From Brett comes a link which tells us Australia joins net fraud group. Sounds like a good idea to me.

Would you swap your father for Homer? It seems that 22 per cent of British children would. Homer tops an international poll to find the greatest Americans. Some guy called Agg sent that one in.

Interesting Forum Threads:
The 3-Tap System for Watercooling in Extreme Cooling
Palm Zire71 Review in Other Toys, thanks Freaek
Agg & Traction at Eastern Creek Raceway in The Pub
When backups go wrong in Storage and Backup
Adobe Photshop question - Changing hair colour in Graphics and Programming




OCAU Weekend in Brisbane (0 Comments) (link)
Friday, 20-June-2003 08:56:05 (GMT +10) - by Agg


Don't forget, the OCAU Weekend 2 is on this weekend beginning tonight in Brisbane. If you wanted to make a last-minute booking for dinner with us tonight at the Hogs Breath you should be able to do that today - ring them up, details on the Weekend page. I don't think you'll be able to get into the tenpin bowling at this late stage, but the paintball people have said you can turn up on the day and join in. Of course, you can come along to the Gathering in the Roma St Parklands without needing to book or anything.

Anyway, see you there!




Thursday Reviews (2 Comments) (link)
Thursday, 19-June-2003 23:53:41 (GMT +10) - by Agg


Motherboards:
Soltek SL-85SPE-L springdale P4 DDR on NinjaLane.
EPIA M10000 Nehemiah mini-mobo and CPU on AseLabs.

Video Cards:
Inno3D Tornado GeForce FX 5200 on 3DXtreme.
Albatron GeForce FX 5200 Ultra on OCNZ.
ATI All-In-Wonder 9800 Pro on Bjorn3D.
Gigabyte Radeon Cards on LegionHardware.
Inno3D GeForce FX 5600 Ultra> on OCrCafe.
Gigabyte Maya II R9200 radeon card on Xbit.
GeForce FX 5600 Ultra rev2 on Hexus.
MSI FX5600-VTDR128 GeForceFX card on AMDMB.
Albatron GeForce FX 5200 Ultra on Bjorn3D.
Sapphire Atlantis Radeon 9600 Pro on ExtremeOC.

Audio:
Philips Sonic Edge 5.1 sound card on DesignTechnica.
AudioBug FM Transmitter on ExtensionTech.
Creative Audigy2 Platinum eX sound card on Guru3D.

Memory:
Kingston HyperX KHX3500/512 DDR on TweakHound.
GeIL Golden Dragon PC3200 Dual Channel DDR (video review) on 3DGameMan.
TwinMOS 1024MB Dual Channel PC3200 DDR kit on OCPrices.

Cooling:
Vantec Iceburq4 CCB-A4C video cooler on ExtensionTech.
Jab-Tech Thermalright SLK-800U CPU cooler on XtreMods.
CoolerMaster Aero 7+ CPU cooler on TheTechLounge.
Thermaltake Volcano 11: Xaser Edition on XtremeMods.
Xoxide UV LED Fans on Bjorn3D.
Speeze Panther Stream P4 cooler on 3DXtreme.
Corsair Hydrocool watercooler on TomsHardware, thanks titan.
Vantec Iceberg 4 / 4 Pro video card coolers on OCIA.

Storage:
RocketMate 1000 External SATA adapter on 3DVelocity.
Maxtor DiamondMax Plus 9 200GB HDD on TheTechLounge.
Seagate Barracuda 7200.7 HDD on StorageReview, thanks kasi.

Mini-PC's:
MSI Mega651 barebones on Tech-Report.
BIOSTAR IDEQ 200N on SFFTech.

Mousing Around:
X-Trac Hammer Optical Mousepad with D Gel Wrist Rest on ExtensionTech.
Icemat Mousepad on Datafuse.
Black Icemat mousepad on JSIHW.

Cases:
Lian-Li PC6010 Case & Aquarium Kit on Gruntville.
Antec LANboy on OCAddiction.

Digicams:
Polaroid PhotoMAX PDC 3350 on SubZeroTech.
Logitech Clicksmart 510 on SubZeroTech.

Networking:
i-connect Wireless 802.11b LAN solution on HWZ.
Netgear Wireless Products on PCHardware.

Misc:
Comta PNW-I computer desk on DesignTechnica.
Bytecc Zippy EL-610 glowy keyboard on ViperLair.
Eumax Multi-Function Transfer Panel on Ohls-Place.
Ideazon Zboard gamer keyboard on OCClub.
Lian-Li C-01 and F-01 aluminium drive bezels on DansData.
Vantec Nexus Multi-function Panel on TechWareLabs.
Vantec Nexus Multi-function Panel on Ohls-Place.
Samsung SGH-V200 tri-band mobile phone on HWZ.
Samsung SyncMaster 191N LCD monitor on HWExtreme.




Desert Combat Upgrade (1 Comments) (link)
Thursday, 19-June-2003 21:47:37 (GMT +10) - by Agg


AusGamers have mirrored Desert Combat 0.38, the latest version of this popular BattleField 1942 mod. It works properly with the latest BF1942 upgrade, version 1.4, as well as adding a few more vehicles and weapons etc.

AusGamers also have the Colin McRae Rally 3 demo available.




Wednesday Morning (39 Comments) (link)
Wednesday, 18-June-2003 03:25:03 (GMT +10) - by Agg


We broke the forum record again on Monday night (577 users) and last night (596 users). I wonder when we'll pass 600?

Interesting PCDB stuff: a stealth front from Spamming, a very glowy system with an external radiator and an old monster from Prioris.

Linus is going to work on Linux full time, having been lured away from his job at Transmeta. Can only be a good thing!

GideonTech have a 10-minute guide to window etching.. so now you really can invite a girl up to see your etchings.

Or perhaps making a waterblock is more your style.

eDust noticed a rumour that Google may be filling up.. hmm, I imagine they'll fix it. He also spotted TheInq reporting that Intel don't want people to overclock the i865 chipset!

Sick of SMS spam? Charlie has some good news, that it will be banned in Oz soon. Now, if only they could do something about email spam, snailmail spam, messenger service spam, instant messenger spam, telephone spam and popup-ads spam.

Migishu found this funny translator - turns normal text into 12yo-AOL-user text. :)

More info about how Australia sucks for broadband, thanks Schrambo. For the record, I have 512kb ADSL and I think the pricing and data cap is ok. But then, I'd say anything to avoid going back to dialup.

Looking for Radeon 9800 reviews? There's about 90 of them here.

If nForce2 is more your thing, SpodesAbode have a 5-way roundup of motherboards based on that chipset.

HardCoreWare have a nice case-modding project posted.

ipKonfig have an editorial about, hmm, corporations being evil and stuff.

Today's flash timewaster is this Castle game from Kiernan. Looks interesting!



Systems/Laptops/PDA:
The MSI MEGA PC at SFF

Mainboard:
MSI 875P Neo-FIS2R at PCStatsMSI 875P Neo-FIS2R
ABIT IC7 Motherboard at Viper Lair
Abit IS7-G i865PE Motherboard at PCStats
Biostar M7NCD Pro nForce2 Motherboard at Bjorn3D

CPU:
AMD AthlonXP 3200+ 400MHz FSB Processor at PCStats
Intel Pentium 4 3.2GHz w/ 800MHz FSB at HWExtreme

Memory:
Crucial PC3200 256MB DUAL at SubZeroTech
GeIL Golden Dragon 512Mb PC3200 Dual Channel DDR Kit at OCTools
OCZ EL DDR PC-3700 / 466mhz / Gold Edition memory at TechSeekers
Crucial 64MB CompactFlash Memory Card at 8Balls Hardware

Storage:
Maxtor DiamondMax Plus 9 160GB (7200RPM SATA) HDD at HWZ
Maxtor DiamondMax Plus 9 200 GB HDD at The Tech Lounge
Data Castle BT-68 Mobile HDD Rack at Overclock UK
PlexWriter Premium 52x CD-R/W Drive at Club OC

Video:
FIC Radeon 9800 Pro at OC Addiction
Albatron GeForce FX 5200 Ultra at 3DNews

PSU:
Vantec ION 400 watt Power Supply (SATA ready) Video Review at 3DGameMan
Antec True Control 550W PSU at Nexus

Case/Mods:
ExtraMod Laser Cut Polycarbonate FanGuards at Burnout PC
Antec Sonata Case at DataFuse
PC Toys CaseMaxx 610 (green) Case at Monkey Review
MADLights Digitally Controlled LEDs at Gruntville
Jacoltech Mirror Fan Grills at R&B Mods
Enermax 3.5" Multifunction Panel at Xtremetek

Cooling:
Coolermaster Aero 7+ Cooler at Ninja Lane
Thermaltake K7 Volcano 11+ AMD Athlon heatsink at A1 Electronics
Crossover WS-5 Mission II Water Cooling Kit at PimpRig
Dynatron DC1206BM-O Heat Sink at OHLS Place

Misc:
Samsung ML-1710/1750 Monochrome Laser Printer at TweakNews
IceMat Black Mouse Pad at Keptech
Everglide Giganta V-3 Mouse Surface at Overclockers Club
Olympus C-4000 Digital Camera at Ars Technica
Samsung HT-DB600TH Dolby Digital/DTS DVD/Receiver at EnvyNews
VAJA Dell Axim Leather Case For PDAs, Cell phones, and MP3 players at EnvyNews
Ratpadz GS Mousepad at OCPrices



First up today...

Tangled Rose found a couple of cool bits. This nice case, almost all glass with a Lava Lamp, and although I think I've linked this before, its cool, A huge round monitor called The Vision Station. Nice, but I think I'll go for its big brother, The Vision Dome.

Still on the topic of cool stuff, Red Slert noticed this mirror monitor thing.

Digital-Daily have a roundup of just who and what made the computer market headlines in May 03. Article here.

The Sega Dreamcast is still alive and kicking in Hong Kong in a portable version known as the Treamcast. Strange.

Birdman came across this weird auction on Ebay. A blood sucking doll! Do I need one of these? hmm.

Newshound eDust found this, a 10Gb memory device built using carbon nanotubes. "If commercialised at a suitable price, it could replace DRAM, flash memory and hard disks in a wide variety of digital devices including PCs, phones and MP3 players".

A reminder that Rezidue LAN is on in Mentone, Melbourne in a couple of weeks. Registration is now open at AusGamers or you can check out the Rezidue site.

From Peter, "It appears that Segway has had more luck throwing George W Bush than Saddam Hussein". Story here. HaHa.

A flash time waster for you today from Athlonman, its Nitto Racing. An online drag racing simulator. Download it, sign up, then race away!



I've updated the Article and Review Archive with some stuff from the last few weeks. Check them out if you missed them the first time around:

PCRange 3.5" USB 2.0 External HDD Case review.
CeBIT Australia 2003 exhibition coverage.
Pre-made Serial Infra-red Receiver with Remote review.
Senfu Watercooling Bundle review/adventure.
Western Digital Raptor 10k-RPM SATA HDD review, part 1.
AMD AthlonXP 3200+ socketA 400MHz-FSB CPU review.

We also had some pictures from the Sydney Motorcycle Show 2003.




Sunday Morning Reviews (0 Comments) (link)
Sunday, 15-June-2003 02:18:15 (GMT +10) - by Agg


Motherboards:
Gigabyte GA-8KNXP i875P P4 DDR on MBReview.
Magic Pro MP-P6PE-1000 i865PE P4 DDR on PCStats.
MSI 875P Neo-FISR2 P4 DDR board on Xbit.
ECS L7S7A SiS746 socketA DDR board on HardWareZone.
Albatron KM18G Pro M-ATX nForce2 socketA DDR on MonkeyReview.
ASUS P4P800 i865PE P4 DDR on Xbit.
Abit BH7 i865PE P4 DDR on HWExtreme.
ABIT IC7-G and IS7-G P4 DDR boards on VR-Zone.
Magic-Pro K7N-Ultra S nForce2 SPP socketA DDR board on PCStats.
DFI LANparty KT400A socketA DDR board on Bjorn3D.
Albatron KM18G Pro V2.0 nForce2 IGP socketA DDR on PCStats.

Video Cards:
NVIDIA GeForceFX 5900 Ultra reference card on 3DVelocity.
Leadtek A310TD GeForceFX 5600 card on OCNZ.
NVIDIA GeForceFX 5200 GPU on Tech-Report.
Sapphire Atlantis Radeon 9200 on HotHardware.
PowerColor Radeon 9800 Pro on TweakTown.

Memory:
Mushkin 512MB PC3200 Level2 Dual DDR pack on OCPrices.
Crucial PC3200 DDR SDRAM on EnvyNews.
OCZ EL PC3200 Dual Channel on OCAddiction.

Cases:
Xoxide X-Dreamer Limited Edition on TheModFathers.
Nexus iStyle maclike case on GamingIn3D.
Verre V770 black case with window on OCClubCanada.

Power Supplies:
Enermax EG465P-VE on ClubOC.
Enermax EG365PE on OCdCafe.

Cooling:
Zalman ZM80A-HP passive video cooler on HWAnalysis.
Chip-Con Prometia Mk II phasechange cooler on VR-Zone.
CoolerMaster Aero 7+ socketA CPU cooler on AMDMB.
CoolJag JVC661A P4 CPU cooler on FrostyTech.
Vantec UV LED Fans (video review) on 3DGameMan.
Speeze HDD Cooler on RBMods.
Sunbeam Round Cathode Fans on OCUK.

Misc:
MSI Hermes 650-P barebones system on PCStats.
Benq FP781 LCD screen on ExtensionTech.
Samsung ML-2150 laser printer on ExtensionTech.
PCToys Neon Maxx Blacklight kit on PimpRig.
Zippy EL-610 Keyboard on DesignTechnica.
Lindy KVM Smart Switch on Monster-Hardware.
Sunbeam Rheobus on RBMods.
Lite-On LTR-52327S CD-RW & LTC-48161H Combo CD-RW/DVD drives on SLCentral.
Lite-On DVD Player on SLCentral.
Samsung HT-DB600TH home theatre system on TweakNews.
Steelpad 4s mousepad on ExtremeOC.
Phonex Neverwire phoneline networking kit on TheTechLounge.




Saturday Night (4 Comments) (link)
Saturday, 14-June-2003 22:41:01 (GMT +10) - by Agg


MadShrimps compared 8MB vs 2MB when it comes to hard drive cache.

I'm sure we've seen this before, but it's dated very recently.. weird. Anyway, keep your beer cool with peltiers and wotnot.

The first victim of Microsoft's foray into anti-virus software has been announced, thanks OhSmeg.

Dan has looked at some tiny digicams, some funky cd cases and he even found time to answer some more letters.

Are ATI really looking for a new logo?

GruntVille tell you how to use the power output on your Matrix Orbital LCD.

Alan pointed out this High Definition Content Showcase on Microsoft's site. Large files and high(ish)-end system required, but apparently worth the download.

OCUK have a guide to mounting a blowhole without screwholes.. no sniggering down the back there.

ViperLair have a nice watercooled PC project posted.

Today's timewaster is 2fast2furious the game from Julz.. fun!

Interesting Forum Threads:
I've stealthed my mouse in Modding & Electronics.
G4TI, GF4MX440, Radeon 9700 volt mods in Video Cards.
A heatsink ate my CPU! in AMD Hardware.
New DX9 Benchmark - GunMetal in Video Cards.
Important: AUSTAR Satellite Dish Sales in For Sale.



First up tonight...

From Clan Croxson and mibberz, 802.11g has finally been ratified. "IEEE 802.11b™, the most widely used wireless local area network (WLAN) technology, has gotten a long-awaited increase in speed through a new amendment to the IEEE 802.11 ™ standard ratified by the Standards Board of the Institute of Electrical and Electronics Engineers. The amendment, IEEE 802.11g™, raises the data rate of IEEE 802.11b networks to 54 Mbps (megabits per second) from 11 Mbps".

Looks like krazy8 has been nabbed by the US DOJ. His site, www.isonews.com, has been confiscated. Software piracy is bad dooDZ!

dkermode reminds us that a new version of Motherboard Monitor was released a few days ago. Version MBM 5.3.3.0.

Planet Savage talk about Video Cards and Benchmarks in their latest article. I wonder if they have anything new to say!

To bad if you're a Matrix fan and living in Cairo...Its been banned! Thanks Kerridwyn.

Over on Slashdot, the broadband disaster that is Australia. Thanks Nick.

Digital Pay-TV takes a step closer with the successful launch of Optus's Department of Defence C1 satellite. Wow...the Australian military has a satellite to play with. What next! Rifles that work? From Narkov and thetron.

A warning from Fred Nurk. He received an Email that was "a scam by some clever bastard thats managed to both gain my email address and somehow masquerade as www.paypal.com. Surprised the hell out of me, as it was only addressed to me, the cookie blocker came up with www.paypal.com, and it also asks for a PIN for the credit card. When does it end?" Anyone who asks for your PIN number is out to get your money. Be warned.

A few pieces from trusty news-hound eDust: Intel are working on tri-gate transistors, IBM are working on magnetic memory (MRAM) and are hoping it will replace DRAM, and Sandisk and Toshiba have shrunk flashram bits to allow 2GB and 4GB flash cards.

3DAvenue have posted a guide to the 'hacking' mode in Enter The Matrix for the PC.

Sudhian have an article titled The Collapse of the Dot-Com Revolution. What about the dot com.au revolution?

Beyond3D interview some game developers and talk about Pixel Shader Precision.

mazzanet notes that Nokia have started Shipping their first 3G phone. Get one now before the price drop!

Tweaktown have a chipset shootout with the VIA KT400 vs. VIA KT400A vs. nVidia nForce 2. Interesting results.

Hardware Avenue are running a giveaway. You need to go here and fill in a survey to try and win an Nvidia GeforceFX 5600 (first prize), and two FX 5200's (second and third prize).



Systems/Laptops/PDA:
Acer TravelMate 800 Centrino at HardAvenue
Fujitsu LifeBook P5010 (Centrino) at HWZ

Mainboard:
MSI 746F Ultra SiS746FX at Planet Savage
DFI "LAN Party" KT400A Motherboard at Hot Hardware
ABIT IS7 - 865P/Springdale at Hexus
MSI 865PE Neo2-FIS2R i865PE at PCStats

CPU:
AMD Athlon XP 3200+ at Guru Of 3D
Intel Pentium 4 3.0GHz 800MHZ FSB Processor at PCStats

Video:
nVidia GeForce FX 5900 Ultra at Tweaktown
FIC A98P Radeon 9800 Pro at VR-Zone
FIC Radeon 9800 Pro 128MB video review at 3DGame Man

PSU:
RaidMax LP-6100D 400w Aluminum Blue at Tech IMO
Thermaltake Silent Purepower 480W at The Tech Lounge
PC Power and Cooling Turbo-Cool 510-PFC at PCStats
Zalman Zm400a Silent PSU at R&B Mods

Case/Mods:
Jab-tech Cold Cathode Fan Grills at 3DXtreme
ThermalTake Xaser III at Mad Shrimps
HardCano9 Fan Controller at FuriousTech

Cooling:
Prometeia Mach 2 Refrigerated Cooling at Toms Hardware
Innovatek Tank-O-Matic Resevoir at Gruntville
Tt Giant II VGA Cooler at OCC

Audio:
Jamo A 210PDD Speaker System at Design Technica
Burning Blue Audio USB Headphone Amplifier at PCStats
Xitel Pro HiFi-Link at ExHardware

Misc:
Matias iPod Armor at EnvyNews
Compex WP11A+ 802.11b Wireless Access Point at Hardware Arena
SMaL Camera Technologies Pocket VGA Digital Camera at SubZeroTech
Auravision EluminX Keyboard at CyberCPU
fUnc 1030 Mouse Surface at ViperLair
Steelpad 4S Mouse Surface at Big Bruin




Thursday Morning (9 Comments) (link)
Thursday, 12-June-2003 02:52:11 (GMT +10) - by Agg


Very nice custom perspex tower with removable mobo tray from barracuda.

This site attempts to explain the Linux/SCO drama simply, by putting in Dukes of Hazzard terms.

Digit-Life have a memory market overview for June. Impressive, given we're not even halfway through the month yet!

Is Microsoft poised to inhale another market? They're buying an antivirus firm, which has all the other antivirus firms somewhat concerned, thanks Josh. More info here, thanks OhSmeg.

Digit-Life have a 6-way i875P motherboard roundup, for P4's and DDR.

Confused by emoticons? Max223 sent along this guide which helps translate them into Real World usage.

AMDMB have been showing off their 4-way Opteron system - now they have some SETI@Home benchmarks.

I remember Razor1911 from the Amiga days, a demo and warez group. The leader has been sentenced to 18 months jail for piracy offences. d_player33 noticed that Fairlight, another longstanding group, have shut down.. no doubt in response to increased pressure from the feds. Looks like crime really doesn't pay!

eDust sends word that Intel have sold a billion CPUs since they started the x86 line some 25 years ago.

Be nice to your system administrator on Friday 25th July, because it's System Administrator Day, thanks Paul. Hmm, I guess if you're reading this page you're probably the sysadmin in your office. Well, buy yourself a donut or something. :)

MWP noticed some high-resolution microscope pictures of an AMD CPU in this forum thread. To give the server they're on a break, we're mirrored them here.

Bern says that there's a call for an Australian Jabber server. Jabber is an instant-messaging network like ICQ.

TheInq think that NVIDIA's Crush K8 chipset may be closer than expected. This is for AMD64 motherboards, thanks Ambush.

Today's timewaster is Roadies from Willy. I think we've seen it before, but it's not bad.

Interesting Forum Threads:
IBM Deskstar Firmware Update in Storage and Backup.
RC Trucks in Other Toys.
New email notification for Outlook in Windows Operating Systems.
Games to play at the office :) in Games.
Best media player for linux? in Other Operating Systems.
Which ICQ/MSN client do you use? in General Software.
The Official Matrix Reloaded Thread (Warning: Spoilers) in Media and Current Events.
Searching for the "God particle" in Media and Current Events.



Systems/Laptops/PDA:
Shuttle SB61G2 Springdale Infused XPC at Hot Hardware

Mainboard:
VIA EPIA M10000 Nehemiah at IANAG
Gigabyte 7N400Pro nForce 2 at OCNZ
MSI K7N2G-ILSR nForce2 at OC Prices
Gigabyte 8KNXP Ultra i875P at A1 Electronics

Memory:
512MB Mushkin PC3500 Black Dual Pack DDR Memory Modules at Adrian's Rojak Pot

Storage:
Seagate Barracuda 7200.7 ST31200026A Hard Drive at Digit-Life

Video:
PowerColor RADEON 9800 Pro 128MB at HWZ
ATI All-In-Wonder 9700 PRO at Digit-Life
Sapphire Atlantis Radeon 9600 PRO 128MB Fireblade Edition at Beyond3D

Cooling:
Vantec Iceberq4 Pro VGA Cooler at Monster Hardware
Thermalright SLK-900U at SubZero Tech
Thermaltake TR2 M1 and M2 Coolers at OCC
Zalman CNPS7000-Cu Cooler at Hexus
OCZ Ultra II Thermal Paste at The Tech Lounge
Thermaltake Volcano 11 Xaser at Riva3D

Case/Mods:
Athenatech A100-SC Mini Case Video Review at 3DGameMan
The Shattered Web Window Appliqués at OC-Ware
Xoxides UV Reactive UV LED Fans at ExtensionTech

Audio:
M-Audio Revolution 7.1 Audio Card at Digit-Life
JBL Invader 4.1 Multimedia Speaker System at Design Technica

Misc:
Zalman ZM400A-APF PSU at Hexus
Fuji FinePix S2 Digital Camera at Digit-Life



After a few busy days, I can finally get back to doing the news...

XBit-Labs have a good article all about cooling. The basics and the not so basic. If you're new to overclocking and have some cooling questions, this is a good read.

Athlon-XP have some more info about the changes taking place within ATI, namely, their distribution structure.

Darkness sent this one in, "researchers sent one terabyte of data from Sunnyvale, California to Geneva in less than an hour. Their 2.38Gb/s sustained rate for a single TCP/IP data stream beat the old top mark by a factor of 2.5. At this rate, users could send a full CD in 2.3 seconds or 200 full length DVD movies in an hour." Wow, talk about broadband!

And from Firemoth, over on TheOneRing, you can see a short clip from the MTV Movie Awards and Andy Serkis' and Gollum's acceptance video (some coarse language). Its in Quicktime-video and can be downloaded in various sizes (8.2 MB, 5.6 MB and 1.03 MB).

The CEE show is on at Fox Studios Sydney, Thursday 12 to Sunday 15 June. Should be lots of goodies to see and spend lots of money on. Thanks titan.

Liquid-Ninjas have put together an article called Canterwood on a US$1000 Budget, building a budget Intel box.

Andreas sent this link in, its full of just about every technical detail you might want to know about x86 processors including the x86-64.




Tuesday Morning Reviews (0 Comments) (link)
Tuesday, 10-June-2003 03:45:51 (GMT +10) - by Agg


Motherboard and CPU:
DFI LANParty PRO875 P4 DDR on Sudhian.
VIA EPIA 9000 mini-mobo and CPU on RBMods.
VIA EPIA M10000 mini-mobo and CPU on TweakNews.
EPoX P4PEA-800 P4 DDR board on OCAddiction.
ABIT NF7-S Rev 2.0 nForce2-based socketA DDR board on ViperLair.
Gigabyte GA-7NNXP nForce2 Ultra 400 socketA DDR on TechSeekers.

Video Card:
ATI All-In-Wonder Radeon 9800 Pro card with the lot on HotHardware.
Prolink GeForceFX 5600 256MB on TweakTown.

Cooling:
Iceberq 4 and Iceberq Pro VGA coolers on FuriousTech.
Arctic Silver Ceramique thermal paste on GruntVille.
Vantec LED Fans on TheTechLounge.
Boogie Bug CCFL Rounded Fan on DVHardware.

Storage:
Samsung SM352B Combo Drive on GideonTech.
Crucial Gizmo! 128MB USB storage on EnvyNews.

Mice and pads:
Steel Pad 4S mousing surface on ASELabs.
Mouse Wax anti-friction stuff on TheModFathers.
KoolPCMods Xide Pad II on SubZeroTech.

Cases:
Chenbro CH11L-BK 4U case on MaximumOC.
Antec LANBoy Case on EnvyNews.

Misc:
Samsung LTM295W 29" LCD monitor/TV on MonkeyReview.
Compex SKW811 wireless networking kit on TheTechZone.
Crystal Bluetooth USB adapter and USB Printer adapter on TechnoYard.
Microlab 2.1 speakers on TheTechLounge.
Heatsink Lapping Kit on OC-Ware.
Boogie Bug Tuluz S neon string on DVHardware.




Folding Giveaway - win an R9700! (6 Comments) (link)
Tuesday, 10-June-2003 03:43:40 (GMT +10) - by Agg


From Bollocks: The winner for week 5 is Redefine who has won the final Low Noise Cooling kit from LowNoise PC. Redefine has won a Spire Falcon Rock II Heatsink or Zalman 5500Alcu (P4) a Zalman ZM-NB32J chipset heatsink and a Panaflo 80mm FBA08A12L. Many thanks to Rod for providing the prizes for the past 3 weeks we all appreciate it very much.

Now on to the final week of Giveaway3 and the major prize is a 128Mb ATI Radeon 9700 Video Card valued at over $500 donated be a very generous member of the folding team, Falls. All you have to do to be eligible to win this great prize is join the OCAU folding team and produce a minimum of 30 points for the week. Also we have 2 consolation prizes of a CAT5 network cable donated by ToranaGuy and a Antec Blue LED 80mm fan donated by Onyx. The average computer would have no trouble at all in knocking out 30 points in just one day, so come on at give it a try - what have you got to lose?



Quazar1 has a well-finished bong-cooled setup. Turned out looking pretty good.. and not just because it glows. :)



Click for the PCDB entry!





Sciby just introduced me to a whole new world of internet scams, based around fake escrow sites. Escrow as you probably know is an intermediary between a buyer and a seller, to make sure the deal goes ahead without either side being ripped off. Good stuff and a smart idea if you're spending a lot of money on an online auction or similar. In these scams, the scammer sets up a real-looking website that supposedly offers an escrow service and then tries to sell or buy an expensive product, requiring the other (poor sucker) party to use this fake escrow service. The deal never completes, of course, the scammer runs off with the goods or the money and the poor sucker is left with no recourse.

Anyway, there's some anecdotal info here and here. I don't know if the sites mentioned on those pages are genuinely problematic or not, they just illustrate some of the situations people have found themselves in. Comments by other people in those threads are their own.

Anyway, there are genuine escrow sites out there and using them is a good idea if you're dealing with someone you only know via the net (ebay, our own trading forums, etc). But be aware that, just like you're careful of dodgy people on the internet, some sites are dodgy also. Do your homework. www.samspade.org is a good site for digging up info on a web domain.

Ebay have an Escrow page with some info and a list of escrow providers that they recommend, including an Australian one. If someone has suggested an escrow provider that you're not comfortable using, maybe suggest using one of the ones on Ebay's list. Be paranoid!



CyberCPU have a big table of AMD CPU specifications posted. If you want a more wordy trip down memory lane, consider my XP3200+, XP2600+ and SlotA Showdown articles.

Mashie of the "3 PC" below has a couple of other interesting projects in the PCDB, with his SGI O2 workstation converted to a gaming machine and bakelite radio PC.

In a refreshing change, there's a browser security issue that affects Netscape, Opera and Mozilla.. but not Internet Explorer! (crowd gasps) Thanks eixt.

Dan has more letters with answers.

Tech-Report have a 10k-rpm HDD roundup posted.. check our review of WD's Raptor here.

ArsTechnica have an article about shortwave radio and the PC.

Callan spotted this backwards waterfall, where the water seems to flow uphill. I wonder how long until we see this adapted to a water-cooled case?

ipKonfig have thrown in their two cents about the 3DMark controversy, while ViperLair revisit an earlier article about the validity of benchmarks. HardCoreWare express their frustration also.

Papasurf found this article about how many FPS the human eye can actually detect. Might be a lot higher than you thought.

Win yourself an Antec case-carrying wotsit on ausmodders.

There's another issue of ZZZ Online posted.



Here's a very interesting custom case from Mashie. I think we've seen this before somewhere, but the PCDB entry has lots of info and details of the internals which I hadn't seen:



Click for the PCDB entry!





Motherboard:
PX845PEV-800 at Guru of 3D
Abit IC7-G i875P Canterwood at Digital-Daily

Video:
ATI All-In-Wonder Radeon 9000 Pro at TweakTown
ATI Radeon 9800 Pro 256MB at Hexus
Hercules 3D Prophet 9800Pro at Hard Avenue
Hercules 3D Prophet Radeon 9800 Pro 128MB at TweakTown
AIW Radeon 9700Pro at OCProjects
Tyan Tachyon G9500Pro 128MB at OCNZ

Cooling:
Thermaltake TR2-M2 HSF at OCPrices
Thermalright SLK-800 Heatsink at PimpRig
Vantec iCEBERQ4 Premium VGA Cooling Kit video review at 3DGameMan
Dynatron DC1206BM-RT 1U Heat Sink at OHLS Place

Case/Modding
MADLights case-lighting at EnvyNews
UV LED Fans at Virtual-Underground
PCToys CaseMaXX 610 at BurnOutPC

Memory/Storage/PSU:
Corsair TWINX512-3200LL Memory Kit at Bjorn3D
HighPoint's External e.SATA at OCTools
Enermax 460w PSU at OC Cafe

Misc:
X-Micro Bluetooth USB Dongle at PCHardware
Zippy WK-712 Keyboard at Design Technica
AstraPix 470 Digital Camera at PC-Arena
Criticool Powerplant Relay at R&B Mods
Icemat 'After Dark' Mousepad at ModTown




Early Sunday Morning (4 Comments) (link)
Sunday, 8-June-2003 00:46:53 (GMT +10) - by Agg


Tech-Report have some benchmark renaming fun in a new article.

Ohls-Place interviewed some more webmasters, from Networks Today, ExtensionTech and BigBruin. They actually sent me a list of questions but I haven't got around to filling it in yet. :(

SharkyExtreme checked out Intel's P4 C CPUs at 2.8, 2.6 and 2.4GHz. These are 800MHz FSB by default, of course. TechwareLabs looked at them also.

Bizarro USB device of the day is this noodle pot on Akiba, thanks Jimbo.

B5lurker spotted a dumb criminal in the UK.. funny stuff.

Some more info on the new virii out and about, thanks Robyn. Some more on bugbear here, thanks KniteSoulja.

Got an LED? Don't know what size resistor to pair it with? Work it out on Gideontech.

Jeffrey says the Consumer Electronics Show is on in Sydney this Friday to Sunday.

NordicHardware have a cheap video card roundup.. and for those with a bigger toy budget, a Radeon 9800 Pro roundup too.

Modasylum are building a VGA, dummy. No, wait.. they're building a VGA dummy.

Geekshelter take a look at overclocking your motherboard chipset and FSB.

From Squigy_Poodle: Just thought that i would let people know that the new RaceD is out. This is a fully HTML based game. Titled RaceD 2 - Street Wars, it's the sequel to the highly played Raced.




Battle @ Matchrix 4 Results.. (1 Comments) (link)
Saturday, 7-June-2003 19:01:40 (GMT +10) - by Agg


Last night I wandered along to Matchrix in Baulkham Hills, Sydney, for some gaming action. It was round 4 of the OCAU vs Atomic clash and due to a draw in the first round, this was the tiebreaker. It became immediately obvious that I suck at everything except Desert Combat. :) Despite this, OCAU won! More info in this thread. It was a great night - thanks to the Matchrix guys for organising it and the sponsors AMD and Take2 Games. Thanks also to Atomic for putting up a good fight and being good sports and to the OCAU team for 0wning!




Saturday Evening (7 Comments) (link)
Saturday, 7-June-2003 18:02:59 (GMT +10) - by Agg


AMDMB have tested a four-way Opteron system, those lucky so-and-so's.

LegionHardware have rounded up eleven KT400A motherboards and pit them against each other in a brutal frenzy of benchmarks.

Virtual-Hideout have a guide on one of the newest LCDs on the market, the Matrix Orbital MX2 (USB) display. We will show you how to get up and running using the included LCDC display driver software, and how to get the most out of your LCD.

If you play Planetside, are annoyed that there's no Australian server and think that online petitions achieve anything, then go to this one and put your name down.. thanks FreeRangeEggs.

The ArsMasters have updated their system guides, recommending components at several levels of PC performance.

This fellow in NZ thinks low-cost cruise missiles are a major worry. To prove how easy they are to make he's building one in his shed, thanks daDude.

Nick spotted what has to be the weirdest Ebay auction yet.

HotHardware have been playing with Doom3 and NVIDIA's UltraShadow technology. You may have seen some of the recent Doom3 benchmarks posted and wondered how the GeForce FX 5900 Ultra and even the GeForce FX 5800 Ultra, were able to pull so far ahead of the likes of the Radeon 9800 Pro. So did we... and we asked NVIDIA.

Sniper found some Windows Smartphones.. hopefully no mid-conversation BSOD's.

There's a new bugbear variant doing the rounds in Oz apparently, thanks Crusterminator. A few people complained that some large IT companies seemed to be spewing out infected emails for a while yesterday. Update your virus protection!

XbitLabs spent a little time overclocking a P4 2.4C CPU.

GruntVille put a window in a mouse.

Imagine an internet connection so fast it will let you download a whole movie in just five seconds, or access TV-quality video servers in real time. Mmm, 8.6 gigabits per second.. thanks bigiain. He also spotted this quantum crypto article.

There's yet another Internet Explorer security update, thanks Bern. Techspot have a load of updates for various operating systems and utilities.

There's a LAN in Bendigo on June 21-22, but all the cool kids will be at the OCAU Weekend, of course.




Folding Giveaway Week 4 (3 Comments) (link)
Saturday, 7-June-2003 16:52:52 (GMT +10) - by Agg


From Bollocks: The winner for week 4 of the Folding Giveaway is cerebus, he has won a Low Noise Cooling kit, which consists of Spire Falcon Rock II Heatsink or Zalman 5500Alcu (P4) a Zalman ZM-NB32J chipset heatsink and a Panaflo 80mm FBA08A12L. Congratulations cerebus and thanks to Rod from LowNoisePC who has also donated the prizes for week 5 as well. If anyone is interested in participating in the Giveaway have a look at this page and sign up in this thread.




Friday Afternoon Reviews (0 Comments) (link)
Friday, 6-June-2003 15:39:14 (GMT +10) - by Agg


Motherboards and CPUs:
ABIT NF7-M nForce2 socketA DDR on OCPrices.
Intel Pentium 4 2.6C CPU on OCAddiction.
Hush m-ITX M10000 mini-mobo and CPU on EnvyNews.
ABIT NF7-S nForce2 socketA DDR on SharkyExtreme.

Video Cards:
NVIDIA GeForce FX 5200 Ultra on Beyond3D.
NVIDIA GeForce FX 5600 Ultra (400/400 version) on VR-Zone.
Gigabyte Radeon 9800 Pro on HardWareZone.
BFG GeForce FX 5600 on Bjorn3D.

Storage:
TDK Dual Format +/- 4x DVD Writer on HardWareZone.
Sony MPD-AP20U Portable CDRW/DVD Drive with MP3 on XBitLabs.
Plextor Premium 52x CDRW burner on CDFreaks.
JetFlashA 16MB USB Drive on TheTechLounge.
TREK ThumbDrive Smart USB storage on GeekShelter.

Cooling:
ThermoChill HE120-3 Heat Exchanger for watercooling on TheModFathers.
Thermalright SK6+ and SK7 socketA coolers on ViperLair.
Vantec UV-LED Fans on DataFuse.
Swiftech H20-8500T watercooling kit (video review) on 3DGameMan.
Enermax Thermal Monitor on OCrCafe.
Vantec Aeroflow VA4 socketA cooler on A1-Electronics.
Vantec Spectrum UV-LED Fans on ExtensionTech.
Xoxide UV LED Case Fans at ExtremeMHz.

Cases:
Chili Pro m-ATX case on TechJuice.
Beantech BT-82 "Crystal Dream" Clear Chassis on JSIHardware.
Beantech BT84 "Emerald Dream" Acrylic Case on OCClubCanada.
Maxtop CSX-778KEB-WIN on IANAG.

Audio:
M-Audio Revolution 7.1 sound card on FutureLooks.
M-Audio Revolution 7.1 sound card on OmegaHW.

Power Supplies:
RaidMax PS-500W black anodised PSU on GruntVille.
RaidTronics RaidMAX PSU on OCrCafe.

Mousing Around:
Logitech MX300 mouse on OmegaHW.
The Black Icemat mousing surface on EnvyNews.
PCXmods X-Trac HS mousing surface on SubZeroTech.
Ratpad GS mousing surface on OC-Ware.

Misc:
QuietPC QuietFeet for cases etc on RBMods.
Lian Li C-01A 5.25" Universal Aluminium Bay Cover on ExtensionTech.
MSI TV@nywhere TV tuner and VIVO card on Bjorn3D.
OCZ PC-3700 Dual Channel DDR memory on BleedinEdge.

Interesting Forum Threads:
SATA cables/connectors too fragile? in Storage and Backup.
Undervoltage Overclocks in Overclocking and Hardware Discussion.
Carputer Electrics in Audio Visual.
Imperial Star Destroyer Lego pics in Other Toys.
Hacker Haiku in The Pub.




OCAU Weekend 2 - Brisbane (0 Comments) (link)
Thursday, 5-June-2003 18:55:55 (GMT +10) - by Agg


Tomorrow is your last chance to register and pre-pay for the OCAU Weekend in Brisbane on the 20th-22nd of this month. More info in this thread.

Strange, there was a lot of interest in an event in Brisbane but now we've organised one the response has been less than expected. Wolfy is a little more, ahem, vocal about this in The Pub.




Thursday Morning #2 (5 Comments) (link)
Thursday, 5-June-2003 03:18:08 (GMT +10) - by Agg


FutureMark have decided that NVIDIA weren't cheating with driver optimizations in 3DMark03 after all. Their press-release (with various comments) is repeated here, here and here. HardOCP have a followup to their earlier editorial about benchmarking, with their feelings about the whole shebang.

Squigy_Poodle spotted these PC demos.. takes me back to the days of the Amiga demoscene.

PureOC spent some time overclocking a Barton AthlonXP 2500+.

From SiliconAngel: As you guys are always looking for new Flash Timewasters for the news, I thought I would let you know about Weebl and Bob. It is a series of Flash cartoons, with a new episode every few weeks. They're English, hosted on an English Gamer's site called jolt. You can go here for the first episode (recommended), here for the latest episode, or here to select an episode to watch. This is just too funny - hours of riotous entertainment!!! Mmmm, pie.

Is Dan. Is letters.

Adelaide University has a new supercomputer, among the three fastest computers in Australia, thanks Hawk.

ShadowPeo spotted this online world going insane due to hackers.

AthlonXP are reporting on their front page that ATI will apparently adopt a more NVIDIA-like approach to the production of video cards based on their chipsets.

From Comit: This article is 4 days old, but it's *very* interesting and wasn't ever reported. It's like a laser, but for sound. Instead of a beam of light, it's a beam of sound that can travel vast distances without dispersing.

The Telstra ADSL story continues to grow, with the Govt taking an interest, thanks Sniper.




Thursday Morning (0 Comments) (link)
Thursday, 5-June-2003 02:27:18 (GMT +10) - by Agg


There's been several new advertisers on OCAU over the last few days, in the forums and on the main site. Keep an eye on those banners, there may be something that interests you.

We broke the forum record again on Monday night. 574 people browsing at once! Crazy stuff.

India has decided that open-source software is the way to go forward, despite some attention from Microsoft lately, thanks Bern.

Meanwhile in India, Intel and HP aren't very popular at the moment either, having raided resellers and seized "fake" products that may not actually be fake, resulting in a huge boycott of their products. More info here, thanks trixican.

This is a very cool project, putting an entire PC inside a monitor with lots of pics of the process. I don't think much of the final colour scheme, though. There's a thread discussing it here in the forums.

The PDA market just got a little less complicated, with Palm buying Handspring.

Hexus have a guide to making an LCD keypad.. when ended up being a kinda fanbussy thing.

DesignTechnica wonder why minidisks never really caught on.

It's beer and it's cold. What better use for cooling technology is there than this? Thanks Ryan.

TheTechZone have a guide to wireless networking.

From PostModern: Winter is here and the time is right for the return of the Geek Food Cook-Off. This month's topic is "Fast Food Revolution - FFR(tm)". Combine two or more fast foods into a new menu item and give it a name. The emphasis is on funny rather than edible ;) For some ideas, check out the tubby guy here.



Just a few quick bits for you this morning...

Apple have cut the price of their 12" and 15" PowerBook notebooks. But not the 17".

Addaboy have a Debian GNU/Linux guide posted.

GideonTech show you how to re-route the status LED of a dvd/cdrw drive, so that you can still see it after you stealth the drive.

Burt has put an EPIA-M10000 up against the Pentium4 3.0C. Sometimes you just have to wonder!

DFI Lan Party KT400A motherboard reviewed at NinjaLane and OHLS-Place.

ASUS P4C800 Deluxe i875P Motherboard reviewed at 3DVelocity.

Samsung SM352 CD-RW DVD combo drive reviewed at Technoyard.

MSI GeForce FX5200 TDR128 reviewed at Hot Hardware.

Madlights flashy glowey things reviewed on OCMod Shop.

Samsung SyncMaster 172T LCD monitor at Dans Data.

Logitech MX300 optical mouse at Techware Labs.




Wednesday Morning Reviews (2 Comments) (link)
Wednesday, 4-June-2003 03:09:30 (GMT +10) - by Agg


Motherboard and CPU:
VIA EPIA M10000 mini-mobo and CPU on Hexus.
Asus P4C800 Deluxe i875P P4 DDR mobo on A1-Electronics.
ABIT BH7 i845PE P4 DDR mobo on PCHardware.
Tyan Trinity GCSL ServerWorks-based P4 DDR mobo on Tech-Report.
Soltek SL-75FRN2-LR nForce2-based socketA DDR mobo on OCNZ.
AMD Barton 2500+ socketA CPU on ViperLair.
AOpen AX4SG Max i865G P4 DDR board on 3DXtreme.
Intel 3GHz 800MHz FSB P4 CPU on HardCoreWare.
Soyo SY-P4i875P Dragon 2 Canterwood P4 DDR mobo on OCTools.
Soltek SL-86SPE-L Springdale-PE P4 DDR mobo on HardwareTestDK.

Memory:
TwinMOS Dual Channel PC3200 DDR on ExtremeOC.
Kingston HyperX PC3500 CL2 DDR on OCAddiction.

Video Cards:
GeForce FX 5600 on HardFind.
Leadtek WinFast A300 Ultra MyViVo GeForce FX 5800 Ultra on SharkyExtreme.
ATI All-In-Wonder 9700 Pro card with the lot on Xbit.

Cooling:
OCZ Gladiator II copper heatsink on FrostyTech.
Verax P14Cu copper-base heatsink on FrostyTech.
Sunbeam Rheobus II fan controller on TheTechLounge.
PCToys AeroMaxx socketA cooler on IANAG.

Keyboards:
KBS-2548RP wireless keyboard on Gamershell.
Eluminex Illuminated Keyboard on 3DVelocity.

Cases:
Lian-Li PC-6070 quiet case on AthlonXP.
Chenming Silver 301KE aluminium case (video review) on 3DGameMan.

Storage:
PenDrive Plus 2.0 2GB USB storage on EnvyNews.
Enhance Technology ISWAP IDE HDD caddy on GideonTech.
MSI CR52-A2 52/24/52 CDRW drive on Bjorn3D.
Enermax UC-A3FATR2 cooling HDD bay on BurnOutPC.

Digital Cameras:
Fujifilm A203 digicam on Spodes.
Polaroid iON 230 ultra-compact digicam on SubZeroTech.

Misc:
PowerPak USB Headphone Amp on EXHardware.
P5 Glove gaming controller on Gamershell.
ECS EZ-Buddie mini-PC with overclocking on HardWareZone.
Forton-Source FSP530-60GNA PSU on ClubOC.
AMI Diagnostic for Windows software on Ohls-Place.
Keyspan USB2+Firewire card on EnvyNews.
Creative MegaWorks 5.1 550 speakers on HardWareFusion.
Ratpad GS mousing surface on GruntVille.



First up today...

Well, it doesn't always pay to catch someone doing the wrong thing. Especially if its Telstra.

This article on The Age, hits out at Telstra's ADSL reliability. Its just not their day!

Less government money towards faster computers and more spending on bigger databases. Thats the thrust behind this article on the New York Times.

A couple more pieces from Sniper, The nVidia GeForce FX 5900 Will Emerge In Late June, Early July, also, Intel are to announce the Pentium 4 3.20GHz on the 23rd of June.

DazedNConfused found this little machine from MSI. They might be trying to shuffle in on the Shuttle.

HaXors around the world are pretty impressed with the Trinity hacking scene in the latest Matrix movie according to this article. Thanks PodgeSSS.

Moose notes that Microsoft will no longer support Internet Explorer as a stand alone application. After IE6 SP1, it will instead become an integrated component within the operating system. Read more here.

rmason sent this one in: "Scientists in the UK have created a sticky tape which works in the same way as gecko feet".

PimpRig have a brief, member submitted article on changing the LED in a Logitech MX 700 wireless mouse.

This from Tango_Charlie: I've got a LAN coming up. It's the CLGA LAN which is regularly frequented by some members of the OCAU community. Anyway, It's on June 7th, has a capacity of 150+ people and will be held at North Sydney. Signups and more info are available at www.clga.net

ledz found this rather nasty looking alien themed case mod. Eek!

Two separate space launches are due today and tomorrow, both heading for Mars, and both looking for life, or signs of it anyway.

And finally, if you haven't seen the Matrix-XP movie yet (a very clever Matrix spoof), go here and have a laugh.




OCAU Weekend 2, Brisbane 20th-22nd June (0 Comments) (link)
Tuesday, 3-June-2003 00:57:05 (GMT +10) - by Agg


Don't forget, the OCAU Weekend 2 in Brisbane is on this month. Over the weekend of the 20th-22nd of June we'll be having a dinner at Hogs Breath, tenpin bowling, paintball and a BBQ/social gathering. Some things need pre-payment, others just need you to turn up. Everyone's welcome, whether you're a forum regular or you just check the news page occasionally.

You have to register/pay by the 6th of June - this friday!

More info in this thread. Register / payment info on this page. Direct link to the payment page is here. If you've paid but your status hasn't been updated yet, don't panic, we'll do it soon.

See you there!



Motherboard:
DFI Lan Party KT400a Motherboard at The Tech Lounge
Iwill K7S2-N SiS 746FX Motherboard at Tech IMO

Memory:
Crucial PC3200 DDR at Extreme OC
Crucial PC3200 DDR at Hard Avenue

Video:
Triplex EYE BOMB Radeon 9800 Pro at VR-Zone
Nvidia GeforceFX 5600Ultra at HardAvenue
Hercules 3D Prophet 9800 PRO 128MB and 7500 128MB at Digit-Life

Storage:
X-Micro APEX USB Flash Stick at TweakTown
Promise SX-4000 Raid Controller at MaxOC

Cooling:
Swiftech 8500 Liquid Cooling Kit at Nexus
JimmsPc Cpu waterblock at R&B
Spire Flowcooler HDD Cooler at ModSynergy

Case/Modding:
Vantec 4 Channel Fan Controller at OHLS
FlexiGlowHK Lazer Beam LED's at Extension Tech
Flexiglow Lazer Beam Kit at DVHardware

Misc:
OG 5050 5.1 Speakers at Geek Shelter



Another big community site has bitten the dust, with Icrontic.com losing their database to hackers. Mortin, the owner, has thrown in the towel and is selling the domain and software (but no data/content) on ebay. There's certainly been some controversy about that site in the past but it's never good to see a community broken up like that and someone's hard work go up in smoke. In case you're wondering, OCAU's database is backed up every night and regularly transferred offsite.

VisionTek are poking a little fun at NVIDIA with an animation on their front page.

LegitReviews have a 4-way roundup of i875P motherboards for your 800MHz P4.

Our Other Toys forum has been swamped with mobile phone threads, so we now have a specific Mobile Phones sub-forum to give the other topics some room.

From eDust: I've read other stuff about this guy a long time ago. He's a homeless guy who manages to hack into major companies and then informs them, or the media. He just broke into a major insurance company in the US.

Chainbolt compared ASUS's P4P800 and ABIT's IS7, 800MHz P4 motherboards, with some overclocking and benchmarking in our Intel Hardware forum.

ARP have an article on Microsoft's Windows Server 2003 product.

Some slightly different approaches to watercooling in some new PCDB entries from MrBean, Huron and omega.

OCPrices compared some thermal pastes from OCZ and Arctic Silver.

From AKKO-XP: Run PC Demos as your screensaver. Works great with ATI DX9 Demos!

Think that governments don't pay any attention to online forums? The CIA and FBI are taking an interest in at least one, thanks Daniel.

MikhailTech went to the Chaintech Reloaded event.

From Alexander: The DGC LAN will be on again on 14th June at Chatswood, Sydney. Registrations opened this Saturday (31st May) People can go to dgc.org.au for details and registration.

Apathy sent in today's flash timewaster, the Three Foot Ninja. I found it a bit too easy.



Some nice fabrication and thinking has gone into this case. Ducts carry fresh air past the CPU cooler, reducing one of the traditional problems of small cases.



Click for the PCDB entry!





Motherboards:
DFI Lan Party KT400A-based socketA DDR on SubZeroTech.
Gigabyte 8KNXP i875P P4 board on TweakTown.
Albatron PX865PE Pro II P4 DDR on HardAvenue.
ABIT IC7-G Canterwood P4 mobo on TechSeekers.

Video Cards:
ATI Radeon 9600 Pro on Digit-Life.
eVGA Personal Cinema (video review) on 3DGameMan.
BFGTech GF FX 5600 Ultra on HardOCP.
BFGTech GX FX 5600 256MB on HardOCP.

Cooling:
OCZ Ultra2 Thermal Compound on TheTechZone.
Swiftech MCX462+T peltier CPU cooler on GruntVille.
Vantec Tornado Fan on WinHQ.
Ahanix Iceberg 1 watercooling system on OCClubCanada.
D-Tech Spiral Waterblock for AMD on SubZeroTech.
Coolermaster Cooldrive 3 HDD cooler on RBMods.
Zalman ZM-MFC1 Fan Controller on OCModShop.
SunBeamTech Rheobus on Monster-Hardware.

Keyboards:
Scythe Ergo Diver weird keyboard on DansData.
Eluminex Illuminated Keyboard on Ohls-Place.
Eluminex Illuminated Keyboard on BurnOutPC.

Misc:
Mushkin PC3500 DDR memory on TechnoYard.
Crucial 64 and 128MB MMC flash cards on EnvyNews.
Western Digital Raptor WD360GD 10k SATA HDD on Digit-Life, our review here.
Nokia 5100 mobile phone on DesignTechnica.
X-Pider Aluminium Case on EnvyNews.
Jazz Speakers Wireless 5.1 speakers on MonkeyReview.
Globalwin 300W & 400W Silent PSUs (video review) on 3DGameMan.
SnoreStopper (?) on Gamershell.
Belkin Quadra 4-in-1 Pen on Bjorn3D.



B5Lurker sent a quick note saying his tests all came back NEGATIVE, so that's great to hear. Feel free to keep folding though. :)



---
Advertisement:


All original content copyright James Rolfe.
All rights reserved. No reproduction allowed without written permission.
Interested in advertising on OCAU? Contact us for info.