August 2003
Sunday Night Reviews (0 Comments) (link)
Sunday, 31-August-2003 20:20:08 (GMT +10) - by Agg


Intel Motherboards:
ABIT IC7 i875P on OCPrices.
Gigabyte GA-8SF648FX SiS648 on LegitReviews.
SFI 748-AL SiS748 on AnandTech, thanks Tekka.

AMD Motherboards:
AOpen AK77-600 Max KT600 on PCStats.
Gigabyte GA-7VT600 1394 KT600 on PCStats.
DFI LAN Party NFII Ultra nForce2 on Xbitlabs.
MSI K8T Master2-FAR dual Opteron K8T800 on Legion-Hardware.
ABIT NF7-S 2.0 nForce2 on BlueCouch.
Gigabyte GA-7VT600 1394 KT600 on OCNZ.
MSI KT6 Delta-FIS2R KT600 on AnandTech.
Asus A7V600 KT600 on AnandTech.
Soltek NV400-L64 nForce2 Ultra 400 on AnandTech.

Video Cards:
Gainward GeForce FX5200 PCI on TheModFathers.
Asus V9950 GeForce FX 5900 on LegionHardware.
Sapphire Radeon 9800 Pro Ultimate Edition on TweakTown.
All-In-Wonder Radeon 9800 Pro on Bjorn3D.
All-In-Wonder Radeon 9800 Pro (preview) on NordicHardware.

Memory:
Kingston HyperX PC3500 on ViperLair.
OCZ EL DDR PC4000 Dual Channel Gold DDR (video review) on 3DGameMan.

Keyboard/Mouse:
Logitech Cordless Comfort Duo keyboard and mouse on Virtual-Hideout.
Macally DotMouse on RBMods.

Audio:
Altec Lansing 5100 5.1 Speakers on SLCentral.

Cooling:
Vantec Spectrum UV LED Fans on OCIA.
QuietPC Radial Fin CPU Cooler on RipNet.
Zalman ZM80C VGA Heatpipe Cooler on OCAddiction.
Thermaltake X-Blower 2 fans with controller on Ohls-Place.
D-Tek Flowmaster XT watercooling kit on Monster-Hardware.
Thermaltake Silent Boost CPU cooler on OCrCafe.
Net-Cool W-Zero radiators for watercooling on Bit-Tech.
Asetek Waterchill watercooling kit on DWPG.

Monitors:
Hitachi CML152 15" LCD on TechWareLabs.

Storage:
RD3XP Gladiator ATA133 Cable on PimpRig.
IBM 180GXP HDD on SLCentral.
Plextor PlexWriter PX-504UF DVD+R/RW burner on DesignTechnica.

Power Supplies:
Silverstone SST-ST35F-G02 350W on DVHardware.
SeaSonic Super Tornado 300W on MikhailTech.

Cases:
Maxpoint CS-56881LBFS Aluminium on ClubOC.
LianLi PC-37A Mini-ATX on OCrCafe.
Extremecase Picasso Black Steel Mid-Tower on ExtremeMHz.
CoolerMaster ATC-600 on ViperLair.
Aspire X-Superalien fulltower on HardCoreWare.
XPCases X-Superalien on ViperLair.
Silverstone SST-LC01 HTPC case on AseLabs.
Kingwin KT-424 Aluminium on AnandTech.

Misc:
Justcom Pro JC104P 4-Port KVM switch on PCStats.
iCute Acrylic Lighting Stand on GideonTech.
Sunbeam Bubble Light on RBMods.
HP iPaq 2210 PocketPC on SLCentral.
BIOStar iDEQ 200s mini-PC on OCAddiction.
MP100A Microscope Pen on ExtensionTech.
Logisys Acrylic LED Case Feet on ExtensionTech.
Shuttle CPX SB61G2 barebone mini-PC on HWExtreme.
Dual CCFL Fan Grille on GruntVille.

Interesting Forum Threads:
Rodent Brain Transplant in Modding & Electronics.
Call of Duty (demo is out) in Games.
21k 3DMarks is passed! in Video Cards.
What makes drinks in a bottle better? in Geek Food.
Top 30 Posters in The Pub.
Folding@Home Giveaway 4 Nominations in Team OCAU.




Saturday Night (3 Comments) (link)
Saturday, 30-August-2003 22:10:06 (GMT +10) - by Agg


Ambush and a few others sent word that Intel may offer an overclocking utility soon. More info on TheInq, Xbit and Intel'sown page.

Sin22 spotted a Penny-Arcade comic about modding.

ByteSector have a rant about Intel and how they suck or something.

3DNewz has some videos about making Half-Life 2.

Xbit have compared six KT400A motherboards for your Athlon or Duron. They also looked at two onboard sound solutions. The first is formed by a VIA VT8235 South Bridge and an AC'97 VIA VT1616 codec, and the second one is based on nForce2 MCP-T with the integrated APU SoundStorm and an AC'97 Realtek ALC650 codec.

Bit-Tech have some modding 101 info posted.

Kernal32 notes that viruses will get you arrested and some IBM monitors are fire hazards. More info on the virus arrest here, thanks Tekka.

Games-Fusion went to ECTS 2003, a big gaming convention in Europe, and have coverage of upcoming games etc.

Digital-Daily compared GeForce FX5600 Ultra and Radeon 9600 Pro mid-range video chipsets.

Samsung apparently have their GDDR2 memory well on the way, thanks Tekka.

PCReview have some guides to choosing components for various parts of your PC.

Stanza says that some DLink wireless gear can be updated to 44Mbps with a new driver.. search through here for yours.

TechSpot want to help you tweak your Radeon video card. Techimo will tell you how to overclock it. If an NVIDIA card is more your style, our old overclocking with coolbits article is what you need.

Interesting Forum Threads:
R9800 Pro Mod in Video Cards.
My custom fibreglass/perspex case in Modding & Electronics.
Choose your socket! in AMD Hardware.
Using Tualatin on a BX in Intel Hardware.
Best Mod EVER! in Modding & Electronics.
What are you currently playing / looking forward to? in Games.



Here's something a little different from Slabz.. good pics of the internals in the PCDB entry:



Click for the PCDB entry!





Before were get into today's dose of tech news, an email in the old newsbox today letting us know that forums admin Geo and his girlfriend Angela were married on Saturday. Good luck to you both, and best wishes from OCAU.

On with the news! It seems that St George is the latest bank to be targeted by scammers. "Recently some St.George customers have been emailed requesting that they update their Internet bank account details. You may have received one of these emails. The emails encourage people to click on a website link that takes them to a look-a-like St.George Internet Banking logon page, where they are asked to enter their Internet Banking logon details. The emails and website are fraudulent and you should ignore any emails which request that you enter your account details." Lets be careful out there, people! Thanks to Michael.

Some news from Iroquois : AMD revives Duron line, a 1.6GHz Duron overclocked to 2.3GHz, a 2.4GHz P4 overclocked to 3.6GHz and The Hall of Technical Documentation Weirdness.

A tale of broadband charges woe from Sniper, also the Phantom Console. Fact? Fiction? Marketing hype? The best thing since sliced bread? Might have to wait and see.

Some info here on watercooling Radeon 9800 cards. Thanks Tempus.

Have you had a crack at optimising your motherboard BIOS? Dazed and confused by all the options and settings? Adrian's Rojak Pot have released an updated version of their BIOS optimisation guide, now at version 8.0. While you're there, budding graphics artists may want to check out their T-Shirt design competition.

PCstats have a preview of ATI's new Radeon 9100 IGP chipset, for Pentium 4 CPUs. Haven't heard too much about ATI motherboard chipsets. Interesting read. PCstats have also released a beginner's guides to assembling your own PC. Yes, it's basic, but we all had to start somewhere.

Symantec set to introduce product activation. Yay. More information here and here. Thanks to Shonky man and Tekka.

Avid newshound Tekka has sent in some more interesting info. Anandtech's Price Guides August 2003 - CPUs, Motherboards, Memory and Video Cards. Next-gen DVD-R mobile drive by Toshiba. Microsoft to debut MSN Premium. Intel 'may be guilty' of over hyping Wi-Fi. China to form anti-spam task force. Intel adds $375m to Asia-Pacific investment tally. IBM finds ally for supercomputer-on-a-chip. School's out for Microsoft Office. Japan's goal - robots that think like a child. Microsoft slashes Office prices, and Webcasters slap RIAA with antitrust suit.

Beyond3D have interviewed PowerVR's John Metcalfe, about the PowerVR Series 5 chip, MBX, and the price of Halibut. Actually, there may be no mention of Halibut. Read the article here to find out!

Some good downloads to distract you from your work, or study .. or procrastination. Some classic games from Blizzard and Halflife 2D. Thanks to Andrew and elvis.

Finally, my favourite bit of news in the newsbox today .... September 19 is "International Talk Like a Pirate Day". I'm really looking forward to this. I have a parrot already picked out. Yarrrrrr, me hearties! Time to raise the Jolly Roger and swab the poop deck! Thanks Trojan.




Thursday Night Review Extravaganza (2 Comments) (link)
Thursday, 28-August-2003 18:58:15 (GMT +10) - by Agg


AMD Motherboards:
ABIT NF7-S 2.0 nForce2 Ultra 400 on A1-Electronics.
Soyo KT600 Dragon Ultra Platinum on TechnoYard.
Chaintech 7NJS Ultra Zenith on GruntVille.
Soltek SL-75FRN2-L nForce2 on Hardware-TestDK.

Intel Motherboards:
Abit IC7-G Max II Advance Canterwood on TweakNews.

Video Cards:
Albatron GeForce FX 5900PV on Beyond3D.
Chaintech Apogee FX5600 Ultra GeForce on OCTools.
nVIDIA Reference GeForceFX 5900 Ultra on PCStats.
nVIDIA Reference GeForceFX 5600 Ultra on NeoSeeker.
Tyan Tachyon G9600 Pro Radeon on TweakTown.
Leadtek A350 Ultra TDH MyViVo FX5900 Ultra GeForce on OCNZ.
ABIT GeForce FX5900 Siluro OTES on Hardware-TestDK.
MSI GeForce FX5600VTD on NeoSeeker.

Cases:
Chieftec BX Series on Virtual-Hideout.
Morex 3677 Mini-ITX on Ohls-Place.
Enermax X Window CS-5688BFS Pearl White on OCIA.
Lian-Li PC37 on Bit-Tech.
GMC Trinity X-21 on OCHardware.

Storage:
Teac DV-W50D DVD+/-R/RW Combo Drive on HotHardware.
80GB NetDisk LAN-connected HDD on Guru3D.

Cooling:
Pclins Thermochill radiator on RBMods.
Spire WhisperRock IV CPU cooler on 3dXtreme, our review here.
Nanotherm PCM+ thermal paste on PirateSoftware.
Danger Den Maze 4 GPU waterblock on TheModFathers.
Aerocool Extreme CPU Cooler on Bjorn3D.
Zalman 80C-HP Heatpipe VGA Cooler (video review) on 3DGameMan.
Thermalright SLK-900-A HSF on FuriousTech.
Waterchill with VGA/Chipset watercooling kit on Hardware-TestDK.

Memory:
Corsair 1GB TwinX XMS4000 DDR on OCPrices.
GeIL Golden Dragon PC3700 DDR on ExtremeOverclocking.
Corsair XMS PC4000 1GB TwinX DDR on Hardware-TestDK.

Audio:
Zalman XM-RS6F 5.1 Surround Headphones on HardWareZoom.
Altec Lansing 5100 Speakers on FutureLooks.
Xitel MD-Port I/O MiniDisc accessory on FutureLooks.

Mini-PC's:
AMS e-Cube EG65 on OCAddiction.
IWILL ZPC on SFFTech.

Power Supplies:
PowerGlow 420W on ExtensionTech.
A+GPB 420W Titanium on ModSynergy.
A+GPB 480W Titanium on ModSynergy.
Zalman 400W on Blynk.
SilverStone ST-400 400W on ModSynergy.
Enermax Whisper EG365AX-VE(W) 350W on TheTechLounge.

Misc:
Contour ShuttlePRO V.2 jog/shuttle controller on EnvyNews.
Thermaltake Xaser Bag on OcrCafe.
Flexiglow Bubble Light on Blynk.
Compex 16-Port LAN Switch on LWD.
Samsung Syncmaster 192T LCD monitor on SLCentral.




Wednesday Afternoon (2 Comments) (link)
Wednesday, 27-August-2003 14:05:59 (GMT +10) - by Agg


Tekka sent in a heap of news: Windows XP Embedded with Service Pack 1 Evaluation Edition. HP-Intel 64-bit deal cuts out full blown AMD Hammers. Maxtor releases upgraded drive. Against SCO's GPL jihad: one size doesn't fit all. Taxing computer connections? Is Linux as Secure as We'd Like to Think? MIT leaps to solution of walking-on-water mystery. Hackers cut off SCO Web site. Symantec coughs up latest virus remedy. Report: Microsoft a potential telecom force. Tiny Hitachi drive hits 4GB.

NordicHardware have an interview with Gainward as well as some pics of their new CoolFX watercooling system.

Quite a few watercooled systems appeared in the PCDB over the last few days.. if you're after inspiration, check out the entries from 4dsux, enforcer, Haroc, wheatbix and pippin88.

PCStats have a beginner's guide to backing up and restoring data in WinXP.

AusGamers have posted the new Matrix Revolutions movie trailer.

Bit-Tech used some Sunbeam products to brighten up a boring PSU.

Dan's got more letters, covering breaking pins off IDE connectors, cooling PCs with heavy water (!), IDE drive spindle speeds, AGP aperture mysteries, AGP card and slot compatibility, the relative merits of aluminium and steel cases, a video card that ought to work but doesn't, getting rid of "Send To", and a craptacular monitor.

LANAddict checked out some wireless networking products from Buffalo.

TweakTown have some dual Opteron action happening, with their preview of VIA's K8T800 chipset.

From Robert: On September 25, Intel are offering 'one unwired day'. A day to try Wireless internet for free! More info here. Sydney Locations are here. Melbourne hotspots are here. Doesn't seem to be many other cities in Oz covered.

HWZ have put two WD Raptor hard drives together in a raid array. We did the same thing with two and four Raptors here.

Microsoft using Linux? Surely not, thanks PodgeSSS.

We don't hear much about Celerons nowadays but they're still a pretty good cheap alternative. It's not like a 2.6GHz CPU is going to be crawling because of less L2 cache and slower FSB. :) DVHardware says they've dropped in price also. The Duron family from AMD is similarly overlooked sometimes, but still a very decent option for people who don't have to be on the bleeding edge.

Computer programmer or serial killer? The line blurs with this quiz from Andypoo.

Today's flash timewasters are Chris the Ninja Pirate (of Weebl and Bob fame) from SiliconAngel and Pac Man (danger - time sucker) from Gavin.




OCAU Merchandise (0 Comments) (link)
Tuesday, 26-August-2003 17:19:09 (GMT +10) - by Agg


We're getting close to the next round of OCAU merchandise. We'd like to get an idea of people's interest in the various options so we have a rough idea of how many of each to order. Please vote in the following threads:

Update: If you can't wait, we do have tshirts, stickers and case badges for sale already, see here on PlusCorp's site.




World Cyber Games (1 Comments) (link)
Tuesday, 26-August-2003 15:28:35 (GMT +10) - by Agg


Don't forget, the World Cyber Games 2003 Australian National Preliminaries Tournament Finals and BYO-PC LAN are on this weekend in Darling Harbour:

Ausgamers in partnership with Samsung and Intel are pleased to announce that the WCG National Finals are upon us!! This event, the culmination of months of nationwide planning and qualifying tournaments will be no ordinary LAN. With the National finals of the WCG Tournament, BYO-PC LAN and technology expo, the World Cyber Games 2003 Australian National Preliminaries will be THE ultimate gaming event to date.

Full details here!

Update: Hughesey reminded me that the Intel PC Modding Competition is being judged and awarded there. 8 finalists have been chosen and so far, 5 out of 8 are OCAU forum people. :) More info in this thread.




Tuesday Afternoon Reviews (0 Comments) (link)
Tuesday, 26-August-2003 14:34:29 (GMT +10) - by Mred32


Storage:
160.0GB Samsung SP1614N HDD at MBReview
Cooler Master Cool Drive 3 at Gruntville

Video:
Compro VideoMate TV Gold Plus TV Tuner at OCAU
Tyan Tachyon G9600Pro at OC Addiction
Albatron GeForce FX5600U Ultra at PCStats
PowerColor 9200SE at OHLS Place

Case/Mods:
BitsModding (insanely bright) CCFL Fan Grill at GideonTech
Cobalt3 Pyramid V+ Fan Controller at The Tech Zone
Vantec Nexus NXP-301 & Spectrum CCFLs at Envy News
Vantec Nexus NXP-205-SL Rheobus at Envy News
Antec LANBoy at Nexus
VLSystem L.I.S VFD at Bit-Tech

Cooling:
Asetek WaterChil Water Cooling Kit at HotHardware
Zalman CNPS7000A-CU Heatsink at Pimprig

Mainboard:
SOYO-KT600 Dragon Ultra at TechnoYard
Soltek SL-KT600-R at OHLS Place

Systems/Laptops/PDA:
The AMS eCube EG65 at SFF Tech

Memory:
OCZ EL DDR PC4000 Gold Dual Channel Kit at Viper Lair

PSU:
Kingwin KWI-450WABK Divine PSU at Bjorn3D

Audio:
Westone UM2 In-Ear Monitors at ExHardware

Other Bits:
Twin-TV "digital wallet" Gadget at Dans Data
XTrac Zoom Mouse Pad at Extreme OC
PC Geiger PCI Bus Multifunction Analyzer at Rojak Pot
Minolta Dimage F300 Digital Camera at ByteSector



First up tonight, VR-Zone have published a VIA KT600 motherboard roundup. Nine motherboards in total. More information here.

A bit of information over on X-bit labs about the upcoming AMD Athlon 64 FX "San Diego". Thanks Sniper.

Some news from Tekka. The Japanese government has challenged hackers to breach the security protecting a network holding sensitive personal information on Japanese citizens. Bold move. More information here. Some new DVD copying software is causing a bit of a stink, Windows XP SP2 not due till mid-2004, and "Toshiba has launched what it claims is the thinnest, lightest and smallest hard drive-based portable music player yet to grace the market." Looks quite nice. More information here. Hard disk based MP3 players rock ... nothing like carrying a couple of thousand songs around with you! Thanks Tekka.

The dyke is breaking! Greg Dyke that is, Director General of the BBC, and he's breaking open the BBC archives for free download! Imagine all those episodes of "Love Thy Neighbour" waiting patiently to become part of my collection! Thanks Brendan.

Seems Microsoft may be cracking down on third party Messenger clients. "Starting October 15, users of older MSN clients must upgrade or they will be unable to connect to the service, says Microsoft. .... Third-party clients, which Microsoft labels 'unauthorized', will also be adversely affected by the change." Thanks Tenoq.

Are you into heatpipes? Want a fully heatpiped system? Check out these photos of a new Zalman case, using heatpipes for cooling of every component (and in the process turning itself into one big heatsink). Nice.

Looks like the good old ABC will be screening Dr Who again, at 6pm on Monday to Thursday nights, starting September 15. Thanks Shannell!

8BallsHardware have some photos of a watercooled OEM PC from NEC in this forum thread. I wonder what will be the next cool (pun intended) hardcore cooling method now that watercooling has become mainstream? (pun again intended).

Following that theme, it looks like watercooled PCs could become even quieter if technology reported on New Scientist takes off. Silent waterpumps powered by electro-osmosis, with no moving parts. Thanks OzWolfbane.

Finally, a very nice watercooled rig in the PCDB called The_Original_Jobe. Looks like a pretty decent job(e)! Hehe, I need sleep.



Storage:
Vantec EZ-Swap Removable Drive Bay at The Tech Lounge
Seagate Barracuda 7200.7 SATA in RAID at Metku Mods
Lite-On LTR-52x32x52 CD Burner at Techware Labs

Video:
VisionTek's Xtasy 9800 Pro 256MB at The Tech Report
Chaintech GeForce FX 5600 Ultra at OCC
Chaintech Apogee A-FX71 Geforce FX5600 Ultra Ver2 at Monkey Review

Case/Mods:
Enermax 3.5" Bay Fan Controller at Mod Asylum
Vantec Nexus NXP-205 Fan Controller at 8Balls Hardware
Aerocool El Case Badge at AMDmb

Cooling:
Scythe Kamakaze HSF at Bit-Tech
Zalman CNPS7000A-Cu HSF at OCModShop

PSU:
Seasonic Super Tornado 300W PSU at ModSynergy

Misc:
Multi-Purpose Console to VGA Monitor Adaptor at Meet the Geeks
SteelPad 4S Gaming Mousepad at KepTech
Altec Lansing 5100 5.1 Audio Speaker System at Computer Critics
Altec Lansing XA3051 Home Theater Speakers at The Tech Lounge




Compro VideoMate TV Gold Plus (17 Comments) (link)
Monday, 25-August-2003 02:31:05 (GMT +10) - by Agg


Chainbolt has examined this TV tuner card for us from Compro in Taiwan. This PCI card has some interesting features, including an FM radio tuner and the ability to turn on your PC, record a particular show to disk, then turn it off again.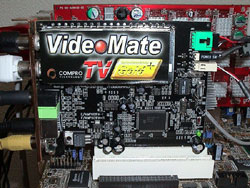 Click for the full review!






Sunday Afternoon (6 Comments) (link)
Sunday, 24-August-2003 13:27:44 (GMT +10) - by Agg


From Ben: Looks like we're getting new Duron Model 8 Processors - 1400, 1600 and 1800 MHz. AMD released a Tech Doc on August 15 - 25848.PDF shown on their Duron Tech Doc Page - on these processors. This lists the different processors on page 33 - which is Chapter 6. The maximum temp of them is 85C, with a maximum power of 57W. According to TheReg, they'll be_'priced at $32, $39 and $47, respectively' [$US, I presume] and will be codenamed 'Appalbred'. Update: apparently the actual name is 'Applebred' ... less appalling name, and it's aimed at "less wealthy nations" according to TheReg, thanks again Ben.

Apparently the Sobig virus was started via a porn site.

Hmm, might need to get one of these ultimate power supplies for my next PC.

A few people have rebuilt their watercooled machines and are showing them off in our Extreme Cooling forum, check out the threads here, here, here and here.

PCStats have a beginner's guide to firewalls and internet security.

Ohls-Place interviewed someone from ModSynergy.

This University of Kentucky supercomputer is the first to drop below $100 USD per Gigaflop of computing power.. using AthlonXP 2600+ CPUs.

ModTown joined a couple of Maxtor DiamondMax 9 SATA drives into a RAID0 array and ran some benchies on it. We did a similar thing with 2 and 4 WD Raptors recently. For more RAID0 info, see our earlier articles here and here.

ComputerSphere have a guide to spicing up your CD-ROM drive cover.

daDude spotted this feature comparison table between Mac OS X, Win XP Pro and Linux.

Monster-Hardware have a guide to powering LEDs with your motherboard's internal USB connector.

Apparently there are some unauthorised and unsupported versions of Pioneer's DVR-A06 DVD burner being sold in Australia, thanks klif-e. There's some fake Transcend RAM surfacing in India, hopefully won't show up here.

Interesting Forum Threads:
Spammers using RPC exploit in Networking and Internet.
Dumb science rant in Extreme Cooling.
What is your main gaming video card? (poll) in Video Cards.
Project GSXR - wreck to track bike in Motoring.
New batch of 2.8s hit the shore (4GHz) :) in Intel Hardware.
Pixel ICE, SilverProp cyclone Nexus LX and Clearflex reviews in Extreme Cooling.




Sunday Afternoon Reviews (0 Comments) (link)
Sunday, 24-August-2003 13:07:59 (GMT +10) - by Agg


Motherboards:
Soyo P4I875P Dragon 2 Platinum Edition Canterwood P4 board on TheTechLounge.
Gigabyte GA-7VT600L KT600 socketA board on OCNZ.
Gigabyte GA-7N400 Pro nForce2 Ultra 400 socketA board on SubZeroTech.

Fanbus etc:
Enermax Fan Controller on OCrCafe.
CoolerMaster Musketeer 3-fan controller with meters on ExtremeMHz.
Sunbeam Rheobus on GruntvillE.
PCMods RheoBus v2.5 on VoidedWarranty.

Cooling:
Thermaltake Fan Duct on CyberCPU.
Thermaltake Volcano 11+ CPU cooler on RBMods.
Arctic Silver Ceramique thermal paste on IntelForums.

Audio:
ByteRunner USB SoundCard on ExtensionTech.
A+GPB HSS168 Virtual 3D Headphones on ModSynergy.

Power Supplies:
Seasonic Super Silencer 400W on OCAddiction.
Seasonic Super Versatile 200W on Ohls-Place.
Nexus 300W on Bit-Tech.

Misc:
3Com OfficeConnect Wireless Cable/DLS Gateway on FutureLooks.
Chameleon Springs cable wrapping on Bit-Tech.
ATI TV Wonder VE Remote Control Edition TV card on TweakNews.
Chyang Fun Minicube mini-PC on SpodesAbode.




Saturday Night Reviews (0 Comments) (link)
Saturday, 23-August-2003 23:59:21 (GMT +10) - by Agg


Video Cards:
Albatron 5600P Turbo GeForceFX on NexusHardware.
Chaintech FX71 5600 Ultra GeForceFX on IPKonfig.
VisionTek Xtasy 9800 Pro Radeon on Bjorn3D.
Abit Siluro FX5900 OTES GeForceFX (video review) on 3DGameMan.

Memory:
GeIL PC4000 Platinum Series DDR on PCStats.
OCZ EL PC3700 dual-channel DDR on ViperLair.
A-Data DDR500 PC4000 on OC-Zone, our review here.
OCZ Gold PC4000 DDR on ViperLair, thanks Daniel.

Storage:
Highpoint RocketHEAD 100 SATA to PATA adapter on ViperLair.
Coolmax Gemini Series CD-510B-U2 3.5"/5.25" USB2 external enclosure on ModSynergy.
External USB2 Portable Storage Kits on OCIA.
Lite-On 52x32x52x CDRW drive on TechWareLabs.

Cooling:
Aerocool Golden Crown CPU cooler on 3DVelocity.
Thermaltake TR2-M4 X Blower Heatsink/Fan on Bjorn3D.
Spire CopperStream P4 Cooler on 3dXtreme.
Xice Watercooling Kit on Nokytech (in French, with pics).
CoolerMaster Aero 7+ CPU Cooler on 3DXtreme.

Cases:
Antec Sonata on FlickerDown, our review here.
CoolerMaster Wave Master on OCAddiction.

Mice and Pads:
IOGEAR Wireless Mouse with Laser Pointer on Ohls-Place.
MouseRug mousepad with tassles on Comp-Shop.
Black Icemat mousepad on Bit-Tech.
FreeFragg Magnum mousepad on FuriousTech.




What happens at 5am? (19 Comments) (link)
Saturday, 23-August-2003 01:07:27 (GMT +10) - by Agg


A few people sent in this article, which could be quite a big thing. The W32.Sobig.F virus that's been sending you so many annoying emails over the last few days apparently has a second phase, which kicks into action all around the world at 5am Sydney time.

The worm connects to one of these 20 servers and authenticates itself with a secret 8-byte code. The servers respond with a web address. Infected machines download a program from this address – and run it. At this moment it is completely unknown what this mystery program will do.

Update: not much! :) Ziggy spotted this link explaining how the attack was prevented.




Friday Afternoon #2 (4 Comments) (link)
Friday, 22-August-2003 15:32:12 (GMT +10) - by Agg


From Draffa: Some of the helpful people from Austwireless went to the Oran Park round of the V8 Supercars on the weekend to help with the integration of a new video system from the cars. The aim of the system is to allow the stewards to view any incidents that happen on the track in near-realtime, and assign any penalties. Should help avoid outcrys like the Lowndes/Murphy incident. Thanks to the Sydney Wireless and Craig Mead who sent it to the Brismesh mailing list.

AMDMB have a guide to building an AMD-based PC.

Monty spotted these surround-sound headphones from Zalman.. interesting.

GamePC reviewed a pre-production sample of dual xeon i875 motherboard from Asus, thanks Stmok.

Arasta has info on data over analogue TV: very interesting setup, made for NTSC unfortunately. it makes a 1-3 Mbits speed but its so far only planned to serve Disney's downloadable movie service, Moviebeam - Doh. will be interesting if it ever makes it here...

HotHardware compared High-End Professional Graphics Cards from ATI and NVIDIA.

PCStats have a guide to hard drive recovery for beginners.

PC all modded out? Fan-modded your mouse and installed a window in your monitor? What else is on your desk.. must be time to mod your printer, I guess.

TheModFathers have put a different spin on the boring old window applique idea.

DesignTechnica have a System Optimisation Guide posted.

GamersDepot have a comparison of two new P4 coolers from Zalman and Thermaltake.

From Darkness: Stumbled on these large hi-res photos of our elite soldiers in action in Iraq. Some awesome shots there. Lotsa other cool photos can be found here. If you click the "Front_Page_Photos" links on the left, there are the best pics of each month shown.




PC Modding Comp Reminder (0 Comments) (link)
Friday, 22-August-2003 15:20:33 (GMT +10) - by Agg


The competition to win a P4-based PC from Intel, by modding your Intel-based PC, is still running. Apparently they don't have all that many entries so far, so if you're worried about being outclassed, give it a go anyway, you might win. If you don't think you can make the deadline, you can apparently get an extension by emailing the organiser. There's a forum thread about the competition here. If you'd prefer to just look at case mods instead, check out the Top Overall Rating entries in the PC Database.




Folding Freebies Four (0 Comments) (link)
Friday, 22-August-2003 14:58:02 (GMT +10) - by Agg


From Bollocks, Captain of Team OCAU's Folding Team:

The Folding team is holding Giveaway 4 to help with the final push to the top and the No1 Folding team crown. The prizes are:
1st prize: A Celeron 1100 computer complete with Microsoft Optical mouse and Office keyboard (FBOX8).
2nd prize: AMD XP2500+ (Barton) CPU or Antec LAN-boy case donated by Datsun 1600
3rd prize: $150 to spend at Lownoise PC donated by McCall Bros and Rod from Lownoise PC
4th prize: Thermaltake Volcano 7+ HSF donated by deranged128
Forum thread is here with all the details, the nomination thread is here and the OCAU Folding page is here.

See here for how to join the team as we sprint towards being the #1 team again.




Friday Afternoon (3 Comments) (link)
Friday, 22-August-2003 13:31:26 (GMT +10) - by Agg


I notice THW01F has updated his PCDB entry, it continues to impress. The entries from SpOoNFisH and millhouse aren't bad either.

Sniper noticed this news release from the office of Senator Alston, regarding Using internet for offensive and menacing purposes to be outlawed.

HotHardware have GeForce FX5900 cards from ABIT and Leadtek in a shootout.

A few people have mentioned the Google Calculator. There's a thread here in our forums about it.

Seen any giant beavers lately?

Here's another Australian robot from Roland. With a flower focus rather than bombs, this one's not as nasty as the last one.

Darmok sent this link, which is supposedly to a German page with pics of a Zalman case using heatpipes and the chassis to cool components.

Iroquois thought we Might want to check out UltimateBootCD. Has HDD diagnosis for several brands, disk management, DOS Anti-Virus, Memory tests, Overwrite/Wipe utility, partition utility, etc. all on 1 CD, and free to download. Runs off Linux images, and is a handy tool for the arsenal.

From Sniper: Athlon 64-m cpu info and ABIT IC7-MAX3 Available Now! The pricetag on the MAX3 is a bit of a killer.

Moose sent in this open-source download manager for Windows.. free of course. I never got around to using GetRight or FlashGet, but might check this one out.

Over on MadShrimps, Liquid3D has written an extensive editorial on the memory conflicts that keep haunting the Overclockers using motherboards with an I875 or I865 chipset!

Apparently Europe are shooting for the moon as well as Mars now, thanks Kerridwyn. The probe's engine uses solar panels that converts sunlight into thrust. The light is converted into electricity, which is then used to convert xenon gas atoms into ions. This tiny matter is then thrust out of the engine at high speed, providing propulsion.

Microsoft are removing activation from XP.. but only in Thai copies of Windows. Very odd, thanks Ross.

Believe it or not.. there's more news yet to come.




Friday Morning (5 Comments) (link)
Friday, 22-August-2003 11:49:43 (GMT +10) - by Agg


NordicHardware have compared no less than nine GeForce FX cards, for your pixel-pumping pleasure.

MikhailTech have a case mod titled Project Rebirth.. I'm almost scared to look.

Plastic says: VIA are releasing a P4 Mini-ITX board, to the acclaim of hardly anybody except me. It will compete with the wildly unknown Commell LV670 board.

Ohls-Place have interviewed someone from Enscape.net and someone else from a site called PirateSoftware, which is supposedly actually a hardware site.

Sniper notes that Valhalla Lan is on again on the weekend 23/24 of august from 4pm Saturday. That's this weekend and the LAN is in SA. In Melbourne on Sept 20-21st there's an 3xtremeLAN happening, thanks Chris.

Dan has more letters. Hurrah!

TweakTown compared two i865PE motherboards.

Melbourne's first Flash Mobbing apparently occurred yesterday, thanks Bowen.

Legit-Reviews went to the recent QuakeCon2003 also.

This may be an urban myth, but apparently Russia is thinking of building a power plant on mars, thanks LSDsmurf.

The SOBIG virus continues to annoy, in case you hadn't noticed.. some coverage here on Wired and here on CNN.

There's some more security patches for IE, thanks Snoopy.

Lots more news on the way, so stay tuned..



A bucket load of reviews for you today. With the W32.Sobig.F virus emails clogging up the news box, its getting difficult to find the good stuff among the crap. Anyway...

Mainboard:
Gigabyte K7 Triton 7NNXP nForce2 at Guru of 3D
DFI LanParty nForce2 at SubZeroTech
AOpen AK79D-400 Max Motherboard at A1-Electronics
Gigabyte GA-7VT600 KT600 Motherboard at HardcoreWare
Biostar i848 Motherboard at DVHardware
Epox 4PDA2+ V2.0 at OCPrices

Memory:
GeIL PC4000 Platinum Series DDR500 Memory at PCStats

Storage:
TEAC DV-W50D 4x DVD±RW at Hardwarezone
Atech Flash 9 in 1 Card Reader at Extensiontech
Highpoint RocketRAID Adaptors at Viperlair

Video:
Palit Daytona Geforce FX5200 Ultra Videocard at Tweaknews
MSI FX5200 128Mb Personal Cinema at HexaPlague
Palit Daytona GeForceFX 5200Ultra at OC Modshop
PowerColor R9600Pro 128MB Bravo Edition at OCNZ
ABIT Siluro FX5900 OTES at OC Addiction
Albatron Ti4200P Turbo at AMD Power
Asus V9950 Ultra Videocard at PCStats
Chaintech FX71 5600 Ultra Video Card at IPKonfig
NVIDIA GeForce FX 5600 Ultra at Beyond3D

Case/Mods:
Elitecool.com 80mm Panaflo Fan at Mod Synergy
Vantec NXP-205 3.5" Fan Controller at The Tech Lounge
Antec Performance Plus 660AMG Case at Bjorn3D
Thermaltake Perfect Light Series at OCC
Sunbeam Round Cold Cathode Fans at Computer Critics
Cooler Master Aerogate 2 Multi Function Panel at Metku Mods
Athenatech A747 Series Case at Extremods

PSU:
RAIDMAX 400Watt PSU at Gruntville
Seasonic Super Silencer SS-400AGX Active PFC PSU at PCStats
Antec Modular True 550W Power Supply video review at 3DGameman
Zalman 400W APF PSU at Bit-Tech

Cooling:
Danger Den Maze4 CPU Waterblock at wc101
Corsair Hydrocool Watercooling Kit at R&B Mods
Crossover WS-5 Mission II Ultra Water Cooling Kit at Pimprig
Scythe Kamakaze & TS Heatronics NCU-1000 CPU Cooler at 3DVelocity
Arctic Silver Ceramique at 8BallsHardware
Zalman CNPS7000A-ALCU Cooler video review at 3DGameman
Cooler Master Aero 7 Lite CPU Cooler at Bjorn3d

Misc:
Matrix Orbital MX214 Digital Display at Extreme Mhz
iCute X-Stand at Pimprig
HP Photosmart 850 and 935 Digital Cameras at HardAvenue
Logitech Cordless MX Duo at Designtechnica
IOSS RD2 Geiger PCI Bus Multifunction Analyzer at Adrian's Rojakpot



Here's a pretty impressive watercooled PC from C.D in the PCDB:



Click for the PCDB entry!






Wednesday Night (7 Comments) (link)
Wednesday, 20-August-2003 23:58:22 (GMT +10) - by Agg


Let's see if I can find any news buried among the 120 or so W32.Sobig.F virus spam emails. Meanwhile, another virus is trying to kill the Blaster virus, without much success. Together, they are hammering the net, not to mention my inbox. There's even a new version of Blaster on the way, thanks Ripley. Note to virus writers: get lives. nobody likes you.

Stang spotted some Doom 3 reviews from the recent QuakeCon convention in the states: here, here and here. HardOCP attended also, their thoughts here. Tech-Report have some Doom3 multiplayer impressions too.

Demaar was first to send in this article about how diamonds aren't just a girl's best friend, they're pretty cool for geeks as well. Koopz meanwhile spotted an article (with a pretty gross picture of turkey guts, so skip this one if you've got a weak stomach) about a machine that can turn almost anything into oil.

Surakshan points out that the Australian Government has access to Windows source code for security reasons.

Looks like the XBOX2 will be powered by ATI, thanks Argent. The original XBOX used an NVIDIA chip, so this is quite a coup for ATI.

On the modding front, SilentPC have a Lanboy under the knife, while Bit-Tech have unleashed their Project Bliss.

From 1nc0de: Hey guys, bit of news here from a Russian Site. I read russian, and can translate the first paragraph for you: "Near Moscow, on Saturday, the annual championship for throwing keyboards and chucking mice will be held._Anyone who wants to_throw as far as they can the keyboard or mouse, fuelled by the cheers of the crowds, will be allowed to enter. This is the second time the event is held, in_a near Moscow city of "Kraznoznamensk"." Pretty wierd event. :)

We haven't had any flash timewasters for a while, so here's three. Alex sent in this Rugby one, where you can apparently win tickets to the World Cup. HyRax1 sent in this chasm game, which he describes as addictive and frustrating at the same time. Finally, Matex sent in an online version of that old favourite, battleships.



There's been a few more scam emails doing the rounds again lately. The general idea for most of them seems to be trying to trick you into giving them personal info, by pretending to be an organisation you have an account with.

Just as a general rule, carefully read any emails you get that seem to come from your bank (particularly Westpac at the moment) or from Paypal, Ebay or any other organisation that has financial info about you. In fact, if you get any emails that want to "confirm your details" or "reactivate your account" by getting you to enter your username/password, financial details or other sensitive information into a web form, be suspicious! Check in the email if it comes from an account within the organisation, if the spelling and grammar is professional and correct, if the provided phone numbers are actually Australian and most importantly, that the URL doesn't contain any @ characters or hostnames other than the correct organisation.

Most organisations will NEVER ask for your password in any other context than logging on to do your normal business with them. If in doubt, you might want to ring the organisation and confirm that the email you have received is genuine before entering any info.



A couple of news pieces from Kernal32. I really like these story's of spammers getting shut down when they find that their personal details have been released. They receive no sympathy from me. Here is another one. Also, more on DNA computing at New Scientist.

After last weeks Blaster worm, we now have another one to look out for. "W32.Welchia.Worm is a worm that exploits the DCOM RPC vulnerability (described in Microsoft Security Bulletin MS03-026) using TCP port 135. The worm attempts to download the DCOM RPC patch from Microsoft's Windows Update Web site, install it, and then reboot the computer". While this looks like a good worm, it then opens TCP port 707 and listens. Not such a good thing! More info here.

Amdmb.com have posted their coverage of Quakecon 2003, the largest LAN in the US. "Nearly every system that AMD was running at the show was being powered by an Athlon64 processor and NVIDIA chipset motherboard. AMD's shining achievement was to secure the rights to power the tournament machines – each tourney at Quakecon was run on the Athlon64 platform and served on Opteron machines". Nice. More here.

TechConnect have put together some soundcard software mods.

Roland Piquepaille has some info on a new robot being used by the NSW Police Force in the role of bomb disposal. It can do other cool stuff as well. Looks nasty!

Machines are getting smarter by the day. Take a look at these cognitive computers.

DiZyPhEr (!) noticed this watercooled video card from Gainward and says that we should Check dis out!

Need to keep track of all those Microsoft security patches, configs and settings. Checkout the Microsoft Baseline Security Analyser. Maybe its just their equivalent of NMAP.

Mitch01 has posted a write-up on the OCAU/RedlineGTi Sydney Dyno Day that was held recently. My review of the Sydney Dyno Day including full results from all cars, and links to all pictures that are available is online. Find it here.

OHLS continue their webmaster interview series. They chat with Hubert Wong from Viper Lair.

pete_pumpkin found this article about the worlds 3rd fastest computer which is being built, a supercomputer melding 2,816 AMD Opteron processors. Read more here.

Someone over at Ars-Technica has a sense of humour. If you've ever received one of the nigerian scam emails, you will like this. Although the heads at SCO might not.




Tuesday Morning Reviews (0 Comments) (link)
Tuesday, 19-August-2003 04:04:10 (GMT +10) - by Agg


Motherboard and CPU:
Albatron KM18G Pro nForce2 socketA on FuriousTech.
VIA Nehemiah M10000 mini-motherboard and CPU on Ohls-Place.

Video Cards:
Albatron GeForce FX5600EQ on NexusHardware.
Albatron Gigi FX5600EQ on TweakNews.

Memory:
TwinMOS PC3200 Dual Channel DDR on OCOnline.
Corsair XMS4000 TwinX on NinjaLane.

Cooling:
Nexus PHT-3600 SkiveTek HSF on EnvyNews.
ByteCC Aluminium Notebook Cooler on TheTechLounge.
Verax P16Cu P4 cooler on GruntVille.
Nexus PHT-3600 SkiveTek HSF on HardAvenue.
Aerocool Extreme HSF on 3DVelocity.
Coolermaster Aero478 CPU cooler on RBMods.
Crossover Mission 5 watercooling kit on TheTechLounge.
CoolerMaster Musketeer fan controller on ClubOC.

Audio:
Creative Inspire 2400 2.1 speakers on SpodesAbode.
Sennheiser RS45 wireless headphones on IANAG.

Power Supply:
SeaSonic Super Silencer 400W on EnvyNews.

Storage:
Toshiba SD-R1312 DVD/CDRW combo drive on GideonTech.
Western Digital 250GB SATA HDD on HardAvenue.

Display:
AOC LM914 19" TFT LCD on HardWareZone.
Cornea CT1704 17" TFT-LCD monitor on ModSynergy.

Case:
Morex Cubid 3688 Mini-ITX on BigBruin.
CoolerMaster Centurion on HardwareZoom.
Antec Sonata on Virtual-Hideout, our review here.

Misc:
Compro VideoMate TV Gold+ tuner card on OCTools.
NYKO AirFlo Xbox Controller on TechFreaks.
Sony CLIE PEG NX80V PDA on DesignTechnica.
Bluetake BT400 GII Bluetooth Headset on JSIForums.




Billion BIPAC-741GE V2 ADSL Firewall Router with Switch (15 Comments) (link)
Monday, 18-August-2003 16:51:32 (GMT +10) - by Agg


I've checked out this new ADSL modem from Billion. Not content with simply making a modem, they also made a firewall, router, internet sharer and 4-port ethernet switch... all in the one little grey box:



Click for the review!






Early Sunday Morning Reviews (4 Comments) (link)
Sunday, 17-August-2003 02:00:51 (GMT +10) - by Gibbon


Memory:
Kingston HyperX 4000 DDR on Intelforums.

Video Cards:
Palit nVidia GeForce FX5200 Ultra on SubZeroTech.
Hercules 3D Prophet ATI Radeon 9600 Pro on OCPrices.
Leadtek WinFast A350 TDH MyVIVO GeForce FX5900 on Bjorn3d.
Crucial ATI Radeon 9800 Pro on Flickerdown Data Systems.

Storage:
Plextor PX-504UF external DVD burner on ClubOC.
HighPoint RocketRAID 1542 and RocketMate 1100 on ClubOC.

Cooling:
Active Cool AC4G CPU cooler on ClubOC.
Asetek Waterchill system on NordicHardware.
Microcool Northpole chipset cooling kit on OCAddiction.

Cases/Case Mods/Power Supplies:
Vantec NXP-301 fan and light controller on ClubOC.
X-Super Alien case on Overclocker Cafe.
Quiet PC Acousticase on RipNet-UK.
Sunbeam Cold Cathode UV Fans on R&B.
Cooltek 380W Power Supply on TecCentral.de (machine translated).

Other Stuff:
Microsoft Optical Mouse Blue on Modtown.
Hercules Prophetview 920 17" LCD monitor on TweakTown.
Logitech MX Optical Duo on Guru3D.
"GyroTwister" gyroscope thingy on Dan's Data.
HeadRoom home headphone amplifier on EXHardware.
Logitech Cordless Comfort Duo on Modsynergy.



First up from Darkness, some Doom 3 multiplayer screenies, gamma ray weapons, "Octane" energy gel - perfect for when you run out of proton pills, a farting whale, some pretty groovy military robots, and a very cool self balancing wheelchair.

Gary_J spotted a rather schmick new 8MP Sony digicam. I hope my Nikon didn't see me reading that article. Hmmm, nope, I think I'm safe. It looks like it was busy trying to take a closeup photo of my cat!

PinoyPC have published an editorial entitled "Why Benchmarks are Overused and Awards are Overrated". Interesting read.

Hitachi have developed a projector that can project onto a plain glass surface, such as a shopfront window. I can imagine the annoying advertising potential already. Thanks Murray.

Techware Labs have reviewed seven different thermal pastes. It must be thermal paste day today, because Tweaktown have also reviewed three. I'm still using the same tube of original arctic silver from three or four years ago. Maybe I should "upgrade" pastes one day ...

Want to get some serious liquid cooling happening but don't want to shell out for some off-the-shelf fancy schmancy setup? Water-Cooling.com have jigged up a chilled water setup using an old water cooler and a home made waterblock. Nice results.

Sniper sent in news that Los Alamos National Labs, the US nuclear research facility, will be building two large Opteron clusters, totalling over 3,300 processors. Hmm, nice. I wonder if they'd mind joining the OCAU folding team?

A new Desert Combat patch has been released, version 0.39k (138MB). You can get it from AusGamers. It requires Desert Combat 0.38 and Battlefield 1942 v1.4 or higher.

It seems the processor that's touted to run the upcoming Playstation 3 console, called a "cell" processor could well be a beast. "While the processor's design is still under wraps, the companies say Cell's capabilities will allow it to deliver 1 trillion calculations per second (teraflop) or more of floating-point calculations. It will have the ability to do north of 1 trillion mathematical calculations per second, roughly 100 times more than a single Pentium 4 chip running at 2.5GHz.". Big call. Very big call. More information on ZDNet Australia. Thanks Trojan.

Dan has completed another epic letters column, number 59! Read on, for advice on such topics as de-coking a keyboard and the ergonomics of cordless mice, and discussion of equipment destruction and scratched monitor screens. I seriously hope whoever wrote the last letter isn't reading this. If you are, please give yourself an uppercut!

Final word for tonight is from Mitch01, who'd like to remind Sydney OCAU revheads that the 2003 OCAU/RedlineGTi Sydney Dyno Day is on later today. "Full details and how to get there here. Full BBQ and Drinks will be available for no "dynoers" at a small cost, and trophies and novelty prizes will be given out to Dyno'rs in certain categories". Kicks off in less than 6 hours!



Systems/Laptops/PDA:
Apple 17" PowerBook G4 at Hardware Analysis

Mainboard:
Soltek SL-KT600-R (VIA KT600) at HWZ
Gigabyte SiS648FX P4 Motherboard at Hot Hardware

Storage:
Seagate Momentus 2.5" Hard Drive at Club OC

Video:
Hercules 3D Prophet 9800Pro at OC Projects
Gigacube R9800 Pro 128MB Game Buster VGA at OCNZ
Gainward FX PowerPack! Ultra/760XP at 3DVelocity
Matrox's Millennium P750 Graphics Card at Tech Report

Cooling:
Thermaltake Volcano 11+ Xaser Edition HSF at Ripnet
SLK-900A HSF at Club OC
Zalman ZM-WB2 Water Block at A1 Electronics

Case/Mods:
Kingwin KT-436 Case at Pimprig
Enermax CS-5107 Tower at ViperLair
Cooler Master Wave Master Aluminum case at VR-Zone
Metal Gear Box External HDD Enclosure at Tech IMO
Lamps Electronics RGB fan grill at R&B Mods

PSU:
Silverstone Tek 400w Low Acoustic PSU at Canada Forums
Ahanix SilenX 350W PSU at The Tech Lounge

Other Bits:
X-Trac Hammer Mousing Surface at HighTekPC
Matrix Orbital MX212 USB Display video review at 3DgameMan
Macally USB2 & Firewire Card at R&B Mods
Auravision eluminX Keyboard at Gruntville




Early Friday Morning (5 Comments) (link)
Friday, 15-August-2003 01:01:35 (GMT +10) - by Agg


From Sabot68: I thought that everybody might like to know that new Nvidia drivers that are WHQL certified have been released. Driver version now 45.23. They can be found here. Sniper spotted that these drivers hint at some unannounced products from NVIDIA.

Enigma notes that Four ASUS Motherboards: P4P800, P4P800 Deluxe, P4C800 P4C800-E Deluxe now support the Intel IAA3.5 Driver. What's that? From the website: Intel IAA 3.5 is an all-new driver for the Intel ICH5R South Bridge to provide RAID level 0 and 1 functions on two Serial ATA ports. The previous edition only offered RAID level 0 functions.

OCAddiction threw some off-the-shelf components into a case mod.

TomsHardware checked out ten nForce2 Ultra 400 motherboards for SocketA CPUs, thanks Skorpian. GamingIn3D compared two such motherboards from Epox and FIC.

Bjorn3D wondered if skinning Windows would affect gaming performance.

ModAsylum got some glowing Molex connectors happening.

Looks like Outlook Express is on the way out, thanks NickSTAR.

Ever wonder what happened to the Razer Boomslang mouse products? Seems they're now called Terratec Razer Mystify Boomslang - and CrazyModders compared the 2100 model to a Logitech MX500.

From Stmok: GamePC.com have got their hands on Asus's SK8N Opteron Motherboard. What's funny is the fact that the Opteron in this review is running at 1.6Ghz and can give processors which run twice its speed a run for its money in certain benchmarks! (Talk about efficiency!) And speaking of efficient, Transmeta is soon to launch a new processor that can rival their current competitors: Transmeta Efficeon™ processor. This was formerly known as "Astro" or TM8000. Early demos indicated that "clock for clock" it can give the Mobile Pentium 4 a serious run for its money. This Earnings Report will give you an idea when to expect an Efficeon powered notebook.

Alderwood, Alviso, Grantsdale, Lakeport. What are they? Upcoming Intel chipsets, and ARP has the scoop.

From Gunna: Heres a link for extreme over heating and the effects. Pretty sure they must add something under the chip to get the desired effects. Still looks pretty cool. About 12mb per clip. I watched the first video, impressive but definitely looks staged. Good for impressing the n00bs tho. :)




Mod your way to a new PC (1 Comments) (link)
Friday, 15-August-2003 00:02:26 (GMT +10) - by Agg


Intel have relaxed the requirements for PC's to be eligible to win their case-modding comp at the World Cyber Games in Sydney at the end of this month. Previously you had to use a P4 PC, which seemed a bit odd as the prize is a P4 PC. So now, your entry can be based on any Intel processor. So dust off that 386. :)

Full competition info here. There's a thread in our Modding & Electronics forum here about it.



Before we push on into the reviews tonight, a bit of information about the W32.Blaster worm that's all over the news at the moment.

The worm exploits a vulnerability in the RPC protocol of Microsoft Windows 2000, XP, NT 4.0 and Server 2003 based PCs, allowing an attacker to gain access. More information from Symantec. A patch from the Microsoft website should be installed to remove the vulnerability. If you already have the worm, there's a McAfee tool or a Symantec tool to remove it.

There's more information (including the links above and a lot more) in one of our forum threads.

If you're running an affected version of Windows and haven't already done so, you should install that patch ASAP. Good reason to keep your windows installs patched up (the patch was on the Windows Update site way back on the 17th of July) and use a firewall!

OK, reviews time ... hopefully there are at least a few people out there with PCs that aren't rebooting every 60 seconds so they can read some!

Motherboards:
EPox 8RDA3+ nForce2 Ultra 400 AMD motherboard on [H]ardOCP.
Aopen AK77-8XN KT400 AMD motherboard on AthlonXP.com.
VIA KT600 motherboard roundup (5 motherboards) on Legion Hardware.
Leadtek K7NCR18D Pro II Deluxe Limited AMD motherboard on Overclockers NZ.
Soltek NV400-L64 nForce2 400 AMD motherboard on AnandTech.

Memory:
OCZ 3700 GOLD DDR on AnandTech.

Video Cards:
Tyan Tachyon G9600 Pro ATI Radeon 9600 Pro on [H]ardOCP.
MSI nVidia Geforce FX5600 on CyberCPU.
nVidia Quadro FX3000 in 3ds max 5 on X-bit labs.
Triplex REDai ATI Radeon 9600 Pro on Beyond3D.

Cases/Case Mods/Power Supplies:
Chenming 301KE midtower case on BigBruin.
Chenming 301KE midtower case on Virtual-Underground.
Vantec Nexus NXP205-BK fan controller on Viper Lair.
3R System R201 microATX case on Dan's Data.
Vantec Ion power supply on The Tech Zone.
GMC X-21 Trinity case on TweakTown.

Storage:
TDK 48x24x48x CD-RW/DVD Combo on HardwareZone.
Maxtor Atlas 15K vs. Seagate Cheetah 15K.3 on HardwareZone.

Other Stuff:
OxHipSpot digital camera on Modsynergy.
Compex SKW811 Wireless Network in a Box on HardwareMasters.
Grado SR125 headphones on Designtechnica.
Logitech MX wireless keyboard and mouse on A1 Electronics.
HTC Tanager Smartphone on Adrian's Rojak Pot.



Most owners of an EPOX 8RDA motherboard will be aware of the heat issues associated with this fine board. Some people have come up with clever mods to keep the temps down. Xtreme PC TECH take a look at one way of cooling things down.

Microsoft have come up with an idea to improve on the humble mouse. A simple idea, wheels that tilt as well as roll. Thanks PodgeSSS.

Make some room on your case for a new badge! AMD have released the new logos for their line of 64bit chips. More info here and here. They look a bit bland to me. Thanks for the links sniper.

Another one of those "Enter you personal details here so we can rob you blind" scams is doing the rounds, this time its Hotmail based, asking you to confirm your details so it can steal them. Do people still use hotmail? I don't know...anything from a hotmail address won't make it through my spam filters. Thanks Murray.

OCC have a rant about shady computer companies and their efforts to get good reviews, before the product has even been reviewed.

[H]ard|OCP have posted an article on nVidia's marketing strategy's and other aspects of the company's behaviour over the last year or so. "On the other end of the scale we have the GeForceFX 5800 series that without a doubt turned into the biggest joke in our community since Matrox brought us the Parhelia".

PCStats have posted an advanced guide to VPNs and Internet Connection Security. Quite a good read.

Bjorn3D have a good how-to guide to Etching and Creating a case window.

Now this sounds interesting, serial attached SCSI that can move data at rates of up to 5 Gbps. Read more here. Also from Murray

I wonder how much money Microsoft spends on legal costs each year. Not enough by the sounds of this $521 Million decision that went against them. Thanks Lavinius.

I think we've linked to this before but hey, its an idea worthy of mention. Anything that uses the PC to produce alcohol gets my attention. "TK421, why aren't you at your post?"

"SCO Group to Shoot Babies", but don't worry too much, its from BBspot. A good laugh from Adam.

Dans done it again, no...not that. More letters!

Thats all for now, Gibbon will arrive later with some reviews.



Sciby has a terrible secret. No, not that, everyone knows that. His terrible secret is that, despite being an editor, Admin and (as voted by forum-goers) Most Sexy Person on OCAU, he's actually got a deep-seated fetish for... Macs. That at least partly explains why he's reviewed the Apple iSight, a quite natty little firewire-connected webcam that, unfortunately, remains in the domain of Mac users only, for now. Still, it's an interesting read, with some interesting pictures: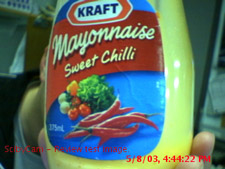 Click for the sweet, yet spicy review!






Sponsors and Vendors and Links, oh my! (2 Comments) (link)
Wednesday, 13-August-2003 01:33:03 (GMT +10) - by Agg


Our Current Sponsors list is now viewable outside the forums. They literally keep this site going, so please bear them in mind when you're next shopping around.

On the extremely unlikely offchance that one of those fine establishments can't service your needs, our huge Online Vendors list is now viewable outside the forums also.

Thanks to Gords for maintaining those pages (and our Links page, too!)



Mainboard:
EPoX 8KRA2+ VIA KT600 Motherboard at Techware Labs
FIC 875P Dynasty at MBReview
ECS K7SOM+ with intergrated 1.2ghz AMD Duron at Spode's Abode

Memory:
Corsair TWINX1024-4000 Memory at Viper Lair

Storage:
Crucial Gizmo! 64MB USB Flash Drive at 8Balls Hardware
Sanyo CRD-BPDV2 4x dual-format DVD-recorder at CDFreaks

Video:
GeForce FX 5900 Ultra Reference at Beyond3D
ATI All-In-Wonder 9800 Pro at Techjuice

Cooling:
Cooler Master Aero 7+ and Spire WhisperRock IV at OCAU
Cooler Master Aerogate II ALD-V02 System Temp Monitor at Envy News
Nexus PHT-3600 Silent HSF at Modfathers

Case/Mods:
GMC X-21 Trinity – Quiet Computer Case at Tweaktown
Xoxide X-Viper Case at Pimprig
VT X-RAY Case at ModSynergy

PSU:
Antec TrueControl 550W PSU at DVHardware
Seasonic Super Silencer 400 watt PSU at OHLS Place
Seasonic Super Silencer 400 watt PSU video review at 3DGameman

Misc:
Vantec Vibration Dampener kits at ClubOC
IOSS RD1 BIOS Savior at Bigbruin
Microsoft wireless optical desktop at MicroLabs
Cooler Master Q Alloy Keyboard at The Tech Lounge
Cooler Master Q Alloy Keyboard at OCC
X-Micro Bluetooth Modem at R&B Mods
Belkin 54g Wireless NAP, & Belkin 54g Wireless Notebook NIC at PCHardware UK




Tuesday Morning (0 Comments) (link)
Tuesday, 12-August-2003 03:44:40 (GMT +10) - by Agg


Seagate have a new range of 2.5" hard drives, for laptops and other small or portable devices. They're called Momentus and Xbit reviewed some.

Argent spotted this WiFi speed spray. Looks very handy! Reminds me of this bash.org quote. Warning: bash.org contains occasional strong language, some adult themes and has been known to make entire days vanish.

Interesting idea here from Frato, a DIY games console designed to teach you about how the hardware works. It's a commercial product, though.

Also from Argent, some more on Bayesian filters: Wouldn't this be just soooooo cool?! Spammer sends spam to you, Bayesian spam filter blocks it, Bayesian filter fights back and disables spammer's servers :P

Squidgy_Poodle spotted this chat log about Half-Life 2, which mentions that the FSAA bug has apparently been fixed and it now works on all video cards.

Hojo noticed some TheInq info on USB drivers for DOS.

TheTechReport compared VIA PT400 and SiS648FX chipsets for P4 motherboards with 800MHz bus support and single-channel DDR400 memory controllers. Do you really need the dual-channel DDR400 provided by other chipsets to get the most out of an 800MHz-FSB P4? They try to find out.

OCAddiction have a custom watercooling project posted.

ExtremeMHz have a guide to DVD burning and playback.

ClubOC have a roundup of AeroCool Heatsinks.

Schrambo found this article about IT certification and training.

From IMF: I got this interesting new flash drive from PQI call "Intelligent Stick" ranging from 16mb to 512mb. I bought a 128mb version at a swap meet for $70. It is the smallest flash drive in the world at the moment, 43mm x 18mm x 2.8mm in total size. It's got a orange color LED indicator under the purple plastic. I transfered a 100mb of file onto it in one min. It comes with a credit card size HARD transparent storage box (for storing 2 of the flash drives). Product info here. IMF sent along two pics, they're here and here.




Early Tuesday Morning (6 Comments) (link)
Tuesday, 12-August-2003 00:55:32 (GMT +10) - by Agg


A Russian Cosmonaut was one half of the first marriage in Space last night. On a hopefully not-too-similar note, JimX spotted this interesting page about people in a vacuum from NASA. No, we don't go pop.

DesignTechnica have an editorial about copyright and its increasing impact on PC users.

From Iroquois: Here's a page with lots of pics of a very serious-looking motherboard, the TYAN S2885AGNR K8W. It's a Dual-Opteron with 8x AGP, Gigabit LAN, and support for up to 16GB of DDR333. I want one.

ARP have an article about reconfigurable computing. Imagine a processor that dynamically adapts itself to changing requirements. Such a processor would be able to reconfigure itself into a DSP or GPU as and when such functions are needed.

Stalin noticed that V2 of ClarkConnect has been released. A quick skim reveals it's a "free for non-commercial use" software package that transforms standard PC hardware into a dedicated broadband gateway and easy-to-use server. Sounds similar to Smoothwall which is very popular.

ReaX found an interesting site about the power of airbrushing. Scary!

Microsoft have a new tilt-wheel technology on the way for their mice, thanks Sniper.

Wish you could go back to the days of playing Doom? Well, you can bring Doom to the 21st century.

From Andrew: Couple of very intersting Linux bootables. Great for borrowing a Laptop and no having to worry about installing stuff. Needs a fair whack of hardware though. KNOPPIX is a bootable CD with a collection of GNU/Linux software, automatic hardware detection, and support for many graphics cards, sound cards, SCSI and USB devices and other peripherals. STD focuses on information security and network management tools. It is meant to be used by both the novice looking to learn more about information security and the security professional looking for another swiss army knife for their tool kit.

There's a Pot Black gathering in Perth soon for some pool and OCAU socialising.. check that forum thread.

Alex says a new version of Powertoys for Windows XP has been released. You can find more info and download it from here. Details on what Powertoys does is here. There's some cool-sounding stuff there, I might have to install it on my WinXP lappy.

Interesting Forum Threads:
Thoroughbred 2600+ on GA-7N400 Pro problems in AMD Hardware.
Training Journal: Bracken's road to 200lbs! in Sport, Fitness and Health.
F-111's to be retired early in Media and Current Events.
Gateway machine: What to install? in Networking & Internet.
Fully armed and operation Folding battlestation in Team OCAU.
So this is how I got repayed in The Pub.




Cooler Master Aero 7+ and Spire WhisperRock IV (11 Comments) (link)
Monday, 11-August-2003 02:54:17 (GMT +10) - by Agg


StratosFeaR has taken a look at two socketA coolers for OCAU, namely the Cooler Master Aero 7+ and Spire WhisperRock IV. They both aim to cool your CPU without deafening you, but they go about it in different ways.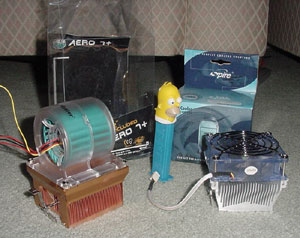 Click for the review!






Very Early Sunday Morning Reviews (2 Comments) (link)
Sunday, 10-August-2003 00:16:19 (GMT +10) - by Gibbon


Motherboards:
FIC AU13 nForce2 Ultra 400 motherboard on OCAddiction.
MSI K7N2G-ILSR nForce2 IGP motherboard on R&B.
Abit IS7-G vs. Epox EP-4PDA2+ i865PE P4 DDR motherboards on TecCentral (machine translated).

Processors:
Opteron 246 and nForce3 Pro on AMDZone.

Memory:
Corsair TwinX512-4000 DDR on Intelforums.

Video Cards:
Tyan Tachyon G9600 Radeon 9600 Pro on HotHardware.
Sapphire Radeon 9800 Pro Ultimate and Radeon 9600 Pro Ultimate on Sharky Extreme.
Abit Siluro GeForce FX5600 Ultra DT 128MB on X-bit labs.

Storage:
Optorite DD0203 Dual Format DVD+/-RW on ExtremeMhz.
Teac CD-W552E 52X CD-R on HotHardware.

Cooling:
Nexus PHT-3600 HSF on The Modfathers.
Corsair Hydrocool 200 watercooling kit on Viper Lair.

Monitors:
Samsung Syncmaster 192T LCD monitor on GideonTech.
Eyegonomic X15 LCD monitor on bit-tech.

Cases/Case Mods/Power Supplies:
Vantec Nexus NXP-301 fan and light controller on A1 Electronics.
Cooler Master "Musketeer" on Dan's Data.
Raidmax Scorpio 868 aluminum case video review on 3DGameMan.
Antec LANBOY case on HardwareZone. Our review here.
V-tech Xray case on OcPrices.
Translucent Neon Green Cables on OCIA.
Ennyah Aluminium Case on bit-tech.
Kingwin Aluminum Case on Bjorn3D.
Power Glow 420w PSU on OCModShop.

Other Stuff:
XTrac Hammer Mousepad on Xtreme Tek.
SteelPad 4S Optical Mouse Pad on Modsynergy.com.
ECS Elitegroup EZ-Buddie barebones system on HardwareZoom.
EverGlide GearGrip Pro LAN Bag on TechFreaks.
Dremel Multitool + accessories on BurnOutPc.
Gyration Ultra Cordless Optical Keyboard and Mouse on The Tech Zone.
Thermaltake Xaser Mouse Pad on Modsynergy.
SiS 648FX chipset on Digital-Daily.
Cooler Master EAK-US1 keyboard on Dan's Data.
Ultrasone HFI-650 Trackmaster and DVD headphones on EXHardware.
Logitech Cordless Navigator Duo keyboard and mouse on Modsynergy.




Early Saturday Morning (16 Comments) (link)
Saturday, 9-August-2003 04:00:02 (GMT +10) - by Agg


Some snippets from eDust: Sun demonstrated a 3D desktop called Mad Hatter. Printers that can print 3D (physical) objects are a little closer. IBM demonstrates a Playstation running the AS/400 operating system. SCO is now demanding US$32 for every device with embedded Linux. Microsoft will release a version of Windows optimised for AMD's Athlon 64.

Boky spotted some cool uses for Bluetooth.

Sabretooth sent in this smoke screen.. no really, a PC image projected onto a controlled "wall" of fog. Very cool.

HardCoreWare checked out four power supplies.

Argent says that excessive internet use could be classified as a disorder soon. I'm probably a textbook case!

Ever wonder why spammers bother to keep sending out so much spam? Well, some of them are making bucketloads of cash, that's why.. thanks Bigiain.

Now you can play "The Hunt for Saddam" in your computer room, with a glowing Saddam Hussein casebadge on your PC. That'll go nicely with your George W. Bush doll, thanks corky.

decryption sent word that someone has shrunk a bootable version of Win95 down to under 5MB.

Telstra are apparently slowing the expansion of their ADSL network soon, thanks Crusterminator.

Daniel noticed this article about cyber-atheletes and the CPL.. some people who take their fun very seriously.

Tigger spotted this overclocking dial from PCChips.

AMD have acquired the Information Appliance unit of National Semiconductor, thanks Draffa.



If you notice lots of smoke in Sydney this weekend, don't panic, it's (probably) not your house burning down.. they're doing a lot of Hazard Reduction Burns around Sydney this weekend to help minimise the risk of a big bushfire season and to promote native biodiversity.

We ask the public who live near these areas to be aware of that smoke from these fires may at time be quite thick. These burns are well planned and adequate firefighting resources will be on hand. If any member of the public does see a fire of concern, without a fire truck in attendance, they need to call 000 as soon as possible.

We remind residents of Sydney that these hazard reductions are likely to produce very significant amounts of smoke in the Sydney basin. Persons who suffer breathing difficulties should remain indoors or take their normal precautions.

Thanks to Darkness, our resident NSWRFS person!



Earlier in the year we linked to these thermal images of an EPOX 8RDA motherboard in action. It was interesting to see just which bits get how hot. This time around, its an ASUS A7N8X Deluxe and again, very interesting to see where the heat is produced.

SFF (Small Form Factor) PCs are all the rage right now, and this little P4 system can be carried around with one hand. A Stealth Computer. I can just see it now. "Mum, have you seen my computer anywhere?" Link from Stmok.

Hardware Avenue have posted a brief, down to business performance comparison between today's top two 3D chips - the 5900Ultra from Nvidia and the 9800Pro (with 256MB) from ATi. Read it here.

It looks like another ZoneAlarm Vulnerability has been found, specifically, the True Vector driver will allow malicious code to be executed under certain conditions. Thanks Kernal32.

PCStats have a good beginners guide to Remote Access Computing. "The ability to access files and information on your computer over the Internet is useful for work and play, as well as being just plain impressive in a geeky kind of way".

According to DarkVision Hardware, Intel has confirmed that the Prescott core will put out about 100W of heat energy that will need to be dissipated somehow. Link from LSDsmurf.

You can buy a mouse with a little fan built in to it, or you can mod your own.

On the topic of modding, these Organic Light Emitting Diodes (OLEDs) would open up a lot of options. These things seem to be the way of the future when it comes to display technology. Thanks Junkz.

And if you're short on desk space but rich in old PC parts, like many of us, you could build a desk out of the old bits like Kerridwyn did.

Sudhian have posted an interview with Lyle Wagner from ABIT, where they discuss all things motherboard and chipset related. They have also posted Part III of their 3DFX article, A Fallen Titan's Final Glory.

CoolTechZone have an article titled A Quick Guide To Understanding Chipsets. Short and sweet.

Overclockers New Zealand have updated their DDR RAM Guide II with new RAM from Mushkin, Geil, and PQI.

kryz noticed this one. If you're a fan of RPGs and happen to live somewhere near some place called Washington, you can now study The Ethnography of role-playing games. Its true!

"Surfing helps studies" according to this article in The Herald Sun, so all of you kids, get your surfboard waxed up and head on down...ohh...not that kind of surfing! Thanks for that Tigger.

We've seen them before but I still giggle when I see one, a PC cigarette lighter. From ApathyGates.

Lanvictims (combination of Gamevictims and LoLLan) is on again! Its in Brisbane on Saturday 23rd August. Details and registration here.

If you are/were a regular visitor to SOLD.com.au, you will have to look elsewhere in future. Its been sold and is closing it doors, if it had doors!



Systems/Laptops/PDA:
ECS EZ-Buddie SFF PC at SilentPC Review

Mainboard:
MSI865PE Neo2 and Gigabyte 8KNXP (i875P) motherboards at Digital Daily

Memory:
Corsair TWINX XMS4000 Dual Channel 1Gb Kit at OCTools
Corsair TWINX XMS4000 Dual Channel 1Gb Kit at PCStats
Corsair TWINX XMS4000 Dual Channel Kit video review at 3DGameMan

Storage:
SanDisk Ultra 512MB CompactFlash Memory Card at Modtown
Samsung's 52X SM-252B CDRW and SM-352B CDRW/DVD-ROM drives at SilentPC Review

Video/Monitor:
Samsung SPL4225 42" Liquid Plasma Display at Monkey Review
3D Blaster 5 FX5900 Ultra at Guru of 3D

Cooling:
OCZ Gladiator 3 Heatsink and Ultra 2 Paste at AseLabs

Case/Mods:
V-Tech X-ray Case at OHLS
Tsunami ST-64 Window Case at Bit-Tech
Xoxide X-Turbine Case at Mikhailtech

Misc:
SilenX 350W PSU at OCAddiction
Everglide Giganta v3 and Cord-It at Gruntville
RD3XP Gladiator ATA 133 IDE Cable at FuriousTech
Sharp VL-Z7U Mini DV Camcorder at DesignTechnica
Altec Lansing XA3021 2.1 Speaker System at Computersphere




Press Releases (2 Comments) (link)
Wednesday, 6-August-2003 21:27:20 (GMT +10) - by Agg


ATI have announced their All-In-Wonder 9600 Pro. ATI's newest multimedia video card joins the award-winning ALL-IN-WONDER® family to provide customers with all the best of current PC Multimedia technologies combined with fantastic new features such as FM Radio, Dual VGA, Faster-than-Real time DVD / CD Authoring and the next generation REMOTE WONDER™ II radio frequency (RF) Remote Control.

AMD have announced their Opteron Processor Model 246. Recently announced results of the Transaction Processing Performance Council's TPC-H benchmark, which measures business-related database queries, confirm the IBM eServer 325 featuring the AMD Opteron processor Model 246 is currently the highest performing system tested on this benchmark for both 100GB- and 300GB-sized databases.

VIA showcased their Dual Opteron K8T800 Chipset Running 64-bit Linux at LinuxWorld. In addition to supporting a choice of single or dual AMD Opteron processors, the VIA K8T800 also features an AGP8X graphics port to provide the scalability required for advanced workstation applications as well as server designs. Other leading edge features in the chipset include HyperTransport™ technology and the world's first integrated multi-configuration Serial ATA/RAID controller in the VT8237 South Bridge.




Mod your way to a new PC (5 Comments) (link)
Wednesday, 6-August-2003 17:46:42 (GMT +10) - by Agg


Reckon you're Australia's best PC modder? Prove it... and win a 3.2GHz P4-based PC!

Intel Australia is calling for all PC Modders to enter the Intel PC Mod Challenge to find the most creative and professional custom-made PC in Australia. Entrants will have the opportunity to win a PC featuring the latest Intel® Pentium® 4 Processor with Hyper-Threading (HT) Technology** at 3.2 GHz and Intel 865 chipset.

Entries for the Intel PC Mod Challenge are now open and the top 8 finalists will be showcased and judged at the Australian finals of the World Cyber Games (WCG) on Saturday, August 30th at the Sydney Convention and Exhibition Centre, Darling Harbour.

Entries close on the 22nd of August so you better be quick. I've been invited to be on the judging panel - you'll need to submit something pretty special to impress me. Full details are on this page. There's a thread in our forums here about it. Gentlemen, start your Dremels. :)




Wednesday Reviews (0 Comments) (link)
Wednesday, 6-August-2003 13:45:02 (GMT +10) - by Agg


Intel Motherboards:
Soyo P4I875P Dragon2 Canterwood on TweakNews.
EPoX 4PCA3+ Canterwood on TweakTown.
Abit IS7-G on NexusHW, our review here.

Video Cards:
FIC Radeon 9600 Pro at GamersDepot.
ATI All-In-Wonder 9600 Pro on HotHardware.
Explorer Technology GeForce FX 5200 on TechWareLabs.
Tyan Tachyon Radeon G9600 Pro on Xbit.
Manli Radeon 9800 Pro 256MB on Digit-Life.
Palit GeForce FX 5200 Ultra on Monster-Hardware.
MSI GeForce FX5600-VTDR128 on PCStats.
Chaintech A-FX71 GeForce FX 5600 Ultra v2 on EnvyNews.
Terratec Mystify GeForce FX 5900 Ultra on Game2XS.

Memory:
Geil DDR533 on DVHardware.
Corsair TwinX XMS PC3700 on SubZeroTech.

Audio:
Corda HA-1 Mk11 Headphone Amplifier on EXHardware.
Jazz Speakers J9938B 5.1 Private Cinema Theatre on TechnoYard.
JBL Creature 2.1 Speakers on HardwareZoon.

Cases:
Blue UV Reactive Acrylic Case on PimpRig.
Blue X-Dreamer Mid Tower on TheTechLounge.

Cooling:
Verge Water Cooled Case on IPKonfig.
CoolerMaster Aerogate II fan controller on BurnOutPC.
Noise Isolator 3.5" Rheobus on BigBruin.
TweakMonster BGA RAMsinks on WinHQ.
Spire Whisper Rock IV CPU cooler on OCMelbourne.
CoolerMaster CoolDrive 3 HDD cooler on OCClub.
Corsair Hydrocool 200 watercooler on OCPrices.

Misc:
Belkin Bluetooth Dongle on RBMods.
Belkin 2-Port KVM Switch on XtremeMods.
Epson CX500 3-in-1 Printer on A1-Electronics.
Thermaltake Xview glowy panel on Bit-Tech.
Samsung SyncMaster 191T LCD screen on Digit-Life.
Compex PS2216 16-port LAN switch on Guru3D.
Ideazon Zboard keyboard on ModAsylum.
Siemens SL55 tri-band mobile phone on HWZ.
MSI Mega 651 PC mini-PC on ViperLair.
Plextor PlexWriter 52x24x52 CDRW on DesignTechnica.



The WAFreeNet group have come up with a way to control & manage traffic on fixed wireless networks. Its called Frottle. "Such control eliminates the common hidden-node effect even on large scale wireless networks. Frottle works by scheduling client traffic by using a master node to co-ordinate - effectively eliminating collisions. We've found it has given us a significant improvement in network usability and throughput". Thanks jas and aXis.

The OCModshop have updated their info about the VIA Chipset Idle Temperature Hack. "I have received confirmation that this does work on KT333 and KT400 boards. One user reported that instead of registers 92 and 95 he had to change D2 and D5 on his KT400 board. The numbers to change are still the same though. Also, some people have reported that they hear a slight buzz coming from their speakers due to this mod. I have experienced this as well, but for me its hardly noticeable".

Those of you who have had a look at www.buildsilentpc.com, they have updated some of the site content with things like silent hard drive cooling, CPU water cooling, silent case fans and other such things.

The Tech Report have a PSU roundup with five PSUs from Ahanix, Antec, Enermax, Vantec, and Zalman. Meanwhile, Gaming3D have posted a Budget Dual-Channel PC3200 memory roundup.

OCNZ have put together three MAT/PAT 865PE motherboards from Abit, Albatron, and Gigabyte to see how they compare.

ArsTechnica have had a look into the various anti-spam techniques that are available to us at the moment and weigh up the pros and cons of some of them.

More info on the good/bad points about burning in your CPU over at Madshrimps. Some people swear by it, some think its all wishful thinking. Have a read.

KepTech have an "Introduction to Linux" for those who have yet to see The Dark Side.

Redhat Vs SCO, some new info in the ongoing saga. Read it here. From Zate.

Anyone for an Opteron FX? That might be on the cards from AMD. Read more here for info.

Behold, the new "Dracucell PSU", well... not really, but interesting. from eDust.

From Dark_Greg: "I am organising an astronomy and social gathering for the night of the 27th of August, somewhere in Brisbane, to observe Mars as it makes its closest approach to Earth in recorded history. Details can be found here and here".




Logitech MouseMan Dual Optical (8 Comments) (link)
Wednesday, 6-August-2003 01:50:14 (GMT +10) - by Agg


Noah has taken a look at this mouse from Logitech. It's not their latest and greatest, but it boasts a special feature in the form of two optical sensors for greater accuracy and less skipping.



Click for the review!





I spent a little time over the last few days tidying up how the PC Database is displayed. In particular, it was too wide even for a 1024x768 screen. I also made the page navigation take up less space and changed a few things to make the pages load quicker. Larger thumbnails and neater text in places as well as a few other small changes will hopefully make it look a little better.

If you haven't been there in a while, check out some of the Gallery pages:Also, thanks for your patience while our server struggled last night. Chainbolt's DDR500 Review attracted a lot of attention and we also had a hugely busy night in the forums, setting a new Online Users record of 607 people!



A few morning reviews!

Motherboards:
ASRock K7S8XE SiS748 AMD motherboard on Overclockers NZ.
ABIT IS7 i865PE P4 DDR motherboard on PureOC.
Abit IS7-G versus Epox 4PDA2+ i865PE P4 DDR motherboards on Digital-Daily.
Gigabyte 7VAX1394-A KT400A AMD motherboard on Overclockers NZ.

Memory:
Crucial DDR PC3200 on GruntvillE.
OCZ 512MB PC4000 Dual-Channel Kit on MBReview.
GEIL PC3700 DDR466 Golden Dragon Dual Channel DDR Kit on HardAvenue.

Video Cards:
Gainward Ultra/760 XP Golden Sample GeForce FX5600U on Digit-Life.
Albatron GeForce FX5600EQ on OCAddiction.
Albatron GeForce FX5200U on HardwareZone.
Sapphire Atlantis Radeon 9800 Pro review vs 9700 Pro on TechSpot.

Cases/Case Mods:
Enermax CS-5688 coloured case on Overclocker Cafe.
PC Toys Dual Cold Cathodes on The Modfathers.
Chenming 301KE aluminum case on OCAddiction.
Enermax UC-A3FATR2 Multifunction Panel on Mikhailtek.
V.L. System LIS LCD, LIS VFD and VL-INDY system monitors video review on 3DGameMan.

Other Stuff:
Coolermaster CoolDrive 3 HDD cooler on bit-tech.
Behringer HPS3000, HPX2000, HPM1000 Headphones on TechConnect.
IOGEAR Phaser Hand-Held RF Wireless Mouse w/ Laser Pointer on Computer Critics.
Swiftech H20-8500 Socket A/478 water cooling kit on WinHQ.
Steelpad 4S Mousepad on SubZeroTech.
Creative Labs PC Multimedia Remote Control on Bjorn3D.
Creative Labs PC Multimedia Remote Control on R&B.
auravision eluminX Keyboard on hardCOREware.



"Xeons For Gaming! Not such a crazy idea after all" Thats the title of an article over on GAmePC. Sounds like a good idea to me. With chipset and graphics support now, price would be the only reason not to give it a go.

If you think you might have made it onto the RIAA's hit list, just hope that you are far down on the list. According to this site, it could take them over 2000 years to catch up with you. Also, a US senator wants to have a look at the subpoenas to make sure they are appropriate and measured and that the innocent are not caught up in it. Thanks Stmok.

Fans of that funny Stair Dismount game, where you drop a guy down the stairs and see how much damage you can cause him, will want to know that there is a new version available. This time, dismounting from a truck! Its all good. Thanks Darkness.

Optus have changed their cable internet plans with the 5GB plan now 6GB for $99.95Pm. What will you do with your change out of that $100 a month? There are other plan changes as well, get all the details here. From MaDmArTy.

Anandtech have part 2 of their 2003 Power Supply Roundup with close to 20 PSUs for you to check out.

Dan has more letters, number 57 this time. I wonder if he just makes them up? :)

And the big news for the day, well...it made my day, is that research just out of Melbourne has confirmed what I have been telling my wife for years. Alcohol helps you lose weight! Daniel, I owe you one.

Interesting Forum Threads:
P4C800 vs GA8KNXP duo: The battle continues with P4 3GHz in Intel Hardware
New camera - go digital (D10) or stay film (EOS3)? in Other Toys
Star Wars Galactic Conquest mod for BF1942 in Games
Audio-M Revolution 7.1 Mini-Review in Audio Visual
Ways to freak out your roommate in The Pub
Free Game: Truck Dismount in Games
My Graphical LCD in Modding & Electronics




A-DATA PC4000 DDR500 Memory (13 Comments) (link)
Sunday, 3-August-2003 08:56:35 (GMT +10) - by Agg


Chainbolt has looked at this high-speed memory from little-known Taiwanese manufacturer A-DATA. DDR500 is currently the highest available DDR memory speed - does this product live up to their claims? In order to get a true picture of the product's performance, Chainbolt tested 12 sticks...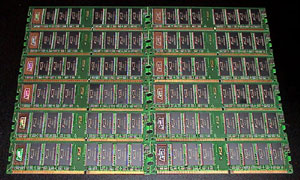 Click for the review!






Forum member "Koopa" killed (0 Comments) (link)
Sunday, 3-August-2003 08:50:28 (GMT +10) - by Agg


On the 31st of July, 18 year old forum member "Koopa" was killed in a car crash in Western Australia. Although I didn't know him myself, Brad was quite active in various forums and will clearly be missed by many. Our thoughts are with his family and friends.

You can leave your thoughts in this thread.



You might remember a couple of weeks ago I mentioned how long it had taken our Folding Team to get to each million-point milestone. The first million took 319 days and each million from there took less and less, with the 9th million taking a mere 14 days. To keep the trend going we obviously had to do the 10th million in less than 14 days... turns out we did it in 11 days. Nice one, Team OCAU! The point scheme has changed over time, so we're not strictly comparing apples to apples, but as Kaliban points out: 319 days for the first million, and only 327 more to hit 10 million. Impressive!!

Existing Folders will be happy to know there's a new core out which goes some way to fixing the annoying problem of having a unit die halfway through and you not receiving credit for it. For some units you will now receive partial credit for the percentage completed before it stopped. See the Folding page for more info.

To join the fight and use your idle CPU cycles to help find cures for diseases such as cancer, see here. For more info on the team, check out our Folding@Home Team Page. If you have any questions, ask in our Team OCAU Forum.




Sunday Morning Reviews (0 Comments) (link)
Sunday, 3-August-2003 08:40:14 (GMT +10) - by Agg


Video Cards:
MSI GeForce FX5900-VTD128 on ViperLair.
FIC Radeon 9600 Pro on OCAddiction.
FIC A98P Radeon 9800 Pro on NeoSeeker.

Cases:
Xoxide X-Elite on OCPrices.
iCute 0314TL-BS on ModSynergy.
Athenatech A747-SS on MonkeyReview.
AOpen A600 Aluminium on OCOnline.
Xoxide Airbrushed Pre-modded case on OCrCafe.

Audio:
Altec Lansing 2100 2.1 speakers on HardwareLab.
iRock 730i MP3 Player on ModSynergy.
Logitech Internet Chat Headset on DesignTechnica.

Memory:
KingMax DDR433 (PC3500) on TweakTown.
Corsair XMS3700 512MB TWINX on AseLabs.
Corsair TwinX 1024 DDR500 on SubZeroTech.

Cooling:
Zalman CNPS6000Cu CPU cooler on Enscape.
Thermaltake Fireball Fan on BigBruin.
Nexus PHT-3600 P4 CPU cooler on PimpRig.
QuietPC Cobalt3 fan silencer/controller on RBMods.
3acooler Zebra CPU cooler on RBMods.
Xoxide 80mm UV-Sensitive Fan on VoidedWarranty.
Zalman Fan Controller on Bit-Tech.

Storage:
IWill CR620 6-in-1 Card Reader on PCReview.
Seagate Cheetah 15K.3 HDD on NexusHardware.

Misc:
Linksys EG008W Gigabit 8-Port Workgroup Switch on ExtremeOC.
Solarism Flex-View LM-1730 LCD Monitor on Bjorn3D.
Eumax Transfer Panel on TheTechLounge.
Antec TrueControl 550W PSU on CrazyModders.
Ortek Eagletouch MCK-90 Mini Silver USB Keyboard with USB Hub on OCMelbourne.



There's an interesting article on Ace's Hardware called 3DMark03 Performance Factors. They explore how much effect upgrading various components in a slower system can have on 3DMark03 results, thanks The1.

HardAvenue have an article about ISDN in Australia.

The latest version of Nero Burning ROM, a popular CD-burning program, has got people talking. If you're not careful, it will delete data on your hard drive that you might not expect it to. More info here.

Kasi spotted this heatpipe-cooled case from Zalman.

LegionHardware compared four i875P/i865PE motherboards for your P4 or Celeron. Meanwhile, Xbit compared four 1GB compactflash cards.

GideonTech have an article about making a Stereo VU Meter for your PC.

From Argent: Just letting you know that Microsoft has a new critical update for Windows Media Player 9. Grab it from Windows Update. "Flaw In Windows Media Player May Allow Media Library Access (819639)"

MWP noticed Slashdot hitting a ZZZ Online article about a new thermal paste. This is the black carbon stuff we mentioned a little while ago. Good to see ZZZ back up after their recent hax0ring also.

Tully sent word of multiplayer GTA:VC. Sounds like a great idea! While on the gaming side of things, g@z says Natural Selection 2 is out now.

Hmm, I was thinking those mobile phone cameras were just gimmicks, but here's one being used to catch a crim.

Tech-Report have an article about AMD making Opteron into an Athlon64 variant supporting dual-channel memory. They also have a review of Intel's 1.4GHz Pentium M mobile CPU.

From Dark_Greg: A rather interesting astronomical phenomenon can be observed over the next month, with Mars being closer to earth then it has been in at least 5,000 years, with some estimates putting it at 60,000 years. Needless to say you wont get another chance to see this again in your lifetime. Details can be found here. That explains all the Mars probes being launched over the last few months.

Bit-Tech have an article about mousepad modding.

Apparently wearing a tie is bad for your eyes! As if another excuse was needed to get rid of them.

PapaSurf spotted a story about someone flying across the English Channel with a carbon-fibre wing strapped to his back. Crazy!

DeepSpring sent in this article about copyright law, which is mostly relevant to the USA I guess, but it dispels some myths about use of copyright materials.



Well, it seems to be official. Modchips are circumvention devices under section 116A of the "Digital Agenda Copyright Act" and are illegal in Australia according to this article, and this one as well. This will have a huge impact on many small businesses around the country as well as many console owners and other individuals within the console industry. If you feel that the Government needs to change this then you have a chance to have your say. The government will be conducting public forum meetings in Sydney and Melbourne where members of the public can go and voice their opinion regarding how well they think the "Digital Agenda Copyright Act" is working, or not working, as the case may be. The two public forum meetings are being held very soon. The details are: Melbourne - Thursday, 14 August and Sydney - Thursday, 4 September 2003. You can register to attend these meetings at this website. Just complaining about it won't do any good, so get up and have your say. Thanks to those who supplied the links and other info.

If you have an nForce or i865/i875 motherboard and have or are planning to get some Corsair TwinX1024-4000 memory, you should have a read of this thread over at Viper Lair. Getting that RAM to work well is not as simple as plugging it in and switching on.

Stephen says that "NVidia have new NForce drivers out, 2.45 seems to fix all the performance issues with W2K and does not include their IDE drivers". You can find them here.

A new Half-Life 2 video has been released. The newly released clip is titled "The Tunnels" and shows off another new weapon as well as introducing a new enemy to the game. You can find it at Games-Fusion.

AMDmb have a video card roundup featuring such cards as Radeon 9700, Radeon 9500, GeForce 4 Ti4800SE, GeForce FX5600 and FX5200.

Hardware Lab have a guide to modding your fans with LEDs.

Sudhian have posted part 2 of their "3DFX Voodoo5 6000 Reviewed" article.




Early Friday Morning Reviews (0 Comments) (link)
Friday, 1-August-2003 00:44:52 (GMT +10) - by Agg


AMD Motherboards:
AOpen AK79D-400 Max nForce2 Ultra 400 on PCStats.

Intel Motherboards / CPU:
Intel Pentium 4 3.2GHz CPU on Guru3D.
Chaintech Zenith 9CJS i875P motherboard on TweakNews.
Abit IS7-G i865 motherboard on 3DXtreme.
Soyo P4I875P Dragon 2 motherboard on OCPrices.

Storage:
Highpoint RocketRAID 1520 card on ViperLair.
Samsung SpinPoint PL40 HDD on XbitLabs.
Samsung SP1614N & SP1614C hard drives on Digit Life.
Seagate Barracuda 7200.7 160GB SATA HDD on HWZ.
Kingwin 2.5" Mobile HDD Enclosure on ClubOC.
Highpoint RocketRAID 404 card on ViperLair.

Video Cards:
Gigabyte Radeon 9800 Pro 256MB on OCNZ.
ATI All-In-Wonder R9800 Pro Radeon on DesignTechnica.
MSI NBox FX5900U-VTD256 Ultra GeForce FX on PCStats.
GigaCube Radeon 9600 Pro Game Buster on ExtremeOC.
FIC A96P Radeon 9600 Pro on SLCentral.

Keyboard and Mouse:
Auravision Eluminex Keyboard on HotHardware.
Ideazon Zboard Interface Keyboard on VoidedWarranty.
Everglide Optical Mouse Mats on Bit-Tech.

Cases:
RaidMax Scorpio-668 on TheTechZone.
Enermax CS-718CBX on GruntVille.
Antec Sonata on HWZ, our review here.
Antec Sonata also on ARSTechnica.
Maxtop CSX-001 on Bjorn3D.

Memory:
1GB Corsair XMS PC4000 TwinX on LegitReviews.

Cooling:
Vantec Nexus NXP-205 fan controller on OCrsClub.
Cobalt3 Pyramid V Fan Silencer fan controller on BigBruin.
OCZ Gladiator 3 CPU cooler on XtremeTek.
CoolerMaster Musketeer fan controller / display on RBMods.

Glowy Things:
Sunbeam EL Case Badge on PimpRig.
Bitspower CCFL Grill & CCFL Control Panel on BurnOutPC.

Misc:
Polaroid PhotoMAX PDC 2150 digicam on SubZeroTech.
iSkin iPod Protector on EnvyNews.
Nexus NX-4000 400W Silent PSU on TheModFathers.
QuietPC QuietFeet vibration dampeners on RipNet.
Canon CanoScan LiDE 30 scanner on Enscape.



---
Advertisement:


All original content copyright James Rolfe.
All rights reserved. No reproduction allowed without written permission.
Interested in advertising on OCAU? Contact us for info.