September 2003
Asetek WaterChill (17 Comments) (link)
Tuesday, 30-September-2003 03:02:13 (GMT +10) - by Agg


Asetek, more famous for their VapoChill phase-change cooling products, have turned their hand to water cooling. Their first complete kit is the WaterChill and includes almost everything you need to get up and running with watercooling. I've looked at it in some depth today: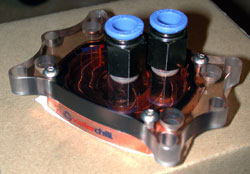 Click for the review!






X-Micro Bluetooth Headset (0 Comments) (link)
Tuesday, 30-September-2003 02:55:07 (GMT +10) - by Agg


Jeremy Quirke checked out this little gadget for us. It's a clip-over-your-ear headset for use with a Bluetooth device such as a mobile phone or a compatible PC.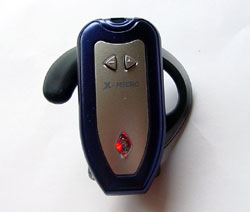 Click for the review!






Archive Updated (0 Comments) (link)
Tuesday, 30-September-2003 00:21:30 (GMT +10) - by Agg


I've updated the Reviews and Articles Archive. Check out these if you missed them the first time around:

AMD Athlon64 FX-51 socket940 CPU.
ABIT IC7-MAX3 i875P motherboard.
CoolerMaster WaveMaster case.
X-Micro Bluetooth Class 2 USB dongle.



Monday evening and the end of a long weekend for us West Aussies! A quick look in the forums shows that we've just reached the 40,000 member milestone. How long until we reach 50,000? Any takers? Anyway, on with the reviews...

Systems/Laptops/PDA:
Micro Pro's Athlon 64 System at Sudhian

Mainboard:
MSI KM2M Combo-L MicroATX Motherboard at Extreme Mhz
DFI LanParty NForce II Ultra at The Tech Lounge

Memory:
OCZ 512meg Platinum Dual Channel PC3200 at TweakNews
Corsair Twinx512x-3200LL at R&B Mods

Storage:
Rocketmate1000 & e.SATA B11 at SubZeroTech
Hitachi DeskStar 7K250 Serial ATA Hard Drive at Envy News

Case/Mods:
Vantec Nexus Rheobus at Enscape
BeanTech BT-85 Acrylic Case at Bit-Tech

PSU:
SilenX 400watt PSU at Gruntville
PC Power and Cooling 510W Deluxe PSU at Extreme OC
SilverStone Technology Strider Ultra Quiet 400 watt PSU at Spodes Abode

Cooling:
Swiftech MCX462-V HSF at IPKonfig
Cooler Master Aero 7+ CPU Cooler at Voided Warranty
EKL Blade XP HSF at OHLS
Dynatron DC1206BM-L/610-P-CU HS at OHLS

Keyboard/Mouse:
MS-TECH LT 300 Keyboard at EpiaCenter
Eumax Fold3000B Flexible Keyboard at Mod Synergy
Eumax Smart Office XP Keyboard at TechIMO
Steelpad 4S Mouse Pad at Team Hardware

Misc:
Samsung ML1750 Laser Printer at Gideon Tech
Samsung YP-300 S MP3 Player at Byte Sector




Monday Afternoon (7 Comments) (link)
Monday, 29-September-2003 17:44:59 (GMT +10) - by Agg


A zillion people sent word that Senator Alston is standing down. The federal minister for IT, Communications and the Arts will be replaced by Attorney General Darryl Williams. There's some comments here in our forums. Whirlpool have some comments and additional info.

A fairly big story on TheInq is that Intel's Prescott will use AMD64 extensions due to pressure from MS who don't want to have to develop for 2 different platforms. Thanks to Adam for that link, doesn't seem to be confirmed anywhere else.

ARP have an editorial about plagiarism of their BIOS optimisation guide. We've had our fair share of articles ripped off (or reproduced on other sites in another language) but the most-copied thing would have to be our Online Vendors list, which I know is still reproduced intact on some other Australian sites.

Anti-spam organisations are being taken down by Sobig virus variants and their websites are being hacked, thanks Dink and spamtastic. Spam is so far beyond a joke now.. hopefully it won't be too long until we get some serious international legal cooperation to get rid of these pests.

Digit-Life have taken a look at a pre-production Athlon64 laptop with some serious cooling.

Got a Maxtor/Quantum drive and want to test some beta software that can supposedly speed it up a lot? Try here.

Madshrimps reckon you can flash certain Hercules Radeon 9800 non-Pro video cards to the Pro model.

TonyR spotted this optical illusions page which makes my brain vibrate.

Roland sent in some display technology tidbits, with a 6400x1200 monitor and a 3D display from Korea.

Win yourself a cube case over on ClubOC, although you may have to pay to ship it to Oz.

There's still some Computex coverage being posted, with part 2 on HWZ, full coverage on AMDMB and booth babes on TweakTown.

Monster-Hardware have a Thermal Paste shootout.

(not that) Dan has a Rugby goal kicking timewaster for you today. You can even win tickets to the World Cup.

Interesting Forum Threads:
DVD player PC project (pics) in Modding & Electronics, thanks Nathan.
3 years in the making (wooden case, pics) in Modding & Electronics.
Soldering a waterblock together? in Extreme Cooling.
Prometia Mach 2 User Tips Thread in Extreme Cooling.
Prommy Mach2 Adventures (pics) in Extreme Cooling.
My latest project: Audio DAC in Audio Visual.




Quick links (3 Comments) (link)
Sunday, 28-September-2003 13:41:57 (GMT +10) - by Agg


Tekka sent in a heap of stuff this week, I'm going to be lazy and just dump it all up in one go. Enjoy!

Intel Prescott to be born on the 3rd of December
AMD K8 - Part 2: A64 VS All (on x86secret)
NVIDIA NV38, NV36 Pictures Emerge
Radeon 9800XT and 9600XT details finalised
Norton Antivirus product activation cracked
AMD Athlon 64: Strong Demand or Weak Supply?
Dutch spammer to appear in US court
Windows plans put on hold
Longhorn Delay? Not Quite
Sony, Samsung may join forces on LCDs
Chip giant SiS backs Athlon 64
Dolby buys into piracy-fighting tech
VeriSign stands firm on domain redirect
Microsoft's Next-Generation Secure Computing Base
Makers of Kazaa suing record labels
Intel revs up Celeron to 2.70GHz
Make your Xbox rock at 1.4GHz
Intel Debuts Hyper-Threading Technology* For Portable Notebook PCs
HP Offers Legal Protection To Linux Customers
Virus takes out US visa-checking system for nine hours
ATI Announces Support for AMD Athlon 64 Processors
New chip device speeds up disk drives
VeriSign settles FTC complaint
EU software patent plan gets thumbs up: Sigh :-(
Lycos critical of MSN chat room closure



Intel Motherboards:
Abit BH7 i845PE P4 DDR motherboard on Active Hardware.
Abit IC7 MAX3 i875P P4 DDR motherboard on Extreme Overclocking.

AMD Motherboards:
Gigabyte GA-7VT600 KT600 Athlon XP motherboard on Neoseeker.

Memory:
Corsair TwinX 4000 vs OCZ Gold 4000 on Madshrimps.
Corsair TwinX 4000 Pro Series 1GB on Viper Lair.

Video Cards:
ASUS V9950 GeForce FX5900 Ultra 256MB on Hexus.net.
Albatron GeForce FX5900 Turbo 256MB on OcPrices.
Gigabyte ATI Radeon 9800 Pro on The Modfathers.
XFX GeForce FX5600 Ultra 128MB on OCAddiction.
Crucial ATI Radeon 9800 Pro on GruntvillE.
Albatron Gigi GeForce FX5600 Ultra 128MB on Overclockers NZ.

Sound Cards:
Philips Aurilium external USB soundcard on SubZeroTech.
Philips Aurilium external USB soundcard on hardCOREware.

Storage:
Teac DW-548D DVD/CDRW combo drive on Envy News.

Cooling:
Angel Eye Technologies Bay-Res reservoir on BiT-news.
Zalman ZM80C-HP and ZM-OP1 fan on HexaPlague Hardware.
Thermaltake Extreme Volcano 12 HSF on Bjorn3d.
Zalman ZM-WB2 waterblock on The Tech Lounge.
Zalman NB47J northbridge heatsink on Blue Couch.
Eumax E0702 HSF on Ohls-Place.

Cases/Case Mods/Power Supplies:
BeanTech BT-85 Crystal Clear Acrylic Case on The Modfathers.
Zalman ZM400A-APF 400W PSU on Mikhailtech.
Vantec Spectrum UV Fans on 8BallsHardware.
Sunbeam 12" Cold Cathode Kit on HexaPlague Hardware.

Other Stuff:
Ennyah DigiSound II 6in1 MP3 player video review on 3dGameMan.
Everglide Ricochet mousepad on GruntvillE.
Steelpad 4S mousepad on HardwareZoom.
Epia CL10000 Mini-ITX motherboard on Epiacenter.
EZ-7000 and FOLD-3000 keyboards on Ohls-Place.
Eumax EZ8000 keyboard on Ohls-Place.
HiTi 630PS photo printer on PC Review.
BeanTech BT-9023 memory reader on Furioustech.
CompuNurse Advanced temperature monitor on ExtensionTech.
Crucial Hi-Speed USB 7in1 card reader on Bjorn3d.
XMicro bluetooth headset on R&B.
Eksitdata USB fan on Comp-Shop.




Saturday Afternoon (9 Comments) (link)
Saturday, 27-September-2003 15:59:39 (GMT +10) - by Agg


Winners of the Folding Giveaway 4 have been announced, head on over to the Team OCAU F@H page for the details.

Keep falling off your Segway? Maybe the batteries are low.. this is a big enough problem that they are recalling them all for a software upgrade.

HiTechMods have some Computex coverage posted now.

Tbreak have some nude Athlon64 pics posted.. large images.

Hexus compared Opterons and Xeons under Linux.

Still on the AMD64 side of things, AcesHardware played with a 2.8GHz part.. thanks Derick.

This site will tell you useful info about your Athlon if you enter the numbers marked on it.

PirateSoftware have been modding a shuttle mini-PC, yarrr.

Redhat Linux may be changing hats to Fedora soon, thanks Goopy. More info here.

There's some new matrix revolutions tv clips and a trailer.

Bit-Tech have a mini wooden PC, looks pretty cool.

More news on the electronic paper front from Sabot68.

Today's second timewaster is catching flies with chopsticks, from HyRax1. Tricky!




Saturday Morning (7 Comments) (link)
Saturday, 27-September-2003 02:42:42 (GMT +10) - by Agg


TweakTown have days three, four and five of their Computex coverage posted. NinjaLane have their day 3 and day 4 reports.

More Athlon64 stuff: SharkyExtreme, TecNation and TheInq (vs P4 EE, thanks Pugsley_21).

From Iroquois: An install of Linux on an Opteron. New chipset from SiS for Athlon 64 enters production. The largest Arctic ice shelf crumbles.

P2C C2P Concurrency? PCI#2 Access #1 Retry? ARP have updated their BIOS optimisation guide with a zillion new settings and what they mean.

SubZeroTech have a small preview of some hot new features that DFI, the makers of the Lanparty series of motherboards, is unveiling in their new series of motherboards. The most notable feature is "CMOS Reloaded".

Dan has flashy things to play with, yet again.

OCModShop have a guide to tape masking for your modding projects. Once that's done, Spode's will tell you how to braid cables.

Apparently Microsoft have put a stop to magazines including their software on cover CD's. This includes service packs and other things that take hours and hours to download on dialup, thanks Dink.

ClubOC checked out the P4 2.4C. With most Overclockers using AMD processors, the big dark secret about the "C" model Intel Pentium 4 was slow getting out. Today I'm here to let the cat out of the bag, the Intel C Model P4 processors are the most overclockable CPUs we have ever seen! Jeez, someone needs to spend more time in our Intel Hardware forum. :)

PC slow when you rightclick in Explorer? Shonky Man spotted this fix.

From Enthalpy: Mini-itx.com have exclusive pics of VIA's latest. 1GHz C3 processor on a 12cm x 12cm form factor. Same size as a CD jewel case. This puppy has SODIMM slots, Mini-PCI and even a SATA port!! (as well as standard IDE). Been slashdotted so may be slow. EPIACenter.com also claim to have exclusive pics. I will call it.. mini-mini-PC.

Dink spotted some more progress on the electronic paper front.

HardwareZoom compared a couple of colour laser printers.

Ben sent in today's timewaster, which is some kind of cow simulation. :)

From RobsGT4: Just letting you know that OCAU Team Green Seti has hit 1 MILLION work units completed, and our top 2 members(PeterD and myself) have hit 50,000 work units each. PsyKo Billy and myself just had a bit of a dump off to push us over the mark, but every one in the team past and present should be congratulated. Zzapped sent in this forum thread about the milestone. Nice one!




Thursday Afternoon Reviews (6 Comments) (link)
Thursday, 25-September-2003 12:47:10 (GMT +10) - by Gibbon


Intel Motherboards:
Albatron PX865PE Lite PRO i848P P4 DDR motherboard on TechConnect.
DFI 865PE Infinity i865PE P4 DDR motherboard on Ninjalane.
DFI 865PE Infinity i865PE P4 DDR motherboard on Bjorn3d.

AMD Motherboards:
FIC KT-748 SiS 748 Athlon XP motherboard video review on 3dGameMan.
Chaintech Zenith nForce3 150 Athlon 64 motherboard (part 1) on Octools.
Albatron KX18D Pro II nForce2 ultra 400 Athlon XP motherboard on Technoyard.

Processors:
Pentium4 3.2GHz Extreme Edition on Nordic Hardware.

Memory:
OCZ PC4000 EL 512MB dual channel DDR kit on Extreme Overclocking.
Corsair TWINX1024-4000PRO DDR on HardwareZone.

Video Cards:
Hercules 3D Prophet 9600 256MB on Guru of 3D.
Sapphire Atlantis Radeon 9800 on Beyond3d.

Sound Cards:
M-Audio Revolution 7.1 on Ohls-Place.

Cooling:
Nexustek PHT-3600 SkiveTek and Zalman CNPS7000A-Cu HSFs on SLCentral.
Nexustek PHT-3600 Skivetek HSF on R&B.
Zalman CNPS7000A-Cu HSF on a1-electronics.
Crossover Mission II water cooling kit on Viper Lair.
Zalman ZM-2HC1 heatpipe HDD cooler on myWORLD Hardware.
Speeze EE-HD02 HDD cooler on BigBruin.
Tocools Crown Cooler HSF on WorldOverclockers.

Cases/Case Mods/Power Supplies:
PC Power and Cooling TurboCool 510W Deluxe PSU on Envy News.
Vantec Nexus 305 fan and light controller and Spectrum CCFL on Virtual-Hideout.
CoolerMaster Aerogate II fan controller on OCIA.
Allied 500 Watt PSU on TweakTown.
Speeze EE-SC01 fan controller on BigBruin.
Noise Isolator's 3.5" VR fan controller on WorldOverclockers.

Other Stuff:
Logitech MOMO racing wheel on Envy News.
Crucial 7in1 card reader on ASE Labs.
Exilim EX-Z3 Digital Camera on AcceleNation.
Steelpad 4s mousepad on Bytesector.
Steelpad 4s mousepad on 8BallsHardware.
Icemat mousepad on Furioustech.
Zalman ZM-RS6F 5.1 channel headphones on HexaPlague-Hardware.
Bleu Jour Gothic Thumbscrews on Madshrimps.
Samsung SyncMaster 192T LCD monitor on Designtechnica.
Samsung SyncMaster 172W LCD monitor on Modsynergy.
Snap Server 2200 240GB NAS device on LAN Addict.




Thursday Morning (3 Comments) (link)
Thursday, 25-September-2003 01:58:47 (GMT +10) - by Agg


More Athlon64 reviews: AnandTech, AcesHardware, UKGamer, FiringSquad, ExtremeTech, TomsHardware, Hexus, AthlonXP, PCStats, Sudhian and SimHQ.

Other Athlon64 stuff: Asetek slapped one into their WaterChill product and overclocked it. ULi, a spinoff of ALi, is set to take on nVIDIA and VIA in the Athlon64 chipset market, thanks Ambush. Shuttle have an Athlon64 mini-PC, reviewed on SFFTech and Tech-Report.

More Computex stuff: OCNZ, Hardware Analysis, Legion Hardware, NinjaLane, TweakTown, TBreak, TechBits and AnandTech. HardOCP checked out the VIA Technology Forum while they were in Taiwan.

In the wake of several scandals about video driver optimisation affecting their benchmarking products, Futuremark Corp have published these guidelines for driver optimisation in future. As a summary, all 3DMark specific optimizations are prohibited. Additionally, all generic optimizations that change the rendering quality requested by 3DMark are prohibited.

Microsoft are shutting down the free MSN Chat service around the world due to concerns about spammers and predators, thanks yyk. Note that this isn't their Instant Messenger product.

Half-Life 2 has been officially delayed, thanks neo.

Dan has more letters.

Some PSU modding articles: turning one into a "test unit" on ExtensionTech and getting more juice from your 3.3v line on BleedingEdge.

More of the usual whacky stuff on ZZZ Online.

Today's timewaster is a Windows-based game from reefa: A friend of mine has asked me to try and help promote a pc game he has just finished working on, it is a free remake of the classic 8bit Speccy/c64 game Head over Heels. Go check it out here!




Athlon 64 and Pentium4 "Extreme Edition" Reviews (12 Comments) (link)
Wednesday, 24-September-2003 12:24:03 (GMT +10) - by Mred32


Today marks the official Australian launch of AMD's Athlon 64 CPU range featuring the Athlon 64 and Athlon 64 FX. While the Opteron CPU has been available for some time now it is aimed squarely at the high end/server arena. With the Athlon 64 release, these new additions to the 64 bit range are headed more for the desktop/enthusiast market.

By pure coincidence, Intel have released the Pentium 4 "Extreme Edition" at the same time as the AMD release. The P4 "EE", as it has come to be known, is basically an Intel Xeon CPU with an L3 cache totalling 2MB. Just what this addition adds to the performance stakes is yet to be seen but some of the reviews below will give us a good idea of what we can expect.

Agg has had a chance to review the Athlon 64 FX-51 and for me at least, the results were surprising. So while you contemplate the finances required for your next upgrade, here are some more reviews of these new CPUs:

Athlon 64 at The Tech Report
Athlon 64 FX-51 at HotHardware
Athlon 64 FX-51 at Lost Circuits
Athlon 64 FX-51 at Gamers Depot
Athlon 64 FX-51 at Legit Reviews
Athlon 64 FX-51 and Athlon 64 at AMDMB
Athlon 64 and FX-51 at AMDZone
Athlon 64 and FX-51 vs Pentium 4 "Extreme Edition" at [H]ardOCP
Athlon 64 and FX-51 vs Pentium 4 "Extreme Edition" at X-bit Labs
Athlon 64 and FX-51 vs Pentium 4 "Extreme Edition" at Sudhian




AMD Athlon 64 FX-51 (20 Comments) (link)
Wednesday, 24-September-2003 03:03:17 (GMT +10) - by Agg


Today we have a look at this new CPU from AMD, part of their AMD64 platform. With features very similar to their Opteron range but aimed at the gamer and enthusiast market, is it something you're likely to want for your next upgrade?




Click for the review!






Tuesday Afternoon (3 Comments) (link)
Tuesday, 23-September-2003 13:48:18 (GMT +10) - by Agg


There's been some geekly gatherings lately. Intel's Developer Forum finished recently and HWZ have coverage here, here and here. Computex in Taiwan is on right now, after being postponed due to the SARS outbreak in Taiwan earlier this year. Coverage of that event is here and here on TweakTown, here on LegionHardware, here on NinjaLane, here on HWZ and here on HardwareAnalysis. A general article about Computex is here on eTaiwanNews.

One interesting announcement from Computex is the Radeon 9800 MAXX with two GPU chips onboard, info here on DVHardware thanks BLeR and here thanks Ambush. Unfortunately, it seems to just be a dummy prototype and not actually functional.

There's a big CPU comparison comparing A64, Opteron, Xeon, P4 EE and others here (machine-translated from French, but quite readable). Thanks to everyone who sent that one in.

Dan has been keeping busy, reviewing the Xitel INport USB line-in adapter and writing about invisible miracles. He also checked out the Airzooka. Sciby actually bought one of these while we were wandering around Brisbane after the last BBQ.. turned out to be pretty cool. (It's my preferred weapon for annoying the buggery out of my co-workers. Nerf's got nothin', nothin'! - Sciby)

Matt sent in some pics of a G5 cluster.

LittleWhiteDog want to tell you how to secure your FreeBSD box.

ICANN is apparently telling Verisign to quit it with the vacant-domain redirection, thanks Dink.

Smack01 went to the recent 13th Annual Fast Fours Jamboree and took lots of pics of cars and girls.

Chris noticed that the lawsuit against IBM for their so-called "Deathstar" 75GXP hard drives is going ahead. I remember when the panic about these drives was in full swing, I had two 30GB 75GXP drives in my main PC. I bought two 40GB 60GXP to replace them as a safety net before they failed. A long time later now, the two 75GXP drives are still going strong in testbed PC's while both the 60GXP's have died clicky deaths. Typical!

Meanwhile, Microsoft have their own Death Star in the wings, thanks Kharn.

One thing Intel announced at their IDF is the BTX standard, which will eventually replace ATX and has more of a focus on heat management, thanks PodgeSSS.

NordicHardware have a roundup of PC4000 or DDR500 memory.

A news burst from Tekka: Prescott has 64-bit compatibility built in. Intel Talks About Prescott, Tejas Cooling. Intel® Application Accelerator RAID Edition New Version 3.5.2. RIAA sues iMesh file-trading firm.




Tuesday Lunchtime Reviews (0 Comments) (link)
Tuesday, 23-September-2003 12:43:46 (GMT +10) - by Agg


Motherboards:
VIA Epia M10000 Nehemiah mini-mobo and CPU on EPIACenter.
FIC KT-748 SiS748 socketA on MBReview.
ABIT IC7-MAX3 i875P socket478 on HotHardware, our review here.
ABIT K7V KT600 socketA on OCAddiction.
Albatron 865PE/PE Pro II socket478 on ClubOC.
Albatron KX18D Pro II nForce2 Ultra 400 socketA on ClubOC.

Video Cards:
Chaintech Apogee FX71 GeForce FX5600 Ultra on TweakTown.
MSI FX5600-VTD128-J (A.C.T) GeForce card on HWZ.

Memory:
Corsair XMS4000 Pro Dual Channel DDR kit (video review) on 3DGameMan.

Cases:
Chieftec BX Full Tower on ViperLair.
RaidMax Storm 847 Titanium on Bjorn3D.
A+GPB A-AP107 on ModSynergy.
So-TrickComputers Spidey II on 3DExtreme.
Xoxide X-Viper pre-modded case on SubZeroTech.

Cooling:
Zalman CNPS6000-Cu CPU cooler on FuriousTech.
Antec Notebook Cooler on ClubOC.
Thermalright SP94 heatpipe P4 cooler on Hard-H20.
Vantec Iceberq4 Pro Premium VGA cooler on 8Balls.
Speeze Pantherstream CPU cooler on RBMods.
Datacool DWC-A1 watercooling kit on MadShrimps.
CoolerMaster Jet 7 heatsink and blower on Metku, thanks Squigy_Poodle.
Swiftech MCW5002-P waterblock on GruntVille.
Thermaltake Extreme Volcano 12 CPU cooler on PirateSoftware.
Thermaltake Fan Ducting Mod on Bit-Tech.

Fan Controllers:
Xoxide Ultimate Panel 6-Knob Fan Controller on ExtremeMHz.
Vantec Nexus NXP-305-SL Fan & Light Controller on OCClub.

Mousing around:
Icemat glass mousepad on GruntVille.
Microsoft Wireless Intellimouse Explorer on Ripnet.

Storage:
Highpoint e.SATA Kit external storage on ModSynergy.

Power Supplies:
Vantec Ion 400W on RBMods.
SilverStone Strider SST-ST360 on VoidedWarranty.
Aerocool Aeropower II Titanium on ViperLair.

MP3 Players:
JetAudio iAudio CW300 on TheTechLounge.
iRock 730i on SubZeroTech.
iRiver iFP-395T on HardwareZoom.

Misc:
Monarch Hornet XP mini-PC on TechIMO.
Bluetooth Pharos Pocket GPS on MaximumPDA.
Gateway 200XL notebook on DesignTechnica.
BlueTake Wireless LAN 802.11B BW101 USB Adaptor on ModTown.



GeekShelter have not one, but two new articles for us today. Starting with a Beginners Guide to MySQL and also a PHP for Newbies article. Maybe Agg should give them a read :).

Do those annoying 'Messenger Service' pop-ups keep interrupting your work and games on your Windows ME/2000/XP machine? In this article, PCReview show you how to disable them.

X-Bit Labs have the low down on Intels new CPU coolers, sporting Bifurcated Fin Geometry. Couldn't they just say "Split Fin"? Thanks Sniper.

Got a million dollars spare? Need a new keyboard? You need one of these! A bit steep I think. I wouldn't pay more than $500,000 for one. Thanks StormCyko.

For those of us getting ready to jump on the 64bit bandwagon, Pyro found an interesting article which claims that Prescott has 64-bit compatibility built in. I can't find any more info about it at this stage but I'm sure that more will filter through in the next few days. This could make things very interesting.

Migishu tells us that [H]ardOCP have some info about The Phantom console from Infinium Labs, said to be the next rival to the XBox. That is, if it ever becomes more than just a Phantom.

G3D have an SIS 648FX Chipset Overview for you.

Amdmb.com has posted an updated video card roundup which includes the Radeon 9700, Radeon 9500, FX5900 Ultra, FX5600, FX5200 and Ti4800SE.

Dan talks at us about PVR's and why we don't have them in Australia. "Whats a PVR?" I hear you ask. A Personal Video Recorder is what it is and Dan has the low down.

Telstra want to save money. So they are switching to "Sun Java Desktop", or "Mad Hatter" as others know it. More info here. Thanks Dink.

Enscape put some memory to the test head to head. They are TwinMOS PC3200 with Winbond chips (2x256Mb) and Mushkin PC3500.




DrFrag's Suitcase PC (8 Comments) (link)
Monday, 22-September-2003 11:21:25 (GMT +10) - by Agg


DrFrag has put together a PCDB entry for his suitcase PC. This PC won him a whole new P4-based PC in the Intel PC Mod Challenge at the World Cyber Games recently. It's very neatly done with everything you need tucked away inside the case, including a 15" LCD monitor, keyboard, mouse, headphones and even a powerboard!



Click for the PCDB entry!






Press Releases (4 Comments) (link)
Sunday, 21-September-2003 22:58:36 (GMT +10) - by Agg


Some interesting press-releases from the last few days:

Western Digital Raptor:
The next-generation WD Raptor drives offer 74 GB with performance-boosting Ultra/150 Command Queuing (Ultra/150 CQ) technology. Western Digital Corp. announced that it is enhancing the throughput, performance and capacity of its popular enterprise-class Serial ATA (SATA) 10,000 RPM WD Raptor hard drives, offering enterprise customers an increasingly compelling reason to reduce the cost of their storage. Command Queueing sounds interesting, bringing these drives closer to their SCSI counterparts. For more info we have a 43KB Word doc here, a 1.5MB PowerPoint file here and WD have a high-res picture of the Raptor's innards here.

ABIT DigiDice:
ABIT's DigiDice mini barebone goes where other mini PCs don't even dare. While other manufacturers have added all kinds of colourful looking but useless features, ABIT gives power users a high performance mini PC with more features and expansion capabilities than the competition: room for 2 hard disks, 2 ATAPI devices (CD/DVD(RW) drives) and an AGP and PCI slot as well as the most advanced and silent cooling solution available for any mini PC. ABIT's DigiDice also is the most stylish and tasteful package ever designed to house PC hardware, and we've even included a cool DigiDice backpack for LAN partiers on the go. More info in a 677KB Word doc here.

ABIT µGuru:
ABIT µGuru is a new microprocessor designed by the ABIT Engineers for use only on ABIT motherboards and which allows end-users to reach a higher state of hardware awareness and enlightenment. µGuru acts as a spiritual guide, sharing with ABIT users, tips for hardware monitoring, overclocking, BIOS flashing and audio tweaking functions in an easy to use, Windows-based interface. As a part of the motherboard, only µGuru can completely understand how to optimize the motherboard for ultimate performance. What truly sets µGuru apart is it's onboard memory that allows users to save their favorite overclocking settings for specific applications. Phew! If we wade through the marketing-speak, it seems to be a hardware monitoring chip like the Winbond units we're used to seeing, with some overclocking features added in. More info in a 415KB Word doc here. The first motherboard to use this feature is their AI7 and there's a 556KB Word doc with info on that motherboard here. Check out the angled CPU socket, interesting.



To kick off tonight, news of a new virus doing the rounds. It's typically showing up as an email purporting to be from Microsoft, with an executable attachment. Of course Microsoft do not distribute system updates by email. More information here and here. Thanks to those avid newshounds who emailed in about this. Yet another reason to be careful.

S3 are attempting to push into the gaming video card market with a new DirectX 9-class graphics chip called Deltachrome! Wow, how long has it been since nVidia and ATI basically swamped the gaming graphics market? I really hope this turns into something, more competition is always a good thing - especially when you consider that a graphics card can well be the most expensive component in your system. More information on The Tech Report, and on Techbits.

HardwareZone have made some AthlonXP and Pentium4 CPUs jump through hoops, play dead and roll over in a comprehensive comparo. They've called it "The Ultimate 32-bit CPU Showdown", and it's certainly taken a lot of testing. "There were a total of 19 different benchmarks conducted in this review and all of these tests were run on 11 different processor speeds". Nice work. Thanks to mxmai.

Sudhian have compared the DirectX 9 performance of nVidia and ATI's flagship cards, the GeForce FX5900 Ultra and Radeon 9800 Pro.

3dXtreme are giving away a ThermalTake Xaser III Lanfire series full tower case. I can't immediately see anything stopping an Aussie from entering.

Intel are celebrating their newfound foray into wireless internet by holding "one unwired day" this coming Thursday. "Join Intel on Thursday, September 25 - your day to try public wireless internet access for free at thousands of locations including coffee shops, airports, and hotels ....." If you follow the links through, it looks like there are some locations in New South Wales, South Australia and Victoria that are participating. Thanks Andrew.

X-bit labs continue their coverage of the Intel Developer Forum with a Day 3 report.

Dink sent word that Trillian has been updated to allow you back onto the MSN and Yahoo IM networks. More information here.

EA.com have released a free command and conquer game. "The game offers nine regular missions and two bonus missions. Players pilot an RAH-66 Comanche stealth reconnaissance attack helicopter into enemy territory." Thanks Tekka.

Over on PC Review, you can read through an interview with ZapWizard, the creator of the AmmoCase Mod, voted "Best Modified PC" by nVidia at QuakeCon2003. Remember, you can check progress of the Imperator project too, being lovingly handcrafted by OCAU's Bluesmurf. I must say that is looking quite special.

Since the dawn of time there has been confusion about what hard drive manufacturers call a Gigabyte (and Megabytes in the good old days) and why hard drives seem to be smaller than advertised. Typically, hard drive manufacturers define a Gigabyte as 1000 x 1000 x 1000 bytes, while a "binary Gigabyte" (what shows up as drive space in an operating system) is 1024 x 1024 x 1024 bytes. This makes a (say) "20GB" hard drive appear as less than 20GB when installed into a PC. It seems some angry consumers in (of course) the US have decided to make their point in the courtroom, suing several PC manufacturers/assemblers. "The lawsuit asks for an injunction against the purportedly unfair marketing practices and an order requiring the defendants to disclose their practices to the public, restitution, disgorgement of ill-gotten profits and attorneys' fees."

The_SeNTiNeL sent in a link to some pretty cool avatar creation software. Download a trial version here.

TechSpot want to help you get networked with their Networking 101 article.

ShadowPeo let us know that Rezidue LAN is on next weekend at St Bedes College, Mentone, Victoria. Cost is 15 dollars, with many prizes and competitions. Register at Ausgamers.

To finish up, an annoyingly simple timewaster. Thanks Andrew.




Saturday Morning Reviews (1 Comments) (link)
Saturday, 20-September-2003 09:44:39 (GMT +10) - by Gibbon


AMD Motherboards:
Albatron KX18D Pro II nForce2 400 Ultra motherboard on Overclockers NZ.
ASUS A7N8X-X nForce2 400 motherboard on OCAddiction.

Memory:
6-Way 1GB DDR500 roundup on Legit Reviews.
Corsair TwinX1024 4000 Pro Series on ipKonfig.
Geil Platinum PC4000 on SubZeroTech.

Video Cards:
Radeon 9800 Pro shootout on OcPrices.
ASUS GeForce FX5900 Ultra on Sharky Extreme.
Triplex REDai 9600Pro 128MB on OCTools.
Gigabyte Radeon 9600 Pro on Gamers Depot.

Sound Cards:
Terratec Aureon 7.1 and AudioTrak Prodigy 7.1 on Hothardware.

Storage:
Ximeta NetDisk 80GB on Designtechnica.
Samsung SW252B CDRW Drive on Bytesector.
Plextor PX-708A DVD±RW drive on CDRInfo.
Plextor PX-708A DVD±RW drive on CD Freaks.

Cooling:
Zalman CNPS6000-Cu HSF on Furioustech.
Speeze LeopardClaw HSF on Ohls-Place.
Speeze LionStream HSF on Ohls-Place.
Corsair Hydrocool 200 watercooling-in-a-box on Tom's Hardware.
Corsair Hydrocool 200 watercooling-in-a-box on Madshrimps.
Cooler Master Jet 7 on Ohls-Place.

Cases/Case Mods/Power Supplies:
Enermax CS-EN5688 case on 3dXtreme.
Vantec Nexus NXP-305 fan and light controller on ClubOC.
Black Cube 450W PSU on HardwareZoom.
Sunbeam Round CCFL UV Fan Grill on ExtensionTech.

Other Stuff:
Trust 4000P Speaker System on PC Review.
FIC ICE-Cube mini barebones system video review on 3dGameMan.
Belkin Hi-speed USB 2.0 4-Port Hub on Bjorn3D.
IOSS BIOS Savior on CyberCPU.
Trust Wireless Optical DeskSet on PirateSoftware, Yarrrrrr!
fUnc Surface 1030 mousepad on GruntvillE.
Seitec PR3011 MP3 player on Dan's Data.




Friday Myaarrrrning (20 Comments) (link)
Friday, 19-September-2003 01:32:57 (GMT +10) - by Agg


Avast, ye mangy sea-dogs! The land-lubbers be talkin' about the P4 Extreme Edition that Intel be braggin' about. It be a 3.2GHz P4 with an additional 2MB of L3 cache. Sound familiar? It should, ye barnacle-boilers, it's basically a XeonMP in S478 format. More info here and here on TheInq. Thar be a thread in our Intel Hardware forum here with the opinions of your fellow shipmates. Intel say the chips are 60 days away so there's no reviews or anything yet of course. If I were a skeptical pirate, I'd say it's just Intel trying to defuse the interest in AMD's Athlon64 launch on the 24th, next week. Speaking of which, PCStats have an article about AMD64 and what we can expect. Yarrr!

We cast a beady eye over ABIT's IC7-MAX3 here last week and found it scurvy-free with a billowing sail. Hardware-Test have their opinion posted now, as do those wily buccaneers over at ViperLair.

In all my years at sea, never before did I see a PC that's so very, very blue. It's like Close Encounters or something, yarrr.

Xbit plundered some more surprises from Intel's Developer Forum.

Dan has reviewed coolers three, for your socketA CPU they be.

Flickerdown have carved into the deck an article that is an attempt to look at the failure of benchmarking as a standard of truth from the psychological perspective. Righto then. Yarr?

In other news, the dread pirate Decker noticed that Google is powered by pigeons, those flying rats of the urban sea.

In case you hadn't noticed, today is International Talk Like A Pirate Day. Casey made a flash animation to celebrate. A few forum threads, then it's back to the briny depths for me. Harrr!

Interesting Forum Threads:
Fake AMD chips! in AMD Hardware.
Boot order of SCSI controllers in Linux in Other Operating Systems.
SWARET, apt-get for Slackware in Other Operating Systems.
9600 Pro overclocking results in Video Cards.
Who's been in a car accident? in Motoring.



Some Folding news from Bollocks:

Giveaway4 is starting its last week and ends at 07:00 WST next Wednesday the 24 th of September. If you want to have the chance to win some great prizes have a look here and if you want to take part nominate yourself here . If you have already nominated there is no need to do it again, so far of the 409 nominations 353 have qualified for the draw.

I would also like to thank the OCAU community for getting behind the Folding team and making us the No1 team in the world. There has been a lot of hard work put in by many members over a long period of time and to everyone that has ever contributed to the Folding team no matter how big or small we say thanks. Every CPU cycle is one more step closer to finding a cure to many diseases. If you would like to help OCAU stay on top of the Folding world and help with research into cancer and other diseases just join the team now and put your idle CPU cycles to good use.



Quick news post tonight.

Are you sick of your Playstation2? Do you have lots of friends who are also sick of their Playstation2s? Feeling adventurous? Why not put together a Playstation2 linux cluster? Thanks Andrew.

Australia may fine e-mail spammers. I'd love to see something constructive come from this, as far as I'm concerned, spammers should be publicly flogged, or something similarly painful! Thanks Brett.

There are a few prizes up for grabs at the moment in two contests. On Voided Warranty, win a HSF or fan controller by designing a "lab rat" logo, and win a Lite-On LVD-2001 DVD Player by answering a marketing questionnaire on SLCentral. Both appear to be open to Aussies.

A timely reminder about another recently reported Windows RPC vulnerability and patch. Best to protect yourself before another blaster-style virus is unleashed. The Microsoft information bulletin is here. Thanks Dink.

Pretty cool little wireless router on WAFreeNet, a modified Wizard PC. Very nice. Thanks mpot.

Alqemist sent in news that Counterstrike 1.6 full has been released, as well as the Steam Client with Counterstrike Cache for 1.6, available on Ausgamers. People still play Counterstrike?? :)

iiNet and iHug have officially merged in a deal that will cost iinet $30.1 million dollars in cash and a further 23.7 million in iiNet shares. Thanks to Locutus.

Luke sent word that WonderLAN in SA is on the 27th September. More information on their webpage.

Hmmm, who said Adelaide was 20 years behind the rest of the country? Could have been me, but I'd have been wrong - Adelaidians now have wireless internet access throughout the CBD. "It uses transmitters on lamp posts and traffic lights throughout the city, offering a roaming service for those with home or work broadband accounts." Groovy. Thanks to disko_matt.

More on Verisign's "domain squatting" on The Register. Thanks elvis.

Finally, a reminder that international talk like a pirate day is almost upon us, so remember to raise that jolly roger and confuse all your workmates/friends tomorrow. Yarrrrrrr me hearties!!



Systems/Laptops/PDA:
Nimble V5! Mini System at Epia Center
Monarch Hornet SFF Barebone at The Tech Lounge
Shuttle SN45G XPC at Tweaktown
Dell Inspiron 8600 at Gamers Depot

Mainboard:
EPoX 8RDA3+ nForce2 400 Ultra at A1-Electronics
Leadtek WinFast K7NCR18D-Pro at Viper Lair

Storage:
Atech Flash PRO9 USB2.0 Internal/External 9In1 Card Reader at Bjorn3D
Plextor PX-504UF External DVD+R/W and CD-R/W at Bjorn3D
Plextor PX-708A DVD±R/RW CD-R/RW Internal Drive video review at 3DGameMan
MSI CR52-M (52/32/52) CD-RW at Explosive Labs

Video:
Chaintech's GeForce FX 5600 Ultra at The Tech Report
Gigabyte Radeon 9600 Pro at PCHardware UK

Case/Mods:
X-SuperAlien Case at FuriousTech

PSU:
Antec TrueControl 550wattPSU at Gruntville

Cooling:
CoolerMaster Jet7 HSF at Madshrimps
CoolerMaster Jet7 HSF at BoPC
CoolerMaster Jet7 HSF at R&B Mods
CoolerMaster Jet7 HSF at Metku Mods
CoolerMaster Jet7 HSF at Voided Warranty
CoolerMaster Aero 4 Lite HSF at Pimprig
CoolerMaster Aero 4 HSF at 3Dxtreme
AVC Sunflower HSF at OHLS PLace
AVC 112C86 HSF at OHLS Place
AVC Z7H70091 HSF at OHLS Place
Volcano 11+ Xaser Edition HSF at XtremeTek
Arkua 8456X-8T Pentium 4 HSF at FrostyTech
Vantec Nexus NXP205 Fan-Controller at FrostyTech

Misc:
Samsung SF-555P Multifunction Laser Printer at Tweaknews
TDK bluePAQ Sleeve at Maximum PDA
Compex PS 2216 16 Port 10/100Switch at AthlonXP
Delta-Opto HD44780 PLED Device at Mod Asylum




Thursday Middayish (4 Comments) (link)
Thursday, 18-September-2003 12:39:26 (GMT +10) - by Agg


Athlon64 continues to rush ever closer. Tech-Report give us something of a sneak peek, by comparing a 2GHz Opteron and 3.2GHz P4.

From Ambush: XGI, a spin-off of SIS, is releasing the "Volari", a dual-GPU DirectX 9 compatible, high-end graphics card.

Bit-Tech compared two mousepads, the Xtrac Hammer and Steelpad 4S. LegitReviews compared some optical mousepads from Xtrac also, but their site seems to be unreachable for me.

Xbitlabs continue their Intel Developer Forum coverage.

From the PCDB: edmundqu has some hefty RAMsinks while HaL_'s watercooling enclosure and case turned out looking really good.

Kids do something dumb, blame computer game, thanks slick. They told police they were emulating Grand Theft Auto on the night of June 25 when they took shotguns to Interstate 40, near their Newport, Tenn., home, and opened fire on vehicles. Kids having unsupervised access to shotguns isn't the problem at all, nosiree, it's those evil nasty horrible video games to blame! Shame there's no M1A1 tank in my garage, or I could live out all my Battlefield 1942:Desert Combat fantasies.

Pimprig have a quick little guide showing an easy way to sleeve your cables.

Verisign's "unregistered domain hijacking", as some people are calling their new sitefinder service, has aroused a lot of concern because it removes a basic anti-spam check of seeing if a domain is real by trying to resolve it. The ISC are making a patch to BIND, a popular DNS server, to get around this, thanks DJ-Studd.

From Wolfy: auDA have released 50,000 free domain names in the id.au name space. The catch is that the registration is free for 6months, and the domain name must comply with auDA id.au regulations. Regulations here, but you must be Australian, and the domain must "exactly match" or be "an acronym or abbreviation" of a persons real name, or "closely and substantially connected to the registrant" ie a nickname. Offical details here, better details here. It appears that this is a 6month free trial, rather than 6 months free, but it is still a good deal for IT-savvy folk who want to keep the same email/website address even if they change ISP.

It seems real-world monkeys won't work for peanuts after all. The last line of that article is pretty funny. :)

Software patents may be on the cards for Europe, which has already lead to the closing of some important projects. MRTG went away earlier in the week (thanks Brett) and now CloneCD has been axed also, thanks InspectorGadget. Why? In Europe, 30,000 "software patents" have already been granted. Currently without a legal foundation. But if the new law passes on the 22nd, the patent owners can claim exclusive rights and collect license fees for trivial things like "progress bars", "mouseclicks on online order forms" or "the concept of scrolling within a window". Software developers will have to pay the "software-patentholders" for using these features, even in their own, self-developed applications. Let's hope this gets thrown out like so many other silly computing laws in the past.

TweakTown have a comparison of four AthlonXP heatsinks.

From James: some excellent hi-res images of hurricance isabel on its way stateside, and still at NASA - Galileo ends this weekend with the craft eating it on jupiter (personally i just like the URL). there'll even be a webcast.

More of the usual interesting/whacky techo bits in the latest issue of ZZZ Online.




Super-Slim PC (2 Comments) (link)
Thursday, 18-September-2003 11:38:58 (GMT +10) - by Agg


A user called crystalfontz has added a nice entry to the PCDB. It's a 1RU (pizzabox) network appliance case converted into a LAN-gaming machine.



Click for the PCDB entry!


There's more info on the conversion process in this thread in their forums.



First up, another SSH security hole has been uncovered and it seems to have the potential to be very nasty for those who don't patch-up quick. Thanks yyk.

According to this link from Shonky Man, Microsoft is set to release some new wireless products "including base stations, PC desktop and notebook wireless adaptors, and the first-ever wireless adaptor for the Xbox video game system".

The folks at Xbit-Labs went along to the latest Intel Developer Forum and want to show you what they saw.

OcPrices recently posted an article on the new AMD XP packaging technique, which prevented unlocking for older motherboards, or their use in Dual CPU boards. They have now found a solution to this problem.

More news in the RIAA Vs The World saga, nothing earth shattering though. I've heard that they want to charge people who whistle tunes in public places, but thats probably just a rumour :)

If you think you have data storage problems, try finding the room for "one gigabit of data per second over the 25 days". Thats the amount of data generated by some of the worlds radio astronomy systems. Read more here.

From Tekka, "Your Xbox has a bug that is costing Bill money". That bug is called "The ability to run Linux", and Microsoft want to patch your XBox for free.

Also from Tekka, If you want to pretty up your Windows desktop, NTFS.org have an Active Desktop Tutorial for you.

Dan has more letters for you. This time he rants on about "bogus virus warnings, double barrelled network cards, drive alignment, lengthy audio recording with a weeny MP3 player, a twin-disc oddity, cheap IBM keyboards, a crummy alternative to an iPod, recovering lost gigabytes, a mysterious problem I couldn't quite figure out".

From Febs, "Verisign are resolving ALL non-existent .com and .net domains to one of their own servers - 64.94.110.11." Now thats just taking advertising to a new low level. Read more about it in The Forums.

Finally, there's a LAN on this weekend on the Gold Coast. Check out GameServe for all the details.




Wednesday Morning Reviews (0 Comments) (link)
Wednesday, 17-September-2003 02:37:36 (GMT +10) - by Agg


Intel Motherboards:
Albatron PX865PE Pro II i865PE on Metku.
Albatron PX865PE Lite Pro i865PE on OCNZ.

AMD Motherboards:
Epox 8RDAG nForce2 Ultra on 3DVelocity.
Gigabyte 7NNXP nForce2 Ultra on TheModFathers.
Gigabyte 7NNXP nForce2 Ultra on LegionHardware.

Video Cards:
Gigabyte Radeon 9600 Pro on TweakTown.
Albatron GeForce FX5600P Turbo on OC-Zone.
FIC R96P Radeon 9600 Pro on Xbit.
Leadtek WinFast GeForce FX5600 on RBMods.
NVIDIA GeForce FX5900 Ultra on RojakPot.

Cooling:
Thermaltake Silent Boost CPU cooler on NinjaLane.
OCZ Ultra II thermal paste on OC-Zone.
Enermax UC-A5 Fan Controller / Temp Monitor on OCPrices.
nPowerTek TTIC NPH-1 Heatpipe Heatsink on FrostyTech.

PSU:
Aerocool AeroPower II Acrylic Series 420W on Bjorn3D.
Strider ST360W on HardCoreWare, thanks DNX.

Storage:
Memorex Dual-X DVD-Writer on CDFreaks.
Plextor PX-708 DVD±R/RW burner on TechConnect.

Cases:
Clear Acrylic Case GC-900 on Ohls-Place.
Xoxide X-Clear Acrylic Case on Ownt.
Athenatech A747CS Designer case on TweakNews.
Suntek Vivid "MacPC" case on EnScape.

Memory:
Corsair Pro Series DDR500 memory with LEDs on Sudhian.
Corsair TwinX1024 XMS4000 DDR on GruntVille.
Corsair TwinX1024-4000Pro DDR on PCStats.

Misc:
SMC 802.11g Wireless networking gear on OCModShop.
Monarch Computer Hornet barebones AMD system on MonkeyReview.
Sony VAIO V505BX laptop on DesignTechnica.
Creative Labs Extigy external soundcard on Sudhian.



Nenad sent this in:



Click to enlarge!


:)




Tuesday Afternoon (5 Comments) (link)
Tuesday, 16-September-2003 16:52:07 (GMT +10) - by Agg


Tempus noticed that StorageReview have the scoop on some upcoming bigger, faster Raptor drives. We really liked the original Raptors, as seen in our two-part review here and here. The new ones sound very tasty indeed! 74-gigabyte capacity ... 72 MB/sec outer-zone transfer rates ... 4.5 millisecond seek time.

AquaMark 3 has been released. I'll be checking this out soon with an eye to adding it to our standard benchmarks. There's a thread in our Video Cards forum here with some opinions.

More things going on in space, with stuff going up and stuff going down.

HardwareAnalysis took a tour of a Dell facility, to see what work goes into shipping thousands of PC's a day.

Xbit have a guide to choosing memory for your P4-based system.

From munkiboy (I think): Next step in copy protection on CDs, Starwars style holodisplay, Gameboy advance works as a video phone!

GideonTech have some PSU modding happening.

SubZeroTech compare some Logitech peripherals.

GamersDepot checked out a pre-built PC which is watercooled with glowing bits and everything. Perfect for the PC modder with no time to actually mod a PC. They also have an interview with the guy behind the idea. It's all fine until you turn up to a LAN party and someone has the exact same "custom" PC as you. :)

Slick says that stolen or lost mobile phones will be blocked across all GSM networks in Australia from September 15, the Australian Mobile Telecommunications Authority has announced. About time! Anyone thinking about stealing or receiving a stolen phone will now have to think twice before getting it reconnected, Chalker said in the report.

TV not depressing you enough? Now you can get all the "cultural experience" of American Idol on your very own PC thanks to the official game.. thanks mitch01. Or perhaps an ebay boardgame is more your style, thanks Chris.



First up tonight, news of a couple of LANS for the West Aussies. Gareth says "Perth Red Flag LAN is coming up again. 270 spaces, 4th/5th October, over $3000 in cash and prizes, Cannington Showgrounds." Full details here. Also, WALAN is on Saturday 11th - Sunday 12th October, so clear your diaries and book a seat, if there's any left!

[H]ardOCP have a SATA drive roundup for you, and I think they've almost finished crying about losing first place on the Folding Ladder. Only kidding, :) well done to all the teams.

For those who play BF1942-Desert Combat, DC-V0.4 is out. From the short time I spent at it this afternoon, its looking great. The new levels are very well finished. Bigpond users can get it here and AusGamers have it mirrored here. By the way, it's huge. Over 250Mb for the update and over 500Mb for the full install. Thanks to all those who sent in the links.

Bit-Tech have a look into the world of Paid Online Music Distribution to see if its everything it's cracked up to be.

The world is full of silly people, this article is about only some of them. Trying to extort money from a sex site!

From the pages of New Scientist comes this really cool stuff, the coolest stuff in the universe! Also, an article about how best to stop the spam flood from drowning all of us.

According to this article, you can Say Goodbye To Your Mouse, Keyboard And Phone Number - Voice Control Is Finally Taking Over. I think I've heard that before.




Team OCAU - #1 in Folding@Home (4 Comments) (link)
Monday, 15-September-2003 14:49:04 (GMT +10) - by Agg


After an epic catch-up struggle lasting many many months, Team OCAU Folding@Home is once again the #1 team in the world! The challenge will be to hold the [H]orde at bay as we enter summer and they enter winter, giving them the advantage of prime overclocking weather. I'm sure they'll continue to put up a strong fight as they have done so far, so if you want to be part of the battle to stay in first place, here is how to join.

Of course, the real winners are science and humanity, as all this number-crunching, statistics ladders aside, is helping the search for cures to many diseases including cancer. Your PC spends most of its life nearly idle, so consider making it do a little work for a change. :)




Sunday Afternoon Reviews (0 Comments) (link)
Sunday, 14-September-2003 17:18:02 (GMT +10) - by Gibbon


Motherboards:
DFI Lanparty NFII nForce2 Ultra 400 AMD motherboard on hardCOREware.

Memory:
1Gb OCZ PC-4000EL DDR "Gold" Dual Channel Memory Kit on Club Overclocker.
Kingston HyperX PC4000 512MB Dual Channel Kit on Extreme Overclocking.

Video Cards:
Triplex Eye Bomb R9800Pro 128MB on Overclockers NZ.

Storage:
Transcend USB 2.0 2.5-inch HDD enclosure on Envy News.
Asus and LiteOn slim combo CD-RW/DVD-ROM drives on cdrinfo.
Coolmax Aluminum USB 2.0 HDD enclosure on OCAddiction.
Sony DRU-510A 4X DVD+/-RW drive on Explosive Labs.
Crucial Gizmo! 128MB USB flash drive on Extreme Overclocking.

Cooling:
Evercool 84mm and 74mm fans on WinHQ.
Zalman CNPS 5700D Cu P4 HSF on Twinsbyte (machine translated).
Zalman CNPS 7000A-Cu HSF on Digital-Daily.
Zalman CNPS 7000A-Cu HSF on Ohls-Place.
Zalman Zm80c-hp GPU Heatsink on R&B.
Thermalright SP-94 copper heatpipe HSF video review on 3dGameMan.
Speeze VultureSpin HSF on Ohls-Place.
Thermaltake Silent Boost HSF on ExtensionTech.

Cases/Power Supplies/Case Mods:
PolyGFX "GlowFeet" Caseskin on BurnOutPC.
Antec Minuet case on SubZeroTech.
Antec Minuet case on PC max (machine translated).
Casetek 1010b FlexATX/MiniITX case on epiacenter.
SilverStone SST-ST400 PSU on Tweaktown.
SilverStone SST-ST400 PSU on Bjorn3d.
Chenbro XPIDER case on Overclocker Cafe.
Verax P16Cu Silent P4 HSF on FrostyTech.
CaseWraps Corrosion case wrap on GruntvillE.
Seasonic Super Versatile 200W mATX PSU on BigBruin.

Other Stuff:
Coolermaster Q Alloy Keyboard on Madshrimps.
Coolermaster Q Alloy Keyboard on enScape.
CS-256B MP3 Player USB Flash Drive Combo on The Tech Zone.
SMC 8013WG wireless cable modem gateway on Envy News.
Icemat mousepad on ASE Labs.
M-Audio Revolution 7.1 soundcard on Guru3D.
Zalman "Theatre 6" 5.1 headphones on NordicHardware.
CoolerMaster Musketeer multifunction panel on littlewhitedog.
TGE MP317 MP3 player on Dan's Data.




Saturday Afternoon (17 Comments) (link)
Saturday, 13-September-2003 14:42:53 (GMT +10) - by Agg


News story of the day seems to be some preliminary Half-Life 2 benchmarks doing the rounds. More info on Tech-Report, Anandtech, GamersDepot and TomsHardware. The results pretty clearly show ATI having a performance lead over NVIDIA in this new game engine, which will no doubt (if Counter Strike is anything to go by) be powering some of the most popular games for a while. There are also some interesting claims about driver optimisation and how benchmarks are becoming less accurate for showing real-world performance. NVIDIA have responded to these numbers and there are apparently some as-yet unreleased 51.75 Detonators to address the performance, which AMDMB have checked out (but not in HL2). Thanks to everyone who sent all that in.

Plenty of those Bank scam emails going around still.. this time the target seems to be St George, but the wording of the email is the same as we've seen for other banks in the past. Your bank won't ask you to "validate" or "confirm" your account details via email, just delete it.

Xbit have a roundup of Radeon 9800 and 9800 Pro vs GeForce FX5900 and FX5900 Ultra, if you're thinking of buying into the top end of the video card market. PinoyPC have a similar thing, but with some 9600 and 5600's in the mix.

Athlon64 info continues to trickle onto the web, with pics on Akiba (and here too, thanks Ambush) and some motherboards from Gigabyte, thanks Andreas.

From D_Web: Satellite: $100 million dollars... 24 Mounting Bolts: $2 each... The two guys standing around like they didn't do it... priceless.

Hexus have a PC into Mac G4 case project posted, including some motherboard modding to make it fit.

If you think that's hardcore, check out this Alien Head PC project from Plastic in our Modding & Electronics forum, thanks BlueSmurf.

Unlock your AthlonXP with this guide from ViperLair.

Tee sent word of a new Half-Life 2 trailer, get it from AusGamers, it's 122MB. They also have the 1.02 patch for RTCW:ET, thanks Merlin.

Father_Frag noticed this nicely-finished PCDB entry from zapper_fish. one_nil's setup is not too shabby either.

Ambush spotted this MBM plugin that lets you monitor temperature, fan speed and voltage on certain MSI video cards.

Apparently Sharp have a 3D laptop on the way, thanks Josh. The computer, part of the Mebius series, will be the first notebook computer that can show 3D images without users having to wear special glasses, Sharp said in a statement. More info here, thanks Robert. The computer display produces 3D images by sending a slightly different image to the right eye and the left eye at once by bending them in different angles, according to Sharp.

Morbo discovered if I type "kazaa" into Google it displays results but with the message "In response to a complaint we received under the Digital Millennium Copyright Act, we have removed 9 result(s) from this page. If you wish, you may read the DMCA complaint for these removed results."

ABIT have updated their website, with sections for various parts of the world, including Australia. Not sure how much Australia-specific stuff there is there.

David sent more info about the 12yo RIAA target girl, with several parties offering to pay her fine. In fact, it seems she'll make a tidy profit from the experience.

Bored? Matex suggests: While sitting at your desk make clockwise circles with your right foot. While doing this, draw the number "6" in the air with your right hand. Your foot will change direction. Heh, weird.

Still bored? Thetron says you should smear some yoghurt on your favourite CD.

Interesting Forum Threads:
Race to catch [H] less than 25,000 points now! in Team OCAU.
Modding a budget waterblock in Extreme Cooling.
Athlon64 Info in AMD Hardware.
Half-Life 2 Benchmarks in Video Cards.



Intel motherboards:
Abit IC7-MAX3 (i875P) video review on 3dGameMan.

AMD motherboards:
EPoX 8KRA2+ (KT600) on PureOC.
Abit NF7-S v2.0 (nForce2 Ultra 400) on GruntvillE.

Processors:
Opteron 146 2GHz on AMDZone.

Memory:
Geil PC-4200 1024Mb dual channel DDR RAM pack on Dan's Data.

Video Cards:
Inno3D GeForce FX5900 on Overclocker Café.
Gainward CoolFX PowerPack!Ultra/1600 XP "Golden Sample" on The Modfathers.
BFG Asylum FX5900 Ultra on Bjorn3D.
Chaintech Apogee FX71 GeForce FX5600 Ultra on Legit Reviews.
Sapphire Radeon 9600 on R&B.

Cooling:
Aqualia water cooling kit on bit-tech.
Arctic Cooling Super Silent 4 Pro HSF on FrostyTech.
Coolink Typhoon copper socket 478 waterblock on Madshrimps.

Cases/Case Mods:
Case4U EOS mini-itx/micro-ATX case on Tweaknews.
ISI cold cathode on Furioustech.

Storage:
Ximeta NetDisk 80GB on Designtechnica.

Other Stuff:
Samsung SyncMaster 173B LCD monitor on MonkeyReview.
Multi-Tech RouteFinder RF550VPN gateway on TechConnect.
Zalman ZM-RS6F surround sound headphones on Ohls-Place.
JetAudio iAUDIO CW300 MP3 player on Voided Warranty.
Sunbeam Meteor LED light stick on OCIA.
GTW Electronics key-ring camera on Dan's Data.
Biostar iDEQ 200T small form factor PC on SFF Tech.



Mainboard:
ABIT IC7 MAX3 at Sudhian. Read our own review here.
ASUS A7V600 VIA KT600 Motherboard at Xbit-Labs

Memory:
Kingmax SuperRAM DDR433 Memory at HardwareZone
Geil PC-4200 1024Mb Dual Channel DDR Kit at Dans Data

Storage:
Asante 6-in-1 USB2.0 Card Reader at ModSynergy
MSI CR52-A2 52X CD-RW at Active Hardware

Video:
NVIDIA Quadro FX 3000 at Hot Hardware
Gainward FX5600 Ultra 760XP at Ninja Lane

Case/Mods:
Lian Li PC-60H3 Mid-Tower Designer Case at Tweaknews
XPCases XSuper-Alien Case at Virtual-Hideout

Cooling:
Speeze Owl Stream HSF at OHLS Place
Thermalright SLK-947U at Club OC
Asetek WaterChill Kit w/Chipset Block at PIKonfig

Misc:
SanDisk Digital Photo Viewer at Bit-Tech
Creative Inspire 5200 Speakers at AusMusician



News, news and more news ....

Microsoft has declared Halflife 2 (built on the DirectX 9.0 API) to be the new benchmark in PC gaming. "DirectX 9.0 has been crucial in helping us create a worthy sequel to 'Half-Life,' one that gives Windows gamers everything they've been waiting for, a truly unequalled experience," said Gabe Newell, co-founder of Valve". More information here. Thanks to anthony256.

In the news a bit in the last day or so is the story that the RIAA is suing 261 music downloaders, including a 12yo girl and a 71yo grandfather. Read about it here, here and here. Thanks Tenoq, Kernal32 and M@tt.

On a totally unrelated topic, Apple have released two new iPods, in 20GB and 40GB flavours. Hmmm, that's a lot of legitimately owned MP3s, with the 40GB version holding ~ 10,000 tracks! There's a forum thread about them for your viewing pleasure.

It seems there's another security hole in the RPC service of later-version windows based PCs. More information here. Lets patch, patch, patch, peoples! Thanks to Crusterminator and Dink.

On the good news front, it looks like the Sobig virus is dead. Thanks Dink.

PCStats have published an article on Ergonomics and Computers. I guess I'd better get out of my "might as well be lying down" slouch position.

It seems that AMD are changing their Athlon XP packaging to prevent the unlocking of multipliers and MP operation.

Viper Lair ponder the search for fps. Frames per second that is, not frilly pyjama suits. Unfortunately.

GamePC have cranked up a 2GHz Opteron to see what it could do. Interesting times ahead. Thanks Stmok.

Do you have a flickering NVidia graphics card? You can find a fix (in the form of new Detonator drivers v45.33) here. DVHardware also report that the upcoming NV38 GPU is likely to be called GeForce FX5950.

R&B have published a guide for converting a PSX controller to work on a PC.

NeXus reports that optimised DLLs for Athlon XPs and Quake 3 are available. Use at your own risk.

Linuxtoday are carrying an article in which Open Source crusaders Eric Raymond and Bruce Perens fire a broadside at SCO. The debate continues. Thanks Bern.

Modsynergy have an article up about some weird marks left on the base of HSFs after using Nanotherm PCM+ thermal compound. "A new update has been added with another victim hit by this issue, check it out. We need your help as well". I'm not really sure what the "issue" actually is, other than some marks on the heatsinks. There appear to be no indications of anything overheating or suffering from poor performance. You decide.

TweakHound have published Version 3.0 of their "Super XP Tweaking Guide". Read more here.

Hitachi are releasing a WLAN-based positioning system, due to hit the market in Japan next month. "The rig uses Wi-Fi technology to triangulate the location of network clients to within one and three metres - accurate enough to detect whether a user is within the building the network serves". Thanks Draffa. Not cheap though!

OCModShop have written a guide to painting your shiny new DVD+/-RW drive. I can't really see myself taking a brillo pad to my Sony any time soon, but I'm sure there are a lot of more adventurous people out there than me!

Techware Labs have written a guide to preventing condensation around a peltier. "How about a method with only minimal insulation and none around the actual processor. Well its just been done! How will peltier cooling change now? Read the article to find out how!".

Adrian from Adrian's Rojak Pot has put down his spoon and napkin to warn us about some fake C2it spam he received. "Did you receive an e-mail from C2it recently regarding some money transfer to you? If you did, this is an editorial you must NOT miss!". His editorial is here.

Finally, a pretty schmick case mod/sculpture/something - the Matrix Rebirth 8.0 on epiacenter.



Systems/Laptops/PDA:
Shuttle SN45G Review at Accelenation
1P Workstation, Opteron146 Style at Sudhian

Mainboard:
Epox 4PDA2+ Rev2 i865PE at PCStats
Soltek SL-86SPV2-RL (VIA PT880) at XBits Labs
DFI nForce 2 Lanparty at Tweaktown

Video:
Leadtek A350 MyVivo at Gamers Depot
Triplex Para-Souls R9600Pro 128MB at Overclockers NZ

Case/Mods:
Yeong Yang A106 Tiny Tower at Epiacenter
Cooler Master Centurion Case at Bit-Tech

Cooling:
Coolink Cool Tank1 Power HSF at Mad Shrimps
Intel Stock 3.06GHz Copper/Aluminum HSF at Frostytech

PSU:
SilverStoneTek SST-ST360 360 Watt PSU at 3Dxtreme

Storage:
Western Digital 250GB SATA Drive at Storage Review (Thanks kasi)

Misc:
Halo for PC: Beta Preview at Radiative NZ
Grado RS2 Reference Series Headphones at ExHardware




Wednesday Morning (23 Comments) (link)
Wednesday, 10-September-2003 00:01:13 (GMT +10) - by Agg


Creative, who by no coincidence is an Admin in our Video Cards forum, has pushed his system to over 24,000 3DMark2001 points.. apparently the first in Australia to do so and ranking extremely high world-wide. Nice one! :)

IBM have done some clever stuff to make faster chips again.. dunno when this will boil down to something you can actually buy.

DJ-Studd notes that spam becoming illegal in Australia is coming along nicely. Unfortunately that won't slow down the chinese or americans who seem to be sending me most of my spam.. or the thousand or so Sobig virus emails I get most days.

Guru3D went and visited NVIDIA to see how their hot chips are made.

Xbit say that Intel have Celeron 2.7GHz and 2.8GHz chips on the way, thanks Tekka. That's right, folks.. value chips are now nearly 3GHz. I said this at 1GHz, I said it at 2GHz and I'll say it again now: "gee, sounds perfect for reading email and doing wordprocessing!"

Zapper_fish pointed out this nicely finished system from 10GHz in the PCDB.

Good news, the RIAA is offering amnesty to file swappers.. apart from the ones it's suing already, thanks Jotham. More info here, thanks G-Banger. The Electronic Frontier Foundation have a bunch of info about how to avoid being sued, and whether this amnesty Clean Sweep thing is something you should be involved in, if you're a naughty music pirating person. I don't know if this is something that Australians even need to be concerned about. I note that Electronic Frontiers Australia make no mention of it.

Google have celebrated their fifth birthday recently, thanks Koopzy. Wow, they employ over 1000 people. All the cool kids use Aggle, though. :)

MadShrimps have a naked Northwood.. P4 without the headspreader.

Simon says: DivX 5.1 is out (not 5.0.5), offers 10% to 30% better performance on all CPU's.

Apparently a recent IE patch doesn't work, thanks Dink. They also owe Be Inc a large bucket of cash now, thanks leperMessiah, more info here.

Xeons. Linux. Overclocking. It's all good.

Creepy feelings may be caused by sound you can't hear, not supernatural forces.

From Madonion87: Some people at Overclockers.ru has managed to change the new Duron to AthlonXP by connecting the L2 bridge. Their article is here. Its full Russian but I guess the pictures can tell the story. Also, only some Duron will actually work, others they had to turn off L2 cache in BIOS for it to be stable. Probably because its low quality AXP cores? =) Seems to kinda defeat the purpose. :)

This is pretty cool.. running linux on your wireless AP, thanks OneArmedMan.

Intel have two new Itaniums, while AMD has two new Opterons. Who comes up with these names, anyway?

Dink spotted an amusing article on TheReg about CD's from Universal becoming cheaper.

ExtremeTech have reviewed an interesting kit that helps you upgrade your laptop HDD for a faster/bigger one.

From Starfire: Just saw these 3D glasses from eDimensional. Unlike normal 3D glasses which are red and green, these are tinted and work by rapid changes in opacity. There are settings included for almost every DirectX game available. There is also an add-on software which claims to transform any DVD movie into an iMax 3D experience. Sounds awesome.

LANs: Estorm in Brisbane this Saturday and CDS in Lismore this weekend.




Tuesday Reviews (0 Comments) (link)
Tuesday, 9-September-2003 14:57:25 (GMT +10) - by Agg


Motherboards & CPU:
AthlonXP 2600+ Barton on AthlonXP.
nForce3 and Opteron 2GHz on AnandTech.
Asus P4P800S-E Wireless Edition P4 mobo on HardOCP.
Asus K7V600 KT600 socketA motherboard on MBReview.

Video Cards:
Albatron GeForce FX 5200 Ultra and 5600P on LANAddict.
Creative 3D Blaster GeForce FX5900 Ultra on Beyond3D.
ATI Radeon All-In-Wondedr 9800 Pro on SharkyExtreme.
Abit Siluro GeForce FX5900 OTES on HardAvenue.
Asus V9950 GeForce FX5900 Ultra on HotHardware.
Club3D Radeon 9800 Pro on XBit.

Power Supply:
Silverstone Technologies 360W on ClubOC.
Antec Modular TruePower 550W on ViperLair.
Ahanix SilenX 350W on GruntVille.

Cooling:
Heatlane HCU-1000 CPU cooler on BurnOutPC.
Arkua Q85X7J Heatpipe P4 cooler on FrostyTech.
Vantec Nexus NXP-305 Fan and Light Controller (video review) on 3DGameMan.
Zalman ZM80C-HP video card heatpipe cooler on NordicHardware.
Coolermaster Aero 7 Lite CPU cooler on PimpRig.
Thermaltake Silent Boost CPU cooler on OC-Zone.
Asetek Vapochill XE vapour phase-change cooler on XtremeSystems.
Thermaltake TR2TT TR2-M4 CPU cooler on BigBruin.
Cooler Master Aero 4 Lite P4 cooler on Metku.
Mission 2 Watercooling Kit on GideonTech.
Vantec 80mm Stealth Fan on PirateSoftware.
Zalman ZM-WB2 Water Block on OCAddiction.
Thermalright SLK-947U CPU cooler on IPKonfig.
Thermalright SLK-947U CPU cooler on SystemCooling.

Storage:
Metal Gear Box USB 2.0/SATA external storage on EnvyNews.
HighPoint Rocket 1511 and RocketMate 1000 external storage on FuriousTech.
Ximeta 80GB NetDisk USB and Ethernet drive on Monster-Hardware.

Memory:
OCZ PC4000 Gold Dual Channel DDR on OCPrices.
OCZ Dual Channel Premier PC3700 DDR on SubZeroTech.

Misc:
Samsung SyncMaster 172MP LCD monitor on TweakNews.
Scythe Ergo Diver gaming keyboard on Bit-Tech.
Vantec Vibration Dampener Kits on EnvyNews.
Nokia 6800 Mobile Phone on DesignTechnica.
Athenatech A100SC M-ATX Case on MonkeyReview.
Polaroid PDC1050 Digital Camera on ModSynergy.
Alienware Mousepad on BigBruin.
DVD X Copy and DVD X Copy XPress software on Bjorn3D.
MSI Mega PC 651 mini-PC on PinoyPC.

Interesting Forum Threads:
Nokia N-Gage is super fun in Mobile Phones.
Ferrari and Jaguar Pics in Motoring.
Max's Protein Pancakes - Review in Sport, Fitness and Health.
DIY Highlighter UV Dye (pics) in Extreme Cooling.
Athlon64 3200+ (2GHz) benchmarks in AMD Hardware.




Intel PC Mod Comp Results (9 Comments) (link)
Tuesday, 9-September-2003 00:49:42 (GMT +10) - by Agg


Congrats to Tom from South Australia AKA DrFrag from our forums who won the Intel PC Mod Competition at the World Cyber Games Australian Finals recently in Sydney. Looks like the rest of the judges voted the same way as me, then. :) DrFrag's PC was an impressive briefcase mod (pic here) which even had space to carry the LCD monitor inside it. He won an entire P4 3.2GHz PC, which should keep him very happy for a while. Congrats also to Willis from QLD, aka Uranux from our forums, who won the "people's choice" award. This was voted by visitors to the WCG finals and for his watercooled and many-lighted perspex-cased machine (pic here) he scored a motherboard and P4 3.06GHz CPU from Intel.

Apparently there was also some gaming or something going on at the time. :) For results of the various tournaments, see this page. There are lots of pictures from the event on this MPU page. One picture in particular (taken by Zardoz, I think) should be interesting to OCAU readers, because it shows OCAU's server Thor, which is sending you this page, in one of the AusGamers racks in Comindico's datacentre.




ABIT IC7-MAX3 i875P Motherboard (5 Comments) (link)
Monday, 8-September-2003 03:48:57 (GMT +10) - by Agg


ABIT's MAX3 received a lot of fanfare when it was announced. It's quite a high-priced board and packed with interesting features. Chainbolt has taken an in-depth look at this motherboard to see if it lives up to the hype: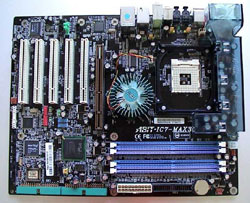 Click for the review!






CoolerMaster WaveMaster TAC-T01 Case (2 Comments) (link)
Monday, 8-September-2003 03:42:45 (GMT +10) - by Agg


Cooler Master don't have much of a name for cases in Australia, but their CPU coolers have been a fairly popular option for a while. Argent has sent in his thoughts about this case, called the Wave Master.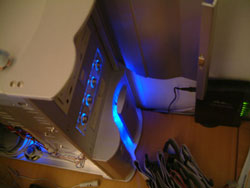 Click for the review!





OCTools have posted a preview of Chaintech's upcoming Athlon-64 socket754 K8 motherboard offering, based on the nForce3-150 chipset, the ZNF3-150 Zenith. Anandtech also have an Athlon64 preview. They match an Opteron capable of running 200FSB with an nVidia nForce3 reference board to see how the Athlon64 fares. The market place is starting to heat up on the Athlon-64 front, and its just a matter of time before my wife finds out that I'm saving up for one and shoots me. Thanks for the link bigbud120.

OCAddiction take three of the more popular brands of CPU thermal paste to see what type of performance you can expect from each. Read the results Here. Also, Madshrimps have compared five different thermal pastes with the results here. Meanwhile, ModSynergy question the use of Nanotherm PCM+ thermal paste after seeing this when they removed the HSF. I'm not sure if it's as nasty as it may look.

Tempus noticed a new motherboard from Asus, in the form of the dual Dual-Xeon, I875P chipset, PC-DL Deluxe. Sporting 533MHz FSB and dual-channel DDR 333 support, four Serial ATA ports, three IDE channels, six USB 2.0 ports and two IEEE 1394 ports, this sounds like a winner. No mention of price though.

The guys at Accelenation have had a chat with some of the guys at ATI. "Mind you, I was face-to-face with a grunt who went completely blank when I started talking about rotated grid AA, so I didn't push him much after that. "Take one of our carrier bags" he said, "...it's got this rubber-band rocket in it." — so I thanked him and left". Full interview at Accelenation.

From Lou, some new technology that could make water cooled computers a household thing, with pumps that utilise electro-osmosis to silently move the water. Sounds good, but it might be a while before we see these on the shelves.

Aron at Ase Labs has part 1 of Chronicles of Crummy Computers. The nasty things people do to their computers.

What is The Inevitable Future of Our Operating Systems? Read part 1 of the answer to this question at The Tech Lounge.

I don't usually post rumours, but you never know. "Sony's PlayStation 3 may use a cluster of Sony's new Cell processors, rather than one as a stand-alone CPU as was thought". Read it on the Rumormill.

Another webmaster interview from OHLS-Place this time with TwistedMods.

Dan has letters #61 for you. Yay.

Gamers Depot have a Desktop GPU DX9 Showdown in a classic nVidia vs ATI, one on one contest. My money's on ....

RadiativeNZ give their take on the current state of "Broadband" net access in New Zealand. I hope things there are improving, as we've seen some improvements here in the last 12 months.



Intel Motherboards:
Gigabyte GA-8KNXP i875P on OC-Zone.

AMD Motherboards:
Epox 8rda3+ nForce2 Ultra 400 on R&B.
MSI KT6 Delta KT600 on Digital-Daily.

Memory:
GeIL PC4200 Dual Channel kit on ClubOC.

Video Cards:
ATI All-In-Wonder 9800 Pro on Viper Lair.
ATI All-In-Wonder 9800 Pro on The Tech Report.
PowerColor ATI Radeon 9800SE 128MB on Overclockers NZ.
Crucial 9800 Pro 128MB on OcPrices.
Triplex REDai RADEON 9600 PRO 128MB on HardwareZone.

Storage:
Sandisk Cruzer CF USB pen drive on Bit-Tech.
HighPoint Rocket 1511 and RocketMate 1000 on Furioustech.
Ximeta NetDisk 80GB external HDD with USB2.0 and 10/100 ethernet on Envy News (I want some of these!).

Cases/Case Mods:
X-Super Alien case on PimpRig.
Kingwin Thunder liquid cold cathode on OCIA.
Logysis blinking multicolor 4-LED fan on OCIA.

Cooling:
ThermoChill socket A waterblock on The ModFathers.
Taisol CEP447181 socket 478 HSF on FrostyTech.
Comserver water cooling unit on OCAddiction.
Zalman ZM-WB1 waterblock on GruntvillE.
Spire QuieTude II socket 478 HSF on FrostyTech.
Cooltech Idrastation water cooling system video review on 3DGameMan.
Zalman CNPS7000 HSF on Voided Warranty.
Thermalright SLK-900U HSF on ClubOC.
Corsair Hydrocool 200 water cooling kit on Amdmb.

Other Stuff:
A4-Tech RP-649 wireless optical mouse on 8balls.
Crazy PC Case Wrap on Monster-Hardware.
iRock 830 128MB MP3 player on Modsynergy.
Black PS/2 illuminated keyboard with on/off switch on ExtremeMhz.
Eksitdata USB VoIP phone on bit-tech.
Steelpad 4s mousepad on Virtual-Underground.




Saturday Afternoon (12 Comments) (link)
Saturday, 6-September-2003 15:49:10 (GMT +10) - by Agg


Been a little slack about news, sorry about that - I've been working on OCAU's new server. Here's a screenshot from its first POST. Jeez, that monitor needs a clean. :)

Weird story of the day would have to be 80yo visits nightclub, from Sniper. Actually, this one about a killer painting is even stranger.

There's some nicely detailed PCDB entries with lots of pics of their watercooled setups from microant and Tempus2. Shadow_M's entertainment PC is interesting, too.

HyRax1 has way too much time on his hands; If you enter "Schwarzenegger for governor" (without quotes) in Google, along with your results you get a small message advising that the word "for" is a common word and has therefore been left out of your search query. Sounds fair enough. But if you re-do the search again this time with "Schwarzenegger governor" (leaving out the word "for", and again without the quotes), then the search results are very different! This means that Google IS factoring in the word "for" in your search!

From Jason: Some high res photos of the new G5 Powermac beautifully displayed, better than the Apple site. And a funny look at the Intel A5 version.

A cool amphibious vehicle from Pasan, info here and here.

A few people pointed out that AquaMark 3 is coming on September 15. I haven't seen much of this one. It's apparently the first commercial benchmark offering both: a real world DirectX 9 game engine and free access to an online database, the AquaMark Result Comparator ARC.

Got a skanky keyboard? Modasylum have a guide to cleaning it.

Win y'self a GeForce FX5600 video card over on EnvyNews. The prize can be won by any resident of planet Earth, provided that they are 18-years of age or older. All you have to do is send them an email.

ARP have updated their BIOS Optimization Guide again.

Shintaro notes that ATI's Catalyst 3.7 drivers have been released. Drivers are here, release notes are here. There's a thread in the forums here about them.

PCStats show you how to get rid of evil nasty spyware from your PC.

The HomeWorld 2 demo is out - AusGamers have the goods as always.

This has to be one of the most embarrassing security bungles ever.. two mainframes were simply wheeled out of an Australian Customs office in Sydney.

Interesting Forum Threads:
Cool Table in Motoring.
Really big radiator! in Extreme Cooling.
Possible fix for dead Deathstars in Storage & Backup.
New batch of 2.8's hit the shore (9 pages) in Intel Hardware.
RAID for OCAU's new server in Storage and Backup.



Hello all, Sydney could be a little bit smokey this weekend. If that's the case, Don't panic. It's probably one of the 35 hazard reduction burns that the RFS has planned for the weekend.

"If weather conditions allow, Sydney can expect to see a lot of smoke this weekend, with a massive hazard reduction program of some 35 burns planned to reduce fuel over 3400ha. Hundreds of NSW Rural Fire Service (RFS) volunteers are preparing drip torches and firefighting equipment in order to reduce bushfire fuels in Baulkham Hills, Gosford, Hawkesbury, Sutherland, Warringah Pittwater, Wingecarribee and Wyong.

Roads and traffic will be affected by tanker activity and smoke in Sydney over the weekend.

Lane closures to major roads, particularly in Warringah Pittwater, will be managed by professional traffic companies to ensure public safety and minimal disruption. In the Warringah area, traffic lanes will be closed on Mona Vale Rd, Lane Cove Rd, Warringah Rd and McCarrs Ck Rd."

More information and the locations of these burns can be found right here. To any other RFS people out there, Stay safe and maybe I'll see you on the fireline!




Thursday Night Reviews (1 Comments) (link)
Thursday, 4-September-2003 23:26:57 (GMT +10) - by Mred32


Systems/Laptops/PDA:
Asus nForce3 SK8N with AMD Opteron 240 at Hardware Zoom!
Monarch SFF PC Small Form Factor at SFF Tech

Mainboard:
MSI KT6 Delta-FIS2R KT600 at 3DVelocity
Albatron KX18D Pro II Motherboard at PCStats
Gigabyte GA-8IPE1000 Pro at Ase Labs
A-Bit IC7-MAX3 at [H]ard OCP
Epox 8KRA2+ at [H]ard OCP
EPoX 4PDA2+ v2.0 at HotHardware

Storage:
Trancend Internal 6 in 1 USB 2.0 Card Reader at Spode's Abode
MSI CR52-M 52/32/52 CDRW at Viper Lair
Maxtor DiamondMax Plus 9 200GB SATA HDD at Intel Forums

Video/Monitor:
ASUS GeForce FX 5900's, The V9950 & V9950 at Beyond3D
Gainward Ultra/760 XP Golden Sample GeForce FX 5600 Ultra at Guru of 3D
ATI Radeon 9800 Pro 256 MB at Bjorn3D
Sapphire Atlantis Radeon 9800 Pro at OC-Zone

Case/Mods:
RaidMAX Scorpio Case at OC Cafe
Enermax CS-5688 Case at Bit-Tech
Kingwin KT-11 Aluminum Case at OCC
Kingwin K-11-BK-WM Aluminum Case at Club OC
Thermaltake HardCano 10 at LWD
Kingwin Aluminum Case KT424SWM Video Review at 3DGameMan
Enermax CS-5018SNFS-BBS and CS-56881LBFS-D3 Cases at The Tech Lounge

Cooling:
OCZ Gladiator 3 CPU Cooler at Bytesector
Swiftech H20-8500 Water Cooling Kit at The Tech Lounge

Misc:
Bluetake BT200 Bluetooth Printer Adapter at JSI Forums
iRock!730i Digital Audio Player at XtremeTech
Securikey Personal for the PC at PDA Today
Samsung 1710/1750 Laser Printer at Keptech




Thursday Afternoon (8 Comments) (link)
Thursday, 4-September-2003 13:17:43 (GMT +10) - by Agg


We're still getting over a thousand virus emails to the news box every day. If you're not running virus protection on your PC, punch yourself in the face and then download AVG antivirus, it's free and it works pretty well. No excuses!

This site has interactive guides for pin-modding and multiplier-unlocking various socketA chips.

pmok spotted this mATX Pentium-M motherboard for the desktop, with 3x PCI and an AGP slot.

Duncan noticed this article with a picture of Microsoft's tilt-wheel mouse.. in black leather.

MadShrimps have a guide to making a case window with a cut-out logo.. looks pretty cool.

Telstra are embracing Open Source, thanks David.

Dan has checked out HighPoint's e.SATA external HDD technology.

ARP have an article about how spam sucks.. they cover Bayesian filtering, which seems to be the latest anti-spam buzzword showing some good results.

Digital-Daily have an interview with ABIT, some new goodies on the way. ABIT: We definitely pay attention to overclocking. All of our new product lines have this important feature in mind for the enthusiast.

Transmeta have updated the info page about their Efficeon CPU, detailing that it incorporates the Northbridge into the processor, thanks Stmok.

Shuttle had a big party for their small PC's. They're bundling with Mandrake Linux, too.

There's another issue of ZZZ Online up, full of the usual wacky technology stuff.




Wednesday Night Reviews (1 Comments) (link)
Wednesday, 3-September-2003 22:24:21 (GMT +10) - by Gibbon


Motherboards:
EPoX EP-8KRA2+ KT600 motherboard on Envy News.
Chaintech 7NIF2 nForce2 IGP motherboard on Viper Lair.
Abit KV7 KT600 motherboard on Legion Hardware.
DFI LANParty nForce2 Ultra 400 motherboard on HotHrdware.
DFI LANParty nForce2 Ultra 400 motherboard on ClubOC.
ASUS A7N8X-Deluxe 2.0 nForce 2 Ultra 400 motherboard on A1 Electronics.
Abit IC7-G Max II Advance i875P P4 DDR motherboard on GruntvillE.

CPUs:
Opteron 144 and nForce3 Pro on Amdmb.

Memory:
1GB OCZ EL PC-4000 Dual Channel DDR on Legit Reviews.

Video Cards:
Albatron GiGi GeForce FX5900 PV on X-bit labs.
ATI All in Wonder 9700 Pro on Pirate Software.
Gigacube Game Buster Radeon 9800 128MB on Overclockers NZ.
Gainward Ultra 1600XP GeForce FX5900 Ultra on Ninjalane.
Gigabyte Radeon 9600 Pro 128MB on HardwareZone.

Storage:
Promise FastTrack S150 TX2plus SATA/PATA RAID controller on 3Dvelocity.
Western Digital Caviar SE 250GB SATA Hard Disk on MetkuMods.

Cooling:
Cooler Master Aero 7+ HSF on Overclockers Club.
Zalman CNPS7000A HSF on R&B.
Xice Waterblocks on bit-tech.
Thermaltake X-Blower fan kit on Envy News.
Horse of Iron's PolarFLO waterblock and fan adapters on Techware Labs.

Cases/Power Supplies/Case Mods:
FSP 350W Aurora PN and Nexus 400W NX-4000 power supplies on bit-tech.
Seasonic Super Silencer 400W power supply on BigBruin.
True Silent 450W power supply on OCModShop.
Seasonic Super Tornado 300W power supply on SilentPCReview.
XPCases X-Superalien aluminum case on OCAddiction.
Cooler Master Aerogate II multifunction panel on BurnOutPc.
Cooler Master Aerogate II multifunction panel on HardwareZoom.

Other Stuff:
Samsung Yepp YP-35H 128MB MP3 player on Envy News.
Shure E2c In-ear Earphones on EXHardware.
Samsung HT-SK6 home theatre on Envy News.
Creative Nomad Jukebox Zen USB 2.0 MP3 player on Flickerdown Data Systems.
Geargrip LCD case on PCArena.
Nanotherm PCM+ thermal compound on Modsynergy.
Philips 180MT 18" LCD monitor/TV on Designtechnica.
Ideazon ZBoard modular keyboard on Envy News.
Samsung Yepp YP-55V MP3 player on Designtechnica.



Hmm, I wonder what this mysterious pile of bits could be..



Click to enlarge!


It's (most of) OCAU's new server, having arrived from Plus Corporation today! There'll be a couple of weeks of building and testing before we put it into production. I'll most likely do an article about why we chose these particular components and have some pics of it all being put together, but for a quick peek at the important specs:
2x AMD AthlonMP 2800+ (2.133GHz, 512KB L2)
Tyan Thunder KX Pro S2469UGN 760MPX Motherboard
1.5GB Kingston PC2100 ECC Registered DDR
Boot/static/log files on a Seagate 10k-rpm U320 SCSI drive
2x Seagate 15k-rpm U320 SCSI drives in RAID1 (mirrored) for databases
It'll probably be called Ragnarok, following on the Norse theme of our previous servers (Odin, Loki and Thor). We ran out of cool gods with 4-letter names.

So, hopefully the traditional weeknight OCAU slowdown will soon be a thing of the past! For a while, anyway. :)



Kernal32 wants to point ZoneAlarm users to some info about a security issue with the firewall. "An attacker can send crafted requests which causes ZoneAlarm to hang the computer." Full details here.

"If you own a Netgear router, Annie Stunden would like you to stop pinging her network. That would be annoying, to say the least. Read more here. Thanks p1ayer.

If you own an IBM Deathstar HDD (Deskstar 75GXP and 60GXP), and are waiting for the hard drive failure to come, as has happened to so many owners of these infamous drives, there seems to be a way of significantly enhancing the reliability with a firmware upgrade. This sounds like a must-have to me, but it won't help those with IBM paperweights sitting on their desk. From Sniper.

From Knight: "Central Queensland Gamers League (CQGL) based in Rockhampton (QLD) are having another LAN set for the 6th and 7th of September. For more info check the website here".

For the gamers, Half-Life 2 / Counter-Strike 2 Virtually Uncheatable Says Valve. I hope they're right. More info at 3DNewz. Thanks to all those who submitted the link.

JAT have posted a thermal comparison between TBred B and Barton, and guess what. The Barton runs hotter. It does do more work though so this is really no surprise. Check it out.

The Tech Zone have updated their Price Index for Tuesday, September 2nd, so if you're in Canada, go spend.

The ultimate womans vehicle! Now that my wife has stopped hitting me for saying that, I'll let you have a read about a car that can park itself. Ouch!

Daniel and s3tTz note that another big rock is headed for the Earth. I'll keep an eye out for it. More info here.

Here's a bargain if ever I saw one: a brand new Super Nintendo for AU$1,000,100.00! Thanks bow$er.




Folding Giveaway 4 Update (0 Comments) (link)
Wednesday, 3-September-2003 15:29:51 (GMT +10) - by Mred32


Hi All
One week into Giveaway 4 and we have had 348 nominations with 202 already qualified for the draw, there are still 3 weeks left to nominate and qualify for the draw to win some great prizes. The Folding team is just 9 days away from reclaiming the No1 folding team title and we would like as many forum members as possible to join the Folding team to help with a great cause and keep the momentum up once we pass the [H]ardOCP team. So if you would like to put your spare CPU cycles to good use check out our Folding page for more information and drop by the DC forum for a chat.
Cheers,
Bollocks



Systems/Laptops/PDA:
Hush EPIA M10000 Silent PC at Epia Center

Video:
Gigabyte Radeon 9800 Pro 256MB with DDR-II at TweakTown

Mainboard:
MSI NEO-LSR (875P) Canterwood Motherboard at DWPG
AOpen AK77-400 MAX KT400a Motherboard at WinHQ

Memory:
OCZ PC4000EL Dual Channel Memory Kit at Club OC
Geil Dragon Series PC3700 at Nexus
Mushkin PC3200 Level II Dual Pack at Extreme OC

Storage:
WiebeTech's FireWire DriveDock and Super DriveDock at DansData
Panasonic CW-8122-B CD-RW/DVD-Rom Combo Drive at Bigbruin
ASUS CRW-5224A-U External CD-RW Drive at Xbit-Labs

Case/Mods:
Lian Li PC-0716A Case at ExplosiveLabs
PolyGFX VH CaseSkin at Virtual Hideout
Maxtop CSX-5605-AL Case at 3DVelocity
Antec iLuminate LED Light Tubes at ExtremeMods
A+GPB CA-AP107 Medium ATX Case at Computer Critics
Chyang Fun Ice Cube Epia Case at Epia Center

PSU:
iCute 400watt PSU at Mikhailtech
Kingwin 450W PSU at Furious Tech

Cooling:
Swiftech MCW5000 CPU Water-Block at Viperlair
Corsair HydroCool 200 Watercooling Kit at Pimprig
Innovatek In-Line Thermal Probe at Hard-H2O
Cooler Master Aero 7 Lite HSF at Gruntville

Other Bits:
2 Port KTI USB Pocket KVM Switch at Monkey Review
Microsoft MN-500 Switch/WAP and MN-510 USB WiFi Adapter at OCPrices
VLSystem INDY Platinum Analog Audio Display at Bit-Tech
Polaroid PDC310 Digital Camera at ModSynergy
Behringer HPM1000, HPX2000 and HPS3000 Headphones at Tech-Connect




X-Micro Bluetooth Class 2 USB Dongle (6 Comments) (link)
Tuesday, 2-September-2003 03:49:57 (GMT +10) - by Agg


Today we have a review of this tiny gadget from X-Micro. I've never paid much attention to Bluetooth, thinking of it as just something to do with mobile phones and not too interesting. Jeremy Quirke shows in this review that there's quite a bit more to it than that: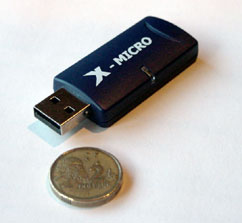 Click for the review!






Matchbox PC (0 Comments) (link)
Tuesday, 2-September-2003 02:08:24 (GMT +10) - by Agg


This recent entry from SchRAMBO is called Matchbox.. it's not quite that small, but it's pretty close:



Click for the PCDB entry!





The creator of one variant of the Blaster Worm has been caught. He faces a maximum 10 years jail or US$250,000 fine. More here. Not quite enough of a penalty I think. Thanks to those who sent in the link.

The folks over at Metku Mods are having fun screwing things. A little "tutorial" to show you what can be done to all those case screws.

For those into creating Flash stuff, Kyle has a guide to creating realistic-ish motion. Read it here.

Bit-Tech get dirty and decide to mod a Koolance PC2-601 water cooled case. The results are rather nice!

Another security update from Microsoft, This time, its the scripting engine and it affects all versions of Windows after Windows98. More info here, patch from Microsoft. Thanks Kernal32.

John Carmack is moving into rocket science, in a bid to win a $10,000,000 prize in a competition to build and fly a rocket ship into space and back. Sounds like fun!!! Thanks Dan.

Anandtech have posted Part II of their PSU round-up. Mean while, Blynk Net mod their PSU with a pretty blue UV reactive cover. Pics and info here.

OHLS Place have part II of their Project Nehemiah, where they set about turning a VIA M1000 Nehemiah Mini-ITX motherboard into a Linux file server.

ComputerSphere have some user submitted Sandra screenshots of a Celeron overclocked to 3360.95. Nice.

From Ambush, "This post gives a tongue-in-cheek approach to letting programmers know how to maintain SCO compatibility in their wares through future versions, so that SCO doesn't have to fork out big dollars in support." Read it here. Also from Ambush, he wants us all to know that Cherry Coke can now be found in Woolies. Cheers Ambush.




September First Post! (1 Comments) (link)
Monday, 1-September-2003 01:19:51 (GMT +10) - by Agg


I've updated the Article and Review Archive with some content from August. Check these out if you missed them the first time around:To catch up on daily news from August, try the monthly archive.



---
Advertisement:


All original content copyright James Rolfe.
All rights reserved. No reproduction allowed without written permission.
Interested in advertising on OCAU? Contact us for info.