November 2003

Tomshardware take a look at some Raid cards from Netcell. One major aspect that caught my interest was the following: NetCell practically claims to have created a true Renaissance machine, i.e. one that works on a RAID-5 level at top performance and is fail-safe at the same time.... IE: RAID 0 Performance + RAID 5 Security. (5 Drives in Total)

Taken straight from OSNews.com, New Versions of Clarkconnect HomeEdition 2.1 and Smoothwall Express 2.0 - RC1

Xbitlabs.com reports that Intel Extreme Graphics 3 is to have support of dual monitors. I didn't find that interesting (much), but what I did find interesting in that article was that Intel is currently the world's largest supplier of graphics 'solutions'. Intel supplied 35% of all graphics products in Q3 2003. Nvidia 25%, ATI 22%, VIA Tech 9%, SIS 8% and Matrox G 1%. According to Mercury Research that is....

PCWorld.com have an article about Microsoft and its new role with enterprise telephony systems over the next few years.

TheInquirer reports that the demand for LCD Monitors is at a state where there is a shortage for them, and it looks like it will continue into the new year.



ZDNet.uk is reporting that the major BIOS maker Phoenix has launched its first 'trusted' BIOS. At the company's Strategy 2004 conference, Phoenix emphasised that the D-NA architecture is designed to fit neatly into Microsoft's plans for "trustworthy computing".

There has been some fuss over the last few days on Apple's attempt to capitalise on its Ipod range. More info on ZDnet. It looks like Apples wants to charge US$255 (AU~$365) for a replacement battery out of warranty.

Digitimes are reporting that Lite-On IT is anticipating delivering one million DVD drives in the first quarter of next year.


theregister.uk is reporting that some of the US Notebook/Desknotes makers are putting the Intel Pentium 4 EE into their machines.

TheInquirer is reporting that Intel's Dual Core Desktop chip is slated to arrive somewhere in 2005. It also reports that AMD will also follow suit with dual core chips.

CNet.com is reporting that IE is up for an upgrade next year and will sport a pop-up killer.... It does say something like "as part of an update for Windows XP" but I'm inclined to think it will be released for all OS's running the numerous flavors of Windows. In any case a big thumbs up from me.

Macworld takes a look at Apple's Panther Server and whether its ready for the enterprise market.




Lian Li PC-6077 Case (12 Comments) (link)
Thursday, 27-November-2003 22:36:56 (GMT +10) - by Agg


Today we have a review of a new case from veteran aluminium case manufacturers Lian Li. It has an unusual internal design for a midi-tower, with some interesting features: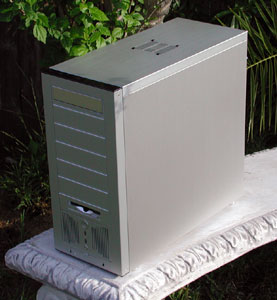 Click for the review!





Systems/Laptops/PDA:
Time Platina Viper Athlon-FX System at Hexus

Mainboard:
Gigabyte GA-8IPE1000 i865PE Motherboard at PCStats

Storage:
Intel SRCS14L Four-Channel SerialATA RAID Controller at Xbit-Labs
SATA to PATA Converters at BlueCouch

Video/Monitor:
Samsung SyncMaster 172x 17 inch LCD Monitor at FutureLooks
Albatron FX5600P Turbo at ViperLair
Asus Radeon 9800 XT/TVD & 9600 XT/TVD at Hot Hardware
Gainward 5950 1800 / XP Golden Sample at NeoSeeker

Case/Mods:
Morex Venus Cube SFF Case at EpiaCenter
Chyang Fun MiniCube M Mini-ITX Case at Mod Fathers

Audio:
iRock 730i 128Meg Digital MP3 Player at TweakNews
iRock 730i MP3 Player at OwnT
Creative Labs Inspire T7700 7.1 Speakers at Guru of 3D

PSU:
Soyo Raptor 400 Watt Adjustable PSU at 3DXtreme
Turbo Case Aspire Pre-modded 500W PSU at Extreme Mhz

Cooling:
Thermaltake SubZero4G at 3DVelocity
Chill Vent 1 at Dans Data
Thermaltake K8 Coolers- Silent Boost & Venus 12 at OCTools

Misc:
Xtrac Hammer Mouse Pad at ByteSector
XTrac Mouse Pad at Gruntville
Intervideo WinDVD Creator 2 Gold at Bjorn3D
Ricoh's G4w Digital Camera at EnvyNews
A4Tech KBS-2348RP Wireless Destop Keyboard and Mouse at Hardware Hell




Thursday Morning (7 Comments) (link)
Thursday, 27-November-2003 01:07:51 (GMT +10) - by Agg


From Darkness, some info about the computing power behind the new Lord of the Rings film. The Return of the King, which opens in theaters December 17, will feature almost 50 percent more f/x shots than The Two Towers and will be composed of more data than the first two movies combined. Churning out scenes like the destruction of Barad-dûr and the Battle of Pelennor Fields (with thousands of bloodthirsty CG Orcs) took 3,200 processors running at teraflop speeds through 10-gig pipes.

Moore's so-called Law seems to have remained intact for another generation, thanks Murray. Using 65nm design rules, Intel announced this week that it has made fully functional 4MB SRAMs with a cell size of 0.57 microns2 -- small enough to maintain Moore's Law of density doubling every two years.

Aftahours spotted new VIA Hyperion drivers available, version 4.50.

Funny Mac Eye for the PC Guy comic over on JoyOfTech, thanks Greg.

FreakGamer went to the Australian Game Developers Conference, and have coverage of the Academic Summit, as well as days 1, 2 and 3.

Digital-Daily rounded up 13 motherboards based on Intel's 865PE/875P/865P/865G chipsets.

Xbit ponder the desktop CPU market and wonder where Intel is going.

It seems that FutureMark have a PCMark04 release coming soon.. there's previews of this benchmarking program on D-Silence, BurnOutPC and DVHardware.

Moving call-centres overseas to save money isn't always a good idea, as Dell are discovering, thanks Josh.

Pimprig have their Comdex 2003 Coverage posted.

MP3.com is apparently going away soon, to be reborn as a pay site. Can't say I'm too impressed about that, thanks AzonIc.

MPU is in Sydney on the 13th of December, info here, thanks Distress.

Interesting Forum Threads:
The P4 Extreme Edition is here! in Intel Hardware.
Where's Waldo review in Games.
12 or 13 (optical illusion) in The Pub.
Mazzanet's Folding Stats Page in Team OCAU.
ABIT AI7 Results in Intel Hardware.




Antec 4U22ATX Rack-Mount Case (10 Comments) (link)
Wednesday, 26-November-2003 16:25:04 (GMT +10) - by Agg


Previously the domain of server rooms only, small racks and rack-mounted cases are finding popularity with the enthusiast community as a way of saving space. DavidRa has checked out this 4RU rack-mounted case from Antec.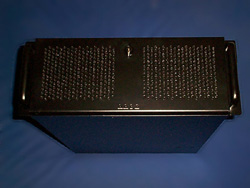 Click for the review!





Mainboard:
DFI NFII Ultra Infinity at MBReview
Soltek SL-865-GR at PCGuide
Soltek SL-865-GR at Ninja Lane
Abit KV8-Max3 AMD Athlon 64 motherboard at A1-Electronics

CPU:
AMD AthlonXP 2500+ Barton Processor at PCStats
AMD Athlon XP 2800+ at R&B Mods

Memory:
Kingston PC4000 HyperX at Legit Reviews

Storage:
SilverStone SST-SDP01 6-in-1 Portable Card Reader at 3DXtreme

Video:
ATI Radeon 9600 XT at Tweaktown
ATi Radeon 9800 XT at OCPrices

PSU:
Thermaltake PurePower 480 Butterfly PSU at TweakTown
SilenX 400 Watt PSU at OCC

Audio:
Zalman 5.1 Surround Sound Speakers at Hard Extreme
Logitech Z-5300 Speaker System at DesignTechnica
Creative Muvo 128MB mp3 Player at HexaPlague

Cooling:
Swiftech MCX159-P Pentium Chipset Cooler at BoPC
Zalman ZM-NB47J Chipset Cooler at Bit-Tech

Misc:
Everglide Mousemats at TechSeekers
EL-715 Slim Illuminated Keyboard at ClubOC
Steelpad 4d Mousing Surface at 8Balls Hardware




OCAU Merchandise (1 Comments) (link)
Wednesday, 26-November-2003 10:05:17 (GMT +10) - by Agg


Don't forget, we've got a pile of funky OCAU Merchandise now. Things to wear, things to drink out of and things to stick to other things. Maybe an Xmas present for the geek in your life? :)



First up today, Bone sent in this link where you can experience the internet in its unadulterated form, before the WWW was created. If you've been online for at least 10yrs you will remember some of the early text based browsers such as Lynx, NCSA Mosaic and the many simple line-mode browsers. USENet was where all the good stuff was to be found and Internet Advertising was unheard of. Back then I was paying AU$0.01 per minute and AU$10.00 per Mb of data for a shell account using Win3.1 and SlipKnot. Ahh, those were the days...

Anyway, back to the real (virtual) world. ARP have updated "The Definitive BIOS Optimization Guide" with details about Video BIOS Cacheable and Video BIOS Shadowing BIOS options.

Iceteks have a Linux for Newbies article which, while brief, does cover some of the things a first-time Linux user should know. EazyduzIt reckons that switching to Linux will make you a Super Villain.

OC Addiction take a step by step approach to overclocking a P4 800fsb CPU.

TechNation show you how to make and fit a custom etched window to your case.

Some good info on how to Secure Your Wireless Network over at DSLWebServer.

HardwareZone have an Athlon 64 Chipset Shootout for you to read. While the results don't hold any real surprises, they are interesting.

PCI-Express is rolling our way, slowly, and IntelForums have an introduction for those who have yet to hear about this new bus.

GideonTech have a roundup of 16 SunbeamTech products, both lighted and non-lighted items. Yay!

Some more letters from/to Dan, and this time he talks about, among other things, motherboard manuals. I think I read one of them once... never again!



Systems/Laptops/PDA:
Soltek EQ-3401M SFF System at SFFTech

Mainboard:
MSI K8T Neo-FIS2R Athlon64 at Bjorn3D
MSI K8T Neo-FIS2R Athlon64 at ViperLair
ASUS P4S800D-E Deluxe at Legion Hardware
DFI LanParty NFII Ultra B at Hexus
Albatron PX865PE Lite Pro vs. Asus P4P800S-E at HotHardware

Memory:
Kingston HyperX PC3500 RAM 1GB at EnvyNews
Corsair TwinX1024 XMS4000 Pro at Gruntville
OCZ PC-4200EL at ClubOC

Storage:
Maxtor DiamondMax Plus 9 200GB SATA/150 at PCReview
Crucial (Flash) Gizmo! 256MB at DesignTechnica
Gigabyte GO-W0404A DVD Dual Recorder at Hardware Zoom

Video/Monitor:
Gigabyte Radeon 9600Pro at MyWorld Hardware
Samsung SyncMaster 191T Plus at EnvyNews

Case/Mods:
GlobalWin YCC-61F1-B Server Case at OHLS
Kingwin KT-424-BK-WM Case at HightekPC
Thermaltake Skull Case at OCC

Audio:
Audiotrak Prodigy 7.1 vs. M-Audio Revolution 7.1 at TechConnect
Realworld Sicuro RW-360XL 2.1 Gaming Speakers video review at 3DGameMan

Cooling:
Arctic Silver 5 at ModSynergy
Criticool's PowerPlant II PCI Relay Card at AHWZ
Asetek Waterchill KT12-L30 Watercooling Kit at SubZeroTech

Misc:
Stardock Object Desktop Windows Enhancement Software Suite at TweakNews
4+AGP 480Watt Power Supply at FuriousTech




Monday Morning (8 Comments) (link)
Monday, 24-November-2003 11:05:06 (GMT +10) - by Agg


Intimidated by a particular technology? Perhaps it's too smart for mere mortals, like a system fitted to a new BMW car. Or, perhaps it doesn't suit the cultural diversity and sensitivity of your area.

There seems to be a lot of disappointment about Comdex this year. That's the Computer Dealers Exposition and pretty much the largest PC show in North America. You can read reports from Comdex 2003 on LegitReviews, OCClub and AMDMB.

If you think there should be an R18+ rating for computer games in Australia, funnelbc thinks you should sign this petition. As adults, we wish to dispel the widespread misconception that only children play computer games, and draw the Honourable Ministers' attention to research statistics which prove that a substantial percentage of Australians who play computer games are over the age of 18. The proposed reforms and amendments would allow us to purchase and play games that would conceivably be Refused Classification under the current guidelines.

New laws in Singapore allow pre-emptive attacks against computer hackers, thanks Dink. Security agencies can now patrol the Internet and swoop down on hackers suspected of plotting to use computer keyboards as weapons of mass disruption. I wonder if that will cover alien computer hackers, as spotted by Ken.

"DVD Jon", who wrote the DeCSS tool to decrypt DVD's, has turned his attention to Apple's iTunes, with some success.

TweakTown built themselves a high-powered A64 box, while NordicHardware reviewed the 3200+ CPU. HardAvenue have reviewed the FX-51 and you can see our review of that chip from a few months ago here. Meanwhile, Accelenation have a preview of SiS's 755 chipset for Athlon64.

If you're a motorsport fan, you might want a copy of GlobalSkunkWorks's 2004 Motorsport Calendar, featuring MotoGP, F1, Champ Car, V8 Supercar, Le Mans, World Endurance, World Super Motard, Australian Motorcross, Asutralian Supercross, Australian Drags, World Superbike and many others. It's available for dowload in PDF or MDB formats.

Monster-Hardware display some basic case mods in their latest article.. blowholes, switches, windows etc.

Win some cooling stuff over on ModSynergy.. doesn't mention if international entries are ok or not.

ModFathers have a video card overclocking guide posted. Ages ago I wrote an article which is still very popular, about using CoolBits to overclock NVIDIA-based cards.

What would Monday be without a timewaster? Today's is Whizzball, from nuxie1.




Saturday Afternoon Reviews #2 (1 Comments) (link)
Saturday, 22-November-2003 15:29:00 (GMT +10) - by Agg


The reviews just keep on coming..

Motherboards:
ABIT AI7 Springdale P4 board on HardOCP.
ABIT AI7 Springdale P4 board on TweakTown.

Keyboard, Mouse Etc:
MS Wireless Intellimouse Explorer v2.0 on TechNation.
Auravision Laser Mouse on ExtremeMHz.
fUnc sUrface 1030 mousepad on DevHardware.
Xtrac Ripper Mousemat & Xtrac Eels Mouse Feet on JSI.
Zippy EL-715 Slim Illuminated Keyboard on EnvyNews.

Storage:
Toshiba 1.8-inch 2GB PC Card Hard Drive on D-Silence.
Ximeta Netdisk 80GB External HDD on BigBruin.
Plextor PX-708UF DVD burner on HotHardware.
Lite-On LDW-411S DVD±RW drive on CDFreaks.
Promise FastTrak S150 TX2plus & TX4 SATA controllers (video review) on 3DGameMan.
Eumax Metal Gear Box 3.5" USB2 & SATA aluminium HDD enclosure on Bjorn3D.

Audio:
Neuros 128MB MP3 player on PCTechZone.
Hercules DJ Console on Guru3D.
Philips Key Ring 003 MP3 player on DesignTechnica.
Altec Lansing VS-4121 2.1 speakers on PCTechZone.
M-Audio Radium 61 MIDI Controller Keyboard on FutureLooks.
MSI Mega Stick 1 MP3 player, voice recorder, USB storage on 3DVelocity.

Mini-PC's:
Shuttle XPC SB62G2 socket478 on Hexus.
Shuttle XPC SB75G2 i875P on TechReport.
AOpen XC-Cube EZ65 on OCrCafe.

Glowing Cables:
Sunbeam Lighted IDE Cable on RBMods.
AC Ryan XNeon El SATA Cable on VirtualHideout.
Galaxy Light-Up USB Cable on OCIA.

Misc:
Winamp Remote on Bit-Tech.
Galaxy USB Adapter on OCIA.
Appro Scorpion WH300 dual Opteron workstation on TechReport.
Silverstone Lascala Series SST-LC01 HTPC case on ModSynergy.
Asus Radeon 9800XT/TVD video card on HardOCP.

Interesting Forum Threads:
Mapping the internet.. in 3D (160KB JPG) in Networking and Internet.
Pizza Delivery Race (with pics) in The Pub.
What the?? Camera wakes up PC? in Overclocking and Hardware.
My down to up side mod thing in Modding & Electronics.
My 64-channel Solid State Relay Parallel Port Interface (pics) in Modding & Electronics.
Loudspeaker Information Guides in Audio Visual.
Melbourne: my recommended restaurants in Geek Food.
Armchair's guide to the Bathurst 24h Race in Motoring.




Saturday Afternoon Reviews (0 Comments) (link)
Saturday, 22-November-2003 14:32:13 (GMT +10) - by Gibbon


Intel Motherboards:
Idot P4-ITX mini-ITX motherboard on Epiacenter.
Abit AI7 i865PE P4 motherboard on Envy News.

AMD Motherboards:
Chaintech ZNF3-150 nForce3 Athlon64 motherboard on Ninjalane.
Chaintech ZNF3-150 nForce3 Athlon64 motherboard on Extreme Overclocking.
DFI LanParty NFII Ultra nForce2 Ultra 400 motherboard on Tweaknews.
DFI LanParty NFII Ultra B nForce2 Ultra 400 motherboard on Ohls-Place.

Memory:
Crucial PC2700 Reg ECC DDR on HardAvenue.
Corsair TwinX1024-4000PRO DDR on Intelforums.

Graphics:
ATI Radeon 9600Pro All-in-Wonder on BiT-Tech.
ATI Radeon 9600Pro All-in-Wonder on Viper Lair.
ATI Radeon 9800Pro on Viper Lair.
GeXcube ATI Radeon 9600Pro EXTREME on OCTools.
Gigabyte GeForce FX5950 Ultra 256MB on Overclockers NZ.
Samsung 213T 21" LCD monitor on Explosive Labs.
Samsung 173T 17" LCD monitor on MonkeyReview.

Audio:
Mad Dog Multimedia Entertainer 7.1 DSP soundcard on Madshrimps.

Cooling:
Asetech waterchill watercooling kit on GruntvillE.
Asetek Waterchill V2 watercooling kit on BurnOutPC.
Coolermaster Jet 7 HSF on PirateSoftware.
ThermalTake Hardcano 11 HDD cooler on Explosive Labs.
Vantec Vortex HDD cooler on Hightekpc.

Cases, Case Accessories and Power Supplies:
Aerocool UV LED case fan on Bjorn3d.
Thermaltake PurePower 420W PSU on ModCity.
Thermaltake Butterfly 480W PSU on Overclocker Café.
Aspire X-Gear ATX case on 3dXtreme.
SuperFlower Fan Master fan controller on Virtual-Hideout.

Other Stuff:
Crucial Gizmo 256MB flash drive on Bjorn3d.
BlueTake BT400 GII bluetooth headset on Modtown.
CoolMax X-Notebook USB cooling stand on eXtremeReviews.
MSI CR52 Active Panel 52x32x52x CD/RW on 3D velocity.
Bytecc Aluminium 3.5" HDD Enclosure on Comp-Shop.



Digitimes is reporting that Intel are scheduled for a chipset price reduction around late December on its 865 chipsets and below. (875 anyone?).

EETimes is reporting that AMD's transition to 90-nm ramp up (volume production) has been delayed until sometime in Q2 of 2004.

Looks like an Australian Jabber server has gone online ("live")after a period of tests. Jabber is an open source alternative to instant messaging from the like of Windows Messenger, ICQ, AOL and the rest. More info over at Jabber.org.au


Looks like Intel is keeping its 'laptop' monopoly (that's a loose term). Xbit Labs is reporting that Intel notebooks based on Centrino may account for up to 42% of the market.

Zdnet.uk is reporting that the A London court has sentenced six ID fraudsters to a total of 15 years in jail for using false identities to con banks out of £350,000.

Xbit Labs has some info on Intels Alderwood and Grantsdale Powered Mainboards for 2004. Yummy, Alderwood to have the following: Total Max of 4GB of DDR-II SDRAM memory at speeds of up to 533MHz (PC2-4300), PCI Express x16 (video cards), ICH6R with Serial ATA RAID ........ drooling yet ?

Zdnet.uk has a report on VeriSign's CEO and about why VeriSign undertook its domain-name redirection service.

Appleinsider is reporting that the current (1st) generation of PowerPC (970) will be maxing out around 2.6Ghz and the next (2nd) generation (980) will be ranging from 2.8Ghz to 3.2Ghz and to be released sometime is Q3 of 2004.




Friday Night (0 Comments) (link)
Friday, 21-November-2003 22:31:03 (GMT +10) - by Agg


This news post is actually from Torment, who is back among the newsmonkey ranks again.. but it didn't work when he posted it this morning.

The Inquirer reports that Memory Firm Transcend said it had released DDR466/500 memory modules aimed at overclockers. The modules operate at 2.60 volts, are 184-pin, use 500MHz and 466MHz unbuffered DDR, with settings of 3-4-4-8 for 500MHz and 466MHz DIMMs.

Looks like SCO will be turning its sight onto Novell once they pickup SuSE. They (SCO) claim Novell signed a non-competition clause when it sold SCO the rights to Unix in 1995. Covered over at Vnunet.com and atnewyork.com

Are the Days of 32-Bit Chips Numbered?, well according to what Marty Seyer (VP and GM of AMD's Microprocessor Business Unit) said at Comdex, it looks like AMD is likely to stop producing 32-Bit chips by year end of 2005. Full report on Pcworld.com.

The Inquirer also reports that Intel have released the specs for 802.11g to manufacturing, which means that we _might_ be seeing some centrinos next year sporting the G.

CNet.com is reporting that Intel plans to deliver 4Ghz sometime next year. I think the way the Prescot is going it shouldn't be too much of a problem for them.

Also from CNet.com Microsoft has announced the news and named the hardware vendors, which include Intel, Cisco Systems and Network Appliance that their new iSCSI-based products work with Windows. iSCSI (pronounced eye-scuzzy) is an Internet Protocol-based standard for transmitting data.




Thursday Night (18 Comments) (link)
Thursday, 20-November-2003 22:06:35 (GMT +10) - by Agg


The site was down for about an hour earlier, sorry about that.. Thor was coughing up a few hairballs. Thanks to the lads from AusGamers for getting us going again.

It's been a bit quiet from me over the last few days, because I've been moving house. Still got a zillion boxes to unpack, but at least I have the laptop and internet access sorted out. Thanks to Mred32 and Gibbon for keeping things going on the newspage in the meantime. :)

AMDMB have a 10-way power supply roundup posted, including units from Aerocool, Antec, Enermax, PC Power and Cooling, Raidtronics, Vantec and Zalman. Each unit was placed through a rigorous amount of testing that looks at the AC noise levels, DC output regulation, Power factor and much more.

I haven't looked through the PCDB for a while, here's 3 nicely-finished glowy PC's from Nerotic, Equinoz and a clear one from sh0gunate.

Zalman's "passive case" concept has been floating around for a while and there's been a lot of speculation about it over the last few months. NordicHardware got their hands on a prototype and have a preview of it. Instead of putting a cooler into your PC, you put your PC into a cooler! Heatpipes everywhere.

JimX spotted a funny page of real 999 calls, from the UK equivalent of dialling 000.

ComputerAssociates are apparently giving away antivirus software to Windows users - well, it's free to use for a year. Annoyingly, the download URL in that article is blocked by an ad when I view the page. Anyway, AVG Antivirus is free (indefinitely) for "single home users" and seems to work pretty well here.

Dan has yet more letters, this time with some info on cooling.

Xenon is building himself a wireless antenna and has some pics on his website.

Asetek sent word that they have some new WaterChill kits on the way. More interestingly, they have dropped the prices by up to 50%. We reviewed the original WaterChill kit here not long ago and are supposedly receiving some of these new bits to do an updated review. Our original review was in a YY Cube case which made things a little tricky, but Cvidler's PCDB entry shows the original kit installed in a more conventional tower case.

There's some interesting Microsoft Matrix Parody screen-captures from Comdex 2003 on Hinjing.

I think we missed this one when they put it up, but HardOCP have an editorial about synthetic benchmarking from a week ago.

Also from the PCDB: CatSailor has updated his very nice homemade-waterchiller machine. [M] is using the water for something else entirely.



Systems/Laptops/PDA:
JVC Interlink 7310 Notebook at Design Technica
Biostar iDEQ 200T SFF PC at Hexus

Mainboard:
Chaintech ZNF3-150 Zenith Athlon 64 Motherboard at OCTools
Albatron & DFI 865PE Motherboards at Legion Hardware
AOpen AK79D-400 Max (nForce2 Ultra 400 at HWZ
FIC KT748 AMD Motherboard at AllAMD
VIA PT880 Chipset at Hexus

Memory:
BuffaloTech PC4200 DDR at GideonTech

Storage:
Highpoint Rocket 1511 & Rocketmate 1110 External SATA at PCHardware UK
Highpoint Rocket 1520 RocketRAID SATA Controller at PCHardware UK

Video:
GeForce FX Go5700 Preview at Bjorn3D
Sapphire Radeon 9800XT 256 at Sharky Extreme

Case/Mods:
Cool Max Aluminum Case at Extreme Reviews
ClearView for XPC at Legit Reviews
Enermax CS-30881TA at 3DExtreme

Audio:
Creative Inspire T7700 Speakers at PCGuide
Zalman "Theatre 6" Headphones at Gaming3D
Neuros Audio Computer 128mb/20GB at SubZeroTech

Cooling:
Speeze EEA30B4 LightOwl Heatsink at Voided Warranty
Thermaltake SilentBoost at NeoSeeker
Asetek WaterChill at ViperLair
Asetek Waterchill V2 at BoPc

Misc:
Logitech MX700 Cordless Optical Mouse at HWE
Concord eyeQ Bluetooth Digital Camera at ComputerCritics
Theatertek Software DVD Player at HTPC News




Wednesday Afternoon News (2 Comments) (link)
Wednesday, 19-November-2003 12:45:49 (GMT +10) - by Mred32


Dink noticed another email scam/virus doing the rounds. This one is another Mimail variant and asks for your credit card details. It looks like the E-bay scam is this moving about as well. If you receive an email asking you to enter your credit card details or your E-bay account details, hit the delete button and move on.

TweakFactor have a Halo Tweak Guide featuring different settings for different cards.

Diamond graphics cards are back, but this time in an nVidia flavour. Cards priced for a variety of markets. Thanks Stmok.

So, what does a computer cost these days? Well, according to Dan, it depends on who you ask. Ask me, and I'll tell you it depends on the bank balance. While you're there, check out Dans latest batch of letters.

More on volt-mods, this time t-rex gives us a guide to modding the FRN2 series of Soltek boards for raised VDIMM and VCORE.

On a different kind of mod, Hard-H2O show us how to mount an LCD in a drive bay.

The three Sydney students who ran a pirate music website didn't go to jail after all. They received suspended sentences. Thanks Peter.

An interesting article that Greywolf noticed on Whirlpool, "iBurst, a wireless technology utilising 3G spectrum, will provide ADSL-like speeds from the end of this year and could prove to be viable alternative to traditional wired broadband methods such as ADSL and Cable."

Hexus have interviewed Toni Riccardi, General Manager of MESH to get his insight in to how important the media is, the future of 64bit computing and some other questions about this company.

Lan Addict have an article telling us how to optimise a network for Bandwidth and Latency.



See-through cases are becoming very popular these days, but one has to wonder if they are a good idea or not. I think I would rather hide all the clutter and mess behind metal. Either way, linch482's acrylic box certainly catches the eye. Check out the other pictures in the PC Database.



Click for the PCDB entry!






Tuesday Morning Reviews (1 Comments) (link)
Tuesday, 18-November-2003 00:51:45 (GMT +10) - by Gibbon


AMD Motherboards:
MSI K8T Neo Athlon64 motherboard on Amdmb.

Intel Motherboards:
Gigabyte GA-8S655FX Ultra SiS 655FX motherboard on MBReview.

Processors:
AMD Opteron 148 and 248 processors on The Tech Report.

Graphics:
Creative 3DBlaster5 GeForce FX5900 on Beyond3D.
Crucial Radeon 9800 Pro on Tech Juice.

Audio:
Terratec Aureon 7.1 Space Surround soundcard on Tweaknews.

Storage:
RAIDCore RC4000 SATA RAID controller on Tom's Hardware.

Cases and Power Supplies:
Aerocool Lubic-P3519 customizable case kit on Tweaknews.
Antec Minuet case on DataFuse.
Athenatech A747BB case on HardwareHell.
Thermaltake Xaser III Lanfire case on Bjorn3d.
Thermaltake Silent Purepower 480W PSU on eXtremeReviews.
Antec True Blue 480W PSU on Bjorn3D.

Cooling:
Coolermaster Cool Drive 3 HDD cooler on Hexus.
Danger Den Maze 4 GPU waterblock on WinHQ.
Thermal Compound Round-up on OCWarehouse.

Other Stuff:
Conex USB led cables on Rbmods.
Crucial Hi-Speed USB 7-in-1 card reader on Viper Lair.
Cubit 3 and Cubit P4 SFF PCs on Sudhian.
Altec Lansing VS4121 2.1 speaker system on HardwareHell.
Logitech Click! Plus wireless mouse on ASE Labs.
Vantec Nexus multifunction panel on enscape.
Arc-AAA Limited Edition and CMG Infinity Ultra LED flashlights on Dan's Data.



Mandrake Linux 9.2 and LG CDROMs don't mix well together, as installing Mandrake 9.2 with a LG CDROM results in a physically dead CD drive. Or so we thought. LG have found a solution in the way of a firmware flash for the drive. Visit this page then click on Product Support and then drivers. All the info on how to resurrect your LG drive is there. Thanks to Chris for the link.

On ValleyForums you can read a quick and simple DIY UV Reactive Painting guide. Lots of glowy bits.

OCInside show you how to volt mod your Soyo SY-KT400A Dragon Lite to get a maximum 2.04V to the CPU.

Network game code, and game servers are pretty amazing things, I mean what does happen when I click my mouse and some little virtual nasty falls down dead on the other side of the world? Well, lots happens, according to a long article on HightekPC. "The Technology Behind a Game Server".

OCC have a mousepad shootout for you. Little mousepads running everywhere shooting each other!

Agg mentioned the other day that the Nokia N-Gage had been hacked, now Nokia have confirmed this. A few people sent that one in so thanks guys.

When a BIOS flash goes wrong, it's often time to bin the motherboard and get a new one. ARP show you one way of recovering from a corrupt BIOS using the hot-flash method. I've used this method myself and it can save your board from an early retirement.

iTunes has been hacked to become MyTunes allowing people to copy and save other peoples music files. Maybe it should be called NotMyTunes. Thanks Dink

If you are in the market for a home projector, Hardware Analysis put three popular makes on show. Dell, InFocus and Sanyo.

Brobin found this interesting site, Stop-Scammers. It's a list of known scams that are doing the rounds. Well worth a view.

Some news bits from Tekka: 3D displays on the horizon. Gainward claim the new 3DMark03 patch disables nVidia GPU compiler. Nokia unveils new walkie-talkie phone.

This very-high-res picture of Jupiter was sent in by StormCyko. 13Mb of TIFF goodness. There's also a lower resolution JPG version.

The Mod Fathers have an article called Lan Party Etiquette, if you're new to Lanning this is one to read.

On the topic of Lans, there is a new Lan in Sydney, called Tlegion. They have a Lan coming up so check it out.

From Spamtastic: "The AGDC LANFest is set to electrify Australian Game Developers for the third consecutive year. Once again gamers and developers can outwit and outmanoeuvre each other playing the latest games, demos and code releases. This 500 PC event will demonstrate just what multi-player gaming is all about on the 22nd/23rd of November". It's being held at the Melbourne Convention Centre. Registration info here, and there is also a thread about it in the forums.

Rature sent in todays timewaster link. It's Fly Guy. I kind of like it, but I'm yet to find the aim of the game.




Sunday Morning Reviews (2 Comments) (link)
Sunday, 16-November-2003 03:27:53 (GMT +10) - by Agg


Motherboards:
AOpen AK79D-400MAX nForce2 socketA on NeoSeeker.
Gigabyte GA-7VT600-1394 KT600 socketA on TweakTown.

Video Cards:
Leadtek 5950 Ultra GeForce FX card on NordicHardware.
Sapphire Atlantis Radeon 9800XT on EnvyNews.

Coolers:
Cooler Master Jet7 CPU cooler on TheTechLounge.
Asetek WaterChill KT12-L30 watercooling kit on Pimprig.
Thermalright SLK-900A CPU cooler on SLCentral.
Sunbeam Rheobus fan controller on HWHell.
Vantec Vortex HDD Cooler on ExtremeMHz.
Vantec Spectrum UV Fans on BurnOutPC.
SuperFlower SF-609 FanBus on OCWareHouse.

Memory:
Mushkin PC4000 DDR on MyWorldHardware.

PSU:
Aspire 500W Aluminium See-Through (video review) on 3DGameMan.
ThermalTake Silent Purepower 480W on ExtremeReviews.

Monitors:
Samsung Syncmaster 172X LCD on PCStats.
Samsung Syncmaster 172X LCD on DesignTechnica.
Samsung Syncmaster 172X LCD on ExtremeOC.

Cases:
CMI Cool Dog on AseLabs.
A+ GPB Enterprises CA-AP107 on PCTechZone.
iCue CS-6058ROGX Case and accessories bundle on DevHardware.

Storage:
Toshiba SD-R5112 4X DVD recorder on CDRinfo.
Hitachi Deskstar 7k250 SATA HDD on FuriousTech.
Philips DVDR 824P 8X DVD recorder on CDRinfo.
Mushkin Flashkin 256MB USB2 flash drive on ViperLair.
WD Raptor 72GB HDD on StorageReview, thanks Ambush.
Plextor 40x10x40 SCSI CDRW drive on RBMods.

Misc:
Samsung ML-2150/2151N laser printers on ByteSector.
Samsung ML-2151N laser printer on KepTech.
Bleu Jour Modding Accessories on GruntVille.
iRock 830 MP3 player on SubZeroTech.
iRock 730i MP3 player on OCIA.
Shuttle SB65G2 and SN85G4 mini-PC's on HotHardware.
iRock 830 MP3 player on Comp-Shop.
Matrix Orbital LCD on Ripnet.




Mashie's Y2k-Bug (14 Comments) (link)
Saturday, 15-November-2003 16:48:12 (GMT +10) - by Agg


Mashie's outdone himself again. Of course, if you made a PC that looked like this, you'd pretty much have to call it Y2k-Bug, wouldn't you?



Click for the PCDB entry!


It's watercooled too, naturally..



NordicHardware compared 6 video cards in about the middle of the performance range. Meanwhile, Xbit rounded up 13 socket754 motherboards, for your Athlon 64 CPU and Gruntville checked out a couple of waterblocks. Digital-Daily have a comparison of nForce2 Ultra 400 motherboards for your AthlonXP or Duron CPU.

Dan has some letters, some more letters and some glowy things.

Score have some info on an IE vulnerability that they think has been almost ignored.

NexusHardware think the 9800 Pro heatsink needs modding to cool better. Or, ripping off entirely and replacing with something huge.

PCStats have an article about memory bandwidth and latency timings.

Apparently Optus are thinking of rejoining the residential ADSL market, thanks slick.

If your ADSL went away for a day or so earlier in the week, this is probably why, thanks Dink.

ARP have updated their huge and ever-growing BIOS Optimisation Guide.

Bjorn3D have some info on NVIDIA's System Utility which lets you tweak your nForce-based motherboard from within Windows.

There's a LAN in Gladstone, Central QLD, this weekend.




Friday Morning Reviews (2 Comments) (link)
Friday, 14-November-2003 03:20:43 (GMT +10) - by Agg


Motherboards:
Albatron KX18D Pro II nForce2 socketA on FuriousTech.
Abit IS7 i865PE socket478 on HardCoreWare.

Video Cards:
Chaintech GeForce FX5600 Ultra A-FX71 on ViperLair.
Power Color Radeon 9200 SE 64MB on LanAddict.
ATI Radeon 9800 XT on Guru3D.

Storage:
Crucial 7-in-1 Card Reader on EnvyNews.
Bytecc Mobile HDD Enclosure on NinjaLane.

Cases:
Chenbro Gaming Bomb on SilentPCReview.
Aspire X-Superalien Aluminium (video review) on 3DGameMan.
Maxtop CSX-147K Signature Series on Ohls-Place.
CoolerMaster Centurion on Ohls-Place.

Cooling:
Swiftech H20-Series Water Cooling Kit on IPKonfig.
Vantec Vortex HD Cooler on GideonTech.

Memory:
OCZ PC4200 Dual Channel Performance Series DDR on SubZeroTech.
OCZ EL PC4200 Dual Channel DDR on PCStats.

Misc:
Logitech IO Pen on HardExtreme.




OCAU Merchandise! (1 Comments) (link)
Thursday, 13-November-2003 13:28:42 (GMT +10) - by Agg


Don't forget, we've got a pile of funky OCAU Merchandise now. Things to wear, things to drink out of and things to stick to other things.

Also, there's been a few people who've placed orders and then not paid or followed up at all, which is a waste of everyone's time. Only place an order if you actually want stuff, hmm? :)




Thursday Morning (6 Comments) (link)
Thursday, 13-November-2003 03:14:16 (GMT +10) - by Agg


I had a lot of fun with my Dremel on the weekend, cutting a motorcycle chain 3 times.. (don't ask). This guy is having fun making cd's explode with his.

CyberCPU have a basic BIOS flashing guide.. which will hopefully help you avoid this kind of thing.

If you want to build a supercomputer on the cheap, plan for a lot of pizzas. A big pile of dual-processor G5 Macs could be handy too.

HardOCP have a guide to building a gaming PC with an eye for overclocking.

Apparently Nokia's N-Gage has been cracked, in that games designed for it can now be played on certain other phones, thanks undef. More info here thanks Crusterminator.

This Belgian site has an article (in english) comparing four power supplies.. two from Zalman and two from a company I've not heard of before, Levicom. Meanwhile, Bit-Tech compared two PSUs from SilverStone and Thermaltake.

Kisa who brought us the bomb PC a little while ago has added another PCDB entry. This one he calls the ultimate dialup machine - because it's inside a phone! I notice THW01F has updated the entry for his amazing glowy bits PC also.

Interesting Forum Threads:
Fridges in Serial in Extreme Cooling.
Pong: yeah I'm bored in Graphics and Programming.
Court Rules Speeding Saved Life in Motoring.
The new (old) ATI beast! in Video Cards.



Systems/Laptops/PDA:
Compaq Evo N620c Laptop at Ars Technica

Mainboard:
VIA EPIA CL10000 Mini-ITX Motherboard at Tweaknews
Epox 8HDA3+ K8T800 Athlon64 at PCStats
EPoX 8RDA3+ nForceII Ultra 400 at Monkey Review
Albatron PX865PE Lite Pro at Viperlair
DFI LANParty 865PE at 3DVelocity

Memory:
HyperX 1GB DDR400 Registered Memory at Legit Reviews

Storage:
Western Digital Raptor WD740GD Preview at Storage Review
Nu Technology DBW-521 52x24x16x Burner/DVD Drive at ModSynergy
Memix 128MB USB Memory Watch at PCHardware UK
Kingwin KF-72 Black SATA Mobile Rack at Gaming3D

Video:
Crucial Radeon 9800 Pro at ClubOC
ATI TV Wonder Pro: Remote Control Edition at Byte Sector

Case/Mods:
Antec Overture HTPC Case at Accelenation
Antec PlusView 1000AMG Server Case at Legion Hardware
Thermaltake Xaser III Lanfire Case at A1-Electronics

Audio:
Parasound HALO Stereo P 3 Preamplifier and A 23 Power Amplifier at FutureLooks

Cooling:
Spire Skivestream II HSF at PCTechzone
Asetek WaterChill Cooling KIT at MadShrimps
COOLINK Cool Armor2VS at MadShrimps

Misc:
Insight Solution Mediabox at Epia Center
Vantec ION 400W VAN-400B PSU at PCStats
HP Business Inkjet 1100d Printer at DesignTechnica
Steelpad 4d Mouse Pad at ByteSector
Multi-Tech MVP130 VOIP Gateway at TechConnect




Wednesday Morning News (8 Comments) (link)
Wednesday, 12-November-2003 02:32:33 (GMT +10) - by Mred32


Make your own case! Why not. Over at Spode's Abode, Peter Barnard shows off his home made cube case.

Valley Forums have a guide to making a water pump relay switch. "To put it in more simple terms, the little switch on the back of your PSU will now control your water cooling pump as opposed to your PSU".

On Tweaktown, John Gillooly from Atomic Magazine gives his impressions on Gigabit networking and what PCI Express can do to improve the standard.

Ars Technica's Apple Technology Specialist, John Siracusa, has written one of his trademark comprehensive reviews, this time covering Apple's latest crown jewel OSX 10.3.

Windows Media Player 9, is something loved or hated by many. Dink notes that its about to get a lot more lovers/haters since Microsoft have released Windows Media Player 9 for Mac OS X. Also from Dink, it seems the Australian Department of Defence has been hacked, several times.

Got 3dmarks03? How about a Quad R300 Graphics Card and 24X Anti-aliasing. The things the American Military spend their money on. Thanks Ambush.

I think these guys need to be told about water cooling. "I just snapped. If you can hear the PC through your walls from the bedroom, you've got a problem." From mosaic.

MassiveLANS is having another LAN, this time in Altona Meadows (West Melbourne). Check out MassiveLans for all the details.




Tuesday Reviews (2 Comments) (link)
Tuesday, 11-November-2003 12:59:21 (GMT +10) - by Agg


Mouse, Keyboard Etc:
Everglide Ricochet 2.52 Mouse Surface on PCHardwareUK.
Logitech Cordless MX Duo keyboard and mouse on TechJuice.
Eumax EZ-8000 Office Keyboard on TheTechLounge.

Cooling:
Spire SkiveStream II socketA cooler on 3DXtreme.
Zalman CNPS3100+ CPU cooler on RBMods.
Swiftech MCX-478-V P4 CPU cooler on SilentPCReview.
Asetek WaterChill watercooling kit on NinjaLane.
Vantec Aeroflow CPU cooler on SubZeroTech.
Thermaltake Extreme Volcano 12 socketA cooler on TweakTown.
Thermaltake Extreme Volcano 12 socketA cooler on HWHell.

Baybus, Fanbus etc:
Vantec Nexus NXP-101 multi-function panel on ReviewNZ.
PC Toys SystemMaxx multi-function panel on BigBruin.

Cases:
Antec Overture Desktop/HTPC on GruntVille.
Aspire X-Dreamer II on ModSynergy.
Global WIN TCC-1101 micro-ATX on Ohls-Place.

Misc:
AVerMedia AVerFotoplay pics-on-TV widget on DansData.
PC-Chips EZ-Watcher EZW-3060 mini-PC on HardwareAnalysis.
Sunbeam Cold Cathode Light on IceTeks.
Tyan Transport GX28 B2880T1S 1RU Dual Opteron barebones server on HardWareZone.
BeanTech BT9023 Plus 7-in-1 card reader on 8Balls.
Gigabyte GeForce FX 5950 Ultra 256MB video card on HardAvenue.
Solarism Flex-View LM-1730 17" LCD monitor on MikhailTech.
ABIT KV7 KT600 socketA motherboard on OCrCafe.
OCZ El DDR PC-4200 Dual Channel memory (video review) on 3DGameMan.





In the warfields of Flanders, the Somme and of France
The poppies are blooming, they sway and they dance
Ten thousand Australians, all tanned and all fit
Have come to this Country, the Jerries to hit.

The guns were all thundering, sombre and dull
The infantry streaming, then so mournful a lull
Our brave boys are falling - courageous and strong
Hark! Something has happened, something is wrong!

The Light Horse are stumbling, shaken and falling
They rally their mates on, true to their calling
The battle swords clatter, the foes are retreating
The Aussies press onwards, their mission completing.

*****

So throughout our great country, with pride our hearts turn
Our unknown soldier to us doth return
In the sunshine in Aussie, this day in November
Our Soldiers - our Heroes, we'll always remember.


Lest we forget.



By Rebecca Bell




Tuesday Morning (7 Comments) (link)
Tuesday, 11-November-2003 11:11:02 (GMT +10) - by Agg


Still lots of those bank scam emails going around, I've received 4 pretending to be from Westpac in the last day or so. If you get an email asking you to "confirm your details" or enter your credit card or account numbers for any reason, don't! Give your bank a ring if you think it's genuine - and call the number in the phone book, not in the email. :)

There's some Fluorinert immersion cooling happening on a norwegian site. Hva skal man så gjøre, når oppgaven er å vise fram en ikke ledende kjølevæske? Oh well, you can see what they're up to in the pictures, thanks Hans-Christian. I think OCTools' Mission Submersible series were the first articles to bring Fluorinert immersion to everyone's attention.

The AmigaOS4 Roadshow hits Melbourne this weekend, details here, thanks Boky. There's some pics from the Canberra event here, thanks Jeff.

LiquidNinjas compare seven waterblocks in their latest roundup, while SLCentral checked out a few DVD Burners.

It seems that Socket940 and Socket754, as used by current Athlon 64 chips (our review of the Athlon 64 FX-51 chip here), will be around for longer than expected. AMD have been good about keeping SocketA alive for so long so it was disappointing to hear their earlier plans for very short lifecycles, particularly for Socket940. But now they will last throughout 2004, according to xbit.

MetkuMods have a quick mod to make a cable that glows, and lets you use an Xbox controller on your PC.

Want to make your LAN party comps a bit more organised? Lan-In-A-Box allows you to run a ladder or single elimination competition for any game. It's been updated recently and it's free.

Sudhian have been raiding Raptors. So did we, here back in June.

FlamingShrubs want to show you how to build a Storage Server on the cheap.

Hot cars and hot babes are the order of the day for TheTechZone, with their SEMA Show coverage posted. It's apparently the largest specialty automotive accessories trade show in the world. If that doesn't satisfy you, Smack01 went to the Auto Salon Final Battle in Sydney on the weekend and took lots of pics. A lot of much nicer paintjobs than my toy has!




Monday Morning (9 Comments) (link)
Monday, 10-November-2003 00:49:59 (GMT +10) - by Agg


ATI have released Catalyst 3.9 drivers for their video cards. TweakTown have a guide to installing them, while AllHardwareZone have a comparison with the 3.8 drivers.

Microsoft's next-generation Xbox (due 2005-2006) is slowly taking shape, with IBM for CPUs and SIS for chipsets.

Interesting page here which helps you visualise very large numbers by using pennies.

TweakTown have an article about ATI's Radeon 9800 XT and how it performs in a few modern games. Meanwhile, FiringSquad have a 2D display quality comparison between ATI and NVIDIA cards. Using a digital SLR with a 100mm macro lens, we are able to document the performance improvement that arises from plugging a monitor into a standard surge protector versus a Monster Power line conditioner.

ValleyForums have a laptop painting guide. Hmm, can't see myself doing that to my VAIO anytime soon.

Murray spotted this digital beauty contest. Designers will program their contestants to parade along a virtual catwalk, and there will be a virtual presenter and virtual guests who will help create the atmosphere of a beauty contest.

If you're confused about Serial ATA, ARP hope to straighten things out for you. If DVD Media has you scratching your head, try the guide on DesignTechnica.

I'm pretty sure we linked to this when it was first published, but it's an interesting (and lengthy) read about Melbourne's first hackers, thanks Squidgy_Poodle.

Tweakup have a nice little project to watercool an ABIT mini-PC. The article is in Danish, but you can work it out from the pictures.

Soon you could be sticking your finger in your ear and shouting at your watch when you use the phone. Or maybe you do already, but now it'll actually be useful.. thanks Zzapped.

Sniper noticed this tiny motorcycle, the smallest on record.

If you find yourself needing to run more than one version of IE on a PC at the same time, Chris sent in this page which may help.

Ambush sends word of new SB Audigy drivers for Win2k/XP.

There's a LAN in Liverpool, Sydney, on the 24th Jan, details here. There's also one in Brissie on the 13th of December, info here.



AMD motherboards:
KT600 motherboard roundup on The Tech Report.

Intel motherboards:
DFI 865PE Infinity i865PE motherboard on Hothardware.

VIA motherboards:
VIA M10000 mini-ITX motherboard on LAN Addict.

Processors:
Intel P4 3.2GHz Extreme Edition on PCStats.

Memory:
Mushkin EMS DDR-500 1GB PC4000 dual channel kit on OCTools.

Graphics:
GeForce FX5700 Ultra on Amdmb.
Hercules 3D Prophet All-In-Wonder 9800SE on Hexus.
ATI Radeon 9600XT vs nVidia GeForce FX5700 Ultra on X-bit labs.

Audio:
Philips Aurilium external digital sound processor on HardwareHell.
iRock 830 MP3 player on HardExtreme.
M-Audio Revolution 7.1 Envy24HT-based soundcard on SubZeroTech.

Storage:
Crucial 256MB 'Gizmo' USB flash drive on PCStats.
7,200rpm/250GB HDD roundup on X-bit labs.

Networking:
X-Micro wireless broadband router on PC Guide.
X-Micro wireless LAN gear on TweakTown.

Monitors:
Hercules ProphetView 920 PRO LCD monitor on Hexus.
Samsung Tantus LTM405W 40" LCD TV/monitor on Tweaknews.

Cooling:
Thermalright SLK800U HSF on ModCity.
Plexiglass reservoir with LEDs and submersible pump on hard-h2o.

Cases, Power Supplies and Accessories:
CMI BMW Case and PSU on Monster-Hardware.
CoolMax Chameleon LED fan on Ohls-Place.
Bubble Lights kit on ModCity.
CoolerMaster Wavemaster case, Aerogate II and Musketeer on myWORLD Hardware.
SilenX 400 watt quiet PSU video review on 3DGameMan.
SilenX 400 watt quiet PSU on Dev Hardware.
Thermaltake VM2000A Xaser Lanfire Series case on Modsynergy.
Vantec Nexus NXP-305 3.5" rheobus kit on GruntvillE.
Xpcases X-dreamer 2 case on Rbmods.
Aspire 500W Dual Fan aluminum PSU on Envy News.

Other Stuff:
ASUS MyPal A620 PDA on FiringSquad.
Auravision Black Sapphire Illumination Mouse on Ohls-Place.
Mustek DV3000 digital camera on Dan's Data.
Hauppauge WinTV-USB external TV tuner on Ohls-Place.
Icemat black mousepad on RipNet-UK.
Logitech cordless optical mouse for notebooks on BigBruin.
Logitech io personal digital pen on BigBruin.
Logitech MX Duo cordless keyboard/mouse on ASE Labs.
Hush Mini-ITX PC on silent pc review.
Steelpad 4S and 4D mousepads on ExtremeMHz.
Panasonic BQ3904K Ni-MH battery charger bundle on Modsynergy.
Samsung DVD-HD931 standalone DVD player on Hardware Extreme.
Speed Strip SSA-1 Athlon unlocking strip on neoseeker.



Wow, big weekend. Quick tip : if a bunch of Englishmen ask you if you want to go to a pub and watch rugby, say NO!

Tweakers Australia have had a look at a "premium lapping kit" for flattening the base of your HSF. If you feel like a trip down memory lane, you can also read through Agg's historic CPU slug lapping guide from way back when.

Dan has been busy answering letters again, now into his 71st instalment. "This time, I ramble about USB cable lengthening, DirectSound quality issues, ferocious magnets, low power hard drives, bathtub electrocution, another magic car-enhancing device, and how clever I am."

A few people sent in news that even Microsoft can slip up and forget to renew a domain registration.

While we're talking Microsoft, there's a critical update for Office2003 (Word 2003 more specifically) hot on the heels of its release. Thanks Dink.

If you've ever copped an excess usage charge for your internet connection, you'll relate to this .... $20,000 in excess charges over three months isn't mucking about! In this case, though, it all seems to have been a misunderstanding. "Telstra said yesterday it decided to drop the bill because the woman, Samara Eisenhuth, may have been the victim of "inadvertent" file-sharing". Thanks Murray.

I'm not sure in which parallel universe PC peripheral manufacturer Belkin thought a spamming router would be a good idea. "The router would grab a random HTTP connection every eight hours and redirect it to Belkin's (push) advertised web page." I'd be tempted to redirect an axe towards my router if it did that. Thanks James.

Sick of bland, two dimensional graphics? How does a 3D monitor sound? Hmmm, I can think of a few umm, handy uses for that. Read more here.

More news coming!




Friday Morning Reviews (8 Comments) (link)
Friday, 7-November-2003 10:50:39 (GMT +10) - by Agg


Cases:
Kingwin KT-424-BK-WM on G3D.
CMI BMW-style Case Combo on TechIMO.
Dynapower USA Spiden on PCTechZone.
Fong Kai FK-330 on OCCafe.
Aspire X-Alien on RBmods.
Enermax CS-30881TA on Bit-Tech.
Lian Li PC-0716 on OCPrices.

Cooling:
Swiftech H20-8501 watercooling kit on XtremeSystems.
Coolermaster Musketeer fan controller on Guru3D.
Danger Den RBX Waterblock on TheModFathers.
OCZ Gladiator 3 CPU cooler on Gruntville.
Zalman CNPS7000A-AlCu CPU cooler on XtremeTek.
Scythe Kamakaze CPU cooler (video review) on 3DGameMan.
Thermalright SLK800U CPU cooler on ModCity.
Sunbeam Rheobus fan controller on Hexplague.
Thermaltake X-Blower CPU cooler and bay controller on NeoSeeker.
Swiftech MCX462-V AMD CPU cooler on NeoSeeker.

Storage:
Samsung SpinPoint SP1614N/SP1614C 7200rpm HDD on HWZ.
Gigabyte M1600A Multimedia DVD-ROM drive and audio console on PCStats.
128MB W@lk Key USB 2.0 Flash Drive on Bjorn3D.
Highpoint e.SATA Kit v2.0 external SATA on TweakTown.
Pioneer DVR-SK12D slimline external DVD burner on DesignTechnica.

Display:
Samsung SyncMaster 213T 21-inch LCD on EnvyNews.
Samsung 172MP LCD screen on NeoSeeker.
Samsung SyncMaster 957/757 MB CRT monitor on ByteSector.



A quick pointer to the PCDB brought this creation, by kisa, to my attention. This is the first munitions PC mod I've seen and the results are impressive. I wonder if the explosive was removed first? There's more details in the PCDB so click the pic.



Click for the PCDB entry!





When the MSBlast virus and SOBIG worm were let loose a couple of months ago, they caused all kinds of headaches for many business and home users alike. In a surprise move, Microsoft is offering a bounty on those responsible for the creation and release of the virus. US$250,000 in each case for information which leads to the arrest of the culprits. Read more here and here. Thanks to all those who sent in the links.

While we're on the topic, update your virus definitions today, as there are a few more new nasties on the way in the form of 5 new worms.

Internet dumping, or dial-up hijacking is on the rise. Unsuspecting people are being tricked (or simply not informed) into installing software which disconnects their modem from the internet then redials using an international number at a cost of up to $160 per hour. Very sad when you receive the $5000 phone bill. From Oh-Smeg.

Futurelooks have had a talk to Tim Stamper of Rare, and the man behind "Donkey Kong Country" about his insights on the gaming industry and Nintendo in particular.

A few pieces from Dink: DRM (Digital Rights Management) is set to hit free-to-air TV. Sony plans Playstation Portable (PSP) handheld gaming console. And just how does Coca-Cola's new GPS promotion work.

CyberCPU.net take a look at the recording industry and ask a few questions, like "O.....Kay. So I am not allowed to listen to it?" Read the full article. It's worth it.

Some news pieces from the Linux arena: An interesting write-up on Addaboy: "Let's face it. Linux on the desktop is not working. I'm not saying it isn't working for you, the power user who has sworn off Windows no matter what. I'm talking about everyone else, the 95% of people that studies from various source have shown use Windows as their desktop OS". Full article here. Long time industry stalwart Novell has agreed to purchase SUSE Linux AG, and as a mark of "industry friendship" IBM has purchased 5% of Novell. Red Hat have decided to wind up their free Linux products. Thanks for the links guys.

HardAvenue have a roundup of mousepads. I can just see them chasing those things around a paddock.

For those who haven't already found out, there are some new nForce Drivers out. Version 3.13 drivers have been installed by many now and the reports are varied, with some saying they are happy with them and others not so.

Some weekly words of wisdom at Ripnet.

Those new G5 Macs must be pretty good. Even Microsoft is buying them. lol, Thanks Richie.




VapoChill Facelift (10 Comments) (link)
Thursday, 6-November-2003 00:11:52 (GMT +10) - by Agg


Sabien sent in an article about his latest project. Tired of the look of his VapoChill classic, he set about moving it over to a Lian Li case.. and threw in some watercooling while he was at it. Lots of pics and info: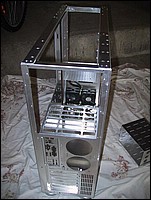 Click for the article!






Wednesday Afternoon News (6 Comments) (link)
Wednesday, 5-November-2003 16:15:34 (GMT +10) - by Gibbon


Not sure if we've mentioned this before, but an Israeli company is developing an optical processor, capable of 8 trillion operations per second. Is this the future of processor technology? Thanks KryZak.

RivaTuner 2.0 RC14.1 (for ATI and nVidia cards) has been released, allowing you to tweak those otherwise unavailable driver options for your card. You can get it from Guru3D. While we're talking drivers, version 3.13 of nVidia's nForce driver package has also been released. You can grab it from nVidia here. Thanks to those who sent that in.

PimpRig have published a guide to working with acrylic, for all those case modders out there who like a transparent outlook on life.

Forums member PersianImmortal has written a tweaking guide for Halo .... and it looks pretty good. Some handy tips there.

Anyone noticed any Telstra staff rummaging around at their local rubbish tip lately? Seems they've lost something. "Email back-up tapes from five government departments and agencies recording correspondence classified as protected were lost in the incident involving IT contractor, Telstra Enterprise Services." Thanks barywhite.

3DAvenue are giving away lots of Judge Dredd stuff in a fairly simple competition.

Dan's letters column is now up to edition 70! "Letters Three Score and Ten has hit the Web. This time, I gabble as usual about SFF PSUs, wireless video, backup bargains, USB and Y/C connections, digital TV glitches, walls full of Cat5, laserdisc versus DVD (again), and more. Including one poor soul so deluded that he's actually asking _me_ for career advice."

Arstechnica's Apple arm, Mac.Ars takes on Apple's quality control in an editorial. There's nothing worse than dodgy fruit.

More than 34 years after the Parkes Radio Telescope helped broadcast pictures of the first moonwalk, NASA are using the dish again. "US ambassador Tom Schieffer yesterday visited the western NSW town to launch the radio telescope's new role in tracking a fleet of probes exploring Mars and the outer limits of the solar system."

Hot on the heels of rumours that Google might become a publicly listed company, it seems that Microsoft might be interested in inhaling it. Also, 5.1 surround from 1.1 speakers? Interesting. Thanks pelliott.

Interesting thread in our forums at the moment detailing how to go about implanting some UV goodness into your PC. I'm not a huge fan of flashing and/or glowing PC bits myself, but there are a few interesting ideas there. Might even get a half decent tan out of it! Thanks Tom.

Finally for today, in a case of reality TV going from stupid to really, really stupid, it seems there's Something about Miriam that I'm pretty sure I'd rather not know. How much longer must the world endure this crappy form of "entertainment". Thanks Sue (I think!).




Archive Updated (0 Comments) (link)
Wednesday, 5-November-2003 00:36:44 (GMT +10) - by Agg


I've updated the Reviews and Articles Archive. Check these out if you missed them the first time around.

X-Micro Bluetooth Headset review.
Asetek Waterchill watercooling kit review.
Lian Li C-01 Faceplate Cover review.
Speaker Cut-Off Headphone Socket Mod article.

We also had a new Sandra version and some new OCAU Merchandise available over the last few weeks.




Stolen BenQ drives on the scene.. (18 Comments) (link)
Tuesday, 4-November-2003 19:57:38 (GMT +10) - by Agg


Got this from Coney, passed on from BenQ:

To all BenQ valued customers,

There was a full container of DW400A DVD+RW's hijacked in Malaysia a few weeks ago. Unfortunately we have started to see some of these goods here in Australia, offered at cheap pricing.

Please be advised, we have the serial numbers for all of these goods and they will not be covered by warranty, we will be notifying the authorities of anyone we find selling these goods here in Australia.

Please pass this email on to all your customers so they are aware that we are treating this matter seriously.




Tuesday Reviews (0 Comments) (link)
Tuesday, 4-November-2003 19:54:11 (GMT +10) - by Agg


Cooling:
Coolermaster Musketeer fan controller on SpodesAbode.
Asetek WaterChill watercooling kit on 3DVelocity, our review here.
OCZ Annihilator watercooling kit (video review) on 3DGameMan.
TS Heatronics NCU-1000 P4 CPU cooler on FrostyTech.
Vantec Nexus NXP-301 fan & light controller on TheTechLounge.
Vantec Nexus NXP-301 fan & light controller on JSIHW.
Micro-Cool NorthPole NB and MOSFET Cooling Kit on Gruntville.
Arctic Cooling VGA Silencer on SilentPCReview.
Scythe Kamakaze CPU cooler on BurnOutPC.

Mice Etc:
Steelpad 4D mousepad on Aselabs.
Icemat mousepad on ExtremeOC.
Steelpad 4D and Icemat mousepads on ModSynergy.

Case:
Raidmax Scorpio 868 on Ohls-Place.
Chili Pro Aluminium on ModSynergy.

Storage:
Plextor PX-504UF External DVD+R/RW CD-R/W drive on TweakNews.
Pioneer DVR-S606 USB/firewire DVD writer on DesignTechnica.

Memory:
OCZ EL DDR PC-4200 Dual Channel kit on LegitReviews.
Mushkin High Performance Black PC4000 DDR on Viperlair.

Power Supply:
GlobalWIN SAF520-Sapphire 520W on MadShrimps.
Allied AL-B500E 500W on VoidedWarranty.

Audio:
M-Audio Sonica Theatre portable USB 7.1 soundcard on HardExtreme.
Creative Inspire GD580 speakers on HardwareFusion.

Misc:
Snapstream Personal Video Station 3.3 on TechReport.
OX Hipspot Digital Camera on Ohls-Place.
Biostar iDEQ 200T Springdale mini-PC on Bjorn3D.
JustCom JC-M104U 4-Port USB KVM Switch on PCStats.
Antec Internal Blue LED Light Tube on FutureLooks.

Interesting Forum Threads:
My new yoyo clip vid in The Pub.
Alien head case mod in Modding & Electronics.
First Linux-Based High-End Editing System in Other Operating Systems.
The invincible watercooling case in Modding & Electronics.
Volari reviews are out in Video Cards.



If you're an OCAUer with a motorcycle, or want to get into riding, consider joining the OCAU Motorcycle Club. It's run separately to OCAU and even has its own forums. There seem to be a lot of beginning riders in there, so it might be a good way for you to get up to speed with things if you're starting out on bikes.




DGROMS.com and Folding (5 Comments) (link)
Tuesday, 4-November-2003 11:22:23 (GMT +10) - by Agg


Just a quick note of thanks to DGROMS.com, currently the #1 individual Folder in the world. He's been a heavy hitter on our team for a very long time now but unfortunately has had to withdraw and return his level of production back to that of a normal human. :) I have awarded him the custom forum title "Folding Legend" in recognition of his achievements, which I'm sure will be remembered by Folders and spoken of around the campfire for a long time to come.

We're still the #1 Team in the world, of course, but without DGROMS.com's production, maintaining that position will require a little extra effort from the rest of us. If you'd like to help keep the underdog at the front of the pack, fight diseases such as cancer and join one of the strongest communities on the net, get Folding! For more info, see our Team OCAU forum or Folding page.




Whirlpool's Broadband Survey (4 Comments) (link)
Tuesday, 4-November-2003 11:21:19 (GMT +10) - by Agg


Broadband info site Whirlpool are running a survey about Australian broadband internet. It's designed to give the ordinary consumer a voice about how they feel about their broadband provider and the state of broadband in Australia generally.

Check it out here.



Systems/Laptops/PDA:
Shuttle SB65G2 with ClearView Cover at TweakTown

Mainboard:
Abit IC7-MAX3 Motherboard at Envynews. Our review of this board here
Gigabyte 8IPE1000 Pro 2 GT2004 at TweakTown

Memory:
Corsair XMS PC3700 TWINX 512MB at WinHQ
Corsair CMX256-3200C2 DDR at AllHardware
Corsair Twinx1024x-3700 at R&BMods

Storage:
INcoder Slim D1 Combo Drive at TechConnect

Case/Mods:
Antec Lanboy at CyberCPU
Ahanix Blu III Case at Pimprig

Audio:
OmniVox Sound Device at PCReview
Acoustic Energy Aego 2 Speakers at HardwareZoom
Altec Lansing 5.1 5100 Speaker at World Overclockers

Cooling:
TT Hardcano 8 VR at Gideontech
CoolJag JVC662A Heatsink at Extreme Reviews
CoolJag CJC665C Heatsink at Extreme Reviews
Alpha 8045 Heatsink at Hard-H2o



d_player33 noticed this article about case modding, in the Financial Review. There must be money in modding!

Researchers from the University of Washington have successfully used virtual reality to reduce fear from spiders according to this item on Science Daily. Some more info about it here. I had to have a giggle at the picture with the virtual hand grabbing the huge spider. Thanks Roland.

New laws set to come into effect in the EU will make spam "Opt-In" only. How they plan to enforce this I don't know. Read more about it here. Thanks Mats.

Madshrimps want to show you how to get the most out of your AMD setup with BIOS tips, overclocking hints and other stuff.

VR-Zone has done up some voltage mods guides to enhance overclocking on the following boards ; EPoX 8HDA+, Shuttle AN50R, MSI K8T-Neo and the Albatron K8X800ProII. Find them here. Thanks to Terrance.

Ownt.com have a behind the scenes look at the process that goes into creating gaming action figures. They talk with Radioactive Clown's RC to find out just how much work goes into creating these action figures.

Still on the game topic, Futurelooks.com check out HALO for PC.

PCStats have a guide to Legally Copying Software and Music. It's based on American law so don't get overly excited as backups for archival purposes are still illegal in this country unless the EULA specifically states otherwise. It does have some good info though.

Palladium, Microsoft's security and authentication architecture, has taken a step forward with the first release of the Palladium SDK. It won't be long until someone else has more rights to your computer than you do. At the same time, Microsoft plan to release software for a range of MP3 Devices. Thanks wild.

Comit notes that there is a new beta version of ICQ Pro available for download. If you're an ICQ user, grab it quick before they run out.

Time for another dose of the weird and wacky with ZZZ #180.

It almost that time of year when the fat red-dressed man will be looking for big chimneys and eating cookies again. Time to get in on the OCAU Secret Santa. Last years secret-santa was lots of fun, so get in early.

And from Andrew, just the thing for those thinking of getting into the milk delivery business. A quick milko round with this.

The flash timewaster for the day is from MWP. The Megaman 7 characters singing Bohemian Rhapsody by Queen. Clever.



Intel Motherboards:
Abit IC7 MAX3 i875P motherboard on Overclockers NZ.
Abit IC7-G i875P motherboard on ExtremeMHz.

AMD motherboards:
Albatron K8X800 Pro II VIA K8T800 on Legion Hardware.
Albatron KM18G Pro nForce2 IGP micro-ATX motherboard on Dev Hardware.

Memory:
Corsair TwinX PC4000 dual channel DDR on Techseekers.

Graphics:
ASUS Radeon 9800XT/TVD on Hexus.
GigaCube Radeon 9600 PRO Game Buster on HardwareZone.
Nvidia GeForce FX5700 Ultra on Neoseeker.
Powercolor Radeon 9800XT on OverclockersClub.

Sound:
Klipsch GMX D-5.1 speakers on The Tech Zone.

Storage:
Three USB2 1GB flash drives on X-bit labs.
Bytecc Aluminum 3.5" USB2 HDD external enclosure on 3dXtreme.

Cooling:
Asetek New Generation WaterChill watercooling kit on MonkeyReview.

Titan/Data Cooler AMD HSF roundup on 3dXtreme.
Swiftech 8501 series watercooling kit on ClubOverclocker.
Thermalright SLK-900U HSF on 8BallsHardware.
Thermaltake Volcano 11 HSF on Furioustech.

Cases/Accessories:
Casetronics 2699R Mini-ITX case on Virtual-Hideout.
Cooler Master Centurion case on Viper Lair.
Multi-Function 3.5" fan controller on GruntvillE.

Other Stuff:
Three USB2 controllers on X-bit labs.
Slicksteel mousepad on Dan's Data.
Steelpad 4s and 4D mousepads on Ohls-Place.
Eumax EZ-8000 Smart Office keyboard on Envy News.




Saturday Middayish (6 Comments) (link)
Saturday, 1-November-2003 12:48:56 (GMT +10) - by Agg


SCO continue their campaign to make everyone admire and respect them, by declaring that the GPL is illegal.

Boky spotted an interesting story about the recent solar storm phenomenon. Very cool picture of the Sun, too. Apparently there was another big CME a few days after the one everyone was talking about, which didn't affect much in the southern hemisphere either.

FlingingSquids reckon that Diamond Multimedia will be back in the video card game again soon, after a long absence. Back in the VLB days their Viper product was pretty much the card to have, and their AGP TNT2U Viper V770U was a popular choice too. It'll be interesting to see what they can do with modern chipsets.

New high-end P4's will have a slightly different CPU package from now on, according to DVHardware.

Xbit have a 3-way roundup of 15k-rpm SCSI hard drives.

NordicHardware reckon the graphics card industry is confusing at the moment, and want to straighten things out.

SilentPC have a noise primer for people wanting to make a quiet PC, as well as details on a quiet PC project from one of their readers.

More letters to/from Dan.

PCStats looked at an ultimate gaming PC from a Canadian vendor. Intel motherboard, hmm.

Sick of getting Nigerian Scam emails in your mailbox? You might get a few less from now on (but I doubt it), because a Sydney man has been arrested and charged with scamming people, thanks Robin. More info here, thanks Kernal32. OneArmedMan spotted this page, with some strong language, that targets these scammers in a different way entirely.

Interesting Forum Threads:
So you think your CPU is stable? Let's test... in AMD Hardware.
Extreme fannage mounting problems in Extreme Cooling.
Eeek, a mouse (820k of pics) in Modding & Electronics.
Your method of steering? in Motoring.
ATTN Sydney Motorists: 50km/h limits now in force in Motoring.



---
Advertisement:


All original content copyright James Rolfe.
All rights reserved. No reproduction allowed without written permission.
Interested in advertising on OCAU? Contact us for info.