December 2003

Evening everyone, Hope you all had a nice day, those of you in Victoria no doubt know how hot it was, I'm just glad I have Air Conditioning. :)

PCStats have a Beginners Guide to Preventing Data Theft from a Stolen Laptop. Quite an Interesting read even for those who don't own laptops.

The Inquirer have an article on how "The IT industry is shifting away from Microsoft". Quite a large and interesting read! Thanks FuXToR.

For those looking at getting a Handheld, Here is a quick rundown of 3 PDA's on the market.

Dan has a bunch of new letters up, Here and Here.

Guru3D have a New Years Edition of RivaTuner up, taking the version number up to 2.0 RC 14.3.

Accelenation have a preview of the SIS760 Athlon 64 Chipset up on their site.

The people over at Frosty Tech have a review of the Scythe Kamakaze AthlonXP / Pentium 4 Heatsink up.

SubZeroTech have a review of the OCZ Platinum 3500 Limited Edition Memory over at their site.

For those looking at getting a new mousepad, ClubOC have a review of the Vantec Spectrum Mousepad.

TrustedReviews has a review of the Logitech Z3 Speakers up on their site!

A1-Electronics have a review of SuSE Linux Professional version 9.0.

OverclockersClub have a look at the Extra Midtower Aluminum Case.

And last but not least, Dev Hardware have a review up of the ClearView Acrylic Case.



Video:
Albatron GeForceFX 5950 Ultra at Legion Hardware.
ViewSonic Nextvision N6 at The Tech Lounge.
12 Monitor Shootout at X-bit labs.

Motherboards:
DFI LanParty NFII Ultra B at Hardwarezoom.
Abit IC7-MAX3 Reviewed at PC Guide.
VIA K8T800 Motherboard Shootout at Tweaktown.

Storage:
The Plextor PX-708A 8x DVD±R/RW Drive reviewed at Hot Hardware.

CPU:
AMD Athlon 64 3000+ CPU at X-bit Labs.

Mods:
Lamps Electronics Roundup at Creative Mods.

Mouse etc:
Quality-Mat Mousepad reviewed at Monster-Hardware.
Steel Gaming Glove reviewed at ClubOC.
Xoxide Optical Fan Mouse over at ExtremeMhz.

Memory:
OCZ EL DDR PC-3700 Gold Edition Dual Channel Rev.2 reviewed at MADSHRIMPS.
Crucial 256MB CompactFlash reviewed at VIPERLAIR.

Cooling:
Vantec Spectrum Card Cooler over at ClubOC.
Thermalright SLK-900A Copper Heatsink reviewed at Frosty Tech.
4-way Heatsink Shootout at SilentPCReview.
Cool Mall Socket-A Heatsink at ClubOC.
Spire Skive Stream II Heatsink at Overclockers Club.

Cases:
SilverStone B032FW Enclosure at TweakTown.




Sunday Afternoon (7 Comments) (link)
Sunday, 28-December-2003 13:00:59 (GMT +10) - by Agg


Not a whole lot going on out there at the moment, everyone seems to be relaxing.. and so they should be.

VooDoo sent word of the Cruise for a Cure, where you can have a nice drive and raise money for the Leukaemia Foundation. More info in this forum thread.

ARP have an article about cooling your MOSFETs, those small hot black things in the power regulation circuitry on your motherboard. We had an article some time ago titled Pavarotti, Choir Boys and Balloons which explained some aspects of power regulation.

In today's timewaster you can make a rock band, thanks AzzKikr.

FuXToR sent in this editorial about the business of locking processors.

OCInside.de have a page that lets you see if a given heatsink/fan will fit a given socketA motherboard. It's an interesting idea, but the selection of motherboards is limited and it doesn't seem to tell you if it's going to fit or not, you just wave one picture over another picture to see if anything obviously clashes. Hmm.

The ArsMasters have an article about the scheduler in the 2.6 linux kernel. While you're playing with the new kernel on your linux box, pay some thought to securing it, too.

SilentPCReview have a heatsink roundup covering a few models for socketA and P4.

Lots of those bank scam, ebay scam, trojan-packin' virus and spammer emails doing the rounds at the moment. Be suspicious of any attachments and don't give away any personal or financial details, even if it looks like the email comes from your bank or ebay or paypal. And, to any spammers who are listening, I'm really not interested in seeing your Paris Hilton video. :)

Interesting Forum Threads:
Your favourite movies from 2003? in TV, Movies and Music.
OCAU Merchandise: spotted any fellow forum goers lately? in The Pub.
What telescopes?? in Other Toys.
Australia's bowling performance at the MCG in Sport, Fitness and Health.
Pics of inside of 4M Pixel camera in Photography.
Review of the Concord EyeQ 2040 Camera ($99) in Photography.
Mitsubishi Pajero and 3000GT (engine mods/swaps) in Motoring.



Storage:
Kingwin SATA Mobile Hard Drive Rack reviewed at ClubOC.
MSI DVD-R / CD-R/W Combo Drive over at ClubOC.
Pioneer DVR-106D "Mini-Review" at Elite Geek.

Video:
ASUS Radeon 9600XT 128MB at Hexus.

Audio:
Eumax 5-in-1 MP3 Player on Hard Extreme.
Eurotrack UB1002 Mixer reviewed at SLCentral.
Three Sennheiser Headsets reviewed on NordicHardware.

Motherboard:
FIC K8-800T at SLCentral.

Mods:
Modz CCFL, Case Fan, and Round Cable Triple Review at ModSynergy.
A.C. Ryan Twin CCFL UV & Connectx Molex Plugs Double Review at Crazymodders.
Vantec Nexus Fan Controller reviewed over at Creative Mods.
SilenX Thermistor Fan on GruntVille.

Notebooks:
Dell Inspiron 8600 reviewed at TrustedReviews.

Cooling:
OCZ Gladiator 3 and Thermaltake Volcano 12 reviewed at SLCentral.
Swiftech MCX 462-V at Red & Blackness.



Morning everyone, I hope everyone had a nice christmas yesterday. Not so much news happening tonight so we'll do a few news articles and then throw in some reviews for good measure!

Here's a free game from Rockstar Games called Wild Metal. Should keep people amused during those times when boredom sets in over the holidays. Thanks Yorky.

Want someone to mow the lawns, walk the dog and do the laundry? Introducing The NS-5. Maybe I should have asked for one of these for Christmas. Thanks Blinky!

Here is a short article that gives a good insight into industry take up of flat-panel displays over CRT. Thanks FuXToR.

News.com.au have a rather amusing story on a thief in Darwin breaking into a business and leaving an interesting calling card. Thanks for that, browca04.

Graham spotted this news article over at The Inquirer announcing that Intel has confirmed the existance of a X86-64 based Yamhill chip.

Overclockers New Zealand have a 4-way graphics card shootout which include the Gigacube R9800Pro 256MB, PowerColor R9800XT 256MB, Yuan R9800Pro and the Gigacube R9800XT 256MB.

Reviews

Motherboard:
Albatron KX18D Pro II nForce2 based motherboard reviewed at Bjorn3d.
Shuttle's FB54 motherboard on The Tech Report.
ABIT KV8-MAX3 socket-754 motherboard at MBReview.

Cooling:
Spire QuieTude IV heatsink at DarkVision Hardware.

Memory:
Corsair TWINX1024-3700 Memory at Viperlair.

Video:
Power-Color Radeon 9200SE at OCModShop.
Prolink PixelView GeForce FX 5700 on Guru3D.

Mouse etc:
Flexiglow FX-Gamepad reviewed at SubZeroTech.
Microsoft Wireless Intellimouse Explorer v2 at Bit-Tech.
X-trac Ripper, Micro and Hammer mousepads reviewed at Red & Blackness.

Misc:
Biostar i-DEQ 200P over at TrustedReviews.
Nero Recode 2 reviewed at CD Freaks.



Merry Christmas from everyone at Overclockers Australia! May your anti-static stocking be filled with many bright and flashing things in the morning. :)




(Bah, humbug! - Sciby)



Audio:
Xitel INport Stereo-to-USB Recording Device over at Digital Silence.
Logitech Z-2200 at Hardware Pacers.

Video:
Crucial Radeon 9600 Pro at DesignTechnica.
ATI Radeon 9800XT over at NeoSeeker.

Cases, Modding and Cooling:
Part One, Part Two, Part Three and Part Four of the Orac³ Project from BiT-Tech.
Spire SoundPad on DarkVision Hardware.
Beantech BT-85 Crystal Clear Acrylic Case over at OcPrices Hardware.
Shuttle SB61G2R 20th Anniversary Special Edition XPC System reviewed at Hexus.
Spire QuieTude IV heatsink on DarkVision Hardware.

Storage:
64MB Transcend JetFlash Portable Data Storage on eXtremeReviews.
Eumax Multifunction Transfer Panel on eXtremeReviews.
Lite-On LDW 401S DVD+RW and LDW 411S DVD+RW on SLCentral.
Promise FastTRAK S150 TX4 Controller over on X-bit labs.
Belkin 8in1 USB2 media reader on Red & Blackness Mods.

Keyboard & Mice:
Ideazon Zboard Interchangeable Keyboard System over on HotHardware.
Logitech Cordless MX Duo on TheTechLounge.




Wednesday Morning (3 Comments) (link)
Wednesday, 24-December-2003 03:33:10 (GMT +10) - by Agg


I hate Sony. Well, not all of Sony. Just the guy who decided to make F4 the volume control key on my laptop. Half the time when I go to adjust my volume, instead of hitting Fn-F4 I hit Alt-F4 and close a heap of windows. Grr.

Microsoft are taking serious steps to stop spammers.. more info on their site here. This is great news. On a similar note, Wired have an article about the American CAN-SPAM legislation which comes into effect on Jan 1.

There's a lot of Mars probes reaching the red planet over the next month or so. Hopefully they'll be more successful than other recent attempts.

Sudhian have some questions and answers about various IT topics.

LostCircuits have an article continuing their hard drive technology series.

There's a nice beefy dual 3GHz Xeon box from cvidler in the PCDB.

LegitReviews took a tour of the Corsair factory. I've been using Corsair memory for years and it continues to impress.

FuXToR notes that "DVD Jon", who wrote and released the DeCSS program to decrypt DVD's, has had his acquittal upheld, keeping him a free man.

HardOCP have an article about AMD's A64 3000+.. what they think it means about where AMD is going.

Guru3D have a Christmas PC buyer's guide posted.. my guide would be to buy it about a week ago if you wanted it for xmas!

NordicHardware compared four SFF mini-PC's from Soltek, Shuttle and ABIT.

FREF spotted an interesting article on xbit, about how a high-end GPU can out-perform a high-end CPU several times over.

Things might get a little slow on the newspage over the next few days, as people are doing xmas stuff. Hope you all have a good one!




Wednesday Early Morning Combo (5 Comments) (link)
Wednesday, 24-December-2003 01:26:17 (GMT +10) - by Firemoth


To start off, I'd like to wish biatch (a regular on the forums) a happy 20th birthday from both sabretooth and myself. I would also like to mention my goal for this post is to keep the exclamation marks to a minimum.

First up we've got a review of some A.C.Ryan made mods over at Madshrimps.

Here we've got some Coloured and UV Reactive Molex Plugs reviewed by The Modfathers.

Big Bruin have done a review of the Nimble V5 Digital Media Mini PC.

eXtreme Reviews have two reviews up on their site, one of which is the Eumax B605-02 Heatsink, the other the iRiver SlimX-550 portable cd player with mp3 support.

Modsynergy have reviewed the Neuros 128MB MP3 Player. Tech-Mods have also reviewed the same mp3 player.

According to this article over at Yahoo! News, "New York state has been quietly selling surplus items for more than a year through the highly successful online auction house eBay, officials said Tuesday.

Madshrimps have a 4-way Intel Heatsink roundup which include the Scythe Kamakaze, Swiftech MCX478-V, Speeze EE429B0 CopperSnake™ and Thermalright SLK947-U.

ipKonfig.com have a gift giveaway over at their site, all you have to do is select the prize you want to win and give your full name, address, and phone number. How easy is that? More details here.

Envy News have a review of Two 250GB Hitachi 7K250 Serial ATA drives in RAID-0.

Here's a review of the Gigabyte K8NNXP from the guys over at Legion Hardware.

TrustedReviews have a review of the Centrino based notebook from IBM, The IBM ThinkPad T41 TC12FUK.

And the last review we've got is from VR-Zone, It's a review of both the AOpen XC Cube & Soldam Pandora Claire Mini PC's.

This thread contains a warning when jump starting cars, interesting stuff.

That's the end of this Combo, I do believe I made it through this post without one exclamation mark, Amazing! ;)




Tuesday Reviews (0 Comments) (link)
Tuesday, 23-December-2003 21:08:25 (GMT +10) - by Agg


Motherboards:
Chaintech 7NIF2 mini-ATX nForce2 socketA on GruntVille.
Gigabyte GA-K8NNXP nForce3 150 A64 on A1-Electronics.
Soyo KT600 Dragon Ultra Platinum socketA on TweakTown.
Soyo SY-P4i875P Dragon 2 Platinum Edition P4 on ExtremeMHz.
Asus P4S800D-E SiS655TX P4 on HotHardware.
DFI Infinity i875 P4 on Metku.

Cooling:
Spire Whisper Rock IV CPU cooler on CreativeMods.
Thermaltake Aquarius III watercooling kit on OCrCafe.
Tocools Novasonic-AlCu socketA CPU cooler on FrostyTech.
Thermalright SLK-800U CPU cooler on LANAddict.
CoolerMaster Musketeer fan controller on SubZeroTech.
CoolerMaster CoolDrive 4 HDD cooler on DataFuse.
Aerocool Deep Impact DP-102 CPU cooler on ViperLair.

Memory:
Corsair TwinX1024-4000 kit on OCWB.
GEiL DDR 533 (PC4200) on OCWB.
Corsair TwinX512-4000 on 8Balls.

Video Cards:
MSI FX5600-VTDR128 GeForce card on HWZone.
Sapphire Atlantis Radeon 9800SE on ExtremeOC.
HIS 9600XT and 9800 Pro IceQ Radeon cards on TweakTown.
Sapphire Radeon 9800 Pro Ultimate Edition on 3DVelocity.
VisionTek Radeon 9800XT on TheTechZone.
ATI All-In-Wonder 9600 Pro on Beyond3D.
Albatron GeForce FX5700 Ultra on TechConnect.
BGF Asylum GeForce FX5950 Ultra 256MB on Bjorn3D.

Mouse Etc:
Flexiglow FX Game Pad mousepad on AseLabs.
Steelpad 4D mousepad on 3DVelocity.

Digicams:
Canon Powershot A80 on FutureLooks.
Minolta DiMAGE Xt on HWZ.

Misc:
Samsung 975MB 19" CRT monitor on Bjorn3D.
iCute 0301 tower case on DansData.
Nexus NX-4000 400W PSU on XtremeTek.



More news for you with reviews to follow up later in the day.

Trusted Reviews have posted a PC Roundup. "We wanted a machine that was well-rounded enough to cater for the whole family. With that in mind we asked the suppliers for a PC that focused on features rather than pure speed, with extras such as printers, gaming controllers or software bundles as welcome inclusions."

While you're at Trusted Reviews, you can check out their Athlon 64 motherboard roundup with five contenders.

DSL WebServer have a complete guide to Windows XP Remote Desktop. I actually learned something from this one.

Sony have managed to do what others have yet been unable to do! Make a robot that can run. Well, jog at least. From Enigma.

Sharman Networks have won the latest round in "The battle of the files". "The Dutch ruling, the highest European court yet to rule on file-sharing software, means that the developers of the software cannot be held liable for how individuals use it." Thanks aussiepaul for the link.

Xbit-Labs check out the new SiS755 Athlon64 Chipset which comes complete with 800Mhz Bi-Directional HyperTransport bus!

XtremeSystems have a HSF cooler shootout for us. The "MicroCool Northpole Vs Swiftech MCX 159-R". Read it here.

Arctic Silver 5 goes up against Arctic Silver 3 in this thermal goop shootout at Xtremesystems.

Sysopt have taken a look at Futuremark's PCMark04, a benchmarking tool which tests more than just your graphics card.

For those who are more interested in graphics performance, Amdmb have a Radeon 9600XT vs GeForceFX 5700 Ultra comparison for you.

Schrambo notes that people using Opera 7.22 and earlier for Windows had better patch up. It seems that IE isn't the only browser which leaves the door open!

Designtechnica walk us through their favorite products from the year 2003. I guess we'll be seeing a lot of these type of articles in the next month or so.

FuXToR noticed that Toshiba are preparing to launch a coin-size hard-disk drive that can hold up to 3Gb.

Digital Broadcast Radio has hit the Australian airwaves for the first time, for 100 Sydney people at least. "The service also allows listeners to retrieve extra information such as song and artist titles, sport and news updates and weather reports." Thanks PastaMasta.

I guess if professional sports players can earn big bucks, so can professional gamers. $100,000 a year for playing PC games sounds good to me. From argent.

Still on about games: Are you sexy? Do you play computer games? Do you want to win stuff? Check out SexiestGamer and see if you are up to scratch. What will they think of next! Thanks Don.

Xaolin want to remind all Queensland Year 12 finishers that OP's are available online from 9am Saturday at QSA Smart OPs. It's been 22 years since I was in a class room so, what are OP's?




Monday Afternoon (8 Comments) (link)
Monday, 22-December-2003 14:27:58 (GMT +10) - by Agg


Special congrats to long-time OCAU Admin Manaz, who married his special lady Kat (not an OCAU member) on the weekend. A beautiful wedding and reception!

If you're sad about AMD64 being too expensive for you, FuXToR has some good news: a new budget Athlon 64. The AMD Athlon 64 3000+ runs at 2.0GHz, the same clock speed as the Athlon 64 3200+ released in September. But the new chip comes with 512K bytes of cache, half the cache of its predecessor, an AMD spokeswoman said. Seems to be about half the price of the 3200+, too.

S3 have announced their DeltaChrome S8 video chipsets. LegitReviews previewed a card (and so did Tech-Report) while PCReview UK went to the European Launch.

Paul says you can keep your Pocket PC free from airborne viruses, for free, with a program downloadable here.

More basic case-modding from JSI today, covering Rheobus installation, thumbscrews and cathode lighting.

SpodesAbode wonder if overclocking GFX cards is really worth it. I'll admit it's been a fair while since I've bothered overclocking video cards.. too much heat for too little gain in most cases. However, I generally have fairly quick cards and that's all they've looked at in this article. Mid-range or lower-end cards need more of a boost and generally benefit more from it.

Cute WinXP Box PC on Mini-ITX, thanks The SHizz.

It seems there may have been some price-fixing going on in the world of DRAM manufacturers, thanks CustArdOz.

Hexus compared two pre-built A64 3200+ systems. They're UK vendors but it might give you an idea of what you want in your system.

Desert Combat 0.6 is out now, thanks Lazerin. New maps, new weapons and new vehicles as usual. Even a new aircraft carrier! Download the patch here on AusGamers, it's 251MB. Talk about it in this thread in our Games forum, thanks aftahours.




Monday Reviews #2 (1 Comments) (link)
Monday, 22-December-2003 02:24:18 (GMT +10) - by Agg


Motherboards:
Gigabyte GA-8S655TX Ultra P4 SiS655 on PCStats.
Asus P4C800-E Deluxe P4 i875P on ViperLair.
Albatron PX848PV/Pro i848P P4 on NordicHW.

Cooling:
Titan TTC-CW9TB/SC copper P4 cooler on FrostyTech.
Enermax UC-A8FATRA aluminium fan controller on 3DXtreme.
Thermalright SP-97 Copper Heatpipe P4 Cooler (video review) on 3DGameMan.

Cases and Modding:
i-Star D-300 3RU Rack Mount Enclosure on ClubOC.
Sunbeam LED Case Feet on CreativeMods.
Enermax Security Screws on SystemCooling.

Mice etc:
Xtrac Micro Mousepad on SubZeroTech.
Steelpad 4D Mousepad on MyWorldHardware.
XTracPads Ripper Mousepad on BigBruin.

Storage:
Plextor DVD+-RW 708A drive on HWHell.
Transcend USB 2.0 6-in-1 Internal Card Reader on Hardware-Pacers.
Plextor PX-708a Combo DVD+-RW Drive on PyroPort.

Misc:
SMC EZ-Stream Wireless Media Receiver on ByteSector.
D-Link Xtreme G 108Mbps Wireless Network Solutions on HWExtreme.
Sony Digital Photo Printer DPP-EX7 on ByteSector.
Mini PC EX-1 on JSI.
Intel P4 3.2GHz 800MHz FSB CPU on ViperLair.
iRiver iHP-120 MP3 player on TrustedReviews.
Evesham Voyager 64 A64 notebook on TrustedReviews.
Polaroid PhotoMAX PDC1075 digicam on SubZeroTech.
Mobile Action MA620 USB Infrared Adapter on ExHardware.



Rikki pointed out this case from thydziks in the PCDB:



Click for PCDB entry!






Early Monday Reviews (1 Comments) (link)
Monday, 22-December-2003 00:33:56 (GMT +10) - by Agg


Motherboards:
ABIT AN7 socketA nForce2 Ultra 400 (video review) on 3DGameMan.
DFI LanParty 865PE on OCWorkBench.
ALbatron Kx18dpro2 nForce2 socketA on RBMods.
ABIT AI7 865PE on HotHardware.

Video Cards:
Sapphire Radeon 9600XT on TweakTown.
PowerColor ATI Radeon 9800 Pro 256MB on TechWareLabs.
Creative Radeon 9600 256MB on Guru3D.

Power Supplies:
Zalman ZM400B-APS 400W on SweMod.
Seasonic Super Tornado 400W on ExtremeOC.

Memory:
Corsair TwinX 3200LL 1GB kit on OCModShop.
Corsair TwinX 3200LL Pro 1GB kit on CyberCPU.
Corsair TwinX 3200LL 1GB kit on Tech-Mods.

Cooling:
OCZ Technology Ultra2 Thermal Compound on Tech-Mods.
Thermaltake Silent Boost CPU cooler on GideonTech.
Thermaltake Aquarius III watercooling kit on TweakTown.
Arctic Cooler VGA Silencer on CreativeMods.
H20 Computer Cool Sprinter watercooling kit on TechAngel.
CoolerMaster Aero 7 Lite CPU cooler on SubZeroTech.
Spire CopperStream CPU cooler on DansData.

Cases:
Diabolic Minotaur premodded tower on 3DXtreme.
Diabolic Minotaur on OCrCafe.
SilverStone B032FW Mid-Server on 3DXtreme.



The New Year is almost upon us and more importantly Christmas :), hope everyone gets what they want (and/or deserve), anyway onto the news…..

Xbitlabs has an article on NVIDIA and its addition of a firewall (capability) into its Athlon 64-bit supporting chipset due out next year.

Wired.com and C|Net.com are reporting that Realworks has slapped Microsoft with a $1 Billion dollar antitrust suit.. Basically saying that Microsoft has been using Windows as a Monopoly and putting Windows Media Player in every version of Windows thereby hurting business for them..... imo it was a long time coming

Toms Hardware Guide has some little juicies, they review some External Hard Drives from Seagate and Maxtor here. They have a look at about 25 computer cases here.They also have a look at a new Mobile Athlon64+ 3000 Notebook and compare it to a Dell 8600 Notebook here.

A press release from Fujitsu and Red Hat state that they are going into joint development for Linux, more on that over at the Fujitsu Website

ExtremeTech have an article about the Return of S3.

Zdnet.co.uk is reporting that VeriSign has bought managed security firm Guardent for $140 Million (US), as its seeking to expand into computer security.

NEC is to demo a new blue and red laser technology all in one unit which is co-developed with Toshiba at the Consumer Electronics in Las Vegas next month. They also state that they don't expect to be shipping any until 2005. More info over at the Reg

From the Reuters, Intel is expecting to make Chips for Digital TVs. From the article it sounds good for us all, hopefully it will also mean cheaper TVs. …..hmmm Digital…..

While on the topic of Intel the Inquirer states that Intel is to start selling WiMax chips in the second quarter of 2004. The 802.16a broadband chip will throw data over the aether at speeds of 70Mbs and at distance of a staggering 50 kilometres.

Wired is also reporting that the Segway is not doing so well in Europe as its banned in most parts of it. Apparently because its classed as a "New Vehicle" and has to pass some tests, imo they should have already figured that out....



A few quick news bites for you...

Some good news from gords: "The UGBox server has recently moved from being hosted in the USA to being hosted in Brisbane, which means faster access for all Aussies. The quotes database and the Image Store are both accepting submissions again and the forums are back online. Thanks go to Wolfy, Crudmuffin, Nasher and D_Web for their continued efforts."

Hardware Pacers has posted an article on the Intel Pentium 4 3.2 Engineering Sample Overclocking.

For the Optusnet cable users, check your usage page. You have an early Christmas Present. Thanks Maxy.

The folks at VR-Zone have removed the IHS from a Prescott Pentium CPU. Thanks FuXToR for the link.

Dan has letters again. "In this installment, I yammer on about video recording, CD speed, power connectors, hyperthreading, modem compression, hard drive speed, loop errors, and FSBs." Cool!

ARP show you how to Wet-Sand your northbridge. You have Lapped your chipset haven't you?

MultiSlayer found this article about how computers are bad at maths. Patriotism scuddled?

Gollum, of Lord Of The Rings fame, is branching out into the music world. The Gollum rap! Thanks OMAGAN.



The New Year is almost upon us and more importantly Christmas :), hope everyone gets what they want (and/or deserve), anyway onto the news…..


Xbitlabs has an article on NVIDIA and its addition of a firewall (capability) into its Athlon 64-bit supporting chipset due out next year.

Wired.com and C|Net.com are reporting that Realworks has slapped Microsoft with a $1 Billion dollar antitrust suit.. Basically saying that Microsoft has been using Windows as a Monopoly and putting Windows Media Player in every version of Windows thereby hurting business for them..... imo it was a long time coming

Toms Hardware Guide has some little juicies, they review some External Hard Drives from Seagate and Maxtor here. They have a look at about 25 computer cases here.They also have a look at a new Mobile Athlon64+ 3000 Notebook and compare it to a Dell 8600 Notebook here.

A press release from Fujitsu and Red Hat state that they are going into joint development for Linux, more on that over at the Fujitsu Website

ExtremeTech have an article about the Return of S3.

Zdnet.co.uk is reporting that VeriSign has bought managed security firm Guardent for $140 Million (US), as its seeking to expand into computer security.

NEC is to demo a new blue and red laser technology all in one unit which is co-developed with Toshiba at the Consumer Electronics in Las Vegas next month. They also state that they don't expect to be shipping any until 2005. More info over at the Reg

From the Reuters, Intel is expecting to make Chips for Digital TVs. From the article it sounds good for us all, hopefully it will also mean cheaper TVs. …..hmmm Digital…..

While on the topic of Intel the Inquirer states that Intel is to start selling WiMax chips in the second quarter of 2004. The 802.16a broadband chip will throw data over the aether at speeds of 70Mbs and at distance of a staggering 50 kilometres.

Wired is also reporting that the Segway is not doing so well in Europe as its banned in most parts of it. Apparently because its classed as a "New Vehicle" and has to pass some tests, imo they should have already figured that out....




Micro RC Car Shenqiwei (7 Comments) (link)
Friday, 19-December-2003 01:54:00 (GMT +10) - by Agg


Something a little less serious for Friday. PC Range sent over a mini RC car. It's fun!



Click for the review!





Evening, I forgot to introduce myself as one of the new newsmonkeys for Overclockers Australia last night, though there isn't much to say other than I hope I can do as good a job as the rest of the past, and current news writers. Alright, now that's out of the way.. On with the Show!

Cypher wrote in to inform us that Winamp 5 has been released, It has the speed of Winamp 2 and the features of Winamp 3 and as quoted from the winamp website "Most things actually work!", one would hope so. :)

P2P legal in Canada? Apparently so, a new ruling made by Canadian copyright regulators has stated that while the downloading of Copyrighted material via P2P networks is legal, uploading is not. Thanks icewind!

What does 4 Compressors get you? A cold PC of course!

SnRuB spotted This! on Nasa's website, it's a satellite tracker with a database of over 500 satellites. Thanks SnRuB!

A Ferrari made of Wood, Interesting. What's more Interesting is that this Ferrari is also a boat!

Josh informed us that new Catalyst drivers are available, that takes the version up to 3.10. Thanks Josh!

Apparently Service Pack 2 for Windows XP has been delayed until mid-2004. Thanks Murray!

Digital Radio started broadcasting last night for the first time in Australia! While only a trial, this is still good news for the future of radio.

For all you Linux lovers out there, you're all probably already aware that Linux kernel 2.6.0 has been released, More information here.

Get woken up early by an SMS today? HSC results were sent out for the first time by SMS today to over 30,000 students. Hope all who were waiting results were happy with them! :)

According to this article, Computers are bad at math! Thanks goes to Mortz for sending that in.

And last but not least, we've got two flash time wasters. The first one is a Drivers Ed game, from Aaron. The second one is called Death Star Battles! Hopefully I get bored quickly, I have a flight to catch tomorrow!




Thursday Morning. The life of a shiftworker. (5 Comments) (link)
Thursday, 18-December-2003 03:37:54 (GMT +10) - by Darkness'


It's here! Australia's first legal online music service. "Sanity, HMV, JBHiFi and ChaosMusic are selling music downloads from Destra's 100,000-song catalogue, mostly for $1.99 each, but a few are 99c."

Hello, this is your curtesy call. HANG UP YOUR PHONE! "Telstra will soon let its customers know when their phone usage is increasing markedly, to enable them to take control if the calls had been unintended."

Unfortunately, a case of SARS has been detected in Asia again.

'Contactless' credit cards are on the way! "For more than a year, MasterCard and American Express have been testing "contact less" versions of their credit cards. The cards need only be held near a special reader for a sale to go through -- though the consumer can still get a receipt."

Personally, I think this is the way it should be going. "CELL phones in Japan will work as concert tickets, identification cards and electronic wallets in a new service by the nation's top mobile carrier, NTT DoCoMo, that uses smart card technology developed by Sony."

Wow that's fast... "THE STORAGE division of Hitachi, or IBM as we used to call it, said it has managed to shift 3Gbit/s of data using the serial attached SCSI (SAS) protocol."

GTA3 makers, Rockstar, learn another lesson."The manufacturer of a video game that has been harshly criticized for its portrayal of Haitians has agreed to remove dialogue that encouraged players to "kill all Haitians.""

Not only that, but their latest creation, Manhunt, has been banned in NZ! "... game that encourages players to kill all in sight in ever more gruesome ways has become the first video game banned in New Zealand."

Not to worry tho, "Japanese game machine maker Taito Corp said on Friday it plans to restart sales of Space Invaders in the United States, almost 25 years after the game first appeared in video arcades."

A funky new broadcasting technology has been invented here in Australia. "SquizBiz, developed in Victoria, is a hardware and software package that converts a standard video camera into a wireless webcasting system."

Bush cans Spam! Hehe, I thought of that all by myself... "US President George W Bush has signed legislation meant to stem the flood of unwanted email pitches that irritate internet users."

Brisbane is now ever hotter! "THE Queensland government has switched on its wireless hotspot service in Brisbane, with a plan to launch regional services next year."

Windows XP service pack 2 beta, is nearly here. While iTunes downloads reaches 25 million! "Apple Computer announced that its iTunes Music Store has sold 25 million songs to date and is currently on track to sell 75 million songs a year."

Calls for DVD region codes to be removed! Huzzah! Earth's magnetic field has weakened 10 percent! Dang!

I'm a big fan of the CAD comics, so here is one to help you out with the new LOTR movie. :)




Early Thursday Morning Reviews (8 Comments) (link)
Thursday, 18-December-2003 00:14:59 (GMT +10) - by Firemoth


EDIT by Manaz: This is just a quick note to introduce you all to Firemoth, who has for quite some time been involved with OCAU behind the scenes, but has now stepped up to the plate as a newsmonkey. Since he's new to this, please be gentle, and enjoy his first post!

Motherboards:
AOpen AX4C Max II at Techwarelabs.
VIA EPIA CL10000 Mini-ITX at Viperlair.
Abit AN7 at Legion Hardware.
Biostar K8VHA Pro vs. K8NHA Pro at Hexus.

Memory:
KingMAX's 256MB DDR-433 at MyWorld Hardware.

Cooling:
Danger Den RBX Waterblock at Gruntville.
Thermaltake Aquarius III external water cooled heatsink at A1 Electronics.
Thermalright ALX-800 Heatsink at 3dGameMan.
Chill Vent 1 Deluxe at UberHardware.
Cooljag CJC66IC-A Copper Pentium 4 Heatsink at Frosty Tech.

Storage:
MSI DR8-A DVD Writer at TrustedReviews
CoolerMaster CoolDrive 4 LHD-V04 at OCTools.
Bytecc Aluminum 3.5" HDD Mobile Enclosure at eXtremeReviews.
Maxtor 5000DV at X-bit Labs.
Plextor PX-708A DVD±RW at 3D Velocity.

Video:
HIS Radeon 9600SE 128MEG VIVO Videocard at TweakNews.
VisionTek XTASY Radeon 9800 XT 256MB at Bjorn3D.
Crucial Radeon 9600 Pro Videocard at PcStats.
Hercules 3D Prophet 9800XT Classic 256MB at Hexus.
Sapphire Atlantis Radeon 9800 XT at Virtual Zone (VR-Zone).
eVGA's e-GeForce FX 5900SE at HotHardware.

Audio:
Gainward Hollywood@Home 7.1 Soundcard at Nordic Hardware.
Skymedia 256Mb MP3 player at DansData.
Fluance AV-HTB Home Theatre 5 Speaker System at Gaming In 3D.
AudioTrak Prodigy 7.1 Soundcard at Guru3D.
Trust 4500p Surround Sound Kit at Red & Blackness.
Creative Labs Sound Blaster Extigy at Geeklyreviews.

Cases/PSU:
Thermaltake Lanfire VM2000 Aluminum Case at Legit Reviews.
Enermax 420W Noisetaker Power Supply at 3dXtreme.

Laptops:
The IBM ThinkPad T40 at Ars Technica.

Misc:
The AOpen EZ65 & Biostar iDEQ 200T Small Form Factor PC's at HotHardware.



Hello! :) Good old night shift...

There's more Milky Way than we thought! No, not the chocolate you nerd... Australian astronomers have discovered an extra cosmic arm in the Milky Way that they believe wraps around the outskirts of the vast galaxy like a thick gas border."

I stumbled across some great information on the profits and sales of game companies. " Electronic Arts also showed significant improvements, with software sales jumping 29 percent based on the strength of three titles: "Medal of Honor: Rising Sun" 580,000 units), "Need for Speed: Underground" (527,000 units), and "Lord of the Rings: Return of the King" (435,000 units)."

Jimi Hendrix has gone plastic! "Since launching its line of music action figures in the late '90s with re-creations of Kiss band members, McFarlane Toys has immortalized some of the biggest acts in rock history. The Beatles, Ozzy Osbourne, Alice Cooper, Jim Morrison, Jerry Garcia, Metallica and Janis Joplin have all been cast in plastic by the Arizona-based toymaker."

Kazaa has apparently taken out a full page ad in a newspaper.

It looks like those new BPA plans are doing some more good for aussie broadband. "NUMBER three ADSL internet service provider TPG has jumped on the download bandwagon, offering a "true" unlimited service after Telstra and Optus both changed their download allowances." BUT, that doesn't get Telstra out of the lime light... "THE new prices Telstra wants to charge its competitors for access to its network may have risen by more than 70 per cent in the past few years, competitor Optus claims.

Got a remote controlled helicopter? Want to fight terrorism with it? "THE regular use of unmanned mini-helicopters or counter-terrorism and defence surveillance in Australia could be a reality soon."

Microsoft has now ended support for windows 98. People still use that?!

If you thought camera phones were all to fancy and technical, well, it's about to get even more confusing! "FINLAND'S leading broadcasters, mobile service providers and Nokia plan to start sending commercial TV programs to cell phones next year..."

Er, whoops! Microsoft "accidentally" included a font in office 2003 that included two swastikas!

"Toshiba said it has made a hard drive just over two centimetres which can hold between two and three gigabytes of data." That's my current monthly download limit on a two centimetre disk!

Do you ride a motorcycle? Maybe you want to get one? You should pop in here :)



Don't you just hate it when you have to reformat and reinstall your whole system. It takes days to get things just the way you like them again. Every few hours I find something else I have to reinstall. Of course, if my backups were anywhere near recent, this would have been a whole lot easier. Anyway...on with the news.

Digital-Daily put two versions of 3DMark2003 to the test, namely builds 320 and 340, to look for the truth behind the cheating and they discover that...well...they don't really know.

Ryan Shrout of AMDmb.com says "Just in case there was any more confusion, AMD has stated that the Athlon 64 3000+ that was surprisingly launched today, without anyone really knowing before hand, is indeed a 512KB L2 cache processor running at 2.0 GHz. I also have a link to the latest AMD pricing charts that shows the 3000+ at $218".

FuXToR notes that users of Lindows Emulation software for Linux, might need to upgrade shortly as Lindows.com has lost a court case about its name.

PDF files, how we love to hate them. If you use them a lot you might want to read an article that shows you how to speed up Adobe Reader 6, or Adobe Acrobat as it has been known.

In our forums, we have a thread all about Windows Longhorn build 4051 and the experiences people are having with it. Also, some screen shots and info from nwatts.

Spode's Abode have posted a DX9 Graphics Card buyers guide and Graphics Card Round Up.

Geek-Knowledge have a guide to changing the OEM Info section of your Windows install...you know, that part of the System Properties that tells you who you purchased your computer from, in case you forget.

Over on Bit-Tech, the Orac project continues with Part 3. A very nice looking box, if you like that sort of thing.

Dan has checked out some more LED flashlights and he says "these ones are more complicated than usual."

PCStats have posted a beginners guide to Burning CDs and DVDs.

OCLabs have released a new weldless copper waterblock and they have tested it to 10Bar. Notice the QD fittings. They have a few short videos of the testing process. We have one of these blocks on the way and hope to have a review for you in the near future.

If you live in the UK, and agree to watch one minute of advertising every twenty minutes, then you can have a free PC. Now where have I seen deals like this before? Thats right, here in Australia. I think the law suits are still being settled. Thanks Marc.

FreakGamer have interviewed a couple of people. Adam Lancman of Atari Melbourne House, and Ben Mansill, editor of some obscure computing magazine called Atomic. :)

safranko noticed a new Spiderman 2 trailer for the Spider fans.

Thats all for now...



Systems/Laptops/PDA:
Systemax Inspire 4007 Athlon 64 based PC at Trusted Reviews
Shuttle XPC ST61G4 at HWZ

Mainboard:
DFI LanParty nForce2 Ultra RevB at EnvyNews
Asus and Gigabyte SIS 655TX Motherboards at Anandtech

Storage:
LiteOn LDW-811S Dual 8x DVD Recorder at CDRInfo
Optorite DD0401 Dual 8x DVD Recorder at CDRInfo
Gigabyte Go-W0404A Dual Format DVD Writer at HWZ

Video/Monitor:
nVidia GeForce FX 5900 XT at Tech Report
Inno3D GeForce FX 5700 Ultra on HardCoreWare
GeForce FX 5950 Ultra on Beyond3D
ATi Radeon 9600 XT 128 MB at LanAddict
Relisys RLT1720 Widescreen LCD at Trusted Reviews

Networking:
NetGear ME101 Wireless Bridge at Trusted Reviews
Dlink DI-624+ Wireless Router at PyroPort
X-Micro WLAN 11b Router at Tec Central
EtherDesigns Cantenna at ipKonfig

Case/Mods:
Enermax CS-5190AL-061 Aluminum Case at 8Balls Hardware
ZM-MFC1 Fan Controller at Valley Forums
CrazyPC Nightmare Full Case Wrap at ExtensionTech
Lian Li PC-6077 Black Aluminum Mid-ATX at TweakNews

Audio:
BenQ Joybee 150 MP3 Player at Trusted Reviews
Slim Devices Squeezebox Networked Music Player at DesignTechnica

Cooling:
PolarFLO Universal SF Water Blocks at ViperLair
Aqua Computers AquaTube Reservoir at Gruntville
ThermalRight ALX800 HSF at Gruntville
Spire Whisper Rock IV Heat Sink at OCC
Arctic-Cooling VGA Silencer at Bluetaro
Arctic Silver 5 Thermal Paste at Mad Shrimps
AcoustiFan Temperature Sensitive Fans at ModFathers

Misc:
UV Reactive IDE Cable at R&B Mods
ClearNeon UV Paint at Xtremetek
Xmod UV reactive Molexes & Pin Extractors at Metku Mods
Techflex Sleeving Kit at Monster-Hardware
DigitalPersona U.are.U Personal at ExHardware
Logitech MX900 Bluetooth Optical Mouse at Hardware-Pacers
Logitech 2.4GHz Wireless Xbox Controller at ModSynergy
Noise Isolator PWM Fan Controller at BigBruin
Flexiglow Fx Game Pad at GideonTech
Zalman ZM-MFC1 Fan Controller at ValleyForums




Archive Updated (0 Comments) (link)
Monday, 15-December-2003 13:16:39 (GMT +10) - by Agg


I've updated the Articles and Reviews Archive with some recent content. Check these out if you missed them the first time around:

Vapochill Facelift (fit into Lian Li) article.
Antec 4U22ATX rackmount case review.
Lian Li PC-6077 mid-tower case review.
HighPoint e.SATA RAID Kit v2 review.
Super Flower Fan Master fan controller review.
"Dan" MP3 Player review.
Icemat Mousing Surface review.




Monday Middayish (10 Comments) (link)
Monday, 15-December-2003 11:51:40 (GMT +10) - by Agg


They got Saddam. Look at any news site, newspaper or tv station for the scoop. Oh alright, here's a link for the lazy-clickers. :) There's a large thread in our Media & Current Events forum with more reports and opinions.

HardwareZoom have PSU's from Antec and Tagan going head-to-head. Three digital pens battle it out on TrustedReviews. SLCentral compared Transcend and Corsair memory (at different speeds). Five CPU heatsinks are compared on OCIA.

Dan has more letters (than anyone else in the universe). He also says that this PSU feature isn't too great.

Digital-Daily wonder if the new ForceWare drivers change the results of the current Radeon 9800 vs GeForce FX 5900 battle.

THG checked out Counter-Strike for XBOX. Old-schoolers will recognise the author's name, too. :)

There's some info on WiFi basics and security on a new site.

Apparently the idea that white-tailed spiders make your arms fall off is a myth.

Sniper spotted this interesting article about how Bill Gates wants to - literally - save the world.

More basic case-modding stuff on JSI.. this time it's window and applique installation.

Krypt0n made a program to control a dial-up link over a network, see this thread in our Programming & Graphics forum for more info.

Optus customers needn't cry into their eggnog about not having the downloading fun that Telstra customers are over Christmas.. because Optus has some nice surprises for you also. More info on Whirlpool, naturally.

SharkyExtreme have a high-end gaming PC buyer's guide.

HardwareHell have an introduction to overclocking article posted. They keep spelling it as over-clocking, though, which is an-noying.

Reaver spotted this page on Telstra which provides a handy guide to sounding like a 14yo homeboy while on your PC.




OCAU Merchandise (0 Comments) (link)
Monday, 15-December-2003 11:10:35 (GMT +10) - by Agg


Does your drink get warm too quickly? Does your hand freeze off while drinking? Ever put your 14th beer down too hard and smashed the bottom off it? Prevent these and other drinking tragedies with a stylish yet economical OCAU Stubby Holder :)



Click for OCAU Merchandise!






Early Monday Morning Reviews (4 Comments) (link)
Monday, 15-December-2003 00:47:37 (GMT +10) - by Agg


Motherboards:
DFI Infinity NF2Ultra nForce2 socketA on RBMods.

Memory:
Corsair 512MB Low Latency PC3200 TWINX on RojakPot.
OCZ 512MB PC4000 on ClubOC.

Audio:
Zalman ZM-RS6F 5.1 headphones on ExtremeReviews.
Logitech Z680 5.1 Speakers on GeeklyReview.
Logitech Z2200 2.1 THX Speakers on Bit-Tech.
Logitech Premium USB300 Headset on Bit-Tech.

Video Cards:
Gigabyte GeForceFX 5950 Ultra on LegionHardware.
Crucial Radeon 9600 Pro on EnvyNews.
BFG Asylum GeForce 5700 Ultra on HotHardware.

Cases:
Maxtop CSX-147KBF-TOP on BigBruin.
Chenbro Xpider Gaming Bomb on GruntVille.
Antec Sonata on PimpRig, our review here.

Cooling:
Super Flower Fan Master on PCGuide, our review here.
Swiftech MCX159 Northbridge Cooler on DVHardware.
Thermaltake Extreme Volcano 12 CPU cooler on PCTechZoneUK.
Evercool SCP-A fan speed controller on JSIHW.

Storage:
iCubePlay@TV NMP 4000 network media player on Tech-Mods.
Bytecc USB2 7-in-1 Memory Reader on ExtremeReviews
AOpen DRW4410 4x DVD+R/+RW drive on LegitReviews.
Cremax IcyDock internal IDE HDD rack on TweakNews.
MSI X48 CD-RW/DVD-ROM combo drive on ExplosiveLabs.
Seagate 160GB External HDD on ClubOC.
Nu Tech 24x Combi Slim USB2 drive on EnvyNews.

Misc:
Shuttle ST61G4 mini-PC on TechReport.
Seasonic Super Tornado 400W PSU on PCStats.
Leadtek WinFast DV2000 TV/capture card on TrustedReviews.
EtherDesigns Cantenna Boosters on IPKonfig.



Xbit-Labs have put together a review of the The Fastest Graphics Cards of 2003. "This review will help you to choose between 9 premier graphics cards based on VPUs and GPUs from ATI and NVIDIA in 16 benchmarks representing performance in past, present and upcoming 3D games."

Having problems with WindowsXP and some AVI files? It's a common problem that causes Windows to lock up, or prevents you from viewing or deleting these AVI files. Rojakpot want to help you fix it for good.

Flickerdown tell us all about CPU Cache and how AMD and Intel use it.

Martin is setting up an Overclock Database. The more people that add input to it the better it will become. Check it out.

PCStats have an article all about PCI-Express and how its set to replace AGP8X.

Mpot says that after several months of beta testing Smoothwall Express 2.0 has been released. There's also a forum thread about it.

Also, RivaTuner, that handy tweaking utility for NVIDIA and ATI display adapters, has been updated to version 2.0 RC 14.2.

Dan has answered some more Letters, #79.

For those of you in the business of building cruise missiles, don't do it in New Zealand. They don't like it. Thanks David.

Chubba says that Bendigo LAN and Multiplayer (BLAM) is on this weekend (13/14th) in Bendigo, Victoria. Full details here. Tapek notes that GameServes are holding a 4th Birthday/Xmas LAN on the 20th December with room for 200 people.

Ace Rimmer wants to remind all the Brisbane OCAU peeps about the OCAU Brisbane day at the beach on the 14th December. Got bathers!

Sphinx sent in this timewaster link. Its a funny little snow-globe. Watch it for a while then give it a shake.




"Dan" MP3 Player (0 Comments) (link)
Friday, 12-December-2003 10:58:35 (GMT +10) - by Agg


There seem to be a zillion little flash-memory MP3 players on the market nowadays. King_Vegeta has checked out a new one with some interesting features and which seems to be pretty good value.



Click for the review!





Noah has checked out the Icemat. This unusual mousepad is made of glass and comes with some slidey feet for your mouse.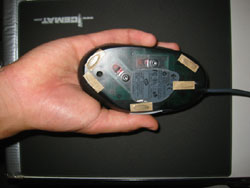 Click for the review!






Thursday Night (0 Comments) (link)
Thursday, 11-December-2003 23:39:30 (GMT +10) - by Agg


Wow, we had an earthquake here not long ago. I thought someone had crashed a car into the house!

There's a couple of folding PC's up for grabs in the Team OCAU forum.

Lazerin noticed this roundup of 80 video cards from 1999-2003 on Digit-Life.

Corsair sent out a press-release about some new memory, although they don't seem to mention it on their website yet. XMS4400 modules are tested at 550MHz with 3-4-4-8 latency settings at 2.75V.

TweakTown have an Athlon64 motherboard shootout, between Albatron's K8X800 Pro II and the EPoX 8HDA3 - both based on VIA's K8T800 chipset with VT8237 Southbridge.

PCStats want to tell you all about optical drives and recording formats.

There's an interesting article about how humour works on SMH.

TheModFathers stuck a large radiator outside in the cold to cool a PC.

Seiko Epson made some tiny flying robots.

NVIDIA have released WHQL Forceware drivers version 53.03s, thanks Lazerin.




Thursday Morning Reviews (3 Comments) (link)
Thursday, 11-December-2003 11:14:13 (GMT +10) - by Agg


More reviews! "Real" news in a bit. Should also have a few product reviews submitted by readers for you today, too.

Motherboards:
AOpen AK77-600 Max KT600 socketA on NeoSeeker.
SiS655FX Reference Board for P4 on MonkeyReview.
Soltek SL-K8AV-R K8T800 A64 on NinjaLane.
SOltek SL-K8AN-RL nForce3 150 A64 on PCStats.
Soyo CK8 Dragon Plus on Motherboards.org.
Asus P4S800D-E SiS655TX P4 on HardOCP.

Case:
AOpen H360 Micro ATX on LegitReviews.

Video Card:
Asus Radeon A9600XT on PCStats.
Crucial Radeon 9800 Pro 256MB on Bjorn3D.
ALbatron GiGi GeForce FX 5700 Ultra on Guru3D.
PowerColor Radeon 9200 SE on SLCentral.

Cooling:
Swiftech MCX478-V on SilentPCReview.
Swiftech MCX462-V on ViperLair.

PSU:
PCToys PowerMaxx 470W on BigBruin.

Storage:
AOpen DRW4410 4X DVD burner on HotHardware.
CoolMax Neon Wire EL SATA-150 Cable on ExtremeReviews.
Highpoint e.SATA Kit v3.0 on TweakTown.

Misc:
BenQ Joybee 150 Digital Audio Player on PCHardwareUK.
Samsung SCX-4216F Flatbed Laser Multifunction Printer on TweakNews.
Ricoh Caplio G4 Wide 3.24 Megapixel Digicam on JSIHW.

Interesting Forum Threads:
Are PC Games Dying? in Games.
Well, I took the plunge.. (2.6C, IC7-MAX3) in Intel Hardware.
Morning Tiredness in Sport, Fitness and Health.
Post your NFS:U Cars in Games.
Is there life without a Uni degree? in The Pub.
Duron 1400 @ 2266MHz, can anyone get a better chip for $60? in AMD Hardware.




Wednesday Morning Reviews (2 Comments) (link)
Wednesday, 10-December-2003 09:25:31 (GMT +10) - by Mred32


Systems/Laptops/PDA:
Shuttle XPC ST61G4 at Accelenation
Acer Aspire 2003WLMi at Trusted Reviews
Gateway M675CS Notebook at Design Technica
Shuttle ST61G4 XPC at Hexus

Mainboard:
ASUS K8V Deluxe at Viper Lair

CPU:
Intel P4C 3.2GHz processor at Intel Forums

Memory:
512MB Mushkin PC4000 Dual Pack at ARP
Crucial 256MB PC3200 DDR at 8Balls Hardware

Storage:
Plextor PleXWriter 40/12/40S at T-Break
Plextor PX-504A DVD+RW at OCModShop
Crucial 128MB Gizmo Drive at SubZeroTech

Video:
Sapphire 9600XT Video Card at R7B Mods
Leadtek WinFast A380 Ultra TDH MyVIVO GFFX 5950 Ultra at Bjorn3D

Case/Mods:
CrazyPC Nightmare Full Case Wrap at ExtensionTech
A+ GPB CA-AP107 Case at Creative Mods

Audio:
Hollywood@Home 7.1 Sound Card at The Mod Fathers

PSU:
Thermaltake 480w Butterfly at A1-Electronics
Aopen 300Watt PSU - The Modded Version at MadShrimps

Cooling:
DangerDen RBX Waterblock at PimpRig
Thermalright SLK-800U and SLK-900U HSFs at Dans Data
Thermaltake's Extreme Volcano 12 at Dans Data

Misc:
Trust 738AV Digital Video Camera at Pirate Software



The summer heat is definitely getting to Milne - or at least, to his modem:



Click to enlarge!






Tuesday Afternoon (9 Comments) (link)
Tuesday, 9-December-2003 14:10:49 (GMT +10) - by Agg


There's a really nicely finished watercooled PC project in the PCDB, with more info in this thread. Another interesting one is cvidler_1's, which uses Asetek's waterchill kit (reviewed here) in addition to a peltier on the CPU.

NordicHardware compared 11 Power Supply Units from various manufacturers. PCTechZone has a few PSU's from A+GBP compared. TrustedReviews have part 2 of their DVD writer roundup posted.

Bjorn3D have an article about video card reviews and benchmarking, with comments from some big names in the games industry.

JSI have a blowhole guide posted, a good first case-mod if you're wanting to get started.

9600XT and 5700U go head to head on NeoSeeker, in a battle of the value videocards.

When I see this kind of thing, half of me thinks "Yay, amazing new display technology", while the other half thinks "argh, now the spam will be everywhere".

A glowing USB duck is just what we all need, thanks Sumero.

SharkyExtreme have a value gaming PC buyer's guide posted.

Some idiots take their network gaming way too seriously, thanks Don. Very unfortunate.

From MWP: It seems that Creative have bought out Sensaura. Sensaura supplies the 3D audio software used by almost every Soundcard maker that isnt Creative. This is a BIG blow to the PC audio market and will probably have more effect that when Creative bought out Aureal a few years back.

LostCircuits consider hard drive performance and how relevant benchmarking is. Speaking of which, Toshiba have some super-skinny HDD's on the way.

Win yourself some Hobbity goodness over on HardAvenue.

There's a LAN in Mackay, QLD on the 12th/13th of December - info here. There's one in Adelaide on the 20th. There's another in Sydney this weekend, but apparently you have to PM this person for info. Get a webpage!

Today's timewaster is fan and ball, from Callan.

Interesting Forum Threads:
First car folding for OCAU in Team OCAU.
Which NF7-S v2 BIOS? in AMD Hardware.
Project GZE Roxy (pics) in Motoring.
Zip carts. Anyone made one? in Motoring.
Return of the Kingsie! (pics) in Motoring.
NTFS write support for Linux! in Other Operating Systems.



Systems/Laptops/PDA:
Shuttle SB62G2 XPC at Metku Mods
Sony Vaio PCG-Z1RMP at Trusted Reviews

Mainboard:
ABIT KV8-MAX3 S754 at Hexus
VIA PT880 Chipset Preview at Hot Hardware
ABIT IC7-MAX3 at ClubOC. OCAU review here

Memory:
Corsair TwinX XMS4000PRO Dual Channel at TweakNews
512mb GeIL Ultra Platinum PC3200 400MHz Dual Channel at Extreme Reviews

Storage:
Cooler Master CoolDrive 4 at HW Extreme
Highpoint e.SATA RAID Kit v2 at OCTools
Beantech 7in1 Media Reader at R&B Mods
Hitachi Deskstar 7K250 250GB (SATA) at Hardware Zone

Video/Monitor:
Power Color Radeon 9800 XT 256MB at TweakTown
Power Color Radeon 9800 XT 256MB at EnvyNews
Samsung Syncmaster 172x at ByteSector
ViewSonic Airpanel V150p 15" LCD Smart Display at Ars Technica

Case/Mods:
Tt Lanfire Case at Club OC
Spire Sound CCFL at CyberCPU
Chenbro PC61319 Mid-Tower at GideonTech
Antec P160 Aluminium Performance Case at Silent PCReview

Cooling:
Thermalright ALX-800 HSF at OHLS
ThermalRight SP-94 HSF at Gruntville
Coolermaster Aerogate II at Hardware Hell

Misc:
2.4Ghz Wi-Fi Directional cAntenna at OC Club
D-Link DVG-1120M VoIP Gateway at BigBruin



Some good news for Bigpond Broadband users. Telstra has published its new Unlimited Data products, and the plans look quite good. With pricing from $69.95 for 10Gig then unlimited shaped data at 64k, which is slightly faster than dial-up, after that. This is a move in the right direction for Telstra and most of the comments on Whirlpool seem to be positive. We have a thread about it in the forums. Info also on Whirlpool.

Viper Lair have had a chat with Ben Boyden from VIA, and they talk about such things as V-MAP, DualStream64 and Ultra V-Link.

Mr Chilled notes that the spyware free file-sharing client Kazaa-Lite, has been shut down by the spyware rich, file sharing people at Sharman Networks, the owners of Kazaa. Can't blame them really I guess. Read more on /.

How about a Windows XP box in a Windows XP box. Mini-ITX machines are being put into just about anything these days but I really like the idea of this one. Windows within Windows. Thanks Justin.

Monster Hardware have a five way waterblock shootout. Block include DTek's TC-4, Spir@l and White Water, Swiftech's MCW5002, and the "famed and mythic Cascade from Little River Waterblocks in Australia".

Informationweek have had a chat with Bill Gates, actually, its a rather lengthy talk. "If you give out your phone number to somebody, they can call you at any time. Now, why isn't there software that works on your behalf that decides, I'm sorry I gave my phone number to that person." Full article here.

How would you like to have a T-shirt logo that changes at the press of a ...err...button? Digital displays on just about any surface. Electronic Ink might be the answer to your prayers, or your worst nightmare.

On Beyond3D you can read about what the future has in store for DirectX, and DirectX Next!

Video distribution gone wrong! Vicar gives out porn films. oops. Thanks David.

It's Dan's letters time again. Laptop power, outdoor LEDs, TV output, inverter cooling, ear lamps, Raidmax hunting, zoom lenses, cat vision, and hair care. Is there no question that Dan can't answer?

Virtual Hideout are giving away a PolyGFX CaseSkin and Ratpadz Skin. No mention of who can or can't enter, so give it a go.

Uberbanzai says "Me and a few mates have organised another NnLAN for the 15/16th of December." Full details available here.



A Quick Review Catchup:

Systems/Laptops/PDA:
Bleu Jour AS (Appliance Server) Mini PC at SubZeroTech

Mainboard:
DFI LanParty nF2 Ultra Motherboard Revision B at ModFathers

Memory:
Corsair XMS 1GB DDR400 Registered Memory at Legit Reviews

Storage:
Lian Li EX-23 Hard Drive Rack at OCIA
CyberDrive DX082D 8x DVD+RW DVD Recorder at CDRInfo
Maxtor OneTouch 300GB External Hard Drive at SLCentral

Video:
ATI IGP9100 & MSI RS3M Graphics Cards at Accelenation
Asus Radeon 9800 XT at OCPrices

Case/Mods:
PolyGFX GlowFeet Laptopskin at BoPC
VoyeurMods VEXX Silent Edition Case at PimpRig

Audio:
M-Audio Revolution 7.1 Sound Card at HardExtreme

PSU:
Thermaltake Purepower 480W Butterfly at XCSystems

Cooling:
Arctic Silver and OCZ Heatsink Thermal Compounds at SLCentral

Misc:
Ideazon Keyboard and Gaming Keysets at FuriousTech
Cooler Master Musketeer System Dynamic Detector at Computer Critics
Microsoft Wireless Optical Mouse at R&B Mods



Quick and lazy news from me tonight ... all from Tekka. Thanks Mate!

Intel accelerates its Celeron shift.
Exclusive: An inside look at Microsoft's new security scheme.
Xbox deflects real bullets.
Intel partner ATI pushes PCI Express for all its worth.
Intel Prescott Launch Date Set!
New pics of Tyan's Quad Opteron appear.
Round 3: RIAA sues more file swappers.
Cisco airs out Wi-Fi vulnerability.
It's time for Linux to grow up.
Report: A third of spam spread by RAT-infested PCs.
Domain registry site gets hacked.
COMDEX 2003 Display Coverage: Prelude to a CES.
Intel scientists find wall for Moore's Law.
New DVD Format Approved.
Crackers gain sight of up to 5m credit cards.
Intel ICH6W - Wi-Fi Supporting ICH.
Your Next OS: Windows 2006?




Saturday Reviews (5 Comments) (link)
Saturday, 6-December-2003 16:36:08 (GMT +10) - by Agg


Motherboards:
MSI K8T Neo-FIS2R K8T800 A64 on A1-Electronics.
Soltek SL-87CW-EL Canterwood P4 on TweakTown.
ABIT KV8-Max3 K8T800 A64 on AMDMB.
Gigabyte GA-8S655TX Ultra SiS655TX P4 on Digital-Daily.
VIA PT880 Reference P4 chipset PREview on ViperLair.
Intel P4 3.0C CPU on Aselabs.

Cooling:
Swiftech MCX159 chipset cooler (video review) on 3DGameMan.
Arctic Cooling VGA Silencer on ModSynergy.
Zalman CNPS7000-A Cu GPU heatsink on Nexus.

Video Cards:
GeXcube GC-9800XT 256MB Radeon on OCNZ.
GeXcube All-In-Wonder 9600 Pro on Xbitlabs.
Gigabyte BeForce FX 5950 Ultra on HardwareZoom.
VisionTek Radeon 9800 XT on OCrCafe.

Mouse Etc:
Steelpad 4D mouse pad on Gruntville.
Icemat Black Gaming Pad on TweakNews.
BFG Sniper Boomslang 2100 mouse on Bjorn3D.

Case:
PC Toys SimpleMax 101 mATX on BigBruin.
Koolcases Platinum XP on CreativeMods.
Antec Minuet on LegionHardware.

Audio:
Hercules Digifire 7.1 soundcard on Techspot.
3 headsets from Logitech (video review) on 3DGameMan.
Zalman 5.1 Headphones on Bit-Tech.

Notebooks, Mini-PC's:
Sony VAIO PCG-Z1RMP on TrustedReviews.
AOpen XCube EZ65 mini barebones on Xbit.
Fujitsu Lifebook P5020 subnotebook on DesignTechnica.




Saturday Morning (7 Comments) (link)
Saturday, 6-December-2003 02:42:40 (GMT +10) - by Agg


Cougies reckons these beta NVIDIA drivers fix a few bugs.. run beta stuff at your own risk of course.

Digital-Daily took a look at various desktop processors from Intel and AMD. ARP compared Intel's P4C with AMD's Barton. Meanwhile, IPKonfig examined Merrill Lynch reports about the financial situation of both companies.

Tech-Report reviewed VIA's PT880 and SiS's 655FX, both P4 motherboard chipsets.

WinHQ modded a bigger heatsink onto a Radeon 9800 Pro. Techspot decided a voltage mod was what theirs needed.

Got about 5k USD burning a hole in your pocket? Maybe a Roman glass gaming die is what you need, thanks Tee.

Tweaktown have compared Canterwood and Springdale motherboards from DFI.

Schrambo says that Japan's fastest train recently did 581 km/h. Between Sydney and Brisbane at that speed you wouldn't even get time to watch a movie! I can say this confidently, because I spent much of last weekend driving to Brisbane and back. My ride's not quite as quick as a maglev train, tho.

Beyond3D wonder what may be coming in the next major update to DirectX.

JimX spotted this really big photo.. 40,784 x 26,800 pixels.

Andrew found an effective way to make your Xbox quieter. He also sent in this NVIDIA contest which is only open to North American people.. just as well, coz reading that page makes me want to rip my eyeballs out.

Lots of people sent this story in. I'm not sure why. Maybe they're hoping for an Australian distro to pick it up. :)

Joe noticed you can win an AmigaONE XE G4 motherboard by playing a game called FreeCiv, similar to Civilisation.

Dan has more letters.. no, wait! Not letters! This time, it's a huge tutorial on taking digital photos. Something I should probably read, seeing as I do quite a lot of digital photography, as well as quite a lot of shouting at my camera.

There's a LAN in Cannington, WA, on the 13th/14th Dec.

Interesting Forum Threads:
Cheap Projectors? in Audio Visual.
Phase change water chiller (pics) in Extreme Cooling.
Banzai's Cube Case Mod in Modding & Electronics.
Forgot to backup one important folder :( in Storage and Backup.
2GB Fibre Channel SAN Benchmarks (pics) in Storage and Backup.




Friday Foruming (6 Comments) (link)
Friday, 5-December-2003 14:31:05 (GMT +10) - by Agg


Friday afternoon is as good a time as any for chilling out in the OCAU Forums. Darkness is after some feedback on a new OCAU site design, so take a look if you're interested:



Click for thread!


If you like cats, check out the cute kitty cat pics thread, which seems to be one of the busiest ones today:



Click for thread!


Credit goes to Levinet for doctoring that pic of Gibbon's cat, Dhugal. :)

With over 40,000 members, over 500 browsing most evenings and more than 40 forums and sub-forums on everything from hard-core PC cooling to fitness and motoring, there's bound to be something to interest you. Of course, membership is free, so sign up today and join the coolest community on the net!




Kill all the spammers.. (14 Comments) (link)
Friday, 5-December-2003 10:43:49 (GMT +10) - by Agg


Just got an odd email to the newsbox, titled "Fw: Your Account at Overclockers.com.au has expired."

Hello news,

We are sorry that we cannot offer our "old" service
anymore.
Your account will expire at the 2003-11-23.
But after all, we still offer a free-mail service,
which you have to join right now !!!
Our new prices and services are described in the attached html file,
which is a compressed ZIP archive.

Sicerely Yours
The Overclockers.com.au Team

I don't know what's in the zip archive but I'm guessing it's not good. If you get this email, delete it, it's just some spammer crap and not from us.




Super Flower SF-609 Fan Master (2 Comments) (link)
Friday, 5-December-2003 04:24:50 (GMT +10) - by Agg


Super Flower in Taiwan sent over one of their Fan Master products. It's a fairly basic 4-channel fan controller with temperature and RPM monitoring, but it has some interesting features: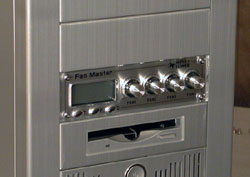 Click for the review!






Make OCAU Award logos, win stuff! (1 Comments) (link)
Thursday, 4-December-2003 17:59:55 (GMT +10) - by Agg


In the Graphics and Programming Forum we're having a quick competition to make some OCAU Award logos. The best logos (and some almost-best ones) will win some prizes, including Penguin mints and AMD merchandise. Head on over to this thread for details!



Systems/Laptops/PDA:
FIC Ice Cube IC-VL67 SFF at ViperLair
Fujitsu-Siemens Amilo D8830 Notebook at Trusted Reviews

Mainboard:
Aopen AX4C Max II 875P Motherboard at NeoSeeker
ABIT IC7-Max3 Motherboard at OCIA. Our review of this board here.
ABIT AI7 Motherboard at Nordic Hardware

Memory:
Kingston HyperX PC4000 Memory at Gruntville

Storage:
nu Technology DDW-081 8x-DVD+RW at Tech-Mods
Bytecc ME-350U2 3.5" Aluminum External Enclosure at MHW
Promise 150 TX2 Pro & Promise 150 TX4 SATA Products at PCHardware UK

Graphics/Monitor:
NEC/Mitsubishi MultiSync LCD 2080UX+ 20in TFT Display at Trusted Reviews
Compro VideMate TV Gold+ at Guru of 3D
PNY Verto GeForce FX 5700 Ultra 128MB at The ModFathers
ATI RADEON 9100 IGP Integrated Chipset at XbitLabs
Soltek GeforceFX 5600 at HWHell
Volari Duo V8 Ultra Graphics Card at DVHardware
HIS Radeon 9800XT 256MB at HardAvenue
ATI 9600 XT at NeoSeeker
AOpen Aeolus FX 5600 256MB at HotHardware
ATI All-In-Wonder 9600 Pro at Design Technica

Case/Mods:
Athenatech A100SC Micro-ATX Designer Computer Case at TweakNews
PolyGFX EZ Apply Case Skin at VH
Lamps Electronics Lazer LED at GideonTech
UV Molex Connectors at JSIHardware

Audio:
M-Audio Sonica Theater USB 7.1 Surround Sound at Sudhian

Mouse/K'board:
Everglide Giganta Mousepad at CreativeMods
XTrac Hammer & Ripper Mouse Pads at OC Club
Qpad XXXL mousepad at R&B Mods

Misc:
Canon XNU i255 Bubblejet Printer at HardwareZoom



Dutch Wink and several others sent this in. An article on Whirlpool says Bigpond users will receive an unexpected early Christmas present. "...unlimited usage all weekend". I'd check it out well before I started on that download frenzy.

It looks like Sony's PSX console machine will not be all that it can be. "Sony has dropped several features from its upcoming PSX, a product the company describes as one of its most important this year, because it has not been able to complete development in time for the year-end sales period". Thanks Murray.

When it comes to cooling a computer system, some people will go to great lengths to get the extra Mhz that comes with a cool CPU. Water cooling has now become almost main-stream but this underground radiator is a bit beyond the norm. We have a thread about it in our forums. Read away!

Distributed Computing projects can bring fame and ...well...fame. A new prime number identified by Michael Shafer, "contains 6,320,430 digits, and would take someone the best part of five weeks to write out longhand". Read more here.

Cougies informs us that there are some new VIA Hyperion 4in1 drivers released, version 4.51.

Futurelooks have interviewed Hideo Kojima, writer of that great game Metal Gear, and the follow-up series among others. Check it out!

On the Lanning front, CQGL will be hosting their CQGL UBaHeat 2003 event on the 13th and the 14th of December 2003 at the YWCA Hall, North Rockhampton, Queensland. Full details can be found here.

Finally for those who like to play with fractals, here is some fractal art that in some cases, boggles the mind.

Thats all for now, reviews on the way soon!



Systems/Laptops/PDA:
Shuttle SB75G2 Soldam Altium RS4 at VR-Zone

Mainboard:
DFI Lanparty NForce2 Ultra 400B at Datafuse
Leadtek K7ncr18d Nforce 2 at R&BMods

Storage:
NextBase MDV1 Small Form Factor DVD Player at TweakNews

Graphics/Monitor:
40in NEC/Mitsubishi LCD4000 TFT at Trusted Reviews
Asus Radeon 9600XT/TVD at Trusted Reviews
Gateway FPD1930 19" LCD at DesignTechnica

Case/Mods:
SuperFlower SF-561T2 Case at MadShrimps

PSU:
SilenX 400 watt PSU at TWL
CoolMax Taurus CX-350 and CX-450 PSU at ModSynergy

Cooling:
Cooler Master Aero 4 at Viper Lair
Thermaltake Volcano 11+ Xaser Edition at 3Dxtreme

Misc:
Sniper Boomslang 2100 Gaming Mouse at EnvyNews
Halo for PC at Trusted Reviews



Running your memory in Dual-Channel mode can be a hit and miss affair at times. The need to have matched pairs of ram sticks can pose problems for some people. Once you purchase your expensive matched ram, some systems still refuse to run stable in dual-channel mode. The SIS655FX chipset attempts to overcome this by use of what it calls 'Flexible Dual Channel'. This feature allows users to mix & match memory sizes and odd numbers of sticks to operate in Dual Channel mode. Accelenation put this new chipset to the test to see if it does what is claimed.

From Sjc, "Seems like all those old jokes about what if Microsoft made cars (they'd crash every five minutes and you have to close down all the windows, get out of the car, get back into the car, restart the car etc.. to get it going again) might be coming true".

Digital-Daily compare the overclocking abilities of various RAM modules from Transcend, Corsair and Kingston.

Sudhian have a semi-guide to upgrading a system and making it quiet at the same time. Semi-guide?

PCStats have posted another beginners guide, this time its 101 Tips and Tweaks for Windows XP. 36 pages of them!

Also falling into the tips & tricks category comes this guide at DSlWebserver, to using Windows task manager as a CPU usage meter.

Over at Bigmouth, you can find a guide to running a fish on Linux. Maybe fish are not compatible with Windows?

PCReview have posted part 2 of their Electronics 101 guide. Part 1 is here.

ModAsylum have finished a new mod-box, called The Manhattan Northwood Project. Nice looking unit.

Dan has his Letters 77 up for your reading pleasure.




Wednesday Morning Reviews (0 Comments) (link)
Wednesday, 3-December-2003 00:09:03 (GMT +10) - by Agg


Motherboards:
Asus K8V Deluxe VIA K8T800 A64 on A1-Electronics.
Abit KV7 KT600 socketA on Xbit.
Chaintech ZNF3-150 nForce3 A64 on HardOCP.
Abit AI7 i865PE P4 on HardOCP.
DFI Lanparty 865PE P4 on HWHell.
Abit KV8-MAX3 K8T800 A64 on LegionHW.
FIC P4M-RS300 Radeon 9100 IGP P4 on TweakTown.
ASRock P4AL800 Ali M1683 P4 on OCNZ.

Cases:
VoyeurMods Verge9 Case on Virtual-Hideout.
Aspire X-SuperAlien on 3DXtreme.
Chenbro Gaming Bomb on MadShrimps.
Aspire X-Gear on OCrCafe.
PC Toys SimpleMAX 101 mATX on ClubOC.
Casetronic Travla C137 mini-ITX on TechReport.
Thermaltake LANFIRE on AllAMD.

Memory:
Corsair XMS3200LL ProSeries TwinX DDR on NinjaLane.
Corsair XMS4000 ProSeries TwinX 1GB DDR on OCTools.

Mouse etc:
PolyGFX RatPadz skins mousepad covers on Bit-Tech.
Steelpad 4S mousepad on HardExtreme.

Cooling:
Asetek WaterchillT CPU cooling kit on Ohls-Place.
Coolermaster Premium Thermal Compound on OverclockersClub.
Vantec Spectrum UV Fans on 8Balls.
Vantec Vortex HDD cooler on A1-Electronics.
Vantec Vortex HDD cooler on ViperLair.
Swiftech MCX478-V P4 cooler on SubZeroTech.
Sunbeam Cooling HDD Silencer on 3DVelocity.
Vantec Nexus Fan and Light Controller on ViperLair.
Swiftech MCX478-V P4 cooler (video review) on 3DGameMan.

DigiCams:
Canon EOS-300D Digital SLR on HardwareZoom.
Minolta DiMage G500 on Bytesector.

Mini-PC's:
Abit AB-2003 DigiDice on Hexus.
Shuttle ST61G4 on SFFTech.

Misc:
Sunbeam Counterstrike LED Fan Grill on RBMods.
FrontX Multimedia Ports on CreativeMods, our review (from years ago!) here.
Apple iPod 20GB MP3 player on LegitReviews.
Saitek P3000 Wireless Gamepad on 3dXtreme.
Sunbeam Lighting Accessories on GruntVille.




Tuesday News #2 (6 Comments) (link)
Tuesday, 2-December-2003 16:23:35 (GMT +10) - by Agg


Xbit have used the AquaMark3 benchmark to compare the latest heavy-hitting video cards. Meanwhile, TweakFactor have a guide to using Tomb Raider as a benchmark, with some sample results.

ClubOC has a guide to voltage-modding the memory on the Asus P4C800-E Deluxe motherboard.

On the horizon in the USA: taxing internet access? Pretty crazy if you ask me, thanks Shamus.

Paulh sends a reminder that you shouldn't, erm, unwrap your present during the Christmas hols.

TED81 says Jan 15th is Personal Firewall Day.. righteo then.

ARP attempt to dispel or confirm the rumours that nForce3's PCI bus may not be locked.

HCW have their Comdex 2003 coverage posted. They seem to agree with many others: Really, there wasn't much to talk about this year - Comdex itself SUCKED.

Xbit have a roundup of 1GB Compact Flash media. 1GB CF cards! I remember when 64MB was bigger than I needed.

Dan checked out one of those internet accelerator programs. It's common knowledge that Internet connection acceleration software is the snake oil of the wired world. OK, maybe there are a few tweaks that're worth doing, but you don't need to buy software to do 'em, and everything beyond that's a swindle, right?

Murmur_X noticed that most of Asus's 800MHz FSB P4 motherboards are now listed as supporting Prescott.

D-Silence try to unravel the confusion surrounding the various "SE" video cards available now.




OCAU Merchandise (2 Comments) (link)
Tuesday, 2-December-2003 15:37:22 (GMT +10) - by Agg


Still plenty of time to get your OCAU Merchandise before Christmas! Who could resist a mug like this? :)



Click for more merchandise!






Tuesday News (5 Comments) (link)
Tuesday, 2-December-2003 15:06:07 (GMT +10) - by Agg


Barney says that PCMark04 has been released a few days ago.

Hexus have some mini-motherboards for AMD CPUs on the bench, mATX for SocketA and A64 from Biostar.

HighTekPC have an interview with an NVIDIA Marketing person.

Dan has more letters with answers.

I've heard of mobile phones in your teeth, but this implant is a little more interesting, thanks Barry. If those things take off we'll never get anything done. :)

Interesting water-cooling in a box idea from Ropable. Needs a little finishing off, I think.

RipNet have a few little tech tidbits in a words of wisdom editorial.

MadShrimps compared some ATI video drivers, 3.4-3.9 here, thanks dr4g0n.

Murray spotted the HD DVD standard getting the nod by the standards body. The HD DVD format is a violet laser-based optical disk system with a capacity of 15-20GB per side using the same disk structure as current DVD disks.

Meanwhile, China is developing their own standard to compete with DVD, called EVD, thanks J.

Bigiain noticed that even ATMs are susceptible to Windows virii now.




Tuesday Reviews (0 Comments) (link)
Tuesday, 2-December-2003 10:06:58 (GMT +10) - by Agg


A few reviews, plenty more on the way..

Video Cards:
HIS Radeon 9600SE VIVO 128MB on HardAvenue.
Yuan Radeon 9800 Pro on OCNZ.
ATI Radeon 9600 XT on ViperLair.
Aopen Aeolus GeForce FX 5950 Ultra on Hexus.
Asus Radeon 9800 and 9600 XT/VTD on Beyond3D.
Asus Radeon 9800 XT/VTD on TrustedReviews.
Asus Radeon 9800 XT/VTD on AMDMB.

Storage:
Plextor 708-A DVD±RW / CDRW drive on ClubOC.
TDK DED+440N External DVD Writer on HWZ.
Pioneer DVR-SK12D Dual DVD±RW / CDRW drive on CDRInfo.
Bytecc ME-305US USB2 HDD enclosure on PCStats.
Nu Tech SBW-242US External Slim USB2 Combo Drive on ModSynergy.
Kingwin KF-83 HDD Rack on OCrCafe.

Power Supply:
Allied Aluminium 500W on Bjorn3D.
SilenX 400W <14dB on Ohls-Place.
Apex 500W on Hardware-Pacers.




HighPoint Technologies e.SATA RAID Kit v2 (4 Comments) (link)
Tuesday, 2-December-2003 01:06:07 (GMT +10) - by Agg


Chainbolt has reviewed this kit from HighPoint. It's a 4-channel RAID adapter supporting SATA and PATA drives, including two in an external chassis.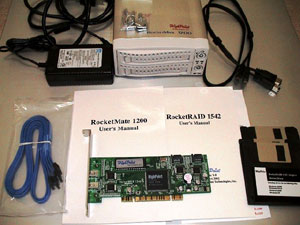 Click for the review!


BTW, Tuesday will be news catchup day, so stay tuned for lots of updates during the day!



The news has been a bit slow over the last few days as most of the newsmonkeys have been busy LAN...err...working. Thanks to Torment for keeping things alive for us.

Adrian's Rojak Pot tested an ASUS SK8N and reported that the PCI bus is not locked. That's a nuisance when it comes to high FSB overclocking. From Ambush.

TweakTown have a AMD Athlon 64 Chipset Royal Rumble. They pit all the newest chipsets from VIA, SIS, nVidia and ALI and find out who the best choice is for an Athlon 64 powered motherboard.

Madshrimps take a look at the latest in the NFS game series, Need For Speed: Underground.

Xin sent this link to this interesting project attempting to map the Internet. Forum member LINUX is attempting something similar and has a thread about it in the forums.

A link from Dink, about a new Internet Explorer hole that has no patch. Oh well, I'm sure it's not the only one.

I would normally add this link to the review news, but I just have to tell you about the USB Massage Ball. Now don't get those last two words mixed around!

A few days old, but the Nigerian Government is taking steps to rid the country of Internet scammers. "It may also set up a new agency to tackle the scam which has made the country's name synonymous with Internet fraud." About time too.



---
Advertisement:


All original content copyright James Rolfe.
All rights reserved. No reproduction allowed without written permission.
Interested in advertising on OCAU? Contact us for info.