February 2004
Sunday Evening (4 Comments) (link)
Sunday, 29-February-2004 19:42:06 (GMT +10) - by Agg


Hitachi have unveiled a 300GB, 10k-rpm HDD. They're available in Ultra 320 SCSI and 2Gb per second Fibre Channel, so I guess they won't be appearing in our desktop PC's anytime soon.

Callan spotted this Commodore 64, still in service!

ARP have an article about Power Factor Correction, a marketing buzzword used on power supply boxes nowdays.

Some Telstra tidbits: the ACCC has issued Telstra with an advisory notice for selling ADSL direct to consumers for less than it charges its wholesale customers, thanks Dink, who reckons this tshirt is perfect for ex-Telstra employees. Airquarius01 noticed this odd pricing policy mentioned on Whirlpool.

Xbit tried to make a graphics card cooler and quieter while keeping it fast.

HWZ checked out Western Digital's WD740GD SATA 10k-rpm 74GB hard drive. We looked at them standalone and in RAID here about a month ago.

Another member of the Razor1911 demo and warez group has been sentenced - to 50 months in jail, thanks Graham.

Sudhian have dual Xeons on the test bench, using a Canterwood-based ASUS motherboard.

Dan has yet more letters about stuff.

It seemed inevitable - Jaz sent in an article about how viruses and spammers have come together in a nasty commercial way.

JustFPS have a clear case project in progress, aiming to keep it small and quiet. German site PC-Max have a watercooled Shuttle project (link is Babelfished). The ModFathers modded a radiator for better performance.

Hydra noticed another "visual" search engine: Kartoo. Not a big fan of that kind of interface myself.

This site shows how (or how not to) pull apart an iPod mini, thanks WinK.

Apparently chess computers will overtake humans this year, thanks Rage.

Ridewitme sent word of this charity LAN to raise money for a wheelchair.




Saturday Morning (6 Comments) (link)
Saturday, 28-February-2004 01:36:15 (GMT +10) - by Agg


Hypothermia are raffling a 3GHz P4 PC, to benefit Brian from ProCooling. During the delivery of Brian's brand new baby girl, his wife suffered a stroke and the outlook isn't good. Brian now has 4 children to take care of while his wife is laying in the stroke ward at the hospital.

HardWareZone have a review of Nikon's D70 digital SLR camera. They reviewed Canon's EOS 300D a couple of days ago.

UntouchableMods ducted some cold outside air into their case. As some of you may know, I recently became a serious overclocker. Hehe. Might want to think about condensation with that setup, too. IntelForums saved themselves some time and just moved the whole PC outside, into a nice -6C Minnesota winter day.

At the other end of the spectrum, the linuxathome gang have a melted P4 system on display.

OCNZ compared ABIT's AI7 and ASUS's P4P800 Deluxe, two i865PE motherboards.

Dan has more letters, covering dangerous subs, Nixie clocks, wire hunting, eMac USB, photo storage, DVD audio, munged monitors, speaker/headphone swapping, and a dirty game.

Bjorn3D have an editorial titled 64-Bit for all!, explaining how they think it's a great thing for consumers.

LostCircuits cover Command Queueing in their latest hard drive technology article.

Chris noticed this article about diamond conductors possibly becoming economically feasible.

Xbit have a hardware news overview for February, as well as a look at Shuttle's ST61G4, a mini-PC based on ATI's Radeon 9100 IGP chipset.

OCClub have an article about dual-booting WinXP and Fedora Linux.




Friday Morning (8 Comments) (link)
Friday, 27-February-2004 03:25:38 (GMT +10) - by Agg


GameArena are having a UT2004 Competition. Armed with nothing more than a few teammates and a copy of the demo, you can enter the running to win the Unreal Tournament 2004 Limited Edition Tin version of this action-packed first person shooter, and a Creative NOMAD® MuVo²® MP3 Player for you and your team mates!

There's yet another MyDoom virus variant doing the rounds.

Boky spotted this article about Nikon's Thailand factory, where their new D70 digital SLR is being manufactured.

Apparently AMD64 CPUs have security technology built into them, which Microsoft plan to enable with WinXP SP2, thanks Sniper.

Guillemot are apparently withdrawing from the graphics card and LCD business under the Hercules name.

AJ built a pretty tasty modded PC into a Mac SE. Nice work!

If Italian thoroughbreds are your thing, you'll be happy to know the Pagani Zonda will be on sale in Australia soon - with a starting price of $1.2M.

Bit-Tech rounded up a few high-end and midrange video cards.

Chris noticed that the US Army is making a copy of the Earth.. a simulated one to help it "prepare for conflicts" around the world.

Watercooling PC's is getting pretty old hat now, so I guess adding fish and a waterfall is one way to keep it interesting.

Tech-Report tried overclocking an Athlon XP-M 2500+ after hearing good reports about them.

Hexus have an article about how DDR-II works.

Hakes noticed this top 10 PC games ever listing on FlamingShrubs.

Speaking of games, today's Friday timewaster is Crimson Room. Everyone in IRC has been playing it. Find stuff and escape from the room.



Motherboards:
ASrock K8S8X previewed by OC Workbench.
VIA PT880 Reference Board reviewed by TrustedReviews.
DFI LANParty NFII Ultra B vs. ABIT AN7 by HOTHardWare.

Video:
Abit's Radeon 9800 XT 256MB reviewed by HOTHardWare.
ATI RADEON 9600XT 128MEG reviewed by Tweak News.
Dell W1700LCD TV/Monitor reviewed by TrustedReviews.
FIC Radeon 9600XT 128MB Video Review by 3dGameMan.
XFX GeForce FX 5950 Ultra reviewed by VR-Zone.

Audio:
Ezonics ESound 5.1 reviewed by DesignTechnica.
Logitech Z-3 Speakers reviewed by 3DXtreme.
Maxdy VPC-1000 Multimedia Hub reviewed by Virtual-Hideout.
RS Audio Cables The Duet Interconnect reviewed by EXHardware.
Apple iPod Mini MP3 Player reviewed by SLCentral.
Maxdy VPC-1000 Multimedia Hub reviewed by ClubOC.
Xoxide Ultima Dancing Light Speaker Set reviewed by 3DXtreme.

Cooling:
Acousti Products 120mm AcoustiFan reviewed by Big Bruin.
Evercool CUF-715 reviewed by Frosty Tech.
Arctic Cooling VGA Silencer reviewed by OCFaq.
Tweakmonster BGA RAMsinks reviewed by OCFaq.
OCZ Eliminator 2 reviewed by SubZeroTech.
Thermaltake Silent Boost K8 Heatsink reviewed by SLCentral.
Topspeed - 3.X Water Cooling Kit reviewed by ViperLair.
Thermaltake Extreme Giant III reviewed by Overclocker Cafe.
The Danger Den Maze 4 Intro Kit reviewed by FastLaneHW.

Storage:
Crucial 256Mb 'Gizmo' USB Flash Drive reviewed by PyroPort.
Mitron Hard Drive Vibration Damper reviewed by Crazymodders.
Plextor DVD RW CD RW + - 708UF reviewed by HardwareHell.
32MB USB Pen Drive USB Bar reviewed by 3Dvelocity.

Cases & Modding:
FrontX : Complete Front Port Solutions reviewed by A True Review.
Raidmax Scorpio 668 Case reviewed by TechwareLabs.
Ram Mod Lighting Kit reviewed by Tech-Mods.
ClearPC Secret Agent Briefcase reviewed by Explosive Labs.
Sunbeam RGB Liquid CCFL reviewed by OverClock Intelligence Agency.
Terra-Byte Aurora reviewed by PC Review.
Thermaltake Purepower 480W reviewed by PC Tech Zone.
VL Systems L.I.S. 2 reviewed by GruntvillE.
Antec LANBOY Mini Tower Case reviewed by TheTechLounge.

Small Form Factor:
Biostar's iDEQ 200P mini-barebones system reviewed by The Tech Report.
Shuttle SN85G4 XPC reviewed by OverclockersClub.

Mouse & Keyboard:
Cybernet Elite-4 Zero-Footprint-PC Keyboard reviewed by The TechZone.
Microsoft Wireless Optical Desktop Elite reviewed by justFPS.

Misc:
SteelPad Cord Holder reviewed by BurnOutPc.
Snap Server 1100 reviewed by Guru3D.
Scan 3XS-OC Overclocked Series System reviewed by Hexus.




Peplate's Briefcase PC (5 Comments) (link)
Thursday, 26-February-2004 22:24:13 (GMT +10) - by Agg


We've all seen briefcase PC's before, but this new PCDB entry from peplate is something special. Instead of just a bunch of components cabletied into place, it's tidily sealed with perspex and internal cooling fans. Not only that, but the screen is built into the lid:



Click for PCDB entry!






Wednesday Afternoon (10 Comments) (link)
Wednesday, 25-February-2004 15:05:00 (GMT +10) - by Agg


Insane rain here at the moment, it's been hurling it down all day - but it certainly beats the 40C days of last week.

Project Gutenberg have released a DVD containing 9500 ebooks. AusGamers have download information here. 4.1GB and available via BitTorrent.

2CPU have an interesting article about Linux Kernel 2.6 and Hyperthreading, seeing how Prescott compares to Northwood.

Sciby found an article that explains in some detail what went wrong with the Mars rover Spirit's memory.

Sniper spotted this article about getting your girl to play games.. on the PC or console.

HP have committed to using both Opteron and Itanium CPUs in their future servers.

Apparently the US Army has abandoned the Comanche helicopter project.

Microsoft continue their focus on security, moving resources away from developing the next version of Windows, in favour of releasing a security update for WinXP.

Bjorn3D compared a few different AMD Athlon 64 CPUs in some benchmarks.

IPKonfig wonder how the game industry will be affected by Hollywood taking an interest.

Bit-Tech have a short editorial about cooling vs noise.

DrDevil notes that Australia's Tax Office will allow Linux for future technology tenders.

Hydra reckons the oddly-named Mooter search engine is worth a look.

GideonTech want to show you how to make a remote control for your PC.

BBQ_69 found a Windows version of wget, the very handy command-line file-grabber.

Dan has tested a PSU tester and shared his opinion on file sharing.

LostCircuits cover RAID 0, 1 and 10, the simpler forms of RAID.

OCZ are recalling their Ultra 2 thermal paste, thanks SUROK.

AppleTalkAU have a guide to flashing a PC Radeon 7000 PCI video card so you can use it on a Mac.

AusGamers have the Colin McRae Rally 04 demo available for download.

LegitReviews spent some time overclocking the 2.8E Prescott P4.

Interesting Forum Threads:
Swap File in Windows Operating Systems.
Real Estate Photography (1MB of pics) in Photography.
CBR600 Road Bike Restoration (pics) in Motoring.
Got Fighter Jet? (pics) in The Pub.
locking the dividers on asus k8v/k8t800 might be possible in AMD Hardware.




Wednesday Review-A-Thon (0 Comments) (link)
Wednesday, 25-February-2004 06:49:03 (GMT +10) - by Mred32


Systems/Laptops/PDA:
AOpen XC Cube EY65 SFF Barebone at Trusted Reviews
IBM ThinkCenter A50p PC at ByteSector

Mainboard:
AOpen AK79D nForce 2 Ultra 400 Motherboard at WinHQ
VIA Epia TC10000 Mini-ITX Mainboard at EPIA Center
Soltek SL-PT880PRO-FGR Pentium 4 Motherboard at ClubOC
Intel Desktop Motherboard D875PBZ at CyberCPU
ECS 755-A2 Socket754 Mainboard at XbitLabs

Memory:
OCZ PC-3200 Dual Channel Platinum Limited Edition at ClubOC
Kingmax Hardcore Series DDR-466 and DDR-500 Memory at Tweaktown
Corsair TwinX XMS4400 at Tech-PC

Storage:
Panasonic DVD-LX9 Portable DVD Player at ByteSector
TDK AID + 880N DVD Writer at HardwareZoom

Video/Monitor:
Samsung Syncmaster 192MP 19" Multifunction LCD Monitor at TweakNews
HIS Excalibur 9600XT 128MB TURBO VIVO Edition video review at 3DGameMan
ATI TV Wonder PRO, Remote Control Edition at Pimped Out Cases
Hauppauge PVR-250 Tuner Capture Card at Mod Asylum
Samsung 173P LCD at Bjorn3D
Chaintech GeForce 5700 Ultra at OCC
MSI FX5950 Ultra at R&B Mods
Sapphire Radeon 9600XT 256Mb at OCC
PowerColor Radeon 9800SE at Trusted Reviews
Powercolor Radeon 9600XT 128MB Bravo at JSI

Case/Mods:
Scythe's e-Otonashi Fanless EPIA-M Case at SilentPC Review
Thermaltake Xaser 5 V6000A Damier Case at HardcoreWare
Chenbro Hornet PC-80566 Case at Hardware-Pacers
Enermax CS-10182-BA Server Tower Chassis at BigBruin
In-Win X710 Case at MadShrimps
Memorex Modz Fan, Light and Cable at A True Review
Lizard Tree Chameleon Springs at HWGuru
Startech 24" Round IDE EL Cables at Viperlair
Ahanix Blu3 Mid-Tower ATX Case at Extreme Mhz

Networking:
Asanté_FriendlyNET GX5-424W Gigabit Switch at Networks Today
Asante FriendlyNET FR1104-G Router at Extreme Reviews

Audio:
Aperion Intimus 5.1 Audio System at Designtechnica
Creative NOMAD Jukebox Zen NX 20GB MP3 Player at The Tech Lounge

Cooling:
Antec Notebook Cooler at HWGuru
DangerDen RBX Waterblock at Ninja Lane
PolarFlo GPU/ Chipset Waterblock at Gruntville
Cooler Master Aero 7 Lite at Trusted Reviews
Thermalright SLK-948U Heatsink at Envy News
Spire SP420B8-2 CopperStream II Heatsink at Pimped Out Cases
Thermal Integration TI-A8641L Heatsink at FrostTech
Asetek Waterchill Version 2 Water Cooling Kit at OCPrices

Mouses:
Logitech MX 900 Bluetooth Wireless Mouse at Lan Addict
Thermaltake Xwing Bluetooth Mouse at A1-Electronics
RatPadz GS Mousepad at JustFPS




Tuesday Morning (14 Comments) (link)
Tuesday, 24-February-2004 03:05:31 (GMT +10) - by Agg


MWP sent word that the PCDB has received its 6000th entry. No pics in that one, but if you want some, check out the top-ranked gallery entries as voted by PCDB viewers.

Sniper noticed some DDR-II pricing from Buffalo on Xbit. Unsurprisingly, it's scarily expensive for the moment.

From Bangers: Just thought that while everybody is waiting for the evidence in camera web site to bring its searchable catalog online, your readers might be interested in the link to this page, which has many realtime photographs of u-boats being captured and or sunk. In addition to this it has many other historical documents including interrogation of the captured u-boat sub-mariners, action reports from the pilots and ships involoved and press releases. Some of the action photographs are quite amazing.

3DXtreme have three P4 coolers from Spire, Evercool and Titan compared. NordicHardware looked at four P4 barebones systems.

An American judge has ruled that DVD copying is illegal, thanks yyk.

From WinK: Extreme Tech has some news about the upcoming Logitech MX510 mouse. There's also more information on the Logitech website here. There's also a thread about it here in our forums.

TheModFathers had a day with nVidia UK.

Poida spotted this gore-enhanced version of the ever-popular Pingu game.

From Ambush: MBM 5.3.6.0 has been released. Still no word from Abit about uGuru support, save that Abit USA is keen but Abit Taiwan (Head office) keeps on refusing to supply Alex van Kaam with the required documentation. ABIT Forums thread here, MBM Forums thread here.

A1-Electronics have an article about lapping heatsinks. The technique described in this article would work too.



Haroc sent in this very cool Picture Australia site, with thousands of historical photos of Australia. I just lost an hour digging around for pics of some of my favourite places. The picture trails feature is pretty cool, too.

Yet more Intel Developer Forum stuff: Part 2 and Part 3 on HWZ, tweaking session and day 3 keynote from Hexus.

A few people sent in this story about a lady suing the RIAA for racketeering.

Andrew spotted this little RoboSapien robot. Very cool! Speaking of which, from Isengard: an article on Wired about the chip-equipped, interacting-with-your-TV toys on show at the 101st Annual American Toy Fair. Including a new Batman that's "upgraded" by signals encoded in the animated series it's being launched in conjuction with. Oh, and apparently Barbie officially broke up with Ken, for an Aussie surfer-type bloke.

Hadjicom says that you can now surf the net at McDonalds.. well, a selected 44 restaurants across the country. Try not to get special sauce in your keyboard.

DeadEye263 sent word of a recent F-16 crash involving one of the Thunderbirds demonstration team of the US Air Force. The pilot ejected and was unhurt, but the truly amazing thing is the photos taken of the ejection process. The first link at the bottom of this page is a 2.7MB high-resolution picture taken 8/10 of a second before impact - amazing photo. The onboard footage of the pilot is interesting, too.

There's apparently been some concern about the accuracy of temperatures reported by nVenvtiv's phase-change coolers. ExtremeSystems has a press-release from them explaining what the story is.

A couple of case-modding projects: Fush Zero on OCModShop and The LabRat from VoidedWarranty. For more cool PC's, see the PC Database Gallery.

Ambush noticed that there has been an update to Morse Code, the first one in a very long time. The change, of course, is to add the @ symbol. Some discussion of this here in our forums and here on Slashdot. There's a Morse Code translator here.

TeamHardware have a guide to putting glowing things into your PC.

From Wolfy: Microsoft - as part of their efforts to lift the security profile of their OS's - are offering free 1 day seminars early next month. Apparently already over 5000 people have registered, so for those interested it may be a good idea to do so soon. There is a seminar stream for Developers and another for IT Professionals (Admins).

Apparently a Queenslander has been distributing Windows source, thanks Dink.

Fen says this flash game is very addictive. 2.7MB and from a quick look it seems to be some kind of fighting game.



CPU:
AMD Athlon64 3200+ reviewed by [HW]Zone.
Intel Celeron 2.6GHz reviewed by Intel Forums.
AMD ATHLON 64 FX-51 reviewed by DriverHeaven.

Motherboards:
Soltek SL-PT880Pro-FGR reviewed by The Tech Report.
FIC K8-800T Video Review by 3dGameMan.
DFI LANParty PRO875B reviewed by PcStats.

Memory:
Kingston HyperX PC-4300 reviewed by Legit Reviews.
Corsair TWINX1024-3200LLPro reviewed by OverclockersClub.

Video:
ABIT 9800 XT reviewed by DriverHeaven.
Samsung 173P Flat Panel Display reviewed by PCExtreme.

Audio:
MAD DOG Entertainer 7.1 DSP Sound Card reviewed by HotHardWare.
"Listen To Believe" Mentor Deluxe Headphones reviewed by PCExtreme.
Fluance 5 Speaker Surround Sound Home Theater PC System SX-HTB reviewed by SubZeroTech.

Storage:
Enermax EH-350D External 3.5 Inch Drive Enclosure reviewed by 3DXtreme.
MSI CR52 CD Writer reviewed by TrustedReviews.
LITE-ON LDW-851S DVD±R/RW reviewed by Envy News.
Sony DRU-530A DVD±RW Burner reviewed by DesignTechnica.

Cooling:
Vantec NXP-305 Fan Controller reviewed by Creative Mods.
Ultracool II Digital Fan Controller reviewed by MADSHRIMPS.
V.L. System LIS 2 USB LCD Video Review by 3dGameMan.

Cases & Modding:
Sunbeam UV Reactive Acrylic Case reviewed by A True Review.
Chenbro Hornet Gaming Case reviewed by Flickerdown Data Systems.
Mutant Mods UV Reactive Lighted Cables reviewed by ClubOC.
Thermatake Accessories reviewed by PC Tech Zone.
Crazy PC Scorpion Side Case Panel reviewed by Monster-Hardware.

Mouse & Keyboard:
Ideazon Zboard reviewed by eXtreme Reviews.
H5001 Wireless Optical Mouse reviewed by Hard eXtreme.
Eumax H5001 RF Wireless Optical Mouse reviewed by TechIMO Hardware.
Eagle Touch Wireless Power Office Keyboard XP reviewed by OverClock Intelligence Agency.
The Wacom Volito Tablet reviewed by Adrian's Rojak Pot.
Thermaltake X-Wing Bluetooth Mouse reviewed by Overclocker Cafe.
Steelpad 4S Gaming Mouse Pad reviewed by A True Review.
Steel Gaming Glove reviewed by OC Ware.

Small Form Factor:
Shuttle XPC Zen (ST62K) reviewed by PimpRig.
Mappit A4F Silent PC reviewed by SilentPCReview.
Biostar iDEQ 200T reviewed by 2CPU.
Syntax EZ-Clocker I-Series reviewed by Extreme Overclocking.

Misc:
Asante FR1004 reviewed by eXtreme Reviews.
Epson Stylus C63 reviewed by HardwareZoom.




Sunday Morning Reviews (1 Comments) (link)
Sunday, 22-February-2004 03:36:31 (GMT +10) - by Agg


PSU:
Zalman ZM400B-APF noiseless 400W on RBMods.
Tagan TG480-U0148 480W on 3DVelocity.
Seasonic 350W on RBMods.

Cases:
Yeong Yang Cetus on ATrueReview.
Inwin X710 Black on BurnOutPC.
Enermax CS-31881TA-B3A midtower on TheTechLounge.
Thermaltake WinGo V8000+ on LegionHardware.

Cooling:
Vantec Vortex HDD cooler on HardCoreWare.
Thermaltake Ducting Mod on FreakGamer.
Thermalright SP-97 socketA CPU cooler on FastLaneHW.
CoolerMaster Aerogate II thermal controller on XtremeSystems.
Enermax UC-A8FATR4 Ultimate Fan Controller on TheTechLounge.
120mm AcoustiFan on CreativeMods.
Taisol CEK787172 socketA CPU cooler on FrostyTech.
JetArt JAK802A socket754 CPU cooler on ModSynergy.

Video Cards:
ASUS Radeon 9600XT on Digital-Daily.
HIS Excalibur 9600XT Turbo on GruntVille.
HIS Excalibur 9600XT Platinum Turbo on TweakNews.
Crucial Radeon 9800 Pro 256MB on Hexus.
Diamond Stealth S80 Radeon 9200 on HotHardware.
MSI GeForce FX5950 Ultra-VDT256 on ViperLair.




Early Friday Morning (19 Comments) (link)
Friday, 20-February-2004 00:08:54 (GMT +10) - by Agg


More stuff from the Intel Developer Forum: HardWareZone, Hexus (and more) and Bit-Tech.

Man, if we had a Star Trek classroom when I was in school, I would have paid a lot more attention.

MCFLY5 spotted some UT2K4 Benchmarking on Xbit.

OnlyNewz compared a few ATI Catalyst driver versions.

Sticks spotted this love detector. The Love Detector – based on Israeli counter-terrorism technology – sells in the US for $63. The program runs 8000 mathematical formulas to divine 16 emotional parameters.

Yet another portable digital media standard has sprung up, called FISH.. DesignTechnica took a look at them. Sure, I'll put my important data on a FISH stick.

Boky spotted mankind's first burnout on another planet.

Ocelotx sent word of a new cooling technology that he reckons could be applied to PC's.

TechPC wrote an editorial about Intel and 64-bit technology, then decided it was a load of rubbish and wrote a rebuttal to themselves.

Meanwhile, ITNews report on Intel's future chipsets, thanks Murray.

There's a slightly dated (ie, before Intel's recent 64-bit announcement) article here about how AMD are turning up the heat on Intel.

DriverHeaven built themselves a dream PC they call The One.

OCWB are reporting that, with a certain ASRock motherboard, a certain beta BIOS and a certain CPU mod, you can unlock the multiplier on the recently-locked AthlonXP CPUs.. even changing multipliers in Windows!

Is Dan. Is letters. This time with pictures.

Futurelooks look at making music with a PC.

HotHardware took a look at the ForceWare 55 drivers from NVIDIA. NeoSeeker go one better and look at the 65.65 version which should be available soon. Bjorn3D discovered a performance graph feature buried in the new drivers, which apparently appears when you install the coolbits patch.

SFFTech packed a Prescott into a small package to see if it burst into flames.

Mobilemag checked out this tiny WinXP PC, thanks diamondz.

Norgs noticed that nmap, that network security utility made famous by, among other things, appearing in a Matrix movie, has now appeared in (link warning) a porn film. Warning: That link is mostly ok, but it leads to pictures of full nudity, so the usual warnings apply.

SCO have finally specified which bits of linux code it feels infringe on its copyrights. Lots of reading there.

Tombo notes Amazon had a bit of a screwup recently, revealing the names of people who had "anonymously" reviewed books. Unsurprisingly, the authors give themselves positive reviews fairly often. :)

A roundup of roundups: Digital-Daily compared ATI 9100IGP based motherboards from Asus and Gigabyte, while LostCircuits looked at Radeon 9600 cards from Sapphire and Asus. PimpedOutCases rounded up five mousepads. Xbit looked at six tv tuner cards, while TechwareLabs compared CPU coolers.




Game Demos (3 Comments) (link)
Thursday, 19-February-2004 16:32:02 (GMT +10) - by Agg


Here's some recently-released game demos that people have been talking about. They're all first-person shooters:

Painkiller: The demo contains 3 Single Player levels including the never-before-seen Oriental Castle, the medieval town level and the Thor level where players will get "hammered" with one of the biggest, meanest and downright scariest bosses of all time, Saphathoraél. Download and more info here on AusGamers.

Unreal Tournament 2004: The Unreal Tournament 2004 official demo includes five playable game modes, and offers fans their first taste of Unreal Tournament 2004's two new game modes: the introduction of the hyper-charged Onslaught mode and the return of the fan-favorite Assault mode, which last appeared in the original Unreal Tournament. The demo also features established gametypes like Deathmatch, Capture the Flag and Bombing Run. Download and more info here on AusGamers.

Far Cry: Far Cry is a tactical, first-person-perspective action game set in a tropical paradise. During play you will be informed of the story and objectives by occasional video sequences, and prompts on the head up display (HUD). Download and more info here on AusGamers.

For other game demos, patches etc, check out AusGamers Files.




Press-Releases (3 Comments) (link)
Thursday, 19-February-2004 14:07:21 (GMT +10) - by Agg


Some press-releases of interest from the last few days:

AMD announced new low-power Opterons. The AMD Opteron processors HE (55 watt) and EE (30 watt) for servers and workstations, which are expected to be available in March, bring world-class 32-bit performance and easy migration to 64-bit computing to customers who demand increased compute density, investment protection for the future and the most performance per watt of any processor in their class as measured by the industry-standard benchmark suite SPEC® cpu2000. Full press-release here.

ABIT have a new logo and a new "Corporate Identity". 78kb doc file here with info. This seems to be the old logo with the words "Advanced Durability" under it. "The new corporate identity better reflects where ABIT is headed in 2004," says ABIT Marketing Director Scott Thirlwell. "Starting early in 2003, ABIT made significant changes with the goal of producing the absolute most durable products available on the market. These changes over the last 14 months to components used, testing procedures and manufacturing processes have placed ABIT into a position whereby we are confident in saying that ABIT quality, reliability, stability and engineering is unmatched in the industry." ABIT also released their Radeon-based video cards recently, thanks MCFLY5.

VIA announced their KT880 Dual Channel Chipset for the AMD Athlon XP Processor. Featuring the DualStream64™ memory controller, an intuitive package of new dual channel DDR400 memory technologies, and a host of top-class connectivity features, the KT880 sports native Serial ATA/RAID, VIA Vinyl 6-channel Audio, 10/100 Ethernet, as well as optional VIA Vinyl Gold 8-channel Audio and VIA Velocity Gigabit Ethernet support through the addition of VIA companion controllers. More info here.

Corsair announced their new XMS2 family of xtreme performance DDR2 memory modules. The first product in this family is the Twin2X1024-4300, a matched pair of 512MB 533MHz 240-pin DDR2 modules. This product has been tested extensively on several different DDR2-based motherboards and is expected to be 100% compatible with the newest DDR2 chipsets and motherboards. Further information and specifications on these and other XMS2 products can be found here. Detailed information on DDR2 memory can be found in the Corsair DDR2 FAQ (.pdf) here.

NVIDIA introduced a full range of PCI Express GPUs. By using an innovative PCI Express (PCX) high-speed interconnect (HSI), a complex piece of networking technology that performs seamless, bi-directional interconnect protocol conversion at incredible speed lines, NVIDIA can transform its current award-winning GeForce FX series into a full-family of PCI Express GPUs. Full press-release here.




Wednesday Afternoon (11 Comments) (link)
Wednesday, 18-February-2004 18:16:32 (GMT +10) - by Agg


Big news for the day is, unsurprisingly, Intel announcing a change to their 64-bit strategy at the Intel Developer Forum currently underway. If you recall, Intel's approach has so far been through Itanium, a pure 64-bit CPU which has had only limited acceptance by the market. AMD's approach has been to make a CPU (Opteron, Athlon 64) which can run both 32-bit and 64-bit software - this has been accepted much more widely by the market. Intel's new news is that they will be producing a Xeon chip based on Prescott (the latest P4's) which can handle 32-bit and 64-bit code, in a similar strategy to AMD. Anyway, more info and lots of other stuff from IDF on Hexus (and here), VR-Zone and News.com with no doubt lots more to come.

On the other side of the fence, Mac.Ars look at Apple and 64-bit computing.

Ken says we can order a free Windows security update CD from Microsoft, but it's not clear if Australian users will get the CD or just see some information online.

Seagate has kicked off the move to 2.5" hard drives in servers with its Savvio range. Makes sense, as servers themselves become smaller, fitting 3.5" hard drives into them is becoming more of an issue.

Dan has more letters.. no, wait, glowing things this time. And porn, of course.

Tee noticed an ATI roadmap for its next video chipsets, with native PCI Express support. ATI demonstrated a PCI Express video-editing card with Pinnacle and Intel at the IDF.

Intel will apparently soon be showing off a high-performance, low-power ALU that runs at more than 7GHz in 32-bit mode and at 4GHz in 64-bit mode. Compared with existing Intel ALUs, the prototype unit increases performance by 20 percent and reduces power consumption by 56 percent, Borkar said. In the Pentium 4 family, the ALU runs at twice the speed of the chip, so the part would fit into a Pentium 4 style chip that would run at 3.5GHz.

I don't really know what to make of this page which questions NASA's motives and highlights some odd behaviour on Mars. There's a similar take on it here. Quite a few people have submitted it now and it's certainly thought-provoking, so, well, make up your own mind.

Ohls-Place have some Prescott overclocking results.

DriverHeaven wonder how much difference the new Reactor Driver 1.02.05 make to performance on a Volari Duo V8 video card.

D-Silence have an article about how bandwidth has increased over time.

Rage spotted an article about funny comments buried in the Win2k source code.

LinuxHardware have an article about watercooling dual Opterons.

From Roland: This is what does a trio of Australian musicians from Canberra. The musicians of the group, named Hypersense Complex, create their digital music using sensors attached to their hands. This generates sounds through a laptop network of Apple PowerBooks running a Python script. Pretty exotic, isn't? In "Music trio's sensors working overtime," PC World tells us more about the group and the hardware and software they designed. "The musicians load sound samples into a laptop and play them using bendable flex sensors, worn on four fingers on each hand, connected to the computer." This overview contains more details and references about this new way to create music. You can also see the sensors on a photo of the trio rehearsing in studio.




Wednesday Afternoon Reviews (Part 2). (0 Comments) (link)
Wednesday, 18-February-2004 16:44:53 (GMT +10) - by Firemoth


CPU:
Intel Pentium 4 3.2Ghz Extreme Edition Northwood Processor reviewed by Tweak News.

Motherboards:
Gigabyte GA-7VA (revision 2) reviewed by Techangel.
ASUS SK8V reviewed by [H]ard|OCP.
DFI 865PE-INFINITY reviewed by [H]ard|OCP.
ABIT AN7 reviewed by ViperLair.
Abit AI7 i865PE reviewed by TrustedReviews.
Albatron K8X800 Pro II reviewed by MetkuMods.

Storage:
ME-770 USB 2.0 Hard Drive Enclosure reviewed by RipNet-UK.
Bytecc 7-IN-1 USB 2.0 Memory Reader / Writer reviewed by 3DXtreme.
Maxtor DiamondMax 300GB 5400RPM reviewed by ByteSector.

Memory:
Corsair TwinX1024 PC4000-Pro reviewed by Legion Hardware.
Corsair TwinX1024-4000PRO Memory reviewed by Big Bruin.

Audio:
Jensofsweden Mp300 mp3 player reviewed by Red & Blackness.
AKG K 301 XTRA Stereo Headphones reviewed by A True Review.
Evidence Audio Lyric HG Instrument cables reviewed by EXHardware.

Networking:
DLink DWL-G650+ Airplus Xtreme 802.11g PC Card reviewed by PyroPort.
Trust USB2 Easy File Transfer Cable reviewed by BurnOutPC.

Mouse & Keyboard:
Microsoft Wireless Optical Desktop Elite reviewed by OcPrices Hardware.
G700 Keyboard for Toshiba e740 reviewed by 3DVelocity.
GamersStuff fuZe Mousepad reviewed by TechFreaks.

Cases & Modding:
GMC X-21 Trinity Gold reviewed by eXtreme Reviews.
Startech.com ATXPOW500DF 500W Dual Fan PSU reviewed by Big Bruin.
PolyGFX Case Skin reviewed by bit-tech.
Crystalfontz CFA-631 reviewed by GruntvillE.
CoolCases.Com Modified CF-1009 Case reviewed by Virtual-Hideout.
Cooler Master Wave Master TAC-T01-E1C reviewed by 3DVelocity.
Antec P160 reviewed by DataFuse.
A-Top Z-Alien Mid-tower ATX Case reviewed by ExtremeMhz.
Xide-Pad II & Xide-Base reviewed by ExtremeMhz.
Crystal Fontz LCD Model 632 reviewed by Voided Warranty.

Misc:
Canon PowerShot S230 digital camera reviewed by Designtechnica.
Shuttle Zen (ST62K) XPC - P4 reviewed by Overclocker Cafe.
IBM ThinkPad X31 reviewed by TrustedReviews.
ECS EZ-30 Tablet PC reviewed by OC Workbench.
AOpen XC Cube reviewed by SilentPCReview.
Tom Bihn Smart Alec and Monolith Computer Bags reviewed by PCStats.




Wednesday Afternoon Reviews (Part 1). (0 Comments) (link)
Wednesday, 18-February-2004 16:15:26 (GMT +10) - by Firemoth


Cooling:
Danger Den RBX Acclerator-nozzle Comparison by MADSHRIMPS.
QuietPC 92mm AcoustiFan reviewed by MADSHRIMPS.
Arctic Cooling Arctic Fan Pro 2 L reviewed by eXtreme Reviews.
AeroFlow 2 Pentium Heatsink reviewed by Ohls-Place.
Tweakmonster Fan Bracket/RAMsink Kit reviewed by OverClock Intelligence Agency.
Thermalright SP-97 Heatsink reviewed by Envy News.
Zalman ZM-80C Heatpipe reviewed by OCFaq.
AcoustiProducts 120mm AcoustiFan reviewed by PimpRig.

Video:
Gainward GeForce FX 5700 Ultra Golden Sample Ultra/960 Dual-DVI 128MB reviewed by Hexus.
Inno3D Geforce FX 5700 Ultra reviewed by TechwareLabs.
ATi Radeon 9600SE reviewed by Hardware Avenue.
MSI FX5700 Ultra-TD128 reviewed by PCStats.
PowerColor Radeon 9600XT Bravo reviewed by HardwareHell.
Samsung SyncMaster 192T 19" LCD Flat Panel Display reviewed by Extreme Overclocking.
GeCube RADEON 9600 XT "Extreme" reviewed by X-bit labs.
NEC MultiSync LCD2180UX 21.3in TFT reviewed by TrustedReviews.
ASUS V9570 TD FX 5700 256MB reviewed by Beyond3D.
Chaintech APOGEE AA5700U GeForce FX 5700 Ultra reviewed by OCTools.
Forsa Geforce FX 5600 reviewed by TechwareLabs.
Samsung SyncMaster 192MP reviewed by ByteSector.




Tuesday Afternoon (7 Comments) (link)
Tuesday, 17-February-2004 13:58:26 (GMT +10) - by Agg


We mentioned this some weeks ago but it was being hammered into the ground by traffic. A few people have pointed out that it's usable now: the Aerial Reconnaissance Archives. For the first time you can access 5.5 million photographs taken over occupied Western Europe, by the Allies during World War II. Go to "Image Shop" for the current photos - the search function is still offline.

Those of you who had an IBM GXP-series HDD die may be interested in this story on Tech-Report, which claims things are a lot more sinister than we realised. Coincidentally, one of my 75GXP 30GB's awoke from the dead yesterday - the two 60GXP 40GB's are long gone, though.

InternetNews wonder which is the fastest growing Linux distro, while this article discusses market share among webserver software.

DSLWebserver had an interesting idea.. to copy one CD to another, then that one to another, 100 times in total, and compare the last one with the first one to see if the data remained intact.

GarbageGuts spotted some ghetto cooling.

AMD have had their first profitable quarter in over two years, thanks Vaempyr, as the 64-bit war hots up. There's a lot of murmuring about whether Prescott P4's secretly contain 64-bit extensions that Intel will reveal at some point. Initially called Yamhill Technology, or YT, the company has switched the name of the top-secret technology to CT, for Clackamas Technology. Intel seriously need to get someone else picking their names for them.

Andy sent word that the Australia's Wonderland park in western Sydney will be shutting down soon.

Sudhian compared ECC RAM from 3 manufacturers.

Technobabble have info on a new storage technology that squeezes 1GB into something the size of a postage stamp.

Surakshan noticed that optical microchips are coming along nicely. Hexus have some info on silicon photonics from Intel's Developer Forum. They also have info on chipsets and other stuff from IDF. No doubt more reports will flow in soon enough, hopefully with some interesting announcements from Intel.

Telstra are apparently not making any friends in the wholesale ADSL market with their new retail pricing, thanks Herby. "If our wholesale price is above Telstra's retail price, there's no point being in business - it's just silly," Mr Cinc said.

MadMike noticed a little more info about how the US-Australia Free Trade Agreement will affect copyright laws in Australia.

Dink says his dream has come true.. because it turns out the infamous virus writer Gigabyte may be (crowd gasps) a 19yo girl. Hot teen virus action! Aherrm, sorry.

SpodesAbode have a cheapo way of reducing HDD vibration and hence noise. Be aware that many high-speed drives need to be mounted firmly in the case for thermal dissipation reasons. If you're going to suspend your drives in this way, have some airflow over them.

Before setting off on a long trip, make sure you know which country your destination is in - and be sure to check your car for grenades.

Interesting Forum Threads:
Prescott 2.8E up and running: overclocking results! in Intel Hardware.
Intel & AMD CPU installation video/guides in Newbie Lounge.
Brisbane Motorshow Pics with Canon 300D and 16-35 f2.8L in Photography.
February 2004 Photography Challenge in Photography.
Kapooka beckons in 36 hours! in The Pub.
First exploit based around Windows code leak in Current Events.
Clock Analog or Digital? in Modding & Electronics.
My summer vacation project - flexible packet transceivers in Modding & Electronics.




DIY Ultimate Mouse Pad (25 Comments) (link)
Monday, 16-February-2004 18:47:35 (GMT +10) - by Agg


Griffy sent in this quick article about making your own mousepad from a common household item.. and no, it's not a plastic chopping board. :)



Click for the article!






Archive Updated (0 Comments) (link)
Monday, 16-February-2004 15:12:30 (GMT +10) - by Agg


I've updated the Reviews and Articles Archive with some new stuff from the last few weeks. Check these out if you missed them the first time around:

Western Digital Raptor WD740GD 74GB 10k-rpm HDD review.
ABIT AN7 nForce2 Ultra 400 motherboard review.
Connectland Acrylic LED Case Feet review.
Micro RC Combat Force and Stunt Car mini RC toys review.
Quality Mat glass mousepad review.
Rainbow LED Fan review.

We also had a new version of Sandra added to our mirror last week.




Monday Morning (2 Comments) (link)
Monday, 16-February-2004 05:11:44 (GMT +10) - by Agg


A zillion people sent word that there's been a source code leak from Microsoft, involving Win2k and NT4. MS have confirmed the leak and that the software had appeared on the Internet. Apparently the leak traces back to Mainsoft, a Microsoft partner. They have issued a statement in response to this. DJ-Studd remembered a similar thing happening back in 2000. Microsoft have a statement about this latest leak on their site. The major concern people are expressing is that, with the source code in the open, people could wade through it to find security holes and create new exploit tools. Seems to me they were doing just fine so far without the source code. Anyway, we'll see over time I guess. AzzKikr noticed this parody source code. Flexbeta are reporting that Office XP SP3 (beta) has been leaked too.

Xbit compared external hard disks from Maxtor and Western Digital.

If gazing at graphics cards is your thing, then this German site should keep you busy, with 109 pictures. If you'd prefer to see the whole PC, check out the latest Gallery entries in our PC Database. Quite a few new entries over the weekend!

DesignTechnica have an article about backing up your data.

There's a guide on ComputerSphere to making a boring-looking external CDROM drive look less boring.. and kinda ugly if you ask me.

WebTemp is a non-free program to display your hardware info (including temps etc) on the net.

Bill Gates has donated USD 83 Million to help fight tuberculosis.

Dan has more letters.

If you've got a programming knack, you could win a Radeon 9800XT on Driveheaven. Doesn't say anything about international entries.

A slightly more difficult competition is this one, with people competing to create re-usable space vehicles. The contest calls for launching a manned craft to 100.5 kilometers (62.5 miles) above the Earth, which is generally considered the edge of space, twice within two weeks. The craft must be able to carry three people.

Andreas noticed that long-time heatsink gurus Alpha have entered the A64 cooling market. Meanwhile, Mcfly spotted this hefty cooler from Gigabyte.

Mcfly also sent word of a USS Enterprise case mod. That's the aircraft carrier, not the starship. If that doesn't float your boat, try Bluesmurf's Imperator, a Star Destroyer case mod project in progress.

Monday morning timewasters: a downloadable (Windows) game called "Kill the Barney" from deepspring, a tribute to Pingu page from s3tTz and a Stickman Cricket game from Dan that you can play as Flash or download.




A couple of pictures (0 Comments) (link)
Monday, 16-February-2004 05:08:07 (GMT +10) - by Agg


I got these pictures a while ago and forgot to do anything with them:



Click to enlarge


At left is from Daniel, who says On visiitng Canberra zoo Saturday I noticed this signage that I thought u may be interested in. Pretty cool. :)

The right one is from Dailian, who says a friend of mine recently moved to Perth for work reasons, where he would undoubtedly be drinking a large amount of coke. This morning, I opened up my email client to find that picture waiting for me. The graphics card in question is a Sapphire Radeon 9800 Pro. I must say, his desktop at the time is highly appropriate. Kinda hard to see, but those green bands are not good. :)



CPU:
AMD Athlon 64 3000+ reviewed by ModSynergy.

Motherboard:
Albatron PX 875P Pro reviewed by Overclocker Cafe.
Gigabyte K8VNXP K8T800 reviewed by HardCOREware.
ASUS K8V Deluxe reviewed by Legion Hardware.

Memory:
Corsair TwinX1024-3200LLPro reviewed by Overclock Intelligence Agency.

Video:
MSI FX5900XT-VTD128 reviewed by PcStats.
Toshiba ET1 LCD Projector reviewed by TrustedReviews.
nVidia GeForce FX Go5700 reviewed by TrustedReviews.
MSI FX5950 Ultra-VTD256 reviewed by HotHardware.
PowerColor Radeon 9600XT Bravo 128MB reviewed by Hexus.

Cooling:
Rheobus comparison: Evercool and Coolermaster by MADSHRIMPS.
Digital Doc 5+ Fan Controller reviewed by A True Review.
Swiftech MXC462-V Heatsink reviewed by Voided Warranty.
Swiftech MCX478-V Heatsink reviewed by eXtremeReviews.
Enermax UC-A8FATR4 4-Channel Ultimate Fan Controller reviewed by Extreme Overclocking.
Evercool SCP-A Fan Controller reviewed by 3DXtreme.
Vantec AeroFlow 2 VA4-7245 Heatsink reviewed by Ohls-Place.
Artic Cooler VGA Silencer reviewed by HardwareHell.
PrimoChill Dual Bay Reservoir reviewed by GruntvillE.
Evercool Cuf-715 AMD cpu coooler reviewed by Red & Blackness.
ThermalTake Volcano 12 Extreme reviewed by eXtremeReviews.

Cases & Modding:
Lian Li PC-6070B Silent Enclosure reviewed by ClubOC.
A.C. Ryan UV-Active Fever reviewed by Crazy Modders.
Sunbeam acrylic UV case reviewed by Red & Blackness.
Shattered Web Appliques reviewed by Creative Mods.
Silverstone Temjin (SST-TJ03) reviewed by ModSynergy.
Antec Performance One P160 reviewed by ClubOC.
Morex Cubid 3688 MITX Case reviewed by PyroPort.
SilverStone Temjin Computer Case reviewed by A True Review.
Antec TrueControl 550 Power Supply reviewed by AllHardwareZone.

Misc:
Evercool NP-101 Notebook Pad reviewed by 3DXtreme.
Kodak EasyShare DX6490 reviewed by The Tech Lounge.
HD Guard Pro reviewed by PC Review.
Apple iBook G4 12in reviewed by TrustedReviews.




Saturday Afternoon (7 Comments) (link)
Saturday, 14-February-2004 17:00:18 (GMT +10) - by Agg


You can get your P4 Extreme Edition power fix on the run now, with three laptops featuring the 3.4GHz version available from Dell, Alienware and eMachines. PCMag reviewed another 3.4GHz P4 laptop from Dell. Meanwhile, the new 90nm "Prescott" P4's are being redesigned for more power efficiency, say Xbit. IBM has moved the G5 to a 90nm process too, and aims to hit 2.5GHz with it.

Accelenation compared the older 36GB WD Raptor hard drives with some Barracudas from Seagate, in single and RAID configurations. We had a similar analysis here but more recently we have examined the newer 74GB WD Raptors here.

Ryno wants to remind us of the AMD Powertrip promotion: the prize is for the winner and a friend to go to the Aussie GP_plus winner gets a 2500+_laptop. There is also a claim form for a official Ferrari F1 model car (1:18) and an official Ferrari t-shirt if you have purchased a new Athlon 64 or 64 FX-51 during the promotion which ends 29 February 2004. This obviously ties in to their sponsorship of the Ferrari F1 team. Now that they are sponsoring the Ducati MotoGP team, I wonder if there will be a similar promotion closer to the Australian MotoGP?

While you're in the mood to win stuff, GC2Avenue are giving away 100 beta copies of Ground Control II. It's only open to Australian readers, so if you want to be part of the beta testing, now's your chance.

Charlie noticed this 1TB HDD from Lacie. Looks more like several hard drives in a custom enclosure, but 1TB in a little box on your desk, or that you can carry around, is pretty cool.

TheModFathers had a bit of a go at liquid nitrogen cooling.

Interesting Forum Threads:
How is Prescott overclocking? in Intel Hardware.
Unofficial Win98SE Service Pack in Windows Operating Systems.
The ultimate CPU guide (overclocking and cooling) in Overclocking and Hardware Discussion.
Pierce Brosnan will not return in Bond 21! in TV, Movies and Music.




Sisoft Sandra 2004 SP1 (0 Comments) (link)
Friday, 13-February-2004 02:04:30 (GMT +10) - by Agg


Sisoft have released the latest version of their popular system information and benchmarking suite, Sandra 2004 SP1. There doesn't seem to be any info on their site yet listing exactly what changes SP1 brings over the original 2004 release, but we'll update our mirror when we find out. In the meantime, if you want the new version, you can download the 9MB file from our mirror page.



Click for OCAU Sandra Mirror page!


Update: Sisoft sent us another version of the archive after we'd posted this news. If you downloaded Sandra 2004 SP1 before 3:05am today and got a 9MB file, your version apparently has less comparison results in the benchmarks. The newer archive has better compression and is therefore 8.9MB with more comparison results. It's no big deal either way really.

Update 2: Sisoft's announcement of Sandra 2004 SP1 is here.



Motherboards:
Albatron's PX875 Pro reviewed by HOTHardWare.
Gigabyte 8IPE1000 Pro2 W reviewed by Guru3D.
Biostar M7NCD reviewed by Flickerdown Data Systems.
Soltek SL-K8AV-R reviewed by 3DXtreme.
Albatron KX600S Pro reviewed by ClubOC.

Memory:
OCZ PC3200 Platinum LTD Edition reviewed by PcStats.
Corsair TwinX 4400 reviewed by ipKonfig.
Corsair CMX512-4000PRO reviewed by Ohls-Place.

Video:
nVIDIA GeForce FX 5700 Ultra Reference Card reviewed by OCTools.
Albatron FX5900 Turbo reviewed by OcPrices Hardware.
Point Of View 5900 XT 128MB AND Sapphire 9600 XT 128MB reviews by DriverHeaven.
Visiontek Xtasy Radeon 9600 256MB reviewed by Virtual Zone.
Hercules 3D Prophet 9600XT reviewed by TrustedReviews.
MSI FX5700 Ultra-TD128 reviewed by Viperlair.
ATI Radeon 9600XT reviewed by Gruntville.
Power Color 9600XT reviewed by The Tech Zone.
Sapphire RADEON 9600XT Ultimate reviewed by Bjorn3D.
Gigabyte FX5950 Ultra GV-N595U-GT reviewed by PcStats.
Xpertvision 9600XT and 5700Ultra reviews by Hardware Avenue.
Abit's Radeon 9800 XT reviewed by The Tech Report.
Samsung 47" Widescreen Projection TV reviewed by ByteSector.

Storage:
Nu Technologies DDW-081 DVD+R/RW reviewed by Envy News.
Crucial Gizmo! 256MB USB Flash Drive reviewed by Big Bruin.
Pioneer DVD±RW DVR-107D reviewed by CDR-Info.
Lite-On LDW-811S DVD±R/RW reviewed by CD Freaks.
TDK AID+880NA 8x DVD±RW reviewed by HardwareZone.
Crucial Hi-Speed 7-in-1 Card Reader reviewed by Sudhian Media.
Crucial Hi-Speed USB 7-in-1 Card Reader reviewed by Extreme Overclocking.

Cooling:
Asetek WaterChill KT12-L20 reviewed by Hexus.
Dangerden Dualbay reservoir reviewed by Red & Blackness.
SilenX 80mm Case Fans reviewed by OverclockersClub.
Vantec Aeroflow 2 VA4-7245 reviewed by ClubOC.
Cooler Master Musketeer & CoolDrive 4 reviews by HardwareZone.
SilverStone Eudemon Fan Controller reviewed by A True Review.
Corsair Hydrocool reviewed by SubZeroTech.
Matt Black Heatsink reviewed by A1 Electronics.
Kingwin Thermal Center reviewed by ClubOC.

Cases & Modding:
Vantec Cable Sleeving Kit reviewed by ClubOC.
CasEdge Diabolic "Minotaur" Mid Tower reviewed by A True Review.
AcoustiCase AC C6607 reviewed by The Modfathers.
Spire Soundpad and Akasa Paxmate reviews by Dan's Data.
MacPower DigitalDOC 5+ reviewed by Enscape.

Misc:
Eumax 4-in-1 128MB MP3 Player reviewed by Bjorn3D.
SnapStream BeyondTV reviewed by Modasylum.
Gigabyte GN-WMAG 802.11g PCMCIA WiFi Adaptor reviewed by PcStats.
Sotec Afina AS7180AV reviewed by DesignTechnica.
Shuttle's XPC SB65G2 small form factor system reviewed by The Tech Report.
Speed Strip SSA-1 reviewed by OCModShop.
Com-Pad's Speedpad vs Steelpad's Steelpad 4D reviewed by Crazymodders.
Need For Speed: Underground reviewed by World Overclockers.



PC World are reporting that hard drives will reach 600gb by 2007. Thanks FuXToR.

MCFLY5 sent in that Nvidia is releasing new drivers with a feature called "ForceWare 2.0". ForceWare will allow you to increase the performance of your video card by up to 20 percent.

MCFLY5 also mentioned that Intel are to unveil their wireless USB technology at the Intel Developer Forum.

Business Wire have reported that the Star Wars Trilogy will be released on DVD in September. Thanks Baba.

ZDNet have an article on how the MyDoom author may be covering his tracks by releasing "Doomjuice", a worm that places the original MyDoom source code onto a victims computer.

DJ-Studd let us know about an article written by a Musician with her views on File Sharing and the RIAA.

Dan has once again released some new letters.

C|Net News has news that Apple faces lawsuits of false advertising on the battery life of their iPod product.

The Register have a story on how Microsoft have removed swastika characters from one of the fonts that shipped with Office 2003.

Creative Mods have an Optical Mouse LED Mod Guide up on their site.

ZDNet have an article on how 30 traffic lights stopped in Melbourne, Australia due to a hard disk that failed.

Squigy_Poodle sent in to let us all know that the Unreal Tournament 2004 Demo has been released. Mirrors for the demo can be found here. Ausgamers mirror can be found here.

Also worth mentioning is that HardwareHell has had a complete site redesign.




Wednesday Midday (16 Comments) (link)
Wednesday, 11-February-2004 11:40:01 (GMT +10) - by Agg


With all the media chatter about sugar and beef in the recently-announced Free Trade Agreement between Australia and the United States, nobody seems to be mentioning the intellectual property aspects of it. Phillip sent in that link, and here's some more coverage, thanks Scriion. Of course, there's discussion here in our Current Events forum.

The debate about saving the Hubble space telescope continues. Meanwhile, the Mars rover Opportunity has peeked over the rim of the crater that it landed in. Spirit's earlier problems were caused by it running out of memory, thanks PodgeSSS.

There's an interesting article here about how hobbies are good for your health. Handy ammunition for justifying your next upgrade perhaps. :)

OCNZ added the Pixelview FX5900XT to their mid-range graphics card roundup.

Gamers aren't the only people eagerly awaiting Half-Life 2, thanks PodgeSSS.

OCFAQ compared two peltier GPU waterblocks from Swiftech and Danger Den.

A few things from mcfly: Anandtech has a WindowsXP 64-Bit Preview. IMO 32bit is still the way to go for now anyway. ;) Seagate is the first to reach 100 GB per platter with their harddrives. ATX to BTX psu conversion. If your PC isn't booting, then here's a trouble shooting guide.

Aaron1 found this new home.. perfect for an aviation nut.

2CPU have a memory comparison, with Unbuffered vs. Registered vs. Registered + ECC.

RambutanMan spotted this page answering the question: is chocolate poisonous to dogs? One of those things you hear but never know if it's true or not. Turns out it is, according to that page.

Bit-Tech reckon that tablet PC's are being overlooked and deserve more attention.

Apparently certain Nokia mobile phones have Bluetooth security vulnerabilities, thanks Paul.

If you're handy with a soldering iron, you might try building a fan controller, following a guide on GideonTech.

From Hari: I just thought I would let you guys know that Firefox 0.8 (Previously know as Firebird.) browser and Thunderbird 0.5 (Email Client.) are out. :) Also check out the Mozilla.org thread on OCAU for Faqs, help, tweaks etc.

Ambush noticed that certain cable modems can use a custom firmware which allows changing of various settings, possibly even the cable speed.

koopz found this spot the fake smiles research quiz.

Leroyputz sent in this bizarre game where you guide a angry headless guy back to his head, while acting as some kind of giant intelligent shape-changing meatball. Okey dokey then. There's some strong language in the sound effects so if you're at work, turn the sound down. :)

Interesting Forum Threads:
Desert Combat 0.7 is here! in Games.
Baby dragon discovered? in Current Events.
Homemade Teflon Mousepad and Feet in Modding & Electronics.
Expected i915P "Grantsdale" and i925X "Alderwood" features in Intel Hardware.
Aircraft Photography in Photography.
Tour of Rally Rent Europe workshop in Motoring.



CPU:
2004 Desktop CPU Roundup Part 1 by TechNation.

Motherboards:
Intel D875PBZ reviewed by Gaming in 3D.
Shuttle AN50R reviewed by Digital-Daily
Abit AN7 nForce2 400 Ultra reviewed by PimpRig.
DFI LanParty NFII B Ultra reviewed by X-bit labs.
Albatron KX600S Pro reviewed by FastLane Hardware.

Memory:
Corsair TWINX1024-4400 reviewed by ClubOC
TwinMOS TwiSTER PC4000 reviewed by LostCircuits.

Storage:
ASUS CRW-5232AS Drive reviewed by ViperLair.
SilverStone 6-1 Portable Card Reader reviewed by A True Review.
SeagateBarracuda 7200.7 Serial ATA Hard Drive reviewed by ClubOC.
Iomega Super DVD Writer External reviewed by HardwareZoom.
Crucial Gizmo! 256MB USB flash drive Video Review by 3dGameMan.

Video:
ASUS V9520FX 5200 reviewed by Beyond3D.
AOpen Aeolus FX5900XT reviewed by TrustedReviews.
Powercolor Radeon 9600XT Bravo 128MB reviewed by HardCOREware.
Chaintech FX5700 Ultra Apogee AA5700U reviewed by Virtual Zone.
ATI Radeon 9800XT reviewed by Ohls-Place.
MSI FX5950 Ultra-VTD256 reviewed by PCStats.
PowerColor Radeon 9800 XT 256MB reviewed by TheTechLounge.
Sharp LL-T17D4-B 17in TFT reviewed by TrustedReviews.
IBM T560 Black Hybrid Flat Panel Display reviewed by ByteSector.

Audio:
Mad Dog Multimedia's Entertainer 7.1 sound card reviewed by The Tech Report.

Cases & Mods:
Sunbeam New Lighting Products reviewed by Virtual-Hideout.
Lamps Electronics Modding Roundup by Red & Blackness.
PowerRight's UV Reactive 500W Modular Power Supply reviewed by OverClock Intelligence Agency.
Thermaltake PurePower 480W Butterfly PSU reviewed by ModSynergy.
Antec's Sonata ATX case reviewed by The Tech Report.
Thermaltake XaserV Wingo V8000 reviewed by PC Tech Zone.
TTGI USA TT-201T3 Case reviewed by Madshrimps.
AOpen H700B Full Tower reviewed by Neoseeker.

Cooling:
Evercool laptop cooler reviewed by Red & Blackness.
DangerDen Maze4-Athlon64 Waterblocks reviewed by ipKonfig.
Thermaltake Product Roundup by Legion Hardware.
Thermaltake Extreme Giant III Video Card Heatsink reviewed by HardCOREware.
Evercool SCP-A Fan Controller reviewed by Big Bruin.
Swiftech MCX478-V Heatsink reviewed by ExtremeMhz.
Innovatek Water Coolin Kit reviewed by GruntVille.
FSP Group Silent Solution Kit reviewed by JSI Hardware.
Thermaltake Giant II reviewed by Bit-Tech.
Enermax UC-A8FATR4 Fan Controller reviewed by ViperLair.
Kingwin Thermal Center (TC-02S) reviewed by Overclocker Cafe.
Zalman ZM-2HC1 reviewed by Teccentral. (Translated using Babelfish.)

Input Devices:
Saitek Cyborg Evo joystick reviewed by TrustedReviews.
ATI Remote Wonder II reviewed by Accelenation.
Startech SV211MICRO 2 Port KVM Switch reviewed by Big Bruin.

Misc:
Polaroid PDC 3370 PhotoMAX and Docking Station reviewed by SubZeroTech.
Olympus E-1 Digital SLR reviewed by Hardwarezone.
EPoX eX5-300S Mini Me SFF System reviewed by Hexus.
Steel Gaming Glove reviewed by Tweaknews.
Biostar IDEQ 200T reviewed by Enscape.
Shuttle Zen XPC reviewed by SilentPcReview.
SD System Mach II reviewed by Hardware-test.




Tuesday Morning (5 Comments) (link)
Tuesday, 10-February-2004 02:31:13 (GMT +10) - by Agg


Record companies organised raids on 12 premises in Australia recently, including universities and ISPs, thanks Simon. The MIPI also raided the companies that own Kazaa, based in Australia, thanks Reemul.

HardOCP spent some time overclocking a Prescott 2.8E, one of the new P4 CPUs, thanks Sniper. They checked out compatability on a few motherboards too.

TecNation have looked at the new CPUs for this year, including Prescott, the 3.4GHz Extreme Edition P4 and the Athlon64 3400+.

Bjorn3D compared the Athlon 64 FX-51 (our review here) with the Athlon 64 3400+, from a multitasking perspective.

FlushingSlugs have reviewed the Friendtech Xbox, which has the Celeron 733MHz CPU upgraded to a 1.48GHz Tualatin. There's been some question of whether the extra power is actually usable, so they checked it out in some detail.

TechPC wonder about DDR-II.. if it's a good or bad thing.

You can win a folding PC by beating the vicar's backside in our Team OCAU forum. Okey dokey then.

Sudhian think that Shuttle's SB62 and Mandrake Linux are a perfect match. They also look into Intel's 64-bit technology, thanks stmok.

If you're after some reading, koopz reminded me of Project Gutenberg, where there are literally thousands of novels available for free download in text form. You can even join in and help create them if you like.

Hypothermia are giving away a handful of FIC ICE-Cube mini barebones PC's.

TrustedReviews rounded up a few wireless keyboards and mice.

GregZeng noticed that digital evidence is becoming a tricky issue for courts.

If you're not squeamish, you might want to try virtual knee surgery, thanks Lojikool.

Reckon you could turn 1c into almost $1M? These guys have, thanks Browca04, who also noticed that some firewalls may not be as secure as you think.



From the PCDB: a watercooled dual P4 xeon box from cvidler, a reminder about heatsink maintenance from blueb0rg, a WRX car PC from WEB_DREAMS and a nice little watercooled box from bobra_111.

Xbit have been busy, with a roundup of dual-channel SerialATA RAID controllers in RAID 0, as well as a closer look at the 3Ware 8500 SATA RAID controller and LCD monitor features.

SubZeroTech built themselves a gaming machine based on their pick of current components.

koopz sent in some crude toilet humour.

Dan has yet more letters, on such topics as funny reflections, battery warnings, exposure limits, real
medical magnets and household robots among others.

Paul noticed a nigerian scammer getting caught.. a slightly different twist on the old scam this time.

If you're looking to mod your ABIT IC7, IC7-G or IC7 MAX3, then this guide by hipro5 seems a pretty good one. He apparently got 1600MHz FSB (400 QDR) our of his, thanks ezee!

Boky spotted an interesting anti-hail device that uses sonic waves to stop hailstones forming.

There's a new KDE and a new Linux kernel, 2.6.2.

Bored with your current ride? Bid on an F/A-18 Hornet on eBay, thanks Tag.

More news in a bit..



AMD motherboards:
Albatron KX600S Pro KT600 motherboard on Viper Lair.
Gigabyte K8NNXP Athlon64 motherboard on Neoseeker.

Intel Motherboards:
DFI LAN Party Pro875B i875P motherboard on Club Overclocker.

Memory:
Corsair XMS4400 DDR on FastLaneHW.
Corsair TWINX1024-3200LLPRO DDR on Bjorn3D.
OCZ EL DDR PC-3700 Dual Channel Gold Revision 2 video review on 3dGameMan.

Graphics:
HIS Excalibur Radeon 9600XT Turbo on EXHardware.
Sapphire Radeon 9800XT on PCstats.
nVIDIA GeForce FX5950 Ultra reference card on Octools.
Albatron GeForce FX5700 Ultra on VR-Zone.

Audio:
Philips Aurilium external soundcard on TechSpot.

Storage:
Maxtor OneTouch 300GB external HDD on Designtechnica.
MSI X48 Internal Combo Drive on HardwareZone.
Sony DRX-510UL external Firewire/USB2 DVD±R/RW on GeekExtreme.
256MB Verbatim Store'n'Go USB2.0 flashdrive on OCModShop.

Cooling:
Arctic Cooling VGA Silencer on Dan's Data.
Aerocool Extreme HSF on Tech-Mods.
Akasa 825 "Colour Carnival" HSF on ModSynergy.
Swiftech MCX159-R chipset HSF on GruntvillE.
ThermalRight SLK-947U HSF on OCIA.

Cases/Power Supplies/Case Accessories:
Coolermaster Aerogate II multifunction panel on Overclockers Club.
Mutant Mods 24" Blue EL wire wrapped round IDE cable on 3DXtreme.
Turbo Cool 510 Deluxe "Beautiful Beast" PSU on ExtremeMHz.
UV CCFL Fan Grill and 3d UV Fan Grill on OCIA.

Other Stuff:
Q-Pad Gamer XXXL mousepad on eXtreme Reviews.
Bluetooth Headset roundup on TrustedReviews.
Logitech Cordless Comfort Duo cordless keyboard/mouse on Futurelooks.
Auravision eluminX keyboard on Hardware Pacers.
Panasonic DVD-LS5 portable DVD player on Bytesector.
Gigabyte GN-A17GU 802.11g WiFi access point on PCstats.
SST 6-in-1 media reader on Creative Mods.
Zalman Theatre 6 headphones on A True Review.
Samsung 173P LCD monitor on A True Review.




Rainbow LED Fan (4 Comments) (link)
Friday, 6-February-2004 14:06:07 (GMT +10) - by Agg


It's Friday afternoon - must be time to review a glowing fan or something. Actually, these don't just glow..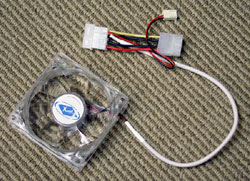 Click for the review!





Systems/Laptops/PDA:
AOpen XC Cube EZ65 Barebone System at HWZ

CPU:
Athlon 64, 3200+ and 3400+ at Bit-Tech

Mainboard:
Albatron K8X800 Pro II Socket 754 at Hard Avenue
Asus A7N8X-E Deliuxe w/Wi-Fi at Hot Hardware
Foxconn SIS 755 Mainbaord Athlon 64 K8 at OCWorkbench
ASUS K8V Deluxe and K8V Deluxe Wireless Edition at Hexus
MSI KM2M Combo- L at OHLS

Video/Monitor:
HIS Excalibur 9600 XT Turbo at Metku Mods
Samsung SyncMaster 172x LCD Monitor at Monkey Review
MSI FX5950 Ultra-VTD256 "Red PCB" Videocard at PCStats

Case/Mods:
Raidmax ATX-278WSP Case at Creative Mods
SilverStone 3.5" Front I/O Module at OCIA
VLSystem's Lost In Space (L.I.S.) External Multifunction Display at TweakNews
Thermaltake XaserV Series Damier Case video review at 3DGameman
Thermaltake Xaser III Lanfire Mid-Tower Case at 3DExtreme

Audio:
iRock Digital Audio Player at Extreme Reviews
Creative Gigaworks S750 Speakers at Nordic Hardware
Axiom Epic 80 Home Theater Speaker System at Design Technica
Altec Lansing FX 6021 Speakers at PCTech Zone

Cooling:
Koolance Exos Aluminum &_New CPU Blocks at Pimprig
Globalwin Silent Stream CPU Water Cooler at Spodes Abode
Chill Vent Air Vent at NeoSeeker

Misc:
Soyo Kiki X Playstation 2 to PC Converter at OcPrices
X-arcade 2 Player Console Pad at R&B Mods
Evercool NoteBook CoolPad NP-101 at MadShrimps



Browca04 sent in news that the BBC are blaming Linux "zealots" for the MyDoom worm.

For those interested in gaming consoles or more specifically the XBox would be interested to know that Microsoft have leaked details on the XBox 2. Thanks Lazerin.

If you're interested in getting a new graphics card anytime soon, you may wish to check out this Graphics Card Roundup that Bit-Tech have put together.

Accelenation have checked out the performance of hyper-threading on the new Intel Pentium 4 "Prescott" processor.

FiringSquad have a new article on Building a Basic Home Theater PC.

Neevo sent in word that Microsoft have released a 360 day preview of their Windows XP 64-bit version. It is available both by download or CD and is only usable on AMD 64-bit processors.

AllHardwareZone have an article up on their web site taking a look at ATI Radeon 9800 Pro Mods.

According to this news article on News.com.au, Australia could soon be home to the World's tallest tower. The tower which will be 1000 metres high will be the center of a solar electricity facility able to power 200,000 homes.

Dan has some new letters up on his web site, you can view them here.

FuXToR has sent in news that Ericsson and Unwired have signed a new deal for Ericsson to provide network support and services to Unwired for their new Sydney based wireless service.

PCWorld have news that Microsoft has released a new security patch to fix three vulnerabilities in Internet Explorer. Thanks FuXToR.

VooDoo sent in word that a new Australian developed supercar, labeled "The Joss SuperCar" will be shown at the Melbourne motor show on February 27th.

Australian IT have a news article on how the Australian Federal Government will be spending $1 billion on a new robotic aircraft which will patrol the coast of Australia.

ModAsylum have a new guide up on their web site on how to mod a windows into an optical drive.

Teamhardware have a article on their web site titled "Pentium 4 history and the release of the Prescott".

Legit Reviews have examined the Temperatures of the new Prescott processor from Intel.

The Madshrimps have a new article up featuring an overclock of an Athlon XP2000+ up to ~3000Mhz.

MCFLY5 reported that The Inquirer reported that CNN Reported that Valve has announced a new release date for Half Life 2. I suggest a bag of salt for this one, a grain might not be enough.

Tweakfactor have some insight into the confusion behind the free Half Life 2 coupon bundled with ATI 9800XT and ATI 9600XT's. Thanks MCFLY5.

MCFLY5 also sent in that Anandtech have a Graphics Card Roundup on their site.

ob1 has started a thread on our forums that contains a link to information on a hacked Canon-EOS 300D firmware that allows the use of some new functions.




Quality Mat Glass Mousepad (2 Comments) (link)
Thursday, 5-February-2004 15:23:20 (GMT +10) - by Agg


Wolfy checked out this new mousing surface from Quality Glass in the Netherlands. It's made from 4mm safety glass with a unique surface. Does it live up to its name?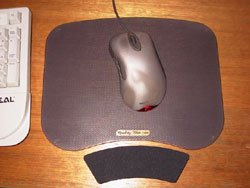 Click for the review!





CPU:
Intel Pentium 4 3.2E GHz and 3.4 GHz EE reviewed by Sharky Extreme.
Intel Pentium 4 3.2E GHz "Prescott" Processor reviewed by PCStats.

Motherboards:
ECS KV2 Extreme Socket 939 reviewed by OC Workbench.
Soyo SY-CK8 Dragon Plus reviewed by 3DXtreme.
Sapphire Axion RS300-AA38FL reviewed by TrustedReviews.
Albatron PX865PE Pro II reviewed by GruntVillE.
AOpen AK89 Max reviewed by Virtual Zone.

Storage:
Seagate's Barracuda 7200.7 Serial ATA hard drive reviewed by The Tech Report.
LG 8x Super Multi DVD Rewriter reviewed by HardwareZoom.
SONY DRU-530A DVD±RW recorder reviewed by CDR-Info.

Memory:
Crucial PC3200 512MB(2x256MB) Memory reviewed by Bytesector.
Corsair TwinX PC4400 DDR550 Dual Channel Memory Kit reviewed by Tweak News.

Video:
NVIDIA GeForce FX 5900 Ultra reviewed by OCTools.
Albatron GeForce FX5700 Ultra 128 MB DDRII reviewed by Bjorn3D.
ATI Radeon 9800 XT reviewed by Viperlair.
Samsung SyncMaster 173p LCD Monitor reviewed by Tech-Mods.
AOpen Xrecorder VX2000S external TV tuner and video encoder reviewed by TrustedReviews.

Audio:
Creative Nomad MuVo 2 4Gb reviewed by [HW]Zone.
Radtech PodSleevz reviewed by geeklyreview.
irock! 860 Digital Audio Player reviewed by Envy News.

Cases / Mods:
Enermax Noisetaker 475W PSU reviewed by Bit-Tech
Thermaltake Xaser V Damier V6000A mid-tower computer case reviewed by A1 Electronics.
Sunbeam dancing light reviewed by Red & Blackness.
Xoxode Storm PC Case reviewed by Guru3D.

Cooling:
Thermaltake Venus 12 Athlon 64 Cooler reviewed by NeoSeeker.
Spire CopperStream II (Socket 478) and SkiveStream II (Socket 462) Video Reviews by 3dGameMan.
Eumax E0702 with 3 LED Fan Heat Sink reviewed by Ohls-Place.
Alien-i Blue/Green 80mm LED Fan reviewed by Gideon Tech.
HardCano III Hard Disk Drive Cooler reviewed by A True Review.
ThermalRight SP-97 Heatpipe Cooler reviewed by Overclocker Cafe.
Cooler Gigabyte GH-PCU21-VG (3D Cooler) reviewed by Digital-Daily.
External Xice EC600/H Water Cooling Kit reviewed by Twinsbyte. (Translated using babelfish)
Lian-Li LCD Thermometer reviewed by Spode's Abode.
Innovatek Water Cooling reviewed by TheTechLounge.

Input Devices:
Logitech Cordless MX Duo Review reviewed by GruntvillE.
Steelpad 4S reviewed by OC Ware.
Belkin Nostromo SpeedPad n52 reviewed by DiscGamer.
Steelpad's Steel Gaming Glove 3 reviewed by myWORLD Hardware.




Cruise for a Cure (0 Comments) (link)
Wednesday, 4-February-2004 23:52:17 (GMT +10) - by Agg


VooDoo reminded me that the Cruise for a Cure is on this Saturday in most states. All are welcome - have a nice drive and help raise money for cancer research. They also have some items on Ebay with all proceeds being donated. There's a thread here in our forums with more info.




Wednesday Night (5 Comments) (link)
Wednesday, 4-February-2004 23:29:50 (GMT +10) - by Agg


MyDoom.B seems to have failed to take down Microsoft's website. If you think you have the MyDoom virus, see this thread for info on removing it.

Some news bites from MCFLY5: The next version of DirectX 9 might be called 9.0c. PCMark 2004 gets a patch released which takes it upto version 110. ATI's market share is now bigger than nVidias.

RnR spotted his scary invention of the week, being a device to suspend your laptop on a car's steering wheel. DO NOT ATTEMPT TO DRIVE A VEHICLE WITH MOUNT ATTACHED TO STEERING WHEEL. DEATH or INJURY TO YOURSELF AND OTHERS WOULD OCCUR. No kidding!

Flickerdown took a look at memory bandwidth and what the benchmarks mean.

This is old news now, but an exploding sperm whale left its mark on a Taiwan street recently, thanks Nick.

Bill noticed this one-way bulletproof glass.. interesting.

GregZeng sent word that Lindows will be available over P2P networks.. so they can be used for legal stuff.

We've seen this before, but it's worth another look. A guy who really hates his Mac. Funny stuff, thanks UB3R.

Goodlet sent in this story about it being illegal to listen to music in someone else's car.. heh.

Space stuff: Apparently the Mars rovers are all better now.. or maybe not. Hubble spotted some carbon and oxygen streaming off a planet near another star. Speaking of which, Hubble might not be abandoned after all. NASA released detailed photos of rocks that reflect Martian history, thanks PodgeSSS. Odyssey has been orbiting Mars for a year now, thanks Draffa.

Interesting Forum Threads:
Previews of the Games of 2004 in Gaming.
Everglide Ricochet 2.52 Mouse Pad review in Overclocking & Hardware.
Microsoft, Yahoo want us to pay for email in Current Events.
VIA chipset FAQ in VIA Hardware.
Toast Sweat in The Pub.




Notice to Manufacturers and Vendors (1 Comments) (link)
Wednesday, 4-February-2004 15:21:46 (GMT +10) - by Agg


Please note that any sample requests for review on OCAU must be confirmed with me. There has recently been a number of fraudulent requests from a person who is not involved with OCAU, pretending to be requesting samples on our behalf. Do not send this person any samples as their reviews will not be published on OCAU.

OCAU does not as a general rule request review samples - our schedule is busy enough with reviews based on requests from vendors and manufacturers. If you do receive a request for a review sample, please confirm by emailing me at agg@overclockers.com.au before sending any sample and copy the original request email to me.

If you have sent a sample to someone other than me recently, please forward me the details including the request email and the address the item was shipped to. We are collating information for a Police investigation and appreciate your cooperation.

Update: Note that we're still happy to publish reader reviews, as we have for years. If you've purchased something and you want to tell the world about it, that's fine. Approaching people for discounts or freebies by saying you are going to write a review for OCAU is not.



Pentium 4 Prescott Processor reviewed by: Legit Reviews, VR-Zone, TrustedReviews, hardCOREware, Hardware Analysis, Sudhian Media.

Motherboards:
Chaintech 9PJL2 Silver reviewed by Madshrimps.
Soyo's SY-CK8 Dragon Plus reviewed by HotHardware.

Memory:
Corsair TwinX PC4400 Dual Channel Memory reviewed by MadShrimps.

Video:
Samsung SyncMaster 173P LCD Display reviewed by Bytesector.
Gainward FX PowerPack! Ultra/1800 XP reviewed by nV News.
HIS Excalibur Radeon 9600XT reviewed by myWORLD Hardware.

Audio:
JAMO E855 Reference Tower Speakers reviewed by Futurelooks.

Storage:
Jetflash 2.0 64MB reviewed by Hard Extreme.
Crucial Gizmo! 256MB USB Flash Drive reviewed by Viperlair.
256MB USB 2.0 Pen Drive reviewed by OCModShop.
Neuros 20GB Backpack reviewed by Designtechnica.

Cases / Mods:
Vantec Cable Sleeving Kit reviewed by OverClock Intelligence Agency.
CoolMax Taurus Series Silent Power Supply reviewed by FastLaneHW.
Innovatek Insulation Professional reviewed by World Overclockers.
Lian Li PC 6077 reviewed by OverClock Intelligence Agency.
SilenX 400W Power Supply reviewed by Legit Reviews.
Sunbeam Skull fan grill reviewed by Red & Blackness.
Xoxide.com Aluminum LED Fans reviewed by GruntVille.

Cooling:
Vantec Vortex reviewed by Red & Blackness.
nVENTIV Mach II AMD Platform reviewed by Xtreme Systems.
Thermaltake HardCano 12 reviewed by ModSynergy.
Evercool Extended Cooling System reviewed by Big Bruin.
Zalman CNPS7000A-Cu reviewed by myWORLD Hardware.

Misc:
Smart ID WiFi Detector WFS-1 reviewed by GeekExtreme.
Floxiglow FX Gamepad reviewed by Crazymoddders.
Pegasus PC Notes Taker reviewed by A True Review.
Steelpad 4D reviewed by Red & Blackness.
Nokia N-Gage Mobile Phone/Game Deck reviewed by Digital Silence.



It seems the creators of the MyDoom virus have achieved their goal of taking SCO's website offline. MyDoom.B is set to target Microsoft with a similar attack tomorrow.

Scientists have created a new form of matter. The new matter form is called a fermionic condensate and it is the sixth known form of matter -- after gases, solids, liquids, plasma and a Bose-Einstein condensate, created only in 1995. There's a thread about this here in the Forums.

AzzKikr noticed a family in the USA who consider their kid version 2.0 and named him appropriately.

CreativeMods have a modder of the month posted.. who has an interesting computer room.

Hexus have a preview of Q1 2004, in terms of what AMD, VIA and SiS have planned.

FuXToR sent in this article with more info about Intel's Prescott P4 chips.

SpodesAbode have an article about some simple mods for Shuttle mini-PC's.

AnandTech think that AGP support is disappearing from future Intel chipsets, thanks MCFLY5.

A Japanese inventor has been awarded 189 million dollars, presumably USD, for patent rights transfer relating to his work on blue LEDs.. thanks gbh.

If your 9700 AIW video card is making your PC shut down, ViperLair have a fix posted.

Browca04 noticed that the Discover Channel are giving away some electronic goodies in a competition. Not sure exactly what's involved, looks like you just sign up on the page with some personal info. It's an Australian site so I assume an Australian competition!




OCAU Merchandise (5 Comments) (link)
Monday, 2-February-2004 13:44:01 (GMT +10) - by Agg


OCAU has a range of merchandise available. Things to wear, things to drink out of and things to stick to other things. Get some cool stuff and help support the site!



Click here for OCAU Merchandise!






Intel's Prescott P4 Arrives (3 Comments) (link)
Monday, 2-February-2004 13:23:56 (GMT +10) - by Agg


Intel have released their Prescott processor. This is the latest incarnation of their Pentium 4 line, debuting at a range of speeds up to 3.4GHz including a new Extreme Edition. It's more than just a speed ramp though, with many internal changes including a die shrink due to the move from a 130nm process to 90nm, 7 interconnect layers intead of 6, larger caches as well as 13 new instructions in the form of SSE3. Some people are wondering why this wasn't called Pentium 5 instead of Pentium 4 - the changes are that significant.

Reviews on Tech-Report, Xbit Labs (and here too), HardOCP, AnandTech, Hexus, LostCircuits, HotHardware, MBReview, XtremeSystems, X86Secrets, ExtremeTech, HardTecs4U, Accelenation, PCStats and TomsHardware.




Sunday Night Reviews (2 Comments) (link)
Sunday, 1-February-2004 23:54:54 (GMT +10) - by Agg


Cooling:
Thermaltake Tiger 1 northbridge cooler on ATrueReview.
Thermaltake Extreme III Giant video cooler on XCSystems.
Corsair HydroCool 200 EX watercooling on FastLaneHW.
Thermaltake Extreme Giant III video cooler on HardCoreWare.
Zalman CNPS7000A-Cu CPU cooler on MyWorldHardware.
Home-made GPU, CPU, Chipset water blocks on MadShrimps.

Cases & Modding:
Silverstone Temjin TJ-01 case on FastLaneHW.
Silverstone Temjin TJ-01 case on 3DXtreme.
Logisys LED Case Feet on CreativeMods.
Athenatech A801 Tower case (video review) on 3DGameMan.
Nikaeo G3 Mid-Tower case on Tech-Mods.

Video Cards:
NVIDIA GeForce FX 5700Ultra, 5900XT and 5950Ultra on TheModFathers.
HIS Radeon 9600 128MB VIVO on HardAvenue.
Sapphire Radeon 9600XT Ultimate Edition on PimpRig.
BFG Tech Asylum GeForce FX5700U on MonkeyReview.

PSU:
Enermax NoiseTaker 375W on ViperLair.
CoolMax Taurus 450W and 300W on FastLaneHW.



---
Advertisement:


All original content copyright James Rolfe.
All rights reserved. No reproduction allowed without written permission.
Interested in advertising on OCAU? Contact us for info.