March 2004
Wednesday Morning Reviews (4 Comments) (link)
Wednesday, 31-March-2004 00:41:10 (GMT +10) - by Agg


Motherboards:
EPoX 4PDA5+ 865PE Intel board on TBreak.
ASUS A7N8X-E Wireless Edition AMD board on TrustedReviews.
AOpen AK86-L / AK-98 Max A64 boards on OCrCafe.
Albatron K8X800 A64 board on TheCrucible.

Cooling:
Thermaltake Smart Case Fan II on Hardware-Pacers.
Tweakmonster Fan Bracket on PCUnleash.
GlobalWin SilentStream watercooling kit on OCIA.
Zalman ZM-WB2 on VoidedWarranty.
Thermaltake Silent Boost K8 CPU cooler on 3DXtreme.
Neoseeker Zalman CNPS7000A-Cu CPU cooler on NeoSeeker.
Titan TTC-HD12 HDD cooler on GuruReview.
Vantec iCEBERG 4 video cooler on OCWB.
Prometeia Mach II vapour phase-change cooler on DriverHeaven.
VapoChill XE vapour phase-change cooler on HardOCP.
Koolance GPU-180-L06 video card watercooler on SystemCooling.

Networking:
SMC Wireless Router on EnvyNews.
StarTech 11Mbit CardBus wireless NIC on IPKonfig.

Storage:
NU 8X DVD+R/RW DDW-081 on RBMods.
BestStore 7-in-1 Portable Memory Card Reader on Tweaknews.

Video Cards:
ATI Radeon 9600XT on OCModShop.
Chaintech Apogee GeForceFX 5700 Ultra on GruntVille.

Cases:
SilverStone Gloria TJ-04 midtower on FastLaneHW.
GlobalWin GAT002 pre-modded case on MadShrimps.
Ahanix Black Knight case on OCPrices.
Thermaltake Xaser V Damier midtower case on 3DXtreme.
Thermaltake Xaser V Damier midtower on FastLaneHW.

Case Modding:
Enermax UC-SST8 Security Screws on BigBruin.
Sunbeam Dual UV Reactive CCFL 80mm Fan Grill on ExtensionTech.
Thermaltake Xray ciggy lighter / cup holder (?!) on PCTechZone.
Thermaltake Xray thingo on OCrCafe.
UV Reactive PSU Connector Kits on Controlled-Insanity.

Audio:
Plantronics DSP-300 Multimedia Headset on GuruReview.
Logitech Z-560 4.1 speakers on XYZComputing.
Sound Blaster Audigy 2 ZS Platinum Pro sound card on GuruReview.

Misc:
Sony VAIO PCV-RZ504 home media server/PC on TrustedReviews.
Compro VideoMate Live USB 2.0 TV tuner on Bjorn3D.
Compro VideoMate Live USB 2.0 TV tuner on TheTechLounge.
Dell Latitude D600 laptop on ARSTechnica.
AOpen EZ65 SFF XC Cube miniPC (video review) on 3DGameMan.
Canon PowerShot Pro1 digicam on HardWareZoom.
XTrac Ripper gaming mousepad on ATrueReview.
StreamZap PC Remote on ExtremeReviews.
SeaSonic Super Tornado 400W PSU on ViperLair.
Kingston HyperX 4300 DDR memory kit on IntelForums.
Samsung 172X LCD screen on Accelenation, our review here.




Tuesday Morning (6 Comments) (link)
Tuesday, 30-March-2004 02:43:13 (GMT +10) - by Agg


ComputerSphere have a guide to cutting a design into your case.

Bit-Tech have a ranty editorial about rude people on the internet.

2CPU have an article on Linux kernel 2.4.25 vs 2.6.4, to see how they compare in terms of performance.

Simon spotted this page about how memory is made on Dell's site.

There's some talk of the Unreal 3 Engine being demoed recently at GDC2004. Apparently it was run on an NV40 card.

ExtremeReviews have a fan roundup posted.

More talk about what the industry can do to stem the ever-growing tide of spam flooding everyone's inboxes.

Cordleztoaster says you can grab a copy of WinXP SP2 RC1 here from Microsoft. WARNING! This technical preview is unsupported and is intended for testing purposes only. Do not use in production environments.

Flickerdown compared AMD32 and AMD64 platforms.

From xntrik: I'm not sure if this has been mentioned in the forums or here on the news page, but a new distributed project started in the beginning of March 2004 to look for collisions in the MD5 one-way hashing algorithm. The innovative thing about their approach is that to dedicated cpu-cycles to the cause, all you need to do is view a web-page.

IANAG put two PSUs into a PC.

Anandtech have a two part look at NVIDIA's nForce3-250Gb chipset for A64, here and here.

TomsHardware looked at some fast LCD screens.

There's a new issue of ZZZ Online.



Monday morning, and the first proper news post from me in months. I'll just get on with it shall I?

First up today, NASA scientists are pretty happy after the successful test flight of their X-43A Scramjet engine powered research aircraft. At over 8000Km/h that is one quick mode of transport. Perth to Sydney in less than an hour!

Paul sent in several security related links. Top 10 Items You Shouldn't Allow on Employee PDAs, and what to do about it. Macrovision will be teaching how games are cracked, and then how to put a stop to it. Also, Mobile Devices, a Hacker's Paradise, and the lack of security on most PDAs, mobile phones and smartphones.

Agg recently reviewed the KEYKatcher 32K Keyboard Logger where he notes that "...there are some very real legal concerns about using a device of this kind and KEYKatcher want to make sure you are informed which kinds of uses are permitted and which aren't." It seems that someone didn't read the rules and has landed themselves in court on (US)federal wiretapping charges. If you use, or intend to use one of these devices, make sure you research exactly what you can and can not do with it in your State/Country. Thanks Schrambo.

Dass Booty found this article all about how to prevent your browser being hijacked. I like this line "First and most simply, stop using Internet Explorer." Is there anything else required?

Over on XboxAddicts you can find links to some Microsoft released movies of the upcoming Xbox2. Three movies at about 25Mb each and you can find them over here. Thanks SoreGums for the link.

Hardware Hell have their third and forth day coverage of Cebit, Europe's largest IT show. Quite a few pictures, quite a bit of analysis and remarks, nothing too mind blowing, but some shiny pictures. Hardware Analysis also had a look at Cebit.

Pimprig have a brief but humorous sideways look at The Dark Arts. Overclocking, that is.

SniperA64 notes that AMD have updated their AMD64 Device Driver Page with some new driver info as well as some links to A64 Anti-Virus software.

Depending on where in the world you happen to be, the evening skies will be putting on a show. The 'Fab Five, or the planets Mercury, Venus, Mars, Jupiter and Saturn, will all be visible to the naked eye. Find maps and more info at NASA. From Neolithic

AMDReview have a put some Registered PC3200 RAM to the test. Memory from Corsair and OCZ Technologies go heat to head.

More letters from Dan. This time, he blathers unstoppably on the subjects of Hammer RAM, ultra-tweeters, power hygiene, CMoy kits, scan rate hazards, oil depletion, and yet more perpetual motion.

s3tTz sent in this Flash timewaster that I found very addictive. Escape!. P.S. Don't touch the black either.




Sunday Night Reviews (0 Comments) (link)
Sunday, 28-March-2004 23:48:47 (GMT +10) - by Agg


Cases:
SilverStone SST-LC02 HTPC case on PCUnleash.
CoolerMaster WaveMaster on 3DXtreme.

Modding:
PolyGFX CaseSkin on SpodesAbode.
Lamp Electronics Dual Bulb CCFL Kit on ExtremeReviews.
Enermax Security Screws & Tool Kit on TheTechLounge.
EL Wire Modding Kit on CreativeMods.
Crystalfontz 20x4 LCD screen on 3DXtreme.

Video Cards:
ATI ALL-IN-WONDER Radeon 9600XT (video review) on 3DGameMan.
Albatron FX5900XTV GeForceFX on RBMods.

Keyboards, Mice etc:
Ideazon Keyboard and Crossfire Keyset on Controlled-Insanity.
Razer ViperT gaming mouse on Ohls-Place.

Cooling:
Zalman ZM-NB47J Northbridge cooler on GuruReview.
Enermax Ultimate Fan Controller on CrazyModders.
Zalman Reserator watercooling kit on NordicHardware.
Gigabyte 3DCooler-Ultra P4/K7/K8 CPU cooler on FrostyTech.

Misc:
AI Tech AnyDrive Car MP3 + FM Transmitter on Tech-Mods.
Plextor 708A DVD Burner on HardExtreme.
Zalman ZM400B-APS 400W PSU on ExtremeOC.
DFI LanParty Pro875B P4 motherboard on LegionHardware.




Scythe Kamakaze CPU Cooler (2 Comments) (link)
Saturday, 27-March-2004 00:55:26 (GMT +10) - by Agg


Predder checked out this CPU cooler for us. It's suitable for either Socket478 or SocketA CPUs, it comes with a fan-speed adjuster and, well, it's rather large.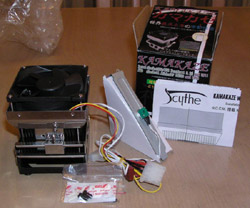 Click for the review!





More CeBIT stuff: Xbit, here and here on HWZ, and here on TrustedReviews.

From Paul: Australian training course teaches ethical hacking. Windows is more secure than Linux out of the box. New Zealand to 'legalise CD piracy' - the Act could be amended as early as the middle of the year. It would still make duplicating a CD for a third party, or copying a disc you don't own an illegal act.

von Stalhein noticed this nano-lightning for cooling article on NewScientist. More info here, thanks Kernal32.

From Dink: Game classifications are being reviewed. However there is still not going to be a R or X rating for games, because everyone knows that people stop playing games as soon as they turn 18.

Plextor have announced a 12X SATA DVD Burner, thanks enigma.

James sent word that the XSI EXP for Half-Life 2 is available for download. Everything you need to create Half-Life 2 characters, models, and environment elements is here.

From petal666: Seems all the Muvo2 and iPod minis are putting pressure on supplies of the 4Gb microdrives so the iPod mini release worldwide will possibly be delayed till July. Info here and here.

ZGeek fitted a PC with an airbag and filmed it blowing itself to bits.

ARP have an article on upgrading your notebook.

Piracy is bad, but apparently not quite bad enough to get you extradited to face charges in the USA, thanks Dennis.

Murray noticed dual-layer recordable DVD media is on the way, with drives from Sony. 8.4GB per disk!

For timewasters: Sabretooth noticed that Happy Tree Friends have posted their take on the penguin game, while daveha sent in Nun Gunners which is pretty cool. Those on broadband might want to view a video of a gibbon teasing tiger cubs, thanks Neevo. Too painful for me to watch on dialup.



CPU:
AMD Athlon 64 3000+ reviewed by Bjorn3D.

Motherboards:
Abit's AN7 reviewed by The Tech Report.
ASUS SK8N reviewed by Driverheaven.

Memory:
Kingston HyperX PC4000 1GB kit reviewed by Bjorn3D.
PC4400 Memory Shootout at HardCOREware.

Storage:
Vantec NexStar reviewed by FastLaneHW.
Vantec NexStar reviewed by ExtensionTech.

Video:
Gigabyte GV-N57U128D reviewed by Envy News.
Sparkle FX5900XT reviewed by Bit-tech.
Gigabyte GA-8S655FX Ultra reviewed by myWORLD.
ATI Mobility Radeon 9700 reviewed by TrustedReviews.

Audio:
M-Audio Firewire 410 Mobile Recording Interface reviewed by futurelooks.
Audiotrak Prodigy 7.1 Channel Soundcard reviewed by Big Bruin.
WeWa WMP-3000+ Butterfly MP3 player reviewed by Dan's Data.

Cooling:
Aerocool HT-101 Heatsink reviewed by OverclockersClub.
AnyCool II Watercooling Kit reviewed by Guru Review.
Titan TTC-SC03 Universal VGA Heat Terminator reviewed by Guru Review.
Spire WhisperRock IV reviewed by AllHardwareZone.
Whisper Rock IV CPU Cooler reviewed by Controlled-Insanity.
Danger Den RBX Waterblock reviewed by Crazymodders.
Silverstone FM84XW CPU Fan reviewed by Controlled-Insanity.
Evercool SCP-A Fan Controller reviewed by Ohls-Place.

Cases & Modding:
JetArt Lighting Products reviewed by Mod Synergy.
Seasonic Super Tornado 400 PSU reviewed by OCTools.
NZXT Guardian Computer Case reviewed by PimpRig.
Silverstone Eudemon reviewed by Spode's Abode.

Mouse & Keyboard:
EverGlide DKT, Xtrac Pro HS and GamerzStuff Xtreme Mousepads reviewed by TechFreaks.
Nostromo n50 SpeedPad reviewed by Viperlair.
Razer Viper Gaming Mouse reviewed by A True Review.
X-GAMING Two Player X-ARCADE Controller reviewed by Tech-Mods.
Eagle Touch XP Wireless Keyboard and Optical Mouse Video Review by 3dGameMan.
Steelpad Steel Cordholder reviewed by FastLaneHW.
Steelpad Steel Gaming Glove reviewed by GruntvillE.

Misc:
Samsung CLP-500 reviewed by TrustedReviews.




Wednesday Afternoon (11 Comments) (link)
Wednesday, 24-March-2004 13:49:08 (GMT +10) - by Agg


CeBIT coverage continues, on HWZ (and more), Beyond3D, HWHell (more here), Guru3D and MadShrimps. Xbit have a one, two, three part report.

eXtreme Reviews have a Radeon 9600 Pro volt-modding guide posted. You might also find this soldering guide on TheModFathers handy. Bit-Tech perform some cladding and painting on a case, while ComputerSphere use some EL wire for a DIY glowing keyboard.

eXtremeReviews also have a guide to protecting yourself online. One of the first things you should do is see if one of these is plugged into the back of your PC. :)

Not quite the saddest thing I've ever seen on the net, but getting close - paulh sent in this imaginary girlfriends site.

VIA announced a very very small motherboard form-factor, Nano-ITX, at CeBIT on Friday. At 120mm x 120mm, it's the smallest standard to date, apparently. More info on EPIACenter, PCWorld thanks Murray and SFFTech.

klif-e was first to send in this Windows XP Box PC, based on a not quite so small Mini-ITX motherboard.

Using WinXP to power an ATM is all well and good, until something goes wrong and there's a few bored Uni students around - thanks OneArmedMan.

Win yourself some Xbox games over on Hypothermia.

Microsoft and Lindows are off to court today USA time as part of their trademark battle. Meanwhile, the EU is set to roundly spank Microsoft, with a record fine to the tune of $651M USD for allegedly abusing their monopoly in certain software markets. That's some serious monopoly money, ho ho.

XYZ Computing compared a few caffeine products for drinking or eating.

Datafuse hope to explain the whole pipelines and texels thing, in relation to graphics processors. HotHardware want to explain PCI Express to you.

NordicHardware interviewed Terry Makedon, a Senior Product Manager of Software at ATI.

Dink noticed that SCO are targeting Linux users in Australia now.

Scott sent word that a firewall-attacking virus is doing the rounds - and this one can mangle your hard drive. More info on SecurityFocus and Symantec.



CPU:
Intel Pentium 4 3.4E Prescott reviewed by accelenation.
Intel Pentium 4 3.4E Prescott reviewed by Tweak News.
Intel Pentium 4 3.4E Prescott reviewed by Sharky Extreme.
Intel Pentium 4 3.4E Prescott reviewed by HardCOREware.
Intel Pentium 4 3.4E Prescott reviewed by Legit Reviews.
Intel Pentium 4 3.4E Prescott reviewed by HOTHardWare.
Intel Pentium 4 3.4E Prescott reviewed by PC Perspective.
Intel Pentium 4 3.4E Prescott reviewed by The Tech Report.

Storage:
Imation 8x Dual Format Internal DVD Burner reviewed by HardwareZone.
Verbatim Store 'n' Go 256MB USB Drive reviewed by Xtreme Tek.
Hitachi Deskstar 7K250 (2x80GB RAID 0) Hard Drive reviewed by Mod Synergy.

Cooling:
Evercool Magic Cooler reviewed by A1 Electronics.
Evercool WC201 Water Cooling Kit reviewed by Ohls-Place.
Arctic Cooling VGA Silencer Rev. 3 reviewed by OCFaq.
Swiftech MCX-478V vs. Zalman CNPS-7000Cu reviewed by OcPrices Hardware.
Gigabyte 3DCooler-ULTRA PCU31-VH reviewed by Neoseeker.
Swiftech Mcx159-r chipset cooler reviewed by Red & Blackness.
Gigabyte 3D Cooler-Ultra 2004 GT Edition reviewed by Legion Hardware.
Cool-Cases CF1 microstructure water block reviewed by MAD SHRIMPS.
Super-Flower SF-609 reviewed by SweMod.

Cases & Modding:
AcoustiCase C6606 reviewed by Spode's Abode.
Poweroid 1204 Silent PC reviewed by TrustedReviews.
Tagan TG480-U01 reviewed by Hexus.
NZXT Guardian Case reviewed by OverClock Intelligence Agency.
Decal Happy Window Applique reviewed by hot-mods.
Connectorz Power Supply Changeover Kit reviewed by Big Bruin.
Logisys LED Acrylic Footstep reviewed by Extreme Reviews.

Video:
Samsung Syncmaster 173P 17" LCD Monitor reviewed by Gideon Tech.
DoubleSight Dual 15" LCD reviewed by Modasylum.
Samsung SyncMaster 192T reviewed by Bytesector.

Audio:
Mad Dog Entertainer 7.1 Sound Card reviewed by ViperLair.
Mentor Deluxe 3D 5.1 Surround Headphones reviewed by DiscGamer.

Mouse & Keyboard:
X-GAMING Two Player X-ARCADE Controller reviewed by Tech-Mods.
Steelpad Steel Gaming Glove reviewed by GruntVillE.
Razer Viper Gaming Mouse reviewed by A True Review.

Misc:
Corsair 1GB PC3200LL Pro Series reviewed by Bytesector.
ADS Tech Pyro 1394 Webcam reviewed by Guru Review.
X-micro WLAN 11g PCMCIA CARD reviewed by Hardware Pacers.
Gigabyte GN-B49G 802.11g Wireless Router reviewed by PCStats.
HP Photosmart 7760 reviewed by DesignTechnica.
Fujitsu S6130 Centrino Notebook reviewed by HardwareZone.
Olympus Camedia C750 Ultra Zoom Digital Camera reviewed by PyroPort.




KEYKatcher 32K Keyboard Logger (12 Comments) (link)
Tuesday, 23-March-2004 19:53:03 (GMT +10) - by Agg


Keyboard loggers are one of the simplest ways to keep an eye on PC usage. If you think your PC is being used in a way you'd prefer it wasn't, you might want to read this review:



Click for the review!






Monday Morning Reviews #2 (1 Comments) (link)
Monday, 22-March-2004 00:41:45 (GMT +10) - by Agg


Motherboards:
Albatron K8X800 Pro II VIA K8T800 A64 board on 3DXtreme.
Albatron PX875P Pro i875P P4 board on Ohls-Place.

Cases:
Thermaltake V8000A Gaming Case on ClubOC.
ClearPC Secret Agent Acrylic Briefcase on Virtual-Hideout.
Case4U Mona Designer midtower case on TweakNews.
Thermaltake Damier Xaser V V6000A Aluminium Case on FutureLooks.
Comp USA Black ATX case on CreativeMods.
CrazyPC Lian Li Case w/ Biohazard Mod on ATrueReview.

Audio:
M-Audio Revolution 7.1 & Sonica Theatre sound cards on MyWorldHardware.
Zalman 5.1 Surround Headphones on ViperLair.

Mouse, Keyboard etc:
Microsoft Wireless Optical Desktop Pro on RBMods.
Logitech diNovo Bluetooth keyboard and mouse on Swemod, our review here.
Logitech MX510 Performance Optical Mouse on Hardware-Pacers.
Everglide X Treme Mousepad on GuruReview.

Notebooks:
eMachines M6805 A64 Notebook on PCPerspective.
Voodoo Envy M:855 Gaming Notebook on TrustedReviews.

Misc:
Cooler Master Musketeer 2 display panel on ARP.
Shuttle SB75G2 875P P4 mini-PC on OCWizard.
Kyocera FS-C5016N Colour Laser Printer on TrustedReviews.
Logitech io Digital Pen on ByteSector.
Creative Labs PC Remote on ExtensionTech.
Cooler Master Musketeer 2 display panel on HWZ.
NMPCTECH Case Handles on VoidedWarranty.




OCAU Merchandise (1 Comments) (link)
Monday, 22-March-2004 00:08:56 (GMT +10) - by Agg


OCAU has a range of merchandise available. Things to wear, things to drink out of and things to stick to other things. Get some cool stuff and help support the site!



Click here for OCAU Merchandise!






Monday Morning Reviews (0 Comments) (link)
Monday, 22-March-2004 00:00:07 (GMT +10) - by Agg


Cooling:
Thermaltake POLO735 CPU cooler on PCTechZone.
Enermax UC-A8FATR4 fan controller (video review) on 3DGameMan.
Koolance CPU-300-V10 Waterblock on ViperLair.
Asetek Antarctica waterblock on A1-Electronics.
Demonic XTC P4 Waterblock on Ninjalane.
Arctic Cooling 4Pro L P4 CPU cooler on BigBruin.
Super Flower Fan Master fan controller on Tech-Mods, our review here.
Alpha S-PAL8952 P4 CPU cooler on MadShrimps.

Memory:
PMI 3200-1024DP Turbo DDR on OCClub.
PMI PC3200 1GB Dual Channel Kit on GruntVille.
OCZ Gold Rev B PC3700 2x512MB on SubZeroTech.

PSU:
Zalman ZM400B-APS on FastLaneHW.
CleverPower 500W Powerbar on HardCoreWare.
Seasonic Super Silencer 460W on OCIA.
I-Star 400W + 400W Redundant ATX PSU on OCIA.
Thermaltake Polo 12 420W on A1-Electronics.

Storage:
Mega Memory 128MB USB Flash Wristwatch on GuruReview.
Artec Dual DVD+R/RW Drive on HotHardware.
Nu DDW-081 DVD Recorder on ATrueReview.

Video Cards:
Chaintech A-FX71 GeForce FX 5600 Ultra on TheTechLounge.
PowerColor Radeon 9800XT 256MB on Hexus.
Chaintech Apogee AA5700U GeForce FX on PCStats.
ASUS Radeon 9600XT/TVD on Bjorn3D.




Archive Updated (0 Comments) (link)
Sunday, 21-March-2004 22:18:32 (GMT +10) - by Agg


I've updated the Reviews and Articles Archive with some content from the last few weeks, and created a few more categories. Check these out if you missed them the first time around:

DIY Ultimate Mouse Pad article.
GTR 450W-LI Power Supply review.
Minitar 802.11g Wireless Networking Bundle review.
Samsung SyncMaster 172x LCD Monitor review.
Antec Super Lanboy Minitower Case review.

Keep in mind our Search Page, powered by Google, which is now indexing all our old articles, news archive and other non-forums content.



Cebit coverage on OCWB, Spode's, HWZ, TrustedReviews and TeamHardware.

MP3's are killing the music industry, right? Apparently not, thanks KP.

Amazing technology here, thanks Sciby.. picking up "silent speech" and using it to control things or communicate.

There's an interesting article here about the concept of "presence" online.

Win a notebook and pocket PC by signing up for a newsletter, thanks Toxic_spill.

VR-Zone have a guide to building a two-stage phase-change cooling system for some serious cooling. The cooling performance is definitely great with temperature reaching as low as -111C that allows hot chip like Prescott to reach over 5.1Ghz and ATi Radeon 9800 XT to reach over 660Mhz core.

We have seen this before, but a reminder from Steve: Thought i would write and let the readers know about a 2 cd set that microsoft will send out FREE to your letterbox containing all updates to win98, ME, 2k and_XP up to and including Oct 2003. Handy if you need to reinstall your OS and don't want a 22mb download of updates excluding service packs.

LegitReviews spent some time overclocking a P4 3.2GHz EE.

From Ambush: Current 4x DVD-R & 2x DVD-RW drives will be unable to use 4x DVD-RW discs and may also be unable to use 8x DVD-R discs due to the sensitivity of the new dye to be used. The media may be physically damaged and unreadable after burning. Drives affected include the Pioneer DVR-AO6/106D & Sony DRU-510/DRX510UL burners.

Dan has letters, more letters and a little headphone amp.

Intel and BMW are showing off a mobile office car with a tablet PC, WLAN, fax machine etc, thanks Murray.

This page about a car made into a robot is amazingly cool.. if only it was real, thanks Loop Goose.

HWZ have a CPU shootout featuring the latest and greatest from Intel and AMD.

There's a new issue of ZZZ Online.



Telstra are again in the spotlight, this time they're about to slapped with million dollar fines over it's ADSL reselling prices.

Big Brother is watching more than what you think. "SPY agencies would have greater powers to intercept people's emails under government changes that have been dubbed over-the-top and intrusive."

Looks like there are some new domains on the way. How does overclockers.xxx sound? Wait, we don't have any adult content, do we...?

Microsoft are set to bring out their ipod killer.

China has banned an upcoming PC game because it "hurt China's national dignity and interests".

Now, for the lighter side of life.

It's no real surprise that this idea didn't take off. "Virgin Atlantic has scrapped plans to install urinals in the shape of a woman's lips at the airline's clubhouse at New York's John F. Kennedy airport." It goes on to say "This is one target men will never miss."

Do you like strawberry cake? Hopefully there will be enough of this 11,146kg cake to go around!

As usual Ctrl+Alt+Del has kept me laughing this week with 2 new comics. What if? and Functional Thumbs.

Also, don't forget our Motorcycle club has a link just over on the left. Drop in and say hi!

A few cool demos have been released lately. World War 2: Frontline Command Demo and Splinter Cell 2: Pandora Tomorrow. Also, the long awaited Battlefield Vietnam has gone gold and is sure to be loads of fun.



Some pics for a Friday afternoon, click them to enlarge:

VooDoo sent in this first series, titled "I lost my job today".. no matter what you did wrong at work this week, you can't have been as bad as these. Makes you realise where all those packages go missing in the post, too.



These next two are from Nasty and show what a Super DLT drive does when it decides it doesn't like a tape:



And, because I haven't done this in a long time, here's some pics of me (taken by JPMPhoto) riding the Team OCAU GSXR at a recent track day :)







Friday Afternoon (0 Comments) (link)
Friday, 19-March-2004 15:51:02 (GMT +10) - by Agg


Speculator spotted this article on TomsHardware about a 1RU server from MSI. It covers some of the limitations of the 1RU format. We'll soon have an article which goes into a bit more detail, showing the process of building OCAU's new servers into 4RU, 2RU and 1RU cases.

Toshiba made a very small hard drive.

Xbit looked at overclocking low-cost video cards and have a March 2004 hardware news overview.

Interesting article here from Koontz, musing about possible uses for extremely large hard drives.

From dep: heres a link to footage showing the use of Apple technology to run Virginia Techs super computer which consists of 1100 G5 machines along with 2200 processors.

SharkyExtreme posted their A64 FX-53 review.. for lots more, see my newspost earlier today.

From McFly5: ASUS have a new PCI-Express & AGP8X motherboard. MSI is showing off 3 LGA motherboards.

AMD has some new XP-M CPUs for light notebooks, thanks Murray.

Apparently kids really are smarter than their parents, thanks Daniel.

IPKonfig have some DDR2 information.



Press-Releases of interest from the last few days:

Altech sent word that ABIT's new range of ATI-based video cards have arrived in Australia. ABIT Radeon 9600XT VIVO - $330rrp. The card that everyone wants, from everyone's favourite overclocking brand. ABIT Radeon 9600 256MB - $231rrp. Not as quick as the XT, but not as expensive. ABIT Radeon 9200SE 64MB - $90rrp. ABIT's entry level videocard. Good for your nan's computer. ABIT Radeon 9800XT - $730rrp. The fastest card on the market, with HL2 voucher.

Corsair announced a new 2GB TwinX kit: The TwinX2048-3200PRO consists of a matched pair of 1 Gigabyte CMX1024-3200PRO modules. This unbuffered DDR module pair is rated to operate at 400MHz (PC3200) at 3-3-3-8 latency settings. Each module includes a performance enhancing black cast aluminum XMS Pro Series high-efficiency heat spreader, and features Corsair's Activimeter with two rows of colored LEDs that show real-time memory activity. TwinX modules are tested together as a matched pair in a dual channel motherboard, and packaged together immediately after test.

OCZ now have PC-3500 and PC-3700 1GB modules and 2GB kits. OCZ has spent a considerable amount of time developing our PC-3500 and PC-3700 modules and we are very excited of the level of performance and stability we have been able to achieve.

S3 Graphics announced the GammaChrome Family of Top to Bottom Native PCI Express Graphics Solutions. A full line of GammaChrome graphics processors will be provided starting from the high end utilizing the latest fabrication technology to boast blazing speeds and solid performance, while the mainstream product will feature the balanced performance/cost/features that have defined this highly competitive segment.

Australia's Attorney-General department announced that a significant increase has been recorded in prosecutions and convictions obtained through telecommunications interception warrants in the past year. Report here. There's also a draft of some new offenses proposed under the Telecommunications Act applying to internet use, mobile phones etc. Finally, they propose a national defamation standard, instead of the per-state hodgepodge we have now. As a publisher, that document looks like good news.




AMD Announces Athlon 64 FX-53 (1 Comments) (link)
Friday, 19-March-2004 11:19:39 (GMT +10) - by Agg


AMD have announced the newest member of their Athlon 64 family, the FX-53. Specifically designed for gamers and PC enthusiasts, the AMD Athlon 64 FX processor enables a "cinematic computing" experience that is immersive, interactive and provides a new level of realism.

More info and reviews on PCWorld thanks Murray, Bit-Tech, Hexus, Xbit, HotHardware, Sudhian, Tech-Report, AMDReview, LegitReviews, PCPerspective, LostCircuits, Anandtech, GamersDepot, DriverHeaven and HardOCP.




Friday Morning Reviews (0 Comments) (link)
Friday, 19-March-2004 11:07:06 (GMT +10) - by Agg


Display:
Samsung 173P 17" LCD on ExtremeOC.
Samsung 172x 17" LCD on 3DVelocity, our review here.

Video Cards:
ABIT Radeon 9800 XT on HardOCP.
Chaintech Apogee AA5700U GeForce FX 7500 Ultra on HotHardware.
Gigabyte GV-R98P128D Radeon 9800 Pro on ExplosiveLabs.
ATI All-In-Wonder Radeon 9600 on Tech-Mods.
HIS Radeon 9600XT & 9600 Dual DVI on Bit-Tech.
GeCube Extreme R9600XT on OCNZ.

Motherboards:
MSI PT880 Neo-FISR VIA PT880 based P4 board on HardOCP.
AOpen AK86-L VIA K8T800 based A64 board on HardOCP.
Chaintech 9PJL P4 board on RBMods.
Biostar K8VHA Pro & K8NHA Pro A64 boards on Bjorn3D.
Shuttle AN50R A64 board on MetkuMods.
SiS655TX P4 motherboard chipset on AseLabs.
Albatron K8X800 Pro II A64 board on GruntVille.
EPoX 4PDA5+ P4 board on LegionHardware.
Albatron PX875p P4 board on RBMods.
MSI K8T-Neo FIS2R A64 board on ModSynergy.




Thursday Reviews (1 Comments) (link)
Thursday, 18-March-2004 15:01:08 (GMT +10) - by Agg


Memory:
Corsair TwinX1024-3200LLPro 1GB DDR400 kit on TweakNews.
OCZ PC4400 Dual Channel Memory Kit BETA on MadShrimps.
OCZ PC4000EL Gold Edition on PCStats.
OCZ EL DDR PC3700 Gold Rev 2 on LegitReview.

Keyboard, Mouse Etc:
Razer Viper gaming mouse on ExtremeMHz.
Everglide Giganta Ray mousepad on OCClub.
Steelpad Cord Holder on Tech-Mods.
Hunter Series Gamer Keyboard on Ohls-Place.

Case:
Casetronic C137 mini-ITX on Flickerdown.
CrazyPC Demon Case on Virtual-Hideout.
Diabolic Minotaur Mid-Tower on Controlled-Insanity.
CrazyPC Black Demon on ClubOC.
Smooth Creations Airbrushed Shuttle on JSIHW.

PSU:
SilverStoneTech SST-ST40F-G02 400W on GeekExtreme.
Zalman ZM400B-APS 400W on DataFuse.
Super Flower SF350TS-14BL 350W on RBMods.

Audio:
Zalman 5.1 Theatre 6 surround headphones on GuruReview.
Altec Lansing VS3151 5.1 speakers (video review) on 3DGameMan.
Logitech X-620 6.1 speakers on ByteSector.

Misc:
Canon EOS 300D Digital SLR Camera on Enscape.
Network Media Station Boxster Media Centre PC on NordicHardware.
StealPC "Foundation Kit" for quietening PC on SilentPCReview.
Digitalway MPIO FY200 256MB MP3 player on DesignTechnica.
Samsung E700 Mobile Phone on GuruReview.
Next Base Walking Cinema portable DVD player on TrustedReviews.
Chyang Fun e-Cube i865-based mini barebones PC on DansData.
CoolerMaster Musketeer 2 Audio/HDD monitor on 8Balls.
SMC wireless networking antennas on EnvyNews.




Antec Super Lanboy Mini Tower Case (9 Comments) (link)
Thursday, 18-March-2004 03:53:33 (GMT +10) - by Agg


Argent checked out the "Super" successor to the Lanboy case that we reviewed a few months ago. I can't decide if I like the styling of this one or not. We've been impressed by the quality of Antec's products in the past - does this one live up to their reputation?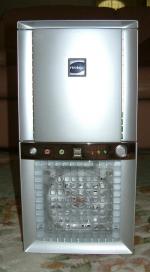 Click for the review!






Wednesday Night (7 Comments) (link)
Wednesday, 17-March-2004 23:25:39 (GMT +10) - by Agg


The internet is a dangerous place and it's only getting worse, according to a report by Symantec.

Dink noticed this article about someone who buys a lot of stuff from spammers, helping make their business model viable. Grrrr.

TheJemReport have an article about what 64-bit technology means on the FreeBSD (and hence Unix) side of things.

ComputerSphere are making a test PSU and installing LEDs.

Timbo sent in an interesting article about nanotechnology being used for cooling.

IANAG have a WinXP Performance Tuneup guide.

ARP have a Hard Disk Guide posted. Although many articles have covered these topics, it is apparent that hard disk urban legends are still more popular than the simple truth.

GeekXtreme are the latest to check out Athlon XP Mobile overclocking.

Voice over IP, or "net phone", looks a little more credible now with AT&T offering the service, thanks Griff.N. Comindico recently announced (PDF) VoIP for business customers in Australia, so it seems this technology is going places.

Slayme40 says There are new Nvidia drivers out v 56.64.

Apparently toilets are cleaner than computers, thanks Dink. Sure, but you can't play many games on them.

Hexus have what seems to be the first nForce 3 250 review, covering two motherboards based on this new Athlon 64 chipset.

Boky noticed that AmigaOS has been sold to a company called KMOS. More info here, thanks captainpotato.

The ATO is considering moving software development overseas, thanks Dink.

ViperLair have an editorial about a legal battle going on between American hardware site HardOCP.com and a hardware manufacturer.




Samsung 172x LCD Monitor (9 Comments) (link)
Wednesday, 17-March-2004 15:07:15 (GMT +10) - by Agg


Manaz has taken a look at this 17" LCD monitor from Samsung. His review is a hefty but interesting read covering the difference between this LCD screen and traditional CRT monitors, not only from a technical perspective but also in terms of usability.



Click for the review!






More Tuesday Night Reviews (2 Comments) (link)
Tuesday, 16-March-2004 23:54:15 (GMT +10) - by Gibbon


Storage:
NEC ND-2500A DVD Writer on TrustedReviews.
Hitachi Deskstar 7K250 SATA HDD on The Tech Report.
Western Digital Media Center external HDD/card reader on HardwareZone.

Barebones/SFF PCs:
Syntax EZ-Clocker barebones system on Overclocker Cafe.
MSI Mega180 SFF PC on t-break.
Biostar iDEQ 200P Athlon64 SFF PC on Bjorn3d.

Monitors:
Samsung SyncMaster 192T LCD monitor on ipKonfig.
Samsung SyncMaster 192T LCD monitor on MonkeyReview.

Power:
Clever Power Silent Series SPS-500 PSU on Extreme Overclocking.
APC Back-UPS ES 725 UPS on Designtechnica.
Thermaltake PurePower 480W "Butterfly" PSU on Club Overclocker.

PDAs/Digicams:
Asus MyPal A620BT PocketPC on MaximumPDA.
Palm Tungsten T3 PDA on TheTechLounge.
Konica Minolta DIMAGE Z2 digicam on Bytesector.
O'Rite VC3010Z 3.3MP digital camera on HardwareZone.

Speakers/Headphones:
Panasonic SC-HT900 home theatre on Bytesector.
Zalman 5.1 surround sound headphones on PimpRig.
Logitech Z-680 5.1 speaker system on TheTechLounge.

Everything Else:
FlexiGlow FxGamepad mousepad on ExtensionTech.
Vantec Cable Sleeving Kits Video Review on 3dGameMan, Part 1 and Part 2.
Canon I475D all-purpose desktop photo printer on SubZeroTech.
IOGEAR MiniView III 4-port KVMP switch on Voided Warranty.
Q-Tec 756C USB 2.0 CD/RW case on MetkuMods.
Logitech MX900 bluetooth optical mouse on Envy News.
Trendware 2-port KVM switch on IceTeks.
FrontX multimedia panel on Controlled-Insanity.
Salient Technology V-Mouse on A True Review.
Cooler Master Musketeer 2 multifunction panel on HardwareHell.
Soyo BayOne memory card readers on eXtreme Reviews.
Glidetape Glidepads mousepads on eXtreme Reviews.



CPU:
AMD 2500+ Barton Mobile reviewed by Neoseeker.
AMD Athlon 64 3000+ reviewed by OCFaq.

Motherboards:
ECS PT880-A VIA PT880 P4 Motherboard reviewed by OC Workbench.
Asus SK8V reviewed by Chillblast.
SiS 655FX reviewed by Aselabs.
Asus SK8V reviewed by TrustedReviews.
Chaintech ZNF3-250 nVIDIA NF3-250 Mainboard previewed by OC Workbench.
AI7 skt478 reviewed by Bit-Tech.
Abit KV8-MAX3 reviewed by Digital-Daily.
Epia MII 10000 reviewed by Epiacenter.
Albatron PX875 Pro Motherboard reviewed by Tech-Pc.

Memory:
Corsair TwinX1024-4000PRO reviewed by LAN Addict.
Kingston PC4300 Hyper-X reviewed by ClubOC.
KINGSTON HYPERX PC4000 1GIG DUAL CHANNEL DDR reviewed by Tweak News.

Video:
Sparkle FX5500 Graphics Card reviewed by The Modfathers.
Transcend 64MB SiS Xabre 400 reviewed by eXtreme Reviews.
Gigabyte GeForceFX 5950 Ultra reviewed by HardCOREware.
MSI GeForce FX 5950 Ultra-VTD 256MB reviewed by Hexus.
Gigabyte 8S655TX Ultra &_8VT880 Ultra reviewed by Legion Hardware.

Cooling:
Gigabyte 3D Cooler-Ultra GH-PCU31-VH Heatsink reviewed by 3DXtreme.
Arctic-Cooling Super Silent 4ProL reviewed by OVerClock Intelligence Agency.
Evercool CUW8-715 Copper Heatsink reviewed by Frosty Tech.
Artic-Cooling VGA Silencer reviewed by Spode's Abode.
Titan TTC-CW9TB/SC P4 Cooler reviewed by Guru Review.

Cases & Modding:
3R System - R101 Aluminum Casing reviewed by Hardwarezoom.
Trust 910Z PowerC@m Optical Zoom reviewed by SweMod.
Antec Aria SFF Case reviewed by SilentPcReview.
XaserIII Lanfire series reviewed by 3DVelocity.
Thermaltake XaserV Damier Series Super Tower reviewed by A True Review.
NZXT Black Guardian Full ATX Case reviewed by WinHQ.
Black Demon Case reviewed by ClubOC.
Lian Li PC-7 H Aluminum Case reviewed by Overclocker Cafe.

Misc:
Sennheiser PC-155 USB Headset reviewed by bit-tech.
Gigabyte 108 MBit Wireless reviewed by Guru3D.




Tuesday Morning (7 Comments) (link)
Tuesday, 16-March-2004 03:35:57 (GMT +10) - by Agg


Scientists have discovered an object that may well be classified as the tenth planet in our solar system.

Sudhian reckon the Mobile AthlonXP is the coolest, quietest ever, while FastLaneHW spent time overclocking one.

Mariomart sent in this page of optical illusions involving motion.. makes me feel ill. He also discovered we're leaving little circles all over Mars and the "Miss Digital World" competition has a few more entrants than when we last linked it.

Unfortunately the Robot Desert Race didn't go too successfully, although a lot of progress was made.

Pyroport have some info: It would appear that the Dell Optiplex GX60 A06 bios update available on Dell's website is corrupting the BIOS of computers under some conditions. Updating from A00 to A06 using OpenManage IT Assistant or the harddrive package fails, killing the computer. The only option is to replace the motherboard. Full details can be found here and here.

From the PCDB: PurplePhantom and pandemic both have interesting step-by-step pictures of their modded cases.

GeeksOnline have a fairly basic watercooling guide posted.

PCPerspective have some thoughts about PCI-Express posted.

AnandTech have some Centrino and Xeon roadmaps posted, as well as info on Intel moving away from MHz in their product names.



IANAG take a look at what to expect from WinXP SP2.

Virtual-Hideout have a roundup of performance mousepads, while Digital-Daily checked out twenty video cards powered by NVIDIA and ATI.

Josh sent in an article claiming the Microsoft/SCO link is confirmed - it notes the admission gives some credence to rumours that Microsoft funded SCO's anti-Linux campaign because Linux represents the key open source threat to Microsoft, particularly in the business server software market.

Aquasesh spotted this army knife with a USB thumbdrive inbuilt, as well as an article on MBReview about how motherboards are designed.

Xbit compared three PSU's from Zalman, and took a look at an Adaptec SATA RAID controller.

Sudhuan have published Part 2 of their RAMBUS in hindsight article.

From Tekka: I read your news bit on autopatcher and thought you could do a fuller news piece on it as alot of readers would find this program useful, basically it's a program that contains EVERY Windows XP Patch. As well as a collection of bonus items and tweaks, not to mention the ability to setup the installation of other programs to install with it. There is a custom installation, so you don't have to install anything you don't want to. All updates in just one reboot.. woot. It's great for techies like me who install XP quite a few times a week. It is a big download for dial-up users, but if it worries them they can always wait for SP2 to come out as it will reduce the size of autopatcher greatly. Keep in mind once you download it, there are monthly updates, usually about 20MB. A complete list of what the latest version contains is here. Updated links for downloading it can be found here.

Dan spent some time torturing a mini-PC that was intended for a more sedate life.

NordicHardware looked at two PCI video cards based on modern chipsets.

From SpyBoy: I went on a point and click bender and as Monkey Island, Sam & Max, Indiana Jones and the Fate of Atlantis and Day of the Tenacle don't like XP for sound (they were all back in the day of configuring your soundcard as SB and the irq, dma etc) – I found this piece of free goodness. Lets you play all your old Lucasarts games ok under XP if you want to play old school.

If you want to benchmark with Call of Duty, Guru3D have an automating application to help out.

Win Corsair memory on Gruntville.

Today's timewaster is Maid Marian, a 3D MMORPG you play in your browser. Works ok in dialup if you turn the music off. Looks like there's a few on that page, sent in by dassbooty.



Motherboards:
ECS PT880-A VIA PT880 P4 Mainboard reviewed by OCW.
Asus SK8V reviewed by Chillblast.
SiS 655FX reviewed by ASE Labs.
Asus SK8V Athlon 64 Motherboard reviewed by TrustedReviews.

Memory:
Kingmax Hardcore Memory reviewed by Anandtech.

Video:
Hercules 3D Prophet 9800XT reviewed by OC-Zone. (Translated with Google.)
Powercolor Radeon 9800SE 128MB reviewed by JSI.
StarTech TV Jockey reviewed by Target PC.
Samsung SyncMaster 173P LCD reviewed by OverclockersClub.
Asus A9800XT/TVD/256 Radeon 9800XT reviewed by PCStats.

Audio:
Altec Lansing 251 5.1 Surround Sound Speakers reviewed by Hard eXtreme.
Zalman External 5.1Ch USB Sound Card Video Review by 3dGameMan.

Cooling:
Global Win SilentStream reviewed by A1 Electronics.
Evercool Fan Controller reviewed by Red & Blackness.
Xpcases Fancontroller reviewed by Red & Blackness.
Zalman MFC1 Fan Controller reviewed by FastLaneHW.
Thermaltake Aquarius III Watercooling Kit reviewed by Modsynergy.
Sunbeam Fan Duct Kit reviewed by Creative Mods.
Thermal Integration TI-RV104N reviewed by Frosty Tech.
Arctic Silver 5 reviewed by TechwareLabs.
Aerocool HT-101 reviewed by Viperlair.
Evercool CUF-715 Socket A Heatsink reviewed by Big Bruin.
Arctic-Cooling Super Silent 4Pro L reviewed by Legit Reviews.

Cases & Modding:
ITW vandal Proof Switches reviewed by Modasylum.
Case Master V828 ´FireBird` Server Case reviewed by MADSHRIMPS.
CoolerMaster Musketeer reviewed by A True Review.
Kingwin Thermal Center TC-02BK reviewed by OverclockersClub.
Vantec NXP-205 reviewed by Extensiontech.
Mutant Mods' 24" Blue EL Wire Wrapped Round IDE Cable reviewed by A True Review.
Tagan TG480-U01 480W ATX / EPS Power Supply reviewed by OcPrices Hardware.
Rheobus Vantec Nexus NXP-305 reviewed by hard-h20.
Coolermaster ATCS-710-GX1 reviewed by Techangel.
NZXT Guardian ATX Tower Case reviewed by HardCOREware.

Mouse & Keyboard:
Everglide Ray Mousepad review reviewed by HardCOREware.
Logitech Cordless Mx Duo reviewed by PC Tech Zone.
Xtreme Mega Mat reviewed by eXtreme Reviews.

Misc:
Pegasus PC-Notetaker reviewed by Tech-Mods.
StarTech PCI Ultra ATA/100 RAID card reviewed by DataFuse.
Olympus C-5060 reviewed by Bytesector.
Logitech QuickCam Orbit reviewed by Designtechnica.




Friday Afternoon (9 Comments) (link)
Friday, 12-March-2004 16:19:59 (GMT +10) - by Agg


Some of the largest ISPs in the world are suing spammers. Hard to say if this kind of stuff will have any effect on the tide of spam, but it's getting pretty bad lately.

IANAG have collected a fair bit of info about Prescott's dynamic voltage and heat issues.

There's more desert-racing robots trying to win $1M.

Wondering whatever happened to RDRAM aka RAMBUS? Sudhian have some info in an article about the rise and fall of this technology.

Microsoft upgraded the risk assessment of the current Outlook 2002 flaw to critical.

Bit-Tech have some info about nForce 3, NVIDIA's motherboard chipset for Athlon 64. More info on TheInq, thanks Ambush.

A little house robot going on sale in South Korea soon will will instantly notify its master via cell phone of burglars, fires and gas leaks. Hmm, let me know when they can change the DVD and get me another beer.

From Dink: Big Consumer Electronics manufacturers aren't happy they have to support the MS Media Player 9 format. Causing a big stir in the industry. Are we going to end up with various incompatible versions of DVDs?

HWZ have coverage from an IT Show in Singapore.

Intel will apparently not go along with China's security requirements for Wi-Fi products.

TheInq had a play with Asetek's new VapoChill Lightspeed, thanks Snuffy.

Lant sent in this page with freeware alternative media players, including the ability to play .RM files without having to install RealPlayer.

VIAArena are giving away a 7.1 Sound Card.

Trog from AusGamers says: Just a quick one - Mandrake 10 has been made available to the public - we don't have any AusGamers mirrors at the moment but we have it on BigPond Files for BigPond broadband ADSL/cable users here. For other users it's available by BitTorrent - we're seeding the download from AusGamers here.

Guru3D have an article they call Ultimate Athlon XP Overclocking, involving Mobile Athlon XP, DFI and Corsair.

Grimey says ATI Catalyst 4.3 drivers are out now.

Daniel spotted yet another variant of the Pingu game. This time it's a large bikini-clad woman doing the flying. Seeing as it's Friday, you can have another timewaster as well - this driving game from Timbo.

Interesting Forum Threads:
AMD Forum FAQ/Guidelines/Tips in AMD Hardware.
Acne: a first-hand account. And a rant (strong language, but good info) in Sport, Fitness & Health.
Sunset photos in Photography.
BONTAGO - Freeware skill game (multiplayer) in Games.
Battlefield Vietnam has gone gold, ships March 15 in Games.
Dead bodies blown up in landmine experiments in Current Events.




Thursday Afternoon (12 Comments) (link)
Thursday, 11-March-2004 16:15:37 (GMT +10) - by Agg


The Steam Survey Results have been published. It's an interesting snapshot of what hardware modern gamers - over half a million of them - have in their PC's. GeForce4's have a clear lead in the video card stakes, but it's particularly interesting to see the almost even split between Intel and AMD CPUs.

The Hubble Space Telescope has taken the deepest portrait yet of the visible universe. More info here.

Microsoft have released three security patches yesterday, for Windows, Outlook and Messenger.

Apparently a McDonalds salad contains more fat than a cheeseburger.. bizarre.

TheInq reckon there's a way to get access to more space on your hard drive. 510GB on a 200GB drive and so on. Hmm. AllHardwareZone gave it a crack, without much success.

Hitachi, who bought most of IBM's hard-drive technology, are releasing a 400GB drive soon. The company is billing the Deskstar 7K400 as the largest-capacity ATA drive with 3.5-inch platters.

More letters from Dan - or rather, to Dan - about Peltiers, hologram units, fried chip ID, video lighting, weirdo keyboards, a cry for help, radar frying and beer.

Xbit have a roundup of five Samsung LCD monitors as well as info on VIA's new VT6212 USB 2.0 controller.



For a long time, the popular search engine Google wasn't indexing some parts of OCAU that are generated dynamically - most importantly our recent reviews and articles. The forums are hidden from web-spiders so won't be indexed anyway, but I notice that Google are now including our entire Articles and Review Archive as well as the News Archive. The PCDB has always been archived by Google so that's in there too.

So, thanks to Google you can now use this this page to search all of OCAU except for the forums. Thanks to thetron for putting that page together. :)



CPU:
AMD Athlon 64 Model 3000+ reviewed by Hexus.
AMD ATHLON 64 FX-51 reviewed by DriverHeaven

Motherboards:
VIA KT880 Chipset reviewed by Hexus.
VIA EPIA ME6000 MINI-ITX reviewed by Tweak News.
nForce 3 250Gb previewed by The Modfathers.
Soyo SY-P4VAL Version M Multimedia Ready reviewed by ExtremeMhz.

Memory:
Corsair TwinX XMS4400 DDR550 reviewed by Hard eXtreme.

Cooling:
Arctic Cooling VGA silencer reviewed by eXtreme Reviews.
Swiftech MCX478-V Heatsink reviewed by Viperlair.
CoolJag CJC66PC P4 Socket 478 Cooler reviewed by Guru Review.
Evercool Personal Computer Air Conditioner reviewed by Ohls-Place.
Premium HeatSink Lapping Kit reviewed by Controlled-Insanity.
AcoustiFan reviewed by SubZeroTech.
ThermalTake Aquarius III Water Cooling Kit reviewed by Bytesector.
Thermaltake Extreme Volcano 12 reviewed by OCTools.
The Zalman CNPS7000A-CU and the CNPS7000A-ALCU reviewed by Teamhardware.

Video:
PoV GeForce FX 5500 reviewed by Guru3D.
Chaintech Apogee 5700 Ultra reviewed by NinjaLane.
Sapphire The Beast All-In-Wonder 9800 Pro reviewed by 3Dvelocity.
S3 DeltaChrome S8 Nitro reviewed by x-bit Labs.
S3 DeltaChrome S8 Nitro previewed by The Tech Report.
S3 DeltaChrome S8 Nitro reviewed by HOTHardWare.
Soltek SL-5900-FD reviewed by Envy News.
Albatron Gigi GeForce FX5700 Ultra reviewed by X-bit labs.

Audio:
Cooler Master Musketeer 2 Sound Controller/HDD Monitor reviewed by HardCOREware.
Plantronics .Audio 90 Headset reviewed by GruntvillE.
Shure E3C Earphones reviewed by DesignTechnica.

Cases & Modding:
Silverstone HTPC Case - LC-02 reviewed by SweMod.
Chenbro Hornet PC-80566 Micro-Tower reviewed by 3DXtreme.
A-Top Technology Z-Alien Gaming Case reviewed by Overclocker Cafe.
Fortron Source FSP350-PN(PF) power supply reviewed by Temple Of Technology.
Scythe Fanless e-OTONASHI Mini-ITX case reviewed by Pryoport.
Tagan TG480-U01 reviewed by PCReview.

Misc:
Cable Organizer Cable Management Kit reviewed by eXtreme Reviews.
Cable Organizer Cord Caddy reviewed by eXtreme Reviews.
ATI REMOTE WONDER 2 MULTIMEDIA PC REMOTE CONTROL reviewed by Tweak News.
Sony VAIO PCG-GRT916Z reviewed by TrustedReviews.
Asante AeroLAN reviewed by eXtreme Reviews.




Press-Releases (1 Comments) (link)
Thursday, 11-March-2004 00:28:14 (GMT +10) - by Agg


Press-releases of note from the last few days:

SOYO, who we unfortunately don't see much of in Australia, have made an Instant Boot-up motherboard. SOYO's SY-P4VAL is a user-friendly Pentium 4-based motherboard with an interface for "Media Center" functionality that allows users to have DVD and CD or CD-R with MP3 playback or operate a TV tuner card without an operating system. The technology allows a PC's entertainment functions to turn on almost instantly with a range of functions, such as fast-forward, rewind, and jumping from track to track.

Matrox announced that their Parhelia video card, that attracted a lot of initial attention and then faded from the interest of gamers, has found itself a niche in fighter pilot training. Since the Eurofighter is a brand new fighter, all the aircrew and groundcrew need to be trained on how to fly it and maintain it. ... After consulting with the Matrox sales team, VEGA and their partners decided to test the Parhelia 128MB card. In TripleHead mode, Parhelia can run at a resolution of 3840x1024; 1280x1024 across all three screens.

AMD are circulating a document called "Athlon 64 Features and Benefits". This is a marketing document with information about the virus protection feature and their "Cool 'n' Quiet Technology" as well as the benefits of 64-bit processing. You can grab the 537KB PDF file here.

Kingmax, who again we haven't heard much from lately, have announced their "Hard-core Series" memory modules. All Kingmax memory modules have a guard band (safety bandwidth) at least a 5% or higher. The DDR 466 can reach clock speeds of 490 MHz and higher, while the DDR 500 reaches speeds of 525 MHz and higher. More info in a 347KB Word file here.




Shave a Gibbon! (1 Comments) (link)
Wednesday, 10-March-2004 19:52:09 (GMT +10) - by Agg


There's still two days to sponsor our very own Gibbon to shave his head and support the Leukaemia Foundation. He and a workmate have raised over $1300 so far but as you can imagine, every dollar helps research into this particularly nasty disease.

For more info, see this forum thread.



Systems/Laptops/PDA:
Shuttle ST62K "Zen" SFF System at Lost Circuits
Packard Bell i xtreme MC 6112 Media Center PC at Trusted Reviews

Mainboard:
MSI PT880 Neo-LSR Mainboard at Nordic Hardware

Memory:
OCZ PC3200 Platinum 2Gb Dual Channel DDR Kit at Club OC

Storage:
Coolmax Gemini CD-309-U2 3.5" External HDD Enclosure at Extreme OC
Pioneer DVR-A06 DVD±RW Drive at Tech Freaks
Hitachi Deskstar 7K250 250GB Serial ATA HDD at Byte Sector

Video:
Relisys RLP2000 LCD Projector at Trusted Reviews
Gigabyte FX5700 Ultra at Gruntville

Case/Mods:
Cooler Master Centurion 2 Case at Big Bruin
Antec P160 Aluminum Tower at Viper Lair
Chenbro SR20968 Entry Level Server/Workstation Case at OHLS
Kingwin KT-424-BK-WM Case at OCC

Audio:
HSU Research HSU VT-12 Speakers at Design Technica
Eksitdata DAH900 MP3 Player at R&B Mods

Networking:
SilverStone Super Mini Hub at A True Review

PSU:
Antec SmartPower SL350 PSU at PimpRig
NoiseBlocker Fortron 400W PSU at Metku Mods

Cooling:
Thermaltake Aquarius III WaterCooling Kit at Mod Synergy




Wednesday Morning (3 Comments) (link)
Wednesday, 10-March-2004 03:11:28 (GMT +10) - by Agg


Martin noticed trouble with the placement of some components on certain DFI motherboards when the CPU cooler mounting holes are used.

White Rhino sent in this amazing article about new fluid lenses that mimic the human eye from Philips.

RainWulf has a tutorial on making your own waterblock.

From Paul: Finland-based F-Secure has added more security to its customer mailing lists, after a moderator accidentally forwarded a virus to users of the company's antivirus software. The latest email fraud scheme targeted at Australian bank customers has been described as the most "devious" ever encountered. The virus onslaught continues, as new versions of Bagle and MyDoom hit the Internet. The latest versions appeared to serve as digital graffiti, with the code delivering secret messages to the anonymous authors of other "competing" worms.

Bjorn3D compared some laptop mice from Targus and Microsoft.

From Tenoq: Betanews has some info about an interim release of Windows XP, possibly called Windows XP: Reloaded.

IANAG have a can cooling project. Once every few hours I head into the kitchen to throw my hot soda down the drain and refill my cup with cold soda.

From Wolfy: Adobe are running a few free seminars. Pagemaker, Photoshop, InDesign and Acrobat. Across most Australian capital cities, and it's free!

Sniper spotted this voice-controlled PlayStation2 game.




Minitar 802.11g 54mb Wireless Networking Bundle (10 Comments) (link)
Tuesday, 9-March-2004 15:04:18 (GMT +10) - by Agg


I took a look at a few 54mb/sec wireless networking components from Minitar. Is it time to throw out the ethernet cable all over your house?



Click for the review!






Tuesday Afternoon (3 Comments) (link)
Tuesday, 9-March-2004 14:36:29 (GMT +10) - by Agg


ApathyGates has some more info about broadband over powerlines: While the technology has been available in Australia for some time, it's never been commercially used - until now. _The company I'm contracted out to is soon to go live with 1GB backbone from central Queensland back to Brisbane via the Ergon Energy powerlines - it's also going to have a 1GB hookup through QLD Railway as a failsafe..how's that for redundancy? _:D It's safe to say that broadband over powerlines might be in our houses within 5 years, but of course, we are always behind everyone else. I've been saying for years now that the next big thing about Internet access will be it disappearing. By that I mean: do you think about access to electricity supply when you flick a light switch? No, it's just there, transparently. In the future, when you move into a house you will get the water on, the phone on, the power on, the net on. I doubt we'll have "Internet" jacks next to our phone plugs or power points, though. More likely fast wireless networks, possibly connected via broadband over powerlines. Or perhaps something else will come along in the meantime. :)

Apparently US federal regulators are investigating the relationship between Microsoft and SCO in the light of SCO's current intellectual property lawsuits against Linux users, thanks Dink. This recent commentary by ESR is interesting too.

Win yourself a Radeon 9600 AIW card over on Hypothermia.

Bit-Tech have a roundup of quiet power supplies, while MadShrimps compared video card coolers.

Sue says that Autopatcher has been updated. Seems to be some kind of automatic Windows updater.

Tech-Report reviewed the 74GB Raptor hard drive. We checked them out a little while ago here. Some retailers have a special deal for two of these drives at the moment, info here.

If you do find yourself with a few hard drives, you could experiment with RAID - PCStats have a beginners guide to setting up an array.

Haven't seen this in years.. the handwritten clock, thanks Amfibius.

We reviewed the FrontX ports thing years ago too! JustFPS offer their opinion of it.

SilentPCReview consider laptop hard drives as an option when building a quiet desktop PC.

Dink found more info about Telstra's Trading Post purchase. He also noticed that learning Elvish is an option at one particular British school. Very handy. I'd prefer to learn Klingon myself. Mevyap!



Apparently Telstra have purchased the Trading Post print and online publications, thanks Dink.

Digital-Daily rounded up some socketA CPU coolers.

From SpyBoy: I don't know if you consider this news worthy but I just read that Lucasarts have cancelled development of Sam and Max 2. And I've been told that Full Throttle 2 is also pushing up daisies. I'd say more but I have to get some torches and pitchforks then round up the villagers.

There's a new memtest available, thanks OneArmedMan.

Dan has more letters, believe it or not.

From the PCDB: lamcdonald discovers that painting electronics isn't a good idea, but the case itself ended up nice.. if you like YELLOW. :) Nice watercooled perspex case from brucoman. Interesting colours from taksan, while byrnzy's PC has a cool painting with unusual case windows.

Sniper notes that UT2004 has gone Gold.

CDRInfo have had a reviewing frenzy, with Mitsumi DW-7872TE 8x DVD Recorder, LiteOn 52-32-52 & 16x DVD-ROM (combo) Recorder, Freecom FC-1 52x32x52 CD-Recorder & Flash Card Reader and Teac DV-W58G 8x DVD Recorder.

MadShrimps revieved a PowerColor 9800XT, but they did so from the perspective of moving from a DirectX 8 card to a DirectX 9 one. Is there any visible difference?

ZZZ Online have a new issue posted.

Interesting Forum Threads:
Sick of no decent A64 cooler, so modded one in AMD Hardware.
Intel: digging their own grave! in Intel Hardware.
2.4 Prescott 533MHz on sale in Intel Hardware.
My watercooling is done in Extreme Cooling.
Current work: the "O" in Modding and Electronics, thanks Chris.



Raven and Zee went on holiday to Canada recently and stayed at the Ice Hotel near Montreal. Like most hotels nowadays they provide a PC for internet access - even though the hotel is carved entirely from ice:



Click to enlarge!






The Lego Command Centre (9 Comments) (link)
Sunday, 7-March-2004 00:26:13 (GMT +10) - by Agg


There are few things with as much geek appeal as a nicely-done lego case. This new PCDB entry from MJMcFitzy shows off his efforts:



Click for the PCDB entry!






Saturday Afternoon Reviews (0 Comments) (link)
Saturday, 6-March-2004 14:14:23 (GMT +10) - by Agg


Motherboard:
Gigabyte 8TRS300M ATI Radeon 9100 IGP on LegionHardware.
ABIT KV8-MAX3 VIA K8T800 A64 on TechSeekers.
ABIT KV8-MAX3 VIA K8T800 A64 on ExtremeOC.

UPS and PSU:
SeaSonic Super Tornado 350W PSU on 3DVelocity.
Powerware 5125 1000VA UPS on PCStats.
Seasonic SS-400FB PSU on DansData.
Enermax EG475P-VE Noisetaker 470W PSU on XtremeSystems.
Tagan TG480-U01 480W on ModTown.

Networking:
Buffalo Airstation 802.11g Access Point on TrustedReviews.
Actiontec 802.11g WAP and PC Card on GideonTech.

Case:
SilverStone Temjin SST-TJ01 on Bjorn3D.
Antec Performance One P160 MidTower on GruntVille.

Storage:
CyQ've 52x24x52x CDRW drive on HWZ.
Plextor PX-708A Dual Format 8x DVD writer on HWZ.
Plextor PX-708UF 8x DVD burner on ClubOC.
LG GSA-4082B 8x SuperMulti DVD writer on HWZ.

Mini-PC's:
Shuttle SN85G4 XPC on RBMods.
EPoX eX5 Mini Mi on VR-Zone.

Mouse etc:
Flexiglow FxGame Pad mousepad on VoidedWarranty.
Slicksteel PRO R2 gamers mousepad on GuruReview.
Logitech MX900 Wireless Optical Mouse on Tweaknews.
Xtrac Hammer mousepad on TechFreaks.
Xtreme Gaming Mat on ExtremeReviews.

Audio:
Logitech X 620 6.1 speakers on PCTechZone.
Zalman Theatre 6 surround headphones (video review) on 3DGameMan.

Cooling:
Evercool VC-RE VGA Cooler on Ohls-Place.
Active Cool AC4G P4 Peltier cooler on HWZone.
Evercool WC-201 watercooling kit on 3DXtreme.
Arctic Cooling VGA Silencer video cooler on OCClub.
SilverStone SST-SDF01 Fans on Controlled-Insanity.
Thermal Integration TI-A8736N P4 CPU cooler on FrostyTech.
Thermalright SLK-948U CPU cooler on OCIA.

Memory:
PMI3200-1024DGL Dual Channel DDR on ClubOC.
Corsair TWINX1024-4000 Pro DDR memory on TrustedReviews.

Video Cards:
Powercolor Radeon 9800SE 128MB on GuruReview.
HIS Excalibur Radeon 9600XT Turbo on ViperLair.
HIS Excalibur Radeon 9600XT Turbo on HWHell.

Misc:
Gateway M275XL tablet PC on DesignTechnica.
Akasa and CoolerMaster Cold Cathode case lighting on TecNation.
Rio Cali 256MB mp3 player on ByteSector.
Nokia Bluetooth Digital Pen on HWZ.
MeMIX Memory Watch on ATrueReview.
Neoseeker Samsung 173MW widescreen LCD monitor on NeoSeeker.




Early Saturday Morning (9 Comments) (link)
Saturday, 6-March-2004 02:58:53 (GMT +10) - by Agg


They haven't yet found liquid water on Mars, but they're pretty sure there used to be some where one of the rovers is.

From PastaMasta: Steam is getting you to do a 'short survey' on your PC specs, etc. in the leadup to HalfLife 2's debut. So far there have been 180,000 submissions, but whether or not you use Steam aint too much of a problem.

DesignTechnica shared their thoughts on technologies to watch in 2004.

HardWareZone have a SATA shootout. We took the largest capacity hard disk drive that each manufacturer has to offer and pit them against one another in this five-way shootout. Find out if Hitachi, Maxtor, Samsung, Seagate or Western Digital would emerge the winner.

LegitReviews have an article about CPU core temperatures and how they're measured.

From Mariomart: I found a really interesting site called Unreal Aircraft. I particularly love the section called Q-Branch, it's got heaps of weird and real aircraft from around the WW2 period and others. I wonder if the fetishists are into these blow-up toys?

Sean noticed that Kazaa have failed to stall copyright proceedings against them and that the recent raids to collect evidence have been approved.

Bit-Tech compared six socket478 motherboards, while Tech-Report checked out seven LCD monitors.

A Perth firm has filed a complaint with the ACCC, about SCO, thanks Dink. The five-and-a-half page complaint lays out in detail the background to the case and alleges that the claims made by SCO are so vague that it has been impossible for CyberKnights or anyone else to actually ascertain what intellectual property which it (SCO) owns has been inserted into the Linux codebase.

From Ozone77: This is really fascinating read, a motorcycle photo tour of chernobyl "dead-zone". Hot biker chick, deadly radiation, spooky ghost towns - it has it all.



Systems/Laptops/PDA:
Tyan Thunder K8S/AMD Opteron 246 at 2CPU
ASUS Terminator 2 SFF System at Xbit-Labs
Zensation Z3 Notebook at Xbit-Labs
Acer Aspire 1705SCi Notebook at Trusted Reviews

Mainboard:
Gigabyte 8IPE1000 Pro2-W 865PE Motherboard at HardcoreWare
ASrock K7S41 SiS 741 K7 Mainboard at OC Workbench
ABIT AI7 Motherboard at DriverHeaven
Gigabyte GA-8TRS300M ATI9100 IGP Mainboard at OCNZ
Chaintech ZNF3-150 ZENITH Motherboard at OCC
ABIT KV8-MAX3 S754 Motherboard at Viperlair

Memory:
Corsair TwinX-3200LL Pro Memory at Gruntville

Storage:
Bytecc External HDD Enclosure at Voided Warranty
CyQ've 52x24x52x Internal CD-Writer at HWZ
TekGems 2.5" External USB2 Drive Enclosure at MHW
Silverstone 6 in 1 Card Reader at Controlled-Insanity

Video/Monitor:
ViewSonic PJ551 LCD Projector at Trusted Reviews
Samsung SyncMaster 172X and 173P LCD's at Explosive Labs
GeCube RADEON 9600XT 128MB Extreme Edition at HWZ
ATI Mobility Radeon 9700 at Beyong3D
Albatron FX5700 Ultra at Techware Labs
HIS Excalibur All In Wonder 9600 Pro at OCPrices

Case/Mods:
Sunbeam Fan Controller at R&B Mods
Thermaltake Damier V5000D Case at OHLS
Xoxide Spiderman ATX Case at ByteSector

Audio:
Zalman Theater 6 Headphones at Driver Heaven
Audigy 2 ZS Soundcard at Guru of 3D

PSU:
The Super-Flower 450W PSU at ExtremeMhz
Clever Power 400W PSU at Controlled-Insanity
Tagan 480Watt Silent PSU at Mod Fathers

Cooling:
Sibak Tech CEK-07-610B 3-Fan Heatsink at Dans Data
Thermalright SLK-948U Heatsink at A1-Electronics
Danger Den RBX/MAZE4 Water Cooling Kit PArt II video review at 3DGameman
Wayvet Crystal Clear Watercooling Reservoir at SweMods
Jetart JAK802A Socket 754/940 CPU Cooler at Bjorn3D
Gigabyte 3DCooler-Pro PCU21-VG P4/K7/K8 Heatsink at FrostyTech
Zalman Heatpipe VGA Cooler at TheTechLounge

Mouse/Keyboard:
Logitech Cordless Click! Plus at EnvyNews

Misc:
Macally USB2 Hub at R&B Mods
Archos Video AV320 Personal Entertainment Center at Big Bruin




Wednesday Afternoon (5 Comments) (link)
Wednesday, 3-March-2004 14:31:12 (GMT +10) - by Agg


Murray noticed a new 3GHz Xeon from Intel. The company said the new processor would also have a 4MB Level 3 cache. The chip would replace the 2.8GHz Xeon, with 2MB of cache, as the top-performing processor in the Xeon lineup.

ARP have a couple of Zalman 400W PSUs compared, while LegionHardware looked at high-end P4 motherboard chipsets. Two mid-range UPSs go head-to-head on G3D, with budget P4 coolers duelling on BigBruin.

Madshrimps have a soldering guide posted.

Virtual-Hideout converted an old SGI case into a PC. SilentPCReview incorporated a cookie jar into theirs.

Turkish hardware site DarkHardware have compared 23 video cards in a variety of benchmarks.

Guy noticed some bizarre interpretation of copyright laws relating to LAN parties in the USA.

PyroPort have an interview with Tim Handley, VIA's CPU platform marketing manager.

Tech-Report say that future Athlon 64 CPUs will support SSE3.

AMD have extended their formula one sponsorship of Ferrari. Don't forget, the Australian round of F1GP, the first round for 2004, is on this weekend.

I think we've seen this before, but it's pretty cool - thetron sent in this model rocket on-board footage site.

The IEEE has approved a 10 Gig Ethernet over copper standard, thanks Lee. Meanwhile, broadband over powerlines has become a reality for one American energy provider.

AnandTech have a database performance shootout between Intel's Xeon and AMD's Opteron.

Goodlet spotted this article about light-based computing.

Apparently SCO have backed down, in Germany at least. Seems they're still planning to sue Linux users, though.




Wednesday Morning (12 Comments) (link)
Wednesday, 3-March-2004 03:28:47 (GMT +10) - by Agg


OCAU member Gibbon is going to shave his head in a couple of weeks to help support The Leukaemia Foundation. If you'd like to pledge some money to charity at the expense of a grown man's dignity, that thread is your chance! :)

I don't normally link advertiser stuff, but I think this deal is newsworthy. A few vendors have a $65 discount if you buy two of WD's new 74GB Raptor drive - details here. Perfect for that RAID0 array! Check out Chainbolt's great review of this drive, with single and RAID0 benchmarks, here.

NF7-S v2.0 owners will be interested in this thread on ABIT's forums, with info on a new hacked BIOS allowing the missing multipliers to be used. Thanks barney.

Bit-Tech have a ranty editorial about viruses and users.

Another piping air from outside mod from R&B.

TheInq have a lengthy article about BTX form factor, Intel, heat dissipation etc.. thanks Ecstasy.

JustFPS have a couple of mousepads from Xtrac compared.

LWD have an article about SSL certificates, an internet technology you probably use regularly without realising.

DDsD sent word of an OCAU NRL Tipping Comp in our Sports, Fitness and Health forum.

Win yourself a gig of Corsair memory over on GruntVille.. doesn't say anything about excluding international entries. No "spam our forums" requirement either.

IANAG went away, but now they're back with a lapping guide and some memory timing info.

IPKonfig looked at WinXP SP2 and its security features.

Today's timewaster is Warthog Launch.. quite fun.

Interesting Forum Threads:
My latest, err, mod (pics) in Modding & Electronics.
Ever get the feeling you've gone too far? (pics) in Audio Visual.
Wheels - are they safe? in Motoring.
Turbo and blower on engine in Motoring.
Anyone got any FREE boot managers? in General Software.
Chief architect of P6 gives some pointers to the future in Intel Hardware.
2004 Melbourne F1 GP in Motoring.
Mount White Motorcycle Show Pics in Motoring.



Systems/Laptops/PDA:
Shuttle Zen XPC (ST62K) at Bit-Tech
Voodoo PC Envy M855 Laptop at Hexus

Mainboard:
ASUS K8V Deluxe Motherboard at Sharky Extreme
AOpen AX4SG Max II "Prescott Ready" Motherboard at VR-Zone
DFI Lanparty PRO875 "Revision B" Canterwood Motherboard at Tweak News
ABIT AI7 Motherboard at Club OC

Memory:
Kingston's HyperX KHX3500K2/512 Dual Channel Memory Kit at All Hardware
Corsair XMS4400 Memory at OC Cafe

Storage:
SimpleTech SimpleDrive External Hard Drive at A True Review
Atech Flash Technology Pro 9 Card Reader at Extreme Systems
PQI Intelligent Memory Stick at A True Review

Video/Monitor:
HIS 9600XT VIVO at EnvyNews
FIC Radeon 9800 Pro at Club OC
Leadtek FX5900XT Video Card at R&B Mods
ATi Radeon 9600XT at SubZero Tech
ATI All-in-Wonder Radeon 9600 Pro at Tech-Mods
ATi HDTV Wonder TV Tuner Card at Hot Hardware
Samsung SyncMaster 173MP Multi-Function HDTV/LCD at ModSynergy
HIS Radeon 9800Pro IceQ at Monkey Review
H.I.S. Tech Radeon 9600 XT at OCC
Gigabyte FX5700 Ultra at The Tech Zone

Audio:
Hercules Muse Pocket USB 5.1 at Hot Hardware
Logitech Z-2200 Speakers at Fastlane HW
Creative DDTS-100 Audio Selector at Nordic Hardware
Ultimate Ears UE-10 Pro In-Ear Monitors at Exhardware

Cooling:
Vantec Aeroflow 2 Socket 478 Cooler at Hardcoreware
Thermal Integration TI-RV108N Pentium 4 Heatsink at Frostytech
Titan TTC-D9TB/CU35/R1 XP3200+ Socket A Cooler at Guru of 3D
Wet and Chilly Chips CPU Water Block at The Mod Fathers

Mouse/Keyboard:
Neoseeker Bluetake BT500 Mouse at Neoseeker
Eumax H5001 Wireless/Optical Mouse at Geeks Online
Razer Viper Optical Mouse at OCC
StarTech 2 PC KVM Switch at Spode's Abode

Misc:
Saitek Cyborg Evo Game Stick at Controlled-Insanity
SMC SMCWMR-AG EZ-Stream Wireless Multimedia Receiver at Extreme Tech




Monday Night Reviews (0 Comments) (link)
Monday, 1-March-2004 20:24:03 (GMT +10) - by Agg


Cooling:
Thermaltake Silent Boost A1889-01 copper CPU cooler on FrostyTech.
Spire Skivestream 3 CPU cooler on RBMods.
SilverStone 80mm LED Fan on FastLaneHW.
JetArt JAKS29 socketA CPU cooler on ModSynergy.
TweakMonster Fan Bracket on JSIHW.
Thermalright ALX800 CPU cooler on LegionHW.
OCZ Gladiator 3 CPU cooler on XtremeSystems.
Vantec Aeroflow 2 P4 coolers (video review) on 3DGameMan.
Titan TTC-K8ATB socket754 A64 CPU cooler on 3DXtreme.
Zalman CNPS7000-A-Alcu CPU cooler on CrazyModders.
Spire KestrelKing III A64 CPU cooler on 3DXtreme.
Koolance Exos-Al watercooling kit on Viperlair.
Arctic Cooling Copper Silent 2L CPU cooler on 3DVelocity.

Fan Controllers:
Zalman ZM-MFC1 on CreativeMods.
Evercool SCP-A on ExtremeReviews.
Super Flower Fan Master on ExtremeMHz, our review here.

PSU:
SilenX iXtrema 400W on FastLaneHW.
SeaSonic Super Tornado 350W on DataFuse.
Zalman 400B-APS 400W Quiet on GruntVille.

Cases:
Antec Overture on Madshrimps.
CoolerMaster WaveMaster black aluminium case on PCStats.
Terra-Byte Aurora acrylic case on Tech-PC.
PC Toys SimpleMax101 SFF case on PimpRig.
Beantech Igloo 10 on FastLaneHW.
Chieftec BX on Hexus.




GTR 450W-LI Power Supply (17 Comments) (link)
Monday, 1-March-2004 03:02:24 (GMT +10) - by Agg


Manaz took a look at this PSU from GTR. It's certainly different in the looks department, but does it deliver in other areas?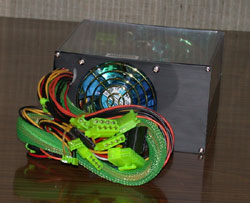 Click for the review!

Hitwise is pleased to announce that www.overclockers.com.au has qualified for a Hitwise #1 Award for the quarter ended December 2003. During this period, www.overclockers.com.au ranked No. 1 by visits in the Computers and Internet - Hardware category against other Australian websites. We also ranked No. 2 in the News and Media - IT Media category.

Thanks once again to our Major Sponsors Computer Alliance, Altech Computers and Plus Corporation. Thanks also to PC Range who have been strong supporters lately, and of course to AusGamers and Comindico for hosting us. I should also thank the Admins, newsmonkeys and others who keep the site running smoothly. Thanks to you for reading the site, too! :)



A few press-releases of interest from the last few days:

Altech Computers, an OCAU Major Sponsor, will be officially launching their Melbourne branch to the large reseller base of the Melbourne area this week. A large party will be held to celebrate, and many resellers have been invited to come and be exposed to the range of high-quality products that Altech distributes. This extends the reach from their existing Sydney and Brisbane offices. In case you didn't know, Altech distribute funky goodies from ABIT, Corsair, Antec, Zalman, AVerMedia etc. More info in the 91KB PDF here.

Comindico, who host AusGamers and OCAU, announced the roll-out of eCall for business through which telephone calls can be made over a company's business grade Internet connection using their existing telephone equipment. This will apparently allow eight cent local and national phone calls. More info on eCall in this 99KB PDF. More info on "The Future of Telecommunications" in this 138KB PDF and info on "International VoIP Trends" in this 139KB PDF.

ABIT is pleased to announce total Prescott support on every ABIT 865PE and 875P-based ATX motherboard. The beginning of February saw Intel launch a new line of CPUs: the Prescott 2.8GHz to 3.4GHz. Taking performance to a higher level, many immediately were asking if their recently purchased Intel 865PE and 875P motherboards were Prescott ready. For ABIT users, the answer is a definite YES! More info in this 89KB Word doc.

FIC is excited to announce its new, cooler Ice-Cube gaming system. This newest version of the Ice-Cube takes full advantage of the new Athlon 64 CPU. More info on this mini-PC in this 49KB Word doc.



---
Advertisement:


All original content copyright James Rolfe.
All rights reserved. No reproduction allowed without written permission.
Interested in advertising on OCAU? Contact us for info.