April 2004
Thursday Night (5 Comments) (link)
Thursday, 29-April-2004 21:53:59 (GMT +10) - by Agg


Apparently hackers took advantage of the ANZAC Day long weekend to break into some Australian financial institutions.

Digitimes think the next big thing to happen on AMD's 64-bit platform will be a 32-bit CPU. What everyone really wants is socket939 - Datafuse wonder where it is.

Will there be another player in the CPU arena soon? The Stretch CPU has apparently demonstrated 300MHz performance, outperforming 2GHz competition.

IANAG look at mobile XP2600+ overclocking.

Bit-Tech tell the story of someone making the switch from PC to Mac. Infidel!

Xbit took a look at PCI Express and DDR2, two new technologies that should take hold this year.

While most of the world is embracing the Internet, China is tightening control and restricting its use, thanks Mred32.

HardwareAnalysis have a quick think about driver cheats and optimizations.

There hasn't been much noise about retinal-projection systems since they were first experimented with by the military a couple of decades ago, but now there's a new system on the way. There is still work to be done but potentially the system could become second only to tapping into the optic nerve in terms of getting images to the brain.

Apparently the online advertising market is booming again. Yay! I'll be buying my first Ferrari any day now.

Raven sent in this funny auction on eBay.

HardOCP took a look at Shader Model 3.0 and what it means to gamers.

TSMC, who make chips under contract for many of the big names, had a healthy profit surge during Q1 2004.

Hexus look at some external hard drives, while Xbit rounded up thirteen graphics cards.

Dan has yet more letters posted.

Interesting Forum Threads:
Your Ultimate Gamer's Motherboard? in Overclocking & Hardware Discussion.
Project SOHC Turbo Civic (pics/vid) in Motoring.
UltraCapacitors in Modding & Electronics.
April Iron Photographer Challenge in Photography.
Agg Interview in The Pub.
Apple Strudel How-To in Geek Food.
Camping Food in Geek Food.



Motherboards:
ABIT AI7 reviewed by Adrian's ROJAKPOT.
Gigabyte GA-8IPE1000 Pro2-W reviewed by PCStats.

Memory:
PMI 1GIG DDR400 PLATINUM TURBO DUAL CHANNEL MEMORY KIT reviewed by TweakNews.

Storage:
Hitachi Deskstar 7K250 SATA HDD reviewed by myWORLD.
Venus DS3 External 3.5" Enclosure reviewed by Extreme Overclocking.
Fujitsu MAS3735NP 73GB reviewed by HardwareZone.
Toshiba MK6022GAX 5400/16mb cache Notebook Drive reviewed by SilentPCReview.
Bytecc ME-740 3.5" Aluminum External Enclosure reviewed by 3DXtreme.

Audio:
Xclef HDD-800 20GB Jukebox reviewed by GuruReview.
Rio Karma 20GB Hard Drive MP3 Player reviewed by ExtremeMhz.
Altec Lansing MX5021 reviewed by Neoseeker.
Creative I-Trigue L3450 2.1 Speakers reviewed by Guru3D.
Actiontec Wireless Bluetooth Headset reviewed by Hardware Pacers.

Video:
Galaxy & Gainward GeForce FX 5900 XT's reviewed by Beyond3D.
GeXcube Radeon 9800XT reviewed by Digital-Daily.
ATi All In Wonder Radeon 9600 XT reviewed by HOTHardWare.
Samsung SyncMaster 192T reviewed by Explosive Labs.
Chaintech FX5500 256MB DDR SDRAM reviewed by ipKonfig.
ATI Radeon 9800 XT 256MB reviewed by DesignTechnica.
Albatron GeForce FX5700P Turbo Video Card reviewed by 3DXtreme.

Laptops:
Toshiba Dynabook SX reviewed by DesignTechnica.
ASUS M6000N Digital Entertainment Gateway reviewed by Hardwarezone.
eMachines 6805 Laptop reviewed by HardwareHell.
IBM ThinkPad R50 reviewed by TrustedReviews.

Cases & Modding:
SilenX 400w Pro iXtrema PSU reviewed by Big Bruin.
Coolergiant EG485P-VHB SFMA reviewed by GruntvillE.
Enermax Ultimate Controller reviewed by Hardware Pacers.
Yeong Yang 5603 Mars Case reviewed by PimpRig.
ioCombo Acrylic PC ATX 450W PSU reviewed by ViperLair.
Enermax EG325AX-VE 320W PSU reviewed by Big Bruin.
Enermax CS-800TA Voltron Series Mid-Tower Case reviewed by Extreme Overclocking.
Thermaltake LANMOTO Aluminum Case reviewed by Overclocker Cafe.
Antec's P160 ATX case reviewed by The Tech Report.
Superflower Sf-702t1 case reviewed by Red & Blackness.
In-Win X710 Server Case reviewed by World Overclockers.
OCZ PowerStream PSU reviewed by DataFuse.
NZXT Guardian Case reviewed by fastlanehw.

Cooling:
Evercool Cuw8-715 P4 cooler reviewed by Red & Blackness.
ActiveCool AC4G Thermoelectric cooler reviewed by SilentPCReview.
Thermaltake Hardcano 12 reviewed by ClubOC.
Swiftech MCW-CHILL 452 reviewed by ProCooling.
Vantec VP4-7245 Aeroflow 2 Pentium4 Heatsink reviewed by FrostyTech.
Thermaltake Polo 735 AMD Athlon 64, XP & Intel Pentium 4 heatsink reviewed by A1 Electronics.
CoolerMaster Jet4 reviewed by Digital-Daily.
CoolerMaster Musketeer 2 reviewed by OC-Zone. (Translated with Google)
Swiftech H20-8501 Kit reviewed by BurntOutPC.

Mouse & Keyboard:
Mouse Grips reviewed by ViperLair.
SteelPad 4D reviewed by PC Tech Zone.
FlexiGlow FX Game Pad reviewed by A True Review.




Wednesday Morning #2 (12 Comments) (link)
Wednesday, 28-April-2004 03:37:16 (GMT +10) - by Agg


OCAU Forum-goer fr33z3 had a laptop and camera stolen from his car recently, and unfortunately they had the only copies of photos from his sister's wedding on them. More info here.

Battlefield 1942 and Battlefield Vietnam fans should be excited to hear that Battlefield 2 is on the way. (Glee! - Sciby)

From AzzKikr: 2 GPUs on the one card... phwoar! The XGI Volari Duo offers dual processor rendering power with 512mb of GDDR2RAM and up to 32gb/s of memory bandwidth. It also has native DirectX 9 support.

From Tenoq: Looks like nVidia have released platform drivers to go with the video drivers? 64-bit nForce3 driver info here.

Bit-Tech looked at some video cards from PowerColor.

There's a PC that looks like a PS2 here on PCUnleash.

Murray spotted 10,000rpm 2.5" drives from Seagate, info here, here and here.

MadShrimps wonder which bits you should think about upgrading.

TheTechLounge have an article looking beyond megapixels at digicam technology.

Accelenation looked at a couple of coolers and a PSU from Zalman.

Dan does some quick letters.

TweakUp have a Panther Tank PC.. neato.

HWHell say: For those amongst us that are old time gamers, Eight months after the release of freeware version of Beneath a Steel Sky, Flight of the Amazon Queen, a great adventure game developed by Interactive Binary Illusions in 1995 is now available as freeware. Info and download links on this here.

From Stalin: If you remember Scorched Earth from back in the good old days, well this is a free 3D version of the old classic, runs on windows, linux, mac, solaris and pretty much anything else you want.

Interesting Forum Threads:
The massively large list of anti-virus, firewall and anti-spyware programs in General Software.
Critical TCP flaw, how does it work? in Networking & Internet.
More Transformers and lots of LARGE pics in Other Toys.
Firing sequence: how does a 3cyl, 5cyl engine work? in Motoring.
Anyone done any major goofs at work? in The Pub.
Best way to back up a linux install in Other Operating Systems.
Plasma Ball Mod in Modding & Electronics.




Wednesday Morning (1 Comments) (link)
Wednesday, 28-April-2004 02:57:18 (GMT +10) - by Agg


Lots of people sent word of Operation Fastlink, an international internet piracy sweep organised by the US Department of Justice and aimed squarely at "warez groups". More info here.

Tech-Report interviewed an NVIDIA person, while HWHell interviewed someone from Shuttle.

Sniper noticed Toshiba making small hard drives and Hitachi making large ones.

IBM and Stanford University are looking into spintronics, an area of nanotechnology involving the spin property of electrons. Most of today's electronic research focuses on the ability of electrons to carry an electrical charge. By focusing on an electron's spin properties, IBM and Stanford researchers hope to make breakthroughs in chip design, an IBM spokesman said.

News-blast from PodgeSSS: Internet speed record set. Intel touts 'MP3 for 3D' universal graphics format. Next-Generation Serial ATA Spec Finalized. Mars travel hazard: electric mini-tornadoes. Airplane wings that change shape like a bird's have scales like a fish. Can You Get an eMac for $25?

T-break took a look at A64 64-bit and 32-bit performance and compatability.

OCWizard have part 2 of their intro to watercooling article posted.

We linked this in an earlier "interesting thread", but people keep sending it in, so here's more info from Rature: The game is called .kkrieger - a fully blown 3d shooter, and the total thing weighs only 96k. The whole thing is written with shader scripting and compressed like the 64k animation demos we see all the time. You need a pretty decent video card to run it - My 128MB Matrox Parhelia was laggy in a few places throughout the game. Your vid card needs to have at least a v1.1 hardware pixel shader and dx8.1 minimum, so Radeon 9000, GF2/3/4MXs and lower will be useless.

Even though he died nearly 500 years ago, Leonardo Da Vinci continues to impress - with it now realised he designed a powered, remote-controlled car.

Apparently the RIAA's legal campaign is having an effect, with many Americans saying they have stopped downloading music due to action brought by the RIAA against music file sharers.

Boeing's 7E7 Dreamliner, the successor to their 757 and 767 mid-range passenger aircraft, is finally going into production with an order from ANA of 50 aircraft.

A pile of links from Tekka: Dell Jumping on the Opteron Bandwagon? JPEG patent holder renews royalty offensive. Infineon to boost memory-making capacity. Gmail Still Sparking Debates. FBI wants to watch you type. Microsoft Presents Antispyware Strategy. 174 Tips to a Better Windows Experience. AMD Sets Up Indian Chip Design Center. Toshiba Samples 100-GB Notebook Hard Drive. Via, Yamashita Develop Lead-Free Motherboard. Serial ATA-II Speed, Cabling Approved.



Systems/Laptops/PDA:
Soltek Qbic EQ3401 P4 SFF System at HardcoreWare
Mesh Cubex64+ LAN-Xtreme SFF System at Trusted Reviews

Memory:
GeIL Ultra Platinum 1GB Dual Channel PC4400 at Envy News
GeIL Ultra PC3200 Dual Channel Kit at Fastlane

Video/Monitor:
Samsung SyncMaster 213T (21.3in LCD) at Bjorn3D
Samsung 173P 17" LCD Display at Mod Synergy

Audio:
M-Audio Revo 7.1 Sound Card at Gideon Tech
Rio Karma 20Gb MP3 Player at Hexus

Case/Mods:
Lian Li PC-V1000 Case at AMD Review
Lian Li PC-V1000 Case at OCC
Opus Technologies Titanium Tiny Tower TT-501 at Clob OC
Silverstone STT-TJ02 "Limited Edition" ATX Case at Controlled-Insanity
SilverStone SST-TJ04 PC Case at Short-Media
Thermaltake LanMoto Series Case at Legion Hardware
Coolermaster LLC-U03 Musketeer 2 Analogue MFP at Extreme MHz

Cooling:
Coolermaster Hyper 6 Heatpipe KHC-V81 at OC Workbench
Asetek WaterChill Kit at MHW
Arctic Cooling Super Silent 4Pro L Heatsink at Mad Shrimps

Misc:
APC Biometric Password Manager at DesignTechnica
Samsung ML-1750 Monochrome Laser Printer at Byte Sector
ePower Technology Jaguar 450 PSU at eXtreme Reviews
Flexiglow Illuminated Multimedia Keyboard at A True Review
iRiver DivX/MP3 Players at T-Break



NASA's gravity probe made it safely into orbit, thanks SKiB. Meanwhile, the International Space Station has had some gyroscope failures which are apparently not serious.

NeoSeeker took a look at PCI Express.

There are 33 CPUs compared in this French article, but the graphs make the results obvious. Meanwhile ARP have GPU (video chipset) comparison guides aimed at desktop and workstation use.

Sn@Ke's PC has a serious radiator for watercooling.

From Revolver: We all like overclocking right? and flashing to a better version? Well right now there is an awesome deal on a Motorola V525 Mobile Phone for $250 each with all the good stuff, color screen, Camera, Quad band, Bluetooth, Outlook Sync, that can be flashed to a better version for free, the better version V600 is worth $500 more at least. The Deal here (seems to be expired now), Help Info for Upgrading here, The OCAU Vxxx Series Club here.

Arasta spotted that Qantas are in trouble over their Jetstar brand - a virtual airline that already uses the name is suing them.

ComputerSphere have a guide to painting your PSU, while PSU sleeving is the go on PimpRig. RBMods show how to make or replace a case window, while OCHQ think you should clean up your cables and DriverHeaven cover replacing your video card cooler.

Gruntville have an editorial about which tools you should be looking at for modding. My Dremel MultiPro is still going strong after 4 years of abuse - I notice the newer ones have replaceable motor brushes now.

Usbmausii noticed Liteon's SOWS-832S DVD+R9 burner possibly being available mid next month. The drive uses MediaTek's chipset for Double Layer recording (DVD+R9), meaning that 8.5GB of data will be burned on a single disc at 2.4x.

There's another ZZZ Online update posted.

Today's timewaster is this Kill Bill game, thanks Don. It's in Czech, but you'll work it out.

Interesting Forum Threads:
800MHz FSB Dual Xeons in SMP and Clustering.
256FSB with nForce 2, that good? in AMD Hardware.
Go-Kart Racing in Motoring.
Never use a yum-cha PSU in your F@H rig in Team OCAU.
Who is your Australian broadband ISP? in Networking & Internet.
Freeware List in General Software.



Here's a flashback to my childhood, thanks to gidge (and Mattel):



Click for the PCDB entry!





CPU:
Evesham Axis 64 FX-53 reviewed by TrustedReviews.

Motherboards:
AOpen AX4C Max II reviewed by A1 Electronics.
Soyo KT600 Dragon Ultra Platinum reviewed by fastlanehw.
ABIT AN7 reviewed by HardwareZone.
ASUS P4R800-V Deluxe reviewed by HOTHardWare.

Memory:
Corsair TWINX1024-4400 reviewed by HardwareZone.
PMI PC-3200 Dual Channel TurboMemory reviewed by PimpRig.
Kingmax Hardcore PC-4000 reviewed by Legit Reviews.

Video:
Compro VideoMate TV Gold Plus reviewed by ExtremeMhz.
Samsung SyncMaster 173MP reviewed by Bytesector.
Point of View GeForce FX 5900XT reviewed by Hexus.
ATI All in Wonder 9600XT reviewed by Sudhian.
Compro VideoMate TV Ultra reviewed by ViperLair.
BFG 5900XT OC reviewed by Envy News.
The GeCube Radeon 9600XT Graphics Card reviewed by Adrian's RojakPot.
InFocus X1 Projector reviewed by GeeklyReview.

Audio:
Zalman ZM-RS6F Theatre 6 Real Surround Headphones reviewed by myWORLD.
Zalman Theatre 6 Headphones reviewed by ModCity.

Cooling:
Evercool K801-825CA heatsink reviewed by A1 Electronics.
Vortex Hard Drive Cooler reviewed by OC-Zone. (Translated with Google)
Corsair Hydrocool 200EX reviewed by 3Dvelocity.
Cooler Master Hyper 6 reviewed by Metku Mods.
Asetek Waterchill Antarctica Block reviewed by OcPrices.
Demonic XTC Waterblock reviewed by Water-Cooling.
Aerocool Chameleon LED 80MM Fan reviewed by 3DXtreme.
#Rotor Waterblock reviewed by ProCooling.
Asetek Antarctica WaterChill CPU Cooling Kit reviewed by OverclockersClub.
80mm UV Reactive Fans reviewed by Creative Mods.
Microol chipset heatsinks reviewed by Red & Blackness.

Storage:
Buffalo LinkStation Network Storage Center reviewed by TrustedReviews.
Fujitsu MHT2060AH SA, HighPoint RocketRAID 1640 and Level5 RAID reviewed by LostCircuits.
LiteOn SOWH - 812S 8x+R and 8x-R dual DVD Recorder previewed by CDR-Info.
Lite-On SOWH-812S reviewed by CDR-Info.
Teac DV-W58G-A 8x+R and 8x-R dual DVD Recorder reviewed by CDR-Info.
Aopen DRW8800 8x+R and 8x-R dual DVD Recorder reviewed by CDR-Info.
BlueTake BT009M Bluetooth USB 2.0 Pen Drive reviewed by Modtown.
GUP Smart Drive 2002 Copper Noise Dampener reviewed by Extreme Reviews.
Hitachi Deskstar 7K400 400GB reviewed by HardwareZone.

Cases & Modding:
UV Reactive Cables&Molex reviewed by hard-h2o.
AGPB-P4ATX50F 500 Watt Power Supply reviewed by A True Review.
Thermaltake LANMOTO VA1000RWAD CASE reviewed by PC Tech Zone.
Foxconn Casedge Diabolic Minotaur Designer Computer Case reviewed by TweakNews.
Enermax CS-800TA-MW Case reviewed by Big Bruin.
Coms-Com Think Tank Case reviewed by Flickerdown Data Systems.

Networking:
D-Link AirPlus Xtreme G Wireless Products reviewed by Explosive Labs.
X-Micro Router and PCMCIA adapter 11G reviewed by Red & Blackness.

Small Form Factor:
Shuttle SS56L Limited Edition reviewed by Dan's Data.
Abit DigiDice Small Form Factor Barebone System reviewed by TrustedReviews.

Mouse & Keyboard:
Corepad Gaming Surface reviewed by Bit-Tech.
Merconnet Super Dual Box reviewed by eXtremeReviews.
Soft Trading Black Icemat 2nd Edition reviewed by Hardware Pacers.
Belkin Nostromo N52 reviewed by GruntvillE.
Hunter Office Keyboard WK9200 reviewed by Extreme Overclocking.
Microsoft Intellimouse® Explorer 4.0 reviewed by XYZ Computing.
Microsoft Wireless Optical Desktop 2.0 reviewed by TechwareLabs.

Misc:
Discgear Selector 100 reviewed by Extreme Reviews.
Elonex Media Center previewed by TrustedReviews.
TDS Recon 400 Rugged PDA from Tripod Data Systems reviewed by MaximumPDA.
Xoxide LAN Party Bag reviewed by Controlled-Insanity.



There's a lot of talk about a critical flaw in TCP, which has people worried. More info here, but some people say it's no big deal.

This article wonders if we're placing too much faith in the reliability of CD-R's.

DriverHeaven looked at the visual quality of NVIDIA's new 6800 Ultra.

Stephen noticed this upcoming program which will apparently allow Windows programs to be run under Linux.

The ArsMasters looked at some alternate instant-messaging clients for Windows.

MyWorldHardware went to the biggest PC fair in Malaysia.

Panadol spotted this 5MB demo movie of an upcoming rally sim game. It's supposedly amazing, but being on dialup I haven't looked at it yet. That page will try to send you the file immediately rather than there being a link to follow.

NewScientist report that researchers have found the speed limit of hard drives, thanks Frank.

Gary_J noticed my favourite digital camera site, DPReview, had a busy day on Tuesday, with reviews of 4 new cameras: Olympus C-8080 WZ, Canon PowerShot Pro1, Nikon Coolpix 8700 and Konika Minolta A2.

TonyR sent in this amazing photo-tour of an ice/snow-sculpting competition in China.

Hexus spent some time overclocking NVIDIA's nForce3 250 chipset.

Dan has 100 letters! Actually, it's his 100th letters page.

Loop Goose reminded me of this free coffee sample offer from Nescafe, open to Australian customers only. This has been running for ages, I received a pack months ago from them. I'm not a big coffee drinker - these samples were nice, but aren't going to convert me into one. If you're a coffee junkie then give these freebies a whirl.

From Tenoq: The ICQ version 4.0 brings a few new changes - it goes open source, and goes on a diet :)

MadShrimps have a memory module roundup, with OCZ, Geil and Muskin represented.




Wednesday Reviewathon (2 Comments) (link)
Wednesday, 21-April-2004 13:56:10 (GMT +10) - by Agg


Motherboards:
ASUS A7V880 KT880 socketA board on Xbit.
AOpen AX4SG Max II i865G socket478 board on PCStats.
Gigabyte K8S760M SiS760 mATX A64 board on OCW.
VIA M10000 mini-mobo and CPU on ModAsylum.

Storage:
Asus QuieTrack Optical Drives on SilentPCReview.
Venus 2.5" & 3.5" External HDD enclosures (video review) on 3DGameMan.
Panasonic CW-8123B Slim Slot-load DVD drive on PyroPort.

Video Cards:
Gainward GeForce FX5900XT Golden Sample on TheModFathers.
BFG GeForce FX5900XT OC on Bjorn3D.
Gigabyte Radeon 9800 Pro on TechWareLabs.
Albatron GeForce FX5900XT on FastLaneHW.
Gainward FX PowerPack! Ultra/1100 XT GeForce FX5900XT on Hexus.
Albatron GeForce FX5900XTV on LegitReviews.

Cases:
Bytecc ME-740U2 on ExtremeReviews.
Silverline Desktop on Pimprig.
NZXT Guardian Mid-Tower on ExtremeMHz.
Raidmax Storm Midtower on ClubOC.
Thermaltake Xaser V V5000D on OCTools.
Antec P160 Aluminium Case on Bit-Tech.
Antec Sonata on EnScape.
CasEdge Minotaur Mid Gaming Tower on Tech-Mods.

Cooling:
Danger Den Maze 4 Chipset waterblock on ClubOC.
Coolermaster Hyper6 copper P4/A64 CPU cooler on FrostyTech.
Coolermaster Hyper6 copper P4/A64 CPU cooler on DataFuse.
Coolermaster Jet P4 cooler on FrostyTech.
Cooler Master Jet 7+ socketA CPU cooler on HardCoreWare.
Danger Den Maze4-1 GPU TEC Kit on ModTown.
Arctic Cooling VGA Silencer video cooler on BigBruin.
Swiftech MCW5000-A waterblock on ProCooling.
Dangerden Maze 4 waterblock on ProCooling.

Audio:
Zalman USB 5.1 Sound Card on 3DVelocity.
Ambicom CompactFlash FM Radio on ExtremeReviews.
Logitech Bluetooth Headset on DesignTechnica.
Frontier Labs NEXia mp3 player on Hardwarezoom.
Gateway KAS-303 & AR-230 Home Theatre

Mouse Etc:
Flexiglow FX GamePad mousepad on ViperLair.
Xtrac Hammer mousepad on ATrueReview.

Misc:
Flicklite Aluminium Torch on GuruReview.
Dell Inspiron 510m Notebook on TrustedReviews.
Panasonic Lumix DMC-L1 digicam on HWZ.
Wigo CVM-100 mp3 player on TrustedReviews.
AlphaShield Internet Privacy Protection Device on FutureLook.
Raytek MT4 Non-Contact Infrared Thermometer on 3DVelocity.
Konica Minolta DiMage A2 digicam on ByteSector.
Corsair TWINX1024-4400 DDR memory kit on ExtremeMHz.
Matrix Orbital MX4 lcd on ProCooling.
The Pod Pouch iPod bag on ATrueReview.



Paul sent in that RUXCON will be held at the University of Technology in Sydney.

According to this article on Wired, the threat of a recently found trojan horse for Mac OS X could have been exaggerated.

Apparently the NetSky worm which targets file-sharing websites has caused the eDonkey website to go offline.

Vnunet is reporting that Linux vendors have attacked an analyst report which claimed that Linux and Microsoft products are both secure.

Kyoto police force has blamed a virus for the publishing of a wanted list on the internet, more can be reat here at Security Park.

Ambush sent in that the Aland Islands which has 25000 residents has become an official country and has been given its own top-level domain.

Steven Lynch from HardOCP has put together a benefit to raise money for Dave Cockrum who was credited with saving the X-Men when they were about to be cancelled in the early 70's. More information can be found here.

PCUnleash has taken a look at a HEPC (Home Entertainment Personal Computer) here..

Monster-Hardware take a look at whether DOS Gaming is dead.

Iceteks have a Virtual Telecommunication Facility Tour up on their site.

I am not a Geek have released an article on Why hard drives do not show the correct size.

PCStats have a Beginners Guide to Upgrading Memory.

TBreak have a Southbridge SATA/RAID Performance Comparison available here.

Spode's Abode have a Step by Step guide to making your PSU Quieter.

Adrian's RojakPot have a Motherboard BIOS Flashing Guide up on their website.

badg3er sent in word that ABC Australia have a story about Daniel James Morcombe, who disappeared with out a trace. If you have any information, please visit this website.




OCAU's New Servers! (32 Comments) (link)
Tuesday, 20-April-2004 02:04:54 (GMT +10) - by Agg


Well, that forums stress-test was a huge success - thanks to everyone who participated, knowingly or not. :) The previous record for concurrent users in the forums was 652, and tonight we pushed that up to 669. People were reporting the forums as very responsive even with that many people browsing, which shows we have a fair bit of headroom for future growth.

I appreciate your patience during the slow periods as our previous server Thor struggled to cope with the load over the last few months. Many thanks to AusGamers and Comindico for providing the hosting for our servers. In all seriousness, without their help things would be fairly grim for OCAU. Thanks also to PlusCorp for their sponsorship of our Powered by PlusCorp database server.

The new servers are called pie, which handles the databases, and chips, the webserver. There'll be an article soonish with more info about the build process and other info on the new servers, but for now here's a couple of PCDB entries if you're curious:



Click for pie!

Click for chips!






Interesting Forum Threads (4 Comments) (link)
Monday, 19-April-2004 20:03:32 (GMT +10) - by Agg


Been out of the forums lately due to the speed issues? We've moved over to the new servers now (more info soon!) so I guess a stress-test is in order. It'd help if you could wander into the forums at some point tonight - here's a few current threads, hopefully some will interest you. :)

Mega sticky and FAQ! in Newbie Lounge.
KT880 (SocketA) - novelty or last-minute performance king? in AMD Hardware.
First LGA775 board on sale in Intel Hardware.
Intel's planned/rumoured CPU naming is (poll) in Intel Hardware.
Evil lyrics - handy little Winamp plugin in General Software.
Project Ferrari F40 (worklog, pics) in Modding & Electronics.
Barbie PC project in Modding & Electronics.
Scientists create water that isn't wet in Current Events.
Iron Photographer March 2004 - Teh Winnar! :) in Photography.
Brisbane BBQ! Final voting! in The Pub.
Best way to learn Cantonese? in The Pub.
UT2004 Thread in Games.
Far Cry Issues in Games.
Battlefield Vietnam Issues in Games.
Official NV40 GPU launch and review in Video Cards.
~7000 free fonts in Graphics and Programming.
A warning about remoulds in Motoring.
Wheel nuts stuck in Motoring.
What tool do you use to push brake piston down? in Motoring.
Your best performance:cost upgrade? in Overclocking & Hardware.
Phase-change water chiller (with images) in Extreme Cooling.
Worried about your components getting wet.. not any more! in Extreme Cooling.
Dual Xeons - Hyperthreading on or off? in SMP & Clustering.
OCAU Guitar Players Club in Other Toys.
Melb - my recommended restaurants in Geek Food.
How to get rid of my gut in Sport, Fitness & Health.
The "name this song" sticky in TV, Movies and Music.

There's still some tuning to be done on the new servers - stress-tests like this are an important part of that process.



A LOT of people sent word that Senator Alston may be considered to chair Telstra. Nobody seemed thrilled about the idea. Info here, here and here. I think any concern is premature at the moment.

A few other people sent in this Slashdot story addressing the effects the proposed USA-Australia Free Trade Agreement could have on our intellectual property laws.

From Chaker: A Sydney computer whiz has pulled off an $11.5 million deal to develop computer games based on the television science fiction series Stargate SG-1.

Tech-Report spent some time investigating claims that the nForce3 motherboard chipset is quicker when used with GeForce-based video cards.

From Dink: A Wireless ISP has been granted permission to equip mobile towers with their transmitting devices, opening the door for large scale Wireless Broadband Internet for everyone. He also noticed that PlayStation controllers might be being used for military purposes.

NASA are going to test Einstein's theory of relativity with an experiment 45 years in the making.

Xbit managed to find 20 hard drives, all of 80GB capacity, and compared them.

From Migishu: I stumbled across this and thought it may be of some interest. It contains an ISO download of the most favoured freeware programs listed by a certain web community. And best of all, the list contains no adware or spyware programs! Usenet community, but close enough. :)

ClubOC looked at memory timings and speeds, to see what's worth shooting for.

From Ambush: CD Freaks reports a new release of the freeware CD / DVD burning software, burnatonce. The feature I feel that is of greatest interest is the new CD / DVD to ISO image function.

TweakGuides have a Far Cry tweak guide posted.




Monday Morning Reviews (0 Comments) (link)
Monday, 19-April-2004 05:04:30 (GMT +10) - by Agg


Motherboard & CPU:
ASUS P4R800-V Deluxe ATI 9100 IGP based P4 board on Hexus.
Foxconn 865A01-PE-6EKRS i865PE P4 board on ExtremeOC.
Foxconn 865A01-PE-6EKRS i865PE P4 board on ClubOC.
Athlon 64 FX-53 on GuruReview.
DFI LANPARTY Pro875B P4 board on Bjorn3D.

Cooling:
Super Flower Fan Master on RBMods.
Gigabyte 3D Cooler-Pro PCU21-VG CPU cooler on HardAvenue.
Heatpipe Heatsinks from Aerocool and Foxconn on ATrueReview.
Intimidator waterblocks on MadShrimps.
Thermaltake X-Controller fan controller on PCTechZone.
Boogiebug Thunder Fan on Hard-H20.

Memory:
PMI Platinum DDR333 PC2700 on SubZeroTech.
PMI PC-4200 Turbo on LegitReviews.

Video Cards & Display:
Asus Radeon 9600XT/TVD on SharkyExtreme.
NVIDIA GeForce 6800 Ultra preview on HWZ.
NVIDIA GeForce 6 Series overview on TheModFathers.
Albatron GeForce FX5900XTV on Bjorn3D.
Albatron GeForce FX5900XT on ViperLair.
ATI AIW Radeon 9600 Pro on ExplosiveLabs.
Samsung SyncMaster 192MP LCD monitor on PCStats.
ConvertX Digital Video Converter on Tech-Mods.

Cases:
Raidmax Cobra 822 video review on 3DGameMan.
Chenming ATX-602 on OCCafe.
SilverStone SST-B032F on GeekExtreme.
SilverStone SST-TJ05 on OCCafe.

Storage:
Plextor PX-708UF External 8X DVD Burner on TweakNews.
ASUS DRW-0804P Internal DVD Burner on HWZ.
Super Talent Flash USB2.0 flash drive on 3DVelocity.

Misc:
Thermaltake XJOG USB fan/light on OCrCafe.
eMachines M5116 laptop on TrustedReviews.
Zip-Linq 6 in 1 Road Warrior Kit accessories on ExtremeReviews.
Canon Digital IXUS 500 digicam on TrustedReviews.
Everglide Giganta Ray mousepad on GuruReview.
Phonex Neverwire USB ether-over-power networking kit on TheTechLounge.



GD have an interview with NVIDIA about their new GeForce 6800 GPU, as well as some coverage of the launch event. Launch coverage on LegitReviews and TheMowers too, while HardOCP have a tech article about the new GPU and Xbit think it will go better with a new DirectX version. NVIDIA have some showoff demos posted.

Tim Berners-Lee, who among other things invented the WWW, was knighted last year. Now, he's a rich knight - despite making all the web technology public domain.

Lindows is now called Linspire, to avoid further enraging Microsoft lawyers. Apparently you can grab it for free for the next few days, too.

There's an interesting article here about the Lamborghini factory. No army of high-tech robots here, it's mostly done by hand. Also, whether factories "run in" the motor is often debated by people. In the factory, the Lambo engines are run at low revs for about 50 minutes, then cranked up to about 7600 revs to produce maximum power for 15 minutes.

Sony have co-developed a paper-based disk that can hold 25GB of data. TomsHardware wonder if magneto-optical storage is the way to go.

Anandtech found that Prescott is a hot new CPU.. literally. Mortz noticed this story on PCWorld saying similar things.

PCStats have a beginner's guide to Cloning WinXP (copying an install from one HDD to another) while IANAG have a beginner's guide to setting up networking.

MadShrimps looked at nForce3 150 memory timings.

If you have trouble getting your point across, you might try waving your arms, brandishing objects and making yourself appear larger. Righto then.

Anandtech checked out a mini-PC that is designed for two people using it at once.

Brighter LEDs and flexible LCDs are on the way.

CDFreaks got their hands on a prototype SATA CDRW drive from LiteOn.

Interesting Forum Threads:
kkreiger - oh my! (amazing game demo in 96kb) in Games.
Best pie in Australia in Geek Food.
Porsche Carrera GT exposed in Motoring.
Timewaster - throw paper in bin in Games.



Be aware that OCAU is being moved from our current server to two new servers tomorrow morning. During this move there will be an outage - I don't know how long, but I would imagine a couple of hours or so. Maybe longer, depending on how long it takes to transfer the data over and configure/test the new boxes as they come up. Tonight I will be making a final backup of various things on our old server - I might take the server down occasionally to speed up that process.

More info on the configuration of the new servers will be provided once the move has been made. Thanks for your patience.



CPU:
AMD Athlon 64 3200+ Processor reviewed by EXHardware.

Motherboards:
MSI K8N Neo Platinum Edition reviewed by TBreak.
ASRock P4S55FX+ reviewed by eXtreme Reviews.

Storage:
SNT ST-2316C and SNT-2316SATA external hard drive boxes reviewed by Dan's Data.
Silverstone SDP01 Multi Card Reader reviewed by DesignTechnica.
WiebeTech ComboDock reviewed by Dan's Data.
Fujitsu MHT2060AH (5400RPM) reviewed by HardwareZone.
Swissbit Swissmemory Twist USB Flash Drive reviewed by EXHardware.

Cases & Modding:
Aspire X-Infinity Mid-Tower Case reviewed by 3DXtreme.
MNPCTech SC135 Pre-Modded Case reviewed by MNPCTech.

Cooling:
Silverstone SST-SDF01 80mm and SST-SDP05 120mm Fans reviewed by OnePC
Primecooler PC-HDB SuperSilent passive HDD Cooler reviewed by MADSHRIMPS.
Noise Isolator 3.5" Bay Fan Speed Controller reviewed by Short Media.
Xice EC900 Watercooling Kit reviewed by MODSYNERGY.
Arctic Cooling Copper Silent 2L Socket A Heatsink reviewed by Big Bruin.
AcoustiFan reviewed by Spode's Abode.
asetek Antarctica Waterblock reviewed by Ninjalane.

Mouse & Keyboard:
Flexiglow FX Game Pad reviewed by Extreme Reviews.
Xenix Illuminated Multimedia Keyboard reviewed by ExtremeMhz.
Mouse Grips reviewed by Creative Mods.
SteelPad 4S reviewed by PC Tech Zone.
Everglide Giganta Ray Mousepad reviewed by SubZeroTech.
Mouse Grips reviewed by XYZ Computing.
Razer Viper™ Gamers Mouse reviewed by Virtual-Hideout.
Zippy Hunter Office Keyboard reviewed by Hardware Pacers.
Belkin Nostromo SpeedPad n52 reviewed by eXtreme Reviews.

Misc:
Sony VAIO PCG-FR415S reviewed by Trusted Reviews.
X-Micro Wireless-G Networking reviewed by PimpRig.
Nikon Coolpix 3200 reviewed by HardwareZone.
ATi Remote Wonder II reviewed by ByteSector.
Biostar IDEQ 200A Small Form Factor PC reviewed by SFF Tech.
Custom Case Badge Kit reviewed by Controlled-Insanity.
HP Photosmart 145 reviewed by DesignTechnica.
HP Scanjet 5530 Photosmart Flatbed Scanner reviewed by Trusted Reviews.




Thursday Night Reviews (1 Comments) (link)
Thursday, 15-April-2004 22:31:50 (GMT +10) - by Agg


NV40 / GeForce 6800 Ultra (p)reviews: LegitReviews, Xbit, NordicHardware, Bit-Tech, here and here on Bjorn3D with Far Cry screenshots on a 6800 Ultra on PCPer.

Other Video Cards:
MSI GeForce FX5700 Ultra TD128 on A1-Electronics.
HIS Excalibur Platinum Radeon 9600 256MB Dual-DVI on TweakNews.
XFX GeForce 5700 Ultra Dual-DVI on ViperLair.
AOpen Aeolus GeForce FX5900XT 128MB on Hexus.
Gigabyte GV-N595U-GT on EnvyNews.

Case:
Mini Flex ATX HTPC case on ATrueReview.
CasEdge Diabolic Minotaur on GruntVille.
Thermaltake WinGo V7000 on RBMods.
RaidMax Cobra on OCrCafe.
Aspire X-Infinity on FastLaneHW.
Thermaltake WinGo V7000D Gaming Rig on AllAMD.
Aspire X-Infinity on 3dxtreme.
Enermax CS-800TA on OCrCafe.

Memory:
OCZ PC4400 Performance Series Dual Channel DDR Kit on ClubOC.
GeIL Value Dual Channel PC3200 400MHz on 3DVelocity.
PMI 3200-512DGL Kit on Bjorn3D.

PSU:
Zalman ZM400B-APS on SilentPCReview.
Three SeaSonic PSUs on PCPer.



Is your PC sitting around bored most of the time? Make it do some real work for a change, by donating your idle CPU cycles to Folding@Home. This runs quietly in the background, without affecting your use of the PC, and simulates protein folding to help find cures for diseases such as cancer. You can also have fun competing to have your PC (or PC's) complete more work-units than others. For more info, see our Folding page or our Team OCAU forum. For a quick "how to start" guide, see this page. We're currently the #2 team in the world - help us regain first place!



Sorry about the lack of news yesterday, I was running around all day. Doing what, you ask? Most importantly, I was delivering OCAU's new servers to the datacentre. Hopefully later this week our gracious hosts AusGamers will get a chance to commission them. Of course, as soon as I stepped out of the house our current server had a fit which continued until I came home 6 hours later. Anyway, I've done some more SQL configuration which seems to have had a dramatic effect on the current server speed. I've also worked out a way to make the news page cause less server load. We'll see how all that goes as the load goes up today.

Microsoft have released patches to fix twenty security flaws in Windows. I'm told that Windows Update is pretty slow today, maybe that's why.

Intel have two new Itanium 2 CPUs available. They also posted some healthy profits last quarter.

HollywoodReporter has an interesting article about game modding from a game developer's perspective.

Over-clock.com regassed a Prometeia Mk II with r404a for better cooling.

Need a little help with your English? These lessons might help, thanks DJ-Studd.

IANAG have an article about clusters in your filesystem.

AllAMD have a guide to choosing a high-end CPU and video card.

Do you leave your PC's on all the time? If so, make sure they're folding! But be careful, the cops might think you're up to no good, thanks Simon.

HotHardware talked to an S3 guy about DeltaChrome and stuff.

A few things from pelliott: Pick your Microsoft Mouse colour. Microsoft can buy off Sun legal threats for 10 years. AOL Drawing for Spammer's Porsche a Hit.

GruntVille checked out GameRiot 04, a travelling LAN party, while Bit-Tech went to CTS 2004, a tradeshow in the UK. Not long until the Sydney PC show, I think.

ARP have a guide to modding a Radeon 9800 Pro into a 9800XT.

Bern found this nifty Earth Impact Effects program, which calculates the effect of an object (that you configure) hitting the Earth.




NVIDIA GeForce 6 (5 Comments) (link)
Thursday, 15-April-2004 01:42:34 (GMT +10) - by Agg


NVIDIA have announced their new graphics chip today. Will their NV40 GPU, made by IBM, referred to as the "GeForce 6 Series" and available firstly in the form of a GeForce 6800 and 6800 Ultra, reclaim the performance crown from ATI? They certainly seem to think so: "This is the biggest generation-to-generation performance leap that we have ever seen with a new GPU," said Jen-Hsun Huang, president and CEO of NVIDIA.

Previews, reviews and other info on TrustedReviews, Bit-Tech, Hexus, HotHardware, Tech-Report, FiringSquad, NVNews, Beyond3D, PCPer, HardOCP, Guru3D, HardwareAnalysis, ExtremeTech and TomsHardware. Quite a few of those sites seem to be timing out, I guess there's a lot of traffic flying around.

There's a thread here in our Video Cards forum discussing this new GPU and the various reviews.




OCAU Merchandise! (1 Comments) (link)
Wednesday, 14-April-2004 12:37:42 (GMT +10) - by Agg


OCAU has a range of merchandise available. Things to wear, things to drink out of and things to stick to other things. Get some cool stuff and help support the site!



Click here for OCAU Merchandise!





Motherboards:
Abit AN7 Motherboard reviewed by Lan Addict.
AOpen AK79D-400 Max nForce 2 Motherboard reviewed by A True Review.

Video:
ABIT Radeon 9800 XT 256MB reviewed by Hexus.
Transcend TV-BOX USB2.0 reviewed by Hardware Pacers.

Audio:
Rio Nitrus MP3 Player reviewed by AllHardwareZone.
MSI Megastick 256MB MP3 player reviewed by DesignTechnica.

Storage:
Kingston Elite Pro 512MB CompactFlash card reviewed by ExHardware.
LG World's First All compatible DVD burner reviewed by PCUnleash.
32Mb USB Bar reviewed by The Tech Zone.

Cooling:
Articsilver 5 reviewed by Red & Blackness.
GlobalWin Silent Stream reviewed by TechwareLabs.
SCYTHE KAMAKAZE INTEL/AMD PERFORMANCE CPU COOLER reviewed by TweakNews.
Sharkoon CUS2 CPU Cooling Kit reviewed by Guru Review.
Coolermaster Coolpad reviewed HardCoreWare.

Mouse & Keyboard:
XTrac Pro HS, Ripper, and Hammer reviewed by FastLaneHW.
Black EL Keyboard reviewed by Extreme Reviews.
Steel Gaming Glove reviewed by Byte Sector.

Misc:
Corsairs XMS DDR433ECC/REG Memory reviewed by Driver Heaven.
Shuttle SB75S reviewed by LOSTCIRCUITS.
Hush ATX PC reviewed by SilentPCReview.
Enlight Software Wars & Warriors: Joan of Arc reviewed by ExtremeMhz.
Syntax AP7600 Pentium 4 Notebook. reviewed by Extreme Overclocking.



Andypoo reminded me that Australia's anti-spam legislation came into effect on the 10th of this month. There didn't seem to be much news coverage of it? Anyway, more info here.

From the PCDB: Alonso_Bistro has a cool metallic-mesh effect, while x3r0 remodelled the front, added a flamey window and powdercoated his. PilouX's unusual tower turned out very nicely and reminds me of the old Metropolis film.

Redback noticed that Telstra have raised the acceptable signal loss for ADSL, which means it'll be available to more people. The new acceptable signal loss limit has increased from 49dB to 56dB. This effectively extends a customer's allowed length from a telephone exchange from 3.5km to 4km. Telstra are also trialling Fibre To The Home technology, thanks Sniper.

AusGamers have the V8 Supercars 2 Demo available for download. Koopz noticed this Stalker rolling demo on FilePlanet.

AMD have settled their lawsuit with Intergraph, while Microsoft have settled theirs with Intertrust.

Sniper spotted this interesting ATM scam involving some physical modifications to the ATM.

Aselabs compared two free spyware killing programs, Adaware and Spybot.

Intel has some new processors, aiming to bring notebook power to phones and PDAs.

Xbit have a DDR500 memory roundup.

LegionHardware compared ATI's Radeon 9600XT with NVIDIA's GeForceFX 5900XT.

TheModFathers have an aircooled mousepad project, while Pheaton have Project Hi-Octane, building a watercooled PC into an SGI workstation case.

MadShrimps tested a pile of memory on an nForce2 system to try and find the next BH-5 equivalent.

Amfibius is organising a meet in Perth for OCAU photographers, this coming Thursday.

Metku took a Shuttle and made it shiny.

KP says there's a winamp security alert for all versions.

ARP have a guide to BIOS flashing your video card, while IANAG want to show you how to make network cables.

Hypothermia are giving away another Killer Gaming Rig.

Antec may enforce their patent on LED fans, if this letter is anything to go by. More info on Bit-Tech. I thought this was an April Fool at first, but seems it isn't.

Tech-Report looked at NVIDIA's nForce 250Gb A64 chipset.

ExplosiveLabs have a Q&A with Diamond Multimedia, while LegitReviews interviewed an ATI software design manager.

Today's taste of the bizarre is Subservient Chicken from Chaker.




Sunday Afternoon Reviews (0 Comments) (link)
Sunday, 11-April-2004 15:30:28 (GMT +10) - by Agg


Cooling:
Corsair Hydrocool 200EX watercooling unit on TrustedReviews.
Aerocool Chameleon Fan on
Vantec Aeroflow 2 socketA cooler on HardCoreWare.
VapoChill's new CPU kit on HotHardware.
Scythe Kamakaze LED Case Fan on XYZComputing.
Thermaltake UFO Fan on PCTechZone.
Swiftech H20-8500 watercooling kit on ExtremeOC.
Scythe Kamakaze HSF on MonsterHW.

PSU:
Clever Power 500W on SubZeroTech.
SilenX iXtrema Pro 400W ExtremeReviews.

Memory:
OCZ PC4400 DDR dual-channel kit on DriverHeaven.
OCZ EL DDR PC3700 dual-channel kit on ViperLair.
PMI PC4200 512MB dual-channel kit on PCStats.
PMI 3200 Dual Channel on OCPrices.
Crucial PC3200 512MB module on TheTechLounge.

Audio:
Trust 751B 5.1 Silverline Headphones on PirateSoftware.
mobiBLU DAH-900 mp3 player on NordicHardware.
X-Micro EVA 128MB mp3 player on PimpRig.

Case:
Chenbro PC61319 on G3D.
Koolance PC2-650 watercooled server case on ExtremeMHz.
Silverstonetek TJ-04 on RBMods.

Video Cards:
Chaintech Apogee AA5700u GeForce FX with DDR2 on TweakNews.
Powercolor Radeon 9800XT on HWHell.

Motherboard and CPU:
ABIT AI7 i865PE P4 board on MyWorldHardware.
Athlon 64+ 2800+ CPU on PCPer.
DFI LanParty Pro875B P4 board on Digital-Daily.
ASUS SK8V socket940 A64 board on Hexus.
Chaintech Zenith ZNF3-250 nForce3 250 A64 board on Xbitlabs.
Intel D875PBZ i875P P4 board on Digital-Daily.

Misc:
Matrix Orbital MX212 LCD on Bit-Tech.
Bawls Guarana drink on ExtremeReviews.
ABIT DigiDice i865PE-based mini-PC on TBreak.
Fijifilm FinePix F610 digicam on HardWareZone.
Razer Viper optical gaming mouse on EXHardware.



Happy Easter! Congrats also to petercr and his wife Lindy, who have a new daughter Mia Siobhan, sister to joannacr, OCAU's youngest folder. :)

Paul noticed this Open Source Security Database, two years in the making, which is now open to the public.

Thompson are preparing to ship DVD players that will automatically censor what is viewed. They will be pre-programmed to spare viewers segments of films that feature offensive language, excessive violence or sexual content, by muting the sound or skipping ahead.

HardwareZoom have preview info on seven new(ish) digicams from Canon.

SharkyExtreme have a High-End Gaming PC buyer's guide.

Here's an original PC case, thanks Loop Goose. Similar to the "army girl" one from last year.

Still some trickles of CeBIT coverage: Digital-Daily, ExplosiveLabs.. and TheTechZone went to CTS, a trade show in the UK.

Dan has a bright light and more letters.

The X Prize contest continues to build up steam, with a launch license being issued to one of the competitors in this race to build a re-usable space vehicle. Last December it was formally announced that multi-billionaire Paul Allen — the co-founder of Microsoft — is footing the bill on the SpaceShipOne project.

There are some Half-Life 2 Concepts on GamersGallery, which seem to be model and environment prototypes, screenshots etc. GamersHell have some HL2 movies.

Digital-Daily spent some time stress-testing an 800MHz-FSB Prescott CPU.



Motherboards:
Foxconn's 875A02-6EKRS reviewed by HotHardWare.
EPoX 4PDA5+ reviewed by OC Workbench.
AOpen AX4SG MaxII reviewed by Legit Reviews.
AOpen AK86-L reviewed by Neoseeker.
MSI 875P Neo FIS2R reviewed by GruntvillE.

Video:
Albatron Geforce FX 5900 XTV reviewed by HardwareHell.
HIS Excalibur 9600 Dual DVI reviewed by ViperLair.
BFG Tech GeForceFX 5900XT OC reviewed by HardOCP.
Gigabyte GV-N55128DP FX5500 reviewed by TBREAK.

Storage:
Seagate 160GB External Drive reviewed by Legion Hardware.
Highpoint e.SATA Pocket Kit Video Review by 3dGameMan.

Small Form Factor:
Shuttle Zen XPC ST62K reviewed by HardwareZone.
Biostar iDEQ Small Form Factor reviewed by TrustedReviews.
AOpen XC Cube EZ65 reviewed by Overclocker Cafe.
Antec Aria SFF Case reviewed by SilentPcReview.

Cases & Modding:
Antec Super Lanboy reviewed by DataFuse.
StarTech 480 Watt Silent PSU reviewed by Techware Labs.
Enermax EG375AX-VE Noisetaker reviewed by OVerclocker Cafe.
SilverStone Technology ST46F 460W PSU reviewed by 3DXtreme.
Z-Alien PC Gamer Case reviewed by Xtreme Resources.

Cooling:
Tweakmonster BGA Ramsinks and GELtech XGel Fragtape reviewed by Controlled-Insanity.
Enermax UC-A8FATR4 reviewed by Extreme Reviews.
Corsair HydroCool200EX Water Cooler reviewed by TrustedReviews.
Kingwin Aluminum Thermal Center reviewed by Hardware Pacers.
Thermalright NB-1 reviewed by fastlanehw.
Asetek WaterChill water cooled heatsink system reviewed by A1 Electronics.
Arctic-Cooling VGA Silencer reviewed by Bit-Tech.

Misc:
Soyo Kiky X-Series PS2 Game Pad Converter reviewed by Chillblast.
Saitek R440 Force Wheel reviewed by Guru3D.
Xoxide LAN Bag reviewed by fastlanehw.
Belkin Universal 1000VA UPS reviewed by PCStats.
Sony Cybershot DSC-F828 reviewed by HardwareZone.
Ahanix Wireless Freedom iMon Plus Remote reviewed by Sudhian Media.
iMON Home Theater PC Remote reviewed by PC Unleash.
Systemax TourBook 5112 reviewed by TrustedReviews.




Smartech Winner 1 Gas RC Car (21 Comments) (link)
Thursday, 8-April-2004 21:58:36 (GMT +10) - by Agg


Here's something a bit more exciting than a motherboard review. It's a nitro-powered 1/10th RC car!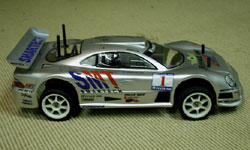 Click for the review!


Don't worry, there'll be a PSU and a fan controller and some more conventional stuff next week. :)




Thursday Evening (2 Comments) (link)
Thursday, 8-April-2004 19:46:54 (GMT +10) - by Agg


There's some new Catalyst 4.4 drivers out for your ATI-based video card.

EETimes reckon that Intel's 64-bit approach is suspiciously similar to AMD's, but in some ways not similar enough.

Sciby noticed that webmonkey is closing, which is a shame. I learned a lot there when I was starting out with websites.

Interesting article here about how people are confused by movies, not knowing which historical events were real and which were fictional.

Apparently we're due for a RAM price rise due to a shortage, which has some manufacturers concerned already.

VoidedWarranty have an article on building a home theatre PC, while Tech-Report cover building a kitchen PC. okey dokey.

Australia's biggest company News Corporation is moving its home base to the United States.

It seems there are some benefits to making chips underwater.. part of the process, anyway.

This article has some info on Linux Kernel 2.6 optimisations.

The new security mentality of WinXP SP2 may have support phones ringing, thanks Timbo.

TomsHardware compared KVM switches, thanks Mikeo.

Some stuff from Murray: Toshiba and SanDisk have jointly developed a flash memory chip capable of storing twice as much data as their current largest-capacity flash memory. Taiwan Semiconductor Manufacturing (TSMC), the world's largest contract manufacturer of semiconductors, will make chips for the next generation of Microsoft's Xbox game console. Intel will introduce four new mobile processors for ultraportable systems at the Intel Developer Forum in Tokyo. In a move to drive down the cost of systems built with its Itanium 2 microprocessor, Intel Corp. plans to make future versions of its Xeon and Itanium processors interchangeable at the socket level, the company confirmed on Tuesday.

HWZ have a 3-way roundup of GeForce FX 5700 Ultra video cards.

Our own PersianImmortal has started TweakGuides.com, with a UT2004 Tweak Guide.

3DAvenue are giving Australia and New Zealand readers a chance to win Space Invaders Anniversary.

There's another issue of ZZZ Online, err, online.




Wednesday Morning Reviews (1 Comments) (link)
Wednesday, 7-April-2004 02:43:27 (GMT +10) - by Agg


Cooling:
Evercool CUW8-715 CPU cooler on A1-Electronics.
nVENTIV Mach II phase-change cooler on TruExtreme.
Evercool WC-201 watercooling kit on ATrueReview.
Thermal Integration P4 coolers on OCrCafe.
Vantec Aeroflow 2 CPU cooler on OCClub.

Video Cards:
ALbatron GeForce FX 5900XTV on LegionHardware.
Chaintech SA5900XT GeForce FX on TrustedReviews.
HIS Excalibur Radeon 9600XT Turbo VIVO on TheTechZone.
Gainward GeForce FX 5900 Ultra on DriverHeaven.
HIS Excalibur Radeon 9600XT Turbo 128MB on OCPrices.
PowerColor Radeon 9800XT on GruntVille.

Cases:
Hoojum Cubit 3T tiny case on SpodesAbode.
Enermax CS-800TA on Bit-Tech.
Ahanix Plasma MicroATX on PimpRig.
Super Flower SF-516T2-BT on TechAngel.
Ahanix Zion on RBMods.
Maxtop Domino Type II CSF-800 on ExtremeReviews.

Mouse etc:
Steelpad 4S mousepad on SweMod.
Wireless Intellmouse Explorer on Hardware-Pacers.
Logitech MX510 on OCIA.
Steelpad 4D on Monster-Hardware.

PSU:
Seasonic Super Tornado 350W on Metku.
Enermax EG-475AX-VE(W) Noisetaker on ExtremeOC.



Some press-release stuff. Actually, it all seems to be ABIT info this time.

ABIT are holding a Gaming Tournament called ACON4. It's running in 20 countries including Australia. Unfortunately we got this info on short notice and the Vic round seems to have already passed. Queensland and NSW get a go over the next few weeks. The Grand Final will be in China and the major prize is a KIA car! More info on the website or in this 1.2MB Word doc.

PlusCorp sent over some info on new ABIT motherboards. Seems to be somewhat preliminary information because the names of the boards change from document to document, and I don't know how the rumours of Intel delaying the LGA775 socket will affect things, but I thought you might find this stuff interesting anyway:

The AG8 (which is confusingly called the AG7 in some places, including the board pics) is a Grantsdale-P based LGA775 board for Prescott and Tejas processors. Pics here and here, 35KB PDF here.

The AA8-DuraMAX (called AA7-MAX in places) is based on Intel's 925x chipset for LGA775 Prescott and Tejas CPUs. Pics here and here, 66KB PDF here.

The VG7 is a VIA PT890-based Socket478 board for Northwood and Prescott P4's. Picture here, 88KB PDF here, 2.8MB PPT "sales kit" that I can't look at due to no PowerPoint stuff, but might be interesting, here.

Thanks to PlusCorp for that info. ABIT products are distributed in Australia by Altech Computers.

Finally, ABIT asked in an email recently for suggestions for an "ultimate gamer's motherboard". I thought it might be interesting to hear people's suggestions, so I started a thread here.




Tuesday Afternoon (5 Comments) (link)
Tuesday, 6-April-2004 17:01:06 (GMT +10) - by Agg


Tech-Report compared three dual Opteron motherboards.

It seems that too much TV really can be bad for kids after all.

Another "nigeria scam" emailer is off to jail, hooray.

TheTechLounge wonder which DVD format is the one you should choose.

In a bizarre case, TheReg is reporting that a 15yo girl is being charged as a child pornographer for posting pictures of herself on the net, thanks Dink.

IANAG have updated their WinXP tweaking guide. Or you could use this TuneXP tool from Driverheaven.

Project Medusa is a passive-cooled peltier project on Over-Clock.com, while PC-Unleash have a tiny PC project showcased.

Speaking of tiny, Bit-Tech have their small PC coverage from CeBIT posted.

Aselabs have an article on making your PC safer to use.

A bunch of info from Paul: Spyware can put even fastest PCs in the slow lane. German court: Pop-ups need permission. Are you being watched online? For Windows Users, 'Browser Hijacking' Is Only the Latest Threat. Spyware/Adware/Popups: Controlling the Beasts. Spies log your every keystroke.

Petercr spotted an interesting community initiative in Tokyo, where they are using astroboy as currency.

Viperlair interviewed Corsair about memory and watercooling.

Cougies says there's new NVIDIA drivers out, version 56.72.

Dan looked at some small MP3 players, including one that we named after him.

Neevo reckons Bill Gates is no longer the richest man, thanks to the falling US dollar. Now the owner of IKEA has the crown.

There's a LAN at UTS in Sydney late this month and another in Mackay, QLD on the Easter weekend.

Interesting Forum Threads:
The how to spraypaint a car guide in Motoring.
Weightloss Race in Sport, Fitness and Health.
Project: MAME Cabinet! (pics) in Modding & Electronics.
Photos from the World Superbikes at Philip Island in Photography.
Wanted: gcc-like facility for Windows in Graphics & Programming.




"The Machine Age" PC (4 Comments) (link)
Monday, 5-April-2004 11:51:38 (GMT +10) - by Agg


Slipperyskip, who brought us the Humidor PC, has another creation. He calls it The Machine Age:



Click for the PCDB entry!





A recent flashmob supercomputer attempt didn't quite work out, but was an interesting idea.

Flickerdown have an article about the onboard memory controller in A64 chips. Xbit meanwhile wonder about further development of AMD's processor families.

Here's a neat Duracell CPU monitor project from boky.

Ben spotted a bizarre cartoon used to demonstrate a high-density CD-recording technology from Sanyo. Not to be outdone, Pioneer have bumped Blue Ray to 50GB, thanks enigma.

LegitReviews look at a pile of new motherboards that were being shown off at CeBIT recently. More CeBIT stuff on Bit-Tech.

Nikoy found this article with Bill Gates' thoughts about the future of PC hardware.

Anandtech have more info on the possible new naming scheme for future Intel CPUs. Looks confusing to me.

LostCircuits have the next chapter in their RAID article posted, covering parity.

Futurelooks checked out electronic gaming's best of 2003 and most promising for 2004.

CDRInfo went on a reviewing frenzy, checking out the Freecom FX 50 External Dual Format DVD Recorder, Sony DVP-NS 330 DVD Home Player, TDK 880N 8x Dual DVD Recorder and the Memorex True 8-x Dual DVD Recorder.

Madshrimps modded a budget watercooling kit for better performance.

SystemCooling wonder if aluminium or steel is better for a case.

HWZ had a chat to some Samsung folks about the future of displays.

PCStats have a beginners guide to diagnosing faulty memory, while IANAG have some basic guides on heatsink installation and hard drive installation and troubleshooting.

James found this interesting site about phishing scams in Australia. You know, the emails trying to trick you into giving away your passwords etc.

People are wondering if Google's Gmail is a hoax or not, info here and here. The concensus seems to be that it IS real thanks Murray, but some people have privacy concerns, thanks leperMessiah.




Bitspower LED RAM Mod (1 Comments) (link)
Monday, 5-April-2004 02:33:53 (GMT +10) - by Agg


Run out of things that glow in your PC? What about your RAM? If you want glowing RAM but can't afford the high-end Corsair stuff with activity LED's, this kit might be a cheaper alternative: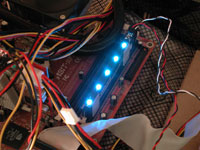 Click for the review!





Systems/Laptops/PDA:
Shuttle XPC SB75G2 and XPC ST62K Zen at Hexus
TDS Recon Rugged PDA at Trusted Reviews
Dell Axim X3i Pocket PC at Trusted Reviews

Mainboard:
AOpen AK86-L AMD Athlon 64 Motherboard at A1-Electronics
Gigabyte GA-8VT880 Ultra VIA PT880 Motherboard at OCNZ
AOpen AK86-L Motherboard at 3DX

Memory:
Corsair PC3500 XMS Memory at The Tech Lounge

Storage:
AOpen DRW8800/AAN DVD-Writer at HWZ
LG GCC-5241P Portable CDRW/DVD-ROM at Hardware Zoom

Video/Monitor:
Sapphire Radeon 9800 XT Ultimate at VR-Zone
HIS Excalibur 9600XT TURBO VIVO EDITON at Bjorn3D
Samsung SyncMaster 173MW Widescreen LCD Monitor at Tweaknews

Audio:
Mambo 6-in-1 Digital MP3 Player at Tech-Mods
Actiontec Wireless Digital Media Player at Hardware Hell
Dell Digital Jukebox at ByteSector

Case/Mods:
3Rsystem R101 Case at R&B Mods
Ahanix Black Knight Case at PimpRig
Kingwin KT-424 Aluminum Case at Gruntville
NZXT Guardian Aluminum Case at Tweaktown
CasEdge Diabolic Minotaur Mid-Tower Case at LANAddict
Bonzai Mods Custom Hand Sculpted Fan Grilles at Controlled Insanity

Cooling:
OcLabs CPU Waterblock at Hard-H2o
Alphacool NexXxoS HP Pro Socket-A Water-Block at TechAngel
Koolance CPU and GPU Waterblock at Fastlane HW
SilverStone FMC3XW 120mm Fan W/Speed Control at A True Review
Thermalright SP-97 Heatsink at All Hardware Zone
Thermaltake Extreme Giant III Heatpipe GPU Cooler at OCfaq

Misc:
Logitech Dual Action Gamepad at Design Technica
Vantec Cable Sleeving Kit at Viper Lair
Casio QV-R51 Digital Camera at HWZ
Bluetake BT500 Bluetooth Mouse at Hardware Pacers
Razer Viper Mouse at R&B Mods



More breaking news: UT2004 has been released free, kinda, thanks Samoo. Google are hiring for their new moon office. Microsoft and SmoothWall are collaborating on a new version, thanks Ben. VooDoo spotted this handy fan tip on PCUser. Accelenation have info on a new form of compression involving naked people. Sniper spotted one minute DVD burning.

Telstra have cut their wholesale broadband prices in response to the ACCC's pressure.

New York has convicted a spammer. After a four-day trial, a jury found Howard H. Carmack guilty of 14 counts, including forgery, identity theft, falsifying business records and criminal possession of a forgery device.

Speaking of Carmack, John of id Software fame addressed the Game Developers Conference and had interesting stuff to say as always.

IBM are pushing their Power microprocessor into new markets, thanks Murray.

Sudhian have a SFF roundup from CeBIT. Other CeBIT coverage on Bit-Tech (and here) and MadShrimps.

NordicHardware have an article about RAID 1, while OCC cover RAID 0.

Sudhian have info on some new sound cards from Turtle Beach.

Iroquois found some people testing pigeon bandwidth and finding it better than ADSL. There's actually an RFC for this feathered transmission method already.

There's some new Audigy drivers, thanks Vipster,

Datafuse wonder about Intel's future.

TheReg have some info that ATI let slip about their future products.

Dan has more letters.

Bytesector have info on digital radios.

disad spotted this migrating from windows to linux article on THG.

Info on Xbit about Intel delaying new socket and chipsets, while AMD announce new low-end 2800+ A64 chip, thanks enigma. They also compared some alternatives to i865PE, with two motherboards from Asus and Soltek based on SiS and VIA chipsets. Finally they report on some high-density storage from Seagate and the possibility that AMD might adopt a model number scheme similar to Intel's.

Carlos noticed biometric chips on the way for British passports.

GamePC compared some high-end SATA to SCSI, in the form of WD's Raptor vs Seagate's Cheetah.

Today's timewaster is this jet game from Cam. Tricky steering with the mouse.



CPU:
Intel Pentium 4 "Prescott" 3.2Ghz reviewed by Bit-Tech.
Speed Strip SSA-1 overclocking AMD Athlon XP processors device reviewed by A1 Electronics.
Intel Celeron 2.8GHz reviewed by Hexus.

Motherboards:
FIC K8-800T reviewed by Liquid Ninjas.
Abit KV8-MAX3 Athlon64 Motherboard reviewed by PCStats.
ASUS P4R800-V Deluxe reviewed by T-Break.

Memory:
OCZ DDR PC-3200 ECC Registered / Dual Channel 1024MB reviewed by Chillblast.
SIMPLETECH NITRO PC3700 1GB DUAL CHANNEL MEMORY KIT reviewed by Tweak News.

Storage:
256MB Flash Drive reviewed by Extreme Reviews.
Nu Tech DDW-081 DVD Burner reviewed by ClubOC.
HighPoint eSATA v2 reviewed by ClubOC.
Vantec EZ-Swap reviewed by A True Review.

Video:
Transcend Xabre 400 reviewed by OVerClock Intelligence Agency.
MSI FX5900XT VTD128 reviewed by GruntvillE.
Gigabyte GV-R96X128D Radeon 9600XT reviewed by Big Bruin.
Galaxy Zeus 5900 XT reviewed by Guru3D.
MSI FX5700-VT2DR256 reviewed by The Tech Report.

Cases & Modding:
Thermaltake XaserV WinGo V7000D reviewed by The Tech Lounge.
SilverStone Gloria SST-TJ04 Case reviewed by myWORLD.
Matrix Orbital MX222 USB LCD reviewed by PimpedOutCases.
Mountain Mods U2-UFO SOLID TOP reviewed by Tech-Mods.
NZXT Guardian Gamers Case reviewed by ClubOC.
EpowerTechnology Jaguire-450 reviewed by ClubOC.
UV Reactive Acrylic Case reviewed by Creative Mods.
Acousti Products AcoustiCase C6607 reviewed by TrustedReviews.
UV Acrylic PSU Mod reviewed by Controlled-Insanity.
MountainMods U2-UFO PimpRig Limited Edition Cube reviewed by PimpRig.
PCPower&Cooling TurboCool 510 Deluxe reviewed by MADSHRIMPS.

Cooling:
Evercool SCP-A & Air Conditioner reviewed by SubZeroTech.
Vantec's Spectrum Fan Card Cooler reviewed by ViperLair.
nVENTIV Mach II GT reviewed by Truextreme.
PolarFlo SF Water Block and GPU block reviewed by Tech-Mods.
Asetek Antartica Waterblock reviewed by OC-Zone. (Translated by Google.)

Misc:
Allen Concepts KEYKatcher reviewed by Extreme Reviews.
Black Icemat reviewed by Monster-Hardware.
Gateway 610XL reviewed by DesignTechnica.




Thursday Afternoon (17 Comments) (link)
Thursday, 1-April-2004 15:45:04 (GMT +10) - by Agg


Today being April Fools Day there were quite a few interesting news stories out there. The Sydney Morning Herald reported that L-Plates will be required for Yum Cha trolleys. Apparently Telstra Cable is being shut down, according to Whirlpool. Burn said that Sony would drop the PS1 and PS2, to focus on handhelds. Google is offering free 1GB email boxes. The Tasmanian Tiger has been cloned and is no longer extinct. ThinkGeek have a swag of new products. Bash.org revealed their secret method of approving quotes. Atomic report on a new game from John Romero. But are they all joke articles? Hard to tell sometimes. :) No doubt there'll be more as April 1 rolls around to the American sites, so keep your grain of salt handy. Thanks to all who sent those in.

HardOCP spent a little time overclocking the Prescott 2.4A P4.

A Canadian court has ruled it's OK to share files, even copyrighted ones such as music. Downloading may still be an issue, however. Meanwhile, an American university study claims file trading has no effect on CD sales.

PCUnleash rounded up a few graphics cards, using Splinter Cell for benchmarking.

ARP have a guide letting you compare video chipsets including current and older models.

Daniel says a movie of Hitchhiker's Guide to the Galaxy is being made.

NeoSeeker have some nForce3 250 preview info.

Datafuse have some past and future info about DFI, a motherboard manufacturer we don't see much of here in Australia.

Apparently a "production slip-up" cost Micron 10,000 8-inch wafers, or about 3M DRAM chips.

nVidia and ATI go head to head on HotHardware.

AOL sued a spammer and took his Porsche, which they're now raffling. Nice one, thanks Kernal32.

ModAsylum have a guide to making a custom glowbus.. whatever that is.

Speaking of things that glow, Kidd Of Speed has updated her website with more information and pictures about her riding through the ghost town of Chernobyl. Fascinating stuff, it's a big read but worth the time.




Become an OCAU Subscriber! (191 Comments) (link)
Thursday, 1-April-2004 00:06:19 (GMT +10) - by Agg


Today marks an exciting new chapter in OCAU's history. The advertiser-funded system we've been using to keep the site financially viable for the last few years has basically ground to a halt and is no longer workable. In order to keep bringing you the content you enjoy, we're moving to a subscriber-funded system. This gives you, the reader, the opportunity to directly support OCAU by purchasing a subscription to the content you want to view.

In two weeks time the entire website will be secured with a password-protection system. Only subscribers will be able to access the various sections of the site. You can purchase subscriptions on a monthly basis using Paypal or Direct Deposit.

The pricing will be as follows:
News Page: $1.95/month

Reviews/Articles: $5.95/month

Forums (except Trading): $10.95/month

Trading Forums: $10.95/month
Or, you can purchase access to the entire site, just like you have now, for just $19.95 per calendar month. All prices include GST and are in Australian dollars. We will consider discounts for 6-month or 12-month packages.

The ordering system will be available soon. We hope you'll see the value in this new financial model for OCAU. We envisage that this forward-thinking step will allow us to bring you more content, faster servers and help build a stronger sense of community. Thanks for your support!

Update: APRIL FOOLS!!!! Blame Wolfy for this year's idea. :)



---
Advertisement:


All original content copyright James Rolfe.
All rights reserved. No reproduction allowed without written permission.
Interested in advertising on OCAU? Contact us for info.