May 2004
Recent Press-Releases (0 Comments) (link)
Monday, 31-May-2004 16:20:44 (GMT +10) - by Agg


Asetek announced a new water-cooling kit in their WaterChill line. The NEW WaterChill™ KT03-L20 Entry Kit is a superb entry-level water cooling kit designed for moderate PC Enthusiasts and Overclockers excited to explore the world of water cooling for the first time – without compromising quality. More info here.

Corsair Memory announced a new family of "XL" memory modules that supports 2-2-2-5 latencies at 400MHz, making the XL family the highest performing PC3200 memory in the world. The new XL product family includes the following products: TwinX1024-3200XLPRO - matched pair of 512MB, DDR400, 2-2-2-5, XMS Pro Series modules. TwinX1024-3200XL - matched pair of 512MB, DDR400, 2-2-2-5, black XMS modules. TwinX1024-3200XLPT - matched pair of 512MB, DDR400, 2-2-2-5, platinum XMS modules. Press release here and "RAM Guy XL Q&A" PDF here. Product-specific PDF's: CMX512-3200XL, TWINX1024-3200XL and TWINX1024-3200XLPRO.

OCZ Technology announced the impending release of their performance PC2-4300, PC2-5300 and PC2-6400 Enhanced Bandwidth DDR-II module family. OCZ will be testing all DDR-II modules and dual channel kits to ensure maximum stability and functionality at specified clock frequencies and latency settings. While DDR-II platforms are still in development, we expect major chipset manufacturers to support PC2-5300 / PC2-6400 within the year. More info here. They also announced a PC-3200 Platinum Rev 2 Dual Channel kit which features an integrated heatspreader to aid in heat dissipation and is rated for CL2-2-2-8 (read: CAS-tRCD-tRP-TRAS) latencies.

ABIT continue their ACON4. With qualifiers in 21 countries and territories, ACON4 is one of the largest and most exciting gaming tournaments ever devised. Around the world, thousands of avid gamers tested their skills with the toughest competition in their respective regions. You can win one of 18 prizes by guessing which of the 18 finalists will be triumphant. More info in this 465KB DOC file and on their website.

Attorney-General Philip Ruddock has introduced amendments to ensure powers relating to the interception of telecommunications reflect current technology. The Telecommunications (Interception) Amendment (Stored Communications) Bill will now ease access to stored communications by limiting the scope of the Telecommunications (Interception) Act 1979 to live telecommunications. ... By limiting the Act in this way, the amendments will enable access to stored communications, such as email and voicemail, without a telecommunications interception warrant. More info in this PDF.




Some news ... to start the working week. (4 Comments) (link)
Monday, 31-May-2004 15:54:32 (GMT +10) - by Wolfy


"The economic logic of executing computer hackers", is an analysis of the costs and benefits of taking some rather drastic action against those who code viruses and cause so much computer-mayhem. Not surprisingly it appears that hackers are not even safe from other hackers: "AN ALLIANCE OF HACKERS dubbed the Hackers Against America (HAA) has had its website defaced by er a Hacker."

News of the largest CompactFlash card over at Slashdot, and the Fastest Flash Memory at Digital Silence.

Hardware Analysis have some interesting comments on AMD's roadmap, and AMD Review have news of new AMD releases and price increases.

A number of people have let us know that The Basement, Bigpond's live video and audio webcast site is closing, information here and here.

China's Ministry of Culture have added another PC game to the banned list, Hearts of Iron joins Project IGI2: Covert Strike and the Zero Hour CnC Generals Expansion.



Nearly finished your wicked case mod? Maybe the finishing touch it needs is an OCAU case badge!



Click for OCAU merchandise!





Just a quick note of congratulations to our Folding@Home Team. We've narrowed the gap to the team in first place to under a million points and if we can sustain the current rate at which we're outperforming them, we should be back in the #1 spot in about a month.

If you'd like to join the fight, and help search for cures for diseases with your idle CPU cycles, see our Folding Page for info, or here for how to join the team. Check our Team OCAU Forum for more info.




OCAU Iron Photographer May Challenge - The voting begins! (8 Comments) (link)
Sunday, 30-May-2004 20:43:40 (GMT +10) - by Sciby


Well, since the other guys are newsing again, I might as well do a small cameo post, reliving my ol' newsmonkeying days... :)

As some of you may know, we've been running a small, informal photography challenge for several months now, where a theme is announced, and forum members take and enter photos based around that theme.

Several admins then shortlist the entries to a 'top ten', which are placed in a voting poll thread for the members of the OCAU forums to decide who will be that month's Iron Photographer!

It is, of course, that time again, where the ten have been chosen. The theme for May was "Speed!" and it's produced a good number of entries this month, with an ever-increasing level of quality... it just keeps getting bigger and better!



Hurry! Vote now! Quickly, before Agg makes me do a real news post!



PS: Don't forget that early in the month, a new challenge will be announced in the Photography Forum, so give it a go. It's for everyone: pros, amatuers, people like me who can barely find the shutter button, everyone. :)




It's still the weekend ... and here is more news. (6 Comments) (link)
Sunday, 30-May-2004 12:37:29 (GMT +10) - by Wolfy


For those of you looking for something to do on this fine Sunday, jimx sends news of an unofficial list of well-known unsolved codes and ciphers.

pcunleash have unveiled what they're calling the ultimate lan-party PC, the LCD monitor is built into the case.

You've probably heard the saying 'fight fire with fire', this article is applying that theory to noisy PC's and suggesting that To Quiet a Whirring Computer, Fight Noise With Noise.

Perhaps the police are catching up to the information age, with news that more more hax0rs have been nabbed.

For those of us that cannot afford, or justify, buying the latest-and-greatest video card, NordicHardware have a Mid End shootout where they compare 5 video cards: "GeForce FX 5900 XT, one GeForce FX 5700 Ultra (with GDDR3) and one Radeon 9600 XT".

Andrew sent me an email: "... this PDF document from Samsung shows (on the second page) the speed of their various DDR RAM modules. I always wanted to know how my Samsung TCCC modules differ from my TCC4 modules. Now I know."

ModTown send news of their "exciting giveaway competition", you can win some BlueTake Bluetooth and Wi-Fi products (Entry appears to be open for all, although it does appear that if you win you'll need to pay for postage).

OCAU is not just about computers and hardware, here are some interesting items from our Geek Food Forum :
The very informative HomeBrew thread has grown to over 1400 posts!
Shalmanese linked this very interesting food from An Anthropological Perspective article and the Eat Dangerously Cookbook, even if you're not into cooking, you should find their recopies quite amusing.
If you are into cooking, you may like to add your bit to The SNACK thread,
and I was interested to find out what's in crab stick.

First Microsoft launched the Xbox/Playstation battle, and now it appears, that they are going to take on Apple's iPod with a US$50 device and online music service. Update: Additional information, appears to indicate that "Microsoft is licensing other third-party companies like Rio and Creative to use a new and enhanced version of its Digital Rights Management (DRM) technology" and so they'll "offer a multitude of devices" some as costing as little as US$50.



Well, Wolfy has made me feel suitably guilty about not posting any news lately, so after ummm some months, I'm back, baby!
I hope I can remember how it all works ..... now what happens if I press this button?

Motherboards:
Sapphire 9100IGP-AA38 ATI 9100IGP-based P4 motherboard on CDRInfo.
Foxconn 865M01-G-6LS i865G-based P4 mATX motherboard on OCIA.

Storage:
LiteOn LVW-5005 standalone DVD recorder on CDRInfo.
Ricoh MP5308D DVD+/-RW on CDRInfo.
LiteOn SDW-431S external DVD+/-RW on CDRInfo (who have obviously been busy).
Transcend 1.8" portable USB2.0 HDD on BlueSmoke.

Audio:
Altec Lansing FX6021 2.1 speaker system video review on 3dGameMan.
Auvi SA100-64 64Meg MP3 player on The Tech Zone.
Logisys SP6000 Alien Sound System on TheTechLounge.

Cooling:
FSP Group Silent System Kits (PSU, HSF and fans) for Socket 462 and Socket 478 on Madshrimps.
Asetek Antarctica WaterChill KT12A-L30/115V/Dual Radiator 1/2" Power Kit on PimpRig.
Thermaltake Extreme Spirit chipset HSF on myWORLD Hardware.
Vantec AeroFlow 2 HSF on FastLaneHW.

Imaging:
Epson Perfection 4870 photo scanner on X-bit labs.
HP Photosmart R707 5MP digital camera on Bytesector.

Cases:
Opus Technologies TT-501 Tiny-Tower Titanium Plated Case (phew) on EXTREME Overclocking.
Cooler Master CM Stacker STC-T01 on HardwareZone.

Power supplies:
Q Technology QT 02350G Gold Series PSU on A True Review.
Q Technology QT 02350G Gold Series PSU on Creative Mods.
Seasonic Super Tornado 400W PSU on XYZ Computing.

Other stuff:
Acer PD520 DLP projector on TrustedReviews.
Atech KB-Reader keyboard + card reader on eXtreme Reviews.
Samsung SyncMaster 193P LCD monitor on ipKonfig.
Vantec Go 2.0 8-in-1 card reader on GideonTech.




It's the weekend ... and here is some news. (1 Comments) (link)
Saturday, 29-May-2004 12:44:09 (GMT +10) - by Wolfy


Following on from their very popular XMS series, Corsair have developed "a new family of "XL" memory
modules that supports 2-2-2-5 latencies at 400MHz". You can read about the new memory in Corsair's pdf or on LegitReviews. LegitReviews also has a review of the new RAM.

bit-tech.net have a detailed article explaining how they built a rather nice looking cinemediapc.

A 32-page 99 Tips and Tweaks Guide for Windows XP can be found over at PCStats.com, and IAmNotAGeek suggest they can save you 1Gb of disk space by deleting files that Windows does not really need.

Murray has noticed that Yahoo is about to include a third party antispyware feature on its toolbar.

Symantec have captured what is believed to be the first 64-bit virus ever developed.

The Modfathers have a how-to guide on creating your own LED array and voltage regulator.

phextwin has had a rant in our forums about telemarketing, and while people ranting about telemarketing is nothing new, Jelreyn provided a link to the ADMA's direct marketing opt out service; "After submitting your registration, you should notice a decrease in addressed advertising mail, telephone calls, emails and mobile communications".



Memory:
512MB of Crucial PC3200 from The Tech Zone.
Kingmax Hardcore Series DDR500 at Extrememhz.com

Motherboards:
Gigabyte GA-8KNXP Ultra-64 at HardwareZoom.
HotHardware have looked at two NVIDIA NForce3 250Gb boards, MSI's K8N Neo Platinum and Epox's EP-8KDA3+.
EPoX 8HDA5+ at LegionHardware.com
Tweaknews.net have an overdose of photograps in their Abit KV8-MAX3 K8T800 review.

Video Cards:
Powercolor X800 Pro 256MB GDDR3 at HardwareHell - interesting packaging.
Reviews of the Albatron FX5700P Turbo can be found at PCstats.com, RBMods.com and Viperlair.
Bjorn3D.com have a review of the video card with teeth a VisionTek Xtasy RADEON X800 Pro

Networking/Wireless:
ZyXEL's ZyAIR G-200 USB adapter over at SLCentral.com.
X-Micro WLAN 11g+ Router review by Sharky Extreme.

Case/PSU:
Madshrimps test OCZ's PowerStream 420Watt power supply.

Digital Cams:
Olympus D-580 ZOOM 4MP Digital Camera at Bytesector

Cooling:
XYZ Computing show us the "giant hunk of pure copper" that is the Thermalright SLK948-U CPU Cooler.
AVC Z7H2403012 Internal Prism Base Heatsink at FrostyTech.com.
eXtreme Reviews have an interesting looking Cooler Master Jet 4.
Antec Notebook Cooler at HardwareZone.

Misc:
We all know that Dan likes bright flashy things.
Transcend TV-Box USB2.0 at Bjorn3D.com.
Designtechnica have a Mega Player 515 that's made by MSI,
and finally, crazymodders.be have looked at the Vantec EZ-Grip Molex Connector Kit and given them 10/10, sometimes I just have to wonder.




Antec P160 Super Mid Tower (23 Comments) (link)
Thursday, 27-May-2004 23:03:56 (GMT +10) - by Agg


Antec continue to muscle into the "luxury" end of the case market, with their aluminium offerings continuing to impress. Their latest creation is the P160, part of their Performance series.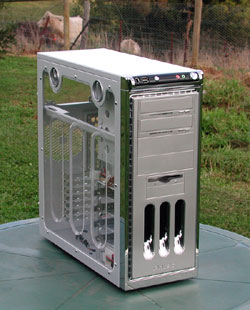 Click for the review!






Later Thursday Afternoon News (8 Comments) (link)
Thursday, 27-May-2004 17:12:04 (GMT +10) - by Wolfy


Well lets see if I can get this done right the first time ...

If you're interested as to what makes up the inside of one of the new Swiftech MCW6000-A waterblocks, Procooling have taken a dremel to theirs.

With wireless networking becoming increasingly popular, TrustedReviews have compared 10 Wireless accesspoints / ADSL routers, with a focus not just on how they perform, but also on how easy they are to setup and use.

Adrian's Rojak Pot have an article on how you can mod your Radeon 9800 SE to "unlock your card's true potential".

The Tech Report have a rather comprehensive Chipset Serial ATA and RAID performance comparison, with nearly 200 performance graphs!

podgesss noticed this News article about Uday Hussein's obsession with a rather impressive car collection.

It's been a while since I noticed a flash time-waster linked from the news, so here is one to amuse you (courtesy of Jason from The Gadget Shop): Text adventure Hitch-Hiker's Guide to the Galaxy.

And finally, today's Microsoft news; it appears that hackers have targeted the San Diego Tech Ed 2004 conference.



As you can see I'm making a news post - something I've not done before, but I expect you'll see a lot more of them in the future. I've been around OCAU for a while now, mostly as an Admin of the forums, or helping organise OCAU's social functions. I've also written a few articles and reviews on various things over the years. Away from OCAU, I run a WebHosting company - that you'll find listed here - and provide technical training for a certain software company. But don't worry, I'll try not to let business get in the way of your OCAU news. ;)




Thursday Afternoon (3 Comments) (link)
Thursday, 27-May-2004 13:44:52 (GMT +10) - by Agg


Quite a few people answered my query about reporting spam in Australia - apparently the Australian Communications Authority is responsible for enforcing the provisions of the Spam Act. There's some information here and you can report spam here. A few people recommended SpamCop as another good organisation for chasing spammers. Business SA has some publications explaining the new laws. Thanks to all who responded!

If it feels like you're being singled out for spam and "phishing" scam emails lately, you might be right. AUSTRALIANS are being targeted by Eastern European organised crime families using the Internet to extort and steal far from home.

Jaguar's Formula 1 racing team are a bit red faced at the moment, having lost one of the diamonds stuck to the front of their cars as part of a sponsorship deal for the recent Monaco Grand Prix. Christian lost his steering and hit the barriers forcing him to retire. His car returned to the garage minus his flawless diamond - it has yet to be found. This is no little rock, either - it's a 108-carat stone worth AUD $360,000. They're now offering a $65,000 car as reward to whoever finds and returns it.

That French review of the new AMD processors in my Tuesday Morning news post was using Socket939 motherboards. According to AMD (via an email from Altech) on the topic of using S939 CPUs in S940 motherboards: No they will only work in 939 boards, don't try they will break. The S939 motherboards and CPUs are apparently being officially launched next week sometime - OCWB have a preview using an SiS755FX reference motherboard.

Microsoft have extended the product support life cycle to a minimum of 10 years for their business and development products.

wearlej spotted this very lengthy but interesting read about the economics of EverQuest. It was the seventy-seventh richest country in the world. And it didn't even exist.

Cisco have unveiled their CRS-1, the latest mega-router designed to handle the massive core traffic of the internet. It sports their new 40-gigabit-per-second interfaces and will cost around half a million USD per unit.

An Australian open source group has stated their position on the SCO-IBM Unix-Linux lawsuit. Linus Torvalds has announced a new process for Linux kernel code submissions, to avoid such confusion in the future.

An unmanned probe is on the way to the International Space Station, taking some badly-needed supplies including food and water. The resupply mission is the most critical since the grounding of the shuttles limited NASA's ability to deliver cargo to the orbiting outpost.

The ArsMasters have an article on Intel's new naming scheme for processors. ZDNet have their opinion also. In case you missed it, we have a copy of an Intel reference document on their new naming scheme here (208KB PDF).

Interesting Forum Threads:
Too cold causing instability? in Extreme Cooling.
Benny's seized Kawasaki.. pics! in Motoring.
Water through the airfilter.. bad? in Motoring.
S939 Reviewed in AMD Hardware.
Dual Opteron SFF in SMP & Clustering.
Bokeh appreciation thread (many pics) in Photography.



The Inquirer is reporting that Microsoft is to pay Norway's Opera Software $12.75 million to prevent a possible lawsuit. More information here. Thanks xtortion.

AusCERT have released the 2004 Australian Computer Crime and Security Survey here. The link also includes the 2003 and 2002 surveys. Please note that you will not be able to view the pdf unless download it.

iTNews is reporting that Microsoft could be working on a new version of Windows for use in super computers, The new version of Windows is reportedly "Windows Server HPC Edition". Thanks Murray.

Kaspersky Labs has information on a possible new virus using .bmp files and a vulnerability in MS Internet Explorer versions 5.0 and 5.5 to spread. Thanks podgesss.

TWSJ is running an article on computer gamers making money from large companies such as Samsung Electronics and Coca-Cola sponsoring their talent.

Military.com are reporting that scientists at the U.S. Army Research Laboratory have developed Liquid armor.

Yahoo! News has information that Symantec Anti Virus 2004 has a flaw that could allow attackers to run malicious code on a user's system. More information here.

Dan over at Dan's Data has new letters up on his site, here.

Designtechnica have some information on rumours that Apple could be developing a Video iPod.

Motherboards:
Enermax Noisetaker EG475AX-VE 475W PSU reviewed by PimpRig.
MSI K8N Neo Platinum Edition reviewed by Neoseeker.
Soltek SL-KT880E-RL Mainboard on VIA KT880 Chipset reviewed by X-Bit Labs.
NVIDIA's nForce3 250GB reviewed by Sudhian Media.

Storage:
Eksitdata HD Guard reviewed by Controlled-Insanity.
CoolMax X-TREME FILES reviewed by Extreme Reviews.
Plextor PX-708A 8X Dual Format DVD Burner reviewed by TechFreaks.

Cooling:
Danger Den P4 RBX Power kit reviewed by MADSHRIMPS.
Corsair Hydrocool200EX Watercooling reviewed by Hexus.
Alphacool Cape Watercooling Kit reviewed by GruntvillE.

Video:
Chaintech 'Apogee' FX5700Ultra reviewed by 3Dvelocity.

Audio:
Sennheiser HD 212 Pro and HD 270 headphones reviewed by Dan's Data.

Mods:
PCToyland Dual Cold Cathode Kits reviewed by Controlled-Insanity.

Misc:
Canon PowerShot Pro1 reviewed by Bytesector.
X2: The Threat reviewed by The Modfathers.
Ahanix iMon Universal IR Remote Control reviewed by Big Bruin.




Wednesday Morning Reviews (5 Comments) (link)
Wednesday, 26-May-2004 03:03:56 (GMT +10) - by Agg


Motherboards:
EpoX 8HDA5+ K8T800 A64 on NeoSeeker.
VIA K8T800 Pro (S940) A64 chipset on Hexus.
MSI K8N Neo Platinum nForce3 250GB A64 on A1-Electronics.
Asus K8V SE Deluxe A64 on PimpRig.
ABIT VT7 VIA PT880 P4 on TweakTown.

Cooling:
Thermaltake Xtunner remote fan controller on RBMods.
Asetek WaterChill KT12-L20 Rev2.0 on ModCity.
Arctic Cooling Super Silent 4ProL P4 CPU cooler on XYZComputing.
Swiftech MCW6000 Waterblock on ClubOC.
Smart Panel Fan Controller on CreativeMods.
Swiftech MCW6000-A Waterblock on ProCooling.
Asetek Waterchill Antarctica on DriverHeaven.
Asetek Antarctica Water Block on SpodesAbode.

Video Cards:
Gigabyte GeForce FX5500 on LegionHardware.
MSI GeForce FX5700-VT2DR256 on DesignTechnica.
Albatron FX5700U3 DDR3 on LegionHardware.
Visiontek Radeon X800 Pro on DriverHeaven.
Visiontek Radeon X800 Pro on ClubOC.
GeForce FX 5700 Ultra GDDR3 on Beyond3D.
ATI Mobility Radeon 9700 video chipset on HotHardware.
Albatron GeForce FX5700P Turbo on OCrCafe.
ATI Radeon 9600 XT on TheTechLounge.
XFX GeForce FX5700 Ultra on NinjaLane.

Networking:
Quetec 4-in-1 Wireless Solution on MyWorldHardware.
X-Micro 802.11g Wireless Router on OCPrices.

Case:
Raidmax Cobra 822 on OCIA.
Thermaltake Xaser Series full-towers on SLCentral.
Opus Technologies MT-200 Mid-Tower Titanium on ExtremeOC.
SilverStone Lascala SST-LC01 on TechReport.

Storage:
LITE-ON SOHW-812S Internal DVD Writer on HWZ.
Lite-On SOHW-812S DVD +/- RW Burner on TechWareLabs.
Lite-On SHOW-832s Dual/Double Layer DVD Writer on ExtremeMHz.
SAMSUNG SH-W08A 8x DVD Writer on HWZ.
Atech Pro-9 & Pro-Gear Duo memory card readers on ExtremeReviews.

Memory:
Mushkin 1GB Dual Pack PC4000 DDR on ExtremeReviews.
Corsair XMS on TheTechZone.

Audio:
X-Micro EVA MP3 Player on Hardware-Pacers.
Logisys Clear Speaker Multimedia Acoustics System on ATrueReview.

Mouse Etc:
Mouse Grips on GruntVille.
X-Arcade gaming controller on ViperLair.
Corepad mousing surface on GameAxis.

PC's:
MSI MegaPC 180 socketA barebones on RBMods.
Lifebook E8010 notebook on TrustedReviews.
Acer Veriton VT7600GT prebuilt PC on TrustedReviews.

Misc:
Samsung SCD303 Mini-DV Camcorder on ByteSector.
Actiontec Wireless Digital Media Player on HWZoom.
PC Plasma Ball on XYZComputing.
Mitac Mio 168 PDA with GPS on PDAToday.
Tisonic Mega Power EPS ATX-460-1024DF PSU on OCrClub.




OCAU Weekend #3 (Sydney and Melbourne) (1 Comments) (link)
Tuesday, 25-May-2004 19:52:17 (GMT +10) - by Agg


Keep your calendar free towards the end of August, as we've got some OCAU get-togethers happening in Sydney and Melbourne. More info in this thread!



I've been asked this question a couple of times now and don't know the answer: now that we have anti-spam legislation, who do we contact when we receive illegal spam? I can't exactly see myself ringing the cops over it, and I think the high-tech crime group are busy with bigger fish, sooo... any suggestions?

Everyone's talking about Iwill's dual Opteron small-form-factor PC. Their page here thanks Graham, Xbit have more info thanks Sniper, and Hexus have a sneak peek also.

Kasi spotted this review of A64 3500+ and 3800+ - these are Socket939 processors and from the article they seem to be used in S940 motherboards? Kasi notes it seems the extra heat generated by Socket 939 CPU's may prove inconvenient for overclockers. It's in French, so here's a fishy version.

Israeli scientists have created a computer made from DNA and enzymes, thanks Shombre.

CreativeMods have a guide to using Bondo correctly.. whatever that is. Seems to be some kind of bog filler stuff.

OCWizard cover tubing in the latest part of their watercooling guide.

From Ryan: Thought this might be useful, haven't seen it in the news before. It's a free bootable CD Image with lots of testing/benchmarking apps – great for those of us without floppy drives!

OCHQ have some info about Pear PC, which lets you run OS X on a Windows machine.. really slowly.

There's a pretty serious in-car PC project on PCUnleash.

Interviews seem to be popular lately, two more today: a BFG Tech person on Bjorn3D and an ATI person on Tech-Report.

Wireless network running slow? Try some WiFi Speed Spray, thanks Chris. :)

LostCircuits look at Prescott, Northwood and the EE P4 in some detail to see, among other things, which scales better.

TheModFathers have a guide to cabling a house, while ExtremeReviews cover some cable tidying goodies.

Kerrod spotted a CD burning guide using an unusual method. :)

GruntVille have a plexi and modders mesh window guide.

SLCentral posted their E3 2004 coverage, while PimpRig tripled the size of their booth babes gallery.

Debate continues about the petrol-pump fires, with ABC News (the American version) saying it's a lot more likely to be caused by static electricity than mobile phones, thanks Tully.

From the PCDB: a nicely-finished off, glowing and pirate themed fulltower from bucsta, a cute little lego PC from wackywheelz, an extensively modded and very yellow box from D_B and another nice paintjob from BeRt_iS_eViL.

Matex has some bad news: My girlfriends house (Canberra area) was robbed today during the day. A Alcatel Speedtouch 500 Series ADSL modem (Serial #. DG324U5000968) was pinched, a Panasonic Toughbook CF-48 (Serial #. DFQX6377ZAT) and a Canon PowerShot S100 2.1 Megapixel (don't know the serial #). Keep an eye out! More info here in the forums.



NeoSeeker have an interview with David Kirk from nVidia, as well as a GeForce 6800 technical article.

Graham sent in a story supporting the much-debated claims that petrol pumps and mobile phones are a bad mix.

ATI had a chat about their Trilinear Filtering technology and Bjorn3D have a transcript. Tech-Report have more info on this technology which is at the heart of the latest "is it an optimisation or is it cheating" debate.

DesignTechnica have some info about LCD Monitors. Unfortunately, the contradiction of today's Liquid Crystal Display (LCD) technology is that bigger often means smaller. And as a result, consumers who think a bigger screen will be easier on their eyes are often disappointed in their purchase. On a similar note, PCReview have a article on LCD vs CRT monitors.

Microsoft Australia have confirmed no XP SP2 for pirates, thanks Firestorm.

I mentioned the gargantuan Zalman silent case recently - SilentPCReview looked at a pre-built PC based on that case.

fr33z3 noticed you can get a 45-day free trial of Microsoft Virtual PC from their website. Virtual PC is a powerful software virtualization solution that allows you to run multiple PC-based operating systems simultaneously on one workstation, providing a safety net to maintain compatibility with legacy applications while you migrate to a new operating system. Sounds a bit like VMWare.

TheModFathers look at RAID drive cooling using waterblocks.

Murray spotted some hard drive tech info from Seagate, as well as info on VIA's upcoming CPU core.

Here's an interesting Memory Glasses project from FREF. Still seems to be a fair way off, though.

AusGamers have the Battlefield:Vietnam v1.01 patch available, as well as a UT2004 Community Bonus Pack.




Early Monday Morning Reviews (0 Comments) (link)
Monday, 24-May-2004 00:37:26 (GMT +10) - by Agg


Motherboards:
DFI K8M800-MLV A64 board on LegionHardware.
ABIT VT7 PT880-based P4 board on TrustedReviews.

Cases:
ATop X-Blade on OCrCafe.
Chenming Aluminum ATX-602 on TweakTown.
HEXtreme ATX 10W on CrazyModders.
Chenming Aluminum ATX-602 (video review) on 3DGameMan.

Video Cards:
Gainward FX Power Pack! Ultra/1300XT Golden Sample on XbitLabs.
Albatron GeForce FX5700U3 on ClubOC.
XGI Volari Duo V8 Ultra 256MB on Hexus.
HIS Excalibur Radeon 9600 with Dual DVI Outputs on TweakTown.

Cooling:
Swiftech MCX6400-V A64 CPU cooler on MadShrimps.
Thermalright SLK-947U socketA / P4 CPU cooler on ModCity.
QuietPC AcoustiFan 120mm on OCHQ.
Bytecc HotDrive 2.5'' HD Enclosure on Hi-TechReviews.

Cameras etc:
Wallace ExpoDisc white-balance filter on ExtremeReviews.
Bushnell ImageView Digital Camera Binoculars on ComputerCritics.
Plextor PX-M402U ConvertX video encoder on HWHell.

PSU:
Silverstone SST-30NF 300W fanless on RBMods.
QuietPC QTechnology QT-02400G on PimpRig.

Misc:
AOpen XC Cube EZ65 SFF PC on SharkyExtreme.
OCZ PC3500EB Platinum DDR memory on PCStats.
Matrix Orbital MX411 20x4 USB LCD on Virtual-Hideout.
Trendnet TK-205i KVM 2 Port Switch Kit on ExtremeReviews.



Some give-aways going on at the moment: Cameron spotted the Antec Survey 2004 where you could win a case or some other goodies. Corsair memory is up for grabs on HWHell. 3DAvenue are giving away a copy of The Suffering, a game for PS2 and Xbox, to Australian readers.

Bit-Tech have an editorial about high-tech home theatre gizmos.

Dan has more letters and some headphones.

Jet_M@x sent in news on the Zalman passive case: now available from Altech... Supposedly noiseless as it has no fans but it weighs a tonne (25 kg). Suppose this is due to the all the AL panels being at least 5mm thick ... Silence can be yours for only AU$1299! Reviews here and here (in chinese but gives a couple of good pictures).

PCStats have a guide to diagnosing bad hard drives.

Usbmausii spotted some DVD burner info: Plextor announced the Serial ATA (SATA) PX-712SA DVD±R/RW drive with support for high-speed 12X DVD+R and 8X DVD-R recording. Lite-ON IT's 8x DVD Dual DL is also compatible with the –RW format. Lite-On IT also recently began selling the 12x DVD Dual burners in Japan.

ClubOC have a pile of P4 CPU coolers compared.

tbreak give us a preview of Intel's 915 chipset for socket755 motherboards.

ProCooling compared different nozzles in a DangerDen waterblock to see which configuration is best.

OneArmedMan notes a new memtest is out.

Xbit have a battle between DDR and DDR-II, as well as some E3 coverage. LegitReviews have some E3 coverage also.

From SiliconAngel: There is another complimentary security summit provided by Microsoft coming in June. Yes complimentary means free. The last one they ran in March was EXTREMELY informative and useful, and I highly recommend it for anyone in a professional environment that deploys or maintains Microsoft environments, or even for those people who use it at home and would like to know a lot more about what they are using. Click here to go to the Microsoft Australia page detailing the event. There is link on that page to register.




Piloux71's Half-Life 2 inspired PC (24 Comments) (link)
Thursday, 20-May-2004 23:23:19 (GMT +10) - by Agg


Somebody's all ready for Half-Life 2:



Click for the PCDB entry!





Motherboards:
Biostar K8VHA Pro Athlon 64 Motherboard reviewed by TrustedReviews.
Foxconn's 755A01-6EKRS motherboard reviewed by The Tech Report.
EPOX EP-4PDA5+ i865PE SPRINGDALE MOTHERBOARD reviewed by Tweak News.
MSI K8N Neo-FIS2R Platinum NF3-250Gb Motherboard reviewed by PCStats.
Albatron K8X800 Pro II Motherboard reviewed by TechwareLabs.
DFI LanParty PRO875B reviewed by Hi-Tech Reviews.

Memory:
PMI 1GB DDR 400MHz PC3200 Dual Channel reviewed by EXTREME Overclocking.
OCZ EB PC3200 reviewed by OcPrices.
GeIL Ultra Platinum PC4400 1GB Dual Channel Kit reviewed by HardwareZone.

Video:
NVIDIA GeForce 6800 Ultra (NV40) reviewed by Virtual Zone.
PixelView GeForce FX 5900XT Golden Limited reviewed by 3Dvelocity.
ATI All-in-Wonder 9800 Pro reviewed by GruntvillE.
Samsung 173P reviewed by accelenation.
Diamond Multimedia Stealth S100 and S110 reviewed by HOTHardWare.

Audio:
Logisys SP6002CL 2.1 Clear Speaker System reviewed by Extreme Reviews.
Realworld Technology Sicuro RW-360XL 2.1 Gaming Speakers reviewed by Explosive Labs.
Zalman ZM-RSSC External 5.1 Sound Card reviewed by A True Review.
HeadRoom BitHead headphone amplifier reviewed by Dan's Data.
Actiontec Wireless Digital Media Player reviewed by Hardware Pacers.
Mushkin 128MB MP3 Player/Flash Drive/Voice Recorder reviewed by Extreme Reviews.

Small Form Factor:
Shuttle SN85G4V2 XPC reviewed by SFFTech.
Biostar iDEQ 200A Small Form Factor Barebone System reviewed by TrustedReviews.

Cases & Modding:
Silverstone Temjin TJ01 Case reviewed by Virtual-Hideout.
Silverstone Nimiz Case reviewed by AMD Review.
Xoxide Limited Edition X-Turbine Skull Case reviewed by PimpRig.
Thermaltake XaserV Damier V6000+ Aluminum Series Case reviewed by XYZ Computing.
Antec Sonata PC Case reviewed by The TechZone.
CLEARPC "SECRET AGENT" CLEAR ACRYLIC BRIEFCASE ENCLOSURE reviewed by Tweak News.
Thermaltake Silent Tower reviewed by PC Tech Zone.

Cooling:
Primecooler Hypercool I & Hypercool II+ universal AMD, Intel heatsinks reviewed by A1 Electronics.
Evercool Extended cooling system reviewed by Red & Blackness.
Ducted Zalman 7000CU w/Countercurrent Flow Cooling reviewed by SilentPCReview.
Vantec Vortex Hard Drive Cooling System: VTX-COI-BK reviewed by Crazy Modders.
Cooler Master Hyper 6 HSF reviewed by ViperLair.
Thermaltake Silent Tower Cooler reviewed by Overclocker Cafe.
Silentek AQ Cool AQX 3000P Water Cooler reviewed by GuruReview.
ZALMAN RESERATOR 1 reviewed by DriverHeaven.
The Thermalright SP-97 Heat Sink reviewed by Adrian's RojakPot.

Mouse & Keyboard:
Xenix Illuminated Keyboard reviewed by Virtual-Hideout.
Bluetake Bundle reviewed by SweMod.

Misc:
ECS V300 Tablet PC reviewed by HardwareZone.
700L-17 Notebook carry bag deluxe reviewed by Red & Blackness.
Hy-Tek Tek Panel 300 reviewed by Designtechnica.
Dell Latitude D800 reviewed by Ars Technica.
Alienware Area51-m Extreme reviewed by Hexus.
Acousti Products AcoustiPack Standard reviewed by Big Bruin.
Acer Aspire 1355XC Budget Notebook reviewed by TrustedReviews.




Thursday Morning #2 (11 Comments) (link)
Thursday, 20-May-2004 02:39:23 (GMT +10) - by Agg


From Paul: In February, someone launched a massive denial of service (DDoS) attack against SpywareInfo and several other antispyware web sites. These sites are all in operation again after taking rather expensive steps to defend themselves. Sadly, the attackers have not given up the attack against antispyware sites. ComputerCops.biz is being hammered by a similar attack, possibly by the same people who attacked SpywareInfo.

HWHell have a Doom 3 trailer from Activision for download.

Chris spotted that there have been some Sasser and Netsky author suspects arrested in Germany. Meanwhile, a phisher went to jail and Jimx spotted this brilliant scamming a scammer tale.

Murray noticed that AMD have dual-core CPUs on the way - next year. He also saw this webserving webcam solution.

GroopA sent word that the source code for Cisco's IOS v12.3 may have been stolen. This is bad news, as it potentially opens the door for DOS attacks and other internet exploits.

There's been a lot of talk about some possible driver cheats by ATI recently.. they have responded to DriverHeaven.

Yotka says there are new Catalyst XP 4.5 drivers out.

Raven noticed this Octodog sausage mutilator.. truly bizarre.

TechIMO explain the Free Software Foundation in their latest article.

ShadowPeo spotted this Nano-ITX motherboard from VIA. Smaller than a cd case and using a new chipset with more performance at lower power consumption than the current Mini-ITX boards. Shipping in 1-2 months. Motherboard here, CPU here.

Neevo noticed every speeder's nightmare now patrolling Italian freeways. Fortunately it's going to be used for organ transport, so that's a good thing.

From Wolfy: As part of the Next Wave Festival (in Melb) they are having an 'Independent Game Developers' Conference'. Info here and here.

TweakHound have updated their WinXP Tweak guide.

Dan has more letters with answers.




Thursday Morning (4 Comments) (link)
Thursday, 20-May-2004 01:01:47 (GMT +10) - by Agg


Story of the moment seems to be MXM, a new nVidia standard for upgradeable portable graphics. Wish I could turn the GeForce2Go in my laptop into something a bit more powerful. :) Info/previews on Hexus, TrustedReviews, TweakTown, HotHardware (who also have ATI's comments on the news) and HardOCP.

Lycos joins Google and Yahoo in offering a 1GB email service. Google, not to be outdone, has quietly experimented with terabyte email accounts. Crazy!

AMD announced a China group today, continuing their push into that market. They've also announced that a free copy of Far Cry will be included with every A64 or A64FX CPU bought from participating system builders worldwide through June 2004 or while supplies last.

AMD also have some new Opterons and Tech-Report checked them out, thanks Murray.

E3 coverage on TheTechZone, LanManiac, DriverHeaven and OCClub.

ARP have updated their comparison of desktop GPUs, the chips that power video cards. Xbit meanwhile looked at value processors, 24 of them, from Intel and AMD. Combining these ideas, TweakTown looked at value GPUs, while Bit-News compared two GeForce 5900XT cards.

Actually, TweakTown have had a busy few days, with ABIT ACON4 coverage, a comparison of three P4 cores and some CeBIT 2004 coverage. Of course, you can check out our coverage here.

From titan: Once again, Dr Kildare is organising Battle@Matchrix, a gaming competition between the forum goers of Atomic and OCAU. Sadly, we only have 5 people interested from OCAU, yet Atomic has a full team. We can't let that happen can we? We have room for another 5, and as many spectators as we like. So get your arse over to this thread and register for a great night of fr-AGG-ing. The details of when, where, cost and transport are in that thread too.



At last! A PC that expresses the real me!



Click for the PCDB entry!


Actually, I hope CREDO's daughter is happy with it. :)




CeBIT Sydney 2004 (3 Comments) (link)
Wednesday, 19-May-2004 18:34:50 (GMT +10) - by Agg


I've finally put together my report on the recent PC show in Sydney, aka CeBIT Sydney 2004. If you couldn't make it, did you miss anything? Read on to find out:



Click for the article!






Interesting Forum Threads (2 Comments) (link)
Tuesday, 18-May-2004 20:24:15 (GMT +10) - by Agg


Quick snapshot of some forum goings-on:

Late model Barton @ 2.2GHz and beyond! in AMD Hardware.
Coming 2004: 64-bit Prescotts with 2 MB cache + 266 x4 MHz system bus in Intel Hardware.
Hmm, real cheats from ATI? in Video Cards.
Dual PCI-Express Graphics in Video Cards.
Softmod any Leadtek 5900 to 5950 Ultra in Video Cards.
How to calculate how much power or heat my CPU puts out? in Extreme Cooling.
Need help dampening pump vibration in Extreme Cooling.
Copper Tubing Experiment in Extreme Cooling.
Vapo = Dielectric Grease = ??? in Extreme Cooling.
Maximum LPH in Extreme Cooling.
Besirc - open source IRC program in General Software.
Associate thunderbird email client with firefox for opening links? in Other Operating Systems.
UT2004 v3204 Patch in Games.
The Caboolture Air Spectacular in Photography.
Images of 2 comets in our skies in Photography.
Top 100 Scary Movie Scenes in TV, Movies & Music.
New SW P900 Software in Mobile Phones.
Martial arts: patterns / katas? in Sport, Fitness and Health.
Lux-O-Barge Update: 241rwkw in Motoring.
Ford cracks down on aftermarket mods and warranties in Motoring.
What do guys think about girls who drink beer? in The Pub.
Paying a deposit.. and wanting it back? in The Pub.
Plagiarism at uni in The Pub.
When you're into computers, everyone thinks... in The Pub.
Real Estate, has the boom turned to bust? in Current Events.



Recent press releases of interest:

Australia's Attorney-General Philip Ruddock announced the creation of a uniform and more easily understood classification system for films and computer games. The Classification (Publications, Films and Computer Games) Amendment Bill was passed by both houses of Parliament. The Bill, upon Royal Assent, will create common classifications for films and computer games based on the current classifications for films. The Bill renames the classifications but does not affect the material permissible within each classification. Consistent with the previous agreement of Censorship Ministers, the Bill does not introduce an R classification for computer games. More info in a 111KB PDF here.

ASUS announced their Radeon X800 cards, with some unique features: GameFace Live – Talk to and see your teammates. GameFace Live is the world's first multi-player, video/audio communication solutions for DirectX PC gaming. It enables simultaneous connection of up to eight players, allowing gamers to talk to and see their teammates or the enemy during PC gaming. VideoSecurity Online – Set up a home security system. Simply aim the webcam to a specific area and this unique feature will monitor that location, take snap shots of any unauthorized visitors and send out warning messages to a preprogrammed recipient via e-mail or phone call. Onscreen Display – Fast setting adjustment. This feature allows users to adjust general settings such as brightness and contrast levels, VR settings and extra light settings while watching movies or playing 3D games. No need to stop the movie or game. They even include a webcam in the box with the card! Card pic here, box pic here.

OCZ announced their DDR600 or PC-4800 memory. Each PC-4800 Dual Channel kit features an integrated copper heatspreader to aid in heat dissipation and is rated for CL3-4-4-8 (read: CAS-tRCD-tRP-TRAS) latencies at 2.8 volts. Based on current testing results, OCZ is able to qualify PC-4800 EL DDR memory with the Asus P4C800 Deluxe and P4C800-E Deluxe mainboards. Press-release here, product page here. OCZ also mention Macci using their memory to set a new 3DMark2003 record.

Gigabyte announced the release of their GV-R955128D and GV-R955128T video cards. Based on ATI's highly acclaimed Radeon 9550 VPU with 128MB DDR, the GV-R955 series boasts a superior graphics architecture, amazing high-resolution 3D graphics and sophisticated real-time visual rendering. Box and card pic here, 310KB Word doc here.

asetek sent word that the SUMMER 2004 MEGA VapoChill & WaterChill COMPETITION now is open for entrants. You now have the chance to win prizes up to 15,000 $. It is extremely easy to sign up for the contest – just go ahead and boost your chances to win one of the GREAT prizes. Entry details here.

Corsair sent over a heap of info related to their memory products. There's a Buyer's Guide, Server Motherboard Qualification Guide, their latest newsletter and motherboard cross-references for Supermicro, Tyan, ABIT, ASUS, EPoX and SOYO.



Looking for a nice "smart casual" shirt for work? Consider an OCAU Polo Shirt:



Click for OCAU Merchandise!


There's a bunch of other stuff on that page, too.




Monday Night Reviews (0 Comments) (link)
Monday, 17-May-2004 22:58:13 (GMT +10) - by Agg


Motherboards:
EPIA MII 12000 mini-mobo and CPU on SFFTech.
nForce2 Ultra 400Gb motherboard chipset on Bjorn3D.
Gigabyte K8VNXP A64 board on ExtremeOC.

Cooling:
Danger Den RBX AMD WC Kit on ViperLair.
Thermalright ALX-800 socketA CPU cooler on MadShrimps.
DangerDen TDX & S-TDX waterblocks on PimpRig.

Cases:
Chenming ATX Mid-Tower on GideonTech.
Aspire X-Infinity Mid-Tower on ExtremeMHz.

Video Cards:
Celestica Radeon 9800XT 256mb Gold Edition on ClubOC.
ATI All-In-Wonder Radeon 9600 128MB on ModSynergy.
PixelView GeForce FX 5900XT Golden Limited on ExtremeReviews.
Albatron GeForce FX5700P Turbo on ClubOC.

PSU:
CoolMax Fanless PSU on ExtremeReviews.
Thermaltake POLO12 410W on Hi-TechReviews.

Mouse, Keyboard Etc:
Ideazon Zboard gaming keyboard on Hexus.
Mouse Grips on ATrueReview.
Corepad Mousepad on DVHardware.

Audio:
Sicuro 5.1 Gaming Speakers on Controlled-Insanity.
Zalman "Theater 6" 5.1 Surround Sound Headphones on Controlled-Insanity.
Altec Lansing FX6021 speakers on FastLaneHW.

Misc:
Epson Stylus Photo RX600 photo printer on TrustedReviews.
Seagate 160GB SATA HDD on TheTechLounge.
CoolerMaster Musketeer 2 audio/HDD monitor on RBMods.



I'm very pleased to annouce that PC Range are now an official OCAU Major Sponsor! In fact, they have been a Major Sponsor in all but name for a while, being very supportive of the site, but it's nice to officially recognise them now.

They join our existing Major Sponsors: Computer Alliance, Altech Computers and Plus Corporation. For the full list of OCAU's current Sponsors and Advertisers, see here. Thanks to them all for helping make OCAU the success it is today!



I've updated the Article and Review Archive with a few recent things - check them out if you missed them the first time around:

KEYKatcher 32K hardware keyboard logger.
Scythe Kamakaze socketA/478 CPU cooler.
Bitspower LED RAM mod kit.
Smartech Winner 1 gas-powered RC car.



E3 is in full swing at the moment. General coverage on HWHell and GamingIllustrated. BF2 preview thanks SoreGums, hand-held gaming on HWHell, Alienware Video Array thanks Benjamin. PDA gaming info here and here. Of course, everyone has an eye for the booth babes, with pics from days one, two and three from TheTechZone, babe pics here on PimpRig and general E3 pics here from Bowan.

HardOCP post some thoughts about the power requirements of NVIDIA's GeForce 6800 Ultra - does it really need two onboard 12V connectors? A few weeks ago I went to an ATI technology briefing for their X800 product. I asked Daniel Taranovsky, who was presenting the technical info, about the X800's power requirements - it only has a single molex 12V connector. Apparently the card will run fine without the extra power connected, unlike the R9700/R9800 which will refuse to boot. Only when you really stress the card does it need the connector. Obviously you're going to leave it plugged in all the time, but it's an indicator of the efficiency of the new GPU.

One other thing I mentioned to Daniel was the possibility of using the GPU's power to supplement the CPU. I remember a couple of years ago there was some talk of a Linux driver for this - I don't know what stage of development it's up to now - but I explained how it seems silly to have a powerful GPU sitting idle on the graphics card while, for example, the CPU is working to the limit in an excel spreadsheet or similar. Having worked in financial IT for a few years, I've seen certain financial models that took literally hours to calculate. Imagine if you could hand some of the work over to your video card processor. You could see the benefits for Folding@HOME or even shorter-timeframe tasks like compression or encryption. Daniel was very interested in this idea and didn't think it would be particularly hard to implement. Should we be keeping an eye out for this feature in a future Windows driver?

Ambush notes nVidia Forceware 4.24 WHQL drivers available.

Want to hide a drive letter from My Computer? IANAG show you how.

From Quilb: For those of you who are interested in buying and selling shares but do not want to spend money doing it you might like to know that The ASX Sharemarket Game registration opens today for those 18 and over. With a total prize pool of $20,000, If you are interested you might want to hurry as it is only open to 20,000 Australian Residents aged 18 years and over not to mention you get to invest a fake A$50,000. :P

Dan's posted some thoughts about PC Audio quality.

PCStats have an article about overclocking and cooling. LegionHW also have a basic intro to overclocking guide.

Sjobeck sent in this WRX driving flash timewaster. Don meanwhile says Survival Project is a fun and free online fighting game.



Xbit compared twenty-two hard drives of 120GB capacity from five manufacturers.

From Rature: Wouldnt mind one of those full of mp3s. The petabox by the Internet Archive is a machine designed to safely store and process one petabyte of information (a petabyte is a million gigabytes).

ARP have coverage of Intel's Dothan launch - their new Pentium-M CPU.

IANAG have a WinXP Security Tweaking guide for the paranoid. This guide is intended for all of the people who believe tinfoil hats are fashionable. 99.5% of the people out there won't need or want these tweaks.

From Cypher: www.rockstargames.com/sanandreas and www.half-life2.com have opened recently. Both look like awesome games.

LegitReviews have some info on DDR2 memory, focusing on the likely pricing at launch time.

From John: Those smart chaps at QUT have found a vulnerability with 802.11 networks - namely 802.11b (2.4Ghz Spectrum). The problem is with the standard itself and cannot be fixed with encryption. 802.11g is not affected as significantly as it can fall back to 5.3Ghz.

Lazerin spotted these tiny RC helicopters, which I think we've seen before, but are pretty amazing.

Bit-Tech took a look at AMD's Mobile Barton CPUs. Certainly a lot of chatter about these in our AMD Hardware forum currently.

From Paul: Maori Microsoft on the way, Global piracy crackdown.

The ArsMasters have more info on Alienware's Video Array technology, thanks Marz. Would it be nice if you could plop in a GeForce 6800 Ultra and a Radeon X800 XT and get the best of both worlds? Wouldn't it be nice if you were rich enough to be able to do that?

Argent spotted this clever, if slightly nauseating, infinity in a browser page and a very cool G4 cube to SFF G5 Style project from Japan.



Scientists claim that a long-buried formation off the west coast of Australia might be a crater from a meteorite that caused the biggest mass extinction in the history of the earth. This has sparked a lot of debate - more info here.

PCPerspective compared the GeForce 6800 and Radeon X800 in terms of image quality and CPU scaling. They also took a look at the newly announced technology from Alienware called X2, that allows future Alienware machines to use multiple PCI Express graphics cards to share the work load of high resolution gaming.

PCUnleash have a Mac G4/G5 hybrid custom case project, while a Bit-Tech reader has made a wooden case.

Dan has less letters than usual. Admittedly, they're quite long, but it's a step in the right direction.

TrustedReviews compared two 22" CRT monitors, while Sudhian look at three products to cool your A64 CPU.

The American FCC has approved a plan to use vacant TV channels to carry high-speed internet. Presumably you'd use a modem for the upload channel.

The X-Prize contest continues to be interesting, with an entrant setting a new altitude record for a privately-funded aircraft: 211,400 feet, or about 41 miles above the earth. Not quite to the official boundary of space, but not far off it.

This quote made me laugh.

SkyMaster noticed that Sun and Microsoft have agreed to cooperate in future.

HWZone Israel compared ten 500MHz DDR dual-channel memory kits, from OCZ, Kingston, Corsair, Mushkin and ADATA.

The other HWZone interviewed Robert Holleran from Hitachi Global Storage Tech, who bought much of IBM's hard drive business last year. ViperLair meanwhile talked to Dan Snyder from Intel, about overclocking and upcoming technologies.




Saturday Night Reviews (3 Comments) (link)
Saturday, 15-May-2004 21:35:00 (GMT +10) - by Agg


Motherboards:
Albatron PX865PE Lite Pro i848P P4 board on TheTechLounge.
ECS 755-A2 SiS755 A64 board on tbreak.
Foxconn 755A01-6EKRS SiS755 A64 board on HotHardware.
VIA EPIA TC-10000 Mini-ITX 12V DC mini-motherboard and CPU on TechSeekers.
ATI IGP9100 Pro P4 motherboard chipset on Sudhian.
Albatron PX875P Pro P4 board on PCStats.
Jetway N2VIEW PC-sharing motherboard on Hexus.
FIC K8-800T KT800 A64 board on TechWareLabs.
Soyo P4I8875P Dragon 2 v1.0 Black Label P4 board on 3DXtreme.

Video Cards:
HIS All-In-Wonder Radeon 9600 and 9600XT Turbo cards on HardAvenue.
ATI Radeon X800 Pro on Hexus.
ASUS V9950 Ultra GeForce card on HighTekPC.

Misc:
Oglebox ATX Motherboard Display Case (bizarre) on ATrueReview.
Time Platina A64 Laptop on Hexus.
StreamZap PC Remote on TechWareLabs.
Bluetake USB Bluetooth Printer Adapter on HardwarePacers.
Nikon CoolPix 8700 digicam on HardWareZone.
Biostar iDEQ 200A mini-PC barebones on TrustedReviews.
Leadtek WinFast2000 XP TV Tuner on NeoSeeker.
Dell Axim 3Xi PocketPC on PDAToday.
Koutech 7348 Firewire, USB and Gigabit combo card on eXtremeReviews.
Xmicro EVA MP3 player on RBMods.
QVS Computer Maintenance Kit on eXtremeReviews.
ZipLinq Retractable USB Phone Charger on SpodesAbode.
HP Laserjet 3015 Multi Function Device on TrustedReviews.
Gateway FMC-901X Media Center PC on DesignTechnica.
Mystify Mamba / Boomslang 2100 / Icemat 2 mice and pad on DriverHeaven.




Saturday Afternoon Reviews (0 Comments) (link)
Saturday, 15-May-2004 15:09:08 (GMT +10) - by Agg


Case:
Thermaltake LANMOTO (video review) on 3DGameMan.
Thermaltake LANMOTO on A1-Electronics.
Thermaltake LANMOTO on TweakTown.
Chieftec BX-03BL-BL-BL on 3DVelocity.
Morex Cubid 2699 on PyroPort.
Rebach HTPC case on EpiaCenter.
Coolcases / Chenbro PC-610 on SilentPCReview.
X-Blade ATX on ClubOC.
Lian Li 6077 on ATrueReview, our review here.
CMI Mercedes Style Case Combo on TechIMO.
Coms-Com ThinkTank on SilentPCReview.
Aspire X-Infinity on OCIA.
Opustek TT-501 Micro-ATX on XYZComputing.
Beantech Igloo 7 Elegant on Hard-H20.

Cooling:
CoolerMaster Hyper6 CPU cooler on DVHardware.
Tt Extreme Giant III GPU cooler on ClubOC.
Danger Den TDX Waterblock on ProCooling.
CoolerMaster Hyper6 CPU cooler on OCTools.
Thermaltake Mobilefan II+ external USB LED fan on CreativeMods.
Aquajoe AquaGold waterblock on ProCooling.
Spire CopperStream II P4 CPU cooler on DansData.
CoolerMaster Hyper 6 CPU cooler on MadShrimps.
CoolerMaster Hyper 6 CPU cooler on ExtremeMHz.

PSU:
Tisonic Mega Power 460W on ClubOC.
Thermaltake Polo 12 Kit 410W PSU with system cooling bits on OCrCafe.

Storage:
SONY DRU-700A DVD+R Dual-Layer Writer on HWZ.
Imation 256MB USB2.0 Swivel Flash Drive on Bjorn3D.
BenQ DW830A DVD+R Dual-Layer (preview) on HWZ.
HP dvd420e and Sony DRX-530UL external DVD writers on TrustedReviews.
Apacer Wireless-B and Storage Device on ViperLair.

Memory:
Corsair TWINX DDR500 dual-channel kit on TheModFathers.
Mushkin 512MB PC4000 dual-channel kit on ExtremeOC.
OCZ DDR PC3200 2GB dual-channel kit (video review) on 3DGameMan.
GeIL 256MB PC3200 value RAM on Tech-IMO.
GeIL Ultra Platinum PC4000 1GB dual-channel kit on SubZeroTech.




Wednesday Morning (8 Comments) (link)
Wednesday, 12-May-2004 03:40:49 (GMT +10) - by Agg


SocketA keeps on keeping on, with NVIDIA releasing a new version of the ever-popular nForce 2 chipset. nForce2 Ultra 400Gb adds Gigabit Ethernet and SATA RAID among other features. (P)reviews on HotHardware, OCClub, PC-Perspective, NVNews, Tech-Report and Sudhian.

It seems that Microsoft WON'T be letting WinXP SP2 work on known-pirated copies of WinXP after all, info here and here. Bad pirate! No peices of eight! Thanks to everyone who sent those in. If you're wondering what's in SP2, IANAG have some info for you.

It seems less likely that Hubble Space Telescope will be left to die, thankfully, with the current focus on a possible robotic repair mission. In other space news, people are calling this the best photo from the Mars rovers yet.

Another internet scammer is off to jail - for 11 years.

RAMBUS continues its sue with one hand, sell with the other, approach to various DDR RAM manufacturers.

HardOCP wonder where the P4 will go in 2004. AnandTech give us a peek into the future also, as do Hexus with their look at the latest Intel roadmap. 3.73GHz Prescott P4 on 1066MHz FSB is on the cards for Q3, mmm.

Win yourself some flashy Corsair goodness over on IPKonfig.




Wednesday Morning Reviews (0 Comments) (link)
Wednesday, 12-May-2004 00:52:42 (GMT +10) - by Agg


Cooling:
SilverStone Eudemon Fan Controller on Short-Media.
Artic-Cooling Silent 4ProL Heatsink on ExtremeMHz.

Audio:
Altec Lansing MX5021 2.1 speakers on SLCentral.
Logisys Alien Multimedia Speakers on ExtremeReviews.
Trust BT210 Bluetooth Headset on RBMods.
Zalman ZM-RSSC USB 5.1 sound card on DataFuse.
Zalman ZM-MIC1 Microphone on ExtremeReviews.
Zalman ZM-RSSC USB Sound Card on ExtremeReviews.
Zalman ZM-RSA Headphone Amplifier on ExtremeReviews.
Zalman ZM-RSA 5.1Ch Head Amp on Bit-Tech.

PSU:
Enermax CoolerGiant 480W on ViperLair.
Tisonic Mega Power ATX-460W EPS on Hardware-Pacers.

Storage:
Bytecc ME-320 External 5.25" Enclosure on 3DXtreme.
USBPenDrive 32MB USB Bar on Hexus.
BenQ DW830A Dual Layer DVD Recorder (Preview) on CDRInfo.
Optorite DD0405 Dual 8x DVD Recorder on CDRInfo.
Ricoh MP5308D Dual 8X DVD Recorder on CDRInfo.
BenQ DW822A 8X / 4X DVD Recorder on CDRInfo.
Toshiba SD-R5272 Dual 8X DVD Recorder on CDRInfo.

Cameras:
Trust 910Z POWERC@M OPTICAL ZOOM and 735S POWERC@M ZOOM digital cameras on JSI.
Panasonic DMR-E100HS Digital Video Recorder on ByteSector.

Misc:
Intel Pentium 4 3.4GHz Prescott CPU on Hexus.
Misc modding bits on FutureLooks.
GeiL Ultra Platinum PC4400 memory on GruntVille.
Samsung LS15M13C 15" LCD TV on OCWB.
EPoX 8KDA3+ A64 motherboard on LegionHardware.




Tuesday Night Reviews (0 Comments) (link)
Tuesday, 11-May-2004 21:34:48 (GMT +10) - by Agg


Motherboards:
DFI LanParty Pro 875 Revision B on TheTechLounge.
Epox 8KDA3+ nF3-250Gb A64 on tbreak.
Foxconn 875A02-6EKRS P4 on ExtremeOC.
Epox 8HDA3+ A64 on Metku.
Chaintech VFN3-250 A64 on OCWB.

Video Cards:
ATI Radeon X800 XT (R420) on Digital-Daily.
ATI All-In-Wonder Radeon 9600XT on TweakNews.
MSI GeForce FX 5700 Ultra/non-Ultra on Digital-Daily.
ATI All-In-Wonder Radeon 9600XT on DesignTechnica.

Case:
Antec Aria on TechReport.
Aspire X-Infinity (video review) on 3DGameMan.
Silverstone SST-TJ04 on GamingIn3D.
NZXT Guardian on Controlled-Insanity.
Silverstone SST-LC02 on SpodesAbode.

Mouse, Keyboard Etc:
Razer Viper gaming mouse on DriverHeaven.
Vantec Spectrum mousepad on GideonTech.
Hunter Office Keyboard on SubZeroTech.
Gyration Ultra GT Compact Wireless Keyboard and Mouse on Bjorn3D.

Laptops:
Intel Dothan Pentium-M on HardWareZone.
HP Compaq nc6000 Pentium-M on ArsTechnica.
Systemax TourBook 5127 Dothan on TrustedReviews.

PDA:
palmOne Zire 31 PDA on TrustedReviews.
Viewsonic V37 Pocket PC on SLCentral.
PalmOne Treo 600 CDMA PDA on TechWareLabs.



You know you're really bored when you find yourself building a floppy drive RAID array, thanks Hibba. Or maybe you install a webserver into a housefly, thanks Jason. Adidas meanwhile have a shoe with CPU, thanks mrayner.

Spode's Abode have some info on the technology changes as the market moves to R420 and NV40, the two new graphics chips from ATI and nVidia. NordicHardware did a comparison of the two.

LegitReviews think that whitebox notebooks are going to be the next big thing.

PCStats tell you how to avoid browser hijacking, while OCHQ show how to tweak the System Restore feature of Windows.

Both legitimate and (ahem) unlicensed users of Microsoft's Windows XP will be able to download the SP2 security patch for free, thanks usbmausii.

XYZComputing looked at 10 mousepads from 6 manufacturers.

MadShrimps wonder what effect Prescott has on your motherboard's power circuitry.

SharkyExtreme have an extreme gaming PC buyer's guide for May.

TechIMO have some thoughts about copyright reform in the music industry.

Intel has some new Pentium M CPUs and a new Centrino chipset, thanks Murray.

3DAvenue have a pile of coverage from the E3 2004 gaming conference posted.

Interesting Forum Threads:
Sasser worm suspect confessing in Current Events.
The "Cool Rego Plates" Thread in Motoring.
Spanish GP Thread! in Motoring.
E3 2K4 Thread in Games.
New games = boring! in Games.




OCAU Forum Monitor (1 Comments) (link)
Monday, 10-May-2004 16:00:55 (GMT +10) - by Agg


According to the news archive I haven't mentioned this since October 2002, so it's probably worth another mention:

Forum-goer DJ-Studd has whipped up a neato little toolbar that Windows users can use to keep an eye on new forum threads. It sits in your system taskbar and scrolls a list of threads, looking like this:



Click for more information!





Motherboards:
Athlon64 VIA K8T800 based motherboard roundup by TechSeekers.
AOpen AX4SG Max II reviewed by Sharky Extreme.
AOpen AX4SG MaxII reviewed by HOTHardWare.
DFI Infinity/LANPARTY reviewed by Trusted Reviews.
EPoX 8KDA3+ nForce3 250Gb reviewed by Hexus.
Foxconn 875A02-6EKRS reviewed by ViperLair.
Abit AN7 reviewed by Digital-Daily.
Chaintech VNF3-250 NF3-250 Previewed by OC Workbench.

Storage:
8 in 1 memory card reader reviewed by HardwareZoom.
Mitsumi 7 in 1 Card Reader with Floppy Drive reviewed by ClubOC.
TEAC DV-W58G-A DVD±R/RW reviewed by Envy News.

Audio:
M-Audio Revolution 7.1 Soundcard reviewed by 3DXtreme.
Iaudio 4 reviewed by Red & Blackness.

Networking:
BlueTake BT210 Bluetooth USB Printer Adapter reviewed by Modtown.
Minitar MN54GCB 802.11g PCMCIA reviewed by Extreme Reviews.

Cases & Modding:
SilverStone Nimiz TJ-03 reviewed by fastlanehw.
NZXT Guardian PC case reviewed by Dan's Data.
Yeong Yang YY-5603 Mars Computer Case reviewed by A True Review.

Cooling:
ActiveCool AC4G Thermoelectric cooler reviewed by SilentPcReview.
Copper Silent 2L reviewed by Bit-Tech.
Integrity PC Fluid XP Plus reviewed by Extreme Reviews.
Thermaltake Extreme Spirit North and South Bridge Cooling Kit reviewed by Controlled-Insanity.
Gigabyte 3D Cooler-Ultra Super Silent reviewed by Legion Hardware.
Little River Whitewater Waterblock reviewed by ProCooling.
Microcool NorthPole Northbridge Cooler reviewed by Ninjalane.
Silverstone FP-52 Eudemon Fan Controller reviewed by ExtremeMhz.
Northpole Chipset Cooler reviewed by ipKonfig.

Mouse & Keyboard:
Contour MiniPRO Ti reviewed by Envy News.
Mouse Grips reviewed by Controlled-Insanity.
Razer Viper Optical Mouse reviewed by ExtensionTech.

Misc:
Ahanix iMon HTPC Remote Control reviewed by OcPrices.
Gigabyte GV-R98P 128D 'ATI Radeon 9800 Pro' graphics card reviewed by A1 Electronics.
Matrix Orbital MX512 VFD reviewed by GruntVille.
Canon Powershot Pro 1 reviewed by HardwareZone.



Just a reminder that today is mothers day. Don't forget to give your mum a call, or drop in and see her if you can. The flower sellers are out there and the shops are full of yummy chocolate and other nice things that mum might like. Happy mothers day to all the mums.
(P.S. Hi mum)



Xbit have a little more about Intel's dual core processor plan for next year. They may be re-thinking Xeon MP CPUs also, thanks Sniper.

ARP have updated their immense BIOS Optimization Guide yet again.

PCStats compared the new big-hitters in the video card department, nVidia GeForce 6800 Ultra vs Radeon X800 XT.

RAMBUS is back and suing memory makers again.

PCPerspective cover a watercooled custom case in detail.

Short-Media have been re-wiring USB ports.

Dink spotted a new COD scam to be wary of. If you're not expecting a COD parcel, don't accept it without looking at it first!

TeamHardware looked at SATA RAID for dummies, using Western digital Caviar SE drives and a Promise FastTrak S150 controller.

Some snippets from Paul: Big Screen Gaming. China to install special surveillance systems in all Internet cafes by end of 2004. Netsky authors possibly penned Sasser.

SMH have another article saying video games are good for you.

The Milky Way, our galaxy, apparently looks different to how we previously thought, thanks Sniper.

Monster-Hardware revisited the world of DOS gaming.

Today's NASA picture of the day is of the recent lunar eclipse over Sydney, thanks ocelotx.

There's one less virus-writing twit on the net, if reports of an arrest in Germany are true. More info here, thanks SuB ZeRO86.




Saturday Afternoon (6 Comments) (link)
Saturday, 8-May-2004 17:56:27 (GMT +10) - by Agg


Big news for today is that Intel is scrapping Tejas, the next-generation Pentium4 CPU, shifting the focus to dual-core processors across the desktop, mobile and server platforms. More info here on InfoWeek and here on Sudhian.

WinHEC, the Windows Hardware Engineering Conference, was on last week. An early report stated that Microsoft may distribute an alpha release of Longhorn, the next generation of Windows, thanks Ambush. Microsoft is expected to recommend that the "average" Longhorn PC feature a dual-core CPU running at 4 to 6GHz; a minimum of 2 gigs of RAM; up to a terabyte of storage; a 1 Gbit, built-in, Ethernet-wired port and an 802.11g wireless link; and a graphics processor that runs three times faster than those on the market today. There's more WinHEC coverage on Sudhian, NeoSeeker

HardWareZone have a five-way GeForce FX5950 Ultra shootout, while Xbit have an FX 5900 XT FAQ posted.

Bit-News check out life as an online gaming cheat.

Here's some (p)reviews of upcoming dual-layer DVD burners: Sony DRU-700A Dual Layer Recorder on Anandtech and BenQ DW830A DL Recorder on CDFreaks, thanks Ambush and usbmausii.

OCHQ compared operating systems.

Dan has more letters than you can shake a geek at. This one covers slide scanning, monitor cables, slow CPU cooling, circuit potting, NiMH nonsense, non-universal remotes, wireless plus trains, car stereo at home, CE Marked cases, 3G panic, unchargeable batteries, a spyware pusher, and a little lost Reiki master.

TweakTown compared SerialATA RAID controllers from Promise, Silicon Image, Highpoint and nVidia.

ExtremeTech checked out G-Mail, which was quite a big news story recently.

OCWB have a guide to unlocking the multiplier on the newer locked AthlonXP processors, by making them look like mobile CPUs.

2CPU checked out Intel's 3.2GHz Xeons with 2MB L3 cache here. We ran it through the standard slew of Windows benchmarks and we also tested Web and Database server performance under Linux 2.6.5.

HardOCP have posted their take on VIA's new K8T800 Pro chipset for A64.

From Sil80: Incase you haven't had it listed already... this is a funny game. :) Also – for anyone who uses MS Outlook 2003 - this patch is a MUST! I now don't get any junk mail in my Inbox – Outlook now filters it all quite accurately into the Junk Mail folder.




Interesting Forum Threads (1 Comments) (link)
Friday, 7-May-2004 20:26:14 (GMT +10) - by Agg


Just a quick snapshot of some forum goings-on:

X800 Ruby Screenshots (1.9MB of images) in Video Cards.
ATI X800 vs NVIDIA 6800 in Video Cards.
FarCry -> FartCry (driver optimisations) in Video Cards.
Power Supply Mod (pics) in Modding & Electronics.
Pre-mod case window fixed in Modding & Electronics.
Arcade Joysticks in Modding & Electronics.
Sony Dual-Layer Burner in Storage & Backup.
Big Brother 2004 (BB fans only!) in TV, Movies & Music.
The best guitar riffs of all time in TV, Movies & Music.
Mobo not identifying Thorton 2800+ (fake 2800+'s being sold?) in AMD Hardware.
AMD 64 FX-51: a cheaper alternative in AMD Hardware.
3.0C @ 3.75GHz - testing and adventures in Intel Hardware.
Mini ITX - 34 boards, 21 specifications each in VIA Hardware.
Boosting the VIA C3's floating-point performance in VIA Hardware.
LS1Edit - from 180rwkw to 223rwkw with a tune in Motoring.
Clean car, water restrictions in Motoring.
Noise Cameras? You've got to be joking! in Motoring.
F1GP Shakedown in Motoring.
Super LANBoy mostly done! in Extreme Cooling.
Fans pulling vs pushing in Extreme Cooling.
Weird spoon phenomenon in The Pub.
There's something about Mother's Day in The Pub.
Show us your desktop! (actual desktop) in The Pub.
Post a humorous photo in The Pub.
Quick easy guide to overclocking (pics) in The Pub.
Iron Photographer! May Challenge - Entries Thread in Photography.
Interesting read re: DSLR's and the new 8Mpx P&S cams in Photography.
My Active Desktop in Graphics & Programming.
How do I stay committed to the gym? in Sport, Fitness & Health.



VR-Zone checked out the NVIDIA Forceware 61.11 driver that features performance boost in Aquamark, X2, Tomb Raider: Angel of Darkness, Call of Duty and Far Cry performance. NVIDIA has also listed the GeForce 6800 GT in their INF file. You can also get them here on Guru3D. Beta, so use at your own risk.

Hexus have a Q2 2004 Preview article. Looks like everyone is waiting for socket939.

News bits from PodgeSSS: Microsoft Confirms Windows XP SP2 Delayed Until 3Q. Microsoft Deletes 2 Characters from Office Font. BASIC Computer Language Turns 40.

leperMessiah notes this free ebook available for download: *Free Culture** by Lawrence Lessig*. Some reviews here. "FREE CULTURE is an entertaining and important look at the past and future of the cold war between the media industry and new technologies." -- Marc Andreessen, cofounder of Netscape.

Bit-Tech guide us through another modding project, called Dark Crystal.

ARP cover hot flashing your BIOS.

IBM has unveiled the first servers using its Power5 processor, thanks Murray.

Intelforums compared the Northwood and Prescott P4 CPUs.

Beyond3D interviewed the CEO of ATI recently.

From Zzapped: Our very own scottatron was todays user of the day on the seti home page. That was earlier in the week, so he isn't anymore, but congrats anyway. :) If you'd like to join our SETI@Home team and look for alien transmissions with your idle CPU cycles, here's our team.

VooDoo spotted this funny action figure commercial.

From koopz: old I know, but I just saw some ATI demos for the 9700... they work great on the Albatron 5900XT! (quite a nice card btw, although a little less grunty than the 5700U). There's mpeg versions of the demos for people who are interested, but don't have something that'll render them yet. The Animusic one is definately the pick of the bunch :) the link is here, there are a few more here although I'm out of time to test them with this card.

BBQ_69 notes that Microsoft have patented an apple (as in the round fruit, not the round fruity computers) due to a mixup.



Some recent press-releases:

VIA announced their VIA K8T800 Pro motherboard chipset for the A64 platform today. The VIA K8T800 Pro features an advanced new asynchronous bus architecture, which allows for improved system optimization options and enables power users to squeeze the very most out of their AMD Athlon™ 64 and Athlon 64 FX processor based systems. This new architecture enables the AGP and PCI buses to be locked in the event of the system's front side bus or clock multiplier being tweaked for faster performance, essentially providing a highly stable overclocking platform. Press-release here, previews on PCPerspective, Tech-Report and AnandTech.

ATI, obviously not satisfied by dominating the news with their X800 launch, have also announced the introduction of RADEON™ 9100 PRO IGP, a high performance platform product for both Intel® Pentium® 4 and Celeron® Processors. (snip) In addition to industry leading graphics, RADEON 9100 PRO IGP provides users with a range of platform performance enhancements such as serial ATA, dual DDR400 memory channels, RAID, enhanced USB support, plus expanded memory and peripheral compatibility. SURROUNDVIEW™, a feature unique to ATI, enables users to combine the power of discrete and integrated graphics for multi-monitor support. Users benefit from simplified management of multiple windows and an immersive environment for gaming and multimedia. (P)reviews on Anandtech, Xbit and TomsHardware.

Intel advise: As discussed in Q1 this year, Intel will be changing our processor nomenclature with the advent of our new LGA 775 package. Attached is our first PDA reference to the new processor naming convention. Info in a 204KB PDF file here.

VisionTek Launches ATI RADEON X800 PRO. The VisionTek XTASY RADEON X800 PRO is based on ATI's RADEON(tm) X800 visual processing unit (VPU). The X800 PRO's incredible performance is driven by a massively parallel pixel processing engine and six vertex pipes. VisionTek's new card features 256MB of next-generation, high speed DDR-3 graphics memory running at 900MHz, a graphics core clock speed of 475MHz, and multiple video output options including VGA, DVI-I, S-video, and dual monitor support. The card has a suggested retail price of $399.99 (USD) and is backed by VisionTek's toll-free technical support and lifetime warranty. Interestingly: VisionTek's new card is expected to be available within days from Circuit City, CompUSA, Fry's Electronics, Micro Center, and other outlets for VisionTek products. Press-release doc here (29KB), box image here (58KB).

Gigabyte announces the release of its newest Athlon™64 platform solution, the GA-K8NSNXP. The GA-K8NSNXP offers the acclaimed performance inherent to Athlon™ 64 technology as well added power borne from its NVIDIA nForce3 250 chipset. The combination along with Gigabyte's advanced "Dual Miracle" design means stellar system performance, reliability and scalability. The GA-K8NSNXP means the ability to compute faster, better, and safer! 73KB box and mobo pic here, 1.7MB doc here.

Gigabyte also announced the release of the market's highest speed graphics accelerators, the GV-N68U256VH and GV-N68128D. Powered by NVIDIA's latest highest-performing GeForce 6800 Ultra/6800 GPU, these cards deliver up to 8x the shading power of previous generation products for screaming gaming performance. 61KB box and card pic here, 728KB doc here.

PROLINK Microsystems Corporation announced its "PixelView GeForce 6800". With the technology of World's NO.1 Graphics card chipsets manufacturer - NVIDIA's latest chipset - GeForce 6800 and PROLINK's strong R&D team, PROLINK is now ready to present its revolutionary GeForce 6800. 50KB box pic here.

GeCube announced the introduction of the X800PRO256 powered by the world's fastest visual processor, ATI's RADEON™ X800. The X800PRO256 will deliver the best visual experience possible. The X800PRO256 series is based on ATI's newly introduced RADEON™ X800 visual processing unit (VPU). Powered by a massively parallel pixel processing engine, 6 vertex pipes and built using the most advanced technologies available, the X800PRO256 ushers in a new era, High Definition Gaming. 73KB doc here, 83KB box and card pic here.




Thursday Night Reviews (6 Comments) (link)
Thursday, 6-May-2004 19:25:48 (GMT +10) - by Agg


Video Cards:
ATI Radeon 9600XT Ultra on PCStats.
ABIT Radeon 9800XT on EnvyNews.
Gecube All-In-Wonder Radeon 9600XT on RBMods.

Cooling:
Boogie Bug UV Ultra Silent Fan on Hard-H20.
Asetek WaterChill CPU Watercooling kit on TheModFathers.
TTIC NPH-101 and NPH-1 Intel HSF on MadShrimps.
Alpha Novatech S-PAL8952 P4 CPU cooler on FrostyTech.

Mouse Etc:
Soft Trading (Steelpad, Icemat, etc) mouse accessories (video review) on 3DGameMan.
Everglide Ray Giganta V-3 mousepad on OCIA.
Razer Viper Optical mouse on EnvyNews.
Gyration Media Center Remote and Keyboard on DesignTechnica.
Black Icemat 2 vs Corepad mousepads on TweakNews.

Storage:
Nu Technologies DDW-081 DVD+R/RW on TheTechLounge.
HighPoint RocketRAID 1820A SATA RAID controller on ClubOC.
Gigabyte GO-W0804A 8X DVD+RW on tbreak.
Toshiba MK6022GAX notebook hard drive on SilentPCReview.

Memory:
OCZ PC3200 Performance Series 2GB Dual Channel kit on OCPrices.
PMI PC3200 Gold Dual Channel (video review) on 3DGameMan.

Audio:
Jens of Sweden MP-300 MP3 Player on DesignTechnica.
Zalman 5.1 Channel Headphones on 3DVelocity.
Sucuro 670XL 5.1 Gaming Speakers on ExtremeMHz.
RIO Nitrus MP3 player on ExtremeReviews.

Misc:
FrontX Front Port Solution on ExtremeReviews.
LAKS USB Memory Watch on GeekExtreme.
Motorola MPX200 Smartphone on ExtremeMHz.
PalmOne Zire 72 PDA on TrustedReviews.
Lian Li PC-V2000 Full Tower Case on ClubOC.
Gigabute K8NSNXP nForce3-250Gb A64 motherboard on LegionHardware.
Canon CanoScan 8000F scanner on TrustedReviews.
Samsung SyncMaster 173mp 17 inch LCD HDTV Monitor on FutureLooks.
Asus Terminator 2 barebone mini-PC on SFFTech.
RadTech miniSleevz mini-iPod case on GeeklyReview.




Thursday Morning Reviews (3 Comments) (link)
Thursday, 6-May-2004 01:05:23 (GMT +10) - by Agg


ATI X800 stuff: AnandTech, HardOCP (and here), Xbit (and here), HardwareAnalysis and TomsHardware.

Cooling:
CoolerMaster Aero 6 on MyWorldHardware.
AVC Z7U7408001 Heatpipe P4 Heatsink on FrostyTech.
Evercool SuperSilent Turbocooler P4 Heatpipe Cooler on 3DXtreme.
Thermalright SLK-948U P4/A64 cooler on ClubOC.
Coolmax X Notebook Cooler on ExtensionTech.
Alpha S-PAL8952 P4 CPU cooler on Hard-H20.
Thermaltake Polo735 3-in-1 CPU cooler on MadShrimps.
Antec Notebook Cooler on DataFuse.
AcoustiFan AF80CT case fan on Bit-Tech.

Motherboards:
ABIT KV8Pro K8T800 Pro A64 on NickGoodall.
EPoX EP-8KDA3+ nF3-250Gb A64 on OCWB.
AOpen AK89 Max nF3-150 A64 on A1-Electronics.
Foxconn 755A01-6EKRS SiS755+964 P4 on OCClub.
AOpen AX4SG Max II i865G P4 on NeoSeeker.

Case:
Yeong Yang Cetus on OCrCafe.
Chenming 602 on ViperLair.
Enermax Voltron on PimpRig.
Antec Sonata on AMDReview.

PSU:
Aspire ATX-AS500W on ATrueReview.
Aerocool AeroPower II+ 550W on 3DXtreme.




ATI Radeon X800 Launched (3 Comments) (link)
Wednesday, 5-May-2004 00:01:03 (GMT +10) - by Agg


ATI have released their Radeon X800 Visual Processing Unit. Gamers using computers powered by RADEON X800 will enjoy a higher performance, immersive gaming experience that looks better than ever before. This High Definition Gaming experience is the PC equivalent to watching a sporting event on an HDTV. This is made possible by the highly scalable and efficient architecture of the RADEON X800 that uses 16 parallel pixel pipes and 6 vertex pipes to process more than 8 billion pixels and almost 800 million vertices per second.

Reviews, previews and info on LostCircuits, NeoSeeker, HardwareAnalysis, Hexus, HotHardware, Tech-Report, DriverHeaven, Ascully, Beyond3D, GamersDepot, TrustedReviews, PCPerspective, Bjorn3D and ExtremeTech.

There's a large thread here in our Video Cards forum discussing this new product.



It's that time again:


Hitwise is pleased to announce that www.overclockers.com.au has qualified for a Hitwise #1 Award for the quarter ended March 2004. During this period, www.overclockers.com.au ranked No. 1 by visits in the Computers and Internet - Hardware category against other Australian websites.

Hitwise is pleased to announce that www.overclockers.com.au has qualified for a Hitwise #1 Award for the quarter ended March 2004. During this period, www.overclockers.com.au ranked No. 1 by visits in the News and Media - IT Media category against other Australian websites.

Despite the server problems last quarter we still came out on top. Thanks guys!



Hopefully a few less "phishing" scams on the way, with a man arrested in the UK. Unfortunately, "It is believed [he] was a copy-cat phisher, and not connected to the organised eastern European crime group behind the global swathe of phishing scams targeting bank users in Australia, New Zealand the UK and the USA," the National Hi-Tech Crime Unit said.

Some spammers got nabbed too. The FTC also announced legal action Thursday against an Australian company, Global Web Promotions Pty Ltd., which investigators said pitched fraudulent weight-loss and growth-hormone products. It said it brought its case with help by the Australian Competition and Consumer Commission and the New Zealand Commerce Commission.

Info on the Sasser virus from Pokeynz: Users affected should enable their firewall and end the process in the task manager called avserv2.exe Then go here and follow the removal directions.

People are wondering if the Sasser virus caused the train outages in Sydney yesterday.

Bjorn3D have a quick Q&A with John Carmack about NV40-specific optimisations in Doom3.

TrustedReviews have a DVD Writer group test and an article on quietening your PC.

Win yourself some Corsair memory over on Bjorn3D.

OCWIzard have part 3 of their Intro to Watercooling article posted.

LostCirctuits took an in-depth look at RAID5 and CPU power. A case in point is the HighPoint RocketRAID 1640 host bus adapter that we looked at recently here. One of the more surprising findings in that study was that writes to the array increased CPU usage to about 100%.

Interesting Forum Threads:
Diskless Linux Cluster, Yaleman Style in SMP & Clustering.
METAL: Write a review of your favourite metal song! in TV, Music and Movies.
The next big hitter for OCAU Folding in Team OCAU.
New Nikon D70 vs the Opera House in Photography.
Project Sparky - Hachi-roku 4AG in Motoring.



Motherboards:
Gigabyte GA-K8VNXP reviewed by HighTekPC.
Asus P4R800-V Deluxe reviewed by Bytesector.
FoxConn 875A02-6EKRS reviewed by Big Bruin.
Albatron_FX5700P Turbo reviewed by Legion Hardware.

Cooling:
Thermalright SP-94 Heatsink reviewed by Envy News.
CoolerMaster Hyper 6 P4/K8 Heatsink reviewed by 8Ball Hardware.
Gigabyte 3D Cooler-ULTRA PCU31-SD reviewed by OC Workbench.

Video:
PowerColor Radeon 9600XT reviewed by fastlanehw.
ATI All-In-Wonder 9600 XT reviewed by ViperLair.
ATI's Multimedia Center 9 reviewed by Sudhian.
Samsung SyncMaster 172X LCD Monitor reviewed by OverclockersClub.
SAMSUNG SYNCMASTER 172X LCD TFT MONITOR reviewed by Tweak News.

Storage:
Global Win Travel Box reviewed by MADSHRIMPS.

Audio:
Apple 40GB iPod reviewed by The Tech Zone.
SoundBlaster Wireless Music reviewed by NordicHardware.
Zalman Theatre 6 Headphones reviewed by OverClock Intelligence Agency.

Cases & Modding
SilverStone TJ02 "Glacier" Limited Edition Case reviewed by A True Review.
DragonModz.net DragonMeter (HD Activity Meter) reviewed by PimpRig.
SilverStoneTek Temjin TJ04 Case reviewed by 3DXtreme.

Networking:
Minitar MN54G4R Residential Gateway reviewed by Extreme Reviews.
Minitar MN54GPC PC Card reviewed by Extreme Reviews.

Small Form Factor:
Shuttle XPC SB75G2 875P SFF Platform w/250w SilentX PSU reviewed by Extreme Overclocking.



Winter is well on the way, and with the good overclocking weather comes a renewed desire for hot coffee or soup to warm you up. What better vessel for your steamy delights than an OCAU mug? It looks good, it supports OCAU and it's quite frankly huge - big enough for TWO packets of 2-minute noodles, or a tin of spaghetti or ravioli, even. Not that I'm sitting in front of my PC eating ravioli from a mug, or anything. Mmmm.



Click for OCAU merchandise!


Tshirts, polo shirts, stickers, stubby holders and case-badges on that page, too.

Update: For the unbelievers, here's proof of two packets of noodles fitting into the mug. :)



Is your PC sitting around bored most of the time? Make it do some real work for a change, by donating your idle CPU cycles to Folding@Home. This runs quietly in the background, without affecting your use of the PC, and simulates protein folding to help find cures for diseases such as cancer. You can also have fun competing to have your PC (or PC's) complete more work-units than others. For more info, see our Folding page or our Team OCAU forum. For a quick "how to start" guide, see this page. We're currently the #2 team in the world - help us regain first place!



It looks like Sierra are giving away Tribes-2 and several other games for free as a promo for an upcoming game. Sounds good. Thanks Simon.

Rojakpot take us through the maze of mobile GPU models on the market to find out which one does what.

X-Bit Labs have an article all about multi-processor architectures such as the Intel Itanium and Hewlett Packard PA8700, as well as Alpha, MIPS, SUN UltraSPARC and the IBM Power4 microprocessors.

This just in from Wombo: "I just found out about this really good [free] software that allows you to stream DVD, Digital TV, media files and heaps more over your network, it can even do video on demand. You can control it either through a web site, telnet connection, IR remote and a few other methods." Check it out at VideoLan.

Hardware Zone have had a chat with one of the head honchos at MSI. Meanwhile, Eweek interview AMD CEO Hector Ruiz to get the low-down on next years dual-core product. Also, VR-Zone have been to see AMD's Singapore plant which does Test Mark and Pack (TMP) for microprocessors such as K7 and K8 and chipsets.

Part 2 of an article titled Beyond Magapixels over at The Tech Lounge, examines current and future trends in digital cameras.

PCStats have an Introduction to DDR-2. Hmm...new memory. I can't wait.

Cut Your Boot Time Into 'Bits. That's the title of this article over on OC-HQ.

When I first read the words mouse accessories I thought about small boots, little jumpers, maybe a tiny hat with frilly bits on it. Not so. Apparently you can get all sorts of add-ons for your computer mouse. Find out at Virtual-Hideout.

Some more letters from/to Dan, #102.

IPKonfig are giving away a total of 4Gb of Corsair's famous TwinX 1024MB 4000 Pro Dual DDR Memory Modules. It's open to anyone in the world so give it a go.

Into electronics? Or just want to get that volt mod done right. Extreme OC have a guide to soldering. Very handy if you're new to it.

DJ-Studd can confirm that lightning can do nasty things to your computer and other electronic items around the home.

It looks like the BBC have caught up with the rest of the world. They have discovered Case Modding. Thanks Paul.

Now this has got to be the killer invention of the 21st century. For at least several thousand years, civilization has been holding out for just such a thing as a Self Chilling Beer Can. A Nobel Prize might be in order for this one. Thanks for the heads up Ronin.

It's on again! The Battle@Matchrix VI takes off soon as OCAU Vs Atomic. There is a forum thread with all the details or you can go to the Matchrix site.




NSW L and P-Platers 0.00 Blood Alcohol Limit (1 Comments) (link)
Sunday, 2-May-2004 19:57:59 (GMT +10) - by Agg


Ralphy made me aware of something that I think merits a special mention. From Monday 3 May 2004 the legal alcohol limit in NSW for all learner and provisional licence holders is zero. The zero alcohol limit applies to ALL: Learner licence holders. Provisional P1 licence holders. Provisional P2 licence holders. I'm a NSW P1 license holder myself and wasn't aware of this change (from 0.02) so as Ralphy states there has been very little press coverage of this and it has the potential to be nasty.

Naturally you shouldn't be drinking if you're thinking of driving, but you could be caught out if you weren't aware of this new lower limit. The RTA site has info here and here. Some medicines, mouthwashes and foodstuffs may contain alcohol. Learner and Provisional licence holders should check labels for alcohol content (which is sometimes labelled as ethanol). All such products containing alcohol should be avoided by licence holders subject to the zero alcohol limit if they plan to drive. Be careful the next day if you've had a big night on the drink also, you could still be over the 0.00 limit.

I imagine it comes into effect at midnight tonight, so play it safe! There's a big thread here in our Motoring forum discussing this change.




Saturday Night Reviews (0 Comments) (link)
Saturday, 1-May-2004 22:27:39 (GMT +10) - by Agg


Motherboards:
ASUS SK8V A64 board on AMDReview.
Gigabyte K8NSNXP nForce3-250 A64 board on Tbreak.
ABIT KV8-MAX3 K8T800 A64 board on VR-Zone.
Gigabyte GA-8TRS300M ATi9100IGP P4 board on HardwareZoom.

Case:
Chimaera Series TH202 Gaming Case on ExtremeMHz.
Chenming ATX-602 Mid-Tower on GruntVille.
Raidmax Cobra Mid-Tower on 3DXtreme.
Opus Tech MT-200 Mid-Tower on ClubOC.

Cooling:
Thermaltake Polo Extreme 3 in 1 CPU cooler (video review) on 3DGameMan.
Evercool WC-201 Watercooling Kit on 3DXtreme.
Thermaltake Silent Tower CPU cooler on LegionHardware.
Dr Thermal A8641-L CPU cooler on OCrCafe.
Thermalright SLK-948U CPU cooler on ViperLair.
Zalman Reserator 1 watercooling reservoir/radiator on Bit-Tech.

Video Cards:
Prolink PlayTV@7000 tuner card on Bjorn3D.
Gainward FX PowerPack Ultra/960 Golden Sample on A1-Electronics.
GeForce 6800 Ultra part 2 on TheModFathers.
GeForce 6800 Ultra on Guru3D.

Storage & Memory:
Seagate Barracuda 160GB SATA HDD on ByteSector.
PMI PC4200 Dual Channel DDR kit on ByteSector.

PSU:
Zalman ZM400B-APS 400W on TheTechLounge.
Coolmax CX-450B "Taurus" on OCPrices.

Misc:
Gear Grip LCD Harness on PimpedOutCases.
ADS Tech DVD Xpress VHS converter on Bjorn3D.
Mirra Personal File Server on Sudhian.
Edmund Scientific Astroscan telescope on DansData.
Acer TravelMate C111Tci Tablet PC on XbitLabs.
Steelpad Wire Holder mouse accessory on CreativeMods.



---
Advertisement:


All original content copyright James Rolfe.
All rights reserved. No reproduction allowed without written permission.
Interested in advertising on OCAU? Contact us for info.