June 2004
SiSoft Sandra 2004 SP2 (0 Comments) (link)
Wednesday, 30-June-2004 16:50:34 (GMT +10) - by Agg


SiSoftware have released an updated version of their popular benchmarking and system information software, Sandra. The latest version is SiSoft Sandra 2004 SP2. OCAU has mirrored the 7.4MB download on our Sandra page:



click for OCAU mirror


Highlights of this release include support for 64-bit Intel Xeons, DDR2 memory, 939-pin A64, etc. See the mirror page for more details.




Wednesday Morning Reviews (0 Comments) (link)
Wednesday, 30-June-2004 03:21:38 (GMT +10) - by Agg


Motherboard / CPU:
EPoX 8KDA3+ nF3-250 A64 board on Digital-Daily.
Intel LGA775 Preview on Digital-Daily.
DFI 865PE Infinity P4 board on HardWareZoom.
ASUS A7N8X-E Deluxe WiFi socketA on Hexus.
VIA EPIA MII 10000 mini-mobo and CPU on TweakNews.
MSI KM4M-L MicroATX mobo on ExtremeMHz.
VIA EPIA MII 12000 mini-mobo and CPU on ViperLair.
Shuttle AN51R nF3-250 A64 board on Tbreak.

Memory:
Corsair XL3200 Pro on PCUnleash.
Corsair XL3200 Pro on FastLaneHW.
Corsair XLPRO Ultra Low Latency TwinX on RojakPot.
Adata PC4000 on XtremeResources.

Storage:
AOpen CDRW (CRW5232) & Combo (COM5232) Internal Burners (video review) on 3DGameMan.
Vantec NexStar 3.5" External Hard Drive Enclosures (video review) on 3DGameMan.
LG GSA-4082B Super Multi DVD Rewriter on PCStats.
Gigabyte GO-W0808A DVD Burner on PCStats.
Swissbit SwissMemory USB Victorinox knife on ModTown.
nu Technology DDW-082_Dual DVD+/- RW burner on Tech-Mods.

Keyboard, Mouse Etc:
Razer Viper Optical Gaming Mouse on IPKonfig.
Xtrac Hammer Mousepad on Hi-Techreviews.
Flexiglow Game Pad mousepad on OCIA.
Keyboard Master WK9200 Hunter gaming keyboard on OCClub.
Belkin Nostromo Speedpad N52 game controller on ComputingOnDemand.

Audio / Visual / Cameras:
Samsung Yepp YP-55i MP3 player on PCStats.
Epson PhotoPC P-1000 Photo Viewer on TrustedReviews.
Gateway Wireless Connected DVD Player on DesignTechnica.
Samsung SDC103 Digital Video Camcorder on Tech-Mods.
Olympus C-770 Ultra Zoom 4MP digital camera on ByteSector.
Trust 120V Wireless DVD & Video viewer on RBMods.
Zalman Theatre 6 5.1 Headphones on Accelenation.
NEC 1980SX 19" LCD screen on Bjorn3D.
HIS Excalibur Radeon 9550 VIVO video card on HardAvenue.

Misc:
Thermaltake Xray ciggie lighter and cupholder (heh) on A1-Electronics.
Actiontec 54Mbps Wireless Ethernet Adapter on Hardware-Pacers.
HP Scanjet 4670 see-through scanner on Bytesector.
HP iPAQ 4150 PocketPC on 3DVelocity.
Morex 3677 Mini-ITX Case on Hi-TechReviews.
Akasa PaxPower 460W PSU on TrustedReviews.




Tuesday Night Reviews (0 Comments) (link)
Tuesday, 29-June-2004 20:37:55 (GMT +10) - by Agg


Cooling:
Thermalright NB1 northbridge cooler on ClubOC.
Thermaltake Tower112 Copper Heatpipe CPU cooler on ExtremeMHz.
Nexus AXP-3200 SkiveTek CPU Cooler on HWZ.
Danger Den Maze 4-1 GPU Tec Block on TheModFathers.
Foxconn Heat Guzzler on Virtual-Hideout.
3RSystem Poseidon WCL-03 CPU watercooler on BigBruin.
VapoChill LS phase-change cooling system on XtremeSystems.
Swiftech H20-8600 watercooling kit on TweakTown.
Thermaltake Silent Boost K7 CPU cooler on CreativeMods.

Modding:
AC Ryan PSU Modding Kit on ClubOC.
Vantec EZ-Grip Molex Connectors on OCIA.

Video Cards:
PowerColor Radeon 9600XT Bravo on LegionHardware.
Gainward Ultra/1300XT TV-DVI Golden Sample GeForce FX5900XT on ExplosiveLabs.
HIS Excalibur AIW 9600XT TURBO, Platinum Pack on Bjorn3D.
Galaxy GeForce FX 5700 LE on Beyond3D.

Cases:
Diabolic Minotaur on RBMods.
Opus Technologies MT200 on XYZComputing.
Chenming 602A on PimpRig.
CoolerMaster Cavalier on ClubOC.
NZXT Guardian on 3DXtreme.
Logisys Armour gaming case on 3DXtreme.

Notebooks:
Toshiba M35-S320 Centrino on DevHardware.
Voodoo Envy M:860 gaming notebook on TrustedReviews.
BenQ Joybook 6000 on HWZ.




CoolerMaster AquaGate Liquid Cooling System (4 Comments) (link)
Tuesday, 29-June-2004 04:00:16 (GMT +10) - by Agg


Wolfy has taken a detailed look at this all-in-one CPU watercooling kit from CoolerMaster. It's meant to be easy for a watercooling novice to use, but does it reach the goals of quiet computing with good thermal performance?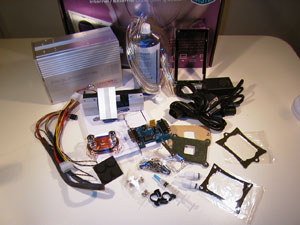 Click for the review!


Better grab the comfy chair first and a coffee, this is a 9-page review. :)



Andreas received an interesting variant on the "Nigeria scam" email, this time wanting your bank info as part of some fictitious scheme involving international payments for webmaster work. I also keep getting the Ebay one and various Bank ones. Don't give out your personal or financial info in response to an email! But you knew that already.

There's been yet another internet attack, which people are saying wasn't a virus or a worm. It involved hacked websites infecting people who simply downloaded a GIF or similar "harmless" web object - more info here. Apparently the main website has been shut down and the issue wasn't too widespread. More info here.

HP Australia are scrambling to replace faulty notebook memory which apparently affected 900,000 units worldwide. The notebooks effected (sic) include: Compaq Evo Notebook (model numbers: N610c; N610v; N620c; N800c; N800v; N800w; N1000c and N1000v); Compaq Presario (model numbers: 1500; 2800; x1000 and x1200); HP Compaq Business Notebook nx7000; and HP Pavilion zt3000.

Intel's doing some recalling of their own, after a problem was discovered with early releases of a recent chipset. More info here.

I thought a hand-cooling mouse was pretty strange, but these fishtank mice win, err, hands down.

Here's some cool new fuel cells from Toshiba. Might not be too long before you recharge your phone with a shot of methanol.

Sniper spotted some sneak-peek Xbox 2 specs on Xbit. The Xbox 2's central processing unit is a custom processor based on PowerPC technology. The CPU includes three independent processors (cores) on a single die. Each core runs at 3.50GHz speed of faster. The Xbox 2 microprocessor can issue two instructions per clock cycle per core. At peak performance, Xenon can issue 21 billion instructions per second.

SweMod compared two waterblocks, from DangerDen and Frigus Engineering, while two complete watercooling kits are examined on ATrueReview.

Phalanx sent word of some new RAM technology: Uses magnetisation to store information in non-volatile (doesn't need power) memory, yet is a whole lot faster than flash memory and is much more practical. It means we could have super-fast and large memory in our phones, laptops, etc.

Cassini will fly through Saturn's rings later this week, more info here.

From Mark: here's a very interesting read that questions some copyright issues. Thread discussing it here.

ExtensionTech have a cool DVD PC mod posted.. a bit more effort has gone into this than some similar ones. Meanwhile, GideonTech have some DIY fan filters.

Ben reminds us of Antec's giveaway contest.

Vindaloo spotted this on-bike PC project, very cool. Works a bit better than my effort. :)

Any HTML/graphics wizards who want to take a crack at designing an OCAU sub-site based around our Motoring forum, see this thread for more info.

South Australia has a new supercomputer sporting 160 CPUs, all 1.3GHz Itaniums.

If the rumours are true, then in a few hours we should see a rush of info on Intel's Nocona CPU and NVIDIA's SLI technology. Sudhian have a summary article of what these two technologies are likely to bring. More SLI info on HardwareAnalysis.

Two timewasters for you today: VooDoo spotted this drinking game, while Lurks followed up with a walk the drunk guy home game.

Interesting Forum Threads:
[PICS] New TLSK F6 Clones (w/better tweeters!) in Audio Visual.
Ask eva2000 RAM questions! in Overclocking and Hardware.
My letter to the Federal Transport Minister in Motoring.
Awesome fun dragracing game in Motoring.
Project GSXR750 -> GSXR1200 in Motoring: Worklogs.
Rethink on -advmethods flag? in Team OCAU - Distributed Computing.
Australia vs England Rugby Test (Panoramic Photo) in Photography.
Brisbane Camera Group Portrait Workshop in Photography.




Folding@Home Giveaway! (4 Comments) (link)
Monday, 28-June-2004 13:12:55 (GMT +10) - by Agg


Our Folding team Captain, Bollocks, sends word:

The Folding@Home team are having a Giveaway to help celebrate the return to the No1 Folding team in the world.

Thanks to Computer Alliance, LownoisePC, PCRange and Plus Corp we have some magnificent prizes to give away over the next 3 weeks starting today, Monday the 28th of June. Week one major prize consists of a big selection of coolers and fans from LownoisePC. Week two major prize is a Asetek WaterChill Power Kit donated by PCRange and for the final week we have a Mercury GeForce5800 and a Creative PC-Cam donated by Computer Alliance. Each week will also have consolation prizes donated by Plus Corp. We also have 2 bonus prizes - an XP Mobile 2600+ CPU and Winfast tv2000xp deluxe edition TV card - in a special draw for all those that meet the qualifying points for all three weeks.

The forum thread is here, nomination thread is here and the Giveaway page is here with all the details. To help you get started have a look at this page and if you need any help drop by the Distributed Computing forum.

Note that you don't have to be the highest producer or beat lots of people to win, you just have to complete the minimum threshhold of points in a week to be eligible for the draw.



Announcements of interest from the last few days:

Maxtor announced their new high-capacity, native SATA MaXLine III hard drives. The third-generation MaXLine drives feature the industry's first 16MB buffer and are designed to the enterprise standard of 1 million hour mean time to failure (MTTF). With new SATA II features including native command queuing (NCQ), capacity up to 300GB, 7200 RPM speed and Maxtor® MaxCommand™ technology, the drives are ideally suited to provide cost-effective storage for midline and nearline applications, such as fixed-content storage and disk-to-disk back up. 16MB Buffer and NCQ is good, but the 300GB limit and 7200rpm only is disappointing. More info in the press-release here.

Corsair released an "Alderwood and Grantsdale Guide To Memory" covering their relevant DDR products. It's only one page but covers compatability with motherboards from ASUS, ABIT, MSI and Intel. 78KB PDF here.

EPoX announced their new offering, EP-8RDA6+ Pro. Featuring amazing Gigabit Ethernet performance, hardware-optimized firewall security, and advanced RAID function, EP-8RDA6+ Pro provides PC enthusiasts, gamers, technology aficionados a powerful, feature-rich, and cost-effective platform. Utilizing NVIDIA nForce2 Ultra 400Gb, EP-8RDA6+ Pro features the world first native Gigabit Ethernet networking, which provides over 200% more networking bandwidth compared to older PCI-based solution, while lowering overall CPU overhead. As security is a mainstream concern, EP-8RDA6+ Pro provides the only hardware-optimized Firewall solution, effectively protecting personal PC from network level hacking attacks and other common security risks without sacrificing a lot of networking performance. Specs sheet here (419KB DOC), press-release here (544KB DOC).

ASUS introduced the AI Proactive motherboard series, which includes four unique automatic features to enhance Intel's latest 925X, 915P and 915G chipset platforms. The all-new motherboards also leveraged exclusive technologies to support native DDR2 600 and shorten memory latency. The four features are: Stack Cool™ – Cooler overclocking and quieter operation, AI NOS™ – Boost performance when it's most needed, WiFi-g™ – Onboard Access Point, AI NET2™ – Diagnose LAN connection before entering OS. More info here.

ASUS also introduced the AP2400R-E1 server barebone system, which solved the critical heat-dissipation problem that made eight SCSI hard disks and a dual-Xeon architecture in a 2U platform seemed impossible in the past. Dual-Xeon servers equipped with eight SCSI hard disks are extremely rare, because these eight drives coupled with two processors emit a large amount of heat that requires efficient cooling systems, especially in the limited space of a 2U chassis. The AP2400R-E1 incorporated industry-leading thermal designs that support seven high-power hot-swappable fans in the middle of the system, two hot-swappable fans at the rear of the system, two large-size copper heat sinks and a simple circuit layout for optimal ventilation. Since all the fans are hot swappable, there is no need to shut down the system during fan replacement. More info here.

Tyan meanwhile will deliver two unique platforms based on Intel's 915G/925X Express chipsets. Both of these platforms will offer incredibly rich features for entertainment and business applications, while providing capabilities that can fit any number of business or home computing requirements. The Tomcat i915 (S5120) is based on Intel's 915G Express chipset, while the Tomcat i925X (S5130) is based on the 925X Express. More info in this PR on Tyan's site.




Sunday Afternoon (4 Comments) (link)
Sunday, 27-June-2004 14:59:08 (GMT +10) - by Agg


Ambush spotted the first nVidia Gigabit MCP motherboard on TheReg, while P-air noticed new XPC SFF mini-PC's from Shuttle, on Intel and AMD chipsets.

DriverHeaven interviewed Dave Orton, CEO of ATI.

MadShrimps looked at some 80mm fans from Aerocool, Sharkoon and AC Ryan, while TweakTown compared GeForce FX cards from Prolink and Albatron.

Hexus have an editorial about free and open source software.

Apparently IBM is being sued because of its dealings with the Nazi goverment of Germany during the Second World War.

TomsHardware have benchmarks of Alienware's video array, thanks Podgesss.

A couple of AOL employees are in custody, charged with selling customer details to spammers, thanks usbmausii.

TweakUp, a Danish site, have a casemod with a 24 hour limit, which turned out looking pretty good.

Xbit compared six DVD Burners and also looked at Intel's Celeron D, budget CPUs based on the Prescott P4 core.

EliteBastards look back at the most useless video card features of our time, thanks WinK.

Dan has headsets and more letters, naturally.

From Dennis: From AMDs website there is a link for a free 360 day trial of winXP 64 beta. I am currently downloading it. Here is the link on AMD website. This links to M$ where you need to supply an email address.

GideonTech have a guide to making a two-colour HDD activity LED.

Tech-Report looked at SiS's chipset roadmap for desktop motherboards.




Stacked Shuttle! (8 Comments) (link)
Saturday, 26-June-2004 20:53:22 (GMT +10) - by Agg


This Shuttle mini-PC belonging to The_Snarf is amazing. Not only has he crammed watercooling into it, but four hard drives for a total of 640GB. With 1GB of RAM and a Radeon 9800 XT, it's one hot little box.



Click for the PCDB entry! (7 pics)


Also, check out this VCR PC from IG-721.




Compro VideoMate Live USB2.0 External TV Tuner (10 Comments) (link)
Saturday, 26-June-2004 16:17:48 (GMT +10) - by Agg


Chainbolt has reviewed this TV tuner and capture device. Unlike the others we've seen so far, this one is external to the PC and connects via USB2.



Click for the review!






Saturday Morning Cartoons.. err.. Reviews. (2 Comments) (link)
Saturday, 26-June-2004 01:13:29 (GMT +10) - by Agg


The reviews just keep on coming..

Motherboards:
ABIT AS8 i865PE SocketT P4 on TrustedReviews.
Gigabyte GA-8S655TX Ultra SiS655TX P4 on OCNZ.
Asus P4R800-V Deluxe Radeon 9100 IGP P4 on PCStats.

Memory:
Ultra Products 2*512MB PC3200 dual-channel DDR kit on OCOnline.
GeIL Ultra Platinum PC4400 DDR550 dual-channel DDR kit on Bjorn3D.
BuffaloTech Firestix PC4000 1GB DDR on GideonTech.
Gigaram PC3500 on InsaneTek.

Case:
Travla C138 Mini-ITX on Hard-H20.
CardKeepers AGP/PCI retention clips on PCPerspective.

Video Cards:
Gigabyte GeForce FX5700LE on Hi-TechReviews.
ATI Radeon X800XT on PCI-E on DriverHeaven.
BFG Tech GeForce FX5900XT on HotHardware.
Sparkle GeForce 6800 Ultra on TheModFathers.
ATI All-In-Wonder Radeon 9600 on Tech-Mods.
HIS Excalibur Radeon 9550 VIVO on Hi-TechReviews.
XFX GeForce 6800 Ultra on Hexus.
ASUS Radeon X800 Pro on LegionHardware.
XFX GeForce FX5700 Ultra on OCModShop.
ATI Radeon 9800XT on GruntVille.

Cooling:
Danger Den TDX waterblock on ClubOC.
CoolerMaster AquaGate ALC-U01 watercooling kit on ExtremeOC.
Thermaltake Polo 735 CPU cooler on 3DXtreme.
CoolerMaster Hyper 6 CPU cooler on XYZComputing.
Zalman Reserator 1 watercooler radiator/reservoir on DevHardware.
SilentTower HeatPipe CPU cooler on IPKonfig.

Storage:
AOpen DRW8800 8X DVD Burner (video review) on 3DGameMan.
Maxtor OneTouch 250 GB External HDD on CDRInfo.
Asus DRW-0804P Dual 8X DVD Recorder on CDRInfo.
Ricoh MP5308D Dual 8X DVD Recorder on CDRInfo.
Asus CRW-5232AS 52x CD Recorder on CDRInfo.

PSU:
Thermaltake Silent POLO12 410W on OCTools.
Silverstone ST30NF 300W on SpodesAbode.
Super-Flower SF-405TS on SweMod.

Mouse Etc:
Logitech MX510 Performance Optical Gaming Mouse on TweakNews.
Everglide Ray mousepad on TechFreaks.

SFF / Laptops:
Fujitsu-Siemens Amilo A1630 Athlon 64 Widescreen notebook on TrustedReviews.
IBM ThinkPad X40 Ultra-Portable notebook on TrustedReviews.
Soltek EQ3801 nForce3-250 SFF mini-PC on SFFTech.

Misc:
Led-Lenser 360 Mini Flex Light on EliteGeek.
Canon Digital IXUS 500 digicam on HWZ.
Thermaltake XJOG USB Fan and Light on PimpRig.
X-Bag CTSSL LAN Bag on ExtremeMHz.
HP L2335 23-inch LCD screen on DesignTechnica.
ASUS WL-330g Wireless LAN AP/Adapter on HardAvenue.
Creative GigaWorks S750 7.1 SPeakers on Xbit.




Network inside PC (4 Comments) (link)
Friday, 25-June-2004 19:49:57 (GMT +10) - by Agg


Just noticed this recent PCDB entry from Rake, called "Axe". It contains something you might not notice at first glance - a cable modem and 8-port LAN switch, with RJ45 ports at the back of the case and status LEDs shining out the front. Neat idea for saving space and looks pretty cool, too:



Click for the PCDB entry! (5 pics)






Thursday afternoon reviews and stuff (13 Comments) (link)
Thursday, 24-June-2004 17:44:22 (GMT +10) - by Wolfy


First the stuff:
It seems we can thank GMail for another free email storage upgrade, this time from HotMail.

FoderMe has started a forum thread to indicate that Boinc goes live, it's an upgrade on the SETI@Home Project.

From Neill "Just thought I should let you know the long awaited Slackware 10 final has just bean released".

IAmNotAGeek suggest that "Anybody that thinks SP2's Windows Firewall is such a large improvement had better make sure that they know all the facts".

Daniel tells us that, "Apparently the new beastie boys cd installs a virus type thing onto pc's its run on" link here.

And here are the reviews:
ATI All-in-Wonder 9600 XT vs NVIDIA Personal Cinema FX 5700 comparison over at TheTechReport, and they say that "the verdict is easy", but I guess that was to be expected.

Intel's Spring Refresh, Part II, is Sudhian's comprehensive look at some of Intel's new lineup. I was interested to see how hot the chips run and that you'll not be able to swap your CPU too many times but that "Intel guarantees the socket for twenty installations".

Cases:
Cooler Master Cavalier 4 small black HTPC over at Viper Lair.
Yeong Yang YY-5603 "Mars", and to quote 3D Velocity: "It's redder than a Baboon's back-end", and I'm not sure they really like it either.
Thermaltake Tsunami at OverclockerCafe.

Other:
Rytech Wireless Optical Mouse one page Review at ModSynergy.com, at least this one includes a recharger.
How-To Make a PVC Pipe Reservoir and save money by Overclockers Club.




Events, Giveaways, Searching! (1 Comments) (link)
Thursday, 24-June-2004 04:20:48 (GMT +10) - by Agg


Don't forget to register for the upcoming OCAU Events in Sydney and Melbourne at the end of August! Please register and pay early, so we get an idea of numbers - thanks!

Also, we're currently assembling a small mountain of goodies to give away at the Sydney and Melbourne BBQ's, as part of OCAU's 5th Birthday celebrations. For those of you who can't make it to the events (and for those who can) we'll also be running a giveaway coordinated through our mailing list. If your company wants to donate prizes, email me!

Finally, while I'm pimping things, check out our search page if you're looking for info on OCAU, or on the web. It's powered by Google and pretty much the entire website is indexed now, apart from the forums which have their own search engine. The search page covers the news archives plus old and new reviews and articles, PCDB, etc etc.




Thursday Morning (5 Comments) (link)
Thursday, 24-June-2004 04:06:20 (GMT +10) - by Agg


Our webserver had some email trouble over the last couple of days, but is sending the queued mail now. So, if you've subscribed to a lot of forum threads you might get a whole pile of mails from it while it gets back up to date.

We also passed the 50,000 user mark in our Forums yesterday!

Sniper spotted this WiFi wallpaper for added security.

TheTechZone took a tour of ABIT's factory in China. Unlike America, Chinese factories like Abit have to house their own workers. Employees are given free housing along with free lunch and dinner. They're paid an average of 1,000RMB per month. That works out to about $100US.

The Top500 List of supercomputer rankings has been updated, with IBM scoring well but not toppling NEC's Earth Simulator.

ModCity have a fix for boring side panels on your case, while ByteSector think PSU sleeving and Molex changing is the go. ARP meanwhile cover Radeon 9800 Pro volt-modding.

From Grimace: Just a follow up to the blue tooth virus story a few days ago but it seems as if an Australian company has found a fix for it. Details here and the website in question is here.

From Fergo: Skype, the freeware VoIP softphone with excellent sound quality/bandwidth performance has just been released for Linux! I've tried it briefly on Fedora Core 2 and it's working great so far. Installer RPMs and tar files are available from here.

Apparently dogs can detect epileptic seizures in humans up to 5 hours before they happen. Spooky.

The SpaceShipOne flight was apparently a spectacular success, thanks Sphinx. Test pilot Mike Melvill landed at Mojave Airport, about 80 miles north of Los Angeles, California, after taking the rocket plane SpaceShipOne to an altitude of more than 100 kilometers (62.5 miles) -- the internationally recognized boundary of space. More info here from looktall.

The ArsMasters have posted their thoughts on the future of Prescott.

Bit-Tech compared three Radeon X800 Pro video cards.

I'm not quite sure if this is satire or serious, but either way it's car PC overkill, thanks VIVIAN.

GameDaily are reporting a Doom 3 launch date of August 3 2004, thanks Indefinate. I'll believe it when I see it.




Wednesday Morning Reviews #2 (1 Comments) (link)
Wednesday, 23-June-2004 11:13:29 (GMT +10) - by Agg


Cooling:
Thermaltake Polo 735 CPU cooler on BigBruin.
Asetek VapoChill LightSpeed phase-change cooler on ExtremeOC.
FluidXP liquid for watercooling on PimpRig.
Q-TEC 544TC Temperature Control Bay LCD on TheModFathers.
KingWin Thermal Center fan controller (video review) on 3DGameMan.
Zalman Reserator 1 watercooling reservoir/radiator (translated review) on OZ-Zone.

Storage:
SwissMemory USB Victorinox swiss army knife with USB storage on OCrCafe.
Nu DDW-082 DVD+/-RW burner on RBMods.
Ximeta NetDisk Office 250GB network drive on ExtremeMHz.
Liteon SOHW 812S DVD burner on DriverHeaven.
Sony DRU-700A double layer DVD burner on HWZ.
Maxtor MaxLine III 250/300GB HDDs on StorageReview, thanks kasi.

SFF / Laptop:
FIC Condor SFF mini-PC on NeoSeeker.
Rock Xtreme! XTR-3.4EE P4EE laptop on TrustedReviews.

Keyboard, Mouse etc:
RatPadzGS mousepad on TechIMO.
Logitech Notebook Optical Mouse+ on Virtual-Hideout.
Razer Viper Optical Mouse on ViperLair.
FlexiGlow EL Keyboard on ExtensionTech.

Case:
Xoxide Stratus X on CreativeMods.
V-Tech V770SLB midtower on Hi-TechReviews.
Chenming 602A on LAN Addict.
Sorme MAX602 midtower on Hi-TechReviews.

PSU / Mobo / Video Card:
Antec TrueControl 550 on MadShrimps.
ABIT IC7-MAX3 i875P P4 mobo on TheTechLounge, our review here.
NVIDIA GeForce FX6800U video card on Tbreak.

Misc:
Vantec EZ-Grip Molex Connector Kit on ClubOC.
Vantec EZ-Grip Molex Connector Kit on PimpRig.
ATI HDTV Wonder TV card on HotHardware.
Samsung 192MP LCD screen on OCOnline.
HP Scanjet 4600 flatbed scanner on DesignTechnica.
ASUS WL-330g wireless AP on Tbreak.
iCube Play@ TV NMP-4000 LAN-connected set-top box on FastLaneHW.




Wednesday Morning Reviews (0 Comments) (link)
Wednesday, 23-June-2004 02:44:06 (GMT +10) - by Agg


Motherboard / CPU:
Intel LGA775 CPUs and chipsets on Xbit.
Intel LGA775 CPUs on SharkyExtreme.
Intel LGA775 platform on TweakTown.
Intel 915G & 925X chipsets on TechReport.
Chaintech Znf3-250 Zenith A64 on RBMods.
Gigabyte 8GNXP Duo i915P Express socketT on OCWB.
AMD Athlon 64 3200+ CPU on OCModShop.
Gigabyte 8GNXP Duo i915P Express socketT on HWZ.
Albatron PX875P Pro P4 on Hexus.
DFI LANParty PRO875B P4 on Hexus.
ASUS P4C800-E i875P P4 on Hexus.

Memory:
Corsair TwinX 1024-3200XL Pro on OCCLub.
Corsair TwinX 1024-3200XL Pro on GideonTech.
Corsair TwinX 1024-3200XL Pro on Controlled-Insanity.
Corsair TwinX 1024-3200XL on 3DXtreme.
Corsair TwinX 1024-3200XL Pro on XYZComputing.
Corsair TwinX1024-3200XLPRO_Low Latency on TweakNews.
Corsair 1024mb TwinX XMS3200XL on Tech-Mods.
TwinX1024-3200XLPRO on HighTekPC.. does anyone else make memory any more? :)

Video Cards:
Visiontek Radeon X800XT PE on VR-Zone.
HIS Excalibur Radeon 9550 VIVO on LegionHardware.
Gigabute GeForce FX5900XT on Bit-Tech.
nVidia GeForce 6800 GT on TrustedReviews.




Folding@Home Triumph! (6 Comments) (link)
Tuesday, 22-June-2004 22:11:09 (GMT +10) - by Agg


It's been an up-and-down day with the server issues we've been having - but one extremely positive thing is that Team OCAU is now the number 1 Folding@Home team in the world. Nice job, guys! Don't stop now, I'm sure the [H]orde will be throwing everything they've got at us from here on in.




Procase 3688 Mini-ITX Case (10 Comments) (link)
Monday, 21-June-2004 21:04:43 (GMT +10) - by Agg


Gibbon looked at VIA's EPIA CL6000E mini-motherboard last week. Now, he looks at a cool little case to put it in:



Click for the review!





Zensonic sent word: The new Australian-designed Zensonic Z400 is a sleek set-top box which can play DiVX movies, MP3 audio and JPEG pictures directly to a TV and stereo system. Using a custom-designed on-screen TV interface, Z400 users can browse their PC's movie collection, photos and music directly from the comfort of their lounge-room. "We created the Z400 to serve the huge demand from users for a solution that ties their digital content stored on their PC to their home-theatre system," said Zensonic's Raaj Menon. "Home networks are now enormously popular, and the in-built 802.11g wireless networking of the Z400 eliminates the need to have ugly cables running into your loungeroom," he said. More info in a 74KB DOC file here, 90KB product pic here, 110KB remote-control diagram here.

Corsair Memory announced new DDR2 Value Select memory modules. These products are ideal for the budget conscious consumer who would like to take advantage of the new features and bandwidth that DDR2 has to offer. These come in several density options as well as in kits of two modules. The products range from 256MB to 2GB. These products are based on the new DDR2 technology which increases the memory bandwidth available for memory intensive applications. DDR2, the second generation of Double Data Rate memory technology, includes new features such as a larger 4-bit prefetch and programmable on-die termination (ODT) to reduce signal bounce and improve reliability at high speeds. This new specification also utilizes 240 pins. I'd just like to add that their website is seriously ugly, which is a shame, because their memory is really good.

VIA Technologies announced the new VIA EPIA MS Mini-ITX mainboard, which has been designed without the standard I/O back plate to enable ultra low profile designs for ergonomic and aesthetically pleasing digital entertainment devices. Providing greater design flexibility for integration into flat panel or ultra compact personal electronics devices, the new VIA EPIA MS allows developers to do more with the limited space available without forfeiting functionality or connectivity. The traditional PC I/O bracket has been replaced by easily accessible onboard headers for the 6-channel audio, TV-out and USB 2.0 connectivity, with a low profile SODIMM memory slot on the underside to further enhance its ultra slim design. More info here.

OCZ Technology announced their DDR Voltage Booster, which uses OCZ Technology Group's patent pending Powerclean technology to supply cleaner power to the memory module, thereby increasing memory stability and optimizing performance. A digital VDIMM readout and voltage adjustment control dial enables the user to adjust the VDIMM (VDD and VDDQ) voltage to a maximum of 3.9 volts. Press-release here, product page here.

ASUS introduced the A8V Deluxe motherboard, which bundled the WiFi-g add-on wireless card to provide access point (AP) functions and a user-friendly interface for easy WLAN setup. The A8V Deluxe also delivers a blazing 2000MT/s system bus and support for AMD's latest Socket 939 Athlon64FX/Athlon 64 processor to handle future 64-bit operating systems. 550KB board pic here.




Monday Afternoon (0 Comments) (link)
Monday, 21-June-2004 13:17:39 (GMT +10) - by Agg


The city of Munich has decided that moving to Linux is a success and will continue with an open-source strategy.

TweakTown compared DDR550 memory from GeIL, OCZ and ShikaRAM.

LegionHardware looked at Catalyst 4.x driver performance on ATI cards.

From Lucus Maximus: Found an interesting topic in the forums and decided to research it a little. It's a Digital Multilayer Disk or DMD from D Data, more info here, here and here.

ARP have a guide to VDD-modding ABIT's NF7 range of socketA motherboards, increasing the chipset voltage.

AppleTalk have a guide to overclocking a MDD G4 Mac.

HWZ interviewed Dave Orton, CEO of ATI.

"Beam me up, Scotty" comes a little closer with a teleportation breakthrough, thanks Smoken. Currently only works if you're a calcium or beryllium ion, so for now you have to keep taking the train to work, I'm afraid. :)

VR-Zone have been voltage modding a GeForce 6800 Ultra.

Callan spotted a silly article about a pumpkin case.

The X Prize contest is hotting up, with a successful rocket test by John Carmack's "Black Armadillo" and later today the Paul Allen-backed SpaceShipOne will make another attempt to be the first privately owned vehicle to carry a person to the boundary of space. Tabris spotted this video webcast address for the flight later today.

Dan has more letters and there's another issue of ZZZ Online posted.



More LGA775 stuff on AnandTech, HardOCP, MBReviews, TheReg, ExtremeTech, Digit-Life and LegitReviews.

HardOCP also take a closer look at AMD's socket 754 CPUs, seeing if they are a worthwhile alternative to the expensive S939 offerings.

TomsHardware are claiming that Intel have locked overclocking features including limiting the FSB on their new 915/925 chipsets, thanks flatout.

LegitReviews did some memory testing on AMD's new Socket939 platform.

Xbit have some info on a new gadget from ABIT. The uGuru Clock will permit customers to dynamically adjust system's performance by setting special presets, such as "Turbo", "Quiet", "Normal", etc directly from their favorite games or applications without need to run additional utilities or reboot the PC. Besides that, the uGuru Clock will show hardware temperatures, fan speeds as well as monitor incoming MSN or e-mail events.

Graham found this Ferrari Factory Tour article.. high-performance hardware of a different kind.

Sudhian wonder if PCI-Express is necessary, given how much unused potential there is in AGP.

From Andrew: This one is funny but it's serious too. If you have recently purchased one of the Hitachi 7K250 series of hard disks (I bought a 160GB drive a month ago), you have probably heard a very irritating sound, almost like a cat's meow, every 5~10 minutes. It seems this is the sound of thermal recalibration or some other routine programmed in the drives' firmware. After a lot of people complained directly to Hitachi, their engineers finally provided a firmware hack that fixes the problem and eliminates the irritating noise. You can find the firmware hacks for the PATA and SATA 7K250 drives here.

This story is a little old now, but the first bluetooth virus has been discovered, thanks Cybergecko.

Xbit continued looking at Samsung's LCD products in detail.



Today marks the launch of a new and significantly different intel motherboard platform.
On offer is Socket T (LGA775), some new LGA775 P4 processors, and the Alderwood (i925X) and Grantsdale (i915) chipsets featuring such goodies as PCI express, DDR2 memory support and High Definition Audio.

Sound interesting?

Reviews, previews, information and discussion on bit-tech, HEXUS.net, PC Perspective, hardCOREware, TrustedReviews, HotHardware, HardwareZone, Sudhian and Viper Lair.



Motherboards:
EPoX 8KDA3+ nForce3 250GB-based Athlon64 motherboard on A1 Electronics.
Chaintech Zenith ZNF3 nForce3 250-based Athlon64 motherboard on Hexus.net.

Memory:
Corsair TwinX1024-3200XL Pro on Overclocker Cafe.
Corsair TwinX1024-3200XL Pro on PCstats.
Corsair Twinx1024-3200XL Pro on Rbmods.
Corsair TwinX1024-4400 on EXTREME Overclocking.

Graphics:
Gainward CoolFX Powerpack! Ultra/2600 watercooled GeForce FX6800 Ultra on Hexus.net.
XFX GeForce FX6800 Ultra on TrustedReviews.
MSI GeForce FX6800 Ultra benchmarks on t-break.
Sparkle GeForce FX5700 Ultra GDDR-III on AcceleNation.
AOpen Aeolus GeForce FX5900XT on CDRInfo.
Albatron GeForce FX5700P Turbo on hardCOREware.
ATI Radeon 9600XT on XYZ Computing.
HIS Excalibur All-In-Wonder 9600XT Turbo and All-In-Wonder 9600 on OcPrices.
Prolink Pixelview GeForce FX5900XT Golden Limited on HotHardware.
XFX GeForce FX5700 Ultra on SLCentral.
Sapphire Radeon 9600XT on PyroPort.
BenQ FP767-12 17" LCD monitor on TrustedReviews.
Samsung SyncMaster 172x LCD monitor on Bjorn3D. Our review here.

Audio:
Mad Dog Entertainer 7.1 soundcard on Tech-Mods.
Logisys SP6001WT 2.1 speakers on PimpRig.

Storage:
AOpen COM5232/AAH CD-RW/DVD ROM on CDRInfo.
Plasmon UDO30I external UDO SCSI drive on CDRInfo.
AOpen CRW5232/ARR CD-RW on PCstats.
Promise FastTRAK S150 SX4 SATA-RAID controller on X-bit labs.
BenQ DW1600 16x DVD+R with dual layer support on HardwareZone.

Cooling:
Aerocool Extreme Athlon XP/P4 HSF on Madshrimps.
Thermaltake Polo 735 multi-platform HSF on Overclockers Online.
Super Talent memory cooler on PimpRig.
Scythe Kamakaze HSF on XYZ Computing.
Thermaltake Extreme Giant III GPU HSF on Computing On Demand.

Cases/Power Supplies:
3DCool Chenming 602 case on Virtual-Hideout.
AOpen A600 aluminum case on Bjorn3D.
QTechnology G (Papst) Series 460W ultra quiet PSU on ExtremeMHz.
OCZ Powerstream 520ADJ PSU on xtremesystems.
Enermax Voltron midtower case on TheTechLounge.

Systems/Notebooks:
Acer Aspire 1714SMi notebook on TrustedReviews.
NEC Versa M340 notebook on BIOS.
Toshiba Portege M100 notebook on X-bit labs.
Gigabyte G-Max CA2 SFF PC on Neoseeker.
Soltek Qbic 3401a SFF PC on Neoseeker.

Other Stuff:
Kiss DP-1504 DVD & DivX standalone player on CDRInfo.
Transcend TV-Box USB 2.0 TV Tuner on BigBruin.
Black Icemat 2nd Edition mousepad on Creative mods.
Compex NP26G-USB wireless router on Designtechnica.
Flexiglow illuminated keyboard on ASE Labs.
Vantec EZ-Grip molex connector kit on ExtensionTech.
Merconnet 7" TFT LCD monitor with TV tuner on Tech-Mods.
MSI MEGA Player 515 MP3 player on TrustedReviews.
RadTech ScreenSavRz notebook screen protector on Overclocker Warehouse.
Dlink DI-624+ wireless broadband router on PyroPort.
XTracPads optical mouse products video review on 3dGameMan.

Finally tonight, Tweaknews have a competition running at the moment to win one of 4 sets of Corsair TwinX1024-3200XL Pro memory, open worldwide.




Digiana AudiaX Wireless Audio FM Transmitter (8 Comments) (link)
Friday, 18-June-2004 17:16:10 (GMT +10) - by Agg


Digiana's AudiaX is a wireless audio FM transmitter. In short, it plugs into a headphones jack and transmits the signal over an FM frequency you choose. You can then pick up the signal with your car stereo, your Hi-Fi, or any other FM receiver.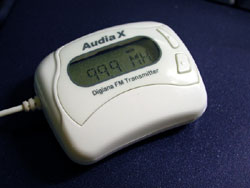 Click for the review!






Friday Afternoon (0 Comments) (link)
Friday, 18-June-2004 17:05:32 (GMT +10) - by Agg


Lots of video-card stuff: OCNZ updated their midrange video card roundup with the Albatron FX5700Ultra GDDR3 128MB. Xbit reckon that modding the GeForce FX5900XT is the way to go, taking the fight to a well-overclocked ATI R9800XT. TweakTown compared the Radeon X800 and GeForce 6800 Ultra cards at the top of the performance bracket, as well as rounding up three X800's for comparison. LostCircuits modded an X800 Pro to XT form. ARP show how to mod a Radeon to a FireGL card.

If you're wondering what all the fuss is about Gmail, Short-Media have a review of the new email service.

DesignTechnica tell you how to protect your wireless network.

SpodesAbode have a watercooling guide they are calling "Ultimate".

PCStats show you how to get ready for BTX, the proposed successor to the ATX PC standard.

Dan has more letters.

There's another shiny Shuttle case mod on GideonTech, while a complex perspex case called The Heart features on PCUnleash.

WinXP SP2 RC2 is now available, thanks to everyone who sent word. Testing only, not for production environments.

PCReview cover hard drive recovery in their latest article.

HWA wonder if Intel are doing the right thing with Socket-775 - certainly a lot of chatter about that new platform at the moment.

Sudhian meanwhile wonder what happened to the Mid-Range market.

Rmack noticed that Ozemail is for sale. A$50 million price tag for the nation's fifth-largest Internet service provider is a tenth of the A$520 million U.S.-based MCI paid for the business in 1998.

Toshiba and Samsung are looking to the future of chip fabrication, thanks Murray.

Sudhian feel that Apple's desktop PC business is dead, in favour of the high-powered workstation market.




Thursday Night Reviews (0 Comments) (link)
Thursday, 17-June-2004 23:02:58 (GMT +10) - by Agg


Cooling:
Vantec Spectrum Fan Card on SubZeroTech.
Foxconn Heat Guzzler CPU Cooler on 3DXtreme.
Speeze CopperSnake II P4 CPU cooler on A1-Electronics.
Asetek Antarctica Waterblock on RBMods.
Alpha S-PAL8055F AMD CPU cooler on Hi-Techreviews.
Thermaltake Extreme Giant III video card cooler on MyWorldHardware.
Evercool WC-201 watercooling kit on GruntVille.
Arctic Cooling Super Silent 4Pro L CPU cooler on TweakNews.

Memory:
Corsair TwinX1024-3200XLPro DDR kit on TheTechZone.
OCZ PC3200 ECC/REG DDR for A64FX on DriverHeaven.
Mushkin Enhanced PC3200 Special Edition on PCStats.
Corsair TwinX1024-3200XLPro DDR kit on ViperLair.

Storage:
Maxtor DiamondMax Plus 9 6Y200M0 200GB HDD on DesignTechnica.
Amacom DiViD 8X External DVD Burner on 3DVelocity.
Plextor PX-712A DVD Burner on HotHardware.
TDK AID+1280B DVD Burner on HWZ.
Promise FastTrack TX4 and SX4 SATA RAID controllers on MadShrimps.
Coolmax 2.5" X-Treme File External Enclosure (video review) on 3DGameMan.

PSU:
PC Power & Cooling Silencer series PSU's on PCPerspective.
Vantec Stealth 420W on Hard-H20.
Super Flower SF-450TS on SweMod.

Case:
Thermaltake XaserV WinGo V8000A aluminium tower on OCModShop.
Lian Li PC-V1000 aluminium tower on PCPerspective.
Logisys Armor midtower on Phoronix.
Logisys Armor midtower on ExtremeMHz.

Interesting Forum Threads:
AMD begins tape-out of first dual Opteron core in AMD Hardware.
Photo Restoration in Photography.
Astrophotography with 300D in Photography.
Safe transporting of PC in car? in Newbie Lounge.
Usefulness of gigantic storage capacity in Storage & Backup.
Thief: Deadly Shadows in Games.




VIA EPIA CL6000E Motherboard (12 Comments) (link)
Thursday, 17-June-2004 00:35:45 (GMT +10) - by Agg


Gibbon has looked at this motherboard and CPU combination from VIA. Dual onboard Ethernet makes it perfect for networking tasks and, with no fans, it runs silently. It's also absolutely tiny - not much larger than a CD case: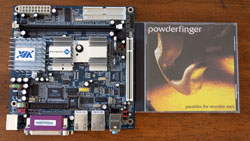 Click for the review!






Wednesday Evening's News. (10 Comments) (link)
Wednesday, 16-June-2004 21:03:36 (GMT +10) - by Wolfy


Ars Technica have interesting interview with Scott Collins from Mozilla.org (and Netscape for about 8 years before that). While we are on the subject, Firefox 0.9 has been released.

Data from the Galileo mission and Earth-based observations indicate that Jupiter's moon Io is hottest body in the Solar System outside the Sun.

A number of people have let us know that ORAC3 has been finished.

The BleedinEdge's latest article; "Abit & Asus CPU Temps: Fact or Fiction?" attempts to determine the accuracy of Abit and Asus onboard CPU temperature monitoring.

The third and last installment of TheTechLounge's Beyond Megapixels editorials has focused on function, filetypes, and features.

ukei sent news of this "nasty Linux exploit that's been discovered affecting pretty much all distributions".

"To Yahoo, size matters", doesn't size matter to everyone? ;) But this article indicates that - presumably in a response to Gmail - Yahoo plan to increase e-mail storage capacity, and free Yahoo email accounts will have 100M of storage space by the end of the year.

If you like showing off your PSU, then this relatively straight-forward guide is for you: Crystal Clear PSU Mod.

Maybe we're not all getting fatter after all, it seems the kilogram is getting lighter.

Seagate has extended its product portfolio with no less than 11 hard disk-based products, including Barracuda 7200.8 400GB drives, USB2, pocket and portable drives.

Silent PC have looked at the A64 from a cooling and silent computing perspective.

Gamers help find suspected Half-Life code thieves, it seems that "Within a few days of the announcement of the break-in, the online gaming community had tracked down those involved" and the FBI have made some arrests in the case.

Draffa sent in this 'time waster' but I think I'll call it the "Mega will I die if the earth is hit by an Asteroid simulator of Doom"! Put in some numbers and see how far you'd need to run to survive.

HardOCP have two systems up for grabs as part of a Donation Drive for Make-A-Wish. I wonder if some people would be happier with one of the 20 Random Prizes. ;) Maybe HardOCP will need the winner to get the systems Folding, as it appears that team OCAU will be back in the world number 1 spot in a few days.




OCAU Events in August (Sydney and Melbourne) (8 Comments) (link)
Wednesday, 16-June-2004 01:14:03 (GMT +10) - by Wolfy


Over the last few weeks we've been planning some OCAU get-together events, to be held in both Sydney and Melbourne in August. Much fun was had at each of the previous OCAU events we've run, and I hope it will be more of the same this time. :)

Sydney Events:
Friday 20th August: Tenpin Bowling - Liverpool - Cost $30.
Saturday 21st August: OCAU's Mostly Annual Paintball Challenge - Rouse Hill - Cost $70 to $260. (18+ only)
Sunday 22nd August: OCAU 5th Birthday Bash BBQ.
The Birthday Bash BBQ is a free event with BBQ food and softdrink supplied by OCAU. We hope that lots of OCAU members are in attendance.

Melbourne Events :
Saturday 28th August: Adventure MiniGolf - Dingley - Cost $13.
Saturday 28th August: Laser-Force, Daytona (and Go Karts) - Oakleigh - Cost $14 (or $50).
Saturday 28th August: Dinner at Greek Restaurant - Melbourne City - Cost $25.
Saturday 28th August: Bowling and Drinks - Melbourne City - Cost $50 (18+ only)
Sunday 29th August: OCAU Weekend #3 BBQ
Again the is BBQ is a free event and BBQ foods and softdrink will be provided by OCAU.

Full event details, Registration and Payment can now be made via the Events Registration Website:



http://events.overclockers.com.au/



While payments are not due until early August, registration numbers will help us to cater for the correct amount of participants at each of the events. If you expect to come to the events please register early.

We're still looking for an appropriate BBQ venue in both Sydney and Melbourne, if you know somewhere that can shelter 100+ people from all kinds of weather and would be appropriate, please let me know.




Tuesday Evening Reviews (0 Comments) (link)
Tuesday, 15-June-2004 18:07:17 (GMT +10) - by Agg


Motherboards:
Albatron PX875P Pro i875 P4 on ViperLair.
VIA EPIA MII 10000 mini-mobo and CPU on PyroPort.

Video Cards:
Chaintech GeForce FX5900XT on MadShrimps.
Gigabyte Radeon X800 Pro on LegionHardware.

Cases:
Aspire X-Infinity on OCHQ.
Raidmax Virgo 811 Mid Tower on ExtremeMHz.
Chenbro Xpider II on PimpRig.
A-Top Z-Alien on Tech-Mods.

Cooling:
Foxconn AMD 3400+ Heat Guzzler CPU cooler on OCIA.
Zalman Reserator 1 fanless water cooler on TechReport.
Zalman Reserator 1 fanless water cooler on Hexus.
Gigabyte 3D Cooler-Ultra GT CPU cooler on HWZ.

Memory:
SimpleTech PC4000 Nitro Dual Channel Kit on ARP.
Corsair XMS3200XL Pro on Hi-Techreviews.

Storage:
3ware Escalade 8506-8 SATA Raid Controller on Xbit.
Eumax 9-in-1 Removable Card Reader on BigBruin.

PSU:
FSP Group Universal Laptop PSU on PyroPort.
CoolMax Fanless 350W (video review) on 3DGameMan.

Audio:
Logitech Z5300 speakers on TheTechZone.
Zalman ZM-RSF6 5.1 headphones on XtremeTek.

Keyboard, Mouse etc:
Bluetake BT500 Bluetooth Mouse on FastLaneHW.
Glide Pad Mousepads on OCIA.
EluminX Illuminated Keyboard on GideonTech.

Notebooks:
Sony VAIO VGN-X505VP on DesignTechnica.
Fujitsu-Siemens LIFEBOOK S Series S7010 Supreme Edition on TrustedReviews.

Misc:
Leadtek TV2000 XP Tuner - Expert Edition TV card on Bjorn3D.
Matrix Orbital MX3 VFD LCD on GruntVille.
Samsung ML-2151N Workgroup Laser Printer on ExtremeOC.



Mr Chilled has taken a look at this mouse from NYKO. It's pretty cool - literally, as it has a hidden fan to keep your hand dry and cool during those intense fragging sessions: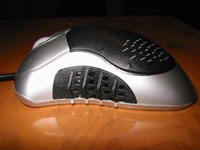 Click for the review!





BleedinEdge have a guide to enable DDR533 on an ASUS P4C800E. They also have an editorial about how We Aren't A Niche Market Anymore.

TweakTown compared ATI Catalyst drivers version 4.5 vs 4.6 in terms of performance.

Aquasesh spotted this tasty new hard drive from Sony. Some other funny stories on that site too.

Koopz says this is a nice DX9 demo stresstest for video cards.

From captainpotato: Here's a bit of Amiga-related news. There is an update on the status of AmigaOS 4, which is now at pre-release stage, available here.

SysOpt have a DDR2 Q&A with an OCZ technical person.

Short-Media have an article about buying into High Definition television technology. My 8 year old Sony 68cm TV is starting to behave oddly, so maybe a widescreen plasma unit is in my future.. I just have to win the lottery first.

Is Dan. Is letters.

PC-Perspective have coverage of ABIT's ACON4 gaming event in Shanghai, as well as their Computex article. HWZ have part 8 of their Computex coverage posted.

Chris noticed this article about turning your PC into a Mac.. from the desktop perspective anyway. You might want to disable all those confusing extra mouse buttons, too. If you have a real Mac G4 but it runs too hot and loud, AppleTalk have a cooling mod.

CoolerMaster are giving away 10 PSUs in a contest that ends in a few days.

A timewaster from DDsD: Play Beastie Boys Frogger. Help the Beastie Boys get across the road to the political protest rally, Look out! The Tyranny of the Bush regime won't make it easy!?

captainpotato has a timewaster too: most of us love old arcade machines, but with a colour printer, a pair of scissors and some glue, one can build a whole range of them that can stand on top of one's PC tower (just like I have done...) They are available here.

Interesting Forum Threads:
ATI "X Series" line-up in Video Cards.
Apple forced to water cool new G5 systems! in Overclocking & Hardware.
Microsoft keyboard - stupid "F Lock" key fix in Overclocking & Hardware.
3-Phase & Electrical Interference in Modding & Electronics.
How To Set Up Raid 0 On Win Xp For Dummies in Storage & Backup.
Distributor problem, BANG on turnover! in Motoring.
Skipping Rope in Sport, Fitness & Health.



Motherboards:
AOpen AK89 Max Athlon64 motherboard (nForce3-150 based) on 3DXtreme.
Asus A8V Deluxe "Wireless Edition" socket 939 Athlon64/FX motherboard (VIA K8T800Pro based) on HotHardware.

Memory:
Corsair TwinX1024-3200XLPro on Hexus.net.
Corsair TwinX1024-3200XLPro and Kingston HyperXPC4000 on GruntvillE.

Graphics:
Sapphire Radeon X800Pro on VR-Zone Hardware.
Eight-way GeForce FX5900XT shootout on HardwareZone.

Storage:
Pioneer DVR-S706-J external DVD+/-RW on CDRInfo.
LiteOn SOHW-832S dual layer DVD+/-RW on CDRInfo.
NU Combo Drive DBW-521 DVD-ROM+CD-RW on CDRInfo.
Samsung SH-W08A DVD+/-RW on CDRInfo.
AOpen DRW8800 DVD+/-RW on Bjorn3D.
Western Digital Raptor 74GB SATA HDD on HWspirit.

Cooling:
Alpha S-PAL8055F Athlon XP HSF on Madshrimps.
CoolerMaster Hyper 6 HSF on Overclockers Club.
Next-Cool WaterCUBE GT3 waterblock on PimpRig.
CoolTech Modula2 2F12F watercooling kit on EXTREME Overclocking.
Swiftech MCX6400-V Athlon64 HSF on Viper Lair.
Thermalright SLK948U HSF on TecCentral (as told by a fish).
Xice ExternalCool EC900 watercooling kit video review on 3dGameMan.

Cases:
Cooler Master Wavemaster case on Club Overclocker.
CoolerMaster Centurion 5 case on OCIA.

Other Stuff:
Bluetake BT500 white bluetooth mouse on A True Review.
Zalman Theatre 6 (ZM-RS6F) 5.1 headphones on X-bit labs.
Samsung ML-2552W laser printer on Bytesector.
Logisys Xenix USB LED/Fan Mouse on ExtensionTech.
Evesham Evolution Extreme PC (P4EE 3.4GHz, ATI Radeon X800 Pro) on TrustedReviews (also tested with Radeon X800XT and GeForce 6800 Ultra cards).
Zalman ZM-RSA 5.1 headphone amplifier on Tech-Mods.


Finally, Dan has reviewed a time machine (yes, really) and a tiny cam thing.
He gets all the cool stuff ....



We're doing the final testing of the OCAU Mailing List. If you'd like to subscribe, the info is here:



OCAU Mailing List





ExplosiveLabs looked at five socket754 motherboards for A64, while Bit-Tech compared five P4 coolers. Corsair and Kingston memory go head to head on Bjorn3D, with five headphones from Creative and Koss covered on NordicHardware.

Parts of Tiano, Intel's proposed replacement for the PC BIOS, will apparently be open source.

There may be dual-cored P4 Prescotts on the way, according to Xbit and geek.com.

SilentPCReview did some deep undervolting and underclocking to reduce the heat output of a CPU.

Apple's marketroids are getting a slap on the wrist, after the UK's advertising watchdog decided their claim of having the world's fastest personal computer was not accurate. "It also understood that the G5 machine tested was still under development and the tests seemed to be configured in a way that might have given the Power Mac G5 an unfair advantage."

However, they get some credit for having watercooling in their latest G5 model, thanks Murray.

Here's a funny Prescott survival kit that AMD apparently sent to some sites.

Virtual-Hideout took a walk down memory lane with a history of case-modding.

FutureLooks took a Canon digicam to Peru in a real-world review of how usable it is.

If you've got 300GB of data looking for somewhere to go, Xbit looked at three hard drive options for you.

Tech-Report toured ABIT's factory in China.

NewScientist report that greedy hackers could hog WiFi bandwidth, thanks Frank.

Seagate has some new hard drives on the way, thanks Murray.. more info here.




Press-Releases (1 Comments) (link)
Saturday, 12-June-2004 02:26:05 (GMT +10) - by Agg


Some interesting Press-Releases from the last week or so:

AMD announced that it will introduce a new brand of PC processors to be named AMD Sempron™. The AMD Sempron processor family is expected to redefine everyday computing for today's value-conscious buyers of desktop and notebook PCs. The general concensus seems to be that these will be replacing the Duron line and competing with Intel's Celerons. More info in this press-release.

Western Digital announced: The high performance capabilities of Serial ATA (SATA) hard drives were validated recently, when WD Raptor 10,000 RPM SATA drives from Western Digital Corp. (NYSE: WDC) outperformed 10,000 and 15,000 RPM SCSI drives from two competitors in separate independent, head-to-head comparison tests conducted by and published in the June issue of Maximum PC magazine and the upcoming July issue of Custom PC magazine (UK). I've reproduced the entire press-release in this thread in our Storage & Backup Forum.

VIA Technologies announced that the VIA K8T800 Pro chipset, which has been optimized for the new AMD Athlon™ 64 processors, features official support for the 1GHz/16-bit HyperTransport™ technology bus. By increasing the bi-directional HyperTransport technology link from 800MHz, as featured on previous VIA K8 Series chipsets, to 1GHz, the total theoretical bandwidth between the system's processor and the VIA K8T800 Pro is increased to an impressive 8.0GB/s. The additional bandwidth brings a performance boost to CPU and memory-intensive business applications, as well as today's most demanding 3D and digital media applications. Performance of systems featuring the new AMD Athlon processors 3500+ and 3800+ is further enhanced by support for dual channel unbuffered DDR400 SDRAM. More info in this press release.

TwinMOS announced the release of DDR2 series memory modules. TwinMOS has a good R&D team with latest technologies and a close cooperation with Intel, and proudly all series of DDR2 memory modules just passed Intel validation. TwinMOS REG DIMM is the 1st memory module passed by Intel lab testing, which makes TwinMOS the first one among Taiwanese suppliers since its approval of DDR2 unbuffered DIMM and registered DIMM by Intel. More info in a 1MB DOC file here.

Gigabyte announced the release of graphics accelerators powered by the world's first native 16-lane PCI Express VPUs from ATI, the GV-RX80 series, GV-RX60 series and GV-RX30 Series which are based on ATI's newly introduced RADEON™ X800, RADEON™ X600 and RADEON™ X300 visual processing units (VPUs). ... PCI Express is the next-generation I/O interconnect standard designed to fulfill the bandwidth requirement of upcoming platforms. With up to 4GB/s of one-directional and 8GB/s of concurrent bandwidth, PCI Express has the benefits of increased bandwidth and scalability to open up a whole new world to 3D applications. More info in this 2.8MB DOC file.

Gigabyte also announced its hefty high-performance motherboard, the GA-K8NSNXP-939, in conjunction with the launch of AMD socket 939 Athlon 64 and Athlon 64 FX processors. Supporting the new Athlon 64 and Athlon 64 FX processor with the acclaimed Dual Channel DDR400 memory architecture and 1 GHz HyperTransport interface, the GA-K8NSNXP-939 satiates the user's need for speed and more speed. More info in this 509KB DOC file.




Friday Morning Reviews #2 (0 Comments) (link)
Friday, 11-June-2004 10:34:15 (GMT +10) - by Agg


Motherboards:
Gigabyte K8VNXP A64 on RBMods.
Gigabyte K8NSNXP nForce3 250-based A64 on NeoSeeker.
Albatron K8X800 Pro II A64 on OCModShop.
VIA EPIA M-10000 mini-mobo and CPU on Tech-Mods.
PCChips W32 S754 A64 on OCWB.
ASUS P4P800-E Deluxe i865PE-based P4 on Xbit.
Gigabyte GA-7VT600-RZ KT600 SocketA on PCStats.

Video Cards:
Albatron GeForce FX5700P Turbo on OCPrices.
Inno3D Tornado GeForce FX5700 Ultra with GDDR-3 on TheTechZone.
ATI Radeon X800 Pro on VR-Zone.

Cooling:
Alpha S-PAL8952 P4 CPU cooler on Hi-TechReviews.
CoolerMaster Hyper6 CPU cooler on SilentPCReview.

Mouse etc:
Hyperglide Mouse Skates on XYZ.
Icemat 2nd Edition mousepad on PCTechZone.
Steelpad 3S mousepad on TechIMO.

Audio:
MSI Megastick 1 MP3 player on DesignTechnica.
Logisys SP6001-BK speakers on ATrueReview.
Zalman USB Sound Card on PimpRig.
Edifier S5.1 speakers on TheTechZone.

SFF / Laptop:
SavRow Razor 1.7 laptop on Hexus.
ASUS M6000N 1.8GHZ laptop on TrustedReviews.
Shuttle XPC SB61G2 v3.0 P4 SFF on Hexus.
STM 12" Alley notebook bag on OCWH.
Radtech 12" Powerbook PowerSleevz laptop protector on OCWH.

Misc:
Seasonic Super Series 300W and 400W PSUs on SilentPCReview.
KCorp Silver Series Wireless Router on TrustedReviews.
HiTi PhotoShuttle dye-sublimation pritner on HWAnalysis.




Friday Morning Reviews (0 Comments) (link)
Friday, 11-June-2004 03:04:07 (GMT +10) - by Agg


Cooling:
Asetek WaterChill Antarctica watercooling kit on HotHardware.
Asetek Antarctica Waterblock on ModCity.
Spire Coolwave SP4410B0-F CPU cooler on SilentPCReview.
PrimeCooler HyperCool HX I+ and HC II+ HSF on MadShrimps.
Thermalright XP-120 P4 CPU cooler on SystemCooling, thanks Parcheese.
Spire SkiveStream II CPU cooler on OCWareHouse.
Primecooler Mega II+ & III+ AMD CPU coolers on A1-Electronics.

Storage:
LG Super Multi DVD Writer on HardWareZoom.
ASUS DRW-0804P DVD Burner on ViperLair.
Plextor PX-712A DVD±R/RW Drive (video review) on 3DGameMan.
NU SBW-242 External Combo Drive on tbreak.

Case:
Antec Aria MicroATX Cube on PimpRig.
Sorme MAX602 Mid Tower on ExtremeOC.
Chenming 602 on SteamedTurtle (?).
Chenbro Xpider II on DriverHeaven.
Chenming ATX 602-SL on Hi-Techreviews.
Lian Li PC-V1100 Silent on OCrCafe.

Memory:
Corsair TwinX XMS3200XL Pro on HWHell.
Corsair TwinX 1024-3200XL Pro on ExtremeMHz.
Corsair TwinX 1024-3200XL Pro on LegionHardware.

Digicams:
Concord Eye-Q Go Wireless on DesignTechnica.
Panasonic Lumix DMC-FZ10S-K 12X Optical on ByteSector.
Panasonic Lumix DMC-LC50-S on TrustedReviews.




Wednesday Evening (4 Comments) (link)
Wednesday, 9-June-2004 20:31:43 (GMT +10) - by Agg


From Kildare: Huge congratulations to the crew from Atomic for winning the 6th installment of Battle@Matchrix defeating Team OCAU. It was a great night with OCAU (Overclockers Australia) taking the Call of Duty face off however Atomic proved to be too strong cleaning up in both the Desert Combat & Battlefield Vietnam matches. Stay tuned for full results & photos & thanks again for all those who attended & event sponsor AMD. You see, this is what happens when Team OCAU doesn't have me barking orders at them in Desert Combat. :) More info in this Matchrix thread and this OCAU thread with photo.

A couple of days ago marked the 50th anniversary of the death of Alan Turing, widely regarded as the father of modern computing.

Longstanding friend of OCAU "VooDoo" has a new project up, www.v8owners.com, dedicated to V8 owners of any type. Ie Holdens, Ford, Toyota etc. We have articles coming covering all types of modifications, News, Reviews and industry gossip. If two wheels is more your style, check out the OCAU Motorcycle Club.

von Stalheim spotted this cool boombox PC mod with a touchscreen.

Dan has more letters and, well, more letters.

Short-Media modded their modem to keep it cooler.

Computex coverage continues, on Ninjalane and HWZ.

XtremeResources compared the Asetek Vapochill LS and nVentiv Mach II GT vapour phase-change cooling systems. If you decide you like the nVentive unit and want to buy one, if the rumours of their recent financial demise are true, you may be too late.

BleedinEdge reckon that their Shuttle needed shushing, with the little PC running too hot and loud for their tastes - so they modded it.

From Bern: ATi have quietly released Version 3.9.0 of their linux drivers here.

Today's taste of the bizarre is this Flash recreation of classic horror flick The Exorcist, in 30 seconds, with bunnies. The Titanic one is pretty funny too. Blame Darcy.

HWAnalysis have a mild rant about product launches of the paper variety.

Chris noticed this Register story about the RIAA wanting your fingerprints.

CDFreaks have a preview look at a 16x DVD+R drive from BenQ.

NewScientist have some coverage of the transit of Venus from yesterday.




COMSCOM Think Tank Minitower Case (3 Comments) (link)
Wednesday, 9-June-2004 03:09:16 (GMT +10) - by Agg


It's another case review! This one is a little unusual, though. It's from a company you probably haven't heard of and it has a few interesting features - one of which took me completely by surprise: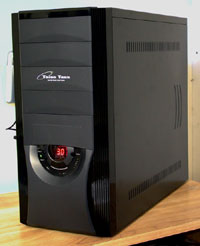 Click for the review!


The next few reviews won't be cases, I promise. :)




Home-made Simulator PC (21 Comments) (link)
Tuesday, 8-June-2004 11:48:25 (GMT +10) - by Agg


Now this is cool:



Click for the PCDB entry, 15 pics!





Amongst the virus and spam email, I found some reviews for you today:

Video Cards:
Chaintech Geforce FX5500 256Meg, at Tweaknews.net - read it if you can tolerate 10 pictures and 5 words per page.
Sapphire Radeon X800 Pro at Bjorn3D.com

PCUnleash report that Kye has "successfully modded the X800Pro to a full fledged X800XT."

Cooling:
Fluid XP, looks and feels like water but it costs a fair bit more, see why over at A True Review.
Thermaltake Extreme Spirit North and South Bridge Cooling Kit at Hi-TechReviews.com, dare I call it a cute little mini-blower?
Thermaltake Tower 112 Cu, it's big, copper and ugly, say LegionHardware; they don't really like it.
Zalman Reserator 1 Fanless Water Cooling kit "is too high a price to pay for a product of modest performance no matter how quiet it is" say PimpRig.

RAM:
DDR-II vs. GDDR3, usually I don't link stuff that has popup and similar advertising, but thought a number of readers may be interested in this.
Corsair TwinX1024 PC4000 PRO at Controlled-Insanity PC Mods.
PMI3200-512DG Turbo Memory gets a brief review at BlueSmoke.

Cases and BareBones:
Small Form Factor Box. This month, the Ars System Guide explores the world of SFF systems.
Antec Overture at Legit Reviews.
Chenbro Xpider II at eXtreme Reviews.
FIC Condor is a "Novel Approach to SFF" according to SFFTech.
QTechnology 350W Power Supply not only has voltages that are spot on, but its also quiet and shiny, according to subzerotech.
Silverstonetek ST460W PSU at Rbmods.

Mods:
Acrylic Scratch Fix Guide, Gideon Tech will show how you can repair minor scratches in your acrylic case windows.
The Sunbeam Hyper Light is very bright, lightweight, does not generate heat or EMI interference according to Monster Hardware.
Sunbeam Tech Meteor Light - Bubble Lights at Hi-TechReview.
Thermaltake TWV480 kit, its a ... Power Supply/Wattage Viewer, reviewed at Overclocker Cafe.

Misc:
Lexington Technology PC Access Review at GruntvillE.com, its a home PC proximity card reader security system thingy.
Transcend USB 2.0 High Speed Card Bus Adapter, USB2 for your laptop at eXtreme Reviews.
Fluance Surround Sound Home Theater 5 Speaker System AV-HTB+ review at Tech-Mods.net
Zalman ZM-RSSC 5.1 USB Soundcard is "a good idea, poorly implemented" according to bit-tech.
Apple's new AirPort Express, including a look at the technical side of the device from Ars Technica.
Beyerdynamic DT 880 headphones. World's best cans? Asks DansData.

Two new IANAG Tweaks: Codecs and Network Browsing.

Computex 2004 News:
Wrapup and more at Hardware Analysis.
Four days in Pictures. This one has girls, a picture of the airport and mostly anything else OCW could snap.
Full report from VR-Zone.
Tech Tidbits by PCstats.com.
Computex 2004 - part 5 at Hardware Zone, but don't be distracted by the thumbnail picture of the girl - there aren't more, I already checked for you. ;)



There will be a transit of Venus across the Sun in about a day or so. Venus will pass directly between us and the Sun, being visible as a small black dot across the Sun's surface. This is a rare event - the next one will be in 2012 and then it won't happen again for about 100 years. The last time it happened was in 1882. Of course, staring directly at the Sun to see this phenomenon is a really bad idea, but here is a webcast set up by the CSIRO that will transmit pictures from the event. There is a slashdot story about this, from which I will blatantly steal the following handy links: safe observation, where/when to see it and pictures taken by the SOHO orbiting observatory.

The Cassini-Huygens probe to Saturn and its moon Titan is on approach to the giant planet after 7 years. On July 1 it will speed at 3.2 miles a second between two of the outer rings of Saturn, soar to within 12,500 miles of the cloud tops of the stormy giant, fire its engines for 96 minutes to slow down and then be captured by Saturn's gravitational field.

Kerpal noticed that Windows Media Player 10 is out in Beta form. PCMag have a preview of it.

SpodesAbode have a roundup of low-latency memory from Corsair, OCZ and A-Data.

TechReport have a pile of Computex stories: BTX may not work for Athlon 64. Iwill's dually SFF up close. Shuttle grows the XPC with P-series chassis. Asrock's dual socket wonder bridges the gap. Biostar keeps pace in SFF race with BTX chassis.

Our Folding@HOME Team continues the sprint towards first place in the world. We've closed the gap to less than 700,000 points or approximately 21 days until we pass, thanks Simon.

Microsoft managed to get a patent for the "double click", thanks Enthalpy. On a more positive note, they are offering free licenses to "cold servers" that are used in disaster recovery plans.

Ambush noticed a new copy protection technique on DVD's.

From Murray: THE world's first private-sector space flight is tentatively planned for June 21 from the United States, and aims to reach an altitude of 100 kilometres, the flight's promoter, Scaled Composites, said.

If you fancy a huge ATI Banner you can score one and donate money to breast cancer research by bidding on that auction, thanks Shintaro. This is a funny ebay auction, thanks Sutto.

Xbit report on Alienware's latest tasty high-performance PC's, thanks Tony.

From Mibberz, good news for Optus users: If you havent heard, Optusnet are now mirroring debian, fedora and sourceforge. Downloading from this site still goes towards your datamonitor traffic though. apt-get upgrade now runs at 700kBs. woo!

Interesting Forum Threads:
Really new and lost for words (basic OC and watercooling) in Newbie Lounge.
Xbox: The Chronicles of Riddick: Escape from Butcher Bay (PICS) in Games.
Digital TV on PC discussion in Audio Visual.
REQ: Help save an Admin's neck (cooking help) in Geek Food.
Questions about current and near future Porsche products? in Motoring.
Is there life without a uni degree? in The Pub.
Give this friendly frog a caption! in Photography.



A few reviews to round out the weekend ...

Motherboards:
Epox 8KDA3+ nForce3 250Gb A64 motherboard on PCStats.

Memory:
Corsair Twin-X 1GB 4000 PRO DDR on XtremeResources.
Corsair Twin-X 1GB 3200XL PRO DDR on Driverheaven. A rating of 5,2,2,2 @ 200MHz DDR is pretty tidy.
Kingston HyperX PC4300 1GB DDR on GideonTech.
PMI PC3200 Dual Channel Turbo DDR on XYZ Computing.

Cooling:
Asetek Antarctica KT03A-L30 WaterChill watercooling kit on Hi-TechReviews.
Kool Solutions Chill Vent II Deluxe CV-288 plastic air vent on Madshrimps.
Logisys 3D Edge fans on Virtual-Hideout.
Thermaltake Venus 12 A64 HSF on Controlled-Insanity PC Mods.
Xoxide Angel Eye reservoir on GruntvillE.
PrimoFlex green UV tubing on PimpRig.

Cases:
Thermaltake Damier V6000 case on Rbmods.
Lian Li PC-V1000 midtower case on Dan's Data. Looks really nice to me.

Other Stuff:
Panasonic PT-AE500 HDTV home theatre projector on Bytesector.
Mambo MP-D600 6-in-1 MP3 player on PimpRig.
CrazyPC Hex Mesh on PimpRig.
Vantec EZ Grip Molex Connector Kit video review on 3dGameMan. Apparently it's "Kickass"! :)



Ken spotted the latest email scam. This time it's an email pretending to be from Westpac regarding their sponsorship of the Australian Paralympic Team Athens 2004. Some unscrupulous scammer has copied the Westpac email but changed the details so they can steal credit-card details. More info here. Meanwhile, at least one Australian eBay scammer has been caught, thanks Gigaswitch.

More Computex coverage: Galleries of the show floor, booth babes and offsite events and parties from TheTechZone. More coverage on VR-Zone, OCWB (and here), HWZoom and HWAnalysis. HWZone have 1, 2, 3, 4 updates.

HardWareZoom have an interesting look at ABIT's Test Labs, while the Gigabyte Factory is the focus at HardCoreWare. PC-Perspective checked out the VIA Technology Forum at Computex.

A few people sent in this story about toxic dust and computers.

MadShrimps spent some time overclocking a P4 3.0E Prescott CPU on ABIT's IC7.

IANAG have a WinXP Performance Tweaking Guide as well as some XP Tweaking Myths.

Sudhian have some info about yields and positioning of Athlon 64, while GuruReview looked at the computing industry's stance on 64-bit processing.




Antec SLK3700-BQE Black Quiet Super Mid Tower Case (11 Comments) (link)
Saturday, 5-June-2004 03:16:48 (GMT +10) - by Agg


Wolfy has reviewed this case from Antec. It's a cheaper option than their P160 I reviewed last week here, but what does that cost in terms of features or quality?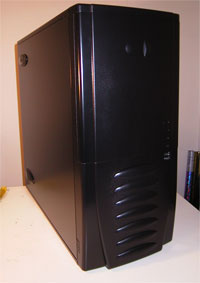 Click for the review!






Some reviews to get you through the weekend. (1 Comments) (link)
Saturday, 5-June-2004 02:15:00 (GMT +10) - by Wolfy


Following on from the recent 939 launch:
PC Perspective have a 939-pin Motherboard Preview: MSI, Asus and NVIDIA.
SharkyExtreme's Athlon 64 FX-53 & Athlon 64 3800+ Processor Review,
and AMDReview's AMD Athlon 64 FX-53 review.

Motherboards:
ABIT IC7-MAX3 S478 is the "Crème de la Crème of Socket-478 boards" according to Accelenation.
Abit's KV8 Pro at The Tech Report.
Gigabyte GA-K8VNX 'pocket sized review' at A1 Electronics.

Legion Hardware have a VIA K8T800 Board Roundup, which compares boards from Abit, Albatron, ASUS, EPoX and Gigabyte.

Cooling:
CoolSonic IceCube HSF at 3D Velocity, but I'll save you the trouble since they conclude: "all respects a fairly unspectacular cooler".

Video Cards:
Chaintech FX5950 Ultra, is fast, overclocks good but is loud according to R&B.
Sapphire Radeon X800 PRO Review at Beyond3D, is it Sapphire or is it really just ATI OEM?
Albatron GeForce FX5700U3 GDDR3 at PC Stats.
Hightech Excalibur Radeon 9200SE at TweakNews.

Monitors:
Samsung SyncMaster 191T plus LCD at Tech Mods.

Case, Systems and Laptops:
Agg doesn't let me link to stuff that I think is sexy, but Trusted Reviews say the new Sony VAIO VGN-X505VP "extremely slim and sexy"
Antec Aria MATX Cube Case at Bjorn3d.
Mesh Matrix64 3700+ Pro over at Trusted Reviews.
Systemax Encore 3107 is reviewed at Trusted Reviews, but it's really just a MSI MEGA 180 system.
ZMAX-AP P4 SFF, Iwills P4 small form factor system with integrated wireless at SffTech.
The Toshiba Portégé M200 Tablet PC is featured at Adrian's Rojak Pot
TTGI SuperFlower X-Mask Case at MadShrimps, but that X-mask is enough to give little children nightmares I think.
Super Flower SF-301T3-BK Aluminum Case, its cheaper than your average aluminum case, but TheTechLounge will tell you why.

Epiacenter.com have looked at two Skyhawk mini-PC's the SMC7261 and SMC7260 Cubes.

While Explosive Labs have a roundup of another 3 Small Form Factor PC's, this time all based on Intel's 865G; from Biostar, Epox and FIC.

Mouse Mats:
Steelpad 4s and 4D Mouse Surfaces at Hi-TechReview.com
Black Icemat 2nd Edition in 10 words or less over at TechIMO.

Misc:
Ars Technica has a look at 8 USB 2.0 Hi-speed Flash drives, using both PCs and Macs.

BlueTake BT500 Bluetooth Mouse & BT009X Adaptor at Modtown.
Spire Coolers Gigapod at PCTechZone, its an external HDD enclosure.
Altec Lansing CS21 Speakers over at Driverheaven.net.
StarTech StarView SV231USB KVM Switch, looks like a typical KVM to me, but ipKonfig have a two page review for you to read.
Actiontec Wireless Digital Media Player review Designtechnica, but they wern't really impressed by it, suggesting that only half the features worked.

And for those of us who would rather be somewhere else, here is a look at Computex 2004 from Trusted Reviews.



Here's a couple of different ways of approaching the "Home Theatre PC" idea:



Click each image for a PCDB entry!






Friday Afternoon Reviews (0 Comments) (link)
Friday, 4-June-2004 14:44:33 (GMT +10) - by Agg


Water Cooling:
Innovatek XXS watercooling kit on ViperLair.
Asetek WaterChill GPU & Chipset Waterblocks on TheModFathers.
Xice ExternalCool E900 watercooling kit on Hard-H20.

Audio:
Logisys Alien Speakers on ATrueReview.
X-Micro Bluetooth Headset (German, so babelfished) on TecCentral.
Xclef HD-500 MP3 Player on ATrueReview.
eDimensional Audio FX Force Feedback Headset on 3DGameMan.
MobiBLU DAH-1000 128MB MP3 Player on TheTechZone.
Zalman External USB 5.1Ch. Sound Card on Tech-Mods.

PSU:
Thermaltake POLO12 410W Silent on 3DGameMan.
PCP&C 510 Deluxe on Over-Clock.

Memory:
GeIL 1GB Dual-Channel PC-4000 on OCClub.
Corsair TwinX1024 3200XL Pro (2-2-2-5) on IPKonfig.
Kingmax Hardcore Series PC4000 on ExtremeOC.

Misc:
Cable-Sage Cable Manager on ExtremeReviews.
Ahanix iMon Remote Control on DesignTechnica.
Vantec PC Mods Kit (misc bits) on XYZComputing.
Roku HD1000 Digital Media Player on DesignTechnica.
Asus DRW-0804P 8X DVD+/-R Burner on HotHardware.
Samsung 192MP TFT screen on NeoSeeker.



If you live in the Coogee area of Sydney, keep an eye out for a lost Javanese kitty that might be wandering around. Grey fur, long bushy tail, green eyes, v slim build. Belongs to some friends of Agg's who are really fretting without it.

If you've paid a fine through NSW Infringement Processing Bureau's website in the last month, you might want to check your bank statements to make sure you weren't overcharged.

Miss Australia is now Miss Universe! Ms Hawkins, a former Newcastle Knights cheerleader, is the first Australian to win the competition since Perth's Kerry Anne Wells in 1972.

Hardware Analysis have some coverage of Computex 2004 here. Ninjalane have some coverage here and OC Workbench have some Pre-Coverage and Day-1 Coverage.

LinuxInsider is reporting that US Spacesuits on the international space station are unusable and that NASA has been forced to order the crew to use Russian spacesuits instead.

The Register has exclusive news that Intel's next generation Xeon chipsets are to support 1066MHz.

Sony are set to release a TV based on the jointly developed IBM, Toshiba and Sony "Cell" processor.

Over the next 7 years the US Army will be overhauling their soldiers uniform and equipment. More information on this can be found here on Wired News.

CoolTechZone have news that Iomega has unveiled a Dual-Layer DVD+R Burner.

InfoWorld are reporting that Reveo are developing 3D memory, they are expecting to fit a terabit of storage into the size of a sugar cube.

Adrian's Rojak Pot have a Graphics Card Comparison Guide up on their site.

According to this article, "Microsoft will today display software that lets customers sign in to a website and then take their identity with them as they browse the web to other federated sites."

Yahoo! News is reporting that Video Games such as Dance Dance Revolution help players to lose weight.

TechRepublic has news that there is a security flaw in the latest versions of Windows. A Microsoft Security Bulletin details the flaw here.

Microsoft has said that it plans to spend about $300 million on the launch of Windows XP Service Pack 2.

New Scientist are reporting that a "Smart bullet" that reports back wirelessly has been developed by United States researchers.

PC Review have an article on Backup Solutions and what different choices we have.

Those of you who are playing the latest Thief game might be interested in this Tweak Guide.

Alan Dang has released his final article, titled "The Art of the Tech Demo" on FireingSquad.




waine_sahn's PC (7 Comments) (link)
Wednesday, 2-June-2004 16:47:18 (GMT +10) - by Agg


The PCDB is bursting with interesting ideas this week! Here's another one, using a fridge evaporator as a radiator:



Click for the PCDB entry!






Wednesday Morning (0 Comments) (link)
Wednesday, 2-June-2004 03:13:09 (GMT +10) - by Agg


Now that it's June, we have our first full month's worth of logs after moving to our new servers, pie and chips. So, in May, we served 8,355,831 pages. This is the first time we've broken 8M pages in a month and a pretty good result given we didn't have much in the way of reviews in May.

I had a very pleasant ride south of Sydney with about 30 people from the OCAU Motorcycle Club on Sunday. Great weather, good roads, friendly people.. not a bad way to spend a day at all. :)

If you think the Government isn't paying enough attention to the spam problem, it seems they now have to, thanks Josh. A Senate committee has been told members and senators are drowning in a sea of increasingly offensive spam, just like the rest of us.

HardOCP have an editorial about video card reviews and how they will approach the various "cheating" problems from now on.

TweakTown have a budget P4 chipset shootout, while HWZ looked at nine 8X DVD burners.

Hexus compared some mobile graphic chipsets, namely the ATI Mobility Radeon 9600 and NVIDIA GeForce FX Go5700. Current top end mobile GPUs enable excellent DX8-level performance and DX9 titles are certainly playable.

3DVelocity looked at some new ATI products featuring, among other things, PCI-Express. HotHardware have some info too.

Goofy[HSK] spotted these new low-power Geode CPUs from AMD, based on their mobile Athlon. The NX1500@6W version requires no cooling fan and typically consumes 6W at 1Ghz, peaking at 9W under load, utilising AMD's PowerNow! power saving technology.

Win y'self some Corsair memory over on OCrCafe.

CreativeMods have a modder of the month posted with info on his project.

Today's flash timewaster is Bow Man from Pax.

Interesting Forum Threads:
X800 Pro -> X800XT Mod Successfully Completed in Video Cards.
Miss OCAU 2004 [56k beware, images] in TV, Movies and Music.
Revisiting OCZ PC3500 Plat LE BH-5 @250mhz 3.18v in Overclocking & Hardware.
Bush Mechanics - Your Story in Motoring.
Being a taxi driver. Experiences? in The Pub.
Slackware to use X.org over Xfree86 in Other Operating Systems.
Linux: is swap necessary? in Other Operating Systems.
Thief: Deadly Shadows demo is out in Games.
Free 360 Day trail of Windows XP 64 edition Beta 2 in Windows Operating Systems.




Dexx's Minitower (2 Comments) (link)
Wednesday, 2-June-2004 03:05:12 (GMT +10) - by Agg


Can't find a case you like? Make your own:



Click for the PCDB entry!






It's late, and I'm doing reviews ... here they are for you: (5 Comments) (link)
Wednesday, 2-June-2004 00:51:32 (GMT +10) - by Wolfy


Lets start with more AMD Socket 939 links:
Bit Tech.
Sudhian.
Trusted Reviews.
Legit Reviews.

Quite a number of Cases and Mods:
The CasEdge Diabolic Minotaur reviewed at Legion Hardware. I actually noticed this case with horns on a local store's website yesterday.
The Asus Pundit barebones enscape.net.
OCZ 420w PSU at DriverHeaven.
Chenbro Xpider Gaming Bomb reviewed at ExtremeReviews. Lots of these, in various colours, around locally as well.
Thermaltake Xaser V Series WinGo V8000A Case at ModSynergy.
Lian Li V-1100 Aluminum Mid-Tower at GruntVille.
A very pocket sized review of the Thermaltake XTunner at A1 Electronics.net,
but there is lot more detail on the XTunner here on Overclocker Cafe's review.

Motherboards:
MSI K8N Neo Platinum, MSI's latest Athlon 64 board sporting the NVIDIA nForce 3 250Gb chipset is reviewed at ViperLair.

Memory:
Transcend DDR500 PC4000 Memory at TheTechLounge.

Cooling:
Gigabyte, the popular motherboard manufacturer have produced their first CPU coolers.
The Gigabyte 3D Cooler Ultra GT Edition is reviewed at Hardcoreware.
The universal socket design, large and heavy cooler has the following features: "copper heatsink design, a dual inlet central blower fan, 4 way heat pipe technology, linear fan speed and noise controller, LED light display".
The Samurai is the latest heatsink from Scythe and reviewed here by Madshrimps.
Foxconn Heat Guzzler, a heat-pipe based CPU cooler, reviewed here at ExtremeReviews.
Two water block previews for you:
The Danger Den TDX Water Block at MadShrimps.
And Titan TWC-A04 Watercooling Kit at at Guru Review.

Drives and Storage:
NEC ND2510A DVD+R9 Dual layer DVD at TrustedReviews.
The Maxtor DiamondMax Plus 9 SATA drive performs read operations well but writes poorly according to this 2 page review at ByteSector.

Monitors:
Samsung SyncMaster 192MP at OverclockersClub.

Networking and Wireless:
I'm not sure that Designtechnica were too happy with the performance of the D-Link DI-624 802.11G.

Sound Stuff:
Tech Zone ask "Are you ready to rock!?" when they review the Klipsch ProMedia Ultra 5.1 speaker system.
iRiver H140 40GB Hard disk player at Bytesector.
T5400 5.1, Creative's "budget-friendly" 5.1 speaker system at TheTechLounge.
Jensofsweden Mp130 mp3 player at R&B.
Altec Lansing AHP 512 studio phones at PC Tech Zone.

Misc:
Nokia 3220 Camera Phone 1 page preview by Modtown
SST-SDP01 6-in-1 card reader at XYZ COMPUTING.
Tweeknews have had a look at the Vantec Cable Sleeving kit, but I do have to wonder if its better than the spiral-wrap, cable-ties and heatshrink tubing you buy at the local electronics shop, but it does come in pretty colours and glow under UV light.

I do believe the guys at Hi-TechReviews are serious when they looked at the Sunbeam Tech USB Coffee Warmer
... but then again maybe they should just be using a super sized OCAU mug instead?

USB memory in a pocket knife: USB Victorinox SwissMemory Pendrive, from Swissbit AG (a Swiss data memory specialist) and Vitorinox, as seen here at Hard-h20.




Socket939 is here! (9 Comments) (link)
Tuesday, 1-June-2004 16:12:03 (GMT +10) - by Agg


AMD have released their Socket939 A64 processors at last. They announced four processors, but the two available now are the Athlon 64 FX-53 and Athlon 64 3800+. The flagship FX chip is freed from the previous limitation of requiring registered memory, as discussed in our review of the FX-51 here. The 3800+ uses the new Newcastle core, losing 512KB of cache compared to its predecessor, but gaining a 128-bit memory controller. Has the long wait for S939 been worth it? Coverage on Xbit, AnandTech, HotHardware, TechReport, Beyond3D, PCPerspective, DriverHeaven, HardOCP, AMDZone, FlingingSquids and AcesHardware.



This is a pretty cool new PCDB entry: I've always loved the look of Timber, analog VU meters, Valves and the gold look of Marantz HIFI from the 70's. This is a combination of all those things. It's a work in progress, but looking good!



Click for the PCDB entry!
---
Advertisement:


All original content copyright James Rolfe.
All rights reserved. No reproduction allowed without written permission.
Interested in advertising on OCAU? Contact us for info.