July 2004
Win Stuff @ AusGamers! (2 Comments) (link)
Friday, 30-July-2004 13:06:51 (GMT +10) - by Agg


Vivendi Universal Australia and AusGamers are giving you the chance to win one of 5 Game giveaways valued at $500 each, for answering a few simple questions on the upcoming highly anticipated massively multiplayer game, World of Warcraft.

You don't need to be an Ausgamers member to answer, just need a few details, and to complete several questions to be in the running, however it is reserved to Australian and New Zealand residences only!

Click here for more info. Entries close Monday morning!



CPU:
AMD Sempron 2800+ and 3100+ Processors reviewed by Sharky Extreme.
AMD Sempron 3100+ Processor reviewed by HardwareZone.
AMD Sempron 2800+ Processor reviewed by Short-Media.

Motherboards:
ABIT AA8 DuraMAX reviewed by Hexus.
ABIT AG8 reviewed by Hexus.
Albatron PX875Pro reviewed by BurnOutPC.
Chaintech SUMMIT SKT600 reviewed by TheTechLounge.
DFI Lan Party NFII Ultra B reviewed by NeoSeeker.
ASUS PC-DL Deluxe reviewed by HardwareZone.

Video:
Silverstone SST-FP54 Vacuum Fluorescent Display reviewed by Twins Byte. (Translated with Altavista Babelfish.)
Mass TFT Monitor reviews by TrustedReviews.
Gigabyte GV-NX57128D PCI-E Videocard reviewed by PCStats.
ASUS AX800 PRO/TD reviewed by X-bit Labs.

Audio:
Samsung Yepp YP-T5V reviewed by DesignTechnica.

Storage:
Icy Box IB-350U-BL reviewed by OcPrices.
Icy Box IB-350U-BL reviewed by Hexus.

Cases & Modding:
Part 1 of the Silverstone SST-LC02 reviewed by CoolTechZone.
Part 2 of the Silverstone SST-LC02 reviewed by CoolTechZone.
OCZ PowerStream 470W PSU reviewed by Bjorn3D.
Enermax Silver Sea Hawk Case reviewed by Overclock Intelligence Agency.
Logisys Armor Mid Tower Chassis reviewed by ExtremeMhz.
Silverstone Lascala LC03 Full ATX HTPC Case reviewed by HardCOREWare.
Ultra X-Connect 500W PSU reviewed by Bit-Tech.
Ultra X-Connect 500W PSU reviewed by Overclockers Online.
FSP Group 350w Aurora and 400w Silent Kit reviewed by GuruReview.

Cooling:
Jetart DT6000 Xpanel Multfunction Control Panel reviewed by Hi-TechReviews.
Zalman Zm80d-hp reviewed by Virtual-Fusion. (Translated with Google.)

Misc:
D-Link Wi-Fi & Gigabit Round-Up by Phoronix.
HP Compaq nc4010 reviewed by TrustedReviews.
HD Guard Pro reviewed by SweMod.
palmOne Zire 31 reviewed by ByteSector.
VisionDTV USB-Ter reviewed by Bios.
Panasonic Lumix LC1 reviewed by ByteSector.




"Mad" Computer Junkies (12 Comments) (link)
Thursday, 29-July-2004 14:46:17 (GMT +10) - by Agg


Ok, you can stop sending in magazine scans now. My poor dialup modem didn't know what hit it. I'll look through them all now and put them together into an article, but in the meantime, here's one from Schrambo that didn't fit the criteria but is worth a look anyway. It's from a 1993 issue of MAD Magazine and hits pretty close to home...



Click to enlarge (219KB)


Actually, here's another odd submission, from Norbs. It's probably not work safe, although there's no nudity. It's a cover photo of what seems to be the first issue of Australian Playboy, back in 1979. Click here (125KB) to see it. Scary indeed!




Thursday Morning #2 (6 Comments) (link)
Thursday, 29-July-2004 03:51:22 (GMT +10) - by Agg


ATI announced their Mobility Radeon 9800, designed for the mobile gaming enthusiast. Previews on HotHardware and Gamers-Depot.

There's been a lot of chatter about this press-release from Creative, announcing collaboration with with id Software about some technology in DOOM 3. Beyond3D are reporting on some comments about this situation from John Carmack of id Software: The patent situation well and truly sucks. Slashdot have a story running on this issue.

If you saw that "This Land" US-political parody flash we linked a few days ago, you weren't the only one.. seems some lawyers saw it too, thanks Rild.

GadgetLounge is a new Australian site devoted to, unsurprisingly, gadgets.

OCWizard have a largeish article all about audio.

Beyond3D interviewed someone from FutureMark about the next 3DMark version, while VR-Zone spoke to someone from ATI about drivers.

Must be a day ending in Y: Dan has more letters.

TheInq are reporting on a huge SGI Linux Itanium cluster to be used by NASA. The system consists of twenty 512 CPU SGI Altix systems, using 500TB Infinite Storage, amounting to 10,240 Itanium 2s in all. The computers will power the Space Exploration Simulator which runs on the Linux operating system. Heh, makes me think of the "Stellar Cartography" scenes in Star Trek. Sounds like a lot cooler use for this kind of technology than the usual "simulating nuclear explosions" stuff. Having said that, IBM have a new supercomputer on the way for the US Department of Defence that would be used by the military for war simulation, weather forecasting and other applications. Oh well.




Thursday Morning (3 Comments) (link)
Thursday, 29-July-2004 03:32:00 (GMT +10) - by Agg


We've received 25 or so entries so far to the "old scary prices" idea posted yesterday.. might end up making an article out of them all, if people would be interested in seeing them.

Lots of people sent word that Seagate have introduced a 5-year warranty, effective immediately, on every Seagate internal PC, notebook and enterprise hard drive shipped through its distribution and retail channels throughout the world. ... The new warranty applies retroactively to applicable hard drives shipped since June 1, 2004. Some coverage here on ExtremeTech, thanks BillA.

The X-Prize race continues, with teams planning launches soon.

In-car electronics can be a bad thing in terms of driver distraction, thanks Doug.

Speaking of drivers, there's now an Australian mirror of the Omega driver packs for ATI and NVIDIA cards. Seems to be hosted by AusGamers, so should be as quick as OCAU, coz they host us too.

Intel are apparently planning to merge the Xeon and Itanium lines, while their CEO says the recent mistakes and company performance has been unacceptable.

TweakGuides have a guide to tweaking your ATI Catalyst drivers, be they official drivers or Omega ones. Don't feel left out if you have an NVIDIA card, coz today you get new drivers.

HardOCP looked at a GeForce 6800 Ultra that comes with a watercooling solution as standard.

PCReview looked around the labs of a UK-based data recovery firm.

TweakTown have a 6-way high-end video card shootout.

A timewaster from captainpotato: Here's the best procrastination site I have ever found... a DHTML version of the Amiga classic "Lemmings". If anybody gets fired from work because of this, I'm not responsible... even if it's me ;)



AMD have released their Sempron line of CPUs. This is the "new Duron" if you like, on both SocketA and Socket754 platforms. I assume there'll be a Socket939 one in time? Anyway, coverage on AnandTech thanks ell, HotHardware and TechWareLabs so far, no doubt more to come.

Tech-Report's review deserves a special mention, if for this quote alone: Yep, that's the name: Sempron. AMD has elected to stick with its "fake subatomic particle" naming scheme rather than veer into Intel's "fake member of the periodic table of elements" naming scheme. Sempron is largely a branding exercise, so the name is important. The Sempron name is intended to evoke phrases like "semper fidelis" and other such tokens of solidity and steadfastness. Roughly translated from a mix of Latin and leet-speak, though, Sempron means "always pornographic," and I fear the little CPU will never fully escape that connotation of its recently fabricated moniker.



CPU:
AMD Socket 939 3800+ reviewed by TechwareLabs.

Motherboards:
Albatron Px915g Pro Socket 775 motherboard reviewed by Red & Blackness.

Memory:
Corsair PC3200XL Pro Memory reviewed by CoolTechZone.

Storage:
LG GSA-4120B Triple Format 12x DVD Rewriter reviewed by HardwareZoom.
M-Systems DiskOnKey Classic 2.0 USB Drive reviewed by ModSynergy.
LG GSA-4120B Multi-Format DVD Writer reviewed by HardwareZone.
Coolmax Gemini 3.5" HDD Aluminum External Enclosure reviewed by Hi-Techreviews.

Video:
HIS Exclibur X800 Pro IceQII Vivo Limited Edition reviewed by TweakNews.
ATi Mobility Radeon 9800 previewed by HotHardWare.
eVGA e-GeForce 6800 GT Video Card reviewed by PC Perspective.
MSI PCX5750-TD128 PCI-E Videocard reviewed by PCStats.

Cases & Modding:
Antec Super LANBOY Case reviewed by XYZ Computing.
Lian-Li PC-V2000 reviewed by AMDReview.
Akasa PaxPower 460W AK-P460FG-BK Power Supply reviewed by Extreme Overclocking.
Lian Li PC-73slb Full Tower Enclosure reviewed by ClubOC.
Cooler Master Real Power 450W PSU reviewed by MADSHRIMPS.
Cooler Master Centurion 5 reviewed by ViperLair.

Cooling:
JayDee's R-Type Waterblock reviewed by ProCooling.
SilverProp Cyclone Evolution SE S462 & S478 water blocks reviewed by A1 Electronics.
Swiftech Mcw6000-p reviewed by Virtual-Fusion. (Translated with Google.)
WACC P/A Reserviour reviewed by The Modfathers.
Thermaltake XTunner IR Fan Speed Controller reviewed by Big Bruin.
SilverStone SST-FP53 Hard Drive Cooler reviewed by A True Review.

Misc:
Konica Minolta Magicolor 2300W Color Laser Printer reviewed by Futurelooks.
BTC M993 4D Wireless Ergo Office Mouse reviewed by Hardware Pacers.
Motorola E398 TriBand Mobile Phone reviewed by OCWorkbench.
Cable Organizer Saddle Clips reviewed by Phoronix.
HDLoader for Playstation 2 reviewed by Arstechnica.



A few people mentioned this, but only Ranga sent in a scan of it. APC Magazine have (perhaps unwittingly) provided us with a window to the past in their August issue. Page 158 seems to be a reprint of an ad from July 2001. Whether this is an editing error or a clever ploy by the advertiser to get more attention (it worked) we may never know, but it's interesting to see just how much money we paid for things back then. Anyone else remember when a 30GB HDD cost $200-250 and a P3-1GHz was $445?



Click to enlarge! (200KB)


Actually, the prices there aren't too scary. I remember when eight 1MB 30-pin simms would set you back over $1000, in about 1993 or so. Here's a thought: I'll dig around and find a small prize here, for the person who scans in an ad page from the oldest Australian computer magazine and emails it to me by this time tomorrow. The page has to show the date somehow and have funny/scary pricing on it. Tins of Penguin mints to the runners-up. Dig out those back-issues!

Speaking of magazines, mpot noticed that Silicon Chip gave us a nice mention in their latest issue, so thanks to them.

Finally, I've written another article for APC, which should be in their October issue. It's a very basic (from an OCAU perspective) guide to installing a water-cooling kit in your PC.



Motherboard:
EPoX 8RDA6+Pro nF2 Ultra400+Gigabit MCP Mainboard, a NVIDIA nForce2 Ultra 400Gb over at OCW.
DFI LANParty PRO875B Motherboard at The Tech Zone.

RAM:
TwinMOS TwiSTER PC4000 DDR at 8ballshardware.
OCZ DDR Booster, more stable memory by providing a cleaner power feed, should be interesting for overclockers.

Video:
Sparkle GeForce 6800 Ultra, accelenation's review appears to be much more comprehensive than most.
HIS Excalibur 9550 VIVO Edition is suited more for video capture than hardcore gaming.
HIS Excalibur 9550 VIVO this one's at ASE Labs.
HIS Radeon X600XT a midrange PCI-E card.
Gigabyte GV-RX60X128V another PCI-E offering.
AOpen Aeolus 6800 Ultra DVD256(E) at HEXUS.net.

MultiMedia:
The Actiontec Wireless Digital Media Player, supports a whole bunch of media formats.
Audiotrak Maya EX5, external USB sound card is "professional grade, yet affordable, sound card" say phoronix.
Crabat Mobile Multimedia Viewer Bluetooth mobile phone to TV viewer gadget, cool.
Frontier Labs NexKube it's a MP3 player / USB 2.0 Flash Disk.
Philips Ultimate Edge Sound Card at Void your Warranty.
Apple iPod Mini 4GB at designtechnica.

Storage:
Samsung SpinPoint P80 HDD Investigation, and XBitLabs have some pretty good things to say about it.
LiteOn SOHW-832S this one IS dual-layer. ;)
Plextor PX-708A at OCModShop.

Case & PSU:
Antec Sonata, maybe mikhailtech will like it more than I like mine.
QuietPC AcoustiCase 6607B, seems that as with many 'silent cases' it works well but is expensive and heavy.
CoolMax Taurus 140mm PSU at phoronix.
Coolermaster Real Power 450Watts PSU at BurnOutPc.
Shuttle's XPC SB81P mini-barebones system at TheTechReport.
Antec TruePower 550 at WorldOC
Acadia Technology (GlobalWin) YCC-S27 Case this low profile desktop case looks a lot like a sleek video player to me.

Cooling:
Badong CPU Cooling Wizard, it's a little air-intake vent, something I've seen OCAU people doing for some years now.
PolarFlo TT CPU WaterBlock even waterblocks come in a choice of colours now!.

Other:
Ultra Products UV Series, pretty light things over at PimpRig.
Vantec Cable Sleeving Kit & EZ-Grip Molex Connector, it's pretty too, in a few different ways. ;)
Canon PowerShot S500 5MP digital ELPH camera.
Kingston 1GB DataTraveler 2.0 Hi-Speed USB Flash drive pen thing.
Maxtill G-pad Mouse Pad it seems that BigBruin have also replaced their RatPadz, I'm still using the Quality Mat.




Tuesday Afternoon (4 Comments) (link)
Tuesday, 27-July-2004 13:00:58 (GMT +10) - by Agg


NASA and partners have agreed to finish the International Space Station, with it housing up to 6 people when complete. Mercury meanwhile is the next target for an orbiting probe.

Google and Yahoo! were apparently struggling under a virus attack yesterday. While this is going on, Google are organising their IPO on the stock market.

ArsTechnica have part 2 of their "history of the Pentium" article posted. Part II covers the Pentium 4 to the Pentium M and Prescott.

If you have several PC's (who doesn't) or do regular reinstalls then you might want the redistributable version of DirectX 9.0c, thanks Timbot. 34MB, but saves you downloading the components multiple times.

TheReg reports that AMD have cut up to 30% off their A64 pricing, thanks Roy.

GeekExtreme have an editorial about the Induce Act, which sounds like yet another silly law under consideration. Fortunately it's in the USA and not here, but I wonder how the FTA would affect such things.

You may have already heard that the third Star Wars prequel will be called Revenge of the Sith. Star Wars ROTS, hmm.

Misc bits from Peter: Skype close to launching global Net call service. Rovers to get extra time on Mars. The keyboards of tomorrow? HP offers up Compaq X gaming PC.

Ben spotted this article on TomsHardware, looking at RAID5 Scaling with up to 8 SATA HDD's.

TechSpot have a guide to security and privacy in Windows, while OCHQ cover junkware/spyware removal. It used to be that you could just update and run Ad-aware or Spybot and all your spy ware problems would disappear, but lately spy ware, ad-ware, Trojans and hijackers have been getting very sneaky.

D-Silence wonder if Microsoft have too much cash stored away.

EliteBastards looked at how the Far Cry 1.2 patch affects ATI cards. Remember, this patch has been recalled due to problems with some systems, but I imagine their findings will apply to the upcoming, err, patched patch.

CoolTechZone explain memory timings in their latest article.

From AIVAS: Heya, Thought I'd let you guys know that SetFSB allows the Intel boards (Specifically in my case the Intel D865PERL) to overclock the FSB above the usual 4% margin intel allow. Still in development, use the P4C800 Ultra version for the above board. Managed to clock my Velery from 2.4 to 2.85 with it. :) It also has other options for other mainboards too... can't have too many of these programs, eh? Incidently, if someone has specs of the ICS952618BF Clock Module, if they could send it to the author, it would be appreciated my people like me who are currently hitting AGP/PCI/DDR Issues...




Tuesday Morning (9 Comments) (link)
Tuesday, 27-July-2004 02:42:26 (GMT +10) - by Agg


Most users ever online was 701 on 26th July 2004 at 09:37 PM. Wow. :)

The latest usenet/email virus/trojan spam is about Bin Laden being dead, which he (as far as we know) isn't really. Apparently there's another one floating around saying Arnold Swarzenegger has killed himself, which isn't true either. Running the attachments infects your PC, unsurprisingly.

TweakTown looked at a couple of PCI Express video cards with nVidia chipsets.

Callan spotted this site with some important info about a dangerous chemical. Careful, you probably have some in your house!

Security stuff from Paul: Windows XP Service Pack 2: Install With Care. Sudden increase in port scanning for SSL doesn't look good. More than 36% of software installed in computers worldwide is pirated. Paris bank's hacked phone linked to Madrid blasts. More than six months after admitting there was a Bluetooth security flaw in a number of its mobile phone handsets, Nokia said it has released a software upgrade that fixes the vulnerabilities. All eyes on virus protection at Athens Olympics.

Sun is expanding its Opteron powered server range, while Intel plans to add more features to upcoming Itanium chips and Apple machines may go dual core in the near future.

Maybe your next motherboard will employ Feng Shui principles, thanks SteveJay.

Bjorn3D saw NVIDIA's SLI technology in action at a recent gaming event.

The Far Cry 1.2 patch has been recalled as we mentioned earlier, but Xbit have been playing with it. Most coverage has been on Shader Model 3.0 on NVIDIA cards, but Xbit are seeing how the patch affects the ATI side of things.

From AlphaFaction: Hey, I found a series of articles I found interesting about Linux's role in the space industry: here, here, here and here.




5th Birthday Giveaway (0 Comments) (link)
Monday, 26-July-2004 18:38:16 (GMT +10) - by Agg


There's so many prizes for OCAU's 5th Birthday Giveaway that I had to make a special page for them.

We'll be giving away some of the prizes via the mailing list, but we'll also give plenty away as door prizes at the two BBQs coming up. The Sydney one is now 99% confirmed as being at Parramatta Park, but we're still hunting for a Melbourne venue. If you've got any idea of a good park with a decent-sized shelter, let Wolfy know. The BBQs are free events and OCAU is providing free food and soft drinks, so you've got no excuse to not come and meet people!

If you haven't registered for events yet but want to, or if you have registered but not paid yet, now is the time! We need as much notice as possible so we can organise bookings etc. See the events page for full details.




Antec NoiseKiller (4 Comments) (link)
Monday, 26-July-2004 13:36:12 (GMT +10) - by Agg


Mazzanet sent in this quick review of a pretty simple product from Antec. It's a kit to quieten down annoying fan vibration in your PC: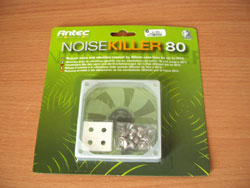 Click for the review!






Sunday Morning Reviews #2 (0 Comments) (link)
Sunday, 25-July-2004 01:53:14 (GMT +10) - by Agg


Firstly a quick note that the Far Cry 1.2 patch has been withdrawn, so you might want to avoid that one. From what I've heard it kills the game for ATI video card owners, requiring a re-install of the game. Even if you don't have an ATI card, best to wait until a fixed patch is released. Thanks Luke.

SFF PC's:
Shuttle XPC ST61G4 S478 SFF on SilentPCReview.
Shuttle XPC SB81P LGA775 SFF on Hexus.

Modding:
Cable Sleeving and Molex Kit on WorldOC.
PCRange RAM Mod on BurnOutPC, our review here.
Enermax Aluminium Multifunction Panel on ClubOC.

Input Devices, etc:
Saitek P3000 Wireless Gamepad on HWHell.
BTC 9019 URF Wireless Keyboard on GuruReview.
Flexiglow X-raider mousepads on RBMods.
Thermaltake Xwing Bluetooth Wireless Optical Mouse on TweakNews.
Logitech Cordless MX Duo mouse and keyboard on HWAccelerated.
Logitech Freedom 2.4GHz Wireless Joystick on ModCity.

Misc:
Enermax Noisetaker 600W PSU on OCrCafe.
Belkin USB KVM on TrustedReviews.
Abbiecomp LCD ViewMaster screen mount on TrustedReviews.
Nikon Coolpix 5200 digicam on HWZ.




Sunday Morning Reviews (0 Comments) (link)
Sunday, 25-July-2004 00:45:53 (GMT +10) - by Agg


Motherboards:
ABIT AV8 K8T800 Pro A64 on VR-Zone.
DFI LanParty Nforce II Ultra B socketA on TheTechLounge.
ASUS A8V Deluxe K8T800 Pro on SharkyExtreme.
ABIT AV8 K8T800 Pro A64 on SharkyExtreme.
ASUS P5AD2 Premium i925X LGA775 on RojakPot.

Cooling:
Xice ExternalCool EC900 Water Cooling Kit on MadShrimps.
Titan TWC-A04 Water Cooling System on BigBruin.
Vantec LapCool2 Notebook Cooler on Hi-TechReviews.
Armari T64-LQX liquid-cooled PC on TrustedReviews.

Video / TV Cards:
Happage WinTV-PVR-250 TV tuner/capture card on DesignTechnica.
NVIDIA GeForce 6800 and 6800 GT on Hexus.
nVidia GeForce 6800 LE on TBreak.
ASUS Extreme Radeon AX600XT/TD on LegionHardware.



No, it's not actually a 10GHz PC, but it's got some pretty impressive details nontheless.



Click for the PCDB entry!






Saturday Night Reviews (0 Comments) (link)
Saturday, 24-July-2004 22:22:00 (GMT +10) - by Agg


Case:
Raidmax Scorpio 688 Gaming Case on ClubOC.
Cooler Master Stacker on ViperLair.
Red Hot BMW Mid Tower (video review) on 3DGameMan.
CoolerMaster Cavalier 3 on XYZComputing.

Storage:
CoolMax X-Treme Files X2 external backup caddy on Phoronix.
Solid Alliance i-Duck flash drive on TheTechZone.
NEC_ND-2510A Double Layer DVD Recorder on CDRInfo.
Sony DRU-700A Double layer DVD Recorder on CDRInfo.

Memory:
Corsair TwinX1024-3200XLPro on HotHardware.
Mushkin PC3200 222 Level II Rev.2 1GB on OCTools.




Saturday Morning (3 Comments) (link)
Saturday, 24-July-2004 02:57:50 (GMT +10) - by Agg


Defsac spotted a new unmanned aircraft project from Boeing.

Tech-Report have a CPU Decoder Ring to help make sense of the various naming schemes.

DesignTechnica have a guide to Windows Smart Network Key, a way to enable users to quickly and securely configure all of their wireless devices on their network

Loop Goose spotted this talking e-puppy thing, very odd.

LegitReviews have a bit of a ranty editorial about DDR2 marketing.

Dan has more letters.

Wired is reporting on what's believed to be a chunk of Mars found near the South Pole, thanks SpN.

OC.com played with a preproduction 120mm-fan P4 cooler from Thermalright, thanks Dave.

Xbit continue looking at LCD monitor features, looking at ten 17" models.

PCStats cover converting video tapes to video files.

PC-Perspective have a roundup of four nForce2 motherboards for socketA CPUs.

Daniel sent word of this online petition against some aspects of the Free Trade Agreement between Australia and the United States. We believe that this agreement will harm the flourishing Australian Open Source community both directly by making legitimate and useful Open Source software illegal, and indirectly by preventing the Australian Parliament from considering changes to our intellectual property laws on their own merits.



CPU:
AMD Athlon64 3800+ reviewed by Gamers Depot.

Motherboards:
Asus P5AD2 Premium 925X Motherboard reviewed by PC Perspective.
Chaintech VNF3-250 reviewed by AllAMD.
Gigabyte K8NSNXP reviewed by GruntvillE.
ECS PF1 Deluxe Photon Motherboard reviewed by TweakTown.

Memory:
Corsair TwinX 1GB PC3200XL vs. PDP Patriot DC 1GB PC3200LL by GuruReview.

Storage:
Maxtor MaXLine III reviewed by Bytesector.
Maxtor MaXLine III reviewed by Legion Hardware.
Mapower Electronics 3.5" Aluminum USB 2.0 Enclosure reviewed by 3DXtreme.
AOpen COM5232 Combo Drive reviewed by PCStats.
Optorite DD1203 Dual DVD+- RW 12x Recorder reviewed by ExtremeMhz.
Lite On SOHW-832S DVD+9 Writer reviewed by A True Review.
TDK AID+1280B 12x DVD Writer reviewed by HardwareZoom.
Plextor PX-712UF reviewed by Overclockers Online.
Backup: USB 2.0 Swivel Flash Drive 1GB reviewed by Bios.
Vantec NexStar 3.5" External Hard Drive Enclosure reviewed by ClubOC.
Iomega CD-RW Plus reviewed by HardwareZone.

Video:
Gainwards CoolFX6800Ultra and Connect3D's X800-XTPE reviewed by Driverheaven.
Plextor ConvertX PX-AV100U reviewed by Overclockers Online.
ATI Radeon X600 XT reviewed by Virtual Zone.
Leadtek WinFast A400GT TDH (GeForce 6800 GT) reviewed by Bjorn3D.
Albatron FX5700P Turbo and Gainward Ultra/980 SilentFX Professional reviewed by Hexus.
AOpen GeForce FX 5900XT reviewed by HOTHardWare.
MSI RX9800 Pro Td-128 reviewed by Virtual-Fusion. (Translated with Google.)

Audio:
Logitech Z-3 Speakers reviewed by Virtual-Hideout.
AudioTrak MAYA EX5 reviewed by Short-Media.
Bose QuietComfort 2 reviewed by The TechZone.
HeadRoom BitHead and Total BitHead reviewed by EXHardware.
Sonos Digital Music System previewed by CoolTechZone.

Cases & Modding:
Coolermaster RS-450 PSU reviewed by Red & Blackness.
DragonModz.net Military Dragon LED Switch reviewed by PimpRig.
Enermax Noisetaker EG425P reviewed by Phoronix.
APEX Super Case TU-150 ATX Mid Tower reviewed by HardCOREware.
Antec Super LANBOY ATX Case reviewed by Hardware Accelerated.
COOLER MASTER REAL POWER 450 reviewed by MetkuMods.
Scythe e-OTONASHI Fanless Mini PC Case reviewed by Hi-Techreviews.
Enermax NoiseTaker 420w PSU reviewed by XYZ Computing.
Antec SmartBlue 350W PSU reviewed by TechFreaks.

Cooling:
WACC Dual Radiator and P/A Reservoir reviewed by Viperlair.
Alpha S-PAL8952 P4 Heatsink reviewed by SilentPCReview.
CM's Aquagate water cooling kit reviewed by PCUnleash.
Swiftech MCW6002-A Waterblock reviewed by ProCooling.

Mouse & Keyboard:
SteelPad 4S reviewed by BurnOutPC.
Everglide fuZe mousepad reviewed by DarkVision Hardware.

Networking:
AirPort Express reviewed by arstechnica.

Small Form Factor:
AOpen XC Cube EX18 reviewed by HardwareZone.
AOpen XC Cube EZ18 reviewed by TrustedReviews.

Misc:
Canon LaserBase MF5630/MF5650 reviewed by Bios.
Motorola V600 Mobile Phone reviewed by ByteSector.
Bluetake BT210 / BT007x USB Printer Adapter reviewed by NeoSeeker.




Thursday Afternoon (10 Comments) (link)
Thursday, 22-July-2004 14:08:38 (GMT +10) - by Agg


With Doom3 well on the way, id Software have announced the minimum requirements. Not as high as I expected, but I imagine running a "minimum" PC is going to make for a pretty sucky gaming experience. To help you find out your PC will cope, they have released an Official DOOM3 Benchmark, which HardOCP looked at in some detail.

SCO's battle against Linux has taken a blow, with a US judge throwing out much of their lawsuit against DaimlerChrysler. "Their intent was to pick two users and threaten them in court to put all Linux users on notice. That failed miserably," said Stuart Cohen, chief executive of OSDL, a non-profit Linux consortium.

Microsoft will pay out about one hundred billion dollars to shareholders. I'm sure I'm not the only one who read that in Dr Evil's voice.

The Far Cry 1.2 patch, subject of much benchmarking debate over the last couple of weeks, has been officially released now. 65MB, quite a few fixes/improvements and of course, Shader Model 3.0.

Stephen Hawking has expanded his retraction about his theory of black holes. Hawking said his reworked theory ruled out his earlier belief that people could some day use black holes to travel to other universes. "I am sorry to disappoint science fiction fans," he said. "But if you jump into a black hole, your mass energy will be returned to our universe but in a mangled form."

Six New Zealand schoolboys have made a mobile phone detector on the cheap.

IPv6, the next generation of Internet Protocol, has come one step closer to implementation, with ICANN taking technical steps to support it. More info here on NewScientist.

More interesting robot news, this time it's robot librarians. I can't remember the last time I went to a library.

HardOCP spent a little time overclocking the LGA775 2.8GHz P4. Not only does this give a enthusiast view of what power is tucked into the new Pentium 4, it gives us an idea at what the upcoming Intel 1066MHz bus speed will bring.

AnandTech looked at Intel's Pentium M 755, a mobile CPU using the 90nm Dothan core.



You probably noticed the server outage we had on the weekend. That was due to the CPU fan failing on our webserver, which reported a toasty 90C before falling over. On Saturday Trent from AusGamers and I visited the Comindico datacentre where the servers live and revived them. The previous PCDB entries weren't very complete, so I took some more pics while I was there:



Click pics for PCDB entries!


In other news, HitWise have contacted us with the results for last quarter:


Hitwise is pleased to announce that www.overclockers.com.au has qualified for a Hitwise #1 Award for the quarter ended June 2004. During this period, www.overclockers.com.au ranked No. 1 by visits in the Computers and Internet - Hardware category against other Australian websites.



Hitwise is pleased to announce that www.overclockers.com.au has qualified for a Hitwise #1 Award for the quarter ended June 2004. During this period, www.overclockers.com.au ranked No. 1 by visits in the News and Media - IT Media category against other Australian websites.

This is obviously great news once again. We moved to the new servers last quarter and had some ups and downs while we sorted them out, so it's nice to see we still came out on top. Thanks to the OCAU Sponsors and of course you guys for making it possible.

Apparently PC Authority mag listed us the top Aussie hardware site for July too. Not sure if they're using the HitWise data, but it's interesting to see who occupied the other top 4 places. :)

By the way, if you were on our mailing list you would have received updates on the status of the servers and info on how to connect to the site in the meantime. If you weren't, why not? :)




Thursday Morning (0 Comments) (link)
Thursday, 22-July-2004 02:03:15 (GMT +10) - by Agg


Lillia spotted this cool flowers as speakers technology. Applying an alternating electrical current causes the tube, and the flowers, to vibrate at high speed, producing audible sound.

You might want to give mozzies the flick instead of squashing them, thanks RoTimBo.

It's been 35 years since we first walked on the moon this week.

Xbit have rounded up no less than twenty-one 160GB HDD's and compared them.

Neevo sent word of these prison inmates who, discovering the prison unlocked, went and got some beer for their mates.

Something a little different from LostCircuits, who tried their hand at racing cars.

Murray found this article about the current state of Longhorn, Microsoft's next operating system.

DriverHeaven looked at some ATI drivers including the Catalyst 4.7 and some unofficial drivers from Omega and Unian.

Tech-Report went to a LAN Party with 500 other people.

ModAsylum have a guide to making your own extra large keyboard.. handy.

A few timewasters today: Chaker sent in this 8-bit re-enactment of Dungeons and Dragons, while tosgem spotted this great Australian cricket game. On a more political bent, Paul and Johnny both sent in this flash parody of the US election.




Folding Giveaway Final Week Winners (2 Comments) (link)
Wednesday, 21-July-2004 16:51:22 (GMT +10) - by Agg


From bollocks, our Folding Team Captain: Here are the results of the prize draw for the final week of Giveaway5. The major prize winner is DavidRa, he has won a Mercury GeForce FX5800 video card and a Creative PC-CAM 850 donated by Computer Alliance. The winner of the consolation prize donated by Plus Corp is |bLuEqUt|, he has won a Microsoft Wireless Wheel Mouse and Norton AntiSpam. Now on to the bonus prizes, the winner of the XP Mobile 2600+ CPU bonus prize donated by Datsun 1600 is Tebinium. The winner of the second bonus prize of a Winfast tv2000xp deluxe edition TV card donated by trotkiller is An_Idiot and finally the winner of the third bonus prize of an Artic Cooling VGA Silencer donated by r00b0y is Buttocks.

I would like to thank on behalf of the OCAU Folding Team the sponsors Computer Alliance, Plus Corp, PCRange and LowNoise PC that have made this Giveaway possible, it is greatly appreciated by everyone that participated. Also a big thanks to the members of the team that have donated prizes, Datsun 1600, trotkiller and r00b0y, your generosity has capped off a successful Giveaway which helped celebrate the retaking of the No1 folding team in the world.




Recent Press-Releases (0 Comments) (link)
Wednesday, 21-July-2004 16:05:05 (GMT +10) - by Agg


The World Cyber Games is on again soon. Australia's best gamers prepare to participate in World Cyber Games, the world's largest PC and console games festival with over 50 countries participating worldwide. With the World Cyber Games (WCG) now in its fourth year running, Australian gamers will be vying for the ticket to San Francisco, host city for the WCG 2004 World Finals. With elimination tournaments to be held throughout Australia in August 2004, each participating gamer and their teams must first prove themselves worthy to come to the Australian finals culminating at Sydney's Luna Park on September 18-19, 2004. More info here.

Intel today expanded the Intel® Pentium® M processor and Intel® Celeron® M processor families with products aimed at the mini-notebook, sub-notebook and tablet PC segments that represent small mobile PCs typically weighing around 3 pounds. Intel's new offerings include the Intel Pentium M processor Low Voltage 738, the Intel Pentium M processor Ultra-Low Voltage 733 and 723, and the Intel Celeron M processor Ultra Low Voltage 353. All four processors are based on Intel's mobile micro-architecture and built using Intel's industry-leading high-volume 90-nanometer (nm) process technology. More info here.

ABIT launched their "3rd Eye" technology, thanks anthonyl. The other part of ABIT's 3rd Eye System is Guru Clock. Bundled with select AA8-DuraMAX, AG8, and AV8 motherboards, Guru Clock acts as an external display, allowing the user to monitor critical system information quickly and easily. With conventional hardware monitoring software, users would traditionally have to exit full screen applications to access system temperatures, voltages, and fan speeds. With its large, easy-to-read LCD display, Guru Clock makes this information available at a glance. Pic of Guru Clock here, LCD functions here. More info here.

Zalman announced a voluntary recall of the flow indicator included with the Reserator 1 kits. 1. Reason for recall : Water leakage concerns of the flow indicator 2. Recall Item : Current model of flow indicator with blue plastic fitting. More info here.

Microsoft officially announced their new Microsoft Optical Mouse, designed by Philippe Starck. Starck's award-winning work centers around a core philosophy focused on delivering extraordinary design in everyday objects. This vision has changed the way people perceive their juicer, hotel room, toothbrush, chair and even tape dispenser. More info on this page.

Asetek are showing off some recent achievements with their VapoChill LS product. The asetek lab team shows that the VapoChill LightSpeed with sub-zero temperatures is the exact right cooling unit when it comes to overclocking Intel's top processor (3,6GHz). In the pre-benchmarking the core speed showed 4584 MHz - a 28 percent performance boost! More info here.

SwiftTech announced their latest monster cooler, for "Nocona"-based Intel Xeons. The MCX604-V™ heatsink is a high performance, low noise thermal solution for Intel® Xeon™ processors with 800MHz system bus (mPGA socket 604), code named "Nocona". This heatsink is primarily intended for quality system builders and integrators, and thus ships with a factory fan. The MCX604-V™ meets and exceeds Intel® Xeon™ thermal & mechanical design specifications. More info here.

DFI launched their LANParty™ 925X-T2 motherboard. Designed for the new Intel® LGA 775 platform, the LANParty 925X-T2 features Intel 925X / ICH6R chipset and boasts support for the new DDR2 memory in dual channel mode, 16x PCI-Express video cards, 2+1 1x PCI Express connector slots for future PCI-E based devices, proprietary 8-channel Karajan™ high definition audio, dual Gigabit (PCI + PCI-E) LAN, Serial ATA Matrix™ RAID, USB 2.0, and IEEE 1394 Firewire ports. Answering to the discerning demand for a flexible PCI-E lock to enable 10%+ overclocking on this platform, DFI's new LANParty addition is industry's first to adopt a completely intuitive PCI-E algorism that automatically detects overclocking requirements and hardware bottlenecks and adjusts on the fly. As a part of the proprietary CMOS Reloaded overclocking utility, users can now enjoy unsurpassed performance boost in a smart way. More info in this 58KB DOC file.



Video:
HIS X800XT and X800PRO reviewed by TweakTown.
BFG GeForce 6800 GT overclocked by HOTHardWare.
Gainward PowerPack! CoolFX Ultra/2600 reviewed by TrustedReviews.

Audio:
Juster DHT-918C 5.1 Speaker Set reviewed by ExtremeMhz.
Frontier Labs L1 20GB MP3 Player reviewed by Bjorn3D.

Cases & Modding:
Aerocool JetMaster Jr Silver Case reviewed by 3DXtreme.
Coolermaster Musketeer 2 reviewed by OverclockersClub.
Silenx 460w 0 dBA Luxurae PSU reviewed by Hi-Tech Reviews.
Cooler Master Cavalier 3 CAV-T03 ATX Tower reviewed by HardCOREware.
NZXT Guardian Black reviewed by AseLabs.

Cooling:
Thermaltake Aquarius III reviewed by A1 Electronics.
Asetek Vapochill 2004 Socket kit reviewed by BurnOutPC.

Mobile Computing:
HP Compaq nx9110 reviewed by TrustedReviews.
Tapwave "Zodiac" Handheld Gaming PDA reviewed by PDAToday.
Dell Axim X30 reviewed by HardwareZone.

Storage:
Mapower KC31U2G HDD Enclosure reviewed by TechIMO.
Icy Box Mobile Rack reviewed by The Modfathers.

Mouse & Keyboard:
FlexiGlow FX GamePad reviewed by Virtual-Hideout.
Flexiglow xRaider reviewed by ClubOC.

Misc:
Gigabyte GA-K8NSNXP nForce3-250Gb Motherboard reviewed by PCStats.
Kingston HyperX 1024MB PC4300 Dual Channel DDR Memory Kit reviewed by Extreme Overclocking.
i-Select D3610 reviewed by BIOS.
Intel Tumwater / Nocona (EM64T) Platform reviewed by Spode's Abode.
CaseArt's Artistic 3D Thumb Screws reviewed by OZCaseModz.
ECO Piccolo - Indoor Helicopter reviewed by Hardware Analysis.
Toshiba SD-V392 DVD Player reviewed by Designtechnica.
ST61G4B Special Edition reviewed by PCUnleash.




Tuesday Evening (0 Comments) (link)
Tuesday, 20-July-2004 17:53:16 (GMT +10) - by Agg


AMD announced two new mobile chips, the Mobile Athlon 64 3400+ and Mobile Athlon XP-M 2200+. Intel were less happy, announcing another delay for Alviso, part of their upcoming Sonoma mobile computing platform.

Apple have updated their iPod music player with a new interface and longer battery life. More info on Apple's site, thanks Goodlet. There's a thread here in our Other Toys forum.

Telstra has appointed a new Chairman. He's a former head of the National Farmer's Foundation - will that mean better internet access for rural areas? I live in a farming area.. :)

The latest nasty virus is this one, so update your virus signatures, thanks Mozz.

GamePC looked at Intel's Matrix RAID storage technology. Buried deep inside Intel's new ICH6 Southbridge controller, Matrix RAID adds a twist to the traditional RAID-0 and RAID-1 storage methods which are all too common on today's desktop and gaming PC's.

ModdersHQ compared three PSUs.

AnandTech have more info on the overclocking lock in the new Intel chipsets, while Xbit cover a motherboard feature from Albatron designed to get around it.

Interesting Forum Threads:
Damn rounded cables keep failing! in Storage & Backup.
Cool-looking "plug-in" PSU in Overclocking & Hardware.
915/925 overclocking lock? Existing or Fantasy? in Intel Hardware.
2700MHz - 39C Idle 46C load - NO RADS?!? in Extreme Cooling.
Tax Software and Linux in Other Operating Systems.
Big Brother 2004 (huge thread) in TV, Movies & Music.
Iron Photographer Challenge: July Entries in Photography.
Scam in progress in The Pub.
Astronomy & Time Travel in The Pub.
How OCAU improved my love life (awwww) in The Pub.



Here are a few reviews to get you through Monday night, just think only 4 more working days till next weekend. ;)

RAM:
Kingston HyperX PC4300 Memory at Viper Lair, you may also like to read it if you have an ABIT AI7 Motherboard, and note what they said about overclocking and the RAM slots.

Drives and Media:
NU DDW-082 8-in-1 DVD Writer, I think it does dual layer DVD's but the brief review at SweMOD.Com didn't mention it.

Video:
Nvidia Geforce 6800 128MB is a "a solid performing solution which doesn't hit the wallet too hard" according to hardavenue.com
GeCube Radeon X800 PRO at Beyond3D.

Cooling:
Kingwin Arctic Liquid Cooling Kit, an internally mounted water cooling kit with universal CPU and GPU blocks and a nice price, read about it at overclockercafe.com
Dangerden TDX AMD waterblock, it's small but does it perform as good as it's larger counterparts? R&B Mods will tell you.
Swiftech 8600 Liquid Cooling Kit reviewed at OCIA.net.
Swiftech MCX6400-V reviewed in one page at cluboverclocker.com.
CoolJag JVC682A K8 Heatsink Review is reviewed at Ninjalane, although I'm not sure they'll convince you that it's any better than the stock HSF.

Case and PSU:
Frost-Byte H2O Case and H2O Cooling System, pre-modded case and watercooling system, reviewed at Gruntville.
Cooler Master Real Power 450W PSU includes a blue LED fan and voltage monitor drivebay thingy, read about it at VR-Zone Hardware.

Other:
SuSE 9.1 Pro at ipKonfig.com.
Kingwin External Drive Enclosures in a review that's got lots of pictures and not too much comment at cluboverclocker.com.



The largest, heaviest commercial satellite in history has been successfully placed in orbit. Among other things, it will deliver two-way, broadband Internet service to any location in North America at a price that's competitive with residential cable or DSL high-speed services. We'll take one too, please - positioned over Alice Springs should be about perfect.

VooDoo spotted an article about dodgy PC repairers in Sydney. Two repairers actually managed to permanently damage the computer. In both cases they told us the fault already existed and suggested expensive repairs.

Hmm, it seems "bling bling" is the latest term to be added to the Oxford English Dictionary, thanks boky. A bit sad for what was once a bastion of "proper" English (cue debate about whether dictionary word usage should reflect common word usage, or vice versa).

D-Silence have a PCI Express primer, telling you what it means for the end user.

Dan has a robot that sucks and some letters about sound.

ARP compared a modded R9800SE with a GeForce FX 5950 Ultra. How will a modded mid-range card perform against a high-end card? They also cover R9600 Pro/XT volt modding.

LegionHW compared the Radeon 9550 and GeForce FX 5500 video cards, while MadShrimps looked at the performance of Corsair's TwinX-1024 3200XL Pro on nForce3-250 and Intel 875 chipsets.

HWHell have a Doom3 movie available for download.

LegitReviews continue their article on building a white box notebook.

eva2000 has been one of our resident benchmark junkies for a long time now. I just noticed he's put together a PCDB entry showing off the cooling mods for one of his PC's.

Interesting Forum Threads:
Female reporter's perspective of Formula 1 in Motoring.
The hidden truth about DVD! in Storage and Backup.
Bank robbery in Bankstown yesterday in The Pub.
Anyone been on a fruit diet? in Sport, Fitness & Health.
Picasa - part of Google's World Domination plan in Photography.




Sunday Night Reviews #3 (0 Comments) (link)
Sunday, 18-July-2004 19:53:58 (GMT +10) - by Agg


Memory:
Gigaram 2*512MB PC 3200 Dual Channel Kit on OCOnline.
Corsair TwinX 1024 - 3200C2PRO on ReviewNZ.
Kingston HyperX PC3200 CL2 1GB DDR on GideonTech.
Ultra PC4000 Dual Channel 1GB DDR on SharkyExtreme.

Mouse, Keyboard Etc:
Logitech Cordless Bluetooth MX Duo mouse and keyboard on DesignTechnica.
Logitech Cordless MX Duo Elite Desktop on TweakNews.
XTrac Ripper Optical Mousepad on Buddhas LAN Room.
Logitech MX-510 Performance Optical Mouse on 3DXtreme.

Cases:
CoolerMaster CM Stacker full tower on ATrueReview.
Lian Li PC-37A aluminium case on MikhailTech.
Inwin X710 on BurnOutPC.
Thermaltake Tsunami Dream VA3000BWA on DriverHeaven.

Modding:
Wiseteh Flash LED kits on Phoronix.
Crazy PC Hex Mesh on ExtremeReviews.
Vantec UV Cold Cathode on BurnOutPC.

Misc:
Nikon D70 Digital SLR Camera on PyroPort.
Lilliput 7" Widescreen VGA TFT LCD Touch Screen on BigBruin.
Sharp AQUOS 20" LCD TV (LC-20B4U) on ByteSector.
AlphaShield hardware network firewall on Phoronix.
Espon Stylus CX6600 All-In-One printer on BIOSMagazine.
Cooler Master Real Power 450W PSU on SystemCooling.
Asus A8V Deluxe S939 A64 motherboard on DriverHeaven.
AOpen XC SFF Barebones on TomsHardware.




Sunday Night Reviews #2 (0 Comments) (link)
Sunday, 18-July-2004 19:21:00 (GMT +10) - by Agg


Cooling:
GlobalWin Jefi Watercooling Kit on HardOCP.
SilenX 80mm 14dBA Thermistor Fan on ModSynergy.
Asetek Antartica KT03A-L30 Watercooling Kit on BurnOutPC.
Zalman ZM80D-HP GPU cooler on OCOnline.
Alphacool Basic Waterkit on RBMods.
Spire Coolwave CPU Cooler on TheModFathers.
Foxconn Heat Guzzler heatsink on FastLaneHW.
Scythe Kamakaze Fan &_Arctic-Cooling Fan Pro 2LTC fans on Phoronix.
AlphaCool Cape watercooling system on XYZComputing.

Phone / PDA:
O2 Xphone Smartphone on RojakPot.
PalmOne Zire 72 PDA on Bytesector.
Samsung SGH-D410C Phone on HWZ.

Audio:
IOMagic Sound Assault 5.1 Channel Headphones (video review) on 3DGameMan.
Philips PSC725 Ultimate Edge 24 bit Soundcard on HardCoreWare.
JetAudio iAudio4 MP3 player on TheTechLounge.
Bluetake i-PHOTO Bluetooth Headphones on ATrueReview.
Philips PSC724 Ultimate Edge Sound Card on TechTastic.




Sunday Night Reviews (0 Comments) (link)
Sunday, 18-July-2004 18:59:12 (GMT +10) - by Agg


Storage:
Plextor PX-712SA DVD Writer on T-break.
ICY BOX External Hard Drive on Short-Media.
MSI XA52P CD-RW / DVD-ROM SATA Combo Drive on HotHardware.
Kingston 1GB CompactFlash Elite Pro on ViperLair.
LITE-ON SOHW-832S (DVD+/-RW with DL) drive on HWZ.
SimpleTech Pro-X 256MB SD Card on HWAccelerated.
Thermaltake Silver River external HDD enclosure on PC-Base.

Video Cards:
PowerColour Radeon X800 Pro on OCClub.
Gainward GeForce FX 5900XT Ultra on TrustedReviews.
VisionTek X800 XT Platinum Edition on TheTechZone.
S3 DeltaChrome S4 Pro on Xbit.
XGI Volari V8 reference card on PCStats.
HIS Excalibur 9550 VIVO on ViperLair.
BFG 6800 Ultra OC on NVNews.
VisionTek X800 Pro on InsaneTek.
AOpen GeForce FX5900XT on TheTechZone.
BFG Tech GeForce 6800 Ultra OC on Bjorn3D.
Leadtek WinFast A380 Ultra TDH MyVIVO GeForce FX5950 on TheTechLounge.
eVGA e-GeForce 6800 Ultra on NeoSeeker.
ASUS AX800Pro/TD/P on Hexus.
HIS X800 Pro IceQ II VIVO Edition (video review) on 3DGameMan.



The US Congress has approved the Free Trade Agreement between America and Australia. "I think it's a sign that the American Congress believes this deal is in the interests of the United States," Mr Latham said. "The ongoing challenge for the Australian Parliament is to work out whether or not it's in Australia's interests."

Paul spotted this site about viruses, malware and other internet nasties.

Apparently the US Military is concerned about coke cans that contain more than fizzy drink, thanks Josh.

The increase in cyber-fraud has Bendigo Bank rethinking security for their online banking customers, thanks TED81.

PCReview have a guide to buying a new PC.

A study in NZ has shown that childhood TV viewing can cause poor adult health. Ultimately, parents must reclaim from television the responsibility for educating and entertaining their young children.

VR-Zone toured ATI's world headquarters in Canada.

HotHardware compared two high-end i925X motherboards from ABIT and ASUS, while G3D looked at two mid-priced subwoofers.

Dan has electrical letters and odd speakers.

Xbit modded and overclocked a Radeon X800 Pro from PowerColor.

MonsterHardware have a guide to modding your PSU to power high-current items like peltiers.

Part 2 of the Darth Vader PC project has been posted on BurnOutPC, along with part one of another modding project.



Fifteen bazillion people (approx) sent word that Doom 3 has gone gold. More info here and here. A sci-fi horror masterpiece, DOOM 3's dramatic storyline, pulse-pounding action, incredible graphics, and ground-breaking technology combine to draw you into the most frightening and gripping first-person gaming experience ever created. Hits shelves August 2nd, apparently.

Gary_J sent word that PHP 5 has been released.

Internode have announced free ABC content for their subscribers, thanks Bern.

HWZ have a socket939 guide, if you're thinking about building an A64 system on this new platform.

TrustedReviews compared a pile of memory from various manufacturers.

NASA have finally launched their Aura satellite, after 3 delays, starting a six-year mission to study the state of the ozone layer and the relationship between the Earth's atmosphere and climate.

Stephen Hawking meanwhile may be changing his mind about black holes.

BOPC have a Darth Vader PC project.

HotHardware and Tech-Report both have previews of S3's upcoming DeltaChrome S4 Pro video chipset.

OCHQ have an article about CRT vs LCD monitors. CRTs emit VLF and ELF (Very Low Frequency and Extra Low Frequency) electromagnetic radiation (caused by the scanning electron beam in the CRT tube), while LCDs do NOT.

From Daniel: There are only 280 Glossy Black Cockatoos left in Australia. You can help save the Glossy Black Cockatoo by visiting www.amp.com.au and clicking on the growing tree button on the bottom right hand corner. For every click, AMP Foundation will donate $1 (upto a maximum of $10,000) to Greening Australia's Bring back the Glossy Black Cockatoo habitat restoration project on Kangaroo Island. Clicking is free, takes only a few minutes and you won't be asked for any personal details. The more people who click the more will be donated to Greening Australia(up to Friday 20 August) - so please tell your friends. Thanks for your help!

Here's a great time-waster, on the paper into basket theme.



Motherboards:
Albatron K8X800 ProII K8T800-based Athlon64 motherboard on LAN Addict.
Gigabyte GA-8I915G-MF i915G-based P4 motherboard on HardwareZoom.
Abit AV8 K8T800Pro-based Athlon64 motherboard preview on OCW.
MSI K8T Neo2-FIR K8T800Pro-based Athlon64 motherboard on VR-Zone.
Asus A8V Deluxe K8T800Pro-based Athlon64 motherboard on OCW.
Asus A8V Deluxe K8T800Pro-based Athlon64 motherboard on HEXUS.net.

Memory:
Corsair TwinX PC3200XLPro on OCTools.
Corsair TwinX PC3200XL on OcPrices.
Kingmax HardCore DDR500 on HardwareZone.

Graphics:
AOpen GeForce FX5900XT on 3DX.

Audio:
iRiver iFP-190TC 256MB MP3 player on 3DX.
JetAudio iAudio4 MP3 player on TheTechLounge.
Philips Ultimate Edge soundcard on The Tech Report.
Onix Rocket Tykes 5.1 speakers on Designtechnica.
Samsung YP-55I 192MB MP3 player on Bytesector.

Cooling:
Arctic Silver AS 5 and Ceramique thermal paste on XYZ Computing.
Extreme Gamer Sub Zero HSF on Controlled-Insanity PC Mods.
Spire Coolwave P4 HSF on Legion Hardware.
Spire Coolwave P4 HSF on hardCOREware.
SuperTalent Active Memory Cooler on GruntvillE.
Swiftech MCX6400-V Athlon64 HSF on Bjorn3D.
Titan TTC-D9TB/Cu35/R1 Socket A HSF on TechIMO.
Verax Polargate AL S P4 HSF on PCstats.
Silverstone SST-FP53 HDD cooler on ExtremeMHz.
CoolerMaster Hyper-6 behemoth CPU cooler on Hexus.

Cases/Power Supplies:
Lian Li V1000 case on PCUnleash.
MGE XG Vigor500 PSU on Club Overclocker.
Coolmax 14cm Silent Cooling Fan PSU on Hi-Techreviews. (site doesn't seem to like proxies much!)

Storage:
Kingston 1GB CompactFlash Elite Pro CF card on Viper Lair.
LaCie Bigger Disk Extreme 1.6TB external HDD on BIOS.
Crucial Gizmo! high speed 256MB USB flash drive on Tech-Mods.
LG GSA-4120B dual layer DVD burner on TrustedReviews.
Thermaltake SilverRiver external drive enclosure on A1 Electronics.
Swissbit SwissMemory Victorinox pocket knife/USB flash drive on TrustedReviews.

Systems/Monitors:
Dell Dimension 2400 desktop on PCstats.
Shuttle SB81P XPC on Overclocker Cafe.
ViewSonic VA720 17" LCD monitor on TechFreaks.
IBM ThinkPad X40 notebook on BIOS.

Other Stuff:
ADS Tech Instant TV USB2.0 TV tuner on Bjorn3D.
I-Rocks IR-7100 and IR-7300 800dpi optical mice on BigBruin.
Trust 1210k PowerC@m digicam on BurnOutPC.
Canon PIXMA MP780/MP750/MP130/MP110 multifunction printers on BIOS.
GearGrip Computer Harnesses on TweakTown.
Vantec UV Reactive Slot Protector Kit on Club Overclocker.
Black PS/2 Illuminated Keyboard with blue keys on ExtremeMHz.
Samsung ML-2152W Wireless Laser Printer on Accelenation.
Nyko Air Flo PC gamepad on A True Review.

Finally tonight, Overclockers NZ have put the ASRock K7S41GX SiS741GX-based motherboard up against the Gigabyte 7VM400RZ VIA KM400-based motherboard in the battle of the budget integrated AthlonXP platforms.




Wednesday Afternoon #2 (6 Comments) (link)
Wednesday, 14-July-2004 16:25:08 (GMT +10) - by Agg


Ah, this report of seven security patches released by Microsoft yesterday, two of which are classed as Critical, explains why Windows Update is still chugging away downloading stuff.

IBM have unveiled new Unix servers using their Power5 CPU.

Phoronix have a case spraypainting guide.. they've gone for a camo look.

From Philip: Overnight a new World Chess Champion was crowned (Rustam Kasimdzhanov) from Uzbekistan. You can read about it here and here. Both sites contain results, games, interviews etc..

OCClub have an article about annoying stuff of the PC world. Viruses, spam, etc.

Andypoo noticed that Intel have 3D motherboard models on their product info pages. Kinda fun to play with, but I dunno how useful it is.

Rild sent in this article about modding a cable modem to run cooler and last longer. I pay big bucks to my ISP for a big fat internet connection, a whopping 3m line. You have to pretty much OWN an ISP to get that kind of bandwidth in Australia. :(

From Murray, info about Fujitsu and Toshiba starting 65nm chip trial production. One of the first uses for Toshiba's technology will be the production of the Cell processor, which will be used in Sony Computer Entertainment's (SCEI) upcoming PlayStation 3 games console and future consumer electronics products from other companies.

GideonTech looked at turning a case upside down.

ProCooling have an interactive waterblock comparison page.

PCEkspert reckon they've figured out how to get around the overclocking protection in Intel's new 915/925 chipsets. Less than half an hour later we received a phone call from Taiwan in which we were told that we were absolutely correct and that the whole overclocking "protection" indeed is a question of NB voltage. Hmm!




OCAU Merchandise (1 Comments) (link)
Wednesday, 14-July-2004 15:51:47 (GMT +10) - by Agg


Just a reminder that OCAU has a range of merchandise available. Things to wear, things to drink out of and things to stick to other things. Support the site and get some cool swag!



Click here for OCAU Merchandise!





Some Distributed Computing news from RobsGT4: BOINC is now well and truly up and running and currently has 2 projects available, SETI and PREDICTOR. Both projects are able to be run on the same computer, by using the Boinc front end you can allocate the percentage of resources you want to either project. OCAU has teams in both Projects, our Seti Team is currently in 22nd position in the world and our Predictor Team is currently in 12th position in the world. Some members of both teams are setting resources to help the other team out and also if one project has a problem you can keep your computer from becoming idle!

I hope all OCAU members that currently don't do a distributed computing project can give it a thought and maybe join one of OCAU's many teams. And to all our current Seti members that havent moved across to Seti/Boinc now is the time to do it, we have been in the top 20 for the last week and now are starting to drop out a little, come on guys and girls..




MrBean_pm's Hidden HDD's (6 Comments) (link)
Wednesday, 14-July-2004 15:00:16 (GMT +10) - by Agg


Just spotted this PCDB entry from MrBean_pm. Hooking up a VapoChill LS to a Lian Li case is nice enough, but what caught my eye was how he's hidden the hard drives away behind the motherboard tray:



Click for the PCDB entry! (7 pics)






Wednesday Afternoon (1 Comments) (link)
Wednesday, 14-July-2004 14:31:24 (GMT +10) - by Agg


Apparently Microsoft have delayed WinXP SP2 until next month, instead of the late July launch everyone was expecting. Although the final size of Service Pack 2 is not set, the most recent beta was a beefy 264 Gbytes. Because of that size, the service pack will also be available as a free CD mailed to users who request it, Poole promised. I assume they mean 264 MB. :) More info here thanks Herby and here thanks Murray.

SnRuB spotted this 3D Google Browser java thing. It's a bit painful on dialup, but shows links between websites in an interesting way.

If you're volt-modding your Radeon 9800XT, check out this guide on ARP.

ArsTechnica have started a technical series titled The Pentium: An Architectural History of the World's Most Famous Desktop Processor. They have also updated their System Guides, including a God Box, Hot Rod and Budget Box.

DesignTechnica think you should be a responsible Net citizen and offer some basic tips on how to achieve that.

Dan has yet more letters with answers.

Xbit looked at the latest in integrated graphics from Intel.

Bern spotted yet another IE security issue, affecting 5.01, 5.5 and 6. Maybe the patch for that is what Windows Update is currently slowly downloading on my PC.

Speaking of which, OneArmedMan says that Windows Update Version 5 seems to have gone live in Beta form. He also reports that if you don't have Automatic Updates set to download without asking you, this version of Windows Update can get upset.

From podgesss: Magic ink that makes metal grow. In name dispute, it's Googles vs. Google.

TheTechZone compared P4 3.2E and P4 3.2C to see if Prescott brings much in the way of performance over Northwood, while TweakTown compared budget VGA cards, with Radeon 9550 vs GeForce FX 5500.




Tuesday Afternoon Reviews (0 Comments) (link)
Tuesday, 13-July-2004 16:08:11 (GMT +10) - by Agg


Mouse Etc:
Corepad mousepad on CreativeMods.
Razer Viper Gaming Mouse on TheModFathers.
Razer Viper Gaming Mouse on FastLaneHW.
eXtreme Gaming Pad & DKT Mousepad big mousepads on BurnOutPC.

PSU:
Hiper HSU-3S350 350W on Hexus.
Antec NeoPower 480W on SilentPCReview.

Case:
Coolermaster Centurion 5 CAC-T05 on Hexus.
Xoxide X-Clear Acrylic on HiTechReviews.
Chenbro RM312XX 3RU Rackmount Chassis on FlickerDown.
Enermax CS-A666TA Mid Tower on ExtremeMHz.

Storage:
Vantec NexStar 350UF 3.5" External HDD Enclosure on PimpRig.
Vantec Nexstar 3.5" USB/Firewire HDD Enclosure on Virtual-Hideout.
Crucial Gizmo! USB2.0 Flash Drive on D-Silence.
CoolMax CD-510-U2 external 5.25" enclosure on ViperLair.

Networking:
Belkin 802.11g PCI NIC on RBMods.
Chrysalis WiFi Seeker device finder on Phoronix.




OCAU Folding@Home Giveaway Week 2 Winners (4 Comments) (link)
Tuesday, 13-July-2004 14:26:19 (GMT +10) - by Agg


From bollocks, our Folding Team Captain: The major prize winner for week two is praiseB. He has won an Asetek Waterchill power kit donated by PCRange. The winner of the consolation prizes donated by Plus Corp is gilmour.

The major prize for this week, the final week of Giveaway5, is a Mercury GeForce FX5800 video card and a Creative PC-CAM 850 donated by Computer Alliance. There are also special bonus prizes for those that have achieved the qualifying points for each of the three weeks. First is a XP Mobile 2600+ CPU donated by Datsun 1600 next is a Winfast TV2000XP Deluxe Edition TV card donated by trotkiller and finally we have a Artic Cooling VGA Silencer donated by r00b0y. If you haven't already nominated yourself for the giveaway do so by posting in this thread. All the Giveaway details are here and if you are new to folding and want to get started have a look here.



Hibbs spotted a battle between Intel's Xeon 3.4GHz and AMD's Opteron 250 on GamePC.

TweakTown analysed the performance of the new 4.7 Catalyst drivers for ATI Radeon video cards.

Accelenation cover some anti-aliasing and translucency techniques for improving game graphics.

Curtis spotted this amazing little robot. Watch the video!

XbitLabs compared three ASUS PSUs and also three 120GB external HDD units.

A few things from Iroquois: 500Mbps Internet links for a Gold Coast residential estate. Suspect in the theft of Altavista's source code may be working on Microsoft's search engine. A roundup of Symbian phones, benchmarked!

Sudhian wonder if Intel will kill x86-64 by supporting it.

GruntVille have a cheap way to change the colour of your case lighting.

Win yourself an ATI All-In-Wonder 9800Pro videocard with the lot over on Hypothermia. Contest is open to everyone. Prizes delivered to anywhere FedEx delivers so overseas entries are welcomed!

Hexus did something a little different and spoke to a Ferrari F1 test driver, Luca Badoer. On the virtual sports front, ExplosiveLabs talked to Anthony Kuo from America's National Gaming Association. Anthony compares the current state of e-sports to the early NBA: a small industry with problems, but also one that's in a prime position to grow and capture a real audience.

Cletus75 spotted these giant giant CPU coolers, similar to CoolerMaster's Hyper6.

SpodesAbode compared NV45 and R423, top-flight graphics chipsets from nVIDIA and ATI, in a dual Nocona Xeon system with DDR2, PCI Express and U320 SCSI.

Gavin has a flash timewaster involving penguins and cacti to help you ease into the working week.




Sunday Night Reviews (0 Comments) (link)
Sunday, 11-July-2004 21:01:08 (GMT +10) - by Agg


Cooling:
Swiftech 8600 series Water Cooling Kit (video review) on 3DGameMan.
CoolingWorks Mini-CoolShroud radiator shroud on PimpRig.
Little River Cascade SS waterblock on ProCooling.
Thermaltake MagicSound fan controller on A-Electronics.
Scythe Kamikaze CPU Cooler V2 on GideonTech.
Thermaltake XController fan controller on Controlled-Insanity.
Vantec iCEBERQ Copper BGA RAMsinks on Hi-TechReviews.

Memory:
Crucial PC2-4300 DDR2 on ByteSector.
Kingston HyperX DDR400 on 3DVelocity.

Storage:
COOLMAX 2.5" X-Treme FILES V1 backup device on ExtensionTech.
KingWin Portable Racks USB enclosures on OCrCafe.
Vantec 8-in-1 Card Reader & USB 2.0 Hub on OCIA.

PSU:
OCZ PowerStream 420W on LANAddict.
Thermaltake Polo12 kit (quiet PSU, fan, fan controller) on RBMods.

Mouse, Keyboard Etc:
Atomic Bolt Banshee Mouse Pad on TechIMO.
Logitech Cordless Desktop Express on Virtual-Hideout.
Logitech MX510 Performance Mouse on DriverHeaven.

Audio:
Samsung Yepp 55i mp3 playeron OCClub.
Altec Lansing MX-5021 2.1 speakers on Phoronix.

Notebooks:
Sony VAIO VGN-S1VP notebook on TrustedReviews.
Acer Ferrari 3200 on BIOSMagazine.

Misc:
Olympus C8080 Wide Zoom 8MP digicam on HWAnalysis.
Vantec Slot Protector Kit on Hi-TechReviews.
Shuttle XPC SB81P SFF barebone system on TrustedReviews.
MSI MEGA 865 Hi-Fi barebones on XbitLabs.
NVIDIA GeForce 6800 reference video card on HotHardware.




Saturday Morning Reviews (1 Comments) (link)
Saturday, 10-July-2004 02:58:52 (GMT +10) - by Agg


First up, users of Mozilla, Firebird, Firefox and/or Thunderbird on a Windows platform need to be aware of a security issue, details here. More info here, thanks to everyone who sent those in.

Motherboard / CPU:
AMD Athlon 64 3800+ CPU on VR-Zone.
ABIT AA8-Duramax i925X Express P4 board on TechReport.
AOpen AX4SPE Max II i865PE P4 board on TrustedReviews.
MSI K8N Neo2 NF3 Ultra S939 A64 board on PC-Perspective.
ASUS P4R800-V Deluxe on Viper-Lair.

Video Cards:
Gigabyte GeForce PCX 5900 on LegionHardware.
ASUS GeForce FX5200 on Hexus.
BFG GeForce 6800 GT OC on NeoSeeker.

Audio:
Apple iPod mini on AppleTalk.
Apple iPod on ViperLair.

Storage:
LiteOn 8x DVD±R/ 4X ±RW SOHW-812S burner on Bjorn3D.
Crucial 7-in-1 Card Reader on TheTechZone.
Globalwin Dorri External Hard Drive Enclosure on ATrueReview.
MSI X48 CD-RW/DVD-ROM combo drive on PCStats.

Cases:
Lian Li PC6277B ready-for-watercooling tower on DansData.
Yeong Yang Mars YY-5603 midtower on SilentPCReview.
NZXT Guardian on Phoronix.
Chenbro Hornet LANparty case on RojakPot.

Interesting Forum Threads:
ABIT's NF7-S2 and NF7S-2G in AMD Hardware.
New email client wanted in General Software.
Kayl's Direct Die Project in Extreme Cooling.
Crucial's new X800's in Video Cards.
Motoring Guides: Changing your oil in Motoring.




Server Rollback (1 Comments) (link)
Thursday, 8-July-2004 23:29:22 (GMT +10) - by Agg


We had a server hiccup just now and had to roll the forum database back to our backup from 3am today. So, if you made a post or a new thread, or signed up for a forum account, today - you'll need to make it again.




Thursday Morning (0 Comments) (link)
Thursday, 8-July-2004 03:19:15 (GMT +10) - by Agg


Sniper noticed these cool courier robots that may be coming to a hospital near you.

The UN has declared war on spam, announcing that it plans to control the 'modern day epidemic' of spam within two years. More info here.

Intel has resumed shipping their 915 chipset. Sales of the new-generation Pentium 4 chipsets were suspended in late June after a defect was found in the ICH6 south bridge. ... Motherboards to be recalled from Taiwanese first-tier motherboard makers, including Asustek Computer, Gigabyte Technology and Micro-Star International (MSI), are estimated to total 10,000 units each, according to sources at the makers.

Hexus talked to an ATI person about their Get In The Game initiative.

From W.G.A.F: Thought it might be of interest to readers and members that there is a free version of Xandros linux available for download. Xandros is very windows like and may be of interest to those interested in trying Linux but after something a little less daunting than Red Hat etc.

Dan has more letters than you or I.

The Cassini-Huygens mission to Saturn continues to impress, with pictures of Titan that aren't what we expected at all.

DesignTechnica cover television technology in a lengthy editorial.

Apparently the WinXP 64-bit Beta doesn't support Nocona for now.

ARP's desktop graphics comparison now covers 180 video cards.

Indefinate sends word of another free open-source game that works in Windows: Racer is a free cross-platform car simulation project (for non-commercial use), using professional car physics papers to achieve a realistic feeling. Cars, tracks and such can be created relatively easy (compared to other, more closed, driving simulations). The 3D and other file formats are, or should be, documented. Editors and support programs are also available to get a very customizable and expandable simulator. OpenGL is used for rendering.




More pics from The_Snarf! (1 Comments) (link)
Thursday, 8-July-2004 01:04:15 (GMT +10) - by Agg


If you missed this amazing Shuttle project from a couple of weeks ago, or if you were one of the many who asked for more pictures showing how it went together, you're in luck. The_Snarf has updated his PCDB entry. It now has 16 pictures, showing part of the assembly process.



I've spoken to The_Snarf about doing an article for OCAU about his project and he's agreed! So stay tuned for that one, hopefully soon. :)




Midnight Reviews - is it Wednesday or Thursday? (1 Comments) (link)
Thursday, 8-July-2004 00:00:37 (GMT +10) - by Wolfy


CPU:
A64, Upgrader's Perspective ViperLair, "take an A64 and compare it to an AXP at the same clock speed to see if it's worthwhile or not in a 32-bit environment."

Motherboard:
Intel 925X Platform - D925XCV Desktop Board at Beyond3D.
EPoX 8RDA6+Pro nF2 Ultra400+Gigabit MCP at OCWorkBench.com, I'd tell you what they think, if I was able to read the conclusion.

RAM:
GeIL 1GB PC4000 Ultra Platinum, read it if you want, but the extent of SweMOD.Com's review is pretty much: "The only thing to say about these modules is that, they look awesome!"
Corsair TWINX PC3200XL Pro Series DDR and Bytesector are very impressed with it.

Storage:
Plextor PX-712A DVD Burner is taken for a spin over at Bjorn3D.
Eksitdata IDE adapter, lots of pictures, and not too much else in this review by Rbmods.
SATA RAIDing With Maxtor, Bjorn3D explain its not really what pirates and Vikings do.

Systems:
HP Compaq Tablet PC tc1100 and Bytesector tell us not to use it in the sunshine.
Systemax Hurrican 6000 which TrustedReviews tell us is a "17in Widescreen notebook with an Athlon 64 processor and a Mobility Radeon 9700 and 5.1-channel speakers" - Nice.
Shuttle Zen ST62K XPC in a typical TweakTown style review.
Shuttle SB81P XPC Review SFF Evolves! at SFFTech.

Video:
HIS X800XT and HIS X800Pro at Hardware Avenue.

MultiMedia:
Samsung Syncmaster 173P 17-inch LCD Display at PCstats.com.
Soundmatters MAINstage Audio System at A True Review, it's a "high fidelity surround sound system" - but it has no external or surround speakers.
Sony MDR-EX71SL Earbud Fontopia Headphones at DSL/Cable WebServer.
Zalman Theatre 6 5.1 in a nice 2 page review by IPKonfig.
Pioneer DV-563A DVD player, Designtechnica tell us that "it easily handled every audio and video format that we tried, and we tried them all."
iRiver IFP-190T MP3 player at OcPrices, its cool but this model doesn't play .ogg.
AudioTrak OPTOPlay 24-bit 96 kHz professional quality audio, over at short-media.com, but they don't like the jack saying its "like an overweight gopher too large to make it down the hole" - yes I just had to quote that. :)
X-Micro EVA 256mb MP3 Player at Tech-Mods.net, its an MP3 player with FM radio and a recording function.
Philips PSC724 Ultimate Edge at Overclockers Online.
Bluetake BT420 EX Bluetooth Hi-Fi Sports Headphone at Hardware Pacers, feel free to wade through the short-paged review and tell me what they think.

Printing:
Samsung ML-1710 Laser Printer and according to MrPCPro.com Samsung are targeting the home/student market.
Belkin wireless printer server @ Rbmods

Misc:
BTC 8193 Deluxe Office Keyboard at Hardware Pacers.




Folding Giveaway Week 1 Winners (2 Comments) (link)
Wednesday, 7-July-2004 23:24:50 (GMT +10) - by Agg


Word from Bollocks, our Folding@Home Team Captain: The major prize winner for week one is gaving. He has won a selection of coolers and fans from Lownoise PC. The winner of the consolation prize donated by Plus Corp is Reactor. This week the major prize is a Asetek Waterchill power kit donated by PCRange. If you haven't already nominated yourself for the giveaway do so by posting in this thread. All the Giveaway details are here and if you are new to folding and want to get started have a look here.




Wednesday Night (0 Comments) (link)
Wednesday, 7-July-2004 23:08:10 (GMT +10) - by Agg


Looks like Dell will be shipping Linux-based desktop systems, at least in Europe.

HWZoom compared five DVD burners, as well as covering a recent product launch from Samsung.

Bit-Tech cover installing a PSONE LCD screen in your PC.

Xbit looked at seven integrated graphics chipsets on socket478 and socketA, while DriverHeaven compared a few low-end video cards from NVIDIA and ATI.

TheModFathers add their take on the FarCry 1.2 and Shader Model 3.0 story.

Australia has signed up with the UK and USA to fight spam cooperatively.

A few stories from Paul: Gmailers banned from selling addresses. Microsoft junkies have been waiting and waiting for Windows XP Service Pack 2, but it seems the end is finally in sight. Russian Hacker Team Behind Last Week's Web Attack. Microsoft is scrambling in a massive damage-control effort following a U.S. government warning that its Internet Explorer browser is too unsafe to use.

PCWorld report that the IE security problem remains unfixed, despite a patch from MS.

Here's a nice PSU watercooling project. I think it's in Polish, but the pics tell the story.

AmazonInternational looked at Supermicro's X6DA8 Tumwater (Nocona) motherboard and PNY's Quadro FX 3400 PCI Express video card, thanks Hibbs.

FlickerDown look in some detail at the benefits of the A64 core.

Bern spotted yet another email worm: The mass-mailer worm, dubbed Evaman, was discovered only yesterday but is already being likened to the MyDoom worm that cost businesses hundreds of millions of dollars in January.




Wednesday Afternoon Reviews (3 Comments) (link)
Wednesday, 7-July-2004 13:50:45 (GMT +10) - by Agg


Video Cards:
ATI AIW 9600XT on AllAMD.
eVGA Personal Cinema FX5700 on HotHardware.
Transcend Xabre 400 64MB on Tech-Mods.
Sapphire Radeon X800 Pro on TrustedReviews.
PowerColor Radeon 9550 on NeoSeeker.
BFG Tech GeForce 6800 GT OC on Bjorn3D.
ATI Radeon X800 XT (PCIe) on Beyond3D.
BFG Tech GeForce 6800 GT Ultra OC on HardOCP.

Cooling:
ThermalRight SLK948U A64 CPU cooler on GruntVille.
Thermalright NB-1C chipset cooler on PC-Perspective.
Swiftech MCX462-V socketA CPU cooler on Hard-H20.
Evercool Aluminium LED Fan on GideonTech.
KingWin Arctic Liquid Cooler on ClubOC.

PSU:
Ultra Products X-Connect 500W on PimpRig.
FSP Cooling Kit CK400 (400W PSU + 2 fans) on ATrueReview.
Coolmax Taurus CF-300 Fanless on SilentPCReview.

Cases:
Silverstone Temjin SST-TJ02 on Tech-Mods.
Silverstone Lascala SST-LC02 ATX slim HTPC case on HardCoreWare.




Interesting Forum Threads (1 Comments) (link)
Tuesday, 6-July-2004 21:39:47 (GMT +10) - by Agg


Lots going on in the forums lately, here's a snapshot of things that caught my eye:

Longevity of R9800 Pro? in Video Cards.
X800PRO Overclocking Results Discussion in Video Cards.
Far Cry 1.2, up to 34% improvement for 6800's in Video Cards.
AMD launches new processor line "Sempron" in AMD Hardware.
A guide to choosing your A64 system in AMD Hardware.
Hyperthreading on or off? in Intel Hardware.
Will a mobile P4 work in a desktop mobo? in Intel Hardware.
My data is trapped, help! in Windows Operating Systems.
Xorg locking up Slackware 10 in Other Operating Systems.
Greatest and most memorable games in Games.
PunkBuster gets serious in Games.
User login (PHP4 + MySQL) in Graphics & Programming.
Watercooling problem (fixed) in Extreme Cooling.
Simple, easy to make, silent, evaporative cooling in Extreme Cooling.
Comparing fixing a PC to fixing a car in Motoring.
Ralf Schumacher out for 3 months, Webber to Williams? in Motoring.
Project: Donut in Motoring: Worklogs.
Frog Photochop (lots of pics) in The Pub.
Car Photochop (lots of pics) in The Pub.
Football - killing our youth? in Sport, Fitness and Health.
Exercising Shoulders in Sport, Fitness & Health.
Sydney Roller Hockey (Quads) in Sport, Fitness and Health.
Photos from the V8 supercars (QLD 300) in Photography.
Uses for your compact digital camera? in Photography.
A photo I hope none of you ever have! (heart imaging) in Photography.
US Election Megathread in Current Events.



We had a problem with our database server today, which is why the site was down for a few hours. Should be all good now, touch wood.

There's a lot of talk about the Far Cry 1.2 patch which, among other things, enables Shader Model 3.0 on GeForce 6800 series video cards. Will this help NVIDIA's flagship beat ATI's X800 range? Coverage on Xbit, Tech-Report, T-break, Hexus, HotHardware and DriverHeaven. Tech-Report have an interview with the CEO and President of Crytek, the developers of Far Cry.

Other big news is that development of Motherboard Monitor has stopped. Ambush pointed out that an update on the 18th of June added support for ABIT's uGURU chip, but it seems our beloved MBM may drift out of date from now on. That's a shame, but thanks to Alex Van Kaam for providing and updating this very useful program over the last 7 years or so. Got a suggestion for a similar program? Let us know in the comments thread for this news story.

Our Photography forum is having a Brisbane Photography BBQ on the 11th of July - this Sunday. This is going to be a sunrise photo shoot followed by a BBQ breakfast followed by more photography and a BBQ lunch for those who could/would not come to breakfast.

SLCentral are a bit late with their E3 2004 coverage, but here it is.

GideonTech have a guide to cable sleeving made easy, while OCInside has a guide to making your own USB power cable for external devices like LCDs. ARP show how to mod a Radeon 9800 Pro to XT.

Ebay are apparently removing reserve prices for the Australian market, apart from vehicle auctions - thanks Poida.

Quadbox spotted this free open-source game, which is compatible with Windows, and he reckons is the best new opensource game I've seen in ages.




OCAU 5th Birthday Events + Prizes! (10 Comments) (link)
Monday, 5-July-2004 18:11:12 (GMT +10) - by Agg


So far the response to OCAU's 5th Birthday Events has been a little disappointing. We're accepting bookings for the following events at the moment:

Sydney:Melbourne:
At the moment it looks like we will have to reduce our bookings for various events unless there's more interest. I know it's still 7 weeks away, but if you're keen to get to any of the events, please let us know by booking (and pre-paying in some cases) via the events website.

The BBQs in Sydney and Melbourne are completely free to attend and OCAU will be providing free meat, salads and soft drinks. They won't be anything formal, just a get-together, some laughs and maybe kicking a ball around or something. However, we do need your help to finalise locations for such a gathering in Melbourne or Sydney. If you have any suggestions of a decent park with an undercover shelter area, BBQ facilities and preferably close to public transport, email Wolfy with your idea.

Finally, there will be lucky door prizes at both BBQs. For those who can't attend, we will also be coordinating an OCAU 5th Birthday Giveaway via the mailing list. We haven't yet decided which prizes will be assigned to which, but so far the prize pool includes:
Classic White Asetek VapoChill from PC Range
GeForce FX5800 video card, Thermaltake case and Gigabyte DVD Burner from Computer Alliance
A pile of multimedia keyboards, mice, headsets etc from Plus Corporation
Four HEC power supplies from ServerBits
Various promotional items from NVIDIA, ATI and AMD
More to come!
So, please register your interest via the events website and while you're at it, join the mailing list. You'll be informed of reviews/articles on OCAU as soon as they're put on the news page - or even before then, in some cases. You'll be in the draw to win prizes now and in the future, and I can tell you there's at least one OCAU sponsor who is putting together some special deals just for mailing-list members. So, what are you waiting for?



It's been quite a busy few weeks for content on OCAU. I've updated the Article and Review Archive to include these recent items - check them out if you missed them the first time around:

CeBIT Sydney 2004 PC show coverage.
Antec P160 super mid-tower case.
Antec SLK3700-BQE black quiet super mid-tower case.
COMSCOM Think Tank minitower case.
NYKO AirFlo hand-cooling mouse.
VIA EPIA CL6000E mini-motherboard and CPU.
Digiana AudiaX wireless audio FM transmitter.
Procase 3688 Mini-ITX case.
Compro VideoMate Live USB2 external TV tuner/capture device.
Cooler Master AquaGate watercooling kit.

We also had an update to our Sisoft Sandra mirror page. The Search Page got a bit of a work-over, and we set up a Mailing List.



Recent press-releases of interest:

Cooler Master introduced their Dual Storm fan. Dual Storm, with dual-layer fan blades, blows in an opposite rotating direction, reducing the blind spot at the center and thus improving cooling performance. On the other hand, the concept behind the dual fan blades is similar to that of Jet engine. Similar to the Jet engine's compressed air principal, dual-layer fan blades increase air pressure, allowing the heat to be efficiently removed. Especially when the high densely heatsink is the trend in the market nowadays to achieve better heat dissipation, high air pressure fan is in demand to attain the best cooling performance. More info here.

OCZ announced their PowerStream PSU. The PowerStream product provides the user with the most powerful and imaginative PSU available. OCZ's leading-edge technologies gave users solutions to all of the computer power challenges they were faced with: universal connectivity, adjustable power rails, clean output current and ultra-quiet operation are just a few of the benefits the PowerStream delivers. More info here.

OCZ also announced their PC2-4300 Enhanced Bandwidth DDR2 Platinum Edition series. OCZ's DDR2 533MHz products are rated at 4-3-3 timings, making them the first low-latency DDR2 memory modules available on the market today. "Conventional PC4300 DDR2 modules may be adequate in performance," said Dr. Michael Schuette, Director of Technology Development at OCZ Technology Group. "However, the OCZ Technology PC2-4300 Platinum modules with our Enhanced Bandwidth feature-set will add the extra bite that is only possible by running at reduced latencies." More info here, product page here.

GeIL announced their Ultra-X Series memory. This all in one product supports CAS 2 5-2-2 at PC3200 400MHz DDR and CAS 2.5 7-3-3 at PC4000 500MHz DDR. The Ultra-X achieves the most aggressive timing possible on the DDR memory ever! Moreover, random sample testing in GeIL labs shows these sticks are also capable of running with CAS 2.5 7-3-3 at least PC4000 500MHz! These latencies are significantly faster than all existing modules in the DDR memory market. More info here.

GeIL also announced their PC4200 DDR2 memory. Shipping is expected to be on July 10th, 2004 in limited quantities. GeIL offers 533MHz SDRAM DDR2 DIMMs in capacities of 512MB and 1 GB, to support the future-generation computer platforms coming to public in 2004. The latest generation DDR2 Memory Technology Offers Faster Speeds, Greater Bandwidths, Lower Power Consumption and Enhanced Thermal Performance. More info here.

Corsair, not to be outdone, annouced new XMS2 5300 speed modules at low latencies. Today Corsair introduced four new products in this family of ultra-fast modules. These memory modules offer the incredibly fast speeds of DDR2 5300 and the low latencies of 4-4-4-12. These come in several density options as well as in matched pairs. Developed specifically for Alderwood and Grantsdale DDR2 platforms, these products range from 256MB to 1GB. These products are based on the new DDR2 technology which increases the memory bandwidth available for memory intensive applications. JEDEC standard latencies at 667 MHz are 5-5-5-15, but Corsair's 5300C4 modules are rated at 4-4-4-12 to deliver exceptional performance. More info in this PDF.




Monday Morning Reviews (0 Comments) (link)
Monday, 5-July-2004 01:02:16 (GMT +10) - by Agg


Motherboard and CPU:
AMD Athlon 64 3800+ socket939 CPU on LostCircuits.
VIA EPIA TC10000 Mini-ITX mini-mobo and CPU on TrustedReviews.
Gigabyte G8NSNXP-939 nF3 Ultra A64 motherboard on Short-Media.
ASUS P5GD2 Premium Intel 915 P4 motherboard on LegionHW.
Foxconn 755A01-6EKRS A64 motherboard on ClubOC.

Memory:
Corsair XMS3200XL Pro dual-channel kit (video review) on 3DGameMan.
Corsair TwinX1024-3200XL Pro dual-channel kit on Bjorn3D.
Mushkin 2x512MB Dual Pack DDR400 2-2-2 Special on HardWareZone.

Cooling:
Titan Ultimate Computer Heat Exhauster on GuruReview.
Asetek WaterChill Antarctica watercooling kit on ViperLair.
Gigabyte 3D Cooler UltraGT on GeekExtreme.

Video Cards:
GeCube All-In-Wonder 9600XT Multimedia Combine on XbitLabs.
GeCube All-In Wonder 9600XT 128M/TV/FM on Hexus.
PNY Quadro FX 1300 PCI Express on AmazonInternational, thanks Hibba.

Cases:
Cooler Master Cavalier 1 on VR-Zone.
Cooler Master Cavalier 1 on ExtremeMHz.
Mercury EC-7103H on DataFuse.
SilverStone Temjin SST-TJ02 Window Version on Hi-TechReviews.

Storage:
Philips DVDRW885K Double Layer Recorder on CDRInfo.
Memorex True 8Xn Dual 8X External DVD Recorder on CDRInfo.
Lite-On SOHW-832S and SOHW-1213S 2.4x Double Layer and 12x DVD+R burners on DriverHeaven.
Apacer Handy Steno HT203 flash storage on TrustedReviews.

Audio Visual:
Sharkoon Gamer Headset on MadShrimps.
Altec Lansing VS4121 2.1 speakers on TweakNews.
Pioneer DV-370 Home DVD Player on CDRInfo.
Freecom Beatman Flash MP3 Recorder on CDRInfo.
Aureon 7.1 Universe speakers on DriverHeaven.

Cameras:
Trust 782AV digital video camera on SweMod.
Trust 1220s Powerc@m digital camera on RBMods.
Canon Powershot S1 IS digital camera on HardWareZone.

Mouse Etc:
Core Pad Mouse Surface on GruntvillE.
Logisys Optical Wheel Mouse on PimpRig.
Thermaltake Gamma Pad on OCrCafe.

Misc:
Dell Inspiron 9100 notebook on HardWareZone.
Sharkoon LED Lightbar Blue case lighting on MadShrimps.



The Cassini spacecraft has become the first to successfully enter Saturn's orbit. After a seven-year journey, it passed through the planet's rings yesterday, sending back lots of pictures. NASA's Jet Propulsion Laboratory has pictures and info.

From Loop Goose: I dont know if you have seen this tool before, but it's very handy. It is a bit like CPU-Z, WCPUID, dxdiag all rolled into one. It contains a whole lot of other information too, such as the dimensions and properties of your North/South bridges. (Not sure what the purpose of this is however). Looks to be free, too. Consider also SiSoft Sandra, which is also free and was updated only a couple of days ago.

Tbreak looked at some PCI-Express video cards from ATI and nVidia.

Paul notes that Firefox 0.9.1 has been released. This is an increasingly popular web browser, and its email-client cousin Thunderbird has been upgraded too, to 0.7.1.

Australia has created the world's largest reef sanctuary, which makes sense given we have the world's largest reef. Australia's Great Barrier Reef became the world's biggest protected marine network on Thursday, a move environmental groups hope countries in Asia and Central America will copy in a bid to save their endangered coral reefs.

MadShrimps reckon the original Antec Overture case was thermally challenged - they look at a new cooler version with some airflow improvements.

iq2hi spotted this bizarre law in the United States, which would require an individual permit to export any PC more powerful than a P3-650MHz. "It would bring exports to a grinding halt," said Dan Hoydish, director of trade, public policy and government affairs for Unisys and chairman of the Computer Coalition for Responsible Exports, a trade group that counts many major technology companies as members. "We wouldn't be asking for 20 export licenses in a year, we would be asking for 20,000 in a day."

From usbmausii: Microsoft is releasing a trial version of its very own search technology. Apparently, Microsoft has been working on the engine for a year, hoping to become a serious rival to Google and Yahoo.

Microsoft have apparently patented the use of the human body as a conductive medium, e.g., a bus, over which power and/or data is distributed. Wow. The patent is here, thanks Timbot.

PC Perspective looked at how shader model 3.0 affects Far Cry, as it is enabled by an upcoming patch.

Sony are celebrating the 25th anniversary of the Walkman, with plans for a cheaper rival to Apple's iPod.



Sniper warns of a password-sniffing popup problem. I think this may be the same issue we mentioned earlier in the week, but it's one more reason to use something like the Google toolbar which blocks popups.

Bern has more info on it too: There is another piece of IE malware on the loose, this one is a BHO (Browser "Help" Object) that listens for https connections and scans keystrokes before they are ssl encrypted. There is a BHO scan and remove tool linked in the report.

Tech-Report ponder quietening a PC on the cheap.

TweakTown compared four DDR 500 kits from OCZ, Kingmax, Mushkin and TwinMOS, while DriverHeaven rounded up a pile of ATI video cards.

Dan has some folding headphones and letters.

GeeksOnline have posted part 2 of their watercooling basics article.

OneArmedMan says that a new version of MemTest has been released. Seems to have some bugfixes and support for new CPUs/chipsets.

OcelotX sent in Terrarium for .NET. Terrarium is a multiplayer ecosystem game developed using the .NET Framework. Developers can create their own creatures and add them into the game on their own client machine. Teleporters on each client transfer the creatures between clients in the Terrarium peer-to-peer network.

OCPrices looked at some case modding products. If you want to give your case some much needed bling you should check it out.

PCStats have a guide to flashing a motherboard BIOS. Try to make sure this doesn't happen.

NeoSeeker compared a few Small Form-Factor mini-PC's. I thought for a while there that the whole SFF thing would be a flash in the pan, but it really took off and is still going pretty strong.



Motherboards:
Asus P4P800 SE reviewed by XYZ Computing.
Gigabyte GA-8IPE1000 Pro2-W reviewed by Legit Reviews.
Intel 925X/915G Motherboards reviewed by ByteSector.
Foxconn 925A01-8EKRS 925X+ICH6R reviewed by OC Workbench.
Abit KV8 Pro reviewed by HOTHardWare.

Cases & Modding:
Thermaltake Tsunami Dream VA3000 reviewed by A1 Electronics.
Yeong Yang Cetus YY-5601 reviewed by HardCOREware.
Chenbro Gaming Bomb reviewed by PCUnleash.
OCZ Power Stream 470 reviewed by SilentPCReview.
SilenX 400 Watt PSU reviewed by Hi-Tech Reviews.
Coolmax Taurus CF-300 Fanless ATX PSU reviewed by SilentPCReview.
OCZ PowerStream 470W PSU reviewed by ClubOC.

Cooling:
Spire SP450B0-CoolGate Cooler reviewed by ipKonfig.
Titan TWC-A04 Water Cooler Kit reviewed by Overclocker Cafe.
Asetek VapoChill LightSpeed reviewed by Hexus.
Scythe Samurai SCSM-1000 reviewed by SilentPCReview.
Thermaltake XTunner 4 Fan Speed by IR Remote Control Kit reviewed by futurelooks.
Danger Den TDX vs Cool Cases CF1 v2 by MADSHRIMPS.

Memory:
Corsair TwinX 1024-3200XLPRO reviewed by Adrian's Rojak Pot.

Storage:
LG GSA-4120B Triple Format Double Layer DVD Writer reviewed by ExtremeMhz.

Video:
XFX GeForceFX 5700 Ultra reviewed by TrustedReviews.
HIS 9550 VIVO reviewed by OverclockersOnline.
Asus AX800 Pro reviewed by HOTHardWare.
eVGA Personal Cinema FX5700 reviewed by Sudhian Media.
AOpen GeForceFX 5900XT reviewed by PCStats.
Point of View NVTV reviewed by Hexus.
ViewSonic VP2290b reviewed by TrustedReviews.
MSI RX9800PRO-TD128 R9800XXL reviewed by Overclockers New Zealand.

Audio:
Creative SoundBlaster Audigy 2 ZS reviewed by TechSpot.
Xclef HD-800 MP3 Player reviewed by A True Review.
Edifier R501 5.1 Speakers reviewed by ViperLair.
Mad Dog Entertainer 7.1 DSP Sound Card reviewed by PCStats.
Shure E3c In-ear earphones reviewed by EXHardware.

Small Form Factor:
Sony Vaio U50 Mini PC reviewed by DesignTechnica.
AOpen XCCube EZ18 nForce2 SFF System reviewed by Bjorn3D.
Shuttle XPC SK83G reviewed by The Tech Report.

Notebooks:
Dell Inspiron XPS Notebook reviewed by HardOCP.

Printers:
Samsung CLP-550 Laser Printer reviewed by Bytesector.
Samsung ML-2151N Workgroup Monochrome Laser Printer reviewed by MOD Synergy.




Early Friday Morning (0 Comments) (link)
Friday, 2-July-2004 01:46:14 (GMT +10) - by Agg


Popular CPU info program CPU-Z has been updated, thanks MontyP.

If you're confused about PCI Express, the ArsMasters have an overview article explaining it for you.

OCWB checked out the Samsung Roadshow in Singapore this week. Samsung displayed a large number of products ranging from Digital Light Processing (DLP) Projection TVs, Large Screen Displays, Flat Panels, DVD Combo Players to Home Theatre Systems.

ASUS apparently produce a lot of Intel's branded mainboards, but Xbit wonder how much longer that will be true for. They also mention that Dell may start selling dual Opteron servers soon, thanks slayme40.

Murray spotted some CMR5 screenshots.. typical, seeing as I just bought CMR4. Apparently version 5 of this popular rally game is due in September.

Rickets sent in this monster watercooling setup.

Grum00 spotted this look at Nocona on TheInq, but things didn't go too smoothly. More info on eWeek, thanks Loop Goose.

Hexus have part two of their free and open source software guide posted.

ExplosiveLabs have an article titled How To Make Millions Of Dollars Playing Video Games. Sounds pretty good to me. I think they should do another titled How To Become Really Really Good At Them First. :)

Mac OS X 10.4 has been previewed at WWDC by Steve Jobs, thanks Kerpal.

HardOCP have an article about how the latest video cards scale with CPU speed. Guru3D have a similar article covering video card performance with various CPUs.




Thursday Afternoon (1 Comments) (link)
Thursday, 1-July-2004 13:21:28 (GMT +10) - by Agg


NVIDIA announced their SLI technology recently, which allows you to share the graphics workload between TWO NV4x powered video cards in a motherboard with dual PCI Express X16 slots. Note that it's not the same as the "Scan Line Interleave" you may remember from the 3dfx days. Info on HotHardware, Tech-Report, AnandTech, TweakTown, NeoSeeker, HardOCP, HardwareZone, Xbit, TomsHardware, FiringSquad and HardwareAnalysis. There's a thread in our Video Cards forum here about it.

Intel did announce their Nocona, the new Xeons with 64-bit extensions, but there don't seem to be any reviews. Send 'em in if you found some.

ShortMedia ponder S939 vs S940, with the A64 3800+, while GuruReview have a similar review covering the A64 FX53 also.

SilentPCReview have info on A64 motherboards with Cool 'n' Quiet technology.

Murray spotted a few things: Email snooping set to be outlawed in NSW and Victoria. Microsoft have designer mice on the way. NVIDIA's chief scientist says there's no such thing as a "gamer".

Rumours on TheInq about nForce 4, thanks Ambush. Collect your grain of salt at the door.

ModCity put some LEDs in a PSU, while eXtremeReviews made a front fan hole.

From Bern: Nvidia have released Version: 1.0-6106 of their unified linux drivers for IA32 and AMD64.

The lights have gone out at old-school gaming company Sierra, as Vivendi restructures its business, thanks Scott.

Seems the SMS speed record has been broken. All attempts to become the world's fastest texter have to use the following two sentences: "The razor-toothed piranhas of the genera Serrasalmus and Pygocentrus are the most ferocious freshwater fish in the world. In reality they seldom attack a human." I must be due for a thumb upgrade.

DriverHeaven interviewed Doug Lombardi from Valve, while SFFTech talked to Ken Huang from Shuttle.

Gibbon noticed that VirginBlue have some special airfare deals going at the moment that cover the OCAU Events period. Sales Period: 1 Jul - 7 Jul (or until sold out). Travel Period: 20 Jul - 15 Dec. (Not available all flights). Now you've got no excuse not to get to Sydney and/or Melbourne at the end of August! More info on the events here.



---
Advertisement:


All original content copyright James Rolfe.
All rights reserved. No reproduction allowed without written permission.
Interested in advertising on OCAU? Contact us for info.