August 2004
Monday Evening (9 Comments) (link)
Monday, 30-August-2004 18:33:16 (GMT +10) - by Agg


TechReport looked into some odd behaviour from ATI cards. What's more, this problem seemed to be specific to DOOM 3, raising the possibility that ATI was guilty of engaging in an application-specific optimization--a practice the firm has forsworn.

PM Howard is under fire for his son's firm spamming voters, according to TheReg, thanks d0t-bat.

MS have delayed Longhorn until 2006, according to their latest statement. Ben also spotted this story about how eight pixels cost MS millions.

From Ricky: Microsoft, as everybody knows had plans to make available *Free* CDs of XPSP2! And true to there word they are now... follow this link and get yourself a SP2 on CD!

Sciby sent word that Grumman's F-14 Tomcat, the fighter aircraft immortalised in the film Top Gun, is due to be retired.

A recent Cybercrime crackdown in the USA has nabbed 150 suspects.

Dan has more letters, yet again.

LANAddict looked at three CPU coolers for socket462 and socket478, while NordicHardware looked at some 160GB SATA drives. The pricing sweet spot in Oz at the moment seems to be about the 200GB mark.

Guru3D have some info: Alex is convinced that the GeForce 6800 non-ultra's have one or possibly more disabled Vertex Processors (programmers can run applications directly on the graphics chip as opposed to draining the CPU) where the 6800 series should have 6 active. Thanks Phi.

Interesting Forum Threads:
How do I use my MANUAL controls? in Photography.
One man's take on the future in Video Cards.
ATI vs NVIDIA: a few months on in Video Cards.
My bodgy bong (pics) in Extreme Cooling.
Do you leave your machine OC'd all day? in Overclocking and Hardware.
What is the best driving game for PC? in Games.
How to order at Maccas in The Pub.



Systems/Laptops/PDA:
Toshiba Portégé A100 Laptop at Trusted Reviews
MSI Mega 865 SFF System at Design Technica
AOpen XC Cube Edition EX915 SFF System at SFFTech
MSI K8T Neo2-FIR Motherboard at PCStats

Mainboard:
ECS 915PA v1.1 Motherboard at Bytesector
Albatron Mars PX915P/G Pro Socket 775 at Club OC
DFI LanParty 925X-T2 at Legion Hardware
ECS KV2 Extreme at HEXUS
Intel D925XCV Alderwood Motherboard at TweakNews

Memory:
Corsair CMX512-4000PRO at Hard Extreme
Kingston PC3200 Ultra Low Latency Memory at Bjorn3D
PQI PC3200 1Gig Ultra Low Latency Memory at TweakNews

Video/Monitor:
ASUS Extreme AX600XT/HTVD PCI-EX at Viper Lair
Gigabyte FX5900 PCI Express at R&B Mods
Asus V9999 Gamer Edition 6800 at HotHardware
ColorPlus Monitor Calibration Solution at BIOS Magazine

Case/Mods:
Chenbro Gaming Bomb Mid-Tower Case at GideonTech
Ultra Dual 12 Cold Cathode UV Light Kit at Phoronix

PSU:
Nexus NX-4090 400watt PSU at MikhailTech
Yesico FL-420ATX Silent PSU at Hard-H2o
Coolmax 140mm Silent 500W PSU video review at 3DGameman

Cooling:
Waffer PC AirCon PAC 400 at Hi-TechReviews
Arctic Cooling VGA Silencers at XYZ Computing
CoolerMaster KHC-V81 P4/AMD Hyper 6 CPU Cooler at AusPC World
Cooler Master Cool Drive 6 at MadShrimps



Mainboard:
Chaintech SK8T800 Athlon64 Motherboard at Club Overclocker
VIA MII-12000 EPIA Motherboard at AseLabs

Memory:
PQI3200-1024DPU Memory at Club OC
Mushkin PC3200 Level II V2 DDR at The Tech lounge

Storage:
Thermaltake SilverRiver External Enclosure at A True Review
Coolmax 3.5" X-Treme External Enclosure video review at 3DGame Man
MSI XA52P SATA Combo drive at HWZ
Pioneer DVR-108 16x DVD Recorder at CDR Info
TEAC DV-W512G 12X+R, 8X-R DVD Recorder at CDR Info

Video:
PowerColor Radeon 9250 at FastLane HW
ASUS X800XT PE AGP at Hard Avenue

Case/Mods:
BeanTech BT-85 Case at OC Online
Thermaltake Tsunami Dream Case at Fastlane HW
Logisys Phantom Case at FastLaneHW
NZXT Guardian Case at R&B Mods
Silverstone Temjin III at Hexus
Antec iLuminate Light Kit at Mikhailtech

K'Board/Mouses:
Logitech Cordless Optical Notebook Mouse at TechIMO
Ideazon ZBoard PC Gaming Keyboard at Bjorn3D
Ideazon ZBoard PC Gaming Keyboard at 3DExtreme

Cooling:
ATI4 & NV5 Silencer at PC Unleash
Titan TWC-AO4 Watercooling Kit at Guru Review
Cooler Master Aquagate at Ninja Lane
Logisys 3D Edge Fan Kit at Pimprig

PSU:
OCZ PowerStream 470W Adjustable PSU at VH

More reviews to follow...




Slipperyskip's Cigar-box Cluster (5 Comments) (link)
Monday, 30-August-2004 11:05:09 (GMT +10) - by Agg


Over the years, slipperyskip has submitted quite a few interesting projects to the PCDB. This time, it's a 5-node Beowulf cluster of EPIA motherboards with 5 hard-drives, sharing a 5-port switch. Of course, it's all packaged up in a stylish wooden humidor enclosure:



Click for the PCDB entry! (7 pics)





Sorry for there being less news lately, we've all been busy in the real world with OCAU Birthday events in Sydney and Melbourne. Thanks to Mred32 for keeping the newspage alive. :)

Today's event is the BBQ in Melbourne. The weather looks good so far, but there may be light showers later in the day. The BBQ will be going ahead regardless. On the map we are meeting at area 4, but if it rains and we need shelter, we will first go to the "Gazebo" area directly South (down on the map, area 7F). If that's booked by someone else and full of other people, we'll go to the Myer Music Bowl, which is area G, directly North of the original meeting place.




OCAU Events Start Today in Melbourne! (0 Comments) (link)
Saturday, 28-August-2004 09:37:59 (GMT +10) - by Wolfy


Don't forget that today we'll be at MiniGolf, SideTracked, Dinner and then Drunken Bowling in Melbourne.

Times and event details on the Events Website.
See you there!



While Agg and the other newsmonkeys are off playing in the snow, I'll have a dig into the news box and see what I can find...

Fudo is the supposed name for the up coming graphics chip from ATI. Also known as the R520, some of the specs have become available. You can read more about it here. Thanks for the headsup Chris.

How to protect and backup your crucial data? Have a read over at The Tech Zone to find out. Death, taxes and dead hard-drives are the things in life we cannot avoid.

Dan thinks he has some good ideas on how to upgrade your machine the sensible way. He just might be right.

At TweakTown you will find an nVidia nForce3 250 Socket 754 motherboard roundup for those in the market for a new mobo.

OC Workbench have a go at overclocking the inexpensive TBred-B Duron to 2.5GHz. "She's gonna blow..."

X-bit Labs dig through the hype and try to work out just which is The best CPU for DoomIII. I'd say a fast one.

Adrian has updated his Graphics Card Comparison Guide. "With over 190 desktop graphics cards, this comprehensive comparison allows you to easily compare 14 different specifications for each and every card".

The Tech Zone have a five way Portable Color Printer Comparison. Small easy to carry printers. Who would have guessed!

Hardcoreware have a play with three mobile bluetooth headsets from Logitech, DFI and Bluetake.

If you've ever found yourself stuck with that nasty piece of spyware called "Hotbar", Martin at IANAG has some useful info that will help you remove it.

Overclockers Cafe have a short article comparing DDR to DDR2 in a direct apples to apples comparison with all other factors being equal.

Hexus have published the final chapter of Jo Shields' guide to Free and Open Source Software. Part 3 contains some of the tweaks and more advanced tasks that you might want to perform under the Linux Operating System.

Some news from Looktall, that a virus for 64bit Windows has been found. "The virus, dubbed W64.Shruggle by Symantec, seems mainly to be an experiment to test the concept of a 64-bit infector and is not actively spread."

Several people sent this link in. It seems that holes are showing up in Windows SP2. It was never going to take very long of course, but I thought it would be at least another week or so. Read more here.

I guess the 64bit and SP2 security holes are something that the folks at "Norman Data Defense Systems" would be interested in. 3DVelocity have an Interview with them.

Glenn sends work of a new LAN event happening in Sydney called 'Vigil'. 11th Sept 10:00am to 12th Sept 12:00pm. It's the second event to be help by tlegion. Check it out.

I gotta gets me one of these things! "There's just something wonderfully visceral and cathartic about making things fly through the air and smash into the ground. That's why I started a quest for my very own siege engine."

That's about it for now, though there should be some more news later in the day...I hope. :)




Microwave PC (5 Comments) (link)
Thursday, 26-August-2004 22:34:31 (GMT +10) - by Agg


Sardukarn spotted this microwave PC!



Click for the PCDB entry (7 pics)





Motherboards:
ASUS P5AD2-Premium reviewed by Sudhian Media.
Asus P5GD2 Premium Wireless Edition reviewed by TrustedReviews.
Foxconn 925A01-8EKRS2 reviewed by HOTHardWare.
Chaintech Summit SK8T800 reviewed by Hexus.

Memory:
Crucial Ballistix PC4000 reviewed by GruntvillE.
Corsair DDR2 Twin2X1024-5400C4 Pro reviewed by OCTools.
OCZ DDR Memory Voltage Booster reviewed by Club Overclocker.

Video:
SapphireTech X600 Pro VIVO reviewed by PimpRig.
PowerColor Radeon 9250 reviewed by XYZ Computing.
MSI GeForce 6800 reviewed by Virtual Zone.
ConvertX PX-M402U reviewed by BIOS.
HIS Excalibur RADEON X800 XT ICEQII reviewed by TecCentral. (Translated with Babelfish).
HIS Excalibur AIW 9600 reviewed by Bjorn3D.
NVIDIA GeForce 6800 GT PCI Express reviewed by Beyond3D.
MSI PCX5750-TD128 Nvidia PCI-Express Card reviewed by Viperlair.
GeCube Radeon 9550 Platinum Edition reviewed by Digital-Daily.

Audio:
Niro 1.1 Pro Home Theater System reviewed by DesignTechnica.
Logitech Z-5300 5.1 Speaker System reviewed by Computing On Demand.
Logitech Z-2200 Speakers reviewed by Virtual-Hideout.

Storage:
KHypermedia 8x4x8 DVD+RW IDE Drive reviewed by BigBruin.
BenQ DW1620 Dual-Format 16x DVD Writer reviewed by HardwareZone.

Cases & Modding:
Thermaltake Tsunami reviewed by 3DXtreme.
Cooler Master Real Power 450W PSU reviewed by Viperlair.
Silverstone Technology SST-ST30NF PSU reviewed by MetkuMods.
Ultra X-Connect 500W PSU reviewed by Phoronix.
AOpen H420 MicroATX Case reviewed by PCStats.
Silverstone SST-ST30NF PSU reviewed by CoolTechZone.
SilverStone SST-TJ04 reviewed by Overclockers Online.
Lian-Li PC-V1000 Aluminium Tower reviewed by Bit-Tech.
Evil Joker 3D Fan Guard reviewed by A True Review.

Cooling:
WaterChill CPU/VGA/Chipset Power kit reviewed by Bjorn3D.
Gigabyte 3D Rocket Pro Cooler reviewed by HardCOREWare.
Thermaltake Fanless 103 reviewed by TechFreaks.
Aerocool VM-101 VGA Heatpipe Cooler reviewed by 3DXtreme.
CoolerMaster Vortex Dream Heatsink/Fan reviewed by Silent PC Review.
Xice EC900 reviewed by SweMod.
Thermaltake XTunner - IR Remote Fan Control Device reviewed by Bjorn3D.
Thermaltake Polo 735 reviewed by Flickerdown Data Systems.
Vapochill LightSpeed reviewed by Bit-Tech.

Small Form Factor:
AOpen XC Cube EX915 reviewed by Overclocker Cafe.
Shuttle XPC SB61G2 v3 reviewed by Legion Hardware.

Mouse & Keyboard:
Razer Exactmat reviewed by Red & Blackness.
Rantopad Shootout reviewed by XYZ Computing.

Mobile Phones:
SonyEricsson K700i Triband Camera Phone reviewed by OCWorkbench.
Siemens S65 Triband Camera Phone reviewed by OCWorkbench.
Samsung E715 Camera Phone reviewed by DesignTechnica.

Misc:
TrackIR3 Pro reviewed by Arstechnica.
VL System Touch ONE PC Touch Switch reviewed by ExtremeMhz.
Netgear WGE101 Wireless Ethernet Bridge reviewed by TrustedReviews.
Mitac 8050D Laptop reviewed by TrustedReviews.



Legion Hardware have an article titled NVIDIA vs. ATi Doom3 Performance. Let's see who wins out.

MaD Shrimps have an AMD XP Aircooling Heatsink roundup for the one or two of you who still use air to cool your CPU.

Spode's Abode have a Athlon 64 Motherboard roundup featuring 10 boards. Meanwhile, Bit-Tech have a NForce 3 Motherboard roundup with 5 boards on offer.

DDR vs. DDR2 is what Legion Hardware are talking about today. I think the choice is simple...so far!

X-Bit Labs have part II of the Power Consumption of Contemporary Graphics Accelerators article. Read up!

A CPU showdown with a Celeron D 335 Vs Sempron 3100+ shootout over at Sharky Extreme. Sounds like fun.

Adrian, the BIOS guru, has article #28 in the series titled Breaking Through The BIOS Barrier. As always, a good read for those interested.

If you're after the latest Omega drivers then Utopia Tech have the only Australian mirror for them. Go get!

DGC Lan is on this Saturday the 28th August. Held in Chatswood, Sydney from 9am till 9pm for $15, BBQ lunch and dinner provided. All details and registration on the DGC LAN Website.

Don't forget folks that the upcoming Brisbane OCAU gathering is on the 12th of September, starting at 10am. BBQ and Bowling is also on. Full details are available in this forum thread. Bookings for the bowling need to be in by the 25th (today) of this month. Stick your head in and say hello to some of the other OCAU folks. You can finally decide just who looks like their Avatar and doesn't.

Gamedave wants us all to know that the developers of Never Winter Nights" are looking for Beta testers for the next edition of the game, NWN2. If you're interested you will have to complete a long application form and answer some pretty heavy questions such as "If you were a tree what type of tree would you be?" and "Should beta testers be required to submit daily urinal tests?". If you think you're up to the challenge, give it a go.

Krisk85 sent in this flash time waster game and I must say, it has wasted heaps of my time. Have a go at Airtos. I can't get the bloomin things in the bin!



AMD introduced the AMD Athlon™ 64 processor 3700+ for desktop-replacement notebooks, extending the award-winning AMD64 processor family to new heights with the highest performing 32-bit/64-bit processor available for mobile PCs. More info here.

AMD also announced that it is achieving a smooth transition to 90 nanometer (nm) manufacturing and has shipped low-power 90nm Mobile AMD Athlon™ 64 processors for thin and light notebooks (previously codenamed "Oakville") for revenue. Manufacturers are expected to launch systems based on the new 90nm Mobile AMD Athlon™ 64 processors in the coming months. More info here.

OCZ released some impressive results. OCZ Technology Group has made another leap in the new revolutionary DDR2 memory segment. Recently, OCZ has hit 766 MHz at 4-5-5 timings on an experimental DFI 915 based board. More info here.

Matrox unveiled the industry's smallest multi-display graphics card for audio/video professionals on the go. Millennium P650 Low-profile PCI enables DualHead® and dual-DVI functionality with laptop docking stations and small form factor PCs. More info in this 32KB DOC.

Apacer introduced complete series of a "Low Profile" memory module with a PCB less than 1 inch in height to provide comprehensive memory module design in a bid to meet the market needs of every kind of digital application with strict space and height limitations on system design, such as mini PCs, industrial computers, and 1U servers. More info in this 73KB DOC.

D-Link announced plans to introduce and ship ADSL2+ modems. ADSL2+ is being tipped to become the new standard in ADSL broadband technology. Capable of increasing download speeds from 8Mbps to 24Mbps, ADSL2+ also overcomes distance from the exchange limitations currently being experienced by normal ADSL technology. First off the rank is the new DSL-G604T Wireless High-Speed ADSL Router. More info in this 104KB DOC.

Zensonic say its flagship 7.1 surround sound amplifier will sell at the breakthrough price of less than $700. "Home theatre technology is reaching a critical mass of consumer adoption," said Zensonic's Raaj Menon. "We are determined to bring the price of high quality component amplifiers down to an accessible level." The Z1080 AV receiver includes the latest surround sound technologies including Dolby Digital Surround EX, dts ES Discrete 6.1 and matrix 6.1 decoding. More info in this 58KB DOC.

Australia's Attorney-General has launced a review of the Determined Markings used to identify the classification of films and literature seen in Australia. In a video address to the Australian International Movie Convention 2004 attended by an 800-strong audience of film industry and media personnel on Queensland's Gold Coast Mr Ruddock outlined the scope of the review. More info in this 44KB DOC.

World Cyber Games Australia announced support from major IT component vendors to sponsor the official 62 WCG Tournament PC's to be used in the Australian Finals at Sydney's Luna Park. Vendors such as Samsung, AMD, Gigabyte Technology, Western Digital, Cooler Master and TwinMOS have all chipped in to provide one of the speediest computer systems ever used in the history of the WCG Australian Finals. The system will be built around the AMD ATHLON 64 3000+ processor and will be utilising Gigabyte's K8N nForce3 motherboard. Gigabyte has also provided the NVIDIA 5700 256MB graphics cards, the CPU copper coolers with blue LED lighting as well as the CD-R/RW optical drives. Western Digital will be providing 40GB hard drives and TwinMOS supplying the 512MB PC3200 memory modules while Samsung Electronics will be rounding of the package by providing the Monitors.




Nico2's dual phase-change (9 Comments) (link)
Monday, 23-August-2004 12:55:18 (GMT +10) - by Agg


Here's someone who takes their cooling pretty seriously:



Click for the PCDB entry! (7 pics)





Monday morning, don't we all just love it!
I hope that all those who ventured out to any of the Sydney OCAU 5th Birthday Events enjoyed the outing and had a chance to say Hi to some other OCAU people. Im still waiting on reports as to how the weekend went but I'll assume at this stage that it all went well. I'm waiting to hear who won the Paintball event :)
Keep in mind that the Melbourne Weekend Events are coming up next weekend, so this is your chance to meet Agg and others from the OCAU Admin team and have your say ;). Anyway...here are a few reviews to get the day under way.

Mainboard:
Abit IC7-Max3 Motherboard on PimpRig at

Memory:
Corsair TwinX PC3200 XL Pro DDR Memory at TheTechLounge

Video:
Crucial X800 Pro 256MB at OC Prices

Storage:
Belkin Hi-Speed USB2.0 8-in-1 Media Reader/Writer at Trusted Reviews
Imation External 8x DVD Writer at HWZ

Case/Mods:
Thermaltake Tsunami Case at R&B Mods

Cooling:
Eumax Titan Notebook Cooler at Design Technica

Misc:
Topower 686P6 PC PSU at Dans Data
ThermalTake X Jog USB Fan and Light Kit at Pimed Out Cases
ThermalTake X Jog USB Fan and Light Kit at MHW
Q.BOX Digital Music Changer at Hardware Zone
Seasonic PowerAngel MB/PSU Power Monitor at Mikhailtech
A.C. Ryan Backy Cable Cleanup at
Vantec Slot Protector Kit at ExtensionTech
Logisys Liquid Neon Thunder Kit at MikhailTech



Adrian's Rojak Pot has posted The Complete BIOS Optimization Guide Rev. 8.0 with 25 new or updated BIOS options. The BIOS Optimization Guide Rev. 8.0 now covers 250 BIOS options.

Dan has new letters up on his site, in this issue he takes a look at mirrored displays, overclocking, free wireless internet access and more.

Short-Media have an article titled A 64-bit app in the real world up on their website.

Apple have apparently started a worldwide recall on 15-Inch PowerBook G4 Batteries which were sold between January 2004 through August 2004. Visit this webpage for more information. Thanks JeffK.

BBC News has news that a US Court has ruled that makers of P2P software are not responsible for what users do with their network.

Sudhian Media have an article on their website titled Doom 3 vs. Half Life 2: Regardless of Which is Better, We All Lose. They take a look at how Hardware and Software manufacturers are working together to optimize for certain hardware.

PCStats have a review of Doom 3 up on their website.

PC Perspective have a review of CS: Source or what also could be called, a preview of Half-Life 2.

Savage Gaming Lan is coming up on the 19th/20th of September at the Cleveland Community Hall. The cost is $30 with an age limit over 15+. More information can be found here.

Extreme Overclocking have an article on Slipstreaming your Windows XP CD with the latest Service Pack.

Iceteks have a guide to testing the wattage consumption of your computer equipment.

Designtechnica have an article on DVRs, PVRs and HTPCs.

The Tech Zone have a guide to cleaning up your hard drive.

Virtual Zone have done some benchmarking of the Half-Life 2 Source Engine Stress Test.

The New Zealand Herald has news that Ford is getting rid of their purchasing and payments software called "eVEREST".

CoolTechZone have an article that explains PCI Express.




OCAU's 5th Birthday Bash BBQ is on today! (1 Comments) (link)
Sunday, 22-August-2004 10:21:10 (GMT +10) - by Wolfy


OCAU's 5th Birthday Bash BBQ is on today at Parramatta Park!

Full details, including a map showing how to get there, can be found on the OCAU Events Webpage.

The fun, free food and drinks starts at 12noon and goes 'till about dark. It looks like it will be a lovely sunny day, and there are heaps of prizes to give away, so come down and join other OCAU members to help celebrate OCAU's birthday.

Registration is closed for the event, but we hope to have catered for enough people if you would like to come but did not get a chance to register.

I've posted some details of the Sydney Events, including the winners of the TenPin Bowling and some Paintball highlights, in this forum thread.



Motherboards:
Soltek K8AN2E-GR NForce 3 250Gb reviewed by Neoseeker.
ASrock K8 Combo-Z ULi M1689 reviewed by OCWorkbench.
Asus A8V Deluxe Rev 2 reviewed by A1 Electronics.
Albatron Kx18ds Pro2 reviewed by Red & Blackness.

Memory:
GeIL Ultra-X Series PC3200 reviewed by 3DVelocity.
OCZ 2GByte PC3200 Performance Series Dual Channel Kit reviewed by Hexus.
Crucial Ballistix PC5300 DDR2 reviewed by PCStats.
SimpleTech Nitro PC4000 1GB Kit reviewed by GruntvillE.

Storage:
Plextor PX-712SA SATA DVD±RW Writer reviewed by Bjorn3D.
Western Digital WDXF2500JB Dual-Option Media Center External Drive reviewed by X-bit Labs.

Video:
Sharp LL-171A-B 17in TFT Monitor reviewed by TrustedReviews.
HIS Excalibur X800 Pro reviewed by HOTHardWare.
HIS Excalibur X800 Pro IceQ II reviewed by Viperlair.
ATI All-In-Wonder 9600XT reviewed by Beyond3D.
MSI PCX 5750 reviewed by Virtual Zone.
MSI RX600XT-TD128 PCI Express Video Card reviewed by PCStats.
Silverstone SST-FP54 VFD Display reviewed by ShortMedia.

Audio:
JetAudio iAudio M3 20GB MP3 Player reviewed by TheTechLounge.
Samsung YEPP 55i reviewed by Accelenation.

Cooling:
Gigabyte 3D Rocket Cooler reviewed by HardwareZoom.
Poseidon WCL-03 90Cu Liquid Cooler reviewed by HiTechReviews.
Arctic Cooling ATI & NV Silencers reviewed by Phoronix.
3R System Poseidon WCL-03 CPU WaterCooler reviewed by FastLaneHW.
Antec Notebook Cooler reviewed by MikHailTech.
NexXxoS HP Pro Waterblock reviewed by Bit-Tech.

Cases & Modding:
Zalman TNN500A reviewed by X-bit Labs.
Kingwin MTX425SW Mutant X reviewed by Club Overclocker.
Global Win YCC-S27 Aluminum Slim Case reviewed by A True Review.
Ultra X-Connect 500W Modular PSU reviewed by ExtremeMhz.
Thermaltake Tsunami Dream Aluminum Case reviewed by Bjorn3D.
Logisys Cold Cathode Kits reviewed by MikHailTech.
Xoxide Bio-X Case reviewed by 3DXtreme.
Casetronic Travla C137 reviewed by Sudhian Media.
Coolermaster Aerogate 3 reviewed by DataFuse.
Thermaltake Silent PurePower TWV480 reviewed by Hardware Pacers.

Laptops:
LapWorks Laptop Desk UltraLite reviewed by Hardware Pacers.
Sony VAIO VGN-A160 reviewed by Designtechnica.
AJP D500E - Gaming Notebook reviewed by TrustedReviews.
Acer TM292EL Ci-XPP Laptop reviewed by The Tech Zone.
Inspiron 9100 with ATI Mobility 9800 reviewed by Bios.

Misc:
SanDisk 256MB + Wi-Fi SD Card reviewed by The Tech Zone.
Seasonic Power Angel Power Monitor reviewed by XYZ Computing.
Siemens S65 Triband Phone reviewed by OCWorkbench.
MSI MEGA 180 Deluxe reviewed by HardwareZone.
Epson PictureMate - Photo Printer reviewed by TrustedReviews.
Wise Tech Data Flash Cable Pro reviewed by BigBruin.
ECS - Everex All in One PC reviewed by HardwareZoom.




MacPiper's WRX PC (12 Comments) (link)
Thursday, 19-August-2004 15:27:00 (GMT +10) - by Agg


I just noticed BlueSmurf's GTR PC has passed 100,000 views of its PCDB entry, making it by far the most popular entry in the database. There's been a few car PC's since then, but I think this new one from MacPiper is one of the best I've seen. The headlights show system power while the indicators are for standby mode. The brake lights are for hard-drive activity and there's some other nice touches as well:



Click for the PCDB entry! (9 pics)






OCAU Sydney Events (3 Comments) (link)
Thursday, 19-August-2004 03:43:14 (GMT +10) - by Agg


Don't forget, the OCAU 5th Birthday BBQ and other Sydney events are on this weekend. Melbourne next weekend. See you there!



Click for details!






Sisoft Sandra Updated (1 Comments) (link)
Wednesday, 18-August-2004 21:18:03 (GMT +10) - by Agg


There's a new version of everyone's favourite system info and benchmarking program, Sisoft Sandra 2004 SP2b. Among other things, this new version adds comparison results for Nocona Xeons and other 64-bit info, as well as more support for PCI Express chipsets and video cards.



Click for OCAU's Sandra mirror!






Wednesday Evening (1 Comments) (link)
Wednesday, 18-August-2004 20:03:37 (GMT +10) - by Agg


Digitimes have some info on ATI and NVIDIA battling for the PCIe video market.

Beyond3D looked at the GeForce 6800 range of video cards.

IBM is trying to get another large part of the SCO-Linux lawsuit dismissed. "Although SCO for months perpetuated the illusion that it had evidence that IBM took confidential source code from Unix System V and 'dumped' it into Linux, it has become clear that SCO has no such evidence," the filings state.

Gamers-Depot have QuakeCon coverage, as do PC Perspective.

PCStats have some WinXP SP2 info. Iroquois noticed this page gathering SP2 experiences from people. Apparently SP2 will appear on Windows Update today, USA time.

dk sent word that a little porn is good for you. I'm not sure why he thinks it's relevant for OCAU readers, but I'm sure it's a great relief.

Also offtopic but probably important, Mitsubishi are recalling some Magna and Verada models due to a potential problem with their brakes. The company said the all-wheel drive sedans involved were manufactured between October 2, 2002, and June 2, 2003.

LostCircuits took another look at Intel's LGA775 chipsets.

OneArmedMan notes The Ultimate Boot CD, a handy collection of Utilities all on one CD, has gone to Version 2.4.

Hexus looked at Intel's Nocona Xeon at 3.4GHz. Improvements to the Xeon platform are helping it make some progress in Intel's battle against the Opteron.

There are new ATI Catalyst drivers out, v4.8, thanks matt.



Motherboards:
EPoX 9NDA3+ nf3 Ultra Socket 939 Motherboard reviewed by OCWorkbench.

Memory:
Crucial Ballistix PC-4000 reviewed by Club Overclocker.
Crucial Ballistix 1GB (2x512MB) PC4000 DDR Memory Kit reviewed by Extreme Overclocking.
Corsair CMX512-3200XLPRO reviewed by Explosive Labs.

Storage:
LiteON SOHW-1213S DVD+-RW Drive reviewed by Overclockers Online.
Sharkoon 6-in-1 memory reader USB 2.0 reviewed by MADSHRIMPS.

Video:
Connect3D Radeon X800XT Platinum Edition reviewed by 3DVelocity.
Sapphire's X800 Pro Toxic reviewed by Sudhian Media.
Asus AX800XT reviewed by HOTHardWare.
ATI X600 reviewed by Bytesector.
Gigabyte Radeon X800XT PE reviewed by Hardware Avenue.
ATI 9600XT All-in-Wonder reviewed by Bytesector.
PowerColor Radeon 9600SE reviewed by Legion Hardware.

Audio:
Logitech Z-2200 2.1 Speakers reviewed by OverClock Intelligence Agency.
Mad Dog Entertainer 7.1 DSP reviewed by Aselabs.

Cooling:
Cooler Master Cool Drive 6 reviewed by Viperlair.
Asetek KT03-L20 Liquid Cooling Kit reviewed by Overclocker Cafe.
Thermaltake XTunner Remote Control Fan Controller reviewed by Tweaknews.
Asetek Waterchill Antarctica Water Block reviewed by XYZ Computing.
ThermalTake Jungle 512 for Socket T reviewed by Bytesector.
Kool Solutions Chill Vent II Deluxe reviewed by XYZ Computing.

Cases & Modding:
Powmax Demon Power Supplies reviewed by AMDReview.
Silver Hawk All-Aluminum Mid-Tower Case reviewed by Overclockers Club.
OCZ PowerStream VS Enermax Noisetaker reviewed by PCUnleash.
Coolergiant EG385P-VHB-SFMA PSU reviewed by Bit-Tech.
Silverstone LaScala LC-04 HTPC Case reviewed by Silent PC Review.
Xmod 3D Thumb Screws reviewed by MetkuMods.

Mouse & Keyboard:
Xtrac Ripper Mouse Surface reviewed by Phoronix.
Xtrac Mad Dotz reviewed by Phoronix.
I-Rocks X-Slim 6110 and 6120 Keyboards reviewed by BigBruin.

Misc:
PlexTools Software reviewed by CoolTechZone.
Super Cantenna Wireless Booster Antenna reviewed by A True Review.
Aspire 2023WLMi Laptop reviewed by Bios Magazine.
Acer Ferrari 3200 Athlon 64 Notebook reviewed by TrustedReviews.
Canon PowerShot Pro1 reviewed by TrustedReviews.




Wednesday Afternoon (8 Comments) (link)
Wednesday, 18-August-2004 16:19:32 (GMT +10) - by Agg


This retro encabulator video sounds just like what OCAU needs for our future servers, thanks Andrew.

VR-Zone have done some benchmarking using Valve's Source engine. The R420 based cards that we saw were able to give the best performance at high resolutions with Anti-Aliasing and Anisotropic Filtering enabled, and therefore I do have confidence in saying that the ATI Radeon X800 XT Platinum Edition will be the fastest graphics card for games based on the Source Engine, particularly Half Life 2 and Counter-Strike: Source.

LegitReviews wonder if Doom3 will be playable on a notebook PC.

OCClub have a guide to making flat cables round, for better airflow and looks.

Phoronix cover a universal 3.3V VDIMM mod to boost memory voltage on any DDR motherboard.

Cassini has discovered two new moons around Saturn, thanks neolithic. This brings the known total to 33.

OCIA used a normal ATX PSU to replace a dead one from a proprietary HP box.

TheTechZone cover wireless security for your network.

The hard drive window mod is pretty old news now, but still impressive - XtremeTek have a guide.

ARP's guide now compares 198 desktop graphics cards including the 6600 and 6600GT.

Dan has more letters. In this issue, bizarre Usenet errors, jammed motors, headphone bending, quiet computing, phono preamps, camera shopping, isopropanol, wedding photography, and a magnetic contraption.




Tuesday Morning (2 Comments) (link)
Tuesday, 17-August-2004 11:52:02 (GMT +10) - by Agg


QuakeCon coverage continues on Bjorn3D with case mods on TweakTown. TechReport cover the new Fatal1ty mobo, some tidbits from AMD about future offerings, SLI mobo chipset info from NVIDIA and some chipset details from VIA.

Microsoft have delayed the automatic delivery of WinXP SP2 via Windows Update. They have a list of software that is affected by installing SP2. IBM meanwhile have instructed their people to not install it just yet.

Nanotechnology is apparently due for a funding boost with a lot of interested corporations. We expect 2004 to be the last year that governments outspend corporations on nanotechnology.

HWZ have an LGA775 DIY guide, if you're thinking of moving to this new P4 platform.

ActiveWin have pics and info on new Microsoft hardware on the way, including various mice and keyboards.

TechReport looked at how some older video cards fare in Doom3. I scoured the Benchmarking Sweatshop for cards, and with a little digging and dusting, I was able to come up with two GeForce4 Titaniums, two Radeon 8500 series cards, five GeForce FXs, six Radeon 9000-series cards, one Dustbuster, and even a Parhelia.

Iro spotted this (currently being slashdotted) product page for solid-state ATA/IDE drives, up to 155GB! Is this what we've all been waiting for? At $1000 USD per GB, maybe not quite.

FutureLooks have a wireless networking guide. I just ordered some "range extender" antennas for my wireless network. Hopefully I can work in the next paddock now!



Motherboards:
Gigabyte GA-7NNXP reviewed by HWzone.
Abit NF7-S2 reviewed by Phoronix.

Memory:
OCZ PC3200EL Platinum Rev. 2 reviewed by ClubOC.
OCZ PC3200 Platinum Rev. 2 reviewed by CoolTechZone.
Buffalo FireStix PC4000 Kit reviewed by XYZ Computing.

Storage:
Crucial Gizmo USB 2 Flash Drive reviewed by Bjorn3D.
Sandisk Extreme 1.0GB CompactFlash card reviewed by EXHardware.
Pioneer DVR-108 16X DVD+-RW 4x Double Layer Writer reviewed by ExtremeMhz.
AOpen DRW8800 8x DVD+-RW reviewed by Viperlair.
Pioneer DVR-108 DL Recorder reviewed by CDRInfo.
Traxdata 256 Compact Flash reviewed by CDRInfo.
Transcend SD 256MB 45x reviewed by CDRInfo.
LiteON SOHD-167T reviewed by CDRInfo.

Video:
nVidia GeForce 6800 Ultra reviewed by Beyond3D.
Sapphire Radeon X800 XT reviewed by TweakTown.
Albatron GeForce PCX5750 Trinity reviewed by Overclocker Cafe.
HIS Excalibur Platinum Radeon 9600 reviewed by Hexus.

Cooling:
Antec FanPal reviewed by Mikhailtech.
Arctic Silver ArctiClean reviewed by MADSHRIMPS.
Gigabyte 3D Rocket Cooler reviewed by Legion Hardware.
Cooler Master Aquagate reviewed by Overclockers Online.
Alpha S-PAL8055 Heatsink reviewed by Hard-H20.
Nexus AXP-3200 SkiveTek® Cooler reviewed by PimpRig.

Cases & Modding:
Cooler Master Real Power 450W PSU reviewed by ClubOC.
Thermaltake XTunner reviewed by GruntvillE.
HyperCube Blue2 YY Cube Case reviewed by PimpRig.
Enermax UC-9AFATR2 Multi Function Panel reviewed by BigBruin.
Silverstone Case SST-GD98LED reviewed by TheTechLounge.
Jetart Xpanel DT5000 reviewed by Red & Blackness.

Mouse & Keyboard:
XTrac Pro HS reviewed by Creative Mods.
Thermaltake Gammapad reviewed by Red & Blackness.
Razer eXactMat Gaming Pad reviewed by A True Review.

Misc:
Logitech IO Personal Digital Pen reviewed by The Tech Zone.
Doom 3 reviewed by NewsTechInfo.
Yamada DVX-6600 reviewed by PC Reviews.
Counter-Strike: Source previewed by Driverheaven.
ATI 9800 Mobility / Dell Inspiron 9100 reviewed by Driverheaven.
FujiFilm FinePix S7000 reviewed by Bytesector.
Altec Lansing VS3151 reviewed by Phoronix.




Sunday Evening (3 Comments) (link)
Sunday, 15-August-2004 19:36:37 (GMT +10) - by Agg


QuakeCon, a big gaming convention in Texas, is on at the moment. Coverage on HardOCP, LegitReviews, Bjorn3D (and here) and TweakTown.

IANAG have a guide to removing Gator and related adware from your PC. Tons of "Free programs" install some variant of this ad serving software on your system to make that developer money.

IceTeks have a little desk modding going on. In this article we install some toggle switches right on the desk to control the fans. The PC is not stuck to the desk since the cable can be disconnected, and the computer's existing switches or fanbus can then control the fans.

Metku tried spraying some sticky stuff on PC input devices, to get more grip. Airsoft enthusiasts have been using similar products to improve grip on their airsoft guns. It should be only natural for this stuff to work on computer input devices too.

Nathan pointed out this interesting use of a gameboy for automotive datalogging, apparently an Australian project.

FutureLooks looked at the state of wearable computer technology.

PimpRig have a guide to 3D etching with a Dremel.

Sniper spotted an article on nanotechnology storage. Have you ever dream of 100 terabyte of data per 3.5-inch disk? New patented innovation nanotechnology from Michael E. Thomas, president of Colossal Storage Corporation, makes it real.

TweakTown have a guide to installing and tweaking WinXP SP2. Meanwhile, the hunt for holes in SP2 is a concern for security experts. PCStats cover slipstreaming SP2 into a WinXP install CD.

Dansdata turned a review of some magnetic widget into a lengthy deposition on the nature of quackery. Interesting read, with a zillion interesting links to follow.

Ocelotx found this list of the most important computer games of all time. Important computer games, hmm?

From SpN: "Britain granted its first license for human cloning Wednesday, joining South Korea on the leading edge of stem cell research". Info here and here.

SharkyExtreme have a Value Gaming PC buyer's guide. American prices, but interesting to see what they chose.

Genesis spotted this interesting 3D display technology.

PCPerspective report on a new Fatal1ty motherboard from ABIT.

If flight simulators are your thing, you might want to check out the Australian Flight Simulator Expo later this month at Sydney Airport, thanks Anthony.




Interesting Forum Threads (0 Comments) (link)
Sunday, 15-August-2004 16:59:24 (GMT +10) - by Agg


P4 2.8 @ 3.8GHz in Intel Hardware.
Intel 9x5 Chipset Shoot-Outs and Reviews in Intel Hardware.
First Benchmarks: Intel vs AMD 64-bit x86 in Intel Hardware.
Announcement of new E-0 stepping for Prescott in Intel Hardware.
Got my 8KDA3+ today. My thoughts :) in AMD Hardware.
Gigabyte K8N-S Pro in AMD Hardware.
Ask Jazper AMD questions in AMD Hardware.
GeForce6 judged the leader just because of Doom 3? in Video Cards.
How to set up RAID0 on WinXp, for Dummies in Storage and Backup.
95,000 user webmail server in Other Operating Systems.
Silent Freak: The HDD Mod in Modding & Electronics.
Something I Never Understood About Voltage in Modding & Electronics.
My simple Linux car game in Graphics and Programming.
Simple RPG made by a friend and I in Graphics and Programming.
Why realistic graphics make humans look creepy in Games.
Game: reverse parking in Games.
Free performance boost for Doom 3! in Games.
Hong Kong Skyscraper in Photography.
Petrol to cost $3/litre within 3 years in Current Events.
South Korea chooses new capital city in Current Events.
Official Athens Olympics Thread in Sport, Fitness and Health.
Laser eye surgery in Sport, Fitness and Health.
Why the hell can't I get my gearbox back on? in Motoring.

Quote of the day: The personal computer market is about the same size as the total potato chip market. Next year it will be about half the size of the pet food market and is fast approaching the total worldwide sales of pantyhose" -- James Finke, Commodore Int'l Ltd., 1982.




Saturday Morning (5 Comments) (link)
Saturday, 14-August-2004 03:52:11 (GMT +10) - by Agg


The American FTC has acted against a company using windows messenger spam to advertise, ironically enough, anti-spam products. The article gets a little confused on the difference between "popups" which are generally web-based and Messenger dialog boxes, which rely on a certain Windows service running. Both are annoying.

Ambush spotted this interesting utility page which explores copyright issues in the digital world.

Xbit compared sixteen CompactFlash cards, to see which is best for a professional digital photographer.

3DXtreme compared 6800 and X800 Pro video cards.

Raven spotted these cloned kittens. So, these births are the first instance of a consumer grade cloning technology. Speaking of which, a bad kitty caused a pilot to turn a flight around and head back home recently.

Sharp have announced a 3D monitor.

Spread viruses and go to jail, kids.

The guy behind the DeCSS DVD decryption utility has turned his hand to Apple's AirPort Express. As a result of Johansen's work, it's now only a matter of time before other popular software is capable of streaming music to the AirPort Express.

Apparently Telstra want to use payphones as WiFi hotspots, thanks AzzKikr.




Saturday Morning Reviews #2 (0 Comments) (link)
Saturday, 14-August-2004 02:49:25 (GMT +10) - by Agg


Memory:
Crucial Ballistix PC4000 on TheTechLounge.
SimpleTech Nitro PC3700 on GruntVille.
Kingston KHX3200K2/G2 Hyper-X3200 2GB on MadShrimps.
Ultra Products Dual Channel 1GB PC4000 Kit on PimpRig.
Samsung DDR2-533 PC4200 on PCStats.
OCZ DDR Booster memory voltage adjuster on VR-Zone.
OCZ DDR Booster memory voltage adjuster on Xbit.

Cooling:
Zalman ZM80D-HP Heatpipe GPU Cooler on RojakPot.
Scythe FCS-50 CPU cooler on SilentPCReview.

Laptops:
Apple PowerBook G4 on HWZ.
Acer Aspire 2023WLMi widescreen notebook on TrustedReviews.

Mobile Phones:
Motorola V600 on DataFuse.
Motorola V80 Rotatable Triband GSM 900/1800/1900 Camera Phone on OCW.

PSU:
SilverStone SST-30NF 300W on HardCoreWare.
Blacknoise AMD Super Silent 400W on GuruReview.

Audio:
Philips Aurilium PSC805 External Sound Processor on TheTechZone.
JBL Creature II and Harman Kardon SoundSticks II speakers on Xbit.

Displays:
Silverstone SST-FP54B LCD on FastLaneHW.
Shuttle XP17 17" LCD Monitor on HotHardware.
RCA Scenium HDLP50W151 DLP HTDV on DesignTechnica.

Misc:
AMD Sempron 2800+ CPU on DriverHeaven.
Hush ATX noiseless PC on TrustedReviews.
HP dx6050 Budget Office PC on TrustedReviews.
Vroom Foods Caffeine Products on XYZComputing.
Vantec PSU Cable Sleeving Kit on ModCity.
Enermax UC-9FATR2 Multifunction 5.25 In-Bay Device on Bjorn3D.
Koutech PCI to PCMCIA Adapter on Phoronix.
Swiftech MCB120 Radiator Box on ProCooling.




Saturday Morning Reviews (3 Comments) (link)
Saturday, 14-August-2004 00:46:49 (GMT +10) - by Agg


Hope you all survived Friday the 13th intact! Here's more GeForce 6600 stuff: NeoSeeker, HardOCP, Guru3D and TomsHardware.

Other Video Cards:
HIS Excalibur X800 Pro IceQ II VIVO LE on Bjorn3D.
HIS Excalibur Radeon 9550 iFan VIVO Edition on TweakNews.
eVGA GeForce 6800 Ultra Extreme Edition on HotHardware.
HIS Excalibur Radeon X800 Pro IceQ II on OCPrices.
Sapphire Radeon Toxic X800 Pro VIVO on Bjorn3D.
CrownX XGI Volari V8T on ModCity.

Motherboards:
EPoX 5EGA+ i915 LGA775 P4 on LegionHardware.
Soltek SL-865Pro-775 "ProSeries" LGA775 on NinjaLane.
Gigabyte GA-8GPNXP Duo 915P Express on OCTools.
EPoX 8RDA6+ Pro socketA on LegionHardware.
ECS PF4 Deluxe LGA775 on Hexus.
Gigabyte 8KNXP Ultra 64 A64 on TweakTown.
MSI K8N Neo Platinum nForce3 250GB A64 on OCNZ.
Albatron K8X800 Pro II A64 on ClubOC.
EPoX 8RDA6+ Pro socketA on PCStats.
ABIT AV8 K8T800 Pro S939 A64 on PCPerspective.

Mouse Etc:
Xtrac Mad Wax mousepad treatment on Phoronix.
Flexiglow XRaider mousepad on ViperLair.
Vantec Spectrum illuminated mousepad on MikhailTech.




GeForce 6600 is here! (5 Comments) (link)
Friday, 13-August-2004 01:32:37 (GMT +10) - by Agg


It seems the GeForce 6600 embargo has lifted, with NVIDIA's official announcement. You'll notice our article is back online now. :)

These new products bring the feature set of NVIDIA's flagship GeForce 6800 GPU, including support for Microsoft® DirectX® 9.0 Shader Model 3.0 and NVIDIA's revolutionary UltraShadow II technology, to the mainstream market. The GeForce 6600 GT rips through DOOM 3™ at a stunning 42 frames per second at high quality, high-resolution (1600x1200x32) settings.

"Critics have called the GeForce 6 architecture the most advanced in the industry, and GeForce 6600 GPUs mean the cost of that bleeding-edge graphics technology just got cut in half for gamers," said Dan Vivoli executive vice president of marketing for NVIDIA.

Coverage of NVIDIA's new GPU on Hexus, HotHardware, NVNews, PC Perspective, Tech-Report, FiringSquad and Xbit.




Thursday Night Reviews (0 Comments) (link)
Thursday, 12-August-2004 23:34:34 (GMT +10) - by Agg


Cooling:
Thermaltake Pipe101 3-in-1 CPU Cooler on BigBruin.
CoolerMaster Aquagate watercooling kit on Sudhian, our review here.
Zalman Noiseless VGA Cooler on OCIA.
Waffer PC AirCon PAC 400 system cooler on OCOnline.
Titan and AlphaCool watercooling kits on ATrueReview.
Vantec LapCool2 Notebook Coolers (video review) on 3DGameMan.
Thermaltake Extreme Volcano 12 CPU cooler on Phoronix.
Zalman Reserator 1 Fanless Water Cooler on HardCoreWare.

Storage:
Pioneer DVR-108 16+ &_16- R 4x Double layer DVD Recorder on CDRInfo.
Sandisk Ultra CF compactflash card on TheTechZone.
AOpen DRW8800 8X DVD Burner on PCStats.
Memorex Traveldrive USB storage on SweMod.
Beantech BT9023 Plus card reader on SweMod.
Coolmax Xtreme Files X2 3.5 HDD enclosure on Hardware-Pacers.
AOpen External Optical Drives (DVD ReWriter & Combo Drive) (video review) on 3DGameMan.
Vantec Nexstar USB External HDD Enclosure on EXHardware.
Thermaltake SilverRiver HDD enclosure on RBMods.
Transcend JetFlash DSC USB storage on Hardware-Pacers.

Cases:
Enermax CS-656TA on ViperLair.
CoolerMaster Cavalier 3 on BurnOutPC.
Logisys Spider Man Case on CreativeMods.
Demonic Minotaur on ModCity.
Antec Aria on NeoSeeker.



Some oddball pics from Sciby:

People from New York and Ohio come to Denny's Beer Barrel Pub for a pretty big hamburger: 6 pounds of beef, one large onion, two whole tomatoes, a half a head of lettuce, 1 1/4 pounds of cheese, top and bottom buns, and a cup each of mayonnaise, ketchup, mustard, relish, banana peppers and some pickles.






Those who try to tame the 6-pound hamburger have a time limit: They must do it in three hours or less.

I have a simple rule that applies to situations like this: never try to eat anything bigger than your head. :)

(Mred32 Edit: Here is the link to Denny's Beer Barrel Pub)
(Sciby edit: Funnily enough, after we got this via email, my co-workers and I decided to have a BBQ.)



Now, let's see if I can remember how to do this...

PCStats have an article titled Memory Bandwidth vs. Latency Timings. What to buy, cheap RAM or the good stuff! They also have a beginners guide to the Windows registry: Backups, Repairs, and Protection. A worth while read for those new to the registry.

Want a FireGL workstation card but can't afford to pay ATI's prices? Well, why don't you grab a Radeon desktop card and mod it into a FireGL card? Yes, you can mod a Radeon into the FireGL with just a BIOS flash! Have a read over here.

What should the consumer look for when considering a LCD monitor for gaming use? The folks over at Digital Silence asked this question along with some of the key considerations when buying a LCD monitor.

I found this an interesting read over on 3DVelocity. "Unfortunately it seems that the recent, rapid developments in affordable large-scale data storage have led to a situation where program sizes are increasing uncontrollably. We may be seeing more functionality but we're also seeing software written in a sloppy fashion and stuffed with needless features to try and compensate for their lack of refinement and usability".

So who is cheating in the motherboard arena? Gigabyte Accuses, ASUS Denies. Sudhian try to cut through the fog to find out.

The folks at CaseModGod want to show you how to build a cool little PC Test Box to help you diagnose those motherboard and other problems. Neat!

Beyond3D have a short Doom3 Technology Interview with John Carmack. They discuss things such as game play, graphics, benchmarking and tweaking.

OCIA.net has published an article on Overclocking the NVIDIA 5900 XT/SE Series Video Cards. Read more here.

Oh hey!! Something new from Dan...oh, no its not. It's more letters ;) Letters 121.

Its late at night, its cold, you've been hammering away at those spiderish nasty Doom3 things for hours, and you're hungry. This is the thing for you! A 5 1/4" PC Pancake Maker to get you through the night. The PC Ez-Bake Oven. Thanks meD.

Digital Injection is the name for a new LAN event set to hit the Perth scene. Check out the banner at the top of the Outbreed site for all the details.




Today is the deadline for OCAU Event registration and payments (0 Comments) (link)
Wednesday, 11-August-2004 17:56:42 (GMT +10) - by Wolfy


Today is the last day you can register (and pay) for the OCAU Events we are running, in Sydney and Melbourne, in a few weeks time.

We will be confirming final numbers with each of the venues this Friday (the 13th August) and all registrations (and payments) must be completed before then, or you will not be included in our booking.

While it is not yet too late to register and pay, I would suggest that people with new registrations or late payments email me with the details, so that we can ensure they are included in our booking.

BBQ registrations are not so critical, but you may miss out on the free food/drinks if you don't register and confirm in time for us to cater for you.




GeForce 6600 Preview (2 Comments) (link)
Wednesday, 11-August-2004 15:26:51 (GMT +10) - by Agg


The latest GPU in NVIDIA's GeForce 6 lineup is due for official release during QuakeCon this weekend. We've received a marketing PDF slideshow which gives an overview of the features and specs of the new GPU. Hopefully this will whet your appetite before the inevitable rush of reviews over the weekend.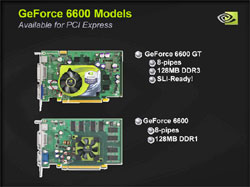 Click for the article!






The Snarf's Shuttle Project (5 Comments) (link)
Wednesday, 11-August-2004 04:42:07 (GMT +10) - by Agg


You might remember The Snarf's amazing mini-PC, packed with watercooling and hard-drives aplenty. After the huge response to his PCDB entry, I asked if he'd consider writing an article on how he put the PC together. He agreed, and today we have it for your enjoyment: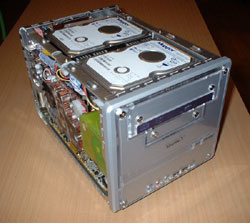 Click for the article!






Yeou Chih YCC-63F1 Server Case (5 Comments) (link)
Wednesday, 11-August-2004 02:07:35 (GMT +10) - by Agg


I've looked at a new case from YCC in Taiwan today. This one is different to the last few I've reviewed, and takes me back to the days of big beige towers. However, this is a modern case with plenty of room and some interesting features: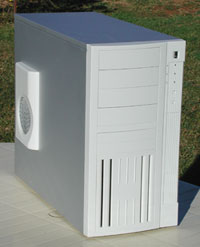 Click for the review!






Wednesday Morning Reviews (1 Comments) (link)
Wednesday, 11-August-2004 00:26:20 (GMT +10) - by Gibbon


Motherboards:
EPoX 8kda3+ nForce3 250GB-based Athlon64 motherboard on Rbmods.
Gigabyte 8GPNXP Duo i915P-based P4 motherboard on Legion Hardware.
Asus P5AD2 Premium i925X-based P4 motherboard on Digital-Daily.
Soyo SY-KT880 Dragon2 KT880-based AthlonXP motherboard on PC Perspective.
EPoX 8RDA6+ Pro nForce2 Ultra 400-based AthlonXP motherboard on Legion Hardware.

Memory:
Crucial PC4200 DDR-2 RAM on PCstats.

Graphics:
nVidia GeForce PCX5900 PCI-E graphics card on Hardware Pacers.
Abit RX600XT-PCIE PCI-E graphics card on Digital-Daily.
Prolink PixelView GeForce FX5900XT Golden Limited on Digital-Daily.
AOpen Aeolus GeForce 6800GT 256MB on HEXUS.net.
Connect3D Radeon X800XT on TrustedReviews.

Audio:
iAUDIO4 All in One MP3 player on hi-techreviews.
HeadRoom Total BitHead headphone amplifier and Etymotic ER-4S earphones on Dan's Data.
Anydrive CarMP3 MP3 player/transmitter on SweMOD.
Samsung YP-780v MP3 Player on Bytesector.
BlueTake i-PHONO BT420 Bluetooth Sports Headphones on Modtown.

Storage:
AOpen COM5232 CDRW/DVD drive on Viper Lair.
Plextor PX-712A DVD+/-RW drive on HardExtreme. Mmmm, Plextor.
Western Digital 250GB 'Light up' HDD on PyroPort. Unghh - does everything need to have lights?

Cases and Power Supplies:
CoolerMaster Real Power 450W Super Silent PSU on A1 Electronics.
Ultra X-connext PSU and UV Kit on DriverHeaven.
Ultra X-Connect PSU on hardCOREware.
MGE Vigor 500W UV Sleeved PSU on Overclockers Club.
Thermaltake Tsunami Case on VR-Zone.

Cooling:
Asetek VapoChill LightSpeed [AC] add-on vapour phase cooler on HotHardware.
CoolerMaster Hyper6 HSF on Tweaknews.
CoolerMaster Hyper6 HSF on GideonTech.
Kingwin Arctic Liquid Cooler watercooling kit on Bjorn3D.
Nanotherm PCM+ Thermal Compound on XYZ Computing.
nPowerTek TTIC NPH-101 P4 HSF on FrostyTech.
Scythe Samurai HSF on ASE Labs.

Other Stuff:
Apple AirPort Express on Designtechnica.
Logitech Pocket Digital 130 Camera on TechIMO.
HP PSC 2510 Photosmart All-in-one printer on Bytesector.
Razer eXactMat Limited Edition mousepad on ExtremeMHz.
Olympia Black Notebook BackPack on A True Review.
EtherDesigns Deluxe cAntenna on Phoronix.
Shuttle Zen XPC on TrustedReviews.
Steelpad S&S mousepad on Bjorn3D.
Steelpad S&S mousepad on XYZ Computing.
Sandisk ImageMateT card reader on SweMOD.



Microsoft have finally released the much-anticipated Windows XP SP2. Microsoft Windows XP Service Pack 2 (SP2) provides new proactive security technologies for Windows XP to better defend against viruses, worms, and hackers. In addition to a more robust security infrastructure, SP2 improves the security configuration options of Windows XP and provides better security information to help users faced with security decisions.

The currently-available 273MB download is intended for people who only want to download the file once, and update several computers. Microsoft say that if you only want to update one PC, wait until SP2 is available via the Windows Update service. Personally, I think it's handy to have a local copy in case of reinstalls etc.

There is a lengthy thread here in our forums discussing SP2. It dates from December last year, with the recent comments starting about here.




Press Releases (3 Comments) (link)
Tuesday, 10-August-2004 20:10:22 (GMT +10) - by Agg


ASUS announced an exclusive innovation for graphics performance enhancement on its 915P- and 925X-based motherboards. This latest technology, PEG (PCI Express Graphics) Link Mode, is a unique feature that enables users to boost graphics card performance for superior video quality. ... This feature, found only on ASUS 915P- and 925X-based motherboards, allows users to raise GPU and VGA memory throughput via the motherboard BIOS the same way system bus and memory bus are tweaked. PEG Link Mode enables powerful video performance on DX8 and DX9 applications. ASUS engineers carefully fine-tuned the parameters for every single PCI-Express card to provide system stability during high-speed graphics operation. More info here.

Gigabyte are taking ASUS to task over this PEG feature, saying that ASUS have cheated on recent reviews. They had secretly overclock VGA card thru motherboard without letting the Media know. More info in this 28KB DOC file.

GeIL announced the release of DDR2 667MHz memory modules - an extent to its previous DDR2 533MHz module with wider bandwidth and tighter timings that set the standard in its competitive. This newly released module offers 667MHz SDRAM DDR2 DIMMs in capacities of 256MB, 512MB and 1 GB in single channel, giving it the highest performing potential.

Corsair Memory announced new XMS 3200 speed 1 GByte modules supporting CAS-2 latencies. Following the success of the company's 1 GByte PC3200 CAS-3 modules, these new products offer the same speed and density but support lower latencies and improved performance. These memory modules offer incredibly fast 400MHz speeds at aggressive 2-3-3-6 latencies. These modules are available as a 1 GByte module or a 2 GByte matched pair of modules that have been tested together in a dual channel motherboard. This part is the first 1 GByte CAS-2 module on the market, offering exceptional performance in extreme gaming conditions.

Altech, who distribute Corsair memory in Australia, announced that Corsair just added PC5400 DDR2 memory into its existing XMS memory line, designed for new 925X and 915 chipset motherboards and future DDR2 platforms. The memory is rated at 675Mhz which is the fastest clock speed currently available! Latency timings are rated at a highly aggressive 4-4-4-12, and each module features Corsair's unique black heat spreader so you know this memory means business! This memory is available in individual 512MB sticks or in 1024MB Twin-X packs as two matched pair 512MB sticks. With a lifetime warranty this memory is valued at $364 for 512MB and $660 for the 1024MB Twin-X pack. More info in two PDF files, 96KB here for the 512MB stick and 74KB here for the 1024MB kit.

Also from Altech, word on 3 new "Thermally Advantaged Cases" from Antec, designed specifically to cool the new Intel Prescott Processor. The new cases range from the beige mini tower SLK1650 to the black mini tower SLK1650B right up to the awesome black super mini tower SLK2650BQE. These cases are all fitted with a unique chassis air guide on the side panel, which will not only maintain optimum CPU cooling capabilities under the most stressful of conditions, but it will also keep other essential components within your PC cool. The chassis air guide includes a mount for an optional 80mm fan to further assist cooling your CPU. More info on the SLK1650 and SLK1650B in this 94KB PDF, info on the SLK2650BQE in this 660KB PDF.

Finally, Altech also let us know about a new Power Supply idea from Antec. Their NeoPower 480 features an Advanced Cable Management System, which allows the user to simply connect the number and style of power cables required for their system, thus reducing the significant clutter and airflow problems prevalent on all other PSUs. The NeoPower 480 comes bundled with a total of thirteen compatible power cables and adaptors, including Molex, Serial ATA and PCI-Express. The NeoPower 480 offers 480 watts of stable power, and is ATX12V v2.0 compliant, which reduces power consumption by up to 25%. A universal input automatically accepts line voltages from 100V to 240V AC, and a 120mm fan keeps the unit cool, whilst remaining whisper quiet. More info on the Advanced Cable Management System in this 750KB PDF.




OCAU Events Registration (1 Comments) (link)
Tuesday, 10-August-2004 11:01:43 (GMT +10) - by Wolfy


The deadline for August's OCAU Event Registration (and payment) is fast approaching.

We need to have a good idea of the number of attendees so that we can finalise bookings at each of the venues and cater appropriately for everyone who will be there.

It's not too late to register, but you'll need to do it ASAP, as we may not be able to cater appropriately for late registrations.

In Sydney on the 20th, 21st and 22 of August we we've arranged the following events:
TenPin Bowling and Dinner
PaintBall
OCAU 5th Birthday Bash BBQ

In Melbourne on the 28th and 29th of August we'll be doing the following:
Adventure Mini-Golf
Laser Force, OCAU Daytona Competition & Go Karts
OCAU Dinner at Greek Restaurant
Bowling and Drinks
and
OCAU Weekend #3 BBQ

Full events details can be found on the OCAU Events Website.

Most of the events are appropriate for all ages, and have been selected to cater for various budgets.
Both BBQ's will be free - including free food and drinks supplied by OCAU!

There is even a stack of great prizes that will be given away via the mailing list or as prizes for participation in the various events.




Tuesday Morning (1 Comments) (link)
Tuesday, 10-August-2004 03:04:58 (GMT +10) - by Agg


NVIDIA have a new GeForce6 card coming later this week. This mainstream GeForce 6 will be the only shader model 3.0 GPU in its class and deliver performance well beyond that of the competition.

Tech-Report rounded up a few GeForce 6800 cards, while on the ATI side of things, TweakTown compared Gigabyte's X800Pro and X800XT PE.

Some German guy was apparently responsible for 70% of virus emails in the first 6 months of this year, but now he's been arrested. Shame, they didn't publish his email address..

AnandTech looked at the 64-bit Linux peformance of Intel and AMD CPUs.

More Doom3 stuff: tweak guide on TweakGuides, an editorial about piracy on Bit-Tech, a review on EvilEmpire and a always-on torch mod by GlenMurphy.

Working on your PC during a thunderstorm is probably not a good idea, thanks Neevo.

TheTechZone cover setting up a wireless home entertainment PC.

Xbit are reporting that Intel will discontinue the P4 3.2EE CPU, in the wake of new higher-performance offerings.

Also up for retirement is Alvin, the deep-sea exploration submarine that allowed scientists to, among other things, explore the wreck of the Titanic, find a lost atom bomb and discover more than 300 new animal species. More info here.

From martinus: Just wanted to let you know I have put up a page comparing a lot of digital pics taken at different ISO speeds with different file formats and compression levels. Might be interesting to a few peeps out there. There is also a forum thread about it.

CoolTechZone tried to explain bilinear, trilinear and MIP mapping to us non graphics geeks.

OCW interviewed Bruce from ULi Electronics and talked about motherboard chipsets. Meanwhile HWZ interviewed Meech from Philips about LCD screens, and HWAccelerated talk about a NVIDIA conference call held recently.




Interesting Forum Threads (0 Comments) (link)
Monday, 9-August-2004 20:25:32 (GMT +10) - by Agg


A snapshot of what people are reading..

Piracy ahoy, Windows XP OEM, beware in Windows Operating Systems.
Lowering windows boot time in Windows Operating Systems.
WinXP SP2 Discussion in Windows Operating Systems.
RAM timings, please explain? in Overclocking & Hardware.
First Pictures of Retail Packaging ! P4 LGA775 With EM64T in Intel Hardware.
Intel launch calendar for the remainder of 2004 in Intel Hardware.
Extremely disappointed with A64 overclock in AMD Hardware.
6800GT vapo cooling kit in the making in Extreme Cooling.
These new 12v pumps vs the Eheim 1250 in Extreme Cooling.
How to judge a quality TV display in Audio Visual.
Who really makes your plasma TV? in Audio Visual.
Scariest PC games you've played? in Games.
GTA San Andreas in Games.
VZ Commodore - full Holden specs and pics in Motoring.
Highest-revving "normal" car engine? in Motoring.
New 2005 BMW 3 Series brochure leaked in Motoring.
3 weeks to tone up in Sport, Fitness & Health.
How's your D70? in Photography.
Night-time curfew plan for teen drivers in Current Events.
Ansari X-Prize: first space privateer in Current Events.
Places to go in Tokyo and New York in The Pub.
Scam in progress in The Pub.
Cross-dressers, men dressed as women in The Pub.
Beijing's proposed Olympic village (warning, big pics) in The Pub.



Here is some weekend news and reviews:

Lots of people have told us that Windows XP SP2 is out, more details here, here, here and here.
Early information indicates it's going to be about 80Mb, it will automatically turn the firewall features on, and "virtually all Windows XP users will be able to download Service Pack 2, regardless of whether they have a legal or pirated copy of the operating system" - wow!

This one is for the modders out there: "Here's the new interactive resistor, where you get the resistor colors and values within seconds."

Aaron sent us a link of this poor PC that got a little too hot.

Sony have said that the PlayStation 3 will use the Blu-Ray disc format, to fit as much as 27Gb on each disk.

PCStats tell us they have a A Quick Guide for Eliminating Spyware and Hijacker Software, with all the stuff floating around now days, this is an important one for everyone.

Reviews:
RAM:
Corsair TwinX1024-3200XLPRO, you get what you pay for say TechIMHO.
Crucial Ballistix DDR2-533, at VRZone.

Video:
BFG GeForce 6800 Ultra OC, it's expensive, takes up two slots but fast say BleedingEdge.

Case/System and Mods:
Raidmax Scorpio 668 Aluminum ATX Tower Case, HardCoreWare liked the removable tray and front bezel.
Thermaltake Tsunami Case, it impressed the reviewer over at LegitReviews.
Dell Dimension XPS, it seems that Dell have entered the 'lets make the PC as pretty as possible' market now.
Opus Technologies TT-501 Titanium Tiny Case, except its really made from steel, say NewsTechInfo. ;)
Aspire AS500W 12V ATX Power-Supply, it looks impressive but how does it perform?
Jetart Xpanel DT5000 Multi-Purpose Display Panel, interesting that it almost seems the adverts on that page have more text than the review itself.
Enermax UC-9FATR2 Deluxe Multifunction Panel in a 'lots of pictures and pages' type review.

Storage:
DVD Burner round-up, featuring LG, Artec, Teac and two burners from Pioneer.

Monitor:
Philips 170S5FB LCD Monitor is a "no frills LCD monitor" say PCReview..
Mitsubishi Diamond PRO 2070SB, it's a big one.

Other:
X-Micro EVA MP3 Player at CoolTechZone.
Soft Trading Steelpad S, Hardware Pacers claim it's the "most useful out of all."
Steelpad S&S, phoronix liked theirs also.
Logitech MX310 Optical Mouse at MikhailTech.
Logitech MX510 Mouse, this one looks prettier.
HP Photosmart Mobile 1.3MP Camera at TrustedReviews.

And finally some Doom3 stuffs:
DOOM 3 high-end graphics comparo.
Doom 3 Review at Bjorn3D.
Martin from INAG sent news that to run Doom3 on W2k3 Server (I'm not sure why you'd want to, but anyway) you'll need to edit the Doom3.msi file.



VooDoo has posted some details on our forums about a Drag Day at Willowbank on sunday the 15th of August. It costs $80 to enter, $15 to spectate for those over 17 years of age and it's free to those under the age of 17 who want to spectate.

3DCenter have an article on their website on why the Radeon X800 Series is behind the GeForce6 in performance when playing Doom 3.

Adrian's Rojak Pot have a Mobile GPU Comparison Guide up on their site, they take a look at a bunch of Intel, Nvidia and ATI Mobile GPU's.

Tomshardware have a roundup of 13 Barebone systems on their site.

Hexus have an interview with the leader in Small Form Factor PC's, Shuttle.

GhOstLiNK sent in news that Microsoft have released MSN Web Messenger.

News.Com is reporting that Hewlett-Packard have unveiled their new laptop that comes preloaded with SuSE Linux.

SLCentral have an article on Windows XP Service Pack 2 up on their website.

Guardian Unlimited Film have written an article on a team of mathematicians at King's College London who spent two weeks watching horror films to come up with the formula for the ideal horror movie.

CNEWS are reporting that Singapore is going to be holding a contest to find the best computer hacker. Thanks p1ayer.

The Tech Zone have a guide for the mobile techie and show what gadgets could come in handy while you're on the move.

CoolTechZone have an article on the architecture of the Power Supply Unit.




Friday Afternoon Reviews #3 (0 Comments) (link)
Friday, 6-August-2004 14:59:05 (GMT +10) - by Agg


Video Cards:
Sapphire Toxic X800 Pro on HotHardware.
HIS Excalibur X800XT IceQ II VIVO LE on Bjorn3D.
HIS Excalibur X800 Pro on TheTechZone.
Gigabyte GV-NX57128D PCI-E GeForce 5750 on PCStats.
ALbatron GeForce PCX 5750 on VR-Zone.
PowerColor Radeon 9800XT 256MB on HWZ.
HIS Radeon 9550 VIVO on GruntVille.
Gigabyte Radeon X600XT on LegionHardware.
Sapphire Toxic X800 Pro on GamingNexus.
Crucial X800 Pro on 3DVelocity.

Cooling:
Koolance Exos AL watercooling kit on HardOCP.
Scythe Samurai SCSM-1000 CPU cooler on OCW.
Evercool PC Air Conditioner case blower on HWZoom.
Scythe Kamakaze SCKM-1000 CPU cooler on AseLabs.
Zalman Reserator1 Passive Watercooling Kit on SilentPCReview.
Thermalright XP-120 CPU cooler on Short-Media.
JetArt DT6000 - Multifunction Control Panel fan controller on SweMod.
Vantec Vortex HDD Cooler on TheTechLounge.
CoolerMaster Dual Storm fan on DreamWareComputers.
Alphacool NexXxos XP socket478 waterblock on XYZComputing.

Misc:
Transcend JetFlash DSC 1.3Mpix digicam on Phoronix.
OCZ Enhanced VGA and HDD Leads on OCPrices.
ASUS WL330 Wireless AP on LostCircuits.
Wacom Graphire3 Classic Pen Tablet on TrustedReviews.
DragonMeter HDD Activity Meter on ModdersHQ.
Wisetech Flash USB 2.0 Cable on ATrueReview.
Canon LaserBase MF5650 business all-in-one laser printer on BIOSMag.
Sony Clie PEG-UX50 PDA on DesignTechnica.




Friday Afternoon Reviews #2 (0 Comments) (link)
Friday, 6-August-2004 14:29:37 (GMT +10) - by Agg


Laptops:
Acer Veriton 7600GT on BIOSMagazine.
HP ZT3201 on OCOnline.

Mouse Etc:
Razor eXactMat mousing surface on Hi-TechReviews.
Microsoft Optical Mouse by S+arc on HW-Pacers.
Black Icemat 2nd Edition mousepad on SweMod.
Corepad Mousing Surface on Hexus.

Audio/Video:
Plextor ConvertX M402U capture card on HWExtreme.
ActionTec Wireless Digital Media Player on Monster-Hardware.
InnoDV TV-USB2! portable TV tuner/capture device on PCModdingMy.
Logitech Z-5300 5.1 speakers on Sudhian.
Samsung HLN617W 61" Widescreen DLP TV on ByteSector.
Plextor PX-AV100U Digital Video Converter on ClubOC.
Klipsch ProMedia 4.1 speakers on BonaFideReviews.

Memory:
OCZ EL DDR PC4000 Gold on InsaneTek.
Buffalo Firestix FSX5000V PC4000 DDR on PCStats.
Crucial PC4200 DDR2-533 on BuddhasLANRoom.

Cases:
Enermax ATX Sea Hawk CS-656TA on 3DXtreme.
SilverStone SST-LC03VFD HTPC case on ATrueReview.
RAIDMax Cobra 822 gaming case on MadShrimps.
Logisys Armor gaming case on BigBruin.




Friday Afternoon Reviews (0 Comments) (link)
Friday, 6-August-2004 13:41:26 (GMT +10) - by Agg


There is a HUGE pile of reviews in the news box today. Let's see if we can get them all out in a few posts over the course of this afternoon..

Motherboards:
Soyo Dragon2 KT880 socketA on HotHardware.
ASUS P5GD2 i915P &_P5AD2 i925X Premium socketT boards on Hexus.
Albatron K8X800 Pro II A64 board on OCPrices.
iBASE MB870 P4 Mini-ITX Motherboard on Metku.
Shuttle AN51R socket754 A64 board on OCrCafe.

SFF/Barebones:
Biostar iDEQ 200T i865G mini-PC on HWZ.
Shuttle SB81P XPC SFF with PCI-E on Bit-Tech.

Power Supply:
Ultra X-Connect 500W Fully Modular on ViperLair.
Thermaltake Twv-480W on RBMods.
ePower Lion EP-450P5-L1 on Phoronix.

Storage:
Plextor PX-708A DVD±RW/DVD±R Drive on VoidedWarranty.
Transcend Wireless JetFlash 128MB USB storage on PCStats.
ZyAIR G-220 USB Stick on SLCentral.
ASUS DRW-1604P 16X DVD±R, 4X DVD±RW and 4X DVD+R DL drive on CDRInfo.
Apacer Photo Steno Pro II 1GB on TrustedReviews.
Thermaltake SilverRiver external 5.25 enclosure on Phoronix.




Xice ExternalCool Watercooling Kit (0 Comments) (link)
Friday, 6-August-2004 02:39:29 (GMT +10) - by Agg


Wolfy has taken a look at this CPU watercooling kit from German manufacturer Xice. It's a little low on features, but the clever design means it's virtually silent. Is that at the expense of cooling performance?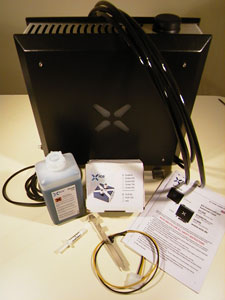 Click for the review!





Things will be a bit slow for a while, as we're being slashdotted at the moment. Hi slashdotters!




Thursday Afternoon (4 Comments) (link)
Thursday, 5-August-2004 14:42:45 (GMT +10) - by Agg


More DOOM3 stuff: Anandtech look at CPU performance, while Xbit compare high-end video cards in the game. A console guide on ViperLair, with a DOOM comic scan on DOOMWorld, thanks argent.

ATI have released some BETA Catalyst drivers which are optimised for DOOM3. If you're a DOOM3 freak with an ATI card, might be worth checking out.

ARSTechnica noted that Intel have quietly shipped the 64-bit-enabled Prescott P4 CPU. Meanwhile, Sudhian say that the recent hiccups for Intel aren't as bad as people might think.

Xbit compared P4 motherboard chipsets with various types of memory, to see which is the fastest.

Apparently all this staring at PC's and the TV is making us short-sighted, but if you're in Finland, being a "mouse potato" could get you out of National Service. More info here. More and more young people are always on the Internet day and night. They get up around noon and have neither friends nor hobbies. Pfft, that doesn't sound like anyone I know. :)

A pile of news from PodgeSSS: NASA to build 10,000-processor Linux computer. 4,677 Viruses In First Six Months of 2004. A Machine With a Mind of Its Own. New Computer Chip Poised to Combat Cell Phone Background Noise. Microsoft looks beyond Windows. Microsoft: Buy 32 bits, get 32 bits free.

Toshiba have announced a 60GB 1.8-inch hard drive, thanks Murray. Such drives are commonly used in digital music players and sub-notebook computers.

PCStats have a beginner's guide to firewall setup and config.

ArsTechnica cover the history of PowerPC on Apple.

HWZ interviewed Kevin Lu from Albatron.

CoolTechZone explained what native command queueing does for hard drives.




Press-Releases (1 Comments) (link)
Wednesday, 4-August-2004 23:34:51 (GMT +10) - by Agg


Zensonic have new wireless headphones with a pretty good claimed range. New wireless headphones from Australian home theatre designer Zensonic transmit through walls and ceilings using radio frequency technology. The Zensonic Z710 headphones deliver clear, rich sound, up to 100m from the source – whether a home theatre system, stereo or computer. More info here.

Intel unveiled a new generation of Xeon-based server platforms. Intel's new dual-processor capable platforms, which are based on the Intel Xeon processor at 3.60 GHz introduced in June, utilize the new Intel® E7520 and E7320 chipsets (formerly codenamed "Lindenhurst") that vary in features and prices. The platforms also include the new Intel® IOP332 Storage I/O Processor (formerly codenamed "Dobson") that delivers improved RAID storage performance over previous generations. More info here.

SIS have a new single-channel DDR/DDR2 chipset with PCIe 16x, the SiS649. The SiS649 is SiS' latest chipset designed for the latest DDR and DDR2 memory standards and PCIe 16x, making it an ideal choice for vendors who need a high performance next-generation platform that also offers compelling value. More info here.

ASUS announced their K8N-E Deluxe motherboard, the flagship for the Athlon 64 754-pin processor platform and offers superior stability unsurpassed by any other nForce3-based solutions. The K8N-E Deluxe is also a feature-rich solution providing dual-RAID technology, six Serial ATA ports, eight-channel audio, optical S/PDIF output and exclusive features found on ASUS solutions. More info here.




Time Warp Computer Prices! (10 Comments) (link)
Wednesday, 4-August-2004 16:26:53 (GMT +10) - by Agg


Finally got these scans together into an article. Last week I asked for people to scan in an ad page from the oldest Australian computer magazine they could find. Here's the results: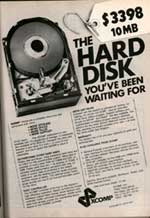 Click for the article!


So, the winner of our impromptu contest is Jonathan, with his October 1980 issue of Electronics Australia. He scores a Highpoint RocketRaid 1520 2-channel SATA RAID controller from the depths of the AggCave. Tins of Penguin mints to Spingo, Sharkx, Mig and David, the 4 runners-up. Thanks and congrats!




DOOM3 is here! (0 Comments) (link)
Wednesday, 4-August-2004 01:05:50 (GMT +10) - by Agg


There's quite a bit of Doom3 coverage today, because it hit the retail shelves yesterday. Like many others I bought a copy, although I haven't had a chance to play it yet. If you have and want to talk about it, join our Doom3 Gameplay thread. If you're having trouble, try the Doom3: Issues one. See how your system compares to others in the Doom3 Timedemo thread.

HardOCP have a hardware guide to help you understand and maximize your DOOM 3 gaming experience. Benchmarks on VR-Zone, Gamers-Depot and AMDZone. Tech-Report have a Doom3 Tweak Guide posted, while Telefragged, Gamers-Depot, Game-Informer and GamersHell review the game. Telefragged have an interview with a composer involved with the game, while Time Magazine have an editoral about the history of DOOM and its creators.




Wednesday Morning (4 Comments) (link)
Wednesday, 4-August-2004 01:01:53 (GMT +10) - by Agg


Slightly dated news now, but Australian Mark Webber has confirmed he will be moving to Williams for next year in Formula One. This is great news for Australian motorsport fans. Australians have been doing fairly well on two wheels too, with Troy Bayliss saying there's more to come from him in MotoGP.

If you're pondering a 4MP digital camera, TheTechZone have a buyer's guide which might help you decide.

Microsoft have been demonstrating their new search tool, which covers both your local hard drives and the web.

3DAvenue have some screenshots and info about the next chapter in the Grand Theft Auto franchise, San Andreas.

ViperLair looked at the performance of the Socket754 A64 3000+ CPU, as a budget alternative to the newer S939 CPUs.

SpodesAbode meanwhile compared the leading A64 motherboard chipsets.

A British committe has decided that nanotechnology should be treated with caution, despite their tremendous potential.

Here's a nice photo of the Mercury probe starting its 8-year journey to the Sun's closest planet. Meanwhile, a lengthy and tricky spacewalk from the International Space Station was successful.

Xbit have compared 13 of the fastest graphics cards around, using 35 gaming benchmarks.

SCO's CEO has suggested they don't need to sue more customers at the moment.

mpot would like to let all iiNet Bliink users know that a new version of iiUsage (version 0.2.10) is now available. This is a Windows system tray application for iiNet Bliink users that allows you to easily monitor your peak, bliinkzone and bliinktime downloads.

Chris spotted this real life comic with an overclocking focus.



CPU:
AMD Athlon 64 3500+ reviewed by The Tech Report.

Motherboards:
Gigabyte K8NSNXP-939 nForce3 Ultra AMD Athlon 64 Motherboard reviewed by A1 Electronics.
Shuttle AN51R nForce3 250 reviewed by PimpRig.

Memory:
512MB OCZ Premiere PC3200 Memory reviewed by TechFreaks.
Mushkin PC3200 Special Edition Memory reviewed by MADSHRIMPS.

Storage:
Plextor PX-712SA Serial ATA 12x DVD Burner reviewed by ClubOC.
Vantec 8-in-1 Card Reader reviewed by ExtensionsTech.
Plextor PX-712SA DVD+/-R/RW reviewed by HOTHardWare.
In-Win 10-in-1 USB Digital Memory Card Reader reviewed by BigBruin.
Lite-On LVW-5005 All-Write DVD Recorder reviewed by Bjorn3D.

Cooling:
Swiftech MCX159-A North Bridge Cooler reviewed by Virtual-Hideout.
Gigabyte 3D Rocket-Pro Cooler PCU22-VG reviewed by OCWorkbench.
Asetek WaterChill Antarctica KT03A-L30 reviewed by Hexus.

Cases & Modding:
Coolermaster Real Power 450W PSU reviewed by ExtremeMhz.
Antec Sonata Case reviewed by Hardware Accelerated.
Coolermaster Real Power RS-450 ACLY PSU reviewed by TecCentral. (Translated with Google.)

Mousepads:
Razer eXactMat reviewed by Phoronix.
Razer eXactMat Mousing Surface reviewed by XYZ Computing.

Video:
Canon LV-X4 LCD Projector reviewed by BIOS.
LG Flatron L1810B LCD Monitor reviewed by Hexus.
Albatron PCX5750 Pci Express Video Card reviewed by Red & Blackness.
nVidia GeForce 6800 GT reviewed by Bytesector.
Sony SDM-HS73P TFT Monitor reviewed by TrustedReviews.

Misc:
AOpen MVP Player - Digital Media Player reviewed by TrustedReviews.
Siemens SK65 Mobile Phone reviewed by BIOS.
Compaq Presario R3000 Laptop reviewed by DesignTechnica.
Bluetake BT200 Printer Adapter reviewed by SweMOD.
Sony VAIO VGN-A197XP Laptop reviewed by BIOS.
Digital Networks Rio Carbon mp3 Player reviewed by BIOS.



The Events Website has been updated to reflect the fact that we've confirmed venues for both BBQ's.

OCAU's 5th Birthday Bash BBQ will be held in Sydney on Sunday 22nd of August, at Parramatta Regional Park.

The OCAU Weekend #3 BBQ on Sunday 29th of August will be at Melbourne's King's Domain Gardens.

(Maps for both locations are on the Events Website.)

Registrations, and payment deadlines for some events, close in a bit over a week, and the events start in about two weeks time! So if you will be attending and have not registered yet now is the time.

Given the often vociferous forum comments about various OCAU events and the like, it's interesting to note the relatively small number of participants who have registered for some of the events we're running. It almost seems that the majority of participants are site Admins or visitors from interstate, which is a little strange given that the functions are being run in Australia's two largest cities.

The idea of the events is to give everyone a chance to meet other OCAU members, and to get off the PC and do something fun. Most of the events are suitable for all ages, both BBQ's will be free - with food and drinks supplied by OCAU - and the other events have been selected to cater for various budgets. So there's no real excuses! :)

Agg's even put together a bunch of prizes that will be given away via the mailing list or as door prizes for participation in the various events that will be run.



CDRInfo have an article on current DVD writers and the sale of dvd writers which write at non-standard speeds, the article also talks about the future of optical media.

Ars Technica has posted a review on VM software, these include VMware and Virtual PC.

[H]ard|OCP have a hardware guide up on their website for Doom 3.

News.com have an article on RealNetworks and their so called "hack" that enables iPods to play music downloaded from RealNetworks own music download service to be played on iPods.

The Sunday Mail has an interesting article on parents using internet cafe's as child care centres. You can also discuss this article in our forums, here. Thanks TheWedgie.

Bytesector has a game review of Mario vs. Donkey Kong on the Nintendo Game Boy Advance.

thetron sent in news that a new java based version of Trend Micro's free online virus scanner is being developed that will enable users of web browsers other than Internet Explorer to use this free service.

PC Review have a useful guide with tips on the bestvalue upgrades for your PC, along with suitable recommendations based on current technology.

Reviews:
Thermaltake XTunner Fan Controller reviewed by CoolTechZone.
SimpleTech Nitro PC3500 Memory reviewed by GruntvillE.
3R System Poseidon WCL-02 & WCL-03 Water Cooling Kits reviewed by Phoronix.
I/O Magic Media Station Writer External CDRW reviewed by ExtremeMhz.
Zalman Reserator 1 Water Cooling Kit reviewed by Overclockers Online.
Lian Li CR-03 6-in-1 Card Reader reviewed by Mikhailtech.
Icybox Illuminated Aluminium Hard Drive Enclosure reviewed by modtown.
DFI LanParty NForce II Ultra Revision B Motherboard reviewed by TheTechLounge.
Poseidon WCL-02 120Cu Water Cooling Kit reviewed by hi-techreviews.



Motherboards:
Asus A8V Deluxe VIA K8T800Pro-based Athlon64 motherboard on PCStats.
Gigabyte GA-K8NSNXP nForce3-250-based Athlon64 motherboard on technical information zone.
Intel LGA775 Platform on LostCircuits.

CPUs:
AMD Sempron on TrustedReviews.

Memory:
Corsair TwinX1024-3200XL Pro on Club Overclocker.
SimpleTech PC3700 Nitro Dual-Channel DDR Kit on Adrian's Rojak Pot.

Storage:
AOpen CRW5232 52X CD/RW drive on Viper Lair.
Transcend JetFlash 2A 256MB USB2 flash drive on BigBruin.

Graphics:
Gigabyte GeForce 6800 Ultra on Hardwarezoom.
Sparkle GeForce 6800 on The Modfathers.

Audio:
Altec Lansing MX-5021 2.1 speakers on OC-Zone.com - machine translated from Portuguese, which I think adds to the review :)
Altec Lansing VS3151 5.1 speakers on CoolTechZone.

Cooling:
Gigabyte GH-PCU31-VH 3D Cooler Ultra GT & GH PCU31-SD Cooler Ultra (phew!) HSFs on TrustedReviews.
Thermaltake Tower 112 HSF on OCIA. One word ... Massive.
Zalman ZM80D-HP VGA Heatpipe on A True Review.

Other Stuff:
Asante FR1104-G wireless router on A True Review.
Logitech diNovo Media Desktop on Designtechnica.
Microsoft Wireless Optical Mouse on XYZ Computing.
ColdHeat soldering iron on OCWizard (very cool *cough*)
A neat wireless PC Lock, reviewed by Dan.
Razer Viper optical mouse on Bjorn3D.
Wisetech LED cables on Red&Blackness.
Samsung SGH-D410 (Tri-band) mobile phone on HardwareZone.
Opus Technologies MT-200 Titanium midtower case on NewsTechInfo.


Lastly, CDRInfo have had a few DVD burners on the test bench:
The LG GSA-4120B Dual Layer and 12X burner
The Optorite DD1203 12x burner; and
The LiteOn SOHW-1213S 12x burner.
They've also had a look at a new Philips standalone DVD player, the Philips DVP720SA with some nice features including divx playback (it's great to see a name brand player supporting divx) and interviewed Sapphire's Marketing Manager, Daniel Forster for something a bit different.



Moridin sent in news that nVidia have released version 61.77 of their Forceware drivers, more information can be found here.

NordicHardware have an article on Shader Model 3.0, they compare it to Shader Model 2.0 and take a look at FarCry 1.2's support for the new Shader Model version.

The Tech Zone takes a look at why it's so hard to take digital pictures in low light. In this article, they talk a bit about a challenging situation that many beginners are facing with the current crop of digital cameras: blurred pictures in low-light indoors situations.

According to The Register, Nintendo have redesigned the Nintendo DS Handheld Console since it was last seen at E3 earlier in the year. More details including pictures of the old and new designs can be found here.

Apple and Motorola have announced they are partnering to enable Motorola's next generation mobile phones to play music purchased from iTunes on your PC or Mac.

Darkness let us know that 18 cartons holding 108 Nikon D70 digital SLR camera kits which were destined for spain were stolen. More information can be found here.

The Tech Zone has an article showing how the cell phone came about.

Dan's Data has got more letters up on his website.

Water-Cooling.com has an article on Custom Acrylic Cases, they take a look at the Design, Cutting, Assembly and Installation phases.

Sharky Extreme have posted their July Extreme Gaming PC Buyer's Guide where they build the ultimate AMD and Intel gaming systems.



---
Advertisement:


All original content copyright James Rolfe.
All rights reserved. No reproduction allowed without written permission.
Interested in advertising on OCAU? Contact us for info.