September 2004
3DMark05 Released! (1 Comments) (link)
Thursday, 30-September-2004 16:50:38 (GMT +10) - by Agg


FutureMark (who seem to be down at the moment) released 3DMark05 after a prolonged countdown that confused a lot of people. 3DMark is of course a 3D benchmarking utility and usually boasts some serious eye-candy, bringing most video cards to their knees in the process. Coverage on Tech-Report, Bjorn3D, 3DVelocity, Accelenation, Bit-Tech, Hexus, XbitLabs and EliteBastards.

AusGamers have a fast mirror here if you want to grab the 297MB (!) download. You'll need DirectX 9.0c and a Pixel Shader 2 capable video card, so GeForce FX5200 or above on the NVIDIA side, Radeon 9500 or above for ATI.

Our Video Cards forum is abuzz with 3DMark05 chatter, see the 3DMark05 download links and general discussion thread, or 3DMark05 results and advice.



The guys over at 3DChip have done a comparison between the official Catalyst 4.9 and the brand new Beta Catalyst 4.11.

Adrians Rojak Pot has just posted the 'Radeon 9800 Pro to Radeon 9800 XT Mod Guide Rev. 5.1'.

If you haven't heard already there is a JPG exploit that affects all Microsoft Operating Systems except for Windows 2000. Get the patch here, and there is a discussion about it in our forums, here. Thanks Bern.

Driver Heaven and Tweak Town have a preview on 3dMark05, which is about due since it has been about 20 months since the last 3dMark being released!

Consumers are being tracked, catalogued surveilled and their "data" is being warehoused, filed and mapped with increasing detail. This is happening without our knowledge or consent. This invasive spying is currently confined to loading docks at Wal-Mart, Target and Metro Future stores, but is ready to follow you home if you aren't careful about RFID technology.

The official Doom 3 1.1 Patch has been released. Get it here.

Combine music, sexyness, nerdyness, and sunglasses, and you get Oakleys new Mp3 Sunglasses.

PCUnleash have really really good information on modding a 6800 LE to a 6800 Ultra.

A feature that I have never really touched in Windows XP is Synchronizing Files and Folders, but PCStats has a beginners guide on using this handy feature.

Reviews
Motherboards:
Soltek K8AN2E-GR on Legion Hardware
Epox 8KDA3+ nF3 250GB on OcPrices

Videocards:
Tul Powercolor X600XT PCI-E on OCW
Gainward 6800GT 2400/Ultra Golden Sample on Neoseeker
ASUS Extreme AX600XT vs. MSI GeForce PCX 5750 on HotHardware.com
ATI RADEON 9250 Shootout on HardwareZone

Cooling:
Thermalright XP-120 CPU Cooler on Overclockers Club
Vapochill Lightspeed on TecCentral.de
Alphacool NexXxoS XP Waterblock on GruntVillE.com

Games:
Transport Giant on TheModFathers
Joint Operations: Typhoon Rising on NewsTechInfo.com

Other:
Defrag Manager 3.0 on BiosMagazine
HEXtreme UV paint on Crazy Modders
X-Arcade Two Player Arcade Joystick Review on XYZ Computing
Sennheiser HD 555s on Dansdata
Corsair XMS2 - 5400 on OC-Zone
Canon EOS-1Ds Mark II on dpreview.com
Tapwave Zodiac 2 on TrustedReviews



These funky looking laptops are just amazing. Some people must have way too much time on their hands or something.

I can't believe no one sent this in, but TPG have released a new set of plans, all which are nearly unbelievably priced. Check it out on Whirlpool.

Tom sent in this site that helps you find ebay items that are mis-spelt.

Virgin will be flying people into space in a few years, with prices per seat starting at around $190,000US. Start saving!

Pc Review have a great guide on Spyware and Adware, and the best tools to remove these nasties from your computer.

IANAG have updated their famous Windows XP Performance Tweaking Guide, definately worth a read if you run XP.

With the hot Australian summer kicking in, there is no better time to get an air conditioner for your PC!

How does a 3.6GHz FX-53 sound? Well the guys at XS have done it. Thanks fxr91!

Battle@Matchrix is back! Team Atomic is already full with OCAU only half way there… check out our forum thread and the full details and registration.

Bowen sent in this ebay link, some clown selling himself as a human alarm clock. Damn Victorians! :)

Microsoft US will this week start charging for a Hotmail feature that allows users of the Web-based e-mail service to access their e-mail using the Outlook e-mail client. Thanks Murray.

When used with a compatible Alpine Electronics head unit, Alpine's new US$100 KCA-420i iPod Interface connection kit lets you play and control your iPod through your car stereo. Thanks again Murray!

The Tech Zone has posted an article on how to secure your PDA from hackers and really jealous girlfriends.

A1 Electronics does some water block tests, some showing up to 5 degrees Celcius difference.

If you regulary buy king size chocolate bars, then start preparing buying 5 standard size bars instead, because confectionary manufacturers annouced the phasing out of the king size bars to tackle rising levels of obesitiy. [Agg: Phew, I think it's only in the UK at the moment. :) ]

Elephant poo has DNA information that can be extracted to track the origin of illegally poached ivory.



Videocards:
ATI Radeon X700 XT on TrustedReviews
ATI Radeon X300 Reference PCI Express Videocard Review on Tweaknews.net

Small Form Factor:
Iwill ZMAXap SFF on Tweak Town
AOpen EZ18-120 SFF System on Hexus

Cases:
Cooler Master TAC-T01EK Wave Master on Hexus
Cooler Master CM Stacker Case (STC-T01) on 3DGameMan

Cooling:
Coolermaster X Dream III vs. Ultra Vortex on TecCentral.de
Vantec HDCS Hard Drive cooling on Hexus
Swiftech H20-120-P Water Cooling Kit & Radbox on Overclockers Online
Alphacool Xtreme Pro Set 240 12v Watercooling Kit on Guru Review

Sound:
Creative S750 GigaWorks 7.1 Speaker Kit on 3DVelocity
90db Legato Wireless System on HardwareZone
8Com Wireless Digital BH220 Headset on CoolTechZone

Motherboard:
MSI K8N Neo2 Platinum A64 S939 on Madshrimp
Gigabyte GA-8ANXP-D on PCstats.com
Albatron K8X800 Pro II Version 2.0 Motherboard on 3DX

Storage/RAM:
Vantec NexStar 2 - 3.5 Hard Drive Enclosure on Hi-techreviews.com
Swissbit SWISSMEMORY TwistPro 2 Gigabyte USB 2.0 Portable Memory Drive on Futurelooks
Eumax 9-in-1 USB 2.0 Flash Genie on Viperlair.com
DDR2 Roundup on t-break

PSU:
Antec Phantom 350 Fanless PSU on Silent PC Review
Antec NeoPower 480 on Club Overclocker

Other:
RD3XP Gladiator Super Shielded Round IDE Cable on Adrian's Rojak Pot
Zonet ZUB6110 Bluetooth Class 2 USB Dongle on BigBruin.com
The Sims 2 on Ars Technica
Dell Axim X5 on HardExtreme.org
Logitech Rumblepad 2 Vibration Feedback Gamepad on 3dxtreme.net
Razer eXactMat Mousepad on Virtual-Hideout
AMD Athlon 64 3700+ on Penstar Systems
Acer AL1721hm 17in TFT monitor on Trusted Reviews




A.C.Ryan Backy (1 Comments) (link)
Tuesday, 28-September-2004 17:35:19 (GMT +10) - by Agg


The "Backy" from A.C.Ryan is a little gadget to put internal-PC connectors on the outside of your case. There's a few different varieties available - I reviewed the 2x Molex, 2x 3-pin-fan version.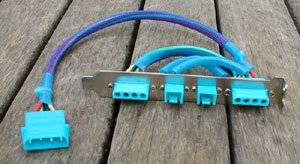 Click for the review!






Connectland 2-Port PS/2 Mini KVM Switch (20 Comments) (link)
Tuesday, 28-September-2004 15:04:17 (GMT +10) - by Agg


I've reviewed a little KVM switch from Connectland. It lets you hook up a monitor, PS/2 keyboard and mouse to two PC's and switch between them, saving your dollars and desk space.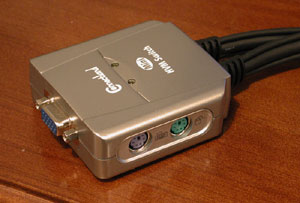 Click for the review!





Videocards:
Leadtek WinFast A400 Ultra TDH on Bjorn3D.com
GeCube 9550 Extreme on Beyond3D
Powercolor X300SE on OC-Zone.com
ASUS Extreme EN5900/TVD (PCX5900) PCI-Express 128MB on Hexus
ASUS Extreme AX600XT/HTVD PCI-Express 128MB on Hexus

Motherboard:
Abit AG8 motherboard on Tech Report
MSI K8T Neo2-FIR on Viperlair
MSI K7N2 Delta2 Platinum on Madshrimps

Ram:
Corsair Vs512mb400c3 on RBMods.com
SuperTalent PC3500 Memory on GruntvillE.com
GeIL Ultra Platinum PC4000 on OCModShop
OCZ DDR Booster on Madshrimps

Other:
Logisys ComputerLAN Bag on ExtremeMHz
Poseidon WCL-03 120Cu Liquid Cooler on Pcmoddingmy.com
Altec Lansing XA2021 Speakers on Phoronix
Enermax Deluxe Multifunction Panel on 3DX
Gigabyte G0-M1600B- DVD ROM on T-break
BTC 9019 URF Wireless Keyboard on Hi-techreviews.com
Kingston DataTraveler 2.0 1GB USB Stick on The Tech Zone
A-Top Technology X-Blade ATX Window Case on BigBruin.com
Mapower Warps Portable 3.5" External Enclosure on AusPCWorld
Plextor PX-712A DVD Writer on Cool Tech Zone
XTrac Hammer Mousepad on Creative Mods




Monday Evening (6 Comments) (link)
Monday, 27-September-2004 18:56:20 (GMT +10) - by Agg


US-based Ingram Micro is set to buy Tech Pacific, one of Australia's biggest computer products distributors, for USD $493M.

Here's a cool mechanical pong game, thanks Timbot.

Hexus looked at a couple of PCI-Express video cards from ASUS, one using NVIDIA chipset, one ATI. They also cover VIA's PCI-Express plans for late 2004.

ArsTechnica have part two of their CPU pipelining article posted.

A few people sent in this slashdot story about some crazy Finnish overclockers breaking the 6GHz barrier.

Pimprig have a guide to fabric modding your PC case.

neolithic noticed this site with lots of pics of an Apple iMac G5 being pulled apart. We recently had pics of the dual 2.5GHz G5 PowerMac liquid-cooling system posted.

Dan has more letters, featuring big TVs, cheap canalphones, dueling remotes, LED feeding, the late unlamented Adams Platform, and free energy fun.

FutureLooks have a quick note on net-connected gym machines.

SpodesAbode have an AMD chip guide, explaining the various sockets and cores.

Interesting Forum Threads:
Risk Your Life (free game) in Games.
Autosalon 2004 Photos in Motoring.
Flatback turtles: the sequel (720k of pics) in Photography.
World's best looking HDD? :p (pics) in Modding & Electronics.
Reflection of a storm: project in Modding: Worklogs.
Should I really invest in a good PSU? in Newbie Lounge.
3DMark05 Pre-release discussion in Video Cards.
Sempron 2400+ and Athlon XP 2400+ -- 400Mhz clock speed difference? in AMD Hardware.
Healthy fast food? in Sport, Fitness & Health.
Are you addicted to the internet? in Current Events.
Exercise for your grey cells in The Pub.




Monday Afternoon (5 Comments) (link)
Monday, 27-September-2004 15:46:52 (GMT +10) - by Agg


There's a lengthy interview with Intel CEO Craig Barrett here, due to retire soon. Intel also confirmed recently that their Grantsdale chipset won't normally have wireless AP functionality. While we're talking Intel, there's a handy page here that helps decode their new processor-numbering scheme.

Apparently stopping sheep burping isn't as easy as previously thought, say some Australian scientists. Wright said one-fifth of the world's methane emissions came from farm animals belching and exhaling.

LegionHardware compared seven mainstream graphics cards for PCI-Express.

VIA asked Bit-Tech to do a custom PC for them - they came up with Project Synapse. Seems like a pretty basic project to me, compared to some of their other custom jobs.

From NextWish: I've released a utility which allows SUS to be installed on Windows XP/2K, basically allowing you to have a roaming copy of Windows Update on a laptop.

If you're an AMD fan, go crazy and buy AMD merchandise from what seems to be their Australian promotional department, thanks Chris.

Rob says the demo of EASports FIFA 2005 is available for download. AusGamers have the Warhammer 40k: Dawn of War demo, too.

If you have an Asrock motherboard, this guide to mods and BIOS versions etc on OCW might be handy.

A1-Electronics cover installing a 120mm radiator and fan into your PC. If you've been watercooling for a while, perhaps cleaning your waterblock is in order, think OCModShop.

Munkiboy sent in this Pong game, which he calls a frustratingly addictive version of the old classic. Just the thing for a slow Monday afternoon.




OCAU 5th Birthday Giveaway Winners! (86 Comments) (link)
Monday, 27-September-2004 02:56:44 (GMT +10) - by Agg


The 5th Birthday Giveaway winners have all been emailed now, so if you don't have mail, you probably don't have prize. The prizes and winners are:

VapoChill Classic White from PC Range: robin.xxxxx @ xxxx.xxxxxxx.xxx
12x Dual-Layer DVD Burner from LG Electronics Aust: leche @ xxxxxxxx.xxx.xx
12x Dual-Layer DVD Burner from LG Electronics Aust: david.xxx @ xx.xxx.xx
Broadcom 8-Port SATA RAID Controller from ServerBits: oc @ xxxxxxxx.xxx
525W PowerOp PSU from ServerBits: markyxxxxxxx @ xxxxxxx.xxx
525W PowerOp PSU from ServerBits: anchovy @ xxxxxxx.xxx.xx
525W PowerOp PSU from ServerBits: risesies @ xxxxxxxxx.xx.xxx
475W PowerOp PSU from ServerBits: thompsont @ xxx.xxxxxxx.xxx.xx
475W PowerOp PSU from ServerBits: tarb2005 @ xxxx.xxxx.xxx.xx
475W PowerOp PSU from ServerBits: wrbell @ xxxxxxxx.xxx.xx
Compucase Full Tower Case from ServerBits: mbruer @ xxx.xxx.xx
Compucase Full Tower Case from ServerBits: anthonyl @ xxxxxxx.xxx.xx
Compucase Full Tower Case from ServerBits: omnix @ xxxxx.xxx.xx
Compucase Full Tower Case from ServerBits: robertb @ xxxxx.xxx.xx
Compucase Full Tower Case from ServerBits: tatey86 @ xxx.xxx.xx

White 3.5" USB/Audio Front Panel from ServerBits: madonion87 @ xxxxxxxx.xxx.xx, mitchell @ xxxxxx.xxx.xx, remark @ xxxxxxx.xxx.xx, david.xxxxx @ xxxxxxxx.xxx.xx, mariomart @ xxxxxxxx.xxx.xx, brent @ xxxxxxx.xx.xxx, jgatling @ xxxxxxxx.xxx.xx, dextech @ xxxxx.xxx.xx, russemk @ xxxxxxxxx.xx.xxx, crusher @ xxxx.xxx.xx, reecexxxx @ xxxxxxx.xxx, dcngo @ xxxxxxxx.xxx.xx, goldspe @ xxxxxxxxxxxxx.xxx, jezza @ xxxxxxxx.xxx , s4079686 @ xxxxxxx.xx.xxx.xx

Black 3.5" USB/Audio Front Panel from ServerBits: mspooner @ xxxxxxxx.xxx.xx, mhellwig @ xxxxxxx.xxx, vsix @ xxxxxxx.xxx.xx, ndv @ xxxxx.xxx.xx, xxxdavid @ xxxxxxxx.xxx.xx, will @ xxxxxxx-xxxxxxxxxx.xxx, crashdummy @ xxxxxxxxx.xx.xxx, samus @ xxx.xxx.xx, madcow2 @ xxxxx.xxx.xx, mark @ xxxxx.xxx, jparsons @ xxxxx.xxx.xx, kagension @ xxxxxxxx.xxx.xx, kirtonb @ xxx.xxx.xx, lombers @ xxxxx.xxx.xx, mongy @ xxxxxxxx.xxx.xx

OCAU / Penguin Mint pack: hb55047 @ xxx.xx.xxx, nickxxxxxxx @ xxxxxxxx.xxx.xx, flyingmatt @ xxxxxxxx.xxx.xx, aaronkylie @ xxxx.xxx.xx, bandh2 @ xxxxxxx.xxx.xx, meccles @ xxxxx.xxx.xx

Just about wore out my "x" key there. Anyway, if you consider all the prizes we gave away at the recent BBQ's and the Corsair memory, with this lot, we've given away a huge pile of stuff over the last few weeks. Congrats to everyone who won and big thanks to the many sponsors involved with the various giveaways!




5th Birthday Giveaway Final Reminder (1 Comments) (link)
Sunday, 26-September-2004 15:33:37 (GMT +10) - by Agg


Our 5th Birthday Giveaway will be drawn late tonight. You have to have a non-free email on our mailing list to be in the draw.

Prizes up for grabs include a VapoChill Classic from PC Range, two Dual-Layer DVD Burners from LG Electronics Australia and a HUGE pile of cases and power-supplies from Server Bits.



Bytesector have coverage on the Gifts that Click from Microsoft event in Toronto which focused on items related to digital media and for home entertainment systems.

OCIA have updated their wallpaper section with five new images. I found this thread from back in 2003 where Rave has created a couple of cool wallpapers in Bryce. I also found another thread from back in 2002 that has lots of great OCAU wallpaper in it aswell. Maybe we should do another one? :)

Feel like coming to a lan next weekend in Brisbane? Lanvictims is being held this coming Saturday and they need a few more people to register otherwise they are going to have to cancel. It'd be great to see people register, to help support Brisbane's Lan scene.

HP, one of the world's largest makers of servers, workstations, desktops and notebooks, said it was going to cease production of Intel Itanium 2-based workstations, citing demand switch to systems with Intel Xeon processors 64-bit capability known as EM64T. More details found here.

Bill Owen aka MNPCTECH, has been working on this case and has an impressive amount of work done on it already. Any Floyd fan would love to have this case... Click here for the Project Thread on Pimprig.

AusPCWorld has a review on these PCI/RAM Slot Protectors, and to be honest I have never seen anything like it!

Thermaltake has released more pretty cases recently, and Overclocker Cafe looks at the latest one, name "The Shark".

Nasa has released World Wind which allows any user to zoom from satellite altitude into any place on Earth, leveraging high resolution LandSat imagery and SRTM elevation data to experience Earth in visually rich 3D, just as if they were really there.




Spire Verticool SocketA CPU Cooler (11 Comments) (link)
Sunday, 26-September-2004 02:55:44 (GMT +10) - by Agg


SLATYE has checked out the Verticool socketA CPU cooler from Spire. He compares it to their earlier FalconRock II and WhisperRock products: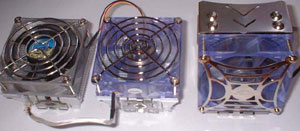 Click for the review!





Cooling:
Thermalright XP-90 on Legion Hardware
Radiical WHX Block on Overclockers.com

Motherboards:
MSI K8N Neo2 Platinum on Viper Lair
Albatron Mars PX915G Pro Motherboard on PCStats.com
Gigabyte 8IPE775 Pro on Legion Hardware

Videocards:
Power Color 9800 Platinum Edition – Manipulated Radeon 9800 Pro on TweakTown
GALAXY Glacier GeForce 6800 128MB on Hexus
Gigabyte GA-8TRS350MT Radeon 9100 IGP PRO on PCstats.com
Gigabyte Radeon X800 Pro on HardwareZoom
Albatron GeForce PCX5750 on Bjorn3D.com
Leadtek WinFast PVR2000 on TrustedReviews
MSI NX6800 Ultra on OC-Zone.com
Asus V9999 Gamer Edition Videocard on PCstats.com

PSU:
Thermaltake POLO 12 Power Supply ModSynergy.com
OCZ PowerStream 470W Power Supply Unit on 3dXtreme.net
Thermaltake POLO12 on Tech Powerup
Cooler Master Real Power 450W Power Supply on 3DGameMan

Laptop:
Systemax TourBook 5202 2GHz Centrino on TrustedReviews.com
IBM ThinkPad R51 on BIOS

Ram:
OCZ EL PC-3200 Platinum Rev.2 at PCUnleash.com
Corsair PC2 5400 Pro DDR2 on The Overclocker's Cafe
PQI PC3200 1024DBU on GruntVille.com
CrucialBallistix DDR2 PC2-5300 on Club Overclocker

Case:
Antec Slk 3700 on Rbmods
SilverStone LC-02 Case on TechFreaks

Other:
World Exclusive Preview of IWill's ZMAXdp on Hexus
Logitech Cordless Desktop MX for Bluetooth on The Tech Zone
LG GSA-5120D External DVD Writer on HardwareZone
Ultra Products 4-in-1 MP3 Player on XYZ Computing
Kodak EasyShare DX7440 on TheTechLounge.com
Steelpad S&S Mousepad on FastLaneHW.com
Triplett Fox 2 Hound 2 on Phoronix
X-Ray Technology Aqua 3 on XYZ Computing
Panasonic X400 Clamshell Phone on Hardware Zone
Choosing an alternative browser on IceTeks
Koss UR20 Home Stereophones on DansData
KingWin Giga Plus USB 2.0 Hard Drive Enclosure on Virtual-Hideout




Saturday Morning (2 Comments) (link)
Saturday, 25-September-2004 12:50:14 (GMT +10) - by Agg


Comindico have been forced into administration, appointing a receiver and manager on Friday. There's a PDF here with the announcement, and some coverage on Whirlpool. AustralianIT report that Cisco, among others, are involved in this development. Thanks to everyone who sent those in. This is interesting because firstly Comindico provide a huge number of smaller ISPs with the products they on-sell to customers, but also because Comindico host AusGamers and therefore OCAU. Am I worried? Not at all, no. Nobody really knows what effect this will have in the long term anyway, so we'll just wait and see what happens for now.

The BBC report on a web tool that may make broken links a thing of the past. I guess you could do a similar thing by making any broken link point to a google "I'm Feeling Lucky" search for the same keywords/context. Hmm.

Microsoft are suing spammers again. Hooray!

HardwareAnalysis have a bit of a ranty editorial about ATI's approach to Linux drivers. From where I'm sitting this looks like we'll end up with support for their PCI-E products on the SuSe Linux distribution alone, which could be worse than having no support at all.

The ABC have a story about how a long-necked dinosaur could hunt underwater. When Dinocephalosaurus orientalis jabbed its head forward during a hunt, the ribs along its neck would splay outward, increasing the diameter of the oesophagus, creating a suction that would swallow the pressure wave created by the lunging head, as well as downing the prey.

The HardOCP 500 is a guide to the best upgrades available for $500 USD. On a similar note, ArsTechnica have a System Guide posted.

Sony have decided to join the MP3 party at last, supporting them in upcoming walkman products. You can still use their proprietary format if you want to go through the hassle of converting your songs, though. Murray sent in more info about their iPod challenger, which will cost $100 more than the equivalent from Apple.

Apparently they're making a movie of DOOM3.. grrrrreat.

UT2004 junkies will want to grab the Editor's Choice Edition pack, which seems to be only about 84MB, so dialuppers can grab it overnight.




VIA brings PCI-Express to A64 (0 Comments) (link)
Saturday, 25-September-2004 12:00:10 (GMT +10) - by Agg


VIA have announced their K8T890 chipset, which is the first to support PCI Express on the A64 platform. Designed to support a complete range of AMD Athlon 64, AMD Athlon 64 FX and AMD Opteron as well as 754- and 939-pin versions of AMD Sempron processors, the VIA K8T890 delivers high performance, comprehensive features, and rock solid stability. The K8T890 chipset includes support for the latest PCI Express x16 graphics cards, and four PCI Express x1 connections to high speed PCI Express peripherals.

Coverage on Bit-Tech, HotHardware, PC Perspective and Tech-Report.




Five Years Ago on OCAU (30 Comments) (link)
Friday, 24-September-2004 16:45:39 (GMT +10) - by Agg


It's pretty cool that we can do this kind of newspost now. :) I thought I might do a regular "5 years ago on OCAU" newspost from now on, perhaps once a week. This will also be a good opportunity to convert the older articles over to the new database-powered format.

Of course, this time 5 years ago OCAU had been running for a couple of months already, so this post will be a bit of a catchup. July 1999 and much of August was spent testing and selling pre-tested Celeron 366 CPUs. That was how OCAU started, as a "backyard business" selling pretested chips and coolers. That idea didn't last long, but from memory we sold about 60 CPUs, before changing the site over to content-based instead of sales-based.

At the time, the Celeron 366 was king. ABIT's BP6 had just come out, and could run two C366's at 550MHz each. David Alvarado sent in a series of 4 small articles about his experiences with C366's and BP6's, which I've combined into the new article system here. My own desktop machine was a BP6 with the two best C366's from my pre-testing days. When we had to change hosts in a hurry, it ended up being the basis of our server Odin, which served OCAU well for a couple of years. For the moment, though, OCAU was still served from my personal webspace at Zip Internet.

Kat from QLD sent in a pic and info about his P2-350 at 522MHz. It's funny to look back at what we considered hardcore back then. There were some other general snippets of info submitted in late August - I've compiled them here. The first-generation Athlon had just come out, but we hadn't seen one yet. TomsHardware had a guide to overclocking them by manipulating the "golden finger" connector on the CPU. This lead to a huge market of "GFD's", or Golden Finger Devices, which allowed you to choose multiplier etc on your slotA Athlon.

On the 27th of August 1999 the site officially changed focus from selling coolers to doing reviews and news etc. However, I cautioned that "This will not be a daily-updated news-of-the-world site"... and almost immediately started posting daily news, which continues to the present day. :)

The 29th of August saw what I believe is my first article for OCAU - my first published article anywhere, in fact - a roundup of Socket370 CPU coolers, which I've put in the new format here. This was done mostly for my own interest, and published so that a few other people might benefit from it. As it happened about 5000 people read it over the next few days, the writing bug bit me hard.. and the rest is history.

That brings us up to the end of August 1999. I'll start on September next time.




Thursday Night Reviews (0 Comments) (link)
Thursday, 23-September-2004 23:09:11 (GMT +10) - by Gibbon


Motherboards:
Abit AA8 DuraMAX i925X-based LGA775 P4 motherboard on Bjorn3D.
Abit AG8 i915P-based LGA775 P4 motherboard on Club Overclocker.
Albatron PX915G Pro i915G-based LGA775 P4 motherboard on OCModShop.
ASrock K7Upgrade-880 Socket A motherboard with Socket 754 bridge card on ocworkbench.
Asus K8N-E Deluxe nForce3 250GB AMD64 motherboard on Overclockers NZ.

Graphics:
Abit Radeon RX600XT-PCIE on Club Overclocker.
ATI Radeon X700Pro 256MB on Sharky Extreme.
HIS Excalibur All-In-Wonder 9600XT Turbo on bit-tech.
HIS Excalibur 9550 128MB VIVO Edition on Tech-Mods.
HIS Excalibur X600XT Limited Edition PCI-E on Tweaknews.

Audio:
Altec Lansing AHS602 gaming headphones (video review) on 3dGameMan.

Storage:
Seagate 200GB external USB2.0/firewire HDD on Mikhailtech.
IcyBox IB-350 USB2.0 external HDD on BurnOutPC.
Thermaltake SilverRiver drive enclosure on Overclocker Cafe.
NEC ND-3500A dual-layer DVD writer on TrustedReviews.
Lite-On SOHW-1633s dual-layer DVD writer on ExtremeMHz.
Sony DRU-710A dual-layer DVD writer on BIOS.
Maxtor Atlas 10K V SCSI HDD on The Tech Report.
Swissbit Twist 512MB USB2.0 flashdrive on pc-base.
Transcend JetFlash 2A USB2.0 flashdrive on Phoronix.
VisionTek Xtreme2 GO DRIVE USB2.0 flashdrive on The Tech Zone.

Cases and Cooling:
Innovatek XX Flow waterblock on Nexus Hardware.
Logisys Phantom Case on hi-techreviews.
Coolermaster Dual Storm CPU Fan on ExtremeMHz.
PolarFLO TT Series 2 Port Waterblock on PimpRig.
Spire CoolForce VGA Cooling Kit on OCIA.
Jetart Xcool NP4000 portable notebook cooler on Adrian's Rojak Pot.

Monitors:
BenQ FP992 19" LCD monitor on Bytesector.
Shuttle XP17 17" LCD monitor on t-break.

Other Stuff:
Asus WL-330g pocket wireless access point on the Tech Zone.
Cable Organizer electrical roundup on Phoronix.
Dell Axim X30 PDA on DataFuse.
Harmony SST-659 remote control on Designtechnica.
Logitech MX1000 Laser Cordless Mouse on Hardware Pacers. Nice. I like.
OCZ DDR Booster on Ocprices.
Samsung ML-2551N laser printer on Tech-Mods.
SanDisk Cruzer Mini and Water Filled Optical Mouse on Hi-techreviews.
Shuttle Zen ST62K SFF barebones on Guru Review.
SteelPad S&S mousepad on GruntvillE.
Steelpad S&S mousepad on Xtreme Tek.
Vantec EZ-grip molex connector kit on Rbmods.
Vodafone Mobile Connect 3G Data Card on TrustedReviews.




Thursday Afternoon (0 Comments) (link)
Thursday, 23-September-2004 17:03:09 (GMT +10) - by Agg


Want a closer look at BTX? Intel has a heap of info in the form of pictures and PDF files, to give you more of an idea about this replacement for ATX.

You already knew that "click here to remove" links in spam emails are bad, because they're a good way for spammers to see who's reading their emails.. but apparently they can also get you infected now as well.

AMD and IBM are working to shrink chips together.

InternetWeek report that Internet users suffer when unable to use the net. "It was incredibly difficult to recruit participants for this study, as people weren't willing to be without the Internet for two weeks," said Wenda Harris Millard, Yahoo's chief sales officer, in a statement.

The Mars Rover missions have been extended by another six months, after chilling out for Mars's winter and passing behind the Sun. Spirit and Opportunity have now survived their lowest point in terms of sunlight for their photovoltaic cells, and the low temperatures that threatened to freeze gears and crack brittle parts and connections.

If you're still using Win98SE, you might be interested in this unofficial service pack for it.

Switchblade327 sent in this open-source lawsuit brewing in the Australian Courts. If proven, the allegation would force the developer to share its source code with the open source community.

Apparently AOL will offer a new password-security service to its customers, thanks Murray. For US$1.95 a month, the AOL user gets a keychain device the size of a book of matches that delivers two-factor authentication.

Rob sent in this DOOM3 case mod thread over on HardOCP. Dialup peeps probably shouldn't bother, many huge pics there.

PCStats cover the blue screen of death and how to deal with it.

Sniffer dogs may be out of a job, with sniffer rats able to get into tighter spots and smell things better, thanks lunar_c.




OCAU 5th Birthday Giveaway (32 Comments) (link)
Thursday, 23-September-2004 15:30:20 (GMT +10) - by Agg


If you didn't win anything at the BBQ's, and you didn't win any of the Corsair memory we gave away on Tuesday, don't despair. We still haven't drawn the OCAU 5th Birthday giveaway, which is being coordinated via our Mailing List.

Prizes up for grabs include a VapoChill Classic from PC Range, two Dual-Layer DVD Burners from LG Electronics Australia and a HUGE pile of cases and power-supplies from Server Bits.

Only non-free emails are eligible, so add yourself to our Mailing List before the prize drawing late Sunday evening, for a chance to win!




OCAU Weekend Wrapup (1 Comments) (link)
Thursday, 23-September-2004 15:06:29 (GMT +10) - by Agg


With the August 2004 OCAU Weekends events behind us now, I thought a quick summary might be in order. There's discussion of the Sydney events here and Melbourne events here. Loads of pics from the Melbourne events here and here. Sydney pics are in the Sydney thread. There was also an unofficial Brisbane BBQ, details here. If you know of more pictures/threads, let me know!

We gave out a pile of prizes at each BBQ. Here's they are, with sponsors and winners:

Sydney:
Multimedia pack (keyboard, mouse, etc) from Plus Corporation: Azmond
Multimedia pack (keyboard, mouse, etc) from Plus Corporation: Veedka
Multimedia pack (keyboard, mouse, etc) from Plus Corporation: Zerro
HEC SilentOP PSU from Server Bits: fatcat
Spire CPU Cooler from LowNoise PC: Rik
LG 12X Dual-Layer DVD Burner from LG Electronics Aust: zRoyz
HEC PowerOP 525W PSU from Server Bits: Chari (DDsD's GF)
AMD Promo Pack from Plus Corporation: Benwa
GeForce FX5800 Video Card from Computer Alliance: RSM
Antec Super LANBOY Case from PME Computers: Kossa
PC coolers pack from LowNoise PC: LethalCorpse
Speakers from Plus Corporation: HJLavery
Thermaltake Xaser Case from Computer Alliance: Gnuthad
LG 12X Dual-Layer DVD Burner from LG Electronics Aust: thrillhouse

We also had some Penguin Mints packs won by Bombster and MWCB, OCAU caps won by Random and Stroggos2k and an OCAU merchandise pack won by Hibba.

Melbourne:
Multimedia pack (keyboard, mouse, etc) from Plus Corporation: Kana
Multimedia pack (keyboard, mouse, etc) from Plus Corporation: Ozi
HEC SilentOP PSU from Server Bits: Zen
Gigabyte DVD Burner from Computer Alliance: TheWedgie
Spire CPU Cooler from LowNoise PC: Aero
RC Tanks kit from Mibberz: Shadey
HEC PowerOP PSU from Server Bits: Biatch
PC coolers pack from LowNoise PC: Memphis
LG 12X Dual-Layer DVD Burner from LG Electronics Aust: FoderMe
Antec Super LANBOY Case from PME Computers: Chubba

We also had some Penguin Mints packs won by Phanoongy and Azrael, an ATI promo pack for Fodder, an NVIDIA pack for Woofle, a CoolerMaster pack for Azz and an OCAU merchandise pack for CapeHorn.

Many thanks to the various sponsors who donated prizes for the giveaways and congratulations to the winners. Thanks also to Azz who brought a tonne of bread to the Melbourne BBQ and Sillen who helped transport it, and Gnuthad who brought a big pile of sliced onions for BBQing in Sydney. :)

Finally, huge thanks to Wolfy who organised both OCAU Weekends from start to finish and kept everything running smoothly, including cooking lots of food at the BBQ's! It was great to see so many people at the various events and everyone seemed to be having a great time. Here's to the next one. :)




RC Ferrari PC (12 Comments) (link)
Thursday, 23-September-2004 11:37:16 (GMT +10) - by Agg


The_Snarf, he of the amazing Shuttle, has another project in the PC Database. His F50 Car PC looks like the sort of model-car PC we've seen a few of now, but this one uses a remote-controlled car as the base. The cool thing is that it's still remote-controlled - so he can drive his PC around at 35km/h...



Click for the PCDB entry! (15 pics)






ATI X700 and Catalyst AI (0 Comments) (link)
Wednesday, 22-September-2004 17:32:01 (GMT +10) - by Agg


Two new things from ATI today. The first is their Radeon X700 range of GPUs. The RADEON X700 delivers excellent graphics performance for gaming and visual processing, at a price suited to a broad range of customers. Worth a look if the X800 range is too expensive for you, it's competing with NVIDIA's GeForce 6600 range. Coverage on Bit-Tech, DriverHeaven, HardOCP, Hexus, HotHardware, NeoSeeker, PC Perspective, Sudhian and Tech-Report, while Xbit have architecture and performance covered. ATI's X700 is being discussed in this forum thread.

The other announcement is Catalyst AI, which is an application-specific optimization feature of their new drivers. This is interesting, because application-specific optimization is often regarded as "benchmark cheating" and subversive use of this technology has been the subject of much debate. However, having it as a feature you can turn on and off promises a real performance boost. Coverage on Beyond3D, DriverHeaven and TweakTown. Catalyst AI is being discussed in this thread.




OCAU Corsair Memory Contest Winners! (48 Comments) (link)
Tuesday, 21-September-2004 23:33:49 (GMT +10) - by Agg


Ok, we had 7211 entries to the OCAU Corsair Memory Contest from the last two weeks. Quite a response! Unfortunately, only four people can win. I exported the SQL database containing all the entries into Excel and used a random function to choose four emails. They are:

240761 @ xxx.xx.xxxx.xxx.xx
dcockram @ xxxxx.xxx.xx
Hexish @ xxxxxx.xxx
OneMan @ xxxx.xxx.xx

Those emails have been notified and will hopefully respond soon. Congrats to them, and thanks to Corsair Memory for donating the prizes!




Tuesday Evening (1 Comments) (link)
Tuesday, 21-September-2004 18:39:10 (GMT +10) - by Agg


In an odd move, id Software are releasing the demo of DOOM3 long after the full game was released for sale. Anyway, you can grab it here, if you're wondering what all the fuss was about.

PC-Welt have an article about some security issues with WinXP SP2. It is not advisable to keep this defective default configuration.

The MPAA seems to have overstepped the mark in their quest to snare copyright infringers in Australia. Smith told Builder AU the incident demonstrated that the process used to locate allegedly illegal files on Australian servers was flawed, and the MPAA could be infringing a number of local laws.

A telescope in Antarctica may be able to far outperform the Hubble Space Telescope, and could be built at a tiny fraction of its cost, says a scientist from the Anglo-Australian Observatory in Sydney, Australia.

To show off a feature of their processors, VIA released some file deletion software as Open Source freeware recently. For those wanting to permanently delete unwanted files for security or privacy reasons, overwriting with random numbers instead of, for example, just a long string of zeros, makes it harder to recover information.

HardwareAnalysis wonder what's really new lately, and decide: not much. At the end of the day we can only reach the conclusion that a '99 or '00 PC is still running fine in 2004, and only needs a graphics upgrade to be able to play all current games fluently, for all other tasks it has enough computing power to get the job done.

MadShrimps spent some time exploring the max HyperTransport speed they could get on the ASUS A8V motherboard.

Xbit have a guide to voltage modding your PSU. Remember there's mains voltage inside your PSU, which can kill you dead if you don't respect it.

HardOCP looked at three PCI-Express cards based on ATI's X600XT GPU.

ArsTechnica cover pipelining - what it is and what it does. When looking at the architecture of the different CPUs used in desktop systems, whether a Pentium 4, Athlon 64, PowerPC 970FX, or PPC 7447, one of the things that differs on each CPU is the pipeline.

Digital-Silence look at DirectX past and future.

XtremeResources decided a VapoChill LS just wasn't cold enough. We start with a brand new asetek vapochill LS, add a baker evaporator and fine tune the capillary tube length for the new evaporator and recharge with a high pressure refrigerant for optimal performance.

It's a bird, it's a plane, it's some Swiss guy whizzing around the Alps like a rocket-propelled bird.

If you're an NAB customer and use online banking, be wary of a trojan aimed at stealing your password, thanks Bern.

2CPU.com, who we haven't heard all that much from lately, have coverage of an Iwill event in Akihabara, that mystical region of Tokyo where all new PC goodies seem to appear first. Iwill apparently showcased their new workstation, small form factor, and server class hardware.

Josh mentioned something about the air traffic control problem we linked a few days ago, that will add fire to the Microsoft/Unix holy war: The newspaper said that a Microsoft-based replacement for an older Unix system needed to be reset every thirty days 'to prevent data overload', as a result of problems found when the system was first rolled out.




2004 Home Computer (27 Comments) (link)
Tuesday, 21-September-2004 13:00:31 (GMT +10) - by Agg


We don't know the original source of this, or even if it's just a photochop.. but ecto sent in this funny 108KB picture. Apparently it's a 1954 take on what a home computer will look like in 2004:



Click to enlarge!


Printer, check. Keyboard, check. "The Love Boat"-style steering wheel... check.




Win Corsair Memory - Final Reminder! (1 Comments) (link)
Tuesday, 21-September-2004 12:29:48 (GMT +10) - by Agg


The draw for the Corsair memory contest will be held late tonight. That means today is your last chance to enter your email for a chance to win. Details on the contest page!



Mainboard/Memory:
ASrock Beta BIOS and Foxconn 915P at OCWorkBench
OCZ EL DDR PC3200 Platinum R2 RAM at Hardcoreware

Storage:
Plextor PX-712A and Plextor PX-712S DVD writers at Trusted Reviews
LiteON SOHW-1633S 12x DVD+R/+RW Drive at OC Online
Pioneer DVR-108 16x Dual Layer DVD+/-RW Drive at 3DX

Video:
PowerColor Radeon 9800 Platinum Edition at Bjorn3D
ATI ALL-IN-WONDER 9800 PRO at Tech-Mods
ATI Radeon All-in-Wonder X800 XT at Bytesector

PSU:
Vigor 450w Power Supply at CI
FSP Blue Storm ATX 400W PSU at PCModding
Tt Fanless 350w PSU at OCC

Cooling:
Scythe Coolers FCS-50 Heatlane & Kama video review at 3dGameMan
Scythe NCU-2000 Fanless CPU Cooler at Silent PC Review
Cooler Master AquaGate Water Cooling Kit at ClubOC

Case/Mods:
Casedge 3GTS-01 Mid tower Case at Tech-Mods

CoolerMaster Praetorian Case at OCIA
Raidmax Samurai Mid-Tower Gaming Case at ExtremeMhz
SilverStone Temjin TJ01 ATX Case at LanAddict

Mouse/Keyboard
Microsoft Wireless Notebook Optical Mouse at Hardware Pacers
Microsoft S+arck Mouse at TechFreaks
Mad Wax Review at Creativemods
Saitek P3000 Wireless USB Gamepad at VoidYourWarranty
Maxtill MousePad-G at XYZ

Misc:
ATI TV Wonder USB 2.0 at Trusted Reviews
Mushkin 128MB MP3 Player/Flash Drive/Voice Recorder at The Tech lounge
Artec T1 USB Terrestrial Digital TV Box at Guru Review
Logitech Z-2200 Speaker at TheTechZone
Enermax UC-A3FATR2 3.5" Multifunction Panel at BigBruin
Samsung SCX-5115 MFP Printer at ByteSector
Hi-PHONO BT460EX Bluetooth Hi-Fi Audio Kit at ModTown



TomsHardware have some big news: some ASUS LGA775 motherboards can apparently adjust P4 multipliers in certain situations.

We've been waiting a long time for Duke Nukem Forever. How long? The rovers Spirit and Opportunity were proposed, authorized, announced, designed, launched and successfully landed upon Mars within the timeframe of Duke Nukem Forever's development.

GamingNexus have some comments about SLI from ATI.

FlingingSquids looked at how the GeForce 6600GT performance scales with a Pentium 4.

Another big rock is coming to (nearly) kill us all, thanks Sniper. We should be able to see it from Australia, too, on the night of the 28th.

ARP have a rant about good games being a thing of the past.

Dan has more letters, about Analogue computers, something you can't do with RAM, new and old writable DVDs, a mysterious secret directory, and the endless fascination of ambient temperature compensation.

A9.com is a new search engine, with an interesting interface and some handy personalised features. More info in this article.

Interesting Forum Threads:
RIP my BH5 LLv1.1 RAM in Overclocking & Hardware.
Speed of PHP in Graphics and Programming.
Dream machine from Japan coming soon in Other Toys.
New Nforce Driver v 5.10 Available for D/L Now in AMD Hardware.
Call of Duty: United Offensive in Games.
All I want is a decent FTP client in General Software.
15% increase in folding for Athlon XP in Team OCAU.
Automotive spray paint cans on PC cases in Modding & Electronics.
Out of interest: what's the fastest car I can get for $20k in Motoring.
Extension on Nmap article in Networking & Internet.
Tools for laptops in Portable and Small Form Factor Computing.
Contact Lens in Sport, Fitness & Health.




Monday Morning Reviews (0 Comments) (link)
Monday, 20-September-2004 00:52:07 (GMT +10) - by Agg


Cooling:
PolarFlo TT Waterblock on ClubOC.
Jetart NP5000 Notebook Cooler on MikhailTech.
Thermalright XP-90 CPU cooler on Phoronix.
CoolJag JVC682A CPU cooler on OCIA.
Thermalright XP-120 CPU cooler on Monster-Hardware.
Gigabyte 3D Rocket SE CPU cooler on Short-Media.
PC AirCon PAC 400 system cooler on PCModdingMy.
MicroCool NorthPole NB Cooler and Chipsinks on Hi-TechReviews.

Cases & Modding:
CaseArts 3D Artistic Thumb Screws on RBMods.
CoolerMaster Cavalier 3 on BurnOutPC.
Logisys Dracula case on MikhailTech.
Ultra Dragon Glossy Blue case on ViperLair.

Mouse Etc:
Logitech MX1000 mouse on DriverHeaven.
Angel Eye Glide Pad Gamer mousepad on DataFuse.
Monster Gecko Pistol Mouse FPS game controller on ClubOC.
Steelpad S&S mousepad on PCModdingMy.
NaturalPoint TrackIR head tracker on GruntVille.
XTrac Ripper XL mousepad on ClubOC.




Distributed Folding Final Battle (15 Comments) (link)
Sunday, 19-September-2004 22:18:26 (GMT +10) - by Agg


From deranged128: I'd like to bring to the attention of the general OCAU readership a battle which is taking place for position in the final weeks of the Distributed Folding Project. You can get the drift of what has happened here.

'Operation Fightback' is an attempt to take the Overclockers Australia team back to 5th position in the final Distributed Folding rankings by enlisting support from OCAU members to run Distributed Folding for the final 2 weeks of the project. TOO XTREME have taken that position as a result of the amlagamation of 3 separate Xtreme teams plus a major increase in folding power.

To make the transition into the project easier for those who wish to help over such a short time we have a team user 'The Vicar' for which we have created pre-configured client in both Windows and Linux which just need to be unpacked and have the 'foldit' script executed.

Contributers can track progress on the project here.




Sunday Night Reviews (0 Comments) (link)
Sunday, 19-September-2004 19:41:36 (GMT +10) - by Agg


Video Cards:
Chaintech Apogee GeForce 6800 OC on PC Perspective.
PowerColor Radeon 9250 on ComputekReviews.
PowerColor Radeon 9800 Platinum Edition on LegionHardware.
Gainward PowerPack! Ultra/2400 TV/DVI/DVI 256MB 6800 GT on BigBruin.
Chaintech GeForce 6800 Turbo Edition on Digital-Daily.
Gigabyte GeForce 6800 GT 256MB on Guru3D.
HIS Radeon X800 Series Cards on HardCoreWare.
ATI Mobility Radeon 9800 on HotHardware.
PNY GeForce 6800 Ultra on DriverHeaven.
HIS Excalibur Radeon X800XT PCI-E on OCrCafe.

Memory:
Buffalo Firestix PC4000 1GB dual-channel kit on SubZeroTech.
OCZ PC3200 Platinum Rev2 on OCPrices.
Crucial Ballistix 1GB PC4000 on Hexus.

Storage:
Swissbit TwistPRO USB2 Flash Drive 2GB on TheTechZone.
Lite-On SOHW-1633S 16x DVD Writer on TechIMO.
Vantec EZ-Swap Removable HDD Rack on Hi-TechReviews.
IOMega REV Drive (Internal ATAPI) on HWZ.
Pioneer DVR-108 16X DVD+/-RW 4X Dual Layer burner on XYZ.



Avast, mateys! Today be International Talk Like a Pirate Day and I be the dread pirate Agg, bringing news from the seven seas.

Those scurvy dogs at the ABC report that our left and right ears process sound differently. That be due to one ear sportin' an earring, while the other ear is next to yer parrot, yarr!

If ye be tired of tripping over cables while swabbing the decks, cast an eye over this wireless buyer's guide at TheTechZone.

Save your pieces of eight when buying PC bits by learning to haggle like the most mercenary of, err, mercenaries, yarr.

Over at TweakTown, they've got a pile of DDR-2 533MHz memory sticks fighting it out like a sackful of bilge rats.

You'll be keelhauling your old hand-controlled mouse when you realise you could be using your nose instead. Well blow me down, they be calling it the Nouse!

It boils my blood to read of price fixing among RAM manufacturers. If they try that again in these waters, we'll make them walk the plank, yarrrr.

Water, water, everywhere, and all the boards did shrink. Water, water, everywhere, replacing my heat-sink. Not quite Coleridge, but a video review of a Swiftech H20-120 watercooling kit on 3DGameMan.

Those wily buccaneers at Sudhian have a home networking guide, for connecting your bowsprit to your mizzen-mast.. whatever that means, yarr.

Pass the lonely nights at sea with the Gateway Arrrr-230 DVD Recorder, reviewed on TweakNews.

All this pirate-talk is boiling the barnacles on my brain, so with the wind in my sails and the sun at my back, I wish ya all grand adventures and bountiful plunder... till next time, harrrr!!



There was an issue with our mailserver last night and mail seemed to be bouncing. If you sent an important message to an @overclockers.com.au address between about 5pm last night and 11am this morning (Sydney time), please re-send it. Thanks!




Saturday Evening (5 Comments) (link)
Saturday, 18-September-2004 18:15:37 (GMT +10) - by Agg


Ever had a niggling problem at work that really needs fixing, but you keep using a bandaid solution because it works in the meantime? Here's a dramatic example of why fixing instead of ignoring is a good idea. Because of a software glitch in an FAA computer, a technician is required to reset the computer that controls the radios every 30 days - something that was not done. ... "It left us in a situation where we had no ability to talk to 400 aircraft that were under our control," says Hamid Ghaffari, president of the local National Air Traffic Controllers Association.

Xbit report on some speculation about the authenticity of Intel's dual-core demonstration at the recent Intel Developer Forum. It is even more likely that Intel merely designed a dual-processor motherboard around its 915 chipset.

CNN have an interesting read about supercomputers predicting storms. I bet this technology will get a funding boost with all the hurricanes wreaking havoc on the USA lately.

Firefox is making inroads into the browser market against Internet Explorer. And people using browsers made by the Mozilla open-source software group grew from 3.5% to 5.2%.

ATI announced HyperMemory technology, an innovative technology that reduces PC system costs by allowing its visual processors to use system memory for graphics processing. HyperMemory uses the high-speed bi-directional data transfer capabilities of PCI Express to store and access graphics data in system memory, leading to less of a dependence on graphics memory and ultimately a lower overall system cost. If you're thinking this sounds like the old "use a bit of main memory for the framebuffer" trick that onboard graphics have been using for years, you'd be right. However, using PCI-Express, it's apparently now fast enough to use for high-end cards as well. So we might be seeing less memory on video cards in future?

There are new nForce drivers out, version 5.10.

Last week we had robots living on flies, now we have mobile devices living on spinach, thanks Timbot. Derived from spinach chloroplasts, PSI is 10 to 20 nanometers wide. Around 100,000 of them would fit on the head of a pin. Or, we could just power stuff with body heat.

America's FTC proposes a bounty for spammers, with up to $250,000 rewarded to encourage people to turn over friends or associates who send out millions of deceptive e-mail pitches in violation of the law.

Ford has pulled their Jaguar team out of Formula One next year. Australian driver Mark Webber is secure though, he's already signed to drive with Williams next year.

Neevo noticed this handy utility for A64 owners: "A64CLK (AMD64 Clock Utility) is a simple utility designed for realtime CPU frequency monitoring and realtime adjustment of the CPU multiplier (FID) and voltage level (VID) of the upported CPUs via processor's power management model specific registers (MSRs)..." No A64 here so I dunno if it works.. but grab it here if you want to try it.

Neevo also spotted this mother of all fans. Watercooling is for wimps.

If you're having trouble installing WinXP on a Prescott P4 machine, this update from Microsoft might help, thanks Lockjaw.

Eric sent in this 159KB video of someone forgetting their PC isn't a typewriter...




Nmap Examination of Various Operating Systems (0 Comments) (link)
Saturday, 18-September-2004 12:40:40 (GMT +10) - by Agg


Iroquois sent in something interesting, and a little different. He's used the popular network-scanning tool nmap against various operating systems to see what it reports. We also have a thread linked from the article where you can compare your own system.



Click here for the article!






Win Corsair Memory! (reminder) (1 Comments) (link)
Saturday, 18-September-2004 12:33:55 (GMT +10) - by Agg


OCAU and Corsair Memory have teamed up to give away four packs of TwinX3200XLPRO memory. See the contest page for details:



Click for details!






Friday Morning (1 Comments) (link)
Friday, 17-September-2004 10:04:40 (GMT +10) - by Agg


This was posted by aftahours last night, but due to a database glitch didn't show up on the news page.. - Agg

ExtremeMHZ has an article about Gmail – What's all the hype about?

TechSpot has a look at this awesome 23" LCD, bit out of my budget though!

A1 Electronics shows you how to squeeze more radiators and fans into your PC case.

HyperActive Technologies, a Pittsburgh start-up, is testing technology at fast-food restaurants to give kitchen workers a good indication of what customers want before the hungry souls even get close enough to place an order. Full story here, thanks Murray.

Looking at buying a midrange PCI-E graphics card? Tech Report has a trio of them compared here.

Did you think gigahertz and megahertz determined a processor's performance? Well you might want to read this.

Got a few spare LCD's kicking around? Put them to use by creating some Virtual Windows.

Apparently Mozilla isn't free from vulnerabilities either...

Does the 4.9 Catalysts really make that much difference to Doom 3? Find out here.

Legit Reviews has their 3rd part on "Building your own notebook".

The study of stupidity isn't as dumb as it sounds. Con men have been doing it for centuries, after all; it's about time the academics caught up. We're all dumb sometimes, and some of us are dumb all the time, as anybody who plays online games or bids on eBay already knows. Read all about it here.

Penstar Systems has some info about AMD and PCI-E.

Mike found an interesting article on how the US Government is providing free Internet via wireless connection.

Insider Project has an article about iPods biggest threats.

Virtual-Hideout takes a look at a couple of PSUs from Performance-PCs, one a conventional PSU and the other, a modular one.

Reviews

Video Cards:
MSI NX6800 128MB Videocard on DesignTechnica.
Chaintech Volari V3 Videocard on 3DChip.
PowerColor Radeon X300 on Legion Hardware.

Cooling:
Cooler master Hyper 6 Heatsink Fan on PC Perspective.
Thermalright SP-94 Heatsink on OCIA.

Motherboard:
SL-K8AN2E-GR nForce3-250Gb motherboard on NinjaLane.
ASUS P5AD2 Premium i925X LGA775 Motherboard on Rojak Pot.

Misc:
Creative Sound Blaster Audigy 2 NX Soundcard on TrustedReviews.
Tapwave Zodiac 1 PDA on HardExtreme.
Link Depot 4-Port KVM Switch on Phoronix.
HEC Windmill 400W Power Supply Video Review on 3dGameMan.
Samsung DVD-P241 Progressive Scan DVD Player on ExtremeOverclocking.
Canon PowerShot S1 IS (3.2 MP) Digicam on Bytesector.



Microsoft published on Tuesday a patch for a major security flaw in its software's handling of the JPEG graphics format and urged customers to use a new tool to locate the many applications that are vulnerable. More info and patch details here on Cnet, and here.

The Tech Zone has a great guide for those out there wanted to switch to Wireless Netorking, but are feeling a bit daunted on all the different ways to do it.

Sudhian Media have an article about whether the new ATI Control Panel is worth the wait.

If you have a Thermaltake Bigwater, you must definately check this out, where A1-Electronics have added another radiator to the design.

Check out this pretty cool free game, Cube is an open source multiplayer and singleplayer first person shooter game built on an entirely new and very unconventional engine. Cube is a landscape-style engine that pretends to be an indoor FPS engine...

Phoronix has a guide on doing a pretty easy PSU Fan Mod, but be VERY careful when fiddling around, and don't do this stuff unless you know what you are doing. The volts inside the PSU can kill!

There is an interesting article on e-commerce over at Flickerdown, and how it has impacted and will change our lives in the future.

Modfathers has a great guide on cable management. I don't know where you'd start with my system!

James found this unique Beowulf Cluster over on eBay, I would love to know the shipping on that from the states!

Legit Reviews has an article about Intel Technology Showcase. I kinda like this SLI/Doom3/Plasma setup. :)

SD-enabled handsets to be commercially available in the second half of 2005... More info on Infoworld.

Tenoq sent in that OpenGL 2.0 spec has been released, more info here on their site.

Toby has created an excellent, helpful site about heatsink compatibility using different motherboard/case designs. Definately one for the bookmarks!

Ever heard of PEG Link Mode? Well Rojakpot has information on what it is all about and how Asus are now promiting it as a new graphics enhancement technology.

Although almost everyone detested 'Steam' when it was first released, it now appears that it might have been the best move Valve has made!

Bit of a concern for Gmailers, since chances are it'll dupe a few people who'll get locked out of their accounts! Thanks Azzkikr!

Legion Hardware has a Pentium 4 Integrated Graphics Shootout, but things will get a bit more interesting in the scene as soon as ATI brings up a solution with the 915G Chipset.

Pyroreport has a trip down memory lane with an article about why Descent 3 was not as successful as the recently released Doom 3 is proving to be.

Still using Internet Explorer? Well, Phoronix has a look at the latest Mozilla Firefox, and how much better it is than its competition.

HardcoreWare has a great guide on the S462 AMD CPU's and what the difference is between them, and what is the best out there if you are looking to upgrade to a midrange system.

Ars Technica has published an in-depth look at the goings-on at last week's US Intel Developer Forum and what it all means.

Bytesector has an interview with Microsoft's Peter Moore.

Stick Cricket is back with even better graphics and gameplay, thanks Stu.

It seems that there is an issue with many 6800U Boards with BIOS version 5.40.02.10.14, especially when used with ForceWare 61.77. When running 3D applications for extended time there is a high chance that freezes up to several seconds occur. Full story can be found here.

RojakPot has just posted their Desktop Graphics Card Comparison Guide Rev. 7.0.

Dan has more letters !



Misc:
Samsung ML-1710 Monochrome Laser Printer on Tech Mods.
Oleansoft Hidden Cameras 2.6.1 on AusPCWorld.
Intel Pentium 4 560 on ViperLair.
Thermaltake Silent PurePower 480 Watt PSU on Overclockers online.
TomTom's Go GPS navigation system on Trusted Reviews.
Albatron PX915P Pro motherboard on Bjorn3d.
ConexUSB LED USB Cables on Phoronix.
Steelpad S&S Mouse Pad on MikhailTech.

Cases/Cooling:
ThermalRight SLK-947U Heat-Sink on TechFreaks.
Thermalright SLK-800U on OCModShop
T-Balancer TBAN-XL Knobless Fan Controller on Mad Shrimps.
AeroCool VM-101 Fanless VGA Cooler on OCIA.net.
Cooler Master Cavalier 1 on Viperlair.
PCViper UltraKit - Heatsink Lapping kit on 3DVelocity.
Sunbeam Samurai Mid-Tower Gaming Case on ExtremeMHz.
Swiftech H20-120-P Water Cooling Kit and Radbox on XYZ Computing.
Waffer Tech PCAirCon PAC 400 on ExtremeMHZ.

Keyboards/Speakers/Input Devices:
Microsoft Wireless Desktop Comfort Edition on Hardware Pacers.
X-Arcade Dual Arcade Joystick on Hot Hardware.
X-Ray Technology Thunder9 Mouse Pad on XYZ Computing.
I-Rock IR 7100 Mini Optical Mouse on Tech-Mods.
Crucial Hi-Speed Gizmo! 2.0 on Pyroport.
Logitech RumblePad 2 Vibration Feedback on TweakNews.
RCA WHP160T Wireless Headphones on A True Review.
Jazz Speakers Sound Walker (JS1301) on HardwareZone.
Logitech Cordless Controller for Xbox on ClubOC.

Video:
XFX GeForce 6800 GT 256 MB on The Tech Lounge.
ATI's Theater 550 PRO Video Processor on HEXUS.
Sapphire Radeon X800 XT ViVo 256MB on Beyond3D.
HIS Excalibur X800XT VIVO 256MB IceQII on Gruntville.
ASUS V9999 GeForce 6800 Gamers Edition 256MB on HEXUS.

Laptops/PDAs:
IBM ThinkPad T42 notebook on Trusted reviews.
Asus "MyPal" A716 PocketPC on PDA Today.




Press Releases (8 Comments) (link)
Wednesday, 15-September-2004 13:25:23 (GMT +10) - by Agg


AMD announced the most recent addition to its AMD Geode™ NX family of high-performance, low-power processors, the AMD Geode NX 1250@6W* processor. Based on the x86 architecture, the new processor is designed for solutions that require long-term market commitment such as thin clients, printers, point of sale, information and transaction kiosks and telecommunications networking equipment. More info here on their website.

Compro Technology announced two new TV tuning gadgets in their VideoMate line. The DVB-T300 is a PCI card capable of recieving both analog and digital TV signals, while the DVB-U2000 is a USB external digital tuner suitable for laptops etc. More info on both in this 35KB doc.

Intel has reached a significant milestone in developing next-generation chip manufacturing technology by building fully functional 70-megabit static random access memory (SRAM) chips with more than half a billion transistors. The new chips were manufactured using the world's most advanced 65-nanometer (nm) process technology. The achievement extends Intel's efforts to develop new manufacturing process technology every two years, in accordance with Moore's Law. More info on their website, thanks Ashley.

Plus Corporation, an OCAU Major Sponsor, announced they have been chosen as the PC manufacturer for the 2004 Sydney World Cyber Games this weekend. I can't find an official press-release but details are given in this thread in our forums.

Thermaltake announced four solitary water cooling components which are CPU waterblock, 12cm radiator, water lever indicator, and flow indicator this month. By use these four new components, users can arrange it for different situation and get whole new water cooling experience. More info on their website: waterblock, radiator, flow indicator, level indicator.

TwinMOS announced RS-MMC and mini SD cards, which are about only half the size of normal MMC and SD cards. They can be used on conventional MMC and SD card slots with an adapter. The RS-MMC and mini SD cards from TwinMOS made with innovative technologies and the latest packaging technology are available in a wide variety of capacities: 32MB, 64MB, 128MB, 256MB and 512MB. More info in this 820KB doc.

Verbatim Australia announced it will release 16x DVD+R disks in November, thanks Matthew. With the ability to record at about 21 MB/sec, the discs can store 4.7GB of video, photos, music or data files in about five minutes. Verbatim has working closely with verification authorities and leading drive manufacturers to produce this high-performance DVD+R media, certified for 1-16X DVD writing. More info on their website.

Zensonic (who are associated with an OCAU Major Sponsor) announced their Z150 universal remote control. The Zensonic Z150 universal remote control learns the infra-red signals for up to eight devices, and can then remember sequences of up to 20 button-presses. More info in this 51KB doc.



Bit of a large post tonight, enjoy. :)

OCWorkbench have a look at two Athlon 64 based motherboards, the DFI - LP UT nF3-250Gb which has scored some amazing overclocking results, and the ASrock K8Upgrade-760GX Socket 754 with upgradable 939CPUboard, which, as the name implies, allows you to upgrade to Socket 939 without having to change motherboard.

Speaking of Athlon 64 motherboards, OCInside has had a look at another Asrock Motherboard, the K8S8X, which has been remarked as one of the cheapest, best performing Athlon 64 motherboards currently available.

Ever wanted a decent, cost-efficient digital camera? Well The Tech Zone has had a look at the top five digtal cameras that you can buy for under US$200.

DesignTechnica has a look at the Scientific Atlanta Explorer 8000, which they describe as being the best and least expensive DVR option for those with digital cable..

Time to upgrade those standard headphones that came with your iPod ? Well CoolTechZone has a look at the Altec Lansing YO302WHT Headphones which might be a good upgrade.

Bleedin' Edge has a look at the new eVGA 6800 which has a nice bundled package for a good price.

Linux is getting even more support and popularity, thanks to its supporters.

Microsoft's insistent e-mail proposal to help identify senders has been labeled 'unacceptable' by MARID and associated authorities.

HardwareHell has looked at the Disc-Go-Pod which is a fancy little disc repair system. Pretty amazing on how this one can clean up CDs !

Need something to cool that toasty Prescott ? SilentPCReview has a look at the Thermalright XP-120, which is an all-aluminium 120mm 370 gram heatsink. Groovy!

Dan has a fairly in-depth review on the Sennheiser HD 280 Pro headphones.

Since USB keys are getting alot cheaper, they are becoming more and more popular, and Tech-Mods has a look at the JOGR 512mb 2.0 USB Flash Disk Drive to see if it is worth buying.

Mikhailtech have a contest to win free XtracPads!

3DGameMan has a video review on the FIC P4M-RS350 Motherboard which is a s478 board based on the new ATI RS350 chipset.

Frosty Tech has a look at the huge Scythe NCU-2000 which is a new fanless heatsink designed for the Pentium 4 and Athlon 64.

RBMods tests out the new Belkin Wireless Ethernet Bridge, I have to get me one of these!

SFFTech has a look at this unique looking 17" LCD from Shuttle.

PCStats looks at the Asus K8N-E Deluxe and how it stacks up to its counterparts.

OcPrices has a look at the Casetek IQ-Eye Case, which THEY think is good looking...

Overclockulator is a great little app that will be an overclocker's best friend! Various calculating functions aimed straight at the overclocker incuding a tool to add up your systems total wattage use, CPU and FSB calculations, Temp conversions and more. Get it from Pimprig.

Finally, HEXUS has a review on the Jetway PT800TWIN, which is a product that allows two users to use the same system - the same motherboard and CPU - simultaneously...



Hey everyone, I'm new to this newsposting thing, so please be nice to me! :)

Ben sent in news that Perpetual Entertainment have just announced that they are going to develop a Star Trek MMPOG.

For those ATI owners out there, you can now get the latest ATI Tool from Utopia Tech, and they also have an exclusive interview with the creator of ATI Tool, "W1zzard".

HEXUS has information on ATI's new All In Wonder card based on the X800 XT GPU.

This week PcMech has information on the latest OpenOffice.org, which is a powerhouse of an office productivity program that can replace MS Office for most home users.

FastLaneHW are giving away four 1GB sets of Corsair 3200XL-PRO memory, and so are we! You gotta be in to win !

Intel calls for an Internet Overhaul, saying that the Internet needs to be upgraded with a new layer of abilities that will deal with imminent problems of capacity, security and reliability...

Zzapped has informed us about this new Distributed Computing team that needs a few new members to get things kicking along, although they are already doing pretty well in the overall rankings.

HEXUS have interesting information about ATI being the first in the market to kick off PCI-E in the enthusiast sector.

ITNews have information about Intel's plans on moving to dual and multi-core processors and platforms, thanks Murray.

Adrian's Rojak Pot has an interesting review on the new Windows Media Player 10, and how they may have got it right this time!

Joystiq have a guide on how to turn your retro Nintendo controller into a fully functional PC USB Controller! Mad!

Bit Tech have a very interesting article saying Microsoft only ever gives away software when it expects to get something much larger in return for the effort...

And finally, Brazilian Scientists have cracked Coffee's genetic code. :)




Win Corsair Memory! (reminder) (1 Comments) (link)
Monday, 13-September-2004 15:31:43 (GMT +10) - by Agg


OCAU and Corsair Memory have teamed up to give away four packs of TwinX3200XLPRO memory. See the contest page for details:



Click for details!






Monday Morning Reviews (0 Comments) (link)
Monday, 13-September-2004 00:49:08 (GMT +10) - by Agg


Motherboards:
Four-way Socket 939 Motherboard Roundup on HotHardware.
ASUS P5AD2 Premium Wireless Edition LGA775 P4 on ViperLair.
Abit AA8 Duramax 925X LGA775 P4 on PC Perspective.
ABIT AV8 A64 S939 on A1-Electronics.
Asrock K8 Combo-Z S754 and S939 A64 on OCWorkBench.
Gigabyte nForce2 7NF-RZ socketA on HWZoom.
Gigabyte GA-K8NSNXP-939 nForce 3 Ultra on TechReport.
Albatron PX915P/G Pro i915 LGA775 on OCrCafe.
Intel D925XCV & D915GUX i9x5 LGA775 boards on LegionHardware.

Video Cards:
PowerColor Radeon 9250 on Phoronix.
Inno3D GeForce 6800 on OCrCafe.
PNY Verto GeForce 6800 Ultra 256MB on SharkyExtreme.
HIS Excalibur 9550 VIVO iFan Edition on ByteSector.

Cooling:
Vantec LPC-301 and LPC-305 Laptop Coolers on ClubOC.
Bonzai Mods Custom Hand Sculpted Fan Grills on Controlled-Insanity.
Thermaltake Bigwater Universal AMD & Intel CPU watercooling on A1-Electronics.

Cases:
Kingwin Mutant X on Bjorn3D.
Aerocool JetMaster on Tech-Mods.
Ultra Dragon on DriverHeaven.
iQ Eye 1020-2A on 3DVelocity.

Audio / Visual:
RCA Lyra 40GB audio player on GideonTech.
Leadtek Winfast TV200XP TV Tuner on Pheaton.
Aopen MVP player, Mpeg 1,2,4, MP3, WMA, Jpeg, Players on CDRInfo.
Zalman 5.1 Channel Headphone Amplifier on OCIA.
LG RU-52SZ61D DLP 52" HDTV on DesignTechnica.
Philips Ultimate Edge 5.1 soundcard on TechSpot.
Matrix Orbital MX412 mini-LCD on ClubOC.

Memory:
OCZ PC4000EL 1GB Dual-Channel Kit on ExtremeOC.
Corsair CMX512-4000PRO on HardExtreme.

Networking:
Gigabyte B49GU SOHO wireless router on DesignTechnica.
D-Link DWL-G650 Xtreme G Wireless Cardbus adapter on TheTechZone.
D-Link AirPlus Xtreme G DI-624 Wireless Router on TheTechZone.

Input Devices & Accessories:
Natural Point TrackIR 3-Pro head-movement tracker on ClubOC.
Mouse WireWeight on ATrueReview.

Storage:
USB 2.0 to IDE Cable on DansData.
BenQ DW1620A 16x DVD Recorder on CDRInfo.
Memorex D?_(F16) 16x DVD Recorder on CDRInfo.
Optorite DD1205 Double Layer format DVD Recorder on CDRInfo.
TDK 882N 8x Dual format DVD Recorder on CDRInfo.
TDK AID+1616DLN Dual Format DVD Writer on HWZ.
1GB Visiontek Xtreme 2 Go flash drive on ClubOC.
Coolmax Xtreme Files 3.5" external HDD enclosure on FastLaneHW.

Portable / Mini PC's:
Dell Inspiron 9100 gamer's laptop on TrustedReviews.
FIC Condor Mini Gaming PC (video review) on 3DGameMan.
Fujitsu Siemens Pocket Loox 420 PocketPC PDA on TrustedReviews.
Sony VAIO VGN-A117S widescreen laptop on TrustedReviews.
Soltek Qubic EQ3801A Mini-barebones on Xbit.

Misc:
Vantec Spectrum Fan Card & PCI Slot Covers on RBMods.
Pegasus Mobile NoteTaker digital pen on TrustedReviews.
Epson Perfection 4180 Photo Scanner on BIOSMagazine.
AMD Athlon 64 FX-53 S939 CPU on TweakTown.
Canon Rebel Ti SLR Camera on SLCentral.
Epowertec Puma True450 & Cougar 470 power supplies on ClubOC.
Driver Disk Desktop Pack on CreativeMods.




Sunday Evening (3 Comments) (link)
Sunday, 12-September-2004 18:21:53 (GMT +10) - by Agg


More coverage of the Intel Developer Forum on HWZ (and here), Hexus, (with more Intel and AMD info), LegitReviews and Xbit.

Unfortunately all is not well on the International Space Station, with the failure of some oxygen-generators onboard. The company that manufactured them has gone out of business, and the engineer who almost single-handedly made the final adjustments of flight units died several years ago. Reportedly he retained some "trade secret" about the final adjustments of the devices -- and it died with him.

TheTechZone have an editorial covering their thoughts on why Dell won't sell a Linux desktop.

Last month's "Iron Photographer" contest in our Photography forum is now open for judging. Go cast your vote in this thread. The theme was "Transportation".

Soc sent in The Rasterbator. The Rasterbator is a web service which creates huge rasterized pictures out of relatively small image files. The pictures can be assembled into extremely cool looking posters up to 20 meters in size!

PCStats explain safe mode in WinXP, while personal air filters are covered on FutureLooks.

Fatal1ty, the most successful professional gamer, was killing people at ECTS and talking to people on GuruReview.

OCModShop cover PCB etching, with moving to a laptop examined on PCMech.

Sniper noticed this TheReg article about the desktop market share fight between Intel and AMD. AMD-based desktops first outsold Intel-based machines this year in the week ending 24 April 2004 - the first time they have done so for some years.

Interesting Forum Threads:
It's a factory.. what else to add? in Graphics and Programming.
Argh, the waiting game is killing me! in SMP & Clustering.
Basic Nutrition in Sport, Fitness & Health.
Best way to get into photography in Photography.
Mushroom cloud reported in North Korea in Current Events.




Reminder: Brisbane BBQ & Bowling (1 Comments) (link)
Saturday, 11-September-2004 19:39:18 (GMT +10) - by Agg


Not sure if we've mentioned this before, it doesn't ring any bells for me. Anyway, tomorrow in Brisbane there is a BBQ followed by bowling. About 10am at the Roma St Parklands for the BBQ. Details in the thread!




H2gOChillie (3 Comments) (link)
Saturday, 11-September-2004 18:06:42 (GMT +10) - by Agg


Here's an interesting new entry to the PC Database. H2gOChillie uses a VapoChill PE system for super-cool CPU temps, with a WaterChill kit for the northbridge and video card. What's interesting is that the WaterChill hosing has been replaced with copper tubing, for an extremely tidy look:



Click for the PCDB entry! (9 pics)






Friday Afternoon Reviews #3 (4 Comments) (link)
Friday, 10-September-2004 16:48:16 (GMT +10) - by Agg


Video Cards:
Inno3D GeForce 6800 on DevHardware.
Albatron PCX GeForce 5750 on OCOnline.
HIS Excalibur X800 XT PE IceQ II 256MB on OCPrices.
ATI Radeon X800 Pro 256MB on TheTechLounge.
GeForce 6600GT on NeoSeeker.
ELSA Gladiac 940 GeForce 6800 128MB on EyeIT.
GeForce 6600GT on TrustedReviews.
BFG GeForce 6800 OC 128MB on Bjorn3D.
Sapphire X600 PCI-E on RBMods.
Chaintech Volari V3 on OCW.

Displays / TV:
Matrix Orbital MX422 USB mini-LCD on GruntVille.
NEC MultiSync VT670 projector on BIOSMag.
Sony HMP-A1 portable media player on DesignTechnica.
TwinHan VisionDTV USB-Terrestrial Digital TV Tuner card on GuruReview.
Samsung SyncMaster 172X LCD monitor on IPKonfig.

Audio:
Bantam BA800 mp3 player on HardExtreme.
Altec Lansing AHS602 gaming headset with microphone on TweakNews.
Philips PSC724 Ultimate Edge PCI sound card on HotHardware.
Altec Lansing AHS602 gaming headset with microphone on CoolTechZone.

Storage:
Swissbit Twist USB Flash Drive on ATrueReview.
Pioneer DVR-108 16X Dual Layer Burner on MikhailTech.
Enermax Aluminium 7-in-1 Card Reader on ClubOC.




Friday Afternoon Reviews #2 (0 Comments) (link)
Friday, 10-September-2004 16:27:56 (GMT +10) - by Agg


Mouse, Keyboard etc:
Razer eXactMat mousepad on SLCentral.
Logitech Cordless Desktop on Bjorn3D.
Logisys Xenix Keyboard on Phoronix.
Flexiglow Illuminated Multimedia Keyboard on GideonTech.
Razer Viper Optical mouse on XYZComputing.

Power Supply:
Six PSU Roundup on TweakTown.
Mutant Mods Reactor 480W on AllAMD.
SilverStone Fanless 300W (video review) on 3DGameMan.
OCZ PowerStream 520W on CoolTechZone.
Ultra Products Xconnect 500W on BigBruin.
Antec TruePower 430W on AusPCWorld.
HEC Silent385 on TechPowerUp.
CoolMax CR-500B on Bjorn3D.

Memory:
Kingston HyperX DDR400 on HWZ.
Ultra Products PC3200 512MB Kit on OCOnline.
Crucial Ballistix PC3200 on OCClub.
Ultra 1GB PC3200 on Phoronix.
OCZ 1023-PC3200 2-2-2 Platinum Rev2 on 3DXtreme.
Corsair CMX512-4000PRO on HardExtreme.




Friday Afternoon Reviews (0 Comments) (link)
Friday, 10-September-2004 16:10:54 (GMT +10) - by Agg


Cooling:
Gigabyte 3D RocketPro CPU cooler on Short-Media.
Armari InertX PF5080 cooling fluid on Hexus.
Spire SP441B0-F CoolWave on DansData.
Cooler Master XDream 3 cooler on Phoronix.
TITAN TWC-A04 Water Cooling Kit on Tech-Mods.
Artec HDD Cooler on GuruReview.
Danger Den TDX Waterblock on Hard-H20.
PolarFlo TT waterblock on ViperLair.
Zalman VGA Cooler on TecNation.
Nexus Tech AXP-3200 XP cpu cooler on TecNation.
XG Ice Age heatpipe P4 CPU cooler on ExtremeMHz.
Koolance Exos Al watercooling kit on DevHardware.

Fan Controllers:
Thermaltake XTunner on HWPacers.
mCubed T-Balancer on HardwareTest.
Spire Digipanel on PC-Base.

Cases:
Thermaltake Tsunami Dream on TheTechZone.
Chenbro SR20968 SATA server case on GruntVille.
Silverstone LC06 on EPIACenter.
Logisys Silver Phantom on HWPacers.
Cooler Master Cavalier T01 MidTower on Tech-Mods.




Friday Morning (0 Comments) (link)
Friday, 10-September-2004 00:01:11 (GMT +10) - by Agg


Intel's Developer Forum is on at the moment and there's plenty of coverage out there. Hexus have an intro and keynote speech, as well as DTCP/IP and multi-core technologies. Xbit have day one coverage, and a look at the show floor. Back to Hexus for DDR2 & DDR3 developments, as well as NVIDIA's presentation. They have more from Intel and some mobility info. HWZ also have day 1 coverage.

Lombers sent in this groovy Gmail Filesystem utility. GmailFS provides a mountable Linux filesystem which uses your Gmail account as its storage medium.

Also cool are these release-and-forget robots that fuel themselves by catching flies.

Microsoft have managed to patent the use of the Tab key to navigate between hyperlinks on a page.. sigh. Thanks Iroquois.

TweakTown pondered how computer audio is a forgotten component nowadays.

Short-Media attempt to explain dual-core technology, the buzzword of the moment.

Scott sends word that Autopatcher has been updated. This is apparently the all-in-one updater for Windows XP, Windows 2000, and Windows 2003.

Kamehameha notes that Sept 19th is talk like a pirate day. Yarrr!

There's some GeForce 6600GT voltmodding and overclocking on Xbit.

Dan has more letters, about brightening CRTs, long-lived batteries, power cable speaker cables, close-up telescopy, steel odour eaters, tiny helicopters, spud gun lighters, and pr0n.

BigWilly sent in this article about photonic wires being researched at the Uni of Sydney. But it will revolutionise the communications network, helping link the globe through light, quickly and cheaply.

More info from Intel in the form of an interview on PenStar.

Xbit compared two subnotebooks from ASUS, while GeForce 6800 Ultra cards from Leadtek and AOpen are examined on TrustedReviews.

Oosh was one of many who sent word of the Genesis probe crashing on re-entry. Main page for it here. The probe was collecting solar wind particles for analysis, it was supposed to be caught by helicopter on re-entry but, it's parachute didn't deploy and it crashed. :( Hopefully they'll be able to recover something useful for analysis. More info here and here. An image of the impact here. More info here on NewScientist.




Australian Embassy Bombing in Jakarta (1 Comments) (link)
Thursday, 9-September-2004 19:18:26 (GMT +10) - by Agg


No doubt you've already heard, but the Australian Embassy in Jakarta, Indonesia, was car-bombed today. The latest stories are reporting 6 dead and over 100 injured. Our thoughts are with those caught up in this. There's a thread here in our Current Events forum.




Thursday Afternoon (9 Comments) (link)
Thursday, 9-September-2004 14:33:05 (GMT +10) - by Agg


Shacknews report on a DOOM3 Beta Patch that adds, among other things, widescreen support.

In a move that will go some way to silencing the security-related sniggers of Mac OSX snobs, Apple have released 15 patches for security flaws.

Wired report that spam and popups, probably the most annoying way to advertise on the internet, are, also annoyingly, not as ineffective as we'd like to hope.

The Wall Street Journal has an interesting article about hardware hackers having fun while voiding their warranties.

There's a report on Yahoo that the floppy disk is becoming a relic of the past. No kidding! I haven't had a floppy drive in any of my PC's in years. "People say they want a floppy drive, and then I ask them, 'When was the last time you used it?' A lot of the time, they say, 'Never,'" Bhakta said. I remember ranting in my VapoChill Mk2 PE review about the drivers only coming on floppy at the time. Do they come on CD now?

AnandTech have an editorial covering the history of desktop graphics processors from ATI and NVIDIA.

Guru3D spotted some benchmarks comparing NVIDIA's GeForce 6600 with the not-yet-announced Radeon X700 from ATI.

Lexmark has a recall of some shocking printers. This recall affects the E232, E232t, E330, E332, E332n and E332tn models.

Samsung have a phone on the way with a tiny hard-drive inside. The phone is equipped with a one-inch diagonal 1.5 gigabyte hard disc drive that expands the memory capacity of mobile phones from the conventional 100 megabyte.

The NZ-based supercomputer used to create Lord Of The Rings effects is up for hire now. The supercomputer itself comprises 504 IBM blade servers, each of which contains two 2.8 Gigahertz Intel Xeon processors, 6 Gigabytes of memory and 40 Gigabytes of storage. Hmm, what wouldn't our Folding@Home Team do for an hour alone with that.

On a grander scale, the world's largest computer grid with over 6,000 computers at 78 sites, is supposed to be tested this week. Wouldn't the various distributed computing projects count as a larger grid than that? Anyway, this is another knock-on effect from the Large Hadron Collider which will come online in 2007 and produce about 15 petabytes of data per year, which needs to be shuffled around and crunched. It's the reason for the internet speed record testing we first linked on Monday Morning, too. High-energy physicists are excited about the LHC because they hope it will allow them to find the Higgs boson, a theoretical particle that they believe creates mass.

If you've decided that SP2 is not for you, you can hold off this Windows XP patch for 240 days now. At the end of this period, Windows XP SP2 will be delivered to all Windows XP and Windows XP Service Pack 1 systems. I guess you can still do what I'm doing, and not tell Windows Update to actually go ahead with the install just yet. I notice the October issue of APC magazine, as well as having a fascinating 2-page article about installing a watercooling kit, written by one of the most attractive, witty and modest technology writers around, also includes WinXP SP2 on CD.




Wednesday Morning (22 Comments) (link)
Wednesday, 8-September-2004 03:27:05 (GMT +10) - by Agg


Hurricane Frances has torn its way through Florida, with damage even affecting the Space Shuttle program.

A couple of long-standing maths puzzles may be on the brink of being solved - which may not necessarily be a good thing. Suddenly all cryptic codes could be breakable. No internet transaction would be safe.

Tip: If someone hands you a $200 note, it's probably not real. The back of the bill features lawn signs saying things such as "We like broccoli."

TheAge have some more info on Logitech's laser mouse, the MX1000.

Sniper spotted this TheInq story about doubling the response speed of LCD pixels.

Timbot sent in a big list of motherboard BIOS updates, while Digit-Life warn that a new BIOS is not necessarily better. I found this out back in the P3V4X days.

HardCoreWare looked at the performance effect of WinXP SP2. SP2 arrived in my Windows Update yesterday, lucky me. Going to wait a while before I install it, I think.

ABIT had a "hardware festival" recently, covered here by Hexus. They also checked out the PC speed building contest and have their wrapup thoughts on the ECTS 2004 show.

A timewaster from Fenix: This isn't really web based, and it's 200mb. But! It is really cool. It's a demo for a very innovative style of game. Think Dungeon Keeper vs Austin Powers. The gameplay rocks, the graphics are slightly cartoony. IGN have been singing its praise for quite some time. Well worth the 200mb dowload, unless you're on dial-up.

TheRake sent word of a Sydney Car/Bike Cruise coming up in early October. I remember one of the first "car cruises" I linked on the news page ended up with this happening, so take it easy, hmm? :)




Sydney Storm Photos (12 Comments) (link)
Wednesday, 8-September-2004 02:08:32 (GMT +10) - by Agg


Quite a few people have sent in these pictures of the recent thunderstorms in Sydney. I don't know the original source, but they seem to be doing the rounds via email and in various forums. Spectacular stuff:







GeForce 6600 GT (1 Comments) (link)
Wednesday, 8-September-2004 01:12:20 (GMT +10) - by Agg


NVIDIA have released their GeForce 6600 GT. This is their "mainstream" GPU/card, intended to provide plenty of real-world grunt and current GPU features at a more sensible price than the top-end cards.

(P)Reviews and info on AnandTech, HardOCP, Beyond3D, Bit-News, HotHardware, Hexus, Tech-Report, Guru3D, Xbit (and here), PC Perspective and NVNews.

There's a thread in our Video Cards forum here discussing this new product.




Win Corsair Memory! (43 Comments) (link)
Tuesday, 7-September-2004 13:33:23 (GMT +10) - by Agg


OCAU and Corsair Memory have teamed up to give away four packs of TwinX3200XLPRO memory. See the contest page for details:



Click for details!






Dual 2.5GHz G5 Liquid Cooling (7 Comments) (link)
Tuesday, 7-September-2004 00:44:17 (GMT +10) - by Agg


Apple's dual 2.5GHz G5 comes with a liquid-cooling solution as standard, to keep the heat under control without massive noise. Scott pulled one apart and sent us a few pics of the cooling system: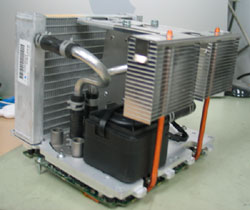 Click for the article!






Archive Updated (0 Comments) (link)
Monday, 6-September-2004 16:30:41 (GMT +10) - by Agg


I've updated our Reviews and Articles Archive with some content from the last few weeks. Check these out if you missed them the first time around:

GeForce 6600 (NV43) preview info.
Antec NoiseKiller 80mm fan-quietening kit.
Time Warp Computer Pricing article.
Xice ExternalCool watercooling kit.
The Snarf's Shuttle Project article.
Yeou Chih YCC-63F1 server case.

We also updated our SiSoft Sandra mirror page with a new 2004 SP2b version recently.




Press Releases (3 Comments) (link)
Monday, 6-September-2004 13:47:23 (GMT +10) - by Agg


Asetek, Danish manufacturer of the WaterChill and VapoChill range, announced a swathe of new products. They have watercooling kits for hard drives, socketT (LGA775) kits for their existing products and some "dress up kits" which seem to be different-coloured panels. More info on their website.

Zensonic (who are affilated with an OCAU sponsor) announced a 5.1 surround speaker system which delivers thundering home theatre sound at a breakthrough price point of AU$999 and shipping in October. The Zensonic Z800 range of speakers use aluminium cones previously found mainly in pro audio speakers. Aluminium provides superior stiffness for powerful home theatre sound with negligible distortion. More info on their website.

Australia's Attorney-General has asked the Classification Review Board to review the classification of the computer game Manhunt. On 15 October 2003 the Classification Board classified Manhunt MA15+, with the consumer advice 'Medium level animated violence'. In Australia, the MA15+ category is legally restricted. Material classified MA15+ is considered unsuitable for persons under 15 years of age. More info in this 43KB DOC file.

ASUS announced their "Star Ice CPU Cooler". Advanced airflow management combined with copper heat sink and heat pipes enable the Star Ice to support high-performance gaming systems based on LGA775, Socket 478, K8 and K7 platforms. It is a convenient and cost-effective cooling solution for those who upgrade their system by switching between platforms. It's also freakin' huge, looking like a jet engine strapped to your motherboard. More info and a pic in this 39KB DOC file.

Cooler Master released a statement assuring everyone that they are, in fact, the designers of the Wave Master case. Apparently someone else tried to lay claim to the design recently, but Cooler Master are adamant that their designers did all the hard work. Alrighty then. More info in their forum.



Systems/Laptops/PDA:
Dell Inspiron 5150 at WarCry

Memory:
Crucial Ballistix PC2-5300 (DDR2-677) video review at 3DGameman

Mainboard:
Gigabyte K8 Triton GA-K8NS Pro at HEXUS
DFI LanParty UT 915P-T12 at Legion Hardware
Gigabyte GA-K8NSNXP-939 Motherboard at PCStats
Abit's AV8 motherboard at Tech Report

Storage:
SanDisk Cruzer micro & MP3 Companion at Trusted Reviews
Eksitdata USB virtual HDD key at Red&Blackness Mods
64mb Victorinox SWISSMEMORY Knife at A True Review
Liteon SOHW-832S 8x8 Dual Layer DVD+/-RW at 3DX
Data Castle SATA Rack BT32 at Hard-H2o

Video/Monitor:
Gainward 6800GT 2400GS at PC Unleash
Samsung SyncMaster 173P at Trusted Reviews
Samsung Syncmaster 193P LCD at Gideon Tech

Case/Mods:
Kingwin Mutant X Case at OCC
Chenming 602A Aluminum Case at Club Overclocker
A-Top Tech X-Blade Gaming Case at Tech-Mods
CoolerMaster Cavalier 3 Case at Tech-Mods

Cooling:
Swiftech MCX 6400-V Heatsink at OCIA
Jetart Xcool NP5000 Laptop Cooler at Extension Tech
Poseidon WCL 02 & 03 Cu Watercooling Kit at OC Online
Zalman ZM-2HC1 Heatpipe HDD Cooler at Frosty Tech
Microcool NorthPole Northbridge Cooler at XYZ

Power Supplies:
Logisys Glacier 500W PSU at Phoronix
Thermaltake TWV480 Total Watts Viewer PSU at Big Bruin

Misc:
Sennheiser HD280 Professional Headphones at OC Wizard
Samsung Yepp YP-780V 256MB Digital Audio Player at Tech-Mods
Canon PIXMA iP4000 Printer at Bios Magazine
Gigabyte B49GU Router at DesignTechnica
Razor Viper Mouse at ClubOC




Monday Morning Pics (16 Comments) (link)
Monday, 6-September-2004 02:06:08 (GMT +10) - by Agg


klif-e sent in some funny office pics for a Monday. I'm not sure of the original source, but the series seems to be "why you shouldn't annoy your co-worker"..



Here's a couple more in that series. The last pic is from mpot, who suggests it's a pic of someone who takes OCAU way too seriously. I hope that monitor is secure!







Monday Morning (7 Comments) (link)
Monday, 6-September-2004 00:25:18 (GMT +10) - by Agg


Despite all those nasty MP3-copying music pirates killing the music industry, BMI had a record profit in the 2004 fiscal year, report ArsTechnica. They also mention Google issuing a takedown notice to a Google parody site. Hope they don't get too grumpy about our search page.

Caltech and CERN have set another internet speed record, hitting 6.63 gigabits per second over 15,766 kilometres. This record speed of 6.63Gbps is equivalent to transferring a full-length DVD movie in four seconds.

Chris spotted a story on TheInq about ATI's X700, their upcoming midrange GPU, aimed squarely at NVIDIA's GeForce 6600 range.

HotHardware compared the GeForce 6800 Ultra and Radeon X800 Platinum in Doom3 and, more interestingly, Counter Strike Source. DOOM3 seems to favour the NVIDIA hardware, but is that true of the engine that will power Half-Life 2?

Smack01 sent in this warning rant about CCFL inverters used for case lighting. I will admit that the cathode is a bright lighting solution but they are no where near as bright as the fire they can sometimes cause.

I think ABIT currently hold the "confusing motherboard names" crown, with their newish NF7-S2 being a different product to the popular NF7-S v2. Phoronix compared these two socketA motherboards and explained the differences.

"EGN + GSL" is another gaming industry tradeshow in London, with coverage from Accelenation and Hexus.

Digital-Silence have a guide to using thermal adhesive to stick things to hot things.

LostCircuits used a 64-bit application called Panorama Factory to benchmark 64-bit environments.

Tom spotted a 4GHz desktop machine from Alienware.

Sudhian have a ranty editorial about how the Dell model, which seems to be mostly about RAM, affects PC users and the industry.

Dan wrote quite a lot about little weights for your cables.

TweakGuides updated their Catalyst Guide to include the new Catalyst Control Centre.

Here's a pile of links from Tekka: Don't Wait for Longhorn: Copernic Releases Instant Desktop Search Tool. First Look: Rio's Hot New Carbon MP3 Player. Blu-ray Disc To Support MPEG-4, VC-1. Microsoft: Spyware Could Bungle SP2 Update. Government finds witness in RAM price-fixing probe. Atari to Beta Test New 'Pirates!'. Flaw Found in Windows XP SP2.

Interesting Forum Threads:
Just found an easter egg in Winamp in General Software.
Theoretical use of Gallium as a coolant in Extreme Cooling.
Raid 0 - don't bother in Storage, Backup & Memory.
iPod, the final decision in Audio Visual.
Does racing game experience help you learn to drive in reality? in Motoring.
Modifications for fuel efficiency? in Motoring - Technical.




Sunday Evening (2 Comments) (link)
Sunday, 5-September-2004 18:35:37 (GMT +10) - by Agg


IBM are recalling over half a million notebook power adapters due to a heat/shock/fire danger, thanks Wolfy. The adapters, manufactured by Delta Electronics, are said to be included in the systems sold between January 1999 and August 2000. The main systems being recalled include IBM's ThinkPad i Series notebooks and ThinkPad 390 and 240 series.

Games publisher Acclaim has collapsed into bankruptcy. Acclaim became embroiled in controversy over the Mortal Kombat series, developed by Midway Games. The title was the first to use images of blood and pushed the limits with its explicit violence.

Gigitt notes that Stanford have released the Folding v5.00 clients. Home Page here, downloads here. For more info about Folding@Home, check out our Folding Team page or our Team OCAU - Distributed Computing forum.

PodgeSSS spotted this heatproof glass that could save on air-con bills.

From Kyocera: Official release of Windows Media Player 10 here. Also be sure to download this new Vis for WMP10 *clouds etc* called Energy Bliss.

Here's a few classic arcade games playable on the Web. Maybe bookmark that one for tomorrow.

Pheaton tested some mousepads in the real world. Trying out a new mouse pad is always fun but the one thing you don't know is how that surface is going to perform after it has been through some long gaming sessions or had a few drinks spilled on it.

Callan sent in this jet-powered wheelchair. Wheee!

Short-Media show how to clean a laptop heatsink. My VAIO intake is full of dust, I should probably sort it out before summer hits.

PCMechanic looked at the open-source project FileZilla. Wolfy introduced me to this FTP client last weekend and I've become a convert.




Saturday Morning Reviews. (0 Comments) (link)
Saturday, 4-September-2004 09:49:50 (GMT +10) - by Wolfy


Let's start the weekend with a bunch of reviews.

Systems and Components
Condor, a Small Form-Factor Barebone System from FIC, unfortunately you can't overclock it.
Opus TT-501 Titanium Tiny Tower has some interesting features for a mATX case.
Armari T900-GT PC a PCI Express based system.
Quiet PC AcoustiPack Deluxe, lots of foam, gaskets and rubber to make your PC quieter.
510W Danish Chill Innovation CP-510A, a fancy name for a quiet PSU.

Motherboard
Albatron PX915P Pro a PCI Express/LGA 775 board.

Storage
Sony DRU-700A DVD Writer, with a a better software package and faster write speeds say Designtechnica.
Gigabyte 8X DVD+_RW W0808A, another package that says "DVD dual" but it's not a dual layer burner.
Ximeta Netdisk 80 gigabyte its a ... errr ... backup device ... thing.

Video
Leadtek WinFast A400 Ultra TDH, the performance comes with a price says Xbit Labs.
HIS Excalibur X600XT VIVO Limited Edition, at Legion Hardware.

Cooling
Thermaltake Jungle512 for the new socket 775 Intel CPU, it works but its loud.
Waffer PC AirCon PAC 400 an interesting looking peltier PC case air conditioner.
Thermalright XP-120 a quiet P4 cooler with a 120mm fan.

Memory
Corsair TWINX1024-3200XL (DDR400), HardwareZone give it 5 out of 5.

Accessories
i-rocks IR-7300 and IR-7100 800dpi two Mice, a big one and a little one.
Logitech Z-2200 Speakers, THX certified 2.1's.




Demonica's Lego Case (12 Comments) (link)
Friday, 3-September-2004 11:39:08 (GMT +10) - by Agg


We've seen a few Lego cases over the years, but they've always been PC's squeezed into unusual shapes - a castle, an animal, or sometimes a small box. Demonica's Lego case is simply that, a traditional PC tower case, but constructed entirely of Lego:



Click for the PCDB entry! (15 pics)






Friday Morning #2 (0 Comments) (link)
Friday, 3-September-2004 10:50:48 (GMT +10) - by Agg


Dual-core CPUs are a hot topic this week. AMD released a PDF announcing their demonstration of a 90nm dual-core CPU. AMDZone offer their thoughts on this, as do EETimes and InfoWorld. AMD claimed it is the first company to directly connect two cores on the same die along with the memory controller, I/O and other processors.

Not to be outdone, Intel will apparently demo their first multi-core CPU at the IDF next week. Intel has said it will ship Montecito, a dual-core Itanium chip in mid-2005, making it the lead candidate for Otellini's demo. The company has also discussed plans for a dual-core X86 Xeon, but said it may not ship that part, called Tulsa, until 2006. Overclockers.com have published their thoughts on dual-core technology - mostly concerns about heat.

The SETI@Home project is in the news today, with reports it received a signal which could be from intelligent beings outside our solar system. Apparently, they are on a frequency which experts claim aliens are most likely to use. Other, more practical theories include hackers from Houston and even hairdryers in Hong Kong. There's a more level-headed statement here on Planetary.org. While this makes SHGb02+14a interesting, the chances that it actually represents an intelligent signal from beyond remain extremely slim. ... The Search for extraterrestrial intelligence continues at full speed, but as of now there is no breakthrough. OCAU has a SETI@Home Team which you can join if you want your CPU's spare processing power to help hunt for aliens.

Update: Iroquois spotted this article even more strongly downplaying this SETI development. "It's all hype and noise," said its chief scientist, Dr Dan Wertheimer. "We have nothing that is unusual. It's all out of proportion."

Kyle from HardOCP has his thoughts on NVIDIA's SLI two-videocard technology posted on ComputerPowerUser. From what information NVIDIA has shared with me, it looks as though a new SLI setup could give increased frame rates by up to 90%.

It seems Gateway will be the first to ship BTX systems. First highlighted at last year's Intel Developers Forum (IDF), BTX was developed as a follow-on to the widely used ATX (define) form factor. Intel expects to eventually replace ATX as the industry standard.

Maxtor have extended the warranty on their entry-level drives from one year to three years. This follows on Seagate's recent announcement of a 5-year warranty on all hard drive products.

ZZZ have published their 200th issue, full of the usual interesting sci/tech tidbits.



Murray sent word of a new laser mouse from Logitech, with a review here. LoneWolf spotted this story about it. Because the laser light used in the MX 1000 relies on a short wavelength, the MX 1000 mouse is approximately 20 times more sensitive to surface details than conventional optical mice, according to the company. They also have ladybug and football mice now.

Always good news: chocolate is good for you! However, don't plan a daily meal of chocolate because the researchers warn the weight gain from eating too much chocolate would cancel out the benefit. Awww.

Everyone's talking about the new ATI Catalyst Control Centre today, but on the NVIDIA side of things IANAG looked at coolbits for overclocking and other features. I covered coolbits back in 2002 here.

The Electronic & Computer Trade Show is on at the moment in London, with some coverage on Accelenation. Hexus have reports on ATI and Shader Model 3.0, an end to the filtering war and no more DirectX.

Interviews are a big item today, with professional gamer Fatal1ty interviewed on Hexus and Richard Huddy from ATI on 3DVelocity. There's an interview/ad with a waterjet cutting guy on Controlled-Insanity while two people from Nintendo chatted with Bytesector. CreativeMods have their modder of the month answering a few questions, too.

From crag_v: In my shop today we've just discovered that any Windows box running XP SP2 will not power up any USB device that draws more than 500mA - this includes many 'must-have' devices like my USB Thumb drive that I use around the shop! This applies to computers using either Intel ICH5 or ICH6 (I/O Controller Hub) and (unofficially) machines running SiS chipsets - VIA machines (for example) don't seem to be affected. More info here. From Microsoft: "To work around this issue, you must power the USB device by an external power source if one is available..." Oh thanks, Bill, I'll just break out my power brick and plug it in to my thumb drive, shall I?




Catalyst Control Centre (0 Comments) (link)
Friday, 3-September-2004 00:50:56 (GMT +10) - by Agg


ATI has a new Catalyst Control Centre user interface for their video card drivers. Coverage on Beyond3D, HardOCP, HotHardware, Hexus, NeoSeeker, TweakTown, Bit-Tech and DriverHeaven. There's a thread here in our Video Cards forum discussing this new utility.




Thursday Midday (7 Comments) (link)
Thursday, 2-September-2004 12:38:46 (GMT +10) - by Agg


Here's a roundup of motherboard roundups: HardCoreWare compared four 925x motherboards for your LGA775 P4. TweakTown looked at four socket754 A64 motherboards from Gigabyte, MSI, ASUS and Shuttle which are based on nVidia's nForce 3 250 and 250GB chipsets, and went on to cover twelve i9x5 boards on the LGA775 side as well. HotHardware follow up with a 915P roundup of three boards.

DSLWebserver report on screen burn-in on LCD monitors and how to avoid it.

BleedinEdge had a think about how software distribution could be streamlined.

People from the University of Queensland have invented a new spam firewall, thanks Slayme40.

SLCentral set out to build a Shuttle Gaming XPC for under USD$1000.

A few people sent word that Apple launched their new G5 iMac recently. It takes the form of an LCD screen about two inches thick containing all the other components of the computer. There's an interesting editorial here musing on the iMac's importance to Apple in the wake of their iPod and iBook/PowerBook products. One of SLCentral's editors made the switch to Mac recently and detailed his experiences.

HardAvenue looked at a few future broadband solutions.

ArsTechnica have a Performance/Ultimate Gaming Box System Guide.

m@t reckons he went from 5fps to 40fps in Doom3 by following this Doom3 ATI tweak guide.

MS confirmed the 2006 launch for Longhorn, their next operating system, but won't be including their new search technology just yet.

Xbit compared two office notebooks from Acer and ASUS.




Thursday Morning Reviews #3 (0 Comments) (link)
Thursday, 2-September-2004 03:32:10 (GMT +10) - by Agg


Motherboard / CPU:
ABIT AV8 S939 A64 board on DriverHeaven.
ASrock P4 Combo Board Socket 478 + 775 on OCW.
Gigabyte 8TRS350MT 9100 Pro P4 board on LegionHardware.
ASUS A8V Deluxe S939 A64 board on TechReport.
Shuttle AN51R NF3 250 A64 board on OCClub.
Intel Pentium 4 550 (3.4GHz LGA775) on Bjorn3D.

Memory:
PDP Systems Patriot PC3200 on TechFreaks.
Mushkin LII V2 PC3200 & OCZ Gold Rev 3 PC3700 on Bit-Tech.
PQI PQI3200-1024DBU - Low Latency Turbo DDR400 on HotHardware.

Audio:
Bluetake HI-PHONO BT460EX Bluetooth Hi-Fi Audio Station Kit on Hardware-Pacers.
Altec Lansing AHP-512 Headphones on CoolTechZone.
Gainward Hollywood@Home SoundXplosion 5.1 Headset on GuruReview.
Rio Nitrus 1.5 GB MP3 Player on FastSilicon.
Ultrasone HFI-550 Headphones on CoolTechZone.

Misc:
Logitech Precision XBOX Controller on InsideProject.
SeaSonic Power Angel power monitor on BigBruin.
Samsung ML-2152W Wireless Laser Printer on FutureLooks.
Evesham Axis 35/939 Gaming PC on TrustedReviews.
SonyEricsson SE K500i Triband Mobile Phone on OCW.
ACRyan BackyT external connectors on MadShrimps.
Hitachi 57S700 HDTV on DesignTechnica.
Laptop Desk UltraLite laptop protector on Futurelooks.
Yeong Yang YY-5601 Mars ATX Mid-Tower Case on 3DXtreme.
Samsung SyncMaster 213T LCD monitor on SLCentral.




Thursday Morning Reviews #2 (0 Comments) (link)
Thursday, 2-September-2004 03:03:53 (GMT +10) - by Agg


Cooling:
Scythe Samurai CPU Cooler on TrustedReviews.
Thermaltake Venus 12 K8 Cooler on Bjorn3D.
Waffer PC AirCon PAC 400 system cooler on A1-Electronics.
Thermaltake Fanless 103 passive CPU cooler on FlickerDown.
Thermaltake Polo 735 3-in-1 CPU cooler on AllAMD.
Vantec VA4-7245 Aeroflow 2 Socket A Heatsink on FrostyTech.
Swiftech Radbox radiator housing on SystemCooling.
CoolerMaster CoolPad notebook cooler on ARP.
Asetek Antarctica CPU Waterblock on DreamWareComputers.
nPowerTek TTIC NPH-201 Socket A Heatsink on FrostyTech.
Thermalright NB-1C CPU cooler on InsaneTek.
Zalman Reserator 1 watercooling kit on IPKonfig.
Tt BigWater H20 Kit on OCCafe.
Arctic Cooling VGA Silencer on JHawk.
Vantec Aeroflow 2 CPU cooler on FrostyTech.

Mouse Etc:
SteelPad S&S Gaming Surface on ByteSector.
Gigabyte GM-W6C Wireless Optical Mouse on HWZ.
Logitech MX1000 optical mouse on ExtremeTech.
Gigabyte Wireless Mouse & Keyboard on LegionHardware.

Storage:
SilverStone SST-SDP01 Portable USB 2.0 Card Reader on ModSynergy.
Nu Tech DDW-081 8x DVD+RW Drive on 3DXtreme.
Sil 3114 SATALink 4-Port PCI Host SATA RAID Controller on XbitLabs.
NEC ND-3500A 16x DVD+-RW 4x Double Layer Writer on ExtremeMHz.
In-Win CR-I530 10-in-1 Card Reader/Writer on NinjaLane.
MSI XA52P SATA CDRW/DVD-ROM on CDR-Labs.
Swiss Army USB Knife on TheTechZone.
Pioneer DVR-180D DL DVD burner on AnandTech.
ASUS SCB-2408-D external CDRW/DVD drive on LostCircuits.




Thursday Morning Reviews (0 Comments) (link)
Thursday, 2-September-2004 01:07:28 (GMT +10) - by Agg


Right, I'm back home now, so should be clearing out the newsbox over the course of today. Let's start with some reviews.

Small Form Factor / Portable PC's:
FIC Condor mini-barebones on TechReport.
HP iPAQ rx3715 Pocket PC on TrustedReviews.
Rock Pegasus Ti Widescreen Notebook on TrustedReviews.

Video Cards:
NVIDIA GeForce 6600 GPU on CoolTechZone.
Sapphire Radeon X800XT Platinum on TheTechZone.
HIS Excalibur X600XT VIVO LE on ViperLair.
HIS Excalibur X600XT iCooler VIVO LE (video review) on 3DGameMan.
HiS Excalibur X600XT PCI-Express on Metku.
PowerColor Radeon 9250 on BuddhasLANRoom.
PowerColor Radeon 9250 on PCStats.
Sapphire Toxic X800 PRO VIVO on Beyond3D.
HIS Excalibur X600XT PCI Express on TheTechZone.
ASUS Extreme AX600XT/HTVD PCI-Express on ViperLair.

Power Supplies:
Silverstone SST-ST30NF on DVHardware.
SeaSonic Super Silencer SS-400AGX on Phoronix.
Thermaltake Silent PurePower TWV480 on SystemCooling.
HEC SilentOP 385 on Hi-TechReviews.
Antec NeoPower 480W on AScully.
Ultra Products X-Connect 500W on XYZComputing.
QTechnologies Model 350G & AcoustiFoam on OCIA.
Epower Lion 450 Fanless on HTPCNews.



---
Advertisement:


All original content copyright James Rolfe.
All rights reserved. No reproduction allowed without written permission.
Interested in advertising on OCAU? Contact us for info.