December 2004

Cooling:
Asetek Antarctica Socket 775 on RBMods
Arctic Cooling Freezer 7 CPU Cooler on Techniz
Thermaltake POLO 735 extreme 3 in 1 cooler on PC-Base.net
Thermalright SI-97 Heatsink on OCIA
Zalman CNPS7700-Cu 120mm CPU Cooler on The Tech Lounge
Zalman VF700-AlCu GPU Cooler on Rojak Pot
OCLabs B3 PlexyBlock on PCmoddingmy
SilenX Ixtrema 120mm Copper CPU Cooler on Pimprig

Mouse:
Steelpad Qck+ on Hardware-Pacers

Video/Display:
Gigabyte Dual 6600GT "3D1" graphics card on OCWorkBench
Gigabyte Fanless 6800 Review on Neoseeker
MSI GeForce 6600 GT PCIe SLI Performance on Hardware Zone
Amptron 17" LCD-TFT Monitor on The Moditory

PSU:
OCZ ModStream 520W PSU on Viper Lair
Thermaltake PurePower 680w power supply on A1 Electronics
EZ Power Supply Tester on A True Review
Logisys Computer Pitbull 500W Power Supply Unit on BigBruin

Notebook/SFF:
Gigabyte N512 Notebook on Legion Hardware
Gigabyte N203 12.1-inch Centrino notebook on HardwareZone
Soltek QBIC EQ3501 Pro on HotHardware

RAM:
TwinMOS Speed Premium PC3200 on Tech Powerup

Motherboard:
DFI LANParty UT 915P-T12 Motherboard on Bjorn3D
Abit WI-1P on Hardware Analysis

Modding/Case:
SunBeamTech Molex Lighting Mods on TechTastic
Sunbeam Samurai Case on XYZ Computing
Sunbeam Lighting Accessories on OCIA
Lian-Li PC-V1000 Case on Viper Lair
ThermalTake Hardcano 13 on Bytesector

Misc:
SilverStonetek SST-FP54 on ExtensionTech
Mercury 6200W 5.1 Speakers on Spode's Abode




Wednesday Morning (0 Comments) (link)
Wednesday, 29-December-2004 11:10:08 (GMT +10) - by Agg


HWZ compared midrange GPUs, powering PCIe graphics cards. Madshrimps have a similar article posted.

ARP cover modding a Radeon 9800 Pro into a Radeon 9800XT here.

TCMag have some optimised ATI drivers based on the 4.12 Catalysts, while UtopiaTech have some omega drivers based on the same official version. Thhhza sent word of new NVIDIA Audio drivers for nForce 2, 3 and 4 products.

MadShrimps have an AthlonXP heatsink roundup, while OCZone looked at some coolers also. That article is machine-translated, but we cover some of them in our recent Large P4 Coolers roundup.

If heatsinks are your thing, you might remember the heatsink guide website. It's been quiet for a couple of years but Tillmann who runs it has revived it recently, with a new design, and plenty of new or updated articles.

Ricky noticed this interesting article about the gadget gap between Japan and the USA, but probably realistically between Japan and everywhere else. And, of course, the most incredible toilets in the history of humankind.

MadShrimps again, this time with a system guide in case you're shopping over the holidays. Phoronix ponder the advantages of internet vs bricks-and-mortar shopping.




Tuesday Afternoon (10 Comments) (link)
Tuesday, 28-December-2004 15:27:25 (GMT +10) - by Agg


The hybrid vehicle speed record has been broken. The stylish green Toyota Prius set the mark at 210.49 km/h on the 4.82km short course using a standard Hybrid Synergy Drive power-train - a mixture of 1.5-litre petrol engine and an electric motor.

Bit-Tech have chosen their Mod of the Month for Dec 04 - it's called AquaSphere. Built from scratch using aluminium and genuine carbon-fibre, this UV bad-boy isn't just a watercooled PC - it's a ROBOT too!

They also look at some Christmas Gadgets, while TechWareLabs suggest what to buy after Xmas.

TheTechZone cover backing up your data. Even high end hard drive manufacturers report an average failure rate of between five and eight per thousand every year.

The Huygens probe has separated from Cassini successfully, descending to investigate Saturn's moon Titan. Meanwhile, the International Space Station received some much-needed supplies including food recently.

Closer to home, another big rock approaches Earth, but this one seems more likely to collide with us than earlier ones. The threat posed by object 2004 MN4 has been graded by astronomers as level four out of ten on their warning scale - the first asteroid ever to be graded higher than level one.

Xbit has a dual core CPU primer. Our new article will introduce to you the new characteristics and peculiarities of the upcoming dual-core CPUs in great detail.

Intel's Dothan Pentium M CPU is examined on Sudhian. If you're an Intel enthusiast, the last eleven and a half months haven't been especially bright, especially when compared to the heady days of 2002 and 2003, when Northwood hadn't met a clockspeed it didn't like, and Canterwood could do no wrong.

High-Fidelity has updated the Time Wasters from the News Page thread in our Games forum. It now covers from March 2003 to December 2004, for your slacking-off enjoyment.




Monday Morning (9 Comments) (link)
Monday, 27-December-2004 10:45:37 (GMT +10) - by Agg


The big news of today is an unfortunate end to the year, with a 9.0 earthquake and tidal waves rocking SE Asia. Google have a thread running with the latest stories, thanks White Rhino. So far over 11,000 people have been reported killed. Relatives of Australians currently in the region can contact the DFAT hotline on 1800 00 22 14 for assistance.

ABIT's stockmarket woes continue, with the Taiwan Stock Exchange rejecting their request to allow their stock to trade normally.

OCOnline compared three P4 coolers in their latest roundup. OCAU recently compared Five Large P4 Coolers too.

Here's a cool idea, a parachute for small aircraft. Suddenly, an orange-and-white parachute as big as a house opened above the plane and gently landed his stricken aircraft in a rocky clearing.

CNN also reported on technology improvements in the Australian outback. Covering 24,000 square km (or about 6 million acres) of land, the station is the size of Belgium. With 16,000 cattle roaming, it is Australia's biggest cattle station and the world's biggest farm, six times larger than the biggest ranch in the United States.

Google released their 2004 Zeitgeist, showing the most popular search queries over the year. #1 is, of course, Britney Spears. Topping the "Computer Goods" list is tablet pc.

There's been a pile of Windows security exploits released, more info here.

TechSpot looked at three external TV Tuner / PVR devices from Transcend, Digistor and RTV.

BigBruin looked at five ways to backup your data.




Monday Morning Reviews (2 Comments) (link)
Monday, 27-December-2004 08:52:43 (GMT +10) - by Agg


Motherboard & CPU:
Albatron Mars PX915P Pro P4 board on OCPrices.
AMD Athlon 64 3200 939 90nm CPU on PenStarSys.
ABIT AV8 K8T800 Pro S939 A64 board on HardCoreWare.
Albatron PX915P-AGPe P4 board on LegionHardware.
VIA EPIA MII Mini-mobo and CPU on Hexus.
ECS 865PE-A7 P4 board on ByteSector.

Case & Modding:
SilverStone TJ05 case on PCModdingMy.
Sunbeam Lightbus lighting controller on 3DVelocity.
Ultra Wizard ATX case on Moditory.
NZXT Nemesis Elite tower on ClubOC.
SilverStone Lascala 10M Home Theatre PC case on ExtremeOC.
I-Star D-400L 4U Rackmount Chassis on ClubOC.

Mouse, Keyboard Etc:
Razer Diamondback Gaming Mouse on OCIA.
Steelpad S&S Mousepad on Tech-Mods, our review here.
Microsoft Wireless Optical Desktop Comfort Edition on XYZComputing.
GIgabyte GM-W9C Wireless Optical Mouse on PCStats.
Wacom Intuos3 graphics tablet on BIOSMag.
Steelpad QcK+ Gaming Mousepad on Whisptech.
Steelpad Steel Grip mouse tape on Whisptech.
Steelpad Cord Holder on Whisptech.
A4Tech BatteryFree Wireless Mouse on NeoSeeker, our review here.
Razor DiamondBack gaming mouse on HWZone.il.

Audio / Visual:
HKC 775CA 17" Flat CRT Monitor on Tech-Mods.
Aigo MP-P750 mp3 player on Hexus.

Systems:
Shuttle XPC SN95G5 S939 mini-PC on HWZ.
Dell Inspiron 9200 Laptop with 17" Screen on BIOSMag.

Misc:
Samsung SCX 4100 Multifunction Printer on GideonTech.
Motorola E1000 mobile phone on TrustedReviews.
Palm One Tungsten T5 PDA on InsideProject.




Sunday Reviews #2 (0 Comments) (link)
Sunday, 26-December-2004 22:09:40 (GMT +10) - by Agg


Cooling:
Alphacool Cape Copper Set CPU Watercooling Kit on Techniz.
PC AirCon PAC 400 on OCModShop.
ATake Phantom Robot ChipsMod IV chipset cooler on BigBruin.
Zalman CNPS7700-AlCu CPU cooler on NeoSeeker.

PSU:
TOPOWER 400W on OC-Service.
Seasonic Power Angel PSU test kit on PCStats.
Enermax Noisetaker 600W on Pimprig.
FSP BlueStorm 400W on HWZone.il.


Audio / Visual:
Iriver iFP 995 mp3 player on Hispatech.
Layafetter MediaReady 4000 media plater on DesignTechnica.
Matrix Orbital MX222 LCD Kit on Bjorn3D.
Dell W2600 26" LCD TV/Monitor on TrustedReviews.
Bluetake Bluetooth Adapter, Headphones and Audio Station on TheTechLounge.
Matrix Orbital MX212 LCD Panel on PCModdingMy.
iRiver N10 Digital Audio Player on TrustedReviews.
Cardo Wireless Scala-500 Headset on CoolTechZone.




Sunday Reviews (4 Comments) (link)
Sunday, 26-December-2004 19:02:32 (GMT +10) - by Agg


Hope you had a nice Xmas.. Santa brought me a flu, so I'll see how I go with the reviews before zonking out again.

Storage:
Corsair Flash Voyager 512MB USB stick on PCStats.
Corsair Flash Voyager on TheTechLounge.
Corsair Flash Voyager on 3DVelocity.
Talon ZL 4-150 SATA Controller on Xbit.
Seagate External 200GB Hard Disk Drive on Xbit.
Promise Technology ULTRA133 TX2 IDE controller on Phoronix.

Memory:
Kingston HyperX PC5400 on ViperLair.
Corsair TwinX1024-4400C25PT on PCStats.
Mushkin PC2-5300 vs. Corsair PC2-5400 on Metku.
OCZ PC2-4200EB: Reaching for DDR2-800 on Anandtech.

Video Cards:
ATI All-In-Wonder Radeon X600 Pro PCI-E 256MB on TweakNews.
Gigabyte 3D1 Dual 6600GT GPU (p)review on OCW.
PowerColor X700 Pro on PCStats.
Chaintech GeForce 6600GT AGP on OCModShop.
NVIDIA GeForce 6600GT PCI-E on PCModdingMy.




Driver's PC-Controlled Xmas Lights (9 Comments) (link)
Friday, 24-December-2004 02:00:11 (GMT +10) - by Agg


Driver takes his Xmas lights very seriously - he can even control them remotely via a wireless laptop. Check out the PCDB entry for more details of how it works:



Click for the PCDB entry! (7 pics)






Friday Morning (7 Comments) (link)
Friday, 24-December-2004 01:50:24 (GMT +10) - by Agg


ScientificAmerican have an interesting read about robot-human interaction. With a new robotics firm, Hans Moravec begins the journey from warehouse drones to robo sapiens .

BonaFideReviews wonder if nForce4 SLI is a wise upgrade path, thanks Thhhza.

SCO have seen a huge drop in licensing revenues over the last year, according to TheInq. In the same period last year its revenues from SCOsource were $10.3 million. This quarter its revenue was $120,000. Everybody say awwwwww.

HWSpirit cover unlocking the features of a "cut-down" video card.

DDsD sent word of some PHP vulnerabilities covered on Slashdot. Time to get updating.

SilentPCReview have a quiet PC project from a Kiwi.

OCW have a voltmod guide for ECS's N2U400-A motherboard.

TheTechZone cover how VoIP works in their latest article.

Rockstar Games have added GTA2 to the freely downloadable "Classics" section of their website.

Andrew sent in this parallel parking timewaster.




Boring Beige Box Blinged (3 Comments) (link)
Thursday, 23-December-2004 20:07:08 (GMT +10) - by Agg


Defyant's PCDB entry details his project to convert his boring beige tower to a box worthy of any LAN party. It's now watercooled, painted, has a window and a little LCD screen and, of course, some glowing bits:



Click for the PCDB entry! (11 pics)


Maybe some inspiration for those bored holiday days. :)




Thursday Afternoon (0 Comments) (link)
Thursday, 23-December-2004 17:45:01 (GMT +10) - by Agg


Beyond3D report on Mobility Radeon X800 for mobile graphics. I'm amazed that technology has arrived in portable form already. For a slightly less bleeding-edge solution, ARP cover the Mobility Radeon 9700 chipset.

There's an interesting read on dual-core technology over on GlobeTech.

ExtremeTech have an interview with David Kirk, NVIDIA's Chief Scientist.

TomsHardware published Part 1 of a huge CPU Charts article covering 111 processors and 3330 benchmarks, from 1995 to today. They also looked at two laptop stands recently.

Timbot sent in this strange mini AGP card on AkibaPC.

XYZ cover daisy-chaining UPS's.

Murray spotted this bizarre story about prison-pirated PlayStations. A FIVE-YEAR piracy investigation by Sony has discovered that its popular PlayStation game consoles were assembled in a Chinese prison, a news report has said.

Ben was one of a zillion people pointing out that Suprnova and some other sites providing BitTorrent links have shut down after attracting the attention of movie studios.

Yet more letters to Dan: More upgrade quandaries, driving speakers on the cheap, silly words for big numbers, two scams, and audiophile knobs.

Xbit have some more info about the financial concerns some people have about ABIT. ABIT refuted the accusations recently made against the company. ABIT stands by its financial reports and will continue to offer all assistance to the Taiwan Stock Exchange (TSE) in order that they are able to better understand the financial transactions of ABIT in 2004.




NVIDIA PureVideo (2 Comments) (link)
Thursday, 23-December-2004 16:27:10 (GMT +10) - by Agg


NVIDIA recently announced their PureVideo technology. GeForce 6 owners can enable this feature of their video cards with a new driver. The addition of PureVideo technology to the GeForce™ 6 Series of graphics processing units (GPUs) allows for accelerated playback of MPEG-2 and high-definition (HD) video content at home-theater levels of quality, resulting in crisp, vibrant and stutter-free video on any display.

Coverage on Anandtech, HardwareAnalysis, HotHardware and PC Perspective.



Cooling:
Thermaltake Water Cooling Accessories on Overclocker Cafe
Thermaltake Big Water 12cm water cooling kit on Madshrimps

Video:
nVidia GeForce 6600GT AGP on TweakTown
NVIDIA GeForce 6600GT PCI-E on PCmoddingmy
Chaintech GeForce 6600GT 128MB AGP on Techniz

Laptop:
Rock Quaddra 64 3.7 Laptop on Hexus

PSU:
SilverStone ST46F 460Watt Power Supply on 3DVelocity
Enermax Coolergiant 430W Power Supply Unit on Techniz

RAM:
OCZ PC4200EL Platinum Edition on ClubOverclocker
Corsair TwinX1024-4400C25PT Memory on Xtreme Resources

Network:
A.C.Ryan LAN.Ranger CAT6 Network Cable on MikailTech
OvisLink 54Mbps Wireless 4-port ADSL Modem Router on Techniz

Motherboard:
ASUS P5GDC Deluxe on Viper Lair
Albatron K8Ultra-U Pro ULi M1689 Socket 754 on OCWorkBench

Misc:
Vantec 11 in 1 USB 2.0 Card Reader on Techniz
Brother P-Touch QL-550 label printer on BIOS
Casebuy USB Vacuum on Hi-tech Reviews
CaseBuy USB Vacuum on HardwareHounds
Media Player Shootout on The Tech Zone
Microsoft Wireless Optical Desktop Comfort Edition on XYZ Computing



PCStats has a guide on how to create an unattended Windows 2000/XP Installation CD.

Hexus has had a chance to play with some of Scan International's new SLI systems.

A worm which attacks web servers running the popular phpBB discussion forum software to deface vulnerable systems spread widely across the net today. More info over on The Register.

News on IANAG about Microsoft buying GIANT, which was a fairly good company that made software such as Popup Inspector, Spam Inspector, along with other antispyware products. More info about this over on Australian IT, thanks Murray.

Bjorn3D had a look at the new Seagate drives with NCQ, and whether or not there is a performance difference.

There's more information on the dual cored 6600GT over on OCWorkBench.

TheWedgie sent in news about Toshiba's new 1.8" HDDs that use Perpendicular Recording.

Hardware Analysis has an even closer look at nVidia's 'TurboCache' technology that has been used on the new 6200 cards.

In this week's Opensource Spotlight on PCMechanic, they look at Frozen Bubble, which is a game based on a simple concept of matching coloured bubbles, but the more you play, the less 'simple' the game gets.

Rojak Pot has a comprehensive Mobile GPU Comparison Guide posted, covering over 35 mobile GPUs!

And my favourite topic, PimpRig has a review guide posted up that focuses on various caffeinated products.



Case:
Cooler Master Stacker on Hard-H20
iPAQ 2200 Handmade Exotic Leather Case on PDAToday

Motherboard:
DFI Lanparty 875-T LGA 775 Motherboard on HardcoreWare
Evesham Axis Nforce R nForce 4 Ultra on TrustedReviews
ASUS A8N-SLI Deluxe on Legion Hardware
Gigabyte K8NS Ultra-939 on Legion Hardware

Network:
D-Link Gigabit Wired/108Mbps Wireless Gaming Network on Bjorn3D
OvisLink 32-bit 1000Base-T Gigabit Ethernet Adapter on Techniz
Iconnect AP880G-Pro Wireless Turbo Router on HardwareZoom
OvisLink 5-Port SOHO GigaBit Switch on Techniz

Display:
Samsung 730MP LCD TV/Monitor on TrustedReviews
Twinhan DTV MagicBox and VisionDTV Mini Ter on Hexus
Galaxy 6600 GT AGP 128MB on Guru3D
ATI Mobility Radeon 9700 Mobile GPU on Rojak Pot
Mobility Radeon X800 (M28) on Beyond3D
Point of View GeForce 6800 GT on Beyond3D
Sharp LC37G4U 37" LCD TV on Bytesector

RAM:
Mushkin PC2-5300 DDR2 Memory on Hi-tech Reviews
OCZ DDR Booster Diagnostic Device on Auphan Online
OCZ Powerstream 600 on Bleedinedge.com



Keyboard/Mouse:
XTrac RipperXL Mouse Pad on ap0calypse
A4Tech KBS-2680RP Keyboard & Mouse Combo on CoolTechZone
Saitek Gamer's Keyboard on CoolTechZone
Steelpad QcK+ on The Moditory

Audio:
Ultra ULT31102 128MB MP3 player on SL Central
Netgear MP101 Digital Music Player on Dansdata
Datexx Pavio 30GB Personal Media Player on GideonTech

Powersupply:
Ultra Products X-Connect 500watt on 3DVelocity
OCZ PowerStream 600W Power Supply on CoolTechZone
OCZ ModStream Power Supply Roundup on CoolTechZone

Storage:
Transcend StoreJet 1.8in 20GB External HDD on MikhailTech
ATP Electronics 2GB Secure Digital Card on Auphan Online
Metal Gear USB/Firewire External 5.25" Bay on ExtremeMHz
Maxtor DiamondMax Plus 9 160GB HDD on MikhailTech
Shuttle CR40 DVD+RW DL 16x Burner on ClubOC
Vantec EZ SWAP 2 Removable Hard Disk Drive Rack on Techniz

Cooling:
Antec TriCool LED Fans on Phoronix
Danger Den TDX Waterblock on OCModShop
Enermax Multi-Function Panel on VH
ThermalTake Aquarius III watercooling kit on PimpedOutCases
Nexustek Disktwin on Rbmods
Koolance PC3-720SL Liquid System on Viper Lair
Sunbeam Chameleon on A True Review
Jetart JACSH1 Video Cooling Kit on ClubOC

Misc:
Sunbeam Tech LAN Party Bag on BigBruin
Casebuy USB vacuum on Rbmods
SunBeamTech Cold Cathode Kit on TechTastic
Sunbeam Lightbus on A True Review
iConcepts 4-Port Mini USB on MikhailTech
Motorola V400 Cell Phone (Mobile Phone) on Bytesector
Acer TravelMate 3201XMi on TrustedReviews
Epson Stylus Photo 300 on TrustedReviews
Macromedia Captivate 1.0 on BIOS



For those that haven't got around to playing Half-life 2, or are unsure whether it will run decently on their system, then you'll be interested in the Half-life 2 Demo that has been released. From Ausgamers: ...featuring some of the amazing digital actors and physical gameplay that has made Half-Life 2 the leading contender for Game of the Year 2004, the demo takes players through some of the early levels of the game and later transports them to the area of the game known as Ravenholm. Requires a steam account to install.

Get it from Ausgamers, Internode, ATI, Fileshack, or FilePlanet. There is a discussion about the release in our forums here.



AMDBoard report on an AMD-branded benchmark called n-Bench3. Measurement is performed by "CPU Benchmark" which measures CPU performances, such as integer operation and a floating point arithmetic, and "3D Benchmark" which used the real-time display performance of 3D graphics as the base.

TheTechLounge have a low-end buyer's guide, for those who don't need the latest and greatest. A1-Electronics meanwhile cover choosing a graphics card.

Here's an interesting page about assembling a motorcycle in a factory. Coincidentally, the same kind of motorcycle I recently rode from Perth to Sydney on!

Xbit wonder if new low-latency DDR2 finally gets a clear performance lead over regular DDR.

ExtensionTech cover modding Christmas lights to be powered by USB.

Damien spotted this Hydrogen-powered postie bike, created by the University of Tasmania.

TheTechZone have some ideas about recovering data from a crashed hard drive.

There's an interesting peer-to-peer program called Grouper covered on DesignTechnica. For those of you that have a tight circle of friends that want to share your personal media but are concerned about security, Grouper might be worth looking into as a possible solution.

Gary_J spotted some Sony PSP pics from E3.

SLCentral compared two smart watches from Suunto and Fossil.




Win a 12-LED Flashlight or an LED Keyring! (reminder) (0 Comments) (link)
Monday, 20-December-2004 22:03:15 (GMT +10) - by Agg


Tomorrow's the last day to enter this contest. OCAU sponsor Yen Industries have offered 5 of their 12-LED Torches and 5 of their LED Keyring Torches to OCAU members in a Christmas giveaway. What we're after is the funniest or most inventive use for a small, bright torch. Myself and a few admins will pick the best 5 entries and 5 runners-up. Yen Industries will then post the prizes direct to the winners.

Soooo.. get thinkin'! Post your entries in this thread.




Sunday Morning (1 Comments) (link)
Sunday, 19-December-2004 10:26:28 (GMT +10) - by Agg


Simon noticed these A64 Utilities and Updates from AMD, including a recently-updated driver. AMD Athlon™ 64 Processor Driver for Windows XP allows the system to automatically adjust the CPU speed, voltage and power combination that match the instantaneous user performance need.

PCWorld picked their weirdest games of 2004, while Guardian have some amusing Bad Science awards listed. Wired meanwhile are accepting nominations for their Vapourware Awards for 2004. Duke Nukem Forever, anyone?

Speaking of vapour, Gamers-Depot have an open letter to ATI regarding the unavailability of their high-end cards.

Hexus examined the performance of ATI's Catalyst 4.12 drivers.

OCNZ compared four S939 A64 motherboards.

Intel are keeping busy, with four and eight cored CPUs on the horizon. They also showed off some 65nm core photos at a recent conference. However HP and Intel have ended their partnership to co-develop Itanium. Dracott brushed off speculation that Intel would look to cancel the Itanium project altogether, saying that the acquisition of the HP team was "in and of itself a statement of commitment."

Dan has more letters. In this issue: Copper cases, garage sale speakers, doubling your DSL, computer chess complexity, and traitorous status lights.

If speakers are on your shopping list, this guide on eCoustics may help. THG compared three entry-level 5.1 systems.

Anandtech looked at the state of linux drivers for current GPUs.

TCMag have 10 Golden Tips for secure online shopping.

MSI have apparently made SLI work on an nForce4 Ultra motherboard - Hexus checked one out.

IBM and AMD have been working on strained silicon technology, thanks Murray. The companies believe that by using their strained silicon techniques on both positive and negative transistors they can improve transistor speed by as much as 24 percent, the statement said. The strained silicon technology will be integrated into AMD's Opteron and Athlon 64 processors and IBM's Power processors in the first half of 2005.

Google continue their mission to make everything searchable, with plans to add millions of books to their search engine. Stanford University and the University of Michigan have agreed to let Google copy their full collections.



Keyboard/Mouse:
X-Ray Technology Mouse Pads on OCIA
A4Tech NB-30 Wireless Battery Free Mouse on ASE Labs

Videocard:
NVIDIA GeForce 6200 with TurboCache on HardwareZone
Apollo 6600GT PCI-E on ClubOC
ASUS V9999 Gamer Edition> on TCMagazine
Gigabyte GV-NX66T128D GeForce 6600GT on PCStats
ATI X850XT PE on Hexus
Gigabyte GeForce 6200 on Legion Hardware
NVIDIA 6200 with TurboCache on PcPerspective

Cooling:
1A-Cooling SET-5Z280V1 Water Cooling KitM on Madshrimps
Cooler Master Aquagate Liquid Cooling System on OCTools
Jetart Xcool NP3000 Portable Notebook Cooler on Rojak Pot
SunBeamTech Crystal Quad LED Fan on TechTastic
Thermalright XP-90 Heatsink on Extreme Overclocking

Storage:
Corsair Flash Voyager USB Flash Drive on OverclockerCafe
Seagate Barracuda 7200.7 NCQ hard drive on The Tech Report

Case:
Coolermaster Cavalier 1 on TecCentral
The Nemesis - Pre-Modified ATX PC case on Guru3D
Silver Vampire ATX Mid-Tower Case on EOC
Sunbeamtech Samurai Case on Madshrimps

RAM:
Corsair TWINX-4300C3PRO on OcPrices

Motherboard:
Foxconn 925A01-8EKRS2 and Foxconn 915A01-8EKRS2 Mainboards on Xbitlabs

Display:
Matrix Orbital MX232 LCD on Viper Lair
NEC SpectraView 1980 on TrustedReviews
Samsung SyncMaster 710N-2 LCD on Bytesector

Software/Games:
ATV Offroad Fury 3 on Bytesector

Audio:
HCT DH720G 5.1 Surround Sound Headphones on ExtremeMHz
Pinnacle ShowCenter Wireless G digital media player on BIOS

Misc:
Digital Concepts CompactFlash Card Reader on MikhailTech
Logitech QuickCam Orbit webcam on The Tech Zone
Opti-UPS SM-B120A-RM 1100VA Rack Mount UPS on BigBruin
Sunbeam Case Lighting Products on XYZ Computing
Sony VAIO VGN-A260 Laptop on DesignTechnica




Friday Afternoon (5 Comments) (link)
Friday, 17-December-2004 17:28:15 (GMT +10) - by Agg


First up, thanks to thetron for adding a little festive colour to our site design. :) Hope you guys all have a great holiday period.. forgive us if it gets a bit quiet on the news page.

Tzortst spotted this report of a dual-GPU graphics card from Gigabyte on THG.

Hexus looked at SLI and X850 XT PE systems at a recent convention.

TheTechZone cover anti-spyware programs, how they work and what they can and can't do.

Rachmaninov sent in this interesting article about searching in Windows on TheReg. Most people I know turn off Indexing Service because they don't like it randomly thrashing the drives during reindexing.

Samsung showcased 12 upcoming products recently in Singapore - HardwareZoom and OCWorkbench checked out the new goodies.

If you saw those earlier "paper craft" vehicles on the Yamaha website, you might be interested in this new model of Valentino Rossi's World Championship winning YZR-M1.

SLCentral has a rant about users not reading the manual.

TrustedReviews compared a pile of 16 speed DVD burners.

Frumpy noticed this site about Honda's ASIMO robot, pretty cool stuff.

Sudhian reconsider and retract their earlier comments about half-step multipliers on an MSI A64 board.



Cooling:
SwifTech: MCX462-V vs. MCX462-U on OC-Service
Swiftech Mcw6002-64 waterblock on Rbmods
Akasa AK-183-L2B Amber Series Fan on Mikhailtech

Motherboard:
Soltek SL-915GPro-FGR on Ninjalane
ASUS P5AD2-E on Lost Circuits

Video:
Nvidia 6600GT AGP on HardAvenue
Albatron GeForce 6800 GT on Bjorn3D
Hauppauge WinTV USB2 TV tuner on BIOS
Chaintech GeForce 6600 GT AGP on Legion Hardware

Modding:
AeroCool Cool Panel on Club Overclocker
Sunbeam Lightbus on OCIA
AC Ryan LAN Ranger on Phoronix
Aerocool Cool-Panel on Hi-tech Reviews
Ultra Products UV WizardM on Overclockers Online

Audio:
Altec Lansing inMotion iM3 Portable Audio System on TheTechLounge
Roku SoundBridge M2000 Media Receiver on Designtechnica



Storage:
Seagate 5.0GB Pocket Hard Drive on Hardware Zone
Beantech 8-1 USB 2.0 Card Reader on Hard-H20
Five 3.5" HDD Enclosures on Twinsbyte

RAM:
Ultra Dual Channel PC4000 Premium on Viper Lair
SwissBit 2 X 512MB PC4300 DDR2 on Techniz
Crucial Ballistix on The Moditory
Kingston 1GB PC3200 HyperX Dual Channel Memory Kit on Rojak Pot

PSU:
Cooler Master Real Power 450 PSU on SilentPCReview
Nexus NX4090 "Real Silent" PSU on SilentPCReview
Logisys Pitbull 500W on Phoronix

Case:
Thermaltake VA70000BWA "Shark" Aluminium Case on 3DVelocity
Athenatech A605 Mid ATX Computer Case on TweakNews

Systems/Laptop:
Shuttle SK83G on Madcase
Acer TravelMate 8000 Laptop on Hardware-Pacers

Keyboard/Mouse:
Thermaltake Tsunami Dream USB keyboard & mouse on A1-Electronics
XTracPads Ripper XL Performance Mouse Pad on ExtremeMHz

Misc:
Vantec 11-in-1 mobile memory card reader on A1-Electronics
Samsung SC-D107 Digital Camcorder on The Tech Zone
iConcepts 10-Piece PC Tool Kit on Mikhailtech
Samsung SCX-5315F Multi function Laser Printer on Tech-mods




Thursday Evening (9 Comments) (link)
Thursday, 16-December-2004 18:44:47 (GMT +10) - by Agg


Australian Police have the green light to use spyware to catch bad guys, report Wired. After obtaining a warrant, police will be able to install malware such as keystroke loggers, trackers, and other unwelcome applications on PCs of those targeted in some criminal investigations.

PCStats have some hardware roadmaps, detailing upcoming technology. Even more futuristic is this holographic display promo info from Cheeky Chino.

From DavidRa: Just to show that they're not all technology mad, one Japanese inventor has come up with the lap pillow. More info here and here.

PCStats took a look at the popular Firefox 1.0 web browser, while ArsTechnica examine its email equivalent, Thunderbird.

Xbit compared two new notebooks from Asus.

Rainwulf spotted an interesting read on TheReg, about the Post-PC Era.

Linux apparently has less bugs than rival operating systems, according to Stanford University, thanks Nick.

Guru3D join the list of sites offering buyer's guides for Xmas PC goodies.

Breaking news at the moment is that ABIT are under investigation for "financial irregularities". More info here on Digitimes.

JimX spotted this Bruce Lee C64-style game for download.




Two GPU Launches Today (16 Comments) (link)
Thursday, 16-December-2004 16:50:15 (GMT +10) - by Agg


NVIDIA released their GeForce 6200 with TurboCache. This is a "value segment" video card that uses system main memory, accessed across PCI-Express, instead of memory on the card itself. Coverage on Anandtech, Bit-Tech, Gamers-Depot, HardwareAnalysis, Hexus, HotHardware and TechReport.

At the other end of the spectrum, ATI released the Radeon X800 XL. This is a card designed to top the performance charts but turns out to be surprisingly good value. Coverage on Anandtech, Beyond3D, [H]ard|OCP, HotHardware, PC-Perspective and Tech-Report.

In other news, NVIDIA sent me a green pillow for Christmas.




Wednesday Afternoon Reviews (0 Comments) (link)
Wednesday, 15-December-2004 14:48:40 (GMT +10) - by Agg


Cooling:
Jetart JACSH1 VGA Cooler Kit on 3DVelocity.
Sunbeam Minibaybus fan controller on XYZ.
Arctic Cooling Freezer 3 & Freezer 7 CPU coolers on PCModdingMy.
Thermaltake Big Water watercooling kit on Techniz.

Motherboards:
Socket 754 A64 Motherboard Roundup on MadShrimps.
Asus PC-DL Deluxe dual Xeon board on ComputingOnDemand.
Soltek 8KAN2E-GR nForce3 250Gb S754 A64 board on Hexus.
MSI 915P Neo2 Platinum P4 board on HotHardware.
Gigabyte P4 Titan Series 8TRX330-L on TechWareLabs.
Epox 8KDA3+ A64 board (translated) on OC-Zone.
Foxconn 925XE7AA-8EKRS2 P4 board on ClubOC.

Audio / Video:
A look at ATI's Radeon X800 series of video cards on LegionHardware.
Kreisen LT-30FMP 30-inch LCD HDTV Monitor on eCoustics.
Anatomy of Creative's Zen Micro Audio Player on HWZ.
Mercury HT5800R 5.1 Home Theater Speakers on 3DVelocity.
Hitachi 60VX915 LCD Rear Projection HDTV on DesignTechnica.
AVerMedia AVerTV USB 2.0 Plus capture device on Hexus.
MG25 Portable MPEG Player on Blade.
Kobian 5.1 Home Theatre Speakers on Bit-Tech.




Folding Fundraiser (1 Comments) (link)
Wednesday, 15-December-2004 13:27:41 (GMT +10) - by Agg


From our Folding Team Captain, Bollocks: The Folding Team is having a fund raiser for future FBOX builds. With the help of Computer Alliance, Plus Corp, PC Range, Coolmodz and forum members Datsun1600 and fnkychkn, we have an AMD Athlon64 XP3000+ machine to be won. The XFBOX is complete with an Athlon 64 XP3000+ CPU, Gigabyte motherboard, 512 MB of GEIL RAM, 120GB Western Digital SATA HDD, a BENQ 16x Dual Layer DVD burner, 9200SE video Card, LED fans and Cold Cathodes. Christmas will be a little extra special this year for one lucky Folder with the winner's name being announced on Christmas morning. Entry is open to all existing active members of the OCAU Folding team with over 5000 points. If you would like to help out and have a chance to win this great prize take a look in the DC forum at this thread.




Wednesday Midday Reviews (0 Comments) (link)
Wednesday, 15-December-2004 12:38:42 (GMT +10) - by Agg


Storage:
LG GSA-4163B 16x All-Format DVD Writer on HardWareZone.
Transcend 128MB JetFlash MP3 on BigBruin.
V-Tec Cutie OTG "one-touch" USB HDD on BIOSMag.
Icybox IB350U-B-BL HDD enclosure on PyroPort.
Nu 16x Dual layer DDW-163 DVD burner on RBMods.
Ultra ULT31103 4-In-1 USB Drive 128MB MP3 Player with card reader on SLCentral.

Case & Modding:
XG Sidewinder case on ViperLair.
Sunbeamtech LED Case Handle on TechTastic.
Thermaltake Tsunami aluminium case on ComputingOnDemand.
NZXT Nemesis Elite mid-tower gaming case on ExtremeMHz.
Cooler Master Wave Master aluminium tower on Bit-Tech.
Thermaltake Shark aluminium fulltower from Techniz.
Cooler Master Cavalier 2 HTPC case (translated) on TecCentral.
NZXT Nemesis Elite case on OCIA.

PSU:
Hiper Type-R Series 480W on Hexus.
OCZ Modstream 520W on NeoSeeker.
Ultra Products 600W on PimpRig.
OCZ Powerstream 600W (video review) on 3DGameMan.



The new 4.12 ATI Radeon drivers are out. You can grab them locally from Ausgamers here. There is a thread in our forums discussing the drivers, and TweakTown have done some performance analysing here. looktall pointed out there is also Omega Drivers released based on the beta of these drivers, thanks. :)

Speaking of videocard drivers, TCMagazine has a look at the 66.93 and 71.20 Forceware drivers from nVidia. Guru3d also had a look at the 71.20 drivers.

The Tech Zone has posted an article entitled A Peek Into the Near Future of Electronics Technology.

From Hardware Analysis: If the movie and music industry has their way soon all their content will be protected by digital rights management, but how will that affect you as a consumer? Here's a prime example of DRM at its worst, taking away most, if not all, of the user rights to play back the content he legitimately bought. Full article here.

Hexus got the opportunity to chat with DFI at nVidia's Editors day, about how nVidia teamed up with manufacturers to build SLI, and some of the plans DFI have for their "XLi" implementation.

Another gift guide for you, this time from Futurelooks.

More interesting benchmarks and figures where PCPerspective have been playing with SLI, and how it doesn't quite work in some departments.

From Whirlpool: Christmas has come early for OptusNet broadband customers, with new changes to allow further downloads during off-peak periods, and long-awaited support for rapid transfer. Read all the details here.




Sitecom USB to VGA Adapter (11 Comments) (link)
Tuesday, 14-December-2004 15:45:17 (GMT +10) - by Agg


Here's a nifty little gadget from Sitecom. It lets you connect an additional monitor to your PC, using only a USB port. Just the thing for multi-screen goodness on a laptop: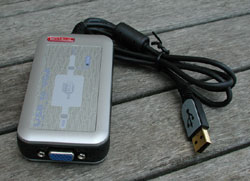 Click for the review!






Win a 12-LED Flashlight or an LED Keyring! (0 Comments) (link)
Tuesday, 14-December-2004 15:21:16 (GMT +10) - by Agg


OCAU sponsor Yen Industries have offered 5 of their 12-LED Torches and 5 of their LED Keyring Torches to OCAU members in a Christmas giveaway. What we're after is the funniest or most inventive use for a small, bright torch. In about a week myself and a few admins will pick the best 5 entries and 5 runners-up. Yen Industries will then post the prizes direct to the winners.

Soooo.. get thinkin'! Post your entries in this thread.



I hope everyone is okay after those crazy storms that swept through QLD and NSW this afternoon. SES teams are still out on force around my place, and I have just found my sad looking wheelie bin a few blocks down the road.

Very amusing article to start off tonight about four men arrested because whilst they were robbing a house, they thought the police outside was broadcasting police messages, but it was only the children in the next room playing Grand Theft Auto. Heh, classic.

Not only can police now monitor your SMSes and E-mails, but Federal and State police now have the power to use computer spyware to gather evidence in a broad range of investigations after legal changes last week. Thanks to all who sent that in. :)

Another gift guide is up on Bytesector, they also have an electronics gift guide posted.

If you have an old computer you want to get rid of, for a good price, then you might consider this guy's selling tactics, where he has listed his haunted PC on eBay.

FiringSquad has a digital camera buyer's guide posted, looks like they tried to be fancy and did the article in flash, pretty cool!

As most of us know, memory latency is just as important as bandwidth, but this article over on Bona Fide Reviews looks a bit closer on this subject.

T-break has more hot news from Taiwan on a few upcoming technologies like nVidia's C19 chipset for the Pentium 4, and the 6200 with 'turbo cache' graphics core.




Monday Evening Reviews #2 (0 Comments) (link)
Monday, 13-December-2004 18:52:15 (GMT +10) - by Agg


PSU:
Sharkoon SilentStorm 480W on MadShrimps.
Ultra Products 600W on Ap0calypse.
Antec NeoPower 480W on ViperLair.

Modding:
ATake Laser LED on BigBruin.
A.C.Ryan Mod Roundup on ViperLair.
Logisys Stove Fan on OCIA.
Sunbeam Chameleon case lighting on OCIA.

Mouse Etc:
Razer Diamondback Optical mouse on VIAVGA.
Okion OfficeStyle Cordless Desktop Set on Moditory.
A4Tech Wireless BatteryFree Optical & EasyGo Mice on MadShrimps.

Motherboards:
EPoX 9NDA3+ nForce3 Ultra S939 A64 mobo on ExtremeOC.
EPoX 915P P4 mobo on TweakTown.

Misc:
Network Cable Tester with RJ45 Crimp Tool on ExtensionTech.
Thermaltake Shark Case on Bjorn3D.
Samung SyncMaster 193P 19" LCD monitor on TweakNews.
Samsung CLP-550N Colour Laser Printer on XYZ.




Monday Evening Reviews (0 Comments) (link)
Monday, 13-December-2004 18:36:58 (GMT +10) - by Agg


Cooling:
XSPC R120-D Dual Fan Copper Radiator on ViperLair.
Tt Silent 775 cooler on OCrCafe.
Thermaltake Polo 735 CPU cooler on MikhailTech.
Sunbeam Wherever PCI Rack slot cooler on ATrueReview.
Sunbeam Wherever PCI Rack slot cooler on OCIA.
Swiftech MCX775-V heatsink on Hi-TechReviews.
Asetek Black Ice Micro II Radiator on Techniz.
Danger Den TDX watercooling kit on HardOCP.

Storage:
Maxtor Atlas 15K II SCSI drive on StorageReview, thanks kasi.
PQI Intelligent Stick 1GB USB flash drive on TheTechZone.

Memory:
Kingston HyperX 1GB 3200 DDR on Controlled-Insanity.
OCZ EL PC3200 Platinum Revision 2 dual-channel kit on LANAddict.



Prices are set to soar on our coffee, apparently because of weather damage and an alternating production cycle in Brazil.

The Register report: An Australian man has been jailed for ripping off millions of dollars by selling counterfeit computer equipment. John Michael Parker, as a director of a reseller called Matrix, had an exclusive distribution deal for Canon equipment in Toowoomba, Queensland. Full story here, thanks Steveo2004.

SiriX spotted lots of pics of the new Sony PSP over on Lik-Sang's site, which is apparently getting released today in Japan.

Graham sent in this site called Gizmag, which features on news about lots of hi-tech devices and gadgets. Lots of interesting reading there!

The guys over at HWzone have an exclusive interview with David Perlmutter (head of Intel's Mobile Platforms Group) about Intel's future in mobile computing. They discuss the new Alviso chipset, which will bring PCIE technology to the mobile market, and also 533MHz FSB.

It's that time of the year again, fellow forum member Driver has set up his amazing display of Computer Controlled Christmas Lights.



Digit-life has an excellent article posted about the new Athlon 64s, and their performance against Intel's Prescott and Northwood offerings.

HWSpirit has a writeup on a range of midrange PCIE videocards, including the X700 and 6600.

A new version of MemTest has been released.

There's lots of news at the moment about laptops possibly affected us guys in a bad way, unless you use your laptop on a desk. I've always been a bit funny about carrying my mobile phone in my pocket aswell.

Former president Bill Clinton on Monday helped launch a new Internet search company backed by the Chinese government which says its technology uses artificial intelligence to produce better results than Google Inc. Full story on Yahoo.

A new Windows Server 2003 R2 Beta was released today, which appears to be an additional disk of components for Windows Server 2003 SP1. Full story and screenshots on Neowin.

nVidia has opened their own discussion forums here.

A US soldier serving in Iraq wants Tim Tams for Christmas and Prime Minister John Howard is keen to oblige. Full story here.



DrDevil sent in news about Samsung set to build the world's tallest building - 800-metre high, 160-floor skyscraper.

Gameconnect has a nice little tool called Half-Life 2 Enhancer V1.0. It has special features like: Applying bullettime mode with the "t" key, fixing the sound stuttering problem, enabling cheats and unlocking chapters, etc.

I know I couldn't live without my speakers, so if you are looking at upgrading or buying new speakers, you might want to check out PCMechanics new guide on How to Buy Speakers.

Robin has noticed that Symantec stuffed up with their latest Internet Security update. If this update is applied, then it has really screwed up all your outbound email.

PCMechanic has focused on Tuxpaint in their latest Opensource Spotlight.

Another amusing Under the Influence article posted, talking about successful computer products typically being easiest ones to operate.

Dan has been playing with more toys, this time it is one of those cool Firewheel Rubberband Guns.

Legit Reviews has an article posted about some of the topics being discussed out at the nVidia HQ in San Jose. We talk about MXM, SLI, nForce 5, SoundStorm 2! There is also some coverage on the 855GM Centrino chipset supply shortage and Corsair's new "bling-bling" memory and watercooling systems that are due out soon.

Spotted this groovy Google extra on Slashdot, called Google Suggest, check it out!

Astronauts are running out of pies in space.



Cooling:
Vantec Tornado and NXP-205 Multi Fan Controller on Madshrimps
Danger Den DDC-12V Water Pump on Madshrimps
Spire KestrelKing III Athlon 64 CPU Cooler on Rojak Pot
Zalman CNPS7700-AlCu Heatsink on Pimprig

Video/Display:
XFX 6600GT 128Mb AGP 8x Video Card on AMD Review
VisionTek XTASY X800 XT on Bjorn3D
NEC AccuSync LCD72VM on TrustedReviews
eVGA e-GeForce 6600 GT 128 MB DDR3 PCI-E on 3dGameMan

SFF/Systems:
Apple iMac G5 on SFFTech
NEC i-Select D4620 multimedia PC on BIOS

Audio:
4 way MP3 Player Shootout on Nordic
Motorola Bluetooth Wireless Headsets on Legit Reviews
StreetFire RBX1600 on DesignTechnica

Motherboard:
ASUS P4C800 on OC-Service

Case/PSU:
Silverstone LC05 Mini-IXT Case on Hi-tech Reviews
Ultra 500W Titanium ATX PSU on Viper Lair
Thermaltake 350w PurePower Fanless PSU on OCModShop

RAM/Storage:
Micron Rev5B "C" Memory Module on Rojak Pot
Seagate Momentus 5400.2 2.5" Hard Disk Drive on XbitLabs

Misc:
Xmicro Combo bluetooth printer adapter on Rbmods
WACOM Intuos3 6x8 tablet with USB Review on Futurelooks




Press Releases (3 Comments) (link)
Saturday, 11-December-2004 03:06:38 (GMT +10) - by Agg


AMD announced their Opteron's involvement in Formula 1 racing. The 530 AMD Opteron processors, which run on a Linux operating system, will process a critical flow of robust CFD data. The new supercomputer is expected to allow Sauber to compile aerodynamic information faster and more efficiently through higher power calculations. This improved performance and optimized data analysis will enable better decisions and provide a competitive edge. More info in the press-release here on their site.

Corsair are entering the flash memory market. From digital cameras and camcorders to MP3 players, PDAs, laptops, PCs and cell phones, Corsair flash memory products are designed for complete compatibility, reliable performance and functionality with all popular models of these consumer electronics. Each Corsair Flash product meets the legendary Corsair testing and performance standards. More info here on their website or in this 22KB DOC file.

Zensonic announced a new media player product. The Zensonic Z500 networked digital media player gives users four connectivity options in one unit: wireless networking, gigabit Ethernet wired networking, optical disc playback and USB 2.0 hard drive connection. It has unprecedented file format support including high definition Windows Media® Video 9, DivX® and MPEG4 playback. Sounds pretty cool, more info on their website here or in this 102KB DOC file.



More news! :)

Anandtech looked at 11 GeForce 6600GT cards in their latest roundup.

Someone else has managed to get 1 TB of storage in their SFFsee. Thanks Darth!

Intel has made an unusual move, bundling nVidia PCIE graphics cards with their motherboards to boost sales through to the rest of the year.

Bit-Tech have a interesting read on High Definition Audio.

Burn victims may be helped thanks to use of your old Inkjet Printers...weird.

I think I have mentioned this before, but still this article on Cnet has more information about nVidia making the PlayStation 3 chip.

TCMagazine has been playing with drivers again, this time it is a comparison between Forceware 66.93 and 70.90.

Arstechnia has more information about IBM wanting to take a bite out of Apple. ;)

Another System Buyer's Guide, this time over on MikhailTech.

Jastormont found some interesting news about Formula 1 team - Sauber that has created a new supercomputer.

Boky spotted this cool lego projects page.

If you are stuck at home tonight like me, because you only have $0.62 in your account, then perhaps you might want to have a browse through some of these!

Interesting Forum Threads:
HSV into the 4 second 0-100 barrier in Motoring
SLI Reviews, Availability & Discussion in Video Cards
Sunny Coast Warning in The Pub
CarPC Basics in Modding & Electronics
Dimebag Darrel, Dead.... in TV, Movies and Music
Australia V New Zealand ODI in Sport, Fitness and Health
Smoothwall vs IPCop in Other Operating Systems
Dire outlook for Doom movie in TV, Movies and Music




Friday Afternoon #2 (3 Comments) (link)
Friday, 10-December-2004 16:01:21 (GMT +10) - by Agg


Vicbitters spotted this electronic voting in QLD petition. Your petitioners believe that this would improve access to democracy for rural and regional Queenslanders and people with disabilities.

German researchers have tested gigabit wireless recently. Elsewhere in Europe a terabit per second trial was conducted over fibre.

OCModShop have a guide to making a radiator for watercooling, from a car heater core.

Another salvo has been fired in the DVD standard war, with Disney siding with Blu-Ray.

Murray spotted some e-paper news. Seiko Epson is developing flexible display technologies that it expects will lead to the commercialization of electronic paper before the end of the decade, and later TVs that can be peeled off walls, a company scientist said last week.

Apparently even the Celeron will get 64-bit technology next year, thanks Gorignak.

Retired assembly-line robots deserve a better life than the scrapheap, report Wired. Human participants sat still while a video camera in the robot's arm sent a digital image to a computer, which sent an analysis of the image to the arm, which then drew the portrait.

ArsTechnica have a guide to troubleshooting your PC. Always good to go back to basics when things aren't working right.

Phoronix show how to overhaul your PSU. More than a little electronics knowlege required.

Many people sent word that "Dimebag" Darrell Abbot, one of founders of Pantera and a guitarist with Damageplan, was shot to death at a concert this week, along with 3 others. This is crazy.. what's next, we can only view our heroes at concerts from behind bulletproof glass?




Friday Afternoon (7 Comments) (link)
Friday, 10-December-2004 14:34:11 (GMT +10) - by Agg


Today will be a bit of a news catchup day, so stay tuned for a few updates this afternoon.

There's a new version of CPU-Z out. Handy little free utility for info on your CPU, memory and motherboard.

VIAArena have an interesting snippet on their main page about using PCI-Express and AGP at the same time on an upcoming VIA chipset.

If you're thinking of trying out Thunderbird 1.0 email client that was launched recently, there's a getting started guide on Mozillanews.

With Lenovo springing to the worldwide #3 position in PC sales by buying IBM's PC business, you might think the top 2 would be concerned. Apparently not.

ABCNews report on the techie toys the kids want this year. "They are not interested in traditional toys. They are a little bit too old for a Barbie doll or toy car," says Hall. "The lines for toys are blurring, and when you turn 7 or 8 or 9, you're into technology, you want a mobile phone, you want to instant message with your friends."

Research suggests that keeping a hot laptop on your lap isn't a good idea, if you're a man concerned about your fertility. Mmm, roasted nuts.

One key to taking good photos is correct white balance - PCReview have a guide to getting it right. OCAU has a very busy Photography Forum, so if you're after more tips, dive into there.

Tweakers spent a little time overclocking the Athlon XP-M processor.

Dan has more letters. Than anyone. Ever.

Gigabyte have a pinball timewaster on their site. Something to do while we wait for the cricket pitch to dry out!



Audio:
Archos Gmini XS 200M on TrustedReviews
Altec Lansing inMotion iM3 Portable Audio System on TheTechLounge
Creative MuVo TX FM Portable Audio Player on XbitLabs
Inspire T5900 Acoustic Speaker System on XbitLabs

Video:
ASUS Extreme AX600 XT/HTVD Graphics Card on XbitLabs
ATI Radeon Mobility 9800 on Beyond3D
ABIT RX600 Pro-Guru 256MB PCI-E on 3dGameMan
PowerColor X600 XT vs. Albatron Trinity PCX 5750 on XbitLabs
Inno3D GeForce 6600 GT (PCX) on Guru3D
nVidia Geforce 6800GT PCI-E on OC-Zone
Radeon X700PRO vs. GeForce 6600GT on Tweaktown

Storage:
Seagate ST1 1-Inch Hard Disk Drive on XbitLabs
Vantec NexStar 2 5.25" External Drive Enclosures on 3dGameMan

Case:
Temjin TJ06 PC case on SilentPCReview
Superpower XP03P Gaming Computer Case on A True Review
Koolance PC3-720 Professional Series Water-Cooling Case on Pimprig

Cooling:
Zalman CNPS7700-Cu Silent CPU Cooler on Hardcoreware
Antec TriCool Fans on Mikhail Tech
Arctic Cooling Copper Silent 2L for Socket-A on Whisptech

Misc:
Vantec computer enhancing products on A1-Electronics
Harmony 688 remote control on DesignTechnica
ATake UV Light Set on Phoronix

PDA/SFF:
Tapwave Zodiac2 Mobile Entertainment Console on HardwareZoom
Shuttle SN85G4 Athlon 64 Barebones on Spode's Abode

Mouse/Keyboard:
Logitech MX1000 Mouse on HardwareHell
Saitek Gamers' Keyboard on HardwareHell
Logitech MediaPlay Wireless Mouse on Hardware Pacers
Okion FrontDesk Cordless Desktop Set on The Moditory

Misc:
HIPER Type-R HPU-4x480 Power Supply on 3DVelocity
Pentium 4 570J CPU on XbitLabs

Motherboard/Chipset:
ASRock K8 Combo-Z/ASR Motherboard on PCStats
GIGABYTE GA-8TRX330-L on Extreme Overclocking
Integrated Chipset Serial ATA RAID Controllers on XbitLabs




Five Large P4 Coolers (16 Comments) (link)
Friday, 10-December-2004 04:02:29 (GMT +10) - by Agg


I've taken a look at five coolers for P4 CPUs, in the "this is getting silly" size range. On test we have Thermaltake's Silent Tower, Cooler Master's Hyper 6, Gigabyte's 3D Rocket, Zalman's CNPS7000B-Cu and Thermalright's XP-120. We test with two CPUs, one Prescott and one Northwood, and also consider the two stock coolers.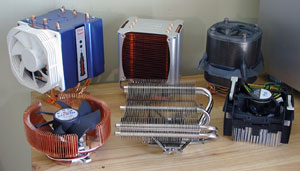 Click for the review!





POLICE will be able to access stored voice mail, email and mobile phone text messages under new laws passed by federal parliament today. Full story here, thanks Murray.

Ashley sent in news about a Universal Browser Exploit. It seems to affect all IE, Mozilla and Opera based browsers. It allows another website to hijack a popup window, which definitely threatens Internet Banking.

Mozilla Thunderbird 1.0 has been released, you can read the press release here.

Nvidia will supply the graphics chip for the successor to the PlayStation 2 games console being developed by Sony Computer Entertainment (SCEI), the companies announced on Tuesday. Full story here, thanks Murray.

OCModShop has a DIY Heatcore guide posted, but they use a Chevette heatercore, which might be a bit hard obtain down-under. :)

The guys over at Neoseeker has a play with Intel's new Matrix RAID.

Corsair have just taken a step into the ever growing Flash Media world, annoucing their new USB and SD cards.

PimpedOutCases.net has an article about dual-channel and DDR2.

The BTX formfactor is Intel's answer to the aging ATX standard and promises to bring better thermal management and smaller PCs. Hardware Analysis take a look at some of the problems that plague ATX and whether BTX offers a compelling solution to remedy these.

A few people sent in news about IBM selling off its business to a Chinese firm - Lenovo, formally known as Legend.

Another Gift Guide posted on The Tech Zone, but this one is named the 'EXTREME Techie Christmas Gift Guide'.

Brisbane reseller, Concorde has unfortunately been forced into Administration, after not been able to pay about $1.6 million worth of creditor debt. More details over on ARNnet.

Tech report has a great comparison on mid-range PCI-E videocards, featuring the ATI X700, and the new nVidia 6600 series.



Storage:
Amacom Flip2disk rugged USB hard disk on BIOS
SilenX Luxurae HDSS on AuphanOnline
LiteOn SOHW-1653S 16X DVD Writer on Techniz
Bytecc 2.5in USB 2.0 Aluminum External HDD Enclosure on XYZ Computing

RAM:
Mushkin 1GB PC2-4200 DDR2 Review on Pcmoddingmy
PDP Systems Patriot PC2-4200 DDR2 XBL Memory on PCstats
G. SKILL Extreme Samsung TCCD 1Gb Kit on OCTools
Corsair TwinX1024 4400C25PT 1Gbyte Matched Memory on Hexus
Corsair, OCZ, Kingston CL2 TCCD Memory Shootout on VR-Zone

Keyboard/Mouse:
Saitek PC Gaming Keyboard on LAN Addict
GamerzStuff Xtreme Mouse Pads on OCIA
Wireless Bluetooth Mouse Battle: Microsoft vs. Logitech on Hardcoreware
Logitech MX1000 Laser Cordless Mouse on The Tech Zone

Misc:
Logitech Harmony 676 Universal Remote Controller on Hardware Pacers
Matrix Orbital MX211 on Raptor-Mods
Thermaltake XaserBag on Rojak Pot
Ultra Retractable Cables on Viper Lair

PSU:
Ultra UV X-Connect Modular 500watt Power Supply on GruntVillE
Neoseeker Thermaltake Fanless PSU on Neoseeker

Motherboard:
Epox 8KDA3+ Motherboard on PCmoddingmy
ASUS P5GDC-V Deluxe Vs Soltek SL-915GPro-FGR: Intel 915G Doubleshot on HotHardware
Albatron K8X800 ProII Socket 754 on PC Perspective

Software:
Need For Speed Underground 2 on 3DVelocity
Far Cry on Hexus



Cooling:
Danger Den TDX Socket 939 on Club OC
Aerocool Case Fan Roundup on Oz Case Modz
Spire Verticool CPU Cooler on Techniz
Coolermaster Hyper48 Copper Heatpipe Cooler on ExtremeMHz
Arctic Cooling NV5 Video Cooler on Club OC
Thermaltake Silent 775 on Legion Hardware

Videocard/Display:
Leadtek Winfast PX6600TD on Trusted Reviews
ASUS Extreme N6600GT on Legion Hardware
Abit RX300 SE-Guru PCI Express on OcPrices
ABIT RX600 Pro-Guru 256MB PCI-E Video Card on 3DGameMan
XFX GeForce 6600 GT AGP on Teamhardware
Inno3D GeForce 6600 GT 128MB on Hexus
Samsung SyncMaster 710N (12ms) on HardwareZone
Sapphire R9800Pro 128MB on Overclockers NZ
Samsung L1200 Portable DVD Player on Bytesector
Inno3D GeForce 6600 GT (PCX) on Guru3D

Audio:
Creative Zen Micro on HardwareZone
Anydrive Car Mp3 FM Transmitter on RBMods
Creative Zen Micro on Trusted Reviews

Case:
Silverstone LC04 on Spodes Abode
ThermalTake SViking (VA4000) on Bytesector
Sunbeam Samurai Mid-Tower Case on GideonTech
Logisys Silver Phantom Case on BigBruin
Silverstone TJ06 ´Wind Tunnel' on Madshrimps
SilverStone Temjin TJ04 on Ninjalane
Sunbeam Tech Transformer Case on BigBruin
Lian Li PC-6077 Mid-tower Case on Bjorn 3D

Mobile Phone:
Orange SPV C500 smartphone on BIOS

CPU:
AMD Athlon 64 3000+ (Winchester) on HEXUS




Intel 925XE Chipset, D925XECV2 Motherboard, 3.46GHz EE (1066MHz FSB) CPU (21 Comments) (link)
Wednesday, 8-December-2004 01:17:50 (GMT +10) - by Agg


That's a hefty article title - and this is a hefty article. Chainbolt has been a bit quiet lately, but he's returned with a vengeance. In this report he looks at Intel's 925XE chipset, supporting LGA775 CPUs, PCI-Express, DDR2 memory and, most importantly, a 1066MHz FSB. The motherboard in question is Intel's D925XECV2, which offers more tweaking and overclocking than we expect from an Intel board. To push this board to its limits, the testing uses three CPUs, including the 1066MHz-FSB 3.46GHz Extreme Edition with 2MB L3 cache. He also looks at the Matrix RAID feature which combines RAID0 and RAID1 on two drives at the same time. Grab a coffee, pull up the comfy chair and dive in!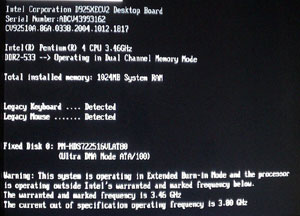 Click for the review!





Some crazy scientists have got a brain, that was grown using 25,000 nerual cells from a rat embryo, and taught it to fly a F-22 Jet Simulator. Full story here, thanks Stew for sending that in!

I'll let the direct quote from this article over at Sci Tech speak for me: Right now, we are not taking full advantage of the 20-terahertz bandwidth that fibre can provide because of the limitations of OEO (optical-electronic-optical) switching systems," says UC Berkeley researcher Pei-Cheng Ku. "If we did, we'd be able to send 600 two-hour feature films in about 1 second.

GPS systems have been causing a few drivers to do silly things, like this 78-year-old that did a U-turn on a 130km/h expressway in France.

Thinking about buying a new PC featuring Microsoft's new Windows XP Media Center Edition 2005 operating system? Give this article a good read, there's a few things you ought to know before you do.

PCMech has another amusing Under the Influence article posted, which this week is about "The Buzz About Media Centre PCs".

PCMechanic has more information about the Internet's ever growing file sharing frenzy.

Think twice before you dump DIRT in a forest, these men were arrested for doing it! Thanks to PointyStick for the link!

Also thanks to PointyStick, well, I'll try let the URL speak for itself, because I am just speechless. :\ Miss Digital World. Sad, oh so sad.

Xbitlabs has a look at sixteen hard drives with over 200GB Storage Capacity.

Short-Media has a guide on diagnosing PC problems with Memtest86+.

There's some more Holiday Gift Guides on ResellerRatings and 3D Velocity.

Chris sent in today's timewaster, Flatout.




Tuesday Afternoon (11 Comments) (link)
Tuesday, 7-December-2004 13:48:56 (GMT +10) - by Agg


3Dvelocity have an interview with Futuremark about their benchmarking technology. How can you ever hope to convince people that results from a synthetic benchmark are as valid as those from a "real" retail games title? The stock quote (that) keeps appearing is that "people play games, not benchmarks".

AMD announced that Opterons will include PowerNow! technology, allowing them to vary their speed and power output on demand. This is important for rack-dense servers.

Meanwhile, Sudhian looked at the E0 Prescott stepping. So far Prescott-based P4's have been heat monsters, but the E0 stepping promises to run cooler. Xbit looked at this CPU at 3.8GHz also.

Ripnet have a guide to blowing bridges. That's the AthlonXP kind, not the World War 2 movie kind.

Microsoft reminded everyone that NT4 support will cost you after the end of this year. "My recommendation is that if you haven't done so already, begin your migrations immediately," Houston said. Those who need more time should take part in the custom service program, he said.

Xbit report that Asus have no plans to use K8T890, VIA's PCI-Express A64 motherboard chipset, because it feels NVIDIA's nForce4 is more efficient.

Lycos have abandoned their antispam screensaver project. He said that the company had reviewed "Make love not spam" before deciding not to bring it back.

MadShrimps have a hardware recap of 2004.

DesignTechnica report on the DVD format war, wondering why we didn't learn from VHS/Betamax.

TCMagazine have some interesting utilities: a cooling patch for nForce2 motherboards and a USB sample rate increase for WinXP SP2.

Trend Micro are giving away antivirus software for mobile phones, thanks Timbot.

Holiday gift guides seem to be the theme of the day, with Bjorn3D, TheTechLounge and HWLogic all offering ideas.




OCAU Avatar Mosaic (1 Comments) (link)
Monday, 6-December-2004 19:50:31 (GMT +10) - by Agg


Yoink has been busy, creating a huge mosaic image using the avatars of all our forum members. It's a big image, so he's made a viewer program in Javascript - click below, then click the button that is revealed, to open it. It's a little bit painful on dialup, but usable.



Click to view the mosaic!


Did you find your avatar? :) To follow the progress of how this image was made, see this thread in our Graphics and Programming Forum. There's also some desktop wallpaper versions here.



Case:
Raidmax Cobra 822 on OCOnline
Sunbeam Samurai ATX Case on LanAddict

Mainboards:
Albatron K8 Ultra U Pro ULi M1689 on OCW
Gigabyte K8NXP-9 nForce4 Ultra on Hardcoreware
DFI 875P-T Motherboard on Legit Reviews
ASRock K8 Combo Z on Phoronix

Ram:
Crucial Ballistix Tracer PC4000 on OC Mod Shop
OCZ DDR Booster on Tweaktown
Crucial High-Speed Gizmo! on Bytesector
Crucial PC-4000 Ballistix Tracer Memory w/LEDs on 3dGameMan

Video:
ATI Radeon X850 XT Cards on TR
ATI Radeon X850 XT PE on VR-Zone Hardware
ATI Radeon X800 XT PCI-Express 256MB on TheTechLounge
Leadtek A6600 GT TDH Preview on HardwareZone

PSU:
Ultra X-Connect 500W Modular Power Supply on CoolTechZone
Ultra 400W Dual LED ATX PSU on Viper Lair
Chill Innovation 510w Super Silent PSU on eXtremeReviews

Cooling:
Spire CoolForce II CF202-NBL Graphics Card Cooler on Madshrimps
Waffer PC Aircon PAC 400 on OCIA
Vantec LapCool 2 on PCModdingMy
Thermaltake Silent 775 CPU cooler on Techniz
Swiftech H20-120-64 on ClubOC
mCubed T-Balancer on Bjorn3D

Audio:
Yamada Beatbox MP3 Player on PC Review
X-Micro EVA MP3 Player on A True Review
aigo F186 512Mb Portable MP3 Player on Pyroport

Misc:
Thermaltake HardCano 13 on A1 Electronics
Sony Cyber-Shot DSC P72 on OC-Service
Beyer DT 250s on Dansdata
Bytecc 2.5in USB 2.0 Aluminum External HDD Enclosure on XYZ Computing
Vantec SATA EZ-Swap Review on PCmoddingmy
X-Micro WLAN 11g Turbo Mode Router & PCMCIA Card on HotHardware
Kyocera Mita FS-1018MFP on TrustedReviews




BlastM's Hybrid64 (1 Comments) (link)
Monday, 6-December-2004 11:34:59 (GMT +10) - by Agg


Here's a cool setup from BlastM. His own description probably serves it best: Hybrid 64, an amalgamation of two great 64-bit gaming systems: the pinnacle of Japanese engineering that is the Nintendo 64; and the future of the desktop, today- The Athlon 64! Lots of pics and info:



Click for the PCDB entry! (16 pics)


There's a worklog thread here with more pics and info.



We haven't mentioned Folding@Home on the news page for a little while. If you haven't heard of it, it's a distributed-computing project that simulates protein behaviour. This research can be used to help find cures for many diseases, including cancer. Installing a background task on your PC allows Folding@Home to use your idle CPU cycles - the ones you're not using - to process this data. There is a worldwide race to produce the most data, and currently OCAU's team is the #1 team in the world.

However, with the Australian summer coming into full blast-furnace strength, many of our members are having to slow their PC's down. This is affecting our overall output, opening the door for our long-term opponent, HardFolding, to take back the #1 crown. The solution is to get more PC's folding for OCAU, and that's how you can help if you like. Again, all it requires is the simple installation of a background task. Then, whenever your PC is turned on, it'll be helping with important research and helping keep OCAU #1 until the winter returns and we can power ahead again. As it's a low-priority background task, Folding doesn't interfere with the responsiveness or performance of your PC when you're using it.

To find out more, check out our Folding Page and our Team OCAU DC Forum. For how to get started, see the Join OCAU's Team page.




Sunday Afternoon (9 Comments) (link)
Sunday, 5-December-2004 14:38:41 (GMT +10) - by Agg


A few places are reporting that IBM may be selling its PC business, thanks MoJoMaN. The rumour is that Lenovo are looking at spending about $2.82B to buy the business. Who? Lenovo are apparently China's largest PC maker and the world's fastest-growing one. No doubt a name we'll be hearing more of.

IBM aren't standing still, however, disclosing they've tested a 4.6GHz Cell processor.

Anandtech report on their first impressions of dual-CPU database server benchmarking. Should you pay more for a Xeon that has a healthy amount of L3-cache, or will a less expensive Intel without L3-cache do just fine? Does 64-bit really matter? How important is memory latency/bandwidth? Is a hyperthreaded CPU better equipped when the database is accessed by many users simultaneously?

Alternate web-browser FireFox continues to impress, but IE remains strong. Personally I've been experimenting with newish v1.0 release, but haven't made a full switch away from IE yet.

TheReg report that Intel are ending the P2's product run. The P2 never really enjoyed the enthusiast support that the Celeron and P3 received, largely because of a lack of overclocking headroom. Still, they were multiplier unlocked for a fair while - I had a dual P2-400 machine that did 133x3.5 for 466MHz, a pretty handy box in its day.

Microsoft have filed seven lawsuits against porn spammers. "Spam is annoying, but this kind of spam is just outright offensive," says Aaron Kornblum, Microsoft's Internet safety enforcement attorney.

OmegaDrivers have some new Radeon drivers, based on the beta 4.12 release.

HardWareAnalysis cover graphics processors, heat and power. From that it is obvious that graphic processors are quickly becoming the largest contributor to power drain and heat production in a PC.

StorageReview looked at Seagate's Cheetah 10K.7 SCSI hard drive. With a more desktop-oriented focus, MikhailTech cover their 120GB SATA 7200.7 unit. I actually bought the 200GB version of that drive a few weeks ago - can't get over how cheap hard drives are nowadays.

THG continue their DIY Projector series, explaining how an old-school overhead projector and an easily-dismantled LCD monitor can make for some big-screen fun.



From OC WorkBench: This is the 3rd year we are running the OCW Readers' Award. For the past 1 month, we have been working hard to gather our readers' nomination of the IT products that they love. Today, we invite you to cast your vote on these products for our OCW Readers' Award 2004.

Adrian's Rojak Pot have posted the Virtual Memory Optimization Guide Rev. 4.1.

Over at Spode's Abode, they have had a look at nine different sets of memory, both DDR and DDR2.

If you've always wanted to use your iPod in the car but don't know how to get it connected to the car stereo, there's a solution through Sonnet's PodFreq. The PodFreq is essentially a wireless FM transmitter which promises better audio quality and user friendliness. HardwareZone has a look at this cool little gadget here.

OCLabs has posted a fascinating article regarding their waterblock technology.

HWLogic has now officially released their open source CPU benchmark, XMark 2005.

Yet another step closer to better broadband has been made, by Adam Internet in South Australia. All the details on Whirlpool. Thanks Ice_Cold!

The Tech Zone shows us a bit more about Google's Desktop Search, and how much better it is than Windows' silly search function.

Maxknott sent in a flash timewaster, but I think I have played this one before.

Time to get back to owning n00bs in HL2:DM. :D



Case:
Thermaltake Shark Case on CoolTechZone
Cooler Master Cavalier 3 Mid-Tower Case on TheTechLounge

Misc:
A.C.Ryan Backy on Techniz
Sunbeam Chameleon Light Controller on 3dvelocity
USB Powered Snow man and Xmas Tree Showcase on ExtensionTech
Matrix Orbital MX312 on OCModShop

Mouse:
Logitech MX900 Bluetooth Mouse on The Tech Zone
Razer Diamondback Gaming Mouse
Steelpad QcK+ Mouse Pad on Techniz
Steelpad QcK+ Mousepad on Teamhardware
SteelPad S&S Mousepad on Hard-H20

Networking/Audio:
ASUS WL-330 Pocket Access Point on PCStats
Roku SoundBridge M2000 Network Music Player on eCoustics
X-Micro WLAN 11g Router and PCMCIA Card on A True Review

Cooling:
Sunbeamtech CCFL Fan Grill & Fan Combo on Madshrimps
Silverstone Nitrogon NT01 CPU Cooler on PCmoddingmy
Thermaltake Tower112 Universal CPU Heatsink on PCmoddingmy
EverCool Ice Man air cooled AMD & Intel heatsink on A1 Electronics
Scythe Kamakaze 2 SCKM-2000 on ASE Labs
Waffer PC AirCon PAC 400 System Cooler on BigBruin

PSU:
Chill Innovation CP-510A 510W Power Supply on 3dGameMan

Phone:
Audiovox SMT5600 – World's Smallest Smartphone on ExtremeMHz
Voice Pulse VoIP Telephone Service on Designtechnica
Windows Mobile Smartphone Head 2 Head on TrustedReviews

SFF:
AOpen EX915 XC Cube on SilentPCReview

Software:
Metalheart: Replicants Rampage on Gameconnect
Documents To Go Premium Edition 7.0 on PDAToday

Storage:
Hitachi Travelstar 7k60 Hard Drive on XYZ Computing
Vantec EZ Swap 2 Removable Hard Drive Rack on Hi-tech reviews
Transcend Jetflash DSC on GideonTech
Verbatim Store 'n' Go Pro USB 2.0 Flash Drive on The Tech Zone
Seagate Cheetah 10K.7 SCSI drive on Storage Review
Ultra Portable HDD Enclosure 2.5" on Viper Lair

Motherboard:
EPoX 9NDA3 S939 nForce3 Ultra on Hexus
Gigabyte GA-8TRX330-L Motherboard on PCstats
EPoX EP-5EPA+ i915P on OC Workbench
Foxconn 755FXK8AA-8EKRS on Club Overclocker
Soltek EQ3901 on Legion Hardware

Display/Video:
Samsung Syncmaster 172X on Pyroport
Sapphire R9550 ATI R9550 128MB on Overclockers NZ

Ram:
Mushkin 1Gb P2c4200 DDR2 on rbmods
Corsair XMS 3200 XL Pro on PenstarSys




Friday Morning #2 (9 Comments) (link)
Friday, 3-December-2004 02:06:27 (GMT +10) - by Agg


Microsoft have decided against SP5 for Win2k. The company said that by going with a collection of updates, rather than a service pack, it would be enabling customers to update their machines more quickly.

Also receiving a patch is Internet Explorer. The vulnerability, dubbed the Internet Explorer Elements flaw by Microsoft, had previously been called the iFrame vulnerability.

APC have a lighthearted but insightful series of articles following the Kazaagate trial.

Speaking of trials, a recent one has revealed Optus having a stake in porn businesses.

Here's an Australian website with some cool storm chasing photos.

QUT has a cyber-speak dictionary online now. If you can't tell your "warez" from your "pong", or whether you're "datacasting" or "warnibbling", this QUT student creation may help you navigate your way through cyberspace. Uuurrgh.

OC.com have some thoughts about why AMD is keeping quiet about their 90nm processors.

TheInq meanwhile cover Intel's plans for EM64T P4's.

ModdersHQ have a guide to watercooling your 6800GT video card.

If you're really bored, here's a few things to do before you die. Extract your own DNA by spitting gargled salt water into diluted washing-up liquid and slowly dribbling ice-cold gin down the side of the glass. Spindly white clumps which form in the mixture are, basically, you. Eew.

Lycos say they weren't hacked after all.

If you have a Radeon X800 or better, you're one of the few people who can check out these new demos from ATI.

Troy noticed that our own Air Force has a flash timewaster for budding fighter pilots. Seems to be quite a bit to it, should keep you busy on a quiet Friday.



Bah, I swear to god there is not enough hours in a day! Anywho, I'll squeeze in some news before I get some shut-eye...

Josh sent in scary news about the US army deploying robots with machine guns, and even rocket launches.

I know some of you are starting to get sick of all this Half-life 2 stuff, but some people arent, anyway, Phoronix have some Half-Life 2: Deathmatch screenshots posted, oh and how fun this game is. :)

Silicon Angel sent us this site that has new generation office chairs. Unforunately only available in England, but these chairs would go well with my racing wheel and pedals!

Hilariously, spammers have fought back against Lycos' anti-spam website. Well that plan backfired...

In yet another attempt to take over all of the Internet, MSN has launched a blog service called MSN Spaces with the new version of MSN Messenger due out shortly. Full story on Slashdot.




ATI Radeon X850 Series (23 Comments) (link)
Thursday, 2-December-2004 02:12:47 (GMT +10) - by Agg


ATI have announced their Radeon X850 series of video processors. For the gamer who is looking for the ultimate in performance, the new RADEON® X850 XT Platinum Edition, RADEON® X850 XT and RADEON® X850 PRO products are a dream come true. The incredible processing capabilities of the 16 pixel pipe and 6 vertex engine architecture mean that gamers can power through amazingly realistic environments with more speed and power than ever before.

Coverage on Beyond3D, DriverHeaven, HardOCP, HotHardware, NeoSeeker, Sudhian, tbreak, TechReport and TrustedReviews.



It was pretty sad news when Half-life 2 finally got to us and we didn't get the classic deathmatch style mode with it, but valve has surprised us all today with an early Christmas pressie! With the steam update today, Half-Life 2: Deathmatch, Half-Life 2 Source SDK, and various other tweaks and fixes were released. I gave Deathmatch a spin tonight, and I was very impressed from what I saw. Very immersive gameplay, but the Internode servers that I was playing on were that laggy that it was unplayable. Anyway, the guys over at OCModShop has had a closer look. There is a discussion in our Games forum about this, here.

Speaking of Half-life 2, which I have been a lot lately, bit-tech has a play with Half-life 2 and real world performance with a range of high-end and mainstream AGP video cards.

Heaps of people sent in news about Ziggy resigning from his position as CEO at Telstra, with a $2 million payout. There is a thread regarding this in our Current Events forum, here.

Hardware Analysis have some more details on the A64 90nm process, and why Intel is shipping millions of their processors, why AMD is on shipping 'a handful'.

Our friend Dan has more letters! In this issue: Bad-ass laptops in Oz, Christmas tree power, laser lines, speaker sticky, more gun smuggling, free car schemes, and toy guns you may never have heard of.

The gory first person shooter, Postal 2 has been banned completely in New Zealand. Some crazy penalties for even attempting to obtain the game.

Madshrimps has a new article posted, The TCCD-pire Strikes Back? Athlon 64 S754 Memory Roundup. We compare 5 different TCCD powered modules, discovering some surprising performance differences between them. To give the Samsung TCCD a worthy competitor we also include Winbond BH-6 over-volted results. How do they fair on an A64 S754 platform? Read on to find out.

Some people are pretty talented with their modding of computer cases, like this guy, who transferred a boring case to a pretty, flashy, UV reactive computer! He did pretty well for a guy that didn't even know how to use a dremel!



Video:
Gigabyte GeForce 6600GT on 3DNews
Gigabyte GV-RX70P256V X700 PRO Silent Videocard on PCStats
Leadtek WinFast A400 TDH (Geforce 6800) on Bjorn3d
Gigabyte GV-N68U256D (GeForce 6800 Ultra) on HardwareZone

Mobile Phone:
Samsung SGH-E800C on HardwareZoom

Case:
Zalman TNN500AF Case Review on Xbit Labs
Raidmax Cobra Gaming Case on Hi-tech Reviews

Storage/RAM:
MSI DR16-B Dual Layer 16x DVD on Viper Lair
OCZ EL DDR PC-3200 Gold VX on Xtreme Resources
MSI DR16-B Dual Layer DVD Writer on Design Technica

Cooling:
Zalman 7700Cu Cooler Review on 3DNews
Scythe SCKK1000 Kama Cooler Heatsink on Frosty Tech
Thermaltake 120mm Blue LED Smart Case Fan on TweakNews

Motherboard:
DFI nF3 250Gb LanParty UT (nVidia nForce3 250Gb) on 3DNews
Soltek SL-K8TPro-939 Motherboard on PCStats
Asus A8N-SLI Deluxe Motherboard on PCPerspective
ASRock 775V88 VIA PT880 Motherboard on PCstats

PDA/Laptop:
Sony VAIO VGN-U70P on TrustedReviews
Gigabyte G-MAX N512 Centrino Laptop on PCStats

Software:
Half-Life 2 PC Game on AuphanOnline
Medal of Honor Pacific Assault on 3DVelocity

Misc:
Aerocool AeroBase Flashing Gaming Mouse Pad on 3DXtreme
Asante GX5-448W on Phoronix
Ultra 256MB 8in1 MP3 Player on GruntvillE



---
Advertisement:


All original content copyright James Rolfe.
All rights reserved. No reproduction allowed without written permission.
Interested in advertising on OCAU? Contact us for info.