February 2005
Wooden HTPC Case (5 Comments) (link)
Monday, 28-February-2005 12:43:19 (GMT +10) - by Agg


Here's a nice wooden home theatre PC project, just added to the PC Database:



Click for the PCDB entry! (15 pics)






Making the Avatar Mosaic (1 Comments) (link)
Monday, 28-February-2005 03:15:39 (GMT +10) - by Agg


A little while ago Yoink made the OCAU Forum Avatar Mosaic. Now he's provided an article that shows how the whole thing was put together, in case you want to create something similar.




Click for the article!





From Virtual-Hideout: I've just posted my latest Interview. This time it's with the founder/CEO of Directron.com. A powerhouse of an operation with 100,000 square foot facility and over 12,000 products, it's a must read. Check it out, here.

Bit-Tech have a guide to Digital Photography posted up on their site. In Part 1 - we show you how to pick where to buy your camera from, and how to avoid the con-artists that will take your money and run.

Westnet and Internode have released new plans recently. Australian Broadband is sllloowly getting there, will be good when we get these iiSlams and Agile DSLAMs populating through our cities.

OC Mod Shop has posted an article titled: The Current State of nVidia SLI - SLI Part 3.

Nippon Telegraph and Telephone (NTT) has developed a technology that uses the human body as a high-speed network and hopes to next year commercialize the technology in Human Area Networks (HANs) that provide a communications link between people and electronic devices, the company said Monday. Full story on PCWorld, thanks Murray!

Richard lets us know that Foxtel has released a Personal Video Recorder option for their Digital Service. Full story on Gadget Lounge.

Anandtech gets their hands on some nice hardware; four Opterons in a 3RU, groovy! Thanks Grahem.

The Tech Zone has posted a Beginners Guide to HTTP.

Iroquois also lets us know that VIA has now shipped 100 million chipsets for the AMD platform.

Artic Squad has published a roundup of VGA coolers. Ranging from the new popular Zalman VF700 Al/Cu to the NV Silencer 5.

I've found my new monitor, well two of these wouldn't go astray on my desk! ExtremeTech has a look at the new Dell UltraSharp 2405FPW Widescreen LCD. Thanks for sending the link in Neil, who also appended this with the link - Now I just have to collect 35,772 bottles to return in SA and I can afford one!.

Looking for a nice and easy mod for your case? Well putting your case on wheels might be the way to go. They make case transportation a bit easier and they look nice too.




Sunday Evening (8 Comments) (link)
Sunday, 27-February-2005 19:32:09 (GMT +10) - by Agg


Enough reviews for you this weekend? :) Thanks to aftahours for keeping us up to date.

There's a security update for Mozilla Firefox, version 1.0.1. You can get it at Mozilla.org or here from AusGamers.

Bjorn3D experimented with nForce4 SLI in a "real world" system.

LinuxHardware compared Intel and AMD's latest in a 64-bit desktop battle.

AMD have achieved more market share, but Dell still don't like them.

The latest on Hexus: We've been busy chilling an Athlon FX-55 to see how much it will overclock by, followed by a look at the Athlon FX's performance as the CPU frequency is scaled up and dHTT is run at 250Mhz.

HWZ are the latest site to examine the latest CPUs from Intel, the Pentium 4 660 and 3.73GHz EE.

Bern spotted an interesting article (with some interesting comments) about a Linux kernel patch that uses genetic algorithms to optimise certain kernel parameters.

Seagate and Hitachi both have 6GB 1-inch hard drives now. Apple use Hitachi's drives in the iPod Mini range, so now they have a 6GB version and dropped the prices too.

Will sent in these amazing pavement drawing pics:



Remember, send your news, pics and interesting forum threads to news@overclockers.com.au!

Interesting Forum Threads:
A64 vs P4 (gaming and encoding) in AMD Hardware.
3.73EE @ 4.81GHz (P4 600 benchmarks) in Intel Hardware.
RAM and i925XE: 2 sticks or 4? in Intel Hardware.
Elvis inspired MAME box in Modding & Electronics.
Screwed!! (stuck screw removal) in Newbie Lounge.
Guitarists, I need beginner songs to learn! in Other Toys.
Now THIS is a car factory in Motoring.
V8 Supercars - Launch Pics in Motoring.
Statistics show that... in The Pool Room.



Cooling:
Zalman VF700-Cu on Rbmods
Swiftech & ThermalTake Watercooling on A True Review
Thermaltake Hardcano 13 on FastLaneHW
Ultra 80 & 120mm Titanium Finish Fans on 3DGameMan
Logisys All Copper VGA Cooler on ExtremeMHz
Arctic Cooling NV Silencer 5 on Overclex (BabelFished)
Silverstone SST-FP53 HDD Cooler on FastLaneHW

Ram:
Ultra DDR PC-3200 (2-2-2-5) XL Memory on 3DGameMan
Mushkin PC2-4200 DDR2 Low Latency Kit on Viper Lair
Mushkin 1GB DC DDR PC4400 on Techniz
PDP Systems Patriot XBLK PC3200 on OCPrices

Audio:
Icemat Siberia Headset on XYZ Computing
nTrensound 128mb MP3 Wrist Watch on Tech Mods
Icemat Siberia Multi Headset on TechTastic

Mouse:
X-Raypad Mousepads on TW Labs
Razer eXactMat Mouse Pad on PCmoddingmy
A4 Tech EasyGo Notebook USB Optical Mouse on FutureLooks

Storage:
Cooler Master Cooldrive Lite on Tech Mods
ATP SD Memory Card on Extreme Overclocking
Slappa Optical Disc Storage on Trusted Reviews

Videocard:
ATi Radeon X850XT Platinum Edition on Club Overclocker
ATI 512MB X850M on Hexus
HIS Radeon X850XT and X850XT IceQ II Turbo on Overclocker Cafe
HiS Radeon x800 XL IceQ II Turbo on Guru3D

Motherboard:
Soltek SL-K890Pro-939 on Ninjalane
MSI K8N Neo4 Platinum/SLI Motherboard on PCStats
Chaintech VNF4 Ultra Motherboard on Legit Reviews
Gigabyte GA-K8NXP-SLI nForce4-SLI Motherboard on PCStats

Misc:
XaviX Console Gaming System on Marns CDA
Sunbeam Modding Accessories: Part 1 on Spode's Abode
Lexmark T430 Laser Printer on Trusted Reviews
Skyhawk echo-Q IMC6375 SFF PC on HotHardware
U.S. Robotics 802.11g Wireless Turbo Multi-Function Access Point on BIOS
Nikon D2X Digital SLR on Hardware Zone
LG Flatron L740P on Trusted Reviews



Storage:
Seagate Pocket External 5GB Hard Drive on DesignTechnica
Iomega NAS 200d on Trusted Reviews

Camera:
Nikon CoolPix 4800 on Trusted Reviews
Panasonic Lumix FZ20S-K 5MP Digital Camera on Bytesector

Videocard:
MSI RX850XT 256MB PCI-Express on TCMagazine
MSI NX6600GT-VTD128 on Viper Lair
Sapphire Hybrid Radeon X800 XL on Hot Hardware
ASUS EN6800 Ultra graphics card on AtomicMPC
Gainward Launch 512MB Graphics Card on Hexus
Gigabyte Radeon X850XT PE on Legion Hardware
Dual MSI NX6600GT-TD128E SLI Videocard on PCStats

Motherboard:
Neoseeker DFI LanParty UT nF4 Ultra-D on Neoseeker
Foxconn Winfast NF4K8MC-ERS on OCWorkBench

SFF:
SkyHawk IMC6375 865G SFF Platform on Extreme Overclocking
Shuttle SN25P XPC on SFFTech

Display:
Samsung SyncMaster 710N LCD on Tech-Mods
Kreisen LT-30FMP 30" LCD HDTV on Desgin Technica

PSU:
Ultra UV X-Connect 500Watt ATX PSU on Tech-Mods
TTGI 600W Modular ATX/BTX PSU on Legit Reviews
Ultra X-Finity 600W Power Supply on 3DGameMan
ThermalTake 350W Fanless PSU on Bytesector

RAM:
Corsair XMS4400 CAS 2.5 on ClubOC
Corsair XMS4400 1GB TwinX Memory Kit on Rojak Pot
OCZ DDR Booster on Tech Report

Games:
Unreal Tournament 2004 on TCMagazine
World of Warcraft on Trusted Reviews



CPU:
Intel Pentium 4 600 series processors on A1 Electronics
Intel Pentium 4 6xx on The Tech Zone
Intel Pentium4 3.73GHz EE on t-break

Phone:
Siemens SF65 1.3 mpixel Camera Phone on OC Work Bench
Motorola V710 Mobile Phone on Bytesector

Burners:
News: Lite-On SOHW-1673S 16x DVD+-RW Double Layer Writer on ExtremeMHz
Plextor PX-230A CD-RW on FastLaneHW
Plextor PX-716A 16x DVD+-RW 6x Double Layer Writer on Extreme MHz

Cooling:
Artic Cooling Freezer 7 on Overclex
Scythe Samurai Rev.B on SweMOD
Danger Den RBX Waterblock on OCModShop
SilverProp SilverStorm 80 radiators on A1 Electronics
Arctic Cooling Arctic Freezer 64 on HWLogic

Case:
Coolermaster Stacker-S on TecCentral
Tt Armor Case on Overclocker Cafe
Thermaltake Soprano on Moditory
V-Tech X-Focus on FastLaneHW
Thermalrock Circle Silver Designer ATX Computer Case on Tweaknews

Audio:
Mobiblu DAH-220 Mp3 Player on DansData
Icemat Siberia Headset on SweMOD
Oakley Thump MP3 Sunglasses on The Tech Lounge
Apple iPod+ HP 20GB on Bytesector

Misc:
Kingwin 3.5" MS-350U-BK USB External Enclosure on ClubOC
iConcepts Mobile 5 Port Hub USB 2.0 on TechTastic
Bluetake BT007Si Bluetooth USB Adapter on Hardware-Pacers
Evesham Dual SLi on Trusted Reviews
Logitech Cordless Precision Controller for Xbox on Virtual-Hideout
Casebuy USB Vacuum Cleaner on pcmoddingmy
Logitech MX1000 Mouse on Hexus
Sunbeamtech Lightbus Lighting Controller on BigBruin



TheTechZone have an article entitled The History Of The Computer posted up on their site. We covered a similar topic with our Time Warp Computer Prices article.

Dan has more letters posted. In this issue: E-Vectra PSUs, gold plated photons, long thin proto-board, key remapping, brass monkey photography, UV LEDs, silly graphs, and more fools and scams.

Hardware Zone has coverage on the 3GSM World Congress 2005. The 3GSM World Congress is the world's leading mobile communications conference and exhibition. HardwareZone was invited to this year's event held at Cannes, France and we bring you some of the more delectable highlights and gadgets coming your way soon.

A US woman has sued Hewlett-Packard, claiming the ink cartridges for their printers are secretly programmed to expire on a certain date, in some cases rendering them useless before they are even installed. Full article here, thanks Narcoleptic!

Hexus answer lots of questions regarding Serial ATA in their latest article. I love my new 320GB Raid0 array. :)

A quieter computer is probably something we could all do with, so Bigbruin shows us 5 Simple Steps to a Quieter PC.

The 6600Ultra has been released by Albatron, aimed at the budget minded consumer who also desires performance features. Check out Techwarelabs' review of the card here.

"Ban these evil games", "Videogame violence corrupting our nation's youth", "video games stole my husband". It seems everyday that the media are making more and more claims about the evils of videogames. But are these claims based on fact, or is it merely that there is a juicy new scapegoat out there that the woes of the world can be pinned on? Check out The Tech Zone's editorial on this matter here.

It looks like March will be the month when Socket A will finally blow its brains out. Thanks Olle!

Bill lets us know Internode has released new plans yesterday. Forum discussion here on Whirlpool.

PodgeSSS sent in an amusing news story where a burglar gets caught in the act by the owner's webcam.




Wednesday Evening Interesting Threads (0 Comments) (link)
Wednesday, 23-February-2005 20:38:46 (GMT +10) - by aftahours


Some interesting threads to browse through tonight:

Official World Of Warcraft Discussion in Games
[SYD] Cruise #5 - The Planning Continues in Motoring
Do you read the Bible? in The Pub
Pics of the next MX-5 in Motoring
Star Wars - Episode III - Revenge of the Sith in TV, Movies and Music
Discuss Anything Basketkball (has lots of vids) in Sport, Fitness and Health
Nintendo DS in Games
Your chance to quiz Intel! in Intel Hardware
AMD CPU Roadmap in AMD Hardware



Audio:
Creative I-Trigue 3600 stylish 2.1 speakers on BIOS
Icemat Siberia Gaming Headphones on CreativeMods
Sound Blaster Audigy 2 ZS Notebook audio card on BIOS

Case:
Sunbeam Transformer Case on Overclocker Cafe
Silverstone SST-LC10 HTPC Case on CoolTechZone
V-Tech X-Focus7105H Mid-Tower Case on GruntVillE
Sunbeam Transformer ATX Full Tower PC Case on LAN Addict

Misc:
Belkin Universal AC Travel Adaptor on Rojak Pot
OvisLink 54Mbps Pen Size Wireless USB Adapter on Techniz
Shuttle SN25P nForce4 on Tech Report
Nikon CoolPix 4800 on TrustedReviews
Rock Xtreme Ti on TrustedReviews

RAM:
Corsair XMS2 DDR2 TWIN2X1024-4300C3PRO on Madshrimps
Mushkin PC2-4200 CL3 on Bytesector
Mushkin 1GB DC DDR PC4400 on Techniz
Mushkin PC3200 Level II V2 1024 MB on OcPrices
Ultra Products PC3200 XL 2-2-2 DDR Memory on Bjorn3D

CPU:
Intel P4 600 Series on LostCircuits
Intel Pentium 4 Extreme Edition 3.73GHz on Beyond3D
Intels 600 series Pentium 4 processors on Hardware Analysis
Pentium 4 660 and Pentium 4 Extreme Edition 3.73GHz on Hexus
Intel 660 and 3.73 GHz XE Processor on PC Perspective
Intel P4 660 & 3.73GHz EE on Legit Reviews



Cooling:
Zalman CNPS7000A-AlCu Heatsink on ipKonfig
Zalman VF700-AlCu on Overclockers Online
Asetek WaterChill CPU/VGA/Chipset Water Cooling Kit on Techniz
Coolermaster CoolDrive Lite HDD Cooler on ExtremeMHz
Thermaltake Tower 112-CU Review on HWLogic
Swiftech MCP350 12 VDC Pump on Club Overclocker
Thermaltake Beetle air cooled heatsink on A1-Electronics
Alphacool Cora 6 radiator on Rbmods

PSU:
XG Vortec 500 Review – Pure Power on ClubOC
Seasonic S12 380W PSU on HWLogic
OCZ ModStream 520W Power Supply on Techware
AC Ryan RyanPower2 550W PSU on BigBruin
Thermaltake PurePower 680w PSU on FastLaneHW
Thermaltake Purepower 680watt PSU on XtremeResources
OCZ ModStream 450 Watt on Overclockers Online
Logisys Meshed 500W Power Supply on ExtremeMHz

Motherboard:
MSI 915P Combo on Hardware Zone
Soyo KT880 Dragon 2 on FastLaneHW
Foxconn/Winfast NF4UK8AA-8EKRS on Club Overclocker

Videocard:
nVidia GeForce 6200 TurboCache - PCI-E on TweakTown
Prolink GeForce 6600 GT SLI on Guru3D
PowerColor Theater 550 Pro PVR on A True Review
Nvidia Geforce 6600 GT PCI-E 16x on OC-Zone
PowerColor 550 Theater Pro TV Tuner on The Tech Lounge
Sapphire X800 PCI-E on The Tech Zone




OCAU Merchandise (0 Comments) (link)
Tuesday, 22-February-2005 16:15:55 (GMT +10) - by Agg


OCAU has a range of merchandise available. There's things to wear, things to drink out of and things to stick to other things. Need something smart, but casual? How about an OCAU Polo Shirt:



Click for OCAU Merchandise!






Interesting Forum Threads (0 Comments) (link)
Tuesday, 22-February-2005 12:23:38 (GMT +10) - by Agg


A quick snapshot of what's going on:

Why do ATX PSUs still carry a "half AT" plug? in Newbie Lounge.
AusGamers looking for storage advice in Storage, Backup and Memory.
Are Raptors still the king of performance desktop hdd? in Storage, Backup and Memory.
Manufacturers - who owns who? in Overclocking & Hardware.
Capacitor fallen off, what to do? in Video Cards.
Power supplies for SLI cards in Video Cards.
DFI LanParty UT Ultra-D/SLI-D/DR Results and Discussion in AMD Hardware.
VNC + bruteforce + NAT = ? in Networking & Internet.
Project Fishtank - HTPC in a Fishtank [56k Beware] in Modding & Electronics.
Project: Aliens (not 56k friendly) in Modding & Electronics.
Dual 2000MP no good at game serving? in SMP & Clustering.
Liberal shocked by classroom "propaganda" in Current Events.
Bush Tort Reform: Executive Clemency for Executive Killers in Current Events.
The sticky of stickies (links to lots of info) in General Software.
Linux fan concedes Microsoft is more secure in General Software.
Using Linux as a SPAM filter in Other Operating Systems.
What new car for my grandma? in Motoring.
Petrol injector cleaner, it actually worked in Motoring.
BMW 130i confirmed in Motoring.
Hot air intakes in Motoring.
Hot sauce! in Geek Food.
Journey to the bottom of the moon.. in The Pub.




Tuesday Morning (12 Comments) (link)
Tuesday, 22-February-2005 01:30:59 (GMT +10) - by Agg


More coverage of the new P4 CPUs: Anandtech, Beyond3D, HardwareAnalysis and MBReview.

TomsHardware have an interesting article titled DRAM's Future Past, about how difficult it is to develop new products while the industry is in such a patent-litigation frenzy.

Xbit report that AMD have quietly started shipping entry-level 90nm S754 Sempr0n processors. According to various online stores, AMD Sempron processor 3000+ operates at 1.80GHz and has 128KB L2 cache, the Sempron 2800+ functions at 1.60GHz and is equipped with 256KB L2 cache, the Sempron model 2600+ runs at 1.60GHz and builds-in 128KB of L2 cache.

Sony and PizzaHut have partnered to provide in-game pizza ordering for Everquest II players. This makes a lot of sense from a marketing perspective, but I'm more concerned about what it means for us as a species. :) There's more info about this kind of thing here on CNN, and Ctrl-Alt-Del have a comic strip about it.

Apparently over 54 million USB flash drives were sold worldwide last year.

Secunia report on a security issue with PuTTY, a popular freeware terminal program.

EliteBastards have an article about NVIDIA's TurboCache, as seen on their GeForce 6200 video cards.

A global warming study has apparently found an unequivocal link between manmade greenhouse gases and oceanic heating. The study destroys a central argument of global warming sceptics within the Bush administration - that climate change could be a natural phenomenon.

Lastly, a sad message from HeadlessT: It is with great sadness that I announce the tragic loss of forum member [T]iggerB. Brendan was in a fatal motocycle accident on the night of 20 February. He was a loving husband and father of one, and one of those people who would have done anything for his friends and family. Brendan will be greatly missed by all his workmates, friends and, most of all his family. From HeadlessT and all of Brendan's friends. :( RIP.



THE SHA-1 algorithm, a method of encryption that has been in common use for the last nine years, has been broken, it's claimed. More info on Slashdot.

From Yahoo: A new study has found that daily consumption of coffee could cut the risk of liver cancer. A separate study has also found that decaffeinated coffee can reduce the risk of contracting colorectal cancer.

Telstra will pay back $6.5 million to wholesale customers affected by its broadband pricing in an agreement with the ACCC. Full story on Whirlpool.

Anandtech has posted a guide to taking better night photography.

An apparent chemical leak at Melbourne Airport has caused 45 people to be hospitalized today. More details on Age.

I spotted this amusing article on wired.com about flirting with workmates via e-mail and IM services.

Australians are one of the top offenders for downloading pirated TV episodes, episodes that have been aired overseas and not in Australia yet. Discussion in our forums here.

Something I have always been facinated with is autistic people. This article talks about Daniel Tammet, but unlike other savants, who can perform similar feats, Tammet can describe how he does it. He speaks seven languages and is even devising his own language. Now scientists are asking whether his exceptional abilities are the key to unlock the secrets of autism.

Paris Hilton's phone has been hacked, leaking hundreds of her address book contacts onto the Internet. Discussion in our forums here.




Thydzik's Cool Cube (2 Comments) (link)
Monday, 21-February-2005 15:46:42 (GMT +10) - by Agg


Check out this nicely finished project from Thydzik, his "Cool Cube". There's a project log for it here.



Click either pic for the PCDB entry! (7 pics)


While we're here, check out this very purple PC, made for a fan of "The Phantom".




First to 100 Million Points! (7 Comments) (link)
Monday, 21-February-2005 14:22:45 (GMT +10) - by Agg


Congratulations to the OCAU Folding@Home Team who have become the first team in the world to reach the 100 million point milestone. When you consider that the most valuable work units score 600 points, and it takes most PC's a couple of days to crunch through them, it gives some perspective to how much CPU time has been put towards this project by our team members. We have maintained our position as the #1 team in the world, not only scoring points in the competition but also helping find cures for diseases such as cancer and alzheimers.



To find out more, check out the Folding Page and our Team OCAU forum. To join our team, see the instructions here. Or you can join the 100 Million Point celebrations here.




Intel 600 Series P4 CPUs and 3.73GHz Extreme Edition (1 Comments) (link)
Monday, 21-February-2005 05:06:23 (GMT +10) - by Agg


Intel have released the 600 series P4 CPUs. This is a significant update to the Prescott core - not only does it attempt to address the power and heat issues while raising performance, but it also adds 64-bit support. With 2MB L2 cache and Enhanced Intel Speedstep Technology, the first handful of offerings are the P4 660 (3.6GHz), P4 650 (3.4GHz), P4 640 (3.2GHz) and P4 630 (3GHz). There's also a 3.73GHz Extreme Edition version, with a 1066MHz FSB.

Coverage on HardCoreWare, HotHardware, TechReport, TweakTown, ViperLair and XbitLabs.

Interestingly, there's been reports of these CPUs actually in the market already, so it's definitely not just a "paper launch". These new processors are being discussed in this thread in our Intel Hardware forum.




Press Releases (8 Comments) (link)
Monday, 21-February-2005 03:16:04 (GMT +10) - by Agg


Altech Computers are sponsoring a gaming event on the 26th of February in Sydney. This event called the ABIT Fatal1ty GamingEvent will be showcasing new technologies with vendors such as ABIT and Corsair using it to launch new and upcoming technologies. More info here.

ASUS announced their P5 motherboard series provides complete driver support for 64-bit computing. All of the ASUS P5 Series is Intel EM64T ready, meaning the 600 series CPU of the P5 motherboard is able to run new 64-bit code and access larger amounts of memory. More info here.

ATI recently announced the introduction of RADEON® XPRESS 200M - the industry's first integrated PCI Express DirectX 9 chipset for AMD (NYSE: AMD) processor-based notebook PCs. More info here.

Corsair announced DDR2 SO-DIMMS for Mobile Intel 915 Express systems. All three parts are included in Corsair's Value Select family of desktop and laptop memory, and are guaranteed compatible with 915 Express based laptop computers. More info here.

Gigabyte released the new Neon Cooler 775 and Neon Cooler 8 Series of CPU fansinks that target discerning PC gamers who are looking for exciting visual effects combined with maximum thermal dissipation and quiet operation under extreme conditions. At first glance they look pretty conventional, but fan speed control is nice. More info in the 332KB DOC file here.

Microsoft announced a recall on over 14 million Xbox power cords. In all regions except Continental Europe, Xbox consoles manufactured before Oct. 23, 2003, require a replacement power cord. It's apparently a preventative measure. Fewer than one in 10,000 consoles have experienced these component failures, and, in almost all instances, any damage caused by these failures was contained within the console itself or limited to the tip of the power cord at the back of the console. More info here.

Raritan expanded their KVM-over-IP product line, by adding the industry's first IP-based KVM (keyboard, video, mouse) switch that supports five concurrent users and up to 32 servers. More info here.

Thermaltake announced two new CPU coolers. The Beetle I think we've already seen, but the fanless Sonic Tower is new and truly gargantuan.

TwinMOS announced the mass production of high capacity Ultra-X SD card. The 66X Ultra high speed with 2GB high capacity SD card offers excellent stability with data protection. More info in the 184KB DOC file here.

X-Micro announced a new MP3 player that features a color video display: the X-Micro Video MP3 player. The pocket-sized Video MP3 plays videos or displays photos on a crystal clear color OLED display. This device also plays MP3 files, displays lyrics, receives and records FM radio, offers digital voice recording, and serves as a USB flash drive. Pretty cool, check out the product pic here and the 30KB DOC file here for more info.




Water-cooled Shuttles (1 Comments) (link)
Sunday, 20-February-2005 18:55:50 (GMT +10) - by Agg


Just spotted a new PCDB entry, from Mikio, showing off his watercooled Shuttle mini-PC. He actually managed to watercool the video card as well as the CPU:



Click for the PCDB entry! (7 pics)


For more info on that project, and some other watercooled mini-PC's, see this thread in our Extreme Cooling forum.

In case you missed it earlier, The Snarf has an impressive watercooled Shuttle with extra hard drives and some other nice details. We have a full writeup of his project in this article.



Neevo sent in news that Motocycle Helmets are getting the HUD treatment, the technology used by fighter jets so you don't have to take your eyes off the road to see the speed you are doing.

Another event has been organised, this time by cooperx who manages The Icebar on Caxton Street for our Brisbane members. He is offering to throw in a free drink for every OCAUer who turns up, along with that he is running some killer drink deals and possibly some free food!

Tech Powerup has just posted some information on ATI's upcoming Overdrive 4.

Microsoft tutors us on what we call leet speak. Mistakes are often uncorrected. Common typing misspellings (or typos) such as "teh" instead of "the" are left uncorrected and may be adopted to replace the correct spelling. Bloody hilarious!

fester2001 linked us this article, which states Intel researchers have developed a method of generating a continuous laser with a silicon device, one of the first steps toward introducing optical interconnects in future processors, servers, and PCs.

Kamehameha sent in another Google-like site, this one called Gizoogle. Check out the one for OCAU: Australia's busiest PC Hardware communizzles serv'n local n internizzle enthusiasts since 1999 ridin' in mah double R. Brilliant! :D

The Tech Zone covers an important topic to do with Wi-Fi Hotspots; Security.

Phoronix have a Voice Recognition Editorial posted up.

And some reviews to finish off this Saturday:

XG Sidewinder case on Xtreme Resources
Altec Lansing XA2021 Speakers on Cool Tech Zone
Chaintech 6600GT PCI E on Overclex
Shuttle SB775G SFF barebone on Trusted Reviews
Gigabyte 3D1 on t-break
ATI Radeon X800XT Platinum Edition 256Meg on TweakNews
GeForce 6: NVIDIA GeForce 6600 GT on Xbitlabs
Radeon X800 256MB and Radeon X850 PRO on Hexus
Altec Lansing GT5051 5.1 Surround Speaker on 3D Game Man
Alphacool Xtreme Pro on PCmoddingmy
Gitech Z-5300e 5.1 Speaker System on AMD Review
Abit Fatal1ty AA8XE Motherboard on Hot Hardware




Saturday Afternoon (0 Comments) (link)
Saturday, 19-February-2005 14:02:38 (GMT +10) - by Agg


Here's a Kiwi with a case made of fans. Hope he doesn't have any small pets..

eCoustics have a guide to component video cables. They also consider whether DVI, HDMI or Component Video is best. Designtechnica meanwhile have an editorial titled the truth about cables.

Nuxie1 noticed a new magazine/book from O'Reilly, aimed at the DIY enthusiast.

Dan has a bone to pick with lithium ion batteries, while SpodesAbode looked at a magical sticker that claims to make batteries last longer. We were a little skeptical how what appears to be a sticker could claim these results.

Mudgie spotted the power pizza, a stealth laptop case. Because carrying a pizza under one arm to the train in your suit and tie won't look strange at all. :)

Bit-News are the latest to look at Catalyst 5.2 performance on ATI video cards.

If you've got some cash burning a hole in your pocket, here's some buyer's guides to 17" LCD monitors and basic PC's.

Yvonne sent in an article from the EFF about End User License Agreements, those large chunks of text pretty much everyone ignores nowadays. You'll eat my firstborn child if I install this program? Go ahead!

Hexus covered the recent Adult Entertainment Expo. Sadly, the article is mostly technology oriented. :) One company, Lurid Entertainment, now shoots all its production in the 1080-interlace mode, and releases in both 780-progressive and standard versions.

MartyBugs set out to reduce the bling levels of a few electronics items. I remember my surprise when I discovered the YCC-63F1 Server Case had its no-nonsense industrial feel spoiled by an insanely bright blue power LED.




Friday Afternoon Reviews #3 (5 Comments) (link)
Friday, 18-February-2005 16:19:26 (GMT +10) - by Agg


Case & Modding:
Sunbeam Lightbus lighting controller on GideonTech.
Enermax Black Knight CS-527 case on PimpRig.
Thermaltake Shark case on BigBruin.
MGE Titanium Case on GeekExtreme.
Enermax MaxFlow case on TheTechLounge.

Portable & Small Form Factor:
Travelmate 8104 laptop on Hexus.
Iwill ZMAXdp dual-processor SFF mini-PC on SFFTech.
IBM ThinkPad T42p laptop on TrustedReviews.

Misc:
HighSpeed PC HSPC Tech Station PC work area on XtreMods.
HighSpeed PC HSPC Tech Station on ExtremeMHz.
Fossil Abacus AU4002 SPOT Watch on DesignTechnica.
L.I.S. POP LCD Display on PCUnleash.
OvisLink 4-port KVM Switch on Techniz.
Canon Selphy CP500 compact photo printer on TrustedReviews.
Sony VAIO VGC-V2S multimedia PC on BIOSMag.
Hiper Power 3S425 PSU on OC-Service.
SonicWall TZ 150 firewall on BIOSMag.




Friday Afternoon Reviews #2 (0 Comments) (link)
Friday, 18-February-2005 16:11:38 (GMT +10) - by Agg


Cooling:
Swiftech H20-120-FB Water Cooling Kit on MadShrimps.
Fluid XP + cooling fluid on OCOnline.
Speeze EE507B7 CPU cooler on A1-Electronics.
Arctic Cooling Freezer 64 CPU cooler on Short-Media.
Swiftech H20-120 Rev 3 Liquid Cooling Kit on LegionHardware.
Dynatron Model #T81 CPU Water Cooler on Hybrid-Mods.

Mouse Etc:
X-Raypad Thunder9 mousepad on PCModdingMy.
Logitech Cordless Desktop LX500 mouse & kb on BigBruin.

Audio:
Panasonic Technics RP-DH1200 headphones on ByteSector.
Ultra 8-in-1 MP3 Player on Bit-Tech.

Storage:
SilenX Luxurae Hard Drive Silencer on OCModShop.
Ultra Mini-Portable Hard Drive Enclosure on HardwareHounds.
Plextor PX712A DVD R/RW drive on GruntVille.
Western Digital WD3200JB 320GB HDD on THG.




Friday Afternoon Reviews & Threads (0 Comments) (link)
Friday, 18-February-2005 15:04:05 (GMT +10) - by Agg


Memory:
Ultra Products XL PC3200 on Sudhian.
OCZ PC3700EL Platinum on AuphanOnline.
Mushkin 1GB PC2-4200 (533) Dual Pack CL 3-2-2 on OCTools.
Mushkin PC4400 on Hi-TechReviews.

Motherboards:
Gigabyte GA-8GPNXP Duo i915P Express P4 board on HWZ.
Gigabyte GA-8I915P Duo Pro on HWZ.
Foxconn WinFast NF4UK8AA nForce4 Ultra A64 board on TechReport.
Soltek SL-K890Pro-939 on ViperLair.
Foxconn WinFast NF4UK8AA-8EKRS nF4 Ultra A64 on Xbit.
ASUS P5GD2-Premium i915P LGA775 P4 on LegitReviews.
Abit AV8-3rd Eye K8T800 Pro A64 on A1-Electronics.
AOPEN N250A-FR S754 A64 on PCStats.

Interesting Forum Threads:
'Kyoto' era begins in Current Events.
What guitar to get? in Other Toys.
AMD vs Intel P4 Hyperthreading in Overclocking & Hardware.
A beer for the non-beer-drinker? in Geek Food.
How well can you macro? in Photography.




Video Card Reviews, etc (0 Comments) (link)
Friday, 18-February-2005 14:33:58 (GMT +10) - by Agg


There's a zillion things in the news box, so stay tuned for some catch-up this afternoon. First up, some video card reviews:

Prolink GeForce 6600 GT on Guru3D.
Sapphire Radeon X700 Pro Toxic Edition on VR-Zone.
XFX 6600GT on LegitReviews.
ASUS eXtreme N6600GT on Motherboards.org.
Gigabyte Fanless X800 on NeoSeeker.
Gigabyte 3D1 (dual GPU) on Guru3D.
Gigabyte GeForce 6800 and 6800GT on Digital-Daily.
Sapphire Radeon X800XL on GamingNexus.
Gigabyte Radeon X800 on THG.

If you're after video card comparisons, check out the "Fastest Graphics Cards of 2004" article on XbitLabs. Part 1 and Part 2 together cover 27 cards.

On the modding side of things, ARP have a Radeon 9800 to FireGL X2 guide posted. TechPowerUp meanwhile cover X800 voltmods, including VGPU, VMem and VDDQ on Pro/XT/PE cards.

For more, check out our Video Cards forum.




Thursday Midday Reviews & Pics (18 Comments) (link)
Thursday, 17-February-2005 12:28:23 (GMT +10) - by Agg


PSU:
OCZ Modstream 520W on TechWareLabs.
Enermax EG701AX-VE-SFMA24P on ViperLair.
Enermax EG425P-SFMA24P on ClubOC.
XG Vector 500W on MarnsCDA.

Audio:
Klipsch Promedia GMX A-2.1 speakers on TrustedReviews.
Creative MuVo N200 Portable Audio Player on 3DVelocity.
iRiver H10 portable audio player on TrustedReviews.

Cameras:
4 Channel Wireless Camera System on BigBruin.
PowerCam Video DV-3400V digital video camera on RBMods.

Cases:
SilverStone LC11 Home Theatre PC Case on DansData.
SilverStone LC04 HTPC Case on Controlled-Insanity.
Thermaltake Soprano Series (video review) on 3DGameMan.
Sunbeam Transformer on Bjorn3D.
Lian Li V2000 tower on GruntVille.
Antec Case Roundup on OzCaseMods.

Here's a couple more random pics, thanks Jon and G-Phresh:







Wednesday Evening (17 Comments) (link)
Wednesday, 16-February-2005 18:42:01 (GMT +10) - by Agg


Apparently Internet Explorer 7 is on the way. Betas of IE7 will be available this (American) summer. This new release will build on the work we did in Windows XP SP2 and (among other things) go further to defend users from phishing as well as deceptive or malicious software.

RabidHardware (who seem to have a kangaroo mascot) made a Cyrix CPU hotplate and cooked some breakfast on it.

Anandtech looked at a few Small Form Factor systems for S478 P4's and S754 A64's. They also compared the Intel Xeon 3.6 2MB vs AMD Opteron 252 for database work.

FiringSquad wonder why it is that we don't see innovations like the iPod from PC-based companies instead of Apple. Amazingly, more than 1 in 10 US adults have an iPod, report THG.

TheTechZone have an article about digital rights management and digital assets management.

DataFuse have more info on the new Opterons from AMD.

Digitimes have an interview with Kingmax about how their business is going.

ArcticSquad have a roundup of SocketT (LGA775) motherboards, for the latest P4 CPUs.

ArsTechnica covered Day 1 of the LinuxWorld Expo 2005.

The Cassini-Huygens mission continues to impress, returning for another look at Saturn's moon Titan. Last month, the European-built Huygens probe floated down through Titan's screaming winds and dim light into a place where, scientists suggest, liquid methane falls as rain, courses in cataracts through canyons of water-ice walls, and flows into wide seas.




Wednesday Afternoon (5 Comments) (link)
Wednesday, 16-February-2005 17:38:50 (GMT +10) - by Agg


Something interesting from Paul: Attention OCAU fans of the Dr Karl Thursday science program on triple J - moi included. Details of how to subscribe to a podcast of the program are here. I installed the iPodder s/w to automatically get the podcast even though I haven't got an iPod yet :) so I can atleast listen to the mp3 file on my PC. Works ok.

Just as we're getting used to Intel's "Sonoma" Centrino mobile platform, HWZone.il have info on "Napa", the third generation centrino family.

Thanks to everyone who sent word that iiNet are buying Ozemail from its parent company MCI. This $110M purchase will make them the third largest ISP in Australia, after Telstra and Optus. Meanwhile Telstra says to expect dramatic slow-downs if you leech more than 10GB in a month on BigPond.

Here's a PC that thinks it's an Xbox.

Darkness spotted this video (on a possibly work-unsafe site) of the unveiling of the first Mac many years ago.

AMD has cut prices on a range of processors recently.

HWAnalysis have a ranty editorial about piracy, copy protection and price fixing.

Ambush sent word of new unoffical nForce drivers from Station Drivers.

VIA are celebrating their 100 millionth AMD chipset with a contest where you can win stuff. Win one of several K8T890 chipset motherboards or a complete Athlon 64 K8T890 system.

A judge has criticized SCO for a lack of evidence in their case against IBM regarding allegedly copied source code in Linux.

CoolTechZone compared a few linux distributions. I can hear the flamewar already. :)




Interesting Forum Threads (0 Comments) (link)
Wednesday, 16-February-2005 10:56:14 (GMT +10) - by Agg


How's this overclock on 939 3000+ in AMD Hardware.
OCAU A64+ Winchester Stepping Database in AMD Hardware.
Project "Project" (as in XVGA projector) in Modding & Electronics.
Suspended HDD in Modding & Electronics.
De Cruelz's water cooled P160 project in Extreme Cooling.
Home made Dual 380mm x 50mm water res's!! Finished! (pics) in Extreme Cooling.
What PSUs are you guys using in high end systems? in Overclocking & Hardware.
$3.5k televisions, advice? in Audio Visual.
Feb 13-14: 60th Anniversary of the Dresden firebombing in Current Events.
Black box sees into future? in Current Events.
So, my mates and I want to build a drag car in Motoring.
North Sydney Council to double 4WD parking fees in Motoring.
How not to park your HSV in Motoring.
Project: 1977 P6 Ford LTD Silver Monarch (pics) in Motoring: Worklogs.
Overlockers? in Site Discussion.
What does OCAU stand for? in The Pub.
Blocklands.. (it's not LEGO, it's better) in Games.
A dead walk in Photography.
Rice for sushi in Geek Food.
Anyone tried the new Chilli Tim Tams? in Geek Food.
Are tablet PC's rubbish? in Portable and SFF Computing.
VIA IDE Accelerator V120b in VIA Hardware.



Modding:
AeroCool CoolPanel Multi-Function Panel on ExtremeMHz
Cable Safe CableManager & Expansion Pack on Short-Media
Revoltec Cold Cathode Twinset (blue) on OCInside

PSU:
Casebuy EZ PSU Tester
OCZ ModStream 520W on Guru3D

Case:
Lian-Li PC6070 Plus on AMDReview
Logisys Assembled Clear Case on A True Review
Coolermaster Praetorian 731 Case on Madshrimps
Enermax Venus series case on XtremeResources
XG Viper ATX Case on Lan Addict
Enermax Venus Micro Case on Tech-Mods
SilverStone TJ06 on Dans Data
Casetek 1026-9A Midi Case on TecCentral
Arctic Cooling Silentium T2 ATX Case on BigBruin

Keyboard/Mouse:
ATake EasyView 2-Port KVM Switch on Phoronix
BTC 6300CL Ultra-slim EL Keyboard on MetkuMods
Flexglow xRaider and FX Gamer Mousepads on Controlled-Insanity

RAM:
Mushkin PC3700 1GB Hi-Perf Memory Dual Pack on XYZ Computing
OCZ Gold Series Rev.3 PC3700 2x256 Dual Channel on Marns CDA
Corsair TWIN2X1024-5400C4PRO DDR675 on PCmoddingmy
Corsair TWIN2X1024-4300C3PRO on Viper Lair

Motherboard:
AOpen i915Pa-PLF mainboard on Overclocker Cafe
Foxconn WinFast NF4UK8AA-8EKRS nForce4 on Extreme Overclocking
Foxconn 925XE7AA-8EKRS2 on HotHardware
Gigabyte GA-K8NXP-SLI on Hexus
Abit AG8 915P Motherboard on PC Perspective
Albatron K8 Ultra-U Pro A64 S754 Motherboard on Madshrimps

Videocard:
Gigabyte 3D1 Dual Core 6600GT Video Card on HardcoreWare
BFGTech 6800OC Video Card on CoolTechZone

Cooling:
Thermaltake Silent 775 Heatsink on TechTastic.ca
Logisys One For All VGA Cooler on Phoronix

Misc:
JAHT Bluetooth Accessories on Techniz
Billion myGuard 7500GL on Trusted Reviews
Dell Inspiron 9200 on Dans Data
Nokia launch of 6680, 6681 and 6101 on OCWorkBench
Corsair Voyager Flash Memory Drive on Rojak Pot
Epson Stylus Photo RX620 on BIOS



Sniper sent in news about a 7.2GHz overclock out of a 3.8GHz Pentium 4. We have a discussion on this amazing overclock in our forums, here.

There's a very interesting article over on Red Nova about a random number generator, powered by a similar sized microprocessor as a normal calculator that supposedly has the ability to see into the future.

From HindustanTimes.com: Europe's most powerful rocket, the Ariane 5, has been launched with a Spanish satellite and a German spacecraft, bolstering the European Union's bid to become a world leader in satellite launching. More info on their site.

8ms LCDs are starting to pop up everywhere from everyone now, and PC Authority takes a look at some.

Digital-Deity.net managed to get their hands on some screenshots from the upcoming Unreal Engine 3.0. Thanks psynapse!

TweakTown has a look at the new 5.2 Catalysts from ATI. We have a discussion in our Videocard forum here about the new drivers.

Firefox is making Microsoft feel the heat, which has pushed them into holding a secret webcast where potential fixes were discussed to regain market share lost to other browsers.

GTR, which should be hitting our shores within the next few months has an updated demo released. If you are into racing sims, then you have probably already heard of this, but if you haven't, I HIGHLY suggest you give the demo a spin, you won't be disappointed. :)




OCAU: #1 in 2004! (37 Comments) (link)
Monday, 14-February-2005 16:38:38 (GMT +10) - by Agg


I'm very pleased to announce that OCAU won some Hitwise awards for the 2004 calendar year. During 2004 we were the #1 ranked News and Media - IT Media website in Australia, according to Hitwise's analysis of Australian web user traffic.



Not only that, but we ranked #2 in their Computers and Internet - Hardware category, after Apple.com.au. We'll let Apple take the crown there, given the interest in their iPod product. :)



Thanks must of course go to Plus Corporation who came to our rescue early in the year with new server goodies which have coped admirably with our continued growth. AusGamers and Comindico provided the rack space and bandwidth we need - approximately 1 terabyte every month. I can't imagine how we'd get by without them. Thanks also to our other Major Sponsors, being Altech Computers, Computer Alliance and PC Range. They have all been supporting the site continuously for several years now and it's very much appreciated. Thanks also to the many other companies that have been involved with advertising, giveaways and other sponsorship of the site.

OCAU is largely run by volunteers, as you probably know. Be they forum admins, news posters, article/review writers, IRC ops, people who help with server maintenance or just by sending in regular news, the site would collapse under its own weight without their help. They can all be proud of their contribution - it's very much appreciated, not only by me, but by all of OCAU's members and readers, even if they don't always show it. :)

Our biggest thanks however go to you, each member of the huge army of regular readers, forum-goers and general friends of OCAU. Simply by calling OCAU one of your regular haunts on the net, you have helped turn us from "one guy's thoughts about PC stuff" into what we can confidently call the biggest PC enthusiast website in Australia and one of the best communities on the net. I'm constantly amazed by what OCAU has become and it's largely thanks to the continued support and growth of the community. Go team! :)




Monday Midday Reviews & Pics (6 Comments) (link)
Monday, 14-February-2005 11:56:58 (GMT +10) - by Agg


Cooling:
Zalman VF700-AlCu VGA Cooler on ATrueReview.
Thermaltake Big Typhoon CPU cooler on LegionHW.
Sunbeam Wherever PCI Rack card/case cooler on RBMods.
Ultra Glossy Fans on OCIA.
Thermaltake Beetle CPU cooler on LegionHW.
Thermalright XP-120 CPU cooler on Gruntville, covered in our roundup here.

Motherboards:
ASUS P5AD2-E Premium LHA775 i925X on Hexus.
ECS KN1 Extreme nForce4 Ultra A64 on FiringSquad, thanks Ian.
Soltek K890Pro-939 A64 on ClubOC.
EQS A58XK9-ALF Radeon Xpress 200P on Hexus.
Albatron PC025X Pro LGA775 on ViperLair.
Albatron K8X800 Pro S754 A64 on OCInside.
Gigabyte K8NXP-SLI A64 supporting their dual video card on LegionHardware.

Mouse, Keyboard Etc:
I-rocks IR-7220 Cross Direction Optical Mouse on XYZ Computing.
Logitech MX1000 laser mouse on Moditory.
XTracPads Hybrid Mouse Pad on ExtensionTech.
Logitech diNovo cordless keyboard and mouse on XYZ, our review here.
ZBoard Gamers Keyboard Doom3 Limited Edition on VIAVGA.

Here's a couple of pictures from people, with a cat theme. On the left is Gibbon's cat "Dhugal", who has featured in several reviews on OCAU. Here he's intent on making a system build difficult. On the right is a photo(chop) from Bren, seemingly a couple of pets in The Matrix. :)



For more cats, see the current OCAU Cats thread in The Pub.




Sunday Night Reviews & Threads (0 Comments) (link)
Sunday, 13-February-2005 22:13:40 (GMT +10) - by Agg


Audio:
Klipsch ProMedia GMX A-2.1 speakers on Hexus.
Logitech Z-680 5.1 speakers on RojakPot.
iRiver H10 MP3 Player on DesignTechnica.
X-Micro Musepod on RBMods.

Video Cards:
Sapphire RADEON X800 XL on NeoSeeker.
HIS Radeon X700 Pro IceQ Turbo 256 Meg PCI Express on TweakNews.
PowerColor X700 PRO on Xbit.
Chaintech AGP GeForce 6600GT on OCrCafe.
Sapphire Radeon X800XL on Bjorn3D.
Gainward PowerPack! 6800 on CoolTechZone.
Albatron Trinity 6800 on CoolTechZone.

Memory:
Kingston 1GB PC2-5400 HyperX DDR2 dual channel kit on RojakPot.
Kingston HyperX Ultra Low Latency PC3200 on MikhailTech.

Storage:
Three DVD-RW Drives from LG and Sony on X bit.
NEC ND-3520A DVD Writer on TrustedReviews.
Cooler Master CoolDrive 6 & Lite HDD Enclosures (video review) on 3DGameMan.

Interesting Forum Threads:
18 HDD Mini Tower Fileserver (pics) in Modding & Electronics.
Star Wars: Kights of the Old Republic II in Games.
Why aren't video cards component-based? in Video Cards.
Cisco Caralyst 2916M-XL trunking? in Networking and Internet.
Fastest car/bike on OCAU in Motoring.




Saturday Afternoon (20 Comments) (link)
Saturday, 12-February-2005 13:50:01 (GMT +10) - by Agg


TheWedgie sent in some info about the merger of Australia's ABA and ACA, the Broadcasting and Communications authorities. More info here.

Apparently the hot, wet weather we're experiencing in NSW and QLD lately is making redbacks come indoors. A female redback's bite usually results in sweating and pain, which slowly builds to the point of being unbearable. All the more reason to let Daddy-long-legs stay - they can capture and eat redbacks and are not harmful to humans.

NYT has an article about powersaving PC's. Not that this concerns us, because all our PC's are folding while we sleep anyway. EETimes report on efforts to reduce or rapidly dissipate the amazing amounts of power and heat involved with modern processors. Sudhian meanwhile have a report on the effect of dust in your PC and heat.

Wired have an interesting story about simulating patients for medical diagnosis and trialling potential cures.

HWZ compared seven Radeon X800 Pro AGP video cards, from ABIT, Connect3D, GeCube, Gigabyte, HIS, PowerColor and Sapphire. Meanwhile, HardOCP looked at BFG video cards, including GeForce 6600 GT OC AGP, 6600 GT OC PCI-Express and SLI.

TheTechZone want to tell you all about blue-ray technology. Not big enough? Try the one terabyte data disks being promoted by the Holographic Versatile Disc (HVD) Alliance, thanks Josh.

Apparently being smart isn't always a good thing in pressure situations. There's a few interesting articles on that site, actually.

Bigiain pointed out this iPod Shuffle RAID array, using 4 of the little USB gadgets. So we fire up Disk Utility, and put them into a RAID set, Striping them for a grand total of 3.9Gb of storage.

It had to happen eventually - Pfizer, who make Viagra, are going legal in response to the endless tide of Viagra spam. Microsoft are involved too, so it's a software and hardware approach.

Futurelooks bemoan the fate of single geeks on Valentine's Day. Doesn't seem to be loading properly for me. Anyway, Mark meanwhile suggests this charity drive which lets you celebrate Valentine's with a loved one, and give food/infrastructure support to victims of the tsunami. So, spread the love with a goat for tsunami relief this Valentine's Day! Seems a bit odd, but he says it's real.

Tech-Report reviewed the Corsair XMS Xpert memory recently, as did HardOCP. I was actually at Altech's Sydney office yesterday and had a look at some of this stuff. The glowing display that sits on the top of the memory banks isn't just for bling value - you can actually report some useful info there.

Marcus spotted this lego game, for single or multiple players.




Friday Afternoon (12 Comments) (link)
Friday, 11-February-2005 14:35:44 (GMT +10) - by Agg


Bern sent word that Slackware v10.1 has been released. There's a thread about it here in our forums and AusGamers have the 4 ISOs available for download here.

ArsTechnica have an article discussing the Cell processor in some detail. So far they've published part 1 and part 2.

A few people let us know that Samsung's TCCD memory chips have been discontinued. However, LegitReviews say it's not as grim as all that. Why should you care? Because Samsung's TCCD chips are some of the most overclocking-friendly DDR1 chips out there.

In case you missed the SATA boat, BigBruin have an article about SATA vs ATA hard drives.

From UB3R: just letting you know that www.omegadrivers.net finally have their latest drivers up for the Catalyst 5.1 release. Ambush also notes some nForce4 standalone drivers, version 6.39.

Ice_Cold noticed that yet another torrent site has been shut down, but interestingly the website has been replaced with what seems to be a stern warning from the MPAA.

ARP looked at overclocking the Mobility Radeon 9700 for even faster graphics on the run.

3DXtreme compared some high-end video cards, the ATI X800XT PE vs. eVGA 6800 Ultra.

ArsTechnica have a system buyer's guide, with an HTPC focus.

This timewaster takes a fair while to load on dialup, but browca04 says it's so addictive it should come with a warning. But it's Friday afternoon, so warnings be damned!



Audio:
Orb Audio Classic Two Speaker on Designtechnica
Altec Lansing XT1 Portable USB Speaker System on CoolTechZone
Logitech Z-640 5.1 Speaker Set on Rojak Pot
HCT 720G 5.1 Surround Sound Headphones on Controlled-Insanity
TerraTec NOXON wireless audio server on BIOS
Terratec Aureon 7.1 FireWire on TrustedReviews
Sound Blaster Audigy 4 Pro on Guru3D
AL Tech AnyDrive Car MP3 FM Transmitter on MikhailTech

Cooling:
Swiftech H20-120-P Water-Cooling System on Xbit Labs
Waffer PC AirCon PAC 400 on Virtual-Fusion
Jetart JACSH1 VGA Cooler on Bjorn3D
Asetek WaterChill 2 Water Cooling Kit on 3DGameMan
Logisys LED Stove Fan on MikhailTech
Scythe Freezer 64 CPU Cooler on Bigbruin
PrimeCooler HyperCool 4+ air cooler on A1 Electronics
Gigabyte 3D Cooler Ultra GT on Hexus
Asetek VapoChill XE-II on Hexus
Glacial Tech Igloo 7200 Light on Phoronix

Modding:
Thermaltake SViking on Arctic Squad
Sunbeam Minibaybus on Rbmods
Sunbeam Thumbscrews on Rbmods

Misc:
Nextlink Bluespoon AX on ExtremeMHz
LongBow Micra flashlight on Dansdata
Mitsubishi M900 Clamshell Camera Phone on HardwareZone
Metal Gear Solid: Snake Eater on Bytesector
Pentax Optio SV on TrustedReviews
Samsung 920T LCD Display on XYZ Computing

Motherboard:
Asus P5AD2-E Premium Wireless on Bytesector
EPoX EP-5EPA+ on Hardware Zone
Foxconn 915A01-P-8EKRS on Hardware Zone
MSI K8N Diamond SLi on Trusted Reviews
Foxconn NF4UK8AA-8EKRS nForce4 Ultra on Bjorn3D

SFF\Systems\Notebook:
Shuttle XPC SB86i mini-barebones system on Tech Report
Foxconn e-bot SFF PC on HotHardware
Gateway 7200XL Desktop on Designtechnica
Gigabyte G-Max N411 Notebook on HotHardware
Soltek Qbic EQ3501 915G Cube on Neoseeker
Shuttle SB95V2 SFF PC on Hardware Analysis

Case:
ThermalRock Dragon Gaming full tower computer case on A1 Electronics
Arctic Cooling Silentium T2 Case on A True Review
SilverStone LC10 HTPC Case on Ap0calypse
Thermaltake Soprano VB1000SWS on WhispTech
Sharkoon Silvation on Arctic Squad
Cooler Master Wave Master on OCIA

Mouse\Keyboard\Accessories:
X-Trac Mouse gliding kit on Pyroport
Steelpad S&S and Gaming Accessories on OCModShop
Logitech Cordless Desktop MX 3100 on Hardware Pacers
Saitek R440 Fprce Feedback Racing Wheel on TheTechLounge

Network:
Linksys Wireless-G Range Expander (WRE54G) on BIOS
Hercules WiFi products on TrustedReviews

Storage:
Corsair Flash Voyager USB 2.0 512Mb drive on XtremeResources
Vantec SATA card on Rbmods
Corsair Flash Voyager USB 2.0 on Viper Lair
Corsair Flash Voyager USB 2.0 Flash Memory Drive on 3DGameMan
1GB Lexar High-Speed 32X SD Memory Card on The Tech Zone

Videocard:
BFG Tech GeForce 6600 GT on Beyond3D
256MB XGI Volari V8 AGP Card on Bigbruin
Leadtek WinFast PVR 2000 tv pci card on HWzone
NVIDIA GeForce Go 6600 on Bit-Tech
Asus Extreme N6600GT on OCModShop
Chaintech GeForce 6200 TurboCache 32MB PCI-Express on Techniz

PSU:
Enermax 600W EG-701AX-VH(W) (translated) on Dark-Tweaking
A.C. Ryan MORF Kit on Oz Case Modz




Thursday Afternoon (0 Comments) (link)
Thursday, 10-February-2005 15:46:03 (GMT +10) - by Agg


There's some new Catalyst 5.2 WinXP drivers for Radeon video cards. See the release notes from ATI here.

Microsoft has released a few more critical patches for various software packages. More info here, thanks fester2001, who also notes a new MSN Messenger worm.

PCStats visited the Gigabyte factory, to see how motherboards are made. Interesting stuff.

LostCircuits have an article about future patent wars. Rambus against the DRAM manufacturers is just the tiniest tip of an iceberg of gargantuan proportions.

BF1942 team players should check out this cool Advanced Tactical Centre tool, which lets you map out tactics for your next game.

Anandtech wonder if the Pentium M, originally designed for mobile computers, is a viable alternative for desktop use. SilentPCReview seem to think so, having looked at a couple of Pentium M motherboards for desktops.

Anandtech also cover the quest for more processing power, wondering if single-core CPUs are doomed.

Back to the Pentium M, GamePC compared it with AMD's Winchester A64 in a battle at 90nm, with power consumption and performance considered.



This possibly may come to you as old news, but iinet have released iibroadband2, promising speeds up to 8000k for those that have access to an iislam. Full details on their site.

Reuters reports the world's largest chip maker, said on Tuesday it would add 64-bit computing capabilities to its flagship Pentium 4 computer chips this month, allowing more powerful processing of large chunks of data... More info here, thanks Paul.

Paul links us to an article on believe it or not, Microsoft's site which compares NTFS to its little brother, FAT32. Try and guess the winner. ;)

If you are in Newcastle, and are finding your roof being crashed into by chickens, then you might want to check out this article on ABC's site. Thanks von Stalhein!

Ambush sent in news that the Longhorn Transformation Pack 9.0 is out for Windows XP and Server 2003.

Hardware Analysis step into the dark realms and discuss the topic of piracy, and who exactly are the good, the bad and the ugly.

A few people sent in that Google has released yet another feature, Google Maps!

CoolTechZone discuss the state of linux gaming and how Linux appears to be 'gaining steam'.

The Tech Zone have posted a Beginner's Guide to Networking, and I'm even considering printing it out and giving it to some of my clients to save me the breath on how to renew an IP address over and over again.

This article is definitly worth a read, Hide your iPod, here comes Bill!. It's about the 80% of Microsoft employees that have an iPod.

The Inquirer has an article posted entitled Is the Half-Life 2 EULA illegal?. I'll just let that topic inaugurate your curiousity. :)




Wednesday Morning Reviews (0 Comments) (link)
Wednesday, 9-February-2005 09:34:06 (GMT +10) - by Agg


Video Cards:
ATI X800XL on TBreak.
MSI NX6600-VTD128E Diamond on Hexus.
ABIT RX600 Pro-Guru on ViperLair.
XpertVision GeForce 6200TC on Phoronix.
Gigabyte TurboForce GeForce 6600GT on LegionHardware.
NVIDIA's GeForce Go 6600 and GeForce Go 6200 Launch on Hexus.

Memory:
Wintec AmpX PC2-5400 1GB DDR2 on ClubOC.
Muskin 1GB PC4400 High Perf Dual Pack on OCTools.

PSU:
19 PSU Group Test on TrustedReviews.
PSU Roundup on MadShrimps.
Thermaltake PurePower 680W on GruntVille.
Aspire Chameleon 550W on OCrsClub.
Antec Phantom 350W on ExtremeOC.



Spam is well on the way to being over 90% of all email, and now it's being delivered differently.

IBM, Sony and Toshiba are closer to producing their Cell processor. They're calling it a supercomputer on a chip and there's some discussion here in our forums.

Intel have finished the first production run of dual core CPUs. Intel plans on releasing its first two dual-core processors and dual-core-enabled chipsets in the second quarter of this year. Discussion in our forums here.

Apparently a big space rock will be visible with the naked eye as it flies past Earth in 2029, but not from Australia. Maybe we should start an online petition to get it to extend its tour to include us.

Bit-Tech cover memory bandwidth - what it is, and which modules give you more of it.

TheTechZone have an article on replacing your TV with the internet, in the form of short films. Many of them are better than the professionally produced, high-budget TV shows that stream so liberally to your TV box.

If you're taking a holiday with loved ones in Indonesia, make sure you don't kiss them!

XYZ have an editorial entitled SL Why?, pondering the usefulness of SLI technology.

A newly-proposed NASA budget would see the Hubble Space Telescope die in orbit. We have decided that the risks associated with the Hubble servicing at this time don't merit going forward.

Interesting Forum Threads:
My fileserver mods (many pics, MANY drives) in Modding & Electronics.
Turkey's ambition towards Kurdish Iraq in Current Events.
Copyrighting public places in Photography.
Copyright Infringement? in Photography.
No more 15 year old imports in Motoring.
After 6 months I opened up my case and gave it a clean in Overclocking & Hardware.
MailOrderSausage's custom watercooling mod in Extreme Cooling.
Great show about urban myths/legends in Tv, Music and Movies.




Zensonic Z800 5.1 Home Theatre Speakers (13 Comments) (link)
Tuesday, 8-February-2005 00:06:10 (GMT +10) - by Agg


Gibbon checked out the Zensonic Z800 home theatre speakers for us. This is a full 5.1 home theatre speaker package including an active subwoofer.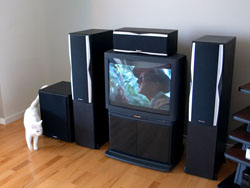 Click for the review!






Imation Disc Stakka (35 Comments) (link)
Monday, 7-February-2005 13:14:08 (GMT +10) - by Agg


Imation have an interesting little gadget to help you organise your CD's (and DVD's, Xbox games, etc). It's a desktop disk carousel which, with the included software, can finally get those piles of CD's under control: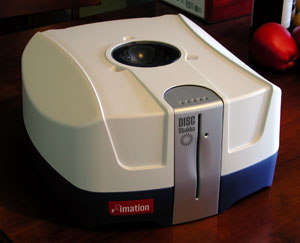 Click for the review!





Case:
Silverstone TJ-06 Case on OCIA
X-Handler Case on A True Review
Lian Li PC-7A Plus on ClubOC
XG Quantum ATX Case on Pimprig

Audio:
Griffin Technologies radioSHARK on Ars Technica
MSI Mega View 561 20GB Portable Media Player on GideonTech
Aigo F660 portable MP3 Player on Pyroreport
Logitech Z-640 5.1 Speaker Set on Rojak Pot

Keyboard/Mouse/Input:
Microsoft Keyboard and Mouse Combo on CoolTechZone
Logitech Cordless Rumblepad 2 on TheTechLounge
I-Rocks IR-7220 Optical Mouse on BigBruin
Deck Keyboard on The Moditory
Logitech MediaPlay on HWzone

Video:
GeForce 6600 GT AGP Comparison on Techreport
HIS x700 IceQ on t-break
ASUS Dual 6600GT on TCMagazine
Gigabyte X700 PCI-E on Rbmods
Albatron Trinity 6600GT PCI Express on Viper Lair
Sapphire Radeon X800 graphics card on Tech Report
Sapphire - ATI x800 Pro on TCMagazine
ABIT RX600 Pro-GURU on Legit Reviews
MSI RX600XT-TD128E on PCmoddingmy
ATI Radeon X850 XT Platinum Edition on AMD Review
Sapphire X800Pro VIVO Toxic on OC-Zone
FIC Radeon 9600XT on OC-Service

Motherboard/Chipset:
VIA PT880 Pro, PT894, PT894 Pro Chipset Preview on CoolTechZone
Intel 915P Shootout : ECS 915P-A on Hardware Zone
EPoX 9NDA3+ Socket 939 (nForce3 Ultra) on TweakTown
Gigabyte GA-K8NXP-SLI (NVIDIA nForce4 SLI) on Hardware Zone

Storage:
Spire Gigapod 3,5 HDD Enclosure CF103-NEB on SilentHardware
Corsair Flash Voyager on Overclockers Online
Seagate 100GB Portable External HDD on Bjorn3D

Cooling:
Zalman CNPS7700-Cu Heatsink on PC Perspective
Thermaltake StarForce Fan on Mikhail Tech
Asetek Waterchill Antarctica Water Cooling System on Tweaknews
Arctic Cooling ATI Silencer 4 on Tech Powerup
ASETEK Waterchill on Techware Labs
Akasa AK-688 Black Knight Heatsink on Mikhail Tech
SilverStone NT01 CPU Cooler on TrustedReviews

SFF/XPC/PDA:
ASUS S-presso SFF System on Rojak Pot
Shuttle SB77G5 on 2CPU
TriGem KLOSS KL-I915A on Hexus
palmOne Tungsten T5 PDA on XYZ Computing
Silverstone LC03 HTPC Case on XtremeResources

Misc:
Logisys White Laser LEDs on Mikhail Tech
Casebuy USB Vacuum Cleaner on MetkuMods
Sony HDR-FX1E - three-CCD semi-professional HDV Camcorder on Hexus
Brother MFC-410CN Multi Function Printer on Trusted Reviews
D-Link DCS-5300G Wireless Internet Security Camera on BIOS
Cooler Cable Accessories on Phoronix
Mac Mini on Division Two
Matrix Orbital MX411 on PC Arena
Acer AL2671W 26in Widescreen LCD TV on Trusted Reviews
Antec Neopower 480w on Artic Squad
Mushkin PC2-4200 CL4 on Bytesector



MadShrimps took an A64 FX-55 and made it seriously cool with some liquid nitrogen. About a year ago I discovered DSI fluids and a product called Opticool. It's a di-electric oil that is pourable to about -90°C.

Here's an old school PCDB entry, sporting twin Socket8 CPUs. Not Pentium Pros, though, they're P2 Overdrive chips, Intel's attempt to stop people who invested in Socket8 from rioting at only getting one generation of CPUs for their boards. :) Interesting pics, anyway.

Why does Windows still suck? Inquiring minds want to know.

AnandTech cover audio solutions, including onboard, consumer and pro solutions.

TechPowerUp follow up on their previous "missing pipelines" article by explaining MSI will replace or refund the cards in question. According to MSI, 350 defective cards were sold. Those cards do have NVIDIA's NV45 chip, MSI says the real cause of the "still unknown chip problem" remains to be found.

HotHardware have a roundup of dual layer DVD burners.

PCStats list a few popular ways to kill your PC accidently.

Digit-Life have a hefty article titled "How to Choose a Motherboard and Not Be Sorry Afterwards".

From Skit: The Voting thread for the January instalment of OCAU's Iron Photographer is up, here. Head over and make your vote for your favourite shot. Also, the Feb comp is under way, details can be found here.

Warhamster sent in today's timewaster, that lets you pretend you're outside in the Australian summer, swatting flies.

Lastly, here's two pictures that a few people have sent in recently. They concern a little furry critter's unfortunate demise inside a laser printer. Gotta feel sorry for the little feller, but the pics are unfortunately kinda amusing too. I won't put thumbnails up because I know some people get upset by this kind of thing. So, if you're going to be upset, don't click here or here. :)

Interesting Forum Threads:
Geographically clustering print servers in Networking & Internet.
Nil's Updated Pioneer Firmware (107 v1.21 / 108 v1.18) in Storage, Backup and Memory, thanks Dr. K.
Any breakdancers in the house? in Sport, Fitness & Health.
OCAU PC Game of the Year in Games.
Mini Review - Shuttle SB86i in Portable and SFF Computing.
My first watercooled rig in Extreme Cooling.
A truly custom casemod worklog in Modding & Electronics.
F1 Rules for 2008 in Motoring.
Fan Comparison in Extreme Cooling.



Crusterminator sent in news about Telstra announcing a device that allows ADSL to be utilized up to 20km from an exchange. More info on Whirlpool.

A page of doodles found on Tony Blair's desk at last week's economic summit in Davos sparked a wave of excitement in the media. Read the full article here, thanks Matt!

From Mariomart: I have just watched a great video online at Crave Online showing the new range of Robosapien toys for later this year. There is also an article here giving more information.

Tech-Mods have a guide on properly gluing acrylic or plexi.

Tweakhound has a new article up Windows XP Backup Strategies For Home Users, it doesn't cover anything geeks don't already know, just the basics really. Topics covered are: Partitioning, XP's built-in backup methods, using Acronis Disk Director and Norton Ghost. It also points to other backup solutions.

Legion Hardware have the second part of the Sempron vs A64 Comparison posted up.

Acer made a huge whooopsie daisy when they accidently revealed lots of customer information on their site.

The Mac Mini has been overclocked from 1.25GHz to 1.42GHz. Thanks 'big'. :)

Andrew sent in a link with images from computing's history. We had a similar article posted here with pictures of very expensive (now old) hardware.



Display:
Toshiba TDP-T91 DLP Projector on TrustedReviews
BenQ FP71G+ 17-inch 8ms TFT LCD on HardwareZone

Ram:
OCZ PC2-4200EB Platinum Rev 2 Ltd on ClubOC
Crucial Ballistix Tracer 1GB PC4000 DDR on EOC
OCZ EL DDR PC-3700 Dual Channel Gold Rev 3 Memory on PCmoddingmy

Videocard:
HIS X700Pro IceQ (PCI-E) on Overclocker Cafe
XGI Volari V3XT on TCMagazine
GeCube SilenCool X700 PRO 256MB on Hexus
Sapphire HYBRID X800XL on Lost Circuits
HIS X700Pro IceQ Turbo VIVO on Viper Lair
HIS X700 Pro IceQ Turbo VIVO on Bjorn3D
MSI Radeon X800 SE on Bit-tech
GeCube Radeon X800XL & X850XT Graphics Cards on TweakTown
SapphireTech Hybrid X800 256MB PCIe Video Card on Pimprig
Leadtek PX6600GT Extreme Version 6600GT PCI-E on Overclockers NZ
ATI Mobility Radeon X700 on Hot Hardware

Cooling:
PC AirCon PAC400 on Xtreme Tek
Scythe Kamaboko CPU cooler SCKBK-1000 on OCWorkbench
Evercool WC-202 Watercooling Kit on 3DXtreme
Evercool wc-202 Watercooling on Guru3D
Arctic Cooling Freezer 4 on XYZ Computing
Thermaltake BigWater Water Cooling Kit on 3DGameMan
Scythe FCS-50 Heatlane CPU Cooler on Hi-Tech Reviews

Modding:
Vis Gothic Thumbscrews on Hard-H20
Wisetech Flash 4-Pin Y Cables on CaseModGod
SunbeamTech Light-Bus & Laser LEDs on Madshrimps

PSU:
FSP AX500-A Blue Storm PSU on Short-Media
Ultra X-Connect Green UV 500W on PCStats
CaseBuy EZ Power Supply Tester on LAN Addict
Seasonic S12 500W Power Supply on BigBruin

Motherboard:
Chaintech V915P on PcPerspective
Asus P5AD2-E i925XE Motherboard on HotHardware
DFI LANPartyUT 915P-T12 on Hardware Zone
DFI 855GME-MGF Pentium-M mobo on Tech Report
Neoseeker Soltek SL-K890Pro-939 on Neoseeker

Misc:
AJP G220 Laptop on TrustedReviews
Arctic Cooling Silentium T2 Case/PSU on Silent PC Review
Saitek Cyborg Evo Force Joystick on 3DXtreme
MGE Quantum Case on A True Review
Logitech MX 3100 Cordless Desktop on HardcoreWare
Mozilla Firefox on The Tech Zone
3Com OfficeConnect 8 Port Gigabit Switch on BIOS




Thursday Evening (4 Comments) (link)
Thursday, 3-February-2005 18:06:15 (GMT +10) - by Agg


FearTec spotted this French review (translated) of Intel's 64-bit enabled P4. With final, this Pentium 4 6xx leaves us a very unpleasant impression: That to be only cows with milk, directed by the very powerful marketing of INTEL. No doubt that INTEL is able to do better than this processor. No doubt either that this one was voluntarily attached to appease such or such marketing strategy in the more or less long term (you said Smithfield?). Useless to speak either about P4 EE 3.73 GHz, which is a true stove setting: Often slower than the 3.46 GHz and costing the eyes of the head, it does not have any interest strictly.

Atomic have an article about the games classification scheme in Australia, including the lack of an R rating, which makes several games illegal to sell here.

GruntVille have their CES2005 coverage posted, as do eCoustics.

ArsTechnica have an article about AMD's Hammer, the 64-bit Architecture Behind the Opteron and Athlon 64.

A Westmead man has been charged with selling stolen goods on Ebay recently. McKay said a number of the illegally sold items had been recovered and is currently being returned to their rightful owners. With the help of a technology known as micro-dot, the police found it easier to track down the original owners of the properties.

TheTechZone have a wireless troubleshooting guide, in case your network is misbehaving.

HWAnalysis took a look at WinXP Media Center Edition, for home theatre PC's and the like.

Dan has more letters than you can shake a large cat at. More on the Cold Heat, WiFi through trees, DVD to RF, BitHead power, flashy electrocution risks, the AAAs that possibly ate a camera, Troy H's magic ray gun, and gibberish.

Choice Magazine compared a few operating systems in a recent article, thanks Bern. He notes this odd comment: We'd also like to see inbuilt antivirus software in all operating systems as the tested operating systems don't currently include a virus checker.




More Press Releases (5 Comments) (link)
Thursday, 3-February-2005 02:17:50 (GMT +10) - by Agg


ASUS announced the world's first MicroATX server motherboard based on Intel's E7221 chipset. The P5CR-VM supports two Ethernet LAN controllers and load balance functions, enabling 1,000Mbps high-speed networking and efficient bandwidth management. It delivers excellent data protection with Serial ATA RAID, which included RAID levels 0 and 1 functions as well as fault tolerance. Four Serial ATA ports are also available for data storage scalability for future upgrade. More info and a board pic here.

Corsair Memory announced their "COOL" watercooling kit. To develop this kit Corsair performed exhaustive testing on virtually every water cooling component available, then selected the combination of components that together delivered the top results. The complete kit includes a 120mm fan, radiator, CPU cold block with factory-clamped tubing, bay reservoir, 12-volt DC pump, and all necessary mounting hardware. Each component is the best in its class. More info in the Corsair press-release here. Altech sent another press-release with more info and a product pic here.

Asetek let us know their VapoChill LightSpeed CPU cooler was used to tweak a 3.80GHz Intel CPU to 5279.4MHz. More info in their forum thread here.

Senator Ellison announced the launch of a new website to help protect children from online sexual predators. Welcoming a landmark on-line alliance between law enforcement agencies from Australia, the UK, USA and Canada, Senator Ellison said the new Virtual Global Taskforce (VGT) website aims to be a "one stop shop" for all information about child protection on-line. The website is here and there's more info in the press release (52KB DOC) here.

OCZ announced PC2-5400 DDR2 Enhanced Bandwidth Platinum memory. As a member of the Enhanced Bandwidth Series, PC2-5400 Platinum maintains lower latencies than conventional DDR2-667, while providing intelligent bandwidth management to allow maximum system performance without compromising stability. Ideal for the most demanding computing environments, this memory can achieve blazing speeds of up to 667MHz at CL 4-2-2-8. More info in the press release here.




Archive Updated (4 Comments) (link)
Wednesday, 2-February-2005 21:13:39 (GMT +10) - by Agg


We had a few articles in January - check these out if you missed them the first time:

Intel's MatrixRAID Examined article.
Mini RC Submarine and Speedboat remote-controlled toys review.
DDR2 Takes Off: OCZ PC2-4200 Rev2 and ASUS P5AD2-E article.
Six Smaller P4 Coolers following up on our Five Large P4 Coolers roundup.
DigitalNow DNTV Live! DVB-T Tuner Card review.




Press Releases (6 Comments) (link)
Wednesday, 2-February-2005 19:11:29 (GMT +10) - by Agg


ASUS Australia officially opened their Australian headquarters and notebook service centre. "We have set a goal of all repairs being completed in 3 working days or less, allowing us time to test the machines comprehensively and avoid any further inconvenience to our customers. Where we are unable to meet this, we will make loan machines available to minimise the inconvenience" More info here.

Western Digital are now shipping "Cool" drives up to 320GB in size. Lowering the drives' power consumption means the operating temperature of the new WD Caviar drives is much cooler which provides for enhanced drive reliability. Cool drives are increasingly important for today's multi-drive and small-form-factor systems. More info here.

Shuttle claim to have the world's first BTX SFF barebones. Designed to meet exacting thermal and noise standards, this exceptional computer delivers whisper quiet cooling through optimized in-line airflow thanks to*Intel's new BTX format. More info here.

VIA Technologies announced their EPIA SP13000 platform powers a new "Tranquil PC", a quiet media center computer. The addition of the latest Tranquil HDD cooler caddy on anti-vibration pads - which also reduces shock damage - means that there is much less vibration and noise, and provides the added benefit of the hard drives running much cooler, extending their life considerably. More info here.

Sauber Petronas, the Formula One racing team, announced their new supercomputer. Altogether, the new Sauber supercomputer comprises 530 AMD Opteron processors in a cluster architecture with dual nodes installed in High-Density Cooling Enclosures provided by American Power Conversion (APC). As a world debut, the system is the first ever to use APC's "InfraStruXure" High-Density Cooling Enclosures. The supercomputer comprises a total of ten racks, each having a width of one metre, a depth of 1.20 metres and a height of 2.30 metres, resulting in a total width of ten metres and an impressive weight of 18 tons. More info and pictures here, thanks HR350.




Wednesday Midday (5 Comments) (link)
Wednesday, 2-February-2005 12:00:41 (GMT +10) - by Agg


TBreak checked out the 3.46GHz Extreme Edition P4 CPU. We also reviewed it, and the 925XE chipset that goes with it, here.

CNET have an article about the move towards silent computing rather than power at any volume.

2CPU meanwhile looked at SuperMicro's Super Quiet technology.

Hexus covered NVIDIA's new nForce4 Pro Opteron chipset with PCI-E, while LegitReviews report on the new P4 chipsets from VIA.

TechReport compared three GeForce 6600GT video cards, from Albatron, BFG and XFX.

If your operating system is misbehaving, consider these optimisation guides for Win2k, Win98 and WinXP.

If you're waiting for Battlefield 2, like most people, then this interview should whet your appetite. There's a gameplay movie on AusGamers too.

Xbit are saying that AMD's Socket939 should have a long life. Let's hope it lasts as long as SocketA/462 did!

HP claim their researches have proven a technology that could replace transistors as the fundamental building block of computers. "This could someday replace transistors in computers, just as transistors replaced vacuum tubes and vacuum tubes replaced electromagnetic relays before them."

The BBC have an article about the next big thing in home theatre, high definition DVDs.

There's a document containing the Top 10 Tips for Catalyst Driver Users on Warp2Search.

AusGamers have a new demo of Star Wars: Republic Commando game available for download. They also have a mirror of the new Far Cry Patch v1.3 to v1.31. This upgrade requires the full version 1.3 patch and addresses some multiplayer bugs.

Tzorst pointed out these educational web games. Waste some time and learn the geography of europe. :)

There's another timewaster here, involving flicking peanuts past squirrels, thanks Banshee. You might want to turn the volume down on that one.



Display:
Acer AL1715b on Phoronix
Samsung SyncMaster 243T 24" LCD Monitor on Bytesector
Samsung SyncMaster 243t - 24" LCD Monitor on Techtastic

Case:
ThermalRock Dragon Case on Overclocker Cafe
Lian Li PC-6070Plus Silent ATX Case on Pimprig
Sunbeam Transformer case on Rbmods
Enermax CS-5271 "Black Knight" Case on A True Review
SilverStone TJ03 Case on PCmoddingmy

Cooling:
AeroCool Gatewatch on AMD Review
Swiftech H20-120(Rev. 3) Liquid Cooling Kit on OCIA
Arctic-Cooling Freezer 4 Heat Pipe Cooler on ExtremeMHz
Titan Vanessa CPU Cooler on BigBruin
PrimeCooler HyperCool III+ air cooler on A1 Electronics

Audio:
Logisys Multimedia Acoustics System on Hardware-Pacers
Creative MuVo V200 Portable Audio Player on 3DVelocity
Apple Ipod Shuffle 1GB on XYZ Computing

Keyboard/Mouse:
XRAY Technologies Gaming Mouse Pads on Tweakers
BenQ x730 Wireless Desktop Companion Pro on Hardware Zone

Videocard:
ATi Radeon X800 Pro on OCModShop
HIS X700Pro IceQ Turbo VIVO 256MB PCI-E on Overclockers Online
NVIDIA GeForce 6200 TurboCacheM on Beyond3D
HIS X700Pro IceQ (PCI-E) on Overclocker Cafe
XFX GeForce 6600GT on Bit Tech

Motherboard/CPU:
NVIDIA nForce Professional dual-processor motherboard on AMD Board
Intel 915P Shootout : Biostar P4TGP 775 on Hardware Zone
GIGABYTE GA-8I915G Duo Motherboard on Techniz
Intel Xeon 3GHz Noccona with ASUS NCL-DS Motherboard on TweakTown

PSU:
Thermaltake Purepower Fanless 350Watts on OC-Zone
Ultra Products X-Connect 500Watt Modular Connect PSU on Tweakers
OCZ 520W ModStream Power Supply on Bjorn3D

Storage:
X-Micro USB 2.0 Flash Drive on CoolTechZone
Hitachi 7K400 400GB HDD on HWZone

Misc:
NVIDIA nForce Professional 2200 and 2050 Chipsets on CoolTechZone
Tranquil PC T2.e/MCE2005 EPIA-SP on Hexus
Canon EOS 20D on Trusted Reviews




Reminder: Win a PSU or Arctic Cooling Products! (1 Comments) (link)
Tuesday, 1-February-2005 13:54:37 (GMT +10) - by Agg


Our current contest is kindly sponsored by HD Audio Visual. One lucky winner will score a Coolmax CR-550B 550W Silent PSU! First runner up gets an Arctic Cooling VGA Silencer, while the second runner-up gets two Arctic Cooling Arctic Fan 3 kits. To enter, post in this thread with your answer to this question: Why would you buy a Coolmax PSU? The "best" answer will win - yes, we're keeping the criteria vague. :) This contest will run until next Monday - good luck!




Interesting Forum Threads (0 Comments) (link)
Tuesday, 1-February-2005 12:15:50 (GMT +10) - by Agg


Newcastle 3500+ or Winchester 3200+ in AMD Hardware.
Hypothetical article - Linux Microsoft Memo in Other Operating Systems.
Smoothwall vs IPCop in Other Operating Systems.
ABIT WN-2S+ Dual Opteron board in SMP & Clustering.
Overclocking ASUS M6000N Notebook in Portable and Small Form Factor Computing.
My new Mac Mini in Portable & Small Form Factor Computing.
Cleaning CPU core? in Newbie Lounge.
Cut is OVER! :) in Sport, Fitness & Health.
skipping rope good exercise? in Sport, Fitness & Health.
Outfoxed: Rupert Murdoch's War On Journalism - ABC Tues 9:20pm in TV, Music and Movies.
Airless tyres meet the Tweel from Michelin in Motoring.
Porsche Cayman in Motoring.
HitchHiker's Guide to the Galaxy advance screening/review in TV, Movies & Music.
New cameras this year in Photography.
A few more outdoor portraits, comments welcome! (pics) in Photography.




VIA PT Series Chipsets for P4 (1 Comments) (link)
Tuesday, 1-February-2005 11:03:24 (GMT +10) - by Agg


VIA announced the PT Series of chipsets for P4 motherboards. The new chipsets, which include the VIA PT880 Pro and PT894 chipsets, targeted at the performance mainstream market, and the PT894 Pro, a solution optimized for the workstation and power user segments, all support the latest Intel Pentium 4 and Celeron processors up to 1066MHz FSB. They are VIA's take on PCI-Express for P4, with the really interesting thing being the 880Pro's genuine AGP8X support AND PCI-E at the same time.

Coverage on AnandTech, BigBruin, HardCoreWare, HardOCP, Hexus, HotHardware, LegionHardware, PC Perspective, Sudhian, Tech Report, TheTechLounge, TheTechZone, TweakTown, ViperLair and VR-Zone.

Finally, our VIA Hardware Forum has something to talk about! :) Check out the ongoing discussion on these new chipsets here.



---
Advertisement:


All original content copyright James Rolfe.
All rights reserved. No reproduction allowed without written permission.
Interested in advertising on OCAU? Contact us for info.