March 2005

Now, lets see if I can remember how to do this news stuff. How long has it been, a year? More, I think. I have to click on this thing then paste this bit in here and ...

AMD specialist site AMDBoard, have some new info and a photo of the internals of AMDs upcoming AMD64 Dual Core CPU. "Made in 90nm the current revision of the design has 205 millions transistors for the same size as a 130nm single-core Opteron design and runs at an incredible 95W!". Check it out here.

On the subject of AMD, Neoseeker have done an Athlon 64 Overclocking Study. "We decided to do a quantitative study on how much each aspect matters and today at Neoseeker we look at how HyperTransport speed, CPU Bus Speed, memory speed and overall clock speed affect performance on the Athlon64." Check it out at Neoseeker.

The Tech Zone have posted a beginner's guide to Voice Over IP. "VoIP (Voice over Internet Protocol) is very simply, a method for taking ordinary analog audio signals and turning them into digital signals that can be sent over the Internet." Read the article here.

Ecoustics have an article all about Sound Isolation and Noise Control. It might be good read for those living in close quarters with others who don't appreciate the sound of shreiking crab monsters being blown away at 2am. While you're there you can check out their Essential Guide to Home Theater Speaker Placement.

Corsair have published a detailed Application Note on memory performance. "Speed is easy to understand - in general, faster is better. But what do the latency settings mean? And, what impact do they have on memory performance? This paper will provide a brief background on latency settings and what they mean." The document is in PDF format and is 650Kb in size. You can find it right here.

Digian sent in this link to Adrians Rojakpot where there is some info and a photo of a new Asus notebook, the Asus V6000V. Its a quick preview and not a full review, but it does look sweet.

The folks over at Design Technica have an article which tries to explain the differences between HDTV, SDTV and DTV. What a neat idea. Pictures that move! Check it out at Designtechnica.

The CoolTechZone have a write up titled The Growth of Linux in Business and Governments. Its aimed at the European sector but makes for an interesting read none the less.

HardwareZone have posted their coverage of the CeBIT Hannover 2005 event. Lots of info and pictures here.

TweakTown put some 16x dual layer DVD recorders to the test. Asus Vs Gigabyte head to head.

A1 Electronics.net show you how to fit a water cooler heatsink system in to a Thermaltake Kandalf computer case. Kandalf? Is it old and wise with a long white beard?

The Tech Zone go on a rant over the high cost of inkjet cartridge refills, and so they should. How can these printer manufacturers get away with virtually giving the printers away and then hit us up for our first born just to refill the ink? Hmm, maybe I'm missing something in that. Anyway, read it here.

Wouldn't it be nice to have a computer that was small enough to carry around with you everywhere you went, and light enough to hang off your keychain without ripping the steering wheel off? How about one that was about the size of an RJ45 connector. Thanks leperMessiah for the link.

d0t-bat sent in some info about a new gaming site for WAIX users called XWAIX. Thats gotta be good news for those living on the nice side of the country :)

Adrian wants to remind everyone in South Australia that Valhalla LAN is happening soon on April 23rd and 24th.

Ptooey sent in this link which states "On February the 28th 2005, at 12.08 local time, the Koenigsegg CCR broke the production road car speed record". How did they get an egg to travel that fast? (Boiled it in a microwave? *snicker* - Sciby)

Thats all for now.




Tower of Power (Supplies) (23 Comments) (link)
Tuesday, 29-March-2005 14:33:11 (GMT +10) - by Agg


Seems we've collected quite a mountain of PSUs here lately, so it's time for a roundup. Thirteen branded units and a generic one go head-to-head in this 9-page article. As this is our first PSU roundup, we also consider what exactly is involved with testing PSUs at all.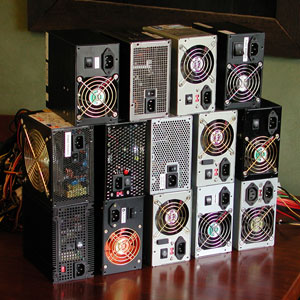 Click for the roundup!





There's another PlayStation Portable review on DesignTechnica, and an interview with Sony on ByteSector.

Sony meanwhile have lost a patent infringement case, and must pay $91 million dollars, thanks Podgesss.

ARSTechnica checked out a new magazine called Make, aimed at the DIY geek.

If you're in a DIY mood, consider a Solar Death Ray! Thanks Mark.

eCoustics compared Blu-Ray and HD-DVD standards.

HardwareHell talked to Corsair about some stuff.

SoreGums noted that Gentoo 2005.0 has been released. Meanwhile, Linspire Five-0 is examined on Phoronix.

IPKonfig have a simple mod to speed up FireFox by enabling more connections.

It's been a while, but Dan has more letters.

BigBruin have an overview of wireless networking capabilities and hardware.

Eroda spotted a 4GB 0.85" HDD on TheReg.

From CaptainPotato: Perhaps you can help (by posting on the news page) Doug Moir of the Aussie Amiga dealer AnythingAmiga by posting news of his custom Amiga 1200 that went missing from Fastway Couriers' 'secure' facilities. He'd really like to see it back, as it's a fairly uniqe system. You can read about it here.




Sunday Afternoon Reviews #2 (0 Comments) (link)
Sunday, 27-March-2005 16:53:43 (GMT +10) - by Agg


PSU:
Seasonic S12 430W on MikhailTech.
Ultra Products X-Finity 600W on Phoronix.
Logisys Meshed 500W on MikhailTech.

Cooling:
Logisys One for All VGA Cooler on OCIA.
Scythe FCS-50 CPU cooler on ap0calypse.
Dangerden Maze 4 GPU Acetal waterblock on RBMods.
Thermaltake Hardcano 13 fan controller etc on Gruntville.
mCubed T-Balancer SL4 fan controller on ATrueReview.
AquaXtreme 50Z-DC12 watercooling pump on SystemCooling.

Misc:
HP LaserJet 2420-DN Network Laser Printer on PCStats.
XG Extreme Mod Kit case modding bits on Moditory.
DFI UT LP nF4 Ultra-D S939 A64 motherboard on XtremeResources.
Corsair XMS Xpert PC-3200 memory on PCModdingMy.




Sunday Afternoon Reviews (2 Comments) (link)
Sunday, 27-March-2005 16:39:44 (GMT +10) - by Agg


Display:
Samsung SyncMaster 710N & 711T LCD Monitors on OCClub.
BenQ FP71G+ LCD monitor on NeoSeeker.
Samsung SyncMaster 920T LCD Monitor on IPKonfig.

Audio / Video:
Sorell SF 2000 MP3 Player on TheTechZone.
Leadtek WinFast TV USB II Deluxe tuner on Bjorn3D.
Niro 600 home theatre speakers on DesignTechnica.

Video Cards:
Leadtek WinFast PX6600 GT TDH on Xbit.
Gigabyte 6800GT AGP on Sudhian.
Wildcat Realizm 800: 3DLabs MultiGPU First Look on Anandtech.

Storage & Backup:
SiI3124 SATALink 4-Port PCI-X Host Controller on Xbit.
Storcase DE50 Backup system on PyroPort.
Lite-on 16x Black Dual Layer DVD Burner on Tech-Mods.
SimpleTech Deluxe External 160GB HDD on Tech-Mods.
Kingwin Mini Shuttle Drive Enclosure on OCrCafe.
LG GSA-5163D Triple Format DVD Writer on CDFreaks.



Happy Easter! Daylight savings ended last night too, in NSW at least, so set your clocks back an hour if you're affected.

Sony's PlayStation Portable or PSP launched recently. There's a review here, another review here and some launch coverage here.

LegitReviews have part 2 of their "Pentium M on S478" article posted. A few people sent word that Anandtech have reviewed the ASUS adapter that lets you run these mobile CPUs on a desktop board.

MadShrimps show how to reach DDR600 speeds on a DFI nForce4 board. They also checked out the sound level of a few fans.

Xbit have their final CeBIT coverage posted.

PCMech looked at WinDirStat, a free utility to analyze your disk usage in Windows. Looks pretty handy.

I think we've seen this before, but it's pretty cool.. a knife block with a difference, thanks Darkness.

From Non@me420: Firefox has another update, the second within a month, more info here, download here.

Apparently Mac users are realising that popularity brings some pain, in the form of more hacker attention, thanks John. The market penetration of Macintosh platforms will be accelerated by the much lower priced Mac mini, which may be purchased by less security-savvy users.

TechConnect have a PC Buying Guide, while SharkyExtreme have a High-End Gaming PC guide.

From Hans-Christian, about a LAN party: 5200 people are gathered in Vikingskipet in Hamar, Norway, this easter. Official site here. Some panorama pictures taken of the hall here.

Interesting Forum Threads:
The final Nvidia 6800nu topic in Video Cards.
Celeron D 2.4GHz @ 3.6GHz budget overclocking beast? in Intel Hardware.
Scientists discover T.Rex soft tissue in Current Events.
OCAU Debate, "The nature of truth" in Current Events.




Saturday Morning Reviews #2 (1 Comments) (link)
Saturday, 26-March-2005 02:47:50 (GMT +10) - by Agg


Power Supplies:
Thermaltake PurePower 680W on Whisptech.
Enermax Coolergiant SLi PSU on Bit-Tech.
Thermaltake Silent PurePower 680W on LegitReviews.
Revoltec 520W "Be Quiet!" on OzCaseMods.

Keyboard, Mouse Etc:
Sansun LED Keyboard on Ninjalane.
Sansun LED Keyboard on ExtremeMHz.
XTrac Hybrid Mousepad on GideonTech.
Corepad Magna mousepad on PCModdingMy.
Corepad Magna mousepad on CrazyModders.
BTC Wireless Multimedia Keyboard on Tech-Mods.

Cameras:
Konica Minolta DiMAGE Z5 on TrustedReviews.
Ricoh Caplio GX on ReviewUK.
Amacrox Telephoto Mobile Phone Camera Lens on 3DVelocity.




Saturday Morning Reviews (0 Comments) (link)
Saturday, 26-March-2005 00:45:34 (GMT +10) - by Agg


Cooling:
Thermaltake K450 A64 CPU cooler on TechTastic.
CoolerMaster Aquagate Mini overview on RojakPot.
ArctiClean heatsink paste remover on A1-Electronics.
ArctiClean heatsink paste remover on RBMods.
Sytrin Nextherm ICS 8200 peltier-assisted case on Phoronix.

Networking:
D-Link DGL-4300 Wireless 108G Gaming Router on ViperLair.
EDIMAX AR-6024A ADSL Modem Router on 3DVelocity.
Silex Pricom SX3700WB Wireless USB Device Server on HardCoreWare.

Video Cards:
Leadtek WinFast PX6800 Ultra TDH - PCI Express on TrustedReviews.
Club3D GeForce 6800GT on 3DVelocity.
ATI Radeon 800 XL on XbitLabs.
Leadtek WinFast PX6600 GT TDH (Solo and SLI) on Bjorn3D.
Gigabyte GV-RX80L256V Radeon X800XL on PCStats.
Albatron PC6600U GeForce on HotHardware.
Gigabyte GeForce 6200 with TurboCache 256MB updated on HardCoreWare.
Sapphire Radeon X800 PCI-E on Short Media.




Friday Afternoon Reviews #2 (0 Comments) (link)
Friday, 25-March-2005 18:19:43 (GMT +10) - by Agg


Motherboards:
Gigabyte 8IPE775-G 'Springdale' P4 LGA775 on Hexus.
DFI 855GME-MGF Pentium M desktop board on PC-Perspective.
DFI LanParty UT nF4 Ultra-D S939 A64 on BigBruin.
ABIT Fatal1ty AN8 nF4U A64 S939 on Xbit.

Memory:
Corsair Xpert TWINXP1024-3200XL DDR on PCStats.
OCZ EL PC-3200 DDR on RojakPot.
OCZ EL DDR PC-3200 Dual Channel Gold VX (video review) on 3DGameMan.

Portable / Mini / Barebones:
Super White 7654-47CW Barebones Kit on MikhailTech.
MSI Mega Book S260 Sonoma Centrino notebook on TrustedReviews.
Gateway M210XL laptop on DesignTechnica.
Mac Mini on Sudhian.
Shuttle XPC SN25P A64 S939 mini-PC on ClubOC.




Friday Afternoon Reviews (0 Comments) (link)
Friday, 25-March-2005 18:01:10 (GMT +10) - by Agg


Audio / Video:
TwinhanDTV Magic Box USB TV tuner on Techniz.
Powercolor Theatre 550 Pro TV Tuner on PCStats.
Icemat Siberia Multi Headset (video review) on 3DGameMan.
Icemat Siberia Multi Headset on ATrueReview.
Icemat Siberia Multi Headset on A1-Electronics.
Sony Network Walkman NW-HD3 HDD-based MP3 player on TrustedReviews.
iRiver iFP-795 digital audio player on BIOSMag.

Cases & Modding:
SunbeamTech 20-in-1 Superior Panel port relocator / card reader on MadShrimps.
AeroCool Cool Panel port relocator / card reader on Gruntville.
Vantec UV Reactive Gear on ViperLair.
Razotech Blaze Mid Tower on Tech-Mods.
SilverStone Temjin TJ06 on 3DXtreme.
DragonModz Dragonware modding accessories on PimpRig.
XG X-Case on Hi-TechReviews.
AeroCool AeroEngine Jr on XtremeResources.
CoolerMaster Centurion 5 (translated) on OC-Zone.




Thursday Afternoon #2 (4 Comments) (link)
Thursday, 24-March-2005 13:12:12 (GMT +10) - by Agg


If you're looking for some Freeware, Ambush maintains an enormous categorised list in our General Software forum.

IBM are planning to fight spam with spam, thanks Eroda.

TheTechZone have a guide to making your own blog. A website where you ramble on about what you think about some stuff? That'd never take off.

PCStats have a fairly basic fundamentals of upgrading your PC article.

John noticed this article about a fuel cell powered motorcycle.

Hexus have their final CeBIT coverage posted: modding heaven, the fastest PC there (5.4GHz) and a pictorial roundup of the whole shebang.

DesignTechnica meanwhile covered Sony's Open House 2005 showcase.

TechReport cover the theory and practice of 64-bit computing. In order to help you navigate through the hype, we nabbed a pair of 64-bit processors from AMD and Intel and tested them with the latest release candidate of the 64-bit version of Windows XP.

HardwareAnalysis cover building a subwoofer. We had a similar article here a fair while ago.

PCXL have an article about keeping your email, browser and calendar on a USB flash drive, so you can use it on virtually any PC.

Bigtosser noticed these 4ms LCD monitors on CRN.

ARP have the second part of their used SLR lenses buyer's guide posted.

Google are offering free access to their source code, thanks Nick. The site is aimed at providing the open source community with software tools developed and used internally by Google, contributing code that external developers might find useful, DiBona says.




Thursday Afternoon (0 Comments) (link)
Thursday, 24-March-2005 12:50:10 (GMT +10) - by Agg


Lil sent in this story about The Turtle Of Satan.. riiight. Stuart meanwhile found a smart alarm clock. When the snooze bar is pressed, Clocky rolls off the table and finds a hiding spot, a new one every day.

Mikhailtech tested seven different fans on Thermalright's XP-90, which fared well in our recent cooler roundup.

CoolTechZone have some open-source alternatives to common Windows programs. Speaking of which, Firefox v1.0.2 is now available for download, for windows and linux.

If you're sticking with the Microsoft offerings instead of the other options, Techspot have an IE6 and Outlook Express tweak guide.

Bern spotted a wooden laptop, fully functional.

Iroquois sent in this detailed article on the upcoming Cell architecture, which will power the PS3 among other things.

eCoustics cover speaker calibration and why they think small speakers just don't cut it.

AdminPrep think we should stop using passwords and use pass phrases instead.

Xbit have a memory market overview for March 2005.

SilentPCReview cover a tough new Energy Star standard being organised. The PSU must be rated for >80% efficiency, and not exceed 50~60W AC power during idle.




Interesting Forum Threads (7 Comments) (link)
Wednesday, 23-March-2005 21:02:04 (GMT +10) - by Agg


As mentioned earlier, at about 9:30PM Sydney time tonight, some forum-goers are hoping to break our online user's record of 808 people. In fact, they want to see 1000 users on at once. Will they succeed? Will our servers explode? I dunno, but if you want to be part of the attempt, check out some of these interesting forum threads:

Intel's "bolt" job (dual core) in Intel Hardware.
Improved LGA775 socket design? in Intel Hardware.
AMD 3800+ Venice in AMD Hardware.
Consumers see red over dead pixels in Overclocking & Hardware.
$100 for breaking a "neverfail" PC guard in Overclocking & Hardware.
Gran Tourismo 4: Official Picture Thread (56k warning) in Games.
The future of heat-pipes? in Extreme Cooling.
Data forest (very cool) in Networking & Internet.
Faster than 4xRaid0 Raptors: Seagate NCQ 4xRaid0 on XP64 in Storage, Backup and Memory.
Coles Katoomba bans 4WDs from Car Parks in Motoring.
M3 GTR at Nurburgring - amazing clip in Motoring.
Mitsubishi UK unleashes Extreme Evo in Motoring.
The Pimpmobile in Motoring:Worklogs.
Mobile Phones - the modern cigarettes? in Current Events.
CF card download speeds in Photography.
Mac or PC for digital photography? in Photography.
OCAU Footy Tipping in Sport, Fitness & Health.
The official "Try New Beers" thread in Geek Food.
South Island of NZ in 16 days in The Pub.
See what song was No 1 on the day you were born in The Pub.
Physics - energy in The Pub.




Wednesday Afternoon Reviews #2 (0 Comments) (link)
Wednesday, 23-March-2005 17:15:05 (GMT +10) - by Agg


Cases:
Lian Li V2000B Aluminum Full Tower on ATrueReview.
Mutant Mods Acrylic Case on PimpRig.
RAIDMAX Scorpio 868 on MarnsCDA.

Mouse Etc:
Xtrac Hybrid Mousepad on HWHounds.
Xtrac Hybrid Mousepad on Phoronix.
Logitech MX1000 Laser Cordless Mouse on MikhailTech.

Storage & Memory:
ATP 1GB & 2GB SD Flash Memory cards on TheTechZone.
Corsair TwinXP1024-3200XL XPERT Series memory on ExtremeMHz.
Maxtor DiamondMax 10 7200rpm NCQ SATA HDD on ByteSector.
Cooler Master CoolDrive Lite HDD cooler on OCOnline.




Wednesday Afternoon Reviews (0 Comments) (link)
Wednesday, 23-March-2005 15:56:29 (GMT +10) - by Agg


Video Cards:
ATI Radeon X800 XL Roundup on Bit-Tech.
ATI Radeon X700 Pro Shootout on HWZ.
Leadtek WinFast PCIe PX6200TD Overclocking on MadShrimps.
Sapphire Radeon X800 XL on PenStarSys.
Sparkle GeForce 6600 & 6600GT on PCModdingMy.
Gigabyte GeForce 6200 with TurboCache 256MB on HardCoreWare.
HIS Radeon X850XT IceQ II Turbo on LegionHardware.
XFX geFORCE 6600GT AGP on FutureLooks.

Motherboard / CPU:
Foxconn Winfast NF4UK8AA-8EKRS S939 A64 mobo on ViperLair.
AMD Athlon64 3800+ S939 CPU on PCStats.
ECS 915-A LGA775 P4 mobo on Hexus.
ASrock 939A8X-M mATX A64 S939 mobo on OCW.
Gigabyte K8NXP-SLI A64 S939 SLI mobo on A1-Electronics.
AMD Athlon64 4000+ S939 CPU on Guru3D.
DFI LanParty nf4 SLI-DR S939 A64 SLI on NeoSeeker.
ASUS CT-479 CPU Upgrade Kit Pentium-M on S478 adapter on LegitReviews.
EPoX 9NPA+ Ultra S939 A64 on LegionHardware.




Enormous Mousepads! (12 Comments) (link)
Wednesday, 23-March-2005 00:48:19 (GMT +10) - by Agg


Gibbon looked at three more mousepads for us: the Hammer and Ripper XL from XTRAC and Steelpad's QcK+. He also checked out some, err, mousepad lubricant..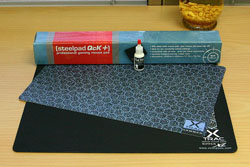 Click for the review!





Some Queanbeyan residents have been taking part in a recent broadband over power lines trial, thanks Andrew. However, the provider is playing down any large rollouts: "This is early stage exploration, as apposed to a decision to make it go forward," stressed Angela Fiumara, Country Energy Group Manager Corporate Affairs.

Apparently one thing IE7 won't be bringing is full CSS2 support, thanks Eroda.

SharkyExtreme have a value gaming buyer's guide. We take $1,000 (USD) in search of the best AMD and Intel-based systems we can buy.

Sniper spotted a new game that looks like it could be interesting. So here's what he did: he recruited an elite strike team of coders (who, if you were to believe his slideshow, dressed like ninjas) and put them in a "hidden facility" to experiment with new ways of giving the user powerful tools and generating tons of dynamic content without armies of content creators.

This Danish site has a very cool humvee PC mod. Lots and lots of pics. Update: Seems to have vanished!

If you're suffering connector confusion, BigBruin's article called expansion cards explained might help. The most common types of expansion cards for modern computer systems can be broken down into three formats: PCI, AGP, and PCI Express.

Timbot sent in this brain interface story. Cyberkinetics Neurotechnology Systems has developed BrainGate, a product aimed at enabling quadriplegics to do things like surf the Web, write e-mails, play video games and operate TV remotes and telephones just by thinking.

AdminPrep have an article about detecting intruders on your PC, using "Snort".

PCPerspective updated their Hardware Leaderboard. There is a big change in the PC Perspective Hardware Leaderboard: in this edition, all three systems are using PCI Express motherboard and graphics cards.

My laptop takes forever to boot at the moment, so I should probably check out this Startup File Database on PCReview. You can find out which items you have running on startup by running "msconfig" from Start > Run and then clicking the Startup tab.




Monday Evening Reviews & Pics (17 Comments) (link)
Monday, 21-March-2005 19:37:18 (GMT +10) - by Agg


Audio:
Xonix 256MB MP3 Watch / Player on FutureLooks.
Altec Lansing iM4 Portable Speakers on CoolTechZone.

Bluetooth:
Socket Bluetooth GPS Nav Kit on PC-Base.
Bluetake BT007Si Bluetooth USB Adapter on ATrueReview.

Input:
Razotech UFO Mouse on Phoronix.
Logitech MOMO Racing Wheel on TheTechLounge.

Storage:
Samsung TS-H552 16X Dual Layer DVD burner on ByteSector.
Scythe Silent Box HDD cooler on Phoronix.

Misc:
Fujifilm MP-70 Portable Printer on CoolTechZone.
Samsung DVD-L300 Portable DVD Player on Tech-Mods.
MSI S250 12.1-inch Notebook on HWZ.
O2 XDA II mini PDA on HWZ.
InFocus LP-120 projector on TrustedReviews.

While I'm here, here's some random pictures I found in my email attachments folder. :) Not sure where they're from, but they're titled "EasyJet vs Hail":



Hail's bad enough in your car on the motorway.. but at a few hundred km/h in a plane, ouch.




Monday Afternoon Reviews (0 Comments) (link)
Monday, 21-March-2005 17:56:46 (GMT +10) - by Agg


Motherboards:
ASUS A8V-E Deluxe K8T890 S939 A64 on Xbit.
DFI LANPARTY NF4 SLI-DR nForce4 SLI S939 A64 on Bjorn3D.

Cases:
Koolance PC3-720BK Watercooled Server Case on ExtremeMHz.
Thermaltake VA700 Shark Fulltower on HardCoreWare.
Xoxide X-Treme on Bjorn3D.
XPER X-Armor on ATrueReview.
Razotech Transformer on ATrueReview.
Thermaltake Kandalf Fulltower (video review) on 3DGameMan.

Video Cards:
HIS X800 and X850 XT IceQ II Turbo Radeons on HotHardware.
Club 3D Radeon X800XL PCI-E on ViperLair.
Albatron 6600GT GeForce on RBMods.

PSU:
Raidmax RX-520XP on SLCentral.
Enermax EG495P-SFMA24P 480W GruntVille.



Congrats to Maddy and South, both OCAU Motorcycle Club members, who are soon to be married. Club organiser Darkness tells me they met at the first OCAU.MC event and it all went from there. Awww.. good luck, guys! OCAU.MC members can view the thread here.

Some people who make a sticker which can allegedly "increase battery performance by 30%" recently sent their product to Bit-Tech for a review. They also made the mistake of sending one to Dan Rutter, who tied it to a tree and shot it, figuratively speaking, as you'd expect.

Hexus have some P4 SLi benchmarks, which are surprisingly unimpressive for the moment.

There's a WinXP performance optimisation guide on FiringSquad.

MadShrimps overclocked their DFI LP NF4 UT SLI-DR, which is an A64 S939 motherboard and also gets you two triple word scores in Scrabble.

ARP have updated their mobile GPU comparison guide, which now covers 40 different mobile graphics configurations. They also catalogue 210 desktop options too.

TechReport have a story about the distribution costs of Radeon X800 and X800 XL video cards. We have recently learned that the cost to resellers of Radeon X800 and X800 XL cards via distribution is higher than ATI's suggested retail price.

If your WaterChill radiator has a leak, Raptor-Mods suggest how to fix it.

TechTastic have a list of portable applications you can carry around and use on your USB thumb drive. Well imagine if you will that you could use your applications such as your browser on any computer and still have access to your favorites/bookmarks, or your email in the case of Thunderbird.

Matt D rebuts our earlier report about "Firefox heading towards trouble" by providing this blog. We believe Firefox has a bright future, and we are all working hard towards our short and long term goals.

Some people are organising an attempt to break our current "Users Online" record in the forums. Currently it's 808 people at once, but 930pm EST this Wednesday, they want to push it past 1000. More info here. I pity our poor servers. :)

Interesting Forum Threads:
Think you've got good hearing? Take the test in PC Audio.
DFI LanParty UT Ultra-D/SLI-D/DR Results and Discussion in AMD Hardware.
x850xtpe vs 6800 ultra in Video Cards.
Billion 741GE easter eggs :) in Networking and Internet.
What sport makes you the fittest? in Sport, Fitness & Health.
Clipsal 500 Pics in Motoring.
The F1 Malaysian GP in Motoring.




Monday Morning Reviews (0 Comments) (link)
Monday, 21-March-2005 00:54:43 (GMT +10) - by Agg


Cooling:
Zalman VF700-Cu VGA Cooler on PCModdingMy.
Cooler Master Aquagate Mini watercooling kit on MadShrimps.
Thermaltake Big Typhoon CPU cooler on OCrCafe.
Coolance Exos-2 watercooling kit on HardwareHell.
Speeze Vulture Spin 3 CPU cooler on HWHounds.

Memory:
Corsair DDR2 TwinX XMS2-4300C3 on ExtremeResources.
Crucial Ballistix Tracer DDR and DDR2 on MadShrimps.

Audio:
Altec Lansing GT-5051 speakers on OCOnline.
M-Audio FireWire 1814 professional sound card on TweakNews.
HiFi headphones from BitHead and AirHead on ArsTechnica.
Apple iPod Shuffle 1GB mp3 player on AuphanOnline.




Early Monday Morning (2 Comments) (link)
Monday, 21-March-2005 00:10:08 (GMT +10) - by Agg


Right, let's get some news catchup happening. First up, CeBIT coverage: ABIT remote control, FSP PSUs and mobile phone roundup on Hexus, Day 4 and Day 5 on TechPowerUp and Day 6 on Xbit.

FiringSquad looked at three ATI Theatre 550 Pro cards, for home theatre PC's. BuddhasLANRoom has a review of the PowerColor offering - it's a shame their site design has one of the lowest "content to other stuff" ratios I've ever seen.

CoolTechZone talk about DDR development at 600MHz and above. Meanwhile DigiTimes reckon TwinMOS will have DDR2-800 modules in June.

AMDGamer reviewed the 400GB Seagate Barracuda 7200.8 hard drive. Not big enough? Xbit noted that LaCie have expanded their external storage unit to 2TB.

Anandtech take some time to explain the Cell processor. A joint venture between IBM, Sony and Toshiba, the Cell microprocessor is the heart and soul of Sony's upcoming Playstation 3.

Digit-Life consider the year ahead for handhelds, while ARP cover the palmOne Treo 650 smartphone launch.

Hexus looked at the Pentium-M 735 processor coupled with the DFI 855GME motherboard.

TheTechZone have some ideas for preventing laptop theft, while TomsHardware cover catching the crooks on camera.

Space nuts will enjoy this site listing status reports for various space projects. There's an interesting article here about NASA's plans to rescue astronauts, should they become marooned in a damaged shuttle in orbit.




Saturday Morning Reviews #2 (0 Comments) (link)
Saturday, 19-March-2005 00:44:32 (GMT +10) - by Agg


Printers / Scanners:
HP Colour LaserJet 3550 printer on TrustedReviews.
Canon CanoScan LiDE35 scanner on PCXL.
Brother MPrint MW-140BT portable printer on TrustedReviews.

Display:
Samsung SyncMaster 710N LCD monitor on TheTechZone.
Panasonic Viera 37" TH-37PA20 plasma TV on ByteSector.
Toshiba TDP-SW20 Wireless DLP Projector on TrustedReviews.
NEC MultiSync LCD2070NX 20" TFT monitor on TrustedReviews.
Matrix Orbital MX610 mini LCD on Phoronix.

Mouse Etc:
Razotech UFO Mouse on ExtensionTech.
PocketMouseT Optical Wireless Micro on MarnsCDA.
Razer eXactMat Mouse Pad on TechIMO.
Corepad Magna Blue mousepad on ATrueReview.




Saturday Morning Reviews (0 Comments) (link)
Saturday, 19-March-2005 00:30:04 (GMT +10) - by Agg


Cases:
Thermaltake Armor Super Tower on Techniz.
SilverStone LC10 HTPC Case on OCModShop.
Thermaltake Kandalf full-tower on A1-Electronics.

Barebones / Notebooks:
Fujitsu-Siemens Lifebook T4010 tablet PC notebook on TrustedReviews.
Fujitsu-Siemens Lifebook E8020 Sonoma-based notebook on TBreak.
SkyHawk IceQ IMC6375 Mini BareBone on GruntVille.

Video / TV Cards:
HIS Radeon X800XL iTurbo PCI-E on HardAvenue.
ATI All-IN-WONDER X600 PRO PCI-E on Tech-Mods.
Sapphire Toxic Radeon X700 Pro 128 on HotHardware.
ATI TV Wonder Elite TV tuner on ViperLair.
EVGA e-GeForce 6200 TC (video review) on 3DGameMan.



Something different for Friday. John sent along these pictures, apparently taken near Geneva in Switzerland. I can't imagine how cold it would have to be for a thick layer of ice to form on everything like this:



I don't know the original source - there's a 1.5MB powerpoint file with about a dozen photos in the series, some quite beautiful, here. Brrr!




Friday Middayish Reviews (0 Comments) (link)
Friday, 18-March-2005 11:35:26 (GMT +10) - by Agg


Cooling:
Corsair COOL Watercooling on LegitReviews.
Ultra Products Titanium Finish Fans on PimpRig.
Zalman VF700-CU Ultra Quiet Copper VGA Cooler on OCIA.
DangerDen Custom Watercooling Kit on BurnOutPC.
Thermaltake Watercooling Products on RBMods.
Cooler Master Dual Storm fan on Hexus.
Asetek WaterChill KT03A Extreme on NinjaLane.

Motherboards:
Gigabyte 8I915G-ZFD BTX P4 on LegionHardware.
ECS Elitegroup 755-A2 S754 A64 on OCInside.
Gigabyte K8N Ultra-SLI S939 SLI A64 on NeoSeeker.
ABIT Fatal1ty AN8 S939 A64 on TechReport.
ABIT KV8 Pro S754 A64 on HWZ.

PSU:
Raidmax RX-520XPW on SilentPCReview.
XG Vortec 500W on PimpRig.
MGE Vigor 500W on GeekExtreme.
Silverstone Strider SST-ST46F 460W on XtremeResources.
Thermaltake PurePower 680W on ArcticSquad.
Seasonic S12-430 on SilentPCReview.
Antec NeoPower 480W on PCModdingMy.




Thursday Evening (8 Comments) (link)
Thursday, 17-March-2005 18:44:16 (GMT +10) - by Agg


Sadly, Billy "Wicked" Wilson passed away recently. I didn't know him personally, but VoodooExtreme.com, which he founded, was one of the original enthusiast websites that started this whole online community off. It's never good to lose one of our community, especially not as young as 33. RIP.

On another serious note, Ma Baker pointed out this thread in our The Pub forum, about a bone marrow donor being urgently needed. If you're of part caucasian, part asian descent, you could literally save someone's life.

IBM are working on a mouse that compensates for shaky hands. The device is plugged between the mouse and the PC and works like the stabilization systems found in many camcorders.

Cassini has discovered an atmosphere on one of Saturn's moons. Enceladus is the most reflective object in the solar system, reflecting about 90 percent of the sunlight that hits it.

eWeek have an interesting article, wondering if Firefox is heading towards trouble. Forget about Microsoft coming out with IE 7 to challenge Firefox. If Firefox rots from the inside out - the way so many other programs, like the original Netscape browser, did - then it's not going anywhere much beyond where it is now.

Sony have renewed their fight to outlaw PS2 modchips in Australia. The case would be based on amendments to the Copyright Act flowing from the US Free Trade Agreement in January, he said.

PCReview have an article on protecting yourself against Spyware and Adware, while TheTechZone cover tape backup technology.

CoolTechZone ponder the future of air-cooling. Seems to be pretty strong sledge at Intel in places.

TheTechZone have conference reports from IDF and GDC. SilentPCReview have IDF coverage also. Meanwhile, more CeBIT coverage: Day 3 on TechPowerUp, Part 5 on HWZ, graphics vendors on Beyond3D and XFX Smart Car on Hexus.

Hexus also has some nForce4 SLI for P4 benchmarks.

Apple users will be reeling in confusion soon, with a two-button mouse on the way, thanks Ambush.

Interesting Forum Threads:
Intel Virtualization Technology in Intel Hardware.
Dual core (955X + ICH7) mainboards in Intel hardware.
The world's most dangerous geek (good read) in TV, Movies and Music.
Roasting beef in Geek Food.
Motoring Guide: Changing Your Diff Centre in Motoring.




Thursday Morning Reviews #2 (0 Comments) (link)
Thursday, 17-March-2005 03:06:20 (GMT +10) - by Agg


Memory:
PDP Systems Patriot PC3200 XBL on TechFreaks.
Mushkin PC2-4200 DDR533 CL 3-2-2-8 on PCModdingMy.

Laptops:
Gigabyte G-Max N203 on PCStats.
Dell Inspiron 6000 widescreen laptop on BIOSMag.

Audio:
Apple iPod Shuffle 512MB on DesignTechnica.
Logitech® X-530 5.1 Surround Sound PC Speakers on FutureLooks.
Netgear MP101 Wireless Audio on PyroPort.
Netgear MP101 Wireless Audio on TrustedReviews.

Storage:
Seagate 5.0GB USB 2.0 Pocket Hard Drive on TrustedReviews.
Corsair Flash Voyager 512MB (translated review) USB thumb drive on OC-Zone.




Press Releases (6 Comments) (link)
Thursday, 17-March-2005 02:46:04 (GMT +10) - by Agg


AMD introduced their Turion 64 mobile technology. AMD Turion 64 mobile technology is uniquely optimized to bring award-winning AMD64 performance to thinner and lighter notebook PCs with longer battery life, enhanced security, and compatibility with the latest graphics and wireless solutions, both today and tomorrow. More info here.

NVIDIA added some more models to the GeForce 6 series, including a 6800 Ultra with 512MB of DDR3 memory. The 512MB DDR3 GeForce 6800 Ultra GPU also features SLI technology to deliver an ultimate gaming supercomputer for the extreme gamer. In the mainstream space, the new GeForce 6200 AGP GPU brings Shader Model 3.0 functionality to the $79 (USD) price point. More info here.

MSI announced its latest small-form-factor (SFF) PC, the MEGA PC 865 Pro, a consumer oriented multimedia SFF PC. ... Based on the Intel 865G chipset, the system features an instant-on DVD player, as well as support for FM radio and TV. MSI has also added new audio features to the MEGA PC 865 Pro, as well as equipping it with a wireless 802.11g card. More info in the press release here and the product info page here.

ASUS announced the CB-5216A internal drive, which is one of the few CD-RW drive on the market capable of delivering 52X write and 32X rewrite. The CB-5216A incorporates innovative technologies exclusively from ASUS, including FlextraLink, FlextraSpeed, DDSS II and CAV (constant angular velocity) writing strategy for a perfect combination of flexibility, high-quality recording and reliable operation. More info in the 74KB doc file here.

Altech Computers declared their ABIT Fatal1ty gaming event in Sydney on the 26th of February as a huge success. With over 350 people attending and over five thousand dollars worth of prizes on offer, together with three of Altech's beautiful promo girls, it made for a hugely successful event. More info here.




Thursday Morning Reviews (0 Comments) (link)
Thursday, 17-March-2005 00:21:49 (GMT +10) - by Agg


Video Cards:
ATI Radeon X850XT-Platinum Edition on ViperLair.
ASUS 6800GT cards in SLi on tbreak.
Apollo nVidia GeForce 6600GT AGP on OCIA.
HIS X850 XT PE IceQ II Dual DVI VIVO 256MB PCIe mouthful on Bjorn3D.

Case:
XG X-Case on ap0calypse.
Thermaltake Soprano VB1000BWS on XtremeResources.
Thermaltake VA8000 Series Armor Enclosure on TweakTown.
SilverStone Temjin SST-TJ02 midtower on TrustedReviews.

Mouse, Keyboard etc:
Logitech diNovo Cordless Desktop on HardCoreWare, our review here.
Logitech Cordless Desktop MX 3100 on TheTechZone.
Razer Diamondback gaming mouse on RojakPot.




Wednesday Middayish (5 Comments) (link)
Wednesday, 16-March-2005 12:45:08 (GMT +10) - by Agg


More CeBIT coverage: Day 2 on TechPowerUp, Part 3 and Part 4 on HWZ, Intel SLi, new GPU waterblock and ASUS dual graphics on Hexus. Xbit have Day 3, Day 4 and Day 5 reports as well.

WarCry meanwhile reported on some new hardware showcased at GDC om San Francisco.

Hexus have a high-performance DDR roundup, which Bit-Tech follow up with a memory bandwidth shootout.

Dan explores the world of cheap bulk network storage, as well as peering inside your PSU.

Anandtech consider multi-threaded gaming and multi-core technology.

Sadamu spotted more info about Internet Explorer 7. Microsoft has shared publicly that IE 7.0 will be focused primarily on improving security.

PCStats have a walkthrough of installing Suse Linux 9.1 onto your PC. I think the latest issue of APC had 9.2 on the cover DVD.

Timbot sent word of a robot receptionist and other robot workmates. Though perhaps years away in the United States, this long-awaited, as-seen-on-TV world -- think "The Jetsons" or "Blade Runner" -- is already unfolding in Japan, with robots now used as receptionists, night watchmen, hospital workers, guides, pets and more.

LethalCorpse warned of a new online shopping scam. An overseas "buyer" sent him a cheque for more than twice the amount he had asked for and urged him to send the difference to a shipping company in Italy to pay for the bicycle's collection.

OCModShop have some ideas for building a silent server or HTPC box.

PC-Perspective got their system down to -20C... simply by taking it outside. The joys of living in Canada!

David sent in this experimental science page, full of interesting projects - including a rail gun.




Intel 6xx Series and 3.73GHz Extreme Edition CPUs (4 Comments) (link)
Tuesday, 15-March-2005 20:44:50 (GMT +10) - by Agg


Chainbolt has taken a look at Intel's latest offerings, their 6xx series P4 CPUs and the 3.73GHz Extreme Edition. Apart from a speed increase and larger L2 cache, they bring some additional features to help control the power consumption of the Prescott core - and of course, 64-bit technology. There's plenty of info and benchmarks in this 6-page review: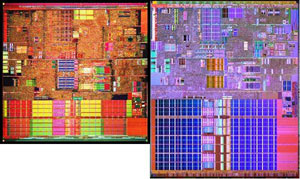 Click for the review!






Tuesday Afternoon Reviews (0 Comments) (link)
Tuesday, 15-March-2005 14:49:35 (GMT +10) - by Agg


Cooling:
Thermaltake Beetle CPU Cooler on OCrCafe.
Thermaltake Beetle CPU Cooler on TechTastic.
Jetart JACSH1 VGA cooler on OCOnline.
Speeze EEA67B4 VultureSpin 3 SocketA CPU cooler on Phoronix.

Cases & Modding:
Silverstone SST-TJ06 Temjin 6 tower on ExtremeMHz.
Razotech Blizzard midtower on Tech-Mods.
FrontX CPX800 Ivory port relocator on Phoronix.
Razotech RAM Mod on PimpRig.

Storage:
Atech Model XP-14 14-in-1 card reader on FutureLooks.
LiteOn SOHW-1673S 16X DVD writer on Techniz.

Audio / Video:
GeIL iBall MPV Player mp3/video/images/fm radio on 3DVelocity.
Creative USB Sound Blaster MP3+ on PCXL.
Icemat Siberia Gaming Headset on TweakNews.

Mouse, Keyboard Etc:
Steelpad QcK+ mousepad on Bjorn3D.
Siberia Icemat mousepad on SDMLan.
Ergodex DX1 gaming keyboard on THG, thanks Frumpy.

Misc:
Asus Z80K Notebook on HotHardware. A Z80 notebook, heh.
VIA GreaseMonkey patch-tracking software on PCStats.
Canon EOS 350D Digital SLR camera on HWZ.
Intel PRO/1000 MT network card on PCXL.
Samsung CLP-510n Color Laser Printer on XYZComputing.
Tagan TG480-U22 Silent PSU on PCReview.
Sunbeam LAN Party Bag on GideonTech.
ATI All-In-Wonder X800XT video card with the lot on HotHardware.
Arctic Silver ArctiClean thermal pad/paste remover on ATrueReview.




Tuesday Midday Reviews (1 Comments) (link)
Tuesday, 15-March-2005 12:01:18 (GMT +10) - by Agg


Motherboards:
Gigabyte K8VT890-9 K8T890 S939 A64 on HardCoreWare.
Soltek SL-K890PRO-939 K8T890 S939 A64 on TechReport.
Gigabyte K8NXP-9 nForce4 Ultra S939 A64 on PCModdingMy.
DFI LanParty UT NF4 SLI-D S939 A64 SLI on BleedinEdge.

Video / TV Cards:
Leadtek WinFast USB II Deluxe external TV / FM tuner on HotHardware.
ATI All-In-Wonder X800XT video card (video review) on 3DGameMan.
ASUS Extreme AX800XL Radeon on LegionHardware.
Leadtek WinFast A6600GT AGP GeForce 6600GT on Bjorn3D.
S3 GammaChromeS18 Graphics Processor preview on XbitLabs.
ATI TV Wonder Elite TV / FM tuner card (video review) on 3DGameMan.
Gigabyte GV-3D1 Dual GeForce 6600GT video card on PCStats.

Memory:
Crucial Ballistix 1GB DDR PC4000 on Techniz.
Crucial Ballistix 1GB DDR PC4000 on LanAddict.
Razotech Blue LED Ram Mod on ExtensionTech.
Razotech LED Ram Mod on Phoronix.
Astak Team Research PC4000 DDR-500 on ExtremeOC.




Monday Afternoon (7 Comments) (link)
Monday, 14-March-2005 14:04:38 (GMT +10) - by Agg


Top story of the day is this dual-core AMD coverage on HWUpgrade. It's babelfished from Italian, but the pics tell the story anyway.

Anandtech report on AMD's Turion, the rebranded mobile Athlon 64. Much like Intel's Centrino, AMD is referring to their Turion 64 as a "Mobile Technology" and not just a microprocessor platform.

Apple has sued some more enthusiast websites for publishing leaked product information. Interestingly, a judge has ruled that the blog websites must turn over their sources. Kurt Opsahl, an Electronic Frontier Foundation lawyer, who represents the sites, said they would appeal to block Kleinberg's order on the grounds that the web writers are journalists.

Antonio sent in this nanotechnological storage device called the Millipede. The principle is comparable with the old punch cards, but now with structural dimensions in the nanometer scale and the ability to erase data and rewrite the medium. More info here.

Hexus interviewed Godfrey Cheng, ATI's director of marketing for multimedia products.

BigBruin delve into the basics of flash memory, with SD and MMC covered. In the second part they cover CF, SmartMedia, xD and Memory Stick.

Mikhailtech have a budget system guide involving Socket754.

Mailordersausage spotted this site with some interesting science projects, while Rake pointed out some DIY disasters in another forum.

XtremeResources have some impressive overclocking results with a DFI LanParty UT NFI SLI-D here. After finding the top stable asynchronous speed of 500Mhz HTT, he's been on a quest to find the top stable synchronous 1-1 HTT/Memory speed combination with his hardware. After working up thru 340Mhz HTT/Memory speeds which were accomplished easily, the decision was made to make 350MhzHTT 1 to 1 the goal, and it was attained.



Hot on the heels of IDF comes CeBIT Hannover, one of the largest technology conventions in the world. Lots of coverage: Vapochill Micro first look, XFX 512MB SLi, MSI's digital SLI bridge, AMD Dual Core spotted and ATI Dual Graphics exclusive on Bit-Tech, dual 512MB 6800 Ultras, Zalman play it cool, ATI MVP Breakdown, SLi Shuttle, watercooled SLi and GROUPER takes on nF4 on Hexus, Day 1 on TechPowerUp, CeBIT 2005 impressions on TeamHardware, Day 2 on Xbit, various pics including booth babes on MadShrimps, Part 1 and Part 2 on HWZ and a general CeBIT 2005 report on Guru3D. An overview on news.com too. Phew!

TweakGuides have updated their WinXP Tweaking Companion. The Windows XP Tweaking Companion (XPTC) is the complete Windows XP and system optimization guide.

TheTechZone have a guide to taking great digital photos, while ARP cover buying used DSLR lenses. If you're into photography, check out our Photography Forum, which I'm told is one of the busiest in the country.

MadShrimps cover building a silent aircooled system.

One particular thing of interest at CeBIT is this report from Hexus on an ECS motherboard supporting both AMD and Intel CPUs - not at the same time, of course. In one fell swoop, ECS are attempting to remove the cost problem inherent in switching between an Intel or AMD machine. Hmm, we have seen this kind of thing before, and where it falls down is the expense of the converter (or in this case, the proprietary add-in board). This particular solution seems to require a specific motherboard, too. It seems likely to be cheaper to just buy an S939 board when upgrade time comes and enjoy whatever new features have arrived in the meantime. No word on pricing, though.

ExtremeTech have a bit more info about the eSATA external storage standard.

A few people sent word of new NVIDIA drivers. Matt notes that they contain a bug: GeForce 6800: The 'Temperature Settings' in the Display Properties reports an approximately 20% higher temperature than with the previous driver version. ... This issue will be fixed in the next driver release.

HardOCP have a slide presentation from ATI about their Radeon XPRESS 200 chipset launch and some thoughts about chipsets this year.




Sunday Night Reviews (0 Comments) (link)
Sunday, 13-March-2005 23:37:59 (GMT +10) - by Agg


Storage:
Toshiba MK1031GAS 100GB 2.5" Hard Disk on 3DVelocity.
Western Digital WD740 Raptor SATA HDD on PCStats, our review here.
Vantec EZ-Swap HDD Rack on ArcticSquad.
NEC ND-3520A 16x DL DVD RW drive on HWZoom.
Seagate USB2.0 100GB Portable HDD on Xbit.
Mapower KC-Series External Enclosure on ATrueReview.

Display:
Samsung 710N TFT Monitor on Accelenation.
Samsung 193P 19" LCD Monitor on PCUnleash.

Audio:
iRiver H320 20GB Jukebox on Guru3D.
Ultrasone HFI-550 Beatmaster Headphones on DansData.




Sunday Afternoon Reviews (1 Comments) (link)
Sunday, 13-March-2005 16:31:52 (GMT +10) - by Agg


Power Supplies:
Revoltec Star Series Chromus II RPS-450V2 on XtremeResources.
Ultra X-Connect 500W on AuphanOnline.
XG Vigor 500W on PCModdingMy.
XG Vigor 500W on OCIA.
OCZ ModStream 450W on Techniz.

Cases:
Razotech Blizzard on PimpRig.
Thermalrock Oceandome on RBMods.

Motherboards:
DFI LANParty NF4 SLI-DR S939 A64 on LegitReviews.
BFG VNF4 Ultra nF4U S939 A64 on AMDReview.
ABIT Fatal1ty AN8 nF4U S939 A64 on PC Perspective.
ABIT Fatal1ty AN8 on OCWB.
Gigabyte GA-K8VT890-9 K8T890 S939 A64 on OCWB.



ANTI-piracy investigators today raided the offices of a Perth-based internet company, in what is believed to be the first Australian crackdown on the popular BitTorrent computer file sharing program. Full story here, thanks V|PeR!

OC-Tuning.com has an article to explain how getting a 6800 into a 6800 GT.

Blizzard have released the changelog/patch notes for the upcoming patch for World of Warcraft. But I wish they'd fix their freaking realms right now, some of us have suffered up to 12 hours now without playing WoW, oh the torture!

A1 Electronics have posted their review of their updated AMD roadmap for 2005-2006.

Auphan Online sits down with ATI to discuss their Catalyst Drivers. A brief chat with ATI's Andrew Dodd about ATI's current role in the market and what we can look forward to.

PCMechanic have a guide posted - Troubleshooting Your Computer. They give lots of troubleshooting tips in this very informative article. The most likely cause is the simplest one. With some common sense, troubleshooting can be made simple.

CoolTechZone have a discussion about when those ugly computer cases would disappear.

After talking about the future of video games, The Tech Zone is switching gears and talking about reviving old computer games.

Are you addicted to the Internet? Well The Tech Zone looks at an article where the Finnish army has sent some of its conscripts home due to the fact that they are unable to handle the compulsary six months in the army without access to their computers.

AMDBoard.com gets the first look at the AMD Turion 64 Notebook. AMD Turion 64 is the latest AMD answer to Intel Centrino supremacy with low consumption of 25 and 35 Watts and all the features that made AMD Athlon 64 so popular like quantispeed, AMD64, SSE and SSE2 compatibility and many more.

Another Mid-Level PC Buying Guide has been PC buying guide has been posted up on TechSpot.




Thursday Night Threads (1 Comments) (link)
Thursday, 10-March-2005 20:34:21 (GMT +10) - by Agg


Interesting Forum Threads:
How do chip companies speed bin? in Overclocking & Hardware.
The next big thing: PPU (Physics Processing Units) in Overclocking & Hardware.
When things go bang in Modding & Electronics.
Drastic case modding idea in Modding & Electronics.
The perfect power supply? in Modding & Electronics.
Asus to bring out dual-6800 card? in Video Cards.
Can spyware infect without a click? in Newbie Lounge.
New "Newcastles" ADA3500DEP4AS in AMD Hardware.
Gran Tourismo 4 in Games.
Ethics and Morals: the loosely used terms of principle values in Current Events.
Australian economy in Current Events.
ADSL speed... what they say vs what it is in Networking & Internet.
I am in R/C kit heaven .... in Other Toys.
Look after your back! in Sport, Fitness and Health.
Age Demographic of OCAU in The Pub.
Why you shouldn't leave cans of soft drink in the freezer in The Pub.




PCDB Passes 7000 Entries! (4 Comments) (link)
Thursday, 10-March-2005 16:11:21 (GMT +10) - by Agg


Our PC Database recently passed 7000 entries, with Cybergecko's being the lucky number. Seems like a good opportunity to showcase some of the best PC's in there, as voted by readers. For example, here's the top 6 entries by Ingenuity rating:



Click any image to see details..




Thursday Afternoon Reviews #2 (0 Comments) (link)
Thursday, 10-March-2005 15:22:38 (GMT +10) - by Agg


Storage:
BenQ DW1625 Internal DVD Writer with LightScribe on HWZ.
Scythe Silent Box HDD quietener on WhispTech.

Memory:
1GB Wintec AMP-X DDR2 PC5400 on OCModShop.
Ultra PC3200 XL on OCrCafe.

Video Cards:
ABIT RX600 Pro-Guru 256MB card on Bit-Tech.
ATI All-In-Wonder X800 XT on Hexus.

Displays:
Samsung SyncMaster 920T 19" LCD on Bjorn3D.
Samsung SyncMaster 920T 19" LCD on GideonTech.

Notebooks:
HP Pavilion ZE2000 on HotHardware.
Sony VAIO VGN-S2HRP on Xbit.
ECS 532 15-inch Notebook (Transmeta Efficeon) on HWZ.

Software:
Dantz Retrospect 7.0 for Windows backup software on BIOSMag.
Pro Rugby Manager 2 game on Hexus.
Gran Tourismo 4 game on TrustedReviews.

Misc:
PlusDeck 2 Computer Cassette Player on A1-Electronics.
Microsoft Wireless Intellimouse Explorer 2.0 mouse on Gruntville.
Samsung CLP-550 printers on OverclockersOnline.
Hewlett-Packard ScanJet 8200 scanner on Xbit.
Gigabyte GA-K8N Ultra-SLI S939 A64 motherboard on PCStats.
Arctic Cooling Silentium T2 case on Ap0calypse.
Mutant Mods Modding Gear BigBruin.




Thursday Afternoon Reviews (0 Comments) (link)
Thursday, 10-March-2005 13:39:29 (GMT +10) - by Agg


Cooling:
Asetek VapoChill Lightspeed vapour phase-change cooler on ViperLair.
Evercool WC-202 watercooling kit on RBMods.
Jetart JACSH1 Universal VGA Cooler on 3DXtreme.
Asetek VapoChill XE II vapour phase-change cooler on TrustedReviews.
DangerDen TDX Watercooling Kit on OzCaseMods.
Spire Blue UV 80mm Case Fan on MarnsCDA.
Asetek WaterChill Antarctica Socket T watercooler on PCModdingMy.
Arctic Cooling Freezer HSF on SilentPCReview.

PSU:
OCZ ModStream 520W on TechIMO.
VG Vortex 500W (video review) on 3DGameMan.
SkyHawk Power One 570W on ExtremeOC.
SkyHawk Power One 570W on LegitReviews.

Audio / Video:
DHT-819C 5.1 Channel Surround Sound Speakers on BigBruin.
LTB USB 5.1 Headphones on Phoronix.
MSI Megaview 561 Portable Multimedia Player on PCStats.



Iroquois sent along these pictures of a PC damaged in transit from the UK to Australia. Pretty nasty, looks like an impact to the box was hard enough to dent the case and cause the CPU cooler to rip free of the socket, rattling around inside the system.



The lesson here is to pack your PC properly when transporting it - especially from one side of the world to the other! Removing the CPU cooler is a first step - uninstalling expensive/heavy cards and individually packaging them is a good idea too.

Of course, I always transport my PC safely. :)




Press Releases (1 Comments) (link)
Thursday, 10-March-2005 01:35:08 (GMT +10) - by Agg


Senator Ellison released information on new obligations for Internet Service Providers and Internet Content Hosts regarding child pornography. The Australian Government is determined to lead the world in efforts to stamp out the despicable trade in child pornography. More info in a 69KB PDF here.

Altech Computers announced the arrival of three new ABIT motherboards. Introducing the AX8 with the new VIA K8T890 chipset, to the nForce 4 based AN8 and finally the high-performance Fatal1ty version based on the nForce4 Ultra this new range carries on with ABIT's high performance and reliability ethos.
More info here.

OCZ Technology announced PC-4800 EL DDR Platinum Limited Edition memory. Bringing DDR(1)600 to market has been a technical challenge - but we have mastered this milestone event using a combination of ULN PCB with extended voltage protection to 3.0V. More info here.

ASUS announced a "LCD Zero Bright Dot" policy. If the user has a bright dot dead pixel within the first 30 days they can call the 1300 number to arrange the notebook to be picked up and the LCD to be replaced. More info here.

ABIT announced the ACON5 Global Gaming Event. Held in over 20 countries and territories, ACON5 invites avid gamers from 150 cities across the globe to one of the world's largest, most exciting gaming tournaments. The contest includes Australia - more info in a 372KB DOC file here and the ACON5 website.

Asetek announced the VapoChill Micro. In the VapoChill Micro series the compressor is left out and recirculation of the coolant is based on gravity. In other words, no mechanical parts and basically unlimited reliability. More info here.




Wednesday Afternoon #2 (2 Comments) (link)
Wednesday, 9-March-2005 16:55:50 (GMT +10) - by Agg


Intel's Developer Forum was on recently, and we seem to have accumulated a heap of links to stories about it. Intel announced at least two dozen new products, detailed its long awaited dual-core strategy and pushes the IT industry quickly towards 64 bit computing. Links to stories: Day 1 and Day 2 on Xbit, with 65nm Yonah spotted on LegitReviews. Hexus have been busy with Day 1 Keynote, Concept PC's, Intel's Multi-Core Strategy, apparent SLi on P4, enhancements to CMOS, silicon photonics and an interview with Pat Gelsinger. Coverage in Part 1 and Part 2 on HWZ. PC Perspective, TomsHardware and GamersDepot have articles too.

Yaleman spotted this article about the world of competitive eating. Good Lord. I cannot imagine a more nauseating sight than watching someone eat seven sticks of butter in five minutes.

GameSpy have a pile of info about the next Xbox console. Keep in mind that all of this information is based off of alpha development kits and current projections for the final hardware.

BIOSMag reviewed the Imation Disk Stakka, which I looked at here not long ago.

Xbit discovered that some of AMD's partners have been testing an A64 4200+ CPU. AMD's Athlon 64 4200+ processor is clocked at 2.60GHz, contain 1MB of L2 cache and sport dual-channel PC3200 memory controller, copying major specs of the currently shipping AMD Athlon 64 FX-55 processor for Socket 939 infrastructure.

TweakTown have an article about protecting your WinXP PC from the outside world. ExtremeMHz follow up with a spyware and hijacker removal guide.

LostCircuits consider P4 600-series performance. On the other hand, the "clamshell" pattern of the Athlon64, coming in last in 32-bit and literally stepping all over the P4 in 64-bit mode shows a little bit of the difference between a processor architecture specifically developed for 64-bit computing as opposed to one that was patched to accomodate the latest developements in personal computing.

This is a flamewar waiting to happen, but CoolTechZone consider some current problems with Linux. Meanwhile, it's suggested that some enemies of Linux are spreading disinformation to undermine its credibility. Hexus however report on the growth in Linux gaming options.




Wednesday Afternoon (0 Comments) (link)
Wednesday, 9-March-2005 13:58:36 (GMT +10) - by Agg


The "World's Greatest Shave" fundraiser is on again, to aid Leukaemia research. If you're not game to shave your head, you can still help out by supporting two girls from our forums in their own effort - details here. There's only a few days left to go!

Sudhian spent some time watercooling and overclocking the Pentium M. The big story at the moment around those CPUs is the appearance of a S478 to S479 (Pentium-M) adapter from ASUS. Some more info here and here (translated). There's some discussion in this thread in our Intel Hardware forum.

LegitReviews interviewed Vivian Lien of DFI, their director of marketing. Bit-Tech meanwhile talked to some NVIDIA people about the "The way it's meant to be played" scheme.

TomsHardware covered a recent gaming event in Texas, where ATI unveiled their 512MB video card. Everything really is bigger in Texas.

TheTechLounge wonder if Sony are sinking, having missed the boat on a few key technologies lately.

HotHardware looked at ATI's HyperMemory, their response to NVIDIA's TurboCache. Both technologies allow lower-end video cards to use system main memory, via the PCI-E bus, for graphics purposes.

Sudhian looked at embedded CPUs, comparing AMD's Geode with VIA's C3.

MadShrimps compared some P4 CPU coolers. We looked at some recently too, here and here.

TheInq have info on eSATA, a new external storage standard. The new spec will bring you up to almost 5 times the speed of USB 2.0 with all the added features of SATA-II, there really is no down side. Xbit report on products from Seagate and NetCell that use this technology.




Wednesday Middayish (0 Comments) (link)
Wednesday, 9-March-2005 13:00:12 (GMT +10) - by Agg


Thanks to the many people who sent in congratulations and best wishes for my marriage to Annette last Saturday. Everything went well. :) Might post some pictures when we've sorted through them all. Meanwhile, it's time for some news catchup today, so stay tuned for more posts this afternoon.

Ageia has announced the world's first "physics processing unit", or PPU, in the form of their PhysX chip. It's designed to co-exist with the CPU and GPU in existing systems. Crushed car doors can show the same bends and breaks when viewed from any angle. Clothing can drape and move naturally, and a character's hair can whip around in a strong breeze. Info here on GameSpot and there's an interview with the designers here on Gamers-Depot.

Hexus looked at the BTX form factor to see what the fuss is about.

HyRax1 noticed this article about tracking PC's via the use of packet timestamps.

Dan ponders whether or not SLI is worth your consideration.

A roundup of roundups: nine SATA RAID5 adapters on Tweakers, thirteen AGP/PCI-E graphics cards on SpodesAbode, six premium LGA775 P4 motherboards on TomsHardware and some fanless PSU's on XYZComputing.

Interesting Forum Threads:
Prescott core photos in Intel Hardware.
A64 Venice cores have arrived...? in AMD Hardware.
EPIA MII vs PD in VIA Hardware.
Publishing email addresses online in Graphics and Programming.
Any Wing Commander: Privateer fans here? in Graphics and Programming.
Linux server change from Windows 2003 in Other Operating Systems.
To those that ask for help.. in Other Operating Systems.
How to correctly calibrate your Home Theatre setup in Audio Visual.
ROWA - RDVD104 - Review in Audio Visual.
Petals around the rose in The Pub.



PSU:
Elan Vital Greenerger 400 Watt on TecCentral
Antec Powersupply Roundup on Oz Case Mods

Motherboard:
ECS KN1 Extreme Mainboard on XbitLabs
Soltek SL-K890 Pro 939 Motherboard on Hardcore Ware
Gigabyte GA-8I915P Dual Graphic on TrustedReviews
Foxconn WinFast NF4K8MC-ERS nForce4 Motherboard on Bjorn3D
Soltek K8T890 on T-Break
Gigabyte K8NXP-SLI and 3D1 together on Tweak Town

Videocard:
512MB X850xt preview on Firing Squad
ATI RADEON X800 PRO Shootout (AGP) on Hardware Zone
Mid-Range PCI-Express shootout on Bit-Tech
MSI NX6600 Diamond on Hardware Zone
Albatron Trinity PC6600GT PCI-E on ClubOC
HIS X800XL IceQ II Turbo 256MB PCI-E on 3DGameMan
HIS ATI Radeon X800XL IceQII 256 Meg PCI Express on TweakNews
NVIDIA GeForce 6200 TC 64MB (256MB) on Guru3D

Cooling:
Scythe Kamaboko Z CPU Cooler on WhispTech
Thermalright XP-90 Heatsink on MikhailTech
COOL by Corsair on Bit-Tech
Gigabyte Neon Cooler 775 & Neon Cooler 8 on Legion Hardware

SFF/MiniPC/Laptop:
AOpen XC Cube EY855 mini-barebones system on TechReport
Iwill ZMAXdp (Dual processor SFF) on Hardware Analysis
Shuttle XPC SN95G5: A64-939 SFF on SilentPCReview
DirectPC LX-920 Laptop on TWLabs
Silverstone LC11 HTPC Case on Hot Hardware

RAM:
DDR-2 PC-5400 Performance Memory Shootout on TweakTown
Mushkin 1Gb PC4400 on Rbmods
Corsair XMS XPERT TWINXP1024-3200XL on Phoronix
Corsair XMS XPERT Series Memory With Programmable Display on Tech-Mods
Patriot 1GB 3200+ XBL Dual Channel Memory Kit on RojakPot
Astak Team Research PC4800 DDR-600 High Speed Memory on Extreme Overclocking

Mouse:
Icemat Siberia on Arctic Squad
XTrac Hybrid computer mouse mat on A1 Electronics

Misc:
Intel 660 and 3.73GHz XE on Bytesector
The Punisher PC Game on Bytesector
Belkin Wireless Pre-N Router on TrustedReviews
Lexmark P315 portable photo printer on BIOS
MS Fingerprint Reader on ipKonfig
Gateway 30-inch LCD TV on DesignTechnica
Powerhouse Technologies MIGO Smart USB Flash Drive on Future Looks
Casio Exilim Zoom EX-Z50 on Trusted Reviews

Case:
Silentium T2 Case on Creative Mods
Mountain Mods U2-UFO Case on BleedinEdge

Audio:
Skullcandy Skullcrushers Headphones on TheTechLounge
LTB USB Pro 5.1 Headphone Set on Moditory
Icemat Siberia Headset on PCModdingMy
Creative Zen Micro Portable Audio Player on 3DVelocity

Phone:
Actiontec Internet Phone Wizard on Hardware-Pacers
Samsung SGH-Z107 / Dual GSM 3G Camera Phone on OCWorkBench
Motorola V3 Razr on SLCentral



Quite a few people sent in news about a group buy on Dell 24" Widescreen LCD monitors. Although no CLEAR price has been set yet, they should be able to get them for $1650 or less. Update, from aokman: Just wanted to inform you that a price has been reached for the Dell monitors, $1450 if 90 people vote to do it.

XbitLabs has an article about Nvidia's Multi-GPU SLI Technology, you should know what that is by now. ;)

Ion Storm, the development studio behind Deus Ex, Thief: Deadly Shadows and Daikatana has finally had the plug pulled by Eidos. Thanks Andrew!

OC WorkBench have Sony Ericsson Live photos and coverage of W800, J300, K300, K750 posted up on their site.

The Tech Zone has posted an editorial about the future of our video games.

PCWorld has more info on Intel multicore CPUs. Thanks Murray!

GT-R is a new game from SimBin, and, in my opinion, this game defines a truly incredible racing sim. Anyway, SimHQ has interviewed the guys who made it, check it out here. Thanks jastormont!

Ambush lets us know that Media Player Classic 6.4.8.3 has been released.

eCoustics has an article all about Video Cables. When reading descriptions of home theater cable products off of packages in a big-box store, or off of websites online, it's sometimes hard to get a clear understanding of just what, exactly, is inside a length of cable.

Google has updated their desktop search tool, now being able to search the full text of PDF files and the metadata of multi-media files.

VW will supplying their Passats with a Bluetooth-based handsfree unit. Full details here.



Display:
Samsung 711t on Overclockers Online
BenQ FP91V+ 19-inch 12ms (6ms GTG) TFT LCD on Hardware Zone

Video:
GeForce 6600GT on Tweak Town
HIS X850XT and X850XTPE on 3D Avenue
eVGA GeForce 6800GT on HWLogic
PowerColor Theatre 550 Pro on Bytesector
ATI TV Wonder Elite on HotHardware
HIS X850XT IceQ II Turbo Dual DVI VIVO 256MB PCI-E n 3DGameMan

Storage:
Pioneer DVR-109 on CDRInfo
PlusDeck2 PC Cassette Recorder on Overclocker Cafe
Swissbit 2 Gig Twist Pro Flash Drive on TechTastic
Corsair Flash Voyager 512 MB on Penstarsys

Cooling:
Spire CoolGate Pentium 4 Heatpipe Cooler on Rojak Pot
Thermaltake water cooler heatsink system accessories on A1-Electronics
EverCool HPC-925 Iceman CPU Cooler on Hi-tech Reviews
TTIC NPH-775-1 & NPH-K8-1 CPU Cooler on PCModdingMy
Enermax TC-8CAS-BL 4 LED Case Fan on PCHardware
ArctiClean Thermal Material Remover on Mikhail Tech
Thermaltake Rocket on Legion Hardware

CPU:
AMD Sempron 2600+ for Socket 754 on Xbit Labs
3.4GHz Intel LGA775 Pentium 4 on ClubOC

Misc:
Sunbeam Night magic, Lazerled and Led projector on Rbmods
Sunbeam Lightbus on A True Review
Sendo X on Trusted Reviews
Konica Minolta Magicolor 5440 DL on Trusted Reviews
Scythe LCD Master (LM01-GY) on Phoronix
IceMat Siberia gaming headphones on Marns CDA
A.C.Ryan RyanPower2 450w Modular PSU on Viper Lair

Case:
SilverStone Temjin TJ06 full tower case on TR
Logisys Janus Case on CoolTechZone
SilverStone LC11 Home Theater PC Case on Bjorn3D
Thermaltake Soprano ATX Case on BigBruin
Thermaltake Soprano VB1000SWS Case on XYZ Computing

Motherboard:
MSI K8N Neo3-FSR on TrustedReviews
AOpen i915Pa-PLF Motherboard on PCStats
Albatron K8SLi on AMD Board
SiS 756 K8 PCI-E on OCWorkBench
MSI K8N NEO4 Platinum on Bleedin Edge

Software/Games:
Prince Of Persia : Warrior Within on Rojak Pot
Knights of the OId Republic II: The Sith Lords on Tech Connect

Keyboard/Mouse:
Banshee Pad on XYZ Computing
Razer eXactMat Mousing Surface on HWLogic
A4Tech NB-30 Battery Free Wireless Optical Mouse on Tweaknews
Logitech diNovo Media Desktop on AMD Review
MonsterGecko PistolMouse FPS on A True Review

RAM:
Corsair PC2-5400UL on Legit Reviews
AkwaFlo RAM Cooler on OCModShop
Corsair Twinxp1024 3200xl (Xpert) on Rbmods
Crucial Ballistix Tracer DDR2 PC2-5300 on Xtreme Resources



Sorry for the lack of news lately, been terribly busy working, I mean...playing WoW. ;) Also congrats to Agg and the lucky lady on their wedding yesterday!

OCIA.net has posted an article on Overclocking the Socket 754 AMD Athlon 64.

Hardware Analysis have been playing with the Pentium 4 660, and has clocked it at 5.2GHz, trying to beat AMD's Athlon 64 FX55.

From XtremeResources: Hot off the presses tonight at XtremeResources, our very own MrIcee has broken the barrier of HTT speed and stability and managed to hit an incredible 500Mhz HTT speed aboard the DFI UT LP NF4 SLI-D board. This speed has been achieved before, but this time it has been CPU-Z verified and validated. Check out the full article here.

AMD's announcement in the fall of 2001 that the new "AthlonXP" processor would eschew a standard MHz clockspeed for a model-rating system drew an Internet-wide groan from enthusiast and technical communities alike. PR (Performance Rating)-centric systems had been tried before by both Cyrix and AMD, and had acquired a less-than-sterling reputation. Full story here.

Madhatter points out that Empire are have got a special on for the TV series - 24, the first two series at $34.95 each. Even I highly recommend you get these, I grabbed them off eBay and watched both seasons in one weekend. More info in this thread.

A few people sent in news about Billy receiving Honorary Knighthood.

Dan has more letters posted. In this issue: Laptop noise suppression, tacho wire repurposing, external drive options, centralised DC power, and the Book of the Dead (Groovy!).

Telstra are starting to get the VoIP ball rolling, they have launched a six-week trial of voice over internet protocol using up to two hundred Telstra staff in Melbourne.

Dual core processors are getting closer by the day, with Intel reporting that they will be rolling out Pentium D and Extreme Edition processors to replace the existing Pentium 4 processor.



Audio:
Sony XDR-M1 Pocket DAB on Trusted Reviews
Chaintech AV710 on Sudhian
Samsung Yepp MT6Z 1 gig MP3 Player on TechTastic.ca
X-Micro EVA MP3 Player on OCPrices
GeIL iBALL MPV (MP3 Plus Video) Player on 3DGameMan
Samsung Yepp MT6Z 1 gig MP3 Player on TecTastic

Video:
Club-3D X800XL 256MB PCI-Express on TCMagazine
Leadtek PX6800 TDH (SLI) 256MB PCIe on PimpRig
ATI TV Wonder Elite on DesignTechnica
PowerColor Theater 550Pro TV Tuner on Neoseeker
Dual Core Gigabyte GV-3D1 vs Dual 6600GT SLI on HardwareZoom
HIS X700 Pro iTurbo VIVO Edition on Bytesector

Storage:
Mini Hard Drive Mini Roundup on BigBruin
Buffalo Technology LinkStation network storage centre on BIOS
Samsung TS-H552 DVD+RW on Overclockers Club
Sunbeamtech Wherever PCI Rack on BigBruin
Cooler Master Cool Drive Lite on Viper Lair

Motherboard:
DFI LANPartyUT NF4 Ultra-D on Legion Hardware
ASrock P4Dual-915GL on OCW
Asus P5GDC-V Deluxe 915G Motherboard on PcPerspective

Case:
NZXT Nemesis and Nemesis Elite ATX Case on 3dxtreme
Cooler Master Wave Master LE on Overclockers Online
Lian Li PC60 Plus on TecCentral (Babelfished)
Aerocool Spiral Galaxies WTX Case on Controlled-Insanity

RAM:
Corsair XPERT Memory TwinXP1024-3200XL on OCTools
Corsair XPert TWINXP1024-3200XL on ipKonfig

Cooling:
Thermaltake Polo 735 Extreme 3 in 1 CPU Cooler on Futurelooks
Asetek WaterChill Socket LGA 775 watercooling on Guru3D
Thermalright SI-97 Heatsink on Bjorn3D
Scythe Kamaboko (SCKBK-1000) on Phoronix

Keyboard/Mouse:
KeySonic Aluminium Keyboard ACK-720WK on TweakPC
A4-Tech NB-30 battery free wireless mouse on DataFuse
Razer eXactMat and eXactRest bundle on Tech-Mods
Logitech V500 Cordless Notebook Mouse on The Tech Zone
Steelpad QcK+ Large Gaming Mousepad on Tweaknews.net

Software/Games:
MechAssault 2: Lonewolf for the Xbox on Futurelooks
Resident Evil 4 on Bytesector
Project Zero 2: Crimson Butterfly on Trusted Reviews

Display:
Dell 2405FPW 24" Widescreen LCD on Extreme Tech
Iiyama ProLite E435S 17" LCD Monitor on 3DVelocity

PSU:
XG Vortec 500W Power Supply on PCModdingMy
TTGI PLUG-N 550W 14cm Fan Power Supply on Extreme Overclocking
Antec Phantom 350W Fanless PSU on MikhailTech

SFF/PC:
Apple Mac mini on Trusted Reviews
Sunbeamtech Lighting Products on BigBruin
Gigabyte N411 14-inch Centrino Notebook on Hardware Zone

Misc:
Shuttle SB86i XPC on t-break
Intel 64bit processors on Trusted Reviews
Olympus µ (Mju) Digital 500 on Trusted Reviews



Mouse:
Ulti-Mat Aluminum Mouse Pad & Skate Tape on The Tech Zone
EVERGLIDE Ricochet Prosurface 2.52 on WhispTech
Steelpad Steelgrips on MHW
Razer Diamondback on Rbmods
XTracPads Hybrid Performance Mouse Pad on ExtremeMHz

Motherboard:
DFI LANParty UT NF4 Ultra-D on Tech Report
DFI LanParty NF4 SLI-DR on PcPerspective

Portables:
iPod shuffle on TrustedReviews
MSI MEGA View 561 on Viper Lair
ULTRA All in One MP3 Player on HardcoreWare
Creative MuVo Micro N200 audio player with FM tuner on BIOS
Sony VAIO VGN-FS115B Sonoma based notebook on Trusted Reviews
Samsung Yepp YP-T5-V 256MB Digital Audio Player on Tech-Mods

Storage:
Diskology Disk Jockey on LAN Addict
ATake SATA Cables on Gideon Tech

RAM:
Corsair XPERT Memory on CoolTechZone
Crucial Ballistix Tracer DDR PC2-5300 on ClubOC
Corsair XPERT PC-3200 Memory w/Programmable LED Display on 3DGameMan

Misc:
Plextor ConvertX Personal Video Recorder on 3DGameMan
SoundGraph iMON Multi-Median Plus Remote Control on OCPrices
Logitech Quickcam ORBIT Face-tracking Webcam on Extreme MHz
Netgear DG834GT on Trusted Reviews
Intel 660 3.6Ghz & 3.73Ghz Extreme Edition on Tweaknews
ViewSonic NextVision HD12 on Marns CDA



Defyant's latest masterpiece almost defies description. This started out as a very plain grey HP PC and ended up an absolutely stunning custom PC:



Click either pic for the PCDB entry! (16 pics)


The custom side-mounted reservoirs are great, but they almost pale next to the "stealth motherboard" cover, side-mounted LCD screen (showing a Windows desktop with a background image of the case internals, naturally) and other details. There's a full worklog of the project here with lots of pics etc.



There has been quite a few comparisons and reviews on the new AMD and Intel platforms lately, and T-break has compared both the 32bit and 64bit platforms from AMD and Intel.

Hardware Zone has an Intel 915P Shootout posted, the final contender being the MSI 915P Neo2 Platinum.

The Tech Zone has posted a DVD drive troubleshooting guide, outlaying the problems that may cause DVD failure as well as the procedures you should take to correct these problems.

MetkuMods have posted a modding article where they installed a larger capacity battery into their Nokia 6600 mobile phone.

Gandalf lets us know that a free Windows Rootkit has been released. RootkitRevealer is an advanced root kit detection utility. It runs on Windows NT 4 and higher and its output lists Registry and file system API discrepancies that may indicate the presence of a user-mode or kernel-mode rootkit.

mpot links us to a list of the top 100 gadgets of all time. Some interesting gadgets there, wouldn't mind one of each. :)

TWLabs has a look at some Nexus Damptek Noise Absorbtion Material, that supposably helps quieten down our computers.

Dan has more letters for us. In this column: Upgrading for Doom, Peltiers redux, thermal goop versus carpet, and the beauty of black heat sinks.

Hexus compares the Asus A8N-SLI Deluxe with the DFI Lanparty UT nF4 SLI-D. Both come recommended, but the DFI has strings to its bow that you will not find elsewhere. Go forth and purchase, there's absolutely no finer Athlon 64 mainboard at the time of writing.

Andrew points out that mIRC, which is the most popular IRC (Internet Relay Chat) client for Windows has just celebrated its 10th birthday.

Xbit Labs has posted a high-end CPU coolers roundup: The Battle for Silence and Efficiency.

Techpowerup has voltmodded the Lanparty NF2 Ultra-B from DFI, with some interesting results.

A True Review has tried some Caffeine and Energy Products. Nothing really beats a strong espresso however. ;)

Unsurprisingly, spammers have become rather insidious, sending out e-mails that show that the e-mail is coming from the FBI, got quite a few in the OCAU Newsbox recently actually. More info here on CNN, thanks goodlet. :)

Short-Media have an Hard Drive/OS Install Refresher posted up on their site. Back to the basics and sooner or later every PC user faces a full operating system installation. While there is not absolute correct procedure there are hints, tips and tricks that can save any user time and problems in the future. This guide takes the novice step by step through the process of setting up Windows XP and reminds veterans of a few good habits.



Cooling:
Asetek WaterChill Antarctica KT12A-L30 Water Cooling System on Xbit Labs
Speeze EE475B13 CopperSnake III air cooler heatsink on A1 Electronics
Danger Den DDC-12V Water Pump on Techniz
Speeze Coppersnake 3 on Hardware Hounds
PolarFlo TT Chrome GPU Block on GruntVillE
Asetek WaterChill KT03A-L30 on Overclockers Online
Kingwin KWVC-3 Video Card Cooling System on ClubOC
Coolink BAT1VS HS on Phoronix
PolarFLO TT on GruntVillE

Software/Games:
Handy Recovery 2.0 Undeletion and Data Recovery Software on PCstats
Colin McRae Rally 2005 on TCMagazine
Pariah Preview on Hexus
The Legend of Zelda: The Minish Cap on Bytesector
Splinter Cell: Chaos Theory on 3DVelocity

Videocard:
GeForce Go 6800 Ultra on HotHardware
PowerColor Theater 550 Pro on OCModShop
GeCube Radeon X850XT Uni-Wise Edition on PCModdingMy
2x MSI NX6800-TD256E SLI on 3Dchip (Babelfished)
Leadtek WinFast PX6800 GT TDH (GeForce 6800 GT) on Bjorn3D
HIS Radeon X800XL IceQ II Turbo on Legion Hardware
HIS x850XT IceQ II on t-break

Case:
NMEDIA HTPC 100 Case on Bit-Tech
Enermax Maxflow CS-718B ATX Case on BigBruin
Sunbeamtech Transformer on Hi-Tech Reviews

PSU:
Blackline BQT P5 470 watt Power Supply Unit on XtremeResources
Demon 480w Power Supply on Controlled-Insanity
OCZ ModStream 520 Watt PSU on Tech-Mods



VIA Arena has published an article on how to cool down your video card by inserting a blow hole.

Lurks pointed out that there has been a new prime number found, 7,816,230 digits long.

Macintosh creator - Jef Raskin has passed away at the the age of 61 from pancreatic cancer.

People who use Wine - which is an open source toolkit that allows users to run Windows Apps under Linux have now been blocked from accessing Windows updates.

Wired.com has more information about the T-Mobile breach involving Paris Hilton that happened a few weeks back.

Microsoft is not only planning to release 64-bit Windows Operating Systems, but also they plan to release 64-bit version to some of its desktop and server applications.

PC Perspective has published another Hardware Leaderboard this month, lining up three complete system recommendations for high, mid and budget levels.

Controlled-Insanity has a chat with a Female Case Modder - JessAlba452.

HWLogic has written an in-depth guide at how memory timings affect gaming performance and benchmarking results.

With all these ISPs lately releasing higher speed ADSL plans (12mbit), it seems Telstra has felt the pressure who have begun upgrading their ADSL equipment to deliver internet services at speeds up to 16 times faster than are currently available. Thanks Sniper!



---
Advertisement:


All original content copyright James Rolfe.
All rights reserved. No reproduction allowed without written permission.
Interested in advertising on OCAU? Contact us for info.