April 2005
Folding@Home Giveaway 6 Reminder (1 Comments) (link)
Friday, 29-April-2005 11:45:23 (GMT +10) - by Agg


Don't forget, you can win a pile of stuff by being part of our Folding@Home Team's fightback to first place in the world. The fact that you're helping find cure for diseases is no bad thing either.

So far you can win an entire PC, a selection of cooling gear or a DVD writer. Thanks to Computer Alliance, LowNoisePC, the FFF and chainbolt for providing prizes.

Actually, you might notice there's "3 random prizes from the Agg Cave" listed there too. Well, I've had a dig through the rubble and here's what I found:
Prize 1: Thermaltake TWV-480 PSU, as seen in this roundup. This is the one with the "Total Watts Viewer" and fan control knobs in a 5.25" bay. I'll chuck in a tin of Penguin Mints (mmm, caffeine) too.
Prize 2: Thermaltake's "Giant III" video card cooling monster, with heatpipes and radial blower etc. Have some Thermaltake Copper Ramsinks and Penguin Mints with that.
Prize 3: Thermaltake's Tower 102, gigantic CPU cooler. Fits virtually all CPUs and frightens small children. I think it's the same as the Silent Tower seen here but without fan. So I'll chuck in a Thermaltake UFO dual-blade fan with it.

Click to enlarge!


So, now you've got no excuse not to Fold for Team 24! General Folding info here, Giveaway details here, nominate yourself for the giveaway here, ask questions in the Team OCAU Forum here.



For a large corporation that tries to think different about things, Apple certainly behaves just like the stereotype sometimes. Now they're retaliating to an unauthorised biography of Steve Jobs by removing the publisher's other books from Apple store shelves.

Gary_J spotted someone who takes their home theatre very seriously. Lots of pics.

Preparation continues for the Large Hadron Collider coming online, with another successful test of the supercomputing grid that will process the data it produces. The total amount of data transmitted during the (10-day) challenge -- some 500 terabytes -- would take about 250 years to download using a typical 512 kilobit per second household broadband connection.

Speaking of tests, the new cruise ship of the sky, the Airbus A380, concluded its first test flight successfully. The $285-million A380 is 15 metres wider, four metres higher, two metres longer and 118 tons heavier than the 747 jumbo, which helped change the airline business. In full economy configuration it can seat over 800 people!

TCMag have some Serious Sam 2 screenshots.

Sciby found this cool drinking glass design which is intended to reduce the risk of drink spiking.

TechReport compared A64 chipsets with PCI Express. But between the latest core logic options from ATI and ULi, NVIDIA, SiS, and VIA, which chipset has the most desirable blend of features and best performance? Join us as we sift through spec sheets and pour over a slew of benchmark results to find out.

Raven noticed this screen-cleaning website. Very cute! Has sound, too. Update: Bah, seems to have gone away. Here's another copy, presented slightly differently.

Anandtech compared enormous LCD's of the 20" variety from Dell and Apple. As unique as Apple's Cinema display might be in the world of 19" to 21" flat panel displays, it shares the same LG.Philips panel as the Dell UltraSharp 2005FPW. There happens to be only a single panel manufacturer capable/willing to mass produce wide screen, high resolution flat panel displays for the PC market.

TomsHardware have a pile of new toys being shown off by various vendors. See what made us salivate as we got a sneak peak of what to expect from the networking, memory, storage and display channels during the coming weeks.

There's a new version of CPU-Z, which tells you all kinds of interesting stuff about your CPU etc. It can now tell you if you have a dual-core CPU! I can tell you that too: you don't.



Hardware Secrets has posted a tutorial on everything HDTV, including its resolutions and a step-by-step guide on how to connect HDTV panels to your PC.

On a similar subject, Hardware Secrets also have an article about Digital TV Standards that exist around the world (ATSC, ISDB-T and DVB-T) and the differences between them.

Beyond3D have a preview of S3's new GammaChrome S18 Nitro chip which utilises DirectX9 architecture and implementing the PCI Express interface.

Peter sent in news about Microsoft adding black box to Windows. In a move that could rankle privacy advocates, Microsoft said Monday that it is adding the PC equivalent of a flight data recorder to the next version of Windows, in an effort to better understand and prevent computer crashes.

ATI is preparing to show off their new Multi VPU marchitecture - which is ATI's answer to nVidia's SLI platform.

The Tech Zone has some photo tips that we could all benefit from. Whether you are a seasoned pro or a new shooter, these ten problems can creep up on you. So review this list often and make a mental checklist to use every time you photograph. You will notice an immediate increase in the quality of your images

OneArmedMan sent in this picture of a WRX STi...ATV. Would be a groovy way to get to work. :)

Futurelooks tries to help us ease our pain while slaving away at our desks at work...

Techreport compares a variety of different Athlon 64 Chipsets.

There has been a new Half-Life 2 Deathmatch map released, more to read here on 3DNewz.

3DNewz also have the massive E3 2005 appearance list posted up on their site.

Nokia today announced a new multimedia phone brand with the latest mobile technologies - the Nseries. More details on DVHardware's site.




Press Releases (6 Comments) (link)
Thursday, 28-April-2005 19:58:43 (GMT +10) - by Agg


ABIT announced Silent OTES. Seems like quite a neat idea, using a heatpipe to carry northbridge heat to the outside of the case. The result, a totally silent platform offering excellent cooling efficiency while utilizing the existing CPU fan, ultimately providing enhanced performance, stability and a quieter experience for the end user. More info and a couple of pics in this 454KB DOC file.

BIOStar released their nForce4 SLI Intel Edition motherboard. N4SIE-A7 is a High Performance motherboard that delivering the revolutionary technology like SLI, PCI Express Graphics interface, Serial ATA II, and powerful Intel Pentium 4 processor support. This platform offers superior performance and functionality to satisfy even the most demanding power user. More info in this 306KB DOC file.

Microsoft announced the general availability of Microsoft® Windows Server (TM) 2003 x64 Editions and Windows® XP Professional x64 Edition. "This is a time of profound change in our industry. The move from 32-bit to 64-bit computing offers a dramatic improvement in performance and reliability, enabling people to use their PCs in exciting new ways at work and at home," Gates said. More info here.

Minitar announced a small portable broadband router. The palm-sized Minitar MNWAPGR (15cm x 12cm x 3cm) has a feature-set equivalent to full-sized routers, but can be easily carried in a pocket or packed with a notebook computer for business travel. As an access point and router, it allows business travellers to plug in to an ethernet internet point in a hotel and share the connection across their hotel room or adjacent rooms wirelessly. More info in this 33KB DOC file.

OCZ released OCZ DDR2 Gold series memory. Gamers will experience superior performance when playing all the latest games, unprecedented data bandwidths, and enhanced thermal performance with our superior copper heatspreaders. These Gold modules truly represent the optimal balance of high-end gaming performance and value. More info here.

PC Range announced three new ADSL/ADSL2+ routers from Billion. The BiPAC 7402VL is an ADSL2+ router with an integrated VoIP ATA, while the BiPAC 7402VGL and BiPAC 7402VGP add 802.11g wireless. ... Twice the Internet Telephony: all three models provide two phone ports for making calls over the Internet, allowing two calls to be made at once. More info in this 96KB DOC file.



PSU:
Enermax Noisetaker EG701AX-VE(W)SFMA 600watt Power Supply on 3DVelocity
FSP ZEN (Fanless) 300W Power Supply on Techniz
Vantec ION 2 460W Power Supply Video Review on 3DGameman

Case:
Logisys Home Theater Acrylic Case on Phoronix
3RSystem R700 BadGuy ATX Case on OCTools.com
Thermaltake Kandalf VA9000SWA Silver Aluminum Computer Case on Tweaknews.net
Lian Li PC-V800 enclosure on Techreport
Thermaltake Armor VA8000 Full Tower Case on Hardcoreware

CPU:
Opteron 275 Dual Core on Sudhian
AMD Athlon 64 x2 & Operton dual-core processors on A1-Electronics

Motherboard:
ABIT AX8 VIA K8T890 Mainboard on Hexus
MSI P4N Diamond on T-break
Gigabyte GA-8N-SLi Royal Pentium 4 SLi on Trusted Reviews
GIGABYTE GA-K8N Ultra-9 Motherboard on Techniz
Tyan Tomcat K8E S2865 on Phoronix

SFF:
AOpen EY855-II Pentium M SFF barebones on Silent PC Review
Shuttle SN25P XPC on HotHardware

Mouse:
Ulti-Mat Mouse Pad on Tech-Mods
Logitech MX1000 Laser Cordless Mouse on OCWizard

Cooling:
Thermaltake Big Typhoon air cooler heatsink on A1-Electronics
Custom Billet Fan Grill Kit on Pimprig
Arctic Cooling Freezer 4 & Freezer 64 on HWzone
Corsair Cool watercooling kit on Rbmods

Modding:
A.C. Ryan Modding Products on Bjorn3D
Sunbeam Modding Accessories on Spodes Abode

Misc:
Samsung Digimax V700 Digicam on Trusted Reviews
Actiontec Wireless 54Mbps Printer Server on GideonTech
Dell Axim PDA Bundle on Bigbruin
Dell Inspiron 9300 on HardwareZone
Logitech Harmony 676 Advanced Universal Remote on Futurelooks
Asus Extreme N6600GT/TOP Limited Edition Videocard on XtremeResources
ViewSonic VX924 19-inch 4ms TFT LCD on Hardware Zone
OCZ PC2-4200, PC2-5400 and PC2-6400 Gold DDR2 Memory on Rojak Pot




Wednesday Morning #2 (7 Comments) (link)
Wednesday, 27-April-2005 02:36:13 (GMT +10) - by Agg


PiedPiper sent in this article about IBM's X3 architecture for high-end Xeon systems. The X3 represents a significant improvement over the prior generation chipset, supporting dual 667MHz front-side buses, snoop filtering, on-chip directory based coherency, virtual caching, PCI-X 2.0 and DDR2 memory.

The Federal Government says its $100M scheme to help get broadband into rural areas is a success. I'm inclined to agree, given I live in a rural area and my ADSL was activated today, after 18 months of being on dialup. Woo!

Meanwhile, Hong Kong now has 1Gbps internet available, thanks PodgeSSS. I'll cope with my 1.5Mbit.. for now.

If you use Trend Micro antivirus software and your PC is suddenly slow, you might want to update again, thanks torana.

Lazerin notes that Airbus's new A380 airliner is scheduled for its maiden flight today.

From Jedi Outcast: I posted this in the forums, but the 'Free Upgrade' for Microsoft Windows XP 64-bit edition is now out. It can be found at this link. The upgrade only applies if you purchased a computer with XP-32 pre-installed on it, so this probably won't be of any use to most OCAU'ers =/

Got a pile of LP's lying around and want to convert them to CD? If you don't know what an LP is, skip ahead. :) HardwareSecrets have a tutorial explaining how to update and preserve your old music collection. I imagine this kind of thing is probably prohibited by copyright laws in this country, though.

Wired report on the Droidyard 500, a race of R2D2-like robots.

TechPowerUp have a memory database, listing which chips are in which sticks.

PCPerspective consider if AMD have DDR2 in sight, along with a new socket.

SilentPCReview looked at two in-bay gadgets, the Cooler Master Cooldrive 6 and Matrix Orbital MX411. Whatever the cause, we have seen numerous combinations of fan controllers, hard drive coolers, and information display screens addressing this new concern.

Interesting Forum Threads:
What screen resolution do you use? in Video Cards.
Need some myths about plasma tv's dispelled! in Audio Visual.
New Inventors: GTi Stealth Injection System in Motoring.
Tetsuya's rated 4th best restaurant in the world in Geek Food.
Help me, I am fat! in Sport, Fitness & Health.
Try my webcam tank with paintballcannon etc over the web in The Pub.
OCAU Sydney Cruise #5 Wrapup Thread in The Pub.




Wednesday Morning (8 Comments) (link)
Wednesday, 27-April-2005 01:42:28 (GMT +10) - by Agg


The Hubble Space Telescope turned 15 recently, wow. NASA has released two new photos to celebrate. The new images are so sharp that they could be enlarged to billboard size and still retain the stunning details. There's a video linked from that article too, but it's downloading very slowly here.

Astonishingly, people didn't appreciate the playing of the Bee Gees hit Staying Alive at the recent ANZAC day ceremony in Gallipoli.

Hexus think that SFF and BTX don't mix.

HardwareAnalysis wonder if 16x DVD burners are really that much quicker than 8x ones, while TCMag compare single and dual-channel DDR configs on A64.

There's some more info here about the long-term planetary effects of the 2004 Sumatran earthquake. The magnitude 9.3 earthquake has already been said to have shortened the day by fractions of a second, shifted the North Pole by an inch, and made the planet less fat around the middle.

TheBestCaseScenario built a pretty cool testbench setup case thing, while Gruntville have an article about a Feng Shui PC.

Adminprep show how to reassemble data from a packet sniffer.

ocelotx says we can call off the search for the Moore's Law magazine, because this guy in the UK won the prize.

Hexus compared ATI's Radeon X850 XT Platinum Edition AGP and Club3D's Radeon X800 XL AGP video cards, while TechWareLabs looked at the Hitachi 7K400 and Seagate 7200.8 400GB SATA hard drives. HWSecrets meanwhile consider the differences between AthlonXP and Sempr0n processors.




Defyant's "Hevy Plex SLB" (3 Comments) (link)
Tuesday, 26-April-2005 12:35:02 (GMT +10) - by Agg


Defyant's been at it again, this time whipping up a modded Super Lanboy for his son. Interesting modular lighting, perspex panels, a mirrored motherboard shield and a few other nice touches make it stand out:



Click for the PCDB entry! (15 pics)


For more info, see the worklog thread in the forums.




Tuesday Midday Reviews (0 Comments) (link)
Tuesday, 26-April-2005 11:36:09 (GMT +10) - by Agg


Cooling:
Titan Vanessa S-Type CPU cooler on MarnsCDA.
Alphacool Complete Pro 120 (old version) watercooling kit on BurnOutPC.
Spire KestrelKing VI CPU cooler on 3DXtreme.
Thermalright XP-90C CPU cooler on LegionHardware.
CoolerMaster Aquagate Mini R120 Water Cooling Combo on HardCoreWare.
Arctic Silver ArctiClean thermal pad/paste remover on OCModShop.
Zalman CNPS7700-Cu and VF700-ALCu Heatsinks on Gruntville.
Swiftech H20-120 Revision 3a Water Cooling Kit on ClubOC.
Arctic Cooling ATI Silencer 4 Revision 2 on TechPowerUp.

Video Cards:
HIS X850XT IceQ II Turbo on ViperLair.
ATI Radeon X850 XTPE AGP on DriverHeaven.

Memory:
Kingston DDR2 PC2-6000 (750MHz) on LegitReviews.
OCZ PC2-4200 Gold DDR2 on ARP.

Audio / Video:
Samsung Yepp YH-925GS Photo/MP3 player on PCStats.
Dahlquist QX8a Tower Speaker on FutureLooks.
2nd Generation iPod Mini 6GB on TheTechZone.
NeuNeo HVD208 High Definition DVD Player on ByteSector.




Tuesday Morning Reviews (0 Comments) (link)
Tuesday, 26-April-2005 02:13:40 (GMT +10) - by Agg


Power Supplies:
Sky Hawk Power One 620W on MadShrimps.
Ultra X-Connect modular PSU on OzCaseMods.

Mouse, Etc:
Thunder 8 Gaming Pad on ATrueReview.
X-Ray Thunder 8 Performance Mousepad on ExtremeMHz.
Microsoft Wireless Notebook Optical Mouse on RojakPot.

Storage:
Nexon Technology NexonNAS 1000 network storage on TrustedReviews.
Kingston 512MB DataTraveller USB drive on ExtensionTech.

Prebuilt, Portable & Mini:
NEC Versa S940 subnotebook on TrustedReviews.
hp Pavilion zv5464EA entertainment notebook on TrustedReviews.
Shuttle XPC ST20G5 S939 mini-PC on XtremeResources.
SCAN 3XS ISOTOPE prebuilt custom PC (interesting case) on Hexus.




Tuesday Morning (2 Comments) (link)
Tuesday, 26-April-2005 00:15:46 (GMT +10) - by Agg


Right! Back to work.

Gibbon spotted this amusing take on the Adobe purchase of Macromedia.

Wired report on the web coming to the rescue of an astronomer who was nearly foiled by bad weather.

ArsTechnica have a rant about dual-core reviews and the NDA process in general.

Sciby sent in this cool way of making fire, using a can of coke and some chocolate. Very MacGuyver!

Bit-Tech report on computers in space. Jason Cundall takes us through the ins and outs of the computing hardware used in today's space missions, and ponders why we're still using state of the Ark hardware on the final frontier.

Meanwhile, a robotic arm is being trialled for a possible mission to repair the Hubble Space Telescope.

CDRInfo compared LightScribe Drives, being burners that also label your CD's for you, thanks Leo.

NewScientist report on the state of intelligent machines today and decide it's a bit disappointing, but there's hope in sight. They also report on a system that can reproduce concerts from recorded music.

CMPnetAsia report that mobile dual-core CPUs are on the way from Intel and AMD.

There's an interesting article on TechNewsWorld here about how AMD created the Opteron range of CPUs. "We all saw the opportunity to change the industry's direction," recalled Kevin McGrath, an AMD fellow who attended the engineers' dinner and became a key member of the Opteron team.





They shall grow not old
As we who are left grow old
Age shall not weary them
Nor the years condemn
At the going down of the sun
And in the morning
We will remember them

Lest We Forget






OCAU loses #1 Folding@Home spot (9 Comments) (link)
Sunday, 24-April-2005 23:50:28 (GMT +10) - by Agg


Well, the bad news is that OCAU has lost first place in Folding@Home. Congrats to the [H]orde for staging a major fightback over the last year and re-taking the lead. We are ramping up our own production in response, of course, to stop them getting too far ahead, and to re-take our rightful first place. If you want to join the fight, help OCAU regain the #1 position and have your PC participate in an extremely worthwhile project to help find cures for diseases, get folding!




Interesting Forum Threads (0 Comments) (link)
Sunday, 24-April-2005 23:44:19 (GMT +10) - by Agg


Just a quick snapshot:

Project Hevy Plex SLB (lots of pics) in Modding & Electronics.
Are you gonna be buying dual-core? (poll) in SMP & Clustering.
Dual-Core Benchmarks and Reviews in Intel Hardware.
Bad at programming - need to improve in Graphics & Programming.
NVidia Tapes Out G70 Silicon in Video Cards.
AMD cooler on R9700 in Video Cards.
2 NICs in a PC in Networking & Internet.
Sigma 18-50 f2.8 Vs Tamron 17-35 f2.8-4 Vs Sigma 20 f.18 in Photography.
Xbox 360 revealed!! in Other Toys.
Too much sleep in Sport, Fitness & Health.
Discuss anything basketball (lots of vids) in Sport, Fitness & Health.
Midnight curfew for Victorian teens in Current Events.
How to care for your motor... NOT! (pics) in Motoring.
Sites where you can find lost money, I need help! in The Pub.
How much time do you spend on OCAU each day? in The Pub.
The Genographic Project in The Pub.

If you find any interesting threads in your Forum wanderings, let us know!




Trouble posting in the forums? (10 Comments) (link)
Sunday, 24-April-2005 17:16:35 (GMT +10) - by Agg


If you suddenly find you can't post or reply in the forums, most likely you need to update your email address in UserCP and respond to the confirmation email the system sends you. You will then be able to post again and, if you're a full Member, you will be able to see the trading forums again within an hour.

Even if your forum permissions are ok, please take a moment to check your email address is up to date - thanks! We receive thousands of bounced emails every day now, from people not keeping their forum settings up to date.




Saturday Evening (8 Comments) (link)
Saturday, 23-April-2005 20:46:04 (GMT +10) - by Agg


Hynix have been fined USD$185M for price fixing in the DRAM industry. Back in 2002, Hynix, Infineon, Micron, Samsung and other memory makers confirmed that the U.S. Justice Department undertook an industry-wide investigation into alleged price fixing practices for DRAMs.

From WarHamster: Remember the mario piano? This is better. It's "Redefined", a choral group singing a medly of Nintendo favourites. There's a video here.

On a similar note, Leftarc spotted this USB guitar.

DreamWorks, who among other things make the Shrek movies, signed a deal to use AMD processors exclusively, thanks Mammal.

PenStarSystems have an interview with NVIDIA, on the topic of SLI.

From eDust: Some info and a photo of Toshiba's 3D display. A DIY keyboard kit. AverMedia launch new MCE Dual Analogue TV Tuner Card. A car covered in keyboard keys. And something very nerdy, a TI-85 emulated on a Nintendo DS.

PCModdingMy compared the GeForce 6800 Ultra and Radeon X850XT in a high-end video card shootout.

TrustedReviews reckon that you can't use an Apple 30in Cinema Display on a PC because of a lack of graphics card support - but apparently it's now possible, thanks to Matrox's Parhelia DL256 card.

Sciby spotted an article that confirms something I've long suspected: sending lots of SMS's makes you stupid. Anyway, back to checking my email..

Interesting Forum Threads:
Multipurpose Cooler Assembly in Extreme Cooling.
Most discriminated against in Current Events.
Zamos vs Microsoft: Stickin' it to the man in Current Events.
New job - what to do with all this money? in The Pub.




Saturday Afternoon Reviews #2 (0 Comments) (link)
Saturday, 23-April-2005 15:57:23 (GMT +10) - by Agg


Memory & Storage:
Crucial Ballistix 1GB (2x512MB) PC2-5300 DDR2 on ExtremeOC.
Seagate Barracuda 7200.8 400GB HDD with NCQ on Anandtech.
Sandisk 5-in-1 Card Reader on HardwareHounds.
Crucial Ballistix 1GB (2x512MB) PC2-5300 DDR2 Memory Kit on ExtremeOC.
Corsair DDR2-533 XMS2 PRO on Xbit.

Portable & Mini:
Neoseeker Kloss KL-I915A SFF mini-PC on NeoSeeker.
Asus V6800V (V6V/V6000V Series) Pentium-M notebook with ATI Radeon X600 GPU on HotHardware.
Sony VAIO VGN-T140P/L Notebook on PCStats.

Misc:
Canon Pixma iP 8500 photo printer on TrustedReviews.
SilverStone Zeus ST65ZF 650W SLI Power Supply (video review) on 3DGameMan.
Thermaltake Tenor HTPC case on LegionHardware.




Saturday Afternoon Reviews (3 Comments) (link)
Saturday, 23-April-2005 15:40:29 (GMT +10) - by Agg


Keyboard, Mouse Etc:
Thailand Display Flexible Keyboard on LANAddict.
Logitech MX518 1600DPI Optical Gaming Mouse on TweakNews.

Cooling:
Thermaltake CL-G0003 Fanless VGA Cooler on 3DVelocity.
Swiftech Radbox radiator holder on RBMods.
Cooler Master Vortex TX CPU cooler on Pimprig.
Titan Vanessa S-Type CPU Cooler on ViperLair.
Revoltec Liquid-Icer Rev2 watercooling kit on XtremeResources.
Aerocool GT-1000 Heatpipe Heatsink on Hi-Techreviews.
Corsair COOL Watercooling Kit on XHardwareReviews.

Audio / Video:
ASUS V9999 Gamer Edition (GeForce 6800) video card on HWZ.
Samsung 730MW -Widescreen LCD TV/Monitor on TrustedReviews.
Ultra 256MB MP3 Player on Phoronix.




AMD's Dual Core CPUs (0 Comments) (link)
Saturday, 23-April-2005 13:53:42 (GMT +10) - by Agg


AMD's dual-core Opteron and Athlon 64 X2 have arrived in a quieter manner than I expected. We linked Tech-Report's review yesterday, and there's more from Anandtech, Hexus, LinuxHardware, TrustedReviews and there's a translated-from-German article here on TecChannel. FiringSquad cover the new CPUs here and also look at a retail server featuring the new Opterons. There's other servers available from Armari and Iwill. Support was also announced by VIA and Cray.

For more info, check out this thread and our AMD Hardware forum.




Friday Evening Reviews (1 Comments) (link)
Friday, 22-April-2005 19:01:09 (GMT +10) - by Agg


CPUs:
Intel Pentium Extreme Edition 840 dual-core CPU on PCPerspective.
Intel Celeron D on DevHardware, thanks Scott.
Intel Pentium-M mobile CPU in desktop use on TBreak.

Motherboards:
Chaintech VNF4 Ultra Zenith VE A64 on Ninjalane.
Epox 5LWA+ i925XE LGA775 P4 on HotHardware.

Audio / Visual:
eDimensional AudioFX Gaming Headset on TechIMO.
Zenith Z20LA7R 20-inch EDTV on DesignTechnica.
DiGix Portable DVD Player on XYZComputing.
ChiMei CT-729A 17" 16ms LCD Monitor on MikhailTech.

PSU:
Antec Phantom 350 silent PSU on BIOSMagazine, covered in our roundup here.
Ultra Products PSU Tester on CaseModGod.

Misc:
Samsung CLP-510n colour laser printer on OCOnline.
USB Security Lock on ModCity.
Pentax *ist DS Digital SLR Camera on TrustedReviews.




Friday Morning Reviews (0 Comments) (link)
Friday, 22-April-2005 01:56:56 (GMT +10) - by Agg


Audio / Video:
Samsung HD 850 DVD Player on TechTastic.
Sennheiser MX500 Earphones on RojakPot.

Video Cards:
Gigabyte Radeon X800 on Bjorn3D.
Nvidia GeForce 6600 & 6600 GT PCI-E & AGP on A1-Electronics.
Albatron 6600GT PCI-E 128MB on OCNZ.
MSI NX6800GT-T2D256E GeForce on ViperLair.
S3 GammaChrome S18 Pro in XbitLabs.
GIGABYTE GeForce 6600 TurboForce Ultra Edition on Techniz.

Portable & Mini:
AOpen EZ855-II XC Cube Pentium-M mini-PC on SFFTech.
Soltek EQ3501-300PW QBiC Mania i915G mini-PC on PCStats.
Biostar iDEQ 210P barebones mini-PC on TrustedReviews.

Mouse, Keyboard Etc:
SAITEK Backlit PC Gaming Keyboard on FutureLooks.
Deck glowing keyboard on DansData.
Avocent DSR1021 KVM Switch on BIOSMag.
Xtrac Hybrid Mousepad on TheTechZone.
Bluetake BT510 Bluetooth Mini Mouse on ATrueReview.



A bazillion people sent word that Opera 8 final is now available for download.

Tech-Report have a dual-core Opteron test report, while HWAnalysis consider Intel's dual-core plans. TheInq says dual-core Athlons are shipping tomorrow (today?), thanks Ambush.

TweakTown have an investigation into DDR timing/speed settings. CoolTechZone meanwhile think that Intel knew DDR2 was a poor design and that AMD may skip DDR2 altogether.

HardCoreWare compared SATA and SATA-II HDD's from Western Digital, Seagate, Maxtor and Hitachi. Meanwhile, TCMag compared AGP and PCI-E. LegionHardware compared them too, on AMD systems.

From XAJIM: Just some info on Intels chips that take advantage of WiMax technology. Oh and Intel dual cores are out and about (guess everyone knows this already really).

HotHardware revisited SLI, comparing a dual Asus Extreme N6600GT setup with various single-card configs.

PenStarSystems have some musings about AMD's fabrication processes over time. If we take a look at AMD's past, we can see how far they have come in terms of their process implementations.

From Lucus Maximus: Just a piece of news with GameStop buying EBGames for $1.44B USD creating a company with a total of 3,800 stores world wide, 3200 stores in the US and 600 stores abroad (148 stores in Australia and New Zealand). More info here, here, here, here, here and here. Crikey.

HWZ have a roundup of nForce 3 Ultra motherboards, for your A64 CPUs.

From Kildare, about the next Battle@Matchrix: Going to be the final Battle@Matchrix & the scores are locked @ three a piece so it would be good to see OCAU there in full force to settle the score once & for all.




Thursday Morning Reviews (0 Comments) (link)
Thursday, 21-April-2005 11:36:51 (GMT +10) - by Agg


Cooling:
CoolerMaster Aquagate Mini R80 watercooling kit on OCIA.
CoolerMaster Aquagate Mini R80 watercooling kit on Pimprig.
CoolJag JAC84MC CPU Cooler for LGA775 on Phoronix.
CoolerMaster Aquagate R120 watercooling kit on NeoSeeker.
Thermaltake CL-G0003 Passive VGA Cooler on XbitLabs.
MIPS-Computer DFI Lanparty Freezer chipset waterblock on TechPowerUp.

Cases:
Lian Li PC-V1000 Plus aluminium case on Guru3D.
Thermaltake Shark silver aluminium case on OzCaseMods.
Thermaltake Shark on LegitReviews.
Uneed DIGN HV5 HTPC Case on XtremeResources.
Aspire X-Plora on Pimprig.

Storage:
Lite-On LVW-5045 DVD/HDD Recorder on TechIMO.
Seagate Barracuda 7200.8 HDD on StorageReview, thanks kasi.
Plextor PX-716UF DVD DVD±R/RW External Drive (video review) on 3DGameMan.




Five Years Ago on OCAU (17 Comments) (link)
Wednesday, 20-April-2005 14:50:08 (GMT +10) - by Agg


Another quick catchup. We're still back in late 1999 at this stage! After the peltier and watercooling experiments, people sent in a lot of "extreme cooling" info. Ken Peter for example provided an article about choosing a peltier, bearing in mind power consumption and heat. Scott Kirkham had the first fridge-cooled PC that I'm aware of. Drew meanwhile sent in some info on his "extreme" cooling of a different kind. There's a few more misc tidbits here, too.

Dean Claxton sent in a huge review of the REALmagic Hollywood Plus DVD decoder card. This was our first true "reader review" and started a tradition of publishing articles and reviews from readers that still continues today. Slartibartfast followed up with a mod to select core voltage on any slot1 motherboard.

By mid-October we'd officially stopped selling overclocked CPUs and heatsinks etc. Meanwhile, my much-tortured Celeron 366 was doing 682MHz under a watercooled peltier with coldplate. That's when I could find time between playing Driver and Sports Car GT.

On the 11th of October 1999, I noted that Ledg had created an IRC channel called #overclockers. It was originally on Austnet but we've since moved it to Oz.org. Still going strong, with about 130 people idling in it right now. :)

That's all for now. If you're interested in the previous "Five Years Ago on OCAU" news posts, they're here and here.



Video:
Connect 3D Radeon X800XL on Club overclocker
ATI Radeon X800 XL on Bit-tech

Cooling:
Cooler Master Vortex TX Universal CPU Cooler on Hardcoreware
Cooler Master CoolDrive Lite on PimpRig
Thermaltake Rocket Fanless Liquid Cooling System on Techniz
Zalman VF700 GPU coolers on Tech Report
Tt Rocket Passive H2O Kit on Overclocker Cafe
EverCool PT03-9232CP on A1-Electronics
Water cooling with Cooler Master on Bit-Tech
Thermaltake K450 (CL-P0075) AMD Athlon 64 Heatpipe Cooler on Bjorn3D
EverCool PT03-9232CP air cooler heatsink on A1 Electronics

PSU:
Seasonic S12 330W on Phoronix
Fortron Sparkle ZEN on Tech Powerup
Ultra Products X-Finity 600W ATX PSU on Bigbruin
Seasonic S12-430 430 Watt on PCStats
Cooler Master Real Power 550W on 3DGameMan
COOLMAX Fanless PSU and 140mm PSU on ExtensionTech
Thermaltake W0021 Purepower Butterfly 480W PSU on SLCentral

Audio:
Trust SP-6300P 5.1 Speaker Set on BIOS
Samsung YP-MT6Z on Overclockers Online
Altec Lansing GT-5051 5.1 Speakers on The Moditory

Mouse/Keyboard:
XTracPads HYBRID Mouse Pad on Rojakpot
X-ray Mouse Pads on MikhailTech
Saitek Eclipse Gaming Keyboard on The Tech Lounge

Case:
ThermalTake Shark (VA7000BWA) on Bytesector
Thermalrock Circle Full Tower Case on AMDReview
A-Top Xplode Gaming Case on CaseModGod
Aspire X-Plorer Case on A True Review

Motherboard:
AOpen New Pentium M board on PcPer
ASUS A8N-SLI Premium on Viperlair
DFI LANPARTY 925X-T2 Motherboard on 3DVelocity
Asus K8N-E Deluxe Motherboard on CoolTechZone
ECS 915P-A (1.2A) motherboard on TrustedReviews

Misc:
OCZ El DDR PC3200 Gold VX Memory on GruntVillE
AMD Sempron 3300+ Processor on Sharky Extreme
Corinex AV Powerline Ethernet Adapter on TrustedReviews
Corsair Flash Voyager 512 Megabyte USB Memory on Futurelooks




Press Releases (5 Comments) (link)
Tuesday, 19-April-2005 02:55:58 (GMT +10) - by Agg


ACRyan claim to have reinvented the round cable with their Roundcable2-FX. FlatXtension for best cable management from 1st drive to 2nd drive. For that short trip from the 1st drive to 2nd drive, FlatXtension is the best way to go - no twisting, no extra loops - just straighforward flat, flushed cable. More info here.

Altech announced that the ABIT Radeon X850 has landed down under. The X850 chipset represents a quantum leap in video card technology delivering the best quality gameplay while delivering blistering performance. More info and a card pic here.

ATI, speaking of which, sent a huge pile of marketing info about their latest video chipsets. This is part of their "ATI Tech Day" event, the most important bit being this 4MB PDF full of info. More info on the X700, X800/X800XL and X850 on the various product sites.

ASUS announced the P5ND2-SLI Deluxe motherboard series. Although nVIDIA's nForce4 SLI - Intel Edition chipset claims to support only DDR2 667/533, ASUS engineers have successfully unleashed its true potential. The P5ND2-SLI Deluxe motherboard series offers native DDR2 720 memory module, avoiding bottleneck when overclocking both the CPU and memory. More info in a 77kb DOC here.

Kingmax released Mars DDRII 667 memory. In terms of technical specifications, Mars DDRII 667 is equipped with up to 8.6GB/s memory bandwidth and fully supports Prescott/Tejas 1067MHz FSB and direct integration of ODT technology increases system stability. With a low 1.8 volts of working voltage that cuts power consumption by 50%, the Mars DDRII 667 can run at JEDEC standard 4-4-4-12 latency timings, making it the perfect support for all new-generation DDRII high-speed computers. More info in a 330KB DOC here.

VIA released Linux driver source packages. Of particular interest to the growing number of Linux enthusiasts and customers utilizing VIA EPIA mainboards, is the source for the S3 Graphics UniChrome family display driver for version 2.6.x kernels. More info here.




Tuesday Morning (6 Comments) (link)
Tuesday, 19-April-2005 00:59:45 (GMT +10) - by Agg


Quite a few people sent news that Adobe is going to buy Macromedia out. Info here on Adobe's site and here on Macromedia's. More info here, here and here.

Anandtech have an Intel dual core shootout, with nForce4 squaring up against Intel's i955X.

It's a busy week in space, with the space station being restocked, NASA's DART project falling short and the next Shuttle launch drawing nearer.

Andy sent word that an American woman is suing her ISP for providing her details to the RIAA, so they could penalise her for downloading copyright-protected files.

USAToday have an article explaining about Internet2. That can make it less stable than Internet1 - but it's also about 100 times as fast under typical conditions.

Infra-red light is being used to read faded ink on ancient manuscripts from classical Greece and Rome. Material ranges from the 3rd to the 7th centuries BC and includes work by classical writers such as Sophocles, Euripides and Hesiod.

However, some publications really are just gibberish.

Thetron spotted an article suggesting Disneyland may be coming down under. The property Disney are said to be looking at is a 30 hectare property that was released for tourism development by the NSW State Government last week near Blacktown, the area where the since-closed Wonderland Sydney theme park was located.

Gords noticed that the Sydney Morning Herald have been online for 10 years now, and have a look back at how things have changed for them.

LethalCorpse sent in this Minority Report type hand-gesture control system.

LinuxHardware looked at a few high-end PSUs. We recently had a thirteen PSU roundup too.



The latest sites to check out nVIDIA's nForce4 SLI "Intel Edition" are A1-Electronics, TweakTown and Xbit.

Sniper spotted this article about how LEDs are replacing light bulbs.

Here's a handy Australian BSB decoder, thanks gords.

PCStats have beginners guides to WinXP command prompt and batch files.

Bigiain spotted some 200-300% overclocks .. of calculators. :)

THG have four S754 microATX motherboards for A64 CPUs, thanks Ken.

Timbot sent in these articles about building a Linux cluster: why bother and what's involved.

Jimx noticed this Backup Trauma site with a video starring John Cleese.

CTS is a technology trade show in the UK - Bit-Tech and Hexus have coverage.

TechnologyReview listed ten emerging technologies, including metabolomics, biomechatronics and silicon photonics.. whatever they all are. :)




Monday Afternoon Reviews (0 Comments) (link)
Monday, 18-April-2005 15:39:42 (GMT +10) - by Agg


Motherboards & CPU:
ASUS K8N S754 A64 on CoolTechZone.
Gigabyte GA-8AENXP-D LGA775 P4 on Hexus.
AMD S754 Sempron 3300+ CPU on HotHardware.
Chaintech VNF4 Zenith Value Edition A64 on NeoSeeker.
EQS M56K9-MLF mATX S939 A64 on Bit-Tech.

Audio/Video:
Turtle Beach Video Advantage USB converter on DesignTechnica.
Mediagear Songbank digital audio jukebox on MonsterHardware.
Leadtek Winfast TB USB II Deluxe tuner on ABXZone.

Cooling:
Thermaltake Bigwater watercooling kit on RBMods.
Cooler Master AquaGate R120 on ATrueReview.
Aqua Computing Premium watercooling kit on XtremeResources.

Printers & Scanners:
Lexmark P315 photo printer on TrustedReviews.
Samsung CLP-510N laser printer on Bjorn3D.
Planon DocuPen R700 Rechargeable Scanner on ReviewUK.

Cases & Modding:
A-Top XPlode on LanAddict.
Sytrin Nextherm ICS 8200 Air-Conditioned PC Chassis on ExtremeMHz.

Memory:
SimpleTech 1GB DC DDR PC4000 on TechNiz.
SimpleTech PC2-4200 DDR2 on OCOnline.

Storage:
Vantec 3.5" NexStar 3 Enclosure (video review) on 3DGameMan.
Western Digital WD3200 320GB PATA HDD on HardAvenue.
Ultra Products 2.5" Aluminum USB 2.0 HD Enclosure on BigBruin.

Misc:
OCZ Powerstream 520W PSU on ModCity.
MonsterGecko Pistol Mouse on SDMLan.
Gigabyte AirCruiser G desktop router on LegionHardware.




Folding@Home - Desperation Time! (62 Comments) (link)
Sunday, 17-April-2005 15:56:54 (GMT +10) - by Agg


OCAU is literally days away from losing its long-held spot as the #1 Folding@Home team in the world. If you've ever thought about joining the team, now is the time to get involved.

There's virtually no effort required on your part, simply loading a background task on your PC which uses idle CPU cycles to research cures for diseases. Join this very good cause and help keep the Aussies #1 over the Americans - get folding today!

If you have any questions, check the FAQ or ask in the forum.

Update: Remember: Team 24! We're staging a fightback, but we need your help!



Xbit conducted some "ultimate testing" of recordable DVD media - over 40 different kinds.

Microsoft's Longhorn may be delayed further, with patent problems.

French site Overclex experimented with dry ice for PC cooling.

OneTonneMusic have an article about podcasting and legal issues. The term podcasting refers to recording music and or spoken word to be later played back on portable music devices. It can be delivered via RSS feeds or just linked on a webpage, or a blog.

Some more dual-core rumours about AMD on Xbit and the first dual-core PC, from Dell using an Intel CPU, on PCMag.

SilentPCReview looked at CrystalCPUID, which they call a user-configurable substitute for Cool 'n' Quiet, with an Athlon A64 system.

There's a disappointingly short article here about the first patient to control external devices by means of electrodes implanted into his brain. A quick google reveals more info here and here.

Here's a weblog about spying on Area 51 via Google Maps.

I can't remember if I've linked this before or not - Sciby mentioned it first - but Kim reminded me about it. It's an amusing weblog entitled I am a Japanese School Teacher. Funny stuff, but possibly a little distasteful in places, if you're sensitive. :) Can chew up a lot of time if you get hooked on reading it, too. Speaking of which:

Interesting Forum Threads:
Beer Can Chicken taken to the next level, with pics in Geek Food.
945/955 boards showing up at vendors in Intel Hardware.
Dual core Opterons release date in AMD Hardware.
Think vulnerabilities only affect IE? in General Software.
Introducing HDA Digital X-Mystique 7.1 in PC Audio.
ADSL2+ is here! in Networking & Internet, thanks David.
Deadhunt - awesome 3d killing 10MB game in Games.
Psychonauts demo for download in Games.




Saturday Evening Reviews (1 Comments) (link)
Saturday, 16-April-2005 20:44:47 (GMT +10) - by Agg


Cooling:
Gigabyte Neon 8-BL Heatsink on Short-Media.
Cooler Master Vortex TX CPU cooler on ViperLair.
Cooler Master Vortex TX CPU cooler on OCIA.
SilverStone Nitrogon NT02 CPU Cooler on PCModdingMy.
Antec VCool video card cooler on Phoronix.
Swiftech H20-120-T TEC Liquid Cooling Kit on XtremeResources.
Cooler Master AquaGate Mini R80 on SystemCooling.
Zalman VGA Cooler on NVNews.

Keyboard, Mouse Etc:
Logitech DiNovo Media Desktop on Moditory, our review here.
Logisys Red Ergonomic Cool Fan Mouse on MarnsCDA.
Logitech Ultra-X Keyboard on EliteBastards.

Video Cards:
PNY nVidia QuadroFX 4400 512 MB with SLI on GamePC.
ASUS Extreme N6800GT on GDHardware.
Sapphire Radeon X800 XT 256MB on HWZ.
XFX GEFORCE 6200TC 256MB on GamePyre.




Saturday Morning Reviews (1 Comments) (link)
Saturday, 16-April-2005 03:01:48 (GMT +10) - by Agg


Audio / Video:
iPod mini 2nd Gen 6GB on TrustedReviews.
InFocus ScreenPlay 7210 home theatre projector on HardWareAnalysis.
iAudio M3L mp3 player on HWZone.
AL Tech MediaGate MG-25 Portable Media Center on MikhailTech.
Samsung SyncMaster 915N 8ms LCD monitor on Bjorn3D.

Storage:
Samsung DVD±R/RW - TS-H552U burner on IPKonfig.
Soyo BayOne XP 9-In-1 Multi-Card Reader on RojakPot.
NeroLINUX 2 burning software on 3DVelocity.

Cases & Modding:
ASUS VENTO 3600 case on Xbit.
Sunbeam Molex and Screw Case Lighting on ATrueReview.
Sunbeam Lightbus light/fan controller on CaseModGod.

Portable:
Evesham Voyager C510 Sonoma notebook on TrustedReviews.
Acer n35 GPS PDA on TrustedReviews.
PalmOne Tungsten E2 PDA on CoolTechZone.
Acer TravelMate 8104WLMi laptop on TrustedReviews.
Fossil Wrist PDA FX2008 on TheTechLounge.



OCAU member norbs has a personal challenge ahead: he's riding a pushbike from Sydney to Melbourne next weekend to raise money for the Westmead Children's Hospital. If you want to donate to this very worthwhile cause, or just want some more info about the project, check out www.helpnorbshelpthekids.com.

Daniel spotted this article about a new game from the UN with a focus on feeding instead of killing. The game challenges players to get food into the fictional war-torn island of Sehylan - finding the hungry people, dropping aid from a helicopter, dealing with hostile forces and setting up Sim City-style farm projects for the future. You can grab the game for free from www.food-force.com.

MadShrimps report from CeBIT 2005, covering cooling, modding and cases.

ArsTechnica have a roundup of ten USB 2.0 flash drives, while Tech-Report examined a few mpeg2 TV tuner cards. Anandtech meanwhile compared value RAM options.

The next version of Apple's OS, Tiger, is apparently arriving late this month. More info here.

Here's an odd one: apparently drinking too much water can be bad for you, possibly worse than dehydration.

ADSL2+ has been officially approved for use on the Australian phone network, thanks Kerry. In other news, my exchange was enabled for ADSL yesterday. w00t!

Hexus reviewed the Playstation Portable, while IceTeks have a PSP User Guide.

CNN listed their Top 25 Technological Breakthroughs recently. In 1980, telephones were stuck to walls, facts were found in books and people had to browse shelves in a record store if they wanted to buy the latest music.

Another news blast from Tekka: Intel Releases CE Chipset. Micron Validates, Ships 4-Gbyte DIMMs. Red Hat tests dual-core support. Microsoft goes after Blackberry with Magneto. BigPond disconnecting Trojan-infected customers. Intel First to Ship Dual Core. RIAA discovers Internet2. Surprises Lurk in Satellite Snaps. Windows XP SP2 Grace Period Expires.

Peter round this flash version of John Howard Donkey Kong.. and if that's not enough of a timewaster, try the Kitten Cannon from Wolfy.




ABIT Fatal1ty AA8XE i925XE LGA775 Motherboard (12 Comments) (link)
Thursday, 14-April-2005 19:40:37 (GMT +10) - by Agg


Chainbolt has looked at the Fatal1ty AA8XE i925XE, ABIT's latest flagship motherboard for LGA775 P4 CPUs. It takes its cooling seriously - in fact, in this comparison with two motherboards from Intel and ASUS, it leaves one of them literally melted in its wake.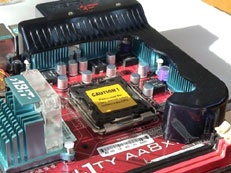 Click for the review!






Thursday Night Reviews (0 Comments) (link)
Thursday, 14-April-2005 19:33:08 (GMT +10) - by Agg


Motherboards:
DFI nForce4-DAGF S939 A64 on MadShrimps.
MSI K8T-Neo FIS2R K8T800 A64 on CoolTechZone.
BFG nForce 4 Ultra on Tweakers.
ASUS K8V-X S754 A64 on CoolTechZone.
Gigabyte K8VT890-9 on LegionHardware.
MSI K8N Neo4 Platinum S939 A64 on PCStats.
ABIT KV8 Pro on CoolTechZone.
AOpen i915Ga-PLF LGA774 P4 on SilentPCReview.

Video Cards:
GeCube X800 XL on Tweakers.
HIS X850XT-PE on ViperLair.
HIS X850XT and X800XL Graphics Cards on TweakTown.
Gigabyte GeForce 6600GT PCI-E on PCModdingMy.
ATI All-In-Wonder X800XT on Beyond3D.
Albatron GeForce TC 6200 Q on PenStarSys.
Sapphire Radeon X850XT PCIe on Bjorn3D.
HIS X850XT PE/X850XT VIVO 256MB AGP (video review) on 3DGameMan.

Portable and mini:
AOpen EY855-II SFF Pentium-M mini-PC on PCPerspective.
HP Pavilion zv5000 A64 laptop on BIOSMag.
ASUS V6500V Intel Centrino Notebook on HWZ.




Thursday Afternoon Reviews (1 Comments) (link)
Thursday, 14-April-2005 13:35:55 (GMT +10) - by Agg


Cooling:
Silverstone FM82 Variable Speed Fan on Tech-Mods.
Sunbeamtech Silent Anodized LED Fans on BigBruin.
Thermalright XP-120 CPU cooler on A1-Electronics, covered in our roundup here.
The AquaBox passive watercooling kit on Guru3D.
Thermalright SI-97 socketA CPU cooler on PimpRig.
Super Panel Multifunctional Panel fan controller on AuseHardware.

Memory:
Centon Advanced GEMiNi PC3200 Dual-Channel Kit on PCStats.
OCZ EL PC3200 Dual-Channel Gold VX Memory Kit on XYZComputing.
OCZ EL DDR PC-4000 Gold VX on NeoSeeker.
Corsair XMS Xpert CMXP512-3200XL on TrustedReviews.

Cameras:
Nikon Coolpix 7900 on TrustedReviews.
Canon EOS 350D DSLR on BIOSMag.

Misc:
CG-Lock Performance Vehicle Seatbelt Enhancer on FutureLooks.
ColourVision SpectroPRO2 Monitor & Printer Calibration Suite on HardCoreWare.
Sony PSP portable games console on IceTeks.




Interesting Forum Threads (0 Comments) (link)
Wednesday, 13-April-2005 13:42:30 (GMT +10) - by Agg


A quick snapshot of what's going on in the forums:

OMG, there's a spider inside my LCD monitor! in Overclocking & Hardware.
Intel's new stock cooler! (enormous waterblock, pic) in Overclocking & Hardware.
Project: DDR Dance Pad in Modding & Electronics.
My DIY Projector... for all you non-believers in Modding & Electronics.
Sempron 3100 754 E Revision Review in AMD Hardware.
955 memory controller at 1000MHz in Intel Hardware.
My version of "how to build a subwoofer" in Audio Visual.
Some light entertainment in Team OCAU.
Is the first person to live to 1000 already alive? in Current Events.
The Charity Black Hole in Current Events.
Beginners guide to bodyweight exercises in Sport, Fitness & Health.
420EX vs. EF 500 DG Super (Long post) in Photography.
MotoGP: Jerez in Motoring.
Holden to rebadge Daewoo vehicles in Motoring.
Keeping up with LOST (SPOILERS) in TV, Movies & Music.

Our Photography Forum is one of OCAU's biggest subcommunities, with regular competitions and events. It's worth checking in there occasionally to see what they're up to - like this recent thread from Mred32, who wandered down to his local swamp and took some pictures of the dragonflies:



Click for the thread, with more, larger pics!


Some of the most amazing amateur photos I've seen - nice work!




Wednesday Midday Reviews #2 (0 Comments) (link)
Wednesday, 13-April-2005 12:20:03 (GMT +10) - by Agg


Mouse, Keyboard Etc:
Saitek Eclipse True-Vu glowing keyboard on ExtremeMHz.
Xtrac InstaGlide mousepad lubricant on Phoronix.
Logitech MX1000 cordless laser mouse on IGN.
Logitech MX1000 cordless laser mouse on FutureLooks.
Logitech MX1000 cordless laser mouse on TechGage.

Power Supplies:
Fortron-Source FSP530-60GNA on SLCentral.
Qtechnology QT-03400G 400W on RBMods.
PC Power and Cooling Turbo-Cool 510 Express on SLCentral.
EZ PSU Tester (and USB Vacuum) on Tech-Mods.

Networking:
Actiontec 54 Mbps Wireless Network Camera on HardwarePacers.
ZyXEL Prestige 2602HW ADSL VoIP Router on TrustedReviews.
Gigabyte AirCruiser GN-BC01 802.11g Wireless Desktop Router on PCStats.

Portable and Small Form Factor:
Soltek Qbic EQ3901M Small Form-Factor System on Xbit.
SavRow Katana 3D-9 Portable Workstation on Hexus.
Shuttle ST20G5 A64 mini-PC on TechReport.
Dell Inspiron 9300 widescreen laptop on BIOSMag.




Wednesday Midday Reviews (0 Comments) (link)
Wednesday, 13-April-2005 12:07:52 (GMT +10) - by Agg


Memory:
Corsair PC2-4300 CL3 Pro Series DDR2 on ByteSector.
Corsair XMS Xpert 1GB PC3200 (TWINXP1024-3200XL) DDR kit on Bjorn3D.
SuperTalent PC3500 Cas2 DDR on Gruntville.
OCZ DDR Booster on BurnOutPC.
Corsair Pro Series XMS2-5400 DDR2 on SystemCooling.

Case & Modding:
Lian Li PC-V65 pre-modded case on OCrCafe.
ACRyan Xneon SATA Cables with bling on ByteSector.
Aspire X-Plorer Steel Case (video review) on 3DGameMan.
3R System R105SH case on CreativeMods.
Casepower iCute 0408 SL case on DansData.
Thermaltake Tsunami Dream case on Xbit.

Storage:
Ultra Products ULT31310 & Vantec NST-355U2 3.5" drive enclosures on BigBruin.
Crucial Gizmo! Hi-Speed 512MB USB Flash Drive on ExtremeResources.
Ultra USB Flash Disk+MP3 on Moditory.
Vantec NexStar 3 USB2 HDD Enclosure on PCStats.
Philips HDRW720 DVR/DVD Burner on DesignTechnica.
Toshiba SDR-5372 DVD Writer on TrustedReviews.
Ultra Mini Portable HDD Enclosure on Phoronix.
Proware DP-405CI external RAID enclosure on THG.




Wednesday Morning (17 Comments) (link)
Wednesday, 13-April-2005 01:22:48 (GMT +10) - by Agg


There's a bit of an uproar about the Cookie Monster becoming more nutritionally aware, reports Stevodude. There's even a new song -- "A Cookie Is a Sometimes Food," where Cookie Monster learns there are "anytime" foods and "sometimes" foods. Doesn't seem like such a big deal to me.. kids are getting fatter, so a role model that stuffs his face with cookies all the time is probably not such a good thing. :)

Defyant's latest project squeezes dual watercooled xeons into an Apple G5 case.

TweakGuides have updated their Windows XP Tweaking Companion.. a free 170-page PDF of tips and tricks.

Some links from Tekka: Man gets nine years for spamming. MTV to launch internet 'channel'. Will Sony Crackdown on PSP Hacks? Gizmondo handheld games console review.

Hexus have an article about how parallelism is taking over the mainstream processing world. Today's GPUs are expressed in parallel structures of 16 pipelines each with multiple programmable floating-point processors and other specialized state machines. The results have been nothing short of phenomenal.

Viperlair have a primer to get you up to speed on PCI-Express.

Another pile of links, from eDust: Sanyo have a prototype of a fuel cell to power notebooks. It's external so should be able to power any notebook. Keyboards in hospitals can carry quite a few nasties. Wireless USB 1.0 should come out next month - this runs at 480mbps so don't get it confused with USB 1.0. An NEC notebook with a 2048 x 1536 screen. How to get two 30" Apple Cinema Displays to work with a PC. A Gameboy kit, add your own electronic components etc.

TweakTown compared Catalyst 5.3 and 5.4 drivers for your ATI video card. Meanwhile, VIA have released some new 4-in-1 drivers.

Intel is offering a $10,000 USD reward for a particular magazine issue in which Gordon Moore originally made his famous "Moore's Law" forecast. Do you have a copy of the April 19, 1965, issue of Electronics magazine? :)




Folding Giveaway 6 - The Last Stand (9 Comments) (link)
Tuesday, 12-April-2005 15:23:24 (GMT +10) - by Agg


From our Folding@Home team leader, Bollocks: It's time to make a stand and fight for the top spot on the Folding ladder. I present to you Giveaway 6 which will hopefully encourage a few more members of the OCAU forums to take up the extreme sport of Folding@Home. Folding is a dangerous sport that many have tried and failed to master, but with perseverance and dedication it can be a rewarding experience.

If you feel that Freestyle Folding is cool and you would like to give it a shot, sign up in the nomination thread here in the forums. You will have to execute and few tricks to qualify for the draw, first up you need to download through the fat pipe the required gear to get you on the track. Once you have right equipment check this cool guide for the correct way to get it happening. Once that is all in place its time to show us a few tricks (WARNING!!! you will need to wear all the required protective equipment before commencing, adequate chip coolers and box fans are a definite requirement along with a reliable pipe connection). You will be judged on amplitude (amount of points), endurance and creativity. When it comes to the handing out the trophies, those that have shown enough skill to cut it in this most demanding of sports will be pleased with their rewards. Giveaway6 could be the beginning of a new career for someone and you never know you could become one of the legends of the sport like norgs, plext or DGROMs.

Prizes for Giveaway6 have been donated by Computer Alliance, LowNoisePC, chainbolt, Agg and FFF.




Tuesday Afternoon Reviews (0 Comments) (link)
Tuesday, 12-April-2005 13:50:57 (GMT +10) - by Agg


Video Cards:
Gigabyte GV-RX80256D X800 Turbo Silent Pipe on HotHardware.
ABIT RX700 PRO-256PCIE on Beyond3D.
Gigabyte GeForce 6600 GT SLI Performance Review (Intel Edition) on HWZ.
PowerColor X800 256meg Bravo PCI-e on MarnsCDA.
HIS X800XL IceQ II 256mb Turbo PCI-E on Tech-Mods.
HIS X850 XT Platinum on OCPrices.
Asus Extreme N6600TOP/TD/128M/A on PCStats.

Motherboards:
Gigabyte GA-K8N Ultra SLI S939 A64 on Short-Media.
Soltek SL-k890 Pro-939 S939 A64 on HotHardware.
MSI K8T-Neo FSR S754 A64 on CoolTechZone.
Asus K8V-SE Deluxe S754 A64 on CoolTechZone.
ASrock 775Dual-915GL LGA775 on OCW.
EPoX EP-5LWA+ i925XE LGA775 on Hexus.

Cooling:
Coolermaster Aquagate Mini watercooling kit on PCUnleash.
Gigabyte G-Power Cooler Pro CPU cooler on LegionHardware.
Gigabyte NeonCooler 8 Pro A64 CPU cooler on HWZ.
Asetek WaterChill watercooling kit on TweakTown.
Aerocool GT-1000 Gold-Plated Heatsink CPU cooler on MikhailTech.



TheTechZone have 10 reasons why your next PC should be a notebook. My main PC for the last 18 months or so has been a laptop, mostly so I can't pull bits out of it when testing things and end up without a working PC for email etc..

Flatout spotted this distributed computing distribution of Linux, developed by an Australian security firm. It'd be no use to OCAU readers of course, because our idle CPU cycles are all being used for Folding, right? :)

There's some progress on fuel cell powered laptops, with Millennium Cell claiming 8 hours of power from a current prototype. The hydrogen is piped through a large membrane in the back of the notebook's screen. This powers the notebook and leaves water as a byproduct.

ARP have an article about taking a PDA on an overseas journey. Speaking of travel, boky pointed out this fascinating blog from an "accidental journalist". Many pics and lots to read, scroll down for pics of the Falklands etc.

RodneyJM sent word a PC builder aiming to offer 4GHz dual-core P4 systems. LegitReviews and A1-Electronics are the latest to cover dual-core technology. Anandtech have part 1 and part 2 of their dual-core performance coverage posted also.

Dan has more letters. In this issue: Laptop gaming, pacemaker batteries, LEDs up your nose, lightweight bike lighting, ATA CompactFlash, levitating frogs, RSS bloat, more magnetic coins, and damp computers.

Hammer sent in this article about music industry losses that they blame on file sharing, examining the Canadian industry in some detail. "[t]he assumption by the recording industry that demand for CDs is fundamentally strong and that Internet piracy is to blame for falling sales is a simplistic reaction to a complex problem ... to place the burden wholly or partly on illegal downloads from the Internet is to ignore a host of other reasons." I'm on dialup so downloading music is too painful to contemplate, but the primary reason why I don't buy CD's anymore is: I can't remember the last time the music industry produced a product I wanted to own.

PC-Perspective compared three SiS760GX S754 A64 motherboards. While the performance features are nothing spectacular, these are super low cost boards that offer a lot of options for the budget minded.

Apparently gamma rays may have caused a mass extinction about 450M years ago. Computer models showed that up to half the ozone layer could be destroyed within weeks. Five years later, at least 10% would still be missing.

Mazza pointed out this super tux open-source game.



Seems everybody's watercooling lately.. here's a few recent PCDB entries that might give you ideas for your own project:



For a LOT more info on watercooling, see our Extreme Cooling forum. For more general case modding info, see Modding & Electronics.




Monday Morning Reviews (6 Comments) (link)
Monday, 11-April-2005 01:32:57 (GMT +10) - by Agg


Cooling:
Jetart ThermoEye DT2000 Thermometer on ARP.
Hiyatec Notebook Cooler on Tech-Mods.
AC Ryan XTOR Tanky HDD Cooler on ARP.
Sythe Shogun Heatlane CPU Cooler on ARP.
Targus ChillHub Notebook USB 2.0 Cooling Pad on FutureLooks.
Titan Siberia CPU Cooler on A1-Electronics, covered in our roundup here.
Danger Den Maze4 AMD Waterblock on GideonTech.
Ultra Products 80mm Glossy Fan on CaseModGod.
Zalman CNPS7700-Cu CPU Cooler on PCModdingMy.
Alpha PAL8150 Heatsink on NinjaLane.
Evercool Hpc-925 CPU Cooler on RBMods.
Speeze CopperSnake III S478 CPU cooler on Phoronix.

Memory & Storage:
Corsair XMS2-6400 TwinX on ARP.
Corsair XPERT TWINXP1024-3200XL on MadShrimps.
LiteOn Dual Layer SOHW-1673S DVD burner on ATrueReview.

Cases & Modding:
A-Top Technology XPlode case on XtremeResources.
A-Top Gladiator case on OCrCafe.
A.C.Ryan Connectx PSU Mod Kit on MikhailTech.

Audio & Video:
Albatron PC6600GT GeForce video card on LANAddict.
Logitech Cordless Headset for Xbox on XYZComputing.
PodGear iPod Accessories on TrustedReviews.
Icemat Siberia Multiheadset on Overclockerz.
ATI TV Wonder Elite tuner card on Bytesector.

Misc:
Microsoft Wireless Optical Desktop keyboard and mouse on TweakNews.
Sanyo S750 3G Phone on TrustedReviews.
NVIDIA nForce4 SLI Intel Edition motherboard chipset on TechReport.
HP Laserjet 4350n Network Laser Printer on TrustedReviews.
ACRyan Lan Ranger Cat6 blinged network cable, believe it or not, on CaseModGod.
Bigha Jasper laser pointer on ATrueReview.

PS: To anyone else who just watched the MotoGP race.. OMFG! That's all I'll say. :)




Archive Updated (0 Comments) (link)
Sunday, 10-April-2005 10:28:17 (GMT +10) - by Agg


Just updated our Review and Articles Archive with some content from the last few weeks. Check these out if you missed them the first time around:

Imation Disk Stakka CD/DVD organiser review.
Zensonic Z800 5.1 Home Theatre Speakers review.
Making the Avatar Mosaic HOW-TO article.
Intel 6xx Series and 3.73GHz Extreme Edition CPUs review.
XTRAC Hammer, XTRAC Ripper XL, Steelpad QcK+ and Mad Wax mousepads etc.
Thirteen PSU Roundup article.




Press Releases (8 Comments) (link)
Saturday, 9-April-2005 17:53:05 (GMT +10) - by Agg


Altech Computers announced a new Perth office. This means that resellers who have previously purchased products from our Sydney, Melbourne, or Brisbane offices will now have their own local distribution centre servicing the Perth area and cutting freight costs. More info here.

Corsair have been named NVIDIA's Memory Development and Launch Partner for the nForce4 SLI Intel Edition chipset. As NVIDIA's only memory partner in this product launch, Corsair has worked closely with NVIDIA throughout the development process - testing and qualifying the highest performance DDR2 solutions for this exciting new platform. More info here.

Corsair also released two high-speed memory products, XMS2 6400 (800MHz) and low-latency XMS2 5200UL (675MHz). "Whether you are looking to upgrade to the latest nForce4 SLI Intel Edition core logic solution or a hardcore enthusiast searching for the best memory to overclock, Corsair's new XMS2 6400 modules can fulfill all of your needs," said Richard Hashim, Director of Marketing of Corsair. "Combined with the new ultra low latency XMS2 5400UL modules, it further validates Corsair's dedication to bring cutting edge technology and performance to the Intel platform.". More info on the XMS2 product line here.

Plus Corporation and AMD in conjuction with Microsoft are holding events to premiere the release of Microsoft Windoes XP Pro 64-bit Edition. AMD will be hosting a cocktail party targeted towards anyone interested in learning more about this great product! We will have Athlon 64 systems on display featuring demonstrations of the Microsoft product and for attending you and your customers will receive a free trial version of the new 64-bit operating system from Microsoft. Obviously there will be some great prizes to give away on the night from both Microsoft and AMD. More info here (scroll down for dates etc).

Shuttle announced their SN25P mini-PC. With support for revolutionary AMD Athlon 64-bit processors as well as scalable PCI-E graphics interface, this machine delivers the performance you need to power your cutting-edge lifestyle. More info here.

OCZ Technology released some PC-5000 Platinum DFI nF4 Special Series memory. This ground-breaking member of the proprietary OCZ Platinum series is custom-built for premium operation on the highly-popular DFI nF4 motherboard series. At the extreme speed of 625MHz, the OCZ PC-5000 Platinum is still capable of achieving blistering timings of 3-4-4-10! More info here.




Saturday Afternoon Reviews #2 (0 Comments) (link)
Saturday, 9-April-2005 14:26:18 (GMT +10) - by Agg


Mouse Etc:
Logitech MX518 mouse on PCGameWorld.
XTRAC Hybrid mousepad on TweakNews.
Logitech MediaPlay Cordless Mouse on EverythingUSB.

Portable and Small Form-Factor:
Shuttle SB86i steel BTX mini-PC on SilentPCReview.
Shuttle SN25P NF4 S939 mini-PC on HardCoreWare.
Shuttle SB95P v2 i925XE LGA775 mini-PC on HotHardware.
palmOne Zire 72 handheld PC on TechIMO.
Alienware Area-51m 7700 P4 notebook on TrustedReviews.

Storage:
Seagate Barracuda 7200.8 HDD on TweakTown.
Western Digital Passport USB2.0 external HDD on XbitLabs.
Western Digital Scorpio 2.5" HDD on XbitLabs.
LG GSA-4163B DVD±RW Dual Layer Burner on XbitLabs.

Display:
Samsung SyncMaster 243T 24-inch LCD monitor on PCStats.
RCA Scenium HD61THW263 HDTV on DesignTechnica.
Acer AT3201W 32in Widescreen display/TV on TrustedReviews.




Saturday Afternoon Reviews (0 Comments) (link)
Saturday, 9-April-2005 12:57:33 (GMT +10) - by Agg


Video Cards:
ASUS AX800XT/TVD 256MB (RADEON X800 XT P.E.) on HWZ.
MSI NX6800GT-T2D256E Geforce 6800GT on PCStats.
HIS Radeon X850XT IceQ II Dual DVI VIVO 256MB on Bjorn3D.
HIS Radeon X800XL on OCrCafe.

Cases:
Akasa Eclipse 62 on ArcticSquad.
SilverStone TJ05 *2005 Revision* on OCIA.
Sunbeam Samurai midtower on Tech-Mods.
Superpower XP03P Gaming Case on XYZComputing.
Thermaltake Armour full tower on NeoSeeker.

Modding:
Logisys Dual Switchable CCFL Kit case lighting on MikhailTech.
XG Extreme UV Mod Kit on XtremeResources.

Power Supplies:
Thermaltake PurePower 350W Fanless Heatpipe Cooling PSU (video review) on 3DGameMan.
SilenX 400w 0dBA Luxurae Power Supply & HDD Silencing Solution (video review) on 3DGameMan.
Coolmax CP 400t on CreativeMods.
Powmax Demon 580W on SLCentral.
Be Quiet! Blackline 520W on HWZoom.



Remember kids, bug bombs can be good, but too many bug bombs can be bad. The force of the blast was felt by firefighters at their station 200 metres away.

PCMechanic looked at some open source password organiser software. Can't decide if that's a good idea or not..

There's some new Catalyst drivers for your ATI video cards, version 5.4.

From Murray: NEC has developed a wireless system that can transmit uncompressed high-definition (HD) video signals and could eliminate the need for cables when connecting HD-capable products, the company said. Systems based on the technology could be available in 2007.

Phoronix had a go at NVIDIA overclocking under Linux.

The BTX standard has gained some more credibility with Dell coming on board. BTX or Balanced Technology Extended puts the hottest components, such as the processor, chip sets and graphics controllers, in the center of the PC chassis, where they are cooled by a front-to-back airflow driven by a larger, slower-moving fan than in the ATX chassis.

Installing WinXP SP2 will be not blockable after April 12th, apparently. Managers will have to choose between upgrading to XP SP2 or turning off the automatic update mechanism..

TheTechZone have a wireless security guide.

NASA have extended the Mars rover mission by another 18 months.

From alchemy: The QLD Government is hosting a petition to see how many people object to the 3AM lockout that is currently in place.. for those of you not in the know, the State Government has amended liquor licensing legislation so that you can't enter a licensed club/pub/restaurant/venue within the Brisbane City Council Boundries after 3AM on any night of the week.. and if you leave a venue you can't get back in either!! If you're enrolled to vote in QLD and disagree with this curfew, there's a petition (a real Govt one, not an ant-toothbrush one) here.

Microsoft are expanding their Get The Facts program, promoting Windows as more reliable than Linux, thanks Nick.

From PuGZoR: A 24 year old French student has found the 13th root of a 200 digit number in 49 minutes using mental power only. Last december he also found the 13th root of a 100 digit number in a mere 3.6 seconds, which is quite astounding.

"That Man" sent in this storm the house flash timewaster. Edit: seems to have some not-work-safe ads alongside the game.



EA are running a contest where you can win various prizes.. seems to only be a couple of days left.

PCPerspective spent some time overclocking the Venice-cored A64 3200+.

FearTec spotted these educational videos about various security topics on Microsoft's website.

Hexus interviewed the UK's first pro gamer, Sujoy Roy. CreativeMods meanwhile talk to their modder of the month for April.

eCoustics try to demistify cables used in audio/video, and also present 6 technologies which could be the next big thing.

Lots of people sent word that Sony have patented a real life Matrix, or at least, the idea of transmitting data directly into the brain. The aim, it says, is to create "sensory experiences" ranging from moving images to tastes and sounds.

Thetron pointed out some sweeping changes planned for TAFE's IT courses. It is hoped the restructure will better define TAFE qualifications to allow more mixing of units between courses and industry sectors, and also better pathways with more student and employer options between them.

Mikhailtech have a basic system buyer's guide.

FiringSquad have a budget LCD roundup, while HardCoreWare looked at five 500W+ PSUs.

UGBox launched another service for OCAU Forum members recently - this one is called UGBox Trade and aims to make the process of listing items in our For Sale forum a bit easier.




Friday Morning Reviews (0 Comments) (link)
Friday, 8-April-2005 04:19:44 (GMT +10) - by Agg


Motherboards:
Chaintech VNF4 Ultra ZENITH VE S939 A64 on Techniz.
Gigabyte GA-8N-SLI Royal (nForce4 SLI Intel Edition) on HWZ.
Albatron Mars PX915P4/G4 S478 P4 on TechWareLabs.

Memory:
Corsair XMS XPERT 1GB (2x512MB) PC3200XL DDR kit on ExtremeOC.
OCZ DDR2 PC2-4200 Platinum Enhanced Bandwidth Ltd. Revision 2 Dual Channel on AuphanOnline.
Centon Advanced Gemini DDR2 PC2-4200LL 3-2-2-5 on PCModdingMy.

Audio:
Rio Forge Sport mp3 player on BIOSMag.
BenQ Joybee 102R Digital Audio Player on CoolTechZone.
nTren MP3 Watch on CoolTechZone.
Samsung YH-820 5GB HDD Audio Player on Bytesector.
Samsung YH-925 20 GB Digital Audio Player on TechTastic.
Etymotic ER-6i Canal Phones on DesignTechnica.




Wednesday Afternoon #2 (19 Comments) (link)
Wednesday, 6-April-2005 16:23:09 (GMT +10) - by Agg


Katilyst sent word of a new Australian crack-down on piracy, specifically computer and video games. Strangely, the article seems to focus on buying pirated games, not simply copying them from friends, which is surely a lot more widespread. MrMagoo meanwhile pointed out this article about Australians downloading TV episodes, largely, it claims, because it takes too long for them to show up on our TV's. Malik believes that by delaying the broadcast of these programmes, Australian TV programmers have increased the domestic demand for the shows.

Soon you might talk to your TV or wave at your mobile phone. Or, perhaps you already do.

CaseModGod cover making custom decals, while NordicHardware have a PSU modding guide posted. I compared a large pile of PSUs in their pre-modded state, in a recent article.

WinXPCentral have some 64-bit Windows first looks, while 3DVelocity have hardware and software compatability lists for it.

TCMag compared a few Forceware versions, being NVIDIA video card drivers.

Well, this was bound to happen eventually. A Malaysian businessman has lost a finger to car thieves impatient to get around his Mercedes' fingerprint security system. Thanks Duncan.

Scalamanca sent in a pile of update links: 13 firmware updates for optical drives, 72 BIOS updates for motherboards and 400 BIOSes for Radeon video cards. None of those sites are in english, but I assume the files will still work..

Fancy a $100 laptop? The $100 laptop will be a Linux-based, full-color, full-screen laptop, which initially is achieved either by rear projecting the image on a flat screen or by using the so-called electronic ink.

Timbot sent word of metallic glass, 3 times stronger than steel and 10 times "springier". He also notes hackers doing it for a living, not just for kicks anymore. "These people are professionals," concluded Gruper, "trying to do very malicious things."

Ambush noticed this magnetic heat exchanger on TheReg. The report said a hollow magnet in the piping will act like a pump to move the magnetic fluid, drawing the nano oil into the heat exchanger and drawing heat from a CPU.




Wednesday Afternoon (12 Comments) (link)
Wednesday, 6-April-2005 15:32:44 (GMT +10) - by Agg


Dopefish spotted this land walker giant robot thing. I don't know if it actually works, or what the significance of the pink squishy ball is, but it looks very cool.

ViperLair wonder if RAID systems can fail. Err, yes, they can. ARP meanwhile cover Intel's Matrix RAID, which we looked at in some detail here recentlyish.

From Iroquois: Hitachi looking at 1TB desktop drives, 20GB micro drives by 2007. This is thanks to perpendicular recording, which is explained here in a great little animation. :D THG meanwhile report it as 5TB and 60GB respectively. Big, anyway.

ArTy spotted this lengthy rant on TheInq, about the state of the hardware review industry. Interesting stuff, but I haven't seen or heard of any of it happening on any Australian sites. We've only ever been directly approached for a "cash for comments" thing once, and I basically laughed at them. Sadly, this article doesn't detail where I can sign up to be paid $20k for a positive product review. :)

LegitReviews have broken the 1000MHz DDR2 memory speed barrier.

PowerManagementDesignLine (phew) have an interesting article about intelligent thermal control for laptops. Small spaces and power restrictions are just part of the problem.

Sniper sent in this shark-shaped submarine being used by Jacques Cousteau's grandson.

Bearacade spotted this lap pillow which, well.. just look at it.

ArsTechnica compared desktop search tools from Google, Yahoo, Copernic, Microsoft and Ask Jeeves.




Wednesday Afternoon Reviews (2 Comments) (link)
Wednesday, 6-April-2005 13:56:04 (GMT +10) - by Agg


Cases:
A-Top Gladiator 2005 on Phoronix.
CoolerMaster Praetorian 731 on Bit-Tech.
Sharkoon Silvation on XtremeResources.
NZXT Trinity fulltower on HardCoreWare.
A-Top Gladiator on LANAddict.
NZXT Nemesis on AtomicFire.
Thermaltake Shark Aluminium Case on AScully.

Motherboards:
DFI LANParty NF4 SLI-DR S939 A64 on PCStats.
VIA EPIA SP 13000 mini-itx mobo and CPU on EPIACenter.
DFI LANPartyUT NF4 SLI-DR S939 A64 on LegionHardware.
ASUS A8N-SLI Deluxe S939 A64 on LostCircuits.
Biostar K8NHA Grand entry-level S754 A64 on TrustedReviews.
EPoX EP-5LWA+ LGA775 P4 on ViperLair.

Video / TV Cards:
HiS Radeon x800 XL - x850 XT - x850 XT PE IceQ II (Turbo) PCi-Express cards on Guru3D.
Nvidia GeForce 6600GT SLI on OCNZ.
Leadtek WinFast TV USB II Deluxe TV card on Gruntville.
HIS Radeon X800XL IceQ PCI-E on BonafideReviews.
PowerColor Radeon X800XL on MVKTech.
Gigabyte GV-3D1 dual-core video card and mobo on AMDReview.

Misc:
Xtrac Hybrid mousepad on XYZ.
Xuke Mp600 mp3 player on RBMods.
Shuttle SN25P nF4 mini-PC on TBreak.
Konica Minolta DiMAGE Z20 digicam on TrustedReviews.
Jackito Fingertip-Touchscreen PDA on TheTechZone.
Saitek Gamer's Keyboard on TheTechLounge.
AeroCool Gatewatch and HardDock fan controller on XtremeResources.
Transcend JetFlash MP3 USB storage/audio on Phoronix.
Kyocera Mita FS-920 desktop mono laser printer on BIOSMag.
Sunbeam Mini-Baybus on GideonTech.




Dual Duelling Duals (4 Comments) (link)
Wednesday, 6-April-2005 12:04:47 (GMT +10) - by Agg


Intel fans will be happy with some big recent announcements. First up is NVIDIA's SLI for Intel platforms, with the release of their nForce 4 SLI Intel Edition chipset. This brings dual PCI-Express video card support to P4 users, previously only available on A64.

Coverage on Bjorn3D, ExtremeTech, FiringSquad, HardOCP, Hexus, HotHardware, LegitReviews, NeoSeeker, PCStats, PC Perspective, Sudhian and ViperLair.

Intel meanwhile lifted the wraps on their dual-core CPU. The first version is a "P4 840 Extreme Edition" at 3.2GHz, with quad-thread hyperthreading and 1MB L2 cache, running on Intel's 945/955X Express chipset.

Coverage on Anandtech, ExtremeTech, FiringSquad, HardOCP, Hexus, HotHardware, LegitReviews and TrustedReviews. Editorial thoughts on HardwareAnalysis and A1 Electronics. Discussion in our Intel Hardware forum here.

Just so the AMD fans have something to read, Xbit reviewed the new A64 XP3800+ Venice CPU, as well as the Sempr0n 3100+ E3 Core, which they call "a gift to overclockers".




Wednesday Morning Reviews (0 Comments) (link)
Wednesday, 6-April-2005 11:12:08 (GMT +10) - by Agg


It's been a bit quiet from me for a week or so, as I was making a pilgrimage to Philip Island for the Superbike World Championship round there on the weekend. Congratulations to Australia's Troy Corser for taking wins in both superbike races in extremely difficult conditions, very windy and raining at times. Australia is actually well represented in both World Superbike and World Supersport now, with mixed results across the weekend. Congrats also to Josh Brookes for coming back from serious injury last year, to dominate both the Australian Superbike and Australian Supersport rounds this weekend.

Right, back to reality. Today will be a news catchup day, so stay tuned! Let's start off with some reviews:

Storage:
BenQ DW1625 LightScribe 16x DVD+-RW DL Writer on ExtremeMHz.
LITE-ON SOHW-1673S 16x DVD+/-RW burner on PCXL.
Samsung WriteMaster TS-H552 Dual Layer DVD Writer on DesignTechnica.
Kingwin SS-350S-BK SATA External Enclosure (video review) on 3DGameMan.
ASUS DRW-1608P Internal DVD Writer on HWZ.
Evesham Technology SilverSTOR NAS 500Q storage server on TrustedReviews.

PSU:
OCZ Modstream 520W on OCIA.
Ultra X-Connect 500W Titanium on SLCentral.
Ultra Products Titanium Series PSUs and fans on OCOnline.
SkyHawk Power ONE 570W (updated with concerns) on ExtremeOC.

Cooling:
Coolermaster Aquagate Mini R120 watercooler on NinjaLane.
Arctic Cooling NV 6 and ATI 1 VGA Silencer video cooler on Techniz.
Swiftech MCX478-V P4 cooler on MikhailTech.
ASUS StarIce 4-in-1 CPU Cooler on ProClockers.



Bytesector take a look at the Sony PSP (Playstation Portable). A very neat looking toy which does more than just play games. I remember games, I played one once.

Speaking of portable devices, this Samsung Portable DVD Player could come in handy, for my kids. Might keep them quiet in the back seat.

Sharkx just sent word that his Gmail storage has gone from 1000Mb to 2055Mb, and its growing!!!

XbitLabs have posted an article titled AMD Athlon 64 3800+ CPU: E3 Processor Core aka Venice at the Door. Bit of a mouthful but an interesting read. Thanks Warhamster.

A USB ghost detector. Just what we all need on those late nights of computer quietness. "...beeps and flashes red lights in response to "unusual magnetic waves" meaning it will let you know when you're in the presence of those beyond the grave" Have a look here. Thanks Loop Goose.

2CPU have a Home Theatre PC Guide for those wanting to put a PC to good use, instead of browsing silly forums and web sites all day. "If you can deal with lower-end performance, a limitation or two and an enclosure that isn't overly sexy, this probably won't be that expensive of a project. For a lot of us, it could be accomplished simply by using recycled, second-hand hardware."

Short Media have a guide to Slipstreaming a Windows XP installation disk. "Installing Windows can be a pain. First there is the hour long session with the operating system. Don't forget to press F6 if you are using SATA drives. Then there is the boredom of connecting to the Internet to download and install the service packs and updates. Slipstreaming a Windows XP installation disk is the answer and there is a simple and easy way to create your own Windows installation disk complete with the latest service pack(s), updates and disk drivers with a free program called nLite."

Do you think yourself a pretty good gamer? Try your hand at this. "e-Gaming Solutions (EGS) announce their partnership with Ligarena (Ligarena) to host the Electronic Sports World Cup (ESWC) 2005 Australian Preliminaries, the World's Premier Professional Gaming Tournament. Five cities, twelve qualifiers, and over one thousand gamers will compete for an all expenses paid spot in the ESWC 2005 Finals in Paris, France and the chance to contend against the top echelon of competitive teams in the world." $15,000 up for grabs!



RavenKittie has spotted this article over on PCStats where they take you through a tour of the Gigabyte factory.

Bigbruin has a new article posted about the setup and security of Wireless Networking.

Hexus have a picture of the first Pentium 4 SLI motherboard with digitally switched SLI. No more annoying jumper/daughterboard swapping!

Penstarsys has an indepth editorial posted titled The State of 3D: ATI and NVIDIA, 1H 2005.

PCstats plays around with AMD's Athlon 64 3500+, and overclocks it deep freeze style.

Deano sent in this article where an online gamer was stabbed over a 'stolen' cybersword. Oh dear...

A few people sent in the Windows 2003 Service Pack 1 has been released.

For all you World of Warcraft players out there, you reaaallly should go to this thread over on the WoW forums and sign it. Currently over 200 signatures for an Australian WoW server to be put in place.

XYZ Computing has posted a Socket 939 Buyer's Guide, check it out here.

Dan has more letters posted. In this issue: 60 second charging, terabytes via USB, slow channel zapping, big old cellphones, coin magic, heaters, and shooting at God.

More reviews, later tonight and early Monday! - Stay tuned! :)



Heh, I think someone has been playing funny buggers :) .... I know I had a severe case of déjà vu there for a few minutes. I guess it is April the first! Hope you all had a prank-filled April Fool's morning.

Well now, it's been quite a while since I've posted news too, but let's give it a crack ....
A few reviews, enjoy!

Systems:
ABS Ultimate E2 Media Center PC first look on designtechnica.
ABS Ultimate E2 Media Center PC first look on CoolTechZone.
Shuttle XPC SB95Pv2 SFF PC on SFF Tech.
Shuttle XPC SB81P SFF PC on SilentPCReview.

Motherboards:
Albatron PX925XE Pro-R LGA775 motherboard on Viperlair.
DFI Lanparty UT NF4 Ultra-D motherboard on hardCOREware.
Epox 9NPA+SLI motherboard on OCW.
Epox 9NPA+ Ultra motherboard on PCstats.
Gigabyte GA-K8VT890-9 motherboard on The Tech Report.
nForce4 SLI motherboard roundup (DFI vs. Gigabyte vs. MSI) on HotHardware.
Soltek SL-K890Pro-939 motherboard on PCStats.
ECS KV2 Extreme motherboard on HardwareZone.
MSI K8T Neo2-FIR motherboard on HardwareZone.
Soltek SL-K8TPro-939 motherboard on HardwareZone.

Memory:
Wintec AMP-X PC2-5400 DDR2 on XtremeResources.

Graphics:
BFG Tech GeForce 6600GT OC (Solo and SLI) on Bjorn3D.
Club 3D PCIe, AGP X800XLs and*X850 Pro on Beyond3D.
GeCube Radeon X850XT Uniwise on HEXUS.
PowerColor X850XT and X800XL on X-bit labs.

Audio:
Creative Labs Gigaworks S750 7.1 THX speakers on Guru3D.
Icemat Siberia headphones on The Moditory.
Icemat Siberia headphones on Bjorn3D.
Tivoli Model One table radio on Futurelooks.
Altec Lansing InMotion IM3 portable audio station on Tech-Mods.
X-Woofer 3D Vibro Woofer speakers on Short-Media.

Storage:
Seagate Barracuda 400GB 7200.8 HDD on Club Overclocker.
Seagate Barracuda 400GB 7200.8 HDD on The Tech Report.

Cooling:
Coolermaster Aquagate Mini R120 water cooling system (video) review on 3dGameMan.
Corsair COOL water cooling kit on Madshrimps.
ThermalTake BigWater watercooling kit on Bytesector.
Sunbeam anodized and clear LED fans on A True Review.
Swiftech 5.25" reservoir on Rbmods.
Zalman VF700 AlCu silent video card cooler on hardCOREware.
Titan Vanessa S-Type CPU HSF on A1 Electronics.

Cases:
Enermax CS-718 server-class case on 3DVelocity.
Silverstone SST-LC13 HTPC/desktop chassis on ExtremeMHz.
Techsolo TC-90 case on OC-Service.

Other Stuff:
4 Port USB 2.0 compact hub on ExtensionTech.
Actiontec VoIP Phone Wizard for Skype on TechIMO.
Belkin dual-band wireless A+G networking on TheTechLounge.
SMC EZ-Stream media receiver on Bigbruin.
Brother MFC-7820N network ready all-in-one printer on BIOS.
Dell Axim X50v Pocket PC on The Tech Zone (Mmmmm!)
Flexiglow keyboard and*gaming mouse on Viperlair.
19" LCD monitor roundup part III on labs.
Logitech MX518 gaming mouse &*Z-2300 speakers on 3DXtreme.
Samsung SPH-A680 mobile phone on Bytesector.
Logisys Optical Fan Mouse on ExtremeMHz.
Plusdeck PC cassette deck on PCMechanic.
Sunbeam Chameleon PC lighting kit (?) on PimpRig.
ProClip car mobile device mounting solutions on XYZ Computing.
Samsung SGH-D500 mobile phone on OCW.
Sony PSP handheld entertainment system on Ars Technica.
Syntax Olevia LT30HV 30" LCD TV on Designtechnica.
USBGeek Liquid Optical USB "Ducky" mouse on Controlled-Insanity.
Wisetechusa UV IDE/SATA cable roundup on Controlled-Insanity.

And finally, a machine-translated review of the Titan Vanessa L-type CPU HSF on OvercleX. Machine tranlation is always fun ... "On the level of the contents of limps, it does not have there great difference, except which it is well on bulkier!" ... okey dokey. At least there are a few photos to look at :)



Now, lets see if I can remember how to do this news stuff. How long has it been, a year? More, I think. I have to click on this thing then paste this bit in here and ...

AMD specialist site AMDBoard, have some new info and a photo of the internals of AMDs upcoming AMD64 Dual Core CPU. "Made in 90nm the current revision of the design has 205 millions transistors for the same size as a 130nm single-core Opteron design and runs at an incredible 95W!". Check it out here.

On the subject of AMD, Neoseeker have done an Athlon 64 Overclocking Study. "We decided to do a quantitative study on how much each aspect matters and today at Neoseeker we look at how HyperTransport speed, CPU Bus Speed, memory speed and overall clock speed affect performance on the Athlon64." Check it out at Neoseeker.

The Tech Zone have posted a beginner's guide to Voice Over IP. "VoIP (Voice over Internet Protocol) is very simply, a method for taking ordinary analog audio signals and turning them into digital signals that can be sent over the Internet." Read the article here.

Ecoustics have an article all about Sound Isolation and Noise Control. It might be good read for those living in close quarters with others who don't appreciate the sound of shreiking crab monsters being blown away at 2am. While you're there you can check out their Essential Guide to Home Theater Speaker Placement.

Corsair have published a detailed Application Note on memory performance. "Speed is easy to understand - in general, faster is better. But what do the latency settings mean? And, what impact do they have on memory performance? This paper will provide a brief background on latency settings and what they mean." The document is in PDF format and is 650Kb in size. You can find it right here.

Digian sent in this link to Adrians Rojakpot where there is some info and a photo of a new Asus notebook, the Asus V6000V. Its a quick preview and not a full review, but it does look sweet.

The folks over at Design Technica have an article which tries to explain the differences between HDTV, SDTV and DTV. What a neat idea. Pictures that move! Check it out at Designtechnica.

The CoolTechZone have a write up titled The Growth of Linux in Business and Governments. Its aimed at the European sector but makes for an interesting read none the less.

HardwareZone have posted their coverage of the CeBIT Hannover 2005 event. Lots of info and pictures here.

TweakTown put some 16x dual layer DVD recorders to the test. Asus Vs Gigabyte head to head.

A1 Electronics.net show you how to fit a water cooler heatsink system in to a Thermaltake Kandalf computer case. Kandalf? Is it old and wise with a long white beard?

The Tech Zone go on a rant over the high cost of inkjet cartridge refills, and so they should. How can these printer manufacturers get away with virtually giving the printers away and then hit us up for our first born just to refill the ink? Hmm, maybe I'm missing something in that. Anyway, read it here.

Wouldn't it be nice to have a computer that was small enough to carry around with you everywhere you went, and light enough to hang off your keychain without ripping the steering wheel off? How about one that was about the size of an RJ45 connector. Thanks leperMessiah for the link.

d0t-bat sent in some info about a new gaming site for WAIX users called XWAIX. Thats gotta be good news for those living on the nice side of the country :)

Adrian wants to remind everyone in South Australia that Valhalla LAN is happening soon on April 23rd and 24th.

Ptooey sent in this link which states "On February the 28th 2005, at 12.08 local time, the Koenigsegg CCR broke the production road car speed record". How did they get an egg to travel that fast? (Boiled it in a microwave? *snicker* - Sciby)

Thats all for now.



---
Advertisement:


All original content copyright James Rolfe.
All rights reserved. No reproduction allowed without written permission.
Interested in advertising on OCAU? Contact us for info.