June 2005
Thursday Evening (8 Comments) (link)
Thursday, 30-June-2005 18:11:00 (GMT +10) - by Agg


Today is the last day to Win 5.1 headphones in our forums, thanks to HDAudioVisual.

FlingingSquids have a two part article called the "Eternal Battle".. in which they build an Ultimate Gaming PC and an Ultimate Workstation.

Anandtech looked at three hard drives offering the 3Gb/sec transfer speed of SATA-II.

Timbot spotted more progress in using graphics processors for general computation.. in this report some NVIDIA cards are used for data sorting.

Xbit report on various manufacturers providing overclocked 7800 GTX cards as standard. Leadtek provide a new bios for theirs that boosts the speed even on existing cards.

OCW have some interesting info, a ULi-based motherboard that can turn one PCIe slot into two for dual graphics.

TweakTown toured Gigabyte's service centre in Melbourne.

FB008 spotted this 10 Free Games Worth Downloading article on TomsHardware.

MadShrimps tried for a 100% overclock of a Pentium M, using dry ice.

VR-Zone meanwhile managed to squeeze a 11,000 3DMark05 score from a single 7800 GTX system.



Here's some more PCDB entries that have been buried for too long. If you're interested, you can see the previous PCDB mining stories here, here and here.



You can view the top-voted PC's in the PCDB for the following criteria: Looks, Functionality, Effort, Ingenuity and Overall. The latest gallery entries are here.




Wednesday Night Reviews (2 Comments) (link)
Wednesday, 29-June-2005 22:15:43 (GMT +10) - by Agg


Audio / Visual:
Pioneer AirWare XM2Go XM radio receiver on DesignTechnica.
Altec Lansing VS2221 2.1 PC Speakers on FutureLooks.

Video Cards:
MSI NX6600GT-VTD128SP AGP on HotHardware.
Connect3D All-in-Wonder Radeon X800 XT 256MB AGP on BonaFideReviews.
ATI Radeon X850XT Platinum Edition on 3DAccelerated.
Gigabyte GeForce 7800 GTX on TweakTown.
Gigabyte 6600GT on CoolTechZone.

Cooling:
Ultra Memory and HDD Cooler on ViperLair.

Mouse, Keyboard etc:
A4 Tech Anti-RSI Deskset on PCReview.
APC Biometroc Mouse Password Manager on BIOSMag.
Logitech diNovo Cordless Desktop on TheTechZone.
Diamondback Plasma mouse on ExtremeMHz.

Motherboards:
MSI P4N Diamond LGA775 P4 SLI board on TrustedReviews.
Chaintech VNF4 Ultra S939 A64 board on OCrCafe.
MSI 945P Neo Platinum LGA775 P4 board on HWZ.
ABIT Fatal1ty AN8 SLI S939 A64 SLI board on Hexus.
GIGABYTE GA-K8N Pro-SLI S939 A64 SLI board on Techniz.
ASUS P5WD2 Premium LGA775 P4 board on HardOCP.
Spire KestrelKing VI CPU cooler on Motherboards.org.
Intel D955XBK LGA775 P4 board on Digit-Life, also seen in our recent dual-core P4 article.
Supermicro PDSLE 945 LGA775 P4 board on 3DProfessor.

Storage and Memory:
Seagate 400GB Pushbutton Backup USB 2.0/FireWire HDD on Bjorn3D.
Mushkin HP3200 Redline Memory on 3DXtreme.
TraxData DVD Media on 3DVelocity.

PSU:
Cooler Master RS-550 PSU on RBMods.
OCZ ModStream 520W PSU on ExtremeOC.



A few more goodies arrived, part of OCAU's next server upgrade:



Just nearing the end of a 48-hour memtest at the moment. I actually got a bit scared for a while there, I thought the machine was locking up mysteriously. Turned out the monitor on the testbench is dying and was blanking out intermittently. :)




Wednesday Afternoon Reviews (0 Comments) (link)
Wednesday, 29-June-2005 14:36:51 (GMT +10) - by Agg


Cooling:
Easy PC Kits Premium Lapping Kit on Phoronix.
Ultra Memory Heatsinks on Bit-Tech.
Cooler Master Hyper 6+ CPU cooler on PCPerspective.
Ultra Products Ultra Fire CPU cooler on OCOnline.

Cases:
Antec P180 midtower on SilentPCReview.
Arctic Cooling Silentium T2 on MadShrimps.
Antec Sonata II on FutureLooks.
Sytrin Nextherm ICS 8200 cooling case on PCModdingMy.
Antec P180 midtower on SGOverclockers.

Audio / Visual:
NEC MultiSync LCD1980FXi monitor on TrustedReviews.
Compro VideoMate Action Ultra external TV tuner on Bjorn3D.
HDA Digital X-Mystique 7.1 Gold sound card on 3DXtreme.
Samsung Yepp YP-T7Z 1GB mp3 player on OCClub.
DISH Network Player-DVR 942 satellite receiver on DesignTechnica.
Logitech z5500 speakers on TechTastic.

Printer / Camera:
Epson Stylus Photo R2400 photo printer on BIOSMag.
Sony Cyber-shot DSC-P200 7MP digicam on TrustedReviews.

Mini:
Trigem Kloss KL-I915B SFF mini barebones on SilentPCReview.
Serener GS-L01 Fanless Mini-ITX case on BigBruin.




Wednesday Morning (24 Comments) (link)
Wednesday, 29-June-2005 03:53:38 (GMT +10) - by Agg


Sun Microsystems have released their first laptop. It is pre-loaded with the Solaris 10 OS, includes 550MHz, 512MB Ram, 40GB disk drive, entry 2D graphics and wireless 802.11b, and will be generally available from next month.

If you're into Dr Who, perhaps build a Dalek, thanks Garry.

Over 100M people are online in China now, thanks Brett. Not that many out of 1.3B really.

LegitReviews ponder what DDR2 means for notebooks. The mobile market has seen benefits of DDR2 and leading market analysts and notebook builders believe that by then end of 2005 that DDR2 will be the memory module of choice in 90% of all shipping notebooks.

Battlefield 2 seems to be the game of the moment. Darkness sent in a few forum links: BF2 Issues, BF2 Official Thread, BF2 Demo, BF2+ Mod, Great Gaming Moments. He also says the new AC'97 sound drivers help with sound/stuttering problems in BF2.

France will apparently host the world's first nuclear-fusion reactor. ITER members say uniting the atoms of lighter elements such as hydrogen instead of splitting heavier ones such as uranium generates more energy, less radioactivity.

Lots of people sent in this story about zombie dogs. There's even a thread about them here.

From PodgeSSS: Justices rule that P2P companies such as Grokster can be held liable for copyright piracy. Some readers predict the decision will spur a flurry of suits against software makers; others say the ruling is far from disastrous.

OmegaDrivers have updated ATI drivers available. These drivers are based on the Cat 5.6 (Cat 5.5 were skipped) and they now include a customized version of ATI Tray Tools instead of Radlinker.

From Dinuc: The challenge for June Iron Photographer closes on Thursday, so get those entries in.

A few links from Tekka: Microsoft Shared Computer Toolkit for Windows XP (Beta). PC makers, distributors pass on Windows XP. A new approach to file-swapping. Google maps + US Census Data = GCensus. AMD Blocked From Intel Documents in Antitrust Case. Windows 2000's Demise: Greatly Exaggerated?

Here's a couple of pics from Bern, of his new number plates. :)



Click to enlarge!


Interesting Forum Threads:
Mini-Review: Antec SmartPower 2.0 500W in Overclocking & Hardware.
HP Resurrection 1 -Resurrected- (lots of pics) in Modding & Electronics: Worklogs.
TT Shark Front Grill Mod! (lots of pics) in Modding & Electronics: Worklogs.
[NSW] RTA's "changes to demerit points and fines" effective July 1st in Motoring.
Ferrari track day at Winton in Motoring.
Pikes Peak Shots (large pics) in Photography.




PCMark05 Available (1 Comments) (link)
Wednesday, 29-June-2005 01:03:18 (GMT +10) - by Agg


Futuremark have released PCMark05, their latest system benchmarking tool. PCMark®05 is everything you need to reliably and easily measure the performance of your PC and determine its strengths and weaknesses. With PCMark05, you will be able to select the optimal upgrades for your existing PC, or choose the right new PC that fits your specific needs.

I've made a local mirror for OCAU readers here (77MB). There's a thread for comparing results etc here.




AMD files anti-trust complaint against Intel (29 Comments) (link)
Tuesday, 28-June-2005 23:06:26 (GMT +10) - by Agg


Big story of the moment is that AMD have initiated legal action against Intel. To quote their website:

Our competitor has harmed and limited competition in the microprocessor industry. On behalf of ourselves, our customers and partners, and consumers worldwide, we have been forced to take action.

There's a webcast here, as well as coverage on Groklaw here and TheInq here. Thanks to everyone who sent word.




Tuesday Night Reviews (0 Comments) (link)
Tuesday, 28-June-2005 22:28:44 (GMT +10) - by Agg


Motherboard & CPU:
ATi Radeon Xpress 200 vs Intel GMA900 integrated graphics chipsets on LegionHardware.
MSI 945P LGA775 P4 board on DriverHeaven.
Foxconn 925XE7AA-8EKRS2 LGA775 P4 board on ViperLair.
Foxconn WinFast 760GXK8MB S754 A64 board on HWSecrets.
Foxconn NFPIK8AA S940 Opteron board on TechReport.
ECS PF5 Extreme on HardWareZone.
DFI LANParty nF4 SLI-DR S939 board on MVKTech.
AMD Athlon 64 FX-57 S939 CPU on Sudhian.
AMD Athlon 64 FX-57 S939 CPU on LostCircuits.
AMD Athlon 64 FX-57 S939 CPU on SharkyExtreme.
AMD Athlon 64 FX-57 S939 CPU on Anandtech.
Intel Pentium Extreme Edition 840 LGA775 CPU on MBReview.

Storage:
Iomega REV Autoloader 1000 tape autoloader on TrustedReviews.
Simple Tech SimpleDrive Deluxe 250GB USB2.0/Fire Wire External HDD on XtremeResources.

Video Cards:
Sapphire Radeon X800 XL 'Ultimate' vs AOpen Aeolus 6800 on TrustedReviews.
Sapphire RADEON X850 XT Platinum Edition on HardWareZone.
Gigabyte 6600GT on CoolTechZone.

Power Supply:
OCZ ModStream 520W on ExtremeOC.
Aerocool Turbine Power Modular PSU on Hi-TechReviews.
Vantec ION2 460W on Virtual-Hideout.




Tuesday Morning (5 Comments) (link)
Tuesday, 28-June-2005 00:45:06 (GMT +10) - by Agg


More FX-57 coverage: ExtremeTech, DriverHeaven, T-Break, FutureLooks, TrustedReviews and TomsHardware. OCW got one to 7x 400MHz, while AMD's official announcement is here.

Meanwhile, 64-bit Sempr0ns are hitting the streets according to AMDBoard. CPU-Z under Win64 reveals the full 64-bit compatibility of the latest Sempron 3300+.

Timbot spotted this poor man's RAID project, comparing a whopping number of older SCSI drives with a modern drive.

FiringSquad have been overclocking the GeForce 7800 GTX. Futurelooks meanwhile have a 7800 GTX review for the regular joe.. whatever that means.

Apparently this is the world's first bionic man, with robotic arms. When Sullivan's brain tells his arm to do something, it's done in seconds and he has feeling in the bionic arm.

Hexus discovered how motherboards are made by ECS, while ExtremeTech took a close-up look at CPUs.

The Top 500 Supercomputers list has been updated again. Scarily, the slowest system on the list has 1,900 processors.

Engadget report on self-destructing hardware, for when you really really don't want your data stolen.

Using trivial pursuit questions is one way to rank search engines. Liedtke's test does, however, give an insight into one thing: semantic search is still a little ways off.




AMD's Athlon64 FX-57 Arrives (0 Comments) (link)
Monday, 27-June-2005 14:56:46 (GMT +10) - by Agg


AMD have released their Athlon 64 FX-57. This is a single-core CPU at 2.8GHz, with 1MB of L2 cache and of course fits S939 motherboards. It's also based on a smaller process (90nm) than the FX-55 predecessor (130nm).

Coverage on 3DVelocity, Bit-Tech, FiringSquad, HardOCP, Hexus, HotHardware, Tech Report and XBitLabs.

There's a thread here in our AMD Hardware forum discussing this new processor.




Monday Afternoon Reviews (3 Comments) (link)
Monday, 27-June-2005 14:15:59 (GMT +10) - by Agg


Video Cards:
Connect3D X700Pro 256MB PCI-E on Techniz.
NVIDIA GeForce 7800 GTX on Anandtech.
PowerColor Bravo X700 and MSI NX6600 comparison on DriverHeaven.

Cooling:
Prime Cooler 1PC-VGAHP 1 VGA Cooler on Phoronix.
Arctic Cooling Silencer 64 Ultra CPU Cooler on XYZ.
Aqua Box UV Liquid Cooling System on PCModdingMy.
SilverStone NT02 CPU Cooler on OCOnline.
Scythe Shogun CPU Heatsink on Phoronix.
PCCooler SVC800Cu VGA Cooler on SGOverclockers.
Thermaltake Big Typhoon CPU Cooler on BigBruin.

Audio / Video:
Sony MFM-HT75W 17in Multifunction Display on TrustedReviews.
eDimensional AudioFX Force Feedback Gaming Headset on RojakPot.

Motherboards:
ASUS P5WD2 Premium LGA775 P4 board on ViperLair.
ASUS P5ND2-SLI Deluxe LGA775 P4 SLI board on HWZ.
EPoX EP-9NPA+ SLI S939 A64 SLI board on Hexus.
ECS PF4 Extreme i945 Express LGA775 P4 board on HWZone.

Storage:
Maxtor OneTouch II 200GB External Hard Drive on TheTechLounge.
Nexus Drive-A-Way: Internal 2.5"/3.5" Hard Disk Enclosure (video review) on 3DGameMan.
Hitachi Deskstar T7K250 SATAII HDD on XtremeResources.
NEC ND-3540A 16x DVD+-RW Double Layer Writer on ExtremeMHz.

Misc:
Shake Light Batteryless LED Flashlight on Monster-Hardware.
Thermaltake PurePower 460W PSU on Techniz.
U.S. Robotics SureConnect ADSL Wireless Gateway on BIOSMag.
CaseBuyTech A.I. 01 Deluxe case on TechTastic.
Apple OS X 10.4 on TBreak.
Rock Xtreme Ti 3.6 Laptop on Hexus.




Sunday Afternoon (3 Comments) (link)
Sunday, 26-June-2005 16:12:00 (GMT +10) - by Agg


Australia's Spam Act will get a workout soon, as the Australian Communications Authority is taking an alleged spammer to court. The ACA is alleging Perth-based company Clarity1 Pty Ltd and its managing director Wayne Mansfield has continued to distribute vast quantities of spam since the Spam Act came into force in April 2004, despite being warned in writing by the authority.

Another interesting internet law coming into force in Australia is this anti-suicide law. Using the internet to counsel or incite others to commit suicide or to promote and provide instruction on ways to do it has been outlawed but the new laws were not designed to stifle debate about euthanasia, Justice Minister Chris Ellison said.

Sciby spotted a new bullet train on the way in Japan, which will travel at 360km/h. Jeez, even their TRAINS have cute kitten ears! Kawaiiiiiii!

Anandtech spent some time overclocking the 4200+ dual-core A64 CPU from AMD. Now that the Dual-Core AMD processors are starting to appear in the market, we have received many emails asking which X2 is the best value. With prices so high that is a very fair question.

If you're confused by the large number of video connectors out there, this guide on HWSecrets may be of help. The connection types we'll cover are the following, listed from the worst video quality to the best: Radio Frequency (RF), Composite Video (RCA), Super Video (S-Video), Component Video, Red, Green and Blue (RGB), Video Graphics Adapter (VGA), Digital Video Interface (DVI).

Overclocking guru OPPAINTER has smashed the 3DMark records with a supercooled 7800 GTX SLI rig - how does 48,046 in 3DMark01 sound? Bit-Tech follow up with some Serious Sam II benchmarks on a 7800 GTX SLI system.

Ptooey spotted this handy Centrino Hardware Control utility.

Joseph noticed some fuel cell guidelines have been published for mobile PC's. Fuel cell technology promises to power mobile PCs for full working days and longer, freeing users from the need to search for power outlets to charge batteries. Instant refueling with cartridges could extend run time almost indefinitely.

Gizmodo have a short note about a conceptual Bluetooth storage device that really is a tooth, thanks Arachnadactly. At least not just for storage - get a Bluetooth-enabled cellphone headset in there and we'll talk about it.



Anyone else remember Thermaltake's Golden Orb? Some 6 years on, Thermaltake have introduced their Golden Orb II CPU cooler. It allows computer gamers and enthusiasts to breeze through their games and movies with ease and quietness. In order to further improve on cooling the monster machines of today, the Golden Orb II fully supports Intel P4 LGA 775 and AMD K8 systems.

Gigabyte have launched their first generation liquid cooling system. The new 3D Galaxy is designed to cool the most advanced high-performance PC processors from both Intel® and AMD with a minimum of noise and risk of overheating with unique features such as LWP (Low Water Protection) and OHP (Over Heating Protection). The GIGABYTE 3D Galaxy Liquid Cooling System is sampling now and will be available in July at a recommended retail price of AUD189. More info in a 4MB (?!) DOC file here.

They also announced their first foray into the case business, the 3D AURORA series. With its elegant design, flexible cooling system support and easy component installation features, the 3D Aurora chassis presents an ideal solution for PC enthusiasts who enjoy upgrading and customizing their rigs. More info in a 526KB DOC file here.

GeIL announced an elite series of DDR joining the GeIL performance module line-up: The GeIL ONE (Double Spec DDR) series in Samsung TCCD version and Winbond BH version. The TCCD version of GeIL ONE is capable of running at DDR400 CAS 1.5-2-2-5 and DDR600 CAS 2.5-4-4-7. As for the BH version of GeIL ONE, it is capable of running at DDR 400 CAS 1.5-2-2-5 and DDR500 CAS 2.5-4-4-7. These have the temperature reading I spotted in this article (bottom of page).

Western Digital and LSI Logic sent over a presentation about the transition to SATA II. There's info on Queueing, SATA II benefits and RAID 6. The 3.5MB PowerPoint file is here.

OCZ introduced a Gamer eXtreme memory series. These high-speed modules run at DDR433 with the gaming-essential timings of CL 2-2-2-5! The enhanced latency of PC-3500 Gold GX allows it to thrive in even the intense gaming environments of Doom 3, Half-Life 2, and World of Warcraft, and will help eliminate frustrating frame lag or system crashes due to incompatibility.

They also have a Value Pro range, starting with OCZ DDR2 PC2-4200 Value Pro. Unlike competitors, all OCZ Value Pro modules utilize pure copper heatspreaders for the most efficient heat dissipation and offer unparalleled peace of mind with an industry-leading OCZ Lifetime Warranty.

Corsair sought to dispel speculation about the supply of Samsung's TCCD memory modules, highly desireable for overclockers. The TCCD specification was tailor-made for Corsair by Samsung. As part of the agreement, Samsung has agreed to directly supply Corsair's TCCD requirements until the end of 2005 and beyond. More info in a 78KB PDF here.




Saturday Night Reviews (2 Comments) (link)
Saturday, 25-June-2005 22:59:09 (GMT +10) - by Agg


Cameras, Printers, Scanners:
Olympus C-180 digicam on TrustedReviews.
I.R.I.S. Business Card Reader II on BIOSMag.
Hi-Touch 730PS photo printer on TrustedReviews.

Video Cards:
ASUS N6800Ultra PCI-e in SLI on 3DAvenue.
Gigabyte GeForce 6200TC entry-level card on PCModdingMy.
ATI Radeon X800 XL on PCStats.
NVIDIA GeForce 7800 GTX gaming performance on Xbit.
NVIDIA GeForce 7800 GTX on Sudhian.
NVIDIA GeForce 7800 GTX on HWZone.
NVIDIA GeForce 7800 GTX part 2 on TweakTown.
NVIDIA GeForce 7800 GTX on VR-Zone.

Mouse Etc:
Razor Diamondback mouse on DansData.
sUrface 1030 MBA LM Edition Competition Mousing Surface on CyberWizardPit.
Xraypad Thunder 8 mousepad on ThinkComputers.

Cases & Modding:
Sunbeam 20-in-1 Superior Panel on XYZComputing.
Thermaltake Tenor HTPC case on RBMods.




Bonzanego's PC's (9 Comments) (link)
Saturday, 25-June-2005 02:12:54 (GMT +10) - by Agg


Just noticed these two new PCDB entries from Bonzanego:



Click the pics for PCDB entries!


I really like the "hot rod" one..




Friday Night Reviews (1 Comments) (link)
Friday, 24-June-2005 22:22:24 (GMT +10) - by Agg


Audio / Visual:
Pinnacle Systems ShowCentre 200 digital media adapter on BIOSMag.
Diamond Multimedia Xtreme TV PVR 550 TV tuner/capture on HotHardware.
Zalman Theatre 6 Surround Headphones on PCModdingMy.
Zalman Theatre 6 Surround Headphones on 1337Reviews.
Samsung DVD-HD841 High Definition DVD Player on TweakNews.
AKG K 240 Studio Headphones on ByteSector.
Aerielle AudioBug ATB-350 FM Transmitter on FutureLooks, similar gadget here.
Samsung YH-820 MP3 Player on DesignTechnica.
Lite-On LVW-5045 standalone HDD+DVD Recorder on CDFreaks.
Sony MFM-HT75W 17in Multifunction Display on TrustedReviews.

Cooling:
Evercool WC-202 Watercooling Kit on InsaneTek.
Antec VCool VGA Card Cooler on FutureLooks.
ZALMAN CNPS-7000B-Cu CPU cooler on Techniz.
Swiftech H20-120 Series (Revision 3a) liquid-cooling kit on Hi-TechReviews.

Storage & Memory:
Swissbit SwissMemory Victorinox Retro ALOX swiss-army knife with USB storage on TrustedReviews.
OCZ EL PC-3200 Gold VX on LegitReviews.
Corsair DDR2 PC5400UL on DriverHeaven.
1024MB OCZ EL DDR PC3200 Dual Channel Gold on BigBruin.
SimpleTech Nitro PC-4000 DDR on OCIA.
Seagate 5GB Pocket Size and 400GB External Portable Storage on Tweaktown.




Intel Pentium D and 840 Extreme Edition Dual Core CPUs (15 Comments) (link)
Friday, 24-June-2005 04:42:30 (GMT +10) - by Agg


Chainbolt has been very busy examining Intel's dual-core "Pentium D" CPU offerings. For your Friday enjoyment he's served up a 7-page monster report packed with benchmarks, power/cooling info and much more. This article compares the Pentium D 820, Pentium D 840, Pentium D 840 Extreme Edition, Pentium 4 3.73 Extreme Edition, Pentium 4 630, Athlon 64 X2 4800+ and Athlon 64 3500+. Grab a fresh coffee and dive in!




Click for the review!





There's a national shortage of blood supplies at the moment - so severe, that surgery may have to be postponed due to lack of blood. Imagine if you had a car crash and needed lots of blood, but there was none available?

See donateblood.com.au and this thread for more info.




Thursday Afternoon (8 Comments) (link)
Thursday, 23-June-2005 14:45:04 (GMT +10) - by Agg


NVIDIA have new drivers to go along with their new video chip. Phoronix checked out the Linux version.

I'm surprised to have not heard more about this.. TheReg report on an Australian court case where people are being prosecuted for linking to allegedly copyright files. Fact is, unless Oz gets some real changes to its Copyright Act including the introduction of a real fair use exemption, the scope for any future law suits by ARIA will remain unacceptably wide.

AusGamers have a new Far Cry Patch, v 1.32, fixing various issues. They also have the latest version of NASA World Wind, which is a bit like Google Maps in that it lets you zoom in and look at the planet via satellite images. Big download and bandwidth-intensive during use, though.. not that Google Maps isn't also.

If you're a C coder you might be interested in this free e-book offered via TheInquirer. The work is entitled: "The New C Standard - An Economic and Cultural Commentary" and is described as, "a detailed analysis of the International Standard for the C language". Given that it's hosted on the author's personal webspace, I've taken the liberty of mirroring it on our server here (8MB PDF).

Cancer has claimed Jack Kilby, who invented the integrated circuit. By hand-wiring together multiple transistors, Kilby's invention -- about half the size of a paper clip -- spawned a revolution in miniaturization in which millions of circuits are now housed on tiny pieces of silicon used in devices from computers to elevators to pacemakers.

TrustedReviews compared a couple of upside-down fulltower cases from SilverStone and Enermax.

FiringSquad have a review of Battlefield 2.. I know a lot of people have it already, but if you're still just playing the demo like me, check out what else is in store.

Apparently you can run Linux on your iPod, thanks DarthDVD.

Rob_blong sent in this long video of a cool little remote-controlled boat/plane/sled. Reminds me of these things we used to make in high school, which were basically a lump of polystyrene foam with an RC motor on the back. Clip has annoying music (from about my highschool era!)

OCW have modded an nForce 4 motherboard to nForce 4 SLI with some scraping and pencilling.

Murray spotted some hard disk encryption on the way from Seagate.




Thursday Afternoon Reviews (0 Comments) (link)
Thursday, 23-June-2005 13:13:57 (GMT +10) - by Agg


Cooling:
PrimeCooler PC-VGAHP 1 fanless video cooler on A1-Electronics.
Cooler Master Hyper 6+ CPU cooler on InsaneTek.
MACS Kooler peltier CPU cooler on ViperLair.
Spire KestrelKing VI CPU cooler on OCOnline.

Power Supply:
SeaSonic SS-600HT on RBMods.
AeroCool Turbine Power 550W on ViperLair.
Sunbeam Tech Nuuo 550W on ATrueReview.

Mouse Etc:
Optorite ML-100 1600 dpi Laser Mouse on HardCoreWare.
Logitech MX518 - Gaming Mouse on TrustedReviews.
Logisys Cool Fan Mouse on Ap0calypse.

Memory:
Mushkin Redline XP3500 DDR 1GB Dual on ExtremeOC.
Kingston HyperX DDR2 PC6000 on PCModdingMy.
OCZ PC-400 Gold VX DDR on TechIMO.
Patriot PC2-5600+ XBLK Dual Channel on XtremeResources.




Thursday Midday Reviews (0 Comments) (link)
Thursday, 23-June-2005 11:55:16 (GMT +10) - by Agg


Motherboards:
Boston Limited H8DCE SLI nForce4 Pro dual-opteron board on 3DProfessor.
Jetway 939GT4-STD-G NF4 A64 board on OCWorkbench.
Gigabyte GA-8I945P Pro i945 LGA775 P4 board on ClubOC.

Case & Modding:
Casebuy AI (01-BK-AD-ME Mesh) tower on DriverHeaven.
Chenbro Gaming Bomb II fulltower on 3DVelocity.
ThermalRock Circle Case on Bjorn3D.
Matrix Orbital MX610 PLED mini-screen (video review) on 3DGameMan.

Video Cards:
Connect 3D Radeon X700 256MB Pro on ClubOC.
eVGA e-GeForce 6800 Ultra in MaximumPC Mag (hosted scan).
Gigabyte GV-NX66T128D (GeForce 6600 GT) on HWZ.
Inno3D GeForce 6200A on OCrCafe.
GeForce 7800 GTX preview on PenStarSystems.
GeForce 7800 GTX preview on NeoSeeker.
GeForce 7800 GTX preview on HWZ.
GeForce 7800 GTX preview on XbitLabs.
GeForce 7800 GTX preview on Bit-Tech.
Inside the GeForce 7800 GTX on Bit-Tech.




NVIDIA GeForce 7800 GTX (10 Comments) (link)
Wednesday, 22-June-2005 23:22:51 (GMT +10) - by Agg


NVIDIA's G70 has been the subject of much speculation recently.. well, today NVIDIA has released it, in the form of the GeForce 7800 GTX. Insanely fast and SLI-ready, is this your next video card?

Coverage on T-Break, Guru3D, Hexus, Beyond3D, HotHardware, Bjorn3D, Tech-Report, TrustedReviews, OCWorkbench, PC Perspective, HWSecrets, Tweaktown and HardOCP.

There's a thread in our Video Cards forum about this new card here.




Wednesday Morning (5 Comments) (link)
Wednesday, 22-June-2005 02:40:31 (GMT +10) - by Agg


I just noticed that Google Maps now has satellite images of Australia, so I've started an Australian Google Maps Sightseeing thread in the forums. Here's some interesting places found already: Sydney Cricket Ground / Football Stadium, Melbourne Airport, Ayers Rock / Uluru, highspeed plane on Sydney Airport runway, Parliament House. Look around and if you find anything interesting, let us know! Be warned that extreme time suckage may occur while playing with Google Maps. :)

This is the kind of news we expect, now we're living in 2005.. the first solar sail craft will be launched soon. Cosmos 1 represents a unique and intriguing prototype for space exploration: a vehicle that is powered by light, not fuel.

Apple are discontinuing the single processor versions of their PowerMac line. The company noted that for those looking for a single-chip machine, "the new iMac G5 is a very popular solution."

TechReport has news that NVIDIA graphics drivers will be multi-threaded soon. De Waal estimated that dual-core processors could see performance boosts somewhere between five and 30% with these drivers.

FiringSquad have part 2 of their BF2 Demo performance article posted, this time using mainstream video cards. Most gamers on a budget instead opt for the cards one rung from the top, these cards usually ship with most of the same features found in higher end offerings, only they can be found for $100-$200 less.

Techspot have a Quake 4 Preview posted. Quake 4 is a true sequel for Quake II, and gamers will play as a marine named Matthew Kane, a member of a military unit called the Rhino Squad.

PenStarSystems have a detailed look at SLI. Scan Line Interlace transformed into Scalable Link Interface. 3dfx's reliance on analog scanlines, and later on with the Voodoo 5's digital scanlines, proved to be more of a hassle than NVIDIA wanted to tackle.

Hexus meanwhile have an interview with ATI about their CrossFire technology, which, similarly to SLI, lets you combine the power of two video cards.

When the weight of the world becomes too much, you and your PC can spend some quality time alone in your Yamaha MyRoom, thanks ninthRing.




Wednesday Morning Reviews (0 Comments) (link)
Wednesday, 22-June-2005 01:59:54 (GMT +10) - by Agg


Audio / Visual:
Icemat Siberia Headset on Monster-Hardware.
mediaGear Songbank Digital Audio Jukebox on FutureLooks.
Samsung YP-MT6V MP3 Player on CoolTechZone.
Samsung YEPP YH-999 GS 20 GB Portable Media Center on FutureLooks.
Logitech Premium USB Headset 350 on EverythingUSB.
Samsung YP-T7X MP3 Player on CoolTechZone.

Systems, Mini & Portable:
Shuttle SN25P nF4 S939 A64 miniPC on Bit-Tech.
Evesham Axis AK47 prebuilt SLi PC on TrustedReviews.
Shuttle ST20G5 ATI-chipset mini-PC on TBreak.
Sony VAIO VGN-FS115ZR and HP Compaq nx8220 notebooks on XbitLabs.
Shuttle ST20G5 S939 mini-PC on ExtremeTech.

Storage & Memory:
Transcend 1GB JetFlash 110 USB storage on Phoronix.
Maxtor OneTouch 100GB External HDD on XbitLabs.
Vantec NexStar 3 2.5" HDD enclosure (video review) on 3DGameMan.
GSkill F14800DSU2-1GBFF 512MBx2 DDR on SGOverclockers.
Crucial Ballistix PC3200 1GB on TechGage.

Misc:
AOpen i915GMm-HFS Pentium-M mini-PC Motherboard on THG.
Olympus Camedia C-7070 7.1MP digicam on TrustedReviews.
KeySonic Intelligent KVM Switch on PCModdingMy.
Epson PictureMate 500 portable photo printer on BIOSMag.
Epson F-3200 Film Scanner on XbitLabs.




BF2 Demo Timedemo Benchmarking (3 Comments) (link)
Tuesday, 21-June-2005 16:09:45 (GMT +10) - by Agg


Arithon sent in this guide to timedemo benchmarking in the Battlefield 2 Demo. With the help of BadSplat, I've come up with a way to produce demo files with decent camera tracks and a process for using them in a timedemo benchmark with statistics output (including detailed frame-per-frame statistics).



Click here for the article!






Tuesday Afternoon Reviews (0 Comments) (link)
Tuesday, 21-June-2005 14:08:39 (GMT +10) - by Agg


Cooling:
Evercool NW11F Pentium 4 Heatsink on FrostyTech.
Silentmaxx Silent Fans on Moditory.
1A-Cooling Blacklord 240 Liquid Cooling Kit on XtremeResources.
Scythe SCNJ-1000 Ninja CPU cooler on SilentPCReview.
ZALMAN VF700-Cu VGA Cooler on Techniz.
Arctic Cooling ATI Silencer 1 VGA cooler on MadShrimps.
ThermalRock Eclipse CPU cooler on InsaneTek.

Motherboard & CPU:
PowerColor AX480A-GF (RADEON XPRESS 200P) A64 board on Techniz.
Soltek SL-N4Pro-939 A64 board on ClubOC.
MSI K8N Neo3-F S754 A64 board on PCStats.
Intel Pentium M 780 in ASUS CT-479 Adapter mobile CPU in desktop use on XbitLabs.

Networking:
Gigabyte AirCruiser G Desktop Router on ClubOverclocker.
Gigabyte's New Wireless Networking gear on TweakTown.
Actiontec Wireless G Ethernet Adapter on TheTechLounge.
D-Link DES-1316K Power-over-Ethernet Switch on TrustedRevies.



OCAU has some cool merchandise for sale via PlusCorp. There's things to wear, things to drink out of and things to stick to other things..



Click for OCAU merchandise!


Note that PlusCorp have recently arranged some "OCAU Supporter Packs" containing a pile of items together with a small discount. You can find them after you've logged into PlusCorp's website as ocau/overclocker and click on the "OCAU Merchandise" link on the left menu. Shipping is free too, so if you do want to "give something back" to OCAU, this is your best way to do it and get some cool stuff in return.




Tuesday Morning Reviews (0 Comments) (link)
Tuesday, 21-June-2005 03:19:07 (GMT +10) - by Agg


Storage:
Revoltc 512MB USB 2.0 File Carrier USB storage on XtremeResources.
Maxtor DiamondMax 10 300GB SATA150 HDD on PCModdingMy.
Imation 16x16x Internal DVD Writer on HWZ.
Seagate 400gb External USB Hard Disk Drive on ClubOC.

Video Cards:
MSI NX6200TC-TD32E Geforce 6200TC on PCStats.
Leadtek WinFast PX6800 Ultra TDH 512MB on HWZ.
Ennyah PCX GeForce 6600 on HWZ.
ASUS Extreme N6600GT on HWZ.
Gigabyte 3D1 dual 6600GT card on Sudhian.

Memory:
Mushkin Redline PC4000 1GB Dual Channel Kit on InsaneTek.
OCZ EL DDR PC4800 Platinum on LegionHardware.
Memorex DVD+/-RWN16 D2 external DVD burner on CDFreaks.
PDP DDR2 1GB PC2-5600 +XBLK on OCOnline.

CPU:
Intel Pentium 4 840 Extreme Edition and 840D on LostCircuits.
Intel Pentium D 820 on LegitReviews.
AMD Athlon64 FX-57 on GDHardware.




Tuesday Morning (1 Comments) (link)
Tuesday, 21-June-2005 02:57:47 (GMT +10) - by Agg


HWSecrets toured the ABIT factory in SuZhou, China. Built in 1999, this factory is in charge of manufacturing all ABIT products. Before this factory was built ABIT products were manufactured in an old ABIT factory in Taiwan, which no longer exists.

FiringSquad have a roundup of 19" LCD Monitors. Of course, the monitor review has FiringSquad's unique colorimetry analysis and we find a $350 monitor that ends up outperforming a $600 one.

TheTechZone are the latest to publish their thoughts on the Apple-Intel deal. Apple agreed to switch from processors made by IBM to special processors made from Intel over the next two years - that's it. This is only slightly more significant than Apple choosing to change the hard disk or memory supplier it puts into its computers.

Hexus have an article about Catalyst drivers for ATI cards. Catalyst now includes full support for Windows 64-bit Edition and, as an acknowledgement of a growing number of users, there's a Linux installer to simplify things for the penguin lovers.

Ambush spotted a story about an Eurofighter beating two F-15's in a recent mock battle. For a project 10 years late and $8bn over budget, it is a welcome piece of good news.

Nick sent word that Microsoft have their own p2p program on the way, called Avalanche. Such systems can scale well to serve millions of users, and reduce the bandwidth and computing costs of sending content directly to users from central servers.

Phoronix looked at the Linux drivers for XGI video cards and weren't too impressed. If XGI Technology really wishes to become competitive with ATI and NVIDIA, they seriously need to address the problems with their drivers on all platforms.

From Leon: From Japan again, the AMD-X2's had a fancy launch. Cant be bothered translating so today you just get to look at the pictures, wow at that heatsink! Also AMD Japans president David Uze made a speech about something. Check the comments later for details.

SGOverclockers checked out the memory controllers in Venice & Winchester A64 chips. The main difference between the two is that the Venice core CPUs feature an improved Silicon-On-Insulator (SOI) process, the addition of the SSE3 instruction set and supposed memory tweaks to the on die memory controller.

HWSecrets also have a memory overclocking guide. There are two tricks in order to achieve a higher overclocking level: raising the memory voltage and playing with the memory timings.

Interesting Forum Threads:
New res idea (bench testing and shots) in Extreme Cooling.
Guide to building your own PC in Newbie Lounge.
The 2005 F1 Indianapolis GP in Motoring.
Meet Henry, a local identity in Photography.
Digital SLR for Medical Photography in Photography.




CeBIT 2005 Report (7 Comments) (link)
Monday, 20-June-2005 02:55:10 (GMT +10) - by Agg


CeBIT 2005 was on in Sydney a couple of weeks or so ago. As usual I wandered down to see what there was to interest hardware enthusiasts. Turns out there was quite a bit this year!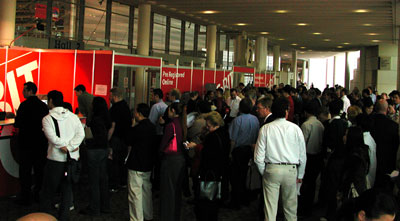 Click for the article!





Anandtech have revisited their Linux database server CPU comparison, with dual-core Opterons thrown into the mix. How do the Xeon and Opteron compare when they both run 64 bit applications on a 64 bit enterprise version of Linux? Should you invest in Dual core CPUs, or are these expensive CPUs beaten by two single CPUs? Their results make me feel pretty happy about the decisions we've been making for our next upgrade.

FiringSquad meanwhile looked at BF2 Demo performance on current high-end video cards. TCMagazine have a similar article. The Contenders: GeForce 5200, GeForce 6200, GeForce 6800, Radeon 9800, Radeon X700LE, Radeon x800xl and the Radeon x850xt pe!

A Shanghai man has received the death penalty for killing a fellow online gamer after a dispute about an item in the game. After Zhu refused to return the item or pay compensation, Qiu went to his home and stabbed him in the heart, according to the report.

A little spyware with your torrent, Sir? Metora sent in this article with details and Timbot followed up with this article with more info.

There's an interesting article here detailing a 10 step approach to a secure server for Linux.

Ambush noticed a report on Whirlpool about a recent ADSL2/2+ modem roundup in APC Magazine.

Apparently Apple can count HRH Queen Elizabeth II as yet another iPod customer, thanks Steveo2004. Queen Elizabeth's second son Prince Andrew, fourth in line to the throne, was reported to be behind the move, having bought his mother a mobile phone and taught her how to use it in 2001.

PCReview have an article on avoiding RSI during extended PC use.

Sniper spotted this article from Robert X. Cringely with a few questions and theories about the recent Apple-Intel announcement.

HWSecrets have a guide to adapting a Playstation joystick for use on a PC. Update: Migishu suggests this is a better method.




Sunday Afternoon Reviews (0 Comments) (link)
Sunday, 19-June-2005 13:31:41 (GMT +10) - by Agg


Cases & Modding:
NZXT Trinity tower on InsaneTek.
H-Lock Trim for case windows on CaseModGod.
Cooler Master Centurion 530 fulltower on OCIA.
Sunbeam Chromatic Windmill multifunction panel on PCModdingMy.

Motherboards & CPUs:
Intel Pentium 4 670 LGA775 3.8GHz 2MB L2 CPU on NeoSeeker.
ASUS A8N-SLI Deluxe nF4 S939 A64 board on HWZ.
ECS KN1 Extreme nF4 S939 A64 on TheTechZone.
Gigabyte GA-8I955X Royal LGA775 P4 board on OCW.
ASUS P5WD2 Premium (WiFi-TV Edition) LGA775 P4 on LegionHW.
ASUS P5WD2 Premium LGA775 P4 on HotHardware.
ABIT AN8 Ultra nF4 S949 A64 on SGOverclockers.
Sonnet Encore/ST G4 CPU upgrade kit for Macs on HWZ.

Mouse Etc:
Logitech V500 Cordless Notebook Mouse on CoolTechZone.
Razer Diamondback High Precision Gaming Mouse on Barrys-Rigs-N-Reviews.



Some more PCDB entries that are worth another look..



Remember, you can view the top-voted PC's for the following criteria: Looks, Functionality, Effort, Ingenuity and Overall. The latest gallery entries are here.




Trouble posting in the forums? (4 Comments) (link)
Saturday, 18-June-2005 15:20:57 (GMT +10) - by Agg


If you suddenly find you can't post or reply in the forums, most likely you need to update your email address in UserCP and respond to the confirmation email the system sends you. You will then be able to post again and, if you're a full Member, you will be able to see the trading forums again within an hour.

Even if your forum permissions are ok, please take a moment to check your email address is up to date - thanks! We receive thousands of bounced emails every day now, from people not keeping their forum settings up to date.




Saturday Morning Reviews (0 Comments) (link)
Saturday, 18-June-2005 03:04:07 (GMT +10) - by Agg


Cooling:
E.C.T Mach2 GT phase-change CPU cooler on MadShrimps.
Arctic Cooling CopperLite CPU cooler on OCIA.
Nextherm ICS 8200 Case w/ Air-Conditioning & 460W PSU (video review) on 3DGameMan.

Portable and Mini:
Dell Inspiron XPS Gen 2 laptop on Hexus.
My Mobeus 1.6M laptop on TrustedReviews.
ANTEC Aria Small Form Factor MicroATX Cube Case on FutureLooks.
Acer TravelMate 4401LMi Turion64 laptop on TrustedReviews.
Shuttle XPC SN25P Small Form Factor Barebones on TrustedReviews.

Memory:
Corsair XMS XPERT 3200XL on LegitReviews.
Corsair XMS TWINX1024-4400C25PT on BigBruin.
Transcend PC2-4200 DDR2 533 on MadShrimps.

Power Supplies:
Sea Sonic S12 430W on OCOnline.
OCZ ModStream 450W on BensCustomCases.
Meridian XClio 450W & 400W on ExtremeOC.
Akasa PaxPower 460W Ver2 on PCModdingMy.
OCZ PowerStream 600W on BigBruin.




Smartech Winner Sport 1:10 Nitro RC Buggy (0 Comments) (link)
Friday, 17-June-2005 16:12:58 (GMT +10) - by Agg


Sciby's got a fun review for Friday.. an RC buggy from Toy Range. Like the road car I looked at last year, it's nitro-powered for crazy speeds. Sandals not included.



Click for the review!






Friday Afternoon (0 Comments) (link)
Friday, 17-June-2005 16:05:33 (GMT +10) - by Agg


PCStats have beginner's guides to Overclocking CPU/Mobo/Memory and Video Cards.

THG looked at a few Hi-Fi cases for Home Theatre PC's. This makes it easy to integrate them aesthetically into the living room, without giving the impression that an ugly PC box is standing there, out of place.

Xbit report that the Pentium M and Celeron M may be making their way into servers. The move allows Intel to target servers that seek for relatively high performance, but are even more focused on the lowest power consumption possible.

Timbot spotted some hydrogen-powered motorcycles. The cycle has a range of about 100 miles on a tank of fuel. Currently, a hydrogen fill-up would cost about $3, says the cycle's project director, Andy Eggleston.

NeoSeeker looked at three HDD cooling/quietening enclosures.

GamingNexus interviewed an AGEIA person about their physics processing chip. This processor is expected to be available in PC add-in cards by Christmas 2005.

Murray noticed that the PlayStation 3 is now on HowStuffWorks, one of my favourite websites.

Completely off-topic, but of interest to me, is news from Torr that Pink Floyd will re-unite for the first time in two decades, for a charity concert. Well, Roger's coming back, but Syd's still nowhere to be seen, unsurprisingly (and unfortunately.) A good website for keeping on top of PF-related news is Pink Floyd & Co, click the word "News" for the latest.

Browca04 notes that phishing scams are on the rise again.

DesignTechnica cover smart USB flash drives. USB flash drives designed to U3 specifications, according to the company's press kit, should not only be able to carry data, but also have a person's favorite applications, personal preferences, passwords and settings stored on them. Plenty of apps let you do this already.

Phil spotted this PC design competition, running worldwide, where you can win $125k USD from Microsoft.



Major power issues at the datacentre this morning apparently.. we now return to your regularly scheduled surfing.




Friday Morning Reviews (0 Comments) (link)
Friday, 17-June-2005 01:36:05 (GMT +10) - by Agg


Motherboard & CPU:
AMD Athlon 64 X2 4800+ dual-core S939 CPU on GDHardware.
ASUS A8N-SLI Premium S939 A64 board on TBreak.
Intel Pentium D 820 Dual Core Processor on PCPerspective.

Video Cards:
BFG PCI-E 6800 GT OC 256MB on TechGage.
XGI Volari V8 on MVKTech.
XGI Volari V8 128MB on GamerGod.

Networking:
ASUS WL-500G Deluxe wireless router on XBit.
Actiontec HomePlug Networking Kit on TechIMO.
Axis Network Camera on TomsNetworking.
D-Link DGL-4100 Gaming Router on 1337Reviews.

Mini & Portable:
Biostar Barebone Systems on XbitLabs.
Dell Inspiron XPS Gen 2 gaming laptop on HotHardware.

Audio Visual:
Samsung SyncMaster 915N LCD monitor on TheTechZone.
Logitech USB 350 Headset on TheTechLounge.
VisionTek XTASY Theater Pro 550 PVR card on HTPCNews.




Thursday Night (2 Comments) (link)
Thursday, 16-June-2005 23:11:52 (GMT +10) - by Agg


DivX 6 has been released; thanks to all who sent word. THG reviewed it and report on performance. DivX Labs also released a new codec, DivX Helium. DivX Helium codec demonstrates our latest research into processor optimization, achieving encoding times up to twice as fast as DivX 6 in the highest quality (Insane) mode when run on dual core, HT and SMP CPUs.

TheTechZone report on the recent ACON5 gaming tournament. You can get the official story from the press-release (2MB doc) here.

Microsoft have updated the junk email filter for Outlook 2003. This optional update provides the Junk E-mail Filter in Microsoft Office Outlook 2003 with a more current definition of which e-mail messages should be considered junk e-mail.

XtremeResources have a guide to using TCCD DDR600+ on the DFI Ultra and SLI motherboards. Unfortunately the only way to find out if your CPU's memory controller is a good or bad one can only be determined by testing it, the core revision or stepping does not tell you enough.

Dan has more letters and fancy fasteners. The basic idea of the smart fastener is that it can grab, and let go, by itself. You don't have to turn it or hit it or pull a piece of it out.

Not the sporting type? Lack the motivation for training? Maybe you could still win the World Beard Championships, thanks Gibbon.

TCMagazine used the new game Grand Theft Auto: San Andreas to benchmark today's cutting-edge gaming GPUs. The sprawling metropolitan epic provides some rich and detailed locales, with gigabytes of texture maps and models, shading on just about anything large enough to catch the sun, and massive killer overdraws for long view distance settings.

Microsoft has released more security updates, thanks Timbot. Three of the 10 bulletins are rated "critical," the company's highest severity rating.

Hexus wandered around ASUSTek's R&D labs, and stumbled across some dual 6800GT / Ultra cards. Pics and benchmarks abound. Anandtech meanwhile toured the Kingston memory factory in California.

The BBC report on the recent product releases from Seagate, in the form of various hard drives for people with "terabyte lives". It also said it was producing a specially "ruggedised" drive for cars.




Thursday Afternoon Reviews #2 (0 Comments) (link)
Thursday, 16-June-2005 17:48:59 (GMT +10) - by Agg


Motherboards:
Asus P5ND2-SLI Deluxe / Abit Fatality AA8XE LGA775 P4 boards on DriverHeaven.
MSI RS480M2-IL S939 A64 motherboard on PCStats.

Video Cards:
Sapphire Radeon X800 AGP on PenStarSys.
ATI All-in-Wonder X800 XT videocard with the lot on TechReport.

Cooling:
Zalman Zm80d-hp VGA cooler on RBMods.
PrimeCooler PC-HC5+CU CPU cooler on A1-Electronics.
Vantec AeroFlow 2 CPU cooler on A1-Electronics.

Cases:
Antec TX640B ATX Mini-Tower on LegitReviews.
Sunbeam Trio tower on OCrCafe.
Aspire X-Cruiser tower on OCIA.

Printers/Scanners:
HP PSC 2175 All-in-One & ScanJet 5500c printer/scanner/fax on LegionHardware.
OKI C5510MFP colour printer/scanner/fax on TrustedReviews.
HP LaserJet 4345mfp printer/scanner/fax on BIOSMag.




Thursday Afternoon Reviews (0 Comments) (link)
Thursday, 16-June-2005 15:09:44 (GMT +10) - by Agg


Audio / Visual:
Sandisk Sansa e130 512 Meg MP3 Player on FutureLooks.
Rio Carbon MP3 Player on CoolTechZone.
Creative Audigy 4 Pro sound card on TrustedReviews.
SanDisk Digital Audio Player on TheTechLounge.
EarthLCD ezLCD-001 mini LCD screen on TheBestCaseScenario.
Steel Sound 5H Professional Gaming Headset on XYZComputing.

Memory:
Mushkin XP4000 Redline on Bytesector.
Corsair XMS XPERT PC3200 on ViperLair.

Storage:
NEC ND-3540A DVD burner on CDFreaks.
Crucial 12-in-1 Flash Reader and 1GB Secure Digital Card on InsaneTek.
Maxtor 200GB Shared Storage Drive on XbitLabs.

Misc:
USB Geek's CafePad USB coffee warmer on SDMLan.
Nikon Lens Pen Lens Cleaning System on RojakPot.




OCZ PC2-6400 Platinum EB (DDR2 800MHz) Memory (8 Comments) (link)
Wednesday, 15-June-2005 16:34:22 (GMT +10) - by Agg


Chainbolt has taken a look at this new DDR2 memory from OCZ. They claim a stock speed of 800 MHz with timings of 4-3-3, which is impressive enough, but how far can they really be pushed?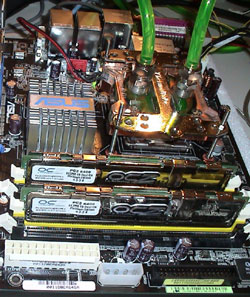 Click for the review!






Wednesday Morning (10 Comments) (link)
Wednesday, 15-June-2005 03:38:13 (GMT +10) - by Agg


You can win some 5.1 headphones in a thread in The Pub. Thanks to HDAudioVisual for offering the prize.

Remember folks, TV is not real. "The CSI effect is where you have all these people from the criminal justice system including police, lawyers, jurors and victims, coming in with pre-conceived ideas about forensics that they didn't have before these shows," he said.

eroda spotted this lifelike robot. But it's the little, "unconscious" movements that give the robot its eerie verisimilitude: the slight flutter of the eyelids, the subtle rising and falling of the chest, the constant, nearly imperceptible shifting so familiar to humans.

AzzKikr spotted that Fedora Core 4 is out, torrent info here. Check your ISP's mirror server too.

LegionHardware are the latest to try their hand at Venice overclocking, with an A64 3200+.

Microsoft are being accused of censorship in China, thanks Jim. In their efforts to conquer the Chinese market, Yahoo! and Google are "making compromises that directly threaten freedom of expression", RSF has said.

From PodgeSSS: Breathe Underwater... and student discovers calculator flaw.

Bit-Tech has some Half Life 2: Lost Coast screenshots and a guide to High-Dynamic Range Rendering lighting techniques here. Exposure Control is demonstrated by turning Gordon to the right, facing the wall: with the sunny doorway out of our field of vision, the aperture widens and our eyes adjust to the dark, revealing extra detail on the floor and walls of the tunnel.

Beyond3D have an article about the XBOX 360's graphics. Meanwhile, HardAvenue are giving away a couple of copies of the game "Juiced" for Xbox.

Ellroy80 sent word of a new OCAU Folding sub-team, which is moving up the ranks rapidly: The new OCAU subteam is called Team Xtreme Folders Australia, with TeamXFAU being our username. Our aim is to attract: 1) inactive folders back to folding, and 2) small folders that might be losing their interest in folding as they find it difficult to move up the ranks. Basically, we want to keep people folding for OCAU. We intend to attract people/keep them on board by targeting F@H's big producers, both within OCAU and the world. This continually gives us something to aim for, which keeps things interesting. We have a post up in the distributed computing forum here where interested people can find out all the info.




Wednesday Morning Reviews #2 (0 Comments) (link)
Wednesday, 15-June-2005 03:08:43 (GMT +10) - by Agg


Memory:
Mushkin 2GB HP3200 2-3-2 Dual Pack on OCTools.
OCZ PC2-5400 EB Platinum Edition on ViperLair.
Mushkin Redline HP3200 on PCModdingMy.
Mushkin Redline XP4000 on LegitReviews.
Simpletech Nitro PC4000 on ThinkComputers.

Motherboard & CPU:
AMD 64 3800+ / 4800+ S939 CPUs on DriverHeaven.
Epox 5NVA+ SLI nForce A64 board on TBreak.
Albatron PX925XE Pro-R LGA775 P4 board on TechPowerUp.
DFI LANParty UT NF4 SLI-DR S939 A64 board on Bytesector.
AMD Athlon64 X2 Dual Core 4200+ CPU on AMDReview.
Gigabyte GA-8I955X Royal LGA775 P4 mobo on Motherboards.

Input:
Das (blank) Keyboard on XYZComputing.
X-Arcade Two-Player Joystick on Bjorn3D.
Qpad Gamer Lowsense mousepad on HWHounds.
Logitech MX1000 Wireless Laser Mouse on Aselabs.

Systems, Mini & Portable:
Shuttle XPC SN25P S939 mini-PC on HWZ.
Sony VAIO VGN-T2XP laptop on TrustedReviews.
Sony PSP Playstation Portable games console on TheTechZone.
Toshiba Libretto mini-notebook on HWAnalysis.
Evesham Axis 64 X700 media centre PC on TrustedReviews.
Velocity Micro ProMagix DCX overclocked PC on HardOCP.
Shuttle ST20G5 A64 mini-PC on HardOCP.




Wednesday Morning Reviews (0 Comments) (link)
Wednesday, 15-June-2005 01:01:38 (GMT +10) - by Agg


Power Supply:
Antec TrueBlue 2.0 480W PSU on ExtremeOC.
Ultra Product X-Connect 500W PSU on Hi-TechReviews.
Ultra 1000VA UPS on Sudhian.
PC Power and Cooling TurboCool 850 SSI PSU on MadShrimps.

Video Cards:
Sapphire X800XL Ultimate on PenStarSys.
MSI NX6600-VTDE128 Diamond Edition 6600 on OCNZ.
ASUS EN6800GT Dual (6800GT SLi) on HWZ.
Sapphire Radeon X850 Pro on HotHardware.
GeCube RADEON X800XLA-VIVO 256MB AGP on Hexus.

Storage:
Samsung WriteMaster TS-H552 DVD writer on TrustedReviews.
Sony DRU-800A DVD burner on DesignTechnica.
Vantec ALL in 1 USB2.0 Internal Card Reader on PCModdingMy.
Smart Drive 2002 Copper Cool HDD Enclosure (video review) on 3DGameMan.

Networking:
NetGear RangeMax Smart MIMO WPN824 Wireless Router on TrustedReviews.
U.S. Robotics Broadband Router/USB Print Server on BIOSMag.
Juniper Networks NetScreen-5GT Security Appliance on TrustedReviews.
Hawking Hi-Gain 2.4 GHz Antenna on XYZComputing.




Tuesday Evening Reviews (3 Comments) (link)
Tuesday, 14-June-2005 18:06:19 (GMT +10) - by Agg


Cooling:
Thermaltake Schooner VGA cooler on InsaneTek.
JetArt ThermoEye temperature monitor on Techniz.
Titan Bianca CPU Watercooler on BigBruin.
Sytrin Nextherm ICS 8200 PC aircon on InsaneTek.
Arctic Cooling NV5 Silencer Rev 2 VGA cooler on OCIA.
MCT Cooling Solution for liquidcooling on OCOnline.
Extreme Cooling Technologies Mach II GT phase-change cooler on ClubOC.
PolarFLO TT Waterblock on NinjaLane.

Cases & Modding:
Logisys 20 in 1 Media Panel on TechGage.
SilverStone Lascala LC13 HTPC case on InsaneTek.
Nemesis Elite Edition case on XtremeResources.
Raidmax X1 case on CaseModGod.
ACRyan Dual CCFL case lighting kit on BurnOutPC.
Silverstone LC14M HTPC case on HardCoreWare.
Aspire X-Cruiser case on PimpRig.
Nexus Breeze Quiet Computer Case w/ 400 Watt PSU (video review) on 3DGameMan.

Audio / Visual:
ADS Pyro A/V Link on DigitalMediaThoughts.
OK800 5.1 Headphones on Moditory.
Altec Lansing inMotion iM7 iPod Speakers on CoolTechZone.
BenQ FP71E+ 8ms 17" LCD on 3DAvenue.
DigitBall DBHSL Series MP3 SD/ MMC Players on Techniz.
Rio Forge Sport MP3 Player on CoolTechZone.
ViewSonic VP191s 19" LCD monitor on TrustedReviews.
Sony NW-E507 MP3 player on TrustedReviews.
Toshiba 17WL46B LCD TV on TrustedReviews.
Panasonic DVD-S77S 1080i DVD player on Bytesector.



SixDesign have some seriously nice MOSFET cooling on a couple of motherboards. No info, just pics. Various other interesting cooling/milling pics and videos on their site as well.

Here's a very tidy watercooled setup, new to the PCDB.

TechReport have their Computex 2005 report posted, as do Futurelooks.

There's some dual dual core action on GamePC, in the form of two Opteron 275's. Showoffs.

HWZ looked at 10 new products from Seagate.. you can see Seagate's official announcement here.

This Swedish article is, if matselm is to be believed, about how Swedish hospitals have sent a doctor to live in Sydney, while still working for them. Why? Because he'll be awake and alert during their graveyard shift, able to look at X-rays and make diagnoses over the internet, and frolic on our sunny beaches in the meantime. Not a bad idea.

Bregje noticed that 64-bit will come to Sempr0n.. more info here.

MadShrimps threw some dry ice at an Athlon 4000+ to see how it overclocks. AMDZone were a little more conventional with their A64 X2 4800+, using only high-end air. None of that consumer-grade air for them!

Localhost spotted that in a smidge over 4 hours, Creative will unveil their X-Fi Audio Processor, which they claim is the most powerful audio processor ever built. I'm still using the onboard sound on both my laptop and my games box, which probably says more about the quality of my ears than anything else.

TweakGuides are quick off the mark with a BF2 demo tweak guide.

Futurelooks examined the performance of the new ATI Catalyst 5.6 video drivers everyone's talking about, but on a "poor man's" system instead of the usual high-end stuff. Well boo on that because we're looking at what happens when pairing ATi's newly released Catalyst 5.6 drivers with the Radeon 9800 Pro 128MB! Hey.. wait a second, that's the card I've got in my gaming PC! It plays BF2 just fine, too.

Callan found a utility to fix stuck pixels on LCD screens.. interesting. No ideas if it works, but what the hey, it can do no harm, and has had some anecdotal success. Use WindowsMedia player (not Quicktime player), so that it runs fullscreen. - loop, and leave it running overnight. Mighty cool if it works :) We've mirrored the 226KB mp4 file here. Be warned, it strobes bright colours, so if you are affected by such things you might want to give it a miss or get someone else to run it for you.



From Ambush: Microsoft has enabled tabbed browsing in IE6, although installation of the MSN Search Toolbar is required.

HardWareZone wandered around the ECS motherboard factory in China.

Symantec have an internet worm simulator program. The Worm Simulator is distributed with simulations of six actual worms: MyDoom, Netsky, Sasser, Slammer, Blaster, and SoBig.

EverythingUSB have a list of 45 USB-smart apps that might be handy to carry around on your thumbdrive.

SharkyExtreme have their monthly Extreme Gaming PC buyer's guide posted.

From Luke: BBC releases Beethoven mp3s as free download. Also, we are currently looking for Korean Adoptees placed in Australia.

ARP talked to DFI about their ATI CrossFire solution. Their new Crossfire motherboards boast, not only the ability to run two ATI graphics cards simultaneously, but also allows the user to do so WITHOUT the use of a signal-forwarding card.

CaseModGod have a new project, a PC that will give your kids nightmares. That's one way to stop them hogging it.

Timbot spotted an interesting article about different multiprocessor memory configurations in the Linux 2.6 kernel. Having previously tested 32-bit versions of our benchmarks on Opteron CPUs, we wanted to investigate the bounds on true 64-bit performance.

This is something we've been talking about for a long time but not seen any serious work done on. Overl0ad spotted a PC's GPU being used for serious numbercrunching at last. I still think there should be more examination of using an idle GPU for general PC computation, especially now we've got PCI Express available.

A pile of links from Arzosah: Microsoft to turn cracked Windows legal for USD1. Playstation 3 goes Blu-Ray as opposed to the other HD DVD disks... and runs LINUX! Matsushita (panasonic) releases Blu-Ray DVD drive for PCs. HD DVD and Blu-Ray merger. We're going to shoot a comet.



Grrr, typical. Probably the one day I most want to have net access and there's a power outage all day. Anyway, back online now, BF2 demo is out, torrent info to download it here on AusGamers, official page here. There's a few more mirrors and troubleshooting etc towards the end of this thread in our Games forum. Enjoy!




Saturday Morning Reviews (0 Comments) (link)
Saturday, 11-June-2005 02:44:18 (GMT +10) - by Agg


Cooling:
Vantec AeroFlow CPU cooler on A1-Electronics.
Kool Solutions Memory Cooling Fan on MadShrimps.

Power Supplies:
Coolmax CU-400T 400W Modular PSU on XYZComputing.
Thermaltake PurePower TWV500W on Bjorn3D.
Cooler Master Real Power 550W on ViperLair.
Thermaltake PurePower TWV 500w on A1-Electronics.

Memory:
Mushkin Redline XP PC4000 on XtremeSystems.
G.Skill DDR600 on MadShrimps.

Input:
Kensington Expert Mouse Wireless 64329 on Tech-Mods.
Logitech V200 Cordless Notebook Mouse on CoolTechZone.
Logitech Formula GP Racing Wheel for PC on FutureLooks.
Qpad Gamer Lowsense Mousepad on TechTastic.

Audio / Visual:
Pinnacle PCTV 200e TV/PVR USB device on BIOSMag.
BlueTake BT400 G5 Bluetooth Headset on TheTechZone.
Motorola HS-850 Bluetooth Headset on LegitReviews.
PQI mPack P800 Portable Entertainment Centre PCStats.
AmacroX Super Wide Camera Phone Lens on ModTown.
ESI Juli@ PCI Soundcard on PCModdingMy.

Misc:
Sony PlayStation Portable games console on TBreak.
HP Color LaserJet 2600n printer on BIOSMag.
ASUS WL1167G USB2.0 WLAN Adapter on 3DVelocity.
Plextor PX-PH04U Portable USB Hard Disk on BIOSMag.
Antec TX1050B tower case on DriverHeaven.



Just a sneak peek at some goings-on behind the scenes here..



Click pics to enlarge!




Friday Afternoon (0 Comments) (link)
Friday, 10-June-2005 14:02:52 (GMT +10) - by Agg


ATI has released Catalyst 5.6 drivers, which apparently bring new features and increased performance across their range of video chipsets. There's release notes here and an article on Yahoo stating they're the most stable video drivers. Coverage of these new drivers on DriverHeaven, EliteBastards, HardOCP, HotHardware and LegitReviews. There's a thread discussing them here in our Video Cards forum. Phoronix meanwhile cover ATI's Linux Display Driver v8.14.13.

Pretty much everyone is hanging out for the BF2 demo. It will be available exclusively from GameSpot, apparently, sometime today or early tomorrow. GameArena have already started their ladder, and there's a few videos on AusGamers to keep you salivating: Test Lab, In-game, Gameplay and Menu Footage. Keep refreshing this page, I guess.

Anandtech looked at a new game-bundling idea from Sapphire. Sapphire has adopted a new technology that allows customers to try any of a number of games for an hour each. After the trial period, the user can select which titles he or she wants.

Computex stragglers: Best & Worst on TheTechZone, Part 8 and Part 9 on HWZ.

ArsTechnica have more thoughts on the Apple transition to Intel CPUs. Quite a few people sent in this comic about the future Apple PC's. :)

Note that tomorrow is the last day for payment of your OCAU Jerky Group Buy v2 payments. No payment and your order will be skipped. Remember to put your OCAU username on your payment description, or MadHatter will just spend it on beer.

HWZ have a Radeon X800 XL Shootout posted, while AMDBoard compared multifunction panels.

Sniper spotted this cool robot suit to augment people's movement. It can also move on its own accord, enabling it to help elderly or handicapped people walk, developers said.

Interesting Forum Threads:
Quad-core from Intel and AMD in SMP & Clustering.
DIY Ram cooler (pics) in Overclocking & Hardware.
aussie7's A64 overclocking adventures in Overclocking & Hardware.
Battlefield 2 in Games.
Yet another free games thread in Games.
Melbourne Night Panoramas in Photography.
Who says you need a DSLR? in Photography.
The arrogant programming practises of the TV networks in TV, Movies and Music.
Lego Star Wars in The Pub.
Working Mechwarrior in The Pub.




Friday Afternoon Reviews (0 Comments) (link)
Friday, 10-June-2005 12:58:03 (GMT +10) - by Agg


Motherboard & CPU:
ABIT Fatal1ty AA8XE 925XE LGA775 P4 board on TechPowerUp.
ABIT Fatal1ty AA8XE 925XE LGA775 P4 board on Guru3D.
DFI LanParty UT SLI-DR S939 A64 board on NinjaLane.
Gigabyte 8I955X Royal 955X LGA775 P4 board on PCPerspective.
Albatron K8SLI nF4 SLI S939 A64 board on LegionHardware.
ECS RX480-A ATI-based S939 A64 board on HWZone.
AMD Athlon 64 3700+ San Diego on BleedinEdge.

Storage:
Seagate 400GB Pushbutton Backup External Hard Drive on TheTechLounge.
Kingston Ultimate 1-GB SD Card on LegitReviews.
Sony VRD-VC20 External DVD Writer on DesignTechnica.
Vantec NexStar 3 External USB 2.0 Enclosure on ExtremeMHz.
I-Rocks Crystal USB 2.0 Card Reader & Hub on BigBruin.
Promise FastTrak TX4200 4-Port Serial ATA RAID Controller on Xbit.

Cases:
Raidmax X-1 midtower on CreativeMods.
Ahanix MCE601 D-Vine Home Theater Case on Tech-Mods.
Thermaltake Shark fulltower on Short-Media.




More PCDB Mining (0 Comments) (link)
Friday, 10-June-2005 03:46:15 (GMT +10) - by Agg


Very positive response to the last PCDB Mining effort, so here's another six PC's that are worth dusting off and looking at again:



Remember, you can view the top-voted PC's for the following criteria: Looks, Functionality, Effort, Ingenuity and Overall. The latest gallery entries are here.



Altech sent along a few things. Firstly a quick note about some 1000MHz DDR2 Corsair memory. They also announced some new Vapochill products from Asetek. Finally, they reported the results of the Australian round of ACON5, a recent gaming tournament.

Antec announced updates across their power supply line, in the form of TruePower 2.0, SmartPower 2.0 and Phantom 500. More info and pics here.

ASUS announced an Athlon64 SLI motherboard which uses a heatpipe system to cool the chipset, hence running silently. Instead of a selector card, the A8N-SLI Premium adopted a PCI Express switch IC (integrated circuit) to provide quick switching between SLI and non-SLI operation with just a few clicks on the mouse. More info and a board pic here.

Corsair published an Application Note on memory performance for the Intel 955X Express chipset. We can draw several useful conclusions from the results of this testing. First, we have discovered that selection of the system memory should be tightly coupled to processor selection. We've mirrored the 8-page, 631K PDF here.

Australia's Attorney-General has announced new classification markings for films and computer games. The new Determination changes the way the classifications appear, but it does not change their meaning. Consistent with the previous decision by Censorship Ministers, the Determination does not provide an R18+ classification for computer games. More info in a 58KB PDF here. Some press coverage here and here.

ATI unveiled the Mobility Radeon X800XT graphics chipset for notebooks. Equipped with 16 pixel pipelines and six vertex engines, as well as a 256-bit memory interface and GGDR3 support, the Mobility Radeon X800 XT delivers virtual performance parity to ATI's award winning Radeon® X800 XT PE desktop graphics processors. More info here.




Thursday Midday Reviews (0 Comments) (link)
Thursday, 9-June-2005 11:54:11 (GMT +10) - by Agg


Cooling:
Titan Bianca TWC-A05 watercooling kit on InsaneTek.
Danger Den NV-68 GPU Water Block on MadShrimps.
Gigabyte G-Power Pro CPU cooler on InsaneTek.
Thermaltake Big Typhoon Heat Pipe CPU cooler on MarnsCDA.
Arctic Cooling Ati Silencer 5 Rev 2 video card cooler on XtremeComputing.

Video Cards:
Gigabyte Silent-Pipe Radeon X800XL PCIe on Bjorn3D.
Club-3D ATI X850XT 256Mb PCIe on HardwareXL.
AOPen Aeolus 6600GT-DV128 on GamePyre.
ATI Radeon X800XL 512MB on HardOCP.
Connect3D X850 Pro 256MB GDDR3/DVI/VIVO (video review) on 3DGameMan.
Sitecom USB to VGA adapter on TomsHardware, our review here.

Memory:
OCZ PC4800 DDR Platinum Dual Channel on RBMods.
OCZ PC4000 Gold Dual Channel VX on PCStats.
Mushkin Redline XP4000 DDR on XtremeResources.
Mushkin 2GB-Kit HP3200 DDR on ViperLair.
Crucial Ballistix 1GB on Motherboards.org.
Ultra XL PC3200 Low-Latency on CoolTechZone.
Crucial Ballistix PC4000 Memory on BensCustomCases.




Thursday Morning (4 Comments) (link)
Thursday, 9-June-2005 11:12:42 (GMT +10) - by Agg


From Entalzar: I just found this website updated with information on the pricing for boxed AMD 64 X2 CPU's. They are a bit pricy compared to AMD list US dollar price. Here is a web-link to the company called Tsukumo, which is located in Akihabara Tokyo. I will also be on the streets to verify this out as well. That's 3 people reporting from Akihabara now!

Speaking of which, Robert found this article on a Geek Ghetto in Tokyo.
Maligned and shunned by mainstream society, here they stayed, their tastes and habits transforming the area also known as Electric Town into what sociologists are calling an urban first -- a ghetto of geeks.

Seagate introduced a 160GB notebook hard drive that uses perpendicular recording. Standing bits on end also improves the reliability of read-write performance in demanding environments.

Aselabs have an introductory article about pipelining inside modern CPUs. Also, the decode and write-back stage are half cycles and are split in one cycle allowing the register to be read then written to in one cycle concurrently.

Xbit meanwhile finish off their detailed look at the NetBurst architecture of Intel's P4 CPUs. Most reviewers would usually explain these performance issues with the longer pipeline and sometimes with the small cache memory capacity or higher memory latency.

ArsTechnica have an editorial mourning the future of the PowerPC architecture now that Apple are moving to Intel. Xbit have published their thoughts about Apple's move also.

TechSpot have a roundup of 16x DVD burners from Plextor, NEC and LG. Not only these will support both kinds of media and burn them at 16x speeds, but also support dual layer media, which means you can store ~8 gigabytes of information in one disk, these hot tamales do it all!

TomsHardware rounded up some enormous CPU coolers. Often enough, when it comes to coolers, size seems to trump all sense of reason. Some coolers are so large that they beg the question of whether the case will fit after they are installed.

TheBestCaseScenario took a tour of Kingston's factory to see how memory is made. When the precision grinding is completed and the wafer is the correct thickness to begin the process of turning them into chips, they are cut into small squares and rectangles by a set of highly specialized diamond cutting wheels.

Hexus have some close-up pics and info of ATI's CrossFire dual videocard technology.

SimHQ are the latest to compare dual core technology from Intel and AMD. They focus on benchmarking with the Falcon 4 flight simulator game.




Tuesday Afternoon Reviews #2 (2 Comments) (link)
Tuesday, 7-June-2005 16:51:31 (GMT +10) - by Agg


Portable and Mini:
Shuttle XPC SB83G5M HTPC SFF mini-PC on BiosMag.
Shuttle XPC SB81P LGA775 mini barebones on HWZ.

Video Cards:
PowerColor Radeon X700 256MB Bravo Edition on InsaneTek.
HIS AGP X850XT IceQII Turbo & Platinum Edition on HotHardware.

Storage & Memory:
Samsung TS-H552U DVD burner on CDFreaks.
OCZ PC5000 DFI Edition on Bit-Tech.
Pioneer A09 DVD burner on CDFreaks.
OCZ EL DDR PC-3200 Dual Channel Titanium on Phoronix.
Corsair TwinXP1024-3200XL on BleedinEdge.

Misc:
Sleeptracker alarm clock watch on SDMLanReview.
Seasonic "S12" 430W PSU on TweakTown.
X-Ray Thunder9 mousepad on XtensionTech.




Tuesday Afternoon Reviews (0 Comments) (link)
Tuesday, 7-June-2005 14:38:15 (GMT +10) - by Agg


Cooling:
Thermaltake Big Typhoon Silent CPU Cooler on FutureLooks.
Corsair COOL watercooling kit on PC Perspective.

Audio / Video:
Logitech Z-2300 THX Certified 2.1 Speaker System on FutureLooks.
OK Gear OK-800 5.1 Surround Sound Headphones on ExtremeMHz.
Matrix Orbital MX620 mini-LCD on CaseModGod.
BenQ Joybee 130 mp3 player on Bytesector.
DoubleSight DS-1900 Dual 19" LCD Monitor on XYZComputing.

Motherboard and CPU:
ASUS P5LD2 Premium LGA775 P4 board on TBreak.
ASUS A8V Deluxe WiFi G A64 board on PyroPort.
Albatron K8SLI A64 board on OCOnline.
AMD Athlon 64 X2 4800+ CPU on 3DVelocity.
Intel Pentium 4 670 CPU on Bytesector.

Cases:
Sunbeam Trio midtower on OCIA.
AeroCool Magic-3D tower on TheBestCaseScenario.
Thermalrock Eclipse (video review) on 3DGameMan.
Dynapower Black Widow on ClubOC.



Well, it's official, Apple will use Intel chips from 2006, thanks Wild. It's been ten years since our transition to the PowerPC, and we think Intel's technology will help us create the best personal computers for the next ten years. Confirmation from Intel here, thanks Bevan. More coverage on Hexus, Sudhian, ArsTechnica and DVHardware. There's a thread on it here in our forums.

The Mars rover Opportunity has unstuck itself after five weeks bogged in a sand dune. Meanwhile, NASA have plans for another probe which will search for water on the north pole of Mars in 2007.

It might be easier to control access to porn sites in the future, with the approval of a .xxx domain extension. Of course, it relies on the website operators restricting themselves to that domain. Operating an .XXX domain should also serve as a safe harbor against lawsuits brought under the Truth in Domain Names Act of 2003.

Here's a silent PC project from D79. The only problem is that I don't hear if my computer is turned on or off. Meanwhile, Hoopstar has constructed, from scratch, a classic Atari Centipede arcade machine. Complete with killer sound system, built in 12" sub, swappable control panels - allowing the use of 2 player setup, steering wheel or trackball.. and a host of other features.

ExtremeTech have published the first winner of their sci-fi case mod contest. I only realised this because of the huge interest it generated in Bluesmurf's Imperator Star Destroyer project, even though it wasn't eligible for entry due to not being in the USA. It seemed wherever the winner was linked, so was the Imperator. :)

IBM's Blue Gene supercomputer will be used to provide the first cellular-level computer-based model of the human brain. The immediate goal is to model the circuitry in the neocortex, which accounts for about 85 percent of the human brain's mass and is thought to be responsible for language, learning, memory and complex thought.

Erden sent in this screenshot of his 2.4GHz P4 at 4GHz, with just aircooling and a lucky chip. Not too shabby at all.

Business2 report that Transmeta seems to be on the way out, thanks AzzKikr. Transmeta's prospects don't look very bright now. The company's cash dropped by about $12 million in the most recent quarter; if it continues at that rate, Transmeta will be out of money in less than a year.

Computex has finished, but there's still coverage coming up: PC Perspective, Phoronix, InsaneTek and Part 7 on HWZ.

LegionHardware looked at SLI from both sides of the AMD and Intel fence. While this technology has the power to almost double the frame rates when operating in SLI mode, you have to remember it will also cost twice as much to use.

Neevo found this Human Pacman game in Singapore. Players equipped with a wearable computer, headset and goggles can physically enter a real world game space by choosing to play the role of Pacman or one of the Ghosts. It wouldn't be the same without the sound effects. :)

Paul's going crazy with the links today: firstly a dead frog with implanted webserver. I think we've seen it before - pretty gross if you ask me. Anyway, more linkage: ladiez tool kit, Fun with Cold (and other stuff), iPod shuffle Database Builder here and here, Freedos embedded style - The ROMOS project, CD Lamp here, Serious toys here, IR Remote control using your PC, NES PC2C02 Video Card, E-books on the Juicebox - HOW TO here and here, DIY Das Keyboard, Microwaved Grape Lightning, AWKhttpd - HTTPD written in AWK and OpenCola.



There's a lot of chatter about Apple apparently announcing a switch to Intel CPUs today, instead of the IBM PowerPC chips they've been using. More info/speculation here. No official word yet.

HotHardware updated their CrossFire article when they discovered they couldn't reproduce some NVIDIA-based screenshots distributed by ATI. This isn't the first and probably won't be the last time we will be witness to over-zealous marketing efforts, whether accdidental or intentional.

PCStats decided underclocking is the way of the future. Well, worth a go, anyway. The question is, how much heat and voltage can be dumped by underclocking a given processor (down) while still retaining acceptable processing performance?

VIA has admitted its K8T890 chipset does not support dual core A64 X2 CPUs, thanks stmok. "From VIA K8 chipsets only K8T890 is affected, K8T800 and K8T800 Pro do support AMD Athlon 64 X2 processors," Mr. Lisiecki added.

Arthur noticed that BF2 has gone Gold! Woo! Rumour has it there'll be a demo this Friday.. just in time for a long weekend.

From Nick: ARE VIRUS WRITERS CREATING A SUPER WORM? Recent rash of Mytob worm variants has some security experts concerned.

From Dinuc: Well, it's that time to run over to the photography thread and start voting for May's Iron photographer. There was a fantastic response to the challenge and good luck to the finalists.

From Leon: More fun from Japan. For those of you drooling for some dualcore action they seem to be taking orders for AMD AthlonX2 in a few stores in Akihabara. 4200 2.2Ghz 512kb L2 $829, 4400 2.2Ghz 1Mb L2 $899, 4600 2.4Ghz 512kb L2 $1239, 4800 2.4Ghz 1Mb L2 $1545. The Pentium XE 840 (3.20Ghz) is mentioned on another page which has been seen for between $1440 and $1549, with HT this chip has a virtual 4 CPUs! Now thats for some serious multitasking. More info here.

PCTip has a S939 A64 chipset roundup article posted. Our goal is to compare the features , layout and eventually the performance. Unfortunately it features some non-zero-origin graphs which make a 1.5% difference look huge.

Another pile of links from Paul: A new timing attack against the AES algorithm can be used to extract entire Advanced Encryption Standard keys from remote servers. US Hackers at the Service of the Nation - But Who is the Enemy? Search warrants executed in LexisNexis ID case. Paris Hilton hacked thanks to old school scamming. Fake Microsoft Patch Triggers Virus Attack. HP muscles in on SMB security. Hack Can Upgrade XP Home to Pro. So what info does WinXP really send to MS? Dijjer, free P2P software that dramatically reduces the bandwidth needed to host large files. Google Maps Stealth Bomber. Building a Beowulf System.



With over 7000 entries in our PC Database, there's a lot of really good PC's buried away in there. I thought it might be interesting to regularly highlight a few PC's that aren't that high up in the rankings but are still worth another look. So here's a few I dug up:



In case you're interested, you can view the top-voted PC's for the following criteria: Looks, Functionality, Effort, Ingenuity and Overall. The latest gallery entries are here.



More Computex stuff: Part 1 on Xbit, G70 spy shots, booth babes and Day 4 on TweakTown, Day 4 on Phronix, Part 6 on HWZ, show girls on HWSecrets and more booth babes on FutureLooks.

Reax spotted a new in-game trailer from Battlefield 2. Looks amazing, can't wait for this new version of one of my favourite games.

Here's a cool car-bonnet PC project based on an old IBM PC case.

Aselabs have a look at the BTX standard that is struggling for acceptance in the market. Bit-Tech meanwhile have spotted a BTX S939 motherboard from MSI with a new NVIDIA chipset.

DansData keeps playing around with old IBM keyboards and a few more modern options.

Hexus meanwhile spent some time overclocking a Venice A64 3000+.

BigBruin have the second part of their CPU socket basics article posted, this time focussing on AMD products.

PCWorld have more info about Gigabyte's IRam, an interesting DRAM storage card, thanks Nick. When the card is used in this way, starting Windows XP is a matter of seconds, rather than a minute or more, he says.

HWSecrets toured the Kingmax factory in Taiwan.

Caironet16 sent in this drilling project to sample the earth's mantle, below the crust. Two-thirds the length of the Titanic, it is fitted with technology borrowed from the oil industry that will allow it to bore through 7,000 metres of crust below the seabed while floating in 2,500 metres of water - requiring a drill pipe 25 times the height of the Empire State building.

Phoronix have a coolbits for linux guide. My original coolbits article from 3 years ago still draws a fair bit of traffic!

A few links from Paul: Intel today formally committed itself to bringing its EM64T 64-bit processing extensions down into the Celeron D line of low-cost desktop chips. Oakley shades get bigger MP3 player. When stealing gas in the dark, don't use a lighter to see how you're doing. DNA extracted of bear, dead 40,000 years. Geologists Find First Clue To Tyrannosaurus Rex Gender In Bone Tissue. eDonkey Drops All Bundled Software. A user who was using BitTorrent to distribute his own homemade videos has received a C&D letter from his web hosting service, demanding he stop distributing copyrighted content.




Sunday Morning Reviews (0 Comments) (link)
Sunday, 5-June-2005 11:34:00 (GMT +10) - by Agg


Cooling:
Thermaltake Big Typhoon CPU cooler on Tech-Mods.
Thermaltake Big Typhoon CPU cooler on BleedinEdge.
Kool Solutions Chill Vent Memory Cooling on XYZComputing.
Kool Solutions Memory Cooling Fan on MadShrimps.
Waffer Technologies PC Air Conditioner PAC 400 on PimpRig.

Motherboards:
Gigabyte 81945P Pro LGA775 P4 motherboard on LegionHardware.
Gigabyte GA-8N-SLI Royal LGA775 P4 board on InsaneTek.
Intel i945G chipset for LGA775 on Hexus.
Tyan Tomcat K8E (S2865) S939 A64 board (video review) on 3DGameMan.

Memory:
Corsair XMS PC4400 1GB TwinX DDR on OCOnline.
Mushkin 2GB HP3200 Dual Channel Memory Kit on RojakPot.
GeIL 512MB DC UltraX-XL DDR400 CAS 1.5 on Techniz.
OCZ DDR2 PC2-4200 Platinum EB Ltd. Rev2 on PCModdingMy.

Power Supplies:
Seasonic S12 430W on PCModdingMy.
Cooler Master 550W "Real Power" on ExtremeOC.
Seasonic S-12 500W on MadShrimps.

Video Cards:
PowerColor Bravo X700 PCI-e on Bjorn3D.
Powercolor X800 PCIExpress on SGOverclockers.
HIS Radeon X850XT IceQ II Turbo on ViperLair.

Storage:
Samsung Spinpoint HD160 SATA2 HDD on DriverHeaven.
SilenX Luxurae HDSS HDD-quietening enclosure on PCModdingMy.

Portable and Mini:
ASUS S-Presso S1-P111 Deluxe SFF barebones on HotHardware.
Dell Latitude D810 notebook on HotHardware.



More Computex stuff: Day 3 on Tweaktown, full coverage on Bit-Tech, Day 3 on Phoronix, Part 4 and Part 5 on HWZ, and, inevitably, booth babes on TheTechZone.

From ChOoKmAn: Seems that NVIDIA have announced a few specs on a new 7800 card oooooh yay details here. TheTechZone have a bit more info on the 8-way Opteron system from Tyan.

Paul spotted this cool worm-like robot that won't get as easily stuck on rough ground as wheeled or tracked robots. He also sent in this $350k laptop. The Tulip E-Go Diamond notebook is inlaid with solid palladium white gold plates in which thousands (80 carats) of top-quality, brilliant cut diamonds have been pave set with surgical precision. Don't leave it in a cab when you get drunk after work.

BlueScreenMods have some more thermal images of PC bits, thanks Kristian.

SGOC reviewed the Innovision GF 6800 and turned it into a 6800GT, with mixed results. Though nothing appeared burnt, we attempted to restart the system, only to have a burst of flame erupt from one of the mosfets on the back of the card. D'oh!

The ArsMasters have part 2 of their inside the Xbox360 article posted, this time focussing on the Xenon CPU.

PCStats explain the technology behind dual-core CPUs. Since dual-core processors are essentially a multi-processor system in a convenient package, let's start by looking at some of the multi-processor technologies which have contributed to AMD and Intel's newest products.

Tech-Report are the latest to look at TurboCache vs HyperMemory in the budget graphics arena. Rather than relying solely on on-board memory, these cards also leverage a portion of system memory, which thanks to PCI Express' plentiful bandwidth, can offer pretty decent performance.

If you're tired of walking, Futurelooks highlight some future transport technologies. Nothing too amazing.. did anyone else notice the Segway at CeBIT 2005?

Viljar sent in this article about Google and culture in Europe. If Google's power remains unchecked, Jeanneney argues, it could unconsciously taint how future generations perceive and interpret not only the internet but the whole sweep of Western history and culture.

From Sniper, a timewaster where you can shoot the annoying crazy frog, a bit like the old Pingu game. Not enough gratuitous violence and crazy frog screaming in pain for me. What we really need is a flash game where people's phones ring, and if it's the crazy frog ringtone, you have to stab them in the face as quickly as possible.




Friday Morning Reviews #2 (3 Comments) (link)
Friday, 3-June-2005 02:38:40 (GMT +10) - by Agg


Systems & Portable:
Sony VAIO VGN-FS295XP laptop on BIOSMag.
eMachines T6212 Desktop PC on DesignTechnica.
Compaq Presario V4000 laptop on HotHardware.

Audio & Video:
Samsung SyncMaster 910MP 19" LCD Monitor/TV on TechTastic.
Samsung SyncMaster 915N 19 Inch LCD Monitor on FutureLooks.
Samsung SyncMaster 710N LCD TFT Monitor on TweakNews.
Logitech Premium Stereo Headset on TheBestCaseScenario.
Sonos Digital Music System on CoolTechZone.
Klipsch RVX-54 Speaker System on eCoustics.
ViewSonic VX924 LCD Display on TomsHardware.

Misc:
Samsung SCX-4100 printer/scanner etc on OCOnline.
Samsung Electronics E720 MP3 & Camera Phone on BIOSMag.
Koolance Exos-2 watercooling kit on LegitReviews.
Sunbeam NUUO 500W PSU on RBMods.
Vantec Nexstar 2 Hard Drive Enclosure on PCModdingMy.
Logisys Beta Remote Multifunction Panel on Virtual-Hideout.




Friday Morning Reviews (0 Comments) (link)
Friday, 3-June-2005 02:06:07 (GMT +10) - by Agg


Motherboard & CPU:
ASUS P5ND2-SLI LGA775 motherboard on TBreak.
Gigabyte GA-K8NS Pro S754 A64 motherboard on OCInside.
ABIT Fatal1ty AN8 S939 A64 board on OCTools.
Intel Pentium D 820 and Pentium 4 670 LGA775 CPUs on TheTechZone.
MSI 661FM3-V Micro-ATX SIS-based LGA775 P4 board on PCStats.
Winfast NF4K8MC S939 A64 board on ViperLair.

Memory:
Patriot PC2-5600+ DDR2 on ViperLair.
SimpleTech Nitro PC4000 on PCModdingMy.

Cases:
Cooler Master Centurion 530 on 3DGameMan.
NZXT Trinity Pre-Modified Cases on Guru3D.

Video Cards:
Chaintech AE6800 APOGEE (Turbo Version) on Techniz.
Tritton SEE USB 2.0 SVGA Card on EverythingUSB, similar gadget reviewed here.
ATI CrossFire dual videocard system on A1-Electronics.
PowerColor Bravo X700 PCI-e Bjorn3D.




Thursday Afternoon (2 Comments) (link)
Thursday, 2-June-2005 13:30:57 (GMT +10) - by Agg


MadHatter wanted me to remind everyone that the OCAU Jerky Group Buy v2 closes this Friday - that's tomorrow! Mmm, jerky.

More Computex coverage: Day 1 from TechWareLabs, Day 2 on TweakTown, Day 2 on Phoronix, Part 1, Part 2 and Part 3 on HWZ.

Specific Computex things: Shuttle's lineup on TheTechZone, Shuttle SLi on Hexus, Gigabyte's RAMdisk on Bit-Tech, with more info here on TBreak. New Volari GPUs on Phoronix, HIS's CrossFire card on XYZ and an ATI interview on Phoronix.

Boky pointed out these amazing rendered images in the POVCOMP 2004 Hall of Fame.

TweakTown have an AGP graphics card roundup. Today we've compared all eight of the current AGP graphics from ATI and nVidia including the Radeon X700PRO, X800XL, X850XT, X850XT PE and GeForce 6600GT, 6800, 6800GT and 6800 Ultra.

Gibbon spotted this Gamer's Manifesto that laments (with strong language in places) what we should be getting in games nowadays. It makes some very good points.

TheInq reckon the new Catalyst 5.6 drivers will offer a significant speed increase in games, thanks FearTec. Doom 3 will work almost twenty per cent faster than with Catalyst 5.5 as ATI made more efficient use of memory. Apparently available "in a few days".

From Andrew: Last week, Nokia introduced an internet tablet which features an 800x450 touchscreen, 64mb of RAM, 802.11b/g WiFi, Bluetooth and an RS-MMS expansion slot. It's made for internet/e-mail use over WiFi or Bluetooth, and runs on a customised version of Linux.

BigBruin have a basic primer on the various Intel socket types. For all of these form factors, the number following "socket" refers to the number of CPU pins or connectors.

PC Range have reached an agreement with the Strathfield Group to sell their various products in the huge retail chain, thanks Skit. Not bad for a business that basically started in our forums. :)




Interesting Forum Threads (3 Comments) (link)
Thursday, 2-June-2005 01:35:16 (GMT +10) - by Agg


1.5kW+ PSU... 1.4kW of TEC modules in Modding & Electronics.
Centi-cade - A scratch built Centipede Replica MAME cabinet in Modding & Electronics.
HP-Res III Mega (detailed photo worklog) in Modding & Electronics: Worklogs.
Ghetto northbridge WB (pics) in Extreme Cooling.
Unsecured wireless in Networking & Internet.
Can permanent marker be removed from disk media? in Storage, Backup & Memory.
Gigabyte RAMdisk in Storage, Backup & Memory.
Is raid 0 worth the cost / effort / reliability? in Storage, Backup & Memory.
Vegemite Noodles in Geek Food.
Overclocking Bible in Overclocking & Hardware.
Do not hot-plug PS2 mouse? in Overclocking & Hardware.
Warning: USB pins cause MB to blow in Overclocking & Hardware.
Whatever happened to virtual reality? in Overclocking & Hardware.
Intel quietly ships Pentium D with DRM (Digital Rights Management) in Intel Hardware.
Consolidated NF4 SLi and i945/955 reviews in Intel Hardware.
Venice/San Diego Overclocking Results and Discussion in AMD Hardware.
Blogger Murdered in Current Events.
Australia importing fresh food in Current Events.
All alloy Chev (not 56k friendly) in Motoring.
mpot quoted on Wired.com in The Pub.
Anyone lose $250K recently? in The Pub.
How not to call in sick in The Pub.




Wednesday Night Reviews (0 Comments) (link)
Wednesday, 1-June-2005 22:58:24 (GMT +10) - by Agg


Cooling:
Corsair COOL watercooling kit on InsaneTek.
Corsair COOL watercooling kit on LegionHardware.
Thermaltake Beetle CPU cooler on CaseModGod.
Titan Vanessa L-Type CPU cooler on A1-Electronics.
Thermaltake Hardcano 13 fan controller on Bjorn3D.
Danger Den DD12V-D4 external waterpump on Techniz.

Mouse Etc:
Ulti-mat Mousepad on Metku.
Xtrac Hybrid Mousepad on AseLabs.

Power Supplies:
Hiper Type-R Modular Blue Line 580W on XtremeResources.
Ultra X-Connect 500W on PCModdingMy.
ThermalTake TWV500W on Bytesector.

Video Cards:
HIS Radeon X850XT iTurbo AGP on OCrCafe.
Matrox Parhelia AVPe workstation card on TrustedReviews.
Sapphire X850XT PE AGP on LostCircuits.
PowerColor Bravo X700 256MB on HardOCP.




Wednesday Midday (3 Comments) (link)
Wednesday, 1-June-2005 12:00:46 (GMT +10) - by Agg


I just noticed we're half a million points ahead of [H]ardFolding in Folding@Home. Nice one! Don't slack off now, though.. and if you want to be part of the #1 team, join team 24!

Computex is in full swing in Taiwan now: Tweaktown have Marketing Mishaps, Operation Insider and Day One Show Floor reports. Phoronix also cover Day One, while Hexus found a large Zalman cooler and some new ATI cards. PCPerspective have an interesting interview with AMD while HWZ report on MSI's new goodies.

Some more ATI CrossFire (p)reviews: AMDZone, DigitLife, DriverHeaven, EliteBastards, GamingNexus, HardwareZone, Hexus, HotHardware and ViperLair.

CrossFire was demonstrated at Computex by DFI, PowerColor and ASUS, reports on TechReport, Tweaktown and Hexus.

HWSecrets have a guide to changing the BIOS boot logo on your motherboard. If you're a service man or if you work in a store, you can use this tip to place your company logo, with your address and phone, transforming this feature in a powerful marketing tool.

Murray spotted a new prototype slimline drive. The new drives are 2.5 millimeters thick and store 10G bytes of data. This makes them half the thickness of the 1-inch drives sold by Hitachi Global Storage Technologies (HGST). The highest capacity 1-inch drives currently on sale store 6G bytes. He also sent in more info about VIA's C7 processor and some future TV display technologies.

InsaneTek have a guide to building an ultimate gaming rig.. on a budget. By not purchasing an SLI board, I saved myself an additional 50 dollars.

From Dinuc, regarding our Photography Forum "Iron Photographer" challenge which happens every month: May's challenge has closed and top ten lists are now being sought. After a week or so, these are compiled into a final top list which is then voted on. The June challenge was thought of by the winner of the April challenge, Mred32 and it's a very inspiring one. Have a look here.




Wednesday Morning Reviews (0 Comments) (link)
Wednesday, 1-June-2005 11:28:58 (GMT +10) - by Agg


Memory:
Mushkin 1GB DC DDR400 Redline on Techniz.
Mushkin 2GB DC DDR400 High Performance Blue on Techniz.
OCZ EL DDR PC-3200 Dual Channel Gold (video review) on 3DGameMan.
Mushkin 1Gb XP4000 Redline on RBMods.

Audio / Visual:
ATI TV WONDER USB 2.0 on TweakNews.
Sorell SF 3000 MP3 Video Player on TheTechZone.
Matrix Orbital MX610 mini-display on CreativeMods.
Logitech QuickCam for Notebooks Deluxe webcam on EverythingUSB.
Sony Cyber-shot DSC-W7 digicam on TrustedReviews.

Cases:
Thermaltake SViking black case on TweakNews.
Thermaltake Tenor HTPC case on Bytesector.
Antec Overture II quiet HTPC case on FutureLooks.
Aspire X-Navigator ATXA8NW-AL/500 on DriverHeaven.
Silverstone TJ05 Workstation/Server chassis on Moditory.
Arisetek Accent home theatre tower on Bit-Tech.



---
Advertisement:


All original content copyright James Rolfe.
All rights reserved. No reproduction allowed without written permission.
Interested in advertising on OCAU? Contact us for info.