September 2005
NVIDIA GeForce Go 7800 GTX (3 Comments) (link)
Friday, 30-September-2005 12:19:06 (GMT +10) - by Agg


NVIDIA unveiled their GeForce Go 7800 GTX mobile graphics chipset recently. With twice the performance compared to the previous generation, the GeForce Go 7 GPU delivers the ability to play all of today's and tomorrow's hottest games and the power to process high definition video--all with remarkable power savings.

Coverage on Bit-Tech, DVHardware, PC Perspective and TrustedReviews.




Friday Midday Reviews (1 Comments) (link)
Friday, 30-September-2005 12:00:15 (GMT +10) - by Agg


Cooling:
Vantec StingRay watercooling kit on PCModdingMy.
Thermalright SI-120 w/LGA775 RM CPU cooler on Hi-TechReviews.
PowerColor Heat Buster VGA cooler on ByteSector.

Cameras:
Samsung SC-D353 DV Camcorder on MrPCPro.
Kodak Easyshare V550 digicam on TrustedReviews.

Memory:
OCZ 1GB PC2-6400 Platinum EB DDR2 on HotHardware.
OCZ PC4800 Platinum Elite on RojakPot.

Portable / Mini:
Shuttle SD31P vs. Silverstone SG01 barebones vs DIY mini-PC's on HardCoreWare.
Dell Dimension XPS 600 nForce 4 SLI x16 Intel desktop on BIOSMag.

Misc:
Game Boy Micro on DesignTechnica.
Bluetake BT009Si Bluetooth USB Adapter and BT400G5 Bluetooth Headset on XYZ.
Exsitdata VoIP Phone on RBMods.
Orange SPV M500 smartphone on BIOSMag.




Wiki Wanderings (0 Comments) (link)
Thursday, 29-September-2005 16:09:57 (GMT +10) - by Agg


The OCAU Wiki has really exploded lately and is full of interesting info. The Photography section is a great resource in itself now, with Lens Specifications explained, Photo Printing Vendors and a huge list of Interesting Places to Photograph, among others.

The Google Maps Australia Locations page is hugely popular, as is the list of Time Wasters from the News Page. Revenger has updated his Videos on iPod Photo and 4G guide, and I recently added info on the Five Years Ago on OCAU newsposts.

On the Motoring side, there's Pre-Purchase Examination tips, while wannabe chefs can find Cooking Terms, Tips and Measurements. Home Theatre buffs should check out the MythTV section and a basic HTPC parts list.

There's loads more stuff in there, and the cool thing is that it's always being updated. What can you add?




Thursday Afternoon Reviews #2 (1 Comments) (link)
Thursday, 29-September-2005 14:11:39 (GMT +10) - by Agg


Power Supply:
Silentmaxx Semi-Fanless 450W on Virtual-Hideout.
XGBox Magnum 500W on XtremeResources.
SilverStone Zeus 650W on A1-Electronics.

Storage:
Bytecc ME-808 Backup Enclosure for external HDD on NinjaLane.
OCZ Rally 2GB Flash Drive on Phoronix.
OCZ Rally Flash Drives on OCIA.
Plextor PX-740A Internal DVD/CD Writer on A1-Electronics.
SilenX LUXURAE HDD silencer on ThinkComputers.
OCZ Rally Flash Drive on NeoSeeker.

Printers & Cameras:
Epson PictureMate 100 photo printer on BIOSMag.
Casio Exilim EX-S500 5MP digicam from DesignTechnica.
Konica Minolta 2430DL Colour Laser Printer on ARSTechnica.




Thursday Afternoon Reviews (0 Comments) (link)
Thursday, 29-September-2005 13:53:26 (GMT +10) - by Agg


Input Etc:
Razor Copperhead 2000 DPI Gaming Mouse & eXactMat on PureOC.
Ideazon Zboard Gaming Keyboard on OCrCafe.
Logitech Cordless Desktop MX3000 Laser on Aselabs.
Logitech Cordless Mini Optical Mouse on ThinkComputers.

Video Cards:
HIS Radeon X700 128MB on HWZ.
Sapphire Radeon X550 DDR2 256MB PCIe on HWZoom.
Sapphire X800 GTO Ultimate 256MB PCIe on Hexus.

Motherboards:
NVIDIA GeForce 6100 chipset on HWZ.
Foxconn NF4SLI7AA-8EKRS2 nF4 SLI Intel mobo on PCStats.
Asus A8N-SLI Premium S939 A64 board on TrustedReviews.
ASUS A8N32-SLI Deluxe nF4 SLI X16 S939 A64 board on TweakTown.
ASUS P5WD2 Premium Motherboard with Wi-Fi and TV Tuner on TweakTown.
MSI P4N SLI (NVIDIA nForce4 SLI Intel Edition) on HWZ.
Biostar NF4SIE-A7 nForce4 SLI Intel board on Bjorn3D.
DFI Infinity SLI A64 board on NeoSeeker.




Thursday Morning News (8 Comments) (link)
Thursday, 29-September-2005 06:48:00 (GMT +10) - by Mred32


Feeling lost in the digital divide? Is technology leaving you behind? Ecoustics have posted an article which wonders if we are releasing new technology and gadgets faster than people are able to enjoy them. This kind of leaves us all stuck in a never ending upgrade cycle. I kind of agree.

OCPrices have compared seven 2Gb Memory Kits from the likes of Corsair, Mushkin, OCZ and others. They used an Abit AN8 Fatal1ty SLI motherboard as the test bed.

Bit-Tech have put an nVidia 7800 Go mobile graphics card up against the full 7800 GTX version to see how the mobile stacks up against its big brother, with some surprising results.

It seems The West is going to war with Russia, over the production of millions of pirated CDs and DVDs. "The Russian Interior Ministry has revealed that millions of pirated DVDs, CDs and CD-ROMs are being produced at factories on secret military sites beyond the jurisdiction of the police." Full article here.

Has anybody grabbed themselves an iPod Nano yet? Have you managed to scratch or crack the screen yet? If you have, Apple say they will replace them. That's good to hear.

Hardware Hell have a brief but fairly straight forward article about how data compression works. They examine several different types of compression.

Users of Sun's Star Office will be pleased to know that version 8 have moved off beta. It has been released a little later than planned but should be available from their site with the packaged version available in stores soon. Read it here.

Another software release, this time its Office 2003 With SP2. Office 2003 Service Pack 2 (SP2) is primarily a collection of previously-released security fixes, with some new additions thrown in for good measure.

Those Netizens in the know will find nothing new here but for the rest of us, have a read of the Experts' Guide to Google, Yahoo!, MSN and AOL. Refine your search skillz and impress your friends. By the way, what's an Emmessen?

Those sneaky Japanese scientists have been at it again. No, not that, this time they've taken some cool photos of a giant squid in the wild, then they tore one of its arms off. A 5.5mtr long arm at that! Thanks go to von Stalhein for the link.

Adrians Rojak Pot are having a giveaway. You could win yourself an OCZ Gold Gamer eXtreme dual-channel memory kit for FREE! Check out this page for the details.




Wednesday Night Reviews (2 Comments) (link)
Wednesday, 28-September-2005 21:49:52 (GMT +10) - by Agg


Audio / Visual:
d'Appolito Silverado loudspeaker on HWAnalysis.
Apple iPod nano MP3 player on TheTechZone, our review here.
Creative Gigaworks ProGamer G500 speakers on TrustedReviews.
Archos AV700 portable video player on HWZ.

Cooling:
Corsair COOL watercooling kit.
Scythe SCNJ-1000 Ninja Heatpipe CPU cooler on Pro-Clockers.
Tuniq 120 Heatsink Fan on SGOC.
Ultra Fan Commander fanbus on Techgage.
Titan Robela Watercooling Case on ViperLair.
Ultra Fire Heatpipe AMD CPU cooler on PimpRig.
Vantec Stingray Watercooling Kit (video review) on 3DGameMan.

Memory:
OCZ PC3500 Gold Gamer eXtreme Edition DDR on RojakPot.
OCZ Technology Gold Series 1GB PC3200 Dual Channel on BonaFideReviews.



Another sad passing. Don Adams, the star of the 60's TV show 'Get Smart' died yesterday at the age of 82. It was one of my favourite shows as a kid. "Oh, Max!"

Phishing scams are getting more Hi-Tech, and also less Hi-Tech. Now they are just ringing you and asking for your personal details on the pretext of giving you a free holiday!

Some more on the next-gen DVD front. Ars Technica investigate the economics of Blu-Ray Vs HD DVD while The TechZone look at it from a different viewpoint.

Thedriver notes that there are only 7 days to go until ... well, we're not sure what really, but the countdown on the ATI Website says that 'd over t = V'.

If you're one of those people who suffer motion sickness when playing video games then thetron might have found out why! Sadly, there doesn't seem to be any real solution other than not playing those games.

Palm + Microsoft: The second sign of the apocalypse? Is Microsoft heading towards an open source model? I doubt it but the folks at Design Technica say that "It is interesting to note, that Sun is now getting along with Microsoft and Microsoft is leaning more and more towards an Open Source model over time."

Switches. Where would we be without them? I don't know but if you are a case modder then the chances are that you have had to fiddle with a Switch at some point in time. CaseModGod have a Switches 101 guide posted and they cover quite a lot of different switches. Switches. Witch switch.

Dan has posted Letters again. This time its inductive charging, groovy keyboards, big jets, cellphone dangers, more hydrogen miracles, and some jerk. Oh, and Letters #150! Maybe he'll stop now ;)

Something from Mistikal: "I stumbled upon a program that act's just like KVM software, and I'm finding it very useful. Basically, it's a peice of software, that hooks 2 computers up in a similar fashion to having dual screens. You have 2+ computers, each with their own screen, but one keyboard and mouse." Get it from here and read the user guide.

White Rhino reminds us that Google Video beta is online with hours and hours of free TV to watch from all over the ... USA. Lots of news channels there.

Ars Technica check out five different Photo Album applications. If you're a keen user of one of these digital cameras, or perhaps a newer model, you'll need to organise all those photos.

On a lighter note, next time you pass through a toll booth on a highway somewhere and find yourself short of cash, consider leaving them an I.O.U. It might just work. Thanks nuxie1.

Anyone care for a Giant Pink Bunny? From Tank.




Tuesday Afternoon (4 Comments) (link)
Tuesday, 27-September-2005 16:03:34 (GMT +10) - by Agg


The Call of Duty 2 demo is out, at a whopping 687MB. Keep an eye on AusGamers Files for the latest goodies.

There's a new buzz surrounding Apple's iPod nano.. this time, the complaints are that the screen is very easily scratched or cracked. You can check out our sneak-peek nano review here.

Boky spotted some news for Amiga fans, with companies Guru Meditation and Troika NG teaming up to create a new AmigaOS 4.0 motherboard. The final goal being, the next generation Amiga at a very reasonable price/performance. Hopefully this isn't just yet another in a seemingly endless string of Amiga rebirths with no real products.

HWSecrets have a fairly detailed article on how CPUs work. They also checked out some technology from BrightSide involving high dynamic range displays. Conventional CRT video monitors have a dynamic range of 600:1, while good LCD video monitors have a dynamic range of 500:1. Just to give you an idea of the problem, a scene showing the interior of a room with a view outside the window have a dynamic range around 100,000:1.

There's some stirrings in the enterprise-class arena. Itanium has new support from a few major computing companies, despite being recently shunned by IBM, Dell and Microsoft. Intel meanwhile released the last two single-core Xeon models, while Dell announced the first dual-core Xeon server. AMD countered with three new dual-core Opterons.

Speaking of shunning, Intel and Microsoft have put their support behind HD DVD, not Blu-Ray. A dual-layered Blu-ray disc's capacity is 50 gigabytes, equal to about 10 conventional single-layered DVDs or about 70 music CDs, according to the Blu-ray Web site. That compares with 30 gigabytes for double-layered HD DVD.

Jared sends word that the latest purepwnage video was released a few days ago. Haven't actually watched any of these yet, would have been a good thing to use the last of my download quota for before it reset last night, dangit!

DVHardware reckon Windows Vista will boot in 3 seconds. I'm amazed by how quickly my wife's Dell laptop comes out of suspend mode actually, it's almost instant. My old bloated VAIO is in serious need of a reinstall and has slowed almost to a dead stop.

We may be seeing the first virus to spread from phones to PC's, although in its current form it's not much concern. Meanwhile a plague wreaked havoc in World of Warcraft recently. Corrupted Blood is unique in that it's the first such infection ever to spread through a virtual environment without being deployed by malicious intent.

b00zer wants to remind everyone that the iron designer for september is coming close to the closing date for entries (9 pm AEST Friday 30th September 2005). Discussion thread here, entry thread here.




ATI's CrossFire (1 Comments) (link)
Tuesday, 27-September-2005 11:51:04 (GMT +10) - by Agg


After months of hints and sneak previews, ATI have officially released their CrossFire technology, a response to NVIDIA's SLi. Both technologies allow multiple high-end video cards to be combined for greater 3D performance. Will this put ATI back in the game at the top end of the video card market?

Coverage on Anandtech, Beyond3D, Bit-Tech, Digit-Life, DriverHeaven, ExtremeTech, FiringSquad, HardOCP, HWZone, Hexus, HotHardware, PC-Perspective, T-Break, TechReport, TomsHardware and TrustedReviews.

There's a thread in our Video Cards forum here for this new technology.




Tuesday Morning Reviews #2 (1 Comments) (link)
Tuesday, 27-September-2005 11:31:21 (GMT +10) - by Agg


Storage:
OCZ 512MB and 2GB Rally Flash Drives on DriverHeaven.
LITE-ON SOHW-1693S Internal DVD Writer on HWZ.
Toshiba SD-R5472 6X Dual-Layer DVD Writer on Techneek.
Iomega NAS 200d network storage on TrustedReviews.
Plextor PX-740A DVD burner on OCOnline.

Cases:
AeroCool CoolView ATX/BX Tower on Hi-TechReviews.
Thermaltake Swing VB6000 SWS on TechPowerUp.

Input Etc:
Optorite ML100 Corded USB Laser Mouse on Accelenation.
Microsoft Wireless Optical Desktop v3.0 on ByteSector.
Logitech G7 cordless laser mouse on TrustedReviews.
Logitech Cordless Desktop S510 on HWPacers.

Audio / Visual:
Altec Lansing InMotion IM7 Portable Audio on Tech-Mods.
Dell 3400MP Projector on TrustedReviews.
SanDisk 1GB Digital Audio MP3 Player on FutureLooks.
Logitech Bluetooth Mobile Freedom earpiece on Sudhian.
Altec Lansing AHS602i Gaming Headset on Techgage.




Tuesday Morning Reviews (1 Comments) (link)
Tuesday, 27-September-2005 11:07:10 (GMT +10) - by Agg


Cooling:
Vantec Stingray watercooling kit on MadShrimps.
Danger Den RBXA64 & Maze4 chipset waterblock on Techniz.
Zalman Fatal1ty Cooler Series on HWSecrets.
Evercool Ultra Water Cooler W-202 on XtremeResources.
Jetart Xcool NP6900 Foldable Notebook Cooler on ARP.
Zalman Reserator 1 Plus Watercooling System for SLI on BigBruin.
Swiftech MCX775-V CPU cooler on ClubOC.
Thermaltake BigWater SE watercooling kit on Tweaknews.
Tuniq Tower 120 CPU cooler on ThinkComputers.

Video Cards:
Asus Extreme N7800GT on NGOHQ.
PixelView GeForce 7800 GTX 256MB on Hexus.
HIS X700 IceQ 128MB GDDR3 AGP on XYZ.
HIS Radeon X700 Pro IceQ Turbo AGP on LegionHW.

Printers:
Epson Stylus Photo R220 inkjet on BIOSMag.
Seiko Smart Label Printer on TrustedReviews.




Monday Morning Reviews (0 Comments) (link)
Monday, 26-September-2005 11:20:22 (GMT +10) - by Agg


Audio / Video:
Logitech Wireless Headphones for iPod on HWZ.
Creative Zen Nano Plus mp3 player on PCReview.
Vantec AVOX Jukebox Multimedia Player (video review) on 3DGameMan.

Motherboards:
DFI NF4 SLI & Ultra Infinity S939 A64 boards on LegitReviews.
Biostar I945P-A7 LGA775 P4 board on Bjorn3D.
ASrock K8NF4G-SATA2 NVIDIA C51-based S939 A64 board on OCW.

Power Supply:
SLI PSU Roundup on PCModdingMy.
XG Magnum 500W Fanless on Tech-Mods.
Ezy PSU Tester V2 on DriverHeaven.
Hiper Type-R 480W on ClubOC.
MGE Vigor 500W on ThinkComputers.

Memory:
TwinMOS Speed Premium PC3500 on HWZone.il.
Transcend DDR2-533 TS64MLQ64V5J on Phoronix.
OCZ PC3500 Gold Gamers Edition on TBreak.
Value 512MB DDR C2.5, Corsair vs OCZ on AMDZone.



Piers reckons the "Dumb and Dumber" robbers mentioned earlier have some competition.. examples here, here, here, here and here.

The race to build the first space elevator will be on soon. Scientists now believe that a material known as carbon nanotubes could be bound together to make a ribbon, rather than a cable, three-feet across but just half the width of a pencil.

HotHardware have some info on three new chipsets from NVIDIA, GeForce 6100, GeForce 6150, and nForce 4 SLI X16. HWSecrets have some info also.

SGOC compared memory speed and latency. Ever since the advent of the Samsung TCCD and recently TCC5 modules which have allowed consumers to hit astronomically high FSBs at moderate timings, the question has come back into play somewhat, which is better, high FSB with medium latency, or medium FSB with low latency.

HWSecrets toured a memory factory in California. After the components are added to the memory module, the modules go to an oven where the solder paste is melted, thus soldering the components.

From talking_goat: Saw this at spiked humor, a site showing off some guy building his own sentry gun and software to track and fire at moving targets. I've made a local mirror of the 8.2MB MOV of the gun in action here.

Bit-Tech have some benchmarks and a video preview of HL2: Lost Coast. We have comparison screens between Nvidia and ATI cards, and we also have an awesome preview video of the level that we have cut together.

From Neevo: This computer rocks, literally! Not much blurb about it , but there's a slideshow of their stuff here. Interesting stuff, but for a fatty like me totally useless.. I'd break it or straighten out the curve :-(

A couple of bits from thedriver: Aussie iPod users are breaking the law - no legal means of putting music on iPod for Australian users. Not particularly breaking news, but some sort of milestone - MS has just turned 30.

There's info on ATI's new Avivo technology here on DriverHeaven and here on Hexus.

From browca04: The World Solar Car Challenge is a yearly race held in Australia between Darwin and Adelaide. Teams complete in custom built cars covered in high efficiency solar cells, and race across the country at speeds in excess of 100Km/h. Cars look really cool in a nerdy kinda way..... Main Site here and satellite tracking here.

From Martin: Perth's local SIGGRAPH chapter is holding a special meeting on Monday Oct 3rd presenting the history of the Demo Scene and computer graphics in general. Come see George Borzyskowski present his demo scene research and experiences dating back to the seventies; along with disk operated demos running on his original Amiga 2000. Entry is free and drinks and nibblies provided afterwards. More info here.




Saturday Afternoon (10 Comments) (link)
Saturday, 24-September-2005 17:26:31 (GMT +10) - by Agg


Myne spotted some Australian bank robbers who may be the worst in the world, and ended up behind bars recently. Carroll and Prince were dubbed "Dumb and Dumber" by the media after details of the robbery surfaced.

TheWedgie reckons this weekend is a good time to buy Coopers beer. Doesn't make that much sense to me.. but maybe it will after a couple of schooners of Pale.. mmm.

From Banshee: This is an RACV site for petrol prices but it also works for NSW prices/locations.

Jlccarv sent in this handycam CryENGINE 2 video. From Guru3D: Observe the following: - The foliage moving about when brushing against it - The soft showing tech looks very very cool - The destrucible environments, think about the physics at work and what is about to be released - The Fire. Rumour is that this demo is running on DirectX 10. Looks good but the recording quality is pretty average. The original link was very slow so I've mirrored the 4.4MB avi here on our server.

I thought I was doing well with my thirteen PSU roundup, but Hexus checked out thirty-four of them. Meanwhile Virtual-Hideout tested PSU testers.

Apparently www.2do.com.au is a free community national directory of Australia's festivals, events & activities to promote and to support local community group & tourism within Australia. So there you go.

From HWZ: No less than 15 new imaging and printing products were unveiled by Canon Singapore for the festive season that is just around the corner.

Tweaktown have an ATI Catalyst 5.9 performance analysis. The new driver promises plenty of bug fixes but what about performance?

VooDoo sent word of some MOS game servers that are available for OCAU users:
MOS Team Fortress Classic 202.45.127.66:27015
MOS TFC 2v2 Server 202.45.127.66:27016
MOS CounterStrike:Source 202.45.127.66:27017
MOS BattleField 2 [Retail] 202.45.127.66:16567
So give them a go.. you never know who you might see on there. :)




Saturday Afternoon Reviews (0 Comments) (link)
Saturday, 24-September-2005 17:02:48 (GMT +10) - by Agg


Input Etc:
APC Biometric Password Manager on HWSecrets.
Logitech Cordless Desktop MX 3000 on PimpRig.
Logisys 4-Direction LED Gaming Mouse on TechGage.
EYEpad and EYEpad XL Mouse Pad on ClubOC.

Cooling:
Titan Serina Laptop Cooling Pad on Pimprig.
Asetek Vapochill Micro CPU cooler on TechPowerUp.
Thermaltake Tribe External Watercooling Kit on OCrCafe.
Cooler Master Cooldrive 4 HDD cooler on AseLabs.
Asetek WaterChill watercooling kit on A1-Electronics.
Asetek VapoChill Micro models compared on OCOnline.

Cameras:
FujiFilm FinePix Z1 5.1 MP digicam on Bytesector.
Nikon D70s 6.1 MP DSLR on Bytesector.

Portable & Mini:
Dell Axim X51v Handheld on CoolTechZone.
Panasonic ToughBook CF-51 laptop on TrustedReviews.
Shuttle SD31P XPC mini-PC on TBreak.




Saturday Midday Reviews (2 Comments) (link)
Saturday, 24-September-2005 12:03:23 (GMT +10) - by Agg


Storage:
Memorex M-Flyer USB 2.0 TravelDrive 512MB on WindowsAtoZ.
Seagate Momentus 5400.2 120GB IDE drive for laptops on HWZ.
Pioneer DVR-633H-S DVD Recorder on DesignTechnica.
AOpen DUW1608/ARR DVD±RW Dual Layer Burner on XbitLabs.

Memory:
Crucial Ballistix PC2-8000 (DDR2-1000) (video review) on 3DGameMan.
orsair XMS TWIN2X2048 6400 DDR2 on LegionHardware.
OCZ PC2 4200 Gold Edition on ClubOC.
OCZ DDR Booster Mod on GamersHell.
OCZ EL DDR PC-4000 2GB Gold Edition on Phoronix.
OCZ EL DDR PC-3500 Gold GX on RBMods.
Corsair TWIN2X1024-8000UL DDR2 on Xbit.

Case & Modding:
Sunbeam Bat Case on PCModdingMy.
SilverStone LC17 HTPC Case on ThinkComputers.
AeroCool Masstige and AeroEngine II cases on 3DXtreme.



Alonso@bistro has a great built-from-scratch PC. Mounting it on a monitor base for ease-of-swivelling is an interesting final touch. The PCDB entry covers its construction from start to completion:



Click for the PCDB entry! (16 pics)






Thursday Night (2 Comments) (link)
Thursday, 22-September-2005 23:54:32 (GMT +10) - by Agg


Hurricane Rita is currently approaching the Gulf Coast of the USA. Scarily, this storm is shaping up to be larger than Hurricane Katrina of a few weeks ago, and is apparently one of the 10 biggest storms on record. Fortunately there seems to be a more organised response to this one, with over a million people evacuating the area in the storm's path.

There was an impressive and spectacular emergency landing of an Airbus A-320 at LAX today, thanks to some dodgy nosegear.

HWZ compared mid-range video cards in the form of the Radeon X700 and GeForce 6600.

If you think you're meeting up for some hanky panky with an internet friend, you may be getting more than you expected. An organised crime group has been using the internet to lure people to meeting places in Sydney where some have been held at knifepoint, kidnapped, robbed, NSW police say.

Rasman has started a Stock Exchange Game in our forums, for those who want to try their hand at paper-trading.

Quite a few people sent word that Opera is now free. Opera being an alternative web browser, of course.

If Firefox is more your style, you might want to upgrade to 1.0.7, which fixes some security issues.

From Tank: Just in case you were wondering what the weather is like in space today.

Two things from Dan today: One column about the luxury computing gear I'd like to be able to buy, and one little letters column. In this issue: Jet-cooled computers, screen-garbage, deleting the swap file, and charred hardware.

Lots of people also sent word that the Serious Sam II Demo is available now. This demo contains the complete Seriousopolis Uptown level from the game, which can be played solo, or over LAN or online by up to four people. There's a thread here with other mirrors and feedback etc.




NVIDIA nForce 400 MCPs and GeForce 6100 GPUs (1 Comments) (link)
Thursday, 22-September-2005 18:25:02 (GMT +10) - by Agg


NVIDIA have unveiled new motherboard chipsets, previously codenamed C51, with onboard GPUs for AMD CPUs. "We are confident that our new NVIDIA nForce 400 series of MCPs combined with our new GeForce 6100 series of GPUs will provide the only viable foundation for powering today's digital media and high-definition video-centric PC platforms."

Coverage on AMDZone, Anandtech, Bjorn3D, Hexus, PC-Perspective, T-Break and TechReport.




Thursday Afternoon Reviews #3 (0 Comments) (link)
Thursday, 22-September-2005 16:56:50 (GMT +10) - by Agg


CPU & Motherboard:
AMD Athlon64 X2 3800+ S939 CPU on LostCircuits.
ECS PF21 Extreme LGA775 P4 board on HWZone.
ECS PF5 Extreme LGA775 P4 board on TrustedReviews.
ASUS P5LD2-Deluxe WiFi-TV Edition LGA775 P4 board on ViperLair.
AMD64 3700+ San Diego S939 2.2GHz CPU on TechGage.
Gigabyte GA-8I945P Pro LGA775 P4 board on Techniz.
ECS KN1 SLI Extreme S939 A64 board on InsaneTek.
AMD Athlon64 FX-57 S939 CPU on SimHQ.

Input Etc:
Hiper Clavier keyboard on XYZ.
Razer Diamondback Plasma LE mouse on PCModdingMy.
Mad Catz Universal MC2 Racing Wheel on GamersHell.

Audio / Visual:
Edifier e3100 2.1 speakers on NinjaLane.
Transcend Digital Album on TheTechZone.
Steel Sound 5H headphones on ByteSector.
Klipsch iFi iPod Speakers on TheTechZone.

Cameras:
Konica Minolta Maxxum 5D digital SLR on DesignTechnica.
Konica Minolta Dimage X1 digicam on TrustedReviews.

Misc:
FIC Ice Cube HU61 Barebones on ThinkComputers.
Nokia N90 mobile phone on HWZ.
Toshiba TS 921 3G mobile phone on TrustedReviews.




Thursday Afternoon Reviews #2 (0 Comments) (link)
Thursday, 22-September-2005 15:09:42 (GMT +10) - by Agg


Video Cards:
PowerColor Radeon X800GT on 3DVelocity.
HIS X700 IceQ 128mb GDDR3 AGP on Tech-Mods.
AOpen Aeolus 7800GTX-DVD256 on OCOnline.
HIS X700 IceQ AGP on Hi-TechReviews.
ASUS Extreme N6600GT Silencer on LegionHardware.
nVidia GeForce 7800 GT on HWSecrets.

Cooling:
Jetart Xcool NP6900 Foldable Notebook Cooler on RojakPot.
Thermaltake Blue Orb II CPU cooler on TechPowerUp.
SilenX IXTREMA Pro Fan Series preview on ThinkComputers.
Misc Evercool Cooling Products on Virtual-Hideout.
Kingwin AquaStar AS-3000 watercooling kit on PimpRig.
Evercool K802-715CA A64 CPU cooler on FrostyTech.
Asetek VapoChill Micro CPU cooler on HotHardware.
Asetek VapoChill Micro Extreme CPU cooler on ExtremeMHz.

Storage:
Hitachi Deskstar T7K500 500GB SATA-II HDD on XtremeResources.
Corsair 1GB USB 2.0 Voyager flash drive on Tech-Mods.
OCZ Rally USB2 dual-channel flash drive on 3DGameMan.




Thursday Afternoon Reviews (0 Comments) (link)
Thursday, 22-September-2005 14:11:07 (GMT +10) - by Agg


Grr, phone exchange here died 1pm yesterday and we've been without internet access until just now.. *twitch*

Memory:
Geil ONE Series Memory on Guru3D.
OCZ PC4800 DDR on NeoSeeker.
OCZ EL Gold PC4200 2GB kit on OCIA.
OCZ EL DDR PC-3500 Gold GX Dual Channel on Tech-Mods.
OCZ Value Pro PC2-4200 2GB Dual Channel Kit on InsaneTek.

PSU:
EZ Power Supply Tester 2 on Guru3D.
MGE XG Vortec 600W on Hi-TechReviews.
Seasonic S12 500W on ExtremeOC.
Sunbeam Nuuo 550W on OCrCafe.
Arrowmax PSC-500AL-24 Aluminium 550W on BigBruin.
Sintek 500 Watt Premium SLI Ready on TweakNews.
Thermaltake PurePower Power Station 520w on A1-Electronics.

Case & Modding:
CaseBuy A.I-01 Case on Guru3D.
Thermaltake Tai Chi tower on Guru3D.

A truckload more reviews to come, stay tuned.




Cletus75's Stereo PC (2 Comments) (link)
Wednesday, 21-September-2005 11:45:28 (GMT +10) - by Agg


Here's a nicely-finished project, a bit different to other HiFi PC's we've seen. I was going to build an open air case for something different when I noticed that my old stereo from high school had a slightly larger than ATX footprint...



Click for the PCDB entry!





OCAU's Wiki got some attention today. AJP01 saw an article here on SMH, but in the printed copy of The Age (2.3MB PDF here) Zhen points out the links in the "Other Australian Wikis" section. Our Wiki continues to grow, with more info every day. Can you think of anything to add?

Stuart noticed that the recent attempt to trademark Linux in Australia has failed. However, as IP Australia found, it was highly likely that other traders would also need to use the word Linux.

Chev350 spotted some Mac minis in use at Perth's Concert Hall. The wall of video is powered by 22 rack-mounted Mac minis which all work together to render gigantic 28160x768 video shows. Edit: heh, apparently it's Perth in Scotland. Still interesting.

HWZ cover a recent NEC watercooled PC launch event. As thermal management becomes a bigger issue with faster and faster CPUs, NEC believes water-cooling represents a natural way to move forward.

Avivo is a new video technology being unveiled by ATI today.. Beyond3D and Hexus have more info.

From "Oh Smeg": In regards to the post of Valves use HDR Graphics Technology on the News Page, there is another game coming very shortly that has implimented the same tech which would be Serious Sam 2. This game is gonna be a full on frag fest aswell as being HUGELY modder friendly. Anyone that is interested in the game or the abundant features of the new Serious 2 graphics engine can cruise over to SeriousZone for a plethora of reviews, screenshots, game movies and even a 30min gameplay movie from E3 with commentary from the game developers themselves :) The game has been set for release in october with the single player demo being released within a couple of weeks.

TechPowerUp have an article about converting a X800 GTO2 to X850 XT. We were surprised that these $200 cards can be easily modded to run at 16 pipelines. During testing, our sample could be overclocked to run at X850 XT PE speeds completely stable - $300 saved.

Xbit looked at a couple of noiseless power supplies from FSP and Topower.

Grit found more info about Nintendo's Revolution controller, here and here, with a forum thread here.

From Modafroman: Hi, im sort of finished my new mod, Project Apollo. Its a custom Perspex case made by myself, with a red theme. Here is the worklog on the forums with all progress pictures and final pictures, and here is the pcdb entry. Nice work!

Today's timewaster is from Chev350: It's in japanese, but basically, the little man wants your mouse cursor, and will try anything to get it. Pretty good.




Defyant's been busy.. (1 Comments) (link)
Tuesday, 20-September-2005 16:09:46 (GMT +10) - by Agg


A couple more projects from our most prolific modder! Click the pics for the worklog threads:







Tuesday Morning Reviews (2 Comments) (link)
Tuesday, 20-September-2005 02:56:25 (GMT +10) - by Mred32


Systems/Laptops/PDA:
Sony Vaio VGC-RA304 Media Server PC at Trusted Reviews

Mainboard:
Gigabyte K8N Pro SLi at PC Modding Malaysia
ABIT NI8 SLI at Hardware Zone

Networking:
Buffalo AirStation G54 - Wireless Router at Trusted Reviews

Video:
MSI RX700Pro-TD128E at Xtreme Resources
AOpen Aeolus PCX6600-DV128LP at HardwareZone
nVidia 7800GT at T-Break

Storage:
Samsung SE-W164 DVD Writer at Bytesector
Crucial Gizmo! 1GB USB Drive at Techgage

Cooling:
Thermaltake AquaBay M3 Water Reservoir at A1 Electronics

Audio:
Creative CB2455 Bluetooth Headset at 3DVelocity
Logitech Mobile Freedom Bluetooth Headset at GideonTech
Altec Lansing XT1 Laptop Speakers at The TechZone
MXL's Desktop Recording Kit at BIOS

Cases/PSU:
Hiper HPU-4K580-MS PSU at Overclockers Online
CaseBuy EZ Power Supply Tester 2 at OCIA

Mouse/K'Board:
United Keys LCD Keyboard at ThinkComputers
Razer Diamondback Plasma Edition Gaming Mouse at The TechZone

Digital Camera:
Panasonic Lumix DMC-FZ30 at DPReview

Misc:
Orange SPV C550 - Windows Smartphone at Trusted Reviews
HP Photosmart 8250 Printer at WindowsAtoZ
Epson Stylus DX4800 MFD at Trusted Reviews




Monday Night (8 Comments) (link)
Monday, 19-September-2005 23:53:31 (GMT +10) - by Agg


Yaarr, me hearties. Tis I, Mad Sam Flint, here to ward off scurvy with a healthy serve of tasty news. So rest your peg after a hard day's swashbuckling and take heed - that is, open up your buccaneers and listen.

First up, Saturn's tiny moon Enceladus may have liquid water, making it a possible new frontier for old sea dogs like us.

If you find RealPlayer messes with your mizzen mast, keelhaul it good and try these alternatives instead, on PCMech.

The black gulls are circling over Tokyo, with the Tokyo Game Show 2005 on recently. The dread pirate Soc spotted a pile of booth babe pics, but none of them really float my boat.

Tis mangy pirates bent on cursed gold that write the latest viruses and worms, it seems.. not just young pups getting their kicks.

Many a quick blade slipped into the briny depths at the recent World Cyber Games US National Finals, covered by XYZComputing. They also interviewed the author of a Linux book, which is of no interest to me, coz ye can't be pirating Linux! Harrr!

ARP have been busier than a blind man with his pants full of bilge rats, adding even more info to their BIOS optimisation guide.

3DAvenue cast a beady eye over the Sapphire Radeon X800GTO Ultimate PCI-E video card, and have a rogue's gallery of pics to share.

Those mutinous dogs at TechPowerUp are in league with NVIDIA! Or at least, they have sneaked some peeks, with a Platform Update as well as some PureVideo and G70Go info.

Meanwhile PenStarSys have updated comments on the CrossFire criticism of late. Insert token piratey comment heaaaarrr.

Alas, the parrot needs feeding and it's time to swab the poop deck, so it's up anchors for me. I wish you good plunder and safe sea-farin'.. until next yaaaar!




Monday Afternoon Reviews (2 Comments) (link)
Monday, 19-September-2005 13:12:27 (GMT +10) - by Agg


Cooling:
Vantec Stingray watercooling kit on RBMods.
Swiftech MCX159-CU chipset cooler on ClubOC.
Evercool Nighthawk and Neon Crab coolers on InsaneTek.

Input Etc:
Microsoft Fingerprint Reader on Tweaknews.
BlueIce Optical Mouse on PCMech.
Logitech Cordless Desktop MX3000 Laser on Hi-TechReviews.

Case & Modding:
Atrix Lexicon Series Case on ThinkComputers.
KickButtComputers Signaure Combat Chassis on Phoronix.
Sunbeam LED Screws on LANAddict.

CPUs:
VIA C7-M Processor on HWSecrets.
AMD Sempron 3400+ S754 on HWSecrets.




DNS Oddities (8 Comments) (link)
Monday, 19-September-2005 12:58:26 (GMT +10) - by Agg


We seem to be having some strange DNS issues at the moment. We're looking into it, and I believe it may be already fixed but it's taking a while for everyone to see the changes (as is the norm with DNS). So if you're seeing a "domain parked" message for the forums, try 203.220.0.228/forums instead for a while.




Talk Like A Pirate Day (20 Comments) (link)
Monday, 19-September-2005 00:54:46 (GMT +10) - by Agg


Once again it's Talk Like A Pirate Day today. More info here. Yarr! Proper newspost later, too hung over at the moment. :)




Monday Morning Reviews (0 Comments) (link)
Monday, 19-September-2005 00:06:49 (GMT +10) - by Agg


Video Cards:
Asus N7800GTX TOP on PCPerspective.
Gigabyte 6600GT Silent Pipe on Tech-Hounds.
GeCube Radeon X800 GTO 256MB (PCIe) on HWZ.
Albatron 7800GTX on OCOnline.

Memory:
OCZ PC-4000 1024MB Gold Edition Dual Channel on TechGage.
OCZ DDR2 PC2-6400 Gold on LegionHardware.
OCZ Technology EL-DDR PC3500 Gold GX on PCStats.

Storage:
Transcend JetFlash 2GB Flash Drive on LegitReviews.
Western Digital Caviar RE SATA 320 GB Hard Drive on XYZComputing.
Pioneer DVR-110D dual layer DVD burner on AnandTech.
Sony DRX-800UL External DVD Burner on XbitLabs.
D-Skins disk protectors on ThinkComputers.




Sunday Evening (6 Comments) (link)
Sunday, 18-September-2005 18:54:16 (GMT +10) - by Agg


Xbit looked at dual-core opterons in a dual processor workstation. Secondly, we will be able to evaluate the prospects of the quad-core systems in terms of the performance gain they get from the two additional cores in the today's most complex software packages.

TechPowerUp have some info from NVIDIA explaining what they feel are the shortcomings of ATI's CrossFire. PenStarSystems have some musings about whether their use of Silicon Image's Sil1161 receiver chip is that significant. There's more about this issue in this thread in our Video Cards forum.

Here's an interesting one: apparently if you can hear someone typing, you can recreate what they wrote. The researchers said they recorded people typing on computer keyboards, then fed the audio into a computer, and used an algorithm to recover up to 96 per cent of the original text.

There's an interview here with Bill Gates about Google, Vista, the new Office and other things. At any point in our history, we've had competitors who were better at doing something. Novell was the best at file servers. Lotus was the best at spreadsheets. WordPerfect was the best at word processing.

HWAnalysis have some early benchmarks and details of ATI's R520, their next-generation GPU. There seems to be some bad blood between them and ATI, with some more info here.

Dopefish sent in this very strange story about a human capacitor."As he got out of the car there was this loud bang again, and that was when he realised it was him," Mrs Clewer said.

Eroda sent word of a new Revolution controller from Nintendo, with some interesting ideas. Two small sensors placed near the TV and a chip inside the controller track its position and orientation, allowing the player to manipulate the action on screen by physically moving the controller itself.

There's another nail in Itanium's coffin, with Dell dropping the CPUs from its server lineup. Where on Earth do you go to buy an Itanium box these days if you can't go to the only top-tier OEM vendor who still displays an "Intel Only" sign around its neck?

Hexus have a three-way roundup of i955X motherboards. All three motherboards here carry additional SATA support from Silicon Image, FireWire800 connectivity, and in the case of the ABIT AW8-MAX and Gigabyte Royal boards, dual PCIe Gigabit LAN ASICs from Broadcom



Video/TV Tuners:
GeForce 7800 GTX Head-to-Head (Asus & Leadtek) on Trusted Reviews
HIS X800 GT IceQ IIiTurbo on Hi-Tech Reviews
NVIDIA GeForce 7800 GT on Hardware Zone
Notebook TV Tuner Head-To-Head on Trusted Reviews
ASUS 7800GTX TOP VGA on t-break
Terratec Cinergy Hybrid T USB XS on BIOS
MSI NX7800GTX SLI on Viperlair

PSU:
Sunbeamtech NUUO 550 Watts Power Supply on Madshrimps
Casebuy EZ Power Supply Tester 2 on ThinkComputers.org

Case:
Thermaltake Tai-Chi luxury tower with water-cooling on TweakPC
Thermaltake Tenor on Driver Heaven
AOpen Nouveau B-350B Case on Legit Reviews
RaidMax X1 ATX Gaming Case on BigBruin

Misc:
WACOM Volito 2 Tablet on 3DVelocity
Ergodex DX1 Input System on Bjorn3D
Jackson Armor backup card on Xtreme Resources
D-Skin Protective Disc Skins on ThinkComputers.org
Logitech Harmony 880 on DesignTechnica
Sunbeam Dual CCFL Kit on Rojak Pot

Cooling:
Sunbeam Silent Anodized LED Fans on LAN Addict
Zalman Reserator 1 Plus on InsaneTek
Thermaltake Tribe & AquaBay M2 kit mods on A1-Electronics
Thermaltake Schooner fanless videocard cooler on Bleedin Edge

Motherboard:
Asus P5WD2 Premium Wireless TV Edition on Bytesector
ABIT AL8 Motherboard on Tech Powerup
MSI P4N Diamond NF4-SLI Intel Edition Motherboard on PCStats
Epox 5NVA+ SLI NF4 Intel Edition Motherboard on PCStats

Storage:
Western Digital Caviar RE2 hard drive on Tech Report
LG GSA-2166D & GSA-2164D External Super Multi Writers on Hardware Zone

Audio:
Apple iPod nano on DesignTechnica
Logitech Wireless Headphones for iPod on The Tech Zone

Mobile Phone:
Nokia 6822 on Trusted Reviews

Mouse:
Apple Mighty Mouse on Bonafide Reviews
Logitech Cordless Mini Optical Mouse on CoolTechZone



Well, after much delay and political wrangling, the full sale of Telstra is set to go ahead. Whether or not this is a good thing remains to be seen. There is a forum thread about it with a poll running to see how many OCAU readers support the sale or not. Have your say.

Dan has got his hands on a Canon EOS-20D Camera to review, long after everybody else has reviewed it. "So I decided to cover all of the stuff that regular camera reviewers assume you already know, including all of the reasons why a digital SLR might be absolutely the wrong camera for you, no matter how rich you are."

Overclockers New Zealand have updated their Nvidia 7800GTX Video Cards Round up with two new cards from Elsa and Sparkle, taking it to eight cards in all.

Ars Technica have posted an article on Valve's HDR graphics technology and a preview of a couple of upcoming titles. They bring you up to speed on HDR, how it works, and why you've had to wait so long for it to appear in a title.

Design Technica argue the pro's and con's of the iPod Nano and Motorola ROKR cell phone, both of which have many of each.

Also on the topic of iPods, if you have a tendency to break things then something like this might be good protection for your iPod. Thanks Scott.

Atomic have posted an article about DirectX 10. They ask if it does More harm than Good?

Sun Microsystems have been trying to stick it to Dell lately, by flying a plane with a banner announcing their new 64-bit server. Not really out of the ordinary stuff, except they were flying it over the Dell Headquarters. Subtle approach I guess. Link sent in by Rusti. Thanks.

Philips apparently have plans for an all-Hitachi USB drive series featuring a 10GB USB drive, featuring a Hitachi 3600-rpm 1" MicroDrive which can withstand a 1.8m drop! Tough stuff indeed.

Tweaktown have a basic PC Security Guide. They cover all the usual things like virii, spyware, attacks and network security.

OcPrices have compared in detail six AMD nForce 4 SLI motherboards. They are the Abit AN8 Fatal1ty SLI, Asus A8N SLI Premium, DFI LANParty NF4 SLI-DR, Gigabyte GA-K8N Pro-SLI, MSI K8N Diamond and the Winfast NF4SK8AA-8KRS. Full article can be found here.




Thursday Morning Reviews (2 Comments) (link)
Thursday, 15-September-2005 05:25:20 (GMT +10) - by Mred32


Systems/Laptops/PDA:
Biostar iDEQ 350G SFF System at SFF Tech
O2 Xda Exec 3G PDA/Phone at Trusted Reviews

Video/Monitor:
Samsung SyncMaster 920T 19 Inch LCD Monitor at Tweaknews
HIS X800GT IceQII Turbo 256MB PCI-E at Bona Fide Reviews
HIS X800GT IceQII Turbo 256MB PCI-E at Hardware Secrets
XFX GeForce 6200TC at HotHardware

Storage:
Thermaltake Muse external 3.5inch HDD Enclosure at A1 Electronics.net
Seagate Momentus 5400.2 2.5" 120Gb HDD at Club Overclocker

PSU:
E-Power Silent Engine Tiger 550W Modular PSU at Bigbruin
Sunbeamtech NUUO 550watt SLI Modular PSU at GruntvillE
Coolmax CXI 400W PSU at Techgage
Hiper Type-R Series Modular 580W PSU at XYZ Computing

Cooling:
Cooler Master Aerogate II Thermal Controller at Adrian's Rojak Pot
Thermaltake's Golden Orb II at Neoseeker
Thermalright V-1 Heatsink at InsaneTek
Zalman CNPS9500 LED Heatsink at FrostyTech
Scythe SCKTN-1000 Katana Heatpipe CPU Cooler at Tweaknews

Audio:
Transcend T-Sonic 610 512MB MP3 Player at Bigbruin
Koss KSC75 Headphones at Design Technica
Logitech PlayGear Amp PSP Speaker System at The TechZone
Altec Lansing MX5021 2.1 Speaker System at TheTechLounge
Apple iPod Nano at Trusted Reviews

Cases:
Titan Robela Water Cooler Case at PC Modding Malaysia
Titan Robela Water Cooler Case at PimpRig
Titan Robela Water Cooler Case at Overclockers Online
Ahanix D.Vine 5 MCE601 HTPC Case at Pro-Clockers
NZXT Trinity Case at CaseModGod
Aerocool Masstige Mid-Tower Case at Legit Reviews
Lian-Li PC-65B Aluminum Case at TechPowerUp

Mainboard:
Foxconn nForce 4 SLI Motherboard at Bit-Tech

Memory:
Corsair Twin2X1024-8000UL Memory at PCstats

Digital Camera:
Olympus µ [mju] Digital 800 8Mp at TrustedReviews
Sony Cyber-Shot DSC-R1 10Mp at Imaging Resource

Misc:
ACE CAD DigiMemo A501 at BIOS
Microsoft Wireless Optical Desktop Comfort Edition at PC Review




Random Stuff (9 Comments) (link)
Wednesday, 14-September-2005 22:18:50 (GMT +10) - by Agg


A couple of PPS files that people have sent in recently.. you might need the PowerPoint viewer if you don't have it installed.

Firstly, from JohnC comes "The Falkirk Wheel", a giant wheel built in Scotland to get boats from one level up to another. Pretty impressive feat of engineering, see pics and info in the 718KB PowerPoint file here.

Next up is info from Grant about a Mk48 Torpedo test firing. On Monday June 14, 1999 the Australian Collins class submarine, HMAS Farncomb, fired a Mark-48 war-shot torpedo at the 28 year old former Destroyer Escort TORRENS. Very large bang ensues. Pics and info in the 790KB PPS file here.

A few people answered my question about curries tasting better the next day, but Martin explained it in the most detail: Most flavour molecules, that we detect with our receptors on our tongues, are fat soluble. During cooking, some of the molecules are dissolved into the fats and oils present in the food, but cooking is a relatively quick event given the size of some of these flavour molecules. Thermodynamics come to our aid in that given enough time most anything will mix themselves together, heat just speeds up the process of distribution. So your curry from yesterday tastes better as more of the flavour molecules leak out of their confines (perhaps the cells of the food item) into the fats and oils they are soaking in. Then your tongue becomes coated in the fats/oils where the taste sensors can come into contact with the flavour molecules, in a higher concentration than yesterday. This explains why on the whole, foods with the fat removed appear less flavourful unless the recipe is modified to counter the loss. The fats and oils also act to hold the taste to the tongue for longer than say, water soluble flavours. So there you go!

Finally, people keep sending me this pic, so I better put it up:



click to enlarge






OCAU Merchandise (23 Comments) (link)
Wednesday, 14-September-2005 11:01:34 (GMT +10) - by Agg


OCAU has a range of merchandise available. There's things to wear, things to drink out of and things to stick to other things. Need something smart, but casual? How about an OCAU Polo Shirt:



Click for OCAU Merchandise!






Wednesday Morning News (6 Comments) (link)
Wednesday, 14-September-2005 02:15:53 (GMT +10) - by Mred32


A short note from Dave: "Thanks to OCAU, I was one of the 20 lucky draw winners for the Cooler Master Musketeer 3 competition, 1 of only 2 Australians. If I remember correctly the only reason I entered the competition was because there was a link to the draw in one of the daily posts. Thanks for the link". See, it pays to read the daily news on Overclockers Australia. Congratulations Dave.

Sony has released a recall for some models of its PlayStation 2 console, reporting that a fire hazard may exist with some of the power supplies shipped. The recall relates only to black, slimline PlayStation 2 consoles manufactured between August 2004 and December 2004. A list of serial numbers from affected units and a phone number to call can be found here.

X-bit Labs have had a look at some system cases from Thermaltake, six of them actually. If you're interested then have a read of all 37 pages! They've also done a write-up on the new Toshiba Libretto laptop.

Those iPod Nanos, recently reviewed by BenZor here, are very cute little things. So cute in fact, that I'd love to take one out and throw it around, run it over with a car etc, just to see if it would survive. Actually, I don't have to because someone else already has. Nice result!

There won't be a monthly security patch released from Microsoft this month. They seem to be having some quality control issues.

Thedriver notes that Samsung plan to release some new bits and pieces. Some 16Gb NAND chips, a 7.2megapixel CMOS sensor and some Fusion Semiconductor things! Read more here.

In case you've been asleep for the past 400yrs or so PCreview have posted A Brief History of Technology. Women took on the role of homemakers, and men worked. Previously, more of an overlap was present, especially among the poorer classes. Looks like not much has changed then ;)

Internet search technology is still in its infancy. The big players have had a hold of the market so far. Perhaps in the future there will be something completely new and different. For now though, this idea from the University of New South Wales holds some promise. Thanks to Wessam for the link.

3D memory chips might not be so far away according to this article. "Researchers at Imperial College London announced that they have developed technology that would enable the creation of three-dimensional microchips, which will dramatically increase their memory capacity". Thanks Iain.

The VoIP market just became a little more confusing with eBay agreeing to pay AU$3.38 billion in cash and stock for internet phone provider Skype Technologies. Full article on SMH. Link from Gords.

If lifting the remote to change channels on the telly is too taxing for you, there might be another way. A TV Mouse! The aim is to "... make television viewing simpler". It was difficult? Unless this device can improve the content of TV shows then I don't see how it can achieve its aims!




Tuesday Lunchtime Reviews (12 Comments) (link)
Tuesday, 13-September-2005 11:33:11 (GMT +10) - by Agg


Mmmm.. why do curries always taste better after they've been left in the fridge overnight?

Cooling:
Corsair COOL Watercooling Kit on Hi-TechReviews.
Zalman CNPS9500 LED CPU cooler on SilentPCReview.

Memory:
OCZ DDR PC-3500 Gold Gamer eXtreme on ViperLair.
Crucial Ballistix Tracer DDR PC4000 on RBMods.

Video Cards:
HIS Radeon X800 GT 256MB Turbo PCIe on HWZ.
HIS Radeon X800 GT IceQ II Turbo on LegionHardware.

Motherboards:
Foxconn 945P7AA-8EKRS2 LGA775 P4 on PCStats.
ABIT AN8 Fatal1ty SLI S939 A64 on Tech-Hounds.

Audio:
Sony MDR-900 headphones on OCPrices.
Apple iPod nano 4GB black mp3 player on EverythingUSB.
Altec Lansing FX6021 speakers on TheBestCaseScenario.

Power Supply:
MGE Magnum 500W on GotApex.
Sunbeamtech NUUO 550W on ExtremeOC.

Misc:
Lexmark P450 printer with CD burner and cardreader (preview) on DVHardware.
RockDirect Pegasus 650 laptop on Hexus.
Axis Communications 207 network camera on TrustedReviews.
NZXT Trinity Classic tower case on XtremeResources.




PeRspLeXeD (6 Comments) (link)
Tuesday, 13-September-2005 00:53:45 (GMT +10) - by Agg


Defyant has come up with another impressive mod:



Click for the PCDB entry!


Lots of in-progress pics and info in this thread in our Modding & Electronics forum.




Monday Afternoon Reviews (0 Comments) (link)
Monday, 12-September-2005 16:51:10 (GMT +10) - by Agg


Motherboard & CPU:
ECS KN1 SLI Extreme S939 A64 board on HWZ.
Intel 670 Pentium 4 3.8Ghz LGA775 CPU on TweakNews.
AOpen i945Pa-PLF LGA775 P4 board on OCrCafe.
Foxconn NF4SK8AA SLI S939 A64 board on OCrCafe.

Power Supply:
Antec Phantom 500 silent on Bjorn3D.
Enermax Whisper II 2.0 535W SLI on Phoronix.
OCZ PowerStream 600W on OCPrices.
XG Magnum 500W Fanless on A1-Electronics.
Enermax Whisper II 535W on CaseModGod.

Input Etc:
Optorite ML100/ML101 1600 DPI Laser Mouse on 3DXtreme.
Apple Mighty Mouse on HWZ.
Sunbeamtech Pro Series Keyboard on ClubOC.
Ideakzon Zboard Gaming Keyboard with BF2 Limited Edition Keyset on ap0calypse.
Ulti-Mat Teflon Coated Mousing Surface on PimpRig.
Flexglow Cyber Snipa Gamepad and Mouse Pad on GotApex.

Case & Modding:
HSPC Tech Station v2 benchtesting rig on OCIA.
NZXT Trinity tower on ClubOC.
Thermaltake Tai-Chi aluminium case on AMDReview.
Cooler Master Praetorian 730 case on Bit-Tech.
Sansun BAT Case on AMDBoard.
ACRyan RoundCable2-FX cables on Virtual-Hidout.

Printers:
Seiko Smart Label 430 Printer on BIOSMag.
Lexmark P6350 Multi Function Device on TrustedReviews.

Misc:
Hitachi Deskstar T7K250 SATA II HDD on ByteSector.
HIS X700 IceQ AGP 128MB GDDR3 video card on BonaFideReviews.
Apple iPod nano mp3 player on ArsTechnica.



OCAU has been a little flaky today. It seems our database server may be on its last legs. We are arranging to install the replacement ASAP, but we may have another day or two of intermittent availability and slowdowns while that is organised.




Sunday Night (3 Comments) (link)
Sunday, 11-September-2005 22:57:57 (GMT +10) - by Agg


Amazing to think that it's four years ago tonight that the World Trade Centre attacks were unfolding..

OCNZ updated their 7800GTX roundup with more cards from Albatron, MSI and PixelView. Meanwhile, HWSecrets compared USB flash drives.

TechReport have posted their thoughts on Intel's response to AMD's allegations of anti-competitive behaviour. Several of the positions Intel takes (and the reasons for its denial), are more interesting, and may be an early indication of legal strategies the chip giant intends to pursue.

From johnbarry: Zalman seems to have officially released their CNPS9500 LED cpu cooler. Website here, Reviews at Red & Blackness and X-bit labs. There's a thread about it here, too.

HWSecrets have an article explaining the basics of motherboard chipsets. After all, what is a chipset? What are its functions? What is its importance? What is its influence in the computer performance?

LegitReviews cover building a Sonoma notebook. An average computer enthusiast can assemble a whitebox notebook chassis in less than 15 minutes and can cut the cost of ordering a pre-built notebook in half by doing so.

From Jarod: Just wanted to let you know that the Dystopia Demo that's been mentioned in the forums has been released as of yesterday. Its made by a mostly Australian based mod team and looks very promising indeed. 83 meg download from a variety of mirrors (including AusGamers) and there's a whole bunch of GA and Internode Australian servers up and running. Oh yeah, and the Dystopia site is here. It's a Half-Life 2 mod, so you'll need the original HL2 game to play it.




Sunday Evening Reviews #2 (0 Comments) (link)
Sunday, 11-September-2005 20:30:26 (GMT +10) - by Agg


Audio Visual:
Logitech Z3200 2.1 speakers on Moditory.
DVX-POD Model DP7010 Personal Media Center on PDAToday.
Pioneer SE-DIR800 Headphones on Bytesector.
Klipsch Audio iFi iPod Speaker System for Apple iPod on BonaFideReviews.
Sony Walkman NW-A3000 and NW-A1000 on DVHardware.
GN Netcom GN 6201 Bluetooth Headset on XYZComputing.
Samsung SyncMaster 930BF 19" LCD Monitor on TechTastic.
Panasonic VIERA 32" TC-32LX50 LCD TV on Bytesector.
Olympus m:robe MR-100 MP3 player on TrustedReviews.
Plextor ConvertX PVR PX-TV100U on BoxGods.

Storage:
Seagate Momentus 120GB notebook HDD on ViperLair.
Hitachi Deskstar 7K500 HDD on TechReport.
WD Essential NetCenter 360GB network drive on XbitLabs.

Memory:
Crucial Ballistix PC2-5300 DDR2 on LANAddict.
OCZ PC4800 Platinum Elite Edition on OCOnline.
Crucial Ballistix PC2-6400 on Motherboards.
OCZ EL-DDR PC3500 Gold GX on PCStats.

Cameras & Phones:
Pentax Optio SVi 5mpix digicam on TrustedReviews.
Canon PowerShot SD500 7mpix digicam on DesignTechnica.
Sony Ericsson W800i Triband 2 mpixel Camera Phone on OCW.
Kingston 256MB MMC Mobile data card for phones on PCModdingMy.




Sunday Evening Reviews (0 Comments) (link)
Sunday, 11-September-2005 19:43:59 (GMT +10) - by Agg


Hmm, no news isn't good news.. let's get back up to speed with some reviews. Plenty more to come, so stay tuned.

Cooling:
Evercool K803-925CA CPU cooler on Techniz.
Alphacool Starter Kit watercooling on Techniz.
Thermaltake Aquabay M3 watercooling reservoir on TechPowerUp.
Spire SP495S11-U QuieTude VI Intel CPU cooler on MadShrimps.
Evercool WC-202 Water Cooling Kit on ClubOC.
Evercool WC-202 Water Cooling Kit on PCModdingMy.
Gigabyte 3D Galaxy Water Cooler on ClubOC.
Scythe Katana CPU cooler on TechGage.

Video Cards:
PowerColor Radeon X800 GT on HWSecrets.
Sapphire Radeon X550 on TrustedReviews.
XFX GeForce 7800 GTX on Bjorn3D.
HIS X800GT IceQ II Turbo 256MB PCIe (video review) on 3DGameMan.
Albatron 7800GTX on ViperLair.
Leadtek Duo PX6600GT TDH Extreme dual-GPU card on Bit-Tech.
BFG GeForce 6600GT OC PCI-E on ComputekReviews.
Sapphire X550 PCI-E on XtremeComputing.
ATI All-In-Wonder X800XL on SysOpt.
MSI 7800GTX in SLI on NVNews.

Portable:
Fujitsu-Siemens AMILO M3438G gaming laptop on TrustedReviews.
Laptop Desk 2 on TechNeek.
Toshiba Libretto U100-S213 notebook on Xbit.
HP Pavilion ZE2000Z notebook on HotHardware.




Friday Afternoon (16 Comments) (link)
Friday, 9-September-2005 13:58:45 (GMT +10) - by Agg


A few people sent word of this ATI R520 first look on HKEPC. Some more info on TechPowerUp. Hexus meanwhile explain the future naming scheme for ATI.

SilentPCReview have updated their hefty article on power supply fundamentals & recommendations. The latest changes include revisions in selected portions of the text, updated version info on PSU design guides, info on high 12V reliance, dual 12V lines, power distribution within PCs, more system power examples, and new recommended models.

Rainwulf spotted this funny way of getting back at telemarketers. The Telecrapper 2000 (TC2K) is a computerized system designed to both intercept incoming Telemarketing calls on the first ring, and then carry on a virtual conversation with the telemarketer. Scroll down for recordings of conversations.

PCMech have their thoughts on the recent Blizzard vs BnetD case. The main issue that Blizzard had with BNetD was that it bypassed the copyright protection feature that the Battle.net servers included.

Dave sent in this Australian Fuel Excise Reform Petition. We believe not only that the Fuel excise is far too high, but also that we should not be taxed twice on our fuel. Has anyone got any examples of an online petition actually achieving something, a response from the company involved, etc?

HWSpirit looked at Titan's Nano Blue thermal paste. I took one look at this stuff and set it aside when some arrived with Titan's entry in our Six Smaller P4 Coolers roundup. From the results of this review I think my hunch was correct, but I will say that they seem to be using WAY more than is needed, and are going to have a serious mess when they remove their CPU cooler later, not to mention probably impacting on performance.

LegionHW compared the NVIDIA GeForce 6600 GT vs. ATi Radeon X800GT in the mid-range graphics card arena.

News Corp will fork out $650M USD in cash to buy IGN. Hey Rupert, need a hardware website? :) Only kidding..

Google continues their brain absorbtion, with Vint Cerf, one of the founders of the internet, joining them recently.

Timbot spotted that Chaintech aren't making motherboards any more. I don't think we ever saw much of them in Australia anyway.

ARP have updated their BIOS Optimisation Guide, a huge article spanning several years of updates.

Hexus interviewed Ken Wang from S3 Graphics. We asked him about the company, their goals, what they've been up to and also subjected him to a set of HEXUS.quickfire questions, to find out about the man himself.

Phoronix report on the Mozilla Firefox v1.5 Public BETA released recently. This BETA is a prelude to the upcoming v1.5 release candidate, which is expected for availability on the 28th of October.

Anandtech have a mid-tower mega roundup. As computers occupy more places in our everyday lives, people are less interested in large, beige, boxy eyesores, and much more interested in finding a machine that fits in with its surroundings and incorporates the type of features that a true enthusiast values.

NASA's Shuttle schedule has been further set back by Hurricane Katrina. Meanwhile, the International Space Station has dumped some garbage and awaits some supplies en route now.




Friday Afternoon Reviews (0 Comments) (link)
Friday, 9-September-2005 12:51:30 (GMT +10) - by Agg


Cooling:
CompUSA Blue Cold Cathode Fan on Aselabs.
Arctic Cooling NV Silencer 6 Rev 2 on BigBruin.
Asetek WaterChill watercooling kit on HWZ.
TITAN TWC-A88 Robela Watercooling Case on Tech-Mods.
Asetek VapoChill Micro Ultra Low Noise Cooler on Bjorn3D.
Titan Water Case on Hi-TechReviews.
Evercool IceMan CPU Cooler on InsaneTek.
Evercool Nighthawk VGA Cooler on TechGage.
Thermaltake Silent Water watercooling on PCTuner.

Video Cards:
Gigabyte GV-3D-68GT Dual GPU Graphics Card on 3DVelocity.
ASUS 7800 GTX "T.O.P." in SLI and Factory Overclocked on TweakTown.
HIS X700 IceQ 128MB GDDR3 AGP video review on 3DGameMan.
X800GT All in Wonder on Bit-Tech.
AOpen Aeolus 7800 GTX-DVD256 (GeForce 7800 GTX) on HWZ.
Leadtek WinFast PX7800 TDH MyVIVO Extreme on HWZ.

Cases:
Silverstone Temjin TJ05 on ap0calypse.
MGE Titanium Case on ThinkComputers.
Gigabyte 3D Aurora on HotHardware.
Cooler Master Wave Master TAC-T01-E1C on TheTechZone.
Antec Sonata II on XYZ.




Apple iPod nano Review (51 Comments) (link)
Friday, 9-September-2005 00:08:35 (GMT +10) - by Agg


BenZor's provided us with one of the first, if not THE first, hands-on review of Apple's new iPod nano. It's similar to the earlier ones, but it holds less, has more features and is much, much smaller: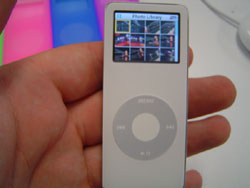 Click for the review!






Thursday Night (4 Comments) (link)
Thursday, 8-September-2005 21:10:52 (GMT +10) - by Agg


It's been a busy day over at AusGamers Files, with demos of Age of Empires 3 and Vietcong 2 Multiplayer available. They also have a trailer for Battlefield 2: Special Forces and a TotalBF2 Map Pack, which includes Wake Island, which we all loved back in the Battlefield 1942 demo days.

Lots of people sent word about the new toys from Apple, namely the iPod Nano and the iPod Phone AKA Motorola ROKR.

IHT have some comments about Nikon's WiFi-enabled camera.. and why it's a bit disappointing.

Some results from the recent Deep Impact probe have been published. NASA's Deep Impact mission to comet Tempel 1 has supported the notion that comets seeded the barren infant planet of Earth with the chemical precursors of life.

Xbit compared four large CPU coolers from Titan, Thermaltake and Zalman.

We haven't heard anything about this for a while, but ABIT's financial dramas are continuing. Second-tier motherboard maker Abit Computer said at a press conference yesterday that the company may miss an extended deadline to turn in its six-month financial report, possibly submitting the report by September 30 at the earliest. Hopefully they can get back on track ASAP, they're definitely one of the most popular brands for enthusiasts.

LegitReviews have some enthusiast memory info from IDF, while TweakTown consider the benefits of upgrading notebook memory.

Speaking of memory, here's some reviews: OCZ DDR4000 2GB, Crucial Ballistix Tracer PC4000, Crucial Ballistix PC2-8000 and OCZ EL DDR PC-3500 Gamer eXtreme.

B00zer sent word of an "Iron Designer" contest in our Graphics and Programming forum. Iron Designer September Entry thread here. Iron Designer September Discussion Thread here. The theme is "New Orleans Crisis", so if you've got some graphics design skills, why not have a go?




Interesting Forum Threads (0 Comments) (link)
Thursday, 8-September-2005 11:29:53 (GMT +10) - by Agg


A quick snapshot of what's going on in the forums:

Remember kiddies - log out on public computers! in Newbie Lounge.
A Question to those with "The Latest & Greatest" in Newbie Lounge.
Northwood any good in Overclocking & Hardware.
Gabe Newell spits the dummie about Vista and next gen consoles in Video Cards.
Top ATI chap flies to NVIDIA in Video Cards.
Megagames confirms r520XT specs in Video Cards.
Linux + MythTV = Win in Other Operating Systems.
6.8Ghz laptop with one TeraByte of non-volatile RAM - for real? in Portable and Small Form Factor.
Soundcard for recording from guitar in PC Audio.
Passing char *blah[] to another function in Graphics and Programming.
Recommend a game for a 13 year old girl in Games.
Worst viral infection ever? in General Software.
New iPods coming your way! in Other Toys.
AVESCO kills Eastern Creek in favour of Bahrain in Motoring.
OCAU Car Demographic in Motoring.
[BNE] - Bon Jovi "Have a Nice Day" Album launch party.. in TV, Movies, Music & Books.
Knee/Joint reconstruction and replacement concerns in Sport, Fitness & Health.
High Speed Photos in Photography.




Thursday Morning Reviews (0 Comments) (link)
Thursday, 8-September-2005 05:29:50 (GMT +10) - by Mred32


Systems/Laptops/PDA:
Alienware Area-51m 7700 at BIOS
Asus S-Presso Deluxe HTPC at Got Apex
Dell Inspiron 6000 Laptop at The TechZone

CPU:
AMD Athlon 64 FX-57 CPU at Guru

Mainboard:
ECS KN1 Extreme at Legit Reviews
ECS KN1 SLI Extreme NF4 at Tech-Mods
TYAN Tomcat K8E (S2865) at Bona Fide Reviews
DFI Lanparty UT nF4 SLI-D at TrustedReviews
MSI K8N SLI nForce4 SLI at HardwareZone

Networking:
D-Link GamerLounge Wireless Router at BIOS
APC 3-in-1 Wireless Mobile Router at TrustedReviews

Memory:
Patriot Memory PDC1G5600ELK 512MB at PC Stats
OCZ EL DDR PC-4800 Platinum Elite at TechPowerUp

Video/Monitor:
S3 Graphics Chrome20 at Hexus
e-Geforce 7800GT 256MB PCIe VIVO at GamerGod (Thanks Chris)
NVIDIA GeForce 7800GTX SLI at PC Modding Malaysia
Samsung 915N LCD at Overclockers Online

Cooling:
Thermaltake Tribe Water Cooler at A1 Electronics
Thermaltake AquaBay M1 Water Reservoir & Flow Indicator at A1 Electronics
Asetek Vapochill XE II at HotHardware
FrozenCPU V1000A with Innovatek XxD Water Cooling Kit at Virtual-Hideout
Spire SP507B7-U DiamondCool Heatsink at Pro-Clockers

Storage:
Crucial Flash Memory Products at XtremeResources

PSU:
Enermax EG651AX-VH 550W PSU at Hi-Techreviews
Akasa Powerplus 550W and 650W PSU at Techniz

Audio:
Olympus m:robe MR-100 Digital Audio Player at Adrian's Rojak Pot
Mobiblu DAH 1500i MP3 Player at Tech-Mods
JetAudio iAudio X5 20GB Portable Media Player at TheTechLounge
KOSS KTX Pro 1 Stereo Phones at CyberwizardPit

Digital Camera:
Goodmans G-Shot 3027TFT at Trusted Reviews
HP Photosmart M517 & R817 at Bytesector
Kodak EasyShare V550 at WindowsAtoZ

Misc:
Jackson Armor Card Recovery System at Hardware Hounds
Intamod Modding Accessories at Oz Case Modz




Misc Tidbits (7 Comments) (link)
Wednesday, 7-September-2005 19:51:58 (GMT +10) - by Agg


Only a few hours left to win an Arctic Cooler from HDAudioVisual!

BTW, go outside, there's a cool sight near the moon at the moment.

And here's an annoyingly difficult timewaster. Use cursor keys to avoid the dots.

Enjoy!




Press Releases (3 Comments) (link)
Wednesday, 7-September-2005 14:37:04 (GMT +10) - by Agg


Corsair published a document on the performance impact of upgrading from 1GB to 2GB of memory. We were very eager to run testing on Battlefield 2, as current user feedback indicated that this game performed much better with larger amounts of memory. As expected, the increase in memory array size from 1 GByte to 2 GByte had a very substantial performance impact on this game. More info in this 332KB PDF file.

Intel have filed their official response to AMD's lawsuit alleging anti-competitive behaviour. The Intel response explains that AMD's claims are factually incorrect and contradictory. In addition, AMD's complaint -- by attempting to impede Intel's ability to lower its prices -- would hurt consumers, not help them. More info here. There's a forum thread discussing this ongoing case here. Lots of lawyers are going to be buying lots of boats off the back of this one.

Kingmax announced a new DDRII-800 memory product. With T5593 equipment, Kingmax is able to perform strict tests to ensure speeds over 800MHz on our memory chips, and mass produce the highest-quality DDRII-800 memory module available. More info in this 234KB DOC file.

OCZ released a "dual channel" USB flash drive, in the form of their OCZ Rally product. The high performance OCZ Rally Flash Drive implements leading edge Dual Channel Technology to deliver the high-speed data transfer rates that are needed by today's enthusiasts and professionals on-the-go. More info here.

PC Power & Cooling announced a one kilowatt PSU in their Turbo-Cool range. In order to generate one kilowatt of continuous power from the existing 850 SSI platform, the Turbo-Cool 1KW's power modules were engineered for greater thermal efficiency, and key components throughout the unit were upgraded to handle the additional current. The result is an EPS12V/SSI/SLI power supply with unprecedented output (66 amps total on the +12VDC rails) in a form factor that fits most ATX cases. More info here.

Swiftech have a new universal VGA waterblock, a companion to their STORM CPU waterblock. While similar in size and appearance to the earlier MCW50, the MCW55 features vastly improved performance and is now made out of Delrin Acetal like the STORM CPU waterblock for superior durability. More info here.

THQ announced details of their new MotoGP 3 game. MotoGP 3: Ultimate Racing Technology's Grand Prix Mode delivers highly technical simulation racing that stresses precision acceleration and braking, while Extreme Mode allows for more arcade-style turning and handling. The Extreme Mode tracks are set in the cities and country roads near the MotoGP circuit races, and both modes will feature extensive licensed-bike and customization options. More info here.

Western Digital announced what they're calling the world's most reliable 7200rpm enterprise serial ATA hard drives. Reliability-rated at 1.2 million hours MTBF (mean time between failure) in high duty cycle environments, WD Caviar® RE2 (RAID Edition) 400 GB hard drives are designed from the ground up to deliver enterprise reliability. More info here.



Is your anti-virus software up to date? Do you use anti-virus software at all? I recently read a post in the forums where a user was having trouble with some Windows software which wouldn't run as it should. It was suggested he run a virus scan of his system. His response was "I don't have any virus programs installed ( cbf with them... )". The next day he replied in the thread with "Thanks, I ran one of those (anti-virus programs) and it found like 80+ trojans ... Works now :D". There are many different anti-virus options available ranging from professional multi-user systems to freeware programs aimed at the home user. The one I use and recommend for the home user is AVG Anti-Virus. Its safe, regularly updated and it's free for private, non-commercial, single home computer use. There are many other free options available and a quick Google Search will find them for you. Give it a go people!

Frogzoo sent in a couple of news bites. First, a new hole found in fully patched Windows XP and Windows Server 2003. The full details are not available and neither is a patch at this stage. Also, IBM claim that Linux is 40% cheaper than Windows. Only 40% ?

Windows Media Center Edition is now available legally as OEM so people can head out and build their own HTPCs using WMCE. There are some things to take into consideration though as WMCE has limited hardware and driver support. Bit-Tech have a run down on some of the things you need to know about building a system using Windows Media Center Edition.

If PCI-Express is something you've heard about but know little of, then Hardware Secrets have a fairly in-depth article which makes for a good PCI-E primer. Well, it did for me.

X-bit labs have a roundup of four CPU coolers from Thermaltake. The Big Typhoon, Silent Tower, PIPE101 Rev.2 and Sonic Tower. Big names, but do they do the job?

"More Power to Duallies". That's the title of an article posted on LostCircuits. They put Intel's P4-670 and P4-820D CPUs to the test with interesting results.

Another How to make you own PodCast article, this time from Design Technica. Podcast Schmodcast!

More complaints from the military about Google Earth, this time from the South Koreans. For the rest of us Google Earth users, there are updated images of the New Orleans area available. It really shows you the extent of the damage.

The folks at the Cassini Imaging Labs have a heap of new images from the Cassini Mission showing Saturn's Rings from previously unseen angles. Some unusual things to be seen there!

It's official. Men no longer prefer blondes! In this article it says that "Blondes were described as needy and lacking in independence by 40 per cent of those questioned". Wow, there are some very brave researchers in the UK!




Forum Emails (0 Comments) (link)
Wednesday, 7-September-2005 02:54:25 (GMT +10) - by Agg


If you suddenly find you can't post, most likely you need to fix your email setting in UserCP and respond to the confirmation mail the system will send you. You should then be able to post, and within an hour, see the trading forums again.

Even if your forum account is ok, please quickly check your email is up to date. We receive thousands of bounced emails every day now, due to people not keeping their settings updated.

Remember, you need to use a non-free email with your OCAU forum account.



The verdict is in for Sharman Networks and Kazaa. While I'm sure there will be appeals and endless legal ongoings, the decision is that the Kazaa network must be modified to prevent piracy. I'm not sure how they will manage that, really, unless some software or filter decodes and actually watches/listens to each file it comes across. More info here and here.

The devastation in New Orleans has all but wiped out the city as a habitable place. Yet, on the 10th floor of an inner city building, a web hosting company has managed to stay online throughout the entire drama. Quite remarkable really. Cheekychino sent the link.

At a recent Game Developers Conference in Europe, Microsoft provided a massive 10 hours information fest. It was aimed at helping developers prepare not only for the Xbox 360 needs, but also for Windows Vista. Hexus went along for the ride.

AMD Turion 64 notebooks are starting to show themselves more and more, and today AMDboard have posted their OPN (Order Product Number) for the Turion. It offers all the necessary data to understand what is behind the cryptic identification code like watts, maximum temperatures, frequency and more.

nVidia are set to be bringing back integrated graphics into their upcoming AMD C51 chipset, which is expected to launch within a few weeks. They also plan on reviving the SoundStorm integrated audio. Is nVidia's SoundStorm Technology ready for a glorious return or will it be a completely new Audio Technology?

How to set up a home wireless network! The Tech Zone have a how-to guide showing you what you need and how to secure it. If you look hard enough you'll see the article in between all the adverts.

Black Hat or Black Heart? Michael Lynn "...an employee of Internet Security Systems Inc (ISS), an Atlanta based company, was a member of its X-Force Research team. Through ISS Lynn was involved in security related work for Cisco. Lynn is said to have reversed engineered some of Cisco's IOS (Internetwork Operating System) code. He, or his company, found big problems which could be exploited by the bad guys. Glossing over the details, Cisco went ballistic; by all accounts they went over the edge". Full article on PC Review.

For those using Smoothwall as their firewall, Phoronix have had a look at the latest version, SmoothWall Express 3.0 Alpha. SmoothWall Express 3 now utilizes the Linux 2.6.12 kernel and features a new open architecture so developers can easily add additional security components to SmoothWall. They've posted some screenshots of the administrative web-interface as well.

CoolTechZone take a look at the DDR2 memory market and note that it's a Dull Season for DDR2 Memory.

In an article titled You get what you pay for, PC Mechanic discusses the downward spiral of the quality of PC components in pre-built machines.

Another article about PodCasting and how to do it! This time its from Bona Fide Reviews.

How about a portable Operating System booted and loaded from a USB key with the applications downloaded from a remote host, like ... Google perhaps!. Enter Google OS. Thanks to Max for the link.

Paul sent this link to an Applecrate. That's a crate full of Apple II's in parallel. Old computers never die, geeks just find more things to do to them.

I'd like one of these! We've seen this before but someone might have missed it. Its a life size Mech-Warrior and its pretty cool. It doesn't really walk as it has wheels in its feet but it would be fun to give it a go.

Cane Toads are a blight on this continent. Not only are they a poisonous pest but they are now taking over the local disco! Disco Toads.




Hurricane Katrina Devastation (3 Comments) (link)
Monday, 5-September-2005 16:58:44 (GMT +10) - by Agg


You're no doubt aware of the continuing drama around New Orleans at the moment. Boky noticed that Google Maps has been updated with satellite imagery of the post-hurricane state of the city. By switching between the "Satellite" and "Katrina" views at full zoom you can get a real sense of the devastation of the area. For example, if you click "Katrina" on this view you can see enormous shipping containers that have been tossed around like matchsticks.

There's a huge thread and several smaller threads on this disaster in our current events forum.

If you want to make a donation towards disaster relief, the Australian Red Cross has some info.




Monday Afternoon (9 Comments) (link)
Monday, 5-September-2005 15:55:26 (GMT +10) - by Agg


It's only a few minutes until the Kazaa judgement is handed down in Sydney. More info here. Then, judge Murray Wilcox, who's been hearing the arguments for and against since day one, is to rule on "whether the peer-to-peer network is no different from a photocopier or is a giant "engine of copyright piracy," as News1, New Brisbane, sums it up.

Troy sent word that you can get a free copy of Linspire for the next couple of days. There's a thread with some more info here.

Hitachi has some tiny disk drives on the way. The drop-sensor technology is activated during a drop of as little as four inches. Once warned, the drive parks the read-write head away from the surface of the disk. Xbit have more info.

Tweaktown compared some 1600dpi gaming mice from Logitech and Razer. Xbit meanwhile looked at Five DVD-ROM drives from ASUS, Sony, Toshiba and Plextor, while Athlon64 heatsinks are compared on MadShrimps. Finally, Bit-Tech checked out some X800GT video cards from PowerColor, Sapphire and HIS.

LegitReviews spent some time overclocking their Athlon64 X2 3800+ CPU. Pretty good bang for buck these, I've got one myself.

Timbot sent word from the future, of liquid metal nanocoolers and diamond nanotubes.

From Shalmanese: The Iron Cook Off for August is officially over and the voting has begun. The voting thread is here. The entry thread is here.

Meanwhile, from Dinuc: Voting is now open to decide the August Iron Photographer. The theme was "The End". And the September challenge is also on. the theme is "Silhouette".




Monday Morning Reviews (1 Comments) (link)
Monday, 5-September-2005 03:18:01 (GMT +10) - by Agg


Motherboards:
ASUS P5LD2 Deluxe WiFi+TV i945P LGA775 P4 board on Phoronix.
Abit AW8-MAX P4 board on TheTechZone.
Sapphire PURE Innovation PI-A9RX480 ATI-based S939 A64 board on XbitLabs.

Cooling:
Thermalright V-1 GPU cooler on OCIA.
Titan Serina Notebook Cooling Pad on ThinkComputers.
Evercool HDAC HDD Cooler on RBMods.
Asetek Xtreme WaterChill Kit (video review) on 3DGameMan.
Zalman Reserator 1 Plus radiator for watercooling on OCIA.

Storage:
BenQ DW1620 DVDR on Monster-Hardware.
Optorite TED80Y1 USB 2.0 DVD recorder on CDFreaks.
Maxtor OneTouch II External Hard Disk Drive with FireWire 800 on XbitLabs.

Input:
Flexiglow Cyber Snipa gaming peripherals on ViperLair.
QPAD Gamer LowSens MousePad on PCModdingMy.

Power Supply:
Hiper Type-R Modular 580W on Phoronix.
XG Magnum 500W on CaseModGod.
CaseBuy PSU Tester on CreativeMods.
Calmer Fanless 300W on Guru3D.

Misc:
MSI StarCam 370i webcam on HWZ.
Xerox Phaser 8550DP Printer on TrustedReviews.
Kingston HyperX DDR2 750MHz memory on Bjorn3D.




Happy Fathers Day! (9 Comments) (link)
Sunday, 4-September-2005 10:35:32 (GMT +10) - by Agg


Be nice to your Dad today! Or if you're a Dad, be nice and pretend you like the present your kids got you. :)




Happy Birthday Gords! (1 Comments) (link)
Sunday, 4-September-2005 00:56:27 (GMT +10) - by Agg


From Gords: So, it was my birthday last Thursday. This evening a whole heap of friends came around for a semi-surprise birthday party, organised by one of my sisters.

Knowing how much time I spend on here (I'm still deciding whether it's a good thing or a bad thing) Bec made me a fitting birthday cake:



Click to enlarge!


Nice work. :) There's a thread here for discussion..




Interesting Forum Threads (0 Comments) (link)
Saturday, 3-September-2005 14:25:41 (GMT +10) - by Agg


DVI cable vs DVI adapter - signal issue in Newbie Lounge.
What dumb things have you done to hardware (and did it still work) in Overclocking & Hardware.
P4 Frog Mod for DD-TDX in Extreme Cooling.
Gigabyte Galaxy 3D Watercooling (mini review) in Extreme Cooling.
Decoupling fans from case (pics) in Modding & Electronics.
My character LCD module: up and running in Modding & Electronics.
Riva Ver 2, Massive MDF Case (pics) in Modding & Electronics.
My new DIY USB headphone DAC+AMP (photos) in PC Audio.
How long at the top? in Team OCAU.
EOS 300D on a 10 inch telescope in Photography.
A1 Grand Prix in Motoring.
Going Vegan! in Sport, Fitness & Health.
What to wear for professional job interview? in Career, Education & Finance.
techEd 2005 pics in The Pub.
Hamster Powered Phone Charger in The Pub.




Saturday Afternoon Reviews (0 Comments) (link)
Saturday, 3-September-2005 14:02:16 (GMT +10) - by Agg


Case & Modding:
Silverstone TJ06 Computer w/SP-06 Side Panel on Hi-TechReviews.
Silverstone LC11M HTPC case on SFFTech.
Antec Sonata II silent case on TheTechZone.
Lian Li PC-767 on OCrCafe.
HighSpeedPC Tech Station for bench-building PC's on PimpRig.
HighSpeedPC Tech Station on Phoronix.
Thermaltake Xray 5.25 bay cupholder :) on Aselabs.
Sytrin Nextherm ICS 8299 Midi Tower with cooling on Tech-Mods.
Lian Li PC-777 20th Anniversary Memorial Case on AMDReview.

Video Cards:
Gigabyte 7800 GTX GV-NX78X256V-B on InsaneTek.
Sapphiretech X800XL Hybrid VIVO 512mb on Tech-Mods.
XFX 7800GTX on ThinkComputers.
Gigabyte GV-NX78T256V-B (NVIDIA 7800GT) on OCW.

Audio Visual:
Samsung Yepp YP-T7X 512MB Digital Audio Player on Tech-Mods.
Mobiblu DAH i mp3 player on Tech-Mods.
Dual Dell UltraSharp 2005FPW 20.1" LCD monitors on TheTechZone.
Apple iPod 20GB on PCReview.
Sony Ericsson W800i Walkman Camera Phone on HWZ.
Dell Widescreen UltraSharp 2405FPW monitor on WindowsAtoZ.

Input:
Hiper Clavier Keyboard on OCOnline.
Saitek X52 HOTAS flight-sim controller on TechWareLabs.
A4Tech Wireless Battery-Free Optical Mouse on PCReview.
Logitech G5/a> laser mouse on AVault.
Ideazon ZBoard and Battlefield2 Keyset on DriverHeaven.

Systems:
Alienware Aurora 7500 with 7800GTX in SLI on DriverHeaven.
Canada Computers Content Creator X2 Workstation on PCStats.




Saturday Morning (5 Comments) (link)
Saturday, 3-September-2005 02:56:39 (GMT +10) - by Agg


From ReDdOg: Guys, Just a heads up to let you know that Antony (aka Bluesmurf) is getting hitched in the coming weeks. Saturday night may well be the last time he will be seen in the wild enjoying a cold Guinness. Hopefully for Ant's better half he at least escapes the night out with his eyebrows intact :) Congrats to Antony and his better half! BlueSmurf of course is the modding genius behind the original GTR PC and his The Imperator Star Destroyer PC.

NASA's Mars rover Spirit spent the last 14 months climbing up some hills on the Martian surface, and has sent back some pictures of what it can see from the top. Speaking of space pics, there's a new large telescope in South Africa.

Dan's reading and writing letters again. Magnets for this, magnets for that, big LED resistors, sluggish fans, suspiciously cheap Russian watches, the Case of the Throttling Water, and ultrasonic cleaners.

TrustedReviews compared a couple of headphones from Sennheiser and IceMat, while LegionHardware looked at the Radeon X800GT vs. Radeon X800XL/X800 Pro video cards. Hexus also looked at three Bluetooth headsets from Jabra.

From Browca04: The first episode of the new season of the Red vs. Blue series has just been released!!!! Yay! So happy! No doubt it will be the sum product of all the previous seasons combined! then Squared!!!! Check it out here.

ExtremeTech used FRAPS in real gameplay to compare Intel and AMD for gaming performance, thanks Graham. When playing back a standard "timedemo" style recorded benchmark, many of the game's systems either don't operate, or function in a controlled, pre-determined fashion.

Bit-tech looked back at a case-mod from 2001 to see if the scene has changed much in the last few years. Doesn't look dated at all to me.

There's a pretty impressive wooden PC over on a Russian site, thanks Porter. Meanwhile here's a motorcycle PC over on CreativeMods. If you want some real motorcycle pics to compare it with, check out the 2006 Kawasaki ZX-10R pics over on MCNews, thanks boky. Mmm, the black one looks very tasty.

HWZ have a few pics and info from the recent ATI Product Day in Sydney. In the land down under, ATI held a two-day event to show the public its latest developments such as CrossFire and others, while channel partners were better equipped of current trends, ATI's strategies and more. Bit-Tech also interviewed someone from ATI's motherboard design area.




Friday Afternoon Reviews #2 (2 Comments) (link)
Friday, 2-September-2005 14:19:52 (GMT +10) - by Agg


Audio / Visual:
MSI Theatre 550 Pro PCI TV tuner on HotHardware.
Samsung DigiCam SC-D455 camera on TechTastic.
BenQ 5ms 17" Monitor on Bit-Tech.
Neutac S21114 2.1 Speakers on PCReview.
Samsung YH-820 5Gb Digital MP3 Player on TweakNews.
Olympus Stylus 800 digicam on DesignTechnica.
HDA Digital X Mystique 7.1 Gold sound card on OCNZ.
Sony Network Walkman NW-HD5 mp3 player on BIOSMag.
Creative SB Audigy 2 ZS Notebook portable sound on XbitLabs.
Jabra BT250v Bluetooth Headset on XYZComputing.
Frontier Labs NEX 3 MP3 Player on TechIMO.

Power Supplies:
MGE Magnum 500W on ThinkComputers.
MGE Magnum 500W on OCOnline.
Hiper HPU-4B580 Modular on Hi-TechReviews.
Enermax Whisper II 2.0 NVIDIA SLi Certified 535W (video review) on 3DGameMan.

Storage:
TraxData EZ DriveTwister Dragon Style 512MB USB Flash on 3DVelocity.
Samsung WriteMaster SE-W164 16x16x External DVD Writer on PCStats.
Apacer 15-n-1 Card Reader on GideonTech.
Vantec NexStar 3 USB2.0 HDD Enclosure on PCStats.
Synology Disk Station DS-101g+ network storage on Hexus.
Hitachi Deskstar 7K500 Hard Drive on TrustedReviews.




Friday Afternoon Reviews (0 Comments) (link)
Friday, 2-September-2005 12:33:05 (GMT +10) - by Agg


Motherboard & CPU:
AMD Athlon64 X2 4800+ S939 CPU on PCStats.
Foxconn 955X7AA-8EKRS2 i955X LGA775 board on TrustedReviews.
MSI P4N Diamond LHA775 board on TechReport.
Gigabyte GA-8I945P Dual Graphic i945P LGA775 board on HWZ.
ABIT AL8 LGA775 board on InsaneTek.
ECS KN1 SLI Extreme S939 board on PCPerspective.

Video Cards:
ATI All-In-Wonder X600 Pro on OCProjects.
Albatron GeForce 7800GTX on ByteSector.
GeCube GC-RX550GU2-D3 Radeon X550 256MB on HWZ.
Gainward Ultra 3500 PCX 7800 GTX Golden Sample: Single & SLI on PureOverclock.
Nvidia 7800GT PCIe on RBMods.
Sapphire Radeon X850XT Platinum Edition AGP on TweakTown.

Cooling:
Asetek VapoChill Micro CPU coolers on PimpRig.
Silverstone SST-FP52S Fan Controller on MadShrimps.
Asetek WaterChill CPU watercooling on A1-Electronics.
Zalman CNPS7700-Cu CPU cooler on FutureLooks.
Asetek VapoChill Micro CPU cooler on HWZ.
Cooler Master AquaGate Mini R120 CPU watercooler on TrustedReviews.
Vantec LapCool3 laptop cooler on PimpRig.
Jetart NP6600 Foldable Notebook Cooler on ExtremeOC.
Thermalright V-1 video card cooler on LegionHardware.



Dan Warne of APC Magazine was at the Microsoft Tech Ed conference held recently on the Gold Coast. While he was there he went to a presentation on Windows Vista hardware requirements. It seems that while none of the news is pretty, he does mention that "... everyone will have to replace their monitors and projectors if they want to be able to watch high definition video due to Microsoft's e-e-e-evil HDCP copy protection system." The full article is here. I've put off making the jump to Linux but it looks like now might be the time.

WinFS, the filesystem which was to be used in Microsoft's Vista but isn't anymore, is now available in Beta form to developers. It will run on WinXP SP2 but looks like it will still be in Beta form when Vista ships. Have a read of this article on Hexus and see what you think.

ViperLair went to the Elitegroup's Editors day. They have lots of info on PF88 Extreme Hybrid, SIMA cards and they have some photos to go along with the gossip.

For the Linux/nVidia users, earlier today the crew over at Linux Hardware released the 0.8 Beta of NVClock. Phronix have managed to grab a copy and put it to the test. Well, they preview it anyway.

Accelenation ponder the pros and cons of the humble Mouse, versus the Joystick. I prefer a mouse but you can read this and decide for yourselves.

Hardware Secrets follow the history of the Celeron CPU. They list all the versions and models, provide detailed specs and photos of all the Celerons released so far. Rather a handy guide.

If you're in the market for one of nVidia's 7800GTX range video cards, then you might want to read this. T-Break put the MSI, Gigabyte & Leadtek versions of this card head to head.

Guru of 3D have had a look at a Galaxy Dual BIOS GeForce 6600 GT. While its not a new card, it does carry a switchable BIOS and a buzzer alarm. The Guru will give you an overview of these features.

Dr. Robert Ing says that PC users could be the weakest link in the fight against terrorism. BonafideReviews have the article.

For the hands-free phone users, Hexus have a headset shootout using Jabra Bluetooth units.

Games are getting bigger. Some game titles for the Xbox360 will require multi-DVD packages. The sooner the Blu-ray vs HD-DVD race is won the better.

Apple and Motorola are soon expected to release an iTunes mobile phone that doubles as an MP3 player. With something in the area of 1Gb of storage, the new phone is expected to sell almost as well as the original iPod. How nice.

Need a laugh? Have a read of the Top Ten data destruction disasters. A laptop computer run over by an aeroplane? Even I could come up with a better excuse than that!



---
Advertisement:


All original content copyright James Rolfe.
All rights reserved. No reproduction allowed without written permission.
Interested in advertising on OCAU? Contact us for info.