November 2005

Holographic Storage moved another step closer to the shop shelves this week with storage media company Maxell saying it will launch its first holographic storage products in September 2006. "Holographic storage works by storing information using light-sensitive crystals. Because it uses the whole volume of the drive (whose prototype looks somewhat like a floppy disk) not just the surface, it's possible to store much more information than is possible on a DVD." Read it here.

The Tech Zone have a few hints on how to stop Windows programs from running at Start-up. Most programs will give you the option of disabling their Start-up function but some don't.

Bit-Tech have a list of the 10 Things which will get you from being a PC n00b to a PC Dood in no time at all. Some very helpful rules of PC life, such a Never use any screen resolution under 1280x960! If you have a 15" CRT then still run it in 1280x, but use 60Hz and a magnifying glass.

Many people are familiar with Western Digital's fast 10,000 SATA hard drive. However, some of you may not be that familiar with RAID or have made assumptions on the technology without ever using it. Sudhian have a go at RAIDing the Raptor. OCAU actually did the same thing two years ago, with a Raptor review and up to four of them in RAID. We also reviewed the newer 74GB version.

A1 Electronics.net have posted a guide to Internet, web, e-mail security and ZoneAlarm. Read the article here.

Google seem to be buying up just about every useful Internet application they can find, and a few other things as well. CoolTechZone have a list of Google's Acquisitions and a few things to say about them.

Kim sent in this link for all those into the Wi-Fi scene. Instructions for building a cheap, simple and effective Deep Dish Cylindrical Parabolic antenna. Thanks Kim.

Virtual pets have come and gone over the years with things like cheap Tamagotchis and the not so cheap Sony Aibo. Well, now we have an onscreen pet in the form of Nintendogs. Bytesector have all the info.

Chowda saw this interesting article on /. about a 3d environment made in JavaScript. Seems to be built using the Canvas tag found in Firefox, Safari and Opera. Find it here.

Bona Fide Reviews have some information about Noise Cancelling or Noise Reduction Headphones. "Noise-cancelling headphones use tiny microphones that identify the noise or sounds outside the headphones and then work to cancel out the sounds."

Phoronix have Part 2 of their 5-Way Radiator Round-Up. Also read Part 1 if you missed it.

DVD burners can be found in just about every newish computer these days, and CD burners are on the way out. Flash memory drives are getting larger in their capacity also. So, why is it that most new (and not so new) machines still have a floppy disk drive? Die floppy die!

Nick sent this in. The Inquirer are trying to get ATI and nVidia to take each other on head to head. Actually, I thought they'd already been doing this for years.

Have a read of this article on XYZ Computing. One persons experience of moving from Windows to Linux for the first time.

For the Rev Heads, Forum goer outonanisland shows us what can happen to a diff if you don't do enough burnouts. Be warned, pictures of broken metal bits here.

FarCanal and several other people sent this link in. What is The Secret? Are we about to learn something truly earth shattering or is it just clever marketing by TV moguls? My guess would be the latter but we'll have to wait and see.




Tuesday Afternoon Reviews #2 (4 Comments) (link)
Tuesday, 29-November-2005 14:30:38 (GMT +10) - by Agg


Cooling:
Zalman CNPS9500 LED CPU cooler on ViperLair.
Thermalright V-1 VGA cooler on Techniz.

Memory:
Corsair TwinX XMS PC4000 2GB on PimpRig.
Crucial Ballistix PC2-8000 on DriverHeaven.
OCZ Dual Channel PC-3200 Gold GX XTC on ThinkComputers.

Motherboards:
ABIT AN8 Fatal1ty SLI A64 board on Tech-Report.
Asus A8N32-SLI Deluxe x16 SLI board on TrustedReviews.
DFI Infinity nF4 Ultra A64 board on OCOnline.
Gigabyte 955X Royal LGA775 P4 board on TweakTown.
ASRock 775Dual-915GL LGA775 P4 board on Phoronix.

Storage:
Seagate 7200.9 500GB HDD on Bytesector.
Vantec Nexstar GX USB Drive Enclosure and Hub on BigBruin.




Tuesday Afternoon Reviews (4 Comments) (link)
Tuesday, 29-November-2005 13:33:55 (GMT +10) - by Agg


Input Etc:
Icemat 2nd Edition Mouse Pad on RojakPot.
Das Keyboard on VelocityReview.
Maxtill Max G2-Pad glass mousepad on HWZone.
Bluetake BT510 Mini Mouse and BT009Si Bluetooth Adapter on Techgage.

Mini & Portable:
Palm TX PDA on WindowsAtoZ.
Logitech Cordless Desktop Kit for Notebooks on XbitLabs.
SONY VAIO VGN-T2XRP-S Notebook on XbitLabs.

Video Cards:
Gigabyte Radeon X1800 XL on ClubOC.
ASUS Extreme AX800 Silencer on GotApex.
PowerColor X800 GTO VIVO on XbitLabs.
ATI All in Wonder Radeon X800XL on TweakNews.
ASUS Extreme AX700 Silencer on LegionHW.
XFX GeForce 6600 DDR2 on PCPerspective.
ASUS Extreme N7800 GT on LostCircuits.
MSI NX6800GS-TD256E on HWZone.
XFX GeForce 6600 DDR2 on HardOCP.

Software:
SimpliSoftware RW HD Tach v.3.0.1.0 benchmark on ThinkComputers.
Ad-Aware SE Personal anti-spyware on PCMech.




GamersGifts.org (1 Comments) (link)
Monday, 28-November-2005 13:10:37 (GMT +10) - by Agg


Here's a nice idea for Christmas. GamersGifts is an initiative by Australian gamers to get toys to kids who normally wouldn't get any for Christmas. It's being run in association with the St Vincent De Paul Society of South Australia. Check out how you can help, see the website for more details and there's a discussion thread here in our forum.



Forum goer, El Nermo Diablo, sends word that a new Spyware/Virus is on the loose. Known as SpyAxe is seems to be causing a few problems for those who get hit with it. "The symptoms of Adaware consist of a flashing warning bubble masquerading as a windows update alert warning you that your system has been infected. If you click on the bubble it takes you to the villains web site which happen to be Spyaxe.com". You can find links to removal instructions here.

In an article at The TechZone, Michael Robertson has a few interesting points to make about why the Sony Rootkit saga might be a good thing. I guess the future will hold the answer.

The folks over at ASE Labs have had some fun breathing new life into old computers. In this case, a 266MMX Laptop. Many people run older machines and its an economical way of keeping the machines going. I tend to upgrade bit by bit as new hardware arrives and then eventually opt for a new motherboard and a total system upgrade.

A1 Electronics have updated their list of AMD socket 754 Athlon 64 and Sempron motherboards. You can find the full list here. Always worth a look if you are after a new AMD motherboard.

Scott over at DesighTechnica has been playing with his new Xbox 360, and he loves it! Meanwhile though, other people are not so happy claiming overheating problems with their new consoles.

GameBiz, the Australian gaming site, are running a survey and you can win cool stuff by filling in the forms. Simple questions like "How much time did you spend playing video games last month?" Answer: Not enough.

Which makes for a safer backup device, a large external hard drive or a stack of CD/DVD disks? Virtual Hideout have a short writeup about it and they think CD/DVDs are better! I tend to agree.

How fast can you type the Alphabet? If your typing is anything like mine then 9.5s is not going to be hard to beat! Have a try with this flash timewaster. You can share your high score with the folks in this forum thread. Who's idea was it to put the 'X' key down there!




Sunday Night (3 Comments) (link)
Sunday, 27-November-2005 23:17:13 (GMT +10) - by Agg


HWSecrets toured Intel's Fab 18 Factory in Kiryat Gat, Israel. In this coverage you will have a better notion of where Intel factories are located, what is the relationship between them and, of course, how Fab18 looks like inside and how a chip manufacturing facility works.

TechPowerUp have an ATI marketing slideshow in response to NVIDIA's 7800 GTX 512. Some interesting comments about the projected failure rates.

TheTechZone have part four of their article about high-end cable design for audiophiles. Due to the inherent low current nature of interconnect signals, the capacitance of audio interconnects is extremely important.

ARP have updated their BIOS Optimisation Guide with another ten settings.

Peter pointed out that Microsoft are opening up Office with XML file formats. This is quite a big deal, but people are undecided if it's good or bad. "It's a tactical move by Microsoft to give its proprietary document formats a glimmer of openness," Barnett said. Microsoft meanwhile continue to attack the open-source model.

HWAccelerated have a buyer's guide, while ThinkComputers have a Christmas Wish List, with an HDTV buyer's guide on TheTechZone.

Paul sends word that two free firewalls are biting the dust. Firstly Symantec ditches Sygate only a few months after buying the company, while Kerio Personal Firewall will be discontinued after Dec 31.

Phoronix have a guide to SLI under Linux. In this guide, we share some basic information for choosing graphics cards, power supplies, and motherboards that are NVIDIA Scalable Link Interface certified.




Sunday Morning Reviews (0 Comments) (link)
Sunday, 27-November-2005 10:35:08 (GMT +10) - by Agg


Memory:
Corsair TWINX2048-3500LLPRO 2GB Kit on PCModdingMy.
OCZ EL DDR PC-3500 Gold GX XTC (video review) on 3DGameMan.
OCZ EB DDR PC-4000 2GB Platinum on Phoronix.

Audio / Video:
Vantec AVOX Audio/Video Jukebox on Pimprig.

Motherboards:
DFI LanParty NF4 SLI-DR Expert on TechPowerUp.
Asus A8N32-SLI Deluxe on Digital-Daily.
DFI LanParty NF4 SLI-DR Expert on Anandtech.

Video Cards:
EVGA e-GeForce 7800 GTX BlackPearl 512MB on Hexus.
ATI Radeon X800 GTO on DriverHeaven.
Sapphire Radeon X1800XL on LegionHW.
Two X800 Cards Reviewed on TomsHardware.
Leadtek PX7800 GTX TDH and PX7800 GT TDH Extreme on Beyond3D.

Portable:
Rock GeForce 7800 Notebook on Bit-Tech.
Matrox DualHead2Go notebook graphics on TrustedReviews.
Matrox DualHead2Go notebook graphics on Anandtech.
Matrox DualHead2Go notebook graphics on PCStats.

Input Etc:
Saitek P3000 Wireless Gamepad on ThinkComputers.

Cooling:
Vantec Stingray watercooling kit on CaseModGod.
Raidmax Glacier CPU cooler on BigBruin.

Misc:
Nokia N90 Mobile Phone on BIOS
Canary WiFi Finder on SDMLanReview.
FrozenCPU ATX 2.0 PSU Tester on Pimprig.




Sunday Morning (6 Comments) (link)
Sunday, 27-November-2005 08:44:51 (GMT +10) - by Agg


Science wins again, this time explaining the beer-goggles phenomenon. Hopefully none of you are suffering the effects of it this morning. :)

Mazza spotted this cool paper V8 engine. The engine is powered by 2×1.5V D Batteries and weighs 2.98kg.

HWSecrets have an article about how chips are fabricated. The exact manufacturing process and number of layers depends on the component being manufactured. For a Pentium 4 processor, it uses 26 masks and 7 metal layers.

A court has decided that thousands of search terms including artist/band names will be blocked on Kazaa. Because of course, it's impossible to obfuscate your s34rch t3rmz.

ZDNet have an article about the Large Hadron Collider and the associated LHC Computing Grid. The LHC will smash protons and ions into head-on collisions to help scientists understand the structure of matter.

PCMech cover a few backup options for PC's. While CDs and DVDs often are said to have 20-100 year lifespans, a burned CD can be killed in a matter of hours by exposing it to direct sunlight.

Pro-Clockers have an interview with Peter Du Preez from ABIT. The Fatal1ty Branded products are here to stay and almost in every sense created by Johnathan "Fatal1ty" Wendel. He is flown out to Taiwan HQ where our R&D department hangs out with him and they go over every aspect of the design to make sure that it is upto scratch for gaming excellence.

Meanwhile HWZone interviewed Henri Richards from AMD, about 64-bit and dual-core technology among other things. We took an approach to price our dual-core products above our single-core products because we believe those are two different markets.

Phoronix have a 5-way radiator roundup, with products from Danger Den, Hardware Labs, CoolingWorks, and Thermaltake. No doubt the folks in our Extreme Cooling forum will be interested in that one.

TheTechZone have a bit of a primer on digital signal processing. This means that we need to convert the analog signal to digital format, and the best way of doing it is by using DSP techniques, as follows.

Futurelooks checked out how DivX is contributing to independent high-definition film-making. The combination of mini-DV and the personal computer has, to use a tired cliché, empowered the masses. For truly independent and low budget filmmakers the digital revolution is about to take an interesting evolutionary step, namely HDV.




Saturday Morning Reviews (0 Comments) (link)
Saturday, 26-November-2005 01:21:04 (GMT +10) - by Agg


Audio / Visual:
Samsung SyncMaster 740B 17" LCD Monitor on Techtastic.

Memory:
G.skill F1-3200PHU2-2GBZX (2x1GB 2-3-2-5) on PureOC.
OCZ EB DDR PC-4000 1024MB Platinum Edition on Bytesector.

Software:
Call of Duty 2 on BIOSMag, our review here.
Pinnacle Systems Studio Plus 10 video editing software on BIOSMag.
The Movies game on Trustedreviews.

Video Cards:
HIS Radeon X800 GTO and X800 GT IceQ II on OCPrices.
HIS X800GTO IceQ II Turbo PCIe on Gamershell.
EVGA e-GeForce 7800 GT CO on Gamershell.
XFX GeForce 7800 GTX 512MB DDR3 XXX Edition on Hexus.
NVIDIA 7800GTX 512MB on CoolTechZone.

Cooling:
SilverStone FN81 and FN82 quiet fans on Techgage.
Thermaltake Big Water SE on ThinkComputers.
Tuniq Tower 120 CPU cooler on Virtual-Hideout.

Storage:
Seagate 500GB Barracuda 7200.9 HDD on RojakPot.
Vantec NexStar GX USB2.0 Hub & HDD Enclosure on PCStats.

Motherboards:
Sapphire Pure Innovation PI-A9RX480 S939 A64 board on Bit-Tech.

Input Etc:
Razer Green Copperhead Gaming Mouse on TechPowerUp.
iONE Libra-P5 RF 2.4G Presenter Mouse on Tech-Mods.

Cases, Mini, Portable:
PrimoChill X-QPack H2O watercooled mini-PC on GruntVille.
Silverstone LC16M HTPC case on Sudhian.
Panasonic ToughBook CF-29 Rugged Notebook on TrustedReviews.



We have seen this before, but it's been recently updated:



Click for the PCDB entry! (13 pics)





World Cyber Games 2005 held the Grand Final in Singapore this week with it coming down to USA vs Kazakhstan. The USA went in as the favourite. Who won? "Over 39,000 spectators have flocked down to Suntec City to cheer on their favourite teams as they battle it out to win the grand prize of US$435,000. On the last day of WCG, the final round for CS:Source, StarCraft, WarCraft & Fifa was held on the main stage in front of thousands of spectators."

Agg already mentioned the Xbox 360 release and some of the problems with the hardware. Microsoft have had a little bit to say about it.

Bona Fide Reviews seem pretty sure that Nintendo will Win the next round of the Console war, with the Xbox 360 and Playstation 3 falling by the wayside. They also have some info about the coolest power… err… strip around.

Designtechnica have posted a Christmas Gift Guide, which is just what we need this time of year. My wallet is shrinking already!

Memory maker Micron and Intel are to unite in a deal to manufacture NAND flash memory. "Demand for data flash memory will soar to 235 billion megabytes this year and 627 billion in 2006..." That's a lot of RAM!

Dan has things to say about Spatial Anomalies and other stuff in Letters #155.

Some people never backup. Some people take their data backups very seriously.




Friday Morning (1 Comments) (link)
Friday, 25-November-2005 03:00:21 (GMT +10) - by Agg


Fortunately the latest Sober virus hasn't had much impact in Australia, although we're seeing some reports from confused people about these "FBI emails".

Apparently the Sony DRM everyone is so up in arms about lately can be defeated with sticky tape.. thanks to everyone who sent that in. The PC then treats the CD as an ordinary single-session music CD, and the commonly used CD 'rip' programs continue to work as usual."

Here's an interesting site about an Atari 800 laptop project.

XbitLabs have an interview with the President and CEO of Supermicro Company, who manufacture server solutions. Find out more about the history of the company, the keys to successful business and the upcoming exciting products from the CEO and founder of Supermicro.

BitTorrent and the RIAA have signed an agreement about removing copyright-infringing links from BitTorrent.

AusGamers have some interesting new files, including the BattleField 2 v1.12 Patch and Civilisation 4 Demo. This Age of Conan game sounds interesting too - I'm a big fan of Conan, read all the books when I was a kid etc.

VIA released some new Hyperion drivers, version 5.06A. VIA Hyperion Pro drivers are suitable for ANY VIA chipset - but they are particularly recommended for KT4## series, P4X4## series and newer.

Interesting Forum Threads:
How to make watercooling lovers cringe in Extreme Cooling.
MegaRAID SAS 8408E in Storage, Backup and Memory.
Warning! Read this before buying an External HDD Enclosure! in Storage, Backup & Memory.
Video footage of hdd in operation? in Storage, Backup & Memory.
I sold my wife for these games in Games.
My X-Fi Gaming Review in PC Audio.
Speed of light slowing down in Current Events.
Even F1 drivers can lose their license in Motoring.
Classic Adelaide Pics (many large pics) in Motoring.




Screwed Mobo (1 Comments) (link)
Thursday, 24-November-2005 22:48:38 (GMT +10) - by Agg


A few people sent these in. Improvising a CPU cooler mounting method isn't always a good idea:



Ouch. There's some discussion in this thread.



Australians don't get to buy an Xbox 360 yet, although it was launched in the USA yesterday. It'll apparently be here in about March, and cost between $499 and $650. Anandtech have a look inside, and a closer look at the motherboard. FiringSquad, HardOCP and Designtechnica posted their take on the new console too. OCModShop waited in line for one, while WindowsAtoZ wonder if the craziness has gone too far. TheTechZone wonder which bundle is the best, while Datafuse have six reasons not to buy an Xbox 360. Some people avoided buying them by stealing them instead, and beating up people for them, or even just fighting while waiting to buy them. Digitimes unsurprisingly say that Xbox 360 sales will help ATi and SiS, who made components for it. ViperLair wanted to review theirs but it died, and other people's have issues too - there's a problems wrapup on this site. For all the latest, keep an eye on this thread in our "Other Toys" forum.




Thursday Midday Reviews #2 (2 Comments) (link)
Thursday, 24-November-2005 12:34:38 (GMT +10) - by Agg


Storage:
OCZ Rally 512MB USB Flash Drive on BigBruin.
Western Digital Caviar SE16 WD2500KS 250GB HDD on XYZComputing.
Lexar JumpDive Secure II 'File Shredder' flash drive on EverythingUSB.

Memory:
OCZ EL DDR PC-3200 Gold GX XTC on Pro-Clockers.
Corsair TWINX 2048-4000 DDR500 on OCOnline.
G.Skill Extreme 3200DSU2-1GBFX DDR400 on LegionHW.

Cooling:
Arctic Cooling ATI Silencer 5 video cooler on NGOHQ.
Arctic Cooling Freezer 64 Pro AMD CPU cooler on 3DXtreme.

Video Cards:
BFG Tech 7800GT OC Watercooled on OCProjects.
GeForce 7800 GS mini-review on NGOHQ.
XFX GeForce 7800 GTX 512 XXX Edition on Bjorn3D.
XFX 7800GTX 512MB on TweakTown.
GeForce 6800 XT 256MB on Guru3D.
ATI All-In-Wonder X1800XL first looks on Hexus.
Gigabyte GeForce 7800 GT on HotHardware.

Input Etc:
Saitek Eclipse Illuminated Keyboard on ThinkComputers.
Logitech G7 Laser Cordless Mouse on HWPacers.

Systems:
Alienware Aurora ALX prebuilt system on Techspot.
Dell XPS 600 SLI prebuilt gaming PC on TrustedReviews.




Thursday Midday Reviews (0 Comments) (link)
Thursday, 24-November-2005 12:19:43 (GMT +10) - by Agg


Motherboards:
Epox EP-8NPA SLI S754 A64 board on PCModdingMy.
ASUS A8N32-SLI Deluxe S939 A64 board on TechReport.
Epox 8NPA SLI S754 A64 board on PC Perspective.
ASUS P5N32-SLI Deluxe LGA775 P4 board on LegionHW.

Audio / Video:
Compro VideoMate U900 USB TV tuner on HWZone.
Buttkicker Gamer bass for your base on ExtremeMHz.
Cowon iAudio X5 20GB mp3 player on WindowsAtoZ.
Creative T6060 5.1 Speakers on RBMods.

Software:
Fable: The Lost Chapters on Bytesector.
Football Manager 2006 on TrustedReviews.
Winbackup 2 Professional on Bytesector.
Microsoft AutoRoute 2006 - GPS Edition on TrustedReviews.
Everest Home Edition system info software on PCMech.

Misc:
TomTom GO 700 in-car GPS on BIOSMag.
Startech SV411KA KVM keyboard/video/mouse switch on OCOnline.
Ultra Products 7-Port USB Buddy Hub on Pimprig.
HP Photosmart 422 printer/digicam bundle on TrustedReviews.
Samsung SC-M105 Miniket 6 in 1 Multifunctional Digital Camcorder on Tweaknews.




LiNERROR's PCDB Entry (15 Comments) (link)
Wednesday, 23-November-2005 13:24:17 (GMT +10) - by Agg


Here's one way to get lots of dust-free air into your case. Mount an automotive air-filter, stuffed with fans, on your case side:



Click for the PCDB entry!






VIA K8T900 Chipset (0 Comments) (link)
Wednesday, 23-November-2005 13:15:14 (GMT +10) - by Agg


VIA announced that their K8T900 motherboard chipset is now sampling with leading motherboard partners. Designed to support a complete range of AMD Athlon 64, and AMD Athlon 64 FX processors, the VIA K8T900 delivers a leading edge platform for PC Enthusiasts. Featuring VIA RapidFire technology for leading performance, the VIA K8T900 also integrates a single x16 PCI Graphics card connection or alternatively two x8 PCI Express connections supporting for the latest high performance multi graphics card configurations.

(P)reviews on Bit-Tech, HotHardware, LegionHardware, PC Perspective and Tech Report.




Wednesday Afternoon Reviews #2 (0 Comments) (link)
Wednesday, 23-November-2005 13:03:37 (GMT +10) - by Agg


Power Supply:
Cooler Master RealPower 550W on TechPowerUp.
SilverStone Strider ST60F 600w SLI on OCIA.

Memory:
OCZ EL DDR PC-3500 Gold GX on CaseModGod.
GeIL Ultra PC2-5300 DDR2-667 on Phoronix.
OCZ EL DDR PC-3500 Gold GX XTC (video review) on 3DGameMan.
GeIL ONE Winbond BH5 1GB on NGOHQ.

Cameras:
Olympus SP-350 8Mpix digicam on TrustedReviews.
Kodak CX7530 5Mpix digicam on ThinkComputers.
Tamron AF18-200MM F/3.5-6.3 DiII Lens on OCModShop.

Networking:
ZyXEL ZyAIR AG-225H WiFi Finder and USB Adapter on TrustedReviews.
U.S. Robotics Wireless MAXg ADSL2+ Gateway on BIOSMag.

Cases, Mini, Portable, Prebuilt:
Silverstone LC17 HTPC case on MadShrimps.
AOpen Mini PC Pentium-M SFF on SFFTech.
KickButtComputers Signature Series Drum Theme System prebuilt/modded PC on ExtremeMHz.
NZXT Lexa Classic case on Pro-Clockers.




Wednesday Afternoon Reviews (1 Comments) (link)
Wednesday, 23-November-2005 12:38:38 (GMT +10) - by Agg


Video Cards:
Asus N7800 GT on Neoseeker.
Asus EN7800GT 2DHTV/256M/OSP/A on PCStats.
ATI All-In-Wonder X1800XL on XbitLabs.
Sapphire Radeon X800 GTO² and X800 GTO Ultimate Edition on Beyond3D.

Cooling:
MIPS RAM Freezer memory watercooling on TechPowerUp.
Asetek Vapochill Micro CPU cooler on SilentPCReview.
OCLabs Monoblock 6 CPU waterblock on InsaneTek.
Zalman CNPS9500 LED CPU cooler (video review) on 3DGameMan.
Lighted Blue Card Cooler on Hi-TechReviews.
PrimoChill PC ICE Non-Conductive Coolant on PimpRig.
Cooler Master AquaGate Mini R120 watercooling kit (translated) on TecCentral, our review here.

Storage:
X-Micro Mini DisGo 20GB USB storage on HWSecrets, our review here.
Seagate 7200.9 500GB SATA HDD on ClubOC.
Enermax Laureate Drive Enclosures on BigBruin.




Tuesday Afternoon (6 Comments) (link)
Tuesday, 22-November-2005 13:23:59 (GMT +10) - by Agg


ATI announced the USA availability of their X1800XL All-In-Wonder card.. not sure about Asia/Oceania availability. Reviews on Bjorn3D, DriverHeaven, HotHardware, Motherboards and Viperlair.

The Power Supply Unit page in our Wiki has been a frenzy of activity over the last few days.. lots of info there now.

Sony's woes continue, after shipping CD's with some dubious stealth copyright-protection software onboard. They're now offering CD's and mp3 files to make up for the problem disks. Apparently people are being turned off buying CD's by all the problems. The RIAA has (un?)surprisingly said it supports the use of "rootkit" programs like Sony's. A Sony rep talked to TheInq about how things are going with it all. The latest development is that the state of Texas is suing Sony over the installed software.

On a related note, RojakPot have updated their emergency spyware guide. Is your PC behaving strangely? Popping up banners all the time? Getting redirected to unknown websites? It's very likely your PC has been hit by spyware!

Rainwulf sent in this bizarre story about a rotating mirror system to reflect sunlight from one town to their darker neighbour. Sounds like something from the Simpsons.

JC says that GeeXboX 0.98.7 (for x86) is available with DVB cards support!! Homepage here, DL links here. A bloody handy tool, not just for watching all kinds of media, but also for checking whether that pesky dvd drive in ya pc is cactus or not :D

Apparently searching is now the #2 internet activity, after email and ahead of reading news.

TrustedReviews have a DVD writer roundup featuring NEC, LG, Shuttle & Toshiba.

Thetron sends word of "vshnu", a new Linux shell. screenshots here, main page here, Article/review here. Good for maintaining files, but of course if you want to create any you'll need brhma and to delete files you'll need shva. Ho ho, pardon my little Hindu joke. (If there's any surgeons who'd be happy to do a free pun-ectomy on Agg, please contact us at news@overclockers.com.au. Please, help us help Agg. - Sciby)

White Rhino spotted this funky corn flour science video. While wandering around that site I also found this interesting video about how the snapping shrimp produces its sound/shock effect. It's not just the claw snapping shut.

HWZone went along to one of MSI's factories in Kunshan, China. The tour offered us a glimpse of what goes on behind MSI's factories, their focus for 2006 and a look at some of their new product offerings.

Bit-Tech have some first impressions of the Xbox360 console and a few games.

From Peter, about Dell possibly selling AMD-powered PC's: Arstechnica reports they could be and others say not.

A few people pointed out this crazy Xmas Lights video.. discussion in The Pub here. Glad I don't live next door to them!




Tuesday Morning Reviews (3 Comments) (link)
Tuesday, 22-November-2005 10:37:44 (GMT +10) - by Agg


Power Supply:
SilverStone PSU Muffler on Techgage.
Flexiglow Fg-500w-ez on RBMods.
Thermaltake Power Station 520W on BigBruin.
Coolmax CXI-600B PSU on PCModdingMy.
Ultra X-Finity 500W on Pimprig.
Ultra X-Finity 2nd Generation PSU on Moditory.

Audio / Video:
Apple iPod 60GB on GameBiz.
ViewSonic N3250w 32 Inch LCD Television on XYZComputing.
X-Micro Video MP3 400 on HWSecrets.
Terratec Cinergy 2400i DT twin DVB-T tuner on TrustedReviews.
Leadtek DTV1000 T Digital TV Tuner on TrustedReviews.

Software:
Kubuntu v6.04 (Dapper Drake) Flight 1 Linux distro on Phoronix.
Civilisation IV game on A1-Electronics.
Call of Duty 2 game on TrustedReviews, our review here.

Storage:
Seagate 5GB Pocket HDD on ARP.
Toshiba 6x Burn Speed Dual Layer Burner on Techneek.
Seagate Barracuda 7200.9 500GB HDD on SilentPCReview.
Western Digital WD740GD Raptor HDD on TechWareLabs, our review here.



Does your MP3 collection contain thousands of tracks with dodgy ID3 tags, wrong file names and generally, little or no order to it? The Tech Zone have some helpful hints on how to clean up your music collection.

Also on The Tech Zone, how to avoid Identity Theft. I guess the easiest way is to not identify yourself, ever!

For the photo buffs, XYZ Computing have posted an article which tries to explain some of the terms and ideas used in Digital Photography. Some good explanations and example images in this article.

Is the x86 architecture going to be with us for much longer? Hardware Hell ponder this with some info on the background and future of x86 CPUs.

Tweaktown have some info about nVidia's ForceWare 81.94 driver set. "There is no denying that we see a new nVidia driver once in a blue moon but when they hit the web, boy do we get to see some improvements and that's a credit to nVidia for keeping things interesting." Read it here.

What is iMode? I'm not sure but OC Workbench will explain it. Seems to be a news and info subscription for Mobile Phone users.

Phronix test out the latest version of Quake 4, namely Quake 4 v1.0.5. "... the Linux SDK for Quake 4 is now available for download. Although none of these changes specifically relate to the frame-rate performance of this fast-paced first person shooter, are there any other improvements to note?".

Notebook manufacturers have a tendency to sell dual-channel capable machines with only single channel memory installed. 3DVelocity wonder why is it so?

ARP have updated the Desktop Graphics Card Comparison Guide. He's up to v9.5 now.

News in from Aaron. "Nintendo Australia released Mario Kart for the DS today. It's the first game to use the Nintendo WiFi connection, allowing players to connect to multiplayer games via the internet for free. Check it out here.

It seems we did something to really annoy the Americans. They're going to Bomb Us! I guess they need something big to aim at. Thanks Brett.




Monday Night (7 Comments) (link)
Monday, 21-November-2005 20:52:18 (GMT +10) - by Agg


HWZoom have coverage of the grand final of the World Cyber Games, and more here. TTZ have results and info from there too. Bit-Tech meanwhile previewed the Dreamhack LAN in Sweden, checking out some modded PC's.

From Torr: This is a couple months old however I stumbled uppon this at Cowon's (or IAudio as it's known brandwise) site. It's a movie and video player that natively supports divx, flac, and a host of other codecs.

HardCoreWare compared a couple of 100GB laptop drives from Hitachi and Seagate.

HWSecrets look back at the various P4 models, from S423 through S478 and the current LGA775 socket.

Nick spotted this article about future control of the internet. While the U.S. interprets the agreement to give it continued control over the Internet's core components, including its addressing systems, the E.U. reads it to open the door for Internet oversight to be shared by governments of the world.

Tis the season of "gift guide" articles.. new ones on TheTechZone (and here), ThinkComputers, XYZComputing and WindowsAtoZ.

LegitReviews compared seven sticks of DDR2-800 memory from A-DATA, Corsair, Crucial, Kingston, Mushkin, OCZ and SyncMAX.

Gideontech build a light box for taking product photos etc.. hmm, not a bad idea. A slightly larger project is a change-management lab from GeekExtreme.

CaseModGod cover metal leafing. Having parts dipped and plated, like chroming, can be very pricey. So what do you do? A technique called Leafing, which is a process of applying a real metal onto wood, metal, or plastic.

From allabouttrust: In short, Google's launched "Google Base," which is designed to rival eBay and craiglist.

An interesting link from AB: a free PDF copy of "God's Debris", a book by Scott Adams of Dilbert fame, but on a very different topic. Imagine that you meet a very old man who - you eventually realize - knows literally everything. Imagine that he explains for you the great mysteries of life - quantum physics, evolution, God, gravity, light, psychic phenomenon, and probability - in a way so simple, so novel, and so compelling that it all fits together and makes perfect sense. I've made a mirror of the file here on our server.




Sunday Night Reviews (2 Comments) (link)
Sunday, 20-November-2005 20:58:23 (GMT +10) - by Agg


Audio / Visual:
Toshiba Gigabeat audio/video player on Gamebiz.
Edifier MP300 2.1 Portable Audio System on HWZone.

Input Etc:
iONE Scorpius-P20 2.4 Ghz Wireless Keyboard on Tech-Mods.
Saitek Cyborg Evo Force Joystick on ThinkComputers.

Storage:
Apricorn Ez Bus Portable Backup System 20GB on ThinkComputers.
WD Caviar SE16 SATA HDD on ComputingOnDemand.
Plextor PX-740UF External DVD±R/RW Drive (video review) on 3DGameMan.
Samsung Spinpoint 250GB PATA HDD on Tech-Mods.

Motherboards & CPU:
Abit AW8-MAX v1.0 i955X LGA775 board on Phoronix.
AMD Athlon 64 X2 4600+ and 4200+ S939 dual-core processors on SharkyExtreme.
ECS KN1 S939 motherboard on Bit-Tech.
ECS KN1 SLI Extreme S939 motherboard on HotHardware.

Software:
Call of Duty 2 game on DriverHeaven, our review here.
Microsoft Office 12 Beta 1 on WindowsAtoZ.
KDE v3.5 RC1 desktop environment on Phoronix.

Video Cards:
ASUS Extreme N7800 GTX TOP PCI-E 256MB on 3DAvenue.
XFX GeForce 6600 GDDR2 on XbitLabs.
Gigabyte Radeon X1800XL on TweakTown.
ATI All-In-Wonder X800XL on ViperLair.

Memory:
OCZ PC4000 Gold Edition on OCrCafe.
GeIL ONE W BH5 PC3200 400MHz DDR on Pro-Clockers.

Cases:
Cooler Master CM Stacker 830 on HWZone.
Cooler Master Centurion 531 on PimpRig.

Cooling:
Noctua NH-U12 & NH-U9 CPU coolers on LegionHardware.
Thermalright SI-120 CPU cooler on OCIA.

Power Supply:
CoolMax CW-650T 650W on ClubOC.




Friday Afternoon Reviews (0 Comments) (link)
Friday, 18-November-2005 17:44:02 (GMT +10) - by Mred32


Memory:
Crucial PC3200 2GB Memory Kit at Techgage
HIS IceQ X700 128Meg AGP at Tweaknews
OCZ EL DDR PC-3200 Gold GX XTC at techPowerUp

Video:
XFX GeForce 6600 DDR2 256MB PCIe at Hexus
EVGA's 6800 GS at Neoseeker
Gigabyte GV-NX66T256DE Silent Pipe II at Sudhian
Sapphire Radeon X1800XL at TechSpot

Storage:
Maxtor OneTouch II External HDD at BIOS
Seagate Pocket Hard Disk Drive at Bytesector
OCZ Rally Dual Channel USB Flash Drive at hardCOREware
LG LGDVB418 DVD Player at Designtechnica

Cooling:
Jetart VGA All in One Cooler at Pro-Clockers

Audio/Video Players:
iRiver U10 1GB Media Player at Everything USB
Steel Sound 5H USB Gaming Headset at ThinkComputers
X-Micro Video MP3 400 Player video review at 3dGameMan
Slim Devices Squeezebox Network Media Player at Designtechnica

Cases:
Antec P160 Alu ATX Mid Tower at Tweaknews
Cooler Master Centurion 531 Case at PC Perspective
Highspeed PC Tech Station v2 at Paradise|OC

Digital Camera:
Fuji FinePix E900 Digital Camera at Designtechnica




Friday Morning (6 Comments) (link)
Friday, 18-November-2005 03:15:55 (GMT +10) - by Agg


Fuzzy photos might be a thing of the past eventually, with this sensor idea on NewScientist.. there's a thread in our Photography forum about this here.

HotHardware explored NCQ & RAID. In this article we explore the performance of Maxtor DiamondMax 10 drives in various RAID configurations and stripe sizes.

I found this blog with a focus on soldering tips and techniques, in our referrer logs.. some interesting info there.

Tired of your PC being damaged by "salt fog"? :) Maybe you need one of these rugged military computers from Israel.

From Nick, a report that Microsoft is considering free, ad-supported Windows. "As web advertising grows and consumer revenues shrink, we need to consider creating ad-supported versions of our software," the site quoted from the paper.

Ian spotted some AMD quad-core info. Nathan Brookwood, an analyst with Insight 64, said he believes if AMD "gets aggressive" it could release quad-core in 2006.

Ecoustics list the "honorees" in 30 categories for the Best of Innovations Awards at CES 2006.

HWSecrets cover connecting two PC's via USB. Connecting two PCs with a cable like this you can transfer files from one PC to another, and even build a small network and share your Internet connection with a second PC.

Cobalt spotted the top five evil computer movies on SMH.

Dan ponders 3D printing as well as a little flashlight that he really really likes.

Thetron sent in this guide to resizing partitions without formatting. Every Linux CD includes a program to resize your Windows partition to make room for Linux because Windows usually takes up the whole hard drive.

XbitLabs have a guide to choosing a compact notebook. The models from Acer, Dialogue Technology, Fujitsu Siemens, IBM, LG, MSI, and Samsung boast unique personality, excellent features, small size and weight.

Interesting Forum Threads:
Four-way multi-GPU system based on two ASUS dual-7800GT in Video Cards.
Freespace 2 ISO's available on iiNet FTP in Games.
Do any of you use a knife like this? in Geek Food.
Quick Shot review of FZ30 in Photography.
Crumpler are ON DRUGS in Photography.
GP2X handheld. anyone gettin it? in Other Toys.
Rough-running problem fixed on the SE-86 in Motoring.
LeMans Classic 2005 (pics) in Motoring.
The ride of my life (pics) in Motoring.
Had an accident this morning! in Motoring.
Aust. Govt. allows US to test weapons on Australian soil in Current Events.
Car-webcam-video thing in The Pub.
I got "white van-ed" today!! in The Pub.




Thursday Afternoon Reviews #2 (1 Comments) (link)
Thursday, 17-November-2005 17:01:53 (GMT +10) - by Agg


Cases:
Antec Super Lanboy tower on TweakBews.
MGE XG Dragon tower on OCrCafe.
Antec P180 tower on ComputingOnDemand.
Sansun SN-C001 The Bat case on TechPowerUp.

Memory:
Corsair Twin2X1024-8000UL DDR2 on ViperLair.
OCZ DDR PC-4000 Platinum Enhanced Bandwidth on DriverHeaven.
OCZ Gold GX PC3200 XTC on Techgage.
OCZ DDR2 PC2-5400 Value Pro 1G on Tech-Mods.

Software:
Serious Sam 2 game on DriverHeaven.
F.E.A.R. game on Guru3D, our review here.
Nero 7 Ultra Edition burning SW on WindowsAtoZ.
WinBackup 2.0 Professional backup SW on Moditory.

Misc:
Epson AcuLaser C4200 colour printer on BIOSMag.
Gadget Brando Night Vision Camera on PC-Base.




Thursday Afternoon (5 Comments) (link)
Thursday, 17-November-2005 14:25:41 (GMT +10) - by Agg


From PodgeSSS: Telstra to cut 12,000 jobs, CDMA shutdown, IT systems cut.

Breech spotted this cool hard drive platter table, made from a huge and ancient hard drive.

SFFTech consider the small form-factor scene including Soltek's rise, fall and eventual exit from the market.

HWZoom have a look behind the scenes of the World Cyber Games in Singapore during the setup phase, as well as the Opening Ceremony.

HWZone meanwhile have a Radeon X800 GTO PCIe roundup from Sapphire, who have four cards based on that GPU.

DesignTechnia have a photo printer buyer's guide. I've pretty much given up on printers, the last few haven't lasted long enough to be scared by the replacement cartridge price.

Matthew noticed these Xbox 360 internal pics on Anandtech.

Techspot have info on an AGP X1800 from Diamond, thanks Drifter. Be interesting to see if this comes to fruition. AGP Version includes VIVO.

NVIDIA managed to more than double its profit recently. The proportion of desktop computers that were equipped with Nvidia chips rose to 50 per cent in the third quarter, the company said, citing Mercury Research.

Dan has yet more letters. Canned cold, anonymous P2P, the Case of the Toasty Xeon, and doubling up your PSUs.




Thursday Afternoon Reviews (0 Comments) (link)
Thursday, 17-November-2005 13:58:01 (GMT +10) - by Agg


Video Cards:
Albatron 6600GT (single and SLI) on Bjorn3D.
PowerColor Radeon X800 GT on InsaneTek.
XFX 7800 GTX 512 on Avault.
NVIDIA GeForce 7800 GTX 512 on Xbit.
Nvidia GeForce 7800 GTX 512 on A1-Electronics.

Cooling:
NH-U12 and NH-U9 Radiators (translated) on Overclex.
PrimoChill PC ICE liquidcooling fluid on ThinkComputers.
Titan TTC-K8ATB/825/SC A64 CPU cooler on FrostyTech.

Motherboard & CPU:
AMD Sempron 3400+ CPU on BlueSmoke.
Sapphire Pure Innovation PI-A9RX480 A64 board on Pimprig.

Storage:
Corsair Flash Voyager thumbdrive on AVault.
Corsair Secure Digital 133x flash media on ViperLair.
Thermaltake Muse external enclosure on XBitLabs.
OCZ Rally Dual Channel USB Flash Drive on RojakPot.
OCZ Rally Dual Channel USB Flash Drive on RBMods.
Samsung SpinPoint P120 SATA HDD on StorageReview, thanks kasi.




X-Micro Mini DisGo 20GB USB Storage (12 Comments) (link)
Wednesday, 16-November-2005 19:53:12 (GMT +10) - by Agg


X-Micro sent along one of their new Mini DisGo USB drives. It's about the size of a credit card and as easy to use as a flash drive, but it's 20GB! Read on to see how it performs..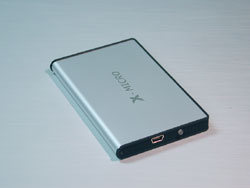 Click for the review!






Forum Emails (2 Comments) (link)
Wednesday, 16-November-2005 18:59:21 (GMT +10) - by Agg


If you suddenly find you can't post, most likely you need to fix your email setting in UserCP and respond to the confirmation mail the system will send you. You should then be able to post, and within an hour, see the trading forums again.

Even if your forum account is ok, please quickly check your email is up to date. We receive thousands of bounced emails every day now, due to people not keeping their settings updated.

Remember, you need to use a non-free email with your OCAU forum account.




Wednesday Review-O-Rama (4 Comments) (link)
Wednesday, 16-November-2005 05:41:40 (GMT +10) - by Mred32


Systems/Laptops/PDA:
Apple iBook 12 at Cowcotland (in French - English-ish here)
Shuttle XPC SD31P at The TechZone

CPU:
AMD Athlon 64 X2 3800+ at AMDboard

Memory:
Corsair XMS2 5400UL 1Gb Kit DDR2 at Madshrimps
Corsair XPERT TWINXP1024-3200XL at Techware Labs
OCZ PC4800 DDR and PC5400 DDR-2 at TweakTown

Video:
nVidia GeForce 7800 GTX 512 Preview at TrustedReviews
XFX GeForce 6600 at Viperlair

Storage:
2gb OCZ Rally Drive USB Flash at Club OC
Kingwin Nighthawk USB/SATA External Rack at OCC
Teac HD-35 NAS Solution at TrustedReviews
Toshiba MK1032GSX 100GB 2.5" SATA HDD at 3DVelocity

Cooling:
Water Wetter & Super Coolant at A1 Electronics.net
AeroCool GT-1000 Heatsink at Club OC
Antec Notebook Cooler at Tweaknews
Arctic Cooling Freezer 7 Pro at InsaneTek
Arctic Cooling Freezer 7 Pro at Pro-Clockers
ASUS Crux K8 MH7S Heatsink at Club OC
Cooljag SFO-H Skived Athlon64 Heatsink at Frostytech

Audio:
Creative X-fi Fatal1ty soundcard at Red&Blackness Mods
Philips GoGear HDD6330 30GB MP3 Player at ExtremeMHz
Vantec AVOX Video Jukebox at Hi-Tech Reviews
KOSS HQ1 Vibration Stereophone at Hardware Zone

Cases:
Antec Super Lanboy Aluminum ATX at Tweaknews
NZXT Lexa Tower Case at Madshrimps

PSU:
Enermax Liberty 620 Watt PSU at ThinkComputers
XG Magnum 500W Modular PSU at Techniz
PC Power & Cooling Turbo-Cool 510 Express SLI PSU at PCStats
PC Power & Cooling Turbo-Cool 510 Express SLI PSU at PC Modding Malaysia
ePower XScale 570W PSU at Phoronix

Digital Camera:
Canon PowerShot S80 at TrustedReviews

Input Device:
Logitech Cordless Desktop MX 3100 Keyboard and Mouse Duo at BonaFideReviews
Razer Mantis Speed and Everglide Titan Mouse Pad at Driverheaven
Microsoft Laser Mouse 6000 at Gamebiz
Logitech Cordless Desktop MX 5000 Laser at ThinkComputers
Logitech G5 & G7 Laser Mice at A1 Electronics.net

Misc:
Elmeg IP-290 VoIP Phone at BIOS
Logitech Harmony 525 Universal Remote at TrustedReviews
BT Logics Memory Pointer at ASE Labs




Tuesday Afternoon (3 Comments) (link)
Tuesday, 15-November-2005 12:40:24 (GMT +10) - by Agg


7800 GTX 512 stragglers: AMDZone, ExtremeTech, FlyingSquirrels, NordicHW, T-Break and TomsHardware. VR-Zone have a new 3DMark record while PenStarSys look at the process of creating this new GPU.

Sun Microsystems has announced an eco-friendly server chip, the UltraSparc T1. Sun said its chip was eco-friendly, and removing the world's web servers and replacing them with half the number of UltraSparc T1-based systems would have the same effect on carbon dioxide emissions as planting a million trees.

IBM's Blue Gene/L is still the fastest supercomputer in the world, with the latest Top 500 list being released recently. The Blue Gene/L machine has doubled in size since the last list was compiled and now harnesses the computational power of more than 130,000 processors.

HWSecrets debunk some data recovery myths. Not sure that I agree with all of their findings.

Intel have released some desktop processors with virtualisation support. Virtualisation technology allows PC and server users to run multiple operating environments on a single processor, allowing one machine to be carved into several "virtual" computers.

Dan has more letters. In the latest issue: Air-con versus fans, self-destructing batteries, oil with added snake, the hydrinos that won't die, life-saving key-chains, dumb ads, and more crazy audiophiles.

Malcolm from Telstra sent this streaming link to a video of the Airbus A380 landing in Sydney recently.

A few people pointed out a fairly odd video of Bill Gates, dressed as the hero of Doom, talking about the "future" of PC gaming back in the Win95 days. It was hosted on a personal webspace, so I've mirrored it here (11MB) on our server.

HardOCP have an article about the quality of CrossFire motherboards. I took delivery of our DFI CrossFire motherboard and prepped it for testing. We almost immediately ran into problems.

XYZComputing looked at Dell's open-source desktops.. prebuilt PC's with Linux in mind.

From Norgs: For those VoIP freaks out there, they might wanna check out this new stuff from Linksys. Looks pretty cool, and while it doesn't have GSM yet, it actually looks like a phone you would carry around.




NVIDIA GeForce 7800 GTX 512 (1 Comments) (link)
Tuesday, 15-November-2005 02:17:45 (GMT +10) - by Agg


NVIDIA have announced their GeForce 7800 GTX 512 GPU, which arrives with a higher clockspeed and 512MB of memory. In addition the new GeForce 7800 GTX 512 GPU delivers amazing performance on some of the most anticipated games of the holiday season, with a measured performance increase of 33% over the previous award-winning GeForce 7800 GTX.

Coverage on Anandtech, Avault, Beyond3D, Bit-Tech, Bjorn3D, DriverHeaven, Guru3D, HardOCP, Hexus, HotHardware, PC Perspective, TechReport and TechWareLabs.

There's a thread about this new product here in our Video Cards forum.




Tuesday Morning (11 Comments) (link)
Tuesday, 15-November-2005 01:39:35 (GMT +10) - by Agg


Ambush and dljunior spotted these express editions of various Microsoft Visual Studio programs available for download. They seem to be freely available, not sure of the details.. if you're an MS programmer you might want to check it out.

CaseModGod have a guide to working with plexiglass in your next modding project.

From Hoopstar: Check out this awesome site that is dedicated to BAR/Honda aim to set a new land speed record for a Formula 1 car, built to FIA regulations. The car will used is a BAR067 and will be trying to record a speed of 400km/h. This site tells you about the challenge, why they are attempting it and how they are going to make history. A great read for any F1 fan. There's actually a forum thread a couple of months old about this here.

Having recently switched from a laptop back to a desktop for my main PC, I'm on the lookout for some laptop-style keyboards for PC's. TrustedReviews compared a few mini keyboards that might be what I'm after.

Mauzl sent word of some Oceania-preferred WoW realms that have opened up. If you've been seeking someplace with a community that serves the Oceania schedule, look no further than these realms: *Frostmourne* (PvP, Oceania-preferred) *Khaz'goroth* (PvE, Oceania-preferred)

Sony is facing a class action about their "spyware" CD's. Rmack spotted news of a virus that uses Sony's software to hide on PC's.

Apple's iPod Nano will now ship with a protective case to protect it better from scratches, thanks psyc0de. Still seems to be mixed feelings out there about whether the scratching thing is a real issue or not.

HWSecrets explain how to set up a small network based on a broadband router. Not really all that complex, I thought. Meanwhile VPNs and Internet Connection Security are covered on PCStats.

Phoronix have some Linux info on new ATI drivers.. firstly a look at Linux Performance and also some info on ATI PowerPlay. ATI's PowerPlay is a power management technology that is designed to dramatically reduce the power consumption of ATI MOBILITY RADEON GPUs by adjusting the core and memory clock speeds along with the voltage supplied to the chip.

RBMods looked at some custom cases from one of their most prolific modders.

PCPerspective might be able to help if your X-Fi and nF4 are clashing. There is good chance that the X-Fi card you buy today will work fine with your nForce 4 system, but keep this issue in mind when turning your X-Fi on for the first time.




Monday Afternoon (9 Comments) (link)
Monday, 14-November-2005 14:09:36 (GMT +10) - by Agg


Some kind of terror threat going on in Brisbane at the moment, stay tuned to this thread for more news from OCAU roving reporters.

The NFS: Most Wanted demo is out now on AusGamers.. there's a Tweak Guide for the game now too.

Beyond3D have some worrying ATI driver news.. renaming FEAR.exe to pretty much anything else results in a performance increase on ATI hardware. Not again!

Tweaktown updated their ATI Catalyst 5.11 Performance article to include the X1K series of cards. You can get these drivers from our mirror.

Hexus compared Leadtek PX7800 GTX TDH MyVIVO Extreme 256MB and SAPPHIRE RADEON X1800 XT 512MB cards, while Tech-Hounds looked at Radeon X800XL and GeForce 6800GT.

James spotted a cool HTPC Car PC. That's a PC in a car, not a PC in.. a car.. I mean.. a little car.. you know what I mean.

TheTechZone have a guide to new laptop technologies, as well as avoiding common digicam mistakes and the latest in the blue laser wars.

Phoronix have info on some leaked NVIDIA 1.0-8168 drivers. Today we have some initial information coming out of Phoronix about the introduction of Linux SLI and other features.

Microsoft say you should upgrade your Flash player, thanks Nick.

VR-Zone have a nice shot of an Intel Tulsa wafer, thanks Mats. Intel is on track to deliver the 65nm Tulsa, a dual-core Xeon MP processor with 16MB L3 shared cache and 2 x 1MB L2 cache in H2 2006, replacing Paxville MP. 16MB?!




Sunday Midday Reviews (1 Comments) (link)
Sunday, 13-November-2005 12:03:58 (GMT +10) - by Agg


Mini & Portable:
Shuttle XPC SD11G5 Pentium M mini-PC on HWZone.
Asus W2V laptop on HotHardware.
Shuttle XPC SD11G5 Pentium M mini-PC on SFFTech.

Video Cards:
HIS Radeon X800 GTO IceQ II on HWSecrets.
XFX GeForce 6600 256MB DDR2 PCIe on HWZone.
XFX Geforce 6600 DDR2 on DDR2.
ATI Radeon X1800 XT on Bit-Tech.

Cooling:
Arctic Cooling NV Silencer 5 Rev. 3 on Techgage.
Evercool Ice Storm HDD cooler on PCModdingMy.
Thermaltake Polo735 Athlon64 CPU cooler on FrostyTech.
NV Silencer 5 Rev3 on InsaneTek.
Sunbeamtech Theta TP-101 Fan Controller on CaseModGod.

Audio / Visual:
1GB Apple iPod Shuffle on BigBruin.
Andrea SuperBeam Array Microphone on Accelenation.
Samsung SyncMaster 204T 20" Silver LCD Monitor on BonaFideReviews.
Creative Zen Nano Plus 512MB vs iriver T20 mp3 players on TrustedReviews.
Samsung HD-950 High Definition DVD Player on Bytesector.

Games:
Quake 4 on UKGamer.
Dangerous Waters on A1-Electronics.
Pro Evolution Soccer 5 on UKGamer.
F.E.A.R. on Driverheaven, our review here.

Input Etc:
Microsoft Remote Keyboard for Windows Xp Media Centre Edition on SFFTech.
iOne Lynx-Q5 Gaming Mouse on Tech-Mods.
BTC 6301URF Low Profile Keyboard & Optical Mouse Combo on Techniz.
Das Keyboard on PimpRig.

Printers:
HP Photosmart 385 printer on WindowsAtoZ.
Epson AcuLaser C2600N on TrustedReviews.




Sunday Morning Reviews (0 Comments) (link)
Sunday, 13-November-2005 00:40:13 (GMT +10) - by Agg


Motherboards:
ASUS A8N32-SLI Deluxe A64 board on LegionHardware.
Gigabyte 8N-SLI Quad Royal with four PCIe slots on PCPerspective.
Asus A8N32-SLI Deluxe A64 board on PCPerspective.

Case:
Antec P180 tower on ComputingOnDemand.
Antec Overture 2 desktop case (update) on TheTechLounge.
MGE XE Dragon on DriverHeaven.
ASUS Vento 3600 tower on FutureLooks.

Storage:
X-Micro Mini DisGo USB storage (video review) on 3DGameMan.
Western Digital Caviar SE16 WD4000KD 400GB SATA drive on PCStats.
SanDisk ImageMate USB 2.0 CompactFlash Reader on CyberWizardPit.
X-Micro Mini DisGo USB storage on Techniz.

Power Supply:
SilverStone Strider ST60F 600W on InsaneTek.
OCZ PowerStream 520W on TweakNews.
Enermax Liberty ELT500/600AWT on SilentPCReview.
FSP Green PS 400W on SilentPCReview.




Saturday Evening (4 Comments) (link)
Saturday, 12-November-2005 17:54:27 (GMT +10) - by Agg


When Microsoft wants your name, they'll take it, as experienced by an Australian developer recently, thanks Belgarath. The story is here with an article here at The Age and here at Slashdot. Fair enough that they own the trademark, but it seems a bit rude.

Beyond3D have an interview with FutureMark about the next version of 3DMark. There's a thread discussing some new screenshots from it here in our Video Cards forum.

National Geographic report on an antigravity patent and gravity tractors to deflect earthbound asteroids.

Glenn sent in this article about Australia's top gamers heading to Singapore to compete in the World Cyber Gamers later this month.

SilentPCReview consider some quiet cases and other tips for a quiet PC.

Timbot sent word that alfoil headgear is more likely to amplify government spy signals, than protect you from their scans.

TechPowerUp have some volt mods for ASRock's 939Dual-SATA2 motherboard.

A giant sea monster called Godzilla, well, the remains of one, has been found in Argentina.

If our Call Of Duty 2 review from a couple of days ago got you interested, you can now get the most from it with a Tweak Guide.

Airbus's new A380 landed successfully in Brisbane today. If you want to keep up to date on things, check out the large thread in our Photography forum. Interesting cockpit photo here.

XbitLabs checked out 28 current CPUs in a range of games. Find out now which CPU can be called "the gamer's best choice"! Part two is here.

Joeechick pointed out in this thread that the Mystery of Time and Space timewaster has been updated with new levels.



Server issues this morning, but all back and happy now. Enjoy!



Systems/Laptops/PDA:
Sony VAIO S5VP at TrustedReviews
ASUS V6-V Notebook and Pakuma Akara K1 at HEXUS

Mainboard:
Foxconn WinFast 761GXK8MC-S Motherboard at PCStats
Epox 8NPA SLI Motherboard at PCStats
ECS KN1 EXTREME SLI 1.0a Motherboard at Futurelooks

Video:
Gigabyte NVIDIA GeForce 6600GT with Silent-Pipe II at HardwareZoom
nVidia GeForce 6800 GS at TrustedReviews

Storage:
Seagate Barracuda 7200.9 500GB SATA HDD at Bigbruin
XFX's Revo64 Serial ATA RAID Card at The Tech Report
OCZ Rally Dual Channel USB Flash Drives at Adrian's Rojak Pot

Cooling:
Thermaltake Silent Boost K8 Athlon64 Heatsink at Frosty Tech
Thermaltake Venus 12 Athlon64 Heatsink at Frosty Tech
PrimoChill ICE UV Blue Water Cooling Fluid at Bigbruin
Cooljag JZC811C Heatsink at Paradise|OC
Evercool HDD Cooler at Overclockers Online
NorthWater Xtreme Heat Xchangers at Virtual-Hideout

Case/Mods:
NZXT Nemesis Elite PC Case at TrustedReviews
Antec Minuet II Micro ATX Case at ThinkComputers
Nikao Dragonfire Gaming Case at ExtremeMHz
Vantec EZ-Grip Molex Connector Kit and Cable Sleeving Kit at Driverheaven

PSU:
Seasonic S12-600W PSU at Viperlair
Seventeam ST-550EAG 550W at HardwareZoom
Nexus NX-5000 SLI 500 Watt Quiet PSU video review at 3dGameMan
Enermax Liberty 620W Modular PSU at Viperlair
Super Flower Plug-N-Power 480 Watt PSU at ClubOC

Digital Camera:
Epson R-D1 Digital Rangefinder Camera at TrustedReviews

Input Device:
FlexiGlow CyberSnipa Gamepad at Virtual-Hideout
Razer Copperhead Mouse at Phoronix
Microsoft Wireless Optical 5000 Mouse/K'Board at Red&Blackness Mods
SunbeamTech X-1300 Gaming Mouse at OCIA

Misc:
Epson Stylus Photo R340 Inkjet Printer at BIOS
Buffalo Link Theater Multi-Format DVD Player at TrustedReviews




SpS-Phantom DUB EDITION (10 Comments) (link)
Friday, 11-November-2005 11:36:13 (GMT +10) - by Agg


We sometimes jokingly use the term "PC bling", but this new PCDB entry really has it:



Click either pic for the PCDB entry! (16 pics)






ATI Catalyst 5.11 Final (7 Comments) (link)
Friday, 11-November-2005 11:11:42 (GMT +10) - by Agg


We're providing the Australian mirror for Tweaktown's release of ATI's Catalyst 5.11 Final drivers. We're hosting ATI's latest Catalyst drivers (5.11 Final - November 2005 for Windows XP with CCC and WHQL) for Radeon graphics cards exclusively on TweakTown one day before they appear on ATI.com, to coincide with our monthly driver performance analysis articles.

More info and a file link on this page.



On this eleventh day of the eleventh month, please take a moment at eleven am to pause and consider those who served and sacrificed to preserve our way of life during World War I, the "Great War", the "War to End All Wars". During the five year period from 1914-1919 approximately 15 million people were killed, soldiers and civilians alike.

It was during this war that Australia emerged as a world power, no longer simply part of the British Empire, and it was actually an Australian who suggested a period of quiet respect on this Armistice Day, or Remembrance Day. In this time of terrorism and uncertainty about the future, consider that humanity as a whole has faced far worse in the past, and triumphed - but not without great sacrifice. Lest we forget.




Call of Duty 2 Game Review (12 Comments) (link)
Thursday, 10-November-2005 16:43:43 (GMT +10) - by Agg


Oli has given us a look at the new WW2 first-person shooter, Call of Duty 2. He focuses on the single-player campaign with plenty of screenshots: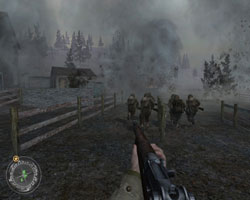 Click for the review!






More Press Releases (5 Comments) (link)
Thursday, 10-November-2005 15:23:13 (GMT +10) - by Agg


AMD released some examples of how dual-core Opteron processors are boosting datacentre efficiency. Customers who demand leading-edge performance are rapidly recognizing and embracing the speed, price and efficiency advantages offered by AMD64 and Microsoft x64 innovations. More info here.

Anyware presented to Australia and NZ, Lian Li's 20th Anniversary Memorial PC Case, the PC-777. Engineered with quality and style in mind, the PC-777 boasts a range of distinguished features as well as superior build quality and appearance. More info here.

ASRock have a MicroATX motherboard supporting both DDR and DDR2, and HDTV. Literally, as its model name tells you, 775Twins-HDTV is bundled with a VGA_HDTV panel with VGA and 3 RCA-type component video outputs. It allows PC to connect to high-definition TV with component video input capability, playing games like Doom or Half-Life on the wide, larger screen! More info here.

ATI are now shipping the Radeon X1800 XT. The new Radeon X1800 XT, which began shipping on November 3, ahead of schedule, features a radically new ultra-threaded 3D architecture and ATI's revolutionary Avivo(tm) video and display technology platform, designed to unleash visual and performance possibilities that gamers until now could only dream about getting from a PC graphics processor. More info here.

Compro announced a thumb-size USB TV tuner. It is easy to put into your pocket or computer bag and plug it in anywhere at anytime to receive high-quality free-to-air digital terrestrial TV broadcast on your desktop or laptop PC. More info in a 490KB .DOC file here.

Electronic Arts announced "Command & Conquer - The First Decade", thanks tafedude. This special collector's edition will include a dozen of your favorite C&C games spanning over the last ten years plus a bonus DVD of commemorative video features. More info here, from tafedude. Did I mention tafedude sent this news? Thanks tafedude! :)

KingMax released an article about DDR1 vs DDR2. But as we entered the age of DDR2, speed and heat dispersion requirements necessitated discussions between DRAM makers, OEM PC makers and CPU giant Intel, which resulted in a decision to use BGA packaging for next-generation DDR2 memory. BGA packaging would allow DDR2 ICs to fully realize their performance potential. More info in the 357KB .DOC file here.

NVIDIA announced their GeForce 6800 GS and say it is available now. We've actually linked quite a few reviews of this product in the last few days, see review posts down the page. Just in time to power the holiday's hottest gaming titles, the new GeForce 6800 GS has astonishing horsepower and dramatically shifts performance expectations for graphics cards at midrange price points. More info here.



If you're looking for something on OCAU, remember we have a search page that's powered by Google now. It will search the news archive, articles and reviews, PCDB and Wiki - basically the whole site except the Forums, which are closed to Google and have their own search engine. You can use it to search the internet via Google also.

You can also access it using any of the following QuickLinks:
ocau.com/search
ocau.com/stfw
ocau.com/s

Use whichever you find easier to remember. :)




Thursday Morning Reviews (6 Comments) (link)
Thursday, 10-November-2005 06:16:33 (GMT +10) - by Mred32


Systems/Laptops/PDA:
ASUS Z63A Whitebook Laptop at Legit Reviews

Mainboard:
WinFast 6150K8MA-8EKRS Micro-ATX at T-Break
Gigabyte K8N51GMF-9 All-In-One at Legion Hardware
Biostar GeForce 6100-M9 TForce Motherboard at TweakTown

Networking:
Unwired's PCMCIA Wireless laptop Card at APC Mag

Video/Monitor:
Dell UltraSharp 24" Widescreen LCD at BIOS
Samsung SyncMaster 930BF 19" LCD Monitor at TechSpot
Matrox DualHead2Go Notebook Multi-display Breakout Box at PCStats
Diablotek nVidia GeForce 6600 256MB at ThinkComputers

Storage:
Barracuda 7200.9 Range of Hard Drives at Gamebiz
Vantec SATA EZ-Swap HDD Rack at PCStats
BYTECC Backup Star External Enclosure at TweakTown
LiteOn SHW-1635S DVD Writer at TechNiz
Vantec Nexstar GX HDD Enclosure at Virtual-Hideout

Audio:
eDimensional AudioFX Gaming Headphones at TechWare Labs

PSU:
Thermaltake PowerStation 520W Modular PSU at Bjorn3D
Enermax Liberty EL500AWT 500W at InsaneTek

Mousepads:
Func sUrface 1030 Archetype Competition Surface at Tech-Mods
Sharkoon Xurface Mouse Mat at A1 Electronics.net
Icemat 2nd Edition Mouse Pad at Pro-Clockers

Input Device:
DAS Keyboard at The Moditory
Logitech G5 Laser Mouse at CoolTechZone

Digital Camera:
Sony Cyber-Shot DSC-R1 Digital Camera at Designtechnica
Canon PowerShot S80 at DPReview




Thursday Morning (5 Comments) (link)
Thursday, 10-November-2005 02:00:52 (GMT +10) - by Agg


Apparently drinking certain beers, including Porter, could inhibit cancer. If you're looking for a Porter to test this theory, I recommend James Squire. :)

Xbit report that the liquid metal coolers that Sapphire were talking about a month or so ago, probably won't be coming to fruition. "Since we are not aggressively seeking new business with this technology at the moment we have removed the liquid metal information from our site at this time," nanoCoolers said.

Here's some pics of AMD's upcoming Socket F. Op de foto's is verder ook te zien dat Socket F, net zoals Intels Socket 775, uitgerust is met pinnetjes die contact moeten maken met de processor. No, really.

Telstra's not making friends in the wholesale ADSL market, having raised prices recently. iiNet chief executive Michael Malone said Telstra had indicated it would force the company to use its "rack rates", which were well above the current prices it paid.

BBSpot have more geek pickup lines, thanks Graham. You must've been made by Intel to be that hot!

TheTechZone have a quick article about evil twins in wireless networks. An evil twin usually operates using a fictitious or deceptive name that's always changing.

Steve spotted some worrying info about certain Crossfire boards killing CPUs. Hard to say exactly what's going on there, will be interesting to see more people's experiences.

Jen spotted these Superhero iPod ad parodies.. cartoons and sci-fi characters too, zillions of them.

TweakTown did a little X1800XT and X1600XT overclocking.

2CPU spent some time with a future Intel server platform, Bensley. TheInq have some more info, thanks Sean_oz.

Finally, my dad sent me this video which cracked me up. It's funnier with the sound turned up, and no it's not one of those screaming face things. 700kb, work safe.

Interesting Forum Threads:
Notebooks with 7800 GTX Go??? in Portable and SFF Computing.
Guide: character LCD module in Modding & Electronics.
New MSI AMD and Intel boards with Audigy 2 in PC Audio.
How many Watts is your PSU rated @? in Overclocking & Hardware.
Coke Zero in Geek Food.
Timewaster - Gridgame in The Pub.




Press Releases (2 Comments) (link)
Wednesday, 9-November-2005 18:05:46 (GMT +10) - by Agg


Apacer announced a 4GB DDR333 ECC Registered DIMM. This new memory module allows systems to maximize available memory slots and improve heat dissipation in high density configurations. This module is perfect for enterprise servers with a limited number of memory slots and tightly configured in rack systems. More info here.

ASRock released two motherboards based on NVIDIA's new NF4 chipset with integrated graphics. ASrock, an innovative manufacturer of motherboard, helps solving this dilemma with the new released of 939NF4G-SATA2 and K8NF4G-SATA2, which are highly functional motherboards with integrated NV44 graphics DirectX9.0 VGA, pixel shader 3.0 and maximum shared memory of 128MB. More info here.

Blizzard announced an expansion set for World of Warcraft. New races to play, new lands to explore, and new levels of power for existing World of Warcraft characters all await players in The Burning Crusade. More info here.

Corsair accounced that it's the first company in the memory category to receive the NVIDIA SLI Ready certification. Recognized as the performance memory of choice for enthusiasts, Corsair added to the SLI Ready certification program by creating a new memory category to amplify user experience. More info here.

Dissecta sent word that IR Gurus, an Australian games developer, will discuss their latest video game "Heroes of the Pacific" on the 22nd of November in Melbourne. Dissecta Founder Tim Richards said "Heroes of the Pacific is a stunning realisation of a dream to make blockbuster quality video games, and we are delighted to have the developer, IR Gurus, discuss the project at Dissecta @ ACMI. More info here.

Futuremark have a new mobile benchmark, 3DMark Mobile06. With the release of 3DMarkMobile06, mobile hardware developers, manufacturers and reviewers will have the first benchmark intended to provide accurate, consistent performance measurements of embedded graphics solutions. More info here.

Gigabyte have a new motherboard based on Inte's 975X chipset. Designed specifically with extreme overclockers and hardcore gamers in mind, the GA-G1975X-Series exudes performance and represents a fusion of the best industry and GIGABYTE innovations through features such as the highly advanced Intel® 975X Express chipset and GIGABYTE Turbojet technology. More info in a 198KB DOC here.



I haven't mentioned our Folding@Home Team for a little while. We're still #1 in the world, having held off our main rivals HardFolding for now. In fact, we recently became the first team to pass 200 Million points, having also been the first to pass 100M. More noteworthy is that we have now held the #1 position longer than any other team, despite all the swapping back and forth with HardFolding over the years. Speaking of which, summer approaches again, which is when we traditionally slow down and the US-based HardFolding crank up during their winter. Will we hold them off this time? Hopefully, if you join in! :)

Don't know what F@H is? It's a distributed computing project that uses idle CPU cycles to help find cures for diseases such as cancer and parkinsons. For more info, see our F@H Wiki, F@H Team Page and our Team OCAU Forum.




Wednesday Afternoon Reviews #2 (0 Comments) (link)
Wednesday, 9-November-2005 13:59:01 (GMT +10) - by Agg


Memory:
Corsair TWINX 2048-3500LLPRO on OCOnline.
Corsair XTreme Series TWIN2X1024A-5400UL on ClubOC.
Corsair PC-3500LL Pro 2GB on Tech-Mods.
TeamGroup Xtreem PC4800 1GB on InsaneTek.
Patriot Memory 1GB DC DDR2 PC6400 on Techniz.
Crucial Ballstix PC4000 2GB on LegitReviews.

Cases:
AeroCool Masstige tower on ClubOC.
Nikao Dragonfire on ThinkComputers.

Motherboards:
ASRock 939Dual-SATA2 A64 board on TechPowerUp.
MSI K8NSLI Platinum nForce4 SLI A64 board on OCNZ.
Foxconn WinFast 6150K8MA-8EKRS A64 board on HWZone.
Gigabyte 8VT880P Combo LGA775 P4 board on ViperLair.
GigaByte GA-K8N PRO-SLI A64 board on BigBruin.




Wednesday Afternoon Reviews (0 Comments) (link)
Wednesday, 9-November-2005 13:26:27 (GMT +10) - by Agg


Power Supply:
Super Flower Plug-N-Power 400W on Virtual-Hideout.
Silverstone Strider ST60F 600W on TechIMO.
Hiper Type-R 480W and 580W on InsaneTek.
SilverStone Zeus ST65ZF 650W on InsaneTek.

Cooling:
Titan TTC-G3T Notebook Cooler on Techgage.
Ajigo MF043044 A64 cooler on FrostyTech.
LS Cable LSHS L500 and X500 CPU coolers on Pimprig.
Gigabyte Neon Cooler 8-BL A64 CPU cooler on FrostyTech.
Aerocool HT-102 CPU Cooler on MadShrimps.
Dangerden MCT-5 and -40 watercooling fluids on BurnOutPC.

Video Cards:
XGI Technology Volari 8300 on Phoronix.
XFX GeForce 6600 256MB DDR2 on HotHardware.
NVIDIA 6800 GS on Bit-Tech.
EVGA e-GeForce 6800 GS on TechWareLabs.
XGI Volari 8300 PCIe on OCW.
NVIDIA GeForce 6800 GS on XbitLabs.
EVGA 6800GS on AVault.
NVIDIA GeForce 6800 GS PCIe on HWZone.




Wednesday Morning News (2 Comments) (link)
Wednesday, 9-November-2005 10:06:25 (GMT +10) - by Mred32


The War of the Websites has taken another turn. I recently posted an article about Online Plagiarism, in particular, websites stealing content from other websites. Well, it's happened again with the war heating up to the point where one site allegedly plants malicious code on its front page with the intention of bringing another site down. Nasty! This time the site with the complaint have fought back, in a funny kind of way. Have a look at this short flash movie for a laugh. Warning, it does contain some Mild Cartoon Nudity and Mild Audible Explicit Language so maybe wait until you get home from work.

Game Development has changed a lot in recent years. Gone are the days of a single person coding the entire game over a few months and getting it ready for production. Ars Technica look at the nature of Consoles and Cross Platform game development.

DesignTechnica also have some ramblings about the game industry, and how it ties in with the movie industry. Anyone for Jaws on PC?

Gamers Hell have posted Part 2 of their PC Silencing Guide. For those who missed it, you might want to have a read of Part 1.

Beyond 3D have taken three GeForce 7800 cards from Leadtek and put them up against each other. The cards are the PX7800 GT TDH Extreme, PX7800 GTX TDH and the PX7800 GTX TDH MyVIVO Extreme. How did they fare? Read the article and find out.

With WOW (World of Warcraft) doing a roaring trade all over the world maybe its time to revisit an earlier version of the Warcraft game. Ptooey sent in this link to Warcraft III in Flash! You'll need the Flash/Shockwave player to play the game in your browser.

The ACMA (Australian Communications and Media Authority) have launched a program to attempt to track down spammers. The idea is to make it easier for users to report suspected spam messages, via a toolbar button for those using Outlook Express, or by signing up with the program. It sounds like a good idea to me as any attempt to rid my Inbox of rubbish can only be a good thing. Find all the details here. They are also on the lookout for Zombies. Follow the link on that page for the full info. If you are a walking dead person who needs to ... oh, not that type of Zombie! Thanks for the link Paul and Tosser.

IBM have an interesting read about DRM and standards, or the lack of standards. "The tension between the inherent nature of standards and this particular usage of standards produces a variety of interesting counter-examples, technical curiosities, and other things worth closer examination." Tafe Dude sent the link and you can read it all here.

The Tech Zone have a short write-up about the differences between Wireless USB (WUSB) and Bluetooth. I guess the obvious difference would be 480Mbits Vs 1bit, but there might be other differences also.

I heard a recent news item about whether Australia should adopt an "R" rating for some computer game titles, something which we lack at this stage. Some states in the USA have done just that recently but the folks as Windows AtoZ believe it won't stop kids playing the games. Here's why.




Cooler Master AquaGate Mini R120 (44 Comments) (link)
Tuesday, 8-November-2005 16:45:09 (GMT +10) - by Agg


Here's a review of a simple watercooling kit from Cooler Master. It's not much harder to install than a high-end aircooler - but does it perform?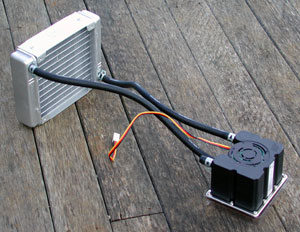 Click for the review!





Mainboard:
DFI Lan Party UT RDX200 CF-DR at Legion Hardware
ECS KN1 SLI Extreme Mainboard at Bigbruin
ASrock GF6100 Socket 939 Mainboard at OCW

Video/Monitor:
NVIDIA GeForce 6800 GS at HotHardware
NVIDIA GeForce 6800 GS at The Tech Report
NVIDIA GeForce 6800 GS at Driver Heaven
NVIDIA GeForce 6800 GS at Guru3D
XFX GeForce 7800GT at Bjorn3D
Dell 2405FPW Widescreen LCD Display at HEXUS
Connect3D X800 GTO at Pureoverclock

Cooling:
Pacific Breeze Laptop Cooler at XYZ Computing
ECT Prometeia Mach II GT at Bytesector
Thermalright SI-97 GPU Cooler Mod Guide at Adrian's Rojak Pot

Audio:
Logitech Z-4 Speaker System at Designtechnica

Cases:
X-micro Mini Disgo Case at Hardware Pacers
Silverstone Temjin 5 (TJ05) Case at CaseModGod

Digital Camera:
Nikon D200 10.2mp Preview at DP Review

Input Device:
Microsoft Optical Desktop with Fingerprint Reader at TheTechLounge
Wacom's PenPartner2 Tablet at BIOS
Cybersnipa and Cybersnipa Mousepad at Red&Blackness Mods
Logitech G5 Laser Mouse at Ars Technica

Misc:
Antec Smart Power 500watt Power Supply at Pro-Clockers
Logisys Wireless Remote MultiFunction Panel at ThinkComputers
Samsung SF-565P Laser Multi-Function Printer at Futurelooks
Mnpctech Blowhole Kit at Creativemods




Interesting Forum Threads (0 Comments) (link)
Monday, 7-November-2005 23:45:35 (GMT +10) - by Agg


A snapshot of what's going on in some of our forums..

AMD Opteron Socket 939 Results & Discussion in AMD Hardware.
Gigabyte's new 975X motherboard.. first look in Intel Hardware.
OCAU 2005 Case Ownership Demographic in Modding & Electronics.
A little fractional fun in Extreme Cooling.
Liquid nitrogen / dry ice project in Extreme Cooling.
World's most powerful subwoofer in Audio Visual.
XP: Can you create a folder called "con"? in Windows Operating Systems.
All 3DMark records broken! in Video Cards.
Meteor shower, watch the skies in Photography.
Wow, XFCE has come a long way! in Other Operating Systems.
Damn Lost 150GB of data after switching the jumpers in Storage, Backup & Memory.
Database design: one large table vs many smaller tables in Graphics & Programming.
2006 Yamaha R6 - 17500rpm! in Motoring.
Sunday arvo burnouts in Motoring.
M3 GTR at Nurburgring <--- Amazing clip in Motoring.



Our Wiki continues to grow. Here's some recently-added pages:

Homebrew, for budding beer bottlers.
Photographer's Rights, Privacy and Copyright, a large new section.
4x4 Off-Roading tips for trips and treks.
Linksys AG241 ADSL2 Modem Gateway review by Thetron.

Heh, I just noticed the Wiki has 1337 pages in it now. So, what can you add?




Monday Midday Reviews #2 (0 Comments) (link)
Monday, 7-November-2005 12:58:39 (GMT +10) - by Agg


Cooling:
Evercool GT-365 Extended Cooling System on Tech-Mods.
VapoChill Micro Extreme CPU cooler on DriverHeaven.
Zalman Fata1ity FS-C77 CPU cooler on SGOC.
Zalman CNPS9500 Led CPU cooler on MadShrimps.

Storage & Memory:
Corsair XMS2 DDR2 PC2-6400 Pro memory (video review) on 3DGameMan.
LG-GSA-4167B DVD±RW Dual Layer Burner on XbitLabs.
Seagate NL35 Enterprise 400GB 16mb cache HDD on Tech-Mods.
X-Micro Mini DisGo USB storage on Techniz.
OCZ Rally 512MB USB flash drive on ClubOC.
Thecus N4100 NAS network storage on HWZone.
X-Micro Mini DisGo 20GB USB storage on Tech-Mods.
Maxtor Shared Storage Drive network storage on TrustedReviews.
OCZ 2GB Rally USB flash drive on Bjorn3D.
Transcend JetFlash 120 1GB flash drive on BigBruin.

Audio / Visual:
Zalman ZM-RS6F Theatre 6 Headphone & Microphone on Techniz.
Icemat Siberia USB Combo Headset on CyberWizardPit.
Philips Pronto Pro RU980 universal remote control on UKGamer.

Case & Modding:
Antec Performance TX640B case on Phoronix.
AC Ryan UV Kit PC bling on PCReview.

Power Supply:
APC Back-UPS ES 500 on Monster-Hardware.
Seasonic Power Angel power monitor on ThinkComputers.
Enermax Liberty 500W PSU on BigBruin.

Input Etc:
Func Archetype mousepad on TheModitory.
Sunbeam Lite-Up Keyboard on ParadiseOC.

Misc:
Metapo Clean Mate Robot Vacuum QQ-1 on ThinkComputers.
Brother MFC-7220 5 in 1 Laser Printer on Tech-Mods.
DFI RDX200 CrossFire motherboard on TBreak.




Monday Midday Reviews (0 Comments) (link)
Monday, 7-November-2005 12:02:21 (GMT +10) - by Agg


Video Cards:
Albatron GeForce 7800GTX on OCrCafe.
PowerColor X800GT on GotApex.
MSI Radeon X1800 XL 256MB on HWZone.
ASUS Extreme N7800GT/2DHTV in SLI on XbitLabs.
ATi All-In-Wonder X800 XL on DesignTechnica.
GeCube Overclocked Radeon X800 GTO on HWSecrets.
Gainward 7800 GT Golden Sample on PureOC.
HIS IceQII Radeon X800GTO Turbo PCIe on Tweaknews.
Inno3D 7800 GT on PureOC.

Mobile Phones & Bluetooth:
RAZRWIRE Bluetooth Eyewear on HWZone.
Samsung SGH-D600 phone on TrustedReviews.
NEC N411i i-mode phone on TrustedReviews.
Nextlink Bluespoon AX2 headset on ExtremeMHz.
Nokia N71, Nokia N92 phone previews on DVHardware.
Samsung SGH-E760 phone on OCW.

Software:
Mindware Studios Cold War game on Phoronix.
OpenOffice.org 2.0 office suite on PCMech.
iolo System Mechanic Pro 6 on Techgage.
Quake 4 on DriverHeaven.
Norton Antivirus 2006 on WindowsAtoZ.
Dungeon Seige 2 on FutureLooks.
McAfee Wireless Home Network Security on TheTechLounge.
ID3-TagIT 3 mp3 tagger on PCMech.
InterVideo WinDVD 7 Gold on BIOSMag.
F.E.A.R. game on TrustedReviews, our review here.




Sunday Afternoon Catchup (18 Comments) (link)
Sunday, 6-November-2005 15:13:25 (GMT +10) - by Agg


HWAnalysis looked at upcoming Intel and AMD CPUs, while FlingingSquids have an Intel vs AMD shootout in Quake 4, thanks James.

Jim spotted a Sydney PC vendor being ordered to pay Microsoft damages to the tune of A$1.3M for selling copied software. More info here, thanks Nick.

From B00zer: The November Iron Designer has began with the theme of "My Friend the Toaster". Discussion thread can be found here. Congratulations to "amobea" for winning the September '05 Iron Designer. Voting has now commenced for the October 05' Iron Designer can here.

Sony have an update to un-hide the copy-protection software sneakily installed by some of their audio CDs, thanks Neil. Sniper sent in an article with more info on Sony's response.

This is a bit random, but I was experimenting with a capture card and video camera earlier today and took a 14MB capture of a top-fuel drag car going bang at Western Sydney International Dragway about a month ago.. the file is here.

Designtechnica have a podcast review of various logitech products and some other topics.

ARP updated their desktop graphics card comparison, which now covers 242 cards. They also have a workstation cards comparison with 73 cards.

LegionHW compared some of the latest video cards, namely ATi Radeon X1800XL vs. NVIDIA GeForce 7800 GT.

From Shalmanese: The October battle of the Iron Cook-off (Battle beans) is over and voting for it has begun. Discussion here, Entries here, Voting here. The November battle has just begun. November's battle is EGGS! Discussion here, Entries here.

TheTechZone cover email security, while forgotten WinXP passwords are recovered on PCStats.

TechReport examine if low-latency memory is worth paying so much extra for. Read on as we explore the effects of memory latency on Athlon 64 performance in synthetic memory benchmarks, games and real-world applications.

Dougy spotted this quad graphics SLI board from Gigabyte on THG. Gigabyte's latest stroke of genius is the GA-8N SLI Quad Royal, and is a very high-end motherboard that powers an Intel socket 775 Pentium 4, Pentium D or Pentium Extreme Edition processor via an NVIDIA nForce4 SLI Intel Edition chipset.

There was a video floating around a few months ago of 250,000 superballs being released on a San Francisco street for a commercial.. well, the commercial is now viewable on the net, thanks Dave.

EverythingUSB found some software that lets you share USB devices across a network, with a 15-day free trial.

Tafe dude sent word of Alien Arena 2006, a free game gunning to compete with the big commercial products.

Mitch01 sent in this article showing overwhelming support for an R18+ rating for games in Australia. However, only 27 per cent of those surveyed were aware no such classification existed for games. At present, the Office of Film and Literature Classification will only classify games up to MA(15+).

From fnkychkn: My bro (baron) works in the towers at sydney airport, and he just let me know that "SACL have advised that the A380 is expected in Sydney on Sunday 13th November at 10:00 local for a 34L arrival. Departs Monday about 9:00 am." Also they're looking at shutting down general Holmes Dr. for a kilometer each way. The best spot to watch will be in front of my work at the old control tower, or if you want to get closer to the plane but not see much in the way of landing at the new control tower. There's also a little parking lot on the other side of the bridge across from my work that prob won't get too packed out. I'm not sure how many ppls are going to come see. If you don't know what an A380 is it's a big plane 24 m high with 3 decks, capacity of up to 840 ppls, 80 m wingspan which'll hang over the airport bridge as it goes over. In short it's big.




Sunday Afternoon (3 Comments) (link)
Sunday, 6-November-2005 14:03:39 (GMT +10) - by Agg


HWSecrets went to the Intel Developer Forum in Tel Aviv, Israel recently. Our coverage of the first IDF held in Israel, home of the design team that created the Pentium M and the forthcoming Merom, Conroe and Woodcrest CPUs.

There's a Quake 4 tweak guide over on TweakGuides. The guide is rounded out with advanced tweaks which have been tested and work on Quake 4, since some of the Doom 3 commands are different for this game.

A Californian man has been arrested for installing adware on about 400,000 PC's. Among the computers he attacked were some at the Weapons Division of the US Naval Air Warfare Center in California and at the US Department of Defense, the prosecutors said.

AMDboard have some pics and info on a tiny ECS mobo that uses AMD's low-power Geode socketA CPUs.

At the other end of the spectrum, Hexus previewed Intel's Lindenhurst Xeon DP platform. It supports
everything the dual-core Pentium D does, including SSE3 instructions and rides the same 200MHz system bus (800MHz effective).

El Nermo Diablo spotted this pumpkin PC, while Bit-Tech have a guitar amp PC based around Creative's X-Fi. RBMods have a WoW plexi PC project (but their site seems a bit broken at the moment.)

TechReport walk us through building a new dual-core PC for daily use. SharkyExtreme have an extreme gaming PC buyer's guide, while a mid-level PC is specced out on TechSpot.

From Iain: WallWatcher is a log analyser for many hardware firewalls. It's not "Freeware", but the current price is $0.00. (can't complain about that!)

PCMech give us an insight into spam - what it is, what to do about it, how we can stop it.

Virtual-Hideout reflect on taking the SLI plunge. I couldn't resist. You know how it is.

I've been interested for a long time in using the normally idle GPU for computationally-intensive tasks. ExtremeTech have some info on an ATI approach to this idea, thanks Josh, who also spotted these ultra-thin client JackPCs.



It is with much sadness, that I announce the passing of a member of the OCAU community, Daniel O'Brien. Daniel, who's forum name was Yamamanama, was a long time member with contributions in our Photography Forum and other areas of OCAU. Daniel's death was the result of a car accident on October 13, in South Australia. Those who wish to pay their respects may do so in this forum thread where Daniels wife Paula has announced his passing. Some of Daniel's beautiful sunset photos, taken the day before his death, can be seen here.

Our heartfelt sympathies go out to Daniel's wife Paula, their family and friends.

R.I.P Daniel.




S3 Graphics Chrome S20 (2 Comments) (link)
Saturday, 5-November-2005 18:17:40 (GMT +10) - by Agg


S3 Graphics revealed their Chrome S20 Series of PCIe video cards with their 4th generation DirectX 9 GPUs. The Chrome S20 series further enhances S3Graphics' signature Hi-Def(tm) visual experience, complementing the native 1080p HDTV support and widescreen display capability with Chromotion(tm) 3.0, the next generation programmable video engine boasting hardware accelerated motion compensation and WMV-HD support.

Coverage on Hexus, Tech Report, TechSpot and TheTechLounge.




Saturday Afternoon Reviews #3 (0 Comments) (link)
Saturday, 5-November-2005 17:52:36 (GMT +10) - by Agg


Audio / Visual:
Logitech Harmony 659 Remote control on ThinkComputers.
Samsung 930bf LCD monitor on EyeIT.
X-Micro Video MP3 400 Player (translated) on Teccentral.
Novatron iamm NTD-35 Multimedia Player on 3DVelocity.
Samsung YH-MT6 1Gb Digital Audio MP3 Player on Tweaknews.
Ultimate Ears Super.fi 5EB earphones on PC-Base.
Harman/Kardon Drive + Play iPod Car Adapter on ArsTechnica.
Dell 5100MP DLP Projector on BIOSMag.
Direct Sound Extreme Isolation Headphones on Cyberwizardpit.
Creative Labs X-Fi sound card on PC Perspective.
Samsung DVD-V9500 High Definition DVD/VCR on FutureLooks.

Mini, Portable & Prebuilt:
HP nc6120 Business Notebook on HWAnalysis.
Lenovo ThinkPad X41 Tablet PC on CoolTechZone.
Shuttle XPC SD11G5 Pentium M mini-PC on Hexus.
Toshiba Qosmio G20 notebook on TrustedReviews.
Shuttle SD11G5 Pentium M mini-PC on Bit-Tech.
Alienware Aurora 5500 prebuilt gaming PC on TrustedReviews.

Cameras & Printers:
HP LaserJet 2420d printer on TrustedReviews.
Fujifilm FinePix S9500 9MP digicam on TrustedReviews.
Kodak EasyShare One digicam on Designtechnica.
Samsung SPP-2040 Photo Printer on XYZComputing.
Lexmark P315 Inkjet Printer with CD writer on TrustedReviews.
Dell Laser Printer 1710n on BIOSMag.
Panasonic DMC-FZ30 digicam on HWZone.
JVC GZ-MG70U camcorder on Designtechnica.




Saturday Afternoon Reviews #2 (1 Comments) (link)
Saturday, 5-November-2005 17:06:51 (GMT +10) - by Agg


Cooling:
Evercool Magic Cooler MAG01CA Heatsink on FrostyTech.
Ultra Products Fire Socket 775 CPU cooler on Pimprig.
Dynatron A22 AMD CPU cooler on Pro-Clockers.
Cooljag SFO-D(18SC) Skived Copper Opteron Heatsink on FrostyTech.
Thermaltake Aquabay M3 5.25" Reservoir on Pimprig.
Vantec Lapcool 3 Notebook Cooler on ThinkComputers.
Thermaltake Golden Orb II CPU cooler on GideonTech.
Vantec LapCool 3 laptop cooler on Phoronix.
Dynatron A22 V-Shaped Skived Athlon64 Heatsink on FrostyTech.
Dynatron A41 V-Shaped Skived Athlon64 Heatsink on FrostyTech.
LSCool SHS-X500 CPU Cooler on Techniz.

Input Etc:
Logitech Cordless Desktop MX 5000 Laser on BIOSMag.
Microsoft Natural Ergonomic Keyboard 4000 on EverythingUSB.
Razer Copperhead gaming mouse on Techgage.
Razer Copperhead gaming mouse on EyeIT.
Hiper Calvier Aluminum Keyboard on ClubOC.
Razer Copperhead gaming mouse on XYZComputing.
Microsoft Media Center 2005 Keyboard on TrustedReviews.
Corepad Eyepad Mouse Surface on Pro-Clockers.
Ps2 gamepad to PC adapter on RBMods.
Razer Copperhead gaming mouse on ParadiseOC.
Icemat 2nd Edition mousepad on Bytesector.
Logitech MX 5000 Wireless Keyboard &*Mouse Combo on HardCoreWare.
Logitech G7 Cordless Gaming Mouse on AseLabs.
Logitech Cordless Desktop MX 5000 Laser mouse on TheTechZone.




Saturday Afternoon Reviews (0 Comments) (link)
Saturday, 5-November-2005 15:52:52 (GMT +10) - by Agg


Memory:
OCZ DDR2 PC2-6400 Platinum on LegionHW.
G.SKILL F1-4000USU2-2GBHZ PC4000 on TechPowerUp.
OCZ 2GB PC-4000 Platinum EB DDR on OCIA.
OCZ EL DDR PC-4000 2GB Gold Edition on Pimprig.
Corsair DDR PC-3500LL Pro 2GB Dual Channel (video review) on 3DGameMan.
Corsair XMS PC-3500LL Pro 2GB*Kit on OCIA.
GSkill F1-3200DSU2-1GBFX DDR on SGOverclockers.
Corsair TwinX PC4000 Platinum on NeoSeeker.
OCZ PC4000 Dual Channel Gold VX DDR on ExtremeOC.

Motherboards:
Abit AW8-MAX i955X LGA775 P4 board on Motherboards.org, thanks Brendan.
Foxconn NF4SLI7AA-8EKRS2 NF4 SLI Intel Edition board on ViperLair.
Gigabyte GA-8I955X Royal LGA775 board on InsaneTek.
ECS KN1 SLI Extreme on ViperLair.
DFI NF4 SLI Infinity A64 SLI board on InsaneTek.
Albatron nForce4 K8SLI A64 SLI board on Bjorn3D.
MSI P4N Diamond LGA775 board on ViperLair.
Gigabyte K8N51GMF-9 nForce 430 GeForce 6100 board on Hexus.

Cases:
Thermaltake Tai Chi tower on NeoSeeker.
Antec Sonata II tower (german review) on TweakPC.
Thermaltake Swing case on Insanetek.
XG Dragon case on RBMods.
SilverStone Sugo SG01 case on PCModdingMy.
Thermaltake Swing case on DriverHeaven.
Lian-Li v880 Desktop case on ClubOC.
Silverstone LC17 HTPC/desktop case on OCOnline.
NZXT Lexa pre-modded case on Guru3D.
Cooler Master Ammo 533 case on InsaneTek.




Friday Night Reviews (2 Comments) (link)
Friday, 4-November-2005 22:00:25 (GMT +10) - by Agg


I've been away for a few days, as you may have guessed. Looks like this weekend will involve a huge news catchup! Here's some reviews to get you going:

Storage:
Ultra Mini Portable Disk on Bjorn3D.
Seagate Momentus 5400.2 120GB laptop HDD on BigBruin.
X-Micro Mini DisGo portable storage on TweakTown.
Hitachi Deskstar 7K500 HDD on StorageReview, thanks kasi.
Seagate Momentus 7200.1 100GB SATA 2.5" HDD on SilentPCReview.
Seagate Momentus 7200.1 2.5" Hard Drive on ClubOC.
Seagate 7200.9 SATA2 500GB 16mb cache HDD on Tech-Mods.

Video Cards:
ASUS GeForce 7800GT Dual on TweakTown.
ABIT Fatal1ty X800 XL 512MB on HotHardware.
Sapphire Radeon X850XT PE AGP on TechPowerUp.
XFX GeForce 6600 256 MB gDDR2 on Guru3D.
HIS X700 ICEQ 128MB on ViperLair.
Sapphire X800 GTO2 on PimpRig.
Sapphire Radeon X800GT PCIe on HWZoom.
Sapphire RADEON X800 GTO2 on LostCircuits.

Power Supply:
Ultra X-Finity 500w on LegionHardware.
SinTek 500 SLI 500W on InsaneTek.
Sirtec High Power ATX-410-212 on TechPowerUp.
Ultra X-Finity FlexForce 500W on Techgage.



Lots of people sent this link in to me today. Rootkits and Digital Rights Management gone too far. Thats the title of this article by Mark Russinovich of Sysinternals. It seems he found some nasty software on his computer, a Rootkit. In his words Rootkits are "cloaking technologies that hide files, Registry keys, and other system objects from diagnostic and security software, and they are usually employed by malware attempting to keep their implementation hidden." In this case it was put there when he played a music CD which he bought. The CD comes from none other than Sony BMG and was sold as a Copy Protected CD but it didn't mention that the copy protection will permanently live on your PC without the average user having any way of removing it.

I suggest you read the entire article as it is a good wakeup call. This quote sums it up for me. "The entire experience was frustrating and irritating. Not only had Sony put software on my system that uses techniques commonly used by malware to mask its presence, the software is poorly written and provides no means for uninstall. Worse, most users that stumble across the cloaked files with a RKR scan will cripple their computer if they attempt the obvious step of deleting the cloaked files." Here is what Wikipedia have to say about Rootkits and there is a thread running in our forums if you feel like having your say on the topic. Thanks to all those who sent in the link. I know what I'll be checking for on my PC tonight!




Online Plagiarism: Your Thoughts? (0 Comments) (link)
Wednesday, 2-November-2005 09:07:41 (GMT +10) - by Mred32


Something interesting came across the news desk today, the topic being plagiarism. www.dictionary.com gives a definition of plagiarism as: "noun 1: a piece of writing that has been copied from someone else and is presented as being your own work 2: the act of plagiarizing; taking someone's words or ideas as if they were your own." I think it's something which we all have done at sometime or another be it for a school exam, a work memo, or a web page article. In this case it is the later. One website writes an article and another allegedly grabs all/some of the text and posts it as part of their own article on the same topic, without giving credit to the original author. As a news writer for Overclockers Australia, I often receive emails from other websites offering links to their latest articles or reviews for consideration. I usually filter through these to try and separate the news of interest from the news destined for the trash. Sometimes I don't quite get it right but I do try.

Anyway, some of these emails will contain a 'blurb' or quote from the article in question which is usually provided for posting, along with a link to the article itself. I will often include this text in my news post and usually I will differentiate it from my own text by placing it in quotation marks and/or placing the text in italics. Sometimes though, I won't. On occasion I will simply include the text as part of my own post without credit or reference, but I have some rules which govern how I do this. If the copied text is little more than an advertisement for the article itself (Hi, we have posted an article about the new blaa blaa from blaa blaa..) then I might just incorporate it into my own text without giving credit, which strictly speaking is plagiarism of sorts. Although, if the text provides actual core material from the article itself (.. in testing the new blaa were was able to achieve an overclock of blaa blaaMhz with a maximum temp of blaa blaa) then I would usually add quotes or italics to denote that the information came from someone else. I guess the point here goes back to the Dictionary meaning and the section where it mentions "is presented as being your own work". Am I presenting my own work? Often the answer is no. I'm offering someone else's work which they have invited me to present. Yet, when we complete an assignment or study document we usually end up working from other peoples research or information. We have to put it into our own words. Is there a set amount of letters we must change in a sentence to make it our own? Do we just re-write the whole thing? Is it percentage based? Do we have to re-do the research from scratch?

In the past there have been several instances where other websites have posted articles or information taken directly from OCAU without giving credit where it was due. In these cases, the site was quickly found to have copied the text and has been asked to remove it or credit the author, usually resulting in swift compliance by the offending site. Many websites, especially those in the I.T. scene rely on the efforts of volunteers to supply much of the content they provide. These people value the recognition of their peers for the work they do in this area and they deserve the small amount of credit they receive. Lets face it, without the work done by these people, many of our favourite websites would fall by the way side very fast. In this case the site with the complaint is NGOHQ and this is what they had to say about it.

Well, I guess in this news post I am asking for your opinion as to what is fair copy and what is breach of copyright. Having asked that you will notice that I have left out the word copyright until the very end. Copyright Law itself is a very detailed and complicated worm to try to dig out, one which I really didn't want to delve into if I could avoid it. I suppose I'm asking the moral question of "What can you copy and what should you credit?" I've opened a forum thread for your responses and look forward to reading the opinions of others.



Apparently there is some big horse race on today. Its the one where lots of people who don't follow the horse racing, follow the horse racing. The one where amateurs become experts, losers become winners, everyone gets horribly drunk, and ladies wear silly hats. Its that day when lots of people finish work early or just plain don't bother going in the first place. Yes, that's right, its Melbourne Cup Day. For those who plan on having a flutter or perhaps going along for the show, good luck to you all. Sadly, I plan on sleeping through the whole event and then getting up late in the afternoon and heading to work, sober.

We posted news some months ago about a forum member, Dark_Greg, who is making a Star Wars Fan Film. A friend of mine and I are currently working on a Star Wars fan film. We've done some preliminary screen testing, built some basic sabre props and are in the middle of sourcing materials for costumes etc. The story is coming along quite nicely, and fits somewhere in the Star Wars universe around the time before the mandalorian wars. Well, things are moving along and they are in need of some actors for spoken roles, two female and one male. Anyone interested can drop a line in this thread or contact Dark_Greg via Private Message in the forums. May the force be with you!

Credit cards, RFID tags and Tank Tops. These things are talked about in a brief article over on PCMech. They wonder if we are going to need to install a firewall to protect our bodies!

The folks at Guru3D have recently updated their nVidia overclocking tool, nVHardPage. "With this tweak utility you can enable/disable hidden features in nVidia control panel, tweak nVidia Direct3D and OpenGL settings and overclock your nVidia display adapter."

Photography fans will have heard about HDR or High Dynamic Range. Its a way of getting more out of the available light than your digital camera would usually be able to capture. It is also something being used in other areas of video and graphics including computer games. CoolTechZone have a little beginners guide to HDR.

HardwareZone have taken a long hard look at the ATI Radeon X1000 series of graphics cards including the Radeon X1300, X1600 and X1800. A very good read, all 17 pages of it, for those who have been waiting for these cards to hit the market. Full article here.

Some pictures, on The Inquirer, of a wafer of Playstation 3 CPUs as well a close-up of the rear of a finished CPU. Check them out here.

In an article titled Second-class Intel to trail AMD for years, The Register claim that "Where Intel had a very real shot at closing the gap with AMD in just 18 months on previous roadmaps, it now looks more likely to trail for close to four years."

Forum member Statts found this link. Its the fastest armoured 4WD in the world, and was built from the ground up to be the most capable non-military armoured luxury vehicle in the world. Nice!



---
Advertisement:


All original content copyright James Rolfe.
All rights reserved. No reproduction allowed without written permission.
Interested in advertising on OCAU? Contact us for info.