February 2006

Case & Power Supply
Ultra Aluminus on 3D Game Man.
Dynapower USA Blackwidow on Mikhail Tech.
Scythe Kamariki-2 550 Watt Quiet Power Supply on Pro-Clockers.
Nmedia-PC HTPC 300 on Think Computers.
Cooler Master Real Power 550W SLI Certified PSU on Madshrimps.
Ultra X2 550W Titanium Modular Power Supply on Extreme MHz.
Zalman TNN-300 Fanless PC Enclosure on Silent PC Review.
Thermaltake ToughPower 550w power supply on A1-Electronics.
be quiet Dark Power 520W Power Supply on Tech Central (in german).

Storage & Memory
SilverStone Storage MS02 2.5" USB Hard Drive Case on Phoronix.
Infrant Technologies Infrant Technologies ReadyNAS NV 1.0TB on Trusted Reviews.
Corsair DDR2 5400UL and 8000UL on Pc Perspective.
Mushkin 2GB XP2-5300 Black Dual Pack on Adrian's Rojak Pot.
Seagate Mirra Personal Server on Club OC.
Seagate 5gb USB 2.0 Pocket Hard Drive on Club OC.
HighPoint RocketRAID 2320 8 Port PCI-e Sata Raid Controller on Xbit Labs.

Motherboards
Epox EP-9GF6100MJ Nforce 4 + Geforce 6100 on PC Modding Malaysia.
ABIT AW8 + Intel 955XE on Tech Fear.

Cooling
Corsair Nautilus 500 Water Cooling on Legit Reviews.
Arctic Cooling Alpine 64 on Frosty Tech.
Arctic-Cooling Accelero X1 VGA Cooler on Techniz.
Thermaltake RX K8 Silent Boost on Tweak News.
Arctic cooling Alpine 64 on RB Mods.
Zalman CNPS7000B on Overclockers Club.
Arctic-Cooling Accelero X1 VGA Cooler on Pure Overclock.

Miscellaneous
ATI Radeon X1900 XT CrossFire on Xbit Labs
Logitech G15 Gaming Keyboard on Laptop Gamers.
Sony VAIO VGN-SZ1VP Notebook on Trusted Reviews.
VOQ V11 Professional Smartphone on Think Computers.
Scosche's BlueLife™: The FM Transmitter Killer on Blue Tomorrow.
Gemini iKey USB Audio Recorder on Future Looks.




OCAU:Drive & OCAU.mc (1 Comments) (link)
Tuesday, 28-February-2006 17:57:03 (GMT +10) - by Agg


Don't forget that OCAU has a motoring news page now, located at ocau.com/drive. With 3 dedicated newsmonkeys, it should keep you posted on all 4-wheeled news.

If two wheels is more your style, check out our very popular Motorcycle Club forum. Note that it's a separate login to the main OCAU forums.




Around the Web on Tuesday (6 Comments) (link)
Tuesday, 28-February-2006 17:26:39 (GMT +10) - by Lowgoz


Well today was the start of another university year for myself, so to kick off the year of procrastination I present to you the latest news.

Microsoft recently took the wraps off their new Origami Project. It's basically a mobile communicator featuring wireless video, inbuilt phone, a digital camera, video recorder, and a MP3 player. I could have made one myself with copious amounts of electrical tape and my current collection of gadgets, but I think Microsoft's solution looks better.

Zenview have decided to launch something that lives in all our wildest dreams - a 6x24" LCD matrix. While we are on the subject of wildly expensive computer hardware, an American school spent $600,000 on an iris scanner to help keep track of the students.

What should you do when your trusty old computer needs an upgrade? Lifehacker has a guide to assessing and upgrading your old box.

Washington University has supercharged Microsoft's paint application by releasing Paint.net. Download it for free from their website.

For those who have more secrets than the Australian Wheat Board, a guide to how to make a secret hollow book might be handy. There's also a website telling how Shoe Goo can be used for cars.

If you are a sick minded individual like myself and like to record your phone conversations, then this phone might be of interest to you. If you are not into that type of stuff, then go get Google to do a security check on your websites. Google also recently release their own geocities style of free webspace (without ad support surprisingly).

These mice are cool, but I cant imagine the injuries one would get with prolonged use. Something a little safer would be a cool background changer developed by a guy named John. Good work.

I wanted to stab myself in the eye with a fork when I saw how easy Ebaums World got off the hook when they were interviewed regarding allegations that they are naughty internet thieves. G4 made me a little less angry when i saw their guide to making a fake Ipod. You might want to open those links in IE.




Tuesday Lunchtime Reviews (0 Comments) (link)
Tuesday, 28-February-2006 14:08:15 (GMT +10) - by Amran


Video Cards:
Albatron 6600-512 at Overclockers Online.
Gainward BLISS 6800 GS 'GLH' 512MB at PureOverclock.
Leadtek WinFast PX7300 GS TDH 256MB DDR2 at Hardware zone.

Cooling:
Arctic Cooling Freezer 64 Pro HSF at Bjorn3d.
Swiftech MCW60 VGA Liquid Cooler OverClock Intelligence Agency.
Gigabyte G-Power Lite HSF at XYZ Computing.
Thermaltake Symphony Mini Water Cooling Kit at Overclocker Cafe'.
JingTing TJS0005 Heatpipe Chipset Cooler at Hardware XL.

RAM:
OCZ EL DDR PC-4000 Gold GX XTC 2GB at ExtremeMhz.
Super Talent T800UX2GC4 PC2-6400 2GB at DriverHeaven.

Monitors:
Samsung SyncMaster 930BF-Black LCD at Overclockers Club.

Cases:
SilverStone SG01s SFF-like ATX case at Techniz.
Thermaltake Eclipse at Overclocker Cafe'.

Audio:
Samsung YP-T8Z Digital Audio Player at Overclockers Online.
Bose TriPort Headphone at Designtechnica.
Turtle Beach Ear Force Headphone at Techgage.

Software:
Quake 4 - Rocket Arena BETA 1 game at AusGamers.

Misc:
Linksys WRT54GC Wireless Router at DigitalGrabber.
TRENDnet TEW-429UF USB Flash Drive, Wireless Adapter & Wi-Fi Finder at The TechZone.




Intel Pentium D 920 and 955 Extreme Edition (16 Comments) (link)
Monday, 27-February-2006 21:18:24 (GMT +10) - by Agg


Chainbolt has written a lengthy analysis of Intel's latest dual-core offerings, the 65nm-based Pentium D 920 and 955 Extreme Edition, comparing them at stock speed and overclocked with AMD's FX-60 and X2 3800+. He also covers the complementary 975X chipset and even plays with CrossFire.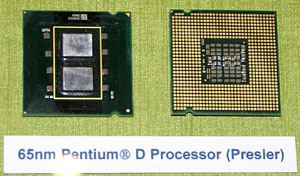 Click for the article!






Sunday Morning Reviews (1 Comments) (link)
Sunday, 26-February-2006 03:51:05 (GMT +10) - by Amran


System:
Fanless Ultra Powerhouse Silent PC at Silent PC Review.
Shuttle SN21G5 XPC S939 nF410 Small Form Factor PC at SFF Tech.

Motherboards:
ECS PF5 Extreme LGA-775 at Phoronix.
EliteGroup PF22 Extreme 955X LGA-775 board with Crossfire at Neoseeker.
Foxconn NF4SLI7AA-8EKRS2 LGA-775 nF4 SLI at Sudhian.
ASRock 775XFire-eSATA2 LGA-775 Intel 945PL with Crossfire at HardwareZone.
ECS KN1 SLI Extreme S939 nF4 A64 at Hi-techreviews.
Foxconn WinFast 6150K8MA-8EKRS Micro-ATX S939 nF430 at Hot Hardware.

Storage:
Ultra Mini-Portable Hard Drive Enclosure 3.5" at Hardware Hounds.

Cooling:
Thermaltake Tide Water GPU liquid cooler at 3dgameman. (Video Review)

Software:
Dungeons & Dragons Online: Stormreach game at Bytesector.
Cedega v5.1 - Play your favourite games on the Linux platform, includes support for WoW, BF2, Civ4 and NFS:MW.

Cases:
Tuniq Symmetry 1 ATX Chassis at Virtual-Hideout.

Misc:
Lapinator Plus Laptop Desk at Virtual-Hideout.
Logitech G7 Laser Cordless Mouse also at Virtual-Hideout.
3Dconnexion SpaceTraveler input device at XYZ Computing.
Socket GPS Nav Kit at TechTastic.

Audio:
Jabra JX10 Bluetooth Headset at Trusted Reviews.
Icemat Siberia Black Headset at techFEAR.
Steel Series 5H USB Headset at Designtechnica.
Plantronics Pulsar 590A Bluetooth Headset at ThinkComputers



Video Cards:
ATI All-In-Wonder X1900 on Driverheaven.
Powercolor: From X1600 XT over X1800 XL to X1900 XTX at TweakPC (German)
X1800 vs X1900 at Bit Tech
PowerColor 128mb Radeon X800 GTO at Bigruin
GeCube Radeon X1300 256MB DDR2 (AGP) at hardwarezone
Extreme N6600GT Silencer video card at legitreviews
XFX Overclocked GeForce 6600 256 MB at hardware secrets
PowerColor X1300 HyperMemory on Bjorn3D.
ATI Radeon X1900XTX on NordicHW

Power Supply:
Coolermaster Realpower 550w SLI at Rbmods
Thermaltake Purepower Power Station 520W on LegitReviews.

Watercooling:
SwiftechH20-120FB Rev. 3 & Danger Den Acetal Maze4 GPU at 3dxtreme
The Corsair Nautilus 500 external water cooling unit at pcper
Corsair Nautilus 500 on Hexus.
Corsair Nautilus 500 on Futurelooks.

Aircooling:
Scythe KAMA-BAYBay Cooler at pro-clockers
Thermaltake Blue Orb II at Techgage
Noctuaa Coolink Heatpipe coolers at MetkyMods

Cases:
XKROMA ATX Chrome Case at thinkcomputers
CMStacker 830 at trusted reviews
Gigabyte Triton Chassis Series at Legion Hardware
Silverstone LC16M at bit tech

Storage:
Seagate Momentus 5400.3 160GB HDD at Xbit Labs
Western Digital Raptor X WD1500AHFD Hard Drive Review at XYZ Computing
Imation's padlock-lookalike USB micro drive at Everything USB
Kingston 256MB microSD Card at Rojakpot
Asus DRW-1608P2 DVD Burner on PCMech.



Pete from DriverHeaven has posted an editorial on ATI driver support on Linux platforms. They also have a new version of DriverCleaner which you may find useful, thanks Allan.

Designtechnica have reviewed the best Web 2.0 Sites of 2006. No matter the task, video, audio, or photos, we have a site that works great for what you want to do and uses all the great features of Web 2.0 technology.

Jason from Bigbruin has taken a peek at Google Desktop 3, and discusses the need for convenience without loss of privacy.

Techreport take a look at AMD's Opteron 165 and 180 dual core processors. Two cores, one socket, 939 pins. Well thats a good start!

Part 2 of the System Building Guide has been posted at the OverClock Intelligence Agency. This one focuses on a Mainstream system, the previous Budget system guide can be found here. 2 Gb RAM is mainstream?

While we are talking guides, here's a nice simple Beginner's Guide to Air Cooling on Bona Fide Reviews.

IceTek want to talk about mouses, hence The Hitch Hikers guide to "the mouse". Mice or mouses? Mousi?

Want to play FEAR on a sub-$150 video card? Legion Hardware have compared a NVIDIA GeForce 7300GS with an ATi Radeon X1300 Pro. The latest games such as F.E.A.R are still playable when using one of these graphics cards, though the quality settings must be kept to a minimum. Older gaming titles such as UT2004 and even Far Cry run superbly on both these graphics cards.

Interesting concept for making WiFi available to all for free. FON is a Global Community of people who share WiFi. Share your WiFi broadband access at home/work and enjoy FREE WiFi Access all over the world! Thanks Wes.

As the summer hopefully starts to taper off, Madshrimps review 21 popular heatsinks. Heat pipes, Fan-less, Copper and Aluminum, close to 12kg of heatsink put through extensive testing and compared to the new AMD stock cooling.



Designtechnica takes a look at some of the new home video products that will be hitting the stores later this year. Highlights of their review include an LCD TV with integrated Media center PC and a plasma TV framed in wood.

Paul writes in telling us of a three compressor dual evaporator cascade project that makes the space shuttle look simplistic.

Suitsat is passing over Queensland on the 27/28 of this month. Have a listen to 145.990mhz for its transmission, and make sure you report it ! It may be your last chance as the batteries onboard are nearly flat.

Microsoft has a patch out that updates windows for the Australian daylight savings changes in 2006. They also admitted that a flaw exists in their USB2.0 drivers that could cause a laptop to use much more power than it should when powering peripheral devices.

Uk Gamer reports back from the Logitech "wireless living" presentation held in London last week, while Pc Mechanic decided to write an article on common computer Myths and Misconceptions. I was expecting a much larger list of computer myths talking about static straps.

The Keeloggers have put up instructions so you can make your own hardware key logger. While Opentopia has a rather large list of live online webcams

Pocketlint reported on an Ipod friendly tie, while Tuaw provides some "pictures" of the new Video Ipod

Finally, i think its been around a while, but there's a video available of a .22 caliber mobile phone gun that shoots 4 rounds in quick succession when the right keys are pressed. How quaint.




Friday Afternoon Web Roundup (11 Comments) (link)
Friday, 24-February-2006 13:24:55 (GMT +10) - by Lowgoz


Seeing that most of us lurk in the shadows, Everett Bradford's home made nightvision rig may be a worthy investment. Boasting a bank of infra red LED's and mounted on a headlamp rig, its the ultimate geek accessory.

The Biosub project is coming along well. For those who are unfamiliar, Lloyd Godson plans to create a self supported underwater habitat that will be launched in August, and should support life unassisted while they live underwater at a disused quarry site down near Canberra. I would get quite bored down there, don't know about those guys.

Brendon from Hack-a-day managed to make a working mouse out of one of those old Nintendo power gloves. Apparently it works quite well.

Here's a good idea for the large amount of Mac users that are out there: set up a periodic that checks for a file on a webserver called youve_been_stolen. Your PowerBook's periodic gets that URL and, if found, runs a script that runs rm -rf against all your personal data, removing it before the thief has access to it.

Lifehacker has a guide to removing warts with duct tape. Sounds really cool and fun.

For those people out there that still play single player games: Download Poke. Poke allows you to cheat in almost every single player game that has been made. It basically works by allowing you to edit the values that the game stores in your memory, giving you complete control over the game. If that's not your cup of tea and you are more of a creative person, then why don't you try cloning yourself with the help of photoshop?

Finally, for those people who get Techtv (Im still livid at foxtel for replacing it with Crime television), make sure you keep an eye out for david thorpe (Something Awful writer) going head to head with Ebaum from Ebaums world. David has been on the show before, and it made quite good viewing to say the least.

TechTv approached Something Awful and Ebaums World following an ongoing spat regarding Ebaums World allegedly stealing content from websites and passing it off as his own




Call for Newsmonkeys! (21 Comments) (link)
Thursday, 23-February-2006 13:03:11 (GMT +10) - by Agg


Things are very hectic lately and I'm having trouble finding time to keep the newspage updated. If you'd like volunteer to help keep it updated, drop me a note!

Update: no more responses needed, thanks! :)




Thursday Morning (15 Comments) (link)
Thursday, 23-February-2006 03:21:04 (GMT +10) - by Agg


From Daniel: Telstra has launched Bigpond Movies. Most movies are over 1gb, works out to about 10mb for 1 minute of content, free quota for Bigpond customers and they also recieve a 20% discount. Obviously streamable over ADSL2/2+ and cable. :) Another article about this here from Asher. Some good comments from Sony Pictures' MD towards the end RE: the time lag between when shows air in the US and when they air in Australia.

XbitLabs have a pretty big 3DMark06 performance article. Will the new 3DMark06 be able to repeat the success of the predecessors? This is the question we are going to answer in out today's article devoted to detailed testing of 20 graphics cards and 19 CPUs in the new 3DMark06 suite.

TweakTown have a gadget guide. Each of the products seek to enhance your computing experience in some way, by either filling a large and unsatisfyingly empty niche, or by showing you something you never knew you could live without!

World of Warcraft takes another bizarre twist, with a guild holding a server for ransom. But instead of immediately opening the gates, a post appeared on the official WoW forums for the server that it was the guild's intention not to open the gates until it was paid a ransom of 5000 gold.

From eixt: IBM have discovered that current chip-making technology has the potential to make computer processors tinier and cheaper than first thought.

OCIA have a budget system building guide. Techspot have a similar idea with their low-end PC buying guide.

A few things from Paul: BBC climate change experiment. 3D browser, cool!

Also from Paul: Danish National Radio has kindly made 9 Mozart symphonies available for free download in celebration of the grand man's 250th birthday. Indeed, at 256kbps, the mp3's are clearly showing the music the respect they deserve. Performed by the Danish Radio Symphony Orchestra, these are a joy to listen to and a fitting way to celebrate his great work.

Also also from Paul: Songbird, a Web player built from Firefox's browser engine. Songbird is open source, will run on Windows, Mac OS X and Linux and supports user contributed, cross-platform extensions.

Virtual-Hideout ponder the dual-core decision, while OCWizard overclocked their dual core A64 4400+.

HWZone cover Sennheiser's new headphone range. One of the milestones for the company would be the HE90 Orpheus created in 1991. Till date, it is still the world's most expensive headphone system and is perhaps the epitome of headphones with fantastic specifications and performance.

MadShrimps have a 2-in-1 PC project posted. MWP's had one of those for years!

From Sil80: Hey - I don't know if anyone has seen this before but it's a pic totally done in MS Paint. There is a link to show you how he did it too. Its very well done! It's a 3mb download so it may take awhile. And you have to scroll down to see it all.

BigWilly spotted some spray-on solar cells. The plastic material uses nanotechnology and contains the first solar cells able to harness the sun's invisible, infrared rays.

From Banger: It looks like another P2P group is under the scrutiny of the law again. Razorback, one of the most well known and well used servers on the eMule network has just had their servers seized by police. There is also this PDF from the MPAA.




Thursday Morning Reviews (0 Comments) (link)
Thursday, 23-February-2006 02:42:44 (GMT +10) - by Agg


Audio / Visual:
Saitek Audio A-200 2.1 Portable Speaker System on ThinkComputers.
Altec Lansing inMotion iM716 Portable HD Audio System on BonaFideReviews.

Cases:
S-10000S S-Store Series Case tower on Techniz.
Zalman HD160 HTPC Case on DVHardware.
Zalman HD160 HTPC Case on RBMods.
AeroCool ExtremEngine 3T Gaming Case on ExtremeMHz.

Video Cards:
XFX GeForce 7800 GS AGP Extreme Edition on Guru3D.
HIS Radeon X800GTO IceQ on TweakTown.
ASUS GeForce 7800GT TOP on TweakTown.
Sapphire X1900 XTC on LostCircuits.

Cooling:
Corsair Nautilus 500 watercooling kit on HotHardware.
FrozenCPU ThermalRock Dragon Alphacool case & watercooling on VirtualHideout.
Arctic Cooling Alpine 64 Heatsink on Pro-Clockers.

Mini & Portable:
Shuttle XPC SN21G5 S939 mini-PC on TechReport.
Panasonic ToughBook CF-W4 laptop on TrustedReviews.

Motherboards:
Gigabyte GeForce 6150 S939 A64 board with video on PCModdingMy.
ASrock 939SLI32-eSATA Dual 16x SLI board on OCW.
DFI LANParty UT NF4 SLI-DR nForce 4 SLI on RojakPot.

Storage:
Seagate Momentus 5400.3 160GB 2.5" HDD on ViperLair.
Mimobot Flash USB Flash Drive on XYZComputing.

Power Supply:
Ultra Products X-Connect 2 550W on BigBruin.
Thermaltake ToughPower 550W on Bjorn3D.
Antec Phantom 500W on NordicHW.

Misc:
Buttkicker Gamer gaming accessory on OCModShop.
Pentax Optio S6 digicam on TrustedReviews.




Wednesday Morning Reviews (5 Comments) (link)
Wednesday, 22-February-2006 02:30:56 (GMT +10) - by Agg


Power Supply:
Hiper Type-R 580W on ExtremeOC.
High Power 560W on ThinkComputers.
Aerocool Zerodba 620W on Pro-Clockers.

Cooling:
Antec Vcool VGA Cooler on XSReviews.
Zalman Fatal1ty FS-V7 VGA cooler on CaseModGod.
Thermaltake Tide Water on OCOnline.
XSPC X20 Liquid Cooling Kit on Techniz.
Arctic Cooling Accelero X2 VGA cooler on DriverHeaven.
Tuniq Tower 120 CPU cooler on XbitLabs.

Software:
Darwinia game on Moditory.
Psychonauts game on TrustedReviews.
Ubuntu v6.04 (Dapper Drake) Flight 4 Linux distro on Phoronix.

Storage:
Kingston TravelLite SD/MMC Reader on LegitReviews.
Seagate 8GB Photo Hard Drive on RojakPot.

Video Cards:
ASUS Extreme AX1600XT Silent on LegionHW.
ATI X1900 All-In-Wonder on PCPerspective.
nVidia GeForce 6800 GS on HWSecrets.
MSI Radeon X1800 XT 512MB on HotHardware.
Mad Moxx X800 GTO2 Burstfire on TechPowerUp.
ATI All-In-Wonder Radeon X1900 on Hexus.
PowerColor X800 GTO 16 on Xbit.

Audio / Visual:
Toshiba TDP-MT700 HD Projector on TrustedReviews.
Samsung SyncMaster 970P White LCD monitor on Bytesector.
Leadtek WinFast Walkie TV on Bjorn3D.
Logitech Wireless Music System for iPod/mp3 on TrustedReviews.
Acoustic Authority iRhythm iPod Speaker Dock on TrustedReviews.
SilverStone EB01 USB digital to analog converter on A1-Electronics.

Networking:
Devolo MicroLink dLAN Highspeed Starter Kit ethernet-over-power on TrustedReviews.
Linksys Wireless-G ADSL Gateway with SRX200 on TrustedReviews.

Misc:
Navicore Personal 2006 Mobile Phone/GPS on TrustedReviews.
A.C.Ryan Roundcable2-FX IDE Cable (Ver.2) on Virtual-Hideout.
Epson Stylus Pro 4800 printer on TrustedReviews.



Video Card
Asus GeForce 7300GS on Aus FX.
ATI X1600XT on OC Projects.
PowerColor X1300 on Mad Shrimps.
GeForce 7900 Series Specs on VR-Zone.

Storage & Memory
G.SKILL F1-3200PHU2-2GBNS PC3200 DDR on Tech Powerup.
OCZ EL DDR PC3200 Gold GX XTC 2GB Kit on HardCORE Ware.
OCZ EL DDR PC3200 Gold GX XTC 2GB Kit on Driver Heaven.
OCZ EL DDR PC3200 Gold GX XTC 2GB Kit on Overclocker Cafe.
Data-Tec D350 3.5-inch eSATA HDD Enclosureon Hardware Zone.
US Modular Cold Fusion PC-4000 DDR on Link Force Corner.
Vizo MasterPanel Drive interface front panel on RB Mods.

Motherboard
DFI RS482 Infinity Mini-ATX s939 on Mad Shrimps.
ECS's KA1 MVP Extreme on Tech Report.
MSI 975X Platinum on Hardware Zone.
Asus A8N32-SLI on Neo-Seeker.

Cooling
Arctic Cooling Freezer 64 Pro on Tech Gage.
Evercool Silver Knight All-in-one Water cooling on Think Computers.
Arctic Cooling Freezer 64 Pro on Overclockers Online.
Swiftech H2O-220-Apex Ultra Water Cooling Kit on Overclockers Online.
CoolIT Freezone Liquid Chilling CPU Cooler on Extreme MHz.
Scythe KATANA Cu (SCKTN-CU1000) on Pro-Clockers.
Titan Eagle universal VGA Cooler on A1-Electronics.
A.C.Ryan - Blackfire Fans & Fan Grills on Gideon Tech.

Case & Power Supply
Cooler Master Centurion BTX-B541 on 3D Game Man (not working).
I-Star D-Storm Series D-300 3U Rackmount Server Case on Techniz.
HSPC Tech Station PC Test Bench on Driver Heaven.

Input Devices
Razer Mantis Speed & Control Mouse Pads on Phoronix.
Corepad Mouse Skatez Pro on Think Computers.
Corepad Mouse Skatez Pro on The Tech Zone.
Logitech V500 Cordless Notebook Mouse on Laptop Gamers.
Corepad Eyepad on XS Reviews.
Creative Fatal1ty 1010 Gaming Mouse on Hardware Zone.

Audio Gear
Sennheiser HD415 Headphones on Bonafide Reviews.
Creative Labs GigaWorks S750 7.1 Speaker System on Laptop Gamers.
Saitek A-200 Portable 2.1 Speaker System on Future Looks.
Saitek A-250 Wireless 2.1 Speaker System on Big Bruin.
Sennheiser HD555 Headphones on RB Mods.

Mobile Phones
LG VX8100 on Design Technica.
Black Motorola Razr V3 on Digital Grabber.

Miscellaneous
8 megapixels of sexy dell desktop. When will it stop? on Uber Gizmo.
Philips E-Reader Hands-On on Digital Trends.
Berry Linux v0.67 on Phoronix.
PowerColor Theater 550 Pro PCI Express TV Tuner on Sudhian.
Athlon 64 X2 4400+ on UK Gamer.
Knoll Life Chair on XYZ Computing.
Kodak EasyShare V550 Digital Camera on XYZ Computing.
Leadtek WinFast Walkie TV USB DTV Tuneron Bjorn 3D.
Linksys WRT54GP2A-AT Wireless Router & VoIP Adapter on Digital Grabber.
HP Color LaserJet 2550L on Laptop Gamers.
Lapworks Laptop Desk UltraLite on Lpatop Lifestyle.
Planon RC800 Portable Color Scanner on Think Computers.




Tuesday Middayish (2 Comments) (link)
Tuesday, 21-February-2006 12:41:42 (GMT +10) - by Agg


Issues with the database server over the last coupla days..

Cnet have an editorial about Australia's love for piracy when it comes to TV episodes etc. According to Envisional, a web monitoring company, Australians are responsible for 15.6 percent of all online TV piracy, bested only by Britain, which accounts for 38.4 percent. There's a thread about this article here in our TV, Music and Movies forum.

You can win a 7300GS PCIe video card over on 3DAvenue. All you have to do is complete a Nvidia based mini flash game.

Phoronix have some info on Intel's EIST SpeedStep technology. However, over six years later SpeedStep Technology remains in their mobile platform as well as some Pentium 4 and Pentium D processors.

From gords: Windows Defender (Beta 2) has recently been released. It replaces Windows AntiSpyware. More info here and direct download here.

Virtual-Hideout have part 2 of their Taking the SLI Plunge article posted. It's no secret that SLI is also for Gamers, video editors and other professionals looking for the absolute most graphics processing power they can get.

SilentPCReview tried using AMD's Turion 64 on the desktop. We examined the power efficiency, cost and implementation details of Turion 64 ML44, ML40, MT40 and MT34 models, along side Athlon 64-3200+ and Intel Pentium M 770 CPUs.

Australia's CSIRO Parkes Telescope has found some new stars. The stars are made of old, dormant, neutron stars that are able to send only short, intermittent bursts of radio waves, for periods of approximately 2 milliseconds.

ARP show how to mount S462 heatsinks onto S939 motherboards.

From Sutto: I saw Dark Oberon on the front page and thought I might as well suggest 2 other alternatives - 1) Glest - a fairly good looking open-source rts (3d). 2) TA: Spring - Another RTS, 3d as well. According to the site the aim is to make it also run Total Annihilation content :D

From Daniel: If people have tried Konfabulator on their desktops before and had it expire due to trial version restrictions - good news: Yahoo have bought it out, and it is a free download here and here.




Fix Your Email! (2 Comments) (link)
Monday, 20-February-2006 22:46:29 (GMT +10) - by Agg


If you suddenly find you can't post, most likely you need to fix your email setting in UserCP and respond to the confirmation mail the system will send you. You should then be able to post, and within an hour, see the trading forums again.

Even if your forum account is ok, please quickly check your email is up to date. We receive thousands of bounced emails every day now, due to people not keeping their settings updated.

Remember, you need to use a non-free email with your OCAU forum account.




Sunday Morning (2 Comments) (link)
Sunday, 19-February-2006 01:54:29 (GMT +10) - by Agg


Sabz sends word that mIRC has been updated to 6.17. Among the various other changes are a better check for timed out connections, support for passive dcc send/chat connections, resizable file dialogs, lots of SSL related improvements and various additions of "dangerous" commands to the Lock options dialog. Just the thing for hanging out in our IRC channel.

Betzie spotted this review of the new nano-ITX mobos from VIA. VIA cannot claim to have invented the small form factor, but have certainly popularised it with their Mini-ITX motherboards. In an increasingly crowded marketplace, can they do the same for the ultra small form factor with the EPIA N? Yay, something for our VIA Hardware forum to discuss!

Deepspring noticed this open-source RTS game called "Dark Oberon". It has got awesome graphics - textures created from shots of real models made out of plasticine!

HDDSaver have an article on using MD5 to verify your data integrity. With this done the data can be copied into place and the MD5 checksum can be reviewed so as to verify the data was copied without incident.

Techgage have some info on AMD's upcoming M2 socket. This information shows that AMD is confident in the fact that the AM2's memory controller will handle DDR2 better than Intel's current controller, or we may assume.

Tbreak compared NVIDIA's nForce4 SLI X16 chipset with the previous revision. We've looked at a couple of nVidia nForce4 SLI X16 chipset motherboards but today we compare it to the original nForce4 SLI chipset in high-end gaming and see what it offers.

Tech-Hounds have an article about frame rates. This time, we take another look at the GeForce 7 series, focusing on how the architecture handles texture dependent games like Quake 4 and shader heavy games like F.E.A.R. We examine just how pixel shader quads, core and memory clock influence performance in this two games.

Flanman62 sent word that a Philip K Dick inspired robot has gone missing. The irony of the situation - a missing replica of the very author who championed "replicant" freedom - is not lost on Phil's creators. But they still want him back.

Bit-Tech experimented with memory configurations to see what effect they have on frame rates. The four 512MB modules performed well too, retaining the same minimum frame rate as the 2x1GB modules at 400MHz. However, the average frame rate dropped by nearly 5 fps.

XbitLabs have an interview with Appro about some of their XtremeServer products. They also looked at some new WaterChill watercooling kits from Asetek.

PCMech have a guide to Coolbits. Hopefully more up to date than the one I wrote in 2002. :)

Hexus compared a couple of Radeon X1900 XT cards. PowerColor and SAPPHIRE have been a couple of the first partners to launch a full retail ATI Radeon X1900 XT 512MB cards, and we've had a chance to evaluate them.




Saturday Midday (1 Comments) (link)
Saturday, 18-February-2006 12:13:39 (GMT +10) - by Agg


There's some really nice high-resolution wallpapers with logos from AMD, Intel, etc here. Discussion thread here.

PopSci report on a flying cruise ship under development. The rigid and surprisingly aerodynamic body - driven by huge rearward propellers - generates enough additional lift to keep the behemoth and its 400-ton payload aloft while cruising.

Here's a cool lego PC project. Vents on side of case will allow air to flow past the hard-drive. Black ladders are used as a grill.

Apple's OSX has experienced its second virus. Maybe they should try some more poetry to ward them off.

Metku made an Xbox 360 like PC case. Because of the comments I have received from my friends, I have to state that this case has nothing to do with Xbox360. I Designed my case before I ever saw the xbox.

MYSRH spotted these mind-bending 3D paint jobs, and this new 3D display being demonstrated in Japan. More info on the display here.

ARP have updated their desktop GPU comparison guide, now including X1900 and 7300GS variants.

Tech-Report compared Intel's Pentium M 760 and AMD's Turion 64 ML-44, both mobile CPUs. AMD has done well with Opteron in servers and the Athlon 64 in desktops, but surely AMD's K8-derived mobile competitor doesn't match up with the likes of the Pentium M. Does it?

FlingingSquids looked at Dell's quad SLI system. The whole setup only requires two x16 PCI Express graphics slots, even though it looks like four cards at first glance.

Bit-Tech interviewed Intel's Viiv man about their new digital home initiative. Viiv is all based around standards from the Digital Living Network Alliance. As long as Linux devices can comply with requirements, we can easily have a Linux-based CE device talking to a WinTel Viiv box.

NordicHW have a bit more detail about their 3DMark05 record attempt using an X1900 XTX video card and Intel Extreme Edition 955 CPU. With the help of compressor cooling and 30 liters of liquid nitrogen they managed to keep the fighters at bay and ran the system for a consecutive 6 hours, an impressive task alone considering the circumstances.

Alexlam pointed out a disturbing article claiming that whale meat is being turned into dog food in Japan. Commercial whaling is illegal, but catches for research are allowed. Especially research into how tasty whales are, it seems. There's a fairly lengthy thread on the whaling issue here.




Saturday Morning Reviews (0 Comments) (link)
Saturday, 18-February-2006 01:09:37 (GMT +10) - by Agg


Video Cards:
ATI Radeon X1900 XTX on HWSecrets.
Gigabyte Radeon X1900XTX on LegionHW.
MSI GeForce 7800GTX on UKGamer.
PowerColor X1300Pro Bravo VIVO on OCOnline.

Power Supply:
Silverstone ST30NF 300W on Viperlair.
Ultra X2 550W on Pro-Clockers.

Memory:
Kingston HyperX KHX3200AK2/2G on ThinkComputers.
Corsair TWINX2048-3500LL Pro on HotHardware.

Cases:
Antec P150 on Techneek.
Thermaltake Mozard HTPC Case on BigBruin.

Mobile Phones:
Sony Ericsson W900i 3G phone with mp3 on OCWorkbench.
Palm Treo 700w Smartphone on XYZComputing.




TazBazz's "DTA" Technology (9 Comments) (link)
Thursday, 16-February-2006 19:03:45 (GMT +10) - by Agg


How do you get nice cool ambient air for your PC? If you're TazBazz, you employ "DTA", or "Ducted Tasmanian Air" technology:



Click for the PCDB entry! (5 pics)


I like it. :)




OCAU:Drive. Sydney Cruise This Weekend (0 Comments) (link)
Thursday, 16-February-2006 15:58:01 (GMT +10) - by INerTIal


OCAU Sydney Cruise #7 is on this Saturday. Meeting up at M4 McDonalds Eastbound at 8:45am, and P6c Carpark at Homebush at 9:15am. For full details check out this thread.




Thursday Afternoon (17 Comments) (link)
Thursday, 16-February-2006 15:56:15 (GMT +10) - by Agg


From Mudgie: Microsoft: Upgraded Motherboard = New Windows Licence: "Microsoft recently made a change to the licence agreement saying that a new motherboard is equal to a new computer, hence you need to purchase a new Windows licence." I think this article should be called 'Microsoft encourages Linux usage' :) OEM copies only of course.. but still.

SMH have an interesting article about some inventors using the net for their research. You think of extreme sport as being a modern thing, but in 1933 they managed to get a wooden ice yacht with a canvas sail to a speed of 230 km/h," he says.

On a similar note, here's some more inventions including explosive inkjet ink, thanks jonkvh. The ink is stable in liquid form, making it safe to print onto conventional paper, but forms an explosive fuse once dry.

If you've got USD $1k burning a hole in your pocket, why not have an icecream sundae? The sundae is served in a baccarat Harcourt crystal goblet with an 18K gold spoon to partake in the indulgence served with a petite mother of pearl spoon and topped with a gilded sugar flower by Ron Ben-Israel.

An Australian "Spam Man" has become Australia's third gold-medal winner at the Winter Olympics in Turin. The International Olympic Committee's Web site said that Begg-Smith runs an Internet pop-up advertising company that he describes as the third largest of its kind. Uh, spam and pop-ups are different, guys.

HWSecrets have some info on the ATI Radeon X1900 family. It is based on Radeon X1800 core, but brings a few new features that are worth mentioning. In this article we will explore the main differences between Radeon X1900 and Radeon X1800 families. They also checked out the new HDMI video connector.

Pro-Clockers reviewed a handy gadget: a 5.25" in-bay device that lets you connect hard drives to your PC using PATA or SATA.

LegionHW have a competition where you can win some Gigabyte goodies by answering some questions via email.

WideScreenGamer have an article about "screen burn" on a Dell LCD. It's actually not really 'screen burn' at all, and you'll be relieved once you read what we have to say about this phenomenon. Haven't noticed this effect on my 2405FPW.. although speaking of widescreen gaming, I did get BF2 working in widescreen last night.

From Neevo: Checked the New Scientist site, seems like leggier Cane Toads are meaning that they can spread quicker...you're all doomed, doooomed, doooooomed I tell you. :-D Glad I live in blighty now!

You might want to take your own mouse along next time you visit a net cafe, unless you like sharing other people's bacteria. The computer mouses, were found to have an average of 690 CFU - more than twice the concentration found on doorknobs and handles in public toilets.

From Michael: Just thought that OCAU members would love to have a look at this video clip of a real transformer!!!! its awesome !!!! Transformer as in robot, not voltages and stuff. :)



Video Card
ASUS Extreme AX1300Pro Silent on Legion Hardware.
ATI All-In-Wonder X1900 Video Review on 3D Game Man.
XFX GeForce 7800 GT on Future Looks.
X1900 XTX Round Up on Trusted Reviews.
MSI RX1900XTX-VT2D512E on Hardware Zone
MSI GeForce 7800GTX on UK Gamer.
PNY Geforce 6 6600GT on PC Hardware.

Storage & Memory
Crucial Ballistix PC2-6400 on Neo Seeker.
Mascot 2.5-inch HDD USB external enclosure on A-1 Electronics.
GeIL Ultra Platinum PC4000 on 3D Game Man.
Mushkin 1GB HP3200 on Tech Gage.
OCZ EL PC3500 Gold GX XTC on UK Gamer.
2.5" Serial ATA hard drive round-up on Tech Report.

Cooling
Titan Eagle Universal VGA Cooler on Driver Heaven.
Thermaltake Tide Water All-In-One Liquid VGA Cooler on OCIA.

Multimedia
Panasonic TH-42PX50U 42" Plasma HDTV on Design Technica.
Altec Lansing IM7 Portable Audio System on XYZ Computing.
i-PHONO mini Bluetooth Stereo Headphone on Blue Tomorrow.
Hi-Grade µDMS P60 Viiv HTPC on Trusted Reviews.
Matrix Orbital MX610 VFD on Think Computers.
Plantronics Discovery 640 Bluetooth Headset on Legit Reviews.
X-Micro Bluetooth Stereo Media Phone Kit on Think Computers.
Dell DJ Ditty 512MB MP3 Player on The Tech Lounge.

Case & Power Supply
Tagan EasyCon 580W Modular PSU on PC Modding MY.
Aspire X-Qpack mATX Cube Case on Guru 3D.
iStarUSA Nitro-AX Server case on Club OC.

Software
Nexuiz v1.5 open-source first person shooter on Phoronix.
City of Heroes game on TechGage.
Diskeeper 10 Professional Premier on Bjorn 3D.

Mice
Razer Diamondback Plasma Edition on Laptop Gamers.
Razer Copperhead Mouse on TechNeek.

Pocket PC's
Palm Treo 650 on Design Technica.
Palm TX on Game Biz.

Miscellaneous
Hawking Technology Broadband Booster on ClubOC.
Globalsat BC-337 SiRF Star III Compact Flash GPS Receiver on Think Computers.
Panasonic Lumix DMC-LX1 Digital Camera on Trusted Reviews.
Canon i9950 A3 Printer on Trusted Reviews.

Trying to do a reviews post when every man and his dog wants to talk to you is a PITA.




Another Banned Game (0 Comments) (link)
Thursday, 16-February-2006 00:35:31 (GMT +10) - by Agg


Australia's Attorney-General Philip Rudduck confirmed that the Classification Review Board has Refused Classification for the graffiti-themed "Getting Up: Contents Under Pressure" game. More info in this 150KB PDF and this thread in our Games forum. If you're wondering who makes these kinds of decisions, you can see the latest appointments to the Classification Review Board in this 90KB PDF.

This follows on the heels of this PCWorld report that banned games are finding their way into Australia anyway. That article is discussed here in our Games forum.




Battlefield 2 Patch v1.2 (1 Comments) (link)
Wednesday, 15-February-2006 16:19:20 (GMT +10) - by Agg


The much-awaited v1.2 patch for Battlefield 2 has been officially released now. There's too many fixes to list (see here), but there's quite a few that I've been looking forward to, including:

* Dolphin Diving is no longer possible
* Players can no longer jump and shoot at the same time
* "Prone Spamming" is now fixed
* "Sprint exploit" is now fixed
* Hit points on all air vehicles has been reduced
* AA missile lock has been improved
* Tanks taking damage from the terrain has been reduced
* The Red/Blue nametag bug has been addressed

Grab the full patch (375MB) here on AusGamers, or the 1.12 to 1.2 update (85MB) here. Check your ISP's mirror to see if they have a quota-free copy for you. More info and some other mirrors here in the huge BF2 thread in our Games forum.




ABIT Survey Continues (3 Comments) (link)
Wednesday, 15-February-2006 15:59:51 (GMT +10) - by Agg


ABIT have extended their End-User Survey by another week, giving you until this Sunday (Feb 19) to enter to win. In a bid to get the PC community to speak their minds about the future of computer hardware, ABIT is handing out motherboards and CPUs (sponsored by Intel) with a total value of more than $10,000!

More info in this DOC file. The survey itself is here.




Graphic Health Warnings for Ciggy Packets (0 Comments) (link)
Wednesday, 15-February-2006 12:23:18 (GMT +10) - by Agg


Just spotted this interesting thing that was launched yesterday:

Graphic Health Warnings - Labelling of Tobacco Products

From 1 March 2006 tobacco products manufactured or imported into Australia will be required to be printed with the new health warnings images.

The new set of 14 health warnings, comprising graphic images and explanatory messages will cover 30% of the front and 90% of the back of cigarette packs. ... Fourteen stark images focus on the major smoking-related health topics including lung cancer, emphysema, peripheral vascular disease, heart disease, macular degeneration, environmental tobacco smoke, foetal exposure to the toxins in tobacco smoke, smoking as a leading cause of death, and the benefits of quitting.

Some of the pics are pretty gross. Do you think this will work? Do you think this is fair for smokers, or unreasonable? Comments in this thread in our Sport, Fitness and Health forum.




Wednesday Midday Reviews (0 Comments) (link)
Wednesday, 15-February-2006 11:58:24 (GMT +10) - by Agg


Cooling:
XSPC X2O Water Cooling Kit on MadShrimps.
AeroCool Video Magic (VM-102) Fanless VGA Cooler on Hi-TechReviews.
Zalman CNPS-9500 CPU cooler on Techneek.

Motherboard & CPU:
Gigabyte 8N-SLI Royal SLI P4 board on TweakTown.
AMD Opteron 165 dual-core S939 CPU on XbitLabs.
ASUS A8N32-SLI Deluxe S939 SLI board on HWZone.

Audio Visual:
Viewsonic VP930b ThinEdge Digital 19-inch LCD on HWZone.
NEC MultiSync 1740CX 17" LCD on TechGage.
Pentax Optio WPi waterproof digicam on TrustedReviews.

Portable:
SONY VAIO VGN-TX1XRP laptop on XBitLabs.
Acer Aspire 9504WSMi laptop on TrustedReviews.

Power Supply:
Seasonic Super Versatile 250W on MadShrimps.
Be-Quiet DarkPower P6-470 on DriverHeaven.
Ultra Products 2nd Generation X-Finity 600W on BigBruin.

Cases:
Sansun Bat Mid Tower on MadShrimps.
ThermalRock Circle Case on GadgetLife.
Antec P150 on XYZComputing.
Sansun Bat Mid Tower on OCrCafe.
SilverStone LC17 HTPC Case on Bjorn3D.




Tuesday Afternoon (7 Comments) (link)
Tuesday, 14-February-2006 15:18:38 (GMT +10) - by Agg


John spotted that SpeedFan has been updated. SpeedFan is a freeware program that monitors voltages, fan speeds and temperatures in computers with hardware monitor chips. SpeedFan can even access S.M.A.R.T. info for those hard disks that support this feature and show hard disk temperatures too, if supported.

HardCoreWare have an interview with someone from NZXT about case design etc.

TweakGuides have updated their America's Army Tweak Guide to include info about the Version 2.6 release from a few days ago. You can get the full 2.6 version here from AusGamers Files, or the 2.5 to 2.6 upgrade here. I've never actually played America's Army, is it any good? I'm quite fond of BF1942/BF2..

From Wes: Found an interesting read on the state of linux graphics. This recent news article announcement sort of complements it (the links are interesting).

Intel gave the world a sneak-peek of four-core computing in the form of "Clovertown" recently. Most of us are still figuring out what to do with our dual-core chips.

From Rhimes: Not sure if this has made the news page before - it's a video of an awesome multi-input screen. I want one! Woah, that's pretty cool.

TekBunker have a 7800GTX voltmod article.. part 2 here. For 24/7 use my clocks are set to 535/1415MHz.

XbitLabs have part 7 (!) of their 17" LCD Monitor Features article. We will look at 12 monitors from BenQ, LG, Philips, Samsung, Sony and Viewsonic.

Bit-Tech checked out a few Radeon X1900 cards. We've got Radeon X1900XTX 512MB video cards from Club 3D, Connect3D and Sapphire, along with the Radeon X1900XT 512MB from PowerColor and ATI's All-In-Wonder X1900.

Timbot spotted this cool How Products Are Made page. It's a bit like HowStuffWorks (but less ads :) ).

PodgeSSS found 10 weird USB devices. The winner unsurprisingly is an (ahem) "adult toy".




Tuesday Afternoon Reviews (0 Comments) (link)
Tuesday, 14-February-2006 14:31:37 (GMT +10) - by Agg


Video Cards:
HIS X1600XT IceQ Turbo on ViperLair.
HIS Radeon X1900 CrossFire on TweakTown.
PowerColor Radeon X800 GTO 128MB PCI Express on BonaFideReviews.
Sapphire Radeon X1600XT on ByteSector.
Gigabyte GV-NX66T128D-SP GF 6600GT PCIe on HWZone.

Memory:
2GB DDR Kits Roundup on XbitLabs.
Corsair TwinX 2048-4000PT on Hi-TechReviews.

Input Etc:
A4Tech X0710 Gaming Mouse on HWZoom.
Logitech G7 Cordless Mouse on RBMods.

Storage:
ExBoot 2.5-inch One Touch Portable HDD on HWZoom.
NetGear Storage Central SC101 network storage on TrustedReviews.
ASUS DRW-1608P2S DVD writer on TrustedReviews.
Vantec NST-360SU-BK eSATA/USB Enclosure on OCW.




HPRes-4 Worklog (0 Comments) (link)
Tuesday, 14-February-2006 14:21:33 (GMT +10) - by Agg


Defyant has another detailed worklog in progress. This is how it started, and it's not finished yet, but suffice to say it will look very different by the end:



Click for the thread!


Loads of in-progress pics and info in the thread as always..




Grr, Pop-up Ads (30 Comments) (link)
Tuesday, 14-February-2006 12:36:17 (GMT +10) - by Agg


Sorry for any pop-up ads you may have received this morning on the newspage. No, we haven't changed our stance on them, but one of the ad networks we partnered with seems to have sneakily included some pop-ups in their code this morning. Suffice to say I have cancelled our account with them and are now removing all their ads from OCAU.



Just a few reviews to kickstart your Monday morning. =)

Videocard:
ASUS EAX X1900XTX on BIOS
Powercolor X1300Pro 256meg Bravo Edition PCI-E on Tech-Mods
ATI Radeon X1600XT on Sudhian
NVIDIA GeForce 7800 GS on TweakPC (German)
Albatron GeForce 6600 on Overclocker Cafe

Mouse/Keyboard:
X-Arcade Trackball Arcade Mouse on Bjorn3D
Act-On MicMouse & Optical Mouse on PC Modding Malaysia
SteelPad 5L - Precision Mousepad on PCMech
Razer Copperhead Gaming Mouse on Overclockers Club
Sunbeam Solar Illuminated Keyboard on OCIA

Cooling:
ThermoHawk 200 Infrared Thermometer on ThinkComputers.org
AC Ryan BlackFire Fans on ThinkComputers.org
Alpha PAL-8150 Athlon64 Heatsink on FrostyTech
Cooler Master Aquagate Mini R120 Liquid Cooler on Viper Lair

CPU:
Athlon FX-60 CPU on Driver Heaven
AMD Athlon 64 3200+ CPU on MHW

Motherboard:
AOpen i915GMm-HFS (Intel 915GM Express) on Hardware Zone
DFI NF4 Ultra Infinity on Hi-Tech Reviews
DFI Infinity NF4 Ultra on Phoronix
ECS KA1 MVP on Overclockers Online
AOpen i945Ga-PHS on Techpowerup
MSI K8N Neo4 Platinum/SLI motherboard on TechReport

PSU:
FSP Group GreenPower 400Watt Power Supply on LAN Addict
Sytrin Nextherm PSU460 on Phoronix
BFG Technologies 600 Watt PSU on PcPerspective

Case:
Global Win YCC-S27 Mini desktop case on Madshrimps
Sansun Bat Case on Pro-Clockers
Kingwin SK-523SW ATX Chassis on Virtual-Hideout

Display:
Samsung 244T on Overclockers Online
Viewsonic VP930b ThinEdge Digital 19-inch LCD on Hardware Zone

Misc:
Razer Mantis Speed and Control Gaming Mats on Tech-Mods
Zboard Gaming Keyboard on TweakPC
Vizo Luxon HDD Enclosure on RBMods
Diskeeper 10 Professional Premier on Techgage
Quiet PC Media Center system kit on Bit-Tech
Windows OneCare Live Beta 2 on WindowsAtoZ
Sony Cyber-shot DSC-S600 on DesignTechnica
GeIL: 1GB Ultra Platinum DDR500 Dual Channel Kit on TweakPC




Air-Filter PC (1 Comments) (link)
Monday, 13-February-2006 02:27:07 (GMT +10) - by Agg


We've seen this before but it's been updated.. LiNERROR's PC sporting an automotive air-filter now has "double barrel carbies" ..



Click for the PCDB entry! (15 pics)





OCModShop have an FAQ posted on 64bit CPUs. Check it out here.

Asher sent in this article on how the Commonwealth games won't be shown in HD this year.

Bit-Tech have reviewed three new ATI cards, the X1900 XTX, X1900 XT and a X1900 All-in-Wonder.

Also from Bit-Tech: This week, a pint-sized edition of our monthly gadget roundup: lots of teeny tiny gizmos for you to lust after. Including, but not limited to, a Swiss Army knife MP3 player, a USB digital TV receiver and a funky USB drive with built-in Firefox. Full roundup here.

Techpowerup have a new article posted on their site: X1900 Launch Analysis by NVIDIA.

Important read for people that use Google Desktop: EFF urges consumers not to use this feature, because it will make their personal data more vulnerable to subpoenas from the government and possibly private litigants, while providing a convenient one-stop-shop for hackers who've obtained a user's Google password. Thanks for sending that in sabretooth.

Madshrimps has news that AMD might introduce their 65nm CPUs in 2007. Full read here.

SilentPCReview have updated their Recommended Quiet Heatsinks page.



Video Card
HIS X1600XT IceQ Turbo on Bonafide Reviews.
ATI All-In-Wonder X1900 on Design Technica.
Asus EAX1800XT Top on Hot Hardware.
Palit 6800GS Blitz on Hardware Zone.

Motherboard
Gigabyte GA-K8N51PVMT-9 + Nforce 430 GFX on Bjorn 3D.
Gigabyte GA-G1975X on Guru 3D.
Foxconn WinFast 6100K8MB-RS + NForce 410 GFX on Hardware Secrets.
ASUS P5N32-SLI on Nordic Hardware.
Abit Fatatality AN8 SLI on XS Reviews.
ECS KN1 SLI on The Tech Lounge.

Case & Power Supply
SilverStone LC17S HTPC on Pro-Cooling.
Silverstones Lascala 17, LC17B HTPC on Case Mod God.
Zalman Zm460-aps 460W on RB Mods.
Lian-Li V600 on PC Perspective.
Thermaltake Eureka on Tech Powerup.

Cooling
Thermaltake Symphony Mini water cooling on A1-Electronics.
Arctic Cooling Accelero X1 VGA Cooler on 3D Chip.
Titan Eagle VGA Cooler on Tech Gage.
Thermalright V1 Ultra VGA Cooler on Ap0calypse.
Titan G3T Notebook Cooler on Hardware Zone.

Laptops
Panasonic ToughBook CF-18 Rugged Notebook on Trusted Reviews.
Fujitsu-Siemens Lifebook P7120 on Trusted Reviews.

Mobile Phones
T-Mobile SDA on Design Technica.
Motorola PEBL on Trusted Reviews.

Input Devices
Logitech G5 Laser Mouse on Xtreme Review.
Microsoft Wireless Laptop Optical Mouse on Laptop Gamers.
Modware Radiance Illuminated Pro Gaming Keyboard on Virtual Hideout.
StarTech.com SV221MICROUA KVM on Overclockers Online.

Miscellaneous
SmarThumb 256MB USB Drive on Think Computers.
Samsung DVD-HR720 DVD Recorder with built-in 120GB HDD on Future Looks.
Patriot Memory Extreme Performance 2GB 133X SD card on Techniz.
Logitech Premium USB Headset 350 on Laptop Gamers.
Battlefield 2: Special Forces on Driver Heaven.
AMD Athlon 64 FX-60 on The Tech Zone.

Metku also posted a Work Log on his site of a very interesting mod to an LCD Monitor. You can read all about it here.



Interesting read on Digital Grabber for photography fans, Apeture Vs Shutter Speed.

Legit Reviews has just posted an article called Do Memory Module Heat Spreaders Make A Difference? There's been lots of discussion recently about what type of heat spreader is best for overclocking, or if no heat spreader is best of all. Corsair decided to run some tests to see what the results would be...

XYZ Computer has a new article up about Flash Memory and how far it has come within the last few years.

On a similar topic, The TechZone looks at the future of storage, in this article.

A timeline of major GPU technology announcements from ATI and Nvidia have been posted up on Accelenation, pretty interesting read.

NGOHQ has interesting information regarding the Direct Access feature that was implemented in Nvidia's Forceware drivers last year. ...It was designed to enable users to control their monitors directly from the ForceWare control panel instead of the actual controls on their monitor. While it is nice to see Nvidia incorporating new features into their software, it turned out that there is an "evil side" to this Direct Access feature.

From Techreport: You may recall that we had some problems with our Intel Pentium Extreme Edition 955 setup that caused us to delay our review a bit. The motherboard, CPU, and cooler combo we received from Intel for review didn't always cool the CPU sufficiently under load, leading to thermal throttling. We've now tested a production Intel CPU/motherboard/cooler combo, and we have some good news and some bad news... Grab the full article here.

Ahriman found this cool site that allows you to connect through AIM, ICQ, MSN, etc all through a browser.

Hardware Secrets has an exclusive interview with Phil Hester, AMD's Corporate VP and CTO, discussing AMD's plans, strategies, new CPUs and a little bit of his professional life and experience.

From Xbit Labs: In the beginning of week – on the best day for starting a scandal – Nvidia Corp. was accused in seeding shills into forums and communities to promote its products. The fans reportedly received free hardware and officially acted to "educate" users in the forums. We try to attempt to summarize all the information to find out whether advertising methods of hardware companies have reached the point of pretty unfaithful practices. Read the full article here.

Pentarsys has posted a short article on current video card availability.

A new article detailing the nature and protective measure one can take against malware, from viruses to spyware, is up at Techconnect Magazine.

Interesting read on Bit-Tech about Bill Gates and his visions of the future back in 1995. When Bill Gates wrote his vision of the future back in 1995, titled 'The Road ahead', he made a number of outrageous (at the time) predictions about what the digital world would be like in 2006. How have his predictions held up? We take a look back at the book and see what Gates got right and what he got wrong. Turns out that Bill predicted DRM, pro-gaming, Media Center - although he also got a lot of other stuff wrong.

A few people sent this in - the last Holden Monaro Legend is being auctioned off on eBay. If anyone wants to buy me a present... ;)

XSReviews has an interview posted with Abit's Marketing Rep - Peter Du Preeze about their merger with USI.



Videocard:
ATI All-in-Wonder X1900M on Trusted Reviews
Gigabyte GV-RX18L256V-B X1800 XL on Viper Lair
Chaintech GeForce 6600 APOGEE VE 256MB DDR2 on Techniz
Gigabyte GV-RX18L256V-B Radeon X1800XL on HotHardware

Audio:
Altec Lansing IM5 Portable Audio System on XYZ Computing

Misc:
Microsoft Laser Mouse 6000 on The Tech Lounge
NZXT Lexa Full ATX Case on Hardcoreware
Targus Liz Tote Deluxe Laptop Bag on Laptop Lifestyle
Seasonic Power Angel - Power Monitor on Madshrimps
SteelPad 5L Mouse Surface on CyberwizardPit

Digicam/Phones:
FujiFilm FinePix S9000 on Bytesector
Orange SPV C600 Smartphone on Bios Magazine

Cooling:
Coolink SWiF very quiet and stylish computer fans on A1 Electronics
GlobalWin GP92NPHH Heat Tube CPU Cooler on Tech-Mods
GlobalWin SilentStream Water-Cooling Kit on Tech-Mods
CPU Coolers with Heatpipes from Arctic Cooling on Xbit Labs
Swiftech MCX159-CU on Tech Powerup

PSU:
Spire SP-600W Rocketeer VI SLI Series Power Supply on 3DGameMan

Storage:
OCZ Technology Rally USB 2.0 Flash Drive on Laptop Gamers
Western Digital Raptor X on Tech Report
OCZ Rally 512MB USB Drive on Think Computers
WD Raptor 150GB on Trusted Reviews
Western Digital Caviar SE16 SATA HDD on Computing On Demand

Software:
Age of Empires III on Futurelooks



Motherboard:
PCChips M861G v1.6a Motherboard on Hardware Secrets
Gigabyte GA-K8NXP-SLI AMD Athlon 64 Socket 939 PCIe SLI on OCInside
ASrock 939SLI-eSATA2 ULi M1697 SLI board on OCW

Cooling:
AMD Cool n Quiet on Phoronix
Aerocool ExtremEngine 3T on Pro-Clockers
Noctua NH Series Heatsinks on GruntVille

PSU:
Silverstone Strider ST56F PSU on Legion Hardware
Thermaltake Toughpower 550W PSU on Techniz

Misc:
Alienware MJ-12 on DH
Opera v9.00 Tech Preview 2 (Build 1635) on Phoronix
Gigabyte Geforce 7300 GS Graphics Card on Rojak Pot
Ricoh Caplio R30 on BIOS




Wednesday Morning (25 Comments) (link)
Wednesday, 8-February-2006 02:49:09 (GMT +10) - by Agg


AOL and Yahoo's recently announced plans to charge for emails to pass spam filters has been snubbed by Australia's largest online media company and security experts. "Premium spam is still spam," said James Turner, security analyst at Frost & Sullivan, who believes that a better idea would be to turn the situation around and allow users to choose the spam they receive -- and keep the one cent charge as a reward. Man, I'd be making a fortune!

Darkness spotted this movie quiz. I got about 17/30 before I needed help. He also sent in this intelligence test.. 29/33 so far.. hmm.. and part 2, etc.

Intel and AMD have given us a sneak peek at their latest server chips. Presently, Intel and AMD dual-core chips sport segregated caches; dual-core chips from IBM come with a unified cache.

If you happen to buy the billionth song from iTunes, you could win a swag of stuff.. a 20-inch iMac, 10 60GB iPods, and a $10,000 iTunes Music Card to jumpstart your digital music collection.

IBM and Freescale reckon their Power Processor business will be better off now that Apple isn't buying loads of them anymore. Hmm, ok then. The two vendors ships tens of millions of the chips a year and say business will improve now that they don't have to devote resources to slow-selling Apple PCs.

Thetron spotted this hilarious trailer of Fight Club, one of my all-time favourite movies, remixed as a romantic comedy.

TheTechZone have a guide to choosing an LCD for gaming. Meanwhile LaptopLifestyle consider the best gaming laptop from Alienware, Rockdirect or Dell. LaptopGamers cover building a custom laptop for gaming.

Phoronix consider Xinerama vs TwinView. Eh? When it comes to a multi-headed environment under Linux, there are two popular options for consumers -- Xinerama and TwinView. Ahh.

I spotted this free Photoshop competitor in my wanderings. Paint.NET is image and photo manipulation software designed to be used on computers that run Windows 2000, XP, Vista, or Server 2003. It supports layers, unlimited undo, special effects, and a wide variety of useful and powerful tools.

Hitachi have created the smallest IC to date, so small you could embed it in a sheet of paper. The enhanced compactness and thinness of this new chip has further broadened the range of possible applications, including securities like gift certificates and a large variety of certificates.

Wired have their Vapourware List for 2005 published. Lots of votes were cast for the nifty-looking Optimus keyboard -- a configurable keyboard with a little screen on each key to denote its function.

An interesting little snippet from Draffa: "I was pretty surprised to hear an executive from Microsoft describe his company's strategy as intentionally anti-competitive and intended solely to freeze out certain classes of operators rather than maximizing its profits through producing a better product and charging a fair price for it."

T-Break tackle HTPC building. After looking at a couple of HTPC chassis, today we take a look at some of the components that we feel would make a good HTPC.

From White Rhino: Yay for the RIAA. Their top dollar lawyers have sued yet another evil doer - one with no computer. I wish I could access the internet with no computer - that'd save me bundles on hardware - let alone sharing music. They've already sued a corpse, so what next? Inanimate objects? Maybe my old fridge :/

XYZComputing have an interview with a moving to linux book author, while PCMech suggest how to deal with blue screens of death in Windows.

NordicHW spent some time overclocking X1900XTX and X1900 CrossFire setups, while the Linux port of X2 - The Threat BETA 4 with ATI hardware is covered on Phoronix.

From jz: Forget Microsoft's monthly updates and Sony's DRM issues - check out the results of the worlds first Aussie Security Geek Band, RootKit, and their debut single "Patch Me Up". Patch Me Up music video here. Referenced by blogs here and here.

Interesting Forum Threads:
Holophonic sound - scary stuff in PC Audio.
Warranty please, I left my card on the BBQ :( in Video Cards.
The Incredible 920! in Intel Hardware.
6280 Mini Review in Mobile Phones.
Computers in the bedroom in Sport, Fitness & Health.
2006 R6 - 17,500rpm! (or not) in Motoring.
Today I discovered the reason for warning labels on spraycans in Motoring.
Wasps make zombie slave roaches in The Pub.




Trading on OCAU (1 Comments) (link)
Tuesday, 7-February-2006 18:25:04 (GMT +10) - by Agg


If you've been a member of our forums for 3 months and can access the Trading Forums, please take a moment to read this thread in the For Sale forum. Basically it's just a reminder to organise some real-world contact details before trading on OCAU, instead of simply relying on forum PM's. Ta!

If you do intend to trade online, you might want to read this advice on the ACCC website. If you've had a problem, read this thread and there's more suggestions on the High Tech Crime Centre's website.



Video Cards
Gigabyte Radeon X1800 XL on Bjorn 3D.
PowerColor ATI Radeon X1300 on Think Computers.
ATI Radeon X1900 All-in-Wonder on Byte Sector.
NVIDIA GeForce 6800GS Roundup on Legion Hardware.

Cooling
Thermaltake Blue Orb II on Gamers Hell.
CoolerMaster NotePal Notebook Cooler on Laptop Lifestyle.
Scythe Samurai Z on Tech Powerup.
Zalman Fatal1ty FS-V7 GPU Cooler on Techniz.
8 Graphics card coolers head to head on Over Clex(translated from french)
Danger Den Maze 4 Acetal Top GPU waterblock on Geek Extreme.

Case & Power Supply
Thermaltake Silent PurePower 600W on 3D Game Man.
Silverstone SG01 Evolution uATX SFF case on Pro-Clcockers.
NZXT Lexa on Tech Gage.
ThermalTake ToughPower 550W on DV Hardware.
Cooler Master Praetorian 730 on Viper Lair.
ENlight eXtreme "Gaming case" on 3D Velocity.

Motherboard
EPoX 8NPA SLI s754 SLI board on Tweak Town.
Epox 5NVA+ SLI on PC Perspective.
EPoX 9U1697GLI-J on OC Work Bench.

Input Devices
Steelpad S&S Mousepad on OZ Case Modz.
SteelPad 5L Mousepad on OZ Case Modz.
Logitech MX 5000 Cordless Desktop Bluetooth 2.0 on Bonafide Reviews.
Terratec Mystify Claw Gaming controller on 3D Xtreme.

Storage
ADS Tech Mini Drive Kit on The Tech Zone.
SanDisk Cruzer Mini USB 1Gb Flash Drive on OC Wizard.

Miscellaneous
Darwinina "virtual themepark" on Xtreme Review.
Logitech Harmony 880 Remote Control on Digital Grabber.
IPEVO Free-1 USB Phone on Everything USB.
Samsung DVD-HD850 Up Conversion DVD Player on LAN Addict.
VL System M-Play 202 Plus Media Center VFD on Extreme MHZ
Vizo Starlet USB cable on RB Mods.
Pentoo Mini LiveCD v2006.0 on Phoronix.
Digital Quad Video Processor on PC-Base.




Superbowl Ads on Google (13 Comments) (link)
Tuesday, 7-February-2006 02:22:37 (GMT +10) - by Agg


Google Video has this year's Superbowl Ads available for viewing. There's a few funny ones, but more interesting is that a few of them come up blank and simply say "This video is not playable in your country". What gives?




ABIT End-User Survey (14 Comments) (link)
Tuesday, 7-February-2006 01:08:41 (GMT +10) - by Agg


ABIT are running an End-User Survey until the 10th of this month. By offering your opinions you enter the draw to win prizes. "It's the biggest survey ever conducted in the history of the industry, and we're handing out prizes with a total value far exceeding $10,000! This is our way to thank the PC community for all the support we have received in 2005, and likewise it's a great way for PC enthusiasts to tell us what they really want in a motherboard. You tell us – we build it!"

Check it out here.




Daylight Savings Changes (12 Comments) (link)
Monday, 6-February-2006 22:25:49 (GMT +10) - by Agg


Did you know that some Australian states are changing the daylight savings transition dates for 2006, to accomodate the Commonwealth Games? Dracmarcz sent in this page on Microsoft's site, which has some updates to stop your PC's time being incorrect. The update will add new time zone rules into the registry.




OCAU Merchandise (4 Comments) (link)
Monday, 6-February-2006 21:00:40 (GMT +10) - by Agg


Hmm, haven't pimped our merchandise page in a while:



Go buy stuff!






Monday Evening (9 Comments) (link)
Monday, 6-February-2006 18:25:43 (GMT +10) - by Agg


A zillion people sent in this whiskey bottle PC mod project on Metku. The major problem I see is that you'd have to drink that whole bottle of whiskey first.. :)

XbitLabs wonder if we really need 2GB of memory, and compare six new coolers from Thermaltake.

Tech-Hounds have part two of their SLi Myths article posted. However, performance is not the only feature of SLI. In addition to multi rendering, SLI can be used in SLI antialiasing mode.

Worried about parrots eating your car? Hire some karate experts to help fend them off. The mind boggles.

Or, if you're stuck in the snow, perhaps a giant robot is more what you need.

Google are apparently grumpy at BMW and have removed their entries in the search index (still seems to work here? Ahh, seems to only affect their German site.). However they seem to like Volkswagen, teaming up with them and NVIDIA to make an in-car navigation system.

From Wizzard67: The Register reports AMD's new socket M2 being spotted on a pre-production MSI K9N Platinum motherboard by Dutch site Tweakers.net.

BleedinEdge cover building a test bench, while IceTeks reckon a backup server is vital.

The rear-vision helmet we first saw a few years ago may be available soon.. which may be of interest to members of our Motorcycle Club.

From Chooky05: Hi I just found a site that could be interesting to overclockers called Flash Earth. On the site it says "Flash Earth uses satellite and aerial imagery from Google Maps and MSN Virtual Earth without permission." You can choose what you want to use.

RnR notes that our 10th planet has been confirmed.. maybe. "Since UB313 is decidedly larger than Pluto, it is now increasingly hard to justify calling Pluto a planet if UB313 is not also given this status," says Bertoldi.

Some interesting new Wiki pages: Build A PC, a Mobile Phone Super Wiki and Programs and Links for Overclockers.

Sciby spotted the McDonalds Video Game, a fairly cynical simulation of running a McBusiness. Enjoy the game before it gets sued off the net. :)




Another Snarf SFF (1 Comments) (link)
Sunday, 5-February-2006 17:41:22 (GMT +10) - by Agg


The Snarf, he of the still-driveable RC Ferrari PC and an amazing Shuttle project (that was the subject of this worklog article), has another nice SFF mod, using a Biostar system this time:



Click for the PCDB entry!






Sunday's Second Super Reviews (0 Comments) (link)
Sunday, 5-February-2006 16:00:04 (GMT +10) - by Agg


Motherboard & CPU:
VIA EPIA M10000 Mini-ITX mobo & CPU on Virtual-Hideout.
ABIT AT8 S939 A64 CrossFire board on TechPowerUp.
WinFast 6150K8MA-8EKRS all-in-one S939 A64 board on ViperLair.
Intel Pentium 955 EE LGA775 CPU on T-Break.

Cooling:
Titan Serina Laptop Coolers on DriverHeaven.
Thermalright HR-01 Passive CPU Cooler on BigBruin.
VIZO Muffle & WindStorm Case Fan on Techniz.

Memory:
OCZ EL DDR PC-4000 Gold GX XTC 2GB on OCOnline.
OCZ EL DDR2 PC4200 Gold GX XTC on LegionHW.
Corsair TwinX2048-4000PT on Pro-Clockers.

Case & Modding:
Vizo Cold Cathode Kit case lighting on RBMods.
SilverStone Temjin TJ07 case (video review) on 3DGameMan.

Audio / Visual:
Epson Dreamio EMP-TW600 projector on HWZone.
Sony NW-A1000 MP3 Walkman on UKGamer.
Creative Sound Blaster X-Fi Fatali1ty sound card on TechSpot.
Apple iPod Video (5th Gen) on TrustedReviews.

Video Cards:
MSI NX7800GS-TD256 GeForce 7800GS AGP on HWZone.
ASUS Extreme N7300GS GeForce 7300GS on RojakPot.
XFX GeForce 6800GS XXX Edition on CoolTechZone.
PowerColor X1900 XT on Bjorn3D.

Software:
Novell SUSE v10.1 Beta Linux distro on Phoronix.
Gun PC game on XtremeReview.

Storage:
USB Drive Roundup on ThinkComputers.
250GB HDD Roundup on StorageReview.

Misc:
Kodak EasyShare Printer Dock Plus S3 on TrustedReviews.
SilverStone ST60F Modular 600W on Techniz.



Video Cards
ATI All-in-Wonder X1900 on Sudhian.
ATI's Radeon X1900 Video Card Series Part II on Legit Reviews.
nVidia Quadro FX4500 on Lost Circuits.
ATI x1900 Crossfire on Link Force Corner.
Diamond Stealth X550 on Tech Powerup.
HIS X1600 XT IceQ Turbo on XYZ Computing.
Battle for the AGP Throne: GeForce 7800 GS VS. Radeon X850 XT on Yoon's Corner.

Storage & Memory
OCZ Gold PC3700EB on Eclipse OC.
Western Digital Caviar SE 200GB on Techtastic.
Vizo Luxon Hard Drive Enclosure

Motherboard
Gigabyte GA-G1975X G1-Turbo on Hardware Zoom.
Gigabyte GA-G1975X on Tweak Town.
Albatron K8SLI on Phoronix.
ECS PF22 Extreme on Hardware Zone.
VIA EPIA M10000 Mini-Itx on Virtual Hideout.

Input Devices
Razer Diamondback Plasma LE on Tech Fear.
Logitech MX518 on Laptop Gamers.
Wolfking Gaming Keyboard on Overclocker Cafe.
Everglide Titan MonsterMat on Cooling Station (in German).
Xtrac Pad's Ripper XL, Zoom v2.0 mats + InstaGlide on XS Reviews.

Cooling
Jetart NP6600 Notebook Cooler on Mikhail Tech.
Thermalright HR-01 "High-Riser" on OCIA.
Cooler Master Susurro on Overclockers Online.
Asetek WaterChill KT12A-12VX Water Cooling kit on Legion Hardware.
Dangerden Radiator on RB Mods.

Processors
Celeron D 351 3.2 GHz on Sharky Extreme.
AMD Athlon 64 FX-60 on Guru 3D.

Case
Ultra Aluminus on Tech Gage.
Cooler Master AMMO 533 on Mad Shrimps.

Multimedia
Klipsch iGroove Desktop Audio System for iPod on Bonafide Reviews.
Dell 2405FPW 24-inch LCD Monitor on Design Technica.
Creative Zen Vision:M on Trusted Reviews.
Creative TravelDock 900 portable speakers on UK Gamer.
Plantronics DSP-500 USB Headset on Bit-Tech.

Digital Cameras
Sony Cyber-shot DSC-T9 on Design Technica.
Nikon CoolPix 8800 on Trusted Reviews.
Fujifilm FinePix S9000 on XYZ Computing.

Miscellaneous
Wireless USB Takes On Bluetooth on Digital Grabber.
X-Micro WLAN 11g Combo WLAN Finder & USB Adapter on Think Computers.
Alienware Aurora 7500 FX-60 SLI Gaming PC on BIOS.




nVIDIA 7800 GS AGP (15 Comments) (link)
Friday, 3-February-2006 13:51:54 (GMT +10) - by Agg


NVIDIA has announced an AGP version of their 7800 GS video card. "GeForce 7800 GPUs are widely considered the pinnacle of graphics performance for PC gaming enthusiasts, and today's product introduction will allow a lot of extremely powerful AGP systems to benefit from upgrading to the GeForce 7 Series architecture," said Ujesh Desai, general manager of desktop GPUs at NVIDIA.

Coverage on Bit-Tech, Bjorn3D, Guru3D, HardOCP, Hexus, HotHardware, NeoSeeker, PC Perspective and Tech Report.



There's a nasty virus doing the rounds - unfortunately we only heard about it just now and today is the day it goes mental deleting things. -=N0N@ME420=- sent word that it's being covered on F-Secure's Blog and they have a free tool to help disinfect your machine.

The worm has a dangerous payload. If the date is equal to 3 (3rd of February, 3rd of March, etc) and the worm's UPDATE.EXE file is run, it destroys files with those extensions on all available drives:

*.doc
*.xls
*.mdb
*.mde
*.ppt
*.pps
*.zip
*.rar
*.pdf
*.psd
*.dmp

The files' contents get replaced with a text string "DATA Error [47 0F 94 93 F4 K5]". The payload is activated 30 minutes after the worm's file UPDATE.EXE is loaded into memory (basically 30 minutes after logon). We can confirm that the payload works at least on Windows XP. When the payload is activated, the worm enumerates all logical drives and damages files on them in a loop.

Virus writers: get a life.



A few people sent word of a snap QLD Rail strike today, but I'm guessing most people affected would already be aware of it. There has been a heavy demand for taxis this morning as Gold Coast residents realise there will be no trains today.

Oz.Org, who host our IRC channel, seem to be having some issues today also, in case you're wondering if you're the only one who can't connect.

Secunia have issued security warnings recently for Winamp, Mozilla Suite, Thunderbird and Firefox.

There's a new IE7 Beta 2 available for testing from Microsoft. The latest version of IE incorporates tabs allowing users to flick between web pages within the same window, similar to those used on rival browsers such as Firefox and Opera. Get it here.

Meanwhile Mozilla have released SeaMonkey 1.0. This open source application, available as a free download from its mozilla.org-hosted website, features a state-of-the-art web browser and powerful email client, as well as a WYSIWYG web page composer and a feature-rich IRC chat client.

Xbit consider the power consumption of modern graphics cards, and compared nine 2.5" enclosures for laptop HDD's.

Microsoft have changed their stance on removing blogs that break local laws somewhere in the world, but rather access to them would be restricted from the territory in question. Primarily being China, of course.

Seems everyone's got a blog these days - even pigeons. Each bird will carry a GPS satellite tracking receiver, air pollution sensors and a basic mobile phone.

John spotted this embedded liquidcooling technology. A technique for fabricating liquid cooling channels onto the backs of high-performance integrated circuits could allow denser packaging of chips while providing better temperature control and improved reliability.

BFM sent in this motion-capture MIDI controller, that lets your air-guitar actually make sound.

NordicHW have an article about setting a new 3DMark05 world record at DreamHack. Benching live at Dreamhack in front of lots of people and in an abnormally high room temperature. I was getting very hesitant. Overclocking as performance art.. interesting.

Minor parking accidents are embarrassing, especially in a work vehicle, and especially when your work vehicle is a Boeing 747. Two passenger planes have clipped wings on the runway at Melbourne Airport, sparking an air safety investigation and delaying passengers.

From James, the Optimus Mini. Not quite the drool inducing beauty that is the Optimus Keyboard but it is here and pre-orders are being taken!! More info here.

A couple more timewasters, Escape from Ashley: This has been the bane of productivity around the office, thus far no one has quite broken the 25 second mark. Also BallDroppings from JohnBarry - couldn't get the Java version working but the Windows one is quite fun. Of course, many of us are still playing the sand game.




Thursday Timewasters (8 Comments) (link)
Thursday, 2-February-2006 04:14:20 (GMT +10) - by Agg


VooDoo spotted this battleship game which is pretty basic but fun. This sand game (thread here) is surprisingly addictive.. while this demo sounds kinda boring, but maybe you'll like it, thanks Darkness. :)

And now for something completely different: here's a large bang underwater, a large bang underground and a large bang above-ground.



iPod Garage has an article posted about Steve Jobs and his plan for world domination, and how Disney recently bought Pixar.

OCModShop has good news for Halo fans. Halo 3 apparently is finished, and is at the mastering plant, awaiting the green light. Only thing left now is the artwork for the packaging and discs. Hexus also have information on the release.

ASE Labs has an interesting read about abstraction layers, and how they are one of the most important concepts in computing and programming today.

The Register has news on Goobuntu, a desktop linux project that Google has confirmed that they are working on. Thanks for the link Nick!

Digital Grabber has an article posted on Digital Technology and how it is changing the face of music. They also have a short article on camera mobile phones and how they compare to modern digital cameras.

Ars Technica's series on touching up digital images concludes. Part III covers everything you need to know about compositing, but didn't know where to ask. In this installment, we'll be getting into the hardest part of digital imaging: compositing. "Composite" is just a ten-dollar word for a combination of images and here we'll be covering how to combine one or more photos for convincing results.

Probably a good page to bookmark - Hardware Secrets has posted a series of quick reference tables containing the main specs of all Xeon processors released to date, including Pentium II Xeon, Pentium III Xeon, Xeon, Xeon MP and dual-core Xeon.

Hardware Secrets also have a good article posted about video compression - and how it all works.

Laptop Gamers an article on why our next PC should be a laptop, and how fantastic they are...

The TechZone looks at the impact on the economy of no booth babes at E3. Since the ESA dropped the anti-provocative booth babe bomb, message forums have been flooded by people from all camps. Some think the show should be cancelled completely.

Also on The TechZone - an editorial about tech workers and how they are disrespected.

A great article posted on bit-tech - they take a trip around Silicon Valley, India, Taiwan, London and more to find where all our favourite gear comes from and how it gets made.

NGOHQ have information on Nvidia and how the GeForce 7800 GS may be getting released early by some distribution centers. It seems that NVIDIA and their OEMs are shipping GeForce 7800 GS cards to distribution centers around the globe. Some of the distributors are waiting for the official launch, but others can't contain themselves and have started distributing cards already.

Finally, I just found this article from a thread in our Current Events forum, about Bill Gates having so much money that he can't be taxed under the normal system.



Video Cards.
ATI All-In-Wonder X1900 on Hot Hardware.
MSI RX1800XT 512MB on PC Stats.
ATI All-In-Wonder X1900 on Tech Report.
ATI All-In-Wonder X1900 on Viper Lair.

Storage & Memory
Corsair 2GB XMS-3500LLPRO on Rojak Pot.
Kingston HyperX 2GB PC3200 on Big Bruin.
NEC ND-4551A DVD writer with LabelFlash on Trusted Reviews.
Vizo Mirror Box Card reader/copier on Pro-Clockers.
OCZ Gold 1GB PC2-5400 on Tech Gage.
Corsair TWINX2048-4000PT on Velocity Reviews.

Case & Power Supply
E-Power Silent Engine 550W on Legit Reviews.
Cooler Master Ammo 533 on Trusted Reviews.
Kingwin Absolute Power 600w on Overclocker Cafe.

Cooling
Noctua NH-U12 on A1-electronics.
Zalman VF700-Cu LED GPU Cooler on Think Computers.

Multimedia
SonoWave Digital Media Player on 3D Game Man.
AiZen FlyBy Bluetooth Headset on A True Review.
Altec Lansing AHP-712I Active Noise Reduction Headphones on Bonafide Reviews.
Polk Audio I-Sonic on Design Technica.
MBridge Multimedia Viewer With WiFi & Hi-Speed USB OTG on Everything USB.

Monitor
Dell UltraSharp 3007WFP Widescreen 30" LCD on Hexus.
Samsung SyncMaster 240T on Windows A To Z.

Software
Sauerbraten v2006-01-31 Game Engine on Phoronix.
Dead or Alive 4 on Trusted Reviews.
VMware Workstation 5.5 on BIOS.

Miscellaneous
Jackson Armor Card on Think Computers.
Nikon CoolPix P1 Wi-Fi Compact Camera on Trusted Reviews.
EPoX 9U1697-J ULI 1697 mainboard on OC Work Bench.
Razer Copperhead gaming mouse on XS Reviews.



---
Advertisement:


All original content copyright James Rolfe.
All rights reserved. No reproduction allowed without written permission.
Interested in advertising on OCAU? Contact us for info.