March 2006
Friday Night Reviews (0 Comments) (link)
Friday, 31-March-2006 23:44:02 (GMT +10) - by Agg


Cooling:
Titan Eagle GPU Coolers on Pro-Clockers.
Sharkoon Silent Eagle 2000 120mm fan on Pro-Clockers.
Jetart VC-2000 VGA cooler on OCModShop.

Power Supply:
SilverStone 600W on Guru3D.
Enermax Liberty 620W on XSReviews.

Video Cards:
HIS X1900 XTX and HIS X1900 Crossfire Editions on Bjorn3D.
Sapphire X1900XTX 512MB on RBMods.

Storage & Memory:
Samsung SP2504C 250GB SATA-300 HDD on HWSecrets.
Western Digital Raptor X 150GB HDD on PCPerspective.
Vizo Mirrorbox 32-in-1 Card Reader on Techtastic.
SuperTalent PC2-6400 2GB Dual Channel memory on ViperLair.

Systems:
AJP M590K-H 19in SLI Notebook on TrustedReviews.
Lenovo 3000 J105 prebuilt PC on BIOSMag.
Wired2Fire Pyro 64-FX prebuilt gaming PC on TrustedReviews.



MadShrimps decided their nVentiv MachI wasn't cold enough, so modded it for extreme subzero cooling. At 200W the display came to life and showed -41°C, the thermal probe at the evaporator read -26°C.

Corsair have an article about building an HTPC. Interesting article from them.. hmm.

Techgage compared three GPU coolers from Zalman, the VF900-Cu vs. Fatal1ty FS-V7 vs. ZM80C-HP.

A recent iPod update allows you to set a maximum volume setting, to reduce the risk of hearing damage.

Intel are promoting the use of interchangeable notebook components. Intel has identified seven component categories - hard disk drive, optical drive, LCD panel, battery pack, customizable notebook panel, power adapters and keyboards - that can be built on common building blocks, making them interchangeable and readily available for replacement or upgrade. Some standards would be great in that area.

Peter sent word of an article about OpenSSH, which I didn't know was an offshoot of OpenBSD.

DJ-Studd spotted info about ILM's serious render-farm and the storage subsystem to keep feeding it data. The 3000 disks are divvied up into 20 stacks, and as they fill up, the data moves from one to the next. However, the users can still get to all their data via normal paths.

NordicHW have some photos from CeBIT 2006. CeBIT is one of the biggest events in the world and it's not easy to describe exactly how big it is. Take a regular size hockey arena (~7,000-10,000 people), such as the one where DreamHack (the world largest LAN party) is held and multiply it by 27 and you get something similar.

From Scotty: Basically it is videos of IBM laptops with holographic, drop prevention and automatic armor. It looks fake however it seems feasible if you look at the links from creditable sources. A good watch and very interesting.

Wired have some of Steve Jobs' Best Quotes Ever, thanks Eroda. I'm the only person I know that's lost a quarter of a billion dollars in one year.... It's very character-building.

A couple from wes: An article comparing Gnu/linux and GNU/opensolaris. Nexenta OS is OpenSolaris kernel and GNU software here.

Bit-Tech compared five 20" widescreen LCD monitors. Proving that artificial tests aren't everything, we found this the best display for gaming, hands down.




Folding@Home Reminder (7 Comments) (link)
Friday, 31-March-2006 11:15:21 (GMT +10) - by Agg


Is your PC sitting around bored most of the time? Make it do some real work for a change, by donating your idle CPU cycles to Folding@Home. This runs quietly in the background, without affecting your use of the PC, and simulates protein folding to help find cures for diseases such as cancer. You can also have fun competing to have your PC (or PC's) complete more work-units than others. For more info, see our Folding page or our Team OCAU forum. For a quick "how to start" guide, see this page. We're currently the #2 team in the world - help us regain first place!



Cooling :
Alphacool watercooling Starter Kit on bit-tech
Scythe Mine Cooler on TecCentral.de (german)
Spire VertiCool II & DiamondCool II on ocia
Arctic Cooling Accelero X1 Review on PC Modding Malaysia

Motherboards :
ECS KA1 MVP Extreme Motherboard on the tech zone
ASRock 939SLI32-eSATA2 on techpowerup

Storage & Memory :
Vizo Master panel on a1-electronics
Crucial Gizmo! Overdrive 1GB USB Flash Drive on big bruin
Corsair 2GB XMS2 PC2-6400 PRO (Revised Benchmarks) on Techgage
G.Skill 2Gb F1-3200PHU2-2GBNS Memory Kit Review on madshrimps

Power Supply :
Enermax Noisetaker II 701AX 600W Power Supply on 3d game man
Spire Rocketeer 500 Watt Power Supply on hi-techreviews

Cases :
Gigabyte Poseidon (GZ-XA1CA-STB) on hardwarezone
Sansun Bat Case on ThinkComputers.org
Cooler Master Centurion 534 Case on hardware secrets
GTR 7106 PC case on dans data
XG Viper 2 Case on hardware secrets
Centurion 534 case on pc per

Input :
NaturalPoint TrackIR on tech gage
Logitech Cordless Desktop MX 3100 on fast lane hw
Sunbeam Illuminated Keypad on lan addict

Cameras & Printers :
Nikon Coolpix S3 digital camera on bonafide reviews
HP Photosmart R927 on design technica
Creative's Live! Motion webcam on ukgamer

Audio :
Creative Zen Vision:M Portable Media Player on extreme mhz
Motorola HT820 Bluetooth Stereo Headset Review on legit reviews
Creative Prodikey PC-MIDI on hardware zone
Bluetake i-Phono Plus Headphones and BT007Ex Bluetooth EDR USB Adapter on think computers
Philips WACS700/05 Wireless Music Station on trusted reviews
Transcend T.sonic 310 MP3 Player on XYZ Computing
iRhythms A-9900 Sound Cancelling Headphones on trusted reviews

Video cards :
Gigabyte 7900 GTX Reviewon Technic3D (german)
ASUS ATI Radeon X1900 XT Crossfire on guru 3d
MSI NX7300GS-TD256E Videocard on pc stats
NVIDIA GeForce 7900 GT Video Card on legit reviews
ASUS Geforce 7900GT 256MB PCI-E videocard on 3d avenue
Samsung SyncMaster 244T on Bytesector

Software :
Star Wars : Empire at War on driver heaven
SLAX Server Edition v5.0.8 on phoronix

Network :
Netgear ProSafe VPN Firewall 50 on trusted reviews




Forum Reviews (0 Comments) (link)
Thursday, 30-March-2006 13:35:27 (GMT +10) - by Agg


I found a few "reader reviews" buried in the forums recently:

Arctic Silver ArcticClean and Ceramique by brodiepearce.
Arctic Cooling NV Silencer 5 Rev 3 by Seeker.
Topower 500W Silent PSU by -weet*di-.
VAL M20 PC speakers by pomdomz.
Aten CS-64U and CS-1734A USB KVM's by duma.
Nokia 6280 mobile phone by Cyber.
Nikon D1H DSLR Camera by Bosk.
Fenito Universal Remote by ob1.
Grand Theft Auto; Liberty City Stories (PSP) by deadspawn.
LinuxWorld Conference and Expo by cleary.




Midnightish Reviews (2 Comments) (link)
Wednesday, 29-March-2006 23:56:37 (GMT +10) - by Agg


Motherboards:
ATI Radeon Xpress 3200 CrossFire chipset on XbitLabs.
ABIT AN8 32X SLI S939 board on Bit-Tech.
MSI K8N Diamond Plus S939 SLI board on HWSecrets.
ABIT AN8 32X SLI S939 board on Pro-Clockers.
ABIT AW8 30-day test-drive on TechFear.
ASRock 939SLI32-eSATA2 S939 SLI board on TechPowerUp.

Portable:
Acer Ferrari 4005WLMi notebook on XbitLabs.
Lenovo 3000 C100 laptop on BIOSMag.

Storage:
ASUS DRW-1608P2S DVD-RAM drive on Digit-Life.
VIZO Shuttle Portable 2.5" HDD Enclosure on Virtual-Hideout.
Seagate NL35 400GB HDD on XYZComputing.
Gigabyte i-RAM GC-RAMDISK on HotHardware.
Memorex Mega TravelDrive 8GB USB drive on TrustedReviews.
Thecus N2050 eSATA RAID device on Hexus.

Memory:
G.Skill DDR-500 on Digit-Life.
OCZ EL DDR PC-4000 XTC Platinum 2GB on OCOnline.
G.Skill F1-4000BIU2-2GBHV DDR500 on Bjorn3D.




Wednesday Morning #2 (1 Comments) (link)
Wednesday, 29-March-2006 11:12:17 (GMT +10) - by Agg


The ACMA has laid down new rules for Australian ISPs, requiring them to provide spam filtering and email sending limits. The code will come into effect on July 16, after which ACMA plans to conduct compliance checks of the country's 700 ISPs.

Azul has announced a 48-core CPU, using TSMC's 90nm process. Using the Vega 2 processor, Azul will be able to design future versions of its Azul Compute Appliance server platform that can scale up to a 768-way multiprocessing system with up to 768 gigabytes of memory.

If you've got a pile of money to burn on a gargantuan new monitor, C|Net's comparison of Apple's 30" Cinema Display and Dell's UltraSharp 3007WFP may be of assistance. All tests were run at the monitors' 2,560x1,600 native resolution. Neither Dell nor Apple would specify the origin of the panel used in each monitor, but various reports have surmised that the panels are the same.

Slightly more approachable is this 19" LCD monitor roundup on THG. As our tests show below, there are some truly exceptional, all-purpose monitors that are good for gaming, photo retouching and other applications.

3DXtreme compared three GPU waterblocks, the DangerDen Maze 4, AquaXtreme MP-1 and Swiftech MCW60.

Techgage have their first impressions of PhysX, based on info and demos from GDC. I was able to see the Ageia PhysX card in action as well as sample ATI and NVIDIA's approach to physics and gaming.

Anandtech checked out Sun's T2000 server, based on their UltraSparc T1 CPU. Sun claims that this 72 W eight core, 32-thread CPU can outperform the power hungry (200-400W) quad IBM Power 5, Intel Xeon and the AMD Opteron machines in many server applications.

TechPowerUp have a marketing presentation from ATI called The Product Stack. There is a comparison of different price segments against what the competition from NVIDIA has to offer. Also there is a hint of "cable-free CrossFire mode" with upcoming Catalyst 6.5.

TheTechZone have more info about ajaxWrite, the free web-based wordprocessor. I encourage you to try ajaxWrite.com from Firefox 1.5, or newer, and experience the future of software firsthand. There's no cost. No registration required. Nothing to install.

OCInside updated their interactive S939 pinmod guide. Choose the original volts and the volts you desire, and the relevant pin mod is displayed.

LegitReviews have a DIY guide to building a PC. You could check out our Wiki page on the same topic, too.

FriendlySlugs talked to ATI about their take on physics acceleration. If you recall, ATI first demonstrated physics acceleration during the R520 (Radeon X1800) launch last year.

Tomshardware have an article about the complexity of memory upgrades. As we delve deeply into the memory upgrade jungle, we'll consider the problems that could affect any purchase decision, and what resources major brands - such as Apacer, Corsair, Crucial, Kingston, Mushkin, PNY and Viking - offer to assist potential customers.




Wednesday Morning (3 Comments) (link)
Wednesday, 29-March-2006 02:18:08 (GMT +10) - by Agg


Brenton noticed us coming one step closer to The Borg. The proteins allowed the neuro-chip's electronic components and its living cells to communicate with each other.

Eroda meanwhile spotted some interesting videos about augmented reality. This one demonstrates a few artificial objects being inserted into a video in real time, while this one shows how games can use the technology.

Nature has a few articles exploring Computing in 2020. This Nature web focus combines commentaries from leading scientists and news features analysis from journalists assessing how computing science concepts and techniques may transform mainstream science by 2020. Thanks RnR.

XYZComputing have Part 3 of their Mini-ITX project running Linux. The plans were, roughly, to install a hard drive, move to a more powerful Linux distribution, and add PVR capabilites to the system.

BTXFormFactor report on Perpendicular Hard Disk Drives. Perpendicular Hard Disk Drives aim to stem the theoretical limit of disk capacity, and this article aims to explain how and why.

TheTechZone muse about some lessons learned from IDF. After a few minutes of Pat Gelsinger's keynote, we knew we were going to spend a lot of time on Wikipedia! ATCA, DLNA, RAS, DRM, VQM, AKE, AES and new acronyms on top of old ones.

Thetron spotted a new game being made, based on the Desperate Housewives TV show. In the game, players take on the role of a new Wisteria Lane housewife, who can uncover or create new scandals on the seemingly idyllic street where the show takes place. Sure, but do you get to drive tanks?

The University of Queensland has had a successful hypersonic scramjet flight test. Researchers are now analyzing data from the test, focused on the last six seconds of flight prior to impact when the scramjet may have reached Mach 8 - eight times the speed of sound, or nearly 8,000 kilometers per hour. More info on UQ's site, thanks FatMan.

LostCircuits interviewed Jeff Lewis from Innovative Silicon, about Z-RAM. The ZRAM approach, on the other hand, solves this problem by getting rid of the storage capacitor. Essentially, what that means is getting rid of the fundamental memory structure that holds the data in the form of electric charges.

SilentPCReview have an article about building an overclocked Pentium D 830 system, and making it quiet. ordered a 120mm DustProof AcoustiFan to attach to the Ninja, since I was dubious about dissipating >130W passively, even with the two case fans close by.

An unpatched IE flaw is the target of several compromised websites. According to a list obtained by Security Fix, hackers have infected at least 200 sites, many of which you would not normally expect to associate with such attacks (i.e., porn and pirated-software vendors).

A1-Electronics have a historical article about Colossus, apparently the world's first electronic programmable computer, used by codebreakers at Bletchley Park in WWII.

Finally, RobV sends word of a Perth Pub Meet! Saturday 1st April, 7:30PM, Moon and Sixpence - Murray Street. More info here.




Tuesday Night Reviews (1 Comments) (link)
Tuesday, 28-March-2006 23:19:16 (GMT +10) - by Agg


Storage:
Western Digital Raptor X SATA HDD on FutureLooks.
AData FingerPrint Disk USB storage on TBreak.
Highpoint RocketRAID 2320 SATA PCI-E RAID controller on TweakTown.

Cooling:
Kingwin Big Air CPU cooler on Virtual-Hideout.
Thermaltake BigWater 745 watercoooling kit on A1-Electronics.
Microcool Northpole XE chipset cooler on RBMods.

Video Cards:
XFX 7900GT and 7600GT on OCNZ.
Powercolor X800 GTO 256MB PCIe on OCClub.
ASUS Radeon X1300 Pro 256MB on HWZone.
NVIDIA GeForce 7900 GTX on RojakPot.

Cases:
Zalman HD160 HTPC case on XbitLabs.
Ultra Aluminus on BigBruin.
Silverstone LC17B HTPC case on ViperLair.




Monday Afternoon Reviews (0 Comments) (link)
Monday, 27-March-2006 16:59:16 (GMT +10) - by Agg


Cases:
Thermaltake Eclipse DV Mid-Tower on PCPerspective.
Gigabyte Poseidon on HWSecrets.
Cooler Master CM Media B260 mBTX on BTXFormFactor.
Directron Black Phantom on 3DXtreme.
3R System M-Station HT-1100 HTPC case on DriverHeaven.

Input Etc:
Xtrac Ripper XL mousepad on OzCaseModz.
Logitech Force 3D Pro joystick on TheTechLounge.

Power Supply:
SilverStone Zeus 650W on OCIA.
Enermax Liberty 500W on HWSecrets.
Ultra Products X-Finity 600W on Modders-Inc.
XG Duro 900W w/ Quad +12v Rails on 3DGameMan.

Storage:
Silverstone MS02 2.5" HDD enclosure on ExtremeMHz.
Crucial 512MB Gizmo Overdrive flash drive on XSReviews.
Vizo MirrorBox 32-in-1 Card Reader on Virtual-Hideout.

Audio / Visual:
FireDTV & FloppyDTV external TV tuners on NordicHW.
Samsung HT-P38 5 Disc 800 Watt 5.1 DVD/Receiver HTiB on Tech-Mods.

Misc:
Microcool NorthPole XE Whisper chipset cooler on Virtual-Hideout.
OCZ DDR2 PC2-6400 Gold Dual Channel memory on MadShrimps.




Forums vanished? (4 Comments) (link)
Monday, 27-March-2006 12:36:31 (GMT +10) - by Agg


If the forums just stopped working for you, and instead started spitting out 404 errors and the like, it's because you are for some strange reason still trying to use them on the wrong server. All forums.overclockers.com.au and forum.overclockers.com.au access should now resolve to 203.220.0.229, aka bbq. So, check if you have an old entry in your hosts file or something like that, which could be making you still try to access via the old server.



Hey Hey! Long time, no see. Bit of a strange news post for this morning.

How does the look, feel, and functionality of Microsoft Word, in a completely web-based AJAX platform sound? Well, check it out here.

Ars technica have a look back on 5 years of Mac OS X.

It's a bird, It's a plane, It's, It's… someone with LED car rims?!

Dan has letters vers 163. More advice that'll one day bar me from high public office, lithium for flashes, DIY ultrasound, mercury hunting, suspiciously efficient motors, and solidified smoke.

The OCAU Battlefield2 team played clan =NrD= (No Real Danger) to defend their rank in the gamearena Battlefield 2 ladder. The end result was a win for OCAU 161-0. There is a thread about this in the OCAU GA Ladder team's forum (might be a bit slow). Or, drop into our gaming forums.

And just for something totally useless, here's a massive online version of pong!

Some reviews to come later.

Oh, and just for a bit of fun, some random forum threads.

The pub : Brain Speed Test
Photography : Point and Shoot Digital Cameras
Sports, Fitness and Health : Exercise kills me!!! Why is it not getting easier?
Tv, Movies, Music and Books : The Simpsons - Voices of Characters.
Geek Food : Death by Sauce!




Saturday Afternoon Reviews (1 Comments) (link)
Saturday, 25-March-2006 15:29:33 (GMT +10) - by Agg


Audio / Visual:
Noise-Cancelling Headphones Roundup on Bit-Tech.
SyncMaster 214T LCD monitor on BonaFideReviews.
Evesham T807 8" LCD TV on BIOSMag.
Digidock SP-4100 Speaker Phone for VoIP on OCW.
Delphi MyFi xm2go Satellite Receiver on DigitalGrabber.

Power Supply:
Spire RockeTeer V SP-500W on Phoronix.
Silentmaxx Fanless 400W ATX on Pro-Clockers.
Cooler Master iGreen Power Series PSUs on HWZone.
AeroCool 620W Zerodba on LegitReviews.

Storage & Memory:
Vantec EZ-Swap 2 HDD bay on OCModShop.
Verbatim 4GB Store 'n' Go USB drive on TheTechZone.
ASRock Free External 3.5" HDD Enclosure on A1-Electronics.
G.Skill F1-4000BIU2-2GBHV memory on TechPowerUp.

Motherboards:
BFG nForce 4 Ultra on TheTechLounge.
ECS KA1 MVP ATI Radeon Xpress 200 CrossFire on HWZone.
Asus A8R32-MVP Deluxe CrossFire board on DriverHeaven.
Gigabyte GA-8N-SLI Quad Royal quad-SLI LGA775 board on HWZoom.
MSI K8N Diamond Plus S939 SLI board on Tech-Report.
ECS KA1-MVP Crossfire on Virtual-Hideout.

Video Cards:
NVIDIA 7600 GT vs ATI X1800 GTO midrange shootout on TrustedReviews.
Asus EAX1900XTX 2DHTV/512M/A Radeon X1900 XTX on PCStats.
Leadtek WinFast 7900 GTX Extreme on Bjorn3D.

Misc:
17-way 120mm Fan Roundup on MadShrimps.
ICY BOX IB-861 Multi-Port Panel on UKGamer.
Tuniq Symmetry case on BigBruin.
Dell 9400/Intel Core Duo/7800 laptop on BleedinEdge.
Pegasus email client on PCMech.




Motorsport Overload (1 Comments) (link)
Saturday, 25-March-2006 13:08:19 (GMT +10) - by Agg


Finally the various seasons are kicking off. This weekend even on free-to-air there's the V8 Supercars today and tomorrow, A1GP tonight and the first round of the MotoGP tomorrow night. Comfy chair, beer, doritos, go!




More sods and odds for Friday night (8 Comments) (link)
Saturday, 25-March-2006 02:35:14 (GMT +10) - by Amran


The big news at the moment seems to be the 2006 Game Developers Conference, which actually opened on Wednesday in California. Techgage have coverage of day 1 and day 2.

At this year's GDC, everyone's talking physics. If you like computer games, you should sit down and have a good read of these articles. The PPU now is what the GPU was 8 years ago.

AGEIA's PhysX - a dedicated "Physics Processor Unit" card is discussed at length at Techgage. Nvidia and ATI have both announced that their GPU's can perform a similar function using the HAVOK FX engine. PC Perspective spoke to ATI about their implementation of the HAVOK FX engine. PC Perspective compare all three offerings and show some videos of the system in action.

Another innovation that may improve the gaming experience in the future, nanotube circuits in CPU cores for near-terahertz speeds.

Intel launched the World Cyber Games 2006 in Singapore yesterday. For the World Cyber Games (WCG) tournament, the underlying theme has always been about building global harmony, friendship and fostering a healthy multi-cultural society on-line and off. Yep, nothing promotes global harmony and a healthy multi-cultural society better than a game of Counter-Strike or Battlefield 2...

As Lowgoz alluded to on Wednesday, EA are indeed working on Battlefield 2142. Thanks kimbecause.

Why was Windows Vista delayed until 2007? According to Smarthouse, they had to rewrite over half of it. Thanks Eroda.

Dan's unhealthy fascination with torches continues.

NGO HQ have a mini-rant about a recent XBox to PC port of The Godfather. ...EA forgot something relatively important with this port.

A reminder from White Rhino that this is the last week to vote for Feburary's Iron Photographer. You can also enter the competition for March, the theme is "pubs". Might take my camera to work, I wonder if I could photograph someone as I'm kicking them out?

Lastly, if you really must get away from the PC for a while and go outside, why not participate in the Brisbane Zombie Walk. A 48 hour LAN party would be perfect preparation for such an event.



As I sit here in front of my new Dell SC430, grinning from ear to ear at the sheer speed of the thing (not to mention at the rate of folding that is now happening), it's time to post a few bits and pieces that I've found after a hectic week at work:

This article talks about a possible future of gaming, namely Star Wars-like holographic images. I'd be happy with that chess-like game first, though.

Reports suggest that the Playstation 3 may ship region-free for games, as an anti-piracy measure, ironically. After the DRM fiasco caused by Sony late last year, is it possible that a mega-corporation has finally caught on to the benefits of DRM-free content? Nah, not likely yet. In other Playstation news, Sony has stopped manufacturing the original Playstation console, some twelve years after its first release. Not quite as good as the Atari 2600, but not too shabby, by any means.

Following on from the delay in the launch of Vista, Microsoft has announced that Office 2007 will also be delayed. Something of a common thread, with the Ubuntu 6.04 (Dapper Drake) being delayed six weeks until 1 July to put some final polish into the product. As my SC430 is running very sweetly using 5.10 (Breezy Badger), I can hardly wait :)

Scientists from a range of institutions have created a 50MHz computer using a carbon nanotube, which is one-fifth the width of a human hair.

As many are now aware, Isaac Hayes, the voice of Chef, has quit South Park over the infamous (and very, very clever) Scientology episode (available as a legal download from this link, courtesy of the South Park producers). In response, the producers have had their revenge (warning: spoilers enclosed in the article).

Finally, if the initial hint wasn't enough, those of you with new SC430s need to get folding with them, as we aren't making up any ground to regain the top spot. Hell, even those of you without new SC430s who aren't folding need to get involved as well.




Friday Evening Reviews (0 Comments) (link)
Friday, 24-March-2006 19:31:12 (GMT +10) - by Agg


Cases:
Thermaltake Tai-Chi on HWSecrets.
Aspire X-Qpack Mini-ATX on MadShrimps.
Thermaltake Matrix VX on RBMods.
Antec P150 Quiet Case on ThinkComputers.

Memory:
OCZ EL DDR2 PC2-6400 Platinum XTC on TechPowerUp.
OCZ EL DDR PC-4000 Gold GX XTC 2GB Dual Channel on Pro-Clockers.
OCZ EL PC4000 Platinum XTC 2GB on OCrCafe.

Cooling:
Graphics Cooler Roundup on Sudhian.
Scythe Kama Bay fan kit on OCModShop.
Zalman VF900-Cu VGA Cooler on OCIA.
Zalman VF900-Cu VGA Cooler on Virtual-Hideout.
Thermaltake Silent Boost RX CPU cooler on Virtual-Hideout.




NVIDIA GeForce 7600 GS and 7300 LE (0 Comments) (link)
Friday, 24-March-2006 14:13:42 (GMT +10) - by Agg


NVIDIA has released two more cards in the GeForce 7 range - these are "mainstream" cards.
The GeForce 7600 GS GPU—this NVIDIA® SLI™-Ready GPU delivers extreme high-definition (HD) gaming and home-theater quality HD video with silent operation for an incredible entertainment experience.
The GeForce 7300 LE GPU—previously available only to system builders, the GeForce 7300 LE boasts the video and gaming features of today's most advanced GPUs and delivers stunning, HD video—up to 1080i resolution—and ultra-realistic gaming effects at mainstream price points without compromising performance.
More info in the press-release here. Coverage on AMDZone, FiringSquad, HardwareZone, LegitReviews (and here), PCPerspective and PCStats.




Daylight Saving Changes (28 Comments) (link)
Thursday, 23-March-2006 19:21:15 (GMT +10) - by Agg


Just a reminder that NSW, VIC, ACT, SA and TAS are not changing back to standard time at the end of this week, as we would normally expect to, because of the Commonwealth Games in Melbourne. Instead, the change will occur on April 2nd. However, your PC may not be aware of this change in schedule and may change itself a week early. There's a patch here on Microsoft's site which may help.



After about 2 years of press-release hints, AGEIA have.. some more. At the current Games Developer Conference, AGEIA and a bunch of developers announced support for PhysX in their games. FiringSquad have a report on the press conference.

There's some demo videos on AGEIA's website.. the middle one is probably the most impressive. BTW, I like how the one with blood requires a warning, but the one showing people being incinerated doesn't. :)

Finally, a few hardware vendors announced support, most notably Dell, who are offering a $10,000 USD PC with 4.26GHz CPU, quad SLI and a PhysX card, for truly insane graphics power.

AGEIA PhysX Accelerator add-in boards from leading board manufacturers ASUS and BFG will be available in wide distribution in May of this year. Well, I can't wait until we've actually seen one.. or non-press-release photos of one.. or a review of one.. or anything other than press releases telling us how great it's going to be. :) I hope this rush of press info isn't just a reaction to NVIDIA's unveiling of their competing technology.




Dell buys Alienware (8 Comments) (link)
Thursday, 23-March-2006 13:55:13 (GMT +10) - by Agg


Righto, after all the rumours and denials, Dell has now announced that it is buying Alienware. "Alienware's products are an excellent complement to Dell's own line of high-performance computers designed for gaming, enthusiast and media content customers. In addition to offering high-quality, high-performance products, Alienware has tremendous brand appeal with consumers and creative business professionals," said Michael Dell, chairman. No confirmation on Alienware's site yet, but some thoughts on TheReg and in our Forum.




Intel Pentium Extreme Edition 965 (1 Comments) (link)
Thursday, 23-March-2006 13:46:12 (GMT +10) - by Agg


Intel have released their Pentium Extreme Edition 965 CPU. This is based on Presler's new C1 stepping at 3.73GHz and 2x2MB of L2 cache.

Coverage on Anandtech, Bit-Tech, Hexus, HotHardware, Tech-Report, TomsHardware and XbitLabs.

While we're here, Intel recently announced some low voltage dual-core Xeons, too. To stay on top of things, keep an eye on our Intel Hardware Forum.




Thursday Morning (9 Comments) (link)
Thursday, 23-March-2006 03:00:29 (GMT +10) - by Agg


There's more chatter about physics acceleration today. PCPerspective have news on a sales partner for AGEIA, while Techgage report on an SDK for PS3 from them. HotHardware have some news of the PhysX launch at GDC.

Meanwhile PenStarSys have thoughts on NVIDIA's SLI version of physics acceleration, as do HardOCP.

HWSecrets took a trip to Legoland. Do they still have that Lego centre down in Circular Quay in Sydney? Or wherever it was? I remember going in a competition there when I was a little kid. I think I did ok. :)

MadShrimps have cooling, cases & hardware from CeBIT 2006.

Nightranger sent word of a Western Digital Class Action Settlement which is USA-based so probably doesn't affect us. It's to do with the old "how big is a gigabyte" argument, where hard drives format to less space than the advertised size. I've bought loads of Western Digital (and Seagate, and Maxtor) drives over the last few years and I really don't care too much about losing 3GB of an 80GB drive or whatever.

LegionHW have a VGA cooler shootout posted, comparing six products from Arctic-Cooling, Thermalright and Zalman.

Microsoft are boosting Xbox360 production, with two more companies coming onboard to help make the consoles. One of whom is Celestica, who may sound familiar because they made our database server.

Eroda spotted another Solid-State Hard Drive from Samsung. The 32 GB solid state disk (SSD) drive comes in a 1.8" form factor and reads data at more than twice the speed of hard drives. Best of all: The SSD is promised to consume 95% less power than a hard drive.

ABIT and USI have formed a new company named Universal ABIT Co., Ltd. With the new partnership, ABIT receives a strong financial backing from which to continue its core business, and also eliminates the financial straits which began late Q4 2004.

HardOCP report on CPUs & real-world gameplay scaling, examining the real-world performance of 6 CPUs and 4 video cards.

Some snippets from HAVIC: Bad Japanese habit helps virus spread. Apple may sacrifice France for exclusivity. How to safely get rid of an old computer. Who owns the internet pipes?

Interesting Forum Threads:
Xgl LiveCD - fantastic demo in Other Operating Systems.
The Great Server Upgrade in Storage, Backup & Memory.
BEST way of monitoring temps EVER in Video Cards.
Sensor cleaning fun! in Photography.
Bits from CeBIT 2006 in VIA Hardware.




Thursday Morning Reviews (0 Comments) (link)
Thursday, 23-March-2006 01:38:24 (GMT +10) - by Agg


Video Cards:
Nvidia GeForce 7600 GS on LegitReviews.
Sapphire X800 GTO2 on TheTechZone.
ASUS EAX1900XT on Guru3D.
ATI All-In-Wonder X1900 on Beyond3D.
PowerColor ATI X1600XT Bravo Edition on ThinkComputers.

Storage & Memory:
XFX REVO64 NC3000 Gamer's Edition SATA RAID controller on Bjorn3D.
Vizo Luxon HDD Enclosure on Techgage.
OCZ PC2-6400 EL XTC Platinum Edition memory on ByteSector.

Portable & Mini:
ThinkPad X60 Core Duo laptop on ArsTechnica.
Twinhead Durabook N15RI notebook torture test on MobilityGuru.

Misc:
Vizo LAN Dock USB-II multi-function port expander on A1-Electronics.
Casio Exilim EX-S600 digicam on WindowsAtoZ.
TypeMatrix EZ-Reach 2030 Keyboard on ThinkCE.
Epson PictureMate Deluxe Viewer Edition printer on DVHardware.



I felt bad seeing Agg all alone on the front page so I thought I should contribute. That being said i have a good reason as to why I haven't been posting lately.

For those who are about to take ownership of a new Xbox 360, a firmware hack is out allowing users to boot using a backed-up copy of their game. Speaking of hacks and workarounds, everyone probably knows by now that Windows XP has been booted on an Intel Mac. Quite a nice way to win over $13,000 for hacking an operating system.

Windows Vista has been delayed until January 2007. I cant really say I'm surprised, obviously Microsoft wants to get the new operating system "just right" so that they wont have to release service packs, updates and patches. While we are on the topic of exciting new software, Battlefield 2142's existence has been confirmed by EA with the release of a trailer.

There's a new video player out with the amazing dimensions of 38mm x 55mm x 8mm. The nano channel will be available in the summer in capacities up to 1Gb (for around ¥17,000) and can play back MPEG-1/2 QuickTime ASF WMV, MP3 and WMA. Those crazy japanese are also bringing out a robot that can carry (old and frail) humans.

I was a little bored on the weekend so I decided to upgrade my home cinema. Yeah. I wish.

I'm sure that at least some of you would have a camera phone. For those that do, you might be interested in a little gadget called Phlash. "his nifty little accessory attaches to the back of your cell phone and emits an intense pulse of light when taking pictures. It's available now for $30 at select retailers.

For those who just don't have camera phone, but do have unripe avocados in the fridge that you accidentally cut open, there seems to be some sort of forum that has some suggestions of what to do when all seems to be lost. Oh, I also found out that if you get ink in your jeans (stupid university) the alcohol in hairspray actually lifts the ink from the fabric!

There's a new firefox extension out that allows you to create and run macros inside the browser for all you little mischievous monkeys.




ATI FireGL V7350 (1 Comments) (link)
Wednesday, 22-March-2006 18:53:48 (GMT +10) - by Agg


ATI announced their FireGL V7350 recently. This is a workstation card costing in the region of USD $2000, so normally wouldn't be of that much interest to enthusiasts. However it's noteworthy, being based on the X1800XL but having 1GB of GDDR3 RAM onboard. More info in the PR document here and on the product page.

We've already linked a couple of reviews on Hexus and XbitLabs, but here's another one from Sudhian.




Wednesday Afternoon Reviews #3 (0 Comments) (link)
Wednesday, 22-March-2006 18:19:43 (GMT +10) - by Agg


Software:
Mozilla Firefox v2.0 Alpha 1 web browser on Phoronix.
Fedora Core 5 (Bordeaux) Linux distro on Phoronix.

Input Etc:
Steelpad QcK+ mousepad on ThinkGaming.
Saitek X52 Flight Control System on OCClub.

Power Supply:
Nexus NX-9003 350W hybrid (fans off most of the time) PSU on SilentPCReview.
Thermaltake Purepower 600W PSU on ThinkComputers.
Flexity PowerSquid powerboard/leads on ThinkComputer.

Misc:
Case Logic Camera Cases on XYZComputing.
X-Pad Laptop Desk on Virtual-Hideout.
Belkin Wireless G Print Server on TrustedReviews.
Samsung SGH-X700 mobile phone on HWZone.




Wednesday Afternoon Reviews #2 (0 Comments) (link)
Wednesday, 22-March-2006 17:56:45 (GMT +10) - by Agg


Audio / Visual:
XGear Multimedia Gaming Headset on XbitLabs.
ViewSonic VX2025wm LCD screen on BIOSMag.
Acoustic Authority iRhythms A-9900 Sound Cancelling Headphones on TrustedReviews.
Sonos Digital Music System on XYZComputing.
One For All Kameleon 8 multi-remote control on DesignTechnica.
X-Micro Bluetooth Headset on RBMods.
Samsung YP-D1 MP3 Player on HWZone.
Mustek MP100 Portable DVD Player on ThinkComputers.

Motherboard & CPU:
Intel Pentium D 920 and Pentium D 930 LGA775 CPUs on XbitLabs.
MSI RD480 Neo2 Radeon Xpress 200 CrossFire board on HWZone.
ASUS A8R32-MVP Deluxe Radeon Xpress 3200 CrossFire board on OCW.
EPIA-N8000E Nano-ITX mobo+CPU on EPIACenter.

Cases:
MGE Viper 2 on ExtremeMHz.
Zalman TNN 300 Compact Fanless Case (video review) on 3DGameMan.
Antec Super LANBoy on FutureLooks.
Zalman HD160 HTPC Enclosure on Virtual-Hideout.
Sunbeamtech Silent Storm on MadShrimps.




Wednesday Afternoon Reviews (0 Comments) (link)
Wednesday, 22-March-2006 14:22:32 (GMT +10) - by Agg


Video Cards:
Radeon X1800GTO vs GeForce 7600 GT mid-range shootout on Bit-Tech.
Leadtek WinFast PX7300 GS TDH GeForce 7300 on Beyond3D.
Sapphire X1600 Pro PCIe on LegitReviews.
ASUS EN7600GT GeForce 7600GT 256MB on HWZone.

Storage:
External HDDs from Seagate and Maxtor compared on XbitLabs.
Seagate Momentus 5400.3 160GB Mobile HDD on Techgage.
Seagate Barracuda 7200.9 500GB SATA-II HDD on Bjorn3D.

Cooling:
Thermaltake BigWater 735 on A1-Electronics.
Arctic Cooling Accelero X1 VGA cooler on LegionHW.
Thermaltake Silent BTX Cooler on BXFormFactor.
Zalman VF900-CU VGA cooler on TweakNews.
Zalman CNPS9500 LED CPU cooler on TheTechZone.
Aerocool HT-102 CPU cooler on Pro-Clockers.
NorthQ 3310BL UFO CPU cooler on DriverHeaven.
Thermalright V1 Ultra VGA cooler on UKGamer.




Wiki Wanderings (3 Comments) (link)
Tuesday, 21-March-2006 14:14:00 (GMT +10) - by Agg


Checked out the OCAU Wiki lately? There's new info being added every day now, and you can join in if you like. :) Check out these great pages:

Homebrew Info
Job Interview Tips
Xbox FAQ
Guide to Building a PC
Photography Jargon Buster
CPU Overclocking & Cooling
Power Supply Unit
Socket AM2 Info
Free Games
Linux Info
Useful OS X Apps
Grey Import Motorcycle FAQ
Windows Update and other useful links
TV / Monitor Fault Diagnosis
Current Surround-Sound Formats
MythTV



ElectronicsWeekly have some interesting info about a ClearSpeed co-processor for AMD systems. The Bristol-based firm's CSX600 chip has 96 processor cores, runs at 250MHz, dissipates 10W, and adds 25Gflops to a computer's performance.

XbitLabs checked out the ATI FireGL V7350 workstation video card, as did Hexus.

PC-Perspective have their thoughts on news that NVIDIA are looking into physics calculation acceleration on their latest GPUs. Even before the now famous AGEIA can get its feet wet in the world of physics acceleration, NVIDIA is jumping into the right with all guns blazing. ARP have more info on an SLI version.

SilentPCReview consider the state of the industry, from a silent computing perspective.

There's a new Linux Kernel out, v2.6.16.

If you're bored and looking for a new language to learn, consider Cocoa / Xcode with a free e-book, thanks Eroda.

Hmm, I remember when the GIF format became problematic to use due to a patent battle, but it seems that JPG may be similar, with some "patent trolling" going on according to SMH.

From Stygian Shane: A worklog has just been posted of a computer that a guy made... that has a mini keg of Mountain Dew in it! Can't go wrong with that!

EclipseOC have a memory overclocking guide posted.

For something different, LaptopGamers have an article about why we play games, from a pyschological perspective. In particular, we take a look at what draws different types of gamers to the hobby.

Apparently your files could be held to ransom by a new trojan. Don't panic, though: According to both Sophos and LURHQ, the password is: "C:\Program Files\Microsoft Visual Studio\VC98". Thanks gecko!

Tweaktown have an ATi Catalyst 6.3 performance analysis. Never fear, our Catalyst performance analyst for March 2006 is here, so let's take a look at what ATI have done this month.

Google have largely won the battle to stop the US Government from getting access to user data. Meanwhile, their reach continues to grow, with Google Mars now available, thanks RobW.

Speaking of Mars, one of the Mars Rovers has a dodgy wheel and its teeth have worn out! Also, the Mars Reconnaissance Orbiter mission is going to plan, and NASA recently announced plans to put men on the dark side of the moon in about 10 years.




IDF / CeBIT Roundup (0 Comments) (link)
Tuesday, 21-March-2006 03:26:57 (GMT +10) - by Agg


A hopefully final roundup of Intel Developer Forum and CeBIT Hannover 2006 stories:

IDF:
Tomshardware have their thoughts on Intel's upcoming Core architecture, while HWZone have an enterprise wrapup.

CeBIT:
Guru3D have their coverage posted, as do RBMods, while HWZone continue theirs: Part 3, Part 4, Part 5 and Part 6.

Xbit have plenty too: Day 5, Day 6 and Day 7. Check out this cooler from CM!

TechPowerUp covered Day 1, Day 2 and Day 3, while Madshrimps spotted new Thermalright products.

Anandtech have high-end motherboard and server news, while French site Overclex have lots of pics focussing on cooling solutions etc.

Hexus have some snippets: 16-port SATA RAID?, robotic arm, tiny card reader, pimptastic PSU and quad SLI psu.



Quite a bit going on in our Modding Worklogs forum at the moment. Each pic below corresponds to a project thread:



For more, see the worklog forum, or our modding & electronics forum. You might want to check out the PC Database too, if you're after inspiration.




Monday Evening Reviews (0 Comments) (link)
Monday, 20-March-2006 19:31:43 (GMT +10) - by Agg


Cooling:
Thermaltake Big Typhoon heatsink on Techtastic.
Thermaltake Mini Typhoon CPU cooler on DVHardware.
Vantec Iceberg 5 VGA cooler on GideonTech.
Cooler Master NotePal Laptop Cooler on HWSecrets.

Audio / Video:
Icemat Siberia Headphones on ThinkGaming.
Slim Devices Squeezebox network media player on ThinkCE.
Sennheiser HD435 headphones on TheTechLounge.

Memory:
Corsair XMS 2048-3500LL Pro 2GB on VelocityReviews.
Corsair TwinX 2048-4000PT on DriverHeaven.
OCZ Gold XTC 2GB PC2-4200 on Techgage.

Video Cards:
HIS X1600 Pro IceQ Turbo DL-DVI 128MB PCIE (video review) on 3DGameMan.
Gigabyte Geforce 7800GT 256MB VIVO on XSReviews.

Input Devices:
Logitech MX510 mouse on XSReviews.
Saitek Eclipse Illuminated Keyboard on TheTechZone.
Saitek P990 Dual Analog Gamepad on FutureLooks.

Storage:
Seagate Momentus 160GB 5400.3 laptop HDD on RojakPot.
Plextor PX-EH25L-NA network storage on HotHardware.

Cases:
Aluminus ATX Mid-Tower on OCOnline.
Cooler Master Praetorian 730 on PCPerspective.

Power Supply:
Enhance ENP-5136GH 360W on SilentPCReview.
Spire Rocketeer 500W on VelocityReviews.
XG Magnum 600 external PSU on HWSecrets.
Cooler Master Real Power 550W on BigBruin.

Systems:
Apple iMac w/ Intel Core Duo on SilentPCReview.
Shuttle SN25P S939 mini-PC on NordicHW.




Brando Workshop USB 2.0 to SATA/IDE Cable (30 Comments) (link)
Sunday, 19-March-2006 12:39:34 (GMT +10) - by Agg


A retailer in Hong Kong sent over a handy little gadget. It's a cable that goes from USB at one end, to IDE at the other, supporting normal 3.5" HDD's, 2.5" laptop HDD's and SATA drives. It's like a USB external enclosure.. without the enclosure.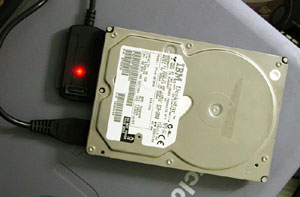 Click for the review!






Saturday Afternoon (7 Comments) (link)
Saturday, 18-March-2006 18:17:55 (GMT +10) - by Agg


Sniper spotted a new handheld Dremel for finer work. I've had my MultiPro for years now, use it for all kinds of things.

Sciby found a cool story about pottery recordings that may be 5000 years old, or may not be anything at all. Cool concept tho. :)

Remember The CardCooler? Turns out the company is still around, and has a new Turbine Card Cooler XT that DriverHeaven checked out.

Turns out the previous story about WinXP on an Intel-powered Mac really is true, and the contest has been won. There's even instructions to do it yourself, thanks Eroda.

PCStats have some USB memory drive projects & tips. As you will see here though, there's a lot more you can do with your USB memory key than just transfer files.

Here's an interesting one from Bryce, with U-boat Enigma codes from WWII cracked by a distributed-computing project. It's pretty cool, but I can't help feeling Folding is a bit more useful.

PCMech have an article about making a simple home monitoring system. Roger shows what you can do with an old PC collecting dust in order to turn it into a simple alarm system hub for a home or small business.

ThinkComputers have an interview with Tim Buckley of Ctrl-Alt-Del fame. CAD recently held a LAN gaming event, too.

NeoSeeker checked out Intel's dual-core CPUs from a gaming perspective. See Chainbolt's thoughts in our recent review.

Dan has more letters! In this issue: Low PSU voltage, ripping pins out of DVI plugs, a fridge light for your PC, blinding yourself with IR, and the endless mysteries of thermal grease.

From Brian, about Inca Quest: this game was released two days ago, written entirely by my 19 year old mate who lives in perth. :D



Lots of video card stuff today:

Phoronix have been experimenting with a 7900GT and NVClock and also looking at the OpenGL performance of this new card.

Meanwhile NordicHW report on a 43,377 3DMark score using an air-cooled 7900.

HKEPC have some sneak pics of 7900GX2 cards, basically two 7900GTX's sandwiched together. More info in this thread in our Video Cards forum.

ARP added a few more cards to their desktop GPU comparison guide.

Bit-Tech have a 7900 GTX roundup, with cards from MSI, BFG and ASUS.

OCWorkbench have an article about triple buffering for smooth gaming.

LegionHW consider the CPU scaling performance of ATI's Radeon X1900XTX.

NVIDIA have some new ForceWare 84.21 WHQL drivers, adding support for their newer cards.

EliteBastards looked at ASUS's EN7800GT TOP silent video card.

HWZone reviewed MSI's GeForce 6600 DDR2 card, while their Radeon X1800XT offering is examined on PCStats.

For more video card info, keep an eye on our Video Cards forum.



A couple of mates I had lunch with last week told me to check this out, and Eroda has reminded me... Spore is an upcoming game from the creator of the Sims. There's a 30-minute video on this site. I'm watching it now and it's just amazing. There's a thread here in our Games forum about it.



Audio:
Creative Sound Blaster X-Fi Fatal1ty audio card on Tech Report
Roku Soundbridge M1000 Audio Bridge on Tech Lounge
CoolerMaster Musketeer III on Driver Heaven

Notebook/Portable:
Alienware Sentia m3400 Notebook Computer on XYZ Computing
Acer Aspire 1691 WLMI Notebook on 3DVelocity
Lapworks Laptop Desk 2.0 and Ultralite on Virtual-Hideout

Motherboard:
ASUS A8N32-SLI Deluxe on Viper Lair
DFI RS482 Infinity on Sudhian
ECS PA1-Extreme on LFC
Gigabyte GA-G1975X Turbo S775 on MadShrimps
Gigabyte GA-G1975X Motherboard on Pc Perspective

Misc:
Belkin Wireless Pre-N Router on WindowsAtoZ
Logitech Cordless Desktop MX3000 Laser on The TechZone
Steelpad QcK+ on TechGage
XFX GeForce 7900GTX on T-Break
Samsung A950 Mobile Phone on Design Technica




Saturday Morning Reviews (0 Comments) (link)
Saturday, 18-March-2006 04:13:08 (GMT +10) - by Agg


Power Supply:
Enermax Noisetaker 701AX 600W on Pro-Clockers.
ThermalTake PurePower Power Station 520W on Bytesector.
SilverStone SST-ST56F on Bjorn3D.
Thermaltake Toughpower 550W on BigBruin.
Spire SP-600W Rocketeer VI on Pro-Clockers.

Cooling:
Zalman CNPS 9500AT LGA775 heatsink on Pro-Clockers.
Thermaltake Golden Orb II CPU cooler on ThinkComputers.
Zalman CNPS9500AT LGA775 CPU cooler on RBMods.

Cases:
Antec Take 4 quiet 4U rackmount on Virtual-Hideout.
Zalman HD160 HTPC Enclosure on MadShrimps.
Thermaltake Matrix VX on TechPowerUp.
Cooler Master Wave Master TAC-T01-PB on Hi-TechReviews.



Hope you're having a grand one. :) Have a pint for me..



Click to enlarge!


Pic by boky.




Matrix Orbital MX610 (3 Comments) (link)
Thursday, 16-March-2006 20:38:45 (GMT +10) - by Agg


If you're after a little system info screen but can't be bothered to connect one yourself, try this one from Matrix Orbital. Not only does it connect simply via USB, but it has the potential to do much more than simply report system info..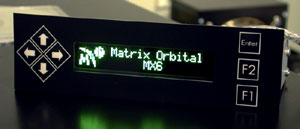 Click for the review!






Thursday Evening (6 Comments) (link)
Thursday, 16-March-2006 20:25:07 (GMT +10) - by Agg


HardCoreWare have a dual-core battle between AMD's Athlon64 X2 and Intel's Pentium D Presler. You can read Chainbolt's take on this battle in our recent Presler review.

HWAnalysis wonder if AMD's AM2 + DDR2 combination will improve performance or lower it.

Tech-Hounds look at their Radeon X1900 XTX in more detail. As promised, in this article we examine both adaptive antialiasing and HDR rendering on the Radeon X1900 series.

ArsTechnica covered TV over IP. As AT&T continues to build out its fiber network, IPTV will become an alternative to traditional cable and satellite delivery methods. We haven't even worked out digital TV properly yet.

CNet report on Intel's Australian Viiv launch. More of a platform than a product, Intel is hoping that Viiv will do for the lounge room PC what its Centrino brand has done for Wi-Fi notebooks.

More small PC's from XYZComputing, who look at the UMPC. Simply put, the ultramobile PC (UMPC) is a tablet computer which will run a modified version of Windows XP Tablet edition and is powered by an Intel processor.

Murray spotted a new keylogger trojan that can even record mouse clicks. So much for that annoying web keyboard thing I have to use whenever I log into my Westpac internet banking. :)

Eroda sent in this video of WinXP booting on an iMac. This is apparently real, not as silly as earlier reports. :)

Technic3D is a German site, but their recent dual 120mm radiator roundup (translated) is understandable via the pics and graphs.

Dan reports on a USB drive time bomb, but it's not the corruption issue mentioned in this forum post.




Thursday Afternoon #2 & Reviews (3 Comments) (link)
Thursday, 16-March-2006 16:02:21 (GMT +10) - by Agg


VR-Zone played around with an NVIDIA 7900GTX .. with the GPU core at minus 92C and 1GHz.

FarmingSheep are showing off with one of Dell's 30" widescreen monitors, by gaming in 2560x1600. 2560x1600 provides two times the resolution of 1080p, coming in at 4.1 megapixels. Running at a res this high on a 30" screen is simply awesome, but as you can imagine, not just any GPU can run at 2560x1600 and still dish out good frame rates.

Here's an article about problems with copy-protection from the editor of PC Gamer. Despite years of combating piracy, by the late '80s and early '90s, the games industry could do little more than ask nicely that people not pirate their wares.

Sony's PlayStation3 has been delayed until November, but at least the good news is that it'll be a worldwide release, including Europe and Australia. Some comments in this thread in our Game Consoles forum.

If you're bored and stuck in a wiring closet sometime, maybe you can play soldiers for a while.. thanks Darkness. Having trouble getting all the pics to load, hmm.

MobilityGuru checked out what they're calling the World's Smallest WinXP Computer, the OQO Model 01+. Meanwhile, this article wonders if we really need MS's Origami mini-PC, thanks Silentnight.

Digitimes have Part 3 of their interview with AMD's Henri Richard. As you know, at AMD we took a very different approach to Intel on the subject, in the sense that we don't believe that the media-center PC should be the center of your living room.

A few more reviews:
Samsung HD300LD, SP2514N, SP2504C hard drives on Digit-Life.
PX-EH25L Professional Network Attached Storage on BensCustomCases.
MSI NX7300GS video card on NVNews.
Gigabyte GA-8N-SLI Quad Royal quad-PCIeX16 LGA775 motherboard on HotHardware.
Foxconn 945P7AC LGA775 board on Digital-Daily.
DragonModz Aluminium Mesh for modding on PCApex.
MSI K8N Diamond Plus nForce4 SLI board with heatpipes and fancy audio on Digit-Life.
AMD Athlon64 X2 4400+ CPU on BoxGods.
Gigabyte 3D Aurora Gaming Case on ExtremeMHz.
XFX GeForce 7900 GTX video card on GDHardware.




Thursday Reviews #2 (0 Comments) (link)
Thursday, 16-March-2006 14:20:17 (GMT +10) - by Agg


Video Cards:
NVIDIA GeForce 7900 GTX on TrustedReviews.
ASUS EN7900GTX (GF 7900 GTX 512MB) on HWZone.
EVGA 7900GT on Linux on Phoronix.

Memory:
Super Talent DDR2 PC2-6400 Low Latency DC on 3DGameMan.
Mushkin 2GB XP2-5300 3-3-3 on TechPowerUp.

Input Etc:
AlphaGrip AG-5 handheld keyboard and mouse on ArsTechnica.
Saitek ST90 joystick on ThinkGaming.

Storage:
Jackson Armor Card v10.5 backup card on OCrClub.
Western Digital Raptor X 10k-rpm HDD on TweakTown.
Startech PEXSATA22 software RAID controller on OCOnline.

Cases:
Antec P150 on Bjorn3D.
Cooler Master Centurion 530 on Virtual-Hideout.
Cooler Master Centurion 532 on XYZComputing.

Misc:
The Ultimate Hoodie by SCOTTeVEST geek clothing on FutureLooks.
HP LaserJet 2550L printer on ThinkCE.
Motorola RAZR V3i phone+cam on HWZone.
Geeks.com DigiCam Deluxe Accessory Kit on ThinkComputers.
ABIT AN8 X32 nForce x16 motherboard on TBreak.
Sony VAIO VGN-TX2XP laptop on TrustedReviews.
Norman Virus Control software on UKGamer.




Thursday Afternoon (0 Comments) (link)
Thursday, 16-March-2006 13:59:25 (GMT +10) - by Agg


The big rumour at the moment is about Dell taking over Alienware. Designtechnica and TheInq are reporting it, among others, while others say Dell's denying it.

We're a bit late reporting this, but McAfee AntiVirus went nuts and started eating legitimate files.. ouch. More info here. I guess if you were affected you'd already know. :)

InternetNews have an interesting article about the workings of Google. In fact, at Google, many will fail every day. So, Google has automated methods of dealing with machine failures, allowing it to build a fast, highly reliable service with cheap hardware.

Mobile phones may be the key to getting cheap broadband in the bush, thanks Sniper. Remote communities could access cheaper wireless broadband services than their city cousins via new-generation mobile phones and computers, say Australian researchers.

John spotted this cool site with many panoramic views around the world, including this one from a Sydney Harbour Bridge pylon.

Futurelooks played with two XFX 7800GT in SLI. Now we're going to put two of them together to find out if the extra dollars are worth the upgrade for the every day gamer.

You can take it with you now, with an SLI laptop on Bit-Tech, thanks Cadal. We'll show you some scale over the next couple of pages, but you can see that the 19" widescreen runs a resolution of 1680x1050 (with the option of a 1920x1200 screen if you want it).

PureOC meanwhile wonder if 256MB vs 512MB makes any real difference on video cards. I don't believe anyone reading this would disagree that 512MB cards will become a firm requirement of high end gaming very soon, but the key question here is do 512MB framebuffers offer anything to us now, other than future proofing?

A few snippets from Wes: A desktop future analysis. New PSP features coming in next firmware. Sony's new UK ad campaign. Aussie consumers fearful of Net security. Ronnie Johns vid downloads!




Thursday Lunchtime Reviews (0 Comments) (link)
Thursday, 16-March-2006 13:07:43 (GMT +10) - by Agg


Righto, today will be News Catchup Day. So check back regularly, there'll be lots of updates this afternoon! First up, some reviews..

Cooling:
XSPC X20 Watercooling System on XSReviews.
Noctua CPU Coolers on DriverHeaven.
Scythe Samurai Z CPU cooler on SilentPCReview.
AKUATEK eXtreme FS-92 liquid-cooling system on XbitLabs.
Zalman ZM-MFC1 fan controller on OCClub.

Audio / Visual:
nXZEN Plus bluetooth headset on BlueTomorrow.
Altec Lansing AHS302USB headset on LegitReviews.
LG L1981Q 19-inch monitor on Designtechnica.
BlueTake BT400 G5 bluetooth headset on TheTechZone.
Amacrox 2.1 Notebook Speaker on UKGamer.
Sapphire Ivory 512MB mp3 player on TrustedReviews.
Miglia HarmonyAudio audio capture device on BIOSMag.

Power Supply:
Silverstone Strider ST56F 560W on Techgage.
Silverstone Zeus ST560ZF 560W on 3DXtreme.
CaseGears X-Plug Modular 450W on LanAddict.



If you're after pics and info on our new webserver, here's the PCDB entry:



Click for the PCDB entry! (16 pics)


This concludes the current round of server upgrades. In case you've lost track during all the announcements of the last few weeks, we've gone from:
Webserver: chips - P4 3GHz, 1GB DDR400, IDE HDD
Database server: pie - 2x AthlonMP 2600+ (2.13GHz), 1.5GB DDR333, U320 RAID1
to:
Webserver: beer: 2x Xeon 3GHz, 4GB PC2-3200, U320 RAID1
Database / Forum server: bbq - 2x Opteron 850 (2.4GHz), 8GB DDR400, U320 RAID10
There's still some tweaking to do here and there, but hopefully we should have a faster site that's also more reliable and more fault-tolerant, touch wood! Thanks for your patience during the outages and slow times. Thanks again to PlusCorp for their help building the new DB server too, and of course to AusGamers and SOUL for continuing to host our ever-growing community.




Commonwealth Games (0 Comments) (link)
Wednesday, 15-March-2006 20:13:22 (GMT +10) - by Agg


The TV coverage for the Commonwealth Games in Melbourne has started. If you'd like to chat about the Games as they unfold, check out our Olympics & Commonwealth Games Forum.



Righto, that wasn't quite as smooth as I'd hoped. :) But we're now on the new webserver AND new database server. Still ironing out a few wrinkles here and there but looks good so far.




Outage Wednesday Morning (11 Comments) (link)
Tuesday, 14-March-2006 21:59:42 (GMT +10) - by Agg


There'll be an outage tomorrow while I swap us over to our new webserver, which will go nicely with our recently-upgraded database server. Should be from about 9am for a couple of hours or so, depending on how things go. Proper PCDB entry with pics etc of the new server coming soon.

Update: Of course, you'll still be able to use the forums just fine, because they run directly off the other server now. News page, PCDB, OCAU.mc, Wiki, Folding page etc will be unavailable during the outage. So bookmark the forums now if you haven't already. :)



Nothing good on TV, might as well check out some new hardware...

Motherboard:
Gigabyte GA-8N-SLI Quad Royal at Hot Hardware.

Video Card:
Albatron GeForce 6600 512MB at PC Stats.
XFX GeForce 7600 GT XXX Edition at Legit Reviews.
The GeForce 7800 GT-based EN7800GT TOP Silent at Beyond 3D.
PowerColor X1600 XT BRAVO Edition at Techgage.
GeForce 7900 GTX GPU chip at Nordic Hardware.
Matrox DualHead2Go VGA splitter box at XYZ Computing.

Memory:
OCZ DDR2 PC2-6400 Platinum Enhanced Latency XTC Dual Channel at 3D Gameman.
Corsair TWINX2048-3500LL PRO at The Tech Zone.
Corsair TWINX2048-3500LL PRO at techFEAR.
Mushkin 2GB XP2-5300 Extreme Performance DDR2 Dual Pack at Adrian's Rojak Pot.

Cooling:
Zalman VF900 Cu GPU Cooler at Pro-Clockers.
CoolerMaster XDream K640 HSF for AMD range at Hardware Zone.
Asetek WaterChill KT12A-12VX complete water cooling system at Overclockers Online.
Scythe KATANA 775 (SCKTN-775) HSF at Pro-Clockers.

Case:
SilverStone Temjin TJ-06 at Virtual-Hideout.
Silverstone TJ06 at Moditory.
Cooler Master Centurion 532 at Big Bruin.
Silverstone SG-01 Evolution SFF at PC Perspective.
Enlight Extreme Gamers at Bit Tech.
Gigabyte 3D Aurora at Extreme Mhz. (pop-ups)

Audio:
ZVOX Mini audio system at Moditory.

Peripherals:
Logitech G5 Gaming Mouse at Case Mod God.
Microsoft Notebook Optical Mouse 3000 at Hardware Pacers.
Ideazon MERC Gaming Keyboard at Bjord3D.
Ideazon MERC Gaming Keyboard at 3D Xtreme.
Corepad DESKpad XXXL Mouse Pad at XYZ Computing.
Corepad Victory Mousepad at Think Computers.

Misc:
AVerMedia UltraTV USB 300 and AVerTV Cardbus TV tuners at Big Bruin.
Terratec's Cinergy 2400i DT dual channel digital TV tuner at BIOS Magazine.
Plantronics Discovery 640 Bluetooth Headset at Think Computers.
Devolo HomePlug 85Mbps mains-networking kit at Hexus.



Hardware Secrets have an article about the recent spate of PC Hardware-Related Company Buy Outs. They also toured the Super Talent Factory.

Legit Reviews have a range of DIY Computer system build guides posted, while The TechZone have a What to look for when buying a Computer Case article.

The guys from Bjorn 3D and some others asked Nvidia's Brian Del Rizzo & Sean Cleveland all the sticky questions. You can read the chat log here. ATI's Terry Makedon also got a grilling by an interviewer from ThinkComputers. Read his responses here.

Thhhza let us know there is a new version of CPU-z out. You can Download it from their website.

Nunog sent in this about the worlds first notebook with a 19" LCD Monitor. He also let us know Toshiba have just released a laptop with a HD-DVD ROM in it. More details on Trusted Reviews.

Pc Mechanic have an article all that much loved Malware that we seem to see nowdays.

SLI in your desktop not enough? Well what about a pair of 7800's in your Laptop?

Design Technica are asking "Shouldn't you be Banking Online?" in this article. If you haven't yet, you should.

Phoronix had a look at a few different sound cards under a linux gaming enviorment and what effect they had on FPS. Read it here.

Hexus have a few interesting tidbits about Foxconn's planned releases at CeBIT. They also have some info on ATI's plans to allow Crossfire without a master card on Radeon Express 3200 based boards.

XYZ Computing have an interview with Robin Miller, Author of Point and Click: OpenOffice.org

Our own Baker (son of Ma Baker) got menitioned in an article in The Age. Read the article here.

Symantec got busted using a rootkit to protect parts of their software from "accidental deletion". See this article for more information.

Dan has posted letters #162 on his site

Allabouttrust sent in this CPU-Z Link about the world's fastest Opteron. Quite an impressive overclock.

Something for a lazy day: LED Throwies on Makezine.

Where's a huge BBQ when you need one?

And last but not least. Proof that Windows XP boots on a Mac.



We've been a bit quiet regarding IDF and CeBit so far, so after the press releases we present a roundup of tasty morsals from the respective trade shows:

IDF - The Intel Developer's Forum:
Xbit have eyes everywhere, here's what they have uncovered so far at IDF. Day 1, more on day 1, and day 2.

Hardware Secrets were drawn to the AMD Turion 64 X2 Prototypes. There were two reference designs for Turion 64 X2 (dual-core version of Turion 64) running, one based on ATI chipset (Xpress) and the other based on nVidia's (SLI Power).

PC Perspective sat a new Conroe cored CPU from Intel next to an AMD FX-60 and ran some benchmarks. At the more reasonable resolution, that gamers might actually play at, the minimum frame rate is 23% faster and the average frame rate is 11% faster in the favor of Conroe once again. These are much more modest performance gains, but are still very impressive as we have never seen a simple processor change result in this much of a performance gain in an application that normally is a beast on current systems.

Hardware Zone have another set of benchmark results from the above CPU types, as well as some general coverage on the goings on at IDF this year.

TG Daily wrap up IDF. Core, an impressive piece of technology, determined the headlines and will carry Intel through the rest of the decade, we learned. Let's take a step back. What exactly was announced? And what does that all mean? Here's our take.

CeBit:
Love this - The battle for GPU supremacy escalated somewhat at CeBit, with Nvidia and ATI personnel almost knocking each other's block off. Like most fisty cuffs, the incident started in a pub over a girl.

More details on Asetek showing off that 5.5GHz P4 system using a VapoChill cooling solution. The VapoChill LightSpeed system keeps the processor running at a temperature of -33 degrees Celsius when operating at maximum processing loads, while the company's WaterChill system keeps the computer's graphics chip and motherboard components from overheating.

Hardware Zone have quite comprehensive coverage of the event split into the creatively named part 1, part 2, and part 3. A good, long read.

Xbit cover day 1, day 2, and day 3. Another good read if you have the time and interest.

Lots of seperate articles at Hexus, including a look at ASUS's latest AMD Socket AM2 and Intel Core Duo based motherboards, a passively cooled GeForce 7800 GT 256MB graphics card, and ATI's Mobility Radeon X1800 XT in a Clevo-designed chassis.

Hard Info have posted their take on CeBit.

We will keep you posted on further developments!



Asetek showed off with a 5.46GHz PC at CeBIT. The jointly configured system based on, VapoChill® LightSpeed CPU cooling, WaterChill® graphics and motherboard chipset cooling, Kingston Technology HyperX KHX7200D2K2 DDR2 RAM, WD Raptor® X hard drives and Intel P4 3.8GHz CPU, forms the basis of the ultimate Dream Machine for PC enthusiasts and gamers. More info in this 38KB PDF.

ASUS sent over info about their notebook range, including one designed with the help of Lamborghini, and another which is clad in leather. The ASUS W1J, W2J and A7J notebooks with cutting edge built-in DVB-T feature offer wireless digital TV reception wherever the service is available. Catch live TV shows right out of the notebook for a complete digital entertainment experience. More info here and pics of the leather one below:



click images to enlarge


ATI have a new "Avivo Video Converter" feature in their latest drivers. The Avivo Video Converter is available today, as a wizard found within Catalyst® Control Centre 6.3, a software package designed to enhance ATI's Radeon® X1000 series of graphics cards. The Avivo Video Converter simplifies the conversion of digital video from one file format to another and enables even a novice user to quickly and easily convert their videos to play on an industry standard DVD/DivX® player or portable media devices such as the Apple® iPod®, Sony® PSP, Creative® Zen and many others. More info in a 156KB doc file, and a 2MB PDF brochure.

Corsair claim to have the world's fastest production DDR2 and DDR1 memory, unveiled at CeBIT. Rated at 1066MHz, the new TWIN2X1024-8500 from Corsair delivers the highest memory frequency currently available to Intel users. Simultaneously, the new TWINX2048-4400PRO takes the lead with its rated 550MHz speed to unleash maximum performance on the AMD platform. More info in this 244KB PDF.

Game On Interactive announced a new Xbox Gaming Lounge in Sydney. Game On Miranda currently has 24 networked Xboxes displayed on 20 x 58cm Samsung 8ms LCD Screens and 4 gigantic 155cm Samsung DLP rear projection screens. Each of the LCD screens has its own executive high back leather chair, and each 155cm screens has its own suede two-seater lounge. They also have Xbox 360's available. More info in the 80KB doc press-release.

Matrox have what they're calling the first "remote graphics unit", in the form of their Matrox Extio F1400. With this solution, the user interface of the computer - the keyboard, mouse, monitors, audio peripherals, and graphics hardware - are separated from the rest of the computer by up to 250 meters (820 feet) of fiber-optic cable. More info in the 177KB doc file.

Sapphire have a new liquid-cooled model in their X1900 video card range. Taking up a single PCI slot in addition to the PCI-Express slot occupied by the graphics card, the new Blizzard cooler is a sealed and silent liquid cooling solution. Maximum efficiency is achieved by the use of a Pure Copper Water Block on the GPU for superior heat conductivity together with a Pure Copper Radiator in the Blizzard cooler for great heat dissipation. More info here and pics below:



click images to enlarge





A quick bit of news before the first Formula One race of the season begins (in Adelaide, at least - it's already on the box in the Eastern states...)

mini-itx.com has posted a series of pics and specs of a variety of Mini-ITX (and other small form factor) boards that it saw at CeBIT. For those of us interested in low-power, small machines, these new products look promising - especially as the current VIA boards are showing their age a little.




Sunday Afternoon Reviews & Threads (6 Comments) (link)
Sunday, 12-March-2006 13:20:16 (GMT +10) - by Agg


Nothing like a pub brawl to spice up your evening..

Storage:
VIZO Master Panel IDE & SATA Interface bay device on Virtual-Hideout.
VIZO Mirrorbox 32-in-1 Card Reader on RBMods.
ADS Tech Mini Drive Kit HDD enclosure on LaptopGamers.

Power Supply:
Thermaltake ToughPower 550W on NeoSeeker.
Ultra X2 Titanium UV 550W on ViperLair.
Syrin Nextherm 460W on OCIA.
Spire Rocketeer SP-500W on XSReviews.

Input Etc:
Microsoft Wireless Notebook Optical Mouse 4000 on Bytesector.
PowerMate USB Multimedia Controller on Virtial-Hideout.
Microsoft Wireless Laser Desktop 6000 on Techgage.

Audio:
Creative GigaWorks T20 speakers on BIOSMag.
Terratec Aureon 7.1 sound card on BIOSMag.

Misc:
OCZ DDR2 PC2-6400 1GB Platinum Enhanced Latency XTC on 3DXtreme.
Tt AquaBay HDD Waterblock on OCrCafe.
McAfee AntiSpyware 2006 on WindowsAtoZ.
Lian Li PC-7 Plus Case on BleedinEdge.

Interesting Forum Threads:
Holographic technology arrives in Overclocking & Hardware.
Rear wing on sports cars in Motoring.
What is Richie driving? in Motoring.
Doing my Kyokushin Nidan grading this weekend... in Sport, Fitness & Health.
Australian Govt Debt-Free in 4 Months in Current Events.
Lego Difference Engine in The Pub.
The International "Guess Where" Thread in The Pub.



If you're looking for something on OCAU, remember we have a search page that's powered by Google now. It will search the news archive, articles and reviews, PCDB and Wiki - basically the whole site except the Forums, which are closed to Google and have their own search engine. You can use it to search the internet via Google also.

You can also access it using any of the following QuickLinks:
ocau.com/search
ocau.com/stfw
ocau.com/s

Use whichever you find easier to remember. :)




TeamXFAU Folding Race Reminder (0 Comments) (link)
Saturday, 11-March-2006 14:50:08 (GMT +10) - by Agg


From Ellroy80: The race starts on Sunday, we are still able to take last minute entrants. The prizes - TeamXFAU members, plus other OCAU folders, will be folding under the winners' username for two weeks (no, the winner's don't actually get the computers). Here's a breakdown of the prize list:
1st prize: 24 x P4's (all 3.6 ghz), donated by EH_Holden_1964 on behalf of Sunraysia Institute of TAFE
2nd prize: 4 x P4's (2x 2.8 ghz, 2x 3.0 ghz), donated by me
3rd prize: 1 x A64 4400+, 1 x P4 3ghz, donated by karsa
4th prize: 1 x A64 3500+ w/RAM OC'ed, 1x P4 2.8Ghz, donated by FearTec
5th prize: 2 x P4's (2x 2.8 ghz), donated by Pyro
6th prize: 1 x A64 3000+ @ 2.5ghz, 1 x XP-M 2800+, donated by CaeSiuM-X
7th prize: 1 x P4 3 ghz, donated by kitwalker
Most Value Newbie (MVN) prize: 21 Timeless Tinkers (= 5000 pts), donated by OverPAQ'd.

People can enter by adding their folding name to this thread.




Saturday Afternoon Reviews (0 Comments) (link)
Saturday, 11-March-2006 14:41:10 (GMT +10) - by Agg


Cooling:
Watercooling comparison on X1800XT (4 GPU blocks, translated from French) on Overclex.
Akasa Evo 120 CPU cooler on OCrCafe.
CoolIT Systems Freezone CPU cooler on HardCoreWare.
Scythe Katana Cu CPU cooler on OCModShop.
Thermalright V1 Ultra VGA cooler on OCModShop.
Thermaltake Rhythm external liquid cooling system on ThinkComputers.
Sharkoon Rainbow Fan on ExtremeMHz.

Video Cards:
NVIDIA GeForce 7300GS Roundup on LegionHW.
EVGA e-GeForce 7900GT CO SC 256MB PCI-E (video review) on 3DGameMan.
HIS IceQ X1600 Pro on Hi-TechReviews.
Gigabyte Radeon X1600 Pro on PCModdingMy.
ATI Radeon X1800 GTO on LegitReviews.
GeForce 7900 GTX and 7900 GT tech report on RojakPot.
GeForce 7600 GT tech report on RojakPot.
Sapphire Radeon X1900XT & X1900XTX (1.1ns GDDR3) on HWZoom.

Cases:
Kingwin SK-523 MidTower on GruntVille.
Antec Sonata II silent case on DigitalGrabber.
Antec P180 midtower on OCOnline.




Friday Afternoon (2 Comments) (link)
Friday, 10-March-2006 16:46:00 (GMT +10) - by Agg


Digitimes report on claims that Intel is cutting prices for Dell, to make them re-think adopting AMD CPUs. For example, the Dell PowerEdge SC430 server, which adopts the Intel Pentium D 820 CPU, is currently specially priced at NT$7,900 (US$243) in Taiwan, while the Pentium D 820 CPU itself is listed on the Intel website selling for US$241 (in 1000-unit lots). If this is true, then in some way the people grabbing cheap servers in this thread are helping to keep Dell away from AMD. :)

A few people sent word that Novell has signed a deal with the New South Wales Department of Commerce to become an approved supplier of Open Source software and Solutions. This is the first panel contract of its kind by an Australian jurisdiction that contains provisions specific to open source software, giving government agencies and departments formal access to Linux solutions. There's a thread with opinions on this here in our Other Operating Systems forum.

I linked this blog a fair while ago but rediscovered it recently.. Someone Else's Life is an interesting insight into the life of a freelance journalist and photographer.

Microsoft have unveiled an Ultra-Mobile PC nicknamed Origami. Apparently this irritatingly flashy website is related to it also.

Sciby spotted some very hot things being created at Sandia National Laboratories. This is hotter than the interior of our Sun, which is about 15 million kelvin, and also hotter than any previous temperature ever achieved on Earth, they say.

A few other people sent in this very fast thing on Australia's Lake Gairdner salt flats. "I was only looking at the GPS dial," he said. His on-board system showed a top speed of 236mph (380km/h) but the timing lights are official.

Meanwhile, there's a very pointless thing going on in space soon. Russia plans to hit a golf ball into Earth orbit from the International Space Station.

Finally, Timbot sends word of a 24-monitor display project. Fancy playing Quake III in 10240x3072?



One big story from the Intel Developer Forum is the speed of Intel's Conroe platform compared to AMD's offerings. Coverage and analysis on Anandtech, Bit-Tech, GDHardware, Hexus (and here), HotHardware, PC Perspective, PenStarSys and TechReport. There's a huge thread on this story here in our Intel Hardware forum.

More general IDF coverage on XbitLabs (and here), HWZone and Designtechnica.

Intel also showed off a liquid-cooling system at IDF. Coverage on Hexus and HWSecrets.




ATI Radeon X1800 GTO (0 Comments) (link)
Friday, 10-March-2006 15:06:14 (GMT +10) - by Agg


As hinted at in an earlier news post, ATI have released the Radeon X1800 GTO. Featuring the same ultra-threaded shader architecture and revolutionary new memory architecture of ATI's award-winning Radeon X1800 XT and Radeon X1800 XL GPUs; the Radeon X1800 GTO rounds out the series at an unbeatable value-to-performance ratio.

Coverage on Bjorn3D and some we linked earlier: HotHardware, Guru3D and TheTechLounge. TomsHardware compare this card with NVIDIA's new midrange card from earlier today.

Doesn't seem to be a thread dedicated to this card yet, but when there is, it'll be in our Video Cards forum.




Battlefield 2 Patch v1.21 (1 Comments) (link)
Friday, 10-March-2006 13:58:25 (GMT +10) - by Agg


AusGamers Files have the BF2 v1.21 patch (385MB) and the v1.2 to v1.21 patch (14.5MB). Check your ISP mirror servers for off-quota downloads. This patch seems to be mostly bugfixes rather than game balancing stuff. Keep on top of things in our (second) gargantuan BF2 thread in the Games forum.




NVIDIA GeForce 7900 GTX, 7900 GT, 7600 GT (0 Comments) (link)
Friday, 10-March-2006 11:31:07 (GMT +10) - by Agg


NVIDIA have added some new members to their GeForce 7 series of GPUs. The 7900 GTX, 7900 GT and 7600 GT cover the top-end to mid-range in the market.
GeForce 7900 GTX GPU - the new flagship GPU from NVIDIA delivers blazing core clocks for ultra-fast graphics performance and extends the Company's performance leadership.
GeForce 7900 GT GPU - a new performance GPU that offers up to double the performance of the Company's last generation performance product.
GeForce 7600 GT GPU - this new midrange GPU is destined to inherit the unofficial title of "price/performance leader"iii from the product it replaces, the GeForce 6600 GT GPU.
Coverage on Anandtech, Beyond3D, Bjorn3D, Guru3D, HWZone, Hexus, HotHardware, LegitReviews, NeoSeeker, NVNews, OCNZ, PenStarSys, PCPerspective, PCStats, TheTechReport and TweakTown.

There's a huge thread for these new cards here in our Video Cards forum.

NVIDIA also released some info on their Quad SLI technology. The graphics horsepower generated in a PC using Quad SLI technology allows gamers to set their monitors to extreme HD resolutions, including an incredible 2560x1600, while still maintaining silky smooth frame rates. In addition, support for a new 32x antialiasing mode, and 16x anisotropic filtering enables stunning visuals and image quality for a truly immersive gaming experience. VelocityMicro have a press-release about their Quad SLI PC.



Good morning, got a few reviews for you to wake up to!

I think an NDA has been lifted on the ATI Radeon X1800 GTO, articles at Hot Hardware, Guru3D and The Tech Lounge. Sounds like a step backwards from the 19xx series, which it is, but for good reason.

Graphics:
NVIDIA GeForce 7900GT 256MB at Phoronix.

Motherboards:
ASUS A8R-MVP S939 Xpress 200 Crossfire at Xbit Labs.

System:
rockdirect Xtreme SL SLI Laptop with 2 GeForce Go 7800 GTX GPUs at Hexus.
AOpen EZ482 SFF S939 at SFF Tech.

Cooling:
Thermaltake Tribe exteral CPU watercooling kit at 3D Gameman. (Video Review)
Jetart VC2000 VGA air cooler at XS Reviews.
Zalman Fatal1ty FS-V7 VGA air cooler at OCIA.
Arctic Cooling Accelero X1 VGA air cooler at Adrian's Rojakpot.
Arctic Cooling Alpine 64 & Accelero X1 CPU and VGA air coolers at Guru3D.

RAM:
Patriot PDC1G4800+XBLK 1024MB DDR-600 at Pro Clockers.
OCZ Gold series EL PC3200 GX XTC 2GB at Driver Heaven.

Case:
MG Ninja 2 at Techgage.
Cooler Master Centurion 534 at Techneek.

Monitor:
Samsung SyncMaster 940T 19" LCD at Tech Tastic.
Samsung SyncMaster 960BF 19" LCD at Bona Fide Reviews

Misc:
Vizo Luxon 3.5" external enclosure for IDE & SATA HDD drives at A1 Electronics.




Forums moving to new server.. (13 Comments) (link)
Thursday, 9-March-2006 12:45:44 (GMT +10) - by Agg


Just a quick note that I've made the DNS change so that forums.overclockers.com.au will take you directly to the new server from now on (as opposed to going via the older webserver). This is part of the project to replace the old webserver next week. The DNS change should start happening immediately, with all changes completed within a couple of days.

If this makes no sense to you, don't worry, the process should be totally transparent anyway. The end result will be that you'll automatically be on a server that (hopefully) doesn't slow to a crawl the next time we have 1000+ people in the forums. :)

However, if you DO notice anything weird about accessing the forums over the next couple of days, let me know!




Thursday Morning (4 Comments) (link)
Thursday, 9-March-2006 03:04:27 (GMT +10) - by Agg


The Intel Developer Forum is underway at the moment. HotHardware have Intel's keynote, with more general coverage on HWSecrets, PC Perspective and HWZone. Intel's new platform Conroe is the talk of the town, with coverage on Anandtech, TechReport and Hexus.

PCMech have an article on installing Ubuntu Linux, while HDDSaver suggest how to back up your Ubuntu system.

Bjorn3D have a guide to RAID posted. With the cost of disk storage at an all time low the two primary barriers to using this once esoteric form of data storage have been lifted.

PCPerspective have an article about PCI Express bandwidth, with claims from ATI and NVIDIA.

Eroda found an experiment that seems to prove the OS X hacked in 30 seconds claims are false.

Sciby spotted a cool thing to do with an old laptop.

Bit-Tech have published their thoughts about ethical gaming. Some may (wrongly) believe that games have only been criticised in recent years, since Grand Theft Auto. However, as a matter of fact the video games industry has been targeted as a source for misleading the youth of tomorrow pretty much since the word go.




Antec SmartPower 2 350W PSU (10 Comments) (link)
Wednesday, 8-March-2006 18:09:04 (GMT +10) - by Agg


David's sent in his thoughts on Antec's SmartPower 2 350W PSU. As the cheapest PSU Antec offer, it's not exactly bristling with bling. But does cheap always mean nasty?



Click for the review!





Cooling:
Noctua NH-U12 AMD Athlon 64 & Intel Pentium 4 heatsink on A1 Electronics
ASUS Star Ice Heatsink on Frosty Tech
Thermaltake Silent Boost RX K8 on Moditory
Thermalright HR-01 Passive CPU Cooler on Techniz

PSU:
Spire SP-600W RockeTeer VI PSU on ThinkComputers.org
HEC WinPower 550 on Madshrimps
Ultra Products Value Series PSU Round-up on TechGage

Phone/Camera:
Motorola PEBL Mobile Phone on Design Technica
Acer CU-6530 Camera on Trusted Reviews
Olympus E-330 on Hardware Zone

Misc:
Sling Media Slingbox on Design Technica
Samsung WriteMaster USB 2.0 External DVD+/-RW SE-W164 on Tech-Mods
WD SecureConnect Serial ATA Cable on Legit Reviews
Powercolor X1300 Hypermemory 2 on Tech Powerup
Samsung SyncMaster 910MP Multifunction LCD Monitor on The TechZone
Logitech G15 Gaming Keyboard on The Tech Lounge
Alienware Sentia m3400 Notebook Computer on XYZ Computing
Epson Perfection V700 Photo Scanner on BIOS
nMediaPC HTPC 200 ATX HTPC on HardcoreWare

Videocard:
Radeon X1900 XTX on Tech-Hounds
eVGA GeForce 7300 GS on PenstarSys
PowerColor X800 GTO PCI Express Videocard on PCStats
Gainward BLISS 7800 GT 'GLH' 512MB on PureOverclock
ASUS Extreme AX1800XT TOP on Legion Hardware

Motherboard:
DFI LANParty Venus nF4 SLI-DR Expert Motherboard on Hardware Secrets
DFI RS482 Infinity Motherboard on Pro-Clockers



Get Hump day started with a cup of coffee and the news...

First off, the TechZone look at the eight faces of Windows Vista For almost 20 years, Microsoft has followed Henry Ford's business model, giving users little choice in the "color" of their operating system. No pics though, we will have to take their word for it.

On the CPU front, TweakTown report on the Battle of the 64-bit Budget CPU - Sempron or Celeron?

AnandTech went a trade show recently and present some tasty tidbits on AMD's future developments.

There's some more info on AMD and the RevF model Opterons at CNet.

Well it's not really news...but apparently Google are planning world domination, no comment on whether that's a good thing or not.

According to Hexus, ATI have bought XGI. Does this mean my next card will be an ATI XGI X1900XT SLI GS? No wonder people don't understand us geeks... Phoronix has more information as well.

Meanwhile T-break have tested the new ATI Xpress 3200 Northbridge using two X1900XT cards. Not sure if they are using the model above though :-)

A quick bit of benching with a Nvidia GeForce 7900GTX 512MB and 7900GT 256MB on Daily Tech

Bjorn3d's chat with NVidia will be happening soon, check here for the details, it's on IRC and only relates to NVidia's chipsets, not GFX cards.

DriverHeaven have released the new version of the DHzer0point drivers, based on the 8360 official nVidia drivers.

Dan has taken the time to bring you, the reader, another bout of letters! In this issue: Data storage, junk mail, mercury down the sink, a quack, marvellous contrivances, and getting really really drunk. Responsibly of course!

In a strange twist, Hardware Secrets have let the truth about NiCd batteries out of the bag. There goes that secret.




Defyant's FLAMED - Completed! (6 Comments) (link)
Tuesday, 7-March-2006 14:31:50 (GMT +10) - by Agg


I've been following this project for the last few weeks. Our resident modding maestro Defyant has turned this:



Click for worklog thread!


..into this:



Click for PCDB entry! (16 pics)


The attention to detail is incredible as always. See the detailed worklog thread with many in-progress pics here.




Tuesday Afternoon Reviews #3 (0 Comments) (link)
Tuesday, 7-March-2006 13:54:35 (GMT +10) - by Agg


Video Cards:
EVGA e-GeForce 7300GS 256MB PCI-E (video review) on 3DGameMan.
ATI All-In-Wonder 2006 X1300 with the lot on HotHardware.
Albatron GeForce 6600 512 DDR2 on LegitReviews.
PowerColor X1900 XTX 512MB on XYZComputing.
Sapphire Radeon X1600 Pro AGP on LostCircuits.
Gigabyte X1600XT 256MB PCIe on RBMods.

Motherboards:
ASRock 775XFire-eSATA2 i945 CrossFire board on TechPowerUp.
DFI LANParty UT NF4 SLI-DR Expert nF4 SLI X16 board on TechReport.
ECS KA1 MVP ATI RD480 CrossFire board on TechFear.
ASrock K8SLI-eSATA2 ULi-based S754 A64 board on OCW.
ASUS A8R-MVP CrossFire board on XbitLabs.

More Misc:
Cooler Master eXtreme 600W PSU on Hi-TechReviews.
Apple Mac Mini (Intel-based) on ArsTechnica.
Jing Ting Force Chipset Cooler on BigBruin.




Tuesday Afternoon Reviews #2 (0 Comments) (link)
Tuesday, 7-March-2006 13:33:13 (GMT +10) - by Agg


Storage:
Vizo Master Panel (and memory heatsinks) HDD-oriented bay device on Techgage.
Vizo Luxon USB/SATA 3.5" HDD Enclosure on Virtual-Hideout.
KingWin KF-25 HDD rack on OCrCafe.
Thecus YES box N2100 network storage on TrustedReviews.

Memory:
TeamGroup Xtreem 2x1GB Cronus - Micron on EclipseOC.
GeIL Value DDR2-1000MHz on Phoronix.
Crucial Ballistix PC2-6400 2GB Kit on OCPrices.
OCZ EL DDR2 PC2-4200 Gold GX XTC 1GB Kit on Tech-Mods.

Software:
Accelerated Knoppix v1.0 LiveCD Linux distro on Phoronix.
JustWrite Office 4.2 on TrustedReviews.

Audio / Visual:
LG 1730B 17" LCD monitor on NordicHW.
KingWin KH-300 Media Player on OCrCafe.
Leadtek WinFast Novo TV capture card on Bjorn3D.
NuForce Reference 8 amplifier on HWAnalysis.
Logitech Precision PC Gaming Headset on LegitReviews.
LG L1932P 19" LCD monitor on UKGamer.




Tuesday Afternoon Reviews (0 Comments) (link)
Tuesday, 7-March-2006 13:15:16 (GMT +10) - by Agg


Cooling:
Arctic Cooling Accelero X1 GPU Cooler on Techgage.
Vizo Windstorm and Muffle case fans on Pro-Clockers.
Vantec Vortex 2 HDD cooler on DriverHeaven.
Sytrin KuFormula VF1 Plus VGA cooler on OCIA.
Arctic Cooling NV Silencer 5 (Rev. 3) VGA cooler on FutureLooks.
Jing Ting JTS-0005 mobo chipset cooler on MadShrimps.
Accelero X1 GPU cooler on Tech-Mods.
Evercool Turbo2 VC-RHC GPU cooler on Tech-Mods.
Ajigo MF064-074 Stock AMD A64 Heatsink on FrostyTech.

Mouse Etc:
Corepad Eyepads mousepads on ThinkComputers.
Logitech Cordless Desktop MX5000 Laser on OCOnline.

Cases:
HighSpeedPC Tech Station testbed case on Bit-Tech.
Ultra Aluminus Case on Pro-Clockers.
Sunbeam Silent Storm case on OCrCafe.

Misc:
Samsung SCX-4100 All-In-One Printer on HWSecrets.
Stealth Switch "desktop cloaking device" on BigBruin.
Nikon Coolpix P1 digicam on Bytesector.
Kyocera Mita FS-1030D printer on TrustedReviews.
Brother PT-1830 Desktop Labeller on Tech-Mods.
SMC EZ Connect wireless print server on BIOSMag.




Stress-Test Complete (21 Comments) (link)
Monday, 6-March-2006 23:34:07 (GMT +10) - by Agg


Thanks for your help if you were in the Forums at about 9pm Sydney time tonight, whether or not you knew there was a stress-test of the new server underway. :) The new database server performed admirably - any slowness or outage you experienced was due to the older webserver running out of memory (as predicted), but that machine will be replaced in a couple of weeks anyway.

As for the previous forum record of 829 user online at once.. we smashed it, as this pic from DoCsIs shows:



Click to enlarge! (380KB)


Most users ever online was 1059, Today at 09:21 PM.




Interesting Forum Threads (4 Comments) (link)
Monday, 6-March-2006 20:09:49 (GMT +10) - by Agg


So, tonight we stress-test the new server. If you do notice some slowdown on the normal forums address, try going to just forum.overclockers.com.au (note forum, not forums). This will connect you directly to the new server. You'll need to log in, so if you can't remember your password, don't worry, just keep using the normal forums.overclockers.com.au address as per usual. For a more detailed explanation, see this thread.

Interesting Forum Threads:
[06/03/06] Objective: 1000+ Users Online at one time in The Pub.
Screenshots - a How-To Guide in Newbie Lounge.
2 AXPs, 2 9500 Pros. Huge 3DMark score difference! in Overclocking & Hardware.
Arctic Cooling NV Silencer 5 Rev3 Review in Overclocking & Hardware.
Guide to setting CPU affinity in Win32 w/ Dual Core in Overclocking & Hardware.
Extreme PSU Calculator v1.2 Update in Overclocking & Hardware.
Can you really fix a stuck pixel? in Troubleshooting Help.
Old AirCon unit to Chiller conversion! in Extreme Cooling.
Temperature reduction with copper pipe in Extreme Cooling.
Project Modu-Li in Modding & Electronics.
HPRes-4 -> Hybrid Mod in Modding & Electronics.
Dell Dual Core 820D server for $398.20 in SMP & Clustering.
OCAU 3DMark2006 Results Leaderboard in Video Cards.
Video Card Ownership Poll, H1 2006 in Video Cards.
RAID 0 Stripe Size in Storage, Backup & Memory.
Tiny home server recommendations? in Portable & Small Form Factor.
Dell 9400 Test Results in Portable & Small Form Factor.
Intel claiming: at least 20% faster with Conroe than AMD in Intel Hardware.
D920 or D930? in Intel Hardware.
Cedar Mill Overclocking Action! in Intel Hardware.
A8N32-SLI Deluxe Problems in AMD Hardware.
Opti 146 CABYE 0540FPBW UNLOCKED + AIR + PHASE + GSkill in AMD Hardware.
New Mac Mini's in Apple Hardware & Software.
Mega Mac Mini! (Intel Core Duo 2.16GHz) in Apple Hardware & Software.



Well, so far the performance of our new server has been fantastic. Monday night of course is normally very busy, and we'd like to make it even more busy at about 9PM Sydney time tonight, breaking the forum record for online users. So, if you can manage to be in the forums at about that time, you can be part of it. In fact, you can even help by doing things slightly differently if you like. :)

ArsTechnica report on an Australian copyright fees for educational net use proposal. "If it turned out we'd have to pay them, we'd turn the internet off in schools," the council's national copyright director Delia Browne said.

Hubble has produced another amazing image of the Messier 101 galaxy. Eroda sent in a couple of interesting space simulators, Stellarium and Celestia.

If your Hummer just isn't doing it for you anymore, maybe you need a Cougar for those supermarket runs.

Designtechnica have a digital camera buying guide, covering a few things to keep an eye out for.

HDDSaver meanwhile consider external hard drives. I reviewed a quite nice external 3.5" enclosure a few days ago, actually.

NewScientist report on stealth sharks patrolling the seas for the Pentagon. Hmm, I wonder what happened to those commando dolphins that supposedly got let loose during the New Orleans floods.

From Bern: I'm pleased to report that the Australian House Standing Committee on Legal and Constitutional Affairs has presented its *unanimous* report on exceptions to Technological Protection Measures and it is largely good news for open source and bad news for cartels.

TweakTown have some sneak preview pics of a Gigabyte AM2 board.. AM2 being AMD's upcoming new socket, of course.

Thetron spotted some interesting MySQL utilities.. might need some of those at 9pm tonight. :)

Snippets from Iroquois: Cool virus worldmap from F-secure. Radeon X1900 XTX under ATI price slash? Ultra-portable LG notebook.

Dan looks at a weird flashlight. I have, of course, not yet answered the big question. That question is: Why the heck does this lamp have LEDs that point sideways?

Hexus have posted their thoughts about FutureMark 3DMark06, the latest in the most popular 3D graphics benchmark family.

From Neevo: Microsoft re-designs the iPod packaging, a short and amusing video of what could happen. The claim on Monkinetic's blog is that it was created for microsofts' internal purposes, but how true that is could be anyones guess. Anyway it's a fun vid.

Digitimes have an interview with AMD, while CRN have an interview with Intel.

From Pete: I haven't seen this on the front page news portion before but I ran across this looking for the game Blaster Master from Nintendo. This site has old console games you can play online for free. Games from Nintendo, Sega multi-system, Sega Game gear and so on. Heh, 1942 is a fave of mine and very playable on that site.

Interesting Forum Threads:
Plasma Pong in Games.
Future Pinball in Games.
DIY Lab Power Supply in Modding & Electronics.
4 x Maxtor 6V300F0 in Raid-0 HD_Tach results in Storage, Backup & Memory.
Experience with Gigabyte's RAMDISK "i-RAM" in Storage, Backup & Memory.
Internet Cafe Computers - Crashes in Troubleshooting Help.
Opteron 146 3Ghz 1.45v w/Water in AMD Hardware.
All UK and US troops in Iraq to be withdrawn within a year in Current Events.
9/11 - What do you believe now? in Current Events.
Qld Stolen Gtir From Garage (strong language) in Motoring.




It's Sunday and I'm cold and wet. (23 Comments) (link)
Sunday, 5-March-2006 17:43:53 (GMT +10) - by Lowgoz


Honk Honk

The US Military has unveiled its mechanical 4 legged horsey device. It looks like 2 actors in leggings who have linked arms and bent over, and it's tactically designed to be as loud as possible, giving away the positions of the troops who are silly enough to use it. The video of it (25meg link on that page) made me giggle and the article made me hungry. It reminded me of a loud, spastic, baby horse. This proves that fully armed Mechs are only a matter of time now, frankly I can't wait.

Yahoo video has all the academy award action, as well as all the movie preview mashup videos (brokeback to the future etc). Speaking of movies, Snoken has posted his latest Battlefield creation - a remake of the Sony Bravia bouncy ball advertisement.

If you feel like killing an hour, why don't you make your dog a shirt for winter. Or you could keep your K9 warm with car exhaust flamethrowers - the perfect addition to any car with a 60inch sub.

Actually screw the idea of exhaust flamethrowers, why don't you just go all out and get yourself a street legal jet powered VW New Beetle?

Google's new GDrive is a step closer to reality with a leak reporting that the company is trying for an "infinite storage" online drive. While we are on the topic of Google, it might be interesting for you to make a kite camera to supplement Google Earth.

It looks like Dell is going to buy out Alienware. Speaking of custom PC's, OCIA has posted their monthly performance building guide.

With all that done, I'm going to go and tie down my roof before the 115km/h wind gusts up here in Brisbane tear the house open like a can of sardines.

If I fall off the roof and get trodden on by that robotic American mule, don't forget to get online this Monday night so we can break the OCAU record for online users.



Rather than sweltering in the Sunday afternoon Adelaide sun, what better way to spend it than in a sweltering room next to a machine that is folding?

The Sydney Morning Herald recently reported on the retro game revival. For some of us, the classic era of gaming never ended, but it's nice to see that mainstream media outlets are also catching on.

Remember the film "The Last Starfighter"? If not, make sure you watch it when it's on at 3am at some stage. In any case, the title of the film comes from the name of the arcade game at the centre of it. This site not only has a replica Last Starfighter cabinet, but it also has the game available for downloading.

Now to my favourite IT-related website at the moment. Many of us (most OCAU readers?) are far too young to remember Computer Space, the first arcade machine (hell, some people here are too young to even remember arcades at their peak...). This site documents the first - and arguably most beautiful - arcade machine ever.

Interested? Well, although it's not Computer Space, it is the inspiration for it. Spacewar! was the inspiration for Computer Space and was developed at MIT. The original source code has been modified to run under Java, and you can play it here.




The Imperator Updated (2 Comments) (link)
Sunday, 5-March-2006 04:24:52 (GMT +10) - by Agg


BlueSmurf has been busy elsewhere, but I notice The Imperator's website has been updated with some more in-progress photos:




Click for the website!


Yes, it's a giant Star Wars Star Destroyer PC mod. There's a worklog thread here if you want to see the work in progress.




Saturday Afternoon Reviews (2 Comments) (link)
Saturday, 4-March-2006 17:59:55 (GMT +10) - by Agg


Motherboards:
Asus A8R32-MVP Deluxe CrossFire Express 3200 board on TrustedReviews.

Audio / Visual:
LG Flatron L2000C 20" LCD on BIOSMagazine.
Sony Cyber-shot DSC-M2 digicam on TrustedReviews.
Samsung HR-720 DVD Recorder/PVR on Accelenation.
mobiBLU DAH-1500i Cube Digital Audio Player on Bjorn3D.
Bose TriPort Headphones on eCoustics.

Video Cards:
HIS Radeon X1600 XT on HWSecrets.

Cooling:
Arctic Cooling Freezer 64 Pro on OCIA.

Storage & Memory:
OCZ PC-3200 2GB Gold Edition GX XTC on Virtual-Hideout.

Mini & Portable:
Shuttle SD36G5M Viiv mini-PC on SFFTech.

Software:
Gentoo 2006.0 LiveCD linux distro on Techgage.
TOCA Race Driver 3 PC (I assume) game on TrustedReviews.
Rainbow Six: Lockdown PC game on BIOSMag.

Power Supply:
Kingwin Absolute Power ABT-600CW on ClubOC.
AeroCool Zerodba 620W on Hi-TechReviews.

Cases:
Aerocool ExtremEngine 3T fan-encrusted case on 3DXtreme.
Cooler Master Centurion 534 on HWZone.
Asys Eiffel Tower on CaseModGod.




Saturday Morning Reviews (0 Comments) (link)
Saturday, 4-March-2006 01:40:40 (GMT +10) - by Agg


Oz.Org seems to be happy again, so IRC is back to normal.

Video Cards:
Sapphire X1800 XT on PureOC.
EVGA 7800GTX KO on MadShrimps.
ASUS Geforce 6600GT EN6600GT Silencer/HTD on ViperLair.
Albatron 6600 512mb DDR2 on RBMods.

Cooling:
Thermaltake Rhythm HTPC Liquid Cooling System on BigBruin.
Thermaltake Tai-Chi M laptop cooler on Techniz.
Thermalright V-1 Ultra video card cooler on PCModdingMy.
Noctua NH-U9 Low Noise Heatsink on FrostyTech.

Motherboards:
ECS C51G-M754 GeForce 6100 + nForce 410 S754 A64 on HWSecrets.
Asus A8R32-MVP Deluxe ATI Radeon Xpress 3200 board on Sudhian.
Asus A8R32-MVP Deluxe Radeon Xpress 3200 board on TechReport.
Asus A8R32-MVP Deluxe Radeon Xpress 3200 board on LegionHW.
Asus A8R32-MVP Deluxe Radeon Xpress 3200 board on TechPowerup.
Chaintech MK8T890 VIA K8T890 board on HWZone.

Memory & Storage:
PC4000 2Gb Dual CH Gold Edition GX XTC 3-4-3-8 on ClubOC.
Super Talent PC2-6400 T800UX2GC4 DDR-2 on PCStats.
OCZ DDR2 PC2-6400 2GB Kit on DriverHeaven.
Seagate 5.0GB Pocket Hard Drive on Phoronix.

Power Supply:
9 PSU Roundup on XbitLabs.
Hiper Type-R 480W on ExtremeOC.
Thermaltake PurePower 600W on TweakNews.
Ultra Products X2 550W on Techgage.

Seen any interesting forum threads lately? Email me the URL and title - I'm putting together a list for Monday's stress-test of the new server. Ta!



Macworld has pictures of the inside of an Intel Mac Mini; reezle has a step-by-step series, beginning with the cardboard box, through to the motherboard sans processor. I feel all hot and worked up... must be all that naked IT goodness. Could always be the stuffy Adelaide weather, though.

The Register is reporting that Carnegie Mellon researchers have concluded that portable electronic devices do interfere with aircraft systems and should therefore remain banned from operation during key stages of flights. This includes laptops and DVD players.

Finally, in 1919, William Westfield (self-)published one of the lost gems of scientific research of the twentieth century: "Does the Earth Rotate? NO!" Rather than ruin the conclusion for you, you can read about it here.




New server is gooooooooooooo! (41 Comments) (link)
Friday, 3-March-2006 20:47:38 (GMT +10) - by Agg


As should be immediately obvious to anyone browsing the forums, our new database server is now serving the site! Initial response looks very good, but the true test will come on Monday night, touch wood!



Click for PCDB entry!


Many thanks to Nigel from PlusCorp for his help putting together the new server and his continued support of OCAU through the years. Also of course many thanks to AusGamers and SOUL (was Comindico) for providing server hosting and internet infrastructure.

Also, thanks to all of YOU for putting up with our intermittent speed over the last few months. As a very small token of my appreciation I've increased the size limit of forum PM's from 1000 characters to 2500, as this is a popular request we were putting off until the new server came in. Enjoy the speed!




Cheap Dual-Core? (1 Comments) (link)
Thursday, 2-March-2006 21:36:44 (GMT +10) - by Agg


Here's a bit of an odd one. Apparently it ends today, which may mean only a few hours to go. But anyway. On this Dell page they're showing a $299 (plus $99 delivery) server machine with a free upgrade to dual-core Pentium D 2.8GHz CPU. That CPU is worth pretty much the asking price of the whole box by itself, never mind the 80GB hdd and 256MB of DDR2, PSU, etc. It's been on the site for a few days so I assume it's not a pricing error. Could be a good way to add some extra firepower to your Folding@Home farm, or get a cheap workstation. It has integrated graphics but also PCIe, so presumably it would serve as a decent desktop machine.. hmm.

Edit: ahh, ECC memory only, and PCIe X8 only (not X16).. which will make it less attractive. But still not a bad way to add some Folding grunt. Or will we be seeing a few chassis+mobo for sale on eBay, while people keep the CPU, HDD etc..



The bad news is, OCAU will go down for an hour or so tomorrow middayish. The good news is, the outage is to replace our current database server pie with the much-delayed server bbq. I will also be upgrading the webserver chips to 2GB of memory (from 1GB). Expect some hiccups while we fine-tune both machines but this should (touch wood) eliminate the site speed issues of the last few months. Hooray!




A Fix for IRC Junkies (2 Comments) (link)
Thursday, 2-March-2006 13:31:09 (GMT +10) - by Agg


Oz.Org, the normal location of our IRC channel, seem to be having some technical difficulties. There's a few of the IRC regulars hanging out in #overclockers on AustNet, if you're in need of a chat fix. :) In mIRC, it's as simple as changing the setting from Oz.Org to AustNet. Otherwise, connect to server au.austnet.org and /join #overclockers.




Welland ME-740 3.5" HDD Enclosure (16 Comments) (link)
Thursday, 2-March-2006 13:14:46 (GMT +10) - by Agg


Here's a quick review of a hard drive enclosure from Welland. Nothing too amazing about it, but it does the job and looks nice. Would go well with a SFF mini-PC or similar, once you've run out of space inside: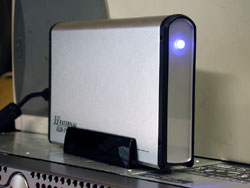 Click for the review!






TeamXFAU Folding Contest (7 Comments) (link)
Thursday, 2-March-2006 11:57:58 (GMT +10) - by Agg


From Paul: TeamXFAU, OCAU's leading subteam in the Folding@Home project, is about to hit the 2 million point mark, and to mark the occasion, we've decided to organise a race for all OCAU folders, old or new!!!

It is a time trial race. It will be run over 4 weeks, and whoever can increase their average PPD production the most over this time wins!!! Simple as that, no handicaps, no divisions, nothing - it's all against all!!!!

As prizes, TeamXFAU members will be folding under the winners' username for two weeks. The prize breakdown has yet to be confirmed, but will probably look like this:

1st prize: 24 x P4's (all 3.6 ghz), donated by EH_Holden_1964 on behalf of Sunraysia Institute of TAFE
2nd prize: 4 x P4's (2x 2.8 ghz, 2x 3.0 ghz), donated by me
3rd prize: 1 x A64 4400+, 1 x P4 3ghz, donated by karsa
4th prize: 2 x P4's (2x 2.8 ghz), donated by Pyro
5th prize: 1 x A64 3000+ @ 2.5ghz, 1 x XP-M 2800+, donated by CaeSiuM-X
6th prize: 1 x P4 3 ghz, donated by kitwalker
7th prize: 1x Athlon 64 3500+ w/RAM OC'ed, 1x 2.8Ghz Pentium 4, Donated by FearTec

There's some great prizes there, they are good for current folders, providing a boost in production (good for those of you competing in other races as well), or for inactive folders, as a kickstart to get folding again, or for new folders, as a nice addition to your folding beginnings. If you would like to enter, please enter your folding name in this thread.

Update: I should clarify, the prizes are that those systems will fold under your name for two weeks, boosting your overall Folding score. IE, you don't actually win 4x P4 CPUs to take home. :)




ATI CrossFire Xpress 3200 (4 Comments) (link)
Thursday, 2-March-2006 11:18:43 (GMT +10) - by Agg


ATI released their CrossFire Xpress 3200 motherboard chipset today. Developed from the ground up for multi-GPU gaming, the CrossFire Xpress 3200 chipset enables the world's fastest gaming performance, advanced overclocking capabilities and bedrock stability available in an AMD-based PC motherboard today.

Coverage on Bit-Tech, HardOCP, HotHardware, PCPerspective, Sudhian and TechPowerUp.




ATI Event in Sydney (7 Comments) (link)
Thursday, 2-March-2006 02:44:10 (GMT +10) - by Agg


You've no doubt seen the banner ads on OCAU about this. From midday this Friday 3rd of March (ie, tomorrow) there's an ATI event at Fox Studios in Sydney. They're launching the X1900 and highlighting CrossFire technology, giving away $10,000 in prizes and having some gaming teams thrash it out in exhibition matches and against the public. There's even dancing girls apparently. :) For more info, listen to this 485KB mp3.



VR-Zone has a review of what it calls the "new king of AGP", the Inno3D 7800 GS AGP, which apparently can overclock close to the performance of a PCI-E 7800 GT.

Ever aspired to be a pixel artist but didn't know where to start? This site tells you how in ten simple steps. In even fewer steps (four, to be precise), this page tells you how to create so-called invisibilia pictures.

Interesting page for the web designers out there: how to design accessible pages for colourblind people. Until one sees the simulated colourblindness pages, it's hard to comprehend just how much of an issue this can be for some people.

1up.com has compiled a list of the top 101 free games on the Internet, including a few former commercial titles such as the Infocom classic "Hitchhiker's Guide to the Galaxy" text adventure.

With the 2006 Formula One season fast approaching, a few sites have previews of the upcoming season. According to this one, Renault and Honda are likely to lead the field early on, with new team Super Aguri not surprisingly at the back.

With school and university back and the end of the hot weather approaching, it's a good time to remind people about the Folding @ Home team. Team OCAU lost the lead over the summer break to [H]ardOCP. Although we are now pulling even with them on a daily basis, we have a bit of ground to make up, so every new and past folder is most welcome to join the, um, fold. The Team OCAU page can be viewed here.

A nice timewaster, and it's not even a game... assuming, of course, you can waste hours reading endless webpages like I am more than capable of doing. In these times of heightened political tensions about freedom of speech involving religiously offensive cartoons and Holocaust deniers, the best response is the Mad Revisionist. Rather than simply sitting by and watching from the sidelines, the Mad Revisionist is at the forefront of historical research, using revisionist methodology to prove that the Moon does not exist and that the Sydney Olympics never occurred.




Free USB drive from Microsoft (9 Comments) (link)
Wednesday, 1-March-2006 23:42:57 (GMT +10) - by Lowgoz


This is somewhat like a double prizer in a cornflakes box, it just doesn't happen.

Microsoft are giving away free USB drives full of interesting information about windows licensing, windows product information, and other cool marketing stuff. I plan to wipe mine clean and put a bootable Linux Distro on it to create the ultimate paradox and as a result, bend the space- time continuum.

When you go to the page, click on the green "valuable information" box. The answers for the quiz are "2" and "true" for the rest of the questions.

More info in the threads in the windows area of the forums.




Wednesday Bumper News Crop (12 Comments) (link)
Wednesday, 1-March-2006 20:22:12 (GMT +10) - by Amran


Intel have announced plans to open a US$4 billion plant in Israel for the production of 45 nanometer chips.

They certainly have been busy...according to Processor Blog, Intel are also making major changes to their roadmap. ...by the Fall of 2004 Intel had announced plans for a complete roadmap change, perhaps the most profound roadmap change in the last decade from the chip giant, that would allow it to better compete with other processor manufacturers – namely Advanced Micro Devices Inc (AMD).

Alternative's to Cable and ADSL broadband have taken a step forward. Telstra's recently-announced plans to extend fibre-optic cables to street-side cabinets in order to provide faster ADSL services could be the kickstart broadband over powerline (BPL) technology needs in Australia, thanks iroquois. They still have to deal with the fact that BPL uses the same frequency as short-wave radio though.

Once you have BPL all set up, you might even be able to pay a toll and get in the information superhighway's virtual fast lane. ...the major US phone companies want to change by effectively adding a toll lane: they want to be able to give priority treatment to those who pay to get through faster.

"All your Google Base are belong to us!" Arstechnica discuss Google's payment system for making purchases online.

Nordic Hardware have interviewed ABIT about thier purchase of USI. Many feared that ABIT's identity as an enthusiast company would disappear at the same time. We therefore decided to contact ABIT and hear what it had to say about the merging with USI.

Bjorn3D is having a chat online with NVIDIA on March 7th using IRC. More information to come. (site is currently down)

Adrian's Rojak Pot reveal the task killer lurking in Windows XP. Join us on this mini-guide as Dashken tells you all about this hidden killer and why it can be a very powerful tool for those who know its secrets!

Hardware Overclock have overclocked an Opteron to 3060 mhz using air cooling. The link will take you to the main page, hit the British flag on the sidebar for English version.

Laptop Gamers want you to secure your laptop. Speaking of stolen laptops, I'd hate to be to poor guy that stole this professor's laptop!

We've all noticed our Windows-based systems bog down over time. The TechZone have an article on maintaining your PC to aviod this situation.

On Designtechnica, home theater "expert" Mark Fleischmann explains why you should not fall for the 7.1 hype. With the marketing of 6.1 and 7.1 surround, the industry has decisively outwitted itself. It has convinced many consumers to buy new receivers and more speakers. But it has also undermined the 5.1-channel standard, which is more appropriate for the home, slowing the acceptance of surround sound in general.

NgoHq have a decent article on Nvidia's SLI technology. Also on SLI, Phoronix have checked out SLI on a Solaris system.

Cory Doctorow (copyright activist) has spoken to Bit Tech about DRM among other things. DRM systems are usually broken in minutes, sometimes days. Rarely months. ...the secret isn't a secret any more.

Interesting article on the ski gear worn by USA and Canadian skiers at the recent Turino Winter Olympics. A futuristic flexible material that instantly hardens into armour upon impact. Plenty of other applications for that material too.

Dan's pretty new site has been beefed up with some new letters! In this edition: Horizontal heat pipes, the mystic 65536, what PC means when it doesn't mean PC, invisible bits, USB audio, speaker zombification, and large sparks. Cup of coffee recommended as usual.

The long awaited timewaster has returned with a vengance! Pliphunt will test your mousing skills by bopping the poor Plips on the head, while the US Army want to "test your memory". Cue the conspiracy theorists.



---
Advertisement:


All original content copyright James Rolfe.
All rights reserved. No reproduction allowed without written permission.
Interested in advertising on OCAU? Contact us for info.