April 2006
Questions for Defyant (0 Comments) (link)
Sunday, 30-April-2006 16:01:58 (GMT +10) - by Agg


I've just confirmed that Defyant will be joining us for a podcast interview later tonight. Defyant is of course the modding maestro behind such projects as FLAMED, STORMD, PeRspLeXeD and HevyPlexSLB. He also specialises in turning boring HP towers into amazing custom PC's like this, this and this.

If you have any questions to ask him, post them in this thread in our Podcast Discussion forum.




OCAU Podcast now on iTunes! (4 Comments) (link)
Saturday, 29-April-2006 13:38:54 (GMT +10) - by Agg


You can subscribe to OCAU's Podcast via this link on iTunes now, if you like. Or if you prefer the raw RSS feed, you can get that here. Of course, we'll continue to link the new episodes on the news page and the Wiki page if you prefer to just grab the MP3 directly. There's a Podcast Discussion Forum now too.

I forgot to link the website of the Perth band who made our funky theme tune. They are The Resonance - check 'em out!




Where there's smoke.. (10 Comments) (link)
Saturday, 29-April-2006 01:40:02 (GMT +10) - by Agg


Fwoar reminds us that from May 1st (this Monday) in NSW, all homes must have a working smoke alarm on each level. Smoke alarms have been mandatory in all dwellings in Victoria and South Australia since 1999, with 96% and 85-90% of dwellings respectively in those two states now having smoke alarms. In other states, smoke alarms have been mandatory only in new dwellings since 1995, under provisions of the Building Code of Australia.

Apparently today (Saturday) is an open day at most fire stations in NSW, too (but not Rural Fire Service stations). Community members meet their local firefighters face-to-face and learn about fire and other hazards, and how to prevent these. Some stations carry out demonstrations of their skills (such as motor vehicle rescues), while others teach basic safety skills such as using fire extinguishers or escaping a house fire. Something a little different to take the kids along to.



Nintendo have announced the official name for their new games console, previously called Revolution. It's now called "Wii", which has unsurprisingly resulted in confusion, amusement and in some cases anger among the net and gaming community. There's some thoughts here in a Wired blog and a hefty thread here in our Games Consoles forum.




Sponsor Specials (0 Comments) (link)
Friday, 28-April-2006 12:36:53 (GMT +10) - by Agg


Don't forget we have a Sponsor Specials forum, where the fine companies that support OCAU list special deals and other goodies for OCAU Forums members. Quite a few interesting things in there at the moment, so check it out!



Cooling:
Bluegears B-Cool 80MM Fan on 3DXtreme
Corsair Nautilus 500 on Driverheaven
Corsair Nautilus500 Water Cooling System on ThinkComputers
Thermaltake Mini Typhoon on MadboxPC (translated)
Coolink SWiF Fans & Silent Savior on PCApex
Thermalright HR-01 on Overclockers Online

Mouse:
Ulti-mat Silver Edition mouse mat on A1-Electronics
SteelPad 5L on The Moditory
Corepad Mousing Products on FastLaneHW
Bluetake BT510 Bluetooth Mini Mouse on Blue Tomorrow

Case:
Raidmax Sagitta Case on Technic3D
Antec Titan 550 Server Enclosure on ClubOC
Lian Li PC-S80B Aluminum Server Case on Virtual-Hideout
Cooler Master Centurion 534 on Neoseeker
Logisys Clear Acrylic Case on TechGage

Storage:
Kingston U3 DataTraveler on BIOS
Seagate 120GB Portable Hard Drive on Bytesector
Crucial Gizmo Overdrive on Byte Sized Reviews
Thecus YES N2100 Box External Storage System on Xbitlabs
OCZ 512MB Rally Flash Drive on Legit Reviews
Samsung DVD Recorder/VCR VR-325 on TechTastic

Audio:
Maxfield G-Flash Metal MP3 Player on BIOS
Saitek A-350 Wireless Headphones on ThinkComputers
Altec Lansing AHP 612 Wireless Headphones on Bona Fide Reviews
Plantronics Pulsar 590A Bluetooth Headset on ThinkCE
Advanced MP3 Players Pebble on UKGamer

Mobile Phone/Digicam:
Samsung MM-A920 Cell Phone on Digital Trends
Fujifilm S3 Pro Digital Camera on XYZ Computing
Kodak V610 on Digital Trends

Videocard:
Sapphire Toxic Radeon X1900 XTX on Xbitlabs
Nvidia GeForce 7900 GT on Xbitlabs
GeCube Radeon X1900 XTX Graphics Card on Xbitlabs
XFX GeForce 7900 GTX XXX Edition on Guru3D
Sapphire Radeon X1800 GTO on Hexus
MSI NX7300GS TD256E on HotHardware
XFX 7900GT Video Card on Bleedin Edge
Sapphire RADEON X1300 256MB on Modders-Inc
Gigabyte GV-RX13P256DE-RH (Radeon X1300 PRO 256MB) on Hardware Zone
XFX GeForce 7900 GT 256MB Extreme Edition on Hardware Zone

Portable:
ASUS V6J Notebook on Intel Dual-Core Processor on Xbitlabs
ADS Tech Instant TV For Notebooks on Laptop Gamers
Asus W5F 12-inch Core Duo Notebook on PcPerspective

Modding:
HyperKore Laser Etched Window Kit on GideonTech
Coolermaster Musketeer Mult-Function Panel on Overclockers Club
Logitech Harmony 360 LCD Remote Control on The Techzone

Motherboard:
MSI K8N Diamond Plus nForce4 SLI x16 Motherboard on PCStats
ASRock 939NF4G-SATA2 on Phoronix

RAM:
OCZ DDR 3700 Platinum XTC 2GB on RBMods
Buffalo Select Memory on AMD Review
OCZ EL DDR PC-4000 2GB Kit on T-break
Patriot PC2-5300 2GB DDR2 Memory on viper Lair

Display:
Dell 2005FPW 20.1" Widescreen LCD on The Tech Lounge
PixelMagic Plasma Enhancer 1000 on Hardware Zone

Misc:
Voodoo PC OMEN CrossFire a121x on HotHardware
Nova Drive Erase Pro on BIOS
Ultra Products X2 550w Modular Power Supply on Virtual-Hideout



News from Phoronix: MCNLive, a Linux distribution that is relatively unheard of but is Mandriva-based and was developed by the Mandriva Club out of the Netherlands. MCNLive's latest release comes with a code-name of Leuven. MCNLive Leuven features the 2.6.14 kernel, KDE 3.5.2, multimedia codecs, and various Mandriva packages. Even so, this feature-packed Linux LiveCD weighs in under 350MB. More information on this distro, here.

Australian IT have an interesting article posted, titled Photo-ID card for all. AUSTRALIANS may soon be carrying a single photo-ID smartcard for all government welfare and Medicare transactions, with senior federal ministers close to embracing the concept despite likely costs of significantly more than $1 billion.

It only get's weirder...In their quest to create the super warrior of the future, some military researchers aren't focusing on organs like muscles or hearts. They're looking at tongues. Full article here, on MSNBC.

It's great to see Folding@Home making it to the newspapers, Pyro spotted this article on WPHerald mentioning what Folding@Home is, etc. If you haven't already, you can join our Folding@Home team and help take our place back as the number 1 team and of course and help do our part on helping to find cures for modern sicknesses. :)

Not too sure if this has already been mentioned, but Betanews has infomation about the IE7 Beta 2 release posted here. Microsoft early Tuesday put live the Beta 2 release of Internet Explorer 7, the company's new standalone browser for Windows XP and Windows Server 2003. A new IE Web site is promoting the beta, which Microsoft is targeting at both enthusiasts and the general public.

According to this article on Reuters police officers will now trawl online chatrooms posing as children to entrap paedophiles as part of a new agency launched on Monday to tackle child abuse over the Internet.

Just incase you missed it, Opera 9 (beta) has been released. This version includes Widgets, small Web programs running in their own windows that are fun, easy-to-use and live on users' desktops. The Opera 9 Beta also features support for BitTorrent, a popular file downloading technology, in addition to an easy-to-use content blocker and thumbnail previews of tabbed sites.

Lostintranslation sends in news about Seagate's plan to release a 750gig hard drive.

Just remember if you have any interesting news or reviews, make sure to E-mail us! :)



OCModShop have good information concerning the Xbox 360 and Valve: Valve®, a leading entertainment and technology studio, is pleased to announce development of future game releases for the Xbox 360™ video game and entertainment system from Microsoft. The coming titles will be powered by a customized version of SourceTM, the technology that powered Valve's Half-Life® 2. Source provides state of the art performance in graphics, networking, artificial intelligence, physics simulation and more. More info here.

Driverheaven have the first part of their Photoshop guide posted here. Today im going to take you through one of our system review headers and detail some techniques used to get to the final result. It is a simple exercise and should hopefully be entertaining as well as education.

Eroda sent in this link showing screenshots of Kubuntu 6.06.

Lots of people let us know about Microsoft now going to mark illegal copies of Windows, I guess it was just a matter of time before this happened. Thread about this in our forums, here.

Definately an article alot of you would find use for - a guide on how to convert VHS Tapes into DVDs. Hardware Secrets have the first part which covers the hardware setup published here.

Madshrimps have an article publish on Budget Intel Overclocking, where they take the Pentium D 805 and Celeron D 356 and see what they can do...

A new article posted up on BTXFormFactor, Microprocessor History, Part 1. I'm getting into this history lesson not because I'm a history buff (though computers do have a wonderfully interesting past), but to go through the development step-by-step to explain how they work.

Casejunkies.com sent in this: I know it's the other side of the world, but i thought you might be interested. We just had the Dutch casemodding championships, which was a great success. The contestors can be found here, the winner is 'Waterkoud' with his Alumaxx case. A short fotoshoot of the event can be found here.

In this article on PCMech they describe what happens from the moment you type a website address in your address bar, to the moment it appears in your browser window.

From NordicHardware: An anonymous source has told us of the final name, price and launch date of the retail version of NVIDIA's dual-GPU card; GeForce 7950GX2. Full article here.

Chris sent in this amusing thread, from a Mayor of a town to the creators of CentOS (A free enterprise build of Linux designed for long livity.




Slipperyskip's Unidyne PC (11 Comments) (link)
Wednesday, 26-April-2006 11:42:28 (GMT +10) - by Agg


Slipperyskip is back with another beautifully finished PC, this time inspired by the classic Shure 55S Unidyne Microphone. The PCDB entry shows how it was put together from scratch.



Click for the PCDB entry! (14 pics)


If you like that one, check out his other projects: wooden cube, cigar humidor server, the Machine Age, cigar humidor cluster and art deco PC.



Display:
ViewSonic VX2025wm LCD Display on XYZ Computing
Sony VPL-ES3 Projector on Bios
Samsung SyncMaster 940BF on DesignTechnica

Motherboard:
EPoX EP-9U1697 GLI (ULi M1697) on Hardware Zone
Asus N4L-VM DH Motherboard on HotHardware
ECS KN1 SLI Extreme on GruntvillE
MSI RD480 Neo2-FI on techFEAR
EPIA-EN15000 Mini-ITX on Epiacenter
Abit AN8 32X nForce4 SLI X16 Motherboard on PcPerspective

Storage:
Maxtor OneTouch III Turbo Edition on WindowsAtoZ
VIZO Opera Portable 2.5" HDD Enclosure & Multimedia Player on Virtual-Hideout
Vantec AVOX Jukebox on TechGage

Case:
ENlight EN-7473 HTPC Case on 3DVelocity
Antec P180 Silver desktop on A1 Electronics
Aspire Q-Pack Micro-ATX Chassis on Virtual-Hideout
Thermaltake Eureka VC8000 Case on PcPerspective

Misc:
Trekker 35 Palm Microscope on 3Dvelocity
U.S. Robotics USB Skype Speakerphone on BIOS
Logitech V400 "Dual Laser Core" Mouse on EverythingUSB
NeoDigits NeuNeo HVD2085 HD Up-Converting DVD Player on Futurelooks
Logitech Cordless Desktop MX 3100 on Modders-Inc

RAM:
G.Skill F1-3200PHU1-512NS DDR 400 Memory on Technic3D
OCZ EL DDR PC-3200 2GB Dual Channel Platinum XTC on Bjorn3D
Patriot Memory PDC2G4000ELK DDR Memory on PCStats
A-data Ddr2 667 Vitesta on RBMods
OCZ PC2-6400 Platinum Edition XTC on ClubOC
G.Skill F2-4200PHU1-512SA on Tech Powerup

Audio:
TerraTec PHASE X24 FW external FireWire soundcard on Bios Magazine
BlueTake iPhono Plus Bluetooth Stereo Headset on LAN Addict
Toshiba Gigabeat F40 40GB Digital Audio Player on Extreme MHz

Software:
Sony ACID Pro 6 on BIOS
Ubuntu v6.06 Dapper Drake Beta 1 on Phoronix
Kanotix LiveCD 2006 RC2 on Phoronix

Cooling:
G-Cooler Liquid CPU Cooler on ThinkComputers
Spire VertiCool II SP601B3 AMD Athlon64 Heatsink on FrostyTech
Spire DiamondCool II SP741B3 AMD Athlon64 Heatsink on Frosty Tech
Swiftech MCR-320 "Quiet Power" Series Radiator on OCIA

Videocard:
Asus EAX1900 XTX Video Card on Byte Sized Reviews
PowerColor X1900XTX 512MB on Overclockers Online

Digicam:
Canon PowerShot SD630 on DesignTechnica
Ricoh GR Digital on Trusted Reviews

PSU:
Thermaltake Purepower TWV 500W PSU on OverclockersClub
XG Duro 900 Power Supply on TechGage



PCStats have a guide to diagnosing bad memory. Fortunately, as modern computer memory is produced uniformly and has relatively few points of failure as compared to other computer parts, manufacturers are able to provide decent warranty support.

From Hard Wired: Just letting you know that Meedio popular home theatre software has been brought by yahoo and popular antispyware software Ewido has been brought out by Grisoft software. Okey dokey.

PCPerspective have an interview with Regeneration. He's the man responsible for modifying the ULI "SLI Driver" (properly known as the PowerExpress utility) to run on chipsets not SLI-certified like VIA K8T890 and Intel 975X. NVIDIA and Regeneration have since reached an amicable resolution, but the interview is still insightful and gives a closer look at the man who drew the (legal) attention of one of the world's biggest graphics companies.

Thedriver noticed this slightly odd site which tells you interesting info about your IP, of variable usefulness. :)

Phoronix checked out Transgaming's Cedega v5.1 Demo. Today we are back again with Cedega v5.1 as we look at its fate under ATI Radeon cards running the proprietary drivers. .. For the uninformed, Cedega allows hundreds of Microsoft Windows engineered games to run on Linux seamlessly with very little end-user modifications required.

From mpot: I recently published some information on building serial port temperature sensors on my website. The serial port interface circuit is very simple, and multiple temperature sensors can be connected in parallel via a single serial port interface circuit, allowing multiple temperatures to be easily monitored with a PC.

Driverheaven are the latest to get WinXP working on a Macbook Pro. He has installed Windows XP Professional and given it a going over with some games titles as well as giving his views on the machine.

ArsTechnica compared some high-end iPod speakers, namely the iPod Hi-Fi, Klipsch iFi, and Altec Lansing InMotion iM7.

SilentPCReview have part two of their "quiet DIY OC'd Pentium D 830 System" article posted. My earlier thinking had fruitlessly focused on upstream deflectors. What if I added a downstream baffle that would force more air across the VRM?

Interesting Forum Threads:
Brief look at a distro: Frugalware Linux 0.4 in Other Operating Systems.
Clean your waterblocks! (pics) in Extreme Cooling.
Backyard Metal Casting Waterblock Bases in Extreme Cooling.
Worlds' first Water Cooled Dell XPS Gen1 Laptop in Extreme Cooling.
Silencing the Gigabyte K8NXP-SLI in Modding & Electronics.



A few people sent in news about the Macbook Pro 17" release. More info on the release here on Geekzone, Forbes, PC World and on Apple's site.

Rojak pot have just posted the Mobile GPU Comparison Guide Rev. 5.1. Currently covering over 60 mobile GPUs, this comprehensive comparison will allow you to easily compare 14 different specifications for each and every GPU..

Driverheaven have a play with the new Tomb Raider game: Tomb Raider Legend.

From Dansdata: It's becoming easier to make a PC with no moving parts. Nerds with the memory of a goldfish may be stampeding for a Gigabyte i-RAM, but there are other ways to do it, without using a particularly slim operating system. Full article here.

Dansdata also has more letters. In this issue: Benchmark hardware, CRC errors, genset-to-laptop, burned LCDs, and PSU dangers.

Madshrimps has a roundup of 6 different VGA coolers published, check it out here.

From Legit Reviews: During a recent conversation with Mushkin, Inc. it was discovered that Mushkin is just a number of weeks away from launching thier own power supply series. Right now the only thing we could get Mushkin to talk about was their 650W model known as the model XP-650. More info here.

Linksys has announced a range of wireless local area networking equipment conforming to the new 802.11n wireless LAN standard, and claiming to offer 12 time the bandwidth and four times the range of current 802.11g products. Full story here on ITWire. Thanks for sending that in Richard!

From Banshee: It seems to apply largely to the unmoderated forums that are being run in Germany, but... First-instance district court of Hamburg says forum operators are liable for comments After more than four months, the first-instance district court of Hamburg has handed down its written statement on its widely reported ruling of December 02, 2005 on liability for forums. The statements refers to web forums as an "especially dangerous feature." Those who operate such a source of trouble, the court argued, must be held especially liable. Full read here.

Will have some reviews posted up a bit later tonight. :)



Today is of course a day of military significance, where we take a moment to remember those who sacrificed a great deal - in many cases their lives - so that we could live peacefully in this country that we love. Lest we forget.

I don't want to in any way diminish that, but I think it's also worth giving a thought today to the people behind the scenes, be they Police, ambulance officers, fire and bushfire personnel, hospital workers and of course the current armed services, among others. We generally don't even think about these people until we really need them, so if you see someone in uniform today, consider letting them know their work is appreciated.

Also, our thoughts are with the people in northern Australia who may end up copping a hammering from Tropical Cyclone Monica this morning. Stay safe guys!



China has almost passed the USA in terms of spam output. They also lead the world in internet censorship. More than 111 million Chinese use the Web, a number that is rapidly increasing and could surpass the number of U.S. Internet users in the not-too-distant future.

Lil spotted this technology blog on NewScientist, with a few interesting things like fire-fighting house paint and a self-balancing bicycle.

Aftahours spotted a story on Slashdot about someone not liking a Google tribute logo that they put up recently. The ARS demanded that Google removed the logo, and Google complied, though not without adding that it did not believe it was in violation of copyright.

Here's a bit more info from tafedude on the (US-based) ABC putting free TV episodes on the net: On Monday 10th April 2006 , Disney-owned ABC (USA TV Station) announced plans to put Lost, Alias, Desperate Housewives, Commander-in-Chief on the Internet for free as part of a two-month trial beginning in May 2006. The Net-accessible episodes, which will be available the day after the shows air, will be archived so viewers can watch any shows they miss. Viewers will access the shows on the ABC Web site where they'll be able fast-forward, pause and rewind entire episodes. Short commercials will be aired with the programs, viewers will not be able to fast-forward through them.

PCPerspective checked out NVIDIA's latest mobile GPUs, the 7900 GTX and 7900 GS. The GS is identical to the GTX but the GS has less Shader and Geometry processors/pipes, and a lower memory/clock frequency. However, the GS does have better/lower power consumption, so it will be interesting to see how this compares in reality to the Go 7900 GTX and more importantly the competing ATI Radeon Mobility X1600.

DriverHeaven checked out ATI's AVIVO using an AIW ATI X1800XL and a TV Wonder Elite. To be more specific AVIVO specifically targets high definition formats like HDTV, Blu-ray and HD-DV and ATI's new cards with AVIVO technology strive to give end users the best, most vibrant video quality available.

PCPerspective have a review and modding project involving Cooler Master's Stacker 830 full-tower case. Side panel fans were added, as well as support for the longer 1 kWatt power supplies and windows replaced mesh on some sides.

Eroda spotted an Aussie guy running Day of Defeat (Half Life:Source) on a MacBook Pro for the purpose of benchmarking. I was seriously impressed how fast it was just running Windows once all the drivers for the various hardware components had been added.

Eroda also sent in an article titled Where Vista Fails. Glass windows sound like a great idea, until you actually use them. Surely Microsoft can do better than this.

Bit-Tech spent a little time with the girlz 0f destruction, an all-female gaming clan from Sweden. We asked Tim Brown, Marketing Manager for VIA's Corporate Marketing Division in Taiwan, whether this was a serious endeavour: "This is probably one of the largest single marketing efforts, financially speaking, we've ever done," he told us.



Madshrimps sends in this news: Local forum member Gamer casually posted his first overclocking results with an Intel Duo Core T2600 clocked default at 2.16Ghz. Using a modified subzero cooling he was able to push the CPU to 3.4Ghz and run a CPU intensive SuperPi 1Mb calculation in 17.75 seconds; which is slightly faster than the current world record hold by Tom Holck with a P4 670 at 7.2Ghz! With less than halve the CPU cycles the new Duo Core proves to be quite the performer! Read all the information on this here.

XYZ Computing discuss the future of the PDA in this article. While is hard not to appreciate the PDA's ability to change with the times, it appears that its heady days of mobile dominance are coming to an abrupt end.

The TechZone has posted a Long Weekend Wireless Home Project for you to try. We're showing you step by step how-to on setting up a wireless network for your home. We'll show you what equipments to buy and how to set it all up.

Techware Labs has published a unique article comparing Intel and AMD dual-core processor performance and power consumption. Intel and AMD's top offerings are out of reach for mainstream audiences. Their midrange options also seem a bit out of touch for the lowly college student or casual websurfer/mp3 ripper. Can this gimped out 533mhz FSB newborn take on the spoiled superstar?

Tony sent in this link to the latest world-wide broadband statistics, with Australia coming in at 17th.

The TechZone look at ajaxXLS - which apparently is a great alternative to Microsoft Excel. Full article here. This program, like ajaxWrite and ajaxSketch, is an AJAX program that loads in seconds directly over the Internet. One click on ajaxXLS.com and you have a spreadsheet program to open any .xls file. Nothing to buy. Nothing to install. No need to register.

Next-generation DVD players are finally washing up on Australian shores. Trouble is, there's no content to go with them. Full article here on Cnet.

Hexus have a new article published on their site called Scale this, where they have just taken a closer look at scalable computer graphics.

The MSI X1800GTO is the card that Madshrimps have just taken for a spin to find out how high it can soar...

Murray sends in news about brand new laptops now reaching the sub-$1000 bracket.

From this artcile on Pureoverclock: We've heard solid rumours that Gainward have a fantastic new card on the way, and it's a refresh of there most ambitious GPU to date, the AGP 7800GS. The new refresh will be known as the BLISS 7800 GS SILENT 512MB GS "+" and guess what? It has 24 pipes which essentially means it is based on the 7900 GT core.




Podcast Updated (0 Comments) (link)
Monday, 24-April-2006 15:21:13 (GMT +10) - by Agg


After a week's delay we now have episode 3 (21.4MB, 67 minutes) of the OCAU Podcast available. Discussion in this thread, thanks!




Sunday Midday Reviews (0 Comments) (link)
Sunday, 23-April-2006 12:59:42 (GMT +10) - by Agg


Cooling:
Jing Ting Force chipset cooler on GideonTech.
Cooler Master Susurro quiet CPU cooler on RBMods.
Sharkoon Rainbow Fan TC on PCApex.

Portable & Prebuilt:
HP Pavilion dv1540ca Notebook on Bytesector.
17" Apple iMac Core Duo based desktop on SilentPCReview.

Audio / Visual:
AVerMedia UltraTV USB 300 TV tuner on ThinkComputers.
Shure E3c Sound Isolating Earphones on XYZComputing.
ZVUE 200A Handheld Media Player on ThinkComputers.

Cameras & Phones:
Logitech QuickCam Pro for Notebooks webcam on PDAToday.
Nikon Coolpix S6 digicam on HWZone.
Nokia N90 phone cam on DesignTechnica.
Linksys SPA-941 business VoIP phone on TechWareLabs.

Storage:
Targus DVD +/- RW Slim External Burner on PDAToday.
OCZ Rally Flash Drive on Modders-Inc.

Video Cards:
XpertVision GeForce 7600GT Sonic (GeForce 7600 GT) on HWZone.
Point of View GeForce 7900GTX 512MB on TechPowerUp.
PowerColor X1600 XT PCIe on PCStats.
PowerColor Radeon X1800 GTO on Guru3D.

Misc:
SteelSeries SteelPad 5L mousepad on PCApex.
Enermax 400W Liberty PSU on ByteSizeReviews.
DFI LANParty UT CFX3200-DR CrossFire motherboard on Bit-Tech.




Saturday Morning (3 Comments) (link)
Saturday, 22-April-2006 02:43:06 (GMT +10) - by Agg


Bit-Tech report on a rumour about some reverse-HyperThreading technology from AMD, to let multiple-core CPUs appear as a (more powerful) single-core one, thus benefitting games and other single-threaded applications. Interesting.. discussion in this thread.

Sniper noticed these 750GB hard drives on the way from Seagate.

Sniper also spotted an interesting blog which reckons some of the Conroe performance claims are bogus. The comments are interesting too.

One way to prove the durability of your storage solution is to shoot a hole through it, as HP did recently, thanks anlashok.

From Wirrunna: Here is an interesting app that generates playlists from a "seed" track in your digital music (iTunes). Well worth trying out as it's free.

XbitLabs published their thoughts on Intel's Centrino Duo mobile platform. Meanwhile, Tech-Report play with Core Duo on the desktop.

SilentPCReview checked out some fanless video cards. The Asus Radeon EAX1600XT Silent/TVD/256M and the low profile AOpen Aeolus PCX6600-DV128LP. Both employ heatpipes to expand the cooling surface area onto the trace side of the video card for improved cooling. Are they suitable for dedicated silencers who want more than budget vidcard performance?

TheTechZone discuss why the PSU is so important for a PC, then follow up with a PSU buyer's guide. ByteSizedReviews (previously OCPrices) meanwhile have a high-end PSU shootout posted and FutureLooks reviewed a 700W unit from FSP.

Looks like Google will be more closely attacking the Australian search market, thanks Cam. Yesterday, Google stitched up a revenue-sharing deal with emerging wireless internet company Unwired, its second major deal with an internet service provider after last year's deal with Primus.

HP has recalled some notebook batteries, due to a "potential safety hazard". As a result, HP will replace all battery packs that have a barcode label starting with L3, free-of-charge.




Saturday Morning Reviews (2 Comments) (link)
Saturday, 22-April-2006 02:23:25 (GMT +10) - by Agg


Motherboard & CPU:
AMD Athlon FX-60 S939 CPU on AMDBoard.
WinFast NF4SK8AA-8EKRS S939 board on LegitReviews.
DFI RS482 Infinity S939 board on OCOnline.
Albatron KM51G-754 mATX S754 board on ThinkComputers.
ECS 945G-M3 LGA775 board on HWZone.
Foxconn 975X7AA LGA775 board on NeoSeeker.
ASUS P5WDG2-WS and P5WD2-E Premium LGA775 boards on HotHardware.

Cases:
Thermaltake Armour VA8000B on Techgage.
Cooler Master Centurion 534 on OCClub.
Lian Li PC-V1100 Plus II on XYZComputing.
Thermaltake Matrix VX on Bjorn3D.
Cooler Master Stacker 830 on TweakTown.
Zalman HD160 HTPC case on Bit-Tech.
Thermaltake Tai-Chi on TechPowerUp.
Kingwin SK-523 on PCApex.
Cooler Master Stacker 830 on ViperLair.
Antec NSK2400 media PC case on SilentPCReview.
Ultra Aluminus midtower on Guru3D.

Input Etc:
Vizo Gemini Wireless Mouse on Metku.
Steelpad QcK+ mousepad on XSReviews.
Everglide Titan mousepad on XSReviews.
Logitech Cordless S 530 Mac on UKGamer.
Vizo Gemini Wireless Mouse on TechTastic.

Memory:
Super Talent T1000UX2G5 2GB PC2-8000 on HotHardware.
OCZ DDR2 PC2-8000 Platinum XTC Extreme Edition on Hexus.




Friday Morning Reviews (0 Comments) (link)
Friday, 21-April-2006 01:15:39 (GMT +10) - by Agg


Cooling:
Corsair Nautilus 500 vs Zalman Reserator 1 Plus watercooling kits compared on TechReport.
Thermaltake Tide Water SLI Graphics Cooling on TomsHardware.
Sytrin KuFormula VF1 VGA cooler on PCModdingMy.
Corsair Nautilus 500 external watercooling kit on Techgage.
Zalman VF900-Cu VGA cooler on Modders-Inc.
ASUS Silent Square CPU cooler on ProClockers.
Spire DiamondCool II quad heatpipe CPU cooler on TweakNews.
Spire DiamondCool II quad heatpipe CPU cooler on A1-Electronics.

Video Cards:
HIS Overclocked Radeon X1600 Pro Turbo on HWSecrets.
ASUS Extreme N7800GT TOP Silent on LegionHW.
MSI GeForce 7600 GT on HWZone.
NVIDIA GeForce 7900 GT on ARP.

Storage:
Digital Foci Memory Card Travel Case on BigBruin.
Seagate 500GB and Western Digital 400GB HDDs compared on TechSpot.
Corsair 1GB Voyager Flash Drive on Virtual-Hideout.
Sony DRU-820A DVD burner on BIOSMag.

Power Supply:
Sytrin Nextherm 460W on RBMods.
Asus Atlas 55GA 550W on ViperLair.




Australian Spam Prosecution (12 Comments) (link)
Wednesday, 19-April-2006 14:33:58 (GMT +10) - by Agg


Orlock sent in this ACMA announcement about Australia's first prosecution under the Spam Act. Among other matters, ACMA submitted to the Federal Court that in the twelve months after the Spam Act commenced in April 2004, Clarity1 Pty Ltd and Mr Mansfield sent out at least 56 million commercial emails with most of the messages being unsolicited and in breach of the Spam Act.




Wednesday Afternoon (18 Comments) (link)
Wednesday, 19-April-2006 14:04:58 (GMT +10) - by Agg


Matrox released their TripleHead2Go a few days ago. This takes your NVIDIA SLI setup and lets it run three large screens as one giant desktop. Coverage on Bit-Tech, DriverHeaven, Guru3D, NeoSeeker, SimHQ and TrustedReviews.

In case 3 screens isn't enough for you, how about a wall of twelve (thanks Matt) or even many many more. Or maybe just one really big one.

If you enjoyed that Honda ad from a couple of years ago, where many small objects interact in a chain to eventually set the car rolling, you'll love this video with many such setups from (I assume) a Japanese TV show. Beware, some ads/links on that page are not work safe, but the video is fine. It's pretty long but amazing if you like that kinda thing. Does anyone know (a) what this kind of construction is called and (b) what the Japanese slogan that features in this video is?

Anandtech looked in some detail at dual-booting WinXP and OS X on a Macbook Pro. Compared to the G5, the new Core Duo processors were significantly less power hungry. As I showed in my iMac Core Duo review, you're looking at about 2/3 of the power consumption of the G5 yet the new CPUs were kept in the same chassis.

PCStats have a crash recovery guide, or how to deal with the Blue Screen of Death. Not seen one of those in a while actually, touch wood.

I'm sure I've seen these pics before but they're in the PCDB now. I assume it's the result of pump failure, but anyway, things are not looking good for that once-watercooled PC.

Here's a cool story, of a guy trading a paperclip for a house (eventually). Could he use the community power of the Internet to barter that paper clip for something better, and trade that thing for something else -- and so on and so on until he had a house?

Another interesting thing from Google.. this time it's a calendar. Google's software also scours the Gmail email system for mentions of events, then automatically offers to add the information to the calendar.

More storagey stuff: a tiny USB drive from OCZ and the first 3.5" perpendicular-recording HDD from Seagate. Also, a flash drive that inflates to indicate how full (of data) it is, thanks Frosty.




Wednesday Midday (2 Comments) (link)
Wednesday, 19-April-2006 12:33:56 (GMT +10) - by Agg


Google Australia wants you! If you're a female engineer, that is. Corporates are very aware in the IT sector of the benefit of gender diversity but the pool is so small it is hard to get them.

Anandtech checked out AMD's AM2 platform to see how DDR2 affects the AMD side of things. What will be explored here is how the memory controllers compare in latency and bandwidth, memory performance at various DDR2 settings compared to fast DDR400 2-2-2 memory, and basic overclocking performance of AM2 compared to Socket 939 when the CPU and memory are both pushed to improve performance.

Here'd a stack of storage stuff: RAID explained on PugetSystems, while TomsHardware looked at an external eSATA enclosure and BCC checked out the first 18x DVD+/-RW drive.

DamnInteresting have an article about the Superconducting Supercollider, which was cancelled before completion and now lies dormant under Texas. In order to control such tremendous energies, cutting-edge superconducting magnets would bend the beam around an oval-shaped beam tunnel more than 80 km in circumference.

TechReport passed on some interesting videos of high-end video cards in action, namely the GeForce 7900GTX and Radeon X1900 XTX, to give an idea of how the stock coolers sound when working hard. You have to watch all the way through the videos to see and hear the coolers kick it into their highest gears.

Dan looked at two new PSUs from Tagan. Power supply companies try all sorts of tricks to get people to buy new PSUs that they don't actually need. But German outfit Tagan have, astoundingly, come up with a new feature you might actually find useful.

TheTechZone have some musings about video card marketing. In case you haven't noticed, the high-end video cards are expensive with every release, and the same high-end video cards disappear from their pole position within 6 months or less due to another model replacing it.

GriMo33 spotted a Wired article about using modified HIV to attack cancer cells. That reminds me of an article I read a few days ago about red chilis fighting cancer too.




Wednesday Morning Reviews (0 Comments) (link)
Wednesday, 19-April-2006 02:45:06 (GMT +10) - by Agg


Audio / Visual:
Logitech X-530 5.1 Speakers on ThinkComputers.
Bang & Olufsen BeoSound 4 compact audio system on DesignTechnica.

Cooling:
Scythe Samurai Z Dual Heatpipe CPU cooler on Tweaknews.
Spire Verticool II CPU cooler on Techtastic.
Noctua Heatpipe Coolers on XbitLabs.
Thermaltake Tide Water Dual VGA Cooling Kit on OCrCafe.
Zalman VF900-Cu VGA cooler on OCOnline.

Cases:
Thermaltake Rhythm HTPC case on Bytesector.
SilverStone Temjin 5 on Modders-Inc.
Silverstone SG01 Evolution SFF case on LegionHW.

Motherboard & CPU:
Geeks.com Athlon 64 3000+ CPU/Motherboard Combo on BigBruin.
ASRock 939SLI-eSATA2 S939 A64 board on A1-Electronics.
Intel Pentium D 805 dual-core LGA775 CPU on NeoSeeker.

Storage & Memory:
Brando SATA/IDE to USB 2.0 Cable on BonaFideReviews, our review here.
TeamGroup Xtreem 2x1GB Cronus memory on EclipseOC.
Silverstone MS02 5.25" HDD Enclosure on Virtual-Hideout.
Super Talent 2GB PC2-6400 T800UX2GC4 on Techgage.
LITE-ON SHM-165H6S Internal DVD Writer on HWZone.

Misc:
BFG 7900 GTX OC on PCPerspective.
Enermax Liberty 620W modular PSU on ExtremeOC.
SLAMPPLite LiveCD 2.0 Linux distro on Phoronix.




Tuesday Morning (8 Comments) (link)
Tuesday, 18-April-2006 02:44:51 (GMT +10) - by Agg


A few people sent word that memory speeds can be faked with a new DFI beta bios, apparently. The thinking is that it might be an issue if you're buying RAM based on overclocked screenshots.

LegitReviews spent some time overclocking a Pentium D 805 dual-core CPU. At 2.66GHz with a 533MHz FSB the processor doesn't sound fast, but come see how it runs at 3.8GHz!

HWSecrets played around with storage, explaining command queueing and RAID6 advantages. They also have a PSU tutorial and look into Intel's Core microarchitecture.

Modders-inc have a few things to consider when choosing a PSU. It isn't easy to find a "good" one without knowing a little about the types, materials, and basic features involved.

From Matt: You may remember my site as the one that has tracked hard disk pricing back the last 15 years with APC advertisements. With the latest figures in I set out to show that Kryder's Law is no longer being acheived by hard drive manufacturers. According to wikipedia Kryders Law is a kind of super Moore's Law for hard disks that says bit densities have increased factor of 1000 in 10.5 years meaning a doubling every 13 months. Instead I discovered that Kryders Law was just a creation of Wikipedia's enthusiastic editors that miseread a single Scientific American article. Wikipedia accidentally invented the "law", and it isnt even correct. Read about it here. The beauty about wikipedia is that it will fix itself. It is pretty interesting to see how that occurs. Take a look at the talk page here. And you can look at the vote of whether to keep the page at all here. As the old saying goes, if you like laws and sausages it might not be a good idea to see how they are made. The same goes for Wikipedia.

Denlife sent word of a giant advertisement in the desert, where nobody will see it. Well, nobody except Google Maps/Earth, which is the plan.

BFM wanted you to know that the Easter Bunny hates you.

From Sn@Ke: I had a quick search around ocau and didn't find anything on this .. its a new take on spam by automated opt-out requests that bluesecurity sends on your behalf after you forward your spam emails to them. If the spammers dont take you off their list they take legal action and blah blah.. I recently set it up at work and set the bluefrog settings to protect the company domain and have since noticed a decent drop in spam emails. Its got a few cool things like a ranking system and stuff. anywayyy take a look for a better description, thought it might be cool to take a look at since its kinda just starting out (I think) and the more people to use it the stronger the service will become.

PCPerspective reckon that (a) some 7900 GTX boards were randomly freezing and locking up and (b) the problem is resolved now. So yay.

From Matt: Not sure if this has been found before, but: Rigs of Rods is a huge amount of fun (if you like trucks) but more importantly, it has a great physics engine that is being developed by one person - it has "no equivalent in the game industry today". Thought you might be interested. Had a bit of a go, doesn't seem all that exciting unfortunately, but maybe I just don't get it. Flipping trucks down the hills is kinda fun tho.

Some coverage of Apple's "Boot Camp" make-WinXP-work patch on XYZComputing, TechSpot and Hexus.

Disastraus noticed this article about thorium oxide. Supporters of an alternative energy source say it has the potential to revolutionise the nuclear power industry and is a safer alternative to uranium.

From maddcore: On Monday night, the OCAU BF2 Clan took on the Bloody Knife Murderers (BKM) on the barren streets of Mashtuur City. The first round was smoking hot with BKM being a highly mobile team who were obviously well co-ordinated, but [ocau] were tougher and won the round 14-0. The second round clash was even more hotly contested with the area around the mosque and the backyard being the hottest fought, but finally [ocau] fell 29-0 for a final score of 14-29 in BKM's favour. The two teams were very evenly matched, and both teams have expressed interest in friendly games in the future as this game was awesome.

Interesting Forum Threads:
Project: Netfinity 3000 to AMD 64 (56k Warning) in Modding & Electronics.
Commell's LV-667 Mini-ITX for Intel Core Duo in Intel Hardware.
Think your HT sub is big, do ya? in Audio Visual.
Amazing racetracks in Motoring.
REQ: Ideas for prawns in Geek Food.




Easter Monday Evening Reviews (2 Comments) (link)
Monday, 17-April-2006 19:24:49 (GMT +10) - by Agg


Back to life, back to reality.. and back to work tomorrow. Hope you had a nice break.

Motherboards:
ASUS A8R-MVP (ATI CrossFire Xpress 1600 on HWZone.
ECS KA1 MVP S939 A64 board on TechFear.

Cooling:
BlueGears b-Cool 80mm Fan on Pro-Clockers.
Cooler Master CoolDrive Lite HDD cooler on Virtual-Hideout.
Ultra 80mm Glossy Fan on Modders-Inc.
Swiftech Mcx159-cu chipset cooler on RBMods.
NorthQ 80mm and 120mm Fans on DriverHeaven.
Vizo Sleet Copper Cooling Components on Virtual-Hideout.
Arctic Cooling Alpine 64 CPU cooler on XSReviews.
Evercool WC-F117 Nighthawk watercooling kit on Techgage.

Audio / Visual:
Apple 4GB iPod mp3 player on Bjorn3D.
DigiDock AC-2220 FM Transmitter on RojakPot.
Slim Devices Squeezebox V3 on DesignTechnica.
Everglide S-500 Headphones on Phoronix.
Dell UltraSharp 2007WFP 20" LCD monitor on WindowsAtoZ.

Storage & Memory:
Samsung SE-W164 external DVD burner on OCOnline.
Crucial Ballistix PC5300 memory on DriverHeaven.
Patriot PC-3500LLK memory on ClubOC.

Input Etc:
Razer Diamondback (Salamander Red) gaming mouse on Modders-Inc.
Razer Pro Pad & Pro V1.6 Mouse on ExtremeMHz.

Software:
NOD32 Antivirus on PCMech.
Windows Defender antispyware on PCMech.

Misc:
Connect3D X1900 XT and XTX video cards on PureOC.
Targus Toploading Trademark 400 Edition Notebook Bag on FutureLooks.
Vivitar ViviCam 8300s digicam on XYZComputing.
Cooler Master Centurion 534 case on BigBruin.




Saturday Morning Reviews (0 Comments) (link)
Saturday, 15-April-2006 01:57:58 (GMT +10) - by Agg


Motherboards:
ASUS A8R32-MVP Deluxe Radeon Xpress 3200 board on TweakTown.
Biostar TForce4 U 775 on Bit-Tech.
ECS 945G-M3 microATX LGA775 board on PCStats.
Epox 9U1697 GLI ULi-based SLI board on PCPerspective.

Storage & Memory:
Pioneer DVR-R100 Dual Layer DVD Burner on XYZComputing.
Kingston 512-MB microSD on LegitReviews.
Patriot PC2-5300LLK DDR2 on ClubOC.

Audio / Visual:
MSI MEGA Player 536 mp3 player on HWZone.
Logitech Z-5500 5.1 Speakers on ThinkCE.
ATMT Storm mp3 player on UKGamer.
ColorVision PrintFIX Pro Suite printer calibrator on FutureLooks.

Cases:
NZXT Lexa Case on OCrCafe.
Antec P150 quiet case and Antec Neo HE 430W on PCPerspective.
Aerocool ExtremEngine 3T on MadShrimps.

Input Etc:
SteelSeries Steelpad 5L mousepad on TechPowerUp.
Logitech Cordless Desktop MX 5000 Laser on TheTechZone.

Video Cards:
PowerColor X1600 PRO AGP 512MB on Bjorn3D.
MSI GeForce NX7300GS-TD256E PCIE on ViperLair.
XFX GeForce 7900 GT 256MB PCI-E XXX Edition on TheTechLounge.

Power Supply:
Ultra X2-Connect 550W on Guru3D.
Topower Silent Green 600W on ThinkComputers.
Ultra X-Finity 500W w/Active PFC on 3DGameMan.
ThermalTake ToughPower 550W on ByteSector.

Cameras & Phones:
Samsung Generation Two SC-X210L Sports Camcorder on FutureLooks.
Panasonic Lumix DMC-LZ5 digicam on TrustedReviews.
Orange SPV M600 smartphone on TrustedReviews.

Misc:
Smartbomb book about gaming on TechFear.
SimplyMEPIS v6.0 Alpha 1 Linux distro on Phoronix.



Have a great long weekend.. and if you're travelling, stay safe!




Merconnet SONOWave Digital Media Player (2 Comments) (link)
Thursday, 13-April-2006 19:24:11 (GMT +10) - by Agg


Here's another interesting media-playing gadget. This time it's a radio that lets you listen to streaming internet music, your MP3 collection or any PC audio anywhere around your house.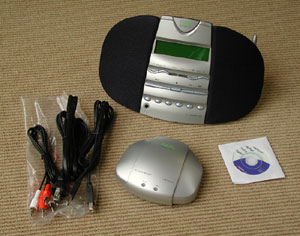 Click for the review!






Thursday Evening Reviews #2 (0 Comments) (link)
Thursday, 13-April-2006 19:15:00 (GMT +10) - by Agg


Cooling:
Thermalright V-1 Ultra vs Arctic Cooling Accelero X2 VGA coolers on LegionHW.
MicroCool NorthPole XE Whisper chipset cooler on A1-Electronics.
Scythe Katana-Cu CPU cooler on ThinkComputers.
Titan Eagle VGA Coolers on Virtual-Hideout.
Pentagram NCX100-Cu CPU cooler on TechPowerUp.

Cases:
Antec Take 4 Studio Series 4RU rackmount case on ClubOC.
Thermaltake Tenor HTPC Case on PCApex.
Thermaltake Matrix Alu midtower on Tweaknews.
NZXT Lexa MidTower on OCClub.
Thermaltake Matrix VX on HotHardware.

Storage:
Maxtor OneTouch III Turbo Edition 1TB external HDD on XbitLabs.
Transcend 20GB Digital Album on DigitalGrabber.
VIZO SATA Master Panel bay device on OCModShop.




Thursday Evening Reviews (0 Comments) (link)
Thursday, 13-April-2006 18:47:52 (GMT +10) - by Agg


Audio / Visual:
Ultra Mini Bluetooth Headset on Techgage.
AuzenTech HDA X-Plosion 7.1 DTS Connect soundcard on ThinkComputers.
VisionTek Xtasy Theater 550 Pro MCE Edition capture card on Bjorn3D.
Kensington iPod Entertainment Dock 500 on XYZComputing.
Samsung SyncMaster 970P 19" LCD monitor on TweakNews.
Acer 17" LCD Monitor on 3DXtreme.

Video Cards:
Sapphire Radeon X1900XT on TweakTown.
Asus EN7800GT TOP Silent 2DHTV/256M on PCStats.
ATI Radeon X1800 under Linux on Phoronix.
ASUS EAX1800XT TOP/2DHTV on XbitLabs.
Gigabyte Radeon X1600XT with Silent-Pipe II on HWZoom.

Prebuilt & Portable:
Evesham FX-60 Notebook on Bit-Tech.
Compaq Presario SR1719UK prebuilt PC on TrustedReviews.
Rock Pegasus 550N laptop on BIOSMag.
HyperKore HK-Xtreme prebuilt gaming PC on FastLaneHW.




Zensonic Z500 Hi-Def Network Media Player (27 Comments) (link)
Wednesday, 12-April-2006 18:49:09 (GMT +10) - by Agg


FearTec sent in a quick review of this new player from Zensonic. It's powered by Linux and bristling with features. There's even a few videos of it in action: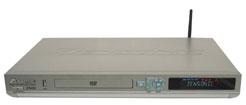 Click for the review!






Wednesday Afternoon (19 Comments) (link)
Wednesday, 12-April-2006 14:08:54 (GMT +10) - by Agg


I've gotten a weird "save the animals" email a few times over the last few days. Looks genuine enough, but it comes from a few different addresses and the website attempts (but failed on my PC) to do horrible Javascripy things to your browser. Sooo.. keep an eye out for that one.

AMD have raised A64 prices but lowered Opteron ones. The prices changes came as AMD announced Tuesday it was shipping its last scheduled single-core Opteron processors. The new models run a 3GHz clock speed and are currently available for two- to eight-way servers.

Afie sent in Pandora, which we've mentioned a couple of times before, but it's pretty cool. You put in an artist or song that has a genre you like, it gives you an online radio playlist that will help you to "explore that part of the music universe".

Bolex17 noticed these 10 weird USB drives based on food etc. Weird indeed.

The American TV network ABC will offer some shows free on the web during an upcoming trial. Viewers will be able to pause and move between "chapters" in an episode but will not be able to skip embedded ads.

ArsTechnica rounded up 8 digital audio players from the budget end of town. We tested them, noted their construction and sound qualities. Then we conclude with a "compare and contrast" to see which player offers the best bang for your buck (and yes, we included the iPod Shuffle...)

From IntelInside: TDK beats all others to the finish line in shipping Blu-ray media. TDK Corporation announced today that it has begun shipping Blu-ray recordable media to retailers across the United States. The first wave of media will include 25GB BD-R (recordable) and BD-RE (rewritable) media.

Tidbits fom Eroda: Azureus-BitTorrent Client is the most popular open-source software on SourceForge, some HP printer software can be exploited and Microsoft now has a Linux website.

Eroda also spotted this Intel Mac Benchmark Smorgasbord on Macologist. As our focus is with games, we will begin with a series of gaming benchmarks, then move on to other application as well as graphics and computational benchmarks.

Meanwhile Cnet reckon that Apple's Boot Camp isn't going to do much to make Windows users buy Macs. Hasn't made me any more keen, as discussed in our recent podcast.

In space news, the European Venus Express has arrived at our sister planet, NASA aim to blast for water on the Moon and it turns out that "Xena", our disputed 10th planet, might only be slightly larger than Pluto. The fact that Xena is smaller than thought means it must reflect about 86% of the light that falls on it - making it about as bright as fresh snow and brighter than every other solar system body except Saturn's moon Enceladus.




Wednesday Afternoon Reviews #2 (2 Comments) (link)
Wednesday, 12-April-2006 13:29:27 (GMT +10) - by Agg


Video Cards:
Gigabyte GV-N66256DP fanless GeForce 6600 on SilentPCReview.
Gigabyte Radeon X1900 XTX on ClubOC.
EVGA 7600GS 256MB on 3DGameMan.

Mini & Portable:
Apple Mac Mini Dual Core 1.66GHz on Designtechnica.
Booq Python XL Laptop Backpack on LegitReviews.
Dialogue Flybook notebook on TrustedReviews.
Averatec 3715-EH1 notebook on BIOSMag.

Cooling:
Thermalright HR-05 chipset cooler on RBMods.
Scythe Mine heatsink on Pro-Clockers.
Spire VertiCool II SP601B3 CPU cooler on A1-Electronics.

Software:
Tomb Raider Legend PC game on Bit-Tech.
The Elder Scrolls IV: Oblivion PC game on DriverHeaven.
Tourist Trophy PS2 game on ArsTechnica.

Input Etc:
XTracPads Mouse Bungee on PCModdingMy.
Steelpad 5L mousepad on RojakPot.

Misc:
Cooler Master Centurion 532 case on ViperLair.
Eli Home Broadband Security Appliance on TrustedReviews.
OCZ DDR2 PC2-5400 Gold GX XTC 1GB on OCOnline.




Wednesday Afternoon Reviews (0 Comments) (link)
Wednesday, 12-April-2006 13:21:27 (GMT +10) - by Agg


Motherboards:
ECS KN1 SLI Extreme S939 SLI board on HWSecrets.
ECS C19-A SLI nForce4 SLI Intel Edition on PCStats.
ABIT AN8-32X S939 SLI board on TweakTown.
ABIT AN8-32X S939 SLI board on HotHardware.
ASUS A8N32-SLI Deluxe S939 SLI board on NordicHW.

Power Supply:
SkyHawk GM470 and GM570 on MadShrimps.
SilverStone Strider ST56F 560W on ThinkComputers.

Audio / Visual:
CrystalFontz CFA-635 mini LCD on Techgage.
KingWin Sound Xtream KH-300 digital media player on ClubOC.
Vizo Opera Portable HDD Enclosure & Multimedia Player on TechTastic.
Sling Media Slingbox personal video broadcaster on BigBruin.

Cameras:
Panasonic DMC-TZ1 digicam on HWZone.
Casio Exilim EX-S600 digicam on DesignTechnica.



Well, in Adelaide it is.

As some of you may have noticed, we are (finally) beginning to gain on the lead in our Folding race. However, having said this, we are still several million points behind. The weather is now cooling, so why not get involved? Hell, why not overclock if you are already folding? In any case, take a look at the OCAU folding page and get involved! As the page says:

"It was one hundred days ago when we succumbed to the [H]orde's attack and fell back into second place on the 31st of December last year. It has taken this long to gather ourselves together ready for the trek back to the top. Can we beat 100 days for the return journey? I think we can, the target date of the 18th of July is just 99 days away. We will need to average 55,712 points a day more than the [H]orde to reach our destination, so if you have it, Fold it and lets see what nearly 9000 CPU's can do in the next 99 days..."

Can we do it?




Tuesday Afternoon (3 Comments) (link)
Tuesday, 11-April-2006 13:54:12 (GMT +10) - by Agg


Sudhian wonder if Windows x64 is ready for prime-time yet. Everything worked as before except with the benefits of greater memory addressing - though Windows XP Professional x64 consumes a bit more memory than its 32-bit counterpart. How's the driver side of things going?

Anandtech checked out the Pentium D 805, a cheap dual-core option. Intel's ability to undercut AMD's pricing on dual core processors is not too difficult to understand. Until recently, AMD has only had a single plant producing 90nm processors on 200mm wafers, meaning that every dual core CPU they produce made a serious dent in the number of total CPUs they can produce.

Tweaktown compared AMD's FX-60 and X2 3800+ CPUs for gaming performance. We know now that the FX-60 is going to be the faster processor but what we want to have a look at how much extra performance we get, from such an expensive processor.

A recent study suggests that playing violent video games may affect how kids think. Regardless of whether they grew up in a violent environment, the researchers found, young men who had played the violent game were less cooperative and more competitive in completing an assigned task with another person, compared to those who played the Simpsons game.

TomsHardware looked at serial-attached SCSI components. To demonstrate SAS' potential, we took a look at the technology, host adapters, hard drives and storage appliances.

XbitLabs continue their PSU roundup, with 7 more models from A.C.Ryan, CoolerMaster, Sunbeamtech, Ultra and Zippy.

From Tim: The OCAU Battlefield2 GameArena Ladder Team (ranked #79) went into battle against G3TSOME (ranked #54) tonight at Mashtuur City. OCAU was too strong taking the match 235-0 as a result elevating OCAU to #54 on the ladder. Nice work!



Rojakpot has an article posted, which discusses why we should beef up the security of our wireless networks, and how you can do it quickly and easily.

Bit-tech have a helpful article posted, explaining transparency and adaptive AA. TMS AA, TSS AA, PA AA, QA AA... is transparency anti-aliasing getting you a bit confused? We're here to give you the low down on just what all the acronyms mean, with lots of clear words and illustrative pictures.

Techware Labs has published a quick and dirty guide outlining the differences between routers and access points.

The TechZone have an article posted - titled Singing The WiFi Blues, which just discusses the health risks in saturating an entire city with WiFi.

If you don't already know how to make an AT test PSU then you should have a read of this article on Modders-inc, which explains how to do it.

Bytesector have coverage posted on the Xbox 360 Spring Showcase Event.

Handy guide posted on Digital Grabber on how to easily access your Data Remotely, check it out here.

Also on Digital Grabber - a guide posted on how to crack passwords, definately a useful article.

Quite a few people sent in this article on how scientists build high-energy batteries using biological viruses...uhuh, right. Scary.

Make your own acrylic fan grills! Gideon Tech have a guide to do this here.

From Hexus: Chuck, the man behind the HDR+AA patch for Oblivion with X1k cards, speaks exclusively to HEXUS about developing the patch, amongst other things.... Full article here.

Pentarsys have a article just posted on their site called, The State of 3D: Economics of 3D.

So, mobile phones can play Quake 3 now apparently, according to this article on Legit Reviews, all thanks to the GoForce 5500. Crazy stuff.



Case & Power Supply
Titan Robela TWC-A88 with Integrated Water Cooling on Hardware Zone.
Lian Li PC-60 II Plus on Overclocker Cafe.
ArrowMax PSF-500SP 500W Power Supply on Big Bruin.
Silverstone Temjin TJ08 Micro-ATX Tower Case on PC Perspective.
Seasonic Power Angel Power Usage Monitor on Bjorn 3D.

Cooling
Scythe Katana Cu on ap0calypse.
Dynatron A43 CPU Cooler on ThinkComputers.
Coolermaster Nanofusion Thermal paste on Rbmods.

Motherboards
ASUS P5WD2-E Premium 975X Intel LGA775 board on Pro-Clockers.
MSI K8NGM2-FID S939 AMD with GeForce 6150 + nForce 430 on Hardware Zone.

Graphics Cards
Gigabyte's GeForce 7 Series Roundup on Tweak Town.
Sapphire Radeon X1300Pro on Bytesector.

Memory & Storage
OCZ PC2-6400 Platinum Enhanced Latency XTC DDR2 Memory Kit on Adrian's Rojak Pot.
OCZ EB PC4000 2GB Platinum Memory on Kit XYZ Computing.
Mirra Personal Server M-250 on Club Overclocker
Vizo Shuttle 2.5" HDD Enclosure on ThinkComputers.org.

Audio & Video
Loud Speaker Kit F5s on Dans Data
Samsung LE32T51BX 32" HD Ready LCD on UK Gamer.
Philips 230WP7NS 23" WUXGA LCD Widescreen Monitor on Bonafide Review.
Samsung YP-U1Q MP3 Player on Trusted Reviews.

Laptops
Fujitsu Siemens Amilo L1310G on Trusted Reviews.
Alienware m7700 on Driver Heaven.

Miscellaneous
Razer Copperhead Gaming Mouse on Extreme MHz.
X-Micro WLAN 11g Combo WLAN Finder & Adapter on Got Apex.
Kororaa Xgl LiveCD v0.2 on Phoronix
OutRun 2006: Coast 2 Coast on Trusted Reviews.
Star Wars: Empire at War on Byte Sector.




OCAU Podcast, Episode 2! (8 Comments) (link)
Sunday, 9-April-2006 23:57:26 (GMT +10) - by Agg


We've made another one. Grab it here (33mins, 10MB). Episode one is here (30mins, 9MB), if you missed it last week. Comments on the podcast in this thread, thanks!



Digit-Life checked out the recent AGP cards, which are probably the last major releases on that bus. GeCube RADEON X1300 256MB AGP, Sapphire RADEON X1300 256MB AGP, Sapphire RADEON X1600 PRO 256MB AGP, Leadtek WinFast A7800 GS TDH (GeForce 7800 GS) 256MB AGP.

A few interviews today: the CEO of Patriot Memory on XbitLabs, a Senior Product Manager at ATI on DriverHeaven and the CEO of Sapphire on Hexus.

HWSecrets have specs and info on all Pentium D CPUs and all Core Duo CPUs.

MadShrimps spent some time overclocking a Dothan 780 with liquid nitrogen. At -190°C you might be surprised how high you can overclock a CPU.

Bjorn3D built a silent media PC. It has to be easy to use for both me and my wife. She's no idiot by any means (on the contrary), but she doesn't see any reason to have to fight the box when all she wants to do is watch TV or a DVD. I tend to agree.

AgentVX spotted this supercomputer named Baker. It will run approximately 24,000 2.6 Ghz quad-core Opteron processors made by Advanced Micro Devices Inc. The nodes will be housed in 187 liquid-cooled cabinets. Won't Ma Baker be proud!

SilentPCReview wonder which AMD and Intel processors offer the best power efficiency. In the process, we examined more than 15 processors from half a dozen family groups on six different test platforms, and took a stream of power measurements that kept our heads spinning for a couple of weeks.

TrustedReviews report from Semicon Europe about AMD's Socket AM2 and the 65nm manufacturing process. Semicon itself was completely boring, as all of the stalls were promoting the actual nuts and bolts that piece the semiconductor manufacturing industry together.

BonaFideReviews have an editorial musing about a possible Microsoft buyout of Sony. Will the next Playstation you purchase post-PS3 run a Microsoft operating system and have backwards compatibility for PS1 PS2 PS3 Xbox and Xbox360?

XbitLabs looked at three new cases from ASUS. ASUS never tried to experiment like that anymore, but focused on production of midrange cases, and this is in fact what the company's current model range is like: mainstream PC cases priced a little higher than others because they sport an ASUS logo.

From Pugsley_21: Here's a good timewaster and a good way to kill some stress. Basically you just shoot road signs with a shotgun, its called Redneck Roadsign Shooting Game. Hmm, think I'll stick to Trackmania. :)




Saturday Afternoon Reviews (1 Comments) (link)
Saturday, 8-April-2006 16:04:44 (GMT +10) - by Agg


Cooling:
Evercool Turbo2 GPU cooler on TechPowerUp.
Spire Diamondcool II CPU cooler on TechTastic.
Corsair Nautilus 500 watercooling kit on LegionHW.
Scythe Ninja Plus CPU cooler on Guru3D.
Thermalright V-1 Ultra GPU cooler on Phoronix.
Aqua Computer XT H20 Kit on SystemCooling.

Video Cards:
Gigabyte Radeon X1300 Pro Silent-Pipe II on LegionHW.
Albatron 7300GS on OCOnline.

Storage:
Kingston U3 DataTraveler flash drive on LegitReviews.
Lite-on EZ Dub external CD/DVD burner on Techwarelabs.

Input Etc:
Mouse Grips v2.0 nonslip stickers on TechFear.
XGene Imperial 2.4GHz Wireless Keyboard + Trackball on Virtual-Hideout.

Memory:
GEIL Ultra-X nForce4 Edition PC3200 400MHz CL2 5-2-2 on ThinkComputers.
Corsair TWIN2X1024-8500 on Hexus.

Motherboards:
ASUS N4L-VM DH i945GM Core Duo Yonah board on PCPerspective.
Sapphire PURE CrossFire PC-A9RD580 S939 board on Tweaktown.
ASRock 939Dual-SATA2 ULi-based A64 board on HWZone.
ASUS P5N32-SLI Deluxe LGA775 SLI board on ViperLair.

Portable & Mini:
Averatec 1050 ultra-portable laptop on BIOSMag.
Sony VAIO VGN-BX197XP laptop on BIOSMag.

Audio / Visual:
Sling Media Slingbox media encoder on WindowsAtoZ.
Sling Media Slingbox media encoder on Ecoustics.
Altec Lansing iM716 earphones on TheTechLounge.
Samsung 940B0 19 Inch LCD Display on XYZComputing.
Dell UltraSharp 1707FP LCD Monitor on Ecoustics.

Cases:
XKROMA XK-BK1 chrome case on RBMods.
Thermaltake Matrix VX on 3DGameMan.

Misc:
Diskeeper defrag software on PCMech.
Sony Cybershot DSC-H2 digicam on HWZone.




Shave for a Cure (0 Comments) (link)
Friday, 7-April-2006 19:56:35 (GMT +10) - by Agg


Once again there are some OCAU people willing to shave their heads to raise money for leukaemia research, as part of the "World's Greatest Shave" campaign run by the Leukaemia Foundation. Details in this thread!




Free Games and Demos (13 Comments) (link)
Friday, 7-April-2006 15:58:27 (GMT +10) - by Agg


If you're having a slow Friday afternoon, pass the time with some of these demos and free games:

Juppy sent word about FuturePinball. It's a freebie pinball sim with inbuilt table designer. Programmer is actually an Aussie (WA I think). On a decent machine it plays damn nicely.... realtime 3d with OpenGL, camera follows the ball etc (if you want it to). Theres about 70 tables for it so far I think ... more coming every week from the community, they are a mix of reallife table designs and unique new designs, all free so far, some are crap whilst other are awesome.

Iroquois told me about Trackmania Nations ESWC, a free racing game where you can design tracks etc. It's a high octane, free wheeling game of insanity where players can construct totally original tracks with gigantic jumps, loops and high-speed corners. Apparently it's like a modern version of Stunts or Stunt Car Racer if you remember those classics.

From bees_man we have BATracer, a free browser-based Formula One racing and management simulator game. More info in this forum thread.

From Warpy, Phosphor, an in-browser First Person Shooter in Shockwave. Both single player (with AI-controlled bots) and multiplayer (using peer-to-peer Internet or LAN connections) game modes are supported. Our goal is to create a gaming experience similar to classic FPS games like Unreal Tournament and Quake 3, but with the accessibility of a webgame. More info in this thread. Wow, for an in-browser game, that's freakin' amazing.

There's a demo of the new Tomb Raider Legend game out, get it here on AusGamers. For installer size reasons on this demo version, the 'Next Generation' graphics option has been de-activated. However please check back after the 7th April 2006 for an update which will unlock all the high-end content and fully optimise the demo to that of the full retail version. Discussion in this thread.

Apparently you can get a free 12-month Planetside subscription now, according to this thread.

While we're here, AusGamers have new downloadable demos of Strategic Command 2 Blitzkrieg, Hearts of Iron 2, Rise of Nations: Rise of Legends, GTI Racing and Blazing Angels: Squadrons of WW2.

Enjoy! For more, check out our Games Forum.



Videocard:
Connect3D X1800 GTO 256MB on 3dGameMan
GeForce 7900 GTX Graphics Card on XbitLabs
GeCube Radeon X1800 GTO 256MB (PCIe) on Hardware Zone
BFG 7600GT OC SLI on Neoseeker

Storage:
Vizo Opera portable HDD enclosure on A1 Electronics
Imation Micro Hard Drive on XbitLabs
Plextor PX-750UF External Multi-Format DVD Burner on XbitLabs
Gigabyte iRAM Solid State Storage on PcPer

Case:
Lian Li PC-S80 Case on AMD Review
Aspire X-Discovery Midtower Case on OCIA
Silverstone TJ08 mATX Case on Pro-Clockers

Portable:
Dell Axim X51v on UKGamer
Kingwin Sound Xtream Multimedia Player on Virtual-Hideout

Cooling:
3D Galaxy LCS Cooler on Techware Labs
Thermaltake Silent Boost RX K8 Heatsink on TechTastic.ca

Powersupply:
Aero-Cool ZerodBA 620w power supply on ClubOC.net
Silentmaxx Fanless 400W Power Supply on SilentPCReview
AeroCool ZeroDBA PSU on Neoseeker

Misc:
Kingwin KF-25 Data Dock on ClubOC
Nikon Coolpix S5 on Trusted Reviews
Alienware Aurora 7500 on Trusted Reviews
G.Skill F2-4200PHU2-1GBNT Memory Kit on Tech Powerup
Logitech Wireless Music System on Techgage
Acer AL1732 Prestige on Phoronix

Motherboard:
AOpen i915Ga-HFS ATX Pentium M Motherboard on SilentPCReview
Gigabyte K8U-939 on Driver Heaven
ABIT AN8 32X SLI Motherboard on Legit Reviews




Thursday Afternoon (1 Comments) (link)
Thursday, 6-April-2006 13:17:00 (GMT +10) - by Agg


There's been a lot of feedback (mostly positive) about the OCAU Podcast, but so far nobody has sent in any questions to be answered on the next one. It'd be cool if you could record yourself asking one and email the .wav file, but otherwise just ask in email. :)

However a zillion people sent word that WinXP now works on Intel-based Macs. No, this isn't the hack that we heard about a couple of weeks ago, this is an Apple-provided (but still Beta) solution. Seems like a great way to expand their market share (and the stockmarket agrees) - makes you wonder why they waited so long to do it. Anyway, more info here. Discuss in our Apple forum here.

HotHardware have a sneak peek at some fully buffered DIMMs from Kingston. As you can see, the AMB (Advanced Memory Buffer) chip is situated right in the middle of the PCB, flanked by some Infineon DDR2 memory chips.

ArsTechnica looked in some detail at Intel's new Core CPU architecture. Hannibal takes an in-depth look at what makes Core tick, and he explains how the most powerful x86 processor to date works its magic.

I found this case mod collection in my wanderings.. some interesting ideas there. Check out our own PC Database and Modding Worklogs forum too.

Interesting Forum Threads:
Newbie going to the dark side, first overclock in Newbie Lounge.
LCD screens and gaming in Overclocking & Hardware.
Please secure your mail servers! in Networking & Internet.
Win server DHCP servers on network x 2 in Networking & Internet.
Why not dual-core GPU? in Video Cards.
It's here! Almost... :) in Audio Visual.
Customising a talking Care Bear in Other Toys.
Rockets Away! in Other Toys.
How to change oil.. Man vs Woman in The Pub.
Horrific F1 accident with pics (humour) in The Pub.
Can someone explain this magic trick? in The Pub.




Wednesday Night Reviews (0 Comments) (link)
Wednesday, 5-April-2006 23:19:29 (GMT +10) - by Amran


Back from Melbourne, only 340ish days until the next GP :-) I'll just pass the time reading these reviews.

CPU:
Intel Pentium Processor 965 Extreme Edition Review at Legit Reviews.

Motherboard:
ASRock 939SLI32-eSATA2 at Phoronix.
ABIT AN8-32X nForce4 SLI x16 at PC Stats.
Albatron K8SLI Hardware Secrets.
EPoX 9NPA+ SLI Socket 939 at OC Inside.
Foxconn Winfast NFPIK8AA at Ninjalane.
Sapphire PURE CrossFire A9RD580 at Sudhian.

Graphics:
nVidia 7900 GT Card Roundup at Trusted Reveiws.
ASUS En7600GT/2DHT at OC Workbench.
MSI RX1600Pro-TD256E at Virtual-Hideout.
X850XT iceQ II Turbo at Techware Labs.
Diamond Viper X800GTO at Tech Powerup.
Asus EN7800GT TOP Silent at Hot Hardware.
BFG Tech 7900GT 256MB at GideonTech.
XFX GeForce 7800 GS AGP at PC Authority.
Connect3D X1900XT 512MB at 3D Gameman. (Video Review)

Cooling:
Scythe S-Flex 120mm Quiet Fans at Pro Clockers.
Spire VertiCool II at Viperlair.
Thermaltake HR-05 Chipset Cooler at Legion Hardware.
Swiftech Mcx775 HSF at R&B.
Tide Water Plus PC Modding Malaysia.

Software:
The Elder Scrolls IV: Oblivion at Trusted Reveiws.

Memory:
Patriot PDC2G3500LLK 2GB PC3500 Dual Channel at Bjorn3D.

Case:
Three-way ATX Shootout at Guru3d.

Misc:
Opera Portable HDD Enclosure & Multimedia Player at OC Workbench.
OQO model 01+ Tablet Edition at Trusted Reviews.
Kodak EASYSHARE V570 Digital Camera at Hardware Zone.
MX5000 Wireless Desktop Set at The Moditory.
HighSpeedPC Tech Station at The Tech Lounge.



Thanks to everyone who sent word that Australia will have a federal Do Not Call register in 2007. Once a telephone number is registered, it will be prohibited for telemarketers to contact that number.

Eroda spotted this blog page about camera tossing. Here's a nice example.

There's a lot of talk about online movie stores lately, but it seems Australia won't get them until the end of the year. "The infrastructure is just not set up here," says Universal Pictures Australasia managing director Liz Nicholson.

Digital radio won't be here for a while yet either, thanks Sniper. Senator Coonan, who said last October it would take two or three years to roll out digital radio services, yesterday set down a launch date of January 1, 2009, for services in Australian capital cities.

ExtremeTech have a 17-way graphics shootout with a focus on gaming. We'll show you benchmarks with 3DMark06 and a sample of games that are representative of the graphics-card-stressors of the day. We'll show you which models deliver high fames-per-second per dollar, and just plain high frames-per-second.

Designtechnica consider their top 6 web browsers, being Firefox, Camino, Netscape, IE, Safari and Opera.

TweakGuides have their Oblivion guide published, for the latest installment in the Elder Scrolls series. Well Oblivion has finally been released, and I can genuinely vouch for the fact that it is not only a worthy successor to Morrowind; it ups the stakes to a whole new level. Bit-Tech have a graphics & gaming guide for it also.

Timbot pointed out that HardOCP have their thoughts on PhysX published, with something of a rebuttal on GDHardware.

LaptopGamers cover how to make WinXP shut down faster. When you choose to shutdown your computer, Windows will automatically wait a little bit before it kills applications that are open. Here we will show you how to reduce the wait time.

AMD is shipping chips from its new Fab 36 in Dresden, Germany. The company said it has producing 65 nanometer test chips in parallel with 90 nanometer chips out of the new fab, and the fab is on track to begin 65 nanometer production shipments in the second half of the year.

PenStarSys meanwhile consider Intel and 45nm. As tech enthusiasts we tend to be quite optimistic about how a certain product family or process node is going, because we simply want to see these new products and lines come forward as soon as possible so we can see the results and buy these new products.

Eroda noticed these very large USB pen drives, up to to 64GB in size. Slightly larger than a stick of gum, this unit packs a phenomenal amount of solid state storage into a small form factor.

IBM claim that processors with massive numbers of cores may not be that far away. The blueprint showed a central PowerPC that was complemented by 1024 (that is one thousand and twenty four) 8-bit "processing elements" on a single and - according to IBM - low-cost die.

Bytesector went to the launch of Tourist Trophy for PS2, a motorcycle-racing game from the makers of Gran Turismo.

HWZone checked out the partnership between AMD and Ferrari. For more than 3 years, AMD has been the official sponsor and technology partner for the world's fastest red racing group: the Scuderia Ferrari team. Hmm, someone hasn't been watching F1 lately.




Wednesday Morning Reviews (0 Comments) (link)
Wednesday, 5-April-2006 11:41:16 (GMT +10) - by Agg


Audio / Visual:
Leadtek NOVO TV and Walkie TV tuners on Tech-Mods.
Dell W3706MC 37-inch LCD TV on BIOSMag.
SilverStone Ensemble EB01 digital to analog converter on LegionHW.
Xitel HiFi-Link for iPod on FutureLooks.
ADS Tech Instant TV for Notebooks on TheTechZone.
AVerMedia AVerTVHD MCE A180 HDTV PCI TV Tuner on BigBruin.
Freecom DVB-T USB Stick tuner on DVHardware.
i-PHONO Plus Bluetooth stereo headphone on BlueTomorrow.

Cases:
NZXT Lexa futuristic case on PCPerspective.
Thermaltake Armor VA8000BWS on Bjorn3D.
Antec Take 4 4RU Rackmount on XYZComputing.
Antec Studio Take 4 rackmount on Phoronix.
Thermaltake Matrix VX desktop mid-tower on A1-Electronics.

Mini & Portable:
Alienware Area-51 M5500 notebook on HotHardware.
SilverStone Sugo Pack SFF carry-bag on Phoronix.
Apple MacBook Pro on BIOSMag.

Memory:
PC2-6400 DDR2 2GB Duel Super Talent vs Crucial on MadShrimps.
Geil Value Dual Channel 1GB on XSReviews.
GeIL 2GB PC2-8000 Value on Techgage.
OCZ PC-4000 2GB Platinum XTC on OCIA.
OCZ PC4000 GXXTC 2GB on TechMods.



A-DATA, who you may remember from this review, have a new "Vitesta Extreme Edition" memory series, in DDR and DDR2. The Extreme Edition series therefore includes DDR400+, DDR500+ and DDR553+ modules, with timing rates of CL2 for the DDR400+ module and CL3 for the DDR500+ and DDR533+ modules. More info here.

Altech Computers are running another of their LuckyDraw promotions, this time with Sony products. Basically, buy a Sony product from an Altech reseller, send in your info and you could win. 1st Prize - Sony DSCH1 5.1 MegaPixel Digital Camera + MSXM512S 512MB Sony Memory Stick + $50 Coles/Myer Gift Voucher. More info and entry details here.

Australia's Attorney-General reports on some reforms to the Telecommunications (Interception) Act 1979. The changes ensure the interception regime keeps pace with technological developments. More info in this 123KB PDF.

Thermaltake have a new dedicated PSU for SLI video cards. Power Express 250W effectively assists the consumers to retain the original power supply they have been using before the upgrade of their video cards. The sole purpose of the Power Express is to provide as high as 21A of +12V for the video cards. More info here. They also have a dual-VGA watercooling system that occupies a PCI slot, more info here.

SETI@home sent out a press-release from Sir Arthur C. Clarke explaining that they need some financial help to continue with their work. Following the "dot com" bust, the commercial support that kept SETI@home running has largely disappeared. Because of this loss of support, we can no longer count on matching funds from the University of California. We are rapidly approaching the end of what funds we do have. More info here.




Make good use of old PC bits! (7 Comments) (link)
Tuesday, 4-April-2006 14:37:13 (GMT +10) - by Agg


From Vegetarianator: If anyone in Sydney has some older PC hardware (or software) that they no longer have need for, and would like to see this used for a meaningful purpose instead of landfill, then come view my thread as I'm building and donating systems to low income families and community centres.




Tuesday Afternoon (8 Comments) (link)
Tuesday, 4-April-2006 14:24:27 (GMT +10) - by Agg


Gah, fridge compressor died, tons of food defrosted..

A paralysed Japanese man aims to climb a mountain using robotic legs soon. Hmm, the headlines are a little deceptive, he will be carried by an able-bodied climber, and the robotic legs help THAT climber to bear the extra weight. But still, robotic legs, what's not to like? Pics of them in action here, thanks MacGillaZ.

Microsoft have made their Virtual Server R2 product free. Microsoft also released add-ins to allow current and past enterprise and standard versions of both Red Hat Linux and Novell's SUSE Linux to run on top of Virtual Server as guest operating systems. The company will also offer 24-hour technical support for Linux applications and guest operating systems running on Virtual Server.

A few people sent in this funny Ask A Ninja site. Soc meanwhile spotted DamnInteresting.com, a blog full of damn interesting stuff. :)

More proof that beer is good for you! Well, if you're a cow. Moo.

Richard Branson is having fun with his space airline. Virgin Galactic will offer spaceflights for $200,000, and says it has already received more than 150 firm reservations and taken $13.1 million in deposits.

This MMORPG stuff is getting creepy now, with one player crucified online for being a poor sport. Cynewulf - in real life a 27-year-old electrical engineer from Flint, Michigan - has been electronically nailed to a cross where he will hang "for a full seven days on full public display", the site says.

Speaking of creepy, here's a Blair Witch Mod, where a PC is inserted into a human body cast.. thanks Johnny_Utah.

PCMech have a Windows to Ubuntu transition guide. Alright, so you have successfully installed Ubuntu Linux, but now what do you do with it?

SharkyExtreme have an interview with Joni Clark from Seagate who answers questions about the recent merger with Maxtor, the future of notebook drives, the potential for 10K Seagate enthusiast SATA drives, Seagate's role in perpendicular technology, and much more!

Dan has yet more letters. Huge cheap monitors (with a catch), fraudulent memory cards, another storage hopeful, the Ad of Doom, and plutonium cymbals.

From Deltoid, a OCAU BF2 Team update: OCAU had a match against Team Games Village last night. TGV forfeited the match. As a result OCAU have gone from #97 on the ladder to #77. Challenging for #54 position next Sunday, Monday or Tuesday. OCAU BF2 GA Ladder Team forum here.




Monday Night Reviews (1 Comments) (link)
Monday, 3-April-2006 21:03:21 (GMT +10) - by Agg


Seems very quiet out there.. here's some reviews though:

Cooling:
Thermaltake Blue Orb II CPU cooler on OCrCafe.
Cooler Master CoolDrive Lite HDD Cooler.
Thermaltake Silent Boost RX K8 CPU cooler on Pro-Clockers.

Storage:
Buffalo Technology LinkStation Multimedia Home Server 300GB on TrustedReviews.
Samsung WriteMaster SH-W163 SATA DVD Burner on TrustedReviews.
Seagate Technologies 8 GB CF Photo Storage Micro HDD on FutureLooks.
Seagate 160GB Momentus 5400.3 laptop HDD on RojakPot.

Memory:
Kingston HyperX PC2-7200 on Bytesector.
Corsair 2048MB-TWINX4000PTM on PCModdingMy.

Input Etc:
Logitech G5 and G7 Mice on NGOHQ.
Thermaltake Tai Chi M Notebook Cooler and Tai Chi M2 Mousepad on OCrCafe.
EYEPad Mousepads on Monster-Hardware.

Video Cards:
ATI FireGL V7350 workstation card on TrustedReviews.
MSI NX7900GT on TBreak.

Audio / Visual:
Samsung YP-Z5 4GB mp3 player on EverythingUSB.
LCD Monitor Showdown (HP F2105, LG L1981Q and Gateway FPD2185) (video review) on DigitalTrends.



The ocau.com domain was broken for a little while there, due to a tricky config problem on the new servers. It's fixed now, so QuickLinks etc will be working again.



A podcast is kinda like a radio show on the internet. Sciby and I have been experimenting with making one for OCAU. You can find it in this thread, where you can also leave comments and suggestions - thanks!




Daylight Savings (5 Comments) (link)
Sunday, 2-April-2006 02:26:08 (GMT +10) - by Agg


Remember, New South Wales, Victoria, Australian Capital Territory, South Australia and Tasmania should have all wound their clocks back at 3am, back to 2am, on Saturday night. The timestamp at the bottom of this page should be correct for Sydney time - it's changed automatically. However, you may need to change your timezone in UserCP to get the forums displaying the correct time, because the forum software can sometimes be a bit odd about DST changes. Just fiddle with the settings until it's correct. :) For me in Sydney, that's GMT+10, "Automatically detect DST settings".




Saturday Afternoon (0 Comments) (link)
Saturday, 1-April-2006 17:07:37 (GMT +10) - by Agg


So, just to confirm, the post from about midnight last night was our annual April Fools joke. :) You can check out our previous ones here. There's a few other ones around the net today, if you find any good ones, add them to this thread. Remember the rest of the world is only just entering April 1st, so keep your grain of salt handy. :)

NASA got some cool footage of the recent total solar eclipse that wasn't visible from Australia.

MadShrimps took a tour of HEC's factory in China. HEC/Compucase is a major OEM power supply and case manufacturer.

Phoronix looked at the latest update to Quake 4. At Phoronix, we have analyzed the performance abilities of this latest Quake 4 point release under Linux with a Pentium D processor and GeForce 7 solution.

Modders-Inc show you how to bend acrylic for your PC mod. To get a straight bend you want to line up your wax line to the center of the element. Within a few minutes the acrylic should get soft and bendable.

Cnet have an article on how and why to buy a digital TV. When making big-ticket purchases such as a new TV, it's important to never rely solely on the stores' sales assistants to provide accurate buying directions.

SharkyExtreme updated their high-end buyer's guide. In case the Antec 550W TruePower 2.0 is not available, or for whatever reason is not a preferred brand, another prime choice is the Enermax 550W EPS12V (EG651P-VE) power supply.

James spotted a 345HP barbeque on Gizmag. With the power and torque of the 5.7-liter V-8 HEMI engine, the grill can cook 240 HEMI dogs in three minutes and is covered by more than 330 square feet of steel.

TheTechZone cover the history of portable storage. So now virtually nothing more is needed for this drive to work if you have a computer with a standard USB port.

Designtechnica report on the state of digital music in 2006. In the week between Christmas 2005 and New Year's, 20 million tracks were downloaded in America, and another million in Britain.

XbitLabs compared 16 watercooling systems, from Asetek, Aucma, CoolerMaster, Gigabyte, Promodz, Thermaltake, Titan, Zalman and 3RSystem.

Meanwhile, TrustedReviews have a roundup of iPod speakers and ARP have updated their desktop graphics cards comparison.

Matsushita are getting closer to having a Blu-ray DVD player, thanks IntelInside. Supporters of the Blu-ray format, led by Matsushita and Sony Corp, are competing against a rival HD DVD format pushed by Toshiba Corp and NEC Corp.




Saturday Afternoon Reviews (0 Comments) (link)
Saturday, 1-April-2006 14:25:11 (GMT +10) - by Agg


Storage & Memory:
Patriot PDC22G8000+XBLK PC2-8000 DDR2 on PCStats.
Seagate Barracuda 7200.9 500GB HDD on LegionHW.

Cases:
Kingwin Supernova HTPC case on Virtual-Hideout.
Antec P150 tower on Pro-Clockers.

Video Cards:
MSI NX7900GT-T2D256E (GeForce 7900 GT 256MB) on HWZone.
Asus EAX1600XT Silent on Sudhian.

Audio / Visual:
Viewsonic VX924 LCD monitor on NordicHW.
Auzentech HDA X-Plosion 7.1 DTS Connect sound card on ExtremeOC.
AVerMedia AVerTV Purity 3D MCE 500 Dual Tuner Card on BigBruin.
Panasonic RP-HJE70 earphones on HWZone.
Sceptre X37SV-Naga Widescreen LCD/HDTV on HotHardware.
Samsung SyncMaster 244T TFT monitor on TrustedReviews.

Software:
Heroes of the Pacific PC game on BIOSMag.
Nexenta Alpha 4 Elatte Solaris + Debian+Ubuntu distro on Phoronix.
The Godfather game on TrustedReviews.

Printers & Cameras:
HP DeskJet 460wbt printer on TrustedReviews.
Olympus E-500 DSLR camera on TrustedReviews.
HP Photosmart 8750 Professional printer on WindowsAtoZ.

Misc:
Corepad Victory & Deskpad XXXL Mousepads on Gruntville.
Koncept Z-Bar LED Desk Lamp on XYZComputing.
Spire Zoom Laptop Backpack on ThinkComputers.
Thernaltake BigWater SE + Volcano 4005 watercooling on Phoronix.
ASUS A8R32-MVP CrossFire S939 motherboard on NeoSeeker.
XG Duro 900W PSU on HWSecrets.




Back to the Good Old Days! (278 Comments) (link)
Saturday, 1-April-2006 00:05:23 (GMT +10) - by Agg


I'm pleased to announce a new policy for OCAU's Forums. We often hear feedback from our members that OCAU was better in the "good old days" and after lengthy discussion the Admins and I have formulated a plan to return us to that former glory. This is quite a bold move but I think you'll agree the end results will be worth it.

OCAU's "Back to the Good Old Days" policy has several facets. Firstly, several non-core forums will be deleted:
The trading forums: Because they're frankly more trouble than they're worth, causing the majority of complaints and reported posts.
Current Events: This forum was a mistake from the start and has turned into a breeding ground for intolerance and stupidity.
The Pub: This forum seems unlikely to ever contain anything other than rubbish, and attracts the wrong sort of people to OCAU.
Motoring: Because it's turned into a "second Pub" and again attracts the wrong type of members to the forum.
A further step, that I know many people won't understand at first, concerns new members. It's a tough reality, but we have realised that new members are the cause of many of the changes to OCAU over the years. To control this issue:
OCAU's Forums will no longer allow new members to sign up.
Forum accounts less than two years old will be deleted.
I realise that some of these actions seem harsh, but you'll agree that something had to be done. I believe this policy will return OCAU to its former glory and make it a more enjoyable experience for those of us who will still have access to it. For those who don't, I hope you enjoy your time at Atomic.

These changes will be enacted one week from today's date. Thanks for your patience during the transitional period.

Update: APRIL FOOLS! hehe :)



---
Advertisement:


All original content copyright James Rolfe.
All rights reserved. No reproduction allowed without written permission.
Interested in advertising on OCAU? Contact us for info.