April 2007
OCAU Job Search (0 Comments) (link)
Monday, 30-April-2007 15:12:07 (GMT +10) - by Agg


Just a reminder that we have an OCAU Job Search sub-site now. So if you're staring at your PC on this Monday afternoon wishing you had a better job, get searching! Discussion in this thread in our Careers, Education and Finance forum.



Blue Gene/L, the most powerful supercomputer in the world has simulated half a mouse brain. The scientists ran a "cortical simulator" that was as big and as complex as half of a mouse brain on the BlueGene L supercomputer. In other smaller simulations the researchers say they have seen characteristics of thought patterns observed in real mouse brains.

Ben sent in a warning about a Paypal phishing exploit taking advantage of Google adsense. The Paypal Phishers are now exploiting Google Adsense forceful redirects to try to separate us from our hard earned money. Dragos Lungu has a blog on it: PayPal Phishing exploiting Google Adsense Redirect. As always, never click on a link in an email purporting to be from Paypal. Always enter paypal.com.au directly into your address bar.

Check out this this unusual computer chair which supposedly reduces fatigue, and as the title puts it, your bank balance. Today, we have a stylish new sci-fi addition to the wacky computer desk/chair club. The forthcoming [hopefully] G-Tech Neber chair is currently on show in Korea. It's very sleek and probably very expensive but just look at all the chrome and clock-like structure with more than a passing nod to the Matrix movies - just without the 8-inch spike in the base of the skull.

Marc sent in this work log of a guy who is trying to make his PC bulletproof and then test the modification by shooting bullets at it. Just like the title says, this case will be bulletproof. Literally. When we are done with this case, we are going to shoot it with a variety of firearms, from a .22 LR to a .50 cal muzzle loader with all kinds of things in between. No, I am not kidding. Yes, we are planning to video the event.

Some ashes of the actor James Doohan (aka Scotty from Star Trek) have been shot into space two years after his death. Nearly two years after his death, the man who made "beam me up" a household phrase has finally been beamed up himself. James Doohan, famous for his role as Scotty on "Star Trek," is one of about two hundred people whose ashes blasted off from New Mexico's Spaceport America on Saturday.

Mobilised have asked the question Is the OLPC doomed? because of corporate greed. What began as an ambitious, but admirably noble dream of providing the world's underprivileged children an opportunity for the future is rapidly looking less like a charity and more like a sting operation as the project threatens to move from its present state of farce to a mechanism for exporting western corporate hegemony to the developing world.

Google's purchase of Doubleclick could cause internal conflicts in the company. Internal conflicts often happen in finance, when investment banks find themselves advising both sides in a merger. And it happens in agribusiness, energy and other industries where giant companies with fingers in many pies are both buyers and sellers of the same commodity. But it is particularly common in technology and media.

Nintendo have recorded monster profits and have promised ramped up production of the Wii. Over five months after launch, the Nintendo Wii is still hard to find. Nintendo president Satoru Iwata thinks that's a problem, saying that the situation is "abnormal," according to Forbes. "We must do our best to fix this abnormal lack of stock," said Iwata to a group of reporters. "We have not been able to properly foresee demand."

Apple has had an 88% increase in profits, it seems Microsoft isn't the only one doing well at the moment. Thanks Matt for the link. Apple said its profits in the quarter ending March 31 amounted to $US770 million ($A926.65 million), or 87 cents a share, as compared to $US410 million ($A493.41 million), or 47 cents per share, in the same quarter in 2006.

Damn Interesting have posted an article about Stockholm Syndrome including a couple of interesting real life stories of it. There are few things as thrilling as the story of a dramatic escape, especially one with a happy ending. It is understandable, therefore, that the public is often disappointed and critical when a kidnapping victim found alive is revealed to have had seemingly enough contact with the outside world to make such an escape. Stories of survival can feel ruined when there turns out to have been what looks like an 'easy way out'.



Core PC Components:
Crucial PC5300 2x1GB at EclipseOC.
NVIDIA GeForce 8500GT 256MB at Phoronix.
ABIT IN9 32X-MAX 680i-SLI Motherboard at Virtual-Hideout.
SAPPHIRE HDMI PI-AM2RS690MHD Motherboard at Virtual-Hideout.
Team Group Xtreem Dark at RealWorldBenchmarks.
XFX GeForce 8600 GTS and GT at PCPer.
XFX 680i LT SLI Motherboard at Motherboards.org.
Intel Core 2 Duo E6400 Linux at Phoronix.

Cases and Cooling:
Moneual MonCaso 932P Platinum HTPC Enclosure at Virtual-Hideout.
XClio 188 Super Tower at OverclockersOnline.
NZXT Adamas Classic Series ATX Case at Madshrimps.
Data-Tec DS350 HDD Enclosure at Motherboards.org.

Multimedia:
Sony Cyber-shot DSC-W90 at DigitalTrends.

Other/Peripherals:
Cyber Snipa SWAT Laser Gaming Mouse at RBMods.
Razer Diamondback Mouse at 3DGameMan.
Theatre of War PC Review at Tweaktown.
The Tornado: PC to PC Data Transfer Device at DigitalReviews.



A few random pics - thanks to everyone who sent these in!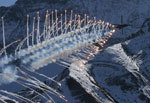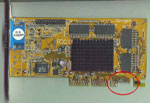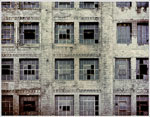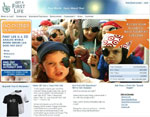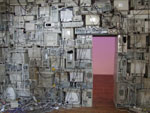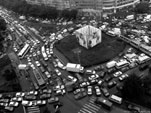 LegitReviews checked out what DX10 will look like with some great in game comparison shots. Roll over the image to get the DX10 version. By now, we've all been beaten to death with DirectX this, DirectX that. What does it all mean??! Today we try to shed a bit of light into the subject of DirectX 10 vs. DirectX 9 and what impact gamers will see. This is by no means a comprehensive article, we're just touching on a few of the highlights and showing some screen shots from Age of Conan.

Tweaktown have posted an article about the possible demise of AMD. There is no doubt that AMD is in a world of "woe" as Greg put it so delicately. It is in big trouble financially and you would think that it is in almost too deep to come back. Stranger things have happened but it really does not look good for AMD at the moment. There's discussion of this article here in our AMD Hardware forum.

Some schools in America have banned MP3 players to prevent them being used as cheating devices. Shana Kemp, spokeswoman for the National Association of Secondary School Principals, said she does not have hard statistics on the phenomenon but said it is not unusual for schools to ban digital media players. "I think it is becoming a national trend," she said. "We hope that each district will have a policy in place for technology — it keeps a lot of the problems down."

Hardwaresecrets have posted some pictures of DDR3 memory modules. We took a walk on Silicon Valley today and we could see what's new at Super Talent. They showed us two working DDR3 memory modules (not just dummy samples) with 512 MB each. Let's take a look on what they got.

One of the guys from the Chaser questioned Jimmy Wales at a press confrence for part of their show. Given Wales's widely publicised goal of giving "every single person on the planet free access to the sum of all human knowledge", Hansen evidently thought Wales would be a prime candidate for The Chaser's "Mr Ten Questions" segment.

Bjorn3D have posted an article about some ways to backup. But there exists a whole world of people oblivious to the idea that their data can one day disappear, never to been seen or heard from again. This is what I intend to focus on today, good backup habits and how to save your data.

TechwareLabs have posted a guide to Wireless networking in Vista. The majority of mobile computer users require the ability to connect to the internet with ease. Windows Vista can often be frustrating due to its unfamiliarity and complexity. This guide will assist users with connecting to a wireless hotspot using Windows Vista and also shows users the similarities and differences between Windows XP and Windows Vista with regards to wireless connections.

Dansdata has posted some questions and answers. What will a 10,000RPM drive do for the performance of a desktop PC, and what do dimples on the blades do for the performance of a cooling fan?

Apparently Barbie is getting high tech after the release of a MP3 player style toy. Matt suggests that this might be a good birthday present for Agg. On Thursday, Mattel unveiled Barbie Girls, a doll-shaped MP3 player that turns into a live character at BarbieGirls.com, a website where girls can interact with each other in a manner reminiscent of Second Life, the virtual world for adults.




Discover Discovery (8 Comments) (link)
Saturday, 28-April-2007 15:44:18 (GMT +10) - by Agg


James sent in this interesting PowerPoint presentation showing the pre-launch preparations of the Space Shuttle Discovery. There's quite a few interesting things you don't see during the normal launch footage etc. Quite a lot of pics and only 2.9MB: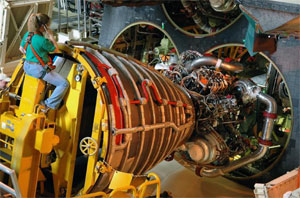 Click for the 2.9MB PPS!






Saturday Afternoon Reviews (0 Comments) (link)
Saturday, 28-April-2007 15:33:00 (GMT +10) - by Agg


Cooling:
Zalman Reserator 2 Fanless Liquid-Cooling System on XbitLabs.
Gigabyte 3D Rocket II CPU cooler on XbitLabs.
Noctua NC-U6 chipset cooler on OCClub.
Cooler Master GeminII CPU cooler on Modders-Inc.

Audio / Visual:
FreePulse Wireless Headphones on AByteApart.
Genius Gaming Headset on AByteApart.
HiVi Swans S200A Stereo System on XbitLabs.
Panasonic PT-AE1000U Hi-Def Projector on HWZone.
Ion DEC-180 Digital Media Center on PCMech.

Input Etc:
Logitech VX Revolution Mouse on AByteApart.
Logitech Cordless Desktop LX 710 Keyboard & Laser Mouse Set on BenchMarkReviews.
Ideazon Fragmat mousepad on TechPowerUp.
Logitech MX Revolution wireless laser mouse on BonaFideReviews.
SteelPad S7S Gaming Pad on TheTechZone.
Ideazon Zboard, MERC, Fang & Reaper on 3DGameMan.




Friday Night Reviews (10 Comments) (link)
Friday, 27-April-2007 23:30:00 (GMT +10) - by Agg


Case and Power Supply:
105-PSU Comparison!! on Matbe (in French, but graphs/pics tell the story.)
OCZ Technology ProXStream 1000W on BigBruin.
ULTRA GRID PC Case w/700W PSU on DriverHeaven.
Gigabyte 3D Aurora 570 case on HWLogic.
Thermaltake Soprano DX case on XYZComputing.
Antec P182 Performance One case on Bit-Tech.

Video Cards:
Foxconn 8600GTS-256 Geforce 8600GTS on PCStats.
GeForce 8500GT and 8600GT cards on OzHardware.
Zotac GeForce 8500 GT on TechPowerUp.
BFG Tech GeForce 8600GTS OC on TweakTown.

Memory and Storage:
Thecus N2100 Y.E.S. Box network storage on TechSpot.
Corsair Flash Voyager GT 8GB USB stick on TrustedReviews.
ICydock MB561 4-Bay External SATA Removable HDD Enclosure on ThinkComputers.
Crucial 2GB DDR2-1066 Ballistix Tracer memory on Techgage.
Micron PC5300 2x1gb ECC memory on EclipseOC.



Toe2toe wanted me to let you know about a poll that is being conducted on the forums about how many of you run your computers overclocked all the time. Last time I checked it the results were amazingly close. I think it would be interesting to answer the question of how many overclockers actually run their systems overclocked.

Matt spotted how Wikipedians are creating a static version of the Encyclopedia on CD aimed for use on computers without internet access. The goal is to extend Wikipedia to those with limited or no internet access. Success with the CD could ultimately lead to Wikipedia in book or other forms. "Plenty of people do not have internet access. They have a computer and no internet, or just a slow internet connection," said Martin A. Walker, the Wikipedia volunteer who helped coordinate the project. "There are many times when you may be offline anyway. You may be at a camp or something like that."

Vista is boosting Microsofts profits by 65% in the 3rd quarter this fiscal year. CNet also have something about this. Earnings for the quarter ended March 31 rose to $US4.93 billion ($A5.91 billion), or 50 cents per share, from $US2.98 billion ($A3.57 billion), or 29 cents per share in corresponding period last year. Results included legal charges amounting to 1 cent per share, but tax benefits boosted profit by 2 cents per share.

The Sony battery recall is still going on after Acer recalls 27,000 notebook batteries. Acer America said Wednesday it's recalling 27,000 notebook batteries with cells made by Sony. An Acer America spokesman said the company, which has been gaining significant market share over the past 18 months, has received no reports of incidents and found no technical issues after months of testing and investigation.

Apparently an an iTunes subscription service is coming even though Steve Jobs says it isn't. Jobs says the iTunes Store won't offer music subscriptions because people don't want it, but that's only because they haven't tasted it. Most iPod lovers have probably never shopped beyond the iTunes Store thanks to Apple's walled garden DRM ecosystem.

Gizmodo have checked out the Xbox 360 Elite. When the Elite showed up earlier today, I decided to cut to the chase and test the only thing that matters on it: the HDMI output. It's not a new console. Almost everything about the Xbox 360 in white stands true for the Elite: It theoretically doesn't run cooler, or quieter, or faster.

Microsoft have released the public beta of Longhorn Server. You can check this out at Microsofts site. Thanks Looktall for spotting the link. Longhorn Server, the server counterpart to Windows Vista, is now up to Beta 3, and Microsoft has made it available as a free public download, in order to get as much feedback from testers as possible before release. Eight different downloads are available.

A PS3 based camera and microphone is set to be coming which will allow users to have better gaming and communication. PlayStation 3 Latest News about PlayStation 3 (PS3) owners will be able to see and be seen this summer with a new accessory for its next-generation gaming console Sony Latest News about Sony announced Thursday. The PlayStation Eye is an intelligent camera and noise-canceling microphone that the game maker said will expand and boost gaming and communication options.

Matt sent in this interview about Federally funded video game development support plans. Australian game developers, considered among the best in the world, are calling for Government support in light of an expected development package for the film industry in next month's Federal Budget. While the Government seems ready to support the request, film-makers are not impressed.

Here are a couple of interesting videos I came across while surfing the web this morning. Here is an amazing video of a computer controlled "graffiti" machine that can create amazing pictures with spray paint. Also here is a video about how the "Doctor Who" theme was made in the BBC Stereophonic Workshop.



Core PC Components:
Mushkin XP2-8500 2GB DDR2 RAM at RBMods.
Kingston KHX9600D2K2/1GB Memory Kit at HardwareLogic.
OCZ ProXStream 1,000W Power Supply at PCPer.
OCZ PC2-6400 SLI-Ready Dual Channel DDR2 Memory at OCIA.
EVGA nForce 650i Ultra Motherboard at PCPer.
MSI K9AGM2 at TBreak.
Super Talent DDR2 1000 (T1000UX2G4) 2GB at GideonTech.
Biostar TA690G AM2 AMD 690G Motherboard at PCStats.
Zotac 8500GT, 8600GT, 8600GTS Roundup at Pro-Clockers.
Thermaltake Toughpower 1000W Cable Management Power Supply at TweakNews.
eVGA e-GeForce 8600 GT 256 MB Superclocked edition at Guru3D.

Cases and Cooling:
Thermaltake LANBOX VF1000BWS mATX Case at BigBruin.
Cooler Master Stacker 830 at Bit-Tech.
Noctua NC-U6 at XSReviews.
Noctua NC-U6 Chipset Cooler at 3DGameMan.
Moneual LAB MonCaso 932 HTPC enclosure at TechPowerup.
Apevia X-QPACK2 SFF Case at 3DGameMan.
Cooler Master CoolViva Pro at TechGage.

Multimedia:
Nokia N95 at HardwareZone.
Samsung YP-K3 Ultra-Slim Digital Audio Player at ExtremeMhz.

Other/Peripherals:
Ultra 850VA UPS at Bjorn3D.
XTracPads Zoom at TechPowerup.
Logitech MX 610 Left-Hand Laser Cordless Mouse at OverclockersClub.
Razer Mantis Control Mouse Pad at OverclockersClub.
Samsung SCH-u740 at DigitalTrends.
SteelPad 5L Professional Gaming Mouse Pad at TheTechZone.



Waynekruse has taken a look at Beryl, an OpenGL desktop manager, on the popular Ubuntu Linux distro. He checks out some of the interesting interface features - there's even a few videos of it in action on the second page:



Click for the article!






Thursday Afternoon (11 Comments) (link)
Thursday, 26-April-2007 15:28:28 (GMT +10) - by Agg


A town in Iowa has laid claim to being Captain Kirk's future birthplace. "Star Trek creator Gene Roddenberry wrote a book saying Kirk will be born in Iowa, but didn't say where," said Miller. "So I thought 'why not here?"'

Turns out CD sales are NOT plummeting, as some would have you believe. The volume of CD albums shipped in by the Australian arm of the global music business jumped by 7.9 per cent to 49.8 million last year. Only 2003 was a better year, with 50.6 million units moved here. Look again at the numbers: the two strongest years came after the iPod.

A warning from SecretSquirrel: A good mate who is an IT geek at work got hit with an MSN live hijack in vista. I got a msg from him " i found your perfect partner xyz.perfectpartner.com ......." I clicked and it asked me to D/L a file. I didnt because i found it out of the ord that he would send me to a site like that. I called him and he was blown away. He did open it when he got the link because it came from a trusted friend. The hijack opens msn windows and sends the link to everyone on your contact list. There seems to be a fix, with a description of the problem here. I dont know much more about the payload or damage. I am just sending this as a warning, even with ppl you know.

Apparently there's a vulnerability in Photoshop too, according to Secunia. The vulnerability is caused due to an error within the handling of Bitmap files (e.g. .BMP, .DIB, .RLE) and can be exploited to cause a stack-based buffer overflow via a specially crafted Bitmap file.

Marc spotted some photos from a recent I Am 8 Bit show celebrating oldschool gaming. We took over a hundred photos of the show so you can check out most of the classic game creations that were on display. MANY pics on that page.

Tweaktown checked out a 16GB solid-state hard drive from Team Group. Since there are no moving parts inside an SSD, the reliability and operating shock resistance is much higher than those of hard disk drives. The Team SSD is able to withstand up to 1000G of operating shock whilst most notebook drives are only able to withstand 300G.

Justin spotted a new high-performance processor prototype called TRIPS. TRIPS is a demonstration of a new class of processing architectures called Explicit Data Graph Execution (EDGE). Unlike conventional architectures that process one instruction at a time, EDGE can process large blocks of information all at once and more efficiently.

HotHardware checked out Intel's Dual Quad "V8" Xeon setup. The enterprise platform that this box was built around is based on Intel's 5000X chipset, aka Blackford, and it supports up to 32GB of FBDIMM serial memory. HotHardware has a component build-up of a more current Intel V8 machine here, with preliminary benchmarks, pictures and more details on this 8-core dual Xeon powerhouse.




NSW Fire Brigades Open Day (0 Comments) (link)
Thursday, 26-April-2007 14:32:46 (GMT +10) - by Agg


Fwoar points out that this coming Saturday is the NSW Fire Brigades Open Day for 2007, between 10am and 2pm. Fire stations across the State will open their doors to the public, giving adults and children alike the chance to talk to their local firefighters, climb over the fire trucks, check out the fire station, equipment and historic memorabilia, pick up vital fire safety information and join in a sausage sizzle. Some fire stations will also conduct demonstrations, such as firefighting and motor vehicle rescue techniques.

Open Day is held a month before winter to help give families the chance to prepare themselves for what is usually the worst season for home fires. Between 1 June and 31 August 2006, there were 1,328 residential fires, which represented 30 per cent of all home fires (4,433) for 2006.

More info here.




SHARKfromDNB's PC (14 Comments) (link)
Wednesday, 25-April-2007 21:45:17 (GMT +10) - by Agg


Here's an interesting one. :)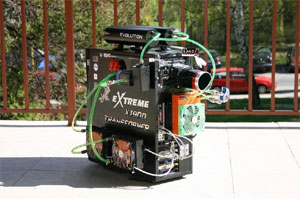 Click for the PCDB entry! (8 pics)





Core PC Components:
NZXT Percise 1000w PSU at OverclockersCafe.
MSI 8600 GT OC Edition at PureOverclock.
nVidia GeForce 8600 GTS at TrustedReviews.
OCZ DDR2 PC2-8500 Reaper HPC at PCFrags.
Gigabyte 6-Quad N680SLI-DQ6 at Neoseeker.
OCZ 2GB PC2-9200 Reaper HPC Edition at TechGage.

Cases and Cooling:
OCZ HydroJet CPU Cooler at HardwareSecrets.

Multimedia:
Canon Digital IXUS 70 at TrustedReviews.
Samsung CLP-300 Colour Laser Printer at TheTechZone.
Mini Blu Bluetooth Headset at LegitReviews.

Other/Peripherals:
Corsair Voyager GT 8GB at XSReviews.
God of War 2 at TrustedReviews.
Cyber Snipa S.W.A.T. Laser Gaming Mouse at TweakNews.
Asus W5Fe - Windows Sideshow Notebook at TrustedReviews.
Genius Navigator 335 Mini Laser Mouse at HardwareZone.
Resistance: Fall of Man PS3 at TweakTown.
Western Digital My Book Essential Edition 500GB USB External Hard Drive at ThinkComputers.
HP tx1000 Tablet PC at DigitalTrends.





They shall grow not old
As we who are left grow old
Age shall not weary them
Nor the years condemn
At the going down of the sun
And in the morning
We will remember them

Lest We Forget





Techspot have checked out the importance of the hard drive in the performance of your PC. The ultimate gaming PC includes some obvious givens. Today, it means you're driving a Core 2 processor, you're packed with at least a couple gigs of high-performance memory and you are running a last generation DX-10 gaming graphics card. Check, check and check. But if you want a real edge in your next encounter, you must also give careful consideration to the hard drive and the hard drive configuration you employ.

Apparently Blu-Ray is outselling HD-DVD however Ars Technica thinks that adoption rates don't matter. According to a report in Home Media Magazine, Blu-ray not only grabbed 70% of the sales in the March quarter but the Sony developed format actually increased its market share to nearly 75% in the month of March.

BenchmarkReviews have posted a guide on choosing your first HDTV. How will you save yourself, your family, and loved ones? What you do to prepare for the future will depend solely on what you know about it. This guide will infuse months of research into a very easy to understand how-to article, all for the purpose of preparing you for D-Day.

Hitachi are doing some interesting things including 15k RPM, high speed SFF drives and large 1TB drives.

Bit-Tech has posted a new mod, Puzzlebox 2.0. It has been two years since I completed my original Hellraiser Puzzlebox case mod. It was my first built-from-scratch custom case and involved a lot of trial and error. Given how well it was received - it won Corsair's Mod of the Mod - it's a funny thing to admit but I didn't really know what I was doing.

US Complaints to the WTO about piracy in China is said to badly damage cooperation between the two nations about piracy. China denounced Washington's move and Wu, who heads the country's economic dialogue with Washington, bluntly warned that the complaints would bruise bilateral trade ties. "The United States Trade Representative, the USTR, has totally ignored the massive strides China has made," Wu told an intellectual property forum in Beijing.

OverclockersClub have posted a rundown of a custom built folding PC. In an effort to get my electric bill under control, I shut down 8 of my folding rigs (I donated these to a local charity...I can use the tax write-off) and have replaced them with 2 E6300 rigs, running the new SMP client. Now I need a case for them....here's the plan:

Intel may have accidentally revealed release dates of Vista SP1. This may be good for users who are putting off the Vista upgrade until they feel the OS is more mature. Microsoft sent information to Technology Adoption Program (TAP) members saying that members' feedback was needed to help it prepare for the release of Vista Service Pack 1 "in the second half of CY07."

XYZComputing have taken a look at the best Thunderbird mail extensions. The recent upgrade to Thunderbird 2.0 marked a nice evolution of the client and while it did not bring a lot of major changes it did include a few much needed tweaks. Between these changes and my general requirement of using as few extensions as possible I have found that Thunderbird does not need many extensions to get it set up properly. There are a few excellent ones out there that everyone should know about.



Here is even more great photography coming from our Photography Forum. Click each picture to go to its corresponding thread in The Gallery.






Remember, if you have some nice photography or have seen some, make a thread in The Gallery and send the link to news@overclockers.com.au to get our attention.



Core PC Components:
Crucial Ballistix Tracer PC2-8500 Memory at 3DGameMan.
Transcend 2GB DDR2-667 Mac Memory at Pro-Clockers.
Ultra MicroFly SX6 Case w/XVS 600 Watt PSU at Modders-Inc.
MSI 8800GTX OC Liquid at XSReviews.

Cases and Cooling:
Thermalright HR-03 Plus VGA Heatsink at Madshrimps.
Cooler Master CM Media 281 Mid-Tower/Desktop/HTPC Case at TheTechLounge.
Antec MX-1 Hard Drive Enclosure at XYZComputing.
Tuniq 3 Case at HardwareLogic.
Antec MX-1 Hard Drive Enclosure at XYZComputing.

Multimedia:
Sans Digital Synology DS-107 at Bjorn3D.
ViewSonic VX2245wm Black 22" Widescreen LCD Monitor W/ViewDock at Tweaknews.
Vizo Milano Multimedia player UPSCALER to 1080i at OCWorkBench.

Other/Peripherals:
CFI 4-Bay eSATA Port Multiplier RAID Enclosure at Virtual-Hideout.
Razer Tarantula keyboard at DVHardware.
Command & Conquer 3: Tiberium Wars PC at TweakTown.
Buffalo Technology TeraStation Pro II 1.0TB at TrustedReviews.
Corsair Flash Voyager 256MB at Phoronix.



Craig spotted some early news on a hacked DX10 project, which will allegedly allow it to run on WinXP and even DX9 hardware. Seems pretty out there. There's some discussion on Slashdot here.

MadShrimps compared 21 mousepads in their latest article. During a period of over 5 weeks I compared 21 mouse pads while I did AutoCad work, Photoshop manipulations, web browsing, Office work and of course gaming.

LegionHW compared the GeForce 8600GT and 7600GT cards. For those with GeForce 7600 GT graphics cards the idea of an 8600 GT sounds like an excellent excuse to upgrade, but is it worth your time? We find out. 8600GT review here on PCPerspective, too.

Check out this cool gallery of macro photographs of CPUs including the innards. Warning, MANY pics on that page!

There's a nice Japanese wooden PC mod on Bit-Tech.

Sniper spotted this interesting article about a galactic explanation for the rise and fall of species on Earth. In particular, our Sun moves toward and away from the Milky Way's center, and also up and down through the galactic plane. One complete up-and-down cycle takes 64 million years- suspiciously similar to Earth's biodiversity cycle.

A few people sent in this nazi robot video. Sadly I'm capped so can't see it, but sounds interesting. :)

Today's timewaster is the Windows game Sumitori Dreams from damnation. Drunk cube men sumo wrestle, fall over and laugh at each other, all in under 96KB!

Interesting Forum Threads:
Solaris x86 RAIDZ/ZFS perf with 6x500GB & cheap SATA in Storage & Backup.
Antec P182 Special Edition (mirror finish) in Modding.
Australian Government's Protective Markings in Emails in Enterprise Computing.
Interesting way of getting rid of hot pixels in Photography.
fotowoosh - turn's photo into 3D model automatically in Graphics & Programming.
V8 Race Shortened due to TV, Drivers Upset in Motoring.
Millions face famine as crop disease rages in Current Events.



Bit-Tech have taken a look at internet radio and how it may not be around for much longer due to royalty laws. If you haven't listened to net-casted radio, I highly urge you to give it a try while it's still around. There are an incredible amount of "channels" for such a young technology, and they cover a wide spectrum of music. In fact, much of what can be heard on Internet radio can only be heard on Internet radio -- not everything is a multi-platinum hit single.

PCMech have posted an article about website privacy policies and how to create them for your site. Inspiring confidence in customers is not the only reason to have a privacy policy. Sometimes you are legally required to post a privacy policy on your Web site depending on the nature of your web site, the location of your server, or the location of visitors to your web site. If you are in the financial services or healthcare industry, there are specific regulations as to what your privacy policy should contain.

Anti recruitment groups have criticized the US Defence Force after a deal to sponsor a computer war game channel. Anti-recruitment groups are slamming a US Army deal to sponsor a computer war game channel, charging that real war is no game. In June, the Army is set to sponsor a channel at the Global Gaming League website, a popular spot for internet computer game lovers.

TechARP has posted Part 2 of their compression comparison guide focussing on speed and compressability on different files. While usability of each utility also depend greatly on the design of the user interface (console or graphical) and its features, we will not be touching on them in this performance guide. Instead, we will focus purely on the performance of each data compressor. This will allow you to compare the compression rate and speed of the more popular data compressors for the PC.

Intel and AMD have updated their roadmaps with things like a 45W Athlon X2 and Intel Eaglelake in Q2 2008.

Nvidia has released new Linux drivers, version 100.14.03 with support for some new cards. The release highlights for the 100.14.03 driver only mention one change -- new product support. Specifically, the NVIDIA 100.14.03 display driver adds official support for the GeForce 8600GTS, 8600GT, 8500GT, 8400GS, and the 8300GS. The GeForce 8500 and 8600 series GPUs were introduced earlier in the week, while the GeForce 8300 and 8400 low-end graphics cards should be introduced shortly.

Hydrogen fuel cell technology is creeping into toy cars and electric bikes among other products. Horizon Fuel Cell Technologies is readying an electric bike that gets its energy from a hydrogen fuel cell rather than a rechargeable battery, according to Taras Wankewycz, co-founder and vice president of Horizon. The company is talking with government officials in both countries to get these bikes out in 2007, he added.

A child porn case has shown that having an open Wifi connection is no defence to what happens over your connection even though others have access to it. The merits of leaving your wireless access point (WAP) open have been discussed and debated at length, especially when it comes to law enforcement. There is a growing belief that file sharers can protect themselves against lawsuits by keeping their wireless access points open. The problem is, it won't necessarily.

Check out this mod which allows you to add a USB port to a cheap network router. The Sweex LB000021 is about the cheapest hardware router one can get. I bought mine for E25,- new. The fun thing about these routers is that there's a complete MIPS-architecture processor in it, the ADM5120, which runs Linux. One of the features of the ADM5120 is that it has an onboard USB-hostcontroller. In the LB000021, however, this feature is not used. In this tutorial I'll show you how to change that.

The Microsoft Billionaire space tourist has landed safely after his trip in space. US space tourist Charles Simonyi returned safely to Earth on Saturday, touching down with a Russian-US crew in the steppe of Central Asia after paying for a two-week round trip into space.



Core PC Components:
Super Talent T1000UX2G4 2GB PC2-8000 Memory Kit at ThinkComputers.
Super Talent T1000UX2G5 PC2-8000 Memory at HardwareLogic.
AMD 5600+ Versus Intel E6300 at LegitReviews.
Overclock GeForce 8800 at BechmarkReviews.

Cases and Cooling:
Waffer PC AirCon PAC 400 Cooler at OverclockersClub.
Thermaltake Typhoon Value Pack at Hardware-Pacers.

Multimedia:
HP W19E Widescreen LCD at 3DGameMan.
XtremeMac Tango at DigitalTrends.

Other/Peripherals:
Sandio 3D Gaming O Mouse at GamePyre.
Microsoft Habu Gaming Mouse at TechGage.
Geeks 500GB USB2 External HDD Kit at 3DGameMan.
21-Way Mousepad Roundup at Madshrimps.
Gamester Race Pac for PS2 & Xbox at RBMods.



It seems that adult content is losing out to internet communities on the web. Maybe if OCAU opened a porn store we could capture both market segments. WHEN the Internet took off in the 1990s, it was demonised as a steaming cauldron of porn. It has certainly made pornography more widely and easily available than ever before. The online porn industry is difficult to measure, but was valued at $1 billion in 2002 by America's National Research Council.

A company is offering to install a bigger hard drive in your MP3 player including the Zune which currently only comes in a 30GB model. The folks at iPodMods have already managed to cram a 40GB hard drive into a Zune (among other mods), but that apparently wasn't enough to whet their appetite for storage, with 'em now taking things even further by stuffing 100GB drives into both Zunes and iPods.

Peter spotted this article about a court case against prominent video game criticizer Jack Thompson. Though Jack Thompson is always in and out of the public eye, he's been quite active in the last little while. The restless attorney has battled corporate evils relentlessly, stopping only to diagnose the world's violent ways as the result of video games.

The Internet Crime Complaint Center have released a report on internet crime for 2006. The full report can be found in PDF format here (2.3MB). The top offenses being Auction Fraud and Non Delivery of Goods. In 2006, IC3 processed more than 200,481 complaints that support Internet crime investigations by law enforcement and regulatory agencies nationwide. These complaints were composed of many different fraud types such as auction fraud, non-delivery, and credit/debit card fraud, as well as non-fraudulent complaints, such as computer intrusions, spam/unsolicited e-mail, and child pornography.

The BBC are set to open up their video archives on the internet as a video on demand service after trying it out in a beta program. The BBC is to open up its vast archive of video and audio in an on-demand trial involving more than 20,000 people in the UK. Full-length programmes, as well as scripts and notes, will be available for download from the BBC's website.

Free software magazine has looked at the perfect home server for use as a file server, print server, intranet, mail server and more using free software. Proprietary servers are expensive to buy and licence. Free software has for some time offered a choice of alternatives in this field and this article aims to discuss those options and explain how you might deploy a free software LAN server, which will allow you to start small but which can grow with you with minimal extra outlay.

Check out this list of awesome gadgets which have been either banned or not marketed in the US (probably Australia too) for various reasons including trade laws, patents and the style of the American market. Today, with many countries like Japan, Taiwan and the UK catching up the technological boom the United States has had to wait for many of the innovations and newly released devices from these foreign manufacturers. Surprisingly, it seems like there are a handful of cool new devices that do not even make it to the country.

The oldest known meteor shower, Lyrid is said to peak tonight and it will be visible from the Southern hemisphere (although the Northerners get the better view). The meteor shower actually consists of pieces of material from the comet Thatcher that glow when they hit and disintegrate within the Earth's atmosphere. Comet Thatcher takes about 415 years to orbit the Sun, with an orbit that takes it further than the orbit of Neptune and closer to the Sun than the Earth's orbit.



Once again, some interesting goings-on from the forums. First we have spikes looking at 3 products in one thread, covering the Flexiglow Lightspeed keyboard, CyberSnipa Dog Tags and CyberSnipa Intelliscope mouse.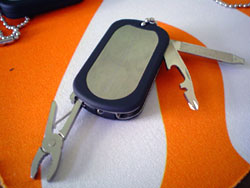 click for the thread!


Then we have Shinanigans, using a gargantuan Tuniq cooler on his E6600 and benchmarking away: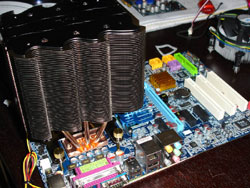 click for the thread!


Eva2000 has been playing with yet another E6700 CPU and shares his overclocking experiences: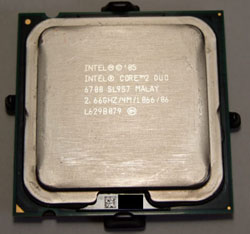 click for the thread!


For something different there's an amazing thread in Motoring with many many pictures of an abandoned car factory: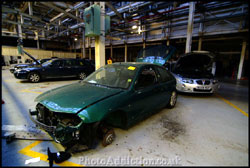 click for the thread!


And for something even more different, Sciby has shared his feelings about a range of snackfoods from Papua New Guinea! There's even a video! Of a biscuit!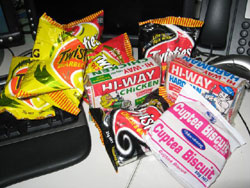 click for the thread!






Sunday Morning Reviews (0 Comments) (link)
Sunday, 22-April-2007 02:42:42 (GMT +10) - by Agg


Input Etc:
Four Gaming Mice Compared on Bit-Tech.
Revoltec FightBoard Keyboard on DVHardware.

Cases:
SilverStone Sugo SG03 SFF on Phoronix.
Thermaltake Kandalf LCS (video review) on 3DGameMan.

Video Cards:
MSI NX8600GTS-T2D256E-OC GeForce 8600GTS on PCStats.
Sapphire Radeon X1950 Pro Dual on HotHardware.
PowerColor X1950 PRO SCS3 on Bjorn3D.
XFX 8600 GT XXX on NeoSeeker.

Portable:
Everex StepNote XT5000T notebook on TechFear.
Route 66 Chicago 6000 vs. Medion GoPal PNA465 SatNav comparison on TrustedReviews.

Audio / Visual:
Ultimate Ears triple.fi 10 Pro Earphones on TrustedReviews.
SteelSeries 3H and 4H Headsets on Techgage.
Samsung 206BW 20 Inch LCD Display on XYZComputing.

Cooling:
ZEROtherm BTF80, BTF90, and BTF95 CPU coolers on XSReviews.
Thermaltake Big Typhoon vs. Thermaltake MaxOrb CPU coolers on XbitLabs.
Zalman Fatal1ty FC-ZV9 VGA cooler on ThinkComputers.

Misc:
PLANon DocuPen RC800 pen scanner on TechWare Labs.
Edimax BR-6216mg MIMO XR router on Bjorn3D.
Super Talent T1000UX2G5 2GB PC2-8000 DDR2 memory on BigBruin.




In The Next Hundred Years (24 Comments) (link)
Saturday, 21-April-2007 17:53:28 (GMT +10) - by Agg


Shaun spotted this interesting article apparently written in the year 1900, speculating on how the world would look in 100 years time. The author is actually not far off the mark with a lot of things. Beware: pic is big, 700kb or so.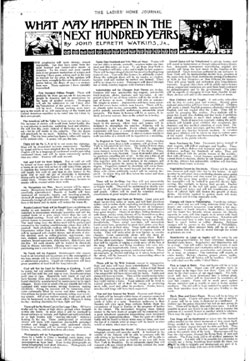 click for large pic!





Ubuntu 7.04 "Feisty Fawn" has been released. Ubuntu Guide already has some guides available for the new edition and it is being offered through their ShipIt service where you can get Ubuntu discs delivered to your door for free. Here is a direct link to the download page. One particularly nice new feature is the ability to stably read and write to NTFS partitions. There is a big thread discussing all of this on the forums.

MaximumPC have taken a look at MP3 Bitrates and if the higher rates really pay off. But at what point do higher bit rates stop paying off and simply take up too much space? 160Kb/s? 192Kb/s? And can a hardcore audiophile really tell the difference between a 320Kb/s track and an uncompressed one? What about a normal music listener?

Youtube has erroneously deleted a controversial video of US Presidential Candidate, John McCain singing an impromptu "Bomb Iran" song to the tune of a Beach Boys song. This comes shortly after the deletion of ABC TV videos off Youtube after a 14 year old boy faked a takedown request. YouTube confirmed Friday that it had erroneously deleted and would restore a video of presidential candidate John McCain singing an impromptu ditty about starting a war with Iran. The Arizona senator joked about attacking the sovereign nation during a campaign stop in South Carolina this week, singing, to the tune of the Beach Boys song "Barbara Ann".

A software engineer has won an Apple laptop by succeeding in hacking into it by using a zero day exploit in the Safari web browser. Macaulay, a software engineer, was able to hack into a MacBook through a zero-day security hole in Apple's Safari browser. The computer was one of two offered as a prize in the "PWN to Own" hack-a-Mac contest at the CanSecWest conference here.

Dell has brought back Windows XP due to popular demand on some of its desktop and laptop computers. SMH also have something to say on that matter. Dell will sell XP Home and Professional on six PC models including two desktops and four notebooks. Although Microsoft has said publicly that it will stop offering licences for XP to PC vendors from January 2008, Dell could well be buoyed by the fact that most business users globally have so far expressed little intention to move to Vista.

On a similar note, HardOCP have posted their top 12 Vista tweaks. We've filtered and sorted through the hundreds of Vista hints and tweaks to find the ones that we think the most readers will find useful. While Vista still feels new, these hints and tweaks might help you settle into your OS.

Damn Interesting have posted an article about the science behind invisibility. Humans have long been fascinated by the concept of invisibility. From H.G. Wells' Invisible Man to Harry Potter's cloak of invisibility, purveyors of fiction have pondered what one would do if one could move about unseen. Invisibility is often portrayed as a perfect transparency– ala the Invisible Man– however this method is in conflict with the laws of nature as we understand them.



A bit of news to help get through the rest of Friday afternoon :)

First up from Mafiah, apparently the Valve server has been hacked which seems to be holding all of your precious private and credit card data. A few days ago a member from the No-Steam crew by-passed Valve's security and exposed some financial information. What does he want in return? A notice on the steampowered website saying their systems have been comprimised. Whats at risk? Lots and lots of credit card information.

The Viginia shooting that occured earlier in the week has prompted media to link it to gaming. On the same topic, HardwareAnalysis have also written up an article relating to gaming and its current regulation. From another view, PCMechanic have an article on how technology has helped family and friends through this tragic event.

ATi fans will no doubt know that there are new Catalyst 7.4 drivers are now out. Those of you who still prefer the old Control Panel over the Catalyst Control Centre can head on over to NGOHQ. They have once again provided the latest Catalyst drivers with Control Panel for Windows. Doesn't seem to be all smooth sailing at the moment for ATi though, with some interesting results from Tech-Hounds, who have just finished some testing of ATi's internal bridge Crossfire. Also, an avid Phoronix reader who uses ATi under Linux doesn't seem to be all that happy writing up an article pleading for better support.

Still with graphics cards, lots of testing done with nVidia's 8600GT cards that are doing the rounds at tech sites at the moment. Tweaktown have posted up a look at two offerings from Gigabyte and XFX with differing cooling solutions. Thos who are interested in the SLi performance of these cards can head on over to XSReviews to check out MSI's products in this configuration, or to Gamepyre to see how EVGA and XFX get on together.

It bigger always better? Just when you thought VIA ran out of words to name their increasing inventory of miniPC solutions, they have just announced the Pico-ITX form factor. Check out some further information on it at their website. VIA Arena have also just posted up a small preview of this platform, here. I wonder if it will actually use anywhere near the 550W power supply that LegionHardware reckon the average gamer needs.

Bored? Why not build yourself a web server with PHP5 and MySQL support? Don't know how? Head on over to Phoronix who have written up tutorial. If that doesn't tickle your fancy, perhaps see if you can find someone online to pay your speeding fine for you. Else, check out this parody on the Iraq invasion sent in by Phil. Still no good? See if you can sneak out of work without anyone noticing :)

Enjoy the weekend!




Overclocking on TV! (0 Comments) (link)
Friday, 20-April-2007 14:45:13 (GMT +10) - by Agg


A few lads from the forums have managed to get themselves on TV doing what they do best, experimenting with water, phase-change, dry ice and liquid nitrogen cooling. Lots of pics etc in the thread: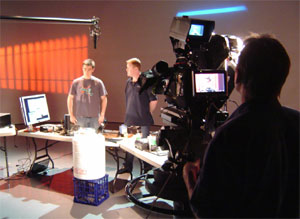 click for the thread!





Cases and Power:
Xclio Stable Power 1000W Power Supply at Bigbruin
Enermax Uber Chakra ATX Full Tower Case at OCC
Lian Li PC-A10 at 3dGameMan

Cooling:
ZEROtherm GX810 at XSReviews
ThermalTake BlueOrb FX Cooler at Rbmods
3R System iCEAGE 120 at techPowerUp
Cooler Master GeminII at Overclockers Online
CoolIT PCI Cooling Booster at ExtremeMHz

Motherboard and Memory:
ASUS Commando at Techgage
ECS 965PLT-A Motherboard at TweakTown
Mushkin HP2-6400 DDR2 800 Mhz (2 x 2GB) at OCC

Audio:
Logitech X-540 5.1 Surround Sound PC Speakers at PCApex
Creative GigaWorks T20 2.0 Speakers at TrustedReviews
Apple iPod Video 5G at TheTechLounge
Squeezebox at TechwareLabs

Mouse and Mouse Pads:
Razer DeathAdder Mouse at HardwareLogic
Microsoft Wireless Notebook Presenter Mouse 8000 at BlueTomorrow
XTracPads Pro at techPowerUp
Steel Series Steelpad Qck Heavy Mouse Pad at Tweaknews

Misc:
U.S. Robotics Mini Cam (USR809640) at BIOS
Skype DUALphone 3088 at Digital Trends
Fujitsu Lifebook S6311 Notebook at OzHardware
Lenovo ThinkPad T60p at Digital Trends
Hotel Dusk: Room 215 (Nintendo DS) at TrustedReviews



A few interesting miscellaneous things.

First up a series titled "the things you find when mining", from Sciby: This is the crystal cave of giants found in the Naica Mine, Chihuahua, Mexico. These are Selenite crystals (gypsum) and are the largest crystals ever discovered. They are 1000 feet down in a limestone host rock where they are mining for lead, zinc and silver. These crystals were formed by hydrothermal fluids emanating from the magma chambers below. The miners had to drill through the Naica fault, which they were worried would flood the mine, and this is what they discovered.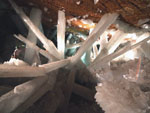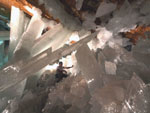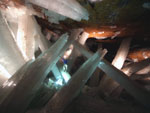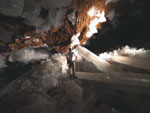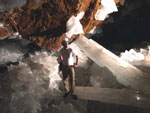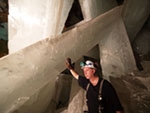 This next one comes with a story from a person wishing to remain anonymous! So there's this guy who works out of the repair depot in (somewhere). His name really is (something), he looks a bit like an aging Elvis. I finally persuaded him to use a computer, but he didn't have much desk space so I sold him on the idea of a thin client with a 15" flat panel LCD. Doesn't take up much room right? Well he still reckoned the keyboard was too big. The admin girl at the depot sent this to me the other day, apparently he has made some modifications to his computing environment. The depot circular saw has seen some work here. But guess what, the thing still works, he's using it as you see in the photo. Guy's a legend for sure.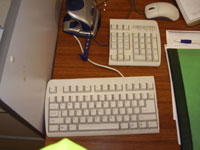 And finally this pic which has been sent in by a few people this week, including my Mum, so I better post it! The caption is simply "can you guess what this is?". Solution (according to the email anyway) in the comments thread for this news post: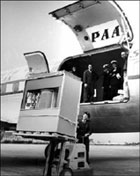 Thursday Afternoon (6 Comments) (link)
Thursday, 19-April-2007 15:08:59 (GMT +10) - by Agg


Intel's Developer Forum is underway in Beijing at the moment, and there's been some benchmarking going on of their upcoming CPU products. Coverage on Bit-Tech, Hexus, HotHardware, HWZone (and here), LegitReviews, PCPerspective, Techgage and Tech-Report.

IGN got tired of playing "Silent Hunter 4" and went to play with real submarines instead. IGN AU visited HMAS Collins and compared it to the subs in Silent Hunter 4. We were surprised at how many of the crew turned out to be gamers, and they even used SH3 for training.

From Grit: The ABC has enabled vodcast downloads of the 7:30 Report. Now if you miss one of Australia's premier journalistic programs, you can enjoy it on the way to work the next day. Great news for everyone, really.

Engaget have an Xbox360 laptop project posted. This Xbox laptop is a bit thinner, significantly lighter, and has some essential upgrades if you're gonna build one yourself.

SharkyExtreme interviewed Dan Odell from Microsoft, a hardware ergonomicist. The biggest issues that you see are shoulder and neck pain, but there are a number of symptoms that can result from improper computer use, such as numbness, tingling, pain, cold hands, weakness, etc. If these symptoms aren't addressed, they can develop into very serious chronic injuries.

From Eric: After checking the latest news post on the new nvidia 8600/8500 I checked out the nvidia site for new drivers. It looks like there is a new forceware driver for vista (32 and 64 it seems) (xp doesn't seem to have been updated yet), version 158.18 (released 17/04/2007)... though oddly enough it seems to be marked as a beta driver? Also, I'm not sure if this has an implications on the future of forceware, but they have separated the downloads into the various chipsets (6,7,8600/8500,8800 series), though for the time being at least, they all seem to point to the same version of forceware.

Speaking of which, there's more GeForce 8600/8500 coverage on XbitLabs and PureOC.




Thursday Morning Reviews (0 Comments) (link)
Thursday, 19-April-2007 02:24:17 (GMT +10) - by Agg


Cooling:
Cooler Master CoolViva Pro VGA cooler on OCClub.
ZEROtherm GX700 and GX710 VGA coolers on XSReviews.

Cases:
SilverStone SG-03 mATX case on Hexus.
In Win Alpha 360 mATX case on ThinkComputers.

Video Cards:
XFX 8600GTS & 8600GT XXX Editions on Bjorn3D.
ECS 8600GTS on OCNZ.
GeForce 8600 Series Cards on TechReport.
GeForce 8600 Series on Beyond3D.
GeForce 8600 Series on HardSpell.

Input Etc:
Flexiglow Cyber Snipa Tracer Mousepad on Tweaknews.
Razer DeathAdder Gaming Mouse on Virtual-Hideout.

Misc:
PLANon DocuPen RC800 document scanner on Techgage.
OLPC XO Test Build operating system on Phoronix.
Logitech SilentSound Noise Canceling Headphones on OCIA.
OCZ's SLI Ready Ram on TechWareLabs.




Star Wars - Spectre of Darkness: Trailer Released (10 Comments) (link)
Wednesday, 18-April-2007 21:39:21 (GMT +10) - by Rational




Click here for the Website


TERRA Operative sent in word of an independant Star Wars film he and 6 others are working on. It is set 4000 years before the other Star Wars fims amongst the timeline of the Old Republic. There is a thread discussing this here and a trailer can be downloaded here (56mb MOV).



Eric Schmidt, the CEO of Google says that they are close to a automatic copyright filtering system on Youtube. Schmidt made the comments to about 300 people here at the National Association of Broadcasters conference during a one-on-one interview with John Seigenthaler, a former reporter with NBC's Nightly News. The new system, which Schmidt called Claim Your Content, will automatically identify copyright material so that it can be removed, Schmidt said.

DigitalTrends has posted an article about keeping your online identity safe. We live in a time when using computers for purchases, bill paying, and banking are becoming more and more the norm. Broadband and constant, fast connectivity are the accepted standards. Given just how much computers are a part of our daily lives, you should find a couple of recent pieces of news very disturbing. A government survey in the U.K. found that 12% of respondents had suffered from online fraud in 2006, yet fewer than half of the respondents believed they should be responsible for protecting their personal information online.

Joel spotted this review of Hitachi's 7K1000 1TB HDD. On March 16, 2007, UPS delivered to our storage test lab a shipment from Hitachi, which we had anticipated for several weeks. The box contained the world's first hard drive with a total capacity of 1 terabyte (1 TB): the Deskstar 7K1000.

HardwareAnalysis have looked at Nvidia's 8600 series. Nvidia's new DirectX 10 8600 series of graphic cards was introduced yesterday, but from what we've seen thusfar we're a bit underwhelmed, here's why.

Google is planning to expand its Docs and Spreadsheets online tools with slideshow support later this year. It can already be used to create spreadsheets and word documents, while companion services Gmail and Calendar are increasingly being used as an alternative to Microsoft Outlook. The presentations feature will use technology from Melbourne- and San Francisco-based Tonic Systems, which Google has just acquired for an undisclosed sum. Tonic's Melbourne office did not return calls seeking comment.

3DGameMan has looked at component selection of an ultimate gaming machine. Please note that this Hardware Selection Guide for building a KICKASS Gaming Rig is updated frequently to reflect the new computer trends. This insures that this guide is always current and accurate.

Bigbruin have checked out Linux live CD's. Most major, and many minor, Linux distributions have Live CD versions. These include Ubuntu, Knoppix, Linspire, MEPIS, and Debian. You can find a list of Live CD distributions here and here. You can either order a Live CD from the developer -- for which, in many cases, you may have to pay a nominal fee for shipping. The folks behind Ubuntu, for example, will send you several CDs for free.




GeForce 8600 GTS, 8600 GT, 8500 GT (2 Comments) (link)
Wednesday, 18-April-2007 05:09:42 (GMT +10) - by Agg


NVIDIA have released their GeForce 8600 GTS, 8600 GT and 8500 GT GPUs, bringing DX10 support to the mainstream market. With GeForce 8600 GTS and GeForce 8600 GT–based graphic cards, NVIDIA is enabling exceptional performance at price points PC gamers love. The GeForce 8600 GPUs are ideal graphics solutions for the latest NVIDIA nForce® 650i SLI™-based motherboards, which are designed to deliver maximum performance to gamers. ... Built for Windows Vista, GeForce 8500 GT cards are designed for both casual gamers and for non-gamers, delivering the ultimate in HD video playback along with unprecedented levels of graphics realism and gaming performance for around $100 (USD).

Coverage on DailyTech (and here), DriverHeaven,Guru3D, HardOCP, Hexus, HotHardware, I4U, LegitReviews, MVKTech, NeoSeeker, NVNews, PCPerspective, RealWorldBenchmarks, TechARP, TechPowerUp, TweakTown and XSReviews.

There's a thread here in our Video Cards Forum discussing these new cards.




MythTV Wiki Page (3 Comments) (link)
Tuesday, 17-April-2007 22:09:55 (GMT +10) - by Agg


The MythTV page in our Wiki has had an overhaul lately. Thanks largely to Dedge and Cleary it is now a serious resource for anyone considering using this Linux-based PVR and HTPC solution. It covers supported hardware and software, Australia-specific configuration and various hints and tips - check it out!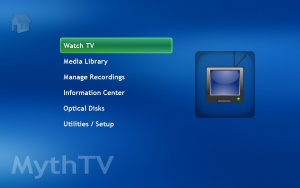 click for the Wiki page!





Sony may launch a PS3 with a higher capacity hard drive aimed at heavy users and hardcore gamers. For users who vigorously store (games and other entertainment content) in the PS3, 20-giga is probably going to be too small, and even 60-giga may not be big enough eventually," Sony Computer Entertainment spokesman Satoshi Fukuoka said.

BurningFeetMan wanted me to let you know about the article on Overclocking on Uncyclopedia (a joke encyclopedia). He thinks it would be good for some people to work on it to make it a bit funnier.

A refresh of Intels Core 2 Duo line will be bringing some new interesting technology to the table. When you buy your next notebook computer, make sure it has 'Santa Rosa' technology inside as you'll get a better Core 2 Duo, 802.11n, the possible inclusion of Turbo Memory and better graphics. Due by June, with a 'Core 2 Duo' refresh in the first half of 2008 that will use one of the new 45nm processors instead of the current 65nm processor technology, the Santa Rosa platform is the latest evolution of the Centrino technology most notebook users have been using since 2003.

Justin spotted some of the winners from the Samsung/Intel PC design competition. Some of the designs are pretty funky. What you're looking at up there is the winner of a recent Samsung and Intel PC design contest in Korea. Those three "eggs" on the tabletop are actually a media player, disk drive, and digital camera. Just place them on top of the bed-tray PC to initiate communications.

The CEO of Apple, Steve Jobs is going to continue with his $1 salary. Since returning in 1997 to the helm of the company he co-founded and catapulting Apple to record profits, the legendary Silicon Valley executive has opted to get only a token paycheck.

Tweaktown have taken a look at PC gaming and its relation to the mainstream. Lets face it, the PC as a gaming platform has its problems when it comes to mainstream sustainability. PC hardware can be expensive and confusing to keep on top of. Piracy is a far bigger issue for PC game companies than it is for console game companies due in part to the fact the PC audience is typically more technology savvy.

Check out this scene from Donkey Kong reproduced on the side of a building with post it notes. Thanks to Justin for the link. Donkey Kong (Miyamoto, et. al.,1981) was the first appearance of the Italian plumber we now know as Mario. While this game's early '80s arcade popularity predates most of today's engineering students, it represents the amazing results that a small development team can produce. Today Donkey Kong is ranked as the 3rd most popular arcade game of all time, selling over 65,000 units.

Damn Interesting has posted a new article about Uri Geller and his unusual abilities. In the late 1960s, a young Israeli man named Uri Geller gained a substantial amount of attention and fame following a collection of remarkable demonstrations on US and British television. In full view of astonished audiences, Uri was seemingly able to manipulate metal with his mind.



Core PC Components:
Sapphire X1950 Pro Dual at TechPowerup.
ATi RADEON X1900XTX Video Card at OCIA.
ASUS Extreme N8600GTS TOP at LegionHardware.
Asus P5N32-E SLI Plus nForce 650i Motherboard at PCStats.
XFX GeForce 8600GTS XXX at TweakTown.
XFX 680i LT SLI at Bjorn3D.
XFX GeForce 8800 GTS 320MB XXX Edition Video Card at BenchmarkReviews.
Tyan K8SE Motherboard at 3DGameMan.

Cases and Cooling:
Thermaltake Bach VX at XYZComputing.
Cooler Master Wind Rider PWM Fan Hub at HardwareZone.
Vizo Propeller Graphics Card Cooler at TechwareLabs.
Cool IT Systems Ram Fan at OverclockersClub.
Fluid XP+ Vortex XP Universal CPU Waterblock at PCApex.

Multimedia:
Icemat Siberia Headset at XSReviews.
Logitech X-540 5.1 Surround Computer Speaker System at TweakNews.
Altec Lansing inMotion iM500 Ultra-Portable iPod nano Speakers at TheTechLounge.
Hitachi DZ-HS300A Hybrid HDD/DVD Camcorder at DigitalTrends.

Other/Peripherals:
Logitech Harmony 1000 at DigitalTrends.
Nexus SFM-1000 Vibration Absorbers at RBMods.





Click for the full sized image (warning: it is quite large)


Check out this timeline of Linux distributions from 1991 to 2007. The page which it originally came from is here. It does a pretty good job at showing what evolved from what.

PCReviews have taken a look at the upcoming Intel QX6850 with a 1333mhz FSB. The news about the Intel extreme QX6800 is still not even a week old, and already we have new information to its successor. The core 2 extreme QX6850 raises the front Side bus from 1,066 MHz to 1,333 MHz and clocks for the first time with 3 GHz.

TechARP have posted part one of their compression comparison guide. Data compression software have been with us for a long, long time. From load-and-forget general compression utilities (Remember Stacker and DiskDoubler?) to the far more popular stand-alone compressors, they enable us to pack and compress data to reduce file size and save hard drive space.

Redcat sent in some videos of Beryl running on Ubuntu including one comparing it to Vistas Aero. He has been trying it out on his own system also, here is what he has to say about it: Been playing with it for about 2 hours.. pretty stable (just remember don't turn on blur till its setup). It has all the aero features (alt tab, window preview, cascade in 3d, is there any more?) plus a little more: 1. 3D Rotating Cube for different workspaces 2. Different effects for drawing new windows, rotating, sliding in, growing for a point, magic dust appearing, firey appearing 3. Water effects on desktop when windows move, clicking on icons or just for fun, creates ripples, waves + more. 4. Floppy windows, Ability to grab the title bar, pull down and look behind it. 5. Fadding to windows after loosing focus, inactivity, crashed/unresponsive.

The _Rick spotted an article about scrapping the Internet and starting again from scratch. Although it has already taken nearly four decades to get this far in building the internet, some university researchers with the US federal government's blessing want to scrap all that and start over.

Daryl sent in a page about a homemade turntable for playing records. Those who visit my sites regularly already know that I am a sucker for natural tone. Therefore the turntable is made to large parts out of wood. Wooden base, wooden motor base, wooden turntable-platter, wooden tonearm. Some ideas make this turntable easy and cheap to build. Depending on your local price for wood, and your ability to find some surplus parts, total cost can be as low as $50

Ze spotted this pretty cool CG movie called Code Guardian. It involes a giant WW2 era robot invading America and the fight to stop it. If you want to see a high resolution version you can find them here in Divx format (~170mb).




Fun with CrossFire (4 Comments) (link)
Tuesday, 17-April-2007 04:02:15 (GMT +10) - by Agg


Sciby has posted some musings about CrossFire vs single cards, after playing with a CrossFire setup for a while:



Click for the article!






Tuesday Morning Reviews (0 Comments) (link)
Tuesday, 17-April-2007 02:20:24 (GMT +10) - by Agg


Video Cards:
Inno3D GeForce 7950 GT iChiLL Accelero S1M on Bit-Tech.
Power Color X1650 Pro Golden Pig Edition on OCClub.
XFX GeForce 7600GT Fatal1ty 650MHz in SLI Mode on TweakTown.
Powercolor X1550 SCS on OCOnline.
Gainward 8800GTS 320MB Golden Sample on PureOverclock.

Motherboards:
ASUS Commando LGA775 board on Motherboards.org.
ASUS P5W DH Deluxe LGA775 board on ViperLair.
DFI Lanparty UT NF590 SLI-M2R/G AM2 board on EclipseOC.
DFI Lanparty UT ICFX3200-T2R/G AM2 board on NordicHW.

Audio Visual:
Samsung YP-K5 4GB mp3 player on EverythingUSB.
Samsung SyncMaster 275T 27" LCD on TweakNews.
Griffin iTrip Auto for iPod FM transmitter on ThinkComputers.

Memory & Storage:
GeIL PC2-6400 DDR2 Ultra 2GB memory on Bjorn3D.
Vizo Uranus eSATA & USB 2.0 HDD enclosure on TechPowerUp.

Input Etc:
OCZ Equalizer Laser Gaming Mouse on LegionHW.
Cyber Snipa Mousepads on DansData.
Razer Pro|Solutions Pro|Type Keyboard on TechPowerUp.
Cyber Sniper S.W.A.T Mouse on PCFrags.

Power Supply:
Silverstone Decathlon DA750 on XSReviews.
Ultra X-Pro & X-Finity PSUs on OCIA.
NZXT Precise PRC-1000 on Bjorn3D.

Cooling:
CPU Heatsink Roundup on MadShrimps.
Coollaboratory Liquid Metal Pads thermal interface material on BurnOutPC.

Misc:
OKI C3530 printer/scanner on TrustedReviews.
Cooler Master iTower 930 server chassis on Techgage.
Alienware MJ-12 8550i prebuilt workstation on BIOSMag.




Interesting Forum Threads and a Project (0 Comments) (link)
Monday, 16-April-2007 18:57:14 (GMT +10) - by Rational


Before I move onto interesting threads I thought you might want to check out this project. Zaim is trying out an interesting solution to cool down his radiator in his water cooling setup with lots of fans and cable ties. Click the image for the worklog thread.



Click for the thread!


Here are some interesting forum threads:
Your dumbest PC purchase? in Overclocking and Hardware.
Post your experiences of user stupidity in The Pub.
vista using my hdd whilst idleing?!? in Windows Operating Systems.
I want to do 1,000 push-ups in Sport, Fitness and Health.
Songs for your funeral in TV, Movies, Music & Books.
99/100 times a modern computer has no motherboard in The Pub.
Disappointed in Sydney Clubs in The Pub.
Have you done anything new today? in The Pub.
Most fuel efficient driving style? in Motoring.
>3500km SA Outback Journey in Motoring.
Wideband O2 in factory cars, why not? in Motoring.
Your car and mileage in Motoring.
Almost locked up for the night.. (the story) in The Pub.
Just arrived from USA! in Other Toys.
Doomsday for the Greenback? in Current Events.



Here is even more great photography coming from our Photography Forum. Click each picture to go to its corresponding thread in The Gallery.






Remember, if you have some nice photography or have seen some, make a thread in The Gallery and send the link to news@overclockers.com.au to get our attention.





Slamaa is running a modding competition this month. There are prizes including a Mini Power Supply Tester, A 12 Piece Servicing Tool Kit, some LED's and OCAU Merchandise. All the details and information about the competition can be found in this thread.

You can check out the worklog thread here, it has heaps of pictures though.



A Microsoft employee has blogged about his experience with reported errors, you know when you click "send error report" after something has crashed. A certain error that he was seeing a lot (deemed to be "hardware failure") he was curious about so he tracked down some of the people sending the reports and asked them about their PC configuration and if they had been overclocking. A bunch of us were going through some Windows crashes that people sent in by clicking the "Send Error Report" button in the crash dialog. And there were huge numbers of them that made no sense whatsoever....Yet when we looked at the error report, the ecx and eax registers were equal! There were other crashes of a similar nature, where the CPU simply lots its marbles and did something "impossible".

A fifteen year old boy from Perth sent a fake takedown request to Youtube posing as the ABC. This resulted in the website taking down a lot of ABC clips including a lot from the Chasers War on Everything. A Perth teenager has apologised to the ABC for pretending to represent the national broadcaster in demanding the removal of hundreds of video clips from the YouTube website. The 15-year-old boy sent YouTube a signed form saying he represented the copyright owner, ABC Television, and that he wanted the footage, mostly from The Chaser's War on Everything, removed from the website.

A software patch was found to be the cause of the failure of the Mars Global Surveyor in 2006. A similar thing happened back in 1982 with the Viking 1 where antenna alignment code was overwritten. A software 'fix' sent up to NASA's Mars Global Surveyor spacecraft in June 2006 ultimately led to its failure five months later, a preliminary new report reveals. The report also finds that the existing procedures used by the mission team were not thorough enough to catch the resulting problems, and that reductions in budgets and staff may have played some role in the loss of the mission.

CNet have posted some pictures of what has been going on in space with the Microsoft tourist. The International Space Station is abuzz with activity this week, with the arrival of a new crew (including high-profile space traveler and former Microsoft mogul Charles Simonyi), and one astronaut training to keep pace with the Boston Marathon from more than 200 miles above the planet.

Engadget are running polls for their Engadget Awards which aim to find the best products in a number of different categories. Just a friendly reminder that our first round of 2006 Engadget Awards polls closes tonight at 11.59PM EST. (Our second round will be closing tomorrow night (Monday) at the same time, so stay tuned for those.) But for now why not get your votes in if you haven't already, ok?

There has been a bit of controversy over in America about a computer technician supposedly planting a camera phone to record a client in the shower. An LA Times article claims that Sarah Vasquez, 22, and her mother, Natalie Fornaciari, 46, have sued Geek Squad because a Geek Squad technician, Hao Kuo Chi, allegedly tried to film her while she was taking a shower. Allegedly on March 4, when Chi was fixing Vasquez's computer, Chi placed his camera phone in the bathroom after learning Vasquez was going to have a shower, and set it to record video.

Todays timewaster is quite old but I don't think it has been posted before on the newspage. It it is kkrieger and is a 3D FPS with graphics that rival Quake 3 and Unreal Tournament 2004 in only 96k. The way they have done it is with funky compression so it will not run well on older computers. If you get it going the whole game takes around 15 minutes to play through, a direct download can be found here. If you are curious here is a screenshot.



Here are some interesting projects some people are working on at the moment:



Each picture links to the worklog thread.



It's been a bit quiet on the gaming scene of late, but there is a new video doing the rounds that I thought was worth watching.

"Crysis GDC 2007 Trailer" has 3:18 of mind bending in-game footage and weighs in at around 126mb at 1280x720.






There are multiple mirror locations for the download found on this page. The file size may seem a bit heavy, but it is truly worth it... even for the ending alone! The trailer moves through a series of features including : Time of day lighting, Dynamic soft shadows, Long Range View distance, 3D Ocean technology, Facial & Skeletal animations, Breakable vegetation systems, mapping and editing, component vehicle damage and much more.

We have a massive thread on all things Crysis in the forums, found here. There's also a few new screenshots on this page.



Justin spotted this article about harsh guidelines for music downloaders being drawn up by the recording industry. There is a thread discussing this here. PEOPLE who illegally download music would have their telephone and internet services cut off under a radical new plan proposed by the music industry...."Under this system, people who illegally download songs would be given three written warnings by their Internet service provider. If they continued to illegally download songs, their internet account would be suspended or terminated. Those with dial-up internet could face having their phone disconnected.

HardwareZone have tried out Vista on some older machines. So how would your ageing systems perform when upgraded to Windows Vista? Would you be better off continuing with an existing operating system like Windows XP? To answer these questions and more, we have configured three systems that span the performance spectrum from an Athlon XP to the latest Intel Core 2 Duo processor.

PCMech have checked out the lines of computer Defense. Here is the approach I like to take. I like to think of my data to be surrounded by four concentric walls. To get to my data, an intruder would have to get past these walls one after another. If I can beef up security at each of the walls, I won't need six security suites to protect my computer. Not only will I have a more secure environment, my computer will hum along quite nicely.

The US Department of Defense is set to launch a network router in Space. The U.S. Department of Defense (DoD) has announced its intentions to launch the Internet Routing In Space (IRIS) satellite in 2009, which will allow for voice, video, and data communications for U.S. and ally troops around the world.

Sony is planning to sell OLED televisions this year. Sony said on Thursday it planned to start selling ultra-thin TVs using organic light-emitting diode (OLED) technology this year, aiming to become the first to market with a TV using the promising next-generation display.

CNet have taken a look at Wikipedias obsession with pop culture. Wikipedia readers can, for the most part, measure a subject's popularity by its entry length. A television show featuring TV babes Alyssa Milano and Shannen Doherty as demon-fighting witches has received a more extensive Wikipedia write-up than one on the actual Salem witch trials, for instance.




Caption Contest Closing! (0 Comments) (link)
Saturday, 14-April-2007 16:51:14 (GMT +10) - by Agg


There's less than 24h remaining in our Caption Contest. You can win a set of M4 Mini Monitor Speaker Kits from The Loudspeaker Kit, an MP3 player or some OCAU merchandise. Check out this thread for the pictures and entries so far.



Justin spotted that Google has bought Doubleclick, the advertising company for a whopping US$3.1 Billion. Google reached an agreement today to acquire DoubleClick, the online advertising company, from two private equity firms for $3.1 billion in cash, the companies announced, an amount that was almost double the $1.65 billion in stock that Google paid for YouTube late last year. The sale offers Google access to DoubleClick's advertisement software and, more importantly, its relationships with Web publishers, advertisers and advertising agencies.

DansData has posted some more letters including discussing upgrading for Supreme Commander, monster resolution monitors, the sweet smell of lithium, triangular screwdrivers, IR illumination, another miracle engine, and a weird dude I used to know.

Dan-nation on IRC told me about this page which has visual comparisons between DVD and HD-DVD movies. The text is in another language but the screen grabs are fine.

Daryl send me this article about computer gaming monkeys in America. At 4, Bernas is not the computer wizard his mom is, but he is learning. Just the other day he used his lips and feet to play a game on the touch-screen monitor as his mom, Madu, swung from vines and climbed trees. The two Sumatran orangutans are part of new Zoo Atlanta research that uses computer games to study the cognitive skills of the primates.

Internode has posted a preview of World in Conflict and some new screenshots and a video. As I hinted at with the closing sentence of my last conference report from the GO3 Electronic and Entertainment Expo, I was allowed to take a sneaky peek at a title, but wasn't allowed to mention it by name. Thankfully, the embargo has now lifted and so here it is.

PCMech has posted an article about aging products. Given the nature of the modern software and the changing technological environment under which it exists, the software itself has to evolve to keep pace. Or does it? When a product works, though, what's the need for change? Furthermore, to what extent does a product (not necessarily computer software) need to improve over its predecessor in order to fully garner public adoption? And there is also, certainly, a learning curve associated with every software. When is it worth leaving a comfort zone to go for the "latest and the greatest?"

A party published on Myspace has resulted in $48,000 damage after over 200 people turned up. There is a big discussion of this here. Two British parents were left with a $48,000 bill after a party advertised by their teenage daughter on MySpace attracted hundreds of revellers who trashed their home.

Check out this new perspective of the "Will it Blend" series where they blend a digital video camera while taping. Agg posted the followup, Will it Return where they try to return the blended camera.



Here is even more great photography coming from our Photography Forum.




Remember, if you have some nice photography or have seen some send it to news@overclockers.com.au to get our attention.



Core PC Components:
Crucial 2GB kit (1GBx2) Ballistix Tracer DDR2 PC2-6400 memory at RBMods.
Mushkin XP2-9200 DDR2 1150 Mhz (2 x 1GB) Ram at OverclockersClub.
AcBel 500-watt LCD Power Supply at Tweaktown.
Killer NIC and Killer K1 Gaming Network Cards at LegitReviews.
LG GSA-H42L LightScribe DVD Writet at ExtremeMhz.
ECS KN3-SLI2 at HardwareAsylum.
Seagate FreeAgent Pro 750GB at TechGage.
XFX Geforce 8800GTX XXX Edition at AtomicMPC.

Cases and Cooling:
Koolance CPU-330 & CHC-120-V10 Water Blocks at Virtual-Hideout.
Gigabyte 3d Rocket Cooler at GideonTech.
Kingwin 2007 Cooler Lineup at OverclockersCafe.

Multimedia:
Roadmaster USA Scrolling Digital License Plate Frame at BigBruin.
Dell 2707WFP at AtomicMPC.
Bluegears b-Enspirer at AtomicMPC.

Other/Peripherals:
A-DATA Pirates Flash Drive 2 GB at TechPowerup.
Razer DeathAdder Gaming Mouse at ThinkComputers.
Microsoft Razer Reclusa Keyboard at TechPowerup.
Firefox 2 at PCMech.




Saturday Morning (6 Comments) (link)
Saturday, 14-April-2007 04:22:27 (GMT +10) - by Agg


From IntelInside: Apple Inc. said on Thursday it was delaying the release of the next version of its OS X operating system, code-named Leopard, until October because the company said it had to divert resources to the iPhone.

Allan sends word that another episode of MariposaHD.tv was released recently. mariposaHD is the world's first High Definition TV series distributed directly on the Internet. And it's free.

Xbitlabs have continued their article on 19" monitor features. We will discuss their color reproduction quality (and the color gamut), response time (and the RTC error value), brightness and contrast. Today we will introduce to you ten solutions from Acer, Asus, LG, Dell and Samsung.

Dunking your PC into oil isn't entirely new, but now a UK company is looking at it from a commercial perspective. It is possible to cut power consumption in half," managing director Peter Hopton told New Scientist. "You don't need to drive inefficient fans, or the usual air conditioning." Hopton first got the idea after seeing computer enthusiasts discuss the idea online.

TheTechLounge considered onboard video acceleration. Every major chipset manufacturer has chipsets with onboard video. Since ATi's added Avivo to their motherboards, the pot has been stirred. So the question begs asking... of Intel, NVIDIA and ATI, whose chipset delivers the best video acceleration performance?

Beyond3D have info on the GPU vs CPU war from Intel's perspective. Given that Carmean first began giving the original form of this presentation in 2005, one might wonder how large a part the rationale displayed here played in AMD's acquistion of ATI which was first proposed in December of that year.

This is the weirdest PC mod I've seen in a while.. PC bits stuffed into a beaver. In fact, I find it difficult to think of a more ridiculous case housing for an office machine. All innuendos aside, what better creature to house the busiest of machines - the machine that has sped up our lives and made us captive to a constant flow of information.

Joanna sent in another timewaster, this time you try to click a button for a specified time. Trickier than it sounds. Meanwhile BFM wants you to know about PBF, which is an odd little online comic. Quite cool though.

Interesting Forum Threads
Never watercooled before but.. in Extreme Cooling.
Laptop to speakers, wirelessly? in PC Audio.
Microsoft Sued over "Windows Vista Capable" Marketing in Windows Operating Systems.
Wait for Bearlake? in Intel Hardware.
Need a check on a circuit in Electronics.
Model solar car challenge in Electronics.
Live Earth: 7.7.07 - The Concert for a Climate in Crisis in TV, Movies, Music & Books.
The Pets in Stupid Positions Thread (possibly NSFW pics) in Pets & Animals.
The F1 Bahrain GP Thread in Motoring.
Buick "Park Avenue" Released in China in Motoring.
New Ford Falcon - "Orion" in Motoring.
Addicted to video games lecture in The Pub.
Post your experiences of user stupidity in The Pub.
Stolen PC - Reward in The Pub.




Saturday Morning Reviews (0 Comments) (link)
Saturday, 14-April-2007 04:02:40 (GMT +10) - by Agg


Video Cards:
MSI 320MB Geforce 8800GTS on PCStats.
ASUS EN7900GS TOP on TechARP.
MSI NX8800GTX OC Liquid on HWZone.
MSI GeForce 8800 GTS 640MB vs. GeForce 8800 GTS 320MB on XbitLabs.
Inno3D iChiLL 7950GT Accelero S1M 256MiB on Hexus.

Audio Visual:
Bose TriPort IE Inner-Ear Headphones on Hexus.
NEC MultiSync LCD2690WUXi Monitor on TrustedReviews.
SteelSeries SteelSound 4H headphones on Bjorn3D.
Samsung LN-S2651D LCD HDTV on DigitalTrends.

Portable & Prebuilt:
HP Pavillion a1640n & a1630n Intel vs AMD PCs on SilentPCReview.
Alienware Aurora mALX 19" Gaming Notebook on PCPerspective.

Cases & Barebones:
Lian Li PC-B20 on XSReviews.
Shuttle XPC mini X 200 mini-PC on Hexus.
Shuttle XPC SD39P2 SFF mini-PC on TechReport.




The Morning of Friday the 13th: Unfavourable News of Doom (11 Comments) (link)
Friday, 13-April-2007 10:34:32 (GMT +10) - by Rational


Microsoft has confirmed the Vista OEM hack but do not currently have plans to fix it. In response to widespread chatter on blogs and forums, Microsoft has acknowledged the presence of hacks that may allow pirates to bypass the product activation security feature in its Windows Vista operating system.

Matt spotted this article about the phasing out of XP to Vista. By early 2008, Microsoft's contracts with computer makers will require companies to only sell Vista-loaded machines. "The OEM version of XP Professional goes next January," said Frank Luburic, senior ThinkPad product manager for Lenovo. "At that point, they'll have no choice."

China is curbing online gaming for kids to attempt to stop addiction. Under the system, known as the "anti-online game addiction system", the first 3 hours of play for each day is considered "healthy", during which players will be awarded full points in the virtual world. The next 2 hours will yield only half the normal points and there will be no points after 5 hours. After the 5-hour limit, players will be subjected every 15 minutes to the warning: "You have entered unhealthy game time, please go offline immediately to rest. If you do not, your health will be damaged and your points will be cut to zero."

Matt also spotted this video about the horrors of Windex on television screens. What happens when you spray Windex or whatever cleaner of your preference directly on to your DLP HDTV? Bad things dude. Baaad things.

Some software is available to revert Office 2007 to the classic menu system. I just received a press release for a program called 'Classic Menu for Office 2007 v.2.08' from Addintools, a software company based in Hai Nan, China. Reading through the release, most of which is reprinted in this article, the software says it will bring back the classic menus that Office 2007 lacks. So, I downloaded it and tried it out for myself… and… it does what it says on the tin!

Macworld have checked out Vista under Boot Camp, Apples software that allows you to dual boot Windows and Mac OS 10 on your Intel Mac. Apple's latest update to Boot Camp (version 1.2) specifically includes drivers for running Windows Vista on a Mac. So it's time for Macworld's official Windows Vista for Mac review

Damn Interesting have posted an article on lucid dreaming. The experience was one of my many brushes with Lucid Dreaming. It is a phenomenon that many discredit, naming it a hoax and naturalist mythology despite the fact that it has strong scientific evidence supporting it as a real occurrence.

Todays timewaster is from Joanna and is called Sprout where you need to help a seed become an acorn.




Friday the 13th Morning Reviews (0 Comments) (link)
Friday, 13-April-2007 02:19:52 (GMT +10) - by Agg


Audio / Visual:
Buffalo LinkTheatre Wireless Media Player on TrustedReviews.
Vizo Milano Media HDD Enclossure on XSReviews.
Apple TV home media server on PCPerspective.

Storage:
Icy Box 2.5 Inch Hard Drive Enclosure on XYZComputing.
Antec MX-1 Portable Hard Drive Enclosure on Pro-Clockers.
Thecus N1200 NAS Media Server on Hexus.

Input Etc:
Razer DeathAdder Gaming Mouse on OCClub.
Logitech Revolution Mouse on GamePyre.
Quill AirO2bic Ergonomic Mouse on Compu-KISS.

Misc:
Linksys WRT300N Wireless-N Broadband Router on XbitLabs.
3R System R110 case on ViperLair.
ATI Radeon X1950 Pro 256MB video card on SharkyExtreme.
OCZ PC2-8500 SLI-Ready memory (video review) on 3DGameMan.
Canon Powershot TX1 camcorder on DigitalTrends.




Competition: Domo arigato, Mr. Sciboto (0 Comments) (link)
Thursday, 12-April-2007 19:11:33 (GMT +10) - by Rational


Sciby is running a competition to make a Wordpress theme for his blog about his experiences in Japan. The winner will get a 4gb Corsair Flash Drive. The competition ends on the 29th of April (this month, 17 days away) so get cracking on a theme!

Hi everyone, As some of you may or may not know, I'm planning on moving to Japan in the latter half of this year, and part of living there will obviously be documenting what happens to me on a daily basis in a blog, so my friends and family can live vicariously through me. Unfortunately, as you can see, the standard theme is way boring. Normally I'd have a crack at making a theme, but frankly, I suck at good web design, and I'm not artistic, so I thought I would open up the floor to you good folk. As a prize/reward/payment for the selected theme author, there's a Corsair "Voyager" 4gb usb flash drive ready and waiting.



Core PC Components:
Apex SL-8600 EPS 600W PSU at RBMods.
Abit Fatal1ty F-I90HD Motherboard at Motherboards.org.
Kingston 2GB PC2-9600 KHX9600D2K2 at ASELabs.
PowerColor Radeon X1950 Pro SCS3 passively cooled graphics card at Bit-Tech.

Cases and Cooling:
Coolermaster X Craft 250 External Hard Drive Enclosure at Madshrimps.
Antec Nine Hundred at OzHardware.

Multimedia:
Samsung GX-10 DSLR at TrustedReviews.
Sony Ericsson P990i at BIOS.
Bluegears b-Enspirer 7.1 Channel 24-Bit Sound Card at BenchmarkReviews.
Saitek GH50 Surround Sound Headset at TechPowerup.
BlackBerry 8800 at XYZComputing.

Other/Peripherals:
Razer DeathAdder Gaming Mouse at PCApex.
Cedega 6.0 at TechGage.
Cedega 6.0 Performance Preview at Phoronix.




Folding Video (2 Comments) (link)
Thursday, 12-April-2007 12:47:15 (GMT +10) - by Agg


I just noticed over on our Folding@Home Team Page there's an interesting video about Folding on the PS3, as well as general info on how Folding works. Team OCAU even gets a mention!

It's also worth noting that there's an SMP client now, making it easier to run Folding on multi-core or multi-CPU machines - but keep in mind it's currently a beta. There's a FAQ on the Folding site here and a thread here in our Team OCAU forum.




Thursday Morning (4 Comments) (link)
Thursday, 12-April-2007 02:32:39 (GMT +10) - by Agg


Apparently the first planet with water outside our solar system has been discovered. The finding, to be detailed in an upcoming issue of Astrophysical Journal, confirms previous theories that say water vapor should be present in the atmospheres of nearly all the known extrasolar planets. There's a thread here in our Science forum for this news.

Sniper spotted this interesting website, Tell The Truth Telstra. Eleven of Australia's top telecommunications and internet companies have formed with the objective of promoting fair competition and honest debate in the telecommunication sector. T4 participant's include AAPT, Austar, iiNet, Internode, Macquarie Telecom, Powertel, Primus Telecom, Telarus, TransACT, WestNet and Unwired.

Popular Mechanics are reporting on a high-performance electric car at the New York auto show. Hybrid Technologies' thoroughbred pulls from zero to 60 in just 3.1 seconds as it launches to a top speed of 175 mph and a maximum range of around 200 miles.

Western Digital have announced a new family of hard drives aimed at home theatre, PVR and similar uses. These applications, which often demand 24x7 operation from hard drives, have different requirements than personal computers, such as higher reliability, universal compatibility, low power consumption and the ability to simultaneously record multiple audio and/or video streams. Consumer applications such as set-top boxes and DVD recorders place additional demands on hard drives to consume less power, generate less heat and operate quietly.

TomsHardware has a roundup of gaming video cards. So, if you don't have the time to research the benchmarks, or if you don't feel confident enough in your ability to make the right decision, fear not. We at Tom's Hardware Guide have come to your aid, with a simple list of the best gaming cards offered for the money. Digit-Life have their monthly 3D digest too, for March 2007. Monthy 3Digest is the project of iXBT.com and Digit-Life.com dedicated to informing you about the performance of a large number of graphics cards under Windows XP in the past month.

BigPond have entered the virtual world of Second Life, with 11 islands of their own, thanks Jaxor. Once you're in-world, you can move, chat, change clothes, scuba, sail, watch car races, see a movie, even make and spend Linden money. And everything you enjoy on our islands is unmetered.

Back in the real world, Google Earth now contains detailed evidence of the destruction in Darfur, thanks Matt. The Genocide Prevention Mapping Initiative seeks to collect, share and visually present to the world critical information on emerging crises that may lead to genocide or related crimes against humanity.

Today's giveaway of the day lets you save online videos for offline viewing. Every day we offer licensed software you'd have to buy otherwise, for free!

AMD has continued to cut desktop CPU pricing. There's a thread here in our AMD Hardware forum about it. However some people think the plan is backfiring. HWZone meanwhile interviewed Henri Richard, head of sales and marketing for AMD.

TomsHardware investigated the importance of matching GPU and motherboard chipsets. This isn't about which manufacturer is leading in discrete graphics card or chipset performance. Instead, this review is about whether or not these companies employ "engineering trickery" to make their other products shine.

ZXR spotted a new version of DX9 available from Microsoft. Can't find any details on what's changed, hmm.




Wednesday Evening News + Reviews (4 Comments) (link)
Wednesday, 11-April-2007 22:37:05 (GMT +10) - by Rational


Tweakguides have posted a a guide for tweaking STALKER:Shadows of Chernobyl, the highly anticipated game released only recently. The detailed STALKER Tweak Guide is now online at TweakGuides, and contains a range of descriptions, tips, tweaks and mods which I think all STALKER players will find helpful. Give it a read through to better customize and optimize STALKER on your machine.

TechwareLabs has taken a look at cable management in desktop PCs. I'm sure that we all have a mess of wires inside of our computer case at sometime or another. Personally I like to try and keep my case looking nice and clean, it gives it more of a professional look to it. So we are going to take a look into a case and see how we can make it look clean and professional

Tech-Hounds have posted some info on problems with SATA Hard Drives on J-Micron and Intel controllers. After asking Gigabyte's representative and searching the web for answers, it would seem the Gigabyte have actually provided a solution to this problem. It would seem the problem is related to the Marvell LAN controller used by Gigabyte. So, this 'bug' is not only specific to DS3 or DS3P alone. The solution is pretty simple - update the Marvell's EEPROM chip. The necessary files are available on Gigabyte's website, here. This is the link to the P965-DS3O FAQ page, if you're using a different motherboard, please check your respective motherboard's FAQ page.

Phoronix have posted a guide to overclocking your ATI GPU under Linux using Rovclock. When it comes to overclocking ATI Radeon graphics cards under Linux the only real option has been using rovclock. Rovclock is a Radeon overclocking utility written and developed by Sebastian Witt.

Bit-Tech and IGN have previewed an upcoming game called "World in Conflict". World in Conflict is based in the middle of the Cold War where the Americans and Russians are at each other's necks. However, this time the battle is on US soil. That's not all that is different about Massive's latest RTS game though, and it's definitely one to look out for later this year when it's released...

BechmarkReviews have looked into overclocking Nvidia 8800 graphics cards. Presently, the 640MB version of the GeForce 8800 GTS is the second-best video card available on the market. Gamers and computer enthusiasts alike have already speculated on how the GTS could be made to perform to the same level as the GeForce 8800 GTX with some tweaking. Unfortunately, this just isn't possible. What is possible though is taking a great product and making it even better; and do it all for free.

Hexus have posted a demonstration of Intels new Centrino Pro flash technology codenamed Robson. So what exactly can a gig of built-in Flash memory do for your notebook? Intel gave us a sneak peek - and you will be surprised how much extra performance Intel Turbo Memory (aka Robson) can provide.

Reviews:
Tagan Icy Box IB-266StUSD-B 2.5" Drive Enclosure at BigBruin.
GeForce 7600 GS 256Mb gDDR3 HDMI at Guru3D.
Ideazon Fang Gamepad at OverclockersClub.
Rainbow Six: Vegas at Bjorn3D.
Demon Office Hub at BIOS.
Logitech diNovo Edge Bluetooth Wireless Keyboard at ThinkComputers.
VTBook CardBus Display Adapter at PCPer.
AIC XN 100 WSS Storage Server at TechwareLabs.
Enzotechnology Ultra-X at BurnoutPC.
Logitech Harmony Remote 895 Universal Remote Control at TrustedReviews.
Acoustic Energy AE29-06C Bluetooth Speaker System at TrustedReviews.



Here is even more great photography coming from our Photography Forum.






Remember, if you have some nice photography or have seen some send it to news@overclockers.com.au to get our attention.




Wednesday Evening (0 Comments) (link)
Wednesday, 11-April-2007 19:31:12 (GMT +10) - by Agg


There's an interesting thread in our Science forum about Nuclear Power. So i'm writing an essay/paper/whatever in which i've worked systematically through Caldicott's book, and had a go at scientifically debunking it, and i'd like to share that with you all.

Apparently the full game Cellfactor: Revolution wil be available for free on the PC on May 8th. With a PhysX processor, CellFactor: Revolution will not only look way more beautiful, but will run significantly faster. You'll also experience convincing lava, huge cloth banners and spider webs hanging from walls. These objects react to the player's actions in realistic ways, toxic fluids can be used, radioactive suits moves like real cloth and there are tons of cool explosion effects, etc. In software mode, the game will still function and be fun, but some of the fluid and cloth effects cannot be replicated in the same way without the PhysX processor.

GearLive have a video episode exploring the AMD Performance Testing Lab. Once inside and sure that our lives were safe, we spoke with Mark Welker about how AMD tests their chip technologies across different platforms, software, and games. He talks to us about benchmarks, what they mean in the real world, and how they can be gamed to show what you want them to show.

Those of you who watch the Indy 500 could be seeing a Linux-sponsored race car soon. Bob knows an opportunity when he sees one. Being a native of Indianapolis Indiana and an avid fan of Indy-style racing, Bob has seen first-hand the impact that sponsorship can have on a product or service.

Apparently the security problems with next-generation DVDs have been fixed with a patch, thanks Michael. New high-definition DVDs will include updated keys and instructions for older versions of the PC-playback software not to play discs until the software patch has been installed. Corel has told users of its software that failure to download the free patch will disable the ability to play high-definition DVDs.

Here's an interesting project to convert an iPod from HDD to flash memory. I mean, eliminating all moving parts out of our current iPods would be great, wouldn't it?

Bit-Tech take a look at gaming on Linux. While not all games work natively under Linux, there are a lot that do, either natively or through publisher ports. Among those are Enemy Territory, Doom3, Quake 1, 2, 3 & 4, Soldier of Fortune, Tribes 2, Unreal Tournament (1999), 2004 & 2004, America's Army...and the list goes on.




John Selby Interview (3 Comments) (link)
Wednesday, 11-April-2007 16:30:24 (GMT +10) - by Agg


John Selby, lecturer in Internet law at Macquarie University in Sydney and of OCAU Podcast fame was interviewed by Triple J's current affairs program Hack today. The interview covers the battle between HD-DVD and Blu-Ray, and the cracks which have started to appear in the AACS encryption system for high definition DVDs. It's supposed to be broadcast this afternoon on Triple J between 5.30pm and 6pm Sydney time and should also be available on their website here.

Update: apparently the broadcast has been delayed, and rescheduled for later this week. So we'll keep you posted.




Sponsor Specials (0 Comments) (link)
Wednesday, 11-April-2007 15:05:21 (GMT +10) - by Agg


Remember to keep an eye on our Sponsor Specials Forum if you're shopping around for a good deal. In there our many sponsors have threads, currently covering Swiftech coolers, sound cards, hard drives, notebooks, monitors, etc etc. Check 'em out!



Core PC Components:
BFGTech GeForce 8800 GTX OC2 at HardOCP.
ABIT AB9 Pro Intel P965 Express Motherboard at PCStats.
Geforce 7900GS Videocard at PCStats.
Chill Innovation 520w Super Silent at XSReviews.
Leadtek WinFast 7900GS TDH Video Card at OCIA.
ECS NF650iSLIT-A Motherboard at TweakTown.

Cases and Cooling:
Thermaltake Bach VX Mid-Tower Case at 3DXtreme.
Thermaltake LANBOX Lite at TechPowerup.
Cooler Master iTower Case at 3DGameMan.
OCZ XTC Cooler at 3DGameMan.
Vizo Voyager Hard Drive Cooler at TechwareLabs.
Cooler Master GeminII at XBitLabs.

Multimedia:
Samsung SC-DC564 Camcorder at DigitalTrends.
Gateway FPD2485W 24" Widescreen LCD at TheTechLounge.
V-MODA Vibe Red Roxx Earphone at LegitReviews.
Ruckus MediaFlex NG 802.11b/g Wireless Multimedia Router at HardwareZone.
TrendNet TEW-631BRP Wireless N Router at TheTechZone.

Other/Peripherals:
Avanquest PerfectImage Professional at OverclockersClub.
GTR Tech GT3 SFF PC at HotHardware.
Verbatim Store 'n' Go 4GB USB Drive at TechPowerup.
Revoltec FightMouse at DVHardware.
Logisys PC Extension Station at BigBruin.
OCZ Trifecta Secure Digital Memory 1GB at Phoronix.



Core PC Components:
NZXT Precise PRC-1000 (1000W PSU) at Bjorn3D.
Nvidia GeForce 8800 GTS 640MB vs. 320MB at LegionHardware.
OCZ 2x1GB PC2-6400 Flex XLC DDR2 Memory Kit at Virtual-Hideout.
ECS PN1 SLI2 Extreme nForce 590SLI Motherboard at PCStats.
ASUS EAX1950PRO Video Card at ThinkComputers.

Cases and Cooling:
Zalman HD160XT HTPC Enclosure at PCPer.
Aerocool Zero Degree ATX Computer Case at LegitReviews.
Sunbeamtech UFO Acrylic Cube Case at Pro-Clockers.
Galaxy TVisto Multimedia External Hard Drive Case at OCIA.
Ultra ChillTec Thermo Electric Cpu Cooler at OverclockersClub.
Scythe Ninja Rev.B CPU Cooler at PureOverclock.

Multimedia:
Apple TV Video Review at DigitalTrends.
Samsung SCH-u620 at DigitalTrends.
Icemat Siberia In:Ear Headset at 3DGameMan.
Polaroid PDM-1040U Portable DVD Player at Monster-Hardware.
Canon PowerShot SD1000 at DigitalTrends.

Other/Peripherals:
Ridge Racer 7 PS3 at TweakTown.
nMedia MCESKB 2.4GHz Slim Trackball Keyboard at BenchmarkReviews.
Antec ILR LED Light Tube at TechwareLabs.
OCZ Equalizer Laser Gaming Mouse at XYZComputing.
QPAD XT-R mouse pad at Modders-Inc.
OCZ Equalizer Laser Gaming Mouse at TechGage.



There has been news flying around the Internet for the last couple of days about the Intel Quad Core QX6800 with four 2.93GHz cores.

Here is Intel's official press release - Intel Corporation today advanced its enthusiast-level quad-core processor family with the introduction of the Intel® Core™ 2 Extreme processor QX6800, the company's twelfth quad-core processor offering. Running at 2.93 GHz -- the fastest native clock speed yet reached with the Intel® Core™ microarchitecture for the quad-core desktop

Anandtech have posted some more information on it - If you go to school for marketing, there's undoubtedly a lesson about announcing products too early while you still have older inventory to sell. Two weeks ago, Intel unveiled its plans for Penryn and Nehalem, the successors to Conroe, in the most forward looking disclosure we've ever seen from the company. We couldn't be happier with the way Intel has been handling itself ever since the demise of NetBurst and the Pentium 4, but admittedly it's incredibly difficult to get excited about a Kentsfield speed bump in the interim.

Here is Extremetechs roundup - The news here isn't that Intel is releasing a higher-clock-rate version of the quad-core Core 2 processor. Anyone who's gotten their hands on the previous Core 2 Extreme QX6700 knows that pushing it to 3.2GHz is almost commonplace. If Gateway and Dell can ship overclocked systems in volume, then the CPU clearly has some headroom. So Intel's shipping and supporting the new QX6800 version of its quad-core CPU at 2.93GHz is almost a yawner.

Dailytech posted a quick roundup - Intel today bumped the clock speeds of its quad-core Core 2 Extreme processors with the addition of the QX6800. The new Core 2 Extreme QX6800 clocks in at 2.93 GHz, matching last summer's dual-core flagship X6800.

HardwareLogic has tested a QX6800 based system pre-overclocked to 3.6GHz - Hot on the heels of Easter Sunday, Intel drops a golden egg in the form of their fastest quad-core processor to date, the QX6800. Before the dust can even settle on this new part, CyberPower has added the 2.93GHz slice of Silicon to their high end gaming configurations, and we managed to sneak more than just a peek at a fully decked out rig, complete with a factory overclock.

Hexus have tested the CPU - Intel knows that, on balance, it has the performance lead for both dual- and quad-core CPUs, so it's in no rush to launch the enhanced Core microarchitecture (Penryn) before it's good and ready. Intel could simply wait for the arrival of AMD's quad-core Barcelona SKU and hit back with a faster-clocked version of its quad-core Kentsfield core, or, knowing that the Extreme series is more about prestige and brand visibility than volume sales and profits, launch another QX6x00 now.

HotHardware have also tested the CPU - Hot on the heels of the holiday weekend, Intel is launching a new flagship quad-core processor targeted at hardcore power users and PC enthusiasts. As its name implies, the new Core 2 Extreme QX6800 has frequency parity with its dual-core counterpart, the Core 2 Extreme X6800 - sans the "Q". At 2.93GHz this makes the Core 2 Extreme QX6800 Intel's highest clocked quad-core desktop processor to date.

The Inquirer have posted some thoughts and some benchmarks - INTEL HAS CHOSEN Easter Sunday to launch its latest product known by the full name as Core 2 Extreme QX6800, displacing its predecessor's dual-core X6800 and quad-core QX6700. Most enthusiasts will however, just name this model Kentie at 2.93 GHz.

TheTechReport have ran a whole bunch of benchmarks - DO YOU KNOW the one about the rabbi, the chimp, the Catholic priest, and the jar of peanut butter? No? Neither do I, which is a shame, because I could use some filler material right about now. You see, I have to write a review of the Core 2 Extreme QX6800 processor. It's not that this CPU is a boring subject per se; this is, after all, a quad-core monster that runs at 2.93GHz and costs a whopping twelve hundred dollars. It's just that the previous fastest CPU on the planet was its predecessor, the Core 2 Extreme QX6700, and the competition from AMD wasn't really all that close—especially once you figure in things like power consumption, motherboard selection, and overall system costs.

And finally there is a thread discussing this here on our forums.



HardOCP havep posted their experiences with the PS3 over the last 30 days. While some may folks may disagree, there is no denying that the PlayStation 3, while captivating the imagination of millions around the world, has had more than its fair share of setbacks and delays thus far. Originally scheduled to launch in Spring 2006, Sony officially announced the PlayStation 3 at E3 in May of 2005.

Apple has sold its 100 millionth iPod since its release over five years ago. "At this historic milestone, we want to thank music lovers everywhere for making iPod such an incredible success," said Apple CEO Steve Jobs. "iPod has helped millions of people around the world rekindle their passion for music, and we're thrilled to be a part of that."

Computer hobbyists are a dying breed due to more online help available and apathy. Computer hobbyists are a dying breed - literally. Computer club officials say their members are getting greyer and fewer in number as home computers become steadily more common and treated more like the telephone: always there, always on. They complain that young people no longer care how computers work. They are more interested in what they can do with them: games, mail, chat rooms and online virtual communities such as Second Life.

An American principal has sued ex-students over defamatory comments about him on their Myspace user pages. A Pennsylvania school principal has filed a lawsuit against four former students, claiming they falsely portrayed him as a pot smoker, beer guzzler and pornography lover and sullied his reputation through mock MySpace profiles.

A man is converting Hummers to run on biodiesel which manages to get 40 miles per gallon of fuel (5.9L/100km). Jonathan Goodwin has built a car that can run on ethanol, hydrogen, biodiesel or natural gas--all fairly clean fuels. It gets the equivalent of 40 miles a gallon. And it's a Hummer. Goodwin, a biodiesel conversion specialist and founder of alternative energy start-up SAE Energy, is an emerging name in an unlikely niche in the clean tech market: making muscle cars green.

The creator of Microsoft Word has been blasted into space making him the 5th civilian to go into space. I'm finding myself oddly fascinated by the news that Charles Simonyi, the former Microsoft software architect and current billionaire, is now the fifth civilian ever to be rocketed into space. (He's on his way to the International Space Station onboard a Soyuz spacecraft that took off from Kazakhstan on Saturday.)

DansData have posted some more letters, some highlights include memory problems, plug and play, burning speed and monitor problems.

HardwareSecrets have continued their series on how TCP/IP works, part two. Part one can be found here for those who missed it. In our How TCP/IP Protocol Works tutorial we've explained the basic architecture of TCP/IP protocol and how the basic protocols involved (like TCP, UDP and IP) worked. Now it is time to get a little bit deeper, explaining other protocols and other TCP/IP functionalities we didn't cover before, like Telnet, SSH, TFTP, DHCP, DNS, ICMP, RIP, OSPF, BGP, ARP and more.

Damn Interesting has posted a new article about submersible aircraft carriers. By the time the larger support crew penetrated the woods with their firefighting equipment four and a half hours later, Gardner and a fellow lookout had managed to wrestle the fire into submission. As the crew helped to mop up the last of the smoldering mess, the investigators found the remains of the offending ordnance. The fragments of the phosphorus incendiary bombs were stamped with Japanese markings.

Today's timewaster is from Joanna. It's called Red where you control a turret to try to deflect the flying circles from hitting you. I survived for 600 seconds so aim to beat that.



Microsoft is adding a messenger client to the Xbox 360 with a qwerty thumb keyboard. As part of its efforts to bridge the divide between PC and Xbox 360 gamers, Microsoft announced today that Xbox Live users would soon be able to access Windows Live Messenger. The feature will be added for free through an Xbox 360 Dashboard update - due for release on May 7 - and means that, for the first time, Xbox owners will be able to hold instant messaging conversations with those on a PC.

EpiaCentre have posted some photos of VIAs upcoming EPIA motherboard. One of our readers attended Embedded Systems Conference which took place in San Jose earlier this week. He also stopped by VIA Technologies and was quite surprised to see 4 (!) new EPIA motherboards. He took some photos of the EPIA SN, EPIA LT, EPIA LN and EPIA NR motherboards and sent them over because as he put it "I was surprised that I hadn't seen them on EpiaCenter".

TechwareLabs have checked out FON which aims to create a large community of WiFi access points. The FON appliance is a wireless access point that provides internet access through your high speed connection. Now a lot of users out there are ask why would I want to share my internet connection, well the appliance is beneficial two fold, first once you own an appliance you can register it with an account. This account allows you to connect to and use any FON internet access point world wide. Also the FON device can be set up to charge those users who would like to use your WiFi connection.

HardwareSecrets have checked out Windows Vista Readyboost to see if it really improves performance. ReadyBoost is a technology brought by Windows Vista that allows any piece of flash memory like pen drives and memory cards to be used as a disk cache improving, in theory, the system performance. However so far we were not able to see any performance improvement on our system. Let's explore the subject.

TechARP have looked at Vista certification and if it is actually all that meaningful. Right after we reported how ATI's partners started shipping the new ATI Radeon X1950 GT as a Vista-certified graphics without a working driver, NVIDIA sent us a sample of a soon-to-be-released GeForce 8600 GTS graphics card... also without a working driver. Is this the new trend in the graphics card industry?

Check out this funny list of computer things that only happen in movies. They forgot to mention the amazing image improvement technology that computers seem to have in most movies which can turn a low resolution blurry photo or video into a highly detailed image in a couple of clicks.

WindowsAtoZ have posted their thoughts on the state of Vista two months after release. So it has been a little over two months since the release of Windows Vista and there's certainly been a lot of buzz about it among the tech community. There's been all kinds of message boards popping up all about Vista, especially dealing with customization. I've been using Vista Home Premium since the beginning of February when I bought a new Pavilion Media Center PC from HP, so I've certainly got my feet wet when it comes to learning the new features and using the new interface.

Matt sent in this article about an upcoming came called World in Conflict which is an RTS with features of a highly detailed FPS. Zoom in towards a helicopter and you can see the pilot's face. Out in the woods past the town's fringe, you can hear the rustling of leaves as wind blows through the trees. The town buildings are immaculately detailed and the entire environment is destructible - every tree, building and vehicle can be blown up.

ThinkGaming have posted some of their favorite video game easter eggs. If you are still interested check out EEggs which lists easter eggs in many different categories. Since it is Easter I decided to compile a list of my favorite video game easter eggs. Video game easter eggs are little things that video game developers put into games that are hard to find, but if and when you do find them you laugh or say sweet! Video game easter eggs have been in almost every video game out there all the way back to the Atari 2600! So here are some of my favorites.

Check out this home built Steam R2-D2 dubbed R2-S2. That guy also has some other interesting steam projects for those interested.
Edit: I realize that it may not last long as it is probably on Digg or Slashdot so be patient, it will come back eventually.

Todays timewaster is from Matt and is called Indestructo Tank. Your tank cannot be destroyed so you aim to get hit by bombs to throw the tank in the air destroying the choppers.



Core PC Components:
AMD Athlon 64 X2 6000+ at AtomicMPC.
Ultra X-Pro 600W EE at HardOCP.
Ultra X-Pro 750w at HardOCP.
Foxconn 975X7AB at AtomicMPC.

Cases and Cooling:
Cooler Master NotePal S Notebook Base at HardwareZone.
Antec/Veris Fusion at TechPowerup.
OCZ Vindicator at TBreak.
Gigabyte 3D Aurora 570 at AtomicMPC.

Multimedia:
Budget Gaming LCDs at AtomicMPC.

Other/Peripherals:
Ideazon Reaper Optical Gaming Mouse at RBMods.
Test Drive Unlimited PC Game at GamePyre.
Command & Conquer 3 - graphics and gameplay at Bit-Tech.
Dreamlinux 2.2 RC1 Multimedia GL at Phoronix.
Dell XPS 710 H2C at HardOCP.



Here is even more great photography coming from our Photography Forum.




Remember, if you have some nice photography or have seen some send it to news@overclockers.com.au to get our attention.



Malaysian bloggers are going to need to register with the government to "prevent malicious content being posted on the internet", according to the communications minister. TechDirt also have some coverage on this. He added that the ministry did not have any problem with bloggers who identified themselves, and he welcomed blogging activities. However, he said there were about 50,000 websites registered under the .my suffix and there were a lot of avenues for anyone to host websites with malicious content which could harm the country's security.

Apparently the Wii is still leading next gen console sales. According to NPD, the Nintendo Wii sold 1.86 million units from November 2006 through February 2007; in comparison, Sony sold 1.1 million PlayStation 3 consoles and Microsoft managed to move 1 million Xbox 360s.

Although it is a bit over a week old, Gameinformer have posted some content on the upcoming Team Fortress 2. Here is their roundup of the The History Of Team Fortress 2, the interview about The Evolution Of Team Fortress 2 and finally a Team Fortress 2 Hands-On Preview.

The success of either of the new HD optical formats could come down to which format the porn industry chooses. Thirty years ago, VHS toppled Betamax in part because of the adult film industry, and now some see blue movies playing a key role again as backers of HD-DVD and Blu-ray maneuver to make their formats the standard. The stakes are high. As prices of high-definition televisions and DVD players fall, backers of the rival -- and incompatible -- formats are looking to tap a home and rental DVD market approaching $25 billion. Yet so far, neither next-generation format has been able to land a knock-out blow.

TechwareLabs have posted a guide to hotwire your PSU to run outside of a case without needing to be plugged into a motherboard. This is useful for testing accessories outside and away from a computer. Testing certain components and systems is often ideal to do outside of your computer case so that you do not end up harming your system. Such as testing out a water cooling system, new fan, TEC element(to find hot and cold sides), wiring components, testing UV cabling etc....Imaging finding out that your new water cooling system is not sealed properly once it's inside your case.

Myspace is set to stage a virtual US presidential election just before the real life election in 2008. "MySpace is establishing itself as a powerful player in the political engagement arena by giving power to its users," said Declare Yourself president Cherie Simon. "When MySpace's massive reach is fuelled by its strong commitment to empower its users, it will drive millions of young people to actively engage in their democracy by registering to vote."

The pink Zune is getting a production run of 100,000 which will be available in retail stores. It's true - we have a pink Zune hitting retail stores starting in May. We're doing a limited run of 100,000 devices, and they'll be sold in the same retail channels where Zune is sold.

Phil sent in this funny video, although it is quite old it is pretty funny. The comedian pokes fun at tech support and novice computer users in general.

Todays timewaster is from Joanna with this timed mouse click game where you need to keep your mouse held down for the specified amount of time.



Core PC Components:
Ultra MicroFly MX6 Case w/ 600 Watt XVS PSU at Modders-Inc.
Antec EarthWatts 500W Power Supply at Virtual-Hideout.
Patriot Extreme Performance DDR2 2GB (2 x 1GB) PC2-8500 at PCFrags.
ASUS M2N32-SLI Premium Vista Edition Motherboard at Hexus.
Abit IN9 32X-Max Wi-Fi Motherboard at OverclockersClub.
Ultra Grid Computer Case + XVS 700W Power Supply at RBMods.
OCZ Secure Digital Dual Memory Card at Maxit.
OCZ 1000w ProXStream PSU at OverclockersCafe.
Mushkin XP2-6400 4GB Kit at Bjorn3D.

Cases and Cooling:
ASUS Silent Knight Cooler at HardwareZone.
NZXT Adamas Aluminum ATX Case at BenchmarkReviews.
3R System M-Station HT-4000 at TechPowerup.
CoolIT PCI Cooling Booster at RBMods.
NewerTech USB 2.0 Universal Drive Adapter at BigBruin.

Multimedia:
Fujifilm FinePix F31fd Camera at DigitalTrends.
Video ReMaker at DansData.
Command and Conquer 3 Tiberium Wars at GamePyre.

Other/Peripherals:
MyahOS 3.0 Tech Demo 1 at Phoronix.
Revoltec Gamepad Precision Pro and Advanced mousepad at DVHardware.
AIC XN 100 WSS Storage Server at TechwareLabs.
Supreme Commander at OZCaseMods.



XbitLabs checked out some giant monitors from Dell and Samsung. Today we are going to look at three solutions from Dell and Samsung with 27" and 30" diagonal. 27" monitors may be interesting for people who often watch movies on their PC and who need a large screen with a resolution sufficient for HDTV.

They also checked out game performance with a range of GPUs. This article continues our tradition of reviewing contemporary games and analyzing the performance of all graphics cards available in the market at a given period of time.

Here's an interesting article about real-time raytracing using three PS3 consoles. IBM Interactive Ray-tracer (iRT) using three Sony Playstation3s (PS3) to render a model that is 75x more complex then those used in today's games.

Timbot pointed out this interesting article on HardOCP covering quad-core performance in Supreme Commander. Supreme Commander is one of the first games to feature out-of-the-box multi-core processor support. Will a quad-core CPU really show better gameplay?

AMD has released some 3GHz Opterons. The two new models will both run at 3.0GHz and offer 2MB of Level 2 cache and the same integrated memory controller and HyperTransport technology (a high-speed chip-to-chip interconnect) as other processors in that series.

If you find yourself being shot with an AK-47 at close range, perhaps your iPod could save your life. It slowed the bullet down enough that it did not completely penetrate his body armor. Fortunately, Kevin suffered no wound.

People are reporting the ASUS website may be hacked and host a file that attempts to exploit a Windows flaw. Apparently the patch for the cursor flaw is having some trouble too.

Technibble have a guide to replacing your PSU. You might want to check out the Power Supply Unit page in our Wiki for more info.

Matt sent in a timewaster, Apache Overkill. Fly your chopper through a side-scroller and blow stuff up.




Saturday Evening Reviews (2 Comments) (link)
Saturday, 7-April-2007 18:01:53 (GMT +10) - by Agg


Audio Visual:
TrekStor Vibez MP3 Player on DigitalTrends.
Freestyle Audio DMP Waterproof MP3 Player on FutureLooks.
Razer Barracuda AC-1 Sound Card on Techgage.
Buffalo LinkTheater Wireless Network Media Player on ThinkComputers.

Input Etc:
Lexma AB610 Laser Bluetooth 'Germ Free' Mouse on OZHardware.
Rantopad Mammoth mousepad on TechPowerUp.
Steelpad QcK Heavy mousepad on BurnOutPC.
Razer DeathAdder vs Microsoft Habu gaming mouse comparison on XbitLabs.
Nuke-Z N-2000 mousepad on TechPowerUp.

Video Cards:
PowerColor X1650 Pro "Year of the Pig Edition" on OCOnline.
Colorful X1650GT-GD3 on OCWorkbench.
ASUS GeForce 8800 GTS 320MB on HotHardware.



Navillus is organizing a rather interesting OCAU style getogether - a group trip to Japan. He was inspired to do such a thing after he noticed Dopefish then many others on IRC commenting about Japan and how interesting it is. He is planning the trip for late this year/early next year (Nov - Jan) so check it out if you think you might want to be part of it.

So I'm looking for expressions of interest for a group trip to Japland around Nov-Jan. Please post your preferred time period if interested too and I'll see if theres a common time everyone has free.

PS: Please no "You are insane to be planning this" comments. I am aware of that fact.



Verisign are raising domain name fees by 10% for .net domains and 7% for .com domains. VeriSign on Thursday said it that it will increase the fees it charges for Internet domains ending in .com or .net. Starting October 15, VeriSign will charge $6.42 for .com domains and $3.85 for .net domains, it said in a statement. The fees are charged to domain registrars such as GoDaddy and TuCows, which typically handle domain registration for customers.

PCMech have checked out the process of hacking the Apple TV. Recently, Apple Inc. released one of its latest devices: the Apple TV. At just under $300, the Apple TV is capable of holding roughly 50 hours of television and wirelessly broadcasts media from one's Mac (or PC) to his wide-screen television. With the Apple TV you can now enjoy, from the comfort of your couch, all the TV episodes and movies you've downloaded (legally of course) through services like iTunes. Within a week of the release of the Apple TV, guides on how to hack and modify the device have already begun to surface on the Internet.

VIA Arena have looked into Personal Portability Uptime which is the relationship between the portability of a device and how much use you get out of it. One of the buzz terms floating around the office in Taiwan is "PPU". The term stands for Personal Portability Uptime. Man do I hate the overuse of acronyms! What PPU is basically saying is that because a UMPC is far more portable than a laptop, you get more use out of it. They certainly are more convenient to carry around than laptops. One of the toughest things about being a geek is all the gadgets and stuff you have to carry around.

DansData have posted an article about expectations of different users on technology. It's a balancing act, I tell you. If you know nothing about technology, you'll keep running into totally opaque, utterly illogical problems that totally shatter your workflow - or entertainment-flow, for that matter - and confidence, leaving you feeling like a chimp trying to pass a driving test. If you learn all of the ins and outs, though, you start to notice things.

You can expect coloured Wii controllers and nunchucks coming up in the not too distant future. Well, that rainbow never landed, and we've been a captive of White since then. However, that might be changing very soon. Go Nintendo reports that a retailer list they've seen announces the upcoming different colors for Wiimotes and nunchucks, and that they will be made available on June 29th in Europe. No mention of dates for U.S. or other territories.

XYZComputing have posted some info about Vista Readyboost on Laptops. One of the most notable new features in Windows Vista is ReadyBoost. This is a caching feature that uses flash memory in order to speed up Vista's performance. Because flash memory is cheap, very quick with random reading, and is easy to install this is something that any Vista user, regardless of their technical understanding can take advantage of. The effect of ReadyBoost is not always profound but it is generally enough to be worth taking advantage of, especially in a system that could use a bit more memory.

The Anti Blogger has posted their experience with switching to Linux. So, not exactly a planned thing… My new(ish) laptop started having problems a few weeks back and being the lazy procrastinating ass I am, I've been using a gifted ThinkPad T40 that I was using to test OpenSUSE 10.2. Yes, the first few days of using nothing but Linux & KDE drove me a bit insane. It's not that I found it any more difficult than Windows XP, it's the general awkwardness of functioning in a new environment. That little tiny learning curve that comes with anything new.

Yonas sent in this page with some really interesting CG and pictures of it throughout development. I wanted the Night Elf to look believable, despite the fact that this particular kind of elf, besides the enormously huge ears, should perhaps have violet skin, freaky eyebrows and blue hair (also two belly buttons and a third nostril on her back). I began constructing the material and the lighting setup process for the Elf as if she was a human, gradually mutating her into the intended creature. The hair ended up being just a few planes with textures, painted in Photoshop with a mouse because I actually don't have a tablet. Even the teeth, I modeled separately.

Check out this special Foosball "good vs evil" edition which feature unique characters on each team who are regarded to be good or evil. The hand-painted detailed figurines are set into a hand-crafted maple cabinet which retails at £14,500. It sounds quite pricey but 400 man-hours go into making each table. The only dilemma is which side you're on; sounds like a perfect toy for a philosopher's games room!



Here are some interesting forum threads I have come across over the last couple of days:

Easter Bunny meets 5800 Volts, 50000 Amps in The Pub
vista + new "budget" machines = POS in Windows Operating Systems
AMD's Barcelona (K10) : Details emerging. in AMD Hardware
The F1 Malaysian GP Thread - 100% more Qualifying coverage! in Motoring
Massive price cuts from AMD on 9th April :) in AMD Hardware
Click Click Click in The Pub
warren spector sez "are games overpriced?" in Games.



Core PC Components:
Corsair Dominator 9136C5D and 10000C5DF memor at Bit-Tech.
Asus P5N32-E SLI Plus vs Abit IN9 32X-MAX at HotHardware.
Mushkin HP-580AP Modular 580W PSU at BenchmarkReviews.
ASRock ALiveNF5-eSATA2+ NF520 at OCWorkBench.
GeCube vs Sapphire - Radeon X1950 Pro AGP at Hexus.

Cases and Cooling:
Thermaltake LANBOX SFF Case at 3DGameMan.
Thermaltake Kandalf LCS Case at OverclockersClub.

Multimedia:
Sony TMR-BT10 Bluetooth Audio Transmitter at OZHardware.
Canon EOS-1D Mark III at HardwareZone.
ATI Catalyst 7.3 Performance Analysis (Windows XP) at TweakTown.
Parrot Boombox at TrustedReviews.

Other/Peripherals:
Shuttle XPC X200 at HardwareZone.
HP Compaq 6515b Notebook PC at HardwareZone.
Razer Tarantula at XSReviews.
Western Digital 320GB USB/FireWire My Book at OCIA.
Dragon's Lair - The first full Blu-Ray Java title at HardcoreWare.
Lenovo Thinkpad Z61t Notebook at XYZComputing.
Command & Conquer 3 : Tiberium Wars at TechARP.



Core PC Components:
Intel's G965 Express chipset at TechReport.
MSI NX8800GTX OC Liquid at T-Break.
Antec 550W Neo HE PSU at PCFrags.
ASUS EN8800GTX AquaTank at Bjorn3D.
ASUS GeForce 8800 GTS 320MB at TechSpot.
PowerColor X1550 at TheTechZone
FSP Blue Storm 500w at XSReviews.

Cases and Cooling:
SilverStone CFP51 Bay Converter at XYZComputing.
Enermax Uber Chakra Case at Pro-Clockers.
Antec Nine Hundred Computer Case at LegitReviews.
ThermalTake Max Orb at XSReviews.
SunbeamTech UFO Acrylic Cube Case at Virtual-Hideout.
CoolIT Systems RAM Fan at Bjorn3D.
Bluegears b-flexi 80/120 LED fans at Pro-Clockers.

Multimedia:
Kensington SX 3000R Flat Panel iPod Speakers at TheTechLounge.
Zune Portable Media Player at Internode.
Toshiba HD-XE1 HD DVD Player at TrustedReviews.
Nokia N95 at HardwareZone.
LOGiWOOD 5.1 Speaker Set at Metku.

Other/Peripherals:
Saitek X-52 Pro Flight Control System at TechGage.
Lowepro Stealth Reporter D650 AW Camera & Notebook Bag at ThinkComputers.
SteelSeries S&S Professional Gaming Mouse Pad at RBMods.




Thursday Night (2 Comments) (link)
Thursday, 5-April-2007 21:05:02 (GMT +10) - by Agg


Here's a video report about some new-fangled computer thingy called "internet". Video is from 1993. :)

Sniper spotted this new way for cops to get around. For police officers, the T3 is a much safer vehicle than the Segway. Carra told us that criminals could tip a Segway-riding officer over with a simple, well-placed shove.

Hexus report on a new gargantuan CPU cooler from Cooler Master called the GemenII. The GeminII is so large that it also manages to hover above both the VRMs near the I/O ports as well as covering all four DIMM slots on the motherboard.

HardOCP report on their experiences after 30 days with Vista. They also took a look at the first factory overclocked and watercooled gaming PC from Dell. The XPS 710 H2C represents the pinnacle of Dell's engineering, and is the company's first true no-holds-barred gaming machine, so we're looking for unparalleled gaming performance, stunning design, rock-solid stability, and exceptional tech support.

Apple meanwhile has released an 8-core Mac Pro, with two quad-core Intel Xeon CPUs. Using two "Clovertown" 3.0GHz Quad-Core Intel Xeon 5300 series processors, the 8-core Mac Pro comes with 8MB of L2 cache per processor (16MB total), 667MHz DDR2 ECC fully buffered DIMM memory, eight FB-DIMM slots on two memory riser cards (four slots per card) supporting up to 16GB of main memory and 1.33GHz, 64-bit dual independent frontside buses.

XbitLabs looked at the Conroe-L processors, which are essentially "Conroe Celerons". So, it looks like Celeron 4XX is the last bastion of the single-core processors in Intel's camp. So our today's article will be devoted solely to these new processors, and has every chance to become a "single-core memorial" in the end.

One thing you don't make fun of in Thailand is the royal family - as YouTube has discovered. Thailand's military-appointed government blocked access to on-line video-sharing Web site YouTube on Wednesday after its owner, Google Inc., declined to withdraw a video clip mocking the country's revered monarch.

PCWorld list their 50 best tech products of all time. From breakthrough hardware to time-honored software, we salute those amazing products that changed technology--and our lives--forever.

Remember the British hacker who cruised around computer systems in the Pentagon, US Army, Navy and NASA etc, looking for evidence of UFOs? He's lost his extradition appeal and will be facing the music in the USA soon. At the time of his indictment, Paul McNulty, U.S. Attorney for the Eastern District of Virginia, said "Mr McKinnon is charged with the biggest military computer hack of all time."

TomsHardware have a guide to enterprise hard drives. The latter are designed for high flexibility, long-term 24/7 operation and high performance environments, and it is time to shed some light on this market segment as well.

MadShrimps played with an X6800 and Liquid Nitrogen, as you do. It's the need for speed which drives us to go faster and higher, the result with the Cascade cooling was far from disappointing, but we really wanted to join the "minus 10 seconds" SuperPi club, so we loaded up a few liters of LN2 to start an extreme benchmarking sessions.



The GPS system may be under threat by future solar bursts which have disrupted the system in the past. The Global Positioning System (GPS), increasingly vital technology for activities including navigating cars and planes, bank financial transfers and more, may be threatened by powerful radio bursts from the sun, a panel of scientists in the US warned today.

Google is planning a tool to allow users to create custom maps. Google Inc. is out to make map-making simpler, giving away tools for ordinary users to pinpoint locations, draw routes and attach photos or video to existing online maps, the company said on Wednesday. The Web search leader, which set off an explosion of creative map-making among professional programmers after introducing Google Maps two years ago, is now offering MyMaps, tools for everyday users to create maps in a few mouse clicks.

Malibal is planning a 20" notebook computer with SLI. I wonder how much battery life it will have? Las Vegas, Nev., April 5th, 2007 - MALIBAL, a world leader in innovative laptop design and development, today announced the release of its new Veda Series™ line of notebooks. Available immediately, the Veda Series features an extensive collection of high-end options, including: 20.1" widescreen display, two hard drive bays and RAID 0/1, dual GPU capabilities with NVIDIA® SLI™ technology and AMD dual-core mobile technology.

Cracked have posted the five most annoying banner ads on the Internet including some ones that probably do a better job of detracting adclicks.

[Be Wary] According to OCWorkBench AMD socket 939 processors will be resurfacing with DDR and DDR2 memory support. Many users were quite unhappy to go with the newer Socket AM2 processors becuase they do not wish to change their board and upgrade to DDR2 modules. A hybrid design memory controller is said to be in the works and will first appear on future Socket 939 CPUs manufactured in 65nm. It will come with a Dual memory controlller to support both DDR and/or DDR2. The good thing is that you can mix and match RAMs too.

It seems that a red Microsoft Zune might be in the works. In more Zune news Microsoft is forseeing DRM free music availability for the Zune. Microsoft plans to follow Apple in selling unprotected songs from EMI, though the company won't say just when such tracks will appear on the Zune Marketplace store. When CEO Steve Jobs issued his open letter calling for an end to DRM, Microsoft said the total abolition of such protections would be irresponsible, since they are needed for subscription music and other new business models. However, the software maker said Wednesday that it does plan to offer DRM-free music from EMI and others.

Bit-Tech have done a roundup of modded machines at Cebit. This year's CeBIT trade show wasn't quite what it was last year, and we're expecting next year to be more of the same in that respect. Even though the days of trade shows appear to be numbered, with many manufacturers choosing not to turn up, many of the world's best modders are turning up with their latest creations.

TechARP have posted their experience with ATI's new Vista X1950 GT driver. Recently, we wrote about how the ATI Radeon X1950 GT graphics card had managed to obtain Vista certification without a working driver. Well, the first working driver for the Radeon X1950 GT finally appeared on March 28, 2007. Time to pop the champagne, eh? Well, not quite. Let us take you on an amazing journey with ATI's new Catalyst 7.3 driver set. Then tell us whether you think ATI software engineers should be given a raise for their superb efforts or shot like rabid dogs.

Today we have a mega timewaster from Brad81. It is a whole bunch of emulated retro games played online in your browser, JRE is required though. My particular favourite is the classic Tetris.




Competitions Update (0 Comments) (link)
Thursday, 5-April-2007 13:11:51 (GMT +10) - by Agg


There's quite a few contests and things going on at the moment.

Firstly there's a funny caption contest where you can win a set of speaker kits from The Loudspeaker Kit, or an mp3 player or OCAU merchandise. It's worth checking that thread out even if you don't want to enter, because some of the entries so far are hilarious.

There's also a contest to make some OCAU banners in our Graphics & Programming forum. You can win a Zalman video card cooler or a nice maglite+penknife set from ATI, and some OCAU merchandise.

On the Iron Photographer front, you can now vote for your top 10 favourites out of the March entries. The top 10 finalists win licenses for the Expectal Photo Gallery software, and the winner this month (and each month this year) gets a 1GB SD or CF card from Road Mogul too. In fact the February winner has been announced and it was a draw, but Road Mogul were kind enough to provide two prizes for the winners. April's contest is now underway with entries here and discussion here.

Running from 1st March to the end of May is our latest Modding Competition. There are some prizes on offer from BlueChip Warehouse, as well as some OCAU merchandise. You can see the entry worklogs here.



John sent me word of an Australian company (based in Brisbane) which is making some really interesting web 2.0 webapps. I am pleased to see some real innovation coming from some Aussies in a market so dominated by the yanks. I signed up and the interface is really nice and slick with an entirely web based UI with fully moveable windows and a set of applications including a Word processor, spreadsheet program, calculator and a file manager. It also has some neat tools to organize open windows. They have a press release for those interested here. Peepel is a unique approach to online applications, allowing multiple applications to run in the same window. Users can open as many applications as they wish in multiple resizable PeepelWindows within the one browser window. PeepelWindows are not pop-ups and can be resized, moved, stacked or cascaded. Peepel is in early stages at the moment, but keep an eye out for tight integration between all the applications. Peepel WebMaps are coming soon.

There is some interesting Nintendo DS news as Nintendo has broken 500,000 units sold in Australia. Also, Nintendo are partnering up with Telstra to offer Wifi connectivity at their hotspots. Good news Aussie DS gamers! Nintendo Australia, in conjunction with Telstra, today announced that Aussie players now have access to over 1,000 Telstra Wireless Hotspots to feed their DS Wi-Fi habit. Destinations available run the gamut from McDonald's restaurants and Starbucks cafes through to airports, hotels and city Hotzones (throughout Melbourne and Sydney).

HardcoreWare have posted their thoughts on the evolution of video games in the coming year. Nintendo has brought the latest evidence to the table that good graphics doesn't necessarily make for compelling games. The Wii has taken the world by storm and is definitely the cool console to have right now. Whoever thought that swinging your arm around in the air could be so playable and fun? OK, I did, but I never thought that we'd be able to get to that stage because none of the gaming companies seemed to want to go in that direction (unless you were talking about 3rd-party add-ons).

Chris sent in this article about brain remapping with the aid of technology which could extend the range of our senses. For six weird weeks in the fall of 2004, Udo Wächter had an unerring sense of direction. Every morning after he got out of the shower, Wächter, a sysadmin at the University of Osnabrück in Germany, put on a wide beige belt lined with 13 vibrating pads — the same weight-and-gear modules that make a cell phone judder. On the outside of the belt were a power supply and a sensor that detected Earth's magnetic field. Whichever buzzer was pointing north would go off. Constantly.

You should all go and run Windows Update as Microsoft has patched an exploit out of their normal "second Tuesday of the month" cycle. Daryl is impressed with the speed of the patch as Microsoft has known about it "since December". MICROSOFT has released an emergency security patch to plug a hole in several versions of Windows - including Vista, which the software maker has touted as its most secure operating system ever. Microsoft was so worried about the hole - which allowed hackers to break into personal computers and install malicious software - that it pushed out the critical security fix a week ahead of a regularly scheduled update. The company told customers last Thursday about a vulnerability in ".ani" files, which are used to change the cursor into an hourglass while a program works, or into a dancing animal or other animation on specially designed websites. Security experts said the hole was actively being exploited by hackers to install keystroke-logging programs.

Ian sent in this about what could quite possibly be the largest game of Tetris ever played. A video of the gameplay can be found here.

Matt sent in todays timewaster which is Prison Throw where you need to catapult the prisoner as far as you can.

Interesting Forum Threads:
Ricky Ponting International Cricket 2007 in Games.
AMD confirms future AGP support in Video Cards.
Extreme Landscape Photography in Photography.
Universcale: putting the universe to scale in Science.
Cop-lock: new anti-theft device in Motoring.
It has begun : 1976 260z strip, paint and fix. (56k unwise) in Motoring Worklogs.
Rebuilding my first engine in Motoring Technical.
Your Job, Salary and Education in Career, Education and Finance.
Court rules Carbon Dioxide is a pollutant in Current Events.
France TGV makes it to 540 km/h ... now 574 in Current Events.



Core PC Components:
EVGA nForce 680i LT SLI Motherboard at PCPer.
G.Skill PC2-6400 Memory at Neoseeker.
Inno3D GeForce 7950 GT i-Chill edition at Guru3D.

Cases and Cooling:
Thermaltake Soprano DX Computer Case at TweakNews.
Cooler Master CM Media 280 Enclosure at ViperLair.
Tt MaxOrb Cooler at OverclockersCafe.
Jetart HCA06 HDD Guard at OverclockersOnline.
Fanotec Nodal Ninja 3 Spherical Tripod Head at XYZComputing.

Multimedia:
Fujifilm FinePix Z5fd at TrustedReviews.
Plantronics Explorer 350 Bluetooth Headset at BlueTomorrow.
Jabra BT135 Bluetooth Headset at HardwareZone.
Sanyo M1 Cell Phone at DigitalTrends.

Other/Peripherals:
Cyber Snipa Intelliscope at OzHardware.
Nuke-Z Z8 Mousepad at TechPowerup.
Saitek GK200 Tactile Gaming Keyboard at TechPowerup.
Formula One Championship Edition PS3 at Tweaktown.
Corsair Voyager GT 8GB at TechGage.
Battlefield 2142 at OverclockersClub.
Dragon Lasers 125mW and 75mW at TechwareLabs.
SteelPad S&S Mouse Pad at Modders-Inc.
Acronis True Image Home 10 at Bjorn3D.



Telstra has revived its plans to install fibre to the node (FTTN) costing at least $4 billion. TELSTRA has dusted off its project to build a residential broadband network worth at least $4 billion, laying out a proposal for competitor access at a closed industry meeting in Sydney last Wednesday. The updated network plan for a fibre-to-the-node (FTTN) network features the latest copper-wire-based broadband technology, VDSL2, which offers speeds of up to 100Mb per second, five times faster than currently available ADSL2+. The plan is also likely to strand up to $500 million worth of investment in ADSL2+ technology by Telstra's rivals, including Optus, iiNet, Primus and Internode, people at the presentation told The Australian.

It seems that the Dutch are planning a open source car in a similar fasion to the open source cola recipie from a while back. Thanks Matt for the link. We've started seeing some of the effects come through too, even if not in true collaborative models, at least in the sharing of information (you could argue that generic drugs legislation is opening the source code of pharmaceuticals). Now, according to this article on the Core 77 blog, a project in the Netherlands is trying to bring about an open source car. The c,mm,n (pronounced "common" - awful name, all those commas) is a joint project kicked off by the Netherlands Society for Nature and Environment and three universities:

Ambush sent in this guide for adding an external antenna for your ASUS WL-176G USB WiFi adapter. This might be useful for people interesting in wardriving (the legal kind ;)) or improving your own weak WiFi signals.

PureOverclock have posted a guide to choosing a flat panel monitor. The aim of this article is to make the process simpler for you, the buyer, by demystifying some of the more important aspects to consider when looking for a TFT monitor, as well as looking at some of the recent trends in the market which may impact your purchasing decision -- Which panel technology is most suited to your needs? Does bigger mean better? What else should you consider when choosing a screen? I'll attempt to answer these questions, and along the way we'll look at some specific models worth looking out for.

Australia has maintained its world technology ranking coming in at 15th out of 122 nations surveyed. The United States, which topped the World Economic Forum's "networked readiness index" in 2006, slipped to seventh in the 2007 survey. The study largely blamed increased political and corporate interference in the judicial system. Meanwhile, Australia remained unchanged at 15th out of 122 nations surveyed in the report, trailing Japan, Taiwan, Hong Kong and Canada. The index, which measures the range of factors that affect a country's ability to harness information technologies for economic competitiveness and development, also cited the US's low rate of mobile telephone usage, a lack of government leadership in information technology and the low quality of mathematics and science education.

The venerable x86 standard is still managing to hold up even after the many processor advancements in the last 30 years. Few computing technologies from the late 1970s endure today, with one notable exception: the fundamental marching orders for the vast majority of the world's computers. The x86 instruction set architecture (ISA), used today in more than 90 percent of the world's PCs and servers, hit the marketplace in 1978 as part of Intel's 8086 chip.

Check out this this funny little device from Thermaltake that provides additional power to devices in your PC, like a secondary power supply to take load off the primary one. With each new generation of high-end video cards the demand for power just keeps growing. Not only does the separate video cards need more power, using two in SLI or Crossfire mode increases the power demand even more. It is of course possible to just buy a new more powerful PSU every time you upgrade but that is not always practical, especially if you have a PSU that you are happy with and do not want to have to replace.



Some more interesting things from the forums. Firstly spikes has checked out the two new top-flight CPU coolers from Thermaltake, the V1 and Max Orb: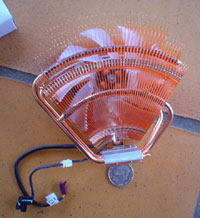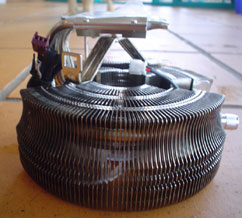 click for the review!


Next we have skootyloops, with an interesting guide to flashing the SPD on your RAM, to change the settings auto-detected by your motherboard: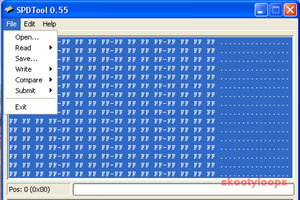 click for the article!


And finally we've seen a few whacky things from Tesla Downunder over the last couple of months, but I have to say this makes me a little nervous: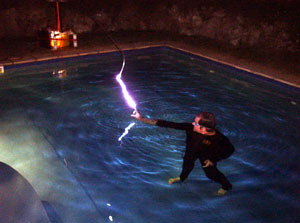 click for the.. err..





Skootyloops sent in a couple of things including an update to the video card forum rules and a thread discussing those updated rules. He also has a new sticky thread in the memory forum where people can Post Your DDR2 Overclocking Results.

Matt sent in this about possible upcoming free Wifi in many major NSW cities. But within months it might be a reality in Australia, although the reality of "free" connections is most likely to be that someone's paying for it, somehow. The most visible of the would-be free wireless players is the NSW Government, which announced last year that it would blanket central Sydney's central business district and other business with free wi-fi signals. The proposal calls for hot spots to be set up in the Sydney CBD, North Sydney, Gosford, Liverpool, Newcastle, Penrith, Parramatta, and Wollongong.

EMI and Apple have signed a deal to allow the purchase of DRM free songs from EMI. The Register have posted an article about it here and here are some more opinions on the matter. There is a thread discussing this here. Thanks to Stephen for most of these links. CUPERTINO, California—April 2, 2007—Apple® today announced that EMI Music's entire digital catalog of music will be available for purchase DRM-free (without digital rights management) from the iTunes® Store worldwide in May. DRM-free tracks from EMI will be offered at higher quality 256 kbps AAC encoding, resulting in audio quality indistinguishable from the original recording, for just $1.29 per song.

NordicHardware have posted a roundup of the results of the Pirate Bay raid. Ombudsmen of Justice (JO) has since then been investigating if there have been any irregularities. There were quite a lot of rumors going around that MPA, IFPI and other lobby organizations, but also the American embassy, was trying to steer ministers and other high officials to pressure the police and prosecutors to act against The Pirate Bay. The report that have been published clearly states that IFPI, MPA and the American embassy had contacted the current Minister of Justice Thomas Bodström and the Secretary of State Dan Eliasson in an attempt to make them force the police into action.

Microsoft is targetting more software pirates who have taken advantage of discounted educational pricing when they weren't entitled to it. The Redmond, Wash., software maker has filed nine lawsuits and sent more than 50 letters threatening such action, it said in a statement. The suits were filed in the U.S., but target groups that operate internationally, posing as academic resellers in Jordan and elsewhere in that region and reselling discounted Microsoft products in the U.S.

Matt sent in some April Fool timewasters for those who want to read some funnies.



Core PC Components:
Ultra X-Pro 600 Watt ATX Power Supply at TweakNews.
Foxconn GeForce 8800 GTX at HotHardware.
Asus Striker 680i Extreme Motherboard at MaxitMag.
Gigabyte N680SLI-DQ6 Motherboard at TweakTown.
Nvidia's nForce 680i LT SLI motherboard at TechReport.
Hiper HPU-4M730 730Watt PSU at ViperLair.
Akasa vs FSP - 500W PSU at Hexus.

Cases and Cooling:
Enzotech Ultra-X Active CPU Cooler at PCPer.
CoolIT Systems RAM Fan at OverclockersCafe.

Multimedia:
Sony HDR-SR1 AVCHD HDD HandyCam at OZHardware.
Apple TV at TheTechLounge.
Shure SE210 Noise Isolating Earphones at TrustedReviews.
Arctic Cooling Freezer 7 Pro at PureOverclock.
Samsung SyncMaster 205BW Black 20" LCD Monitor at BonafideReviews.
Pentax Optio M30 at TrustedReviews.

Other/Peripherals:
The New Logitech G5 Laser Gaming Mouse at OverclockersClub.
Ultra 425W Backup UPS at 3DGameMan.
God of War 2 PS2 at GamePyre.
Kingston 2GB DataTraveler Reader & 1GB ReadyFlash at Virtual-Hideout.
Logitech NuLOOQ Navigator at XYZComputing.
Microsoft Wireless Laser Desktop 4000 at TechGage.



As always there are some interesting threads and worklogs of various projects that are taking place. Click on each one of the pictures to go to the corresponding thread for more information, pics and discussion.

Look what i found ;) - I was rummaging through some of the parts i had at the workshop this afternoon, and look what i came across....




A little laptop modding... - Thought i would show off my latest painting effort. It has taken me 3 and a bit days, and ~$40 in paint to do this. The whole laptop had to be disassembled, sanded back to the primer, primed, 2 sections filled (car filler), sanded, primed, 3 coats of color, wet sanded, 1 coat of color, 3 coats of clear, wet sanded, 2 coats of clear, reassembled.




G4 Casemod - my implementation - Friday arvo I was quite bored, it was raining hard and nothing to do. I looked at my computer, and it's quite boring to look at. So I thought i'd fix it.




Emans Silent PC and Cooling Mod.. (stackers) - Most people spend a lot of time and money trying to keep their system quite and cool. Either through watercooling, high end air cooling, phase charging etc or passive cooling. There is no great solution as each option has a draw back. My though process was... "Rather than trying to keep the system quite, what if i blocked the sound it was making..." and then... "the computer is going to create noise and heat no matter what i do, so let it do that... But what if i wasn't in the room with it..."






Remember there is still residual April Fools stuff hanging around so don't be worried if some stuff gets through onto the page. You have been warned :).

Ze sent in this useful tool, Mailinator which allows you to make temporary email addresses. Have you ever gone to a website that asks for your email address? (haven't we all). You know that the moment you type it in, it is streaming across the net on its way to every spam database in the world. You simply can't be that careless with your personal email address. What if there was a website that any and every email address you can think of already exists. And you use any one you like, anytime you like - just by thinking one up.

Justin sent in this info about a "supposed bug" in the 8800 GTX/GTS although it turns out to be just more April Fools stuff.

Mark sent in this oil PC project with a little bit of a twist. Got a PC, but forgot to buy a Deep Fryer for that weekend party? Fear not! There is a solution! Just grab that high-end PC, stick it in a bucket, fill said bucket with oil, and play a CPU intensive game for a little while. In no time, your fryer oil will be hot enough to cook you some tasty treats! Great for the time between frags...

A couple of people sent in this link of Googles latest April Fools prank, the Toilet ISP. Introducing Google TiSP (BETA), our new FREE in-home wireless broadband service. Sign up today and we'll send you your TiSP self-installation kit, which includes setup guide, fiber-optic cable, spindle, wireless router and installation CD.

Fabricator sent in this where a judge has ruled against the DVD Copy Control Association after he found a companies media server does not violate the security technology used to protect DVD disks because the licensing is so poorly worded. Judge Leslie C. Nichols ruled against the DVD Copy Control Association (DVD CCA) in a civil suit that asked the court to force startup Kaleidescape to change its design or stop selling its server that stores hundreds of DVD movies on a hard drive array. Nichols said the basis for his decision was his ruling that an entire section of the DVD CCA's spec for the Content Scramble System (CSS) was not technically included as part of the license agreement.

HardcoreWare have posted an article about why people don't care about overclocking anymore although I think that statement could be contested. There are basically two reasons for someone to overclock their computer hardware. The first is the geek factor, and the second is for monetary reasons. The geek factor is basically overclocking just for the sake of saying that you did or that you can. It's the same reason that auto buffs tweak their engines to get the maximum amount of horsepower and torque. In day to day life you'll never have need for so much power, but it's great when you want to brag about your latest dyno results, or in the case of overclockers, superPi.

Nick sent in this news which appears to be more April Fools stuff. According to the german tech-site heise.de, the Mozilla Foundation is suing Microsoft over the use of tabbed browsing in Internet Explorer 7. The Mozilla Foundation owns the patent 5,160,296 through one of their developers (Solomon Katz, a former Opera dev) and has begun suing Microsoft in Mountainview, California. The Foundation wants that MS immediately ceases to distribute IE 7 and pays 1.4 Billion dollars in damages.

Although I would still be wary of news for the next couple of days, apparently a man has injured his testicle while playing the Wii naked. Doctors reported that he had apparently jerked his Wii so hard he accidently crushed a testicle by jamming the controller against a loose testical. Doctors advised him not play with his Wii again until the swelling went down.

IGN have posted some things they want to see in Resident Evil 5. The series, which was once growing somewhat stale, as well as fractured through average spin-offs (look no further than Dead Aim), has been rejuvenated by the all-conquering Resident Evil 4. Why? Well, it re-imagined the series

Check out this for odd news of the day. ADRIAN, Mich. -- A 12-year-old boy who has collected more than 150 vacuum cleaners says he is learning to identify them by sound. "I'm getting pretty good at it," Kyle Krichbaum told the Detroit Free Press. Kyle has been in Hollywood taping a game-show pilot where he had to compete against other contestants blindfolded and correctly identify vacuum models, the newspaper said Saturday. He said he got his first working model at age 3 and keeps part of his collection in his room.



Core PC Components:
DFI's LANParty UT ICFX3200-T2R/G at TechReport.
ASUS P5N32-E SLI Plus Motherboard at Motherboards.org.
OCZ 2GB PC2-7200 SLI-Ready Edition at TechGage.
Miller Electric 10,000W Power Supply at PCPer.
Crucial PC3200 ECC Server Memory at 3DGameMan.
Asus EAX1650XT Video Card at ViperLair.
Leadtek WinFast PX8800 GTS TDH 320MB at HardwareZone.
AMD Athlon 64 4800+ X2 Energy Efficient Review at Motherboards.org.

Cases and Cooling:
Sytrin KuFormula SHF1 Ultra Hard Drive Cooler at OverclockersClub.
Venus JJ-23VB2 External box at BurnoutPC.
Thermaltake Armor LCS Case at 3DGameMan.
SilverStone TJ09 Full-Tower Case at TheTechLounge.
Scythe Samurai Z Rev. B at AseLabs.

Multimedia:
ViewSonic VX2235 22-inch HD Widescreen Monitor at ThinkComputers.
LG VX9400 at DigitalTrends.
Logitech Cordless Desktop S 530 Laser for the Mac at Pro-Clockers.
Epson EMP-TW700 HD Projector at TrustedReviews.
Hitachi 32LD9700 32in LCD TV at TrustedReviews.

Other/Peripherals:
Actiontec MegaPlug 85Mbps 4-port Hub and Ethernet Adaptor at Hardware-Pacers.
ZyXEL NSA-2400 NAS appliance at TrustedReviews.
Corsair 1GB SD 133x & 2GB SD 60x at Phoronix.
RevolTec Gaming Gear at OCIA
Actiontec MegaPlug 85Mbps 4-port Hub and Ethernet Adaptor at Hardware-Pacers.



If you were a fan of Desert Combat back in the BF1942 days, you'll be happy to know that "Desert Conflict" for BF2 has been released now (in alpha form).

The official site is here, announcement thread with download links here and there's a discussion thread in our Games forum here.



Here is even more great photography coming from our Photography Forum. Last night between 7:30 and 8:30pm was Earth Hour where many lights were turned off in Sydney. Some OCAU'ers went to check it out with cameras. Here is a comparison from BigM, of the same location before the lights went out and after they went out.



click each to enlarge


Click here for the forum thread. Digg users if you like this story please Digg it. Remember, if you have some nice photography or have seen some send it to news@overclockers.com.au to get our attention.



It's that time again..
















Righto, I've finally gotten control of OCAU again and defeated the evil MMX Bandits. It was rough going for a while there tho, there were kittens everywhere..

(btw: April Fools. :) )



Ah, those ruddy sauce code hacking MMX Bandits taking over the news page. Hopefully we can restore some order to it.

The Federal Government has shocked ISP's by passing a bill to compel ISP's to block all P2P traffic. Many users are happy with the move to reduce piracy and protect our children from harm however some express concern over reduction in internet performance as all traffic must pass through filtering points. The public has a right to a safe internet experience without having to learn how to administer complex filtering software. Introducing the filtering at an ISP level will deliver a seamless service for ordinary people....At the same time, we are taking the opportunity to meet the needs of intellectual property owners....'Peer-to-peer' technology is primarily used for copyright infringement, so proactive blocking will not affect legitimate Australian internet users.

WindowsAtoZ have taken a look at Adobe Photoshop CS3 beta. Adobe has released its free beta of Adobe Photoshop CS3. We all know that Photoshop is the industry standard for image editing, but how does the newest version compare with the rest. WindowsAtoZ.com's editors break it all down for you and show you all the new features.

It looks like Uncyclopedia is getting serious.

Sega are planning to re-enter the console hardware business. One of the biggest players in 3rd party software and publishing, Sega Corp. today revealed details of their plan to reenter the videogame console hardware business which they dropped over 6 years ago. Sega have said that due to recent financial stability found in the dropping of hardware and moving exclusively toward the software side of gaming, they have reached a point where they are solid enough to give it "one last go".

Somebody has discovered a hack for the iTunes music store which allows you to obtain songs for free. Want to download these media files from iTunes for free ? Now you can. All you need is Apple iTunes and a download manager like FlashGet, GetRight - No credit card, Apple ID or AOL screenname required. The tricks works for US as well as international users.

Check out this video of Elton John previewing some of his latest songs from an upcoming album. Song starts one minute into the entire clip for those who are on the go!

It looks like we are all going to die because of our overuse of mobile phones. MG: So we're all going to die? Professor: Yes. MG: So there's no chance you are wrong? Professor: We don't think so, although we did have to make certain assumptions. For example, the growth in mobile phone ownership over the past 25 years has been around 20,000 fold. If we assume the same rate of growth, by 2032 there will be 40 trillion handsets in use on the earth. That could present a serious problem.

Todays timewaster is from Matt with the sidescrolling war game, Commando.



The factuality of this post is questionable so none of it should be taken seriously, April Fool!





---
Advertisement:


All original content copyright James Rolfe.
All rights reserved. No reproduction allowed without written permission.
Interested in advertising on OCAU? Contact us for info.