August 2007

Why not, it's Friday and there's not much else going on out there..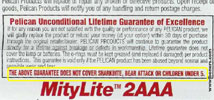 Thursday Evening (8 Comments) (link)
Thursday, 30-August-2007 19:38:41 (GMT +10) - by Agg


Quite a few people sent word that AutoPatcher is no more. Today we received an e-mail from Microsoft, requesting the immediate take-down of the download page, which of course means that AutoPatcher is probably history. As much as we disagree, we can do very little, and although the download page is merely a collection of mirrors, we took the download page down. Seems to be a pretty unpopular move.

Apparently a recent Skype outage was caused by them being unprepared for a massive restart of PCs, thanks Quan-Time. "The disruption was triggered by a massive restart of our users' computers across the globe within a very short timeframe as they rebooted after receiving a routine set of patches through Windows Update," Skype indicated on its blog.

IGN report on the recent World Cyber Games AU national finals. Meanwhile booth babes are the focus on TechPowerUp and OCModShop, covering the Games Convention 07 and PAX 2007 respectively. OCModShop also checked out some hardware at GC07.

Phil sent word of Vista SP1 and XP SP3 entering beta. Microsoft today announced plans for Windows Vista Service Pack 1 and Windows XP Service Pack 3 betas. I received this last night under embargo until today – so here's an extract of what I know.

OCClub are reviewing the Danger Den Water Box Plus Case in 5 parts. Here's parts 1, 2 and 3.. 2 more still to be published.

Timbot spotted this page of industrial photography. Lots of interesting (and in many cases abandoned) big machines and control rooms etc.

Vista has an odd bug where playing music slows the network down, thanks aftahours. In a detailed post today, Russinovich said it's due to a bug that hits if you're on a high-speed (1Gb) local network and using a computer with multiple network interfaces - such as a laptop with wireless and wired connections.

TechARP have a guide to lapping thermal surfaces. Or take a trip back in time to my slug-sanding article from 1999! There's a decent guide in our Wiki, too.

Nanoagent spotted this technology to complete or repair images. A new algorithm devised by James Hayes and Alexei A. Efros of Carnegie Mellon University facilitates this process by drawing on a huge database of more than a million images from the World Wide Web in order to seamlessly fill in the missing areas of incomplete photographs.

Matt sent in a timewaster, Nudge. Push a ball into a hole.




Interesting Forum Threads (0 Comments) (link)
Thursday, 30-August-2007 12:47:17 (GMT +10) - by Agg


A quick snapshot of what's going on:

AMD's 3GHz K10 to break 30,000 3DMark06 (Inq) in AMD Hardware.
Horrible pictures of dead caps in Modding.
My first water system (small worklog) in Extreme Cooling.
Why would you steal my internet? in Networking & Internet.
Gaming while watching a movie in Video Cards and Monitors.
PHP bulk emails - Newsletter in Graphics and Programming.
Favorite Game Intro? in Games.
Ogame - Browser strategic space mining / trading / fighting in Games.
Vista Network Speeds in Windows Operating Systems.
48v fan PSU in Electronics.
Any jugglers/twirlers in the house? Check out my LED juggling balls in Other Toys.
Your TOP 5 Best quality recordings for Audio Equipment Testing.. in Audio Visual.
What are you reading? in TV. Movies, Music & Books.
Turbo MX6 Moron! in Motoring.
Australia's free speech 'among world's worst' in Current Events.
'Net cafe refugee' population hit 5,400 in Japan in Current Events.
Nike+Ipod OCAU challenge in Sport, Fitness & Health.
Rugby World Cup - France 2007 in Major Sporting Events.
40D impressions in Photography.
Fencing pricing? in Lifestyle.
I want to see the world (and I need your help!) in Lifestyle.
Central American Chilli Beef with Capsicum, Coriander, Avocado and Chocolate in Geek Food.
Robocup Nationals in The Pub.




Thursday Morning Reviews (0 Comments) (link)
Thursday, 30-August-2007 08:59:14 (GMT +10) - by Agg


Motherboards:
ASUS P5K3 Premium / WiFi AP LGA775 DDR3 board on InsideHW.
Asus P5K3 Premium on Bit-Tech.
MSI P35 Diamond P35 LGA775 board on HWZone.

Storage:
Cyber Snipa Dog Tags Flash Drive on i4u.
Kingston 266X 4GB Compact Flash Card on OC3D.
TrekStor DataStation duo w.u. 1TB external hard drive on DigitalTrends.
ICY DOCK MB663UR-1S 2.5" SATA internal/external enclosure on Bjorn3D.
Western Digital Caviar SE16 WD7500AAKS 750GB HDD on BigBruin.
Western Digital Scorpio WD2500BEVS 250GB 2.5" HDD on HotHardware.

Audio / Visual:
Archos 605 Wi-Fi Portable Media Player on HWZone.
Iiyama ProLite B2403WS 24in LCD on TrustedReviews.

Cooling:
3 Easy Liquidcooling Solutions on ExtremeTech.
ZeroTherm BFT90 CPU Cooler on HWLogic.

Input Etc:
iOne Scorpius P20MT Wireless Keyboard on ThinkComputers.
Microsoft Reclusa Gaming Keyboard on Metku.
Logitech G9 Laser Gaming Mouse on Techgage.

Prebuilt & Portable:
Dell Vostro 200 prebuilt office PC on TrustedReviews.
GETAC A790 rugged portable PC, thanks Ed.

Cases:
Sunbeamtech Tuniq 3 on Guru3D.
Cooler Master Cosmos 1000 on PCApex.

Power Supply:
Corsair VX450w PSU on LegionHW.
PC Power & Cooling Silencer 750w CrossFire Edition on OC3D.
Ultra X-Pro 800W Aluminum PSU ULT33185 on BenchMarkReviews.

Video Cards:
GECUBE Dual GPU Gemini 3 dual Radeon HD 2600 XT preview on Tweaktown.
HIS 2900XT vs. BFG 8800GTX (video review) on 3DGameMan.
VisionTek ATI HD 2400 Pro on Ninjalane.

Misc:
Ultra 7 Port USB Buddy Hub on Modders-Inc.
Lantronix SecureLinx Spider KVM on BIOSMag.
Bioshock PC game on YouGamers.




Thursday Morning (5 Comments) (link)
Thursday, 30-August-2007 00:19:39 (GMT +10) - by Agg


HotHardware have some info on Intel's vPro Platform. Like Centrino for example, vPro is an Intel platform technology that's comprised of a CPU, chipset, network controller, and proprietary software, that when combined, offer powerful hardware-based security and management capabilities for the enterprise.

Nick sent word that Singapore Airlines will be offering Linux in every seat of their upcoming A380 superjumbo aircraft. In addition to running the in-flight entertainment, passengers can also use a full copy of StarOffice, and there's a USB slot for importing/exporting documents or plugging in your own keyboard/mouse. Screen size is 10.6" (1280x768) in economy, 15.4" in business and a whopping 23" in first class (along with free noise-canceling headphones).

There was a bizarre foamy surf at Yamba in NSW recently. One minute a group of teenage surfers were waiting to catch a wave, the next they were swallowed up in a giant bubble bath. The foam was so light that they could puff it out of their hands and watch it float away. Hmm, don't think I'd be swimming in that.

PCMech have some top uses for a USB flash drive, including some you might not have thought of. Yes, many modern sewing machines today have USB ports on them. You can use the USB drive to put software updates onto the machine. You can also transfer patterns to the machine for automatic creation on your fabrics. Yes, it is the old time world of sewing merged with the world of technology.

Dan has more info about the porn filter bypass in the news lately. It's great to see such impressive strides being made in the important field of protecting children from boobies.

It seems Dell laptops are still going bang, thanks Nick. Douglas Brown said his Dell 9200 wide-screen laptop's batteries exploded into flames, it "looked like fireworks which would have been cool had it not been in my house."

TweakGuides have a Bioshock tweak guide posted. After a fair bit of research and experimentation, I've been able to prepare the BioShock Tweak Guide as a compilation of all the important information for the game: all the tips, tweaks, fixes and descriptions you need to make sure your BioShock experience is as good as it can possibly be.

Aftahours sent in this typrewriter art. As his mastery of the typewriter grew, he developed techniques to create shadings, colors, and textures that made his work resemble pencil or charcoal drawings.

TechReport re-visited Hitachi's 1TB HDD, to see if it can be quieter. The drive we used for testing was a standard retail model, and by default, those drives come with Hitachi's Automatic Acoustic Management (AAM) disabled. Some of you suggested we test with AAM enabled, and we have.

NASA's astronauts will be ready for anything with their very own lightsabre from now on. To commemorate the historic event, Star Wars characters visited the Oakland International Airport where Chewbacca handed the lightsaber over to NASA's Space Center Houston during a special ceremony on Aug. 28, 2007.

Joanna sent in today's timewaster, where you play tower defence from the other side. Make waves of bots that can survive tower attacks.



A few more from here and there:
















Wednesday Morning Reviews #2 (0 Comments) (link)
Wednesday, 29-August-2007 11:45:16 (GMT +10) - by Agg


Cooling:
Thermaltake Blue Orb II CPU cooler on FutureLooks.
Coollaboratory Liquid Pro Thermal Compound on OCIA.
CoolIT Freezone CPU cooler on XbitLabs.
Zaward Twin Towers chipset cooler on TechPowerUp.

Memory:
DDR2 Memory Roundup Summer 2007 Part 1 on MadShrimps.
OCZ DDR2 PC2-6400 CL 3 FlexXLC Edition 2GB Kit on OC3D.

Audio / Visual:
Olympus Evolt E-510 10Mp DSLR camera on DigitalTrends.
Canon i-Sensys LBP5360 colour laser printer on BIOSMag.
Panasonic Lumix DMC-FX33 digicam on TrustedReviews.
Philips 32PFL7562D 32in LCD TV on TrustedReviews.
NEC MultiSync LCD2470WNX LCD monitor on TrustedReviews.




Wednesday Morning Reviews (0 Comments) (link)
Wednesday, 29-August-2007 11:36:13 (GMT +10) - by Agg


Cases:
Ultra Grid ATX Mid Tower on MadShrimps.
Enermax Uber Chakra Tower on OZHardware.
Xclio Propeller Black Computer Case W/ 360mm Side Fan on Tweaknews.
Cooler Master Cosmos on Bit-Tech.

Power Supply:
Logisys Acrylic PSU on 3DGameMan.
GlacialPower GP-PS550BP PSU on HWSecrets.
Gigabyte ODIN 550W on OCWorkBench.
Seasonic S12-II 500W on PCStats.
Ultra X3 600W on RBMods.

Video Cards:
Sapphire Radeon HD 2400 XT + HD 2600 XT on Tweaktown.
HIS Radeon HD 2600 Pro IceQ Turbo 512MB on HotHardware.
Palit HD 2600 XT on Tweaktown.

Portable:
Toshiba R500 Notebook on XYZComputing.
TomTom Go 720 Sat-Nav on TrustedReviews.
Toshiba Protoge R400 Tablet PC on HWZone.



And finally back posting news, damn assignments.

Firstly we have PCSTATS Checking out Microsoft Vista's ReadyBoost technology. For instance, Microsoft Windows Vista load up times with 512MB of system memory and no ReadyBoost was ~47 seconds. When equipped with a 2GB ReadyBoost USB drive, boot time was cut down by 7 seconds. It was also quite a surprise to see that ReadyBoost boosted framerates of Doom 3 and FEAR when the system was running 512MB of memory.

Luke has sent in an article on Unlocking the iPhone in 10 Steps. Be warned however, this could cause you to brick your precious iPhone, and that wouldn't look too good.

Chinese Tech Company is seeking to take over Seagate Technology. The chief executive of Seagate Technology, the world's largest maker of hard disk drives (HDDs), said in an interview that a Chinese technology company approached the maker of hard drives with a proposal to acquire the U.S.-based storage solutions maker. The disclosure not only emphasizes intentions of China-based manufacturers to take over high-tech companies, but also causes concerns among USA government officials.

Intel's new vPro takes two steps forward for x86, as well as for DRM and P2P? Today's launch of the latest version of Intel's vPro platform is a much bigger deal than you might think, with implications for end users that extend far beyond the enterprise arena at which vPro is initially aimed. The 2007 version of vPro represents the culmination of two of Intel's most ambitious and important plans for the PC platform: the transformation of x86 into a fully virtualizable ISA complete with virtualized I/O, and the first fully-complete implementation of all the parts of Intel's controversial contribution to "trusted computing" technology, formerlly codenamed "LaGrande" but now called Trusted Execution Technology (TXT).

Acer Inc has reached a takeover agreement with Gateway Inc, for a sum of about $710,000,000US. Taiwan's Acer Inc. said it had reached an agreement to acquire Gateway Inc. in a deal that values the U.S. company at about $710 million and pushes Acer past Lenovo Group Ltd. as the world's No. 3 vendor of personal computers.The deal appeared to mark a double blow to Lenovo, which has been the world's No. 3 PC vendor since buying the PC business of International Business Machines Corp. in 2005. Lenovo disclosed earlier this month that it is in talks to buy a stake in Packard Bell BV, a Netherlands-based PC maker. That deal was aimed at giving the Chinese company a leg up in the European consumer market, where Acer is especially strong.

DailyTech have reported that the Xbox 360 "Falcon" is to feature a 65nm CPU and a 90nm GPU. The Mercury News' Dean Takahashi reports that the first Xbox 360 CPUs manufactured on the 65nm process are now on ships in the Pacific bound for North America. Should the consoles, which are made in China, arrive soon, then they could be on retail shelves sometime this fall.

And finally, AllofMP3 are gearing up for a comeback. Down-but-not-out Russian MP3 dealer AllofMP3.com is gearing up for a comeback, according to an official announcement on the beleaguered company's "music news" blog. In an unexplained twist, however, the announcement is dated August 31, 2007, and is identical to a similar posting to the company's official news blog, dated July 24.



The lunar eclipse is slowly happening as we speak, and will continue until the time of "greatest eclipse" in about 2 hours from now, and then the process will reverse for another couple of hours or so. More info here.

In case you can't see it directly, you can keep an eye on it via this page or this page.

Discussion in this thread.




Motoring Mods (1 Comments) (link)
Tuesday, 28-August-2007 18:23:00 (GMT +10) - by Agg


By strange coincidence we have a couple of Holden-inspired mods recently finished. Firstly there's EFIJY from sethnmalic, inspired by the FJ Holden: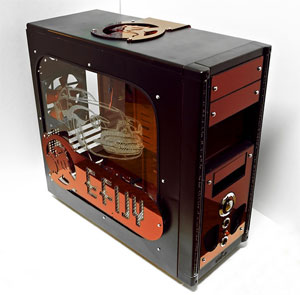 click for the thread



We also have Antiskeptic, who has finished his G25 Cockpit for racing games: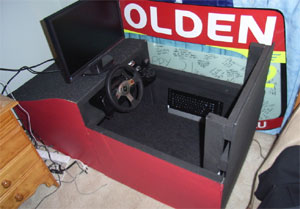 click for the thread






Tuesday Afternoon Reviews (7 Comments) (link)
Tuesday, 28-August-2007 16:47:12 (GMT +10) - by Agg


Just got my first ever filling, so excuse any drool on this post.

Audio / Visual:
iMON Ultra Bay in-bay HTPC LCD (video review) on 3DGameMan.
Samsung HT-TX72 5.1 Channel Home Theater on BonaFideReviews.
Transcend T.Sonic 820 2GB MP3 Player on Pro-Clockers.

Motherboards:
Asus P5K3 Premium LGA775 board on Bit-Tech.
ECS P35T-A LGA775 board on OCClub.
Gigabyte GA-MA790-DQ6 RD790-based AM2 board on OCWorkbench.
Gigabyte P35-DQ6 LGA775 board on HWLogic.

Input Etc:
Evoluent Mouse-Friendly Keyboard on TechWareLabs.
Steel Series SX Pro Gaming Mousepad on TweakNews.
PCXmods Mouse Grips v2.0 on OC3D.

Storage:
Synology Cube Station CS407 network storage on HotHardware.
Promise SATA300 TX4 SATA 2.0 controller on Phoronix.

Cooling:
Swiftech MCW-60 waterblock on Bjorn3D.
VIZO Dual Fan Card on Modders-Inc.
Humanscale CPU 600 PC Holder stand on i4u.




Total Lunar Eclipse (0 Comments) (link)
Tuesday, 28-August-2007 00:17:06 (GMT +10) - by Agg


Remember, tonight (Tuesday 28th) there will be a total lunar eclipse visible from Australia. More info with viewing times for various cities here on IceInSpace. There's a discussion thread here in our Science forum.

Interestingly, NASA will be using the opportunity to observe lunar meteoroid strikes, thanks Sniper.



You might remember me having a small rant about Fax Spam a couple of months ago. Sniper spotted this article on APCMag. It's not as small a problem as you may think: with telemarketers now gagged by the do-not-call register and tough anti-spam measures for Australian email marketers, more companies may start looking at junk faxes again as a way of getting their message out.

It seems something may be happening about it soon. The Australian Government wants to hear from people with comments about the problem. Interested individuals and businesses are invited to provide written comments in response to these questions, or provide a more general response on the subject of unsolicited commercial fax messaging as preferred. The closing date for comments and submissions to the Department is 17 September 2007.

Full details are on this page of the website for the Department of Communications, Information Technology and the Arts.




Sponsor Specials (0 Comments) (link)
Monday, 27-August-2007 21:07:47 (GMT +10) - by Agg


Remember to keep an eye on our Sponsor Specials Forum if you're shopping around for a good deal. In there our many sponsors have threads, currently covering CPUs, LCD monitors, music players, notebooks, backup enclosures and various other components. Check 'em out!




Monday Afternoon (4 Comments) (link)
Monday, 27-August-2007 15:45:05 (GMT +10) - by Agg


TechWareLabs have some info on using system restore in WinXP. Every now and then your system hits a snag and you receive the dreaded blue screen of death otherwise known as a BSOD, popups occur at random, or your system may lock unexpectedly. These are just a few of the myriad of problems and reasons why you may have need of a utility known as System Restore.

HWZone have preview info about the Comex 2007 show, which I believe is in Singapore, here and here. Meanwhile YouGamers checked out the Leipzig Games Convention 2007 and OCModShop have Wil Wheaton's keynoteM and more experiences from Penny Arcade's PAX 2007.

Something different from Daryl, some footage from an african safari. It's a bit slow but turns into a big battle between lions and water buffalo, with a croc thrown into the mix.. there's a happy ending, but who will win? :)

Nick noticed that Microsoft have axed their "Get the Facts" anti-linux site. Why did Microsoft finally do away with "Get the Facts"? Not surprisingly, there are no talking points available on that one.Maybe its open-source partners (Novell, Linspire, Xandros, SugarCRM, XenSource, etc.) asked Microsoft to stop fanning the flames.

Bjorn3D checked out life at 1333MHz. First, we were extremely curious why the NVIDIA 680i based motherboard which 60 days ago was the 'holy grail' of overclocking lost so much popularity in the enthusiast ranks, seemingly overnight. Secondly, we were curious to see if the 680i as advertised truly supported the new 1333MHz standard and if so how it performed in a head-to-head comparison against the P35.

A Linux geek has essentially been ordered to install Windows by a court. More info here. "I had a meeting with my probation officer today, and he told me that he has to install monitoring software onto my PC," wrote McCausland. "No big deal to me...that is part of my sentence. However, their software doesn't support GNU/Linux (which is what I use)," continued McCausland.

There's an odd Team Fortress 2 trailer here on GameTrailers, thanks BFM. Apparently also on Steam.

Dopefish spotted this 1 watt CPU from VIA. Now, they have developed the unthinkable - a new fanless processor that chugs along at 500MHz, and only requires 1 watt of electricity to run. And that's when the chip is active; when it's idle, the processor will sip a mere tenth of a watt.

TechZi have some dream PCs compared, with videos, thanks Genesis.

Oh man, I want one of these, thanks BFM. It's really more of an industrial simulator than a game, and we're pretty sure it costs a bit more than a Playstation 3.

Techgage have an article on backing up Linux. In this how-to, you will learn about using rsync and lftp, writing your own scripts and adding them to crontab and of course, backing up to your external storage, NAS and also a remote server running Linux.




Interesting Forum Threads (0 Comments) (link)
Sunday, 26-August-2007 15:14:20 (GMT +10) - by Agg


The World in Conflict Demo has been released, and is being discussed here with download links etc in our Games Forum.

Interesting Forum Threads:
680i chipsets is still awesome >> powering on the quad core era in Intel Hardware.
Lateral force exerted on 3.5mm I/0= BADNESS in PC Audio.
When one thing leads to another... in Modding.
Getting water level in tanks to a computer to graph... in Electronics.
Post pics of games you are playing in Games.
Crysis, Exclusive Nanosuit Trailer HD :D HOT!! in Games.
Warning: Bioshock in Games.
Government porn filter circumvented by a school student in Current Events.
People with red hair are set to be gone within 100 years in Current Events.
Prisoners sent home, making way for APEC Protester arrests in Current Events.
DIY - Help me fix up my outdoor table! in Lifestyle.
CSIRO Robotics lab Open Day + Photos in Science.
Google Sky in Science.
The F1 Turkish GP Thread in Motoring.
protein supplements are useless... true or not? in Sport, Fitness & Health.
Stop curling in the squat rack!! in Sport, Fitness & Health.
New Boags Limited Release 2007 in Geek Grog.
My hobby: WW2 Reenacting (lots of photos) in Other Toys.
Your photo of the week (19 August 2007) in Photography.
Aliens Vs Predator: Requiem in TV, Movies, Music & Books.
Live webcam of a guy counting to 1 million in The Pub.




Sunday Morning (7 Comments) (link)
Sunday, 26-August-2007 03:57:06 (GMT +10) - by Agg


TechARP show you how to create a WinPE 2.0 Bootable USB Key. If you are a reseller, even someone who sells PCs on a part-time basis, you will want to learn this neat little trick because it can save you time setting up different systems, partitioning and formatting hard drive with Diskpart, backing up hard drive using ImageX, connecting to network, troubleshooting using Windows-based programs, system recovery and many more.

How does 1TB on a CD grab you? According to Mempile their product should be very reliable, and different simulations and acceleration tests showed data lifetime of about 50 years. Although Mempile is currently planning to launch their first product using red laser (which is a more mature technology), moving to blue laser further down the road will possibly allow the technology to achieve up to 5 TB of data per disc.

TrustedReviews looked at DX10: The Good, Bad and Ugly. DirectX 10 games are slowly starting to appear on the shelves so we thought it was about time we looked at what Microsoft's new API is capable of.

XbitLabs meanwhile wonder how DX10 games go on current video cards. Although DirectX 10 appeared quite a while ago, there are very few games today that really take advantage of its features. Nevertheless, when buying a graphics accelerator, you hardly ever question the need of the latest API support: most users prefer to have a solution with all contemporary features supported. Today we are going to see how fast the new DirectX 10 games, such as Call of Juarez, Company of Heroes and Lost Planet can run on contemporary graphics accelerators and if you should really go for the first generation DX10 GPUs.

An arm-wrestling game in Japan has been recalled after reports of it breaking the arms of customers. "The machine isn't that strong, much less so than a muscular man. Even women should be able to beat it," said Atlus spokeswoman Ayano Sakiyama, calling the recall "a precaution."

LegionHW spent some time overclocking an E6420 on Intel P35. While the high-end options such as the ASUS P5K Deluxe do perform slightly better when it comes to overclocking, the difference is minimal. Furthermore we have found that overclocking with P35 based motherboards is quite easy really and in many ways just as easy as we found the ASUS P5N-E SLI to be.

Nick spotted some Seagate solid-state drives apparently on the way next year. As the high cost of flash and hybrid drives drops closer to traditional hard drives, consumers will soon fuel increased demand for the superior performance of solid state, analysts said. In June, iSuppli Corp. forecasted that by the end of 2009, 12% of notebooks would include SSDs, and 35% of notebooks would use hybrid hard drives.




Sunday Morning Reviews (0 Comments) (link)
Sunday, 26-August-2007 03:44:09 (GMT +10) - by Agg


Cases:
Zalman GT 1000 on OCrCafe.
NMEDIAPC HTPC 288 SA HTPC case on XbitLabs.
Thermaltake Wing RS 100 on HWLogic.

Printers:
HP LaserJet P2014 on TrustedReviews.
Kodak EasyShare E610 Printer Dock

Power Supplies:
PC Power & Cooling Silencer 750W on DVHardware.
Cooler Master Real Power Pro M1000 on TweakTown.
Antec TruePower Quattro 850W & 1000W (video review) on 3DGameMan.
Mushkin HP-580AP 580W on BigBruin.

Misc:
Coollaboratory Liquid Pro thermal interface material on BurnOutPC.
Corsair Dominator Twin3X2048-1800C7D 2GB Kit on PCStats.
The Overclocked 8800 GTX Roundup on RealWorldGamer.



Software:
Ubuntu 7.10 Gutsy Gibbon Tribe 5 at Phoronix
Nyko Gameface 360 at OCModShop
Guitar Hero Encore: Rocks the 80's at Bonafide Reviews
Bioshock XBOX 360 at Hardcoreware

Storage:
Cirago Smart Mobile Storage at OCC
Icy Box IB-266StUS-B External HDD Enclosure at OCIA.net
Corsair Padlock USB Flash Drive at Metku

Portable Devices:
Sony Ericsson P1i (Wi-Fi & 3G) at HardwareZone
Nokia E90 Communicator at HardwareZone
HP iPAQ 514 Voice Communicator at BIOS
Asus U3 Notebook at TrustedReviews

Input and Output:
Saitek Cyborg Rumble Pad at I4U
Microsoft Natural Ergonomic Desktop 7000 at Techgage
WolfKing Timberwolf FPS Gaming Keyboard at OCC
Sennheiser CX-300 In-Ear Headphones at OCModShop
Samsung SyncMaster 245B 24in Monitor at TrustedReviews



Cooling and Power:
CoolIT PCI Cooling Booster at Tweaknews.net
MNPCTech Case Handles and 120mm Fan Grill at Modders-Inc
VIZO Xena Laptop Cooler at Futurelooks
Antec TruePower Quattro 850W Modular Power Supply at ThinkComputers.org
Eksit Power Inverter at Rbmods

Core Components:
OCZ 2GB DDR3-1333 Platinum Edition at Techgage
AMD Athlon X2 BE-2350 at InsideHW
Biostar's TP35D2-A7 and TP35D3-A7 Deluxe at The Tech Report
XFX nForce 680i SLI Motherboard at PC Perspective

Cases:
SilverStone Temjin TJ10 Case at Phoronix
NZXT Lexa Blackline Case at XSReviews
Coolermaster CM Stacker 832 Chassis at CPU3D
In Win F430 Red Mid Tower ATX Gamers Case at Legit Reviews
Antec P182 Case at TechwareLabs

Graphics Cards:
Diamond Viper Radeon HD 2900XT 1GB Videocard at PCStats
Leadtek WinFast PX8600GT TDH 256MB at HardwareZone
Gainward GeForce 8600GTS 512MB Video Card at OzHardware
XFX's GeForce 8600 GT 620M XXX Edition at bit-tech
Gigabyte GeForce 8600 GTS 256MB at Sharky Extreme
Sapphire 2900XT 512mb at XSReviews
HIS Radeon HD 2600 PRO IceQ 512MB at Viper Lair




Look to the Skies! (1 Comments) (link)
Thursday, 23-August-2007 20:03:00 (GMT +10) - by Agg


People are talking about a new feature of Google Earth, called Sky. Like Google Earth, Sky will let users fly around and zoom in, exposing increasingly detailed imagery of some 100 million stars and 200 million galaxies. ... While other programs allow users to explore the skies, they typically combine a mix of representations of stars and galaxies that are overlaid with photographs, Ms. Christian said. "These are really the images of the sky. Everything is real."

It's worth noting that NASA World Wind has had a similar feature for a while, although I don't know how the two compare in detail. Celestia and Stellarium are popular freeware sky exploration programs too.

But back in the real world, remember there's a total lunar eclipse on Tuesday next week which should be visible from Australia, weather permitting. The lunar eclipse will start at about 6.50pm on Tuesday August 28 and by 7.50pm the moon will be totally obscured by the Earth's shadow. At about 9.23pm, the moon will start to reappear, becoming completely visible by about 10.30pm.




Thursday Morning (4 Comments) (link)
Thursday, 23-August-2007 04:18:09 (GMT +10) - by Agg


From Forensic: Not sure how many people know but World Cyber Games is on at Luna Park on Saturday and Sunday this weekend. There'll be game demos and prizes and an overclocking competition run there. The overclocking competition is being run by Asus and all the parts are provided. The Command & Conquer 3 tournament running on the Saturday is open for registrations on the day.

Sciby let me know about wikiHow, which is like a regular Wiki in that everyone can edit it, but focussing on DIY projects. Beware, severe time suckage imminent!

Funnily enough, it was Lemming who pointed out this teenager who seems to misunderstand watercooling, with near-disastrous results. Local media reports suggest that the teenager took the power supply, wrapped it in plastic and tape, and submerged it into a bowl of water while it was still plugged in. This caused an electrical shock and knocked the boy unconscious.

Which leads us nicely to a Watercooling 101 guide on Bit-Tech. There's a quick guide in our Wiki, as well as a more general extreme cooling section. And of course, our Extreme Cooling Forum.

Endeavour landed successfully. The perfect landing capped a construction and supply mission to the International Space Station.

Data from the Parkes radio telescope will be fed into a beefed-up supercomputer at Swinburne University, thanks Andrew. The new cluster runs CentOS Linux on more than a thousand Intel Clovertown quad-core processors, equipped with 2 terabytes of RAM.

Dan from DansData has extra-large letters. In this double-sized edition: More confusion about the "3Gb barrier", RAM for Photoshop, the b-or-B deBate, NiMH cells that don't go flat, USB 2 devices that aren't, a levitating helicopter, outdoor LED lighting, mangled FireWire ports, mysterious voltages, and more electroquackery!

Meanwhile XSReviews interviewed Dan Forster from AGEIA. Gaming has come along way in the last few years, however most of the improvements have been geared towards graphics; visual imprpvemenrs. If you look back to early FPS games, although modern games are more complex than back then, the gameplay itself hasn't significantly changed. I think that's where the general idea of advancing physics in games is coming from, you can really change the way a game plays, not just the way it looks.

Sniper spotted a new 64-core processor from a company called Tilera. Tilera says that each core can run its own operating system, such as Linux, and will first be used in the "advanced networking and digital multimedia space" by at least a dozen customers including 3Com, Codian and GoBackTV.




Thursday Morning Reviews (0 Comments) (link)
Thursday, 23-August-2007 01:12:20 (GMT +10) - by Agg


Motherboards & CPU:
9-way Intel P35 Motherboard Roundup on TechSpot.
ECS P35T-A LGA775 board on XbitLabs.
Asrock Conroe1333-eSATA2 LGA775 board on Pro-Clockers.
ASRock Conroe1333 eSATA2 Crossfire LGA775 board on Tweaktown.
OC Experience with Intel's Core 2 Duo E6850 on HWLogic.

Cases:
Apevia X-QPack 2 Aluminum Case on OCClub.
Silverstone Temjin TJ10 Tower on ExtremeMHz.
Sunbeam Quarterback (video review) on 3DGameMan.

Storage:
LG GSA-H62N SATA Dual Layer DVD-Writer on PCStats.
QNAP TS-109 Pro network storage on Bjorn3D.
Corsair Survivor 8GB Flash Drive on GideonTech.

Video Cards:
BFG GeForce 8600 GT OC + ThermoIntelligence on Guru3D.
Leadtek PX8600GTS 256MB PCI-E on Pro-Clockers.

Input Etc:
Evoluent Verticle Mouse 3 on TechWareLabs.
iOne Scorpius N2T Wireless Keyboard on ThinkComputers.

Memory:
Kingston 2GB PC2-6400 CL3 on Techgage.
Crucial DDR2-800 2GB Memory Kit (CT12864AA80E.16FD) on TheTechLounge.

Cooling:
Zerotherm ZT-100 High Performance Thermal Grease on Tweaknews.
CoolIT Systems Freezone CPU Cooler on Futurelooks.
Swiftech MCW6500-T TEC-based waterblock on BurnOutPC.
SilverStone Fan Compendium on OCOnline.

Power:
CyberPower CP1500AVRLCD 1500VA 900W LCD UPS on BenchMarkReviews.




OCAU Archaeology (38 Comments) (link)
Wednesday, 22-August-2007 16:00:48 (GMT +10) - by Agg


Amazing what you find when digging around. Here's some designs people submitted when we had a competition back in 2000 sometime, to redesign OCAU's layout. I'm pretty sure that's when we changed from the old layout to the current one. Anyway, I can't actually find who submitted each of these entries, that info doesn't seem to be in the archive anywhere. But here they are: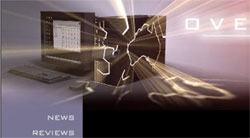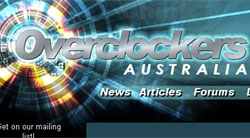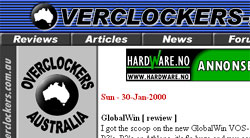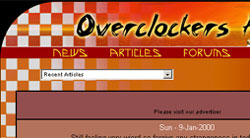 For more oldschool OCAU stuff, check down the bottom of this page. :)




Wednesday Morning Reviews #2 (0 Comments) (link)
Wednesday, 22-August-2007 01:33:38 (GMT +10) - by Agg


CPUs:
Intel Core 2 Duo E6750 2.66 GHz 1333MHz FSB Processor on PCStats.
AMD 6000+ AM2 X2 Processor on OCClub.
Intel E2140 & E2160 LGA775 CPUs on NeoSeeker.

Memory:
2GB Corsair 1800MHz DOMINATOR CL7 DDR3 on LegitReviews.
Kingston DDR3-1066MHz on InsideHW.

Portable:
Sony VAIO VGN-CR11Z/R laptop on TrustedReviews.
ThinkPad T61p laptop on XYZComputing.
OQO Model 02 Ultra Mobile PC on TrustedReviews.

Cameras:
Casio Exilim EX-Z77 video camera with "YouTube mode" on DigitalReviews.
Panasonic Lumix DMC-FZ18 digicam on TrustedReviews.

Input Etc:
Logitech Cordless Desktop Wave on Techgage.
Logitech Cordless Desktop Wave on DigitalTrends.




Wednesday Morning Reviews (0 Comments) (link)
Wednesday, 22-August-2007 01:18:09 (GMT +10) - by Agg


Motherboards:
Biostar TP35D3-A7 Deluxe Intel P35 DDR3 on PCStats.
DFI Infinity P35 Blood-Iron Overclocking Test on MadShrimps.
ECS G33T-M2 (V1.0) Intel G33 mATX on BigBruin.
ECS G33T-M2 Micro-ATX on LegitReviews.
ASUS Blitz Formula on Bjorn3D.
MSI K9N4 SLI AM2 on RBMods.

Cases:
Antec P182 Performance One Elite on Tweaknews.
iON EC-2 Aluminum ATX Media Center/HTPC Desktop on MadShrimps.

Storage:
Box.Net Online File Storage on TechReviewSource.
Eagle Tech Consus W-Series 3.5" USB External HDD Enclosure on MadShrimps.
PROVIGO 210 Mini-SAN network storage on TrustedReviews.
Seagate FreeAgent Pro 750GB external hard drive on OCClub.

Video Cards:
Sparkle Calibre P850+ 8500GT 512MB on Techgage.
ASUS Radeon HD 2600PRO on Phoronix.
HIS Radeon HD 2600 XT IceQ Turbo GDDR3 on Bit-Tech.




Tuesday Night Reviews (0 Comments) (link)
Tuesday, 21-August-2007 23:49:23 (GMT +10) - by Agg


Audio / Visual:
Creative Aurvana DJ Headphones on TBreak.
Vantec USB External 5.1 Audio Adapter on Virtual-Hideout.
Etymotic Research ety8 Bluetooth Earphones on TrustedReviews.
Zalman ZM-RS6F USB Headphones on TechPowerUp.
50 inch Hitachi P50S601 1080p Plasma HDTV on I4U.
Samsung Ultra Music F300 on HWZone.
SOYO DYLM24D6 24" LCD Monitor (video review) on 3DGameMan.
SOYO ST-SYLA04 FreeStyler 600 BlueTooth Mono Headset on Benchmarkreviews.
Steelseries Steelsound 3H Gaming Headset on FutureLooks.
Sony VPL-VW100 Projector on TrustedReviews.

Coolers:
Sunbeam Silent Whisper LGA775 CPU cooler on OCCafe.
Cooler Master NotePal notebook stand + cooler on TrustedReviews.

Power Supplies:
Cooler Master Real Power M700 on Tweaktown.
Enermax Liberty DXX 500W on PCPerspective.
ePower Technology EP-1200P10 xScale 1200W on BenchMarkReviews.
SilverStone Strider 1000W on XSReviews.




Bioshock and Other Demos (9 Comments) (link)
Tuesday, 21-August-2007 18:08:49 (GMT +10) - by Agg


AusGamers Files have the new and much-anticipated Bioshock Demo available for download. BioShock is a revolution in the shooter genre that will forever change the expectations for the FPS. Going beyond "run and gun corridors," "monster-closet AIs" and static worlds, BioShock creates a living, unique and unpredictable FPS experience. BioShock is the Shooter 2.0. There's a huge thread about Bioshock here in our Games Forum.

Other recent demos include:

Combat Mission: Shock Force: The first scenario (meant to be played only as US if played in single player mode) is a tutorial to help get your feet wet with the game system and the other mission is a combined arms battle with Strykers and M1 Abrams tanks against some tough Syrian Mechanized infantry.

Loki: A fantasy voyage through the great mythologies, Loki allows the player to take on the role of one of the 4 heroes of the game, each drawn from a different mythology: a mighty Norse fighter, a fierce Greek warrior, a powerful Egyptian magician or an Aztec shaman who masters the secrets of the spirit world.

Transformers: The Game: TRANSFORMERS: The Game lets gamers control the outcome in the battle for Earth as they choose to protect it as AUTOBOTS or destroy it as DECEPTICONS.

For more demos, patches and drivers, check out AusGamers Files.




SiSoft Sandra XII (2008) (0 Comments) (link)
Tuesday, 21-August-2007 02:15:10 (GMT +10) - by Agg


SiSoftware in the UK have released the latest version of their popular benchmarking and system information program, Sandra XII (2008). Get full details and download info on our Sandra Mirror Page.




Interesting Forum Threads (0 Comments) (link)
Monday, 20-August-2007 17:59:34 (GMT +10) - by Agg


Xtreme Cooled Case Gallery in Extreme Cooling.
Dell XPS M1330 Notebook in Portable & Small Form Factor.
New iMac Benchmarks - Interesting Results! in Apple Hardware & Software.
DET NSW going to Whitelists for students in Networking & Internet.
Collector's editions.. do you? in Games.
Z5500 Minireview in PC Audio.
Photos: P35 DS4, Tuniq Tower, Antec 900 in Overclocking & Hardware.
Another experiment proving Einstein was right! in Science.
Interesting science tutorial videos? in Science.
Renewable energy booms at home in Science.
Australia looking for greater role in fusion energy research in Science.
Elvis 30 years today in The Pub.
Post pictures of exceptionally sexy hardware in The Pub.
20% chance we are in the matrix in The Pub.
Brain teaser - can you get across the river? in The Pub.
Wreck of HMAS Sydney found?! in Current Events.
Compact Disk turns 25 today in Current Events.
Russian reinstantes Soviet-era air patrols in Current Events.
New Aussie film: The Jammed in TV, Movies, Music & Books.
Production Aston Martin DBS revealed in Motoring.
P Plater Survey - For all ages!! in Motoring.
TRD Aurion - My Drive in Motoring.
Canon 40D Leaked in Photography.
Seriously sweet software in Photography.
Trained gold fish - amazing! in Pets & Animals.




Monday Afternoon (9 Comments) (link)
Monday, 20-August-2007 14:54:31 (GMT +10) - by Agg


Endeavour has undocked from the International Space Station and started its return journey, a day early amid concerns about Hurrican Dean approaching North America. There were some concerns about a gouge on the heat-shielding on the shuttle's belly, but they've decided it would be more risky to repair it than to leave it.

Diehard sent word of 5GB Hotmail and Fujitsu powering a datacentre using hydrogen fuel cells.

ExtremeMHz and TweakTown both have articles on overclocking the G0 SLACR stepping Q6600 CPU. With a lower stock voltage compared to the B3 stepping, along with a huge test field it seems clear that the G0 is a real winner.

OC3D checked out ATI-based mid-range video cards from ASUS, the 2600XT and 2600Pro. In the spirit of making the lower chips have higher numbers than the top end, ATI have named their mid-range R630. With a scaled down version of the R600 architecture and boasting a nice 194 GFLOPS of power, the 2600 series looks pretty sweet on paper.

YouGamers have some preview info and videos of Age of Conan: Hyborian Adventures, an upcoming MMORPG. For example, they were particularly keen on pointing out that this is all about the world of Conan and if you've ever read any of the books, then you'll know what you're in for: no elves or gnomes, just hacking off heads, drinking beer and shouting "Crom!" at every buxom women that dares cross your path.

Daniel suggests this freeware burning program called FinalBurner. Its users will benefit from the opportunity to create data, audio, and video disks and burn them onto any type of media, such as CD R/RW, DVD+R/RW, DVD-R/RW, DVD DL. No tedious or confusing configuration needed. You just select a few main settings and start burning. FinalBurner's artificial intelligence will find the perfect recording balance.

BenchMarkReviews have their most anticipated games listed. Benchmark Reviews walks though five of the most anticipated video games ending 2007. We have: World in Conflict, Medal Of Honor: Airborne, Unreal Tournament 3, Crysis, and Assassin's Creed. Feast your eyes on some of the most exciting games to hit the widescreen!

Bit-Tech meanwhile report on the World of Indie Games. Indie games are, I think, understood by most not as being separate from a large publisher, but a recognition of creativity and inventiveness which pushes back against the grain of current gameplay trends. Take, Narbacular Drop for instance. It's a wildly imaginative indie game produced by a collection of programmers which sees the Princess No-knees trying to escape a dungeon by using a system of inter-connected portals which she can create on the fly.

Drillbit sent in this interesting-looking cloud game. You have to download that one, but here's a web-based timewaster from Diehard: bloon tower defence. Pretty much like all the other tower defence varieties out there. :)




Sunday Afternoon (2 Comments) (link)
Sunday, 19-August-2007 15:46:24 (GMT +10) - by Agg


iiNet are launching a system whereby their customers can run their own hotspot and make money. Bader said: "We see this as a way of extending an iiNet customer's home broadband connection. When travelling, customers will simply "login" with their iiNet credentials and away they go. The flip side is that there are also opportunities for customers to actually start generating income from their broadband connections."

SilentNight spotted this report about AT&T crippling the Blackberry in favour of the iPhone. Not sure if this is just speculation at the moment or not, so keep your grain of salt handy.

Sniper sent in this amusing story about someone determined to haggle every transaction. Everything is open to negotiation. Everything. For three months, the author treated the world that way. This is what ensued.

A new website has unmasked Wiki edits, leading to some interesting discoveries. Many of the edits are predictably self-interested. For example, PCs in the Church of Scientology were used to remove criticism in the church's Wikipedia entry. But others hint at bored office workers, such as the tweaks to Wikipedia articles on TV shows being made from CIA computers.

PC Perspective re-visited GRAW2, with a special PhysX-required level. The level of interactivity with the world increased dramatically when the developers could assume that the user was going to have PhysX hardware on their system and didn't have to worry about backwards compatibility.

I spotted today's timewaster over on moonbuggy.. it's a cool Asteroid's Revenge game.




Axe's 12TB Monster (8 Comments) (link)
Sunday, 19-August-2007 02:52:02 (GMT +10) - by Agg


I don't really have a lot to say about this, so just look at the picture: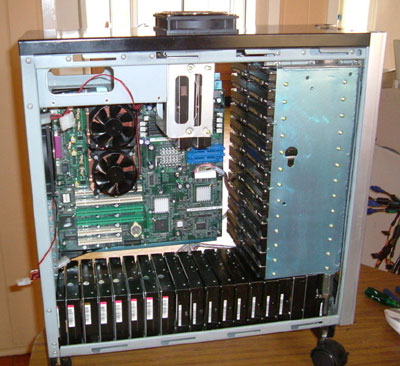 click for the thread!


Over 12 terabytes in, I count, 47 hard drives. If your house lights just dimmed, Axe probably lives near you. :)




Sunday Morning Reviews (0 Comments) (link)
Sunday, 19-August-2007 02:27:19 (GMT +10) - by Agg


Power Supply:
PC Power & Cooling Silencer 750W on Phoronix.
Corsair VX450W on HotHardware.
Antec EarthWatts 500W on OCModShop.
Corsair VX450W on HardOCP.

Storage:
Akasa Integral P2NES 2.5" IDE/SATA enclosre on TechPowerUp.
SimpleTech SimpleDrive on Bjorn3D.

Prebuilt:
Apple iMac (4th Gen) on BIOSMag.

Video Cards:
Memoirs of a 2900XT CrossFire System on Motherboards.org.
ASUS Extreme N8600GT OC Gear on LegionHW.
BFG's ThermoIntelligence stock video card cooler on HardOCP.
Gigabyte GeForce 8600GT and 8600GTS on HardOCP.

Cooling:
Thermalright HR-05 IFX SLI Chipset Cooler on BigBruin.
Zalman ZM-MFC2 Fan Controller on HWLogic.
Zalman Multi Fan Controller ZM-MFC2 on PCApex.
Cooler Master Aquagate S1 watercooling on OCClub.
CoolIT Systems Freezone Cooler TEC-based CPU cooler on OCrCafe.




Saturday Night Reviews (0 Comments) (link)
Saturday, 18-August-2007 23:49:43 (GMT +10) - by Agg


CPU & Motherboard:
AMD K10 Micro-Architecture preview on XbitLabs.
NVIDIA MCP73 Preview on OCWorkbench.
AMD Barcelona: To Launch or Not To Launch? on TechARP.
ASRock ConRoe 1333-DVI/H and Intel E2140 on MadShrimps.
Asus Blitz Extreme P35 LGA775 board on OC3D.

Input Etc:
Wolf King Warrior Gaming Keypad on Bit-Tech.
Wii Board game controller on BonaFideReviews.
Logitech MX Air Rechargeable Cordless Air Mouse on i4u.

Audio / Visual:
Logitech QuickCam Pro 9000 on OCIA.
Kodak EasyShare C743 digicam on TrustedReviews.
Kodak EasyShare 5500 printer/copier on TrustedReviews.
Tiny speakers that aren't rubbish on DansData.
Four Low-Light 1/4'' Color CCD Cameras on Virtual-Hideout.

Cases:
Moneual MonCaso 932 HTPC Case (video review) on 3DGameMan.
Cooler Master CM 690 on HWZone.
In Win Mountain Jade HTPC Case on LegitReviews.




Saturday Afternoon (1 Comments) (link)
Saturday, 18-August-2007 16:28:59 (GMT +10) - by Agg


A pile of news from Paul:

Apparently content "bought" on Google Video is going away soon. The abrupt change as noted in an AP report should prove illuminating to people who are not familiar with how remote management of DRM works. Content they thought they owned, but didn't under Google Video's terms of service, will simply go away this week. More info here on BoingBoing.

Here's an interesting twist on an online scam: you get invited out to meet somewhere, and while you're gone, your house is robbed. In one case, when the victim went out to meet the fictional woman, his home was robbed while he was gone.

Now you can stay in touch with people via shadow lamps. In the base of the lamp is a projector that takes input from the video camera that users of the Teleshadow system have in their homes. Strange.

Microsoft are having some trouble with their plan to beam internet via unused TV channels. While FCC Chairman Kevin Martin said he wants the white spaces to be utilized, he's facing resistance from TV broadcasters, who fear that it won't work and would cause problems with TV programming and with a federally mandated transition from analog to digital signals in early 2009.

Some French kid is in trouble for allegedly posting a translation of Harry Potter before the official one. The seventh volume of the Harry Potter saga is the fastest selling book in history, publishers say, with about 11 million English-language copies sold in the first 24 hours.

Meanwhile an Australian man is in hot water due to suspicion he recorded the Simpsons Movie with his phone and uploaded it to the internet. "More and more often, international films are being released [on the same] day and date, so this particular film was on in Australia on the same day as the US, but in fact before the screenings in the US." More info here.

Still close to home, QLD Police will be working closer with eBay to help resolve disputes. "Effectively, the Queensland Police Service is acting as the coordinating authority in Australia for complaints about online marketplace transactions," Ms Spence said.

Malware is serious business lately. Selling malware is becoming a real business, complete with advertising, marketing, and service after the sale, a university researcher reported this weekend.

Also ransomware is a new trend. "Hello, your files are encrypted with RSA-4096 algorithm," it began. "To decrypt your files you need to buy our software. The price is $300".

Picking physical locks is a growing sport. I watched a 12-year-old girl bump a high security lock, used in government buildings around the country; one that was supposedly impervious to this type of attack. Who do we blame for this, the young girl, a company who makes claims that are questionable or do we do neither and learn from the experience?



Core PC Components:
Jetway 966PDAG-PB Budget S775 Motherboard at Madshrimps
ASUS P5K3 Premium Black Pearl Edition (Intel P35) at HardwareZone
GIGABYTE P35T-DQ6 (DDR3) at TweakTown
Intel Xeon X3210 2.13GHz Quad-Core at Techgage
Leadtek 8800GTS 640MB at TheTechLounge
2GB Kingston ultra low-latency 1375MHz CL5 DDR3 at Legit Reviews

Cases and Power:
Sunbeam Freezing Storm PC Case at ThinkComputers
Kingwin Mach 1 ABT-520WMA1 at XSReviews
Corsair VX450W at Silentpcreview

Cooling:
Vizo Voyager Hard Drive Cooler at MikhailTech
Thermaltake's MaxOrb and V1 CPU coolers at Bit-Tech
Arctic Cooling and Zalman GPU Coolers at Driver Heaven
Zalman ZM-DS4F at techPowerUp
CoolerMaster Vortex 752 at Overclockers Online

Other:
ViewSonic VX2435wm Monitor at BIOS
Canon EOS 400D Rebel XTi DSLR Camera at Madshrimps
Saitek Obsidian Wireless Mouse at TechwareLabs
Fujitsu LifeBook E8410 Notebook at OzHardware
Ideazon Fang Gamepad at PCApex
Nokia 6120 Classic (3.5G Smartphone) at HardwareZone
Callpod Chargepod at Digital Trends
Aerocool FP-01 55-in-1 Multifunction Panel with Card Reader at Bigbruin




Early Friday Morning (8 Comments) (link)
Friday, 17-August-2007 03:39:06 (GMT +10) - by Agg


From Sugaris: After several years the OCAU seti@home team has dwindled down to just 56 contributing members. We need help in getting some members back to S@H. All those people out there that have older computers too slow to run F@H we are more than happy to have them! RobsGT4 and I have started a thread in the forums which can be found here.

ByteMe is an upcoming digital content festival in Perth in December. Thanks to the generous support of the City of Perth, the Festival will be based in the CBD at the stunning, recently refurbished Perth Town Hall with some events at other venues nearby.

John Howard is apparently on an internet porn crusade. Every Australian family will be provided with a free internet filter and the federal Government will enter an unprecedented partnership with service providers to filter pornography at the source.

Here's an interesting thing in the Games forum, Matex is running an OpenTTD Competition (for fans of Transport Tycoon).

Team Italy has managed to get their "golden" Pentium 641 to a whopping 8320MHz, thanks Rob. t was the same Pentium 641 that first reached 8000MHz and later the new world record frequency of 8180MHz. However, it seems that there were even more to get from the processor in question.

HWZone meanwhile have been overclocking the Dual-Core E2160 CPU from Intel. We tried overclocking the Pentium Dual-Core E2160 and the outcome is nothing short of amazing!

Bjorn3D have been playing around with two Corsair Nautilus 500 watercooling kits. We recently reviewed the Nautilus 500 here and found it to be an exceptionally easy unit to install and offered excellent cooling and value.

A Russian court has found the former boss of allofmp3.com not guilty of breaching copyright. The site has been a thorny issue in negotiations between Russia and the United States over Russia's accession to the World Trade Organisation, a key aim of President Vladimir Putin.

HotHardware compared the Asus P5K3 Deluxe against the Gigabyte GA-P35T-DQ6, both Intel P35 motherboards. Both boards feature elaborate cooling hardware and overclocked well past the 2GHz FSB mark.




Forum Tidbits (0 Comments) (link)
Thursday, 16-August-2007 22:33:49 (GMT +10) - by Agg


mAJORD has reviewed Foxconn's A690GM2MA mATX motherboard: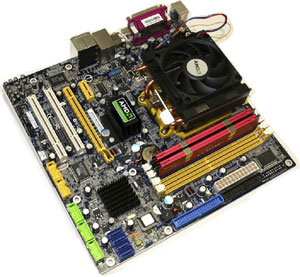 click for the thread


It's also worth checking out sethnmalice's impressive custom PC project. Beware, MANY pics: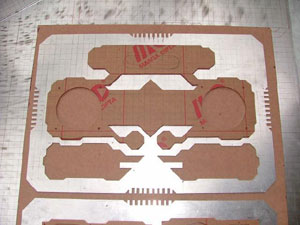 click for the thread





Motherboards and Graphics:
HIS Radeon HD 2600 XT 512MB ICEQ TURBO at Guru3d
AM2 Onboard Grpahics Roundup (German) at TweakPC.de
Biostar 8600GTS V-Ranger (French) at OverCleX
ASUS Blitz Extreme with Crossfire at OCWorkbench

Cooling:
Ultra ULT33186 Chilltec TEC CPU Cooler at Benchmark Reviews
Evercool Xfan 360 at OCModShop
Ultra ChillTEC Thermo Electric CPU Cooler at Futurelooks
Cooler Master CoolViva Pro VGA Cooler at NGOHQ
Noctua NC-U6 Chipset Cooler at OCModShop
CoolJag Falcon 92-CU Universal CPU Cooler at Pro-Clockers
CoolIT Systems Eliminator at OCIA
Swiftech H20-120 Compact Water Cooling at 3dGameMan
Silentmaxx FrostBite Pro CPU Cooler at Technic3D



PCs and Software:
Asus R2H Tablet PC at XBitLabs
Asus R1F Tablet PC at InsideHW
Civilization 4 Beyond the Sword at Gamepyre
Trauma Center: Second Opinion at TrustedReviews

Cases and Power:
In Win Mountain Jade HTPC Case at ThinkComputers
Thermaltake WingRS 101 Mid Tower Computer Case at Tweaknews
In Win Mt. Jade BK623 Case at HardwareLogic
Thermaltake Toughpower 1000W at DV Hardware

Audio and Video:
Creative Zen Vision W 30GB Media Player at TrustedReviews
Myvu Personal Media Viewer at techPowerUp
Samsung SC-DC173 DVD Camcorder at TechTastic
Sony Cyber-shot DSC-W200 at TrustedReviews

Other:
Logitech diNovo Edge Keyboard at OCC
Brando USB Mini Fridge at MikhailTech
Gizgeek OctoPod Mini Camera Tripod at MikhailTech
T-Mobile HotSpot @Home at Digital Trends
Synology DS207 2-Bay NAS Server at Techgage
C4 NGen Mouse Pad & C4 NGen04 Mouse Pad with 3/4 at OCC



A quick 'wish you well' to my sis who is currently at hospital, instead of her uni graduation ceremony.

First up some gaming news. IGN have posted up some pitcures of a Halo 3 map. They've also had a bit of a play around with Guitar Heroes III for the XBox 360. Meanwhile over at Bit-Tech, they've posted write-ups of their had hands-on previews of Crysis and Blacksite: Area 51.

Those looking to improve the graphics performance of their nVidia based machine, might be interested in NGO's latest optimised nVidia driver. For the ATi crowd, Tweaktown have done an ATi Catalyst 7.8 Performance Analysis.

Shadownman sent in a couple links that might interest some peeps. Englishrussia.com always provides some funnies, but I found these two may be of interest to OCAU urban explorers and car enthusiasts. Thanks mate, just bookmarked the site myself :)

TechwareLabs have posted Part I of their Phantasmic Case modification guide. From the mind of the modder who brought you the SpiderMan 3/Venom Case mod comes a new creation. This time Jason attempts to customize a case that integrates some very dramatic elements to create a unique effect. The result is a modification that even the ladies should like. If you don't want to go to that much effort, maybe give your current case a bit of a clean using Technibble's guide.

Here's an interesting article posted on eCoustics.com entitled Will Suing YouTube Fix Anything?. From the article: Lawsuits will not solve the problem, which is: there is no easy way to identify who owns which rights in and to most pieces of music and there is no easy way to get a quote and pay them.

Essential for any hardware enthusiast, is TechARP's Desktop CPU Comparison Guide which has just been updated to revision 3.5. Currently covering over 590 desktop CPUs, this comprehensive comparison will allow you to easily compare up to 18 different specifications for each and every CPU.

Doc Overclock has written up in an editorial regarding BAPCo's SYSmark 2007. As a reviewer and Editor I rely heavily on the test software used in our daily benchmarking and stability tests. That said it takes a bit of time and effort to learn the in and outs of the testing software and what compatibility issues it may have and how to workaround them. SYSmark from BAPCo has been a staple software program in our test bench almost since we started testing motherboards back in 1999. The SYSmark battery of tests has always been the test software that gave errors however as well and SYSmark 2007 is the worst yet

Just posted on PCStats: Nigerian 419 SCAM: Now the Music Video!? . It was bound to happen, a musician in Nigeria by the name of Nkem Owoh has made a music video and posted it to YouTube about the whole Nigerian 419 Scam thing...

Nokia has recalled a swagful (is that a word?) of Nokia BL-5C batteries. My phone is on that list, wonder if i can score me a new one! Thanks Bern and THELTD.

Finally, i haven't given it a go yet myself but with a name like Bucking Fuggy this has got to be good. Thanks Luke!



Cases and Power Supplies:
Antec Sonata III ATX Enclosure at Metku
Antec Sonata III ATX Enclosure at Virtual-Hideout
Xclio 3060 Plus ATX Case with 36cm Fan at BigBruin
Ultra Products X3 1,000 Watt Modular Power Supply at OCIA
SolyTech SL-8600EPS 600W PSU at Technic3D
OCZ StealthXStream 600W Power Supply at 3dGameMan

Storage:
QNAP TS-109 Pro Turbo Station at techPowerUp
Corsair Flash Padlock USB Drive at HotHardware
Corsair USB Flash Drives: Survivor and Padlock at PC Perspective

Core System Components:
Asus Blitz Formula and Blitz Extreme Motherboards at HotHardware
Abit IP35 Pro Motherboard at Hardware Secrets
ECS P35T-A Intel P35 Express Motherboard at Legit Reviews
Intel E6750 CPU at OCC
AENEON XTUNE AXT760UD00-19D 2GB Kit (DDR2-1066) at HardwareZone
Sapphire HD 2900 XT 1024MB DDR4 at TrustedReviews
AMD ATI Radeon HD 2600 XT GDDR4 vs. Nvidia GeForce 8600 GT at Bit-Tech

Multimedia:
Samsung YP-K3 2GB MP3 Player at Techgage
Terratec Noxon 2 Radio for iPod at TrustedReviews
Genius HS-04V Headset with Bass Vibration at TechwareLabs
HHB FlashMic DRM85 at BIOS
Sony Bravia KDL-32D3000 LCD TV at TrustedReviews

Other:
D-Link DIR-660 Limited Edition at Digital Trends
Asus P526 Pegasus Phone (with GPS) at HardwareZone
Evercool's Fii: An External Cooling Solution for Nintendo Wii at OCModShop
Taskbar Shuffle at Tech ARP
SteelSeries QcK mousepad at DVHardware



Firstly, HCW have an article titled 'Why would you buy a new iMac?'. Now I know what you are saying, "DUH! The iMac fits right in as the only Macintosh, with a monitor, that's not a laptop, for $1,200. 20 inch screen, sleek design, all in one unit. You get a Radeon 2400 XT instead of the GMA950 in the Mini." I admit, this looks like a good deal. Except that it's not.

BurnOutPC have also posted an article on the basics of water-cooling. "In order to do a major project whether it is renovating a house, doing some custom bodywork on your car or modifying your computer, you need to have an idea what it is your want the finished product to look or work like. This is not a trivial step. You need to look at your project from multiple angles and take into account a lot of factors. Designing a custom cooling system for your computer is just one of these tasks that require careful consideration before you pick up a screwdriver or acquire parts."

DailyTech have posted some news on the Apple Wireless Keyboard, and the reason it is delayed. Last week when Apple announced the new iMac computers, they also showed off a couple new keyboards. One of the new Apple keyboards was a thin-wired version connecting to a Mac via USB. The other more interesting keyboard unveiled with the new iMac, for those who shun wires, was the much tidier looking Apple Wireless Keyboard. While the wired version of the Apple Keyboard shows to ship in three to five days, the wireless version shows that it ships in four to six weeks.

Phoronix have posted an article on the AMD 8.40.4 Linux display driver. "Last month marked the introduction of Fedora 7 support with the fglrx 8.39.4 ATI/AMD driver but not much more than that was to be found aside from an undocumented XML file. This driver did also present watermark problems that led to the driver being recalled and a corrected driver being pushed out. Today the fglrx 8.40.4 driver has been released and while many had speculated the 8.40 series would mark the introduction of the new Linux driver code-base, that's not the case for 8.40.4 driver. What changes does the 8.40.4 driver hold in store for Linux users? We'll tell you today but there isn't much."

Google Video To Shutdown Premium Services. Videos downloaded from Google Video's download-to-own/rent service will cease to play on Aug. 15, according to a sudden e-mail message sent late last week to Google Video customers. The video purchase service is shutting down due to lackluster sales and complaints of lackluster service.

XbitLabs have a news article on Intel's launches of new quad core Xeon processors. Intel Corporation today launched two quad-core Xeon processors: X5365 and L5335. New CPUs differ from their predecessors by higher clock speed on the one hand, and lower power consumption – on the other. The new Xeon Processors X5365 and L5335 also contain new virtualization capabilities.

Brad has sent in an interesting link for Super Mario fans out there. The link is of a YouTube video where Zac Kim plays the theme for Super Mario with two guitars.



Motherboards:
ECS P35T-A at HardwareLogic
MSI P35 Platinum at MadBoxPC
Gigabyte GA-P35C-DS3R at Hardware Secrets
Abit IN9 32X-MAX Wi-Fi at InsideHW

Graphics Cards and Displays:
Gigabyte GV-NX85T256H Geforce 8500GT at PCSTATS
Leadtek Winfast 8600GTS THD at Realworldbenchmarks
EIZO FlexScan HD2441W at BIOS

Storage:
Vantec EZ Swap EX & NexStar SX 2.5" Hard-Drive Enclosures at Techgage
Super Talent 1GB, 2GB & 4GB USB Flash Memory Drives at PCSTATS

Cases and Cooling:
Revoltec Zirconium PC Case at Bjorn3D
Danger Den DD-29XT HD 2900 XT Waterblock at techPowerUp
CoolIT Systems Freezone at Realworldbenchmarks
Arctic Cooling MX2 Thermal Compound at Rbmods
Zerotherm CF800 and CF900 CPU Coolers at Pro-Clockers
Cooler Master Vortex 757 at Realworldbenchmarks

Audio and Video:
Freestyle Audio Fusion DMP 512 at Digital Trends
Sony HDR-CX7 HD Camcorder at Digital Trends
Pinnacle PCTV HD Stick at TheTechZone

Other:
D-Link DKT-810 ADSL2/2+ Modem Router Starter Kit at TrustedReviews
Clive Barker's Jericho Game Preview at TrustedReviews
Medion 6486 PC at TrustedReviews
Ultra 850VA Power Protection Unit and UPS at PCPerspective
Kodak EASYSHARE 5300 All-in-One Printer at I4U




Interesting Forum Threads (0 Comments) (link)
Monday, 13-August-2007 21:00:56 (GMT +10) - by Agg


Another snapshot of what's going on in the forums:

More ram or better ram? in Memory.
Business server recommendations in Enterprise Computing.
Anti virus..Which is the best free download in General Software.
Laptops for under a grand in Portable and Small Form Factor.
Wasting money on HTPC sound card in PC Audio.
8800GTS 640MB vs 320MB - August Update - Conspiracy no more! in Video Cards and Monitors.
Lian Li v2100B+ WC Project in Extreme Cooling.
Pope Benedict admits evidence for evolution in Science.
Good news for aussie TV viewers! in TV, Movies, Music & Books.
Sunshine (2007) in TV, Movies, Music and Books.
RC Helicopter info/discussion thread in Other Toys.
High Def 300 helps us know whos winning the format war? in Audio Visual.
Project S15-80 Rubbishbox in Motoring Worklogs.
Maccas Double Pounder in Geek Food.
Bender brewing in Geek Grog.
Australia's unhealthy lifestyle in Sport, Fitness and Health.
Your photo of the week (12 August 2007) in Photography Gallery.
Blogger Finds Y2K Bug in NASA Climate Data in Current Events.
Do you have Aspergers / Are you a geek? in The Pub.
[SYD] OCAU Paintball Meet in The Pub.
[PER] Karting race meet ~ end Aug in The Pub.
[BNE] Dinner and Booze, 25th August in The Pub.




Monday Evening (6 Comments) (link)
Monday, 13-August-2007 19:40:57 (GMT +10) - by Agg


There's speculation that Google Maps may have fuzzed out photos of Sydney prior to the APEC summit. Google says the imagery was downgraded as a result of a "commercial issue" with a supplier, but the move has aroused speculation it was done at the request of police in order to minimise the risk of a terrorist attack during the September summit, where Sydney will play host to 21 world leaders including U.S. President George W. Bush. If you are looking for Google Maps locations in Australia, remember one of the biggest collections is in our own Wiki.

LegionHW ponder why DDR3 is no faster than DDR2. For some time now reviewing high-end DDR2 memory modules has almost been boring, as high speed 1000-1200MHz modules really offer nothing new in terms of performance. For a while there we even had trouble getting together CPU and motherboard combos that could overclock far enough to reach some of the incredible DDR2 speeds manufacturers were churning out.

Sniper spotted an odd 3-way Opteron system on TheInq. Any CPU in a 3S system is one hop away from any other CPU. In a 4S system, you can be two hops away. This adds latency, and more importantly, you take a big hit on cache coherency latency. This kills performance.

Apparently Vista prevents users playing Hi-Def content, thanks Justin. Vista requires premium content like high-definition movies to be degraded in quality when sent to high-quality outputs, so users are seeing status codes that say "graphics OPM resolution too high." Gutmann calls this "probably the most bizarre status code ever."

From tumb_sc: Microsoft is doing anything and EVERYTHING to get every country to vote "YES" for their OOXML to be ISO. Recently, (a few days ago) there was a forum in Sydney to discuss this very issue. Notice how very few people know about it? *rollseyes*. Groklaw article here. If any concerned Aussies out there who wish to voice their concerns to Standards Australia (before 21st August), go here. Please be polite and constructive with your concerns.

As a kid I read the entire series of Conan, and am still a fan of Robert E Howard's work, so I've been idly following the news of an upcoming MMORPG, "Age of Conan". YouGamers are now saying the release date has been pushed back to March 2008, unfortunately.

From Daztay, about the "Museum of Particularly Bad Art": This opens tonight. It looks bad but it is a fun exhibition, I been the last couple of years. Gold coin entrance and all money goes to charity. Here's some pics from the years.

TechARP compare paper vs PDA. After so many years, there is still no clear evidence that using a PDA (Personal Digital Assistant) is any better than just an old-fashioned paper organizer. Or is there?

China are rolling out a people tracking system, thanks SilentNight. Starting this month in a port neighborhood and then spreading across Shenzhen, a city of 12.4 million people, residency cards fitted with powerful computer chips programmed by the same company will be issued to most citizens.

Icidic let us know that Endeavour launched successfully, and you can keep up to date on the mission here. The mission has been extended by 3 days thanks to the successful operation of the new Station-to-Shuttle Power Transfer System. The SSPTS reroutes power from the space station to the shuttle during docked operations, allowing the orbiter to conserve materials needed to generate power and spend more time in space.

Goth sent in this timewaster, Winterbells. We've seen it before and it's so cute it makes my teeth hurt, but it's fun and quite addictive.




Monday Evening Reviews #3 (0 Comments) (link)
Monday, 13-August-2007 19:06:27 (GMT +10) - by Agg


Motherboards:
ECS P35T-A LGA775 board on HWSecrets.
ASUS Blitz Formula and Blitz Extreme DDR3/DDR2 LGA775 boards on HotHardware.
Five LGA775 Motherboards In The Pit comparison on Tweaktown.
Nvidia nForce 680i SLI with latest P30 BIOS on Bit-Tech.

Video Cards:
NVIDIA Mid-Range 8600GT vs 7600GT Performance Comparison on MadShrimps.
Albatron GeForce 8600 GTS 256MB on SharkyExtreme.
Sapphire HD 2900XT 512MB on Phoronix.
Leadtek Winfast 8600GTS THD on RealWorldBenchmarks.
Gigabyte 8600GTS 256MB Silent Pipe 3 on Techgage.

Power Supply:
Ultra X3 800W and 1000W on OCOnline.
Hiper Type-R 530W on PCApex.

Misc:
22" Monitors Roundup on XbitLabs.
Raxco PerfectDisk defrag software on XbitLabs.
Targus ACH80US Desktop USB 2.0 4-port hub on Motherboards.org.
Kingston HyperX PC3-11000 DDR3 memory kit on Virtual-Hideout.




Monday Evening Reviews #2 (0 Comments) (link)
Monday, 13-August-2007 18:48:35 (GMT +10) - by Agg


Audio / Visual:
Casio Exilim EX-Z1050 digicam on DigitalTrends.
X-Micro X-VDO MP4 F610 Video Player on PCApex.
Zalman ZM-RS6F USB Headphones on TweakTown.
Tokai 7 inch LCMDX-2227MUC Portable DVD & DIVX Player on RoadLessTravelled.
GIGABYTE GT-U8000-RH digital TV Tuner on Tweaktown.
LTB Magnum 5.1 AC97 Headphones on OCClub.

Input Etc:
X-Arcade Tankstick game controller on OCModShop.
Saitek X52 Pro Flight Control System on OCClub.
XTracPads Ripper XL v2 Mouse Mat on OC3D.

Cooling:
SilverStone NT06-Lite CPU Cooler on Pro-Clockers.
Nexus 120mm Silent Case Fan on Mikhailtech.
Cooler Master Vortex 757 CPU coler on RealWorldBenchmarks.
CoolIT Systems Freezone CPU cooler on RealWorldBenchmarks.




Monday Evening Reviews (2 Comments) (link)
Monday, 13-August-2007 18:30:55 (GMT +10) - by Agg


Storage:
Hitachi Deskstar 7K1000 1TB hard drive on TechReport.
Corsair Flash Survivor GT 8GB flash drive on ThinkComputers.
D-Link DNS-323 SATA RAID Gigabit NAS network storage on BenchmarkReviews.
Innodisk 8GB USB Flash Drive on ExtremeMHz.

Portable:
Sony VAIO VGN-C2ZR/B Notebook on XbitLabs.
Tom Bihn BUZZ Laptop Sling Bag on FutureLooks.
Syfer Laptop Alarm on TechArp.
Antec NP-100 Notebook Power Adapter on DVHardware.

Cases:
Four Mainstream Cases from Asus, Gigabyte and Cooler Master on XbitLabs.
Apevia X-Telstar Mid Size Case on Pro-Clockers.
Thermaltake Mozart IP HTPC case on TechPowerUp.
SilverStone CW02 HTPC case (video review) on 3DGameMan.
Lian-Li PC-A70 on Virtual-Hideout.




PC Authority Survey - Reminder (1 Comments) (link)
Monday, 13-August-2007 14:56:50 (GMT +10) - by Agg


PC Authority are once again running their Reliability and Service Awards Survey. Every vote counts: we need your feedback on the companies you've bought products from in the past two years so we can continue to provide Australia's most trusted results. The survey should take just a few minutes to complete, depending on how much you've bought! When you've finished, you'll be automatically entered into our competition.

We've rounded up 60 prizes worth $40,000 that you could win after filling in this survey including two stunning $3000 laptops from Fujitsu, 18 Nvidia graphics cards and motherboards from Albatron, a $3000 state-of-the-art Dell XPS PC, Adobe's entire range of software (the $4500 Master Collection) and much much more!

I particularly encourage you to remember and report on your experiences with OCAU's Sponsors. Last year the awards were dominated by our sponsors and it would be great to see them well represented again.




Interesting Forum Threads (0 Comments) (link)
Sunday, 12-August-2007 22:14:30 (GMT +10) - by Agg


[Video] T_M doing Aquamark 3 - Aussie Style in Overclocking & Hardware.
My air cooled beast on YouTube! in Overclocking & Hardware.
Painting coolers? in Modding.
How to join two bits of metal? in Modding.
So I want to get into modding in Modding.
Stupid Eng Project: ADC/DAC +ve supply voltages in Electronics.
Is the antivirus model all wrong? in General Software.
THE SETTLERS – Rise of an Empire OPEN BETA in Games.
DirectX 10 Cards not compatible with 10.1 in Video Cards & Monitors.
Port (Fortified Wine) barrels - who'se got one? in Geek Grog.
[BNE] Bike-riders wanted for inner-city evening rides in Sport, Fitness & Health.
Should street racers have their vehicles impounded then CRUSHED? in Motoring.
Would you go through a red light to let an ambo through? in Motoring.
Wink's Toyota MR-S Worklog / Ownership Diary in Motoring.
QANTAS pilots dazzled by laser en route to Darwin in Current Events.
"Dirty Bomb" threat causes panic in NY in Current Events.
Tiger Helicopters in Darwin in Current Events.
The Great Firewall of Australia rears its head again in Current Events.
The Human Face of The Rental Crisis in Current Events.
AutoSalon Chicks... [!56K] NSFW-maybeish in Photography Gallery.



Firstly, here we have someone who has converted his old CRT monitor into a fishtank. Talk about a great screen saver! I've been wanting to do this build for a while now. Just about every time I see and old CRT computer monitor by the side of the road on trash day I think to myself ...that would sure make a cool looking fish tank. So here is my first attempt at turning and old computer monitor into a fish tank.

Here we have yet another interesting article about a USB fan which has been placed on a clip on tie. Ain't nothing classier than a clip-on tie...except one with a built-in USB-powered fan in the knot. We're not certain how this thing keep you cool, or why you wouldn't just use any of the million other USB-powered fans that don't increase your dork factor by 1000, but the people in the photos look so blissfully content we're actually a little curious.

Lenovo intends to take over Packard Bell. Lenovo, the world's third largest maker of personal computers, announced on Wednesday that it had reached a preliminary agreement to acquire Packard Bell, a known, but not a major supplier of PCs from Europe. The move will allow the company to expand its European operations.

Tweaktown have the truth on the Intel X38 and SLi, and the truth is that it's not happening. There has been numerous reports floating around the web that Intel's upcoming X38 enthusiast chipset motherboard will officially support not only AMD Crossfire dual graphics but also Nvidia SLI technology.

Tech ARP have sent in news of the Desktop CPU Comparison Guide Rev 3.4. There are so many CPU models that it has become quite impossible to keep up with the different models or even remember their specifications. Therefore, we decided to compile this guide to provide an easy reference for those who are interested in comparing the specifications of the various desktop CPUs in the market, as well as those already obsolescent or obsolete. Currently covering 590 desktop CPUs, this comprehensive comparison will allow you to easily compare up to 18 different specifications for each and every CPU.

Xbitlabs have an article on a claim that Intel's 45nm chips will be up to two times faster then the current processors. Even though the transition to improved Intel Core 2 micro-architecture with the new chips due to be available late this year is not typically considered as substantial for Intel Corp., a web-site, which managed to test an engineering sample of the chip reported up to 115% performance gains for the new products from the world's largest chipmaker compared to current offerings.

AMD has taken out yet another loan. Advanced Micro Devices today said it would sell another 5.75% of convertible senior notes for about $1.5 billion to refinance a loan it took to acquire ATI Technologies last year. AMD already took a loan using the same method earlier this year to finance its operations.

Lastly, TheWedgie has sent in a timewaster called 'Bloxorz'.



Thanks to everyone who sent these in:















The Pirate Party has expanded to the US and is trying to gain legitimacy in Utah. And while some politicians have put issues like patent and copyright reform at the top of their lists, there aren't many political parties out there that make it one of their sole issues. That's where the US "Pirate Party" hopes to step in; the group is now hoping to establish itself as an officially-acknowledged political body in the state of Utah.

Australian ISP's have labeled ISP level filters as unworkable after the Federal Government announced plans to force ISP's to do so. There is a thread discussing this here. The ISPs say it's doubtful a workable solution will be found and users who opt to switch-on the filtering will be subjected to significantly reduced speeds. Opposition communications spokesman Stephen Conroy accused the Government of rehashing old announcements in an attempt to portray a tough stance on internet safety in the lead-up to the federal election.

Google has begun offering more Gmail space for a fee, and to think that I am only using 500MB in my Gmail. Google will offer users of Gmail and Picasa, its online photo storage and sharing service, the chance to expand the amount of storage supporting their accounts. Gmail users currently get about 2.8 GB of free storage space and Picasa users receive 1 GB for free. Starting Friday, users can sign up through their Google accounts to buy as little as 6 GB of additional storage for US$20 per year, or up to 250 GB for $500 annually. It will also offer a 25 GB plan for $75 and a 100 GB option costing $250.

I knew many Apple users were nutters but this is just ridiculous, a man has had his thumbs surgically altered to allow for better iPhone use. The procedure involved making a small incision into both thumbs and shaving down the bones, followed by careful muscular alteration and modification of the fingernails. While Martel's new thumbs now appear small and effeminate in comparison to his otherwise very large hands, he says he can still lift "pretty much anything I could lift before the surgery - though opening spaghetti sauce jars has been a problem. That was a big surprise."

Bit-Tech have posted an article about Metaboli gaming on demand. Gaming on demand is basically an Internet-based service that allows users who are signed up to download full games wherever they are and then to play very quickly. There are sites, such as Steam, which offer this on a per-game basis which means you can buy a game, such as Garry's Mod, and can then download it onto multiple systems and game wherever you can access the Internets. It's a process which has obviously worked very well for Steam, which now has over 13 million users and a growing bit-tech Gaming community

TechReviewSource has checked out Microsoft's latest online service, Windows Live Skydrive. To start, Microsoft gives you 500MB of free online storage space, but we feel that is a little small for today's day in age. Services like Google Gmail gives you 2GB of free e-mail storage space. Hopefully in the future Microsoft will upgrade this to at least 1GB. The interface of Windows Life Skydrive is pretty sleek, but it sometimes isn't as intuitive as we wished. It has a very Hotmail-like feel and will really feel at home for people who are family with Microsoft's other Windows Live online services.

Todays timewaster is from Paul with the Virtual Armonica where you can make cool sounds by combining notes. To play the armonica below, click on a glass bowl. Like the real armonica, the tone will linger as you click on the next bowl, putting tones together to make a melody.



Firstly, the Anti Virus Fight Club results are in. A rare AntiVirus accuracy competition was conducted at Linuxworld this week, and the results should come as a blow to the paid antivirus industry. Run by delegates from the untangle network gateway, the competition should provide ammunition to critics of the idea that good virus protection cannot be provided for nothing. The results (with pretty graphs) can be found here.

Agg has sent in this interesting piece of news, China's iClone. The little gadget was bootleg gold, a secret treasure I'd spent months tracking down. The miniOne looked just like Apple's iPhone, down to the slick no-button interface. But it was more. It ran popular mobile software that the iPhone wouldn't.

Bern has sent in an article from Groklaw, where the courts have ruled Novell owns the UNIX and UnixWare copyrights. "That's Aaaaall, Folks! The court also ruled that "SCO is obligated to recognize Novell's waiver of SCO's claims against IBM and Sequent". That's the ball game. There are a couple of loose ends, but the big picture is, SCO lost. Oh, and it owes Novell a lot of money from the Microsoft and Sun licenses."

XSReviews have posted a review about PhysX in GRAW 2. "Around a year and a half after their original release, PhysX cards still cause much controversy when discussion about them begins. They have the usual fanboys and skeptics and all those in between. No one can deny however, that there hasn't been many games that really utilize the PhysX PPU (Cell Factor is perhaps the only one) and shows off what the technology can really do. Now Ubisoft have released their second game to support PhysX, Ghost Recon Advanced Warfighter 2 (GRAW 2). With a special level and extra effects for those with Ageia's cards, will this game make it worth buying one? Read on to find out.

Hardware Secrets have posted an article titled 'Everything You Need to Know About The Centrino Platform'. "Contrary to what a lot of people think, Centrino isn't a laptop processor but a platform containing specific components set by Intel: a given processor, a given chipset and a given wireless network. A laptop can only be called Centrino if it has these three components. In this tutorial we will show you the several Centrino generations and the difference between them. Check it out."

PCI-SIG have announced the PCI Express 3.0 details. The PCI Special Interest Group, or PCI-SIG, this week announced the speeds of the latest evolution to the PCI Express specification – PCI Express 3.0, also known as PCIe 3.0. PCIe 3.0 doubles the transfer rate of PCIe 2.0, bringing overall throughput to 8 gigatransfers per second, or GT/s.

And lastly, Toshiba has issued a further recall on Sony laptop batteries. All had been quiet on the Sony laptop battery fiasco front,until Toshiba America Information Systems Inc., along with the U.S. Consumer Product Safety Commission (CPSC) on Thursday announced a recall of rechargeable lithium-ion batteries containing Sony cells used in Toshiba notebook computers. The CPSC says that consumers should stop using recalled products immediately unless otherwise instructed.



For those who are still up, here is some reading material to keep you occupied.

CPU's / Motherboards
Gigabyte GA-MA69G-S3H AM2 Motherboard on PC Stats
Intel Core 2 Duo E2160 vs E6300 on Madshimps
ASRock ALIVENF7G-HDREADY/M/ASR AM2 Motherboard on PC Stats
eVGA 650i Ultra LGA775 Motherboard on Hardware Logic
ASRock ConRoe 1333-DVI/H LGA775 Motherboard on Phoronix

Memory / Cooling
OCZ DDR2 PC2-9200 Reaper HPC Edition 2GB on RBMods
Asus Arctic Square CPU Cooler on Viper Lair
OCZ DDR2 PC2-6400 Titanium EPP 2GB on EclipseOC
Coolit System Beverage Chiller, PCI Cooling Booster and Ram Fan on Pro-Clockers

Visual
Gigabyte 8500GT TurboForce on Bjorn3D
ATI Radeon HD 2400XT, 2600 Pro and 2600XT on Legit Reviews
ViewSonic VX2835wm 28 Inch LCD on XYZ Computing
Insignia NS-LCD37 HDTV on I4U
Diamond Multimedia Viper HD 2900XT 1GB on PC Perspective

Cases / PSU's
Silverstone ST85F Strider 850W on techPowerUp
In Win BK623 Mt.Jade mATX Case on Big Bruin
Antec P190 1200W E-ATX on OZ Hardware

Other
HP Photosmart C5280 All-in-One on Trusted Reviews
Kodak EasyShare Z712 on Trusted Reviews
Alienware Area-51 7500 Desktop System on Think Computers
HTC P4550 Kasier Smartphone on Trusted Reviews



Here is a quick roundup of some of the various photography portfolios which are being showcased in our Photography Forum. Click on each picture to go to it's corresponding thread in The Gallery.






Firstly, DailyTech have posted an article saying the Defective Radeon Report is completely untrue. A recent article from DigiTimes had many graphics partners pointing a finger at AMD for several thousand potentially faulty Radeon HD 2600 and HD 2400 products. Specifically, DigiTimes claimed "One first-tier maker has recalled over 20,000-30,000 units already, noted the sources."

Fujitsu is expected to announce a 1.2TB 2.5" HDD in for 2010. Manufacturers have been punching out larger capacity hard drives like crazy over the past few years. It seems Fujitsu Computer Products of America Inc. will take the cake on this one. According to PC World, the company is expected to announce later this week that it has developed a type of hard disk which uses alumina nanoholes for isolated bit-by-bit recording on a large disk area.

VIA Arena have posted an article on the Google Search engine. "Google has developed what the company calls "personalized search". It uses your own search history to guess what you want based on your past searches. Also, if you've ever signed up for a Google product like Gmail, AdSense, or the Google toolbar, Google also takes that information into account when returning Universal Search results. This is transparent in use – most people aren't aware that Google keeps two years' of your search history, and other information, on its servers."

Martin has sent in a blog of someone showing off Windows XP SP3. I did a clean install of Windows XP Professional (English, 32bit, Volume License) with Service Pack 2 integrated in a Virtual Machine. After that I installed Windows XP Service Pack 3 Beta build 3180. The SP3 executable pack is named windowsxp-kb936929-sp3-x86-enu.exe. So there we have the reserved KB article number. The size of the pack is 332 MB.

Michael has sent in an article where Howard and Rudd fought for the Christian vote by showing how their policies agreed with Christian values. Both John Howard and Kevin Rudd have courted the Christian vote in a webcast for up to 100,000 people gathered in churches across the country last night.

Microsoft have announced that Halo 3 has topped 1 million pre-orders. Microsoft today proudly announced that its highly anticipated Halo 3 video game recently exceeded 1 million pre-orders. The video game is the "fastest selling pre-ordered video game in history," according to Microsoft. With stores such as Amazon, GameStop, Wal-Mart, and Best Buy accepting pre-orders for Halo 3, most of the stores are reporting an extremely high level of pre-orders.

And lastly The Inquirer have posted an article on what the new DirectX 10.1 revision has to offer. REPRESENTATIVES from the almighty Vole have been speaking at Siggraph over the last few days, and what they've said hasn't exactly lowered the blood pressure of many attendees. Microserfs were there to espouse the greatness of DirectX 10.1, the next revision to the DX graphics spec, which is due to arrive with Windows Vista SP1.



I haven't mentioned the Wiki in a while.. check out these pages you might not have seen:

National LAN Party Index
Power Supply Unit
Online Vendors
Vista Compatability List
Camera Selection
DSLR Guide
Fun P-Plate Legal Cars
Science Books
New System Parts Recommendations

Also the buyer's guide is still being actively maintained (thanks to Deanodriver and decayed.cell!) with sections on:

HTPC
Upgrade Kit
Workstation
Gaming Machine
Gaming Machine OC Variant
Dream Machine




OCAU Podcast Episode 24! (0 Comments) (link)
Thursday, 9-August-2007 22:12:45 (GMT +10) - by Agg


After a 5 month break, episode 24 of the OCAU Podcast is now available for download. In this episode Sciby, drillbit and I chat about a range of topics including cheap stuff, HDD enclosures, Guitar Hero, Harry Potter, the music industry and a heap of other fluff. In fact it's a bit of a shambles to be honest, but hopefully fun. There's even a bit of bonus music at the end.

You can grab this episode via iTunes here (you might need to subscribe (free!) in iTunes before you can see the new episode), or download the files direct from our server:

High Quality MP4 - 20MB
More Compatible Oldschool MP3 - 24MB
Really Bad Low Quality Mono - 5MB

If you prefer the raw RSS feed, you can get that here, or an XML version here.

Comments in this thread please!



Cases:
Zalman Z-Machine GT1000 at 3dGameMan
Revoltec Rhodium at XSReviews
Sunbeam Tuniq 3 at OC Cafe
NZXT Lexa Blackline at OCIA

Cooling:
Thermaltake TMG ND5 VGA Cooler at OCC
Thermalright SI-128 SE at TecCentral
Noctua Case Fan at Ninjalane

Power Supplies:
PC Power & Cooling Silencer 750 Crossfire Edition at Legion Hardware
Ultra Products X3 1000W Modular at PC Apex
NZXT Precision Power 1000 Watt at Futurelooks

Motherboards and Memory:
CS KN3 SLI2 NVIDIA nForce 590 SLI Motherboard at PC Perspective
Biostar TF7050-M2 at Bit-Tech
CellShock PC2-9200 (DDR2-1150) 2GB Kit at Overclock3D
OCZ PC2 9200 Reaper DDR2 at Guru3d

Graphics Cards:
Sapphire HD 2400XT Videocard at HardwareLogic
BFG 8800 GTS OC2 640 MB at Neoseeker
MSI NX8800 Ultra at t-break



Storage:
Creative Zen Stone Plus (2GB) at HardwareZone
Patriot Xporter XT 1GB Flashdrive (Spanish) at MadBoxPC
Western Digital 160GB Passport at TrustedReviews
SanDisk Sansa Express (2GB) at TrustedReviews
Corsair Flash Voyager GT 8GB at Technic3d
Netgear ReadyNAS NV+ at BIOS

Games:
SpaceForce: Rogue Universe PC at Gamepyre
Shenmue: Through the Ages (Xbox 360) at IGN
Big Brain Academy Wii Degree at Bonafide Reviews
Surf's Up at TrustedReviews

Misc:
Motorola MC 35 Enterprise Digital Assistant at TrustedReviews
projectiondesign Action! M20 projector at TrustedReviews
LTB Audio Q-Bass 2.1 Stereo Wireless Headset at I4U
HP w2207 22in LCD at TrustedReviews
XtremeMac HDMI Switcher at The TechZone
BenQ DC-T700 at TrustedReviews

Notebooks:
Sony VAIO VGN-TZ18GN (Centrino Duo) at HardwareZone
Lenovo ThinkPad T61 at TrustedReviews
Lenovo ThinkPad X61s at Digital Trends




Interesting Forum Threads (0 Comments) (link)
Thursday, 9-August-2007 19:38:09 (GMT +10) - by Agg


First up, windwithme has a first look at DFI's Intel P35 motherboard: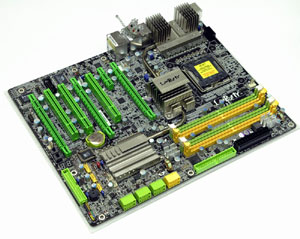 click for the thread!


And here's some general interesting threads:
The greatest optical illusion you've never seen in The Pub.
Roll up, roll up and take the nerd test in The Pub.
Quadcore Overclocking Range in Intel Hardware.
Asus M2NPV-VM vs Asus M2A-VM HDMI in AMD Hardware.
Worklog: Case upgrade in Modding.
E6600 L709A958 @580FSB + Asus Commando in Intel Hardware.
Virus that destroys every mp3 on all media in General Software.
Engineers in OCAU in Career, Education and Finance.
The Deep Fryer and Deep Frying Thread in Geek Food.
Domino's Internet Voucher Codes in Geek Food.
RAAF jets accidentally target cars in Current Events.
Finally.. JETPACKS! in Current Events.
Giant LEGO man found afloat off Dutch coast in Current Events.
Iran demonstrates its new fighter jet in Current Events.
The human family shrub? in Current Events.
Hot Dry Rock Geothermal Energy in Science.
Pseudoscience and quackery in Science.
Best way to burn stomach fat in Sport, Fitness and Health.
Lightened flywheel? in Motoring.
Speeding is essential in Motoring.



Asher has sent in news that Nine has lost their latest legal battle. The Nine Network has lost its bid to retain control over how and when people consume its television shows in a landmark court judgment today. In a David and Goliath battle played out before the Federal Court, Nine alleged Sydney-based IceTV's electronic program guide (EPG) - an online TV guide subscribers can use to schedule television recordings from their computer, personal video recorder or mobile phone - breached its copyright.

Paul has sent in news about Iron Mountain's self designed security system. No longer relying only on its truck drivers to ensure the safe delivery of data and backup tapes, Iron Mountain Inc. is outfitting its transport vehicles with a new chain-of-custody technology designed to ward off human fallibility that can lead to the misplacement or outright theft of data.

The Tech Lounge has posted an article about the new Apple iLife '08. "The Apple Special Event yesterday also announced iLife '08. iLife is composed of five applications - iPhoto, iMovie, iWeb, iDVD and Garage Band. These applications are designed to help you and your digital lifestyle. Apple also improved .mac by increasing the storage space to 10GB, transfer quota up to 100GB as well as better integration with the iLife suite. Apple also introduced iWork, so watch for my review of iWork later this week."

Microsoft tarts up its image. Facing a 38 percent drop in IT enrollment at Australian universities, Microsoft has done what any fraternal group would do to boost attendance: bring in a babe. Working with the Australian Information Industry Association (AIIA), Microsoft has hired former Miss Australia Erin McNaught to tart up IT's image and convince young people to dive into the sex-soaked technology sector when choosing classes at Aussie institutions of higher learning.

The Xbox 360 Premium now is shipping with a HDMI port. USD prices follow: Yesterday, Microsoft announced across-the-board price cuts for its Xbox 360 lineup. Prices for the $479 Elite, $399 Premium and $299 Core dropped to $449.99, $349.99 and $279.99 respectively.

IGN Entertainment have posted an article on the new World of Warcraft Expansion. With BlizzCon 2007 now safely behind us and fans worldwide now dissecting every video and screenshot for every last scrap of information, we can now aid the dissection a little bit more. Who is the Lich King? How does he factor into the World of Warcraft mythology and why does this icy badass deserve his own expansion? Delve into this slice of ancient Azerothian lore and find out.

And lastly BFR have a review of Big Brain Academy Wii Degree, which as you may have guessed is for the Nintendo Wii platform. If there is anything that could be said for "educational" gaming, it's that generally it sucks. Don't get me wrong, I believe videogames are art, and are a media that is often looked over in importance in today's day and age, but lets be honest with ourselves here. What was the last educational game you ever played? Was it one of the PC "Jumpstart" series, or was it some sort of test trivia game?




Sponsor Specials (0 Comments) (link)
Thursday, 9-August-2007 15:03:05 (GMT +10) - by Agg


Remember to keep an eye on our Sponsor Specials Forum if you're shopping around for a good deal. In there our many sponsors have threads with special offers for OCAU members. Check 'em out!



Stephan has come across an article on The 10 Strangest (real) Things In Space. I recently saw a Digg article which linked to a space.com page about the 10 Strangest Things in Space. All but 2 of the items were not pictures at all but computer simulations, or artists impressions. So here to correct this injustice to phenomena everywhere I present the REAL 10 Strangest Things in Space - or at least in my opinion.

Virgin Mobile have apparently gone and used images without asking permission from the owner for their advertising campaign. VIRGIN Mobile has been accused of breaching people's "moral rights" after it took images from a popular photo-sharing website without asking permission and used them in a national advertising campaign.

Congress has passed the "Protect America Act of 2007"."Protect America Act of 2007" easily pass through Congress; kills limits on wiretapping foreign targets. S. 1927, better known as the Protect America Act of 2007, sailed through congress in just four days since its introduction. Among other things, the bill permits the Attorney General and Director of National Intelligence to authorize spying on foreign intelligence targets for up to one year in foreign countries without requiring a court ordered warrant.

TwinMOS has introduced super-mini USB2.0 Mobile Disk B1 for Windows Vista™. Following the slim and lightweight trends of current computers, consumer electronics and communication products, consumers are increasingly aware and sensitive to the design, fashion and convenience of products. Based on the operational philosophy of "Value Built on Professionalism" and its superior RD capacity, TwinMOS Technologies has successfully developed the super-mini USB2.0 Mobile Disk B1 for Windows Vista™ by subverting the style and size limitations of traditional USB disks to fulfill the consumer's expectation.

PC Perspective have updated their popular hardware leaderboard. We have updated our popular hardware leaderboard to give users a one-stop look at the best options for system builds of various price points. This month we saw a dramatic price drop from Intel that enabled our quad-core dreams to come true for even less!

At Phoronix they have posted an article about the linux 2.6.23-rc2 Kernel. "While the Linux 2.6.23 kernel is only weeks into development, it's already generated quite a bit of attention. From the merging of the Completely Fair Scheduler (CFS) to the -rc2 kernel being "the new -rc1", the Linux 2.6.23 kernel is certainly in store for being an ornate release. Adding to this attention has been a stable user-space driver API and virtualization improvements (KVM, Xen, and LGuest). With all of this activity surrounding the Linux 2.6.23 kernel we've decided to conduct a handful of benchmarks comparing the Linux 2.6.20, 2.6.21, 2.6.22, and 2.6.23 kernel releases so far."

Paul has also sent in the following news:

Maori language Google is in development. A husband and wife team is developing a Maori language version of the search engine Google in an effort to encourage more Maori to use the net.

Israel's Yad Vashem Holocaust Memorial is getting its huge archive ready to go online. The climate-controlled room whirrs with electronics. A digital recorder copies a 46-year-old video of the trial of Nazi war criminal Adolf Eichmann. Other machines digitize audio testimonies taped by Holocaust survivors. Microfilmed war documents flash across a digital scanner at two images per second, or five million a month.



Motherboards:
Abit IP-35 Pro LGA775 Motherboard on OC Workbench
Gigabyte MA69GM-S2H AM2 Motherboard on PC Perspective
ECS G33T-M2 LGA775 Motherboard on Overclockers Club
Abit AN-M2HD AM2 Motherboard on Overclockers Club
ECS G33T-M2 LGA775 on Hardware Zone
Intel DG33BU LGA775 on InsideHW

Video Cards:
PNY 8800GTS 320MB on XS Reviews
XFX 8400GS 256MB on Overclock3D

Portable:
Lenovo 3000 V200 (2.2GHz) on Digital Trends
LapWorks Gutura Laptop Desk & Desktop Stand on Virtual-Hideout
Lenovo 3000 V200 (2.2GHz on BIOS

Cases & PSU's:
Sunbeamtech 3D Storm ATX Case on Madshrimps
Gigabyte Triton 190 Chassis on Hot Hardware
OCZ ModXtreme 780W Modular PSU on Benchmark Reviews

Input & Audio:
Phillips SHN7500 Noise Cancelling Earphones on Trusted Reviews
Razer Trantula on Hardware Zone
Logisys T-Coupe Mouse on Techgage

Other:
iRiver e10 6GB MP3 Player on Think Computers
Bigfoot Network's Killer NIC on Tech Report
Super Talent T1000UX2G4 DDR2 Memory on Futurelooks
Actiontec GT704-WGR Wireless Modem on Mikhailtech
Installing Windows Vista For N00bs Rev 2.0 on Tech ARP
Abit AirPace 54Mbps Wi-Fi PCI-e Card on Mikhailtech



Firstly, Paul has sent in that Apple has updated its iMac design. Apple has updated its iMac computers with a slimmer design, faster chips and glossy screens, hoping to further propel sales that already outpace the rest of the PC industry.

Stuart has sent in information about an Antivirus Fight Club. Morris will take 20 viruses that are roaming about on the Internet and introduce them to machines protected by each AV product. Who will be left standing, and who will be left a bloody mess on the floor, is anyone's guess. Morris is quite sure Clam, the open source champ, will leave most of the big guys in the dust.

Microsoft is releasing another Zune player. On the heels of the Halo 3 Edition black Zune, Microsoft is introducing a new brown version of the Halo-themed player for military service members. After receiving feedback on the popularity of the Zune players from U.S. soldiers, teams from Microsoft Zune and Microsoft's U.S. Federal business joined together to develop a special Zune - Halo 3 Military Edition, which will be available exclusively at military retail stores in August.

OCZ Have released a SPD programming utility. OCZ Technology this week opened up a public beta test of its SPD-Z utility. The SPD-Z utility allows users to reprogram the SPD chip on OCZ memory modules. The SPD chip on memory modules contains information of the module's capabilities, such as speed and latencies.

AMD Have updated their Professional Graphics Accelerators Lineup. ATI, graphics product group of Advanced Micro Devices, has updated its lineup of professional graphics cards with the new Radeon HD 2000-series processors, which promise to improve performance substantially thanks to unified shader architecture as well as some software tricks. Besides, the new ATI FireGL V8650 is the first single-chip graphics card with a frame-buffer of 2GBs.

DigiTimes reports that Intel are pushing two new technologies into the X38 chipset. Intel is currently developing two new technologies which will be introduced along with the upcoming high-end X38 chipset, according to sources at motherboard makers. Both technologies target the enthusiast market. The two new technologies are named Extreme Memory and Extreme Tuning Utility. Both new marketing lead architectures will be introduced along with the X38 chipset in October this year, according to motherboard makers.

Lastly FLB has sent in an interesting article with an iPhone running Windows XP. Hey PC fanboys, now you can use this shot of a Windows XP display at an AT&T store when those smug Mac worshipers tell you about how such-and-such Zune commercial was made on a Mac, and how "all media types and artists" use Macs. Windows runs the world, baby.




Wednesday Morning (8 Comments) (link)
Wednesday, 8-August-2007 01:31:09 (GMT +10) - by Agg


Troy spotted some nasty pictures of a burnt-out datacentre.. scroll down for toasted XServes. There was a large fire that broke out at about 5:15pm Monday evening 23rd July 2007. It unfortunately quickly destroyed most of the Designwyse offices, service department and showroom. Fortunately all the staff were able to evacuate the building safely and no-one was hurt.

Speaking of burnt things, it turns out storing your laptop in the oven isn't such a great idea. What a shocker! I just got home from class have tons of work to do before we leave for the Thanksgiving holiday and I nearly lost my computer. It was cooked. In the oven. At roughly 300 degrees. For about five minutes.

Teddy sent in this amusing ebay auction of a rock. I can only assume Ebay have put in some new rule about firearm sales, because this is an obvious protest against it.

Dan ponders water-cooled PSUs and why you probably shouldn't bother with them. If your PSU's losing more than 50 watts as heat when driving a 200W load, it's a very bad PSU. 25 watts lost should be perfectly achievable. And you can get rid of a few tens of watts of heat from a device the size of a PSU - plus all of the leftover heat from the extra components in a PC - with plain heat sinks and a fan that's considerably quieter than the ones that most water cooled PCs have on their radiators.

What is it about engineers and beer? Thanks BFM. Bubbles growing and shrinking and floating to the top of a glass of beer, water washing around buildings in a flooded street, two liquids mixing together, and smoke wafting through the air - all these can be described by mathematical equations. These equations are called smooth particle hydrodynamics algorithms (SPH). Hmm, can't make the movies play here.

SilentPCReview checked out some of Gigabyte's test facilities. Gigabyte arranged an exclusive tour for SPCR of its impressive anechoic and thermal testing chambers in Taipei during Computex 2007. These are among the ultimate tools for acoustic/thermal analysis.

Lenovo will be selling laptops with Linux soon, thanks Chris. The laptops are slated to go on sale in the fourth quarter of this year and will be sold to Lenovo's business customers as well as to consumers.

Craig sent in this interesting LCD screen technology. The Taiwanese researchers have developed a prototype display connected to a miniature camera that tracks the location of a viewer. Software then calculates how to adjust the liquid crystals within the display to produce the clearest possible image.



Bjorn3D has a look at the FightBoard Advanced. The Fightboard is part of Revoltecs Fight Patrol product line. This product line consists of the Fightmouse, the FightBoard, the FightMat, the FightPad and the FightFittings. They even got a website, http://www.fightpatrol.net. "To Serve and Protect the best Gaming Hardware available". That is our mission. Gamers need hardware that they can win with! It's our duty to develop and protect efficient hardware for you. That's what I – Sergeant Revoltec - und my FightPatrol stand for.' I personally find the whole setup quite cheesy.

Phoronix have a loook at the Niagara 2 processor. "This morning Sun Microsystems will officially introduce their Niagara 2 processor, which consists of eight processing cores and is capable of handling 64 threads simultaneously. It's official name is the Sun UltraSPARC T2 and it will be unveiled at their Executive Briefing Center in Menlo Park, California. We were invited to this event, but we had run into scheduling problems at the last minute though we do have some information to share with you in this technical brief."

The guys over at Bit-Tech have just published a review of Kworld's PlusTV Dual DVB-T PCI-E TV card. "True, the card is low profile and it works fine with Windows XP Media Center Edition 2005 without any fiddling, giving multiple recording and viewing options in a single card, but the lack of Vista and Linux support and the high price cripple an otherwise decent product. There are arguments for its good points and arguments for its bad points but ultimately, we, TV Freaks, were left wanting just a little more from the Kworld PlusTV card."

Mikhailtech have posted a review of the Nexus Frizzbee Hard Drive Cooler. Often times we do things that aren't really necessary. Computers are no exception. Do cold cathodes and plastic windows give you more headshots? Will that 1600 watt power supply ever use more than even half its rated wattage? Does buying a 5 year warranty for that laptop matter when you'll replace it in 2-3 years? The answer to all these questions, most likely, is no. Likewise, cooling is somewhat controversial. Laptop coolers, system coolers, enormous heatsinks - unless you're doing some extreme overclocking or live in extreme conditions, these are more for fun and piece of mind than anything else. And as we all know, peace of mind is a valuable commodity. Today we'll be taking a look at Nexus' Frizzbee, a single fan HDD cooler that probably won't help you sleep any better, but just might keep your drive cooler.

Tweaknews.net have reviewed the Gigabyte V-Power Videocard Heatpipe Cooler. "Gigabyte's V-Power VGA cooler is a great looking product with good cooling and is relatively easy to install. The materials, fit and finish are very good and the cooler is compact enough to be used in the vast majority of SLI/CrossFire systems. It's also very quiet, approaching complete silence when at its lowest fan speed setting."

David has sent in information on an update for the Nintendo Wii Firmware. Nintendo Australia are pleased to announce that a major upgrade to the Wii Menu is available to download today!

And lastly Christopher Smith has been jailed. Christopher Smith, the notorious "pharmacy spam king," has received a 30-year-jail sentence for running an illegal internet store that sold millions of dollars in prescription drugs.




Iron Photographer (0 Comments) (link)
Tuesday, 7-August-2007 23:01:15 (GMT +10) - by Agg


An update from White Rhino:

We had a mass of great entries for our July Iron Photographer competition themed "Path", and the top 10 are ready for your vote here.

The August Iron Photographer competition - "Quintessential Australia" - is also underway with entries open until the end of the month.

Road Mogul continue their support for the comp and each month give our lucky winner a 1Gb SD/CF card.



The Xbox 360 has got a US$50 price cut effective from tomorrow in the US. After more than 18 months of presence on the market, Microsoft's next-gen gaming rig is getting a $50 price cut, confirming rumors that the Redmond giant is not only losing a lot of money with the console, but is also in danger of losing its supremacy in favor of Nintendo. Although the price cut will affect only the US territory and is only half the size of the one operated by Sony for its PS3, it is still significant and shows that tough competition from Nintendo.

In continuation with the shuttle news, apparently only 40% of them launch on time. Next time you grumble about your late airline flight, consider the space shuttle: It launches on time 40 percent of the time. Not so great when stacked against the airline industry, which had a 73 percent on-time arrival record for the first six months of this year. But let's be fair. The shuttle is the world's most complicated aeronautical machine, so 40 percent may not be so bad.

The flash memory market got a bit of a shake up after a power outage at Samsung disrupted production. On Friday, a power cut at a Samsung Electronics plant near Seoul forced the South Korean memory giant to shut down six of its chip production lines. The outage sparked expectations of decreases in memory supply and higher prices. A Samsung spokeswoman explained to Reuters that a problem in the afternoon at the switchboard at a transformer substation led to a power shortage. The company's advanced NAND flash memory lines was one of the lines affected by power issue.

Lenovo are set to follow Dell with Linux based laptops. Lenovo Group, the No. 3 personal computer maker, says it will introduce a broad line of Linux laptops, the strongest endorsement to date of the open-source software by a major PC maker. The Linux operating system, which competes with Microsoft's market-dominating Windows, has been one of the fastest-growing types of software used on servers and other types of powerful business computers over the past decade.

The US$1.5 billion fine to Microsoft over MP3 patents has been overturned by a US judge. A US district court has overturned a decision ordering Microsoft to pay phone firm Alcatel-Lucent $1.52bn (£777m) for infringing music patents. The federal judge in San Diego reversed a jury's decision which had ruled that Microsoft's Media Player software infringed on two Alcatel patents. Both patents regarded how audio was converted into MP3 files. Alcatel said it would appeal against the decision while Microsoft said the reversal was a "victory for consumers".

And finally, Damn Interesting have posted an article about a giant underground lake in Antarctica discovered by the Russians. In the early 1990s, a Russian drilling rig encountered something peculiar two miles beneath the coldest and most desolate place on Earth. For decades, the workers at Vostok Research Station in Antarctica had been extracting core samples from deep scientific boreholes, and analyzing the lasagna-like layers of ice to study Earth's bygone climate. But after tunneling through 414,000 layers or so– about two miles into the icecap– the layers abruptly ended.




Tuesday Morning #2 (2 Comments) (link)
Tuesday, 7-August-2007 04:40:43 (GMT +10) - by Agg


With the Shuttle launch later this week, there's some interesting stuff on Microsoft's Live Labs site. Today, we're announcing an exciting collaboration with NASA using Photosynth technology, to create three-dimensional environments of preparations for the launch of space shuttle Endeavour. For the first time ever, viewers can experience unprecedented views of shuttle Endeavour on the launch pad, interior and surrounding area of the Vehicle Assembly Building, and the return of previous flight Shuttle Atlantis atop a 747.

From looktall: I think something similar to this was posted a while back, but here's a site that has several extreme hi-res panorama photos that allow you to zoom and pan around the image. it uses an active x control, so internet explorer is required. There's more hi-res shots here that do not require IE.

LegionHW have looked at nvidia GeForce 8000 Series CPU Scaling Performance in detail. Previously these CPU scaling articles have exclusively featured high-end graphics cards such as the Nvidia GeForce 8800 GTX. However, while today's article will still include the GeForce 8800 GTX, we have also included the 8800 GTS (320MB) and 8600 GTS graphics cards to compare the gaming performance when paired with a range of AMD and Intel processors.

3DGameMan have a video article about overclocking the Intel Core 2 Duo E4300 1.8GHz. See how far Rodney pushed this processor! Kickass! ;)

YouGamers report on it being impossible to find links between video game violence and real violence. Speaking at this year's ISFE Experts Conference, held in Brussels last month, Goldstein was moved to pass a comment on the never-ending media attention on the apparent links between video games and actual violent behaviour from those who play them.

I found this site which ranks mobile graphics chipsets in order of performance. Good for making sense of all those product names and numbers.

Beyond3D went to an AMD Tech Day recently. The focus is definitely D3D10 on Vista and multi-threaded game programming on Windows, with a little about the upcoming new dual- and quad-core AMD processor architecture at the end. Let's forge on.

Sniper spotted some wireless USB info. The cables will be replaced by Wireless USB (WUSB), which will send data through the air at up to 480Mbps: the same speed as USB 2.0 cables. WUSB is coming to the market several years later than originally expected.

Hmm, I forgot to go to bed again.




Tuesday Morning (2 Comments) (link)
Tuesday, 7-August-2007 04:25:40 (GMT +10) - by Agg


More snippets from Paul:

Seagate are the first hard drive manufacturer to win NIST Certification for hard drive encryption. The Seagate Momentus 5400 FDE.2 (Full Disc Encryption) hard drive uses AES to encrypt all hard drive information transparently and automatically.

There's apparently been a mole from Dateline at the recent DefCon conference. NBC's mole, Michelle Madigan, became the target of predators herself this afternoon when she was outed at DefCon as an undercover reporter and bolted out of the conference hotel with about two dozen reporters with cameras and others chasing after her -- in the manner of an NBC Dateline To Catch a Predator episode.

Hollywood are launching their own video site. When it debuts Tuesday on the Web, My Damn Channel will become the latest attempt by Hollywood professionals to cash in on the huge popularity of online video. The site is the brainchild of former MTV and CBS Radio executive Rob Barnett, who believes Internet audiences want to see professionally produced shows other than network TV fare.

The producers of a new documentary film analyzing global music piracy are releasing the film as a free Xvid download hosted by the Pirate Bay.

Speaking of which, apparently TPB are going to resurrect SuprNova, once an extremely popular torrent site. In November 2004 Suprnova's ISP told Sloncek that the servers were taken into custody by the Slovenian police. The raid was initiated by the French anti-piracy lobby RetSpan.

Red Hat have delayed the release of a new desktop distribution. Red Hat Global Desktop Linux will not be available until September, product manager Gerry Riveros told Reuters in an e-mail. The product includes Linux operating system software and other compatible programs for desktop and laptop personal computers.

There was some gmail hacking at the Black Hat conference too. The attack can hijack sessions in almost any cookie-based web application and Graham has tested it successfully against popular webmail programs like Google's Gmail, Microsoft's Hotmail and Yahoo Mail.




Tuesday Morning Reviews (1 Comments) (link)
Tuesday, 7-August-2007 01:51:06 (GMT +10) - by Agg


Storage:
Super Talent 2GB 200x USB Flash Drive on Virtual-Hideout.
SOYO FM-SY-SLIM20GB 20GB 1.8" SlimEx Platinum external USB HDD on BenchMarkReviews.
SanDisk Cruzer Contour 8GB USB2.0 Flash Drive on OZHW.
QNAP TS-109 Pro Turbo Station network storage on TrustedReviews.

Portable:
Nokia N800 Internet Tablet on HWZone.
RAC Satnav 220 on TrustedReviews.
Logitech Alto Notebook Keyboard Dock on TheTechZone.
Garmin nüvi 200W SatNav on TrustedReviews.

Input Etc:
Logitech MX Air Mouse on HWGeeks.
Logitech Cordless Desktop MX 3200 Laser on DigitalTrends.
Sony Travel Mouse Comparison on TrustedReviews.
Logitech Wave Cordless Desktop on XYZComputing.
Flexiglow Cyber Snipa PC Gamepad 2 on HWLogic.
Logitech Cordless Mediaboard for PS3 on i4u.

Audio / Visual:
Plane Quiet NC-7 Noise Cancelling Headphones on RoadLessTravelled.
XtremeMac ExtremeHD HDMI Switcher on FutureLooks.
Sony RDR-HXD870 Digital Video Recorder on TrustedReviews.

Misc:
ASUS EN8600GT OC Gear 256MB DDR3 video card on HWZone.
Revoltec Zirconium RT-101 ATX case on MadShrimps.
Gigabyte GA-MA69G-S3H AM2 motherboard on OCClub.
Lexmark Z1420 Wi-Fi Enabled Inkjet Printer on TrustedReviews.
BlueAnt Supertooth Light Bluetooth Speakerphone on LegitReviews.
Cellphone Emergency Charger by Eksitdata on RBMods.



Righto, news catchup time.. firstly here's a pile of stuff from Paul:

Firstly, a divorce computer. The computer program combines artificial intelligence, game theory and an electronic or human external mediator to help divorcing couples settle their disputes in a fair and rational manner - and hopefully with fewer gray hairs.

Techworld report on Dark Vision, searching the net for stolen data. Researchers at Symantec have developed a system that mines underground
websites and chat rooms for sensitive information that is being sold.

Speaking of finding things: A local man making a routine trip to a Brooklyn ATM got the shock of his life when he found nearly $100,000 in customer checks lying out in the open.

MPack is a new malware toolkit that has people worried. "This form of attack is more dangerous than previous forms of phishing, which relied on fraudulent websites. Because this attack happens on the customers' own PC and is encrypted, it makes it extremely difficult to detect," said Yuval Ben-Itzhak, chief technology officer of Finjan.

Here's an interesting Wiki page about Room 641A. Room 641A is an alleged intercept facility operated by AT&T for the U.S. National Security Agency, beginning in 2003.

A free Australian utility can be used to evade Vista's signed-code kernel requirement. Among 64-bit Vista's security provisions is one new to Microsoft Corp.'s operating systems: only digitally-signed code can be loaded into the kernel. Under those new rules, code destined for the kernel -- typically drivers -- must be accompanied by a signed certificate available from a limited number of issuing authorities.

Online fraud is getting more personal. Hackers are now using a combination of voice over internet protocol (VoIP), SMSs and the Internet to fool and redirect users into dialling a phone number to collect critical information for financial gains.




Interesting Forum Threads (0 Comments) (link)
Sunday, 5-August-2007 21:09:25 (GMT +10) - by Agg


A quick snapshot of what's going on in the forums:

Guess these games - 100 Amiga Games in 10 minutes (video) in Games.
Rage (id software's new game) in Games.
De Blob [review] (short) in Games.
Logitech G15 IRC app - for mIRC in Overclocking & Hardware.
How to cut aluminium sheets? in Modding.
Thermal insulation ideas? in Modding.
The watercooling guide for starters in Extreme Cooling.
Old AirCon unit to Chiller conversion! in Extreme Cooling.
Is it still important to buy memory as sets? in Memory.
Painting iBook G3 thread (56K beware! with pics) in Apple Hardware & Software.
Developers on Linux/*BSD in Other Operating Systems.
Help: Wireless networking; blocking access from randoms in Networking & Internet.
HD2900XT enable overdrive without 8 pin pci-e guide(mod pics page 2) in Video Cards and Monitors.
Discussion on truecrypt in Storage & Backup.
DIY Radio Control in Electronics.
The Pets in Stupid Positions Thread in Pets & Animals.
Piano Exercises in Musicians.
MB AMG CLK63 Report in Motoring.
Maglev Wind Turbine in Science.
My gym secret in Sport, Fitness & Health.
Anyone going to Tossfest? in The Pub.




Sunday Afternoon (3 Comments) (link)
Sunday, 5-August-2007 16:52:23 (GMT +10) - by Agg


ArsTechnica have an article on the history of the Amiga. Ahh, takes me back.. there's a thread discussing this here, thanks Peter.

The Radioactive Boy Scout is at it again, and looking a bit worse for wear, thanks Shaun. Police say that Hahn's face was covered with open sores, possibly from constant exposure to radioactive materials.

Australian scientists have declared office printers a health hazard. These ultra-fine particles are capable of infiltrating the lungs and causing lasting damage on the scale of inhaled cigarette smoke, said researcher Professor Lidia Morawska, from the Queensland University of Technology. HP have declared they don't agree with the findings, thanks Craig.

Tarkan has been working on a Video iPod CF Mod. I decided the best solution would be to replace hard drive with a solid state alternative in the form of a compact flash card.

Tweaktown have a DDR3 shootout. Today we have three DDR3 memory kits on test; OCZ's DDR3-1333MHz, Geil's DDR3-1066MHz and Kingston's DDR3-1375MHz.

An Australian court has ruled an eBay sale is a sale and must be followed through. Smythe, an Adelaide war-plane enthusiast, was the only person to bid on the item, matching the $150,000 reserve price just seconds before the auction ended in August last year. But Thomas, a radilologist from Albury, had already agreed to sell the plane to someone else for $100,000 more than Smythe's offer. Smythe took him to court hoping a judge would force Thomas to follow through with the sale.

Dave spotted this Optimus Prime PC mod. This Transformer actually does transform, and stands 6'10" tall.




Sunday Afternoon Reviews (0 Comments) (link)
Sunday, 5-August-2007 16:32:52 (GMT +10) - by Agg


Motherboards:
AMD 690 Chipset Update on HotHardware.
Gigabyte P35C-DS3R LGA775 DDR2+3 board on HWLogic.
Gigabyte GA-M57SLI-S4 nForce 570 SLI AM2 board on PCPerspective.
ASRock 4Core1333-FullHD HTPC LGA775 board on Virtual-Hideout.
SiS672FX Budget Chipset on HWZone.

Cases:
SilverStone Milo ML02 MobileOnDesktop chassis on Phoronix.
Antec Nine Hundred tower on GideonTech.

Cameras:
Samsung Digimax S700 digicam on MadShrimps.
Olympus FE-230 digicam on TrustedReviews.

Storage:
Antec MX-1 SATA HDD enclosure on Hexus.
Eagle Tech Computers D-Series External Storage System on BigBruin.
Western Digital WD7500AAKS 750GB HDD on HotHardware.

Cooling:
Vizo Orbiter HDD Cooler on Mikhailtech.
Thermaltake TMG ND4 video cooler on LegionHW.




Forum Articles (0 Comments) (link)
Saturday, 4-August-2007 23:05:51 (GMT +10) - by Agg


Some more interesting things. First up, eva2000 has been playing with an Intel Xeon X3230, which is a G0-stepping Quad Core in LGA775 form. Xeon G0 LGA775 cpus come in three models which seem to have slight higher rated TDP of 100W vs the Q6600 G0 stepping @95W.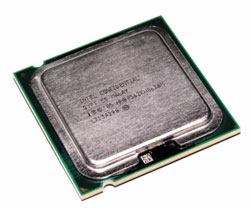 Click for the thread!


Talking_goat follows up with a look at Virgin's 3G Broadband at Home wireless internet service. This is my only solution, and thankfully this technology is available now to most of Australia's population, though the coverage varies between carriers.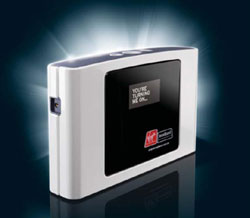 Click for the thread!


Finally SSJX posted some info on the GPS kit for PSP. This form of sat nav runs off Freeware + maps from the net, and therefore may be a cheaper alternative than buying a new GPS system.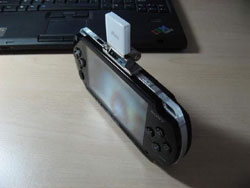 Click for the thread!






Saturday Night (1 Comments) (link)
Saturday, 4-August-2007 22:06:35 (GMT +10) - by Agg


Sandra XI SP4 has been released - you can grab the 13.4MB file from our mirror page here. According SiSoftware, this version "includes better support and bug fixes to the previous ones." No specifics seem to be available.

Trouble fitting a wide video card into a Shuttle mini-PC? Nick found some photos with a neat solution.

Duke2d spotted some news about id software games on Steam. Every single id Software game--yes, including Commander Keen--will soon be available on Valve's PC digital distribution platform Steam.

Sniper noticed this high-tech iPhone tool over on HardOCP. Some guy just got his iPhone back from the warranty service department and, to his surprise, it came with a prepackaged iPhone tool and instructions.

Apparently there's a new Star Trek film in the works. More info here. Leonard Nimoy isn't through with Spock yet. The 76-year-old actor will don his famous pointy ears again to play the role in an upcoming "Star Trek" film due out Christmas 2008.




Saturday Afternoon (10 Comments) (link)
Saturday, 4-August-2007 12:57:30 (GMT +10) - by Agg


A Russian sub has used a robotic arm to plant a flag under the North Pole recently. Under international law, the five states with territory inside the Arctic Circle -- Canada, Norway, Russia, the United States and Denmark via its control of Greenland -- have a 320 km (200 mile) economic zone around the north of their coastline. Russia is claiming a larger slice extending as far as the pole because, Moscow says, the Arctic seabed and Siberia are linked by one continental shelf.

WoW grinders rejoice, there's another expansion on the way, thanks Icidic. Discussion near the end of our gargantuan WoW thread.

Microsoft have released a Direct3D 10.1 preview with Shader Model 4.1, thanks Cdr_Zero. The new DSK also comes with XAudio2 Beta, a new cross-platform audio API, supporting cross-platform DSP effects, per-voice filtering, arbitrary submixing, and multi-rate processing.

Meanwhile there's leaked Vista hot fixes all around, thanks Nick. The list of fixes -- which include performance improvements to Vista's sleep mode and speed increases in copying or moving large directories -- led some users yesterday to speculate that the updates were the forerunner of Vista Service Pack 1 (SP1), a major upgrade that many businesses want to see before they widely deploy the new operating system.

NASA have postponed Endeavour's launch by 24h. The launch now is targeted for Wednesday, Aug. 8, at 6:36 p.m. EDT from NASA's Kennedy Space Center in Florida. Meanwhile they've announced web coverage and a blog for the mission. A live webcast featuring astronaut Joan Higginbotham, who flew aboard space shuttle Discovery in December 2006, will start the in-depth coverage of the mission at 11:30 a.m. EDT on Aug. 7.

Rik sent in another nice wood case project. Instead of buying a new case, I decided to design and build something I could really call my own. I've always loved wooden furniture, and my father had a lot of woodworking tools readily available, so I opted to make a wooden case.

From DiGiTaL_MoNkEy: Intel will be launching new four core 45nm Intel Core Extreme "Penryn" processors in Q4 2007, a few months ahead of schedule. The top of the line proc is likely to hit 3.33GHz, run a 1333MHz system bus and hold 12MB of L2 cache. Only about 2-3% of Intel's chips will go 45nm in 2007, but that number should double by around Q2 2008, and it seems Intel needed to accelerate things to head off competition from AMD's upcoming Phenom processors. Info here.

Some PSU reviews: 600W Nesteq Nova External on Bit-Tech, Ultra X3 1600W (video review) on 3DGameMan and Gigabyte ODIN GT 800W on Anandtech, thanks 16c_Killer.




Friday Afternoon Reviews (1 Comments) (link)
Friday, 3-August-2007 15:54:36 (GMT +10) - by Agg


Audio / Visual:
Dell 3007WFP-HC LCD Monitor on DansData.
Zalman ZM-DS4F Dual Stereo Headphones on TweakTown.
Asus Xonar D2 Sound Card on TrustedReviews.

Cooling:
Coolermaster Vortex 752 CPU cooler on RBMods.
Antec SpotCool fan on OCClub.
Asus, Scythe and Zerotherm Heatsink Group Test on Bit-Tech.

Storage:
LaCie D2 Extreme 320GB External Hard Drive on ThinkComputers.
Synology Disk Station DS207 and DS107 network storage on LegionHW.

Power Supply:
Kingwin Mach 1 ABT-800MA1S 800W on BigBruin.
Kingwin 800 watt Mach 1 on OCrCafe.
Tagan 2-Force II TG700-U33 700w on OC3D.

Input Etc:
Thrustmaster Dual Trigger 3-in-1 Rumble Force Gamepad on BenchmarkReviews.
Wacom Bamboo Graphics Tablet on TrustedReviews.

Cases:
NZXT Hush on XSReviews.
CoolerMaster Cosmos 1000 on Pro-Clockers.

Misc:
Gigabyte GV-NX86S256H Silent Pipe 3 video card on TechReport.
Foxconn Mars P35 LGA775 motherboard on TBreak.
2GB OCZ PC2-6400 FlexXLC memory on PCFrags.
Gateway MT3705 Intel Duo Core Budget Laptop on MadShrimps.
Lapworks Futura Laptop Desk & Desktop Stand on OCClub.



Craig has sent in his usual selection of interesting IT related news. Seems Telstra is suing the government over their regional and rural broadband program. Also on the chopping block is Sony who are being sued regarding the cell processor used in the PS3. Next, the Microsoft HD Photo format is being considered for standardisation. And it looks as though the latest release of Red Hat has been delayed. Thanks again Craig!

Lots of gamers are hanging out for the release of Crysis. Some information about it from You Gamers: As previously reported from their conference call, EA announced that Crysis will be available "early November" - however, we can now confirm that the actual date will be the 16th of November! You might also be wondering what status the game is at and what machine you'll need for it. Click here for more info.

HardwareZone have posted their coverage of the Sony VAIO CR / TZ Series Notebook launch. Commemerating the VAIO's 10th anniversary, Sony launched two new series and in style at VivoCity's NAFNAF. To add on to the festivities, the launch was hosted by Stephanie Carrington, a familiar face on AXN's Sony Style show.

XBitLabs have posted up their version of a newbie overclocking guide, We often get a lot of questions about CPU overclocking techniques and tools. So, how do we overclock processors? Hopefully our new article will answer most of your questions. Of course there is always a bucket load of information, and experts willing to help you on your overclocking journeys in our own Forums.

If you're bored of the look of the off-the-shelf USB thumbstick, perhaps thetechlounge's latest modding effort will give you some inspiration to customise your own. If that didn't amuse you, check out HardwareLogic's article on having a clean desktop. Hands up who else has a 'CLEANUP' folder on their desktop?

Finally, the TechReport have had a look at AMD's updated 690G Chipset. AMD launched its 690G chipset back in February, and five months later, they're back with an update. Sort of. The chipset hardware hasn't changed, but AMD has been fiddling with BIOSes and drivers to give the second wave of 690G-based motherboards that's hitting the market a little extra punch.

Back to work i guess :(




Forum Reviews (0 Comments) (link)
Thursday, 2-August-2007 23:13:01 (GMT +10) - by Agg


Here's a couple of reviews in the forums. Firstly skootyloops checks out the Foxconn C51XEM2AA, an AM2 board based on the NF590 SLI chipset:



Click for the thread!


Next, Wink takes a quick look at the Splitfish FragFX, a PS3 controller for people used to FPS gaming on a PC.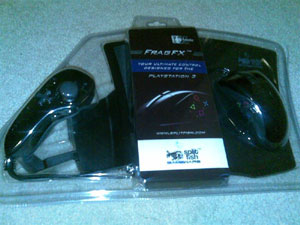 Click for the thread!






Interesting Forum Threads (0 Comments) (link)
Thursday, 2-August-2007 21:34:56 (GMT +10) - by Agg


Another snapshot of what's going on:

Great news, at last we are now a threat to [H]! in Team OCAU.
Current state of Vista - worth the change? in Windows Operating Systems.
Current B3 Q6600 is same as G0 stepping? in Intel Hardware.
Forza Motorsport 2 Discussion + Custom Car Pics [56k Warning] in Game Consoles.
Anyone want a Uni Grade Spreadsheet (awesome for double degrees) in General Software.
Website works fine in IE but doesnt work in Firefox in Graphics and Programming.
iPod screen de-scratch - with pictures in Apple Hardware.
Scientists unveil monster synchrotron in Science.
70-200 + TC vs 100-400 in Photography.
Got Bomb? (Terrorist bomb controlled detonation) in Photography.
The F1 Hungarian GP Thread in Motoring.
Coasting down hill in neutral... bad for the car? in Motoring.
Point to point speed devices on M5 and M7...HOAX in Motoring.
Have I unwittingly joined a 'car fraternity'? in Motoring.
Multimeter Recommendations ($200) in Electronics.
Flight Anxiety in Lifestyle.
Long overdue upgrade of Qantas Cabins! We have onboard wifi finally! in Lifestyle.
Youtube, Federal Intervention, Pork Barrelling and Hospitals in Current Events.
Joining the defence force in Career, Education and Finance.
Snacks unique to Australia in Geek Food.




Thursday Night (5 Comments) (link)
Thursday, 2-August-2007 20:19:34 (GMT +10) - by Agg


Keep your eyes on the sky in late August. The Total Lunar Eclipse on August 28th 2007 will be visible in its entirety for all of Eastern Australia and New Zealand, and will be in progress at Moonrise for the remainder of Australia and most of Asia. I still haven't managed to see an eclipse with my naked eyes yet, there's always fog/clouds in the way!

Tech-Hounds have a GeForce 8600 series roundup. So unlike our usual comparison test, we decided to deprioritize performance for this round up. After all, this seems to be inline with what AMD and NVIDIA with these cards. In so doing, we do find these GeForce 8600 cards a bargain - but we still won't recommend it if you're serious about playing games.

A pile of Fisher-Price toys imported into Australia have been recalled. "Surface paints on the affected toys may contain increased levels of lead, which if ingested, may have health ramifications." All the affected toys were brought between May 1 and August 2 and have a date code between 109-7LF and 187-7LF marked on the product.

Shaun pointed out this interesting video on the loudness war and the effect it has on CD music quality. Big-name CD manufacturers are distorting sounds to make them seem louder. Sound quality suffers.

Tech Report reckon Realtek have resolved their EAX issues, sort of. However, last week a reader emailed me suggesting that Realtek had fixed occlusion and obstruction support in its latest 1.71 drivers, so I decided to take them for a spin, with curious results.

Craig spotted reports of parts shortages that could affect laptop sales. Certainly not a big issue at the moment, laptops are insanely cheap (as is pretty much everything else) right now.

Hathro sent in this world clock of deaths, births and other interesting statistics, updated constantly. Quite a bit of interesting stuff on that site, actually.

SharkyExtreme have their Extreme Gaming PC Buyer's Guide updated for July. The biggest news in the four months since our previous Extreme PC Buyer's Guide is price cuts.

Nathan sent word of two free Hoodoo Gurus tracks available for download. Liveband and the Hoodoo Gurus are offering two free downloads from their performance at the Apollo Bay Music Festival. This free download will only be available for four weeks, so if you know any Hoodoo Fans who would sell their mother for new recordings, send them here!



Cases and Power:
Puget Systems Liquid Cooled Gaming Case at ThinkComputers
Origen AE S21T HTPC Enclosure at techPowerUp
SilverStone SG03 SFF Case at 3dGameMan
Cooler Master Cosmos 1000 EATX at Phoronix
GlacialPower GP-PS550BP Real Power 550W at Benchmark Reviews

Cooling:
Zalman VNF100 and Gigabyte V-Power VGA Coolers at xbitlabs
Thermalright Ultra 120 eXtreme at Overclockers Online
Thermaltake iFlash Mini - LED Cooling Fan at OzHardware
Zalman ZM-MFC2 at XSReviews

Motherboards:
DFI LANPARTY UT NF680i LT SLI-T2R at xbitlabs
Gigabyte GA-P35C-DS3R (Intel P35) at HardwareZone
DFI Infinity P965-S Dark at InsideHW
Abit Fatal1ty F-190HD at Virtual-Hideout

Other PC Innards:
Qimonda PC3-8500U 2GB DDR-3 Memory at HardwareOC Austria
OCZ DDR2 PC2-9200 FlexXLC Edition Memory at OCIA
PowerColor HD 2400 Pro 256 MB Graphics Card at OCC
Core 2 Duo E6750 CPU at Neoseeker

Misc:
SanDisk Extreme IV Compact Flash Card and Card-Readers at xbitlabs
Logitech VX Nano Cordless Laser Mouse at I4U
Razer Death Adder Gamer Mouse at Technic3D
E-Z Disc CD/DVD Dispenser at DansData
X-Arcade Tankstick at 3dGameMan
Mario Party 8 at Bonafide Reviews




Skyscraper Photo PC (5 Comments) (link)
Thursday, 2-August-2007 13:52:50 (GMT +10) - by Agg


Here's another impressive project from slipperyskip:



Click for the PCDB entry! (7 pics)






Wednesday Night Reviews (0 Comments) (link)
Wednesday, 1-August-2007 23:36:29 (GMT +10) - by Agg


Cooling:
Arctic Cooling Accelero S2 VGA cooler on BurnOutPC.
CoolIT USB Beverage Chiller on OCrCafe.
Thermaltake iXoft Cooling Pad on TheTechZone.

Storage:
Antec MX-1 Actively Cooled Hard Drive Enclosure on ViperLair.
OCZ Trifecta 1 GB Micro SD/SD/USB Flash Card on Futurelooks.
AluBoxDuo LAN network storage on Bjorn3D.

Cases:
Antec Sonata III Mini Tower on Techgage.
Ultra Products X-Blaster Mid-Tower on PCApex.
Revoltec Rhodium on Bit-Tech.

Power Supply:
Corsair VX450W on PCPerspective.
Corsair VX450W on LegitReviews.
Dark Power Pro 1000W on Guru3D.

Audio / Visual:
ASUS PM17 17" LCD Monitor on GamePyre.
TrekStor Vibez 12GB mp3 player on TrustedReviews.
Viewsonic VX2255wmb 22inch Widescreen LCD Monitor on Tweaknews.




Wednesday Night (0 Comments) (link)
Wednesday, 1-August-2007 22:11:44 (GMT +10) - by Agg


Microsoft has a new secure content downloader, which sounds awfully familiar, thanks Nick. It's described as a 'peer-assisted technology' where '[e]ach client downloads content by exchanging parts of the file they're interested in with other clients, in addition to downloading parts from the server.'

Apparently Second Life is full of terrorists, according to The Australian. Kevin Zuccato, head of the Australian High Tech Crime Centre in Canberra, says terrorists can gain training in games such as World of Warcraft in a simulated environment, using weapons that are identical to real-world armaments. Say what now? Discussion here.

KernelTrap have an interesting article about Linux's humble beginnings. I'm doing a (free) operating system (just a hobby, won't be big and professional like gnu) for 386(486) AT clones. This has been brewing since april, and is starting to get ready.

IGN have some stats about the state of Australia's gaming industry. Australia's gaming industry has officially come of age, breaking the $1 billion sales mark over the past financial year, according to the Interactive Entertainment Association of Australia (IEAA). ... By 2014, the average age of gamers will be 42 years old. The, uh, other IGN have some info too.

From thedriver: I love the irony in this; Andrew Barr states the new public holiday in the ACT (to fall on Melbourne Cup day) is for workers to "...spend some quality time with their families and friends". Yeah, drinking in the pub and gambling on the horses sounds like a great way to spend quality time with family. :P

Sniper spotted a new mac keyboard that doesn't look too shabby. Mind you I'm still using the same ancient Compaq slimline I've had for about 10 years.

Hexus have some info about AMD's upcoming Barcelona. With the launch of AMD's much-anticipated Barcelona native quad-core processor around one month away, we were invited to London to pick the brains of Felipe Payet about why he thinks Intel should be worried.

Tweaktown compared some high-end DDR2 kits. We have five different memory kits for your viewing pleasure, all of them designed to run at speeds beyond DDR2 800MHz for the Athlon 64 X2s and also Intel's P965 and P35 chipsets which have memory support for 800MHz and beyond.



Cases and Power:
Sunbeamtech Quarterback ATX Case at BigBruin
Gigabyte Triton 180 at techPowerUp
OCZ ModXStream 780W Power Supply at Modders-Inc

Motherboards and Memory:
SiS 672FX Reference Board at Hardware Secrets
OCZ PC2-6400 Vista Performance Platinum 4GB Dual Channel at HotHardware
OCZ DDR2 PC2-6400 Vista Performance Platinum Dual Channel at I4U

PCs and Software:
HP Pavilion S3040 at TrustedReviews
Commodore's XX Gaming PC at bit-tech
HP Pavilion a6130n at Digital Trends
Gundam Demo at ThinkGaming
Transformers (PC) at YouGamers
Xtorrent 1.0 for Mac OS X at Techgage

Graphics and Imaging:
Sapphire Radeon HD2900XT at CPU3D
Sigma SD14 Digital SLR at TrustedReviews
AirLive WL-5400CAM WLAN IP Camera at techPowerUp

Multimedia:
Super Talent Mega-Plus MP3 Player at The TechZone
SanDisk Sansa Express Audio Player at HardwareZone
LG 50PB65 50in plasma TV at TrustedReviews
Logitech Harmony 1000 Universal Remote and Wireless Extender at BigBruin
ZyXEL WPA-1000 Wireless Projector Adaptor at HardwareZone

Misc:
Wolf King Ultimate Gaming Pad at OCIA
Logitech VX Nano Mouse at XYZ Computing
HTC Touch Smartphone at t-break
D-Link DIR-655 Xtreme N Gigabit Router at Benchmark Reviews



---
Advertisement:


All original content copyright James Rolfe.
All rights reserved. No reproduction allowed without written permission.
Interested in advertising on OCAU? Contact us for info.