OCAU News
TeamAU is #1! (2 Comments) (link)
Thursday, 7-August-2014 20:20:12 (GMT +10) - by Agg


Here's an update from youngpro:

My name is James 'youngpro' Trevaskis, I am a member of the Team Australia Overclocking group. Originally founded in 2008 with the intention of bringing Australian overclocking to the world, our group has grown to include the best overclockers from Australia and New Zealand.

The past 12 months has been hugely successful for us. We won he HWBOT Country cup in December 2013, took out competitions at Computex this year, held all the global world records at once (which has never been done before) and finally we are number 1 in the world rankings.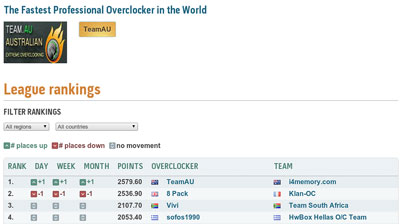 click to enlarge!


HWBOT is the global hub of overclocking, it maintains lists of all the records including individual and team rankings. Our recent records have pushed us to 1st place in the rankings.

Many of you have given us support over the years which we greatly appreciate. It assists us in developing overclocking locally, globally and keeping Australia at the top.

Here's the HWBOT news post, our Facebook and blog.




Return to OCAU's News Page

All original content copyright James Rolfe. All rights reserved. No reproduction allowed without written permission.