OCAU News
OCAU's New Hosting (37 Comments) (link)
Wednesday, 4-February-2015 22:23:17 (GMT +10) - by Agg


I hope you're enjoying the speed of our new hosting at Micron21! There's still a couple of tweaks to be made but for the most part everything seems to be whizzing along nicely.

People have been asking for technical details, but here's the twist: one of the major goals of this hosting migration was to make the hosting infrastructure Someone Else's Problem. For 15.5 years OCAU has been running on servers that I have specced, usually built, installed and maintained myself - sometimes with assistance, admittedly, but ultimately the responsibility has been mine. But I strongly felt this time around that it was time to move into the 21st century, hand over that responsibility to someone who does it full-time and remove those background worries from my mind. So this time we have moved to a fully managed virtual solution and I only know very general details of the setup. I know this will be a shock to my fellow geeks and to be honest it feels quite odd to me too, but really it's for the best. To keep us all happy though, Micron21 have been kind enough to provide the following info about our new infrastructure, and even some photos: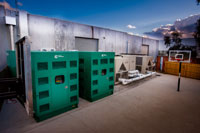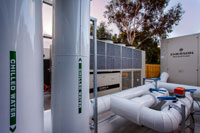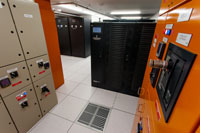 OCAU is hosted within Micron21's Cloud Infrastructure located within their Kilsyth-based Datacentre in the Eastern suburbs of Melbourne. Micron21 provides a fully managed environment managing memory allocation, CPU processing capacity, disk space allowance, software development, optimization and high level systems support. Our solution is designed for customers who require the very best service and support for mission critical applications. Under the hood of the OCAU cloud platform is a combination of the following technology:

Brocade MLXe core routing via Micron21 global DDoS Protected IP transit network AS38880. Micron21's network peers directly with Optus and soon Telstra (March 2015) along with Pipe Networks in QLD, NSW, VIC Australia IX plus Megaport, whilst internationally peering with over 170 networks globally. This extensive network provides OCAU members with direct and low latency high speed network capacity to the OCAU application stack both nationally and internationally.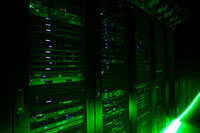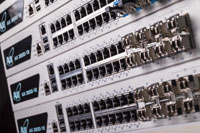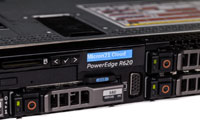 At the front end, the web servers are supported by A10 Networks AX 3200-12 hardware load-balancers that boast 20gbit of uplink capacity per device. In addition to load-balancing, this technology provides WAF, secondary DDoS-protection along with application acceleration.

Each core software component for OCAU is within a VMware ESXi Enterprise Plus virtualization environment powered by Dell PowerEdge R620 server technology. These servers are utilising dual E5-2650 V2 8-core Intel Xeon processors, 128GB of ECC memory along with a combination of RAID 10 SAS and SSD storage.




Return to OCAU's News Page

All original content copyright James Rolfe. All rights reserved. No reproduction allowed without written permission.