OCAU News

Today is apparently the last day to upgrade to Windows 10 for free, if that concerns you. Also, power let me know that today is International Sysadmin Day, so hopefully some of you got free pizza or something. :) Thanks to mpot and JS this week!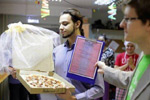 Return to OCAU's News Page

All original content copyright James Rolfe. All rights reserved. No reproduction allowed without written permission.