OCAU News
Australia Day Afternoon (0 Comments) (link)
Thursday, 26-January-2017 14:22:56 (GMT +10) - by Agg


Hope you're having a great Australia Day! :)

HotHardware have been overclocking Kaby Lake i3 processors. The Core i3-7350K is a dual-core processor, with support for Intel's Hyper Threading technology, so it can process up to 4 threads simultaneously. As the "K" in the product name denotes, the 7350K has an unlocked multiplier, so it can be overclocked through both multiplier and BCLK manipulation.

I haven't heard much of John Carmack for a while, but it was interesting to hear of his involvement with Oculus and Facebook. The Oculus lawsuit, in the sixth day of a jury trial, relates in part to programmer John Carmack. Well-known for helping to conceive games such as "Quake" and "Doom," Carmack worked for id Software LLC before that company was acquired by ZeniMax. He is now the chief technology officer at Oculus. Zuckerberg denied that Carmack has unfairly used computer code from his previous position. "There is no shared code in what we do," he said.

TomsHardware went out of their way to burn out an SSD. Our Intel SSD 600p 256GB failed on November 9, 2016, after a grueling 42-day battle with Iometer. We tested the same SSD we used for our review. The review tests wrote a total of 7,790GB of data over 88 hours.

Samsung have released the results of their investigation into why the Note 7 phones were exploding - they point the finger squarely at the batteries. The announcement by the company, a day ahead of it reporting its fourth quarter results, had experts from TUV Rheinland, Exponent and UL stating that internal manufacturing and design defects of the batteries, including missing insulating tape in some cases, and not the design of the phones were responsible for the battery issues. There's an explanatory video here too.

HotHardware have a guide to building a retro gamer with a Raspberry Pi. Out of the box, the NES Classic has thirty preloaded classic game titles. That's all well and good, but if you weren't able to get your hands on one just yet -- like the majority of people -- getting your retro-gaming fix isn't happening any time soon, unless you fork out an unreasonable sum, paying hundreds to scalpers, for a product that retails for $60. But, why not roll your own?

Draxonic sent in these cool swarming robots. Zooids is an open-source open-hardware platform for developing tabletop Swarm User Interfaces, a new class of human-computer interfaces comprised of many autonomous robots that handle both display and interaction. The platform consists of a collection of custom-designed wheeled micro robots, a radio base-station, a highspeed DLP structured light projector for optical tracking, and a software framework for application development and control. More info here.

If you're in Sydney and bored, head to Market City to play with VR and maybe win an MSI laptop. Experience amazing virtual reality (VR) gaming on Level 2, and be in with a chance to WIN your own MSI Gaming Laptop and HTC VIVE – worth over $5,000. Visit Level 2 and tell us in 25 words or less "What does Chinese New Year mean to you?"

Or if you find yourself a bit overwhelmed by Australia Day festivities, perhaps enjoy this soothing timewaster from Dukeymeng.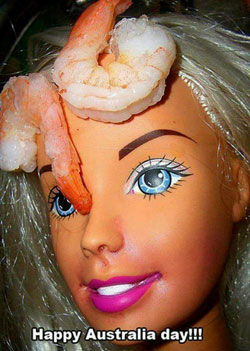 Return to OCAU's News Page

All original content copyright James Rolfe. All rights reserved. No reproduction allowed without written permission.