Advertisement:

---
OCAU News
Asetek VapoChill Mk2 Premium Edition (0 Comments) (link)
Friday, 13-December-2002 00:51:54 (GMT +10) - by Agg


Mred32 has been doing the hard work on the newspage lately, but I haven't been totally slacking off. I've reviewed the new version of Asetek's VapoChill system. It's a vapour phase-change cooling system capable of dropping your CPU temperature well below ambient - in fact, below zero celcius! It also looks pretty cool as well. :)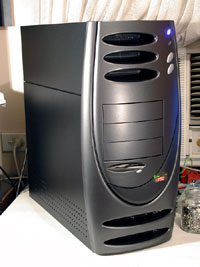 Click for the full review!


BTW, this is one of the longest reviews I've written for OCAU. Comfy chair and a mugful of coffee definitely required!




Return to OCAU's News Page
---
Advertisement:



All original content copyright James Rolfe. All rights reserved. No reproduction allowed without written permission.

Advertisement: