Advertisement:

---
OCAU News
Iron Man at Sydney Knife Show (0 Comments) (link)
Monday, 24-July-2017 10:46:19 (GMT +10) - by Agg


If you've been wanting to see ASIGN_Baz's Iron Man Suit in person, you can catch him in action at the Sydney Knife Show next month. If you haven't seen the worklog, it's definitely worth checking out!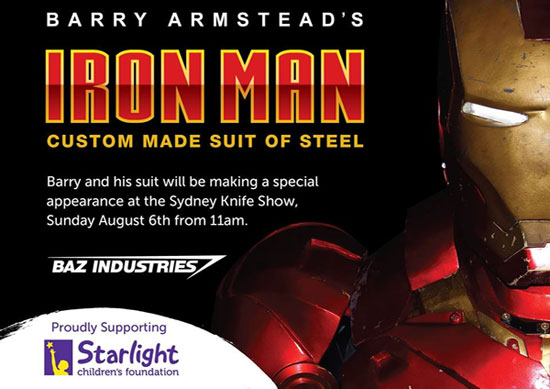 click for the worklog!
"It took over 3 years of weekend's and spare time along with blood sweat and tears to build, but Barry Armstead toughed it out and now has an awesome Iron man suit to show for it.

With help and guidance from a few of the Canberra knife making community Barry was able to learn a new skill set to help make this dream a reality. He learnt how to make knives and money raised from the sale of these helped fund the build.

The suit wasn't made just for Barry though, his intention from the start was to bring a smile to the face of children in hospital by suiting up and letting them get close to a superhero.

Barry has already raised money for The Starlight Children's Foundation and this is the charity he'll be supporting when he makes an appearance at The Sydney Knife Show on Sunday 6th August.

Bring your children (or your inner child) along and have a photo taken of the Ironman MKIV suit Barry has created and donate a gold coin to a very worthy Charity.

We hope to see you there."
Return to OCAU's News Page
---
Advertisement:



All original content copyright James Rolfe. All rights reserved. No reproduction allowed without written permission.

Advertisement: