OCAU News
Asetek WaterChill (17 Comments) (link)
Tuesday, 30-September-2003 03:02:13 (GMT +10) - by Agg


Asetek, more famous for their VapoChill phase-change cooling products, have turned their hand to water cooling. Their first complete kit is the WaterChill and includes almost everything you need to get up and running with watercooling. I've looked at it in some depth today: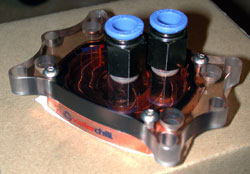 Click for the review!
Return to OCAU's News Page

All original content copyright James Rolfe. All rights reserved. No reproduction allowed without written permission.