OCAU News
VapoChill Facelift (10 Comments) (link)
Thursday, 6-November-2003 00:11:52 (GMT +10) - by Agg


Sabien sent in an article about his latest project. Tired of the look of his VapoChill classic, he set about moving it over to a Lian Li case.. and threw in some watercooling while he was at it. Lots of pics and info: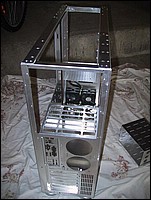 Click for the article!
Return to OCAU's News Page

All original content copyright James Rolfe. All rights reserved. No reproduction allowed without written permission.