Advertisement:

---
OCAU News
Digiana AudiaX Wireless Audio FM Transmitter (8 Comments) (link)
Friday, 18-June-2004 17:16:10 (GMT +10) - by Agg


Digiana's AudiaX is a wireless audio FM transmitter. In short, it plugs into a headphones jack and transmits the signal over an FM frequency you choose. You can then pick up the signal with your car stereo, your Hi-Fi, or any other FM receiver.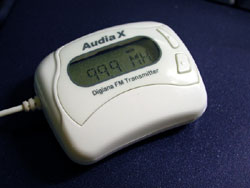 Click for the review!
Return to OCAU's News Page
---
Advertisement:



All original content copyright James Rolfe. All rights reserved. No reproduction allowed without written permission.

Advertisement: