Advertisement:

---
OCAU News
Time Warp Computer Prices! (10 Comments) (link)
Wednesday, 4-August-2004 16:26:53 (GMT +10) - by Agg


Finally got these scans together into an article. Last week I asked for people to scan in an ad page from the oldest Australian computer magazine they could find. Here's the results: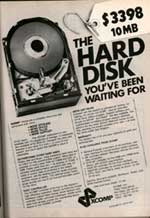 Click for the article!


So, the winner of our impromptu contest is Jonathan, with his October 1980 issue of Electronics Australia. He scores a Highpoint RocketRaid 1520 2-channel SATA RAID controller from the depths of the AggCave. Tins of Penguin mints to Spingo, Sharkx, Mig and David, the 4 runners-up. Thanks and congrats!




Return to OCAU's News Page
---
Advertisement:



All original content copyright James Rolfe. All rights reserved. No reproduction allowed without written permission.

Advertisement: