Advertisement:

---
OCAU News
Intel 925XE Chipset, D925XECV2 Motherboard, 3.46GHz EE (1066MHz FSB) CPU (21 Comments) (link)
Wednesday, 8-December-2004 01:17:50 (GMT +10) - by Agg


That's a hefty article title - and this is a hefty article. Chainbolt has been a bit quiet lately, but he's returned with a vengeance. In this report he looks at Intel's 925XE chipset, supporting LGA775 CPUs, PCI-Express, DDR2 memory and, most importantly, a 1066MHz FSB. The motherboard in question is Intel's D925XECV2, which offers more tweaking and overclocking than we expect from an Intel board. To push this board to its limits, the testing uses three CPUs, including the 1066MHz-FSB 3.46GHz Extreme Edition with 2MB L3 cache. He also looks at the Matrix RAID feature which combines RAID0 and RAID1 on two drives at the same time. Grab a coffee, pull up the comfy chair and dive in!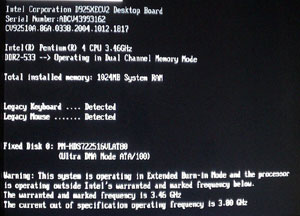 Click for the review!
Return to OCAU's News Page
---
Advertisement:



All original content copyright James Rolfe. All rights reserved. No reproduction allowed without written permission.

Advertisement: