OCAU News
Mini RC "Super Explorer 3" Submarine and Radio Controlled Speedboat (16 Comments) (link)
Sunday, 9-January-2005 02:45:42 (GMT +10) - by Agg


Some light reading for Sunday. Our resident master of the open seas, the Dread Pirate Sciby, has cast a scurvy eye over two little RC toys for the aquatically-inclined. One for above the waves and one below, a speedboat and a submarine.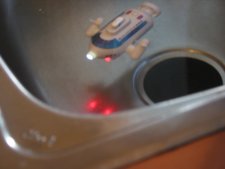 Click for the review!
Return to OCAU's News Page

All original content copyright James Rolfe. All rights reserved. No reproduction allowed without written permission.