Advertisement:

---
OCAU News

A few people have sent me these pictures lately, most recently Manaz. Seems to be some kind of cool personal aircraft using four tiny jet engines. From the pics I'm guessing you jump out of a plane with wings folded, then they unfold and you zoom around until you run out of fuel, and then the wings fold up and you parachute down to the ground. If you start saving now, you might just be able to buy me one for Xmas!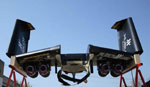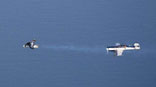 The URLs on the wings lead to JetCat Germany who seem to be the engine manufacturers, and Jet-Man.com, where more info on the aircraft can be found, including videos.




Return to OCAU's News Page
---
Advertisement:



All original content copyright James Rolfe. All rights reserved. No reproduction allowed without written permission.

Advertisement: