OCAU News
New CPUs from Intel (0 Comments) (link)
Tuesday, 17-July-2007 23:08:35 (GMT +10) - by Agg


Intel announced some new CPUs recently, as expected. For desktop PCs, Intel is announcing a robust set of new processors, including the flagship Intel® Core™2 Extreme QX6850 quad-core processor. Clocked at 3.0 GHz with a new, faster 1333 MHz system bus speed, the Intel Core 2 Extreme QX6850 will be welcomed by game developers looking to deliver new features and performance levels. Intel also announced new Intel® Core™2 Duo and Core™2 Quad processors.

Coverage on Bit-Tech, HWSecrets, HWZone, Hexus, HotHardware, LostCircuits, Motherboards.org, PCPerspective, TechGage, Tech Report, TechSpot and XbitLabs.

They also announced a new mobile CPU at the same time, the Core 2 Extreme X7800. The Intel Core 2 Extreme X7800 mobile dual-core processor, with both cores running at a brisk 2.6 GHz, also features mobile-specific power-saving features that help Intel's computer-maker customers deliver more energy-efficient and higher-performing designs. Info on HotHardware and LegitReviews.

Keep on top of things in our Intel Hardware Forum. For example, eva2000 has been playing with two of the new E6750 CPUs for a few weeks and has posted his thoughts and detailed results: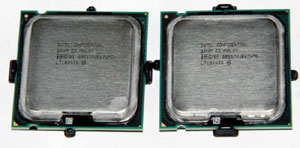 click for the thread
Return to OCAU's News Page

All original content copyright James Rolfe. All rights reserved. No reproduction allowed without written permission.