Advertisement:

---
OCAU News
Press Releases (1 Comments) (link)
Wednesday, 7-July-2010 14:39:37 (GMT +10) - by Agg


Asetek have a promotional video showing a prototype liquid-cooled all-in-one PC. This prototype shows how liquid cooling overcomes the thermal limitations that have historically forced PC manufactures to use more costly, lower performance mobile processors in their all-in-one designs.

Huntkey, who you may have seen advertising on OCAU, have a new range of (180KB .doc) power supplies. Rated power 350W, 400W, 450W, 550W, 600W comprise Huntkey JUMPER Series,which complies with Intel ATX12V V2.31 (SSI EPS12V V2.92 for JUMPER 550) providing the best compatibility with the most updated Multi-Core CPUs and supporting SLI & Crossfire multi-GPU VGA cards. They are certified by 80PLUS. JUMPER 450B and JUMPER 600B reach 80PLUS Bronze level.

HWBot and Gigabyte are running an overclocking contest. During the month of July, while the FIFA World Cup reaches its climax with the top teams vying for World Cup domination, GIGABYTE brings a different sort contest of skills. Only instead of scoring goals, GIGABYTE is looking for the best overclocker of the AMD 800 series motherboards.

Gigabyte are also running a competition for Australians. Motherboards, discount coupons and gift cards are on offer if you join their online "Gigabyte Club" and play a virtual slot machine.

Mach Xtreme launched new memory with some over-the-top cooling. The HDT family passive memory cooler is designed to effectively cool DDR3 modules working at high clock speeds and raised voltage environments. All kits are strictly hand-selected with focus on stable performance. More info (1.7MB .doc) here and here's a couple of pictures: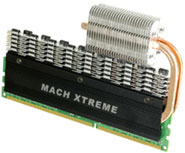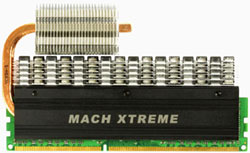 click to enlarge



Mittoni are running a case-modding competition to benefit Deaf Children Australia. Your Mission: To design an "Australia: Past, present and future" chassis modification based on Thermaltake's outstanding V9 BlacX Edition mid tower system housing.

QNAP announced a new App that lets people stream from their QNAP NAS. The QMobile app, when used in conjunction with a QNAP Turbo NAS server and the V3.3 update, allows users to stream music, digital pictures, and videos from their home NAS server and play directly on the iPad, iPhone, or iPod Touch from anywhere, using Wi-Fi or 3G networks. This reduces or eliminates the need to have the files synchronized and stored physically on the device while providing a simple and convenient way for mobile consumers to access their home content from anywhere.




Return to OCAU's News Page
---
Advertisement:



All original content copyright James Rolfe. All rights reserved. No reproduction allowed without written permission.

Advertisement: