OCAU News
Thursday Morning (21 Comments) (link)
Thursday, 23-December-2010 03:47:49 (GMT +10) - by Agg


Well, as usual things will get pretty quiet here on the news page over the next few days. This year has been a bit less eventful (touch wood!) than last year for OCAU, but really seemed to fly by. I hope you're all well, and have a great break, and I look forward to seeing what crazy stuff we all get up to in 2011. :)

Games.on.Net have their Game of the Year award voting going on at the moment, and you can win stuff by voting. Remember, to win the PC and projector, you must fill in the 25 words or less section for your choice of Game of the Year. Entries close at 11:59pm, on the 25th of January, 2011.

Actually they've got another contest as well, where you can win a supercar track day. Thanks to games.on.net and Namco Bandai, one very lucky winner will live the TDU2 life for a night, flying from any capital city in Australia to Sydney for a night in a five star hotel, followed by a day on the track with some of the most expensive supercars in Australia: Ferraris, Lamborghinis and more. Yeah, rad.

TonyR sent in this Digital Story of the Nativity video. Christmas story told through Facebook, Twitter, YouTube, Google, Wikipedia, Google Maps, GMail, Foursquare, Amazon.

Also amusing is this fruity technology video starring Ronnie Corbett. My Blackberry is not working!

OCAU member Darkness (who co-created our current website design many years ago, among other things) is in the running to get one of his photographs on a stamp! So check it out and if you like it, vote for it. Discussion here.

Lonely Planet are giving away 13 free iPhone city guides, but only until 1pm today! The promotion is designed to help travellers stuck due to the severe weather conditions across Europe, according to Lonely Planet. The travel guide company gave away European city guides previously when airborne volcanic ash shut down much of Europe's airspace.

Today's timewaster is Isle of Tune, from Quan-Time. I suspect there'll be some serious time-suckage if you get hooked on it. Actually given it's pretty quiet out there, here's two more timewasters: Wikileaks the Game and Unprotected Waters, from Charg3r.

Last but not least, some interesting NBN info from JD: You may have read that the NBN in Tassie has begun connecting businesses and homes, recently a friend connected to a 100mbps plan and thought he would see what it could actually do. This being the real world we know that 100mbps was theoretical max, I thought I'd share the results as I'm sure some are interested. :) It's a 100/10 plan… Prior to the NBN, the best on offer to him was a 20mbps plan that netted us an actual maximum of 6.4 mbps… So needless to say he is very pleased!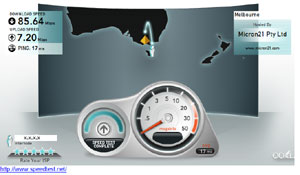 Click to enlarge!
Return to OCAU's News Page

All original content copyright James Rolfe. All rights reserved. No reproduction allowed without written permission.