OCAU News
Gigabyte P67A-UD7 Motherboard (5 Comments) (link)
Tuesday, 8-March-2011 00:44:35 (GMT +10) - by Agg


DiGiTaL MoNkEY has taken a look at Gigabyte's P67A-UD7 Motherboard. It features eight SATA ports (four SATA 3.0, four SATA 2.0) with RAID 0, 1, 5 and 10 support, a 24 power phase design, four DDR3 memory slots with support for XMP profiles and speeds up to 2133MHz, ten SuperSpeed USB 3.0 ports (six rear, four front), GIGABYTE DualBIOS technology and dual Realtek Gigabit LAN connectivity. It also has three PCI-Express 2.0 x16/x8 slots, allowing for true 3-way CrossFireX and SLI configurations, all while conforming to an ATX Form Factor measuring in at 30.5cm x 24.4cm.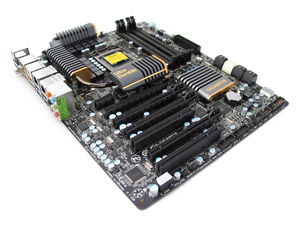 Click for the review!
Return to OCAU's News Page

All original content copyright James Rolfe. All rights reserved. No reproduction allowed without written permission.