Advertisement:

---
OCAU News

That mangy curr petercr sends word that today be Talk Like a Pirate Day!

Intel sent an eagle-eyed crew to build the "Pipe Dreams" animation in real life. It took about 90 days of work and roughly $160,000 to design and develop something in real life that could mimic the original animated video. Hrm, they could have made the balls easier to see, and that'd be the first time I've ever said that, yarrr.

Apparently there's more holes than you can poke a bilge rat at, in the popular educational software Blackbeard. Err, that's Blackboard Learn, thanks Rhys. Multiple zero-day security vulnerabilities have been found in the world's most popular educational software - holes that allow students to change grades and download unpublished exams, whilst allowing criminals to steal personal information. Discussion here.

Microsoft's IIS is sinking into the briny depths, falling back to 1997 levels of market shyaaar. It wasn't always like this. For quite some time, IIS was gaining ground on Apache, but the tide changed in 2007. Since then Apache has recovered much of its previous dominance, reaching a 65% market share, while the market share for IIS has dwindled below 16%, less than half of what it used to be.

Anandtech cast a beady eye over Intel's Ivy Bridge. Typical landlubbers - my bridge is made of teak! and brass! and parrot droppings. At a high level Ivy Bridge looks a lot like Sandy Bridge. It's still a monolithic die that features an integrated GPU. The entire die is built at 22nm, continuing Intel's march towards truly addressing integrated graphics performance. Ivy Bridge won't get rid of the need for a discrete GPU but, like Sandy Bridge, it is a step in the right direction.

Piratey-named Corsair have some shiny dubloons, or at least, new gaming peripherals. Adding to this ever increasing list, Corsair today announced and unveiled their new lineup of Vengeance PC gaming peripherals, including three new gaming headset, two gaming keyboards and two laser mice. Mechanical keyboards, no less - which should keep these mangy dogs happy.

That dastardly Chris has found a stash of free copies of Portal, but only until tomorrowish! Portal is free until September 20th. Check out www.learnwithportals.com to learn more! Even pirates like genuinely free things - I got Portal last time it was free and really enjoyed it. You'd have to be sunstroked like a spotted cat to miss out! I don't even know what I'm saying anymore, yarrr.

Boil me barnacles, it wouldn't be Talk Like a Pirate Day without our OCAU Piratey Mascot: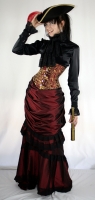 Ahoy there!


Avast!




Return to OCAU's News Page
---
Advertisement:



All original content copyright James Rolfe. All rights reserved. No reproduction allowed without written permission.

Advertisement: