OCAU has some "10th Anniversary" stubby holders for sale. These are the usual neoprene/rubber things you put around drink cans or bottles to keep them cold and stop your hand freezing off, in navy blue with the OCAU 10th Anniversary logo on them. The printing on these has turned out really sharp and they look great.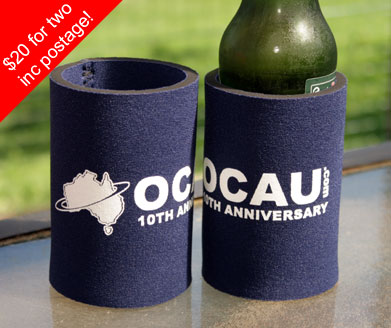 icy cold beer not included :(
Pricing:
1 stubby holder $ 8
2 stubby holders $ 15
Postage on all orders is an additional $5 no matter how many items are in your order. So that's 2 stubby holders delivered anywhere in Australia for twenty bucks! Pick up is not an option, sorry. All prices include GST and I can provide a GST invoice on request.
OCAU has had a pretty expensive last 6 months or so with new server hardware, overseas hosting and other dramas, so buying merchandise is one nice way you can help support OCAU and get some cool swag in return. Thanks!
How to Order:
Email agg@overclockers.com.au with your order, your postal address (including real name) and your OCAU username. Send your cash (remember to add $5 for postage) to:
BSB: 923-100
Account: 18865863
Name: James Rolfe
Bank: ING Direct
INCLUDE YOUR OCAU USERNAME IN THE DESCRIPTION OF YOUR TRANSFER. Note this is NOT the normal OCAU account, because there are fees on every transaction to that one, so I've set up this ING saver thingy which has no fees. If you don't have internet banking or can't send to ING for whatever reason, let me know in your order email and we can organise something else.
Questions? Ask in this thread or send an email.
Return to OCAU's News Page