Search
From OCAU Wiki
Back to OCAU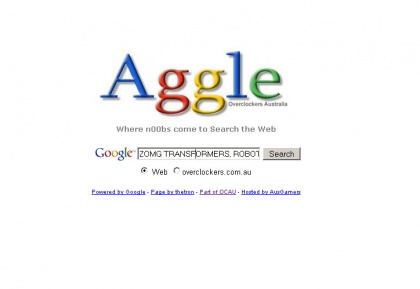 Brief Aggle Intro
Aggle was a page created some time ago by thetron. It uses the power of Google to search some areas of OCAU.
The site spawned in early 2003 from small-lame joke between fellow chatters on #overclockers@oz.org. Excession contributed by buying the domain name aggle.org. Agg eventually took the idea site onboard, and given a new website address www.overclockers.com.au/search. After the domain name wasn't renewed by Excession.
Areas indexed by Google include:
News
Aggle it :) Also check out Google Help.
Forums
You can search for posts based on username, word(s) in the post or just in the subject, by date, and only in particular forums.
To access the search feature, click on the "search" link at the top of most pages.
You can search any forum that you have permission to search - you will not be allowed to search through private forums unless the administrator has given you the necessary security rights to do so.
From the OCAU Forum FAQ.
PCDB
The PCDB can be searched by the following methods:
These can be selected from the Search By box in the left hand side of the main PCDB page.
Wiki
Use the little search box to your left. Also take a look at Wikipedia:Searching page.