Advertisement:

---
OCAU News

It's Friday the 13th! Thanks to Shawn, Sluggabed, JackoSchitt, Chris, Gary and Dan this week.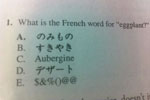 And if you're after more, check out this Wiki page which lists ALL "misc pics" news posts from the archive.




Return to OCAU's News Page
---
Advertisement:



All original content copyright James Rolfe. All rights reserved. No reproduction allowed without written permission.


Advertisement: